This month has proved to be slightly stressful, as we live in the midst of construction. However, with each change, I feel our house becoming our home. After months of planning, we've started making significant changes that alter the floorpan of our home and allow for better movement and flow.
I remember being hopeful when we saw the house pop up on MLS after looking at another nearby in the same neighborhood. We were bursting with faith that it would be everything we hoped for. When we walked in, we quickly realized that it has an extremely choppy floor plan. However, it had all of our needs.
A second floor laundry room, master on the same floor as the kids, plenty of space and a great neighborhood. Surely we could overlook the floor plan. The living room was small, the foyer huge, the mudroom awkward, and as a result, it was dark.
We started with simply tweaks to add light, but after a few months of living in it, we felt there was a better way. So… Chris knocked a closet out. We weren't at all prepared for renovations, but it was a start. The mudroom became more functional without a closet and with holes in the floor.
We thought about the space and determined the best way to make it functional would be to keep it open and adaptable. I partnered with Lowe's to add brick floors and cedar walls for character and warmth. I'm sharing an unfiltered, un-edited sneak peek of our home-in-progress: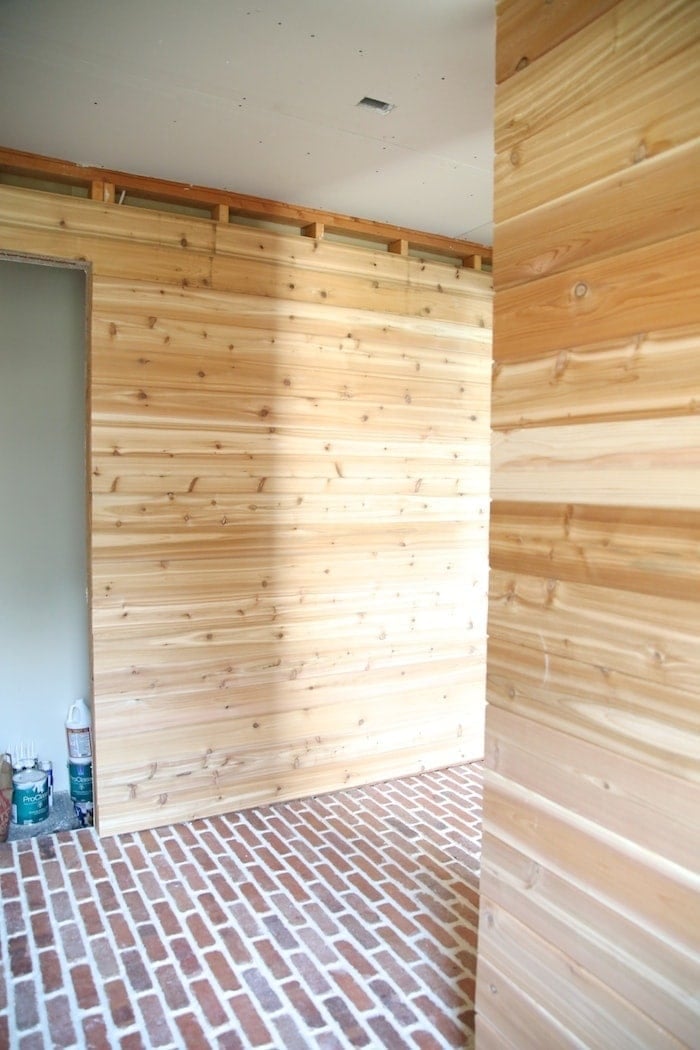 To the left is the garage, to the right is the kitchen. This is the main area of the mudroom, with a glimpse to the basement stairs. A new door will be going in soon!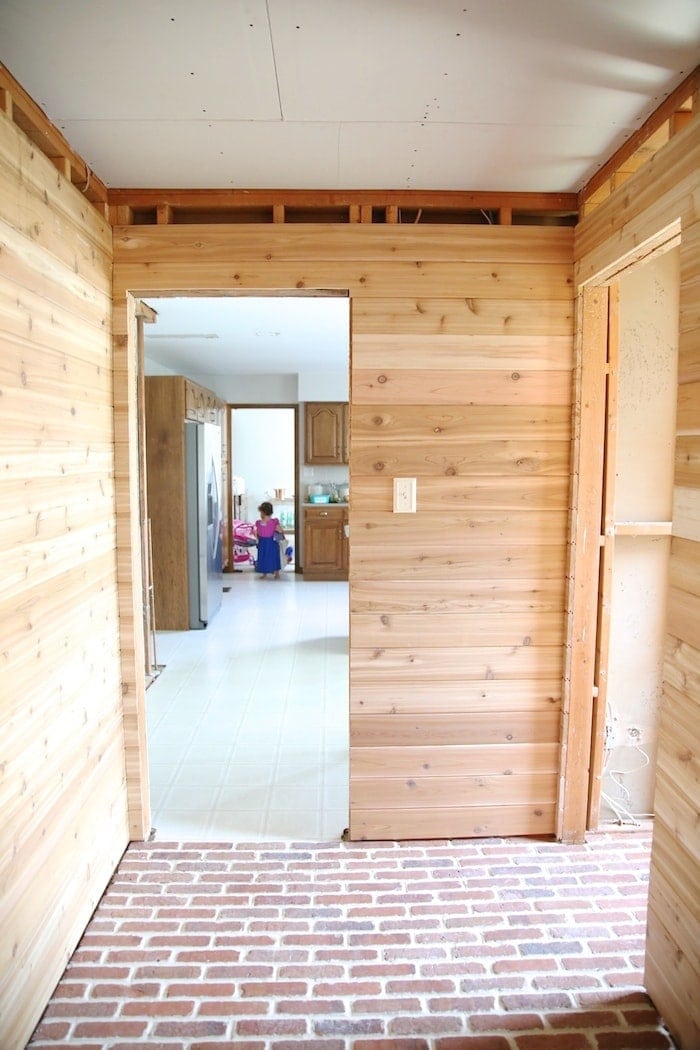 This is from the garage looking in. A half bath is to the right, the kitchen straight ahead.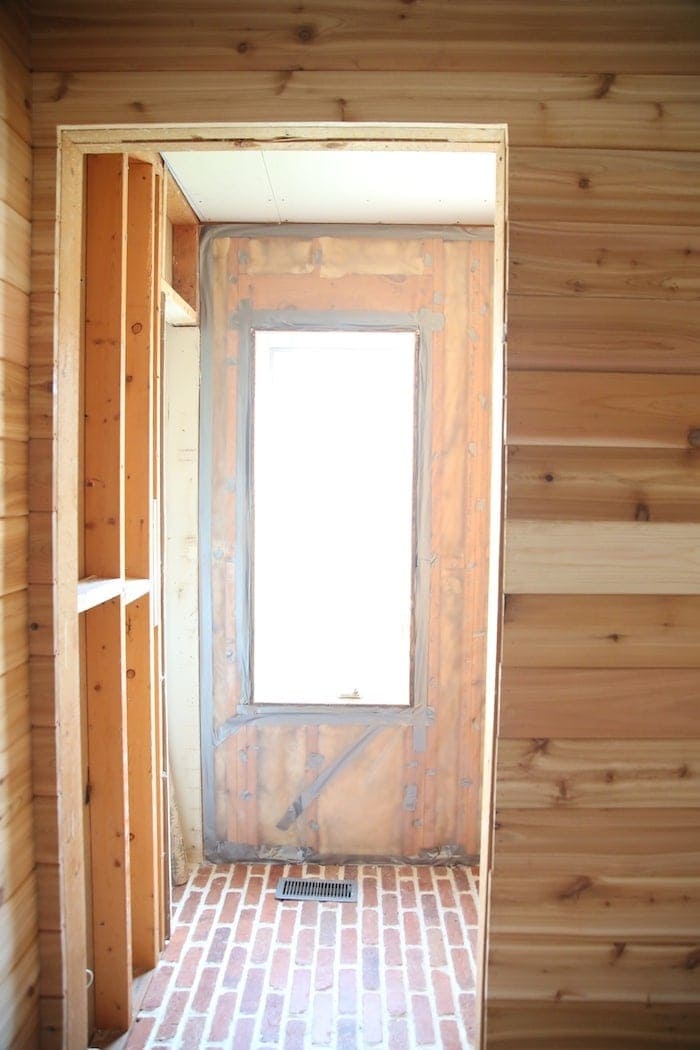 The half bath.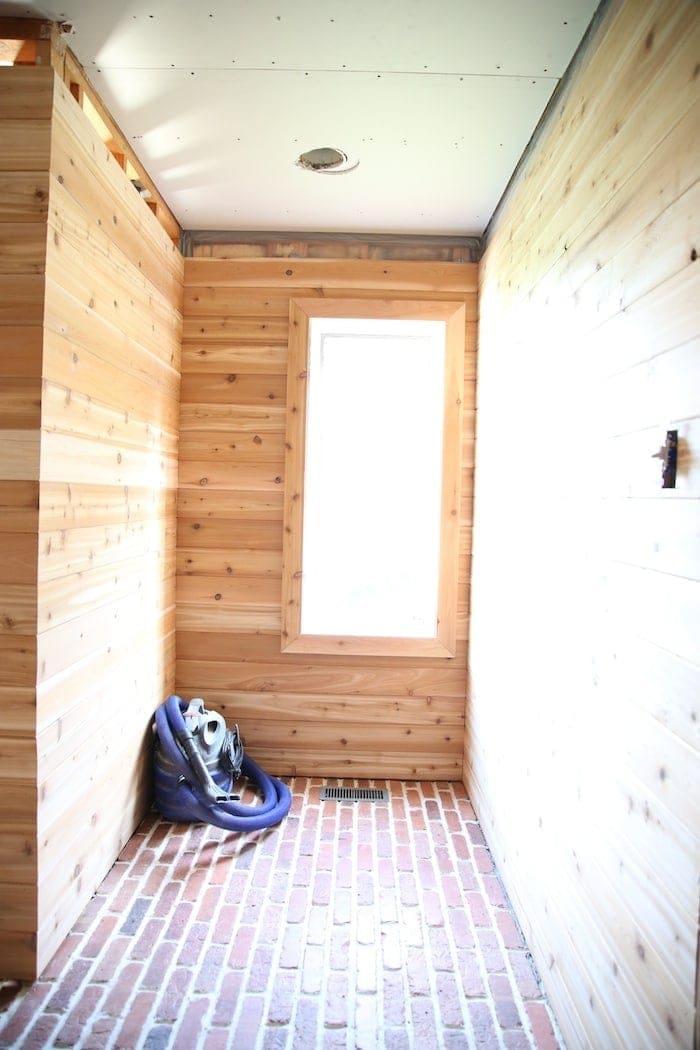 The mudroom nook, just the right of the door from the garage. We also removed the wet bar that was just a few feet away from the kitchen sink. We felt there were better uses for the space and removing it allows light to flow through the front of the home, to the back. It also makes our living room feel slightly larger and provides a better flow.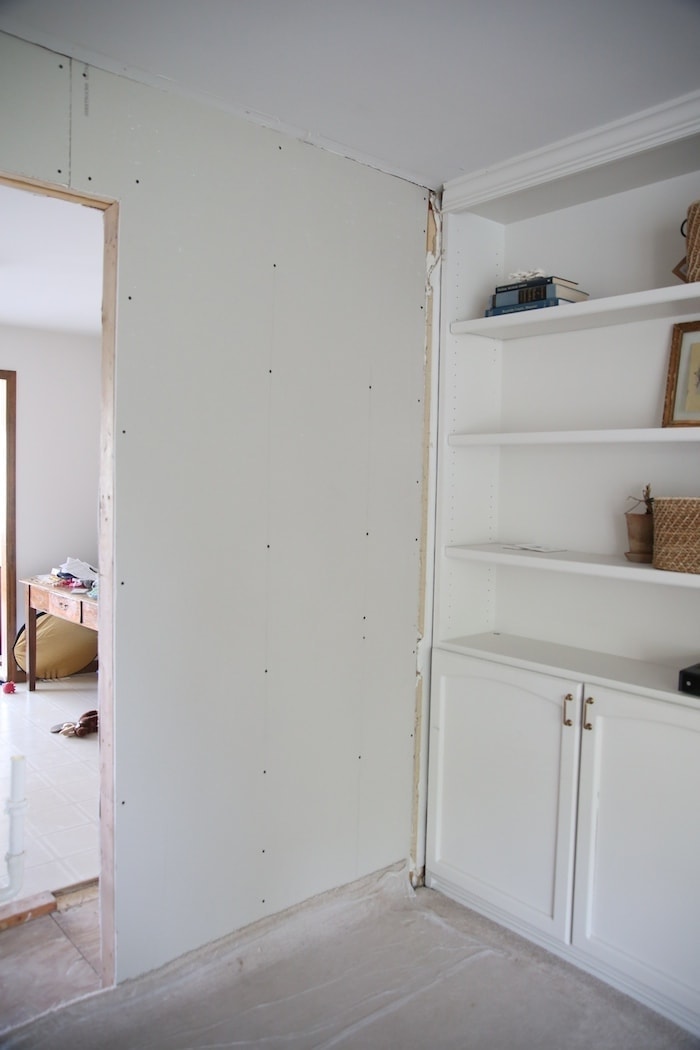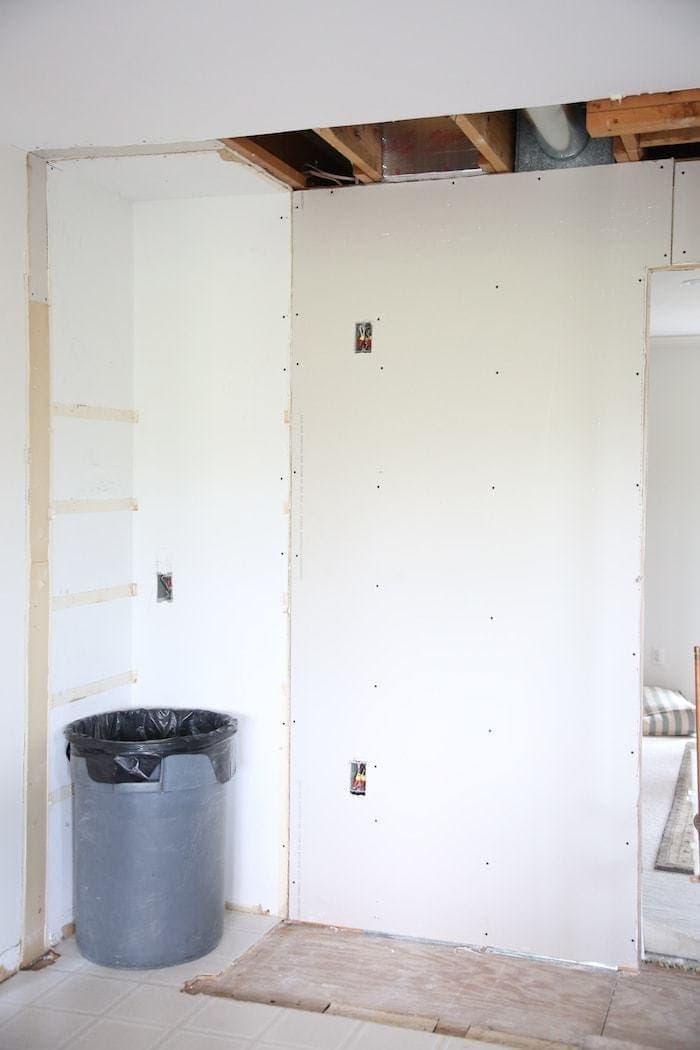 And who needs a coat closet anyway? We removed the coat closet in the oversized foyer to expand our living room and again allow for more light and better movement. I've found that coat closets often become an unnecessary catch all, at least in our home.
We'll have to be thoughtful about our storage, but the tradeoff was worth it! We always enter through the garage/mudroom, so we will store off season coats and jackets in our basement and add a coat hook or moving rack for guests'.
I don't think I'll ever regret it. I can now see the kids when I'm cooking in the kitchen or while they're hanging out in the family room. It makes me feel more in touch with our family.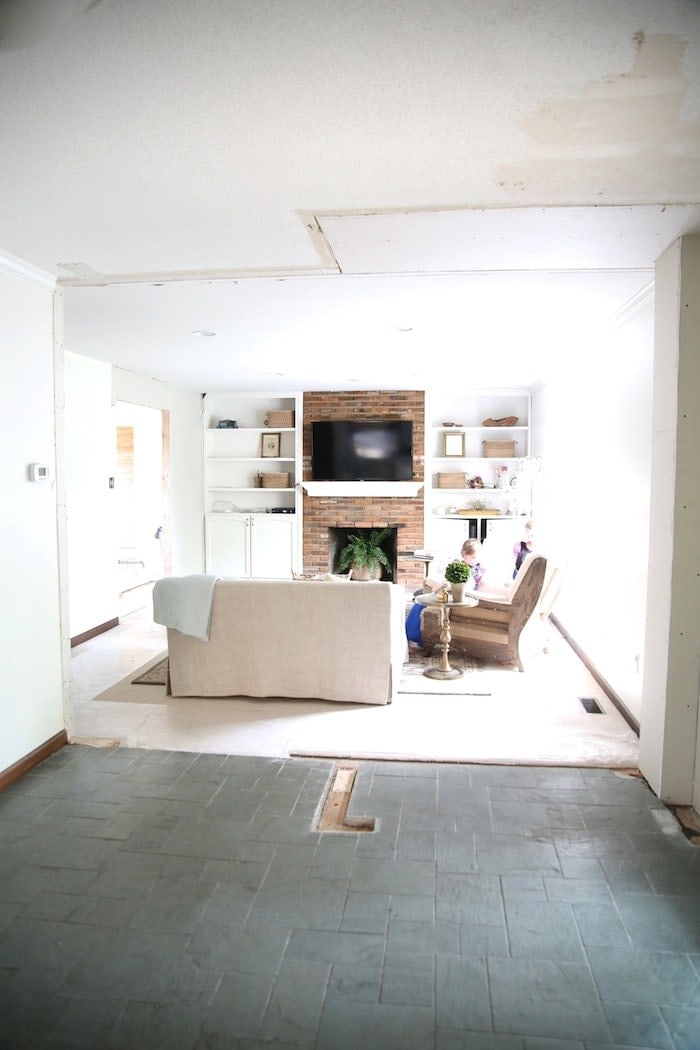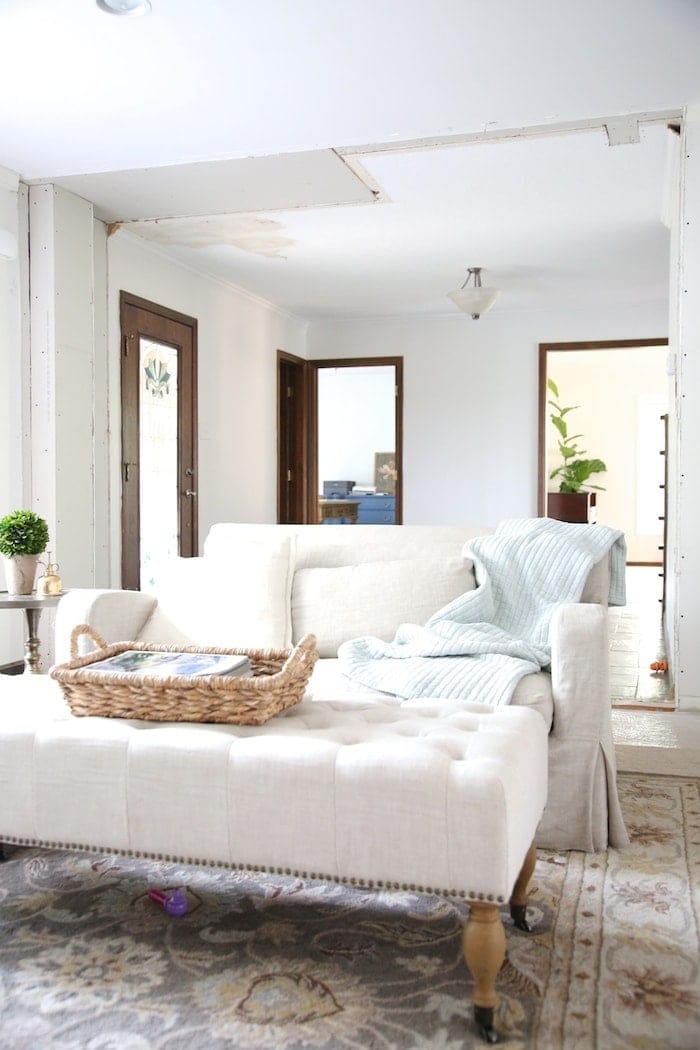 Soon we'll be installing our 2 main level half baths, painting, adding light fixtures and hopefully, sand and stain hardwood floors. I'll be honest, my poor planning has left our floors in question. It will take 12 days to remove, install, sand and stain our hardwood floors and require removal of all of our main level furniture.
I had "planned" to do so while on vacation, but did a poor job communicating it. I still think unfinished hardwood floors will be worth the effort and at this time am refraining from refinished floors. To ease the burden of chaos, we're also considering oiled floors again, but more refined. What do you think?