Adding a bathroom in your basement can be a big asset in both practicality and resale value. Learn about the cost to add a bathroom to a basement, with a breakdown of the details and expenses of this little space!
If your basement is an area where you want to spend time entertaining, play with your kids, or create a guest bedroom, consider a basement bathroom addition. It will pay off in both convenience and resale value!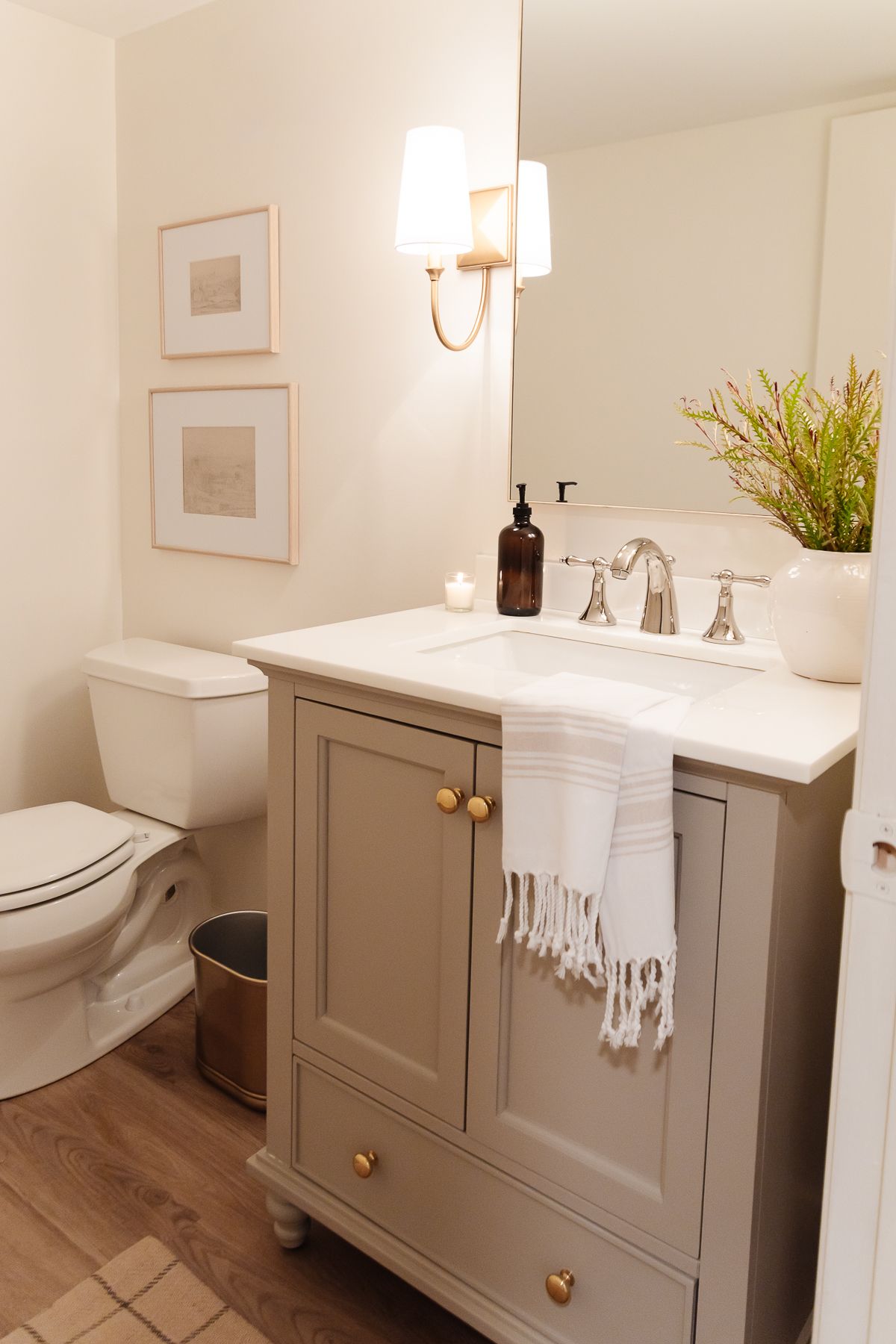 Our St. Louis house isn't exactly historic, but it's not new either – see the full before and after photo tour of our Tudor home here. It's old enough for plenty of maintenance troubles like leaky windows, rotting siding, and more. Can you see where this post is heading?
A basement flood, that's where. We replaced our original luxury vinyl flooring (thanks to the water damage and having to remove the bar area…they discontinued our previous flooring so we started over).
Thankfully, we selected a beautiful new lvp that we are absolutely thrilled with.
To add warmth to an otherwise cold basement, we painted the walls in a warm color, Benjamin Moore Cloud White, to complement the Swiss Coffee walls throughout the rest of the basement. Choosing a slightly darker or lighter shade than an adjacent space adds depth and interest.
While this vanity is stock and comes in this greige color, we tested a few paint samples to see which is closest! Benjamin Moore Revere Pewter and Sherwin Williams Shiitake (a favorite Mushroom Paint Color) are the best matches.
While we anxiously await the final results of our new built in bar area of the basement, we can finally share the basement bath with you!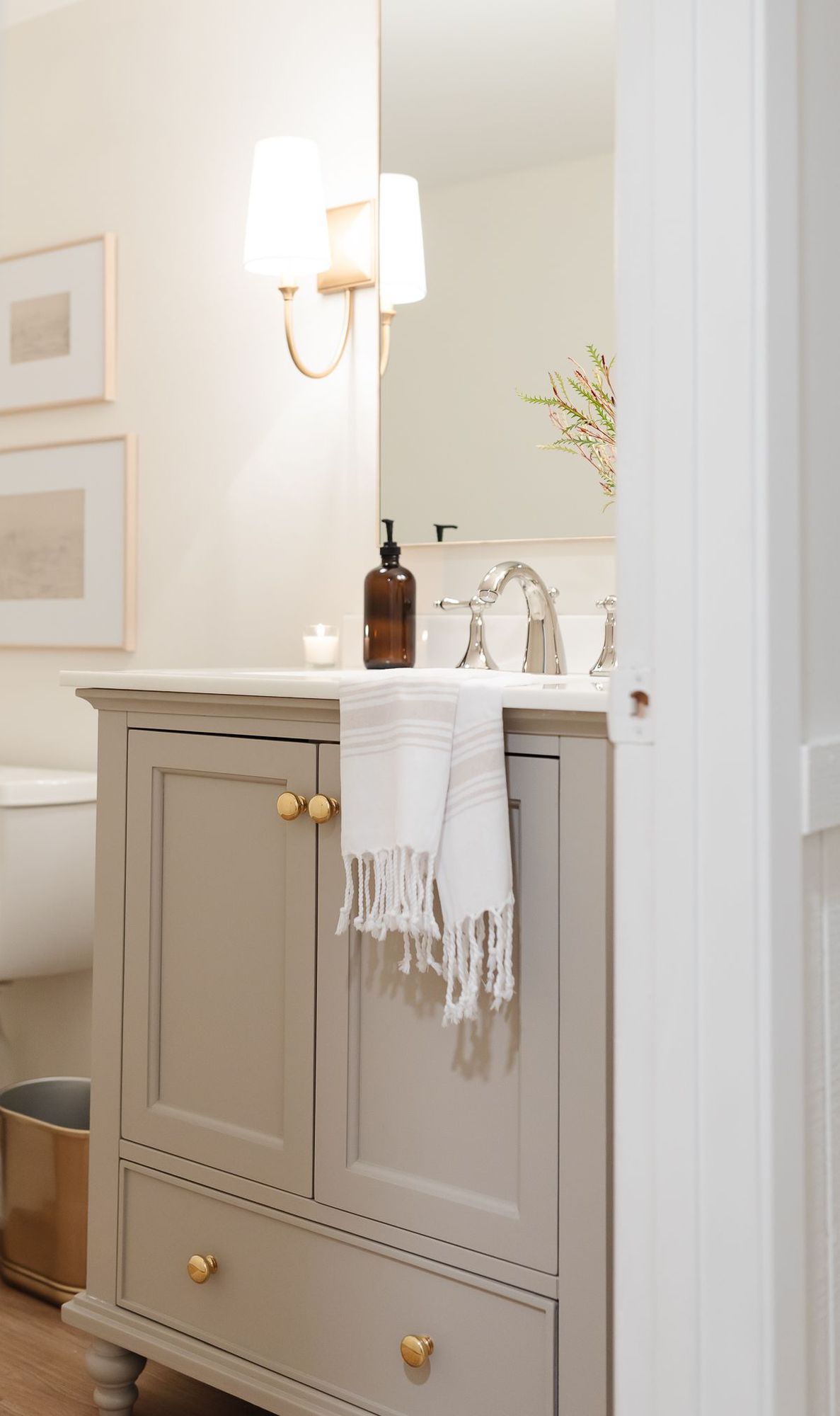 Benefits of Basement Baths
Create a guest suite – a basement is a great spot to tuck away a little guest bedroom area, especially if you don't have room in the other parts of your home. Creating a basement bathroom gives your guests the ultimate in privacy – they can feel like they are in an Air B&B or a little luxury hotel!
Convenience – If you're planning to entertain friends and family in your basement, or if this is an area where your kids hang out and play, give them a convenient bathroom to use. Avoid trekking up and down the stairs every time nature calls!
Resale value – A fresh, clean basement bathroom can increase the overall resale value of your home.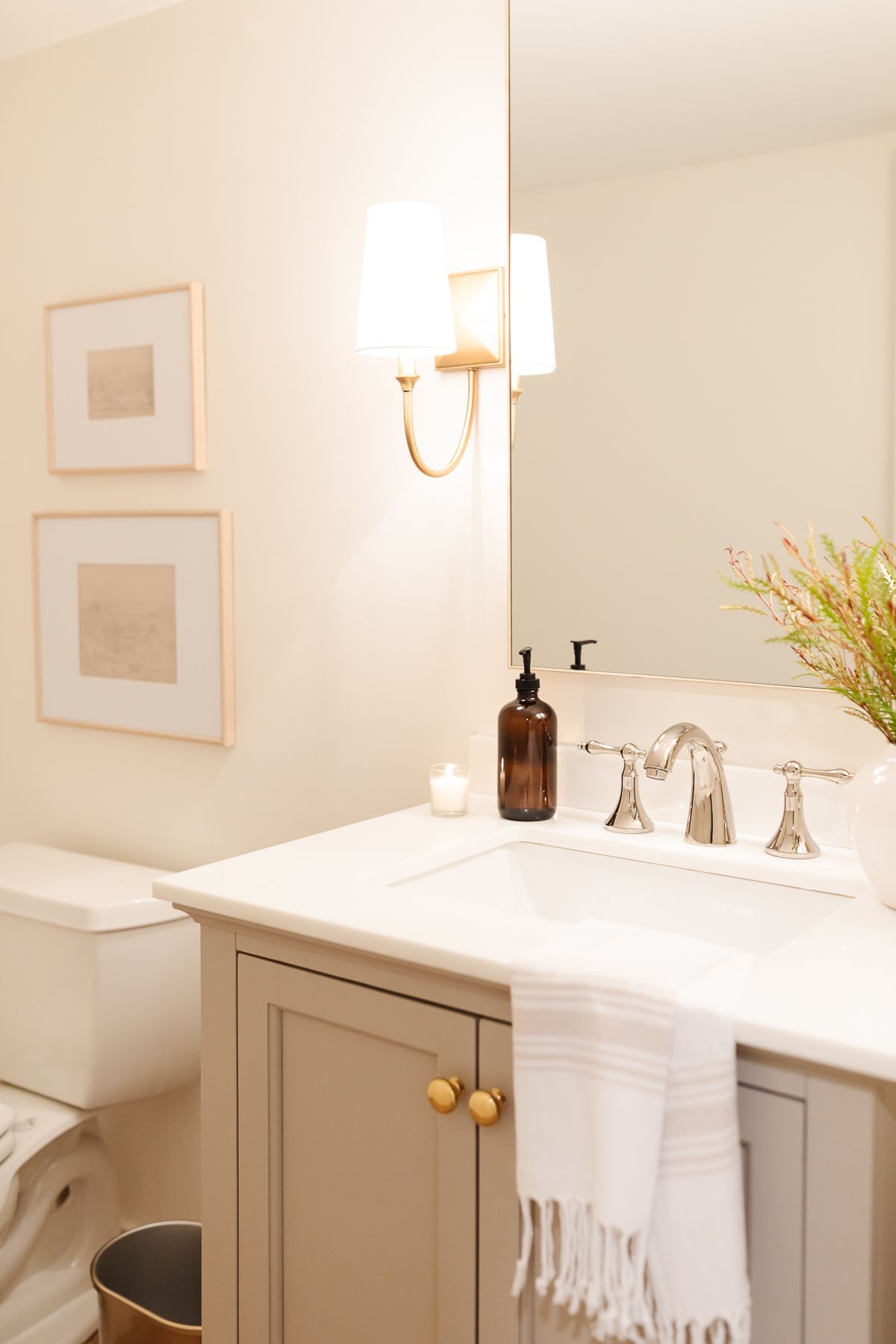 How to get Started
First, consider what your basement bath needs. Is this a half bath? Or do you need a 3/4 bath in this space for guests to have a shower?
Consider your storage needs. While I'm always a fan of a pedestal sink to create more space, this bathroom needed storage for cleaning supplies, toilet paper etc.
Think about your lighting needs – overhead, vanity bar or warm sconce lighting would be your main decisions.
For flooring, basement bathrooms often benefit from tile or a more waterproof lvp like the one we chose.
Consider ventilation as an extra expense, as well. Basement bathrooms often need to be vented to help with moisture and airflow.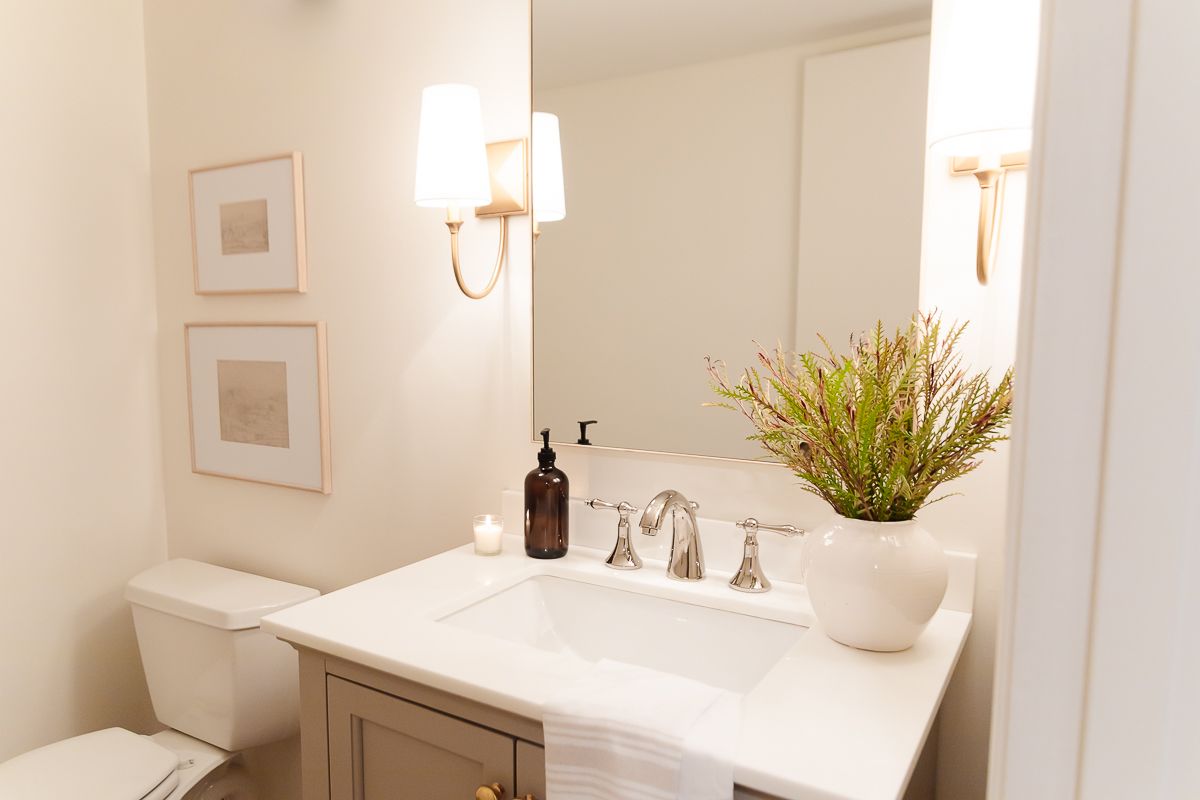 How much does it cost to put a bathroom in the basement?
The answer to this question will of course depend on your specific situation. In our home, a small powder room already existed in the basement, so we only needed to add new flooring and fixtures, finishing it off with paint and accessories.
Installation and labor costs will vary for everyone, in every part of the country, so keep that in mind. Plumbing, piping and even building out walls can add up!
Is your basement already stubbed for a bathroom? If your basement is not set up to include necessary drain and plumbing systems, you'll need to add them.
Some basement bathrooms require an upflush toilet system, so check into this and consider it as part of your overall expenses.
If you're tearing out an old bathroom, that will also add an extra layer of response. Consider doing any demo yourself to save money!
Our basement bathroom renovation included the following items, if you're looking for a reference price point:
Flooring – $100 (labor and product total)
Vanity – $500 (caught an amazing sale!)
Faucet – $289
Sconces – $58 x 2 = $116
Mirror – $50
Toilet – $150
Product Total: $1,205
Chris demoed the original bathroom fixtures, but we had an electrician move the existing electrical from overhead to provide electrical for the two sconces. It added another $250 to this project.
Since the project was otherwise simple, Chris did the remainder of the work!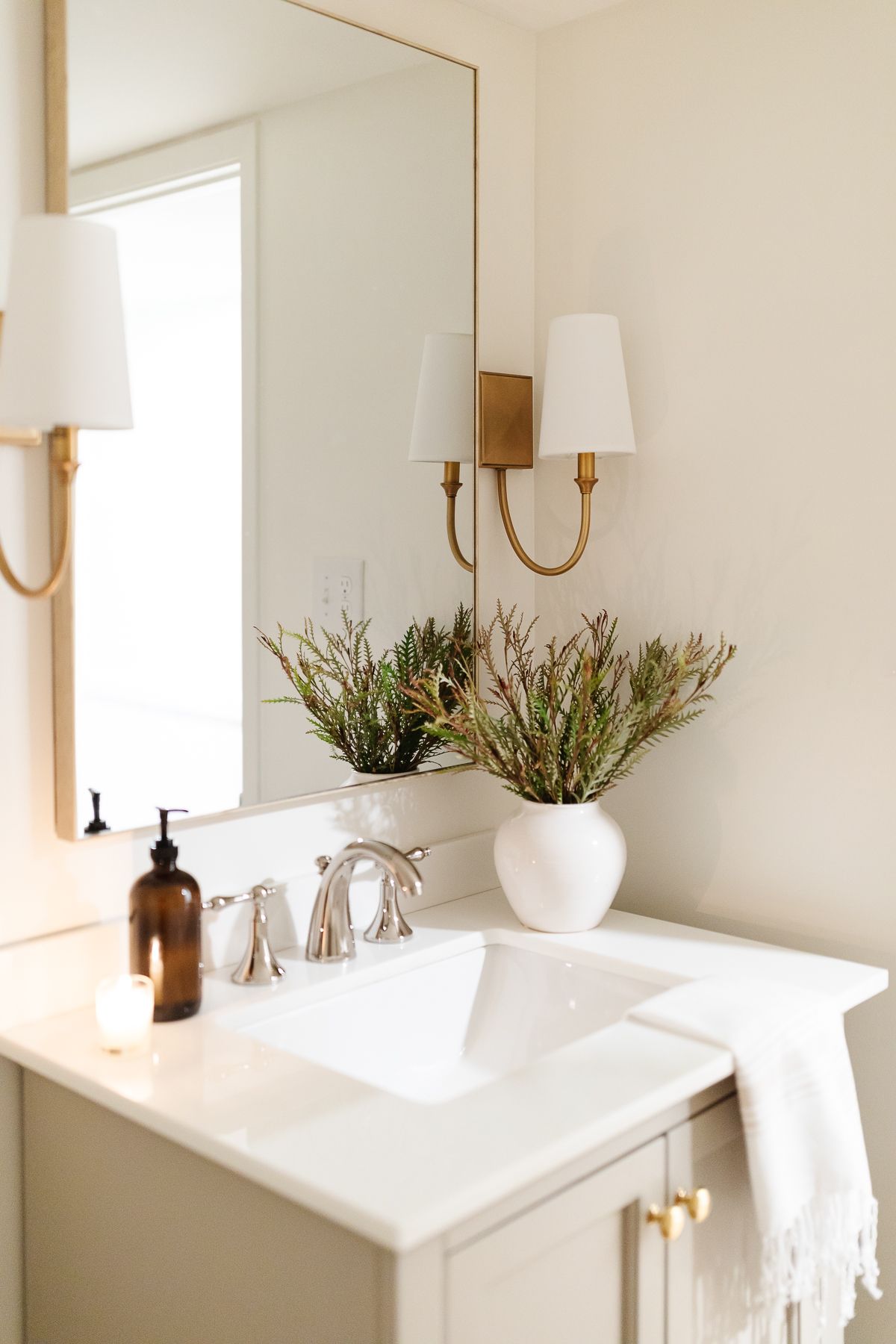 Frequently Asked Questions
How much does it cost to put a bathroom in the basement?
Adding a basement bathroom can range from $2,000 at the low end, to upwards of $20,000. This depends on what plumbing and piping you have in place, starting from scratch with walls, etc, and so much more!
How much does an Upflush toilet cost?
These special toilets for basements can run anywhere between $600 and $800.
Mixing Metals
While I'm such a fan of brass lighting and brass bathroom faucets, in this bathroom I wanted to play with mixed metals a little! We used a combination of warm gold tones, soft wood, and polished nickel.
Mixed metals can help warm up a space and feels customized and polished. Ideally, consider repeating each finish at least twice to give an intentional feeling – here, we've used a soft wood frame on the mirror and art, as well as an antique gold sconce and hardware on the vanity.
The polished nickel is repeated in the faucet and toilet paper holder (not shown). This gives this space a warm, cohesive look that still feels eclectic and interesting. Read more about Brass Shower Curtain Rods here!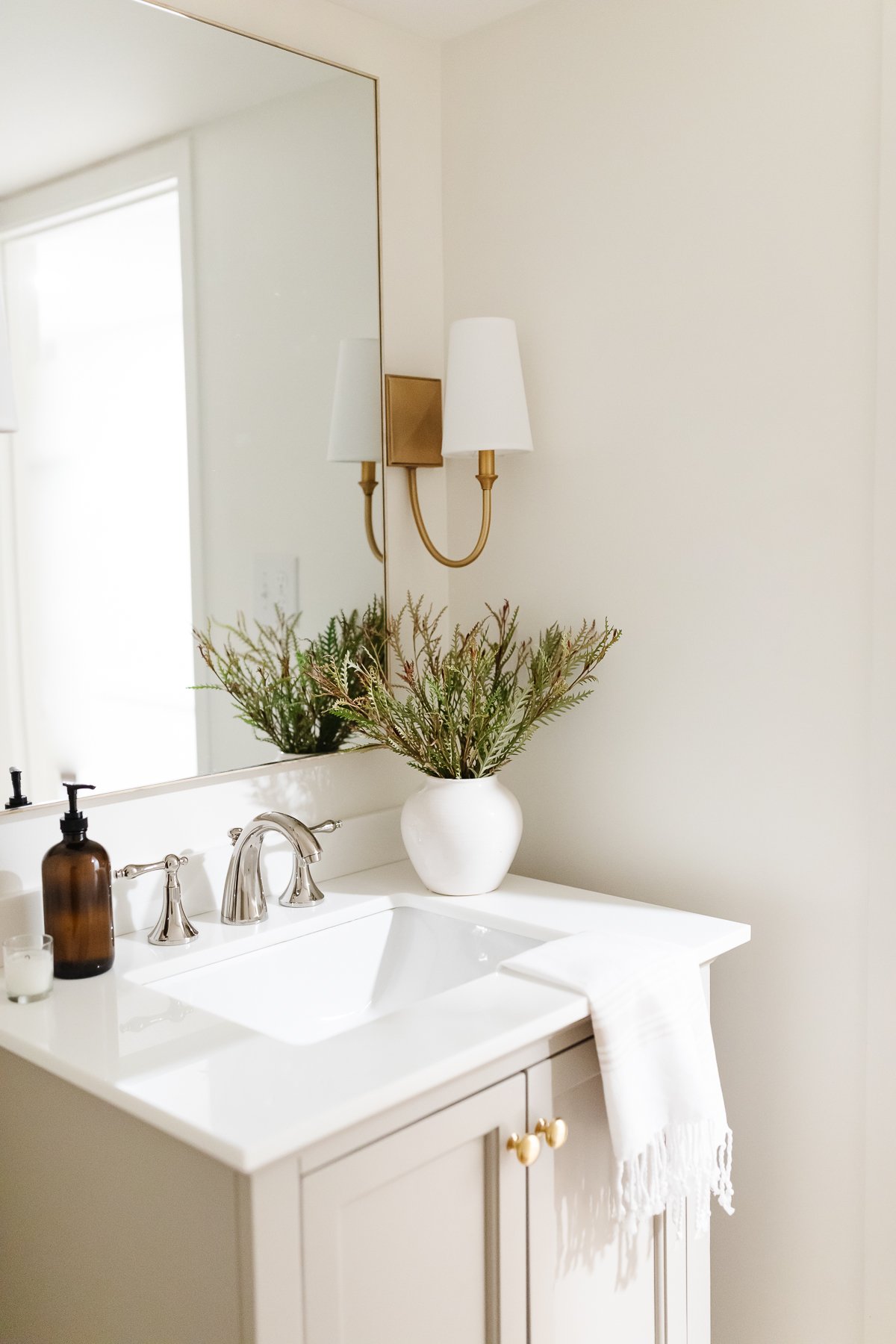 Behind the Design
Since it's a small, dark space with no natural light, we implemented a few tricks to give the illusion of more space and light. You can learn more about Ways to Add Light to a Room and How to Make a Small Room Look Bigger here.
We chose a paint with a high light reflective value (LRV) to reflect the little outside light this room does receive. A tall mirror not only draws the eye up to the ceiling, giving the illusion of more space, but also reflects more light making it appear brighter.
I selected a vanity that offered an abundance of storage. It fits the space and also has feet so the eye can go beyond… again, giving the illusion of more space.
Since basements tend to feel cold, I layered in warm brass and wood tones as well as a warm white paint color (Benjamin Moore Cloud White) to add warmth. The wool textured rug is soft on foot and adds a touch of warmth as well.
The art is subtle but adds interest to the utilitarian space – see all my favorite free art sources and favorite DIY Wall Decor Ideas here. You can find these frames linked below (we used the 5×7 and the 8×10 size).
A vase full of fresh greenery always brings a room to life – it's one of my favorite ways to create a cozy home!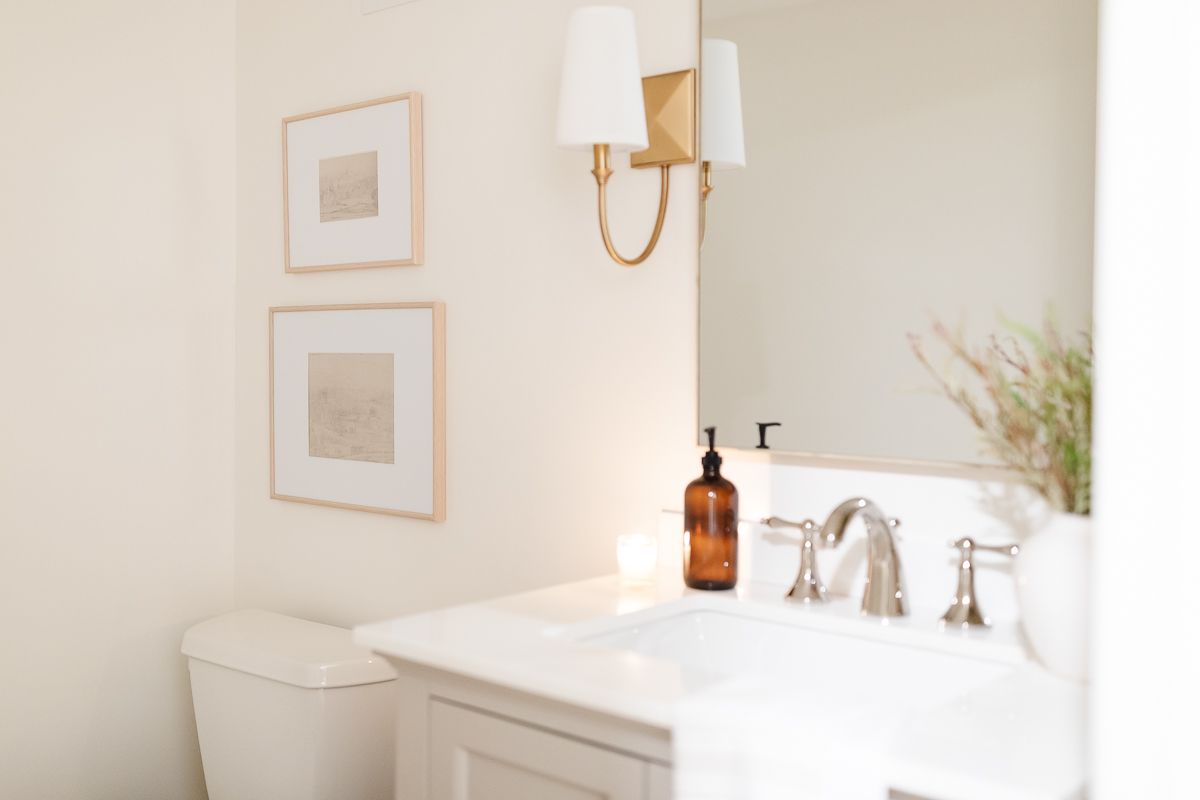 Sources
Greige Marble Top Vanity | Plaid Wool Ivory Rug | Soap Dispenser | Faucet | Sconces | Cabinet Knobs | Mirror (discontinued) Similar Here and Here| Art | Frames | Hand Towel | Trash Can | Toilet