Add instant charm and a unique personalized style to your home with a rattan bed. With rattan's natural ability to invite serenity and relaxation, it could be the perfect choice in your next bedroom makeover.
Learn how to style and take care of a beautiful rattan bed.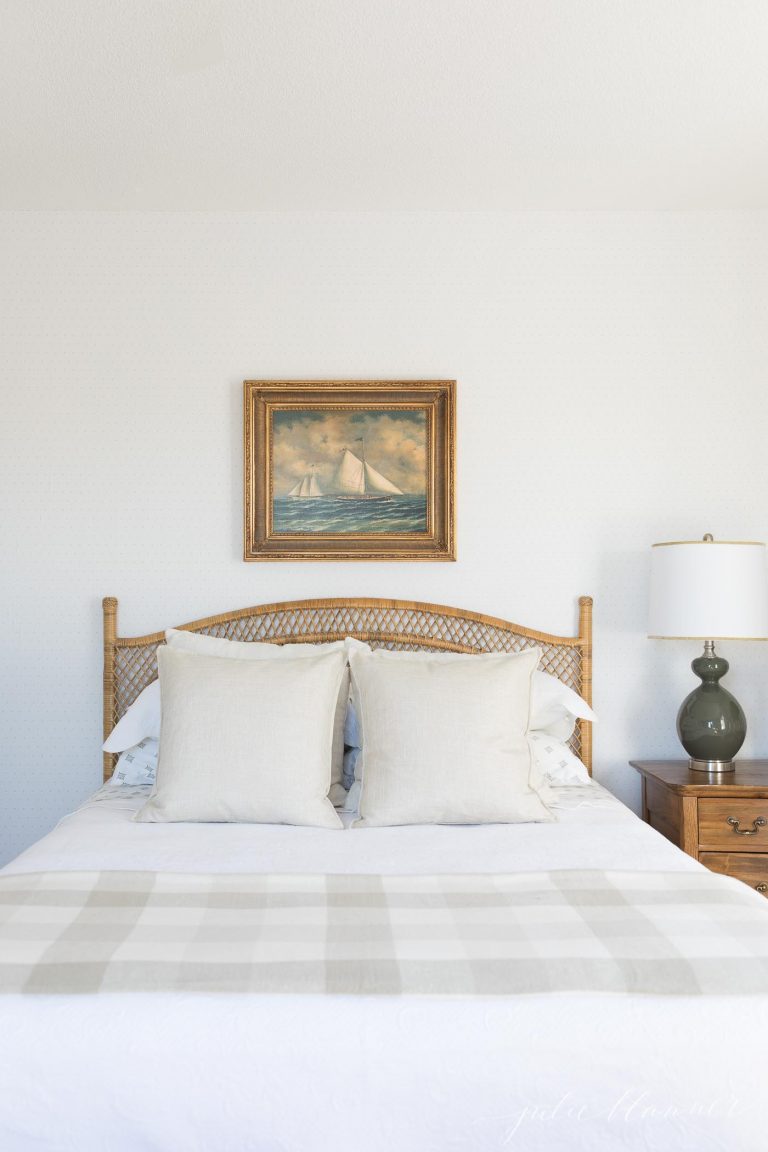 In styling individual rooms in my homes, I like to give them each their own personality while still maintaining the seamless flow throughout the whole house. I incorporate large pieces and small details that work together for visual appeal and functionality.
The bed is usually the biggest piece of furniture in a bedroom, so it needs to contribute to the style and tie everything together.
Traditional wooden headboards and upholstered headboards definitely have their place, but sometimes a different material really captures the style of the room.
A rattan bed can strategically be used much like a wicker sofa to instantly add a vacation vibe. The natural, fresh, and airy style of rattan really makes a room feel calm and inviting. Don't skip this guide to the the prettiest Rattan Mirrors and rattan bar stools, too!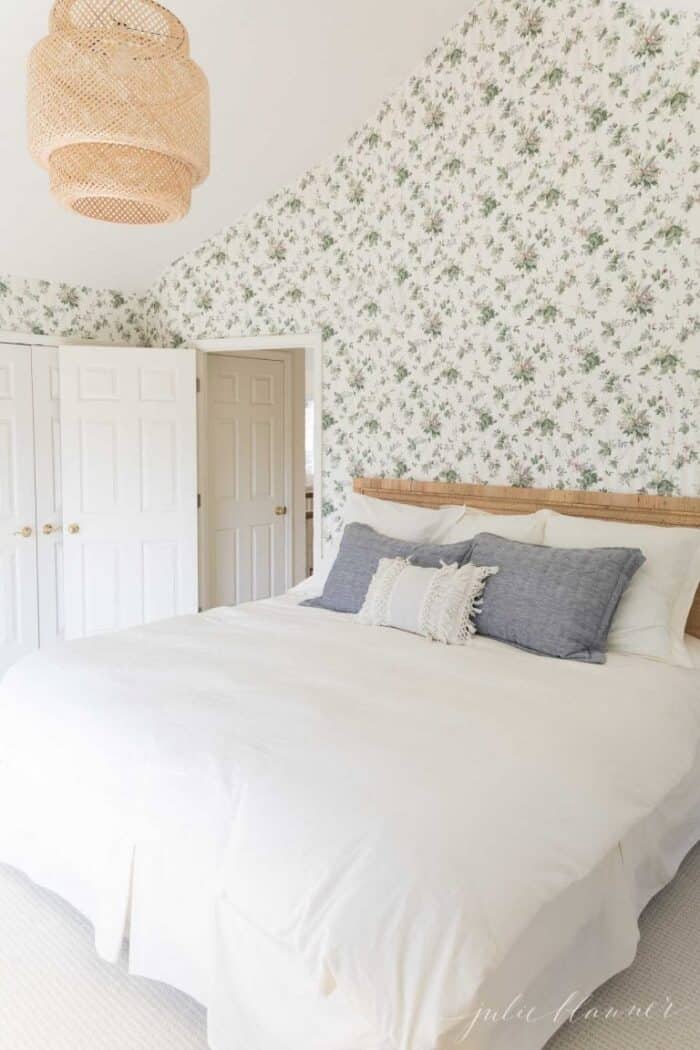 What Is Rattan?
Rattan is a fibrous plant, similar to bamboo, that is sturdy, pliant, lightweight, and beautiful. The skin of the plant is used in weaving, and the core is often used to make furniture.
Rattan can be worked into a wicker weave pattern, wrapped around frames, placed side by side in a stacked slat pattern, and bound together at joints and at different intervals to form straight lines and angles in furniture.
It became extremely popular in home decor during the 1970s when people wanted to recreate the outdoor look inside their homes. Rattan is still a popular choice for outdoor furniture because of its natural feel.
However, today much of what we see marketed as 'rattan' patio furniture is synthetic to withstand extreme temperatures.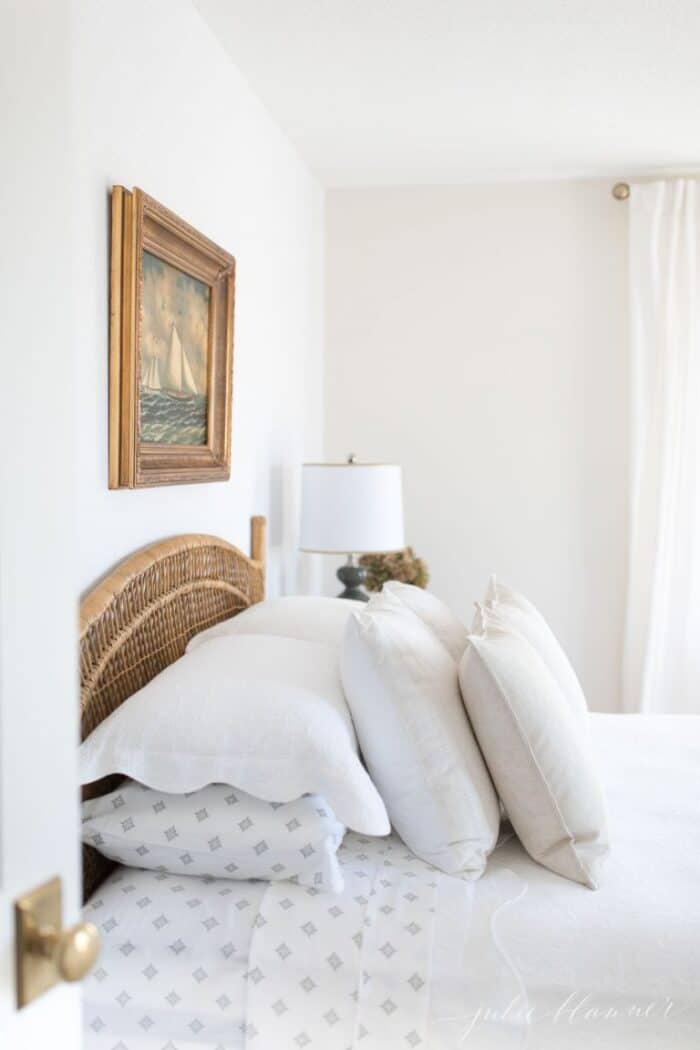 Where to Use a Rattan Bed
Since rattan is a natural fiber it will set a tone of calmness and relaxation. The natural colors bring a bit of the outside into the room for a peaceful feel, which is perfect in a bedroom.
A rattan bed will style naturally into coastal decor, bohemian decor, and tropical themes. It can easily be worked into minimalist, traditional, and modern decor styles, paying attention to how you incorporate that style into the rest of the room.
Rattan can be formed with a wicker weave, which texture provides a layer of warmth. Woven rattan can be rounded, which would look particularly nice in a nursery, girl's room, or a guest room designed with relaxation in mind.
A rounded woven rattan bed frame works beautifully to offset a square picture frame above.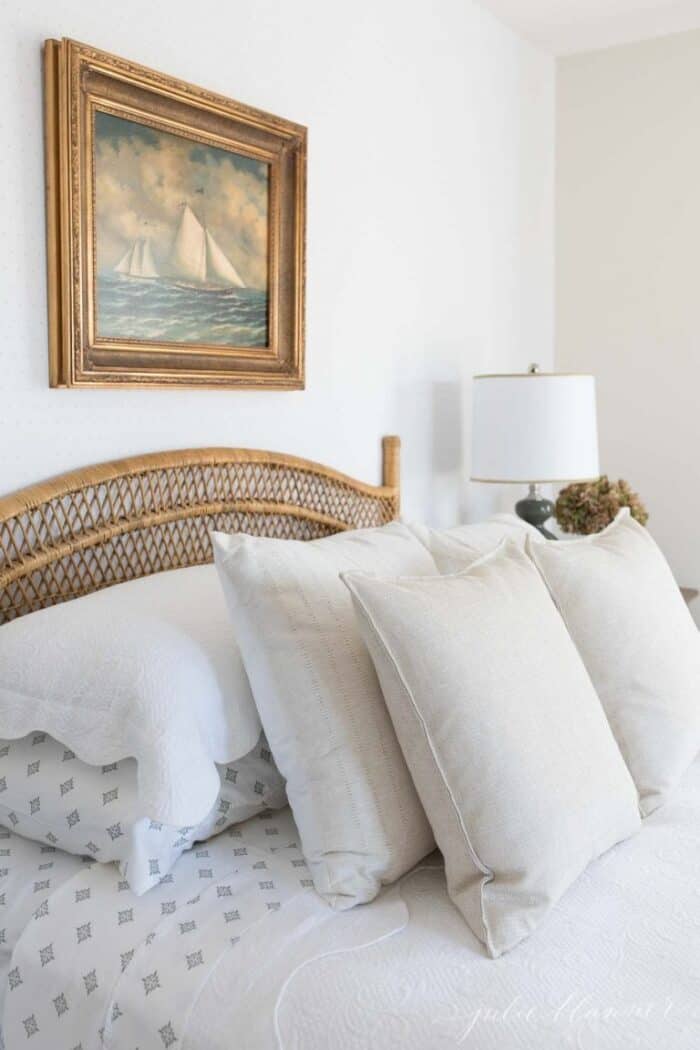 Rattan made with the bamboo look will have more straight edges and angles. This has a solid and sturdy vibe without the chunkiness of wood, which can really look stylish anywhere. In order to complete your target look, just get bedding and pillows to help style the bed to match your theme.
Natural fibers of rattan look stunning against white walls and neutral bedding. This is all in keeping with the theme of relaxation and serenity. However, rattan would look awesome any way that you style it.
In fact, you can read here about how we used it to play off the Dated Wallpaper in a couple of the bedrooms here.
Be careful, though, to not overdo it. You don't need a whole matching rattan furniture set in one room. One rattan bed with a couple of other items, like a couple of frames, a nightstand, or mirror will be enough rattan texture.
Look for other pieces that will work to accomplish your end result through metal, wood, art, and textiles.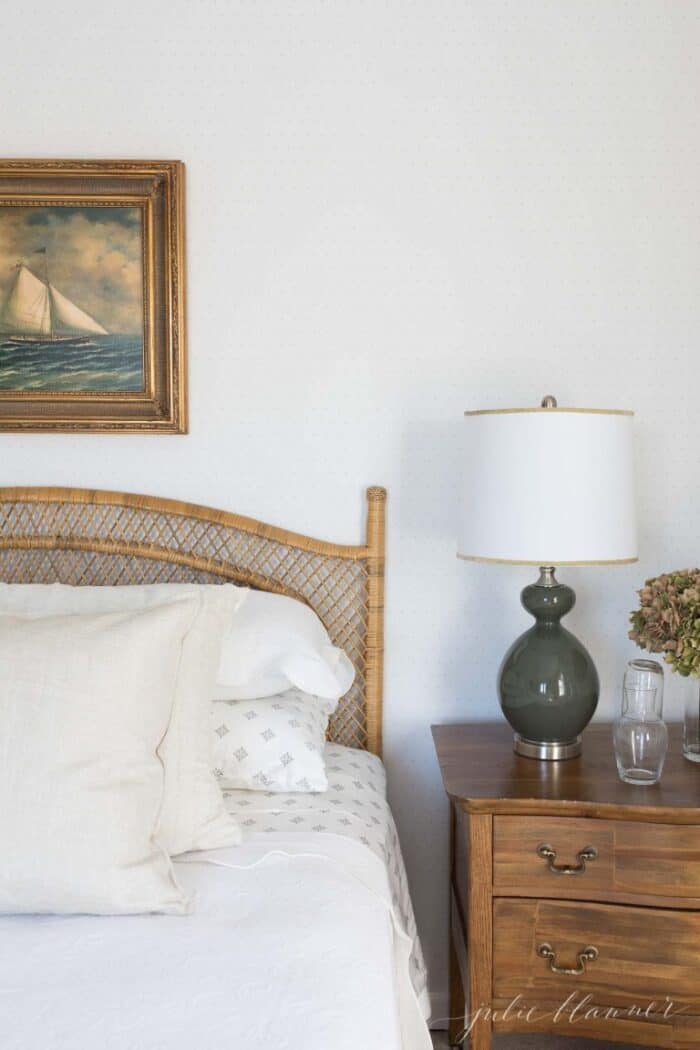 How to Care for a Rattan Bed
Because rattan is often woven and has lots of spaces dirt can hide, it will need to be dusted regularly. Use a soft brush to get into the weave and remove the dust. Similarly, use a hand held vacuum tool that has bristles to work into the fibers.
If it needs more thorough cleaning, use water and a mild cleanser. Get into the crevices with a soft brush and lightly scrub to get out any debris.
Check for places where splinters might have formed and gently glue back into place or remove and slightly sand.
Learn all the secrets and techniques for how to measure furniture, and get it right the first time!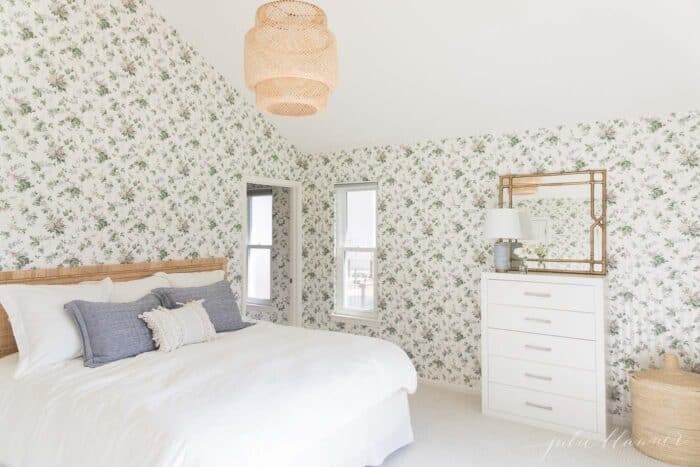 Frequently Asked Questions about Rattan
Is rattan the same as wicker?
Rattan is an actual plant that can be used for weaving and furniture making. Wicker is a method of weaving and can be made with a variety of materials, including rattan.
Will a rattan bed be sturdy?
Rattan is a very sturdy material. However, it does need to be taken care of. Keep it clean and check for wear and tear.

Avoid cleaning it with harsh chemicals and keep it away from direct sunlight, which could dry it out. With the normal use of leaning up against it as a headboard, it should last for years.
Rattan is a unique natural material that creates texture and warmth in a room. A rattan bed has great potential in your space.
Whether you choose woven or straight, rounded or flat, light or dark colored, rattan will add natural beauty and style to any bedroom.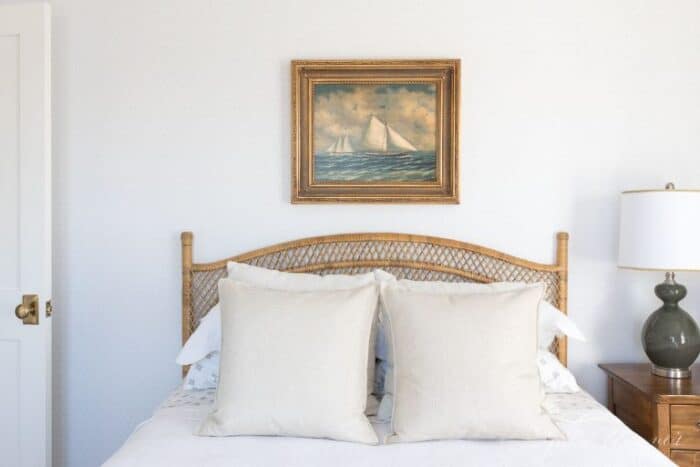 The headboard pictured in our St. Louis Guest Room is vintage! We set a Craigslist alert and found it so inexpensively! Check here if you're looking for a vintage rattan headboard, too!
---
Shop Our Favorites
---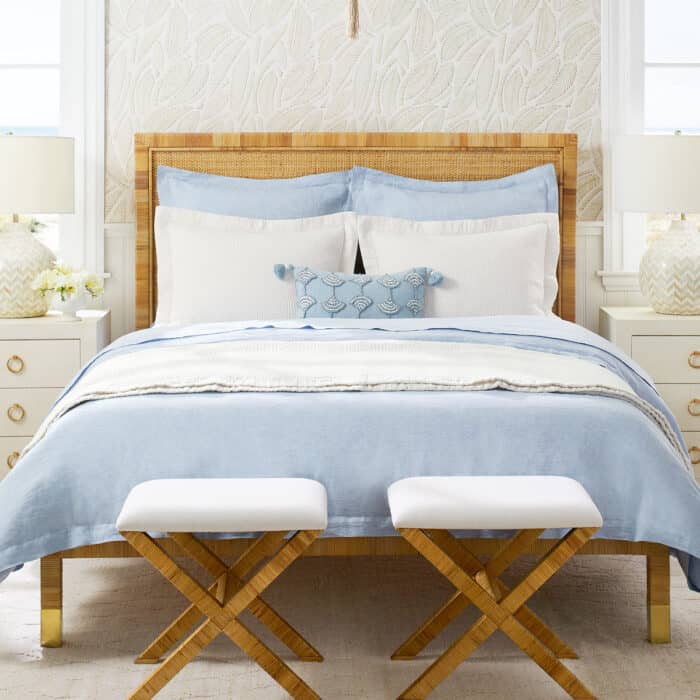 Available in Natural and Mist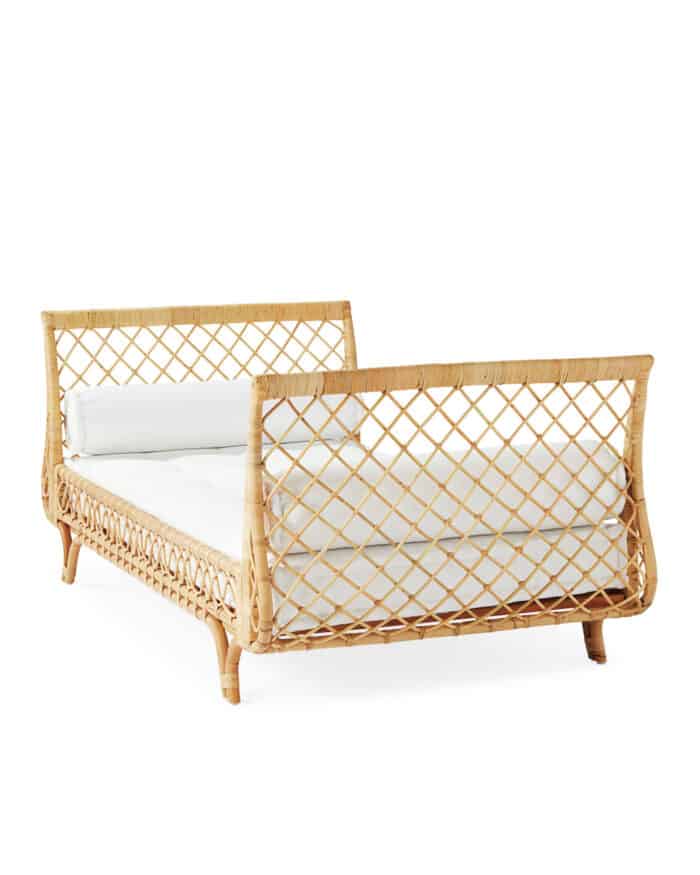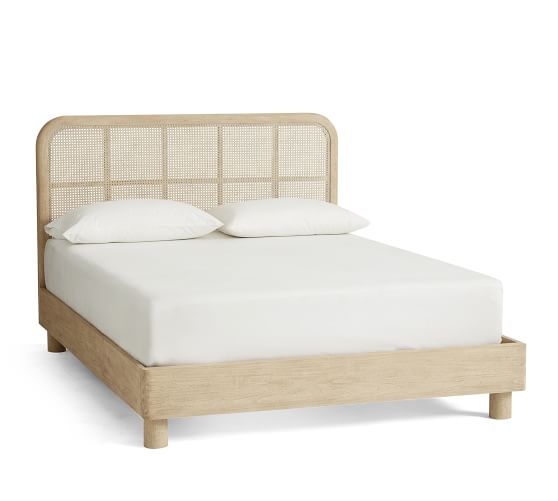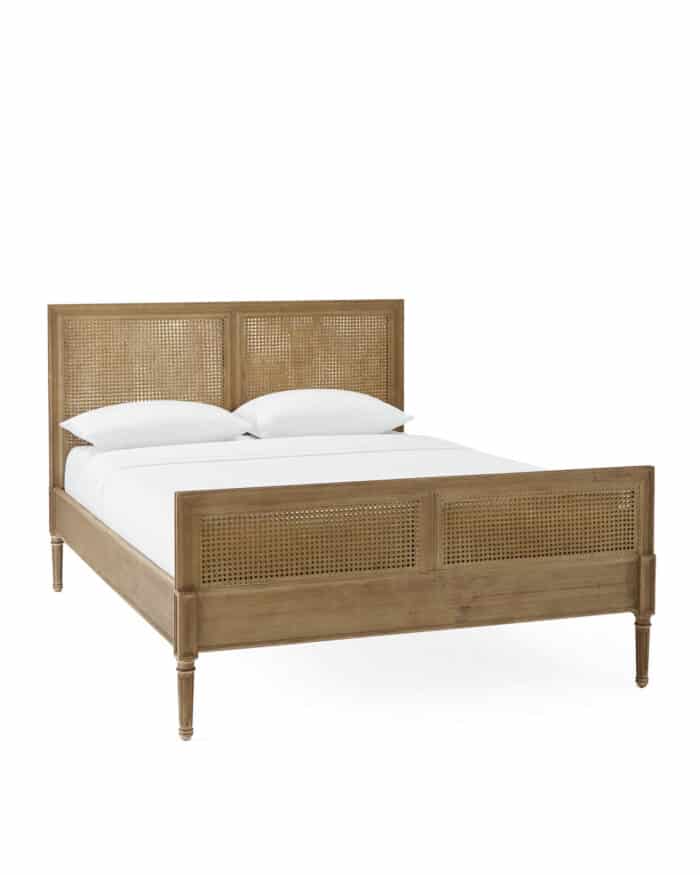 Available in White and Natural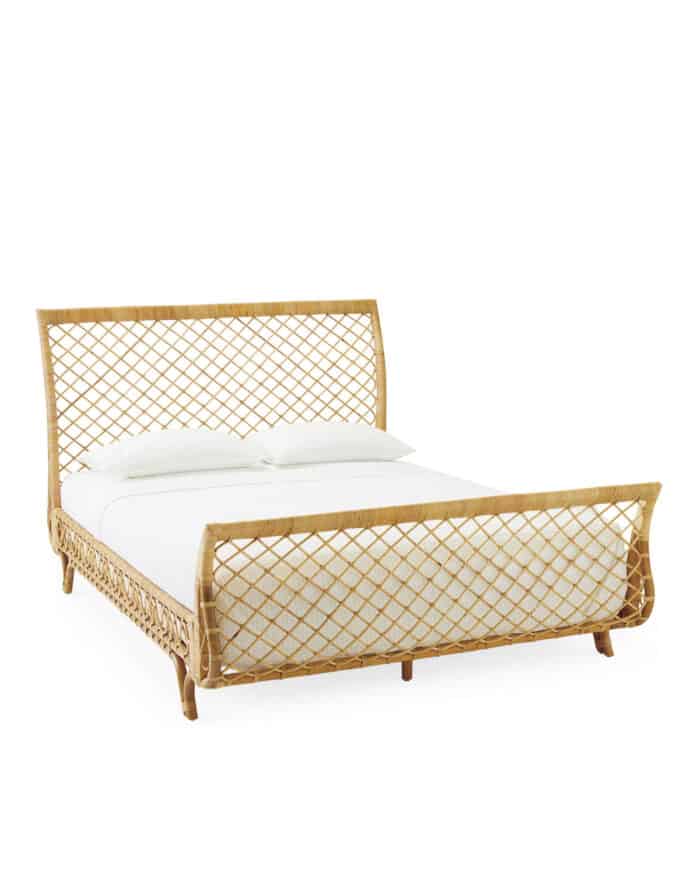 Available in Queen and King