It's fun to reflect on all we've accomplished. Life certainly isn't always an image of a perfect before and after, but they sure do feel good… even if they just show progress.
As our home has evolved this before and after post has, too! I like to update it each year with new projects and home decor ideas.
Our home was recently featured in the St. Louis Post Dispatch. We have so many more projects to come that I cannot wait to share with you!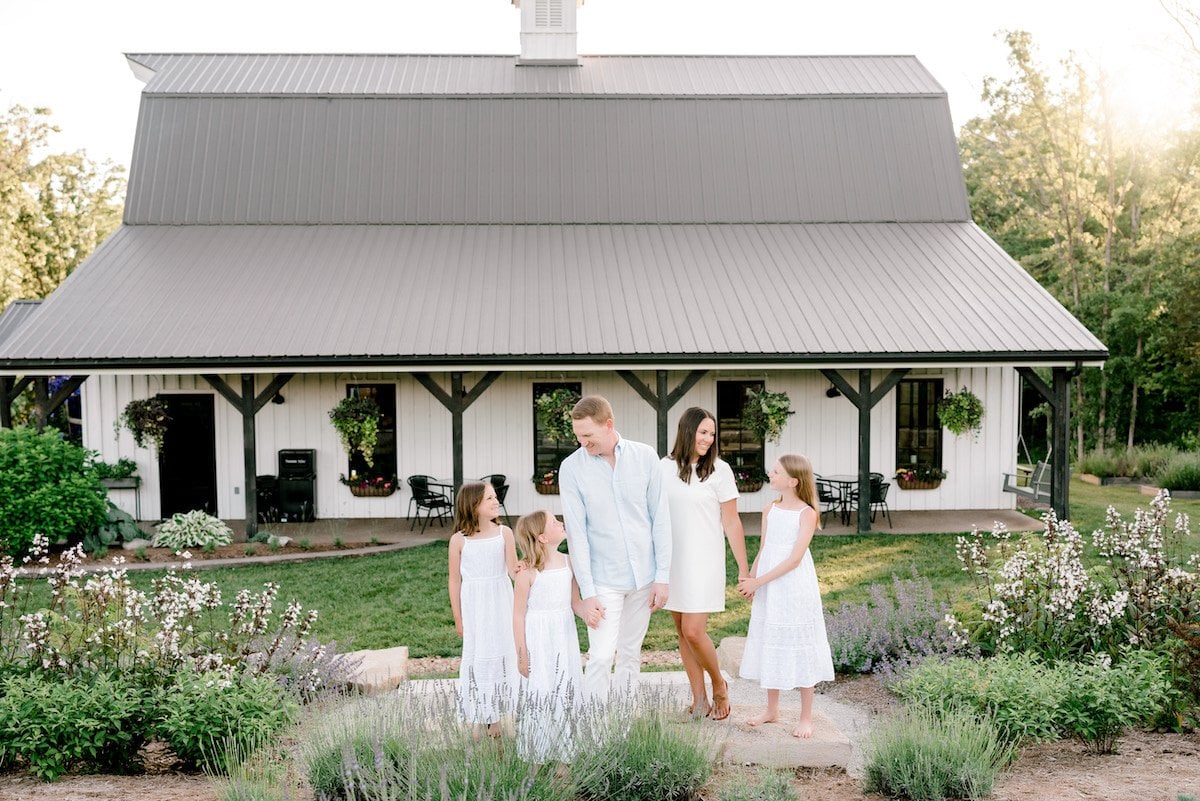 I hope you enjoy this little updated tour of our humble home. Use the drop down Table of Contents menu to navigate this post to different areas of our home.
Before and After
Today, you'll find some new, never-before-seen photos and angles of our home, and an updated family photo so you can see how the girls have grown!
Can you believe the difference in the photo above, compared to the original one below? It's such a thrill to watch them grow and change.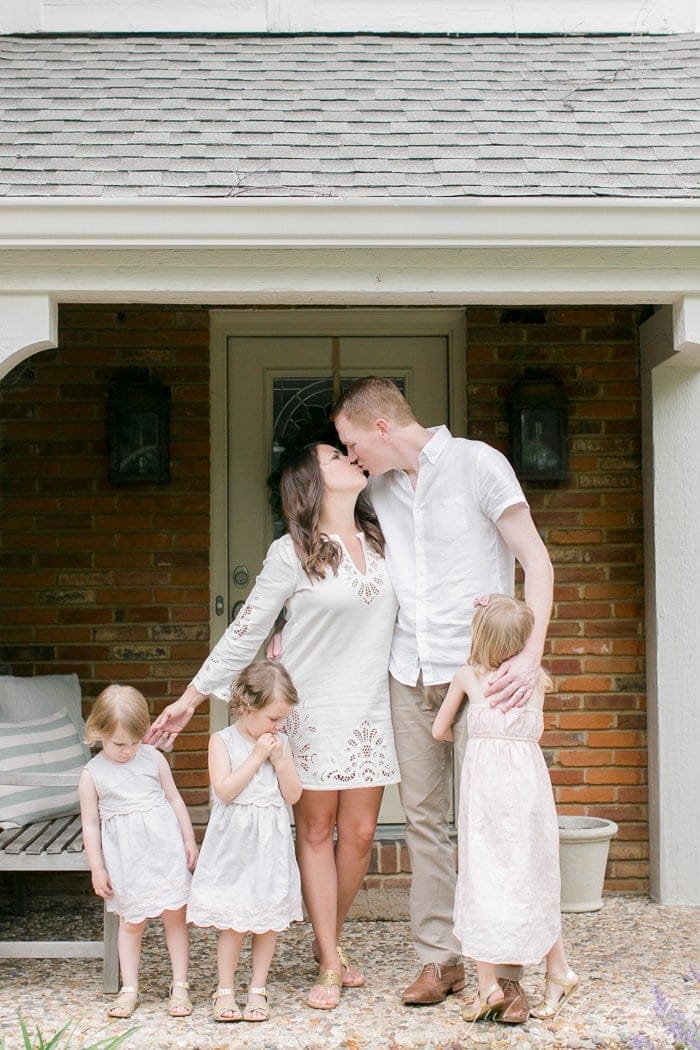 It's been almost eight years since we moved to our Tudor style home in St. Louis… even as I type those words I can't believe how quickly time has flown by! While the exterior style of this house wasn't our dream, it has become home and I love it more and more everyday.
Over the years we've done a lot of projects, big and small to adapt our home to fit our lifestyle and aesthetic. There are still a lot of projects to do, but I like to take the opportunity once a year to do a quick before and after.

It helps to remind myself that it was worth it!
Exterior Curb Appeal
Where to start? The exterior! I wish I had photos of the front of our freshly painted home (yes, we are painting it for the second time, since it had been eight years and we had some wood rot).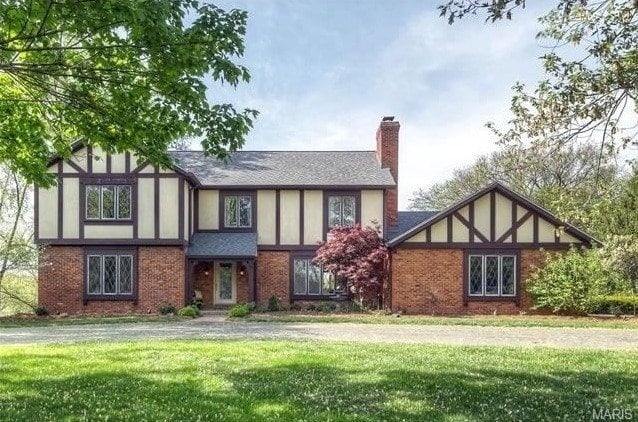 However, we've been waiting for the weather to warm up to complete the project, and now of course we are waiting on contractors! That's how it goes with renovation projects.
We are finally taking the leap, actually – after watching this White Brick House makeover we have decided to paint our brick! Soon, I'll show you the rest of the home painted in Benjamin Moore Swiss Coffee.
But for now, here's a sneak peak of our garage with our new copper gutters and my favorite copper lanterns. What do you think, should we polish the aged finish on the lanterns to match the new gutters?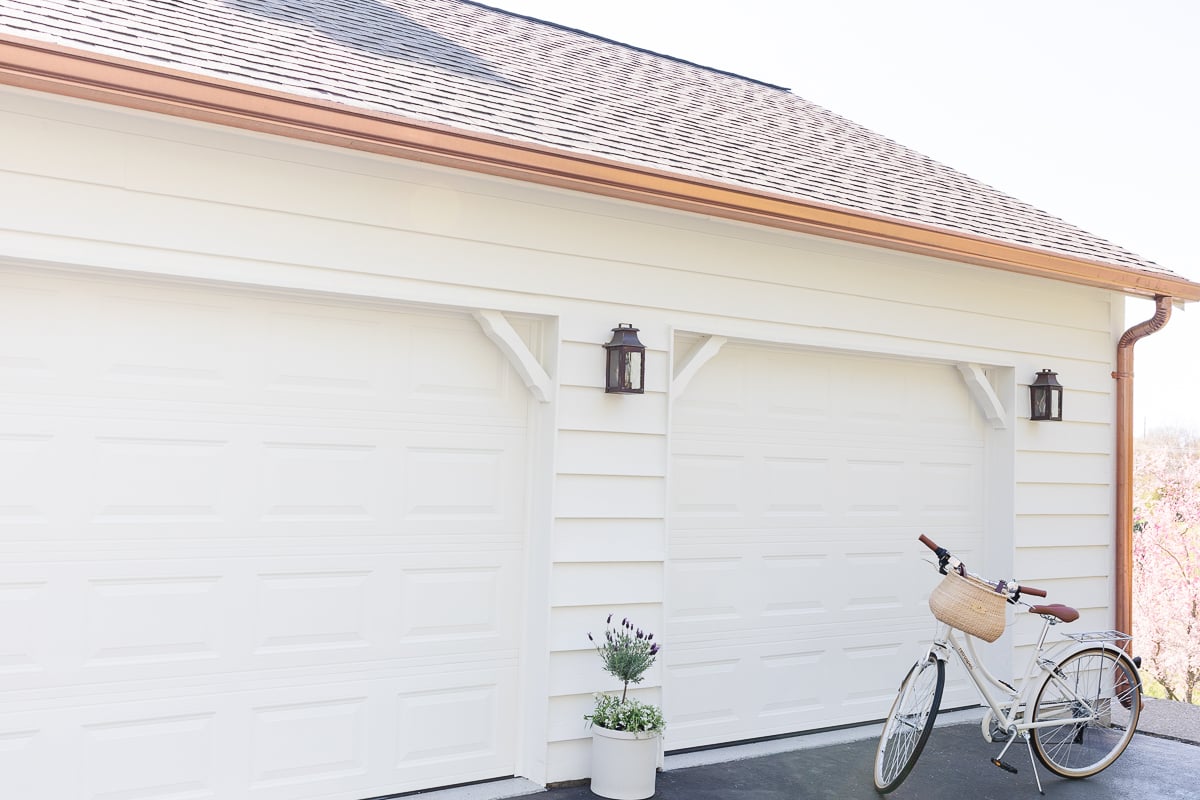 For the first round of exterior paint, we chose our favorite Tudor Paint Colors, added a much needed new roof and landscaping transformed the exterior of our home.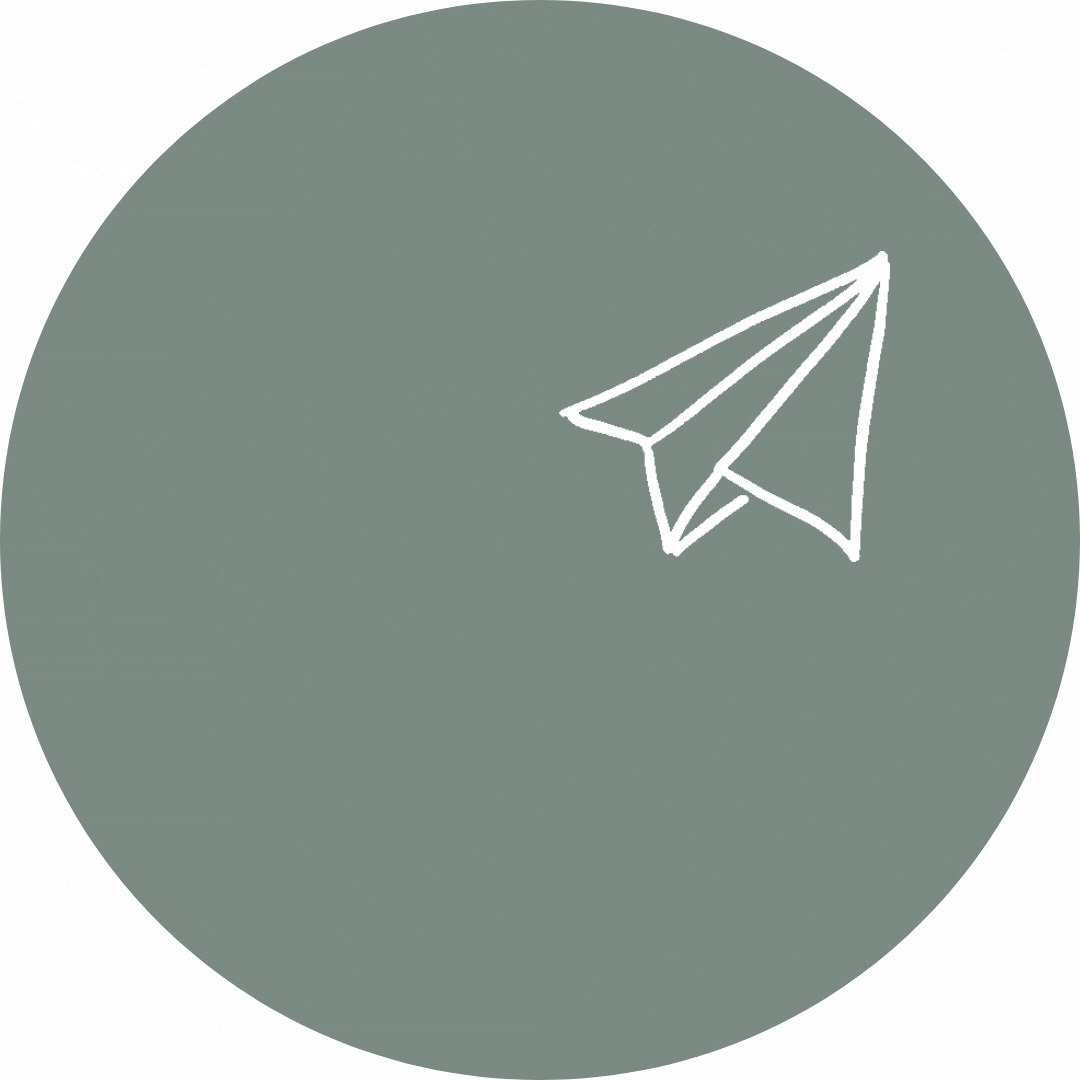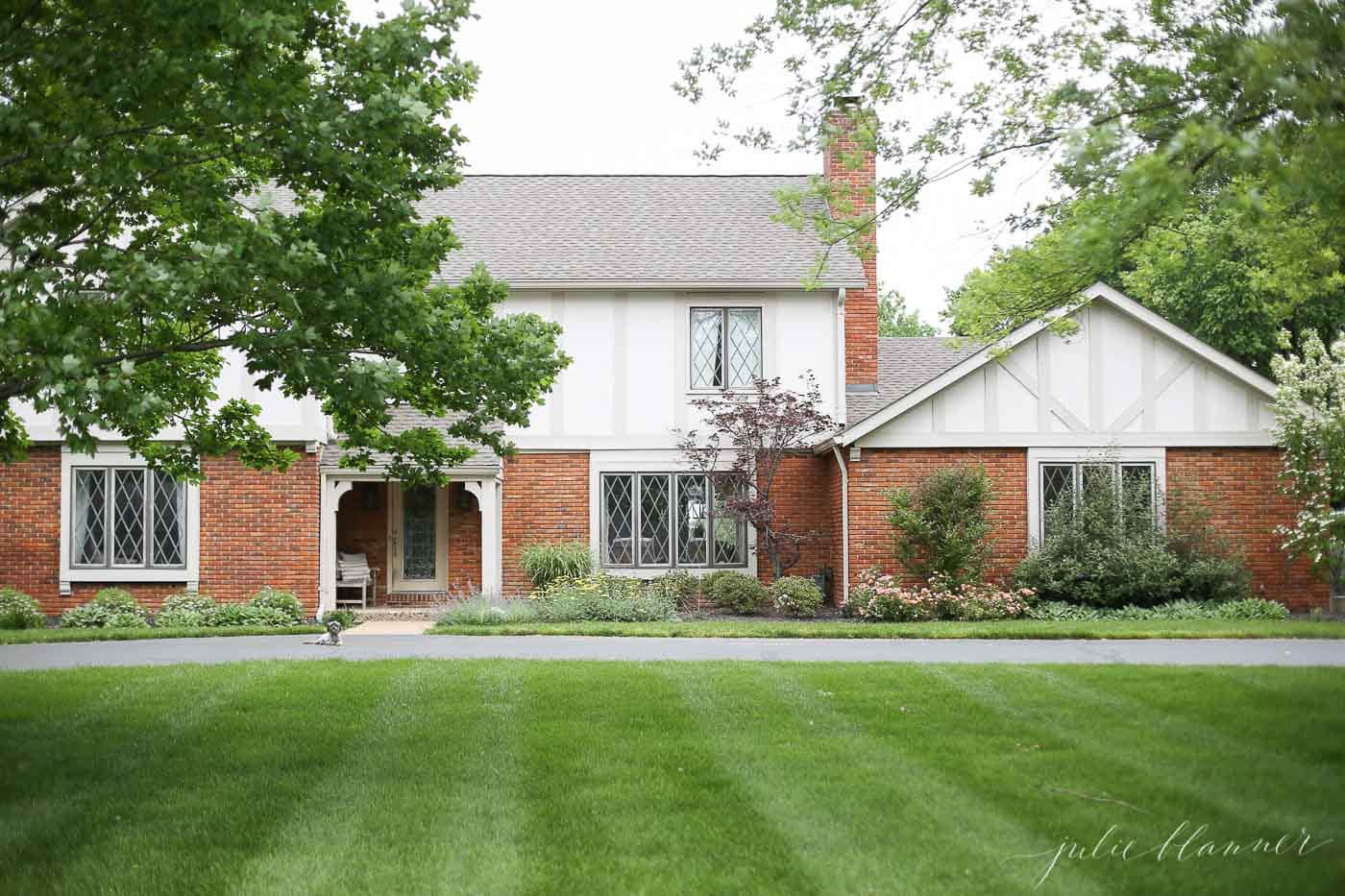 The spring blooms just might be my favorite, though the fall colors are difficult to beat through the diamond paned windows.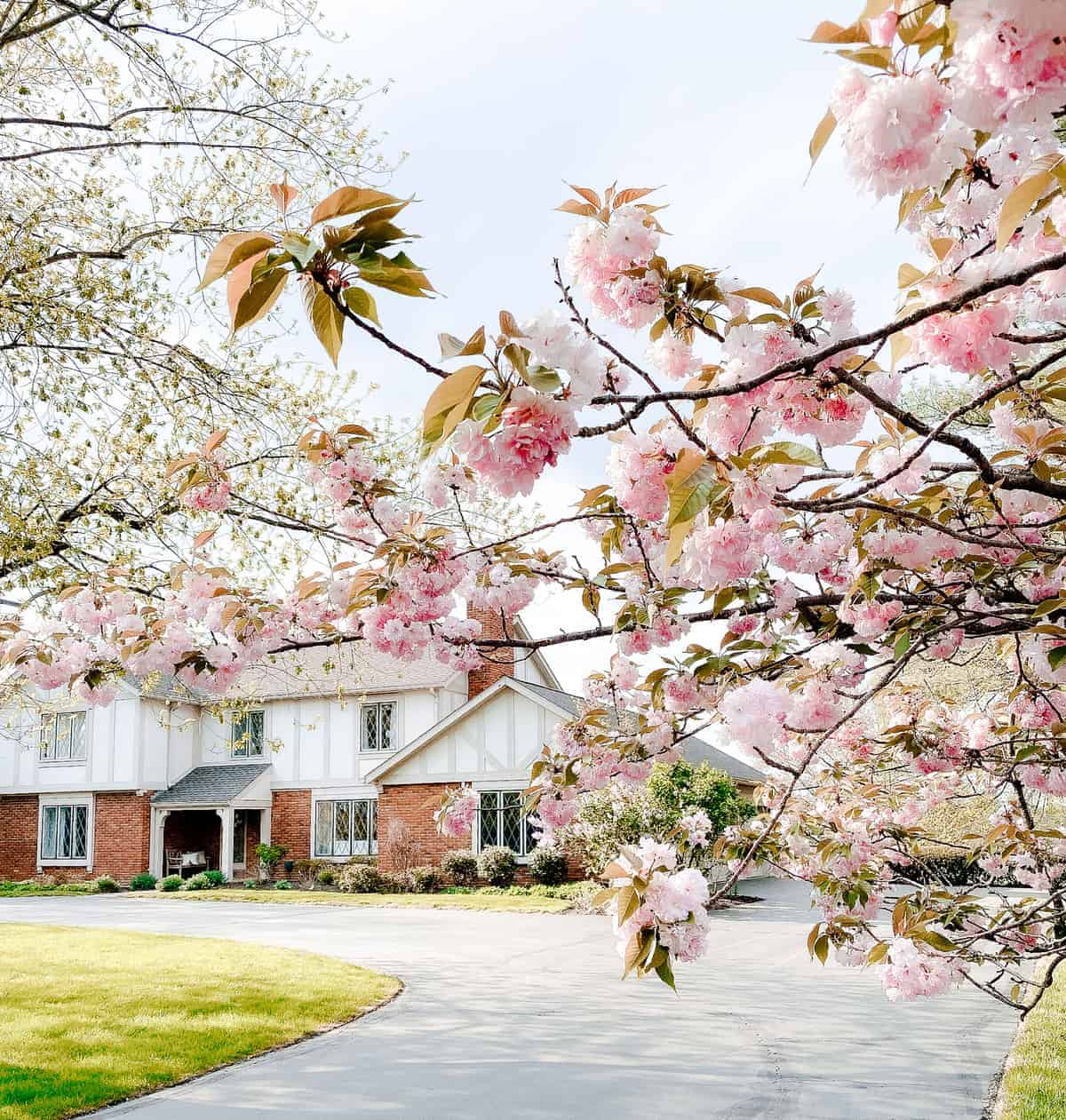 They gracefully frame our copper mailbox on an iron post (find the mailbox in my shop). The post was painted to match our exterior paint colors in Sherwin Williams Everyday White.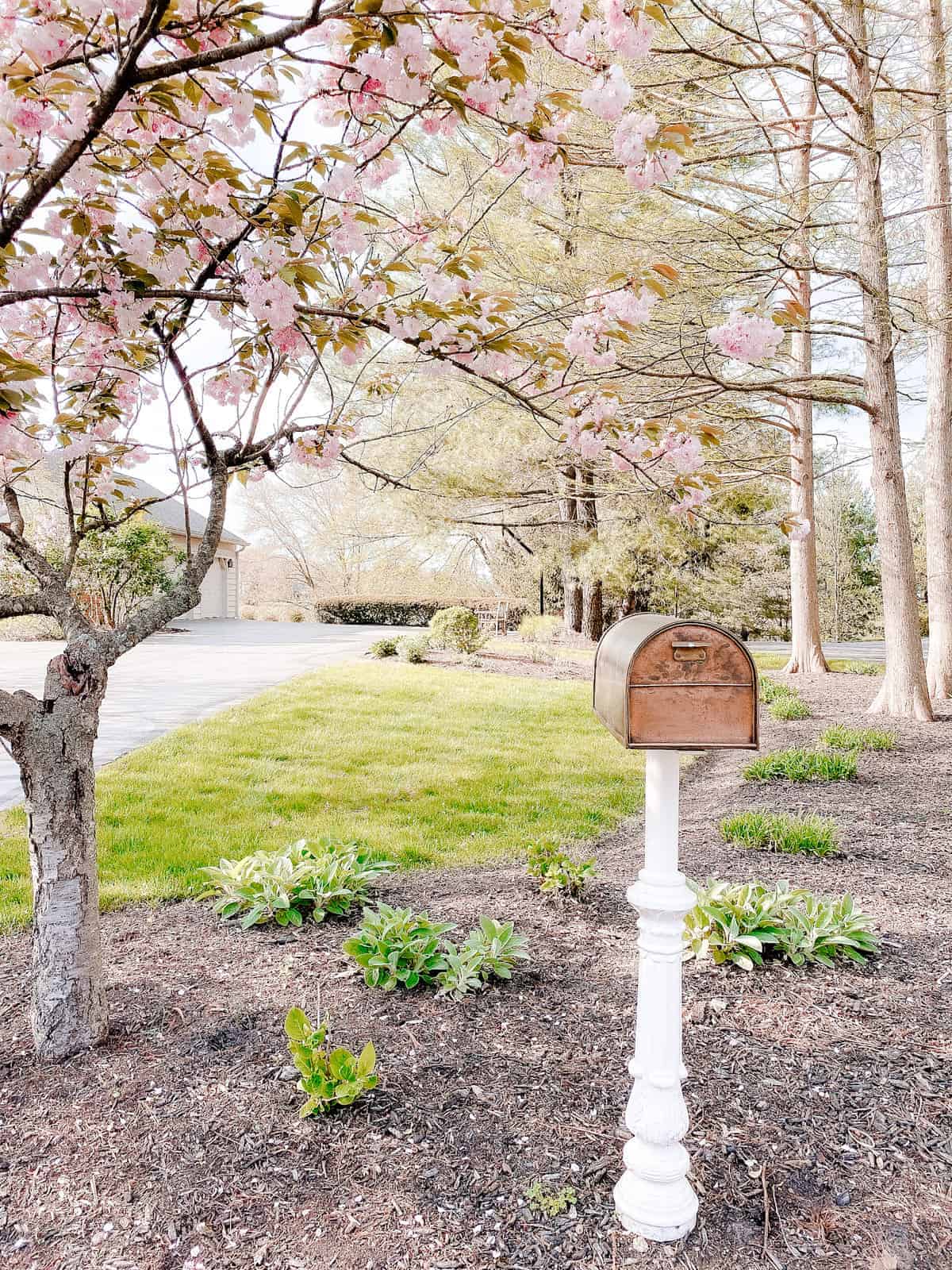 The front porch has unexpected charm with a pebble porch. Soon we'll replace the front door and the brick will be painted to showcase the new copper gutters.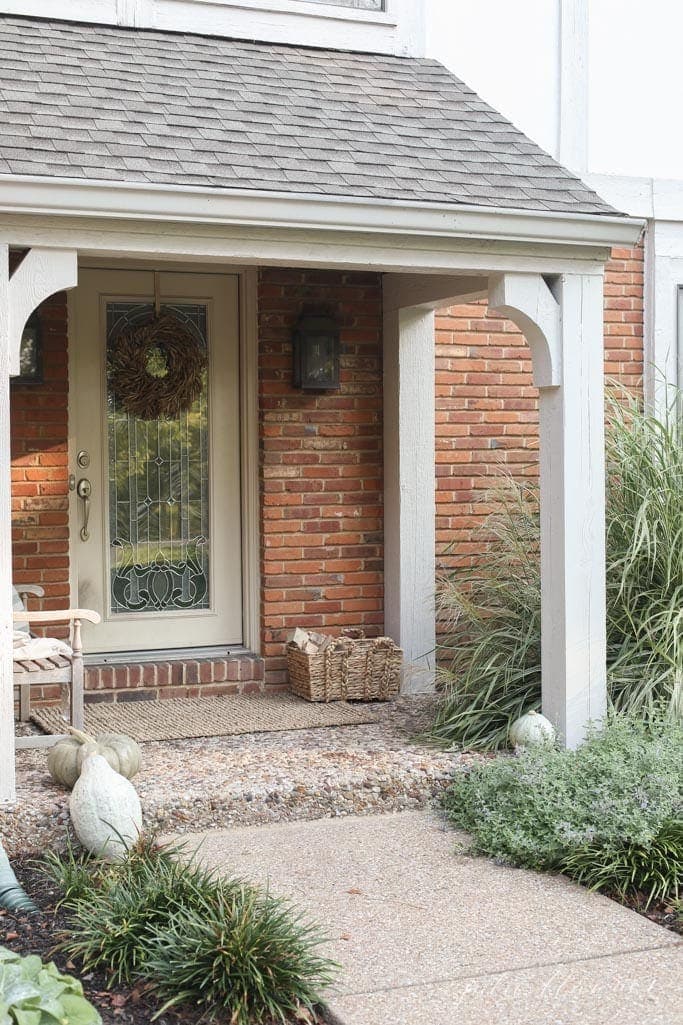 Entryway
The entry was so dark with light blocked in every direction. We removed the closet to make the living room appear larger and to allow the light to shine through.
We replaced the slate with hardwood floors and removed the carpet on the stairs replacing it. At some point, we'll likely add a stair runner but it hasn't happened yet.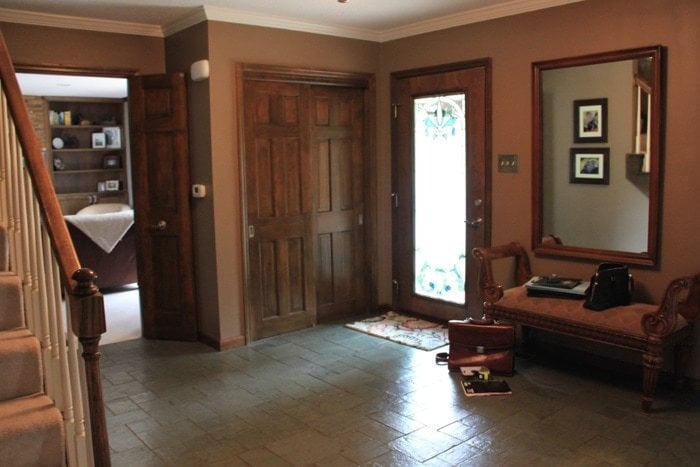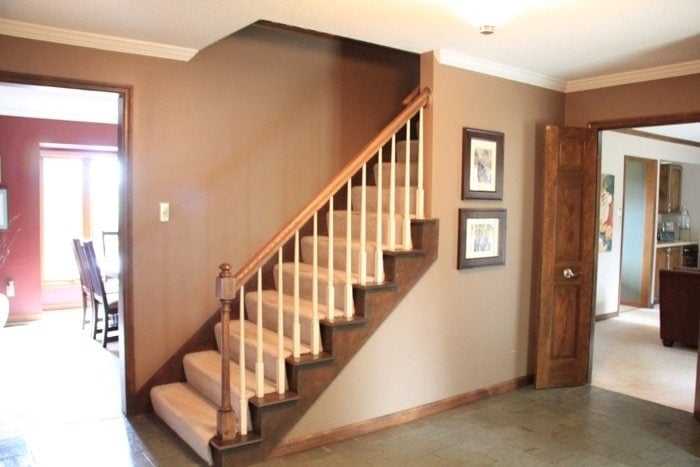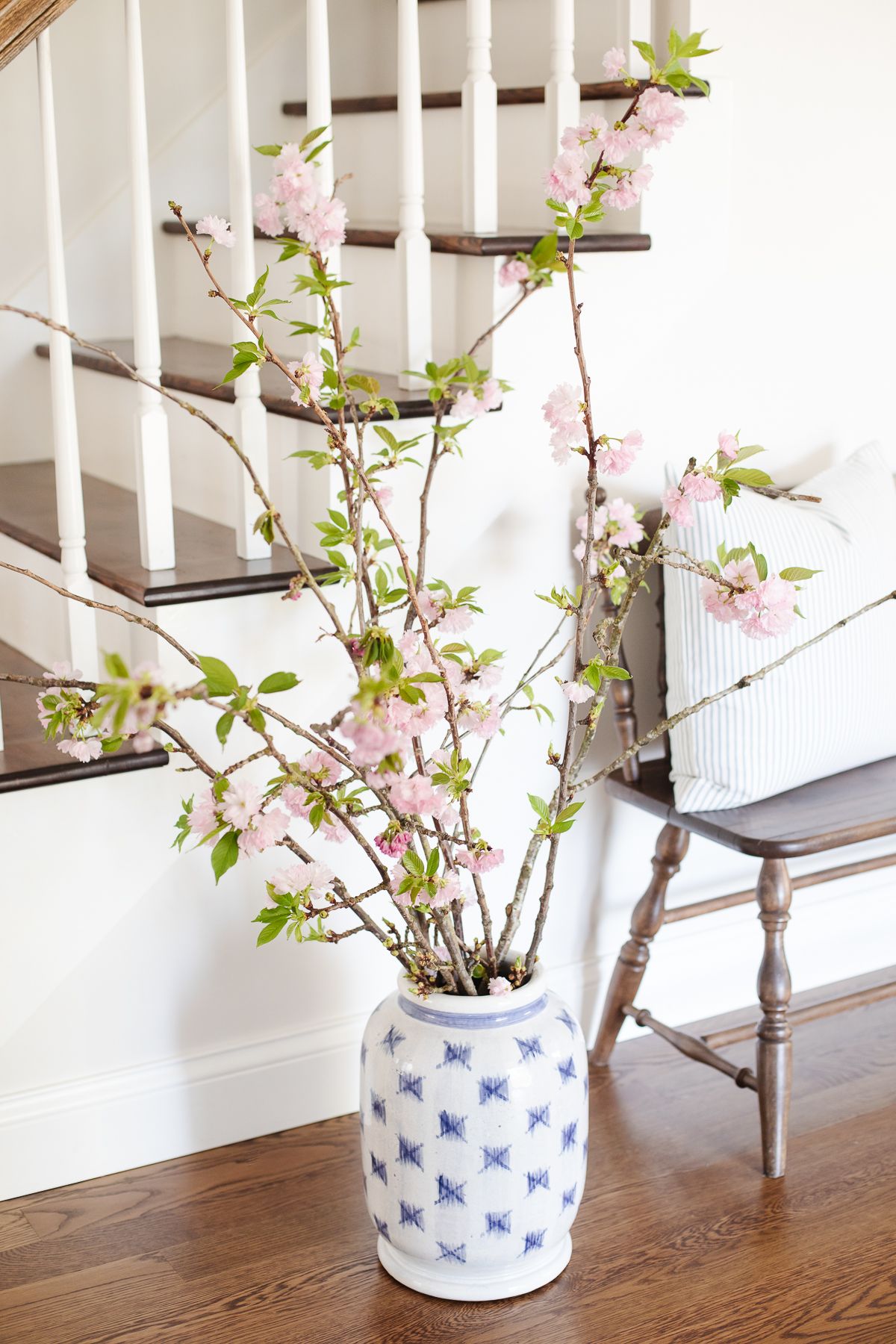 The entry along with most of the main level, was painted in Sherwin Williams Zurich White. The popcorn ceilings were removed and we also replaced the light fixture with a brass flush mount.
As you can see, our entryway is now a wide open space, with views into several rooms of our home. It feels bright and light, giving glimpses of a variety of spaces.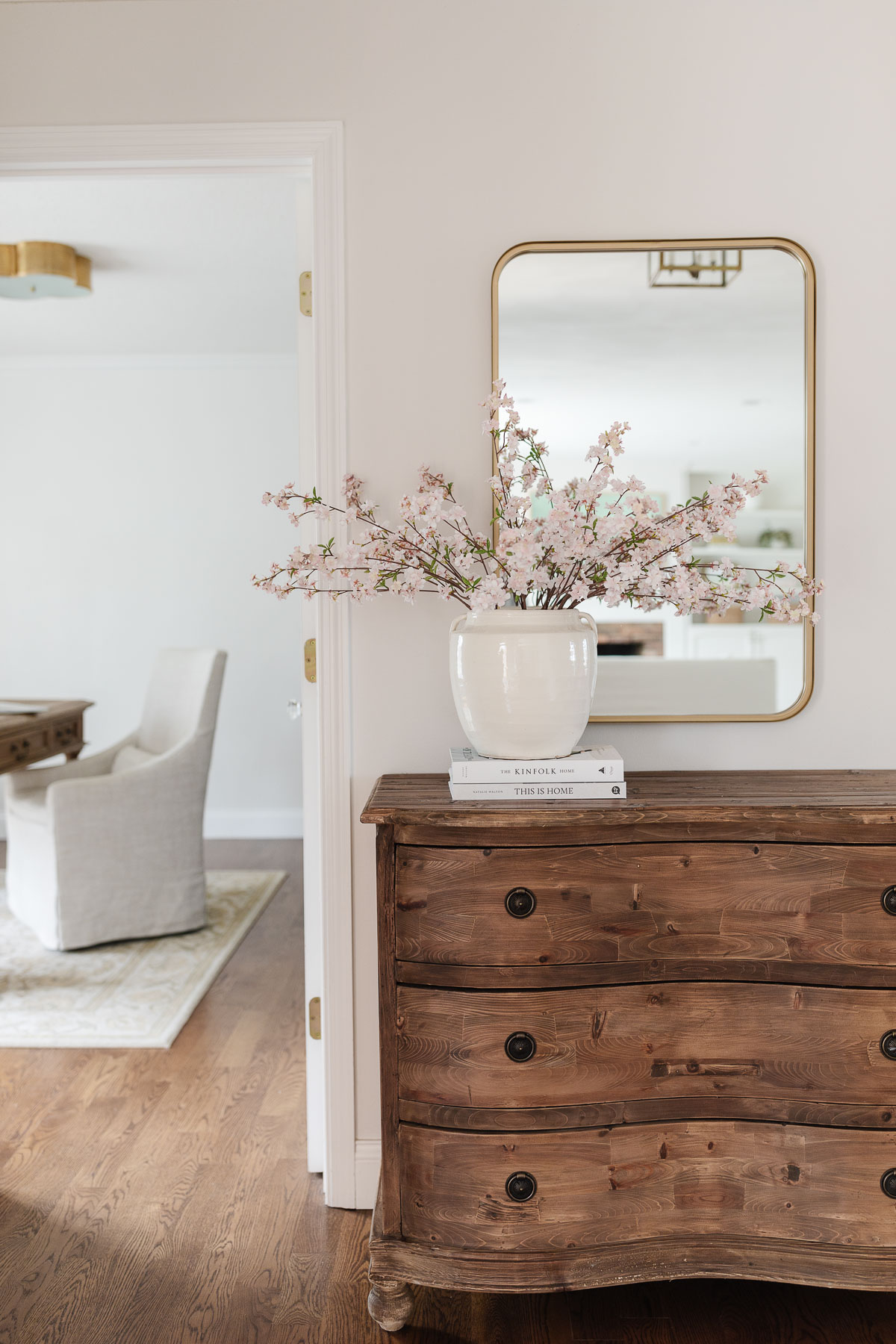 I hope it's also warm and welcoming to guests… that's always the goal!
Half Bath
The half bath initially felt cramped and the toilet position felt more like a throne.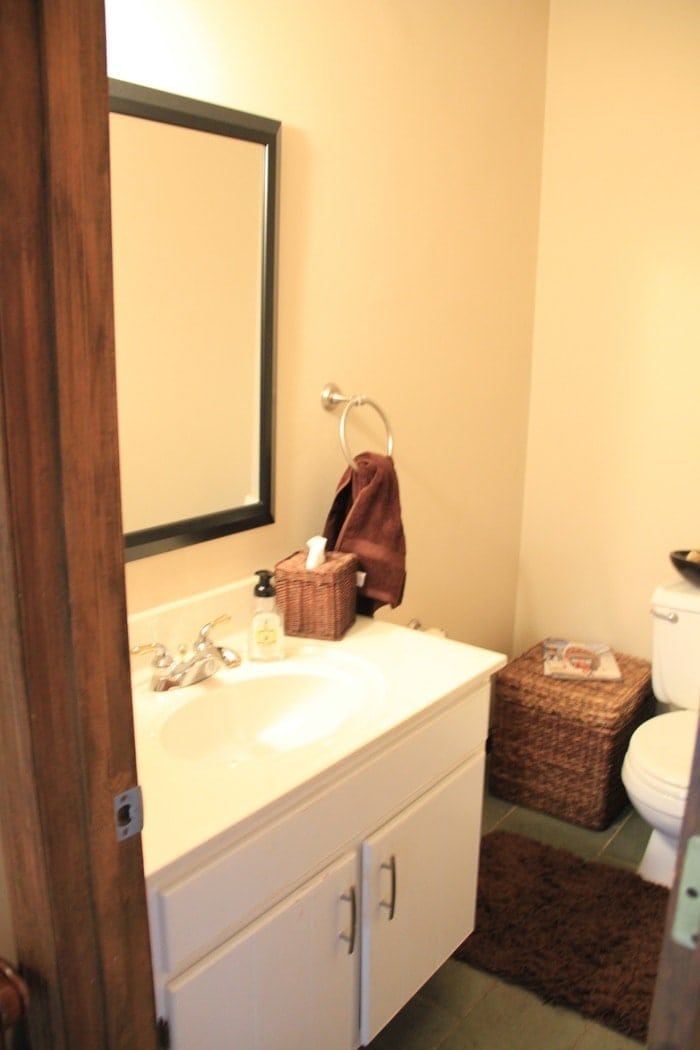 We relocated the toilet, added botanical art (replaced by a wreath for holidays), painted, added hardwood floors and made the space feel more open with a Parisian sink.
You can get all the details about our half bath here.
Each space is designed to effortlessly transition from one season to another with a simple change, like replacing DIY Wall Decor with a Christmas Wreath!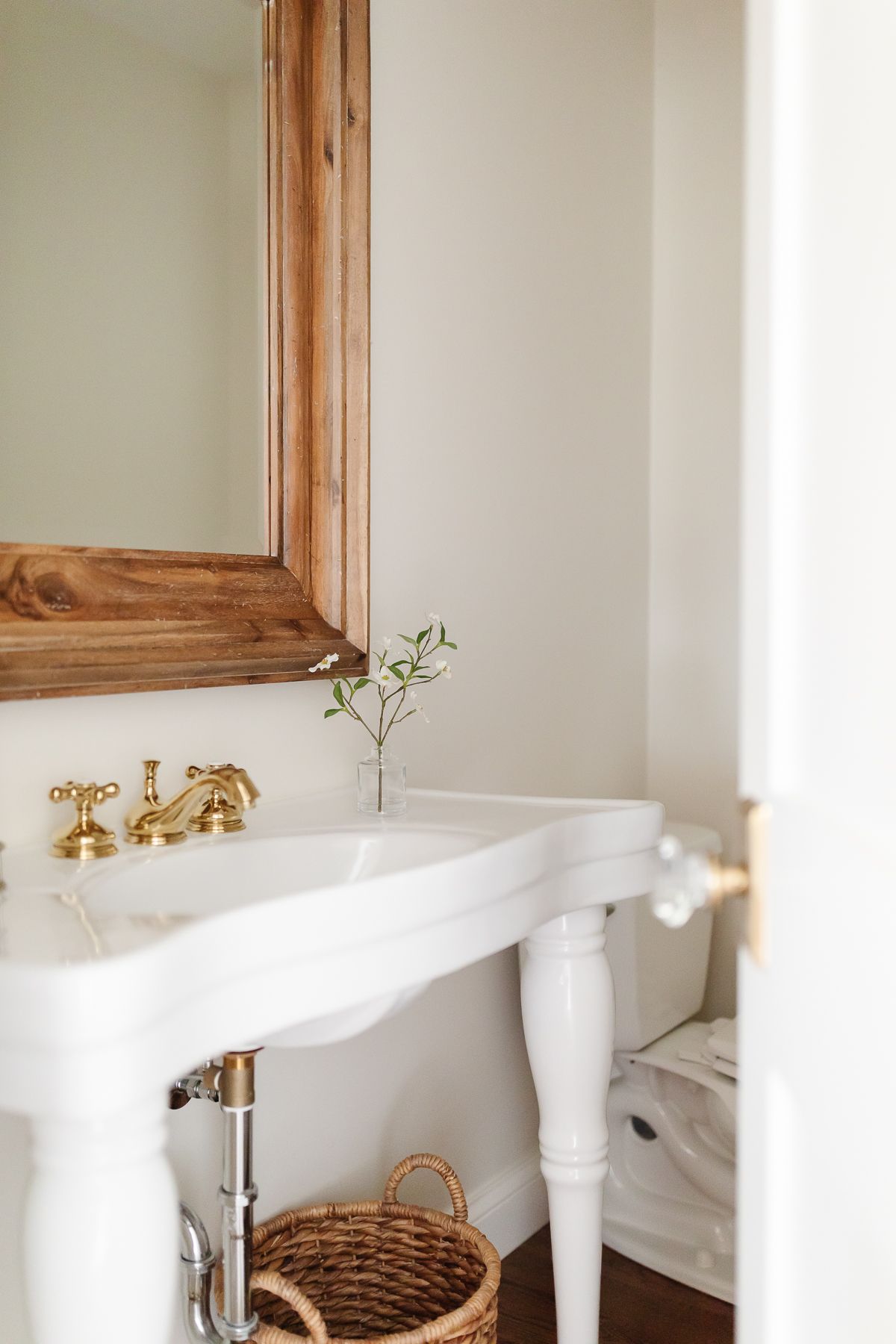 Office
The office is the first space you see off our entryway. This may surprise you, but an orange room with a chalkboard mounted taxidermy isn't really my thing.
We discovered parquet wood floors underneath (find out if you have wood floors) but they were damaged when carpet was installed so we opted to continue our hardwoods into the office as well.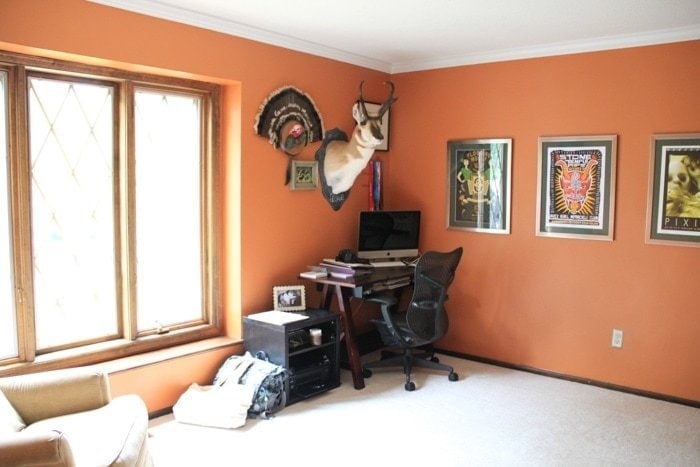 The office is now a calm, functional space filled with traditional decor.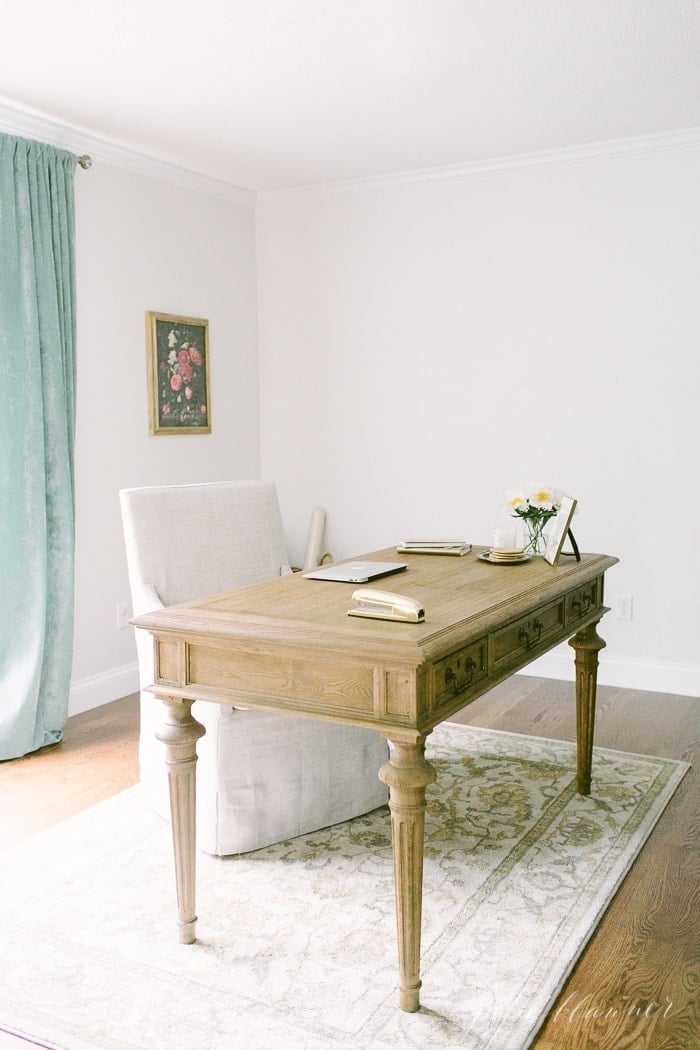 Family Room
The girls call it the library, because it's where the majority of their books reside and they snuggle up on the sofa to read.
We replaced the blinds with bamboo shades, the grates in the doors were removed, painted and replaced carpet with hardwood. You can see the result below!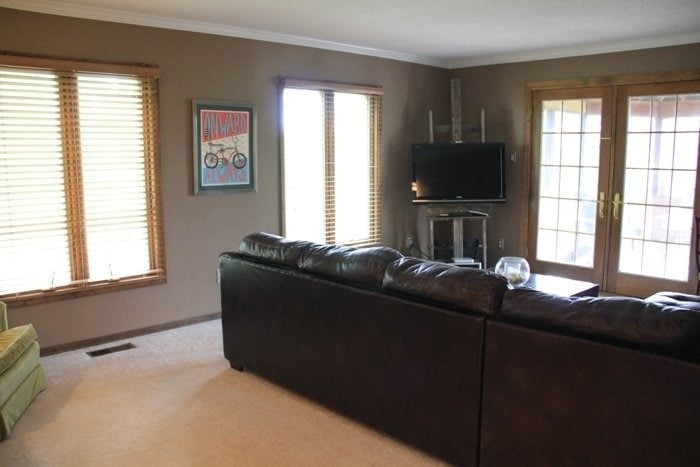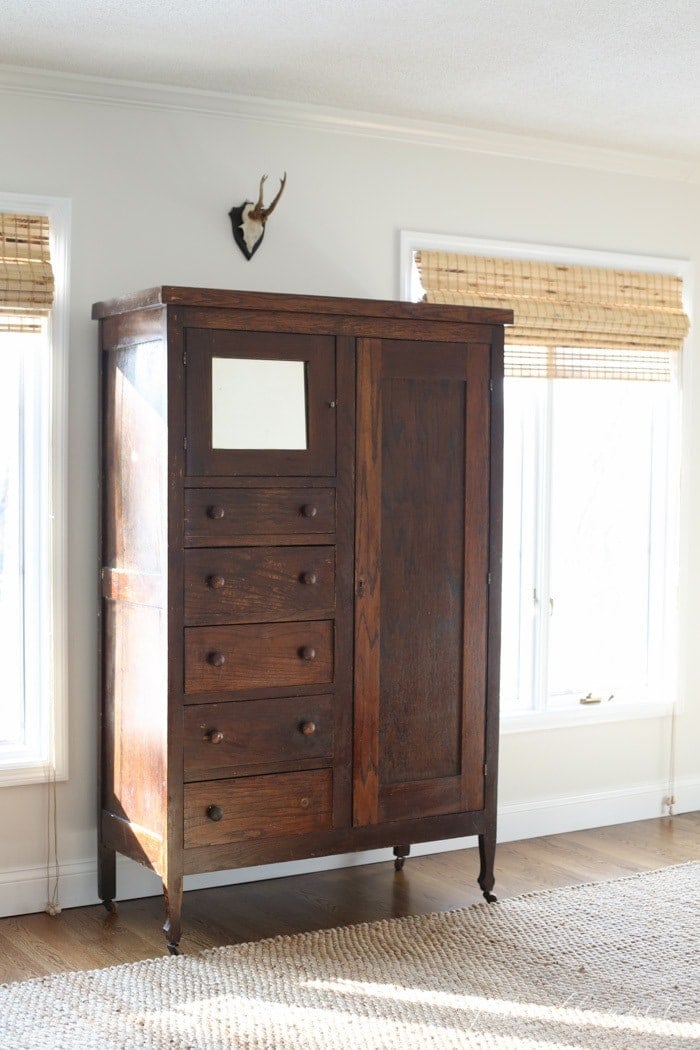 I incorporated my Grandmother's Linen Cabinet that had been passed down multiple generations.
My Great Grandmother's piano is a family room fixture as well. The fiddle leaf fig brings the room to life.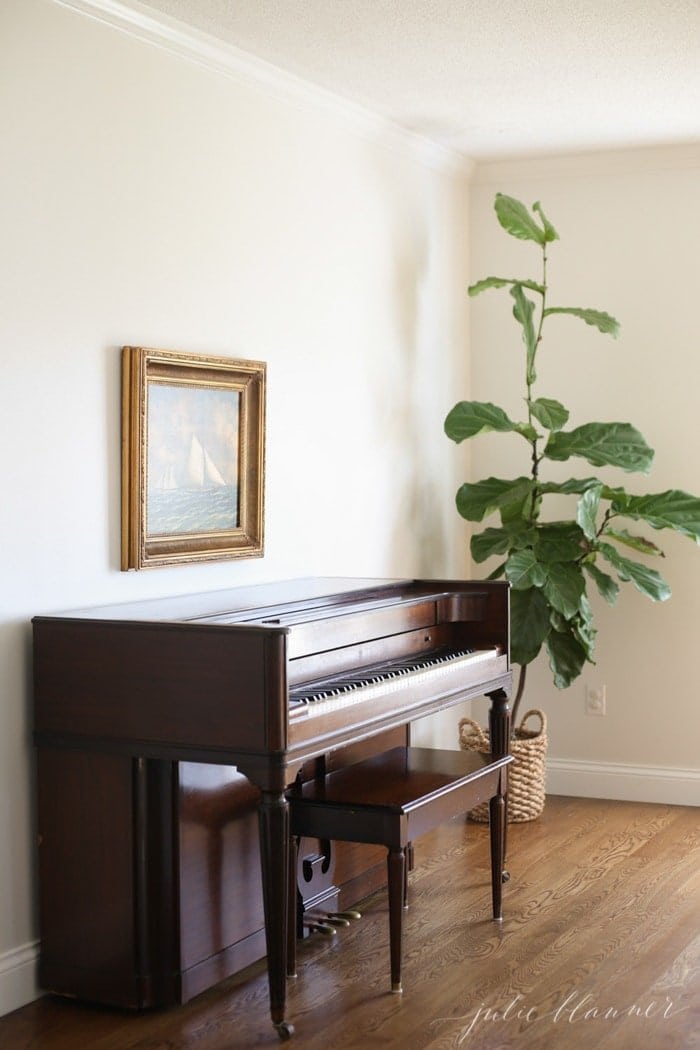 The Pet Friendly Rug now sets the foundation for this space. It's incredibly soft and wipes or hoses clean, while offering the appearance of a natural sisal or jute rug.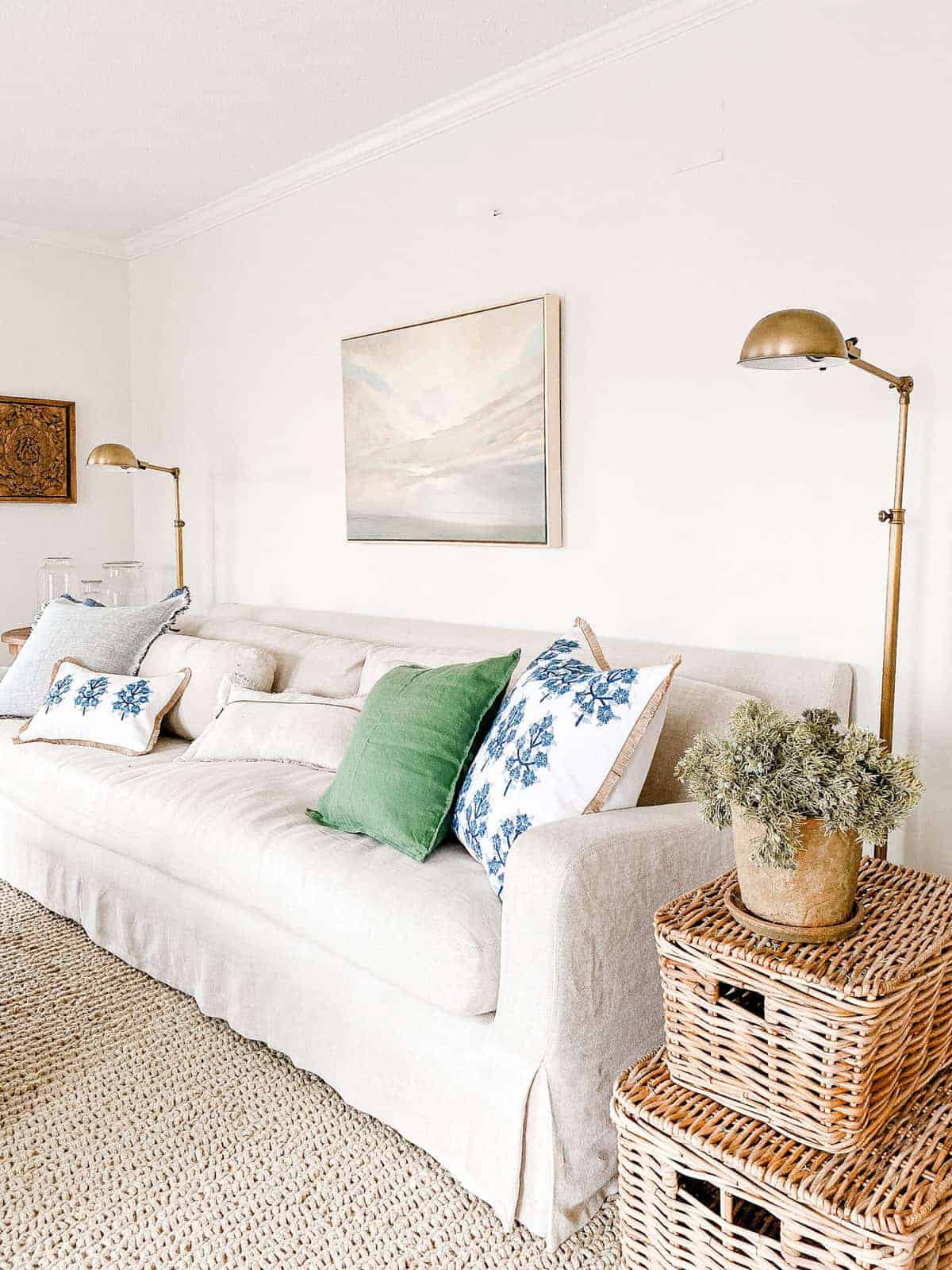 Screened in Porch
The Screened in Porch once felt fit for a Girl Scout camp. We painted the interior, added curtains by making Custom Copper Curtain Rods for the Bay Windows and redefined it as an outdoor dining room.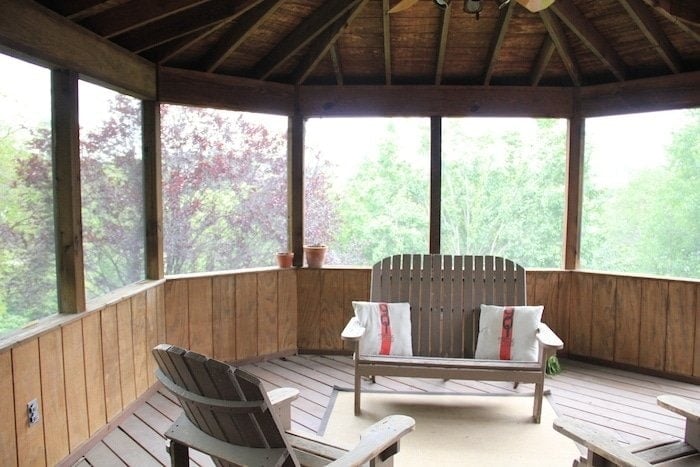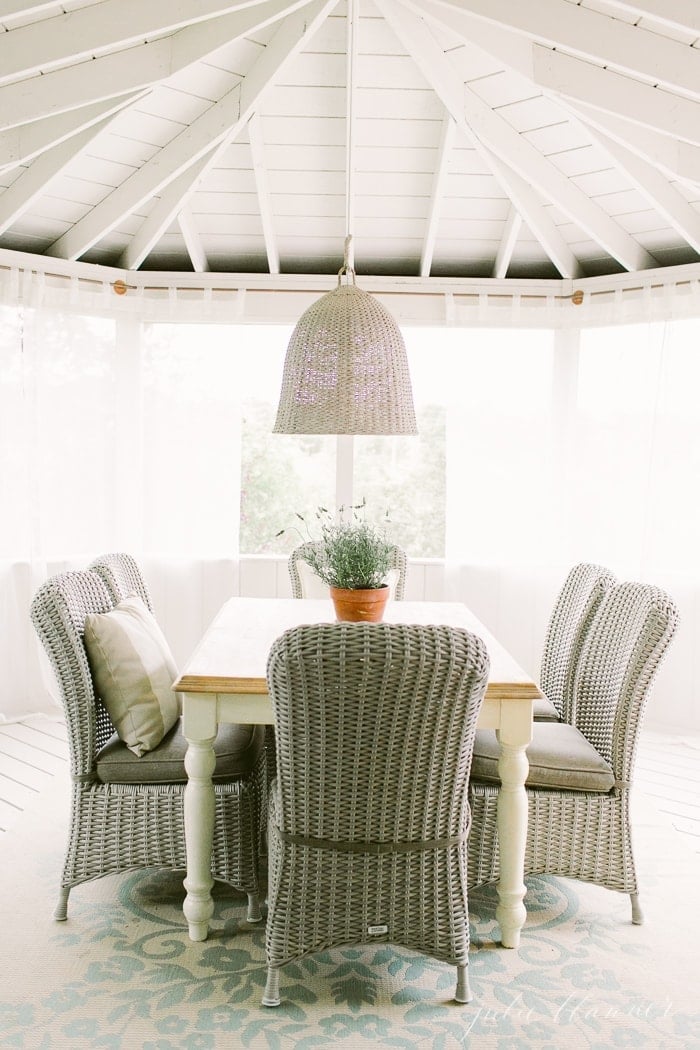 Now, it's a screened in porch we can be so proud of! We screened it in ourselves with a screen porch kit. Check out all the new details we've added. We love using this space as an outdoor living room now.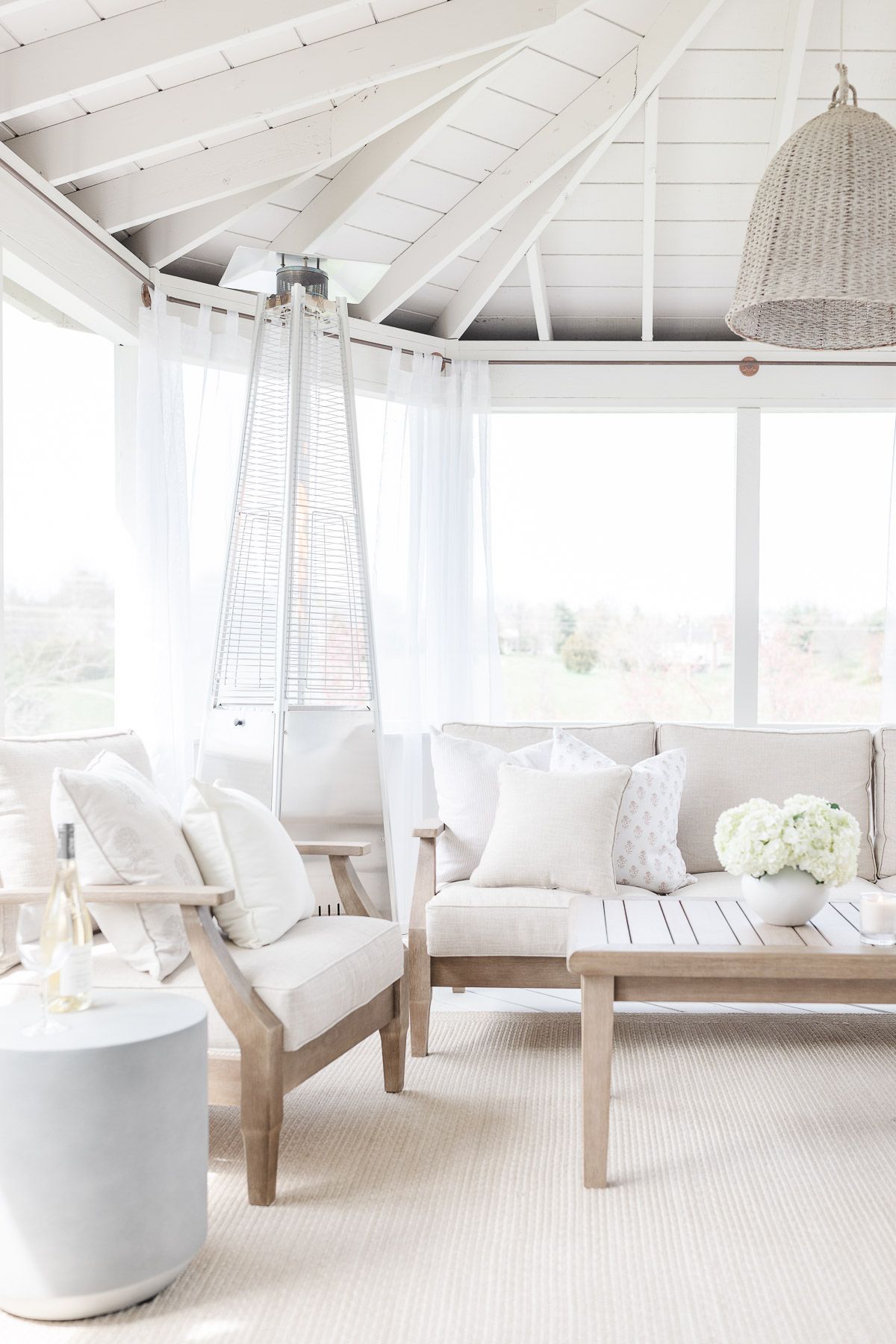 Deck
The deck was so tired and worn. We stained it, added outdoor lighting and furnished the space. You can learn How to Stain a Deck here.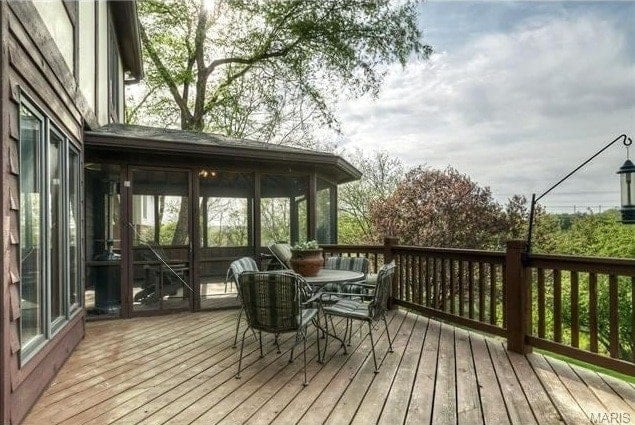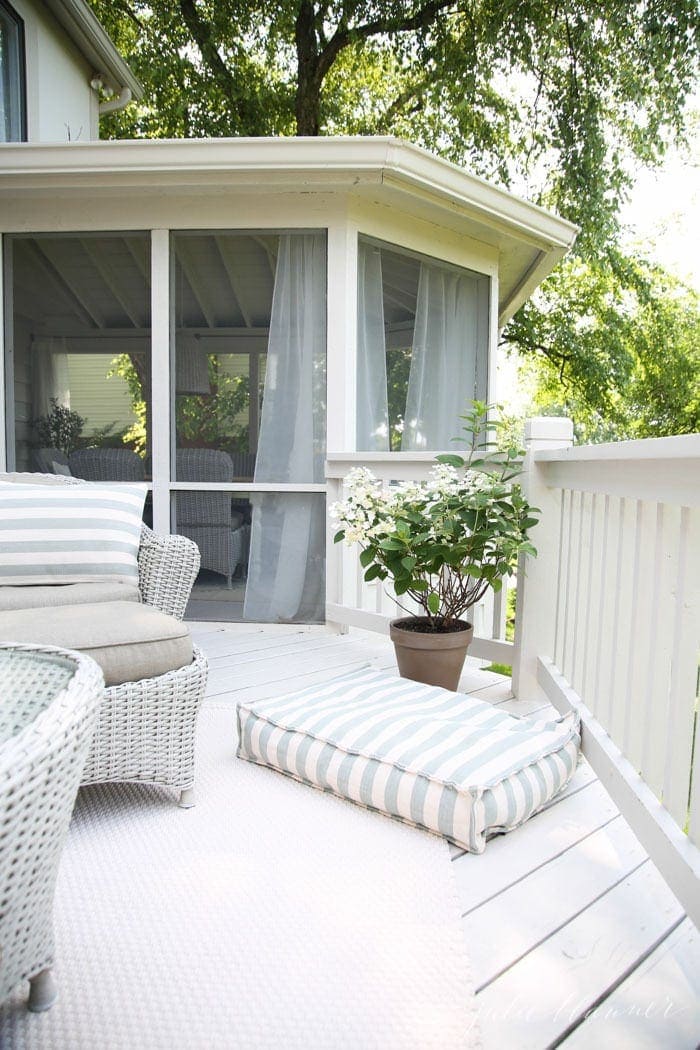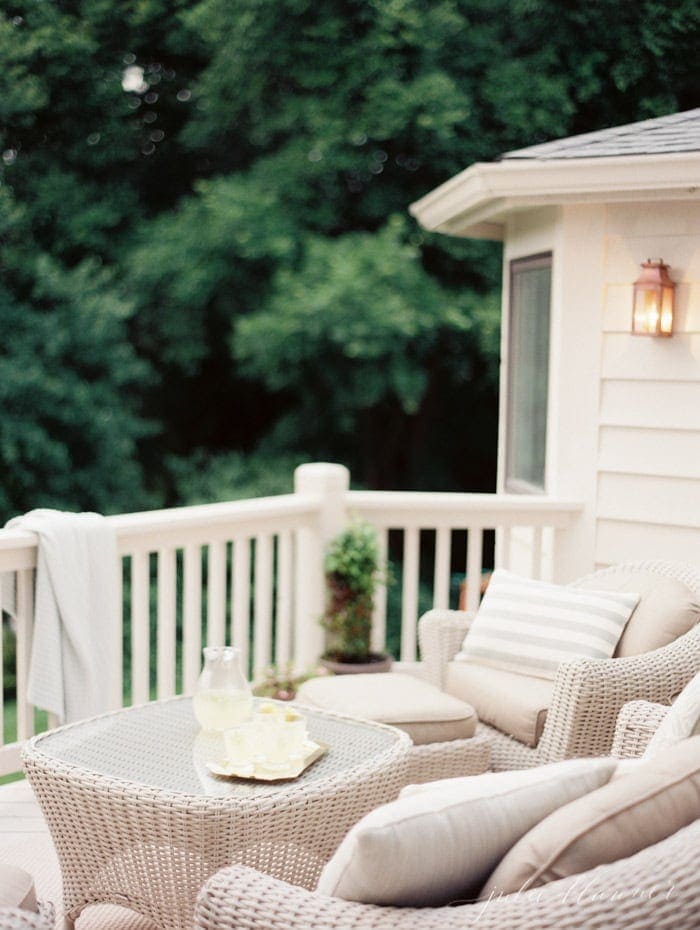 It recently received yet another makeover that I cannot wait to share with you!
Dining Room
Our Dining Room had an awkward 60's window – I wasn't sure how to make it work. Ultimately I repurposed existing linen panels using a custom brass curtain rod to define the window.
Fresh paint, a beautiful brass light fixture, wood floors and my Grandma's dining room furniture completed the space.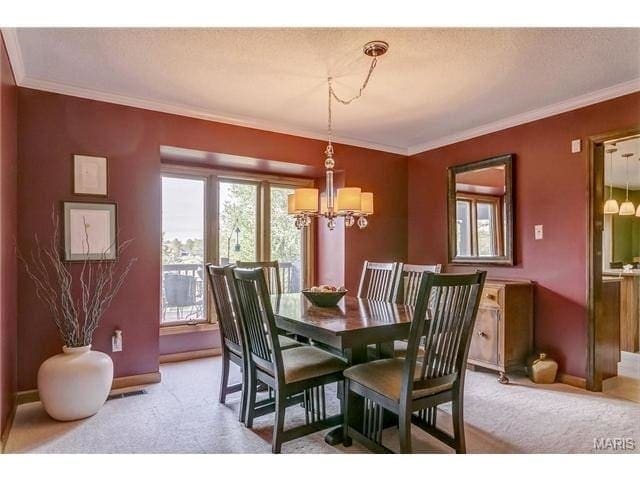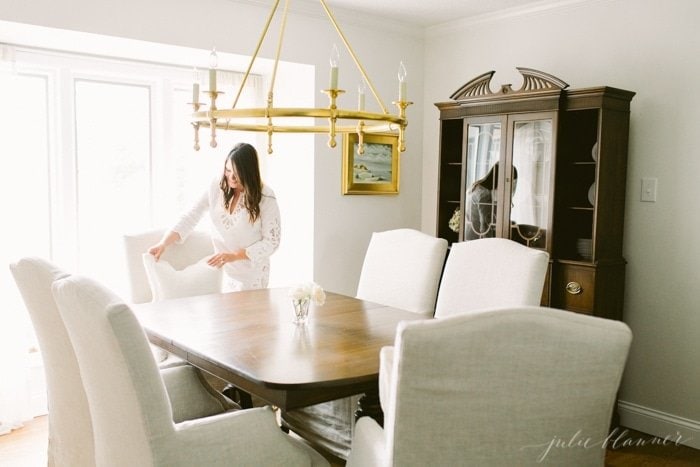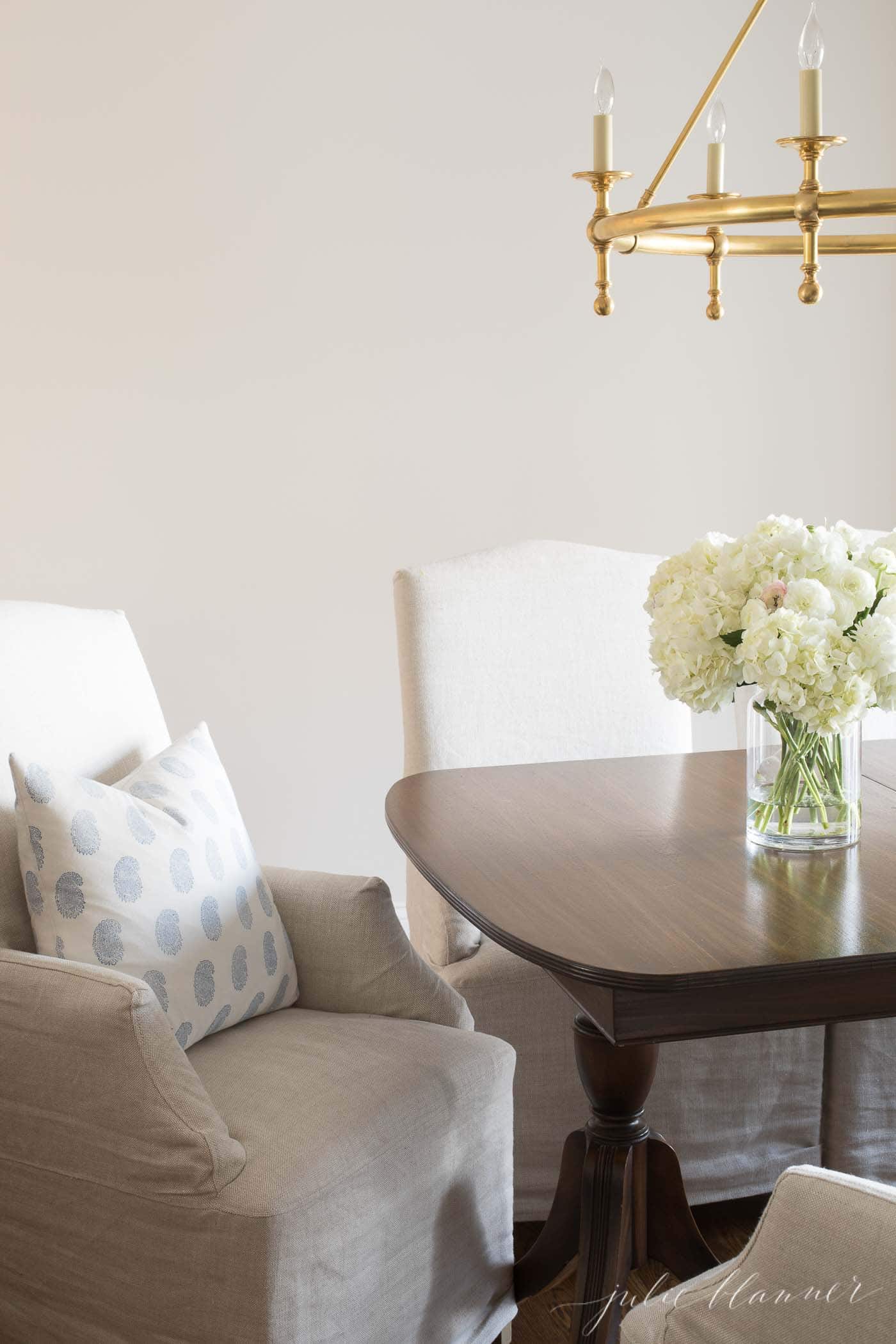 This space has always felt under-utlized and neglected. I am excited to make it feel as special as our heirloom furnishings this year!
Breakfast Nook
The Breakfast Nook has really evolved since we purchased the home seven years ago. We redefined it, added light, painted, replaced the floors and added shadow bow molding for character.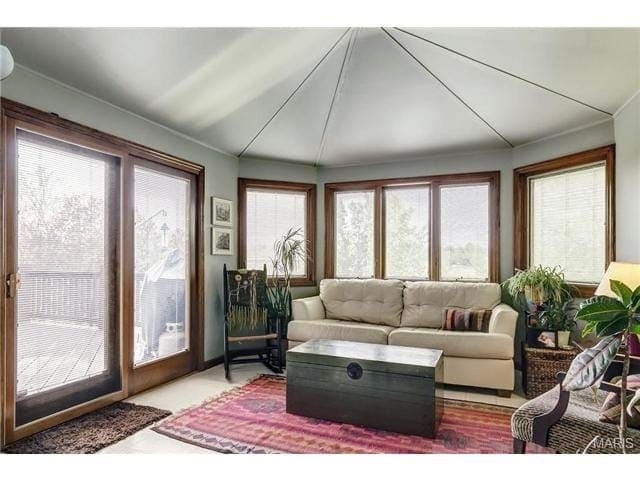 Read all about how we turned it into a breakfast nook here, and our picture frame moulding here!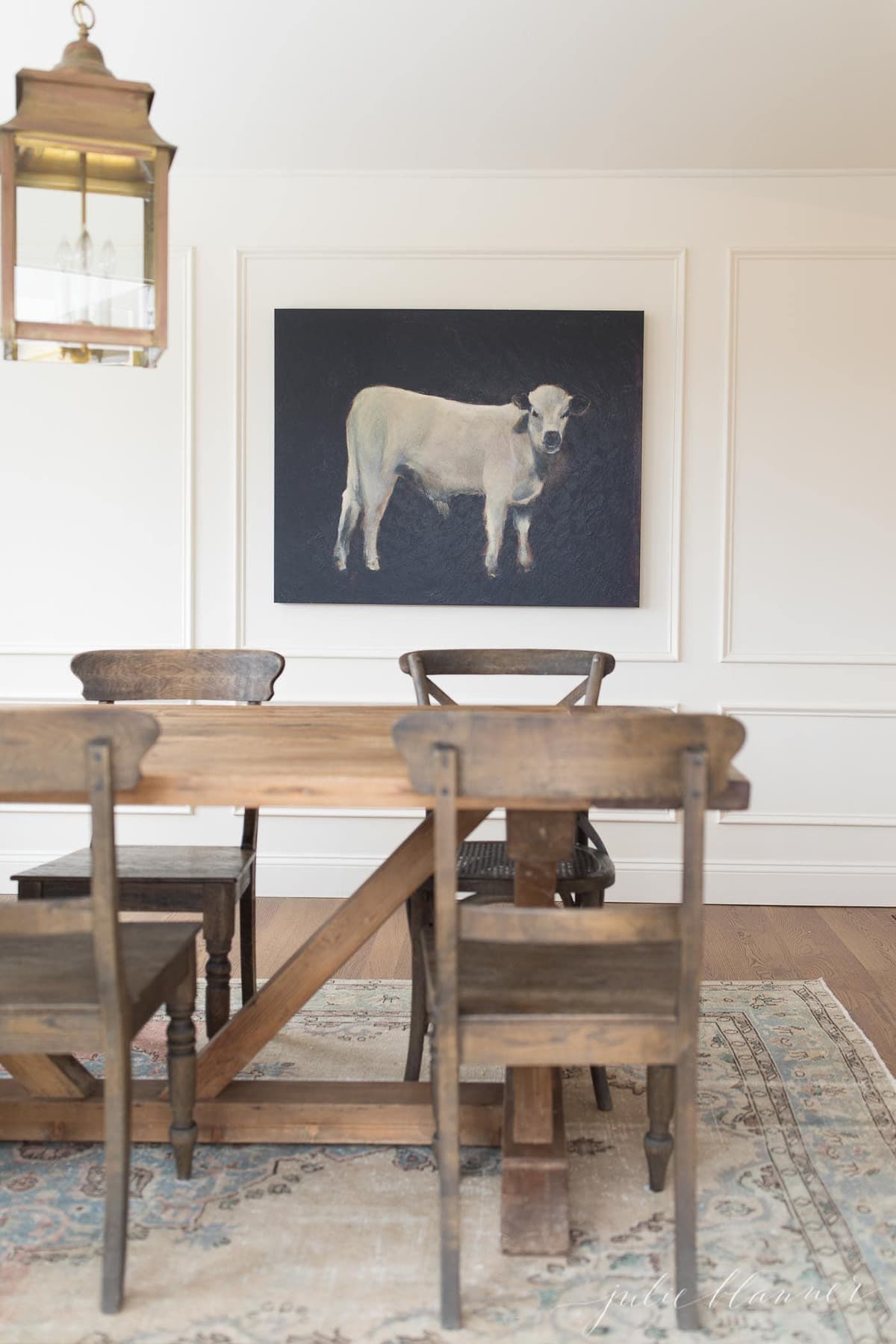 And my favorite, you can see it decorated with Christmas Arrangements!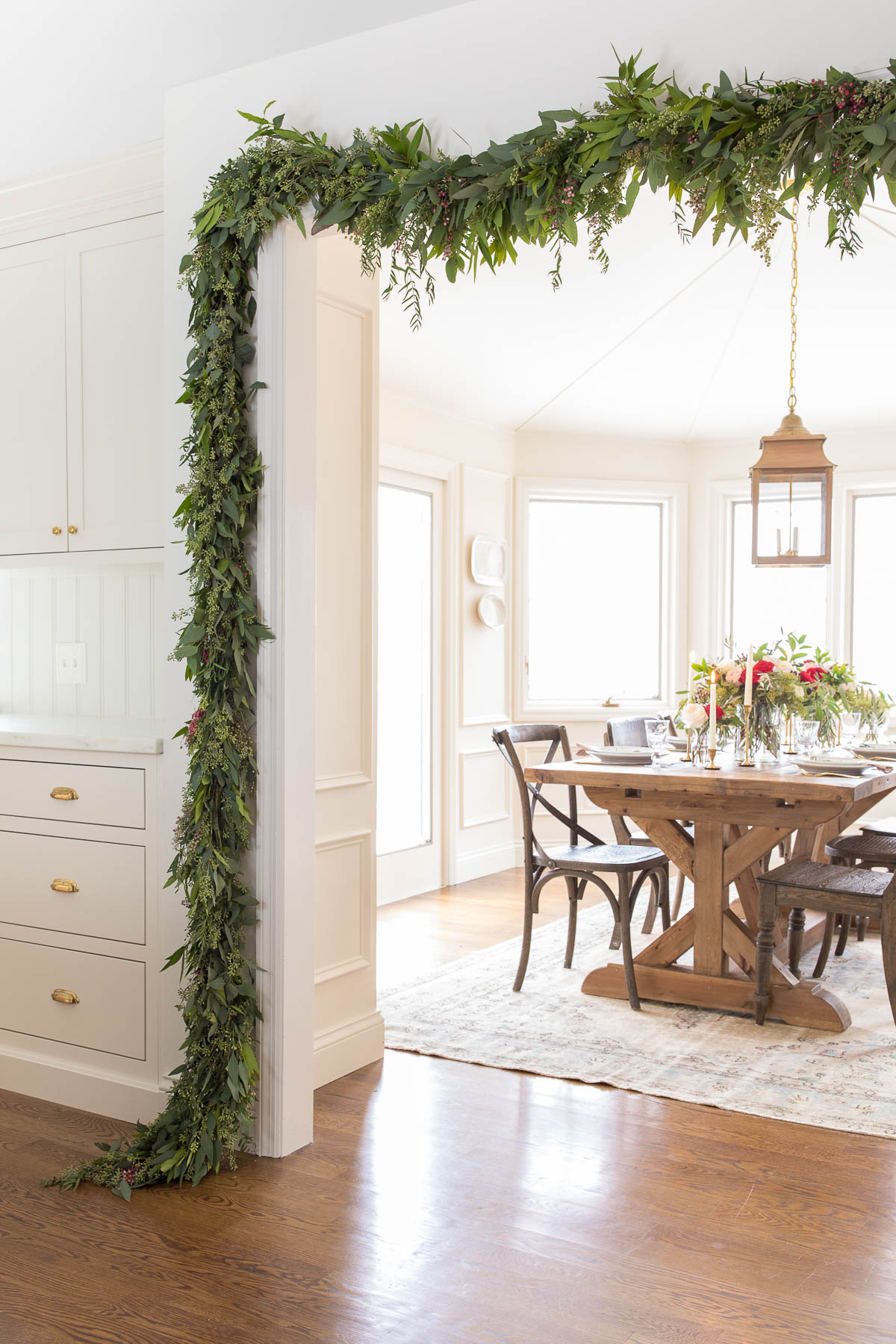 Here's how the space looks today… bright and refreshed and ready for guests. I'm looking for new chairs for this room, any great ideas?
I'd also like to update the artwork in this space, but I'm playing around with different ideas to see how they will work.
Here, I've moved this pretty piece into the space (find it in my shop) and I love the soft touch of color it brings over the dramatic black and white cow print.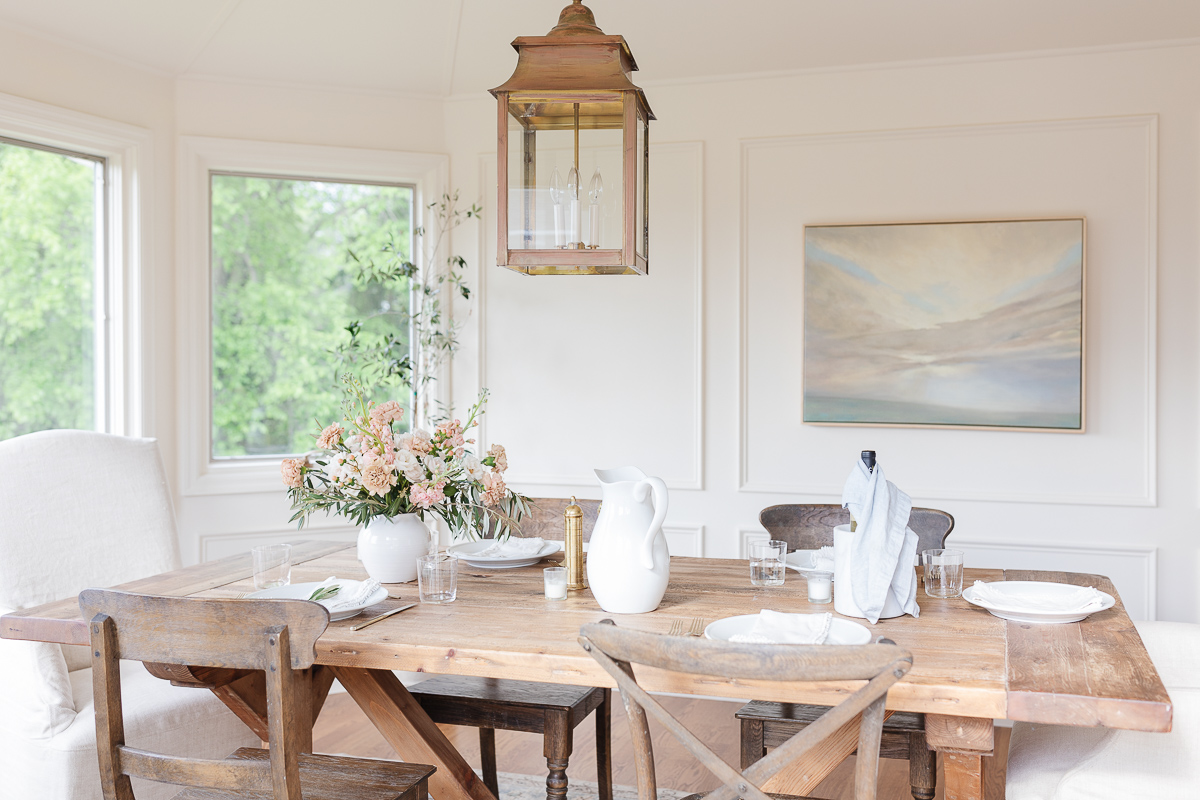 Kitchen
The kitchen has certainly evolved. Originally we updated the kitchen to work with the oak cabinets. The first image below is the before…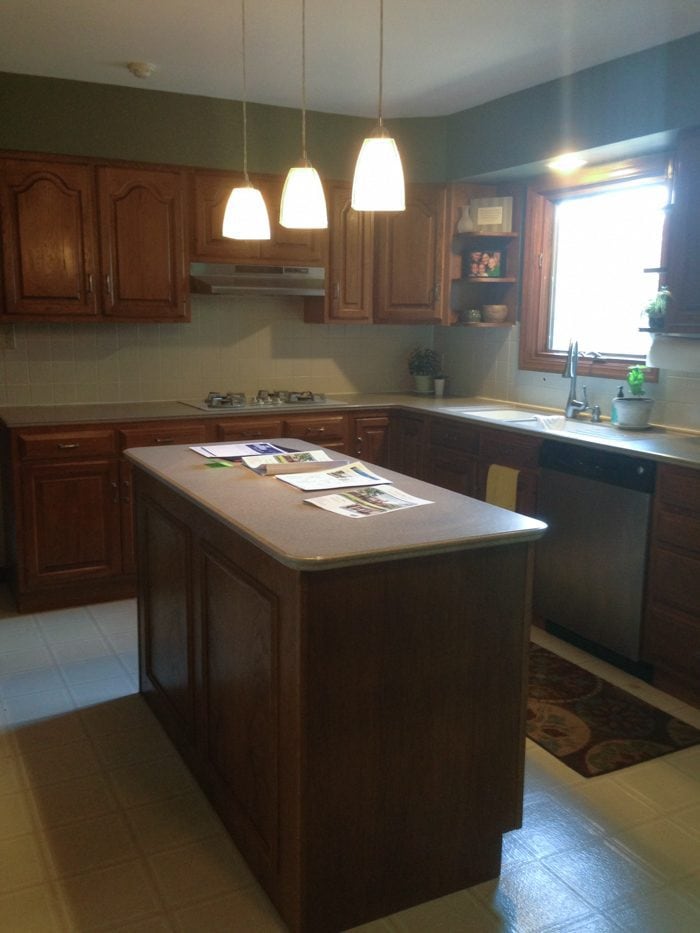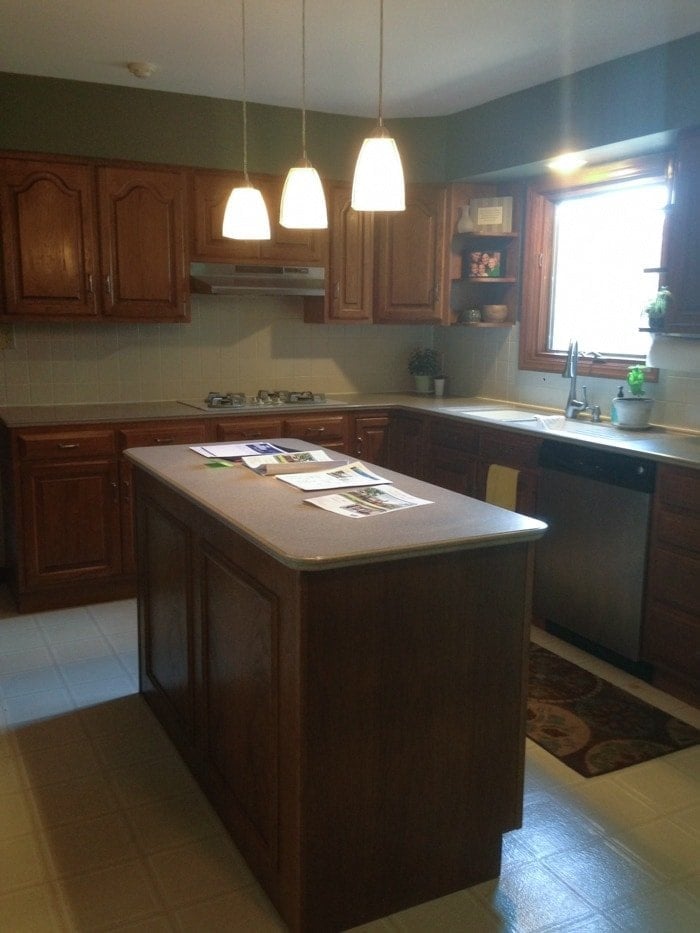 Same View After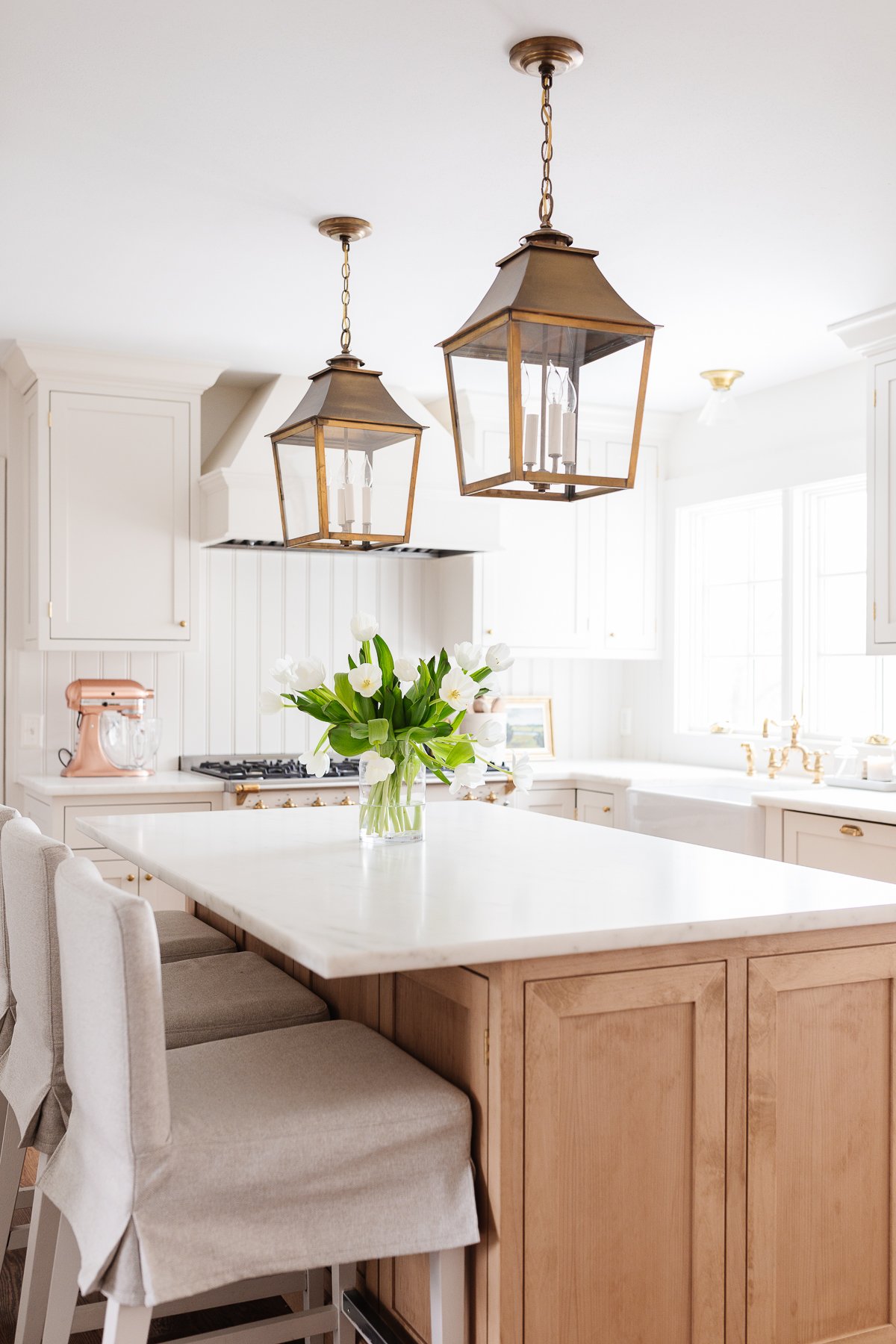 You can see how expanding the window and painting the walls and cabinetry the same color brightened the space. The larger island adds function and doesn't feel "lost". Adding a panel ready dishwasher helps it seamlessly blend in.
During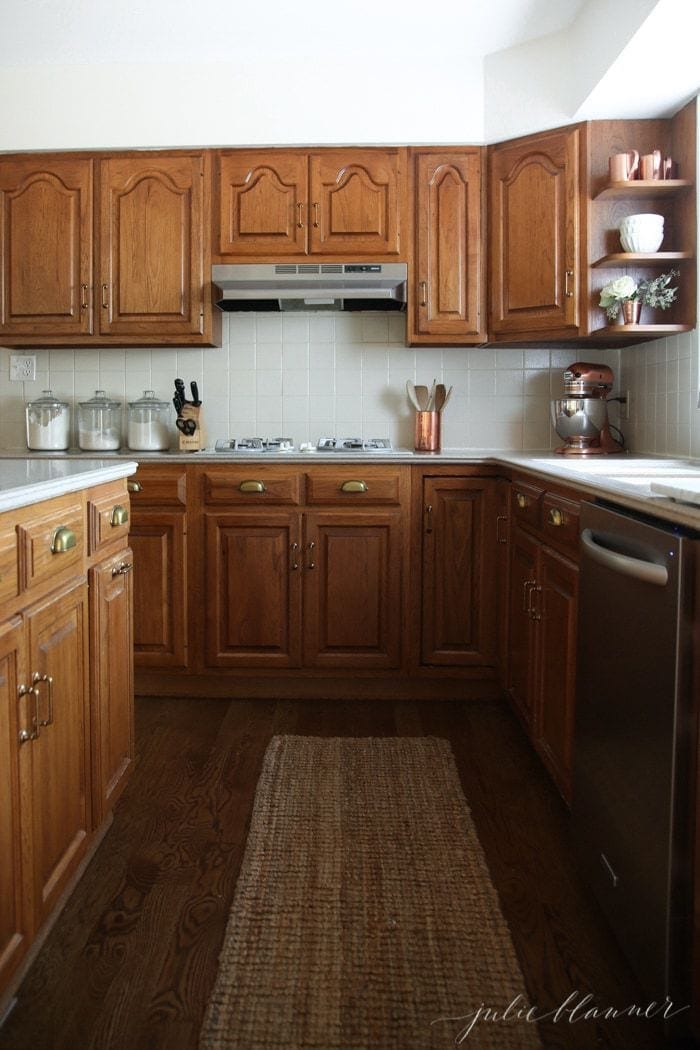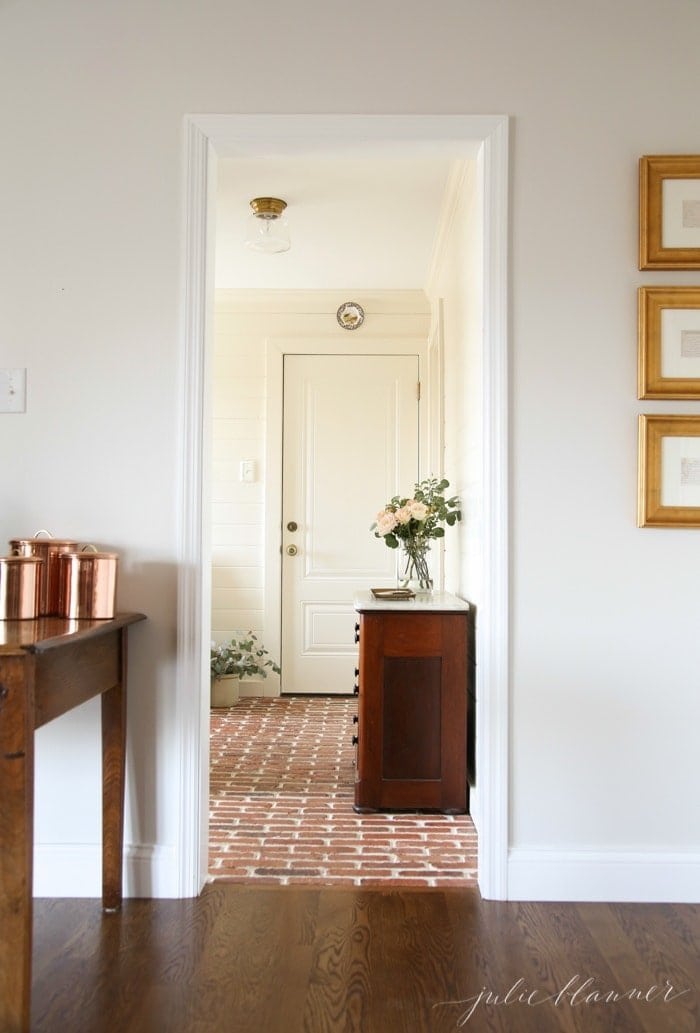 And in the after, you'll see our new kitchen with cream kitchen cabinets filled to the brim with kitchen organization ideas.
We selected a Lacanche Range as the centerpiece of the kitchen and paired it with Inset Cabinets, Beadboard Backsplash, and Unlacquered Brass Hardware.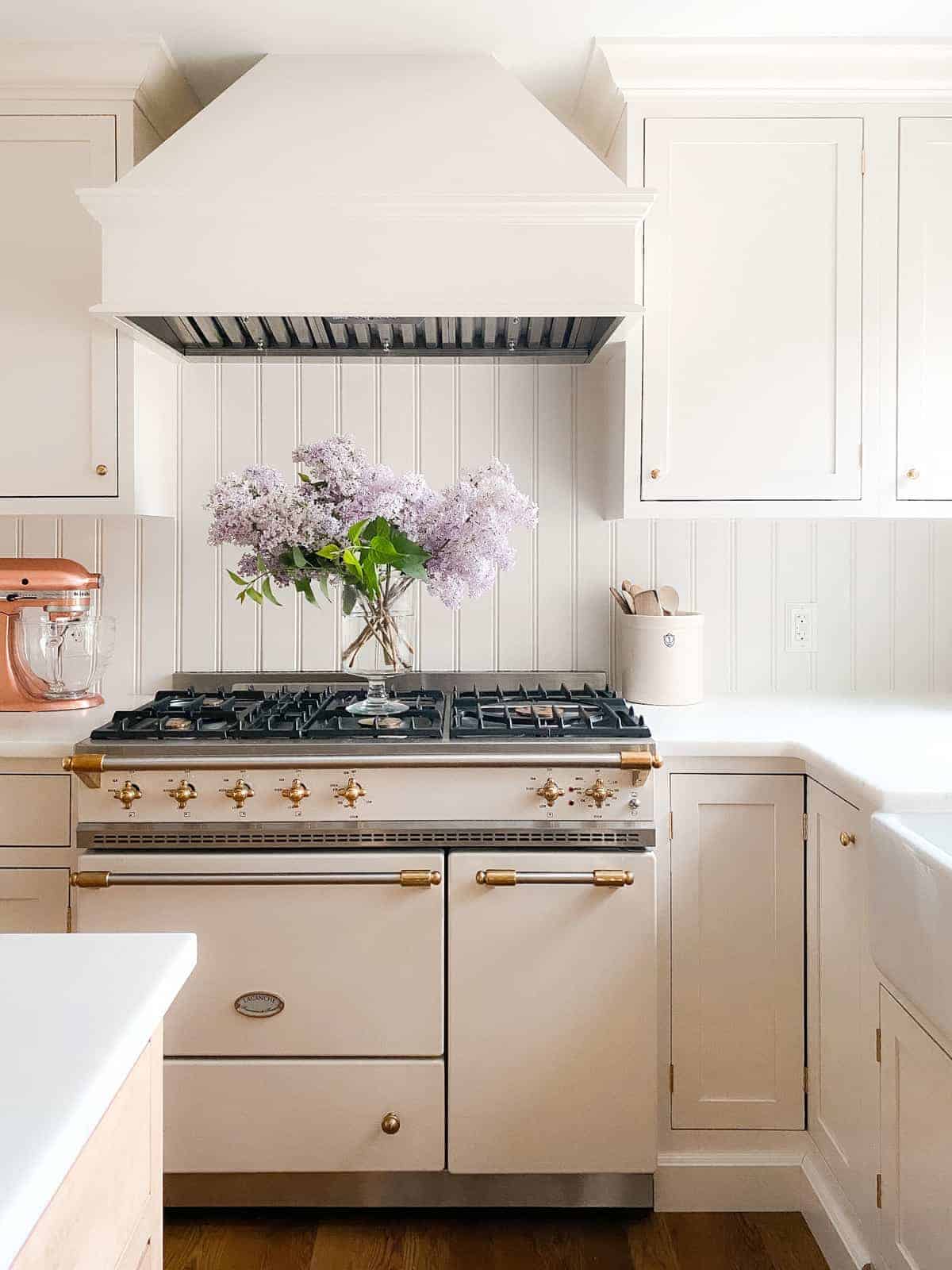 You can learn how to make this simple Lilac Bouquet here. I love having summer bouquets here right now, as you can see below… get all my tips for Where to Buy Flowers here!
A rare view peeking from our kitchen into the neutral living room, featuring our Brass Lantern pendants.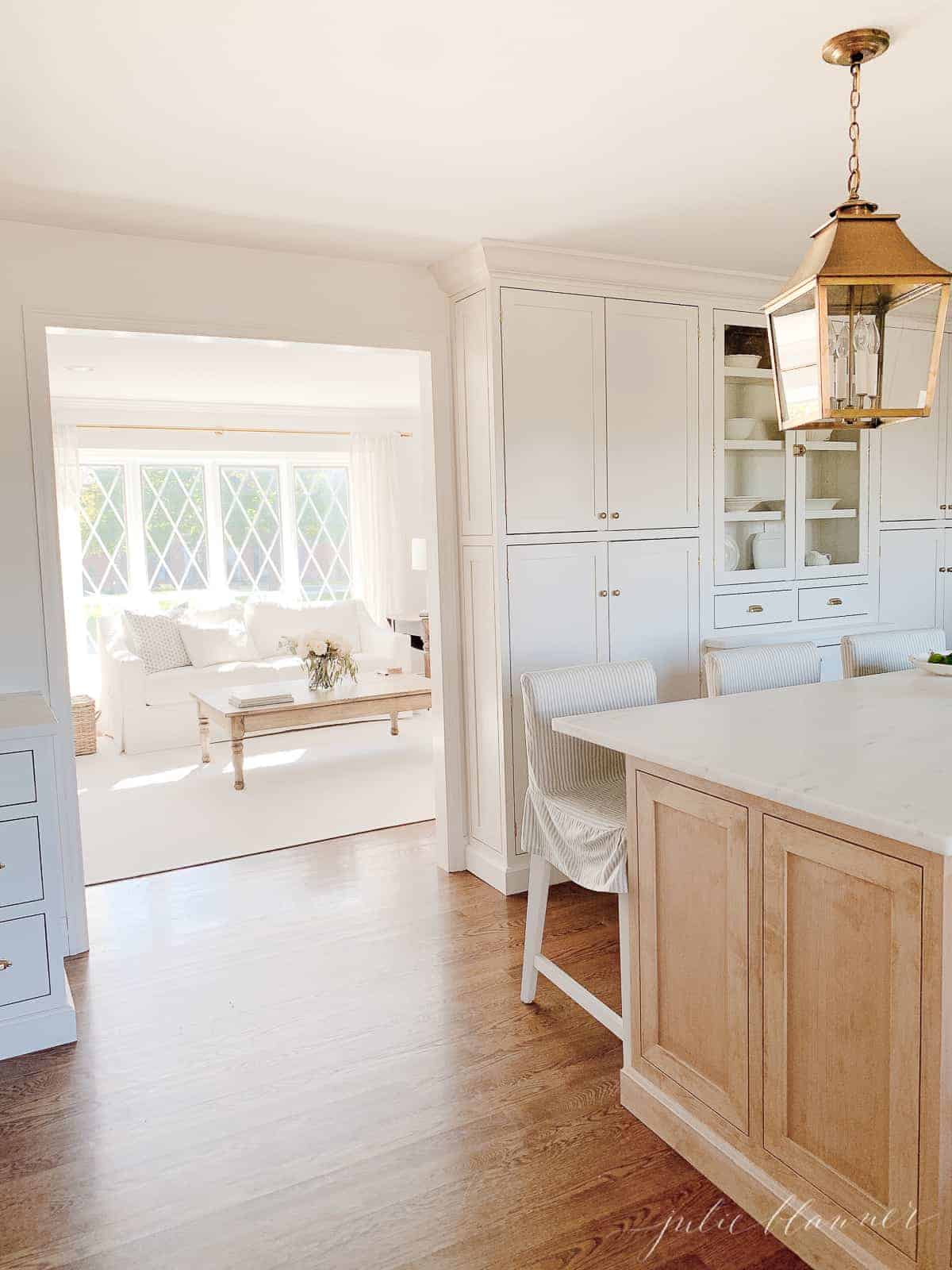 Just to the left is the bar area.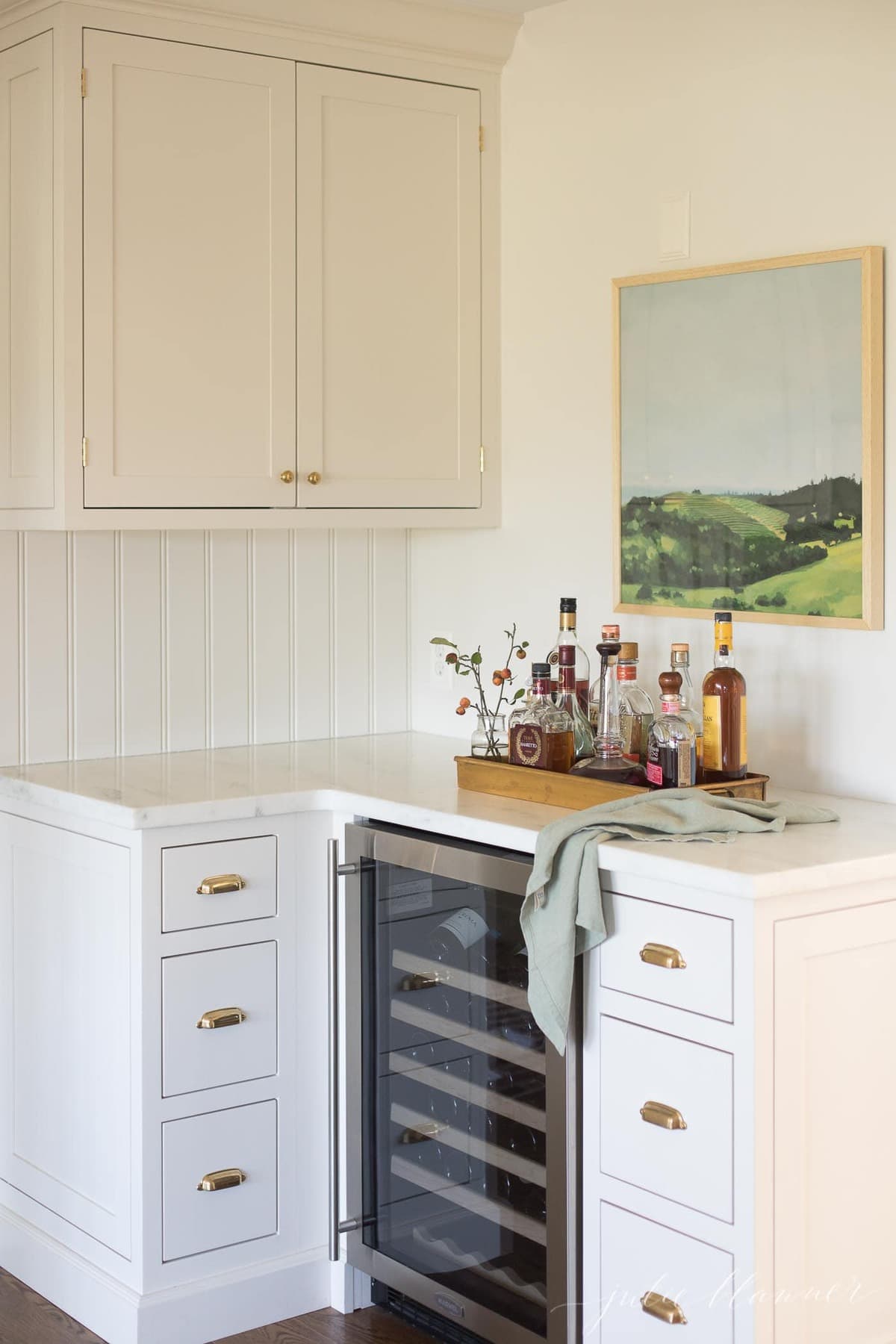 Even the cabinet interiors received makeovers. You can learn how to organize a Kitchen Pantry here!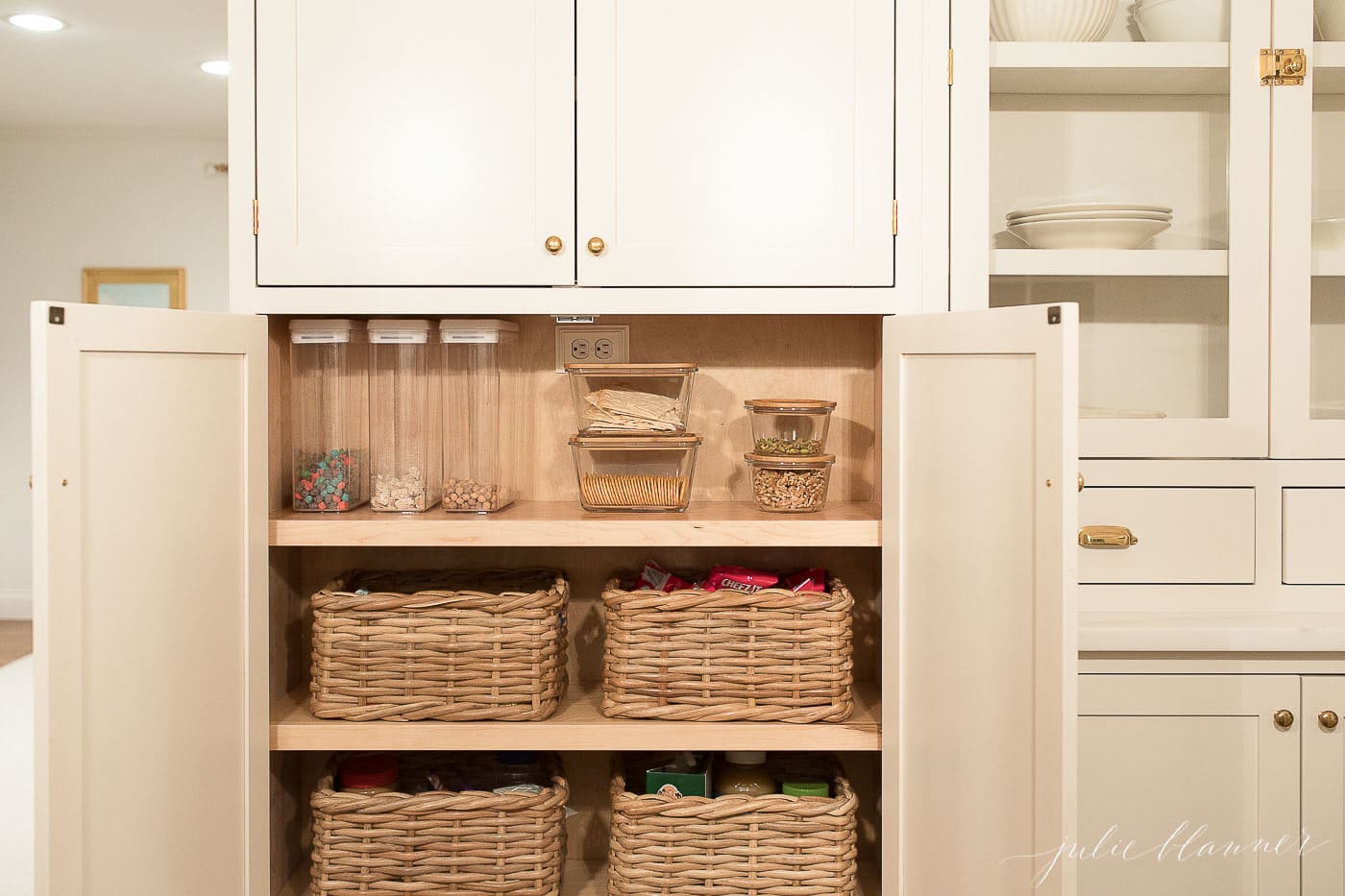 and our Refrigerator Organization has made packing school lunches a breeze!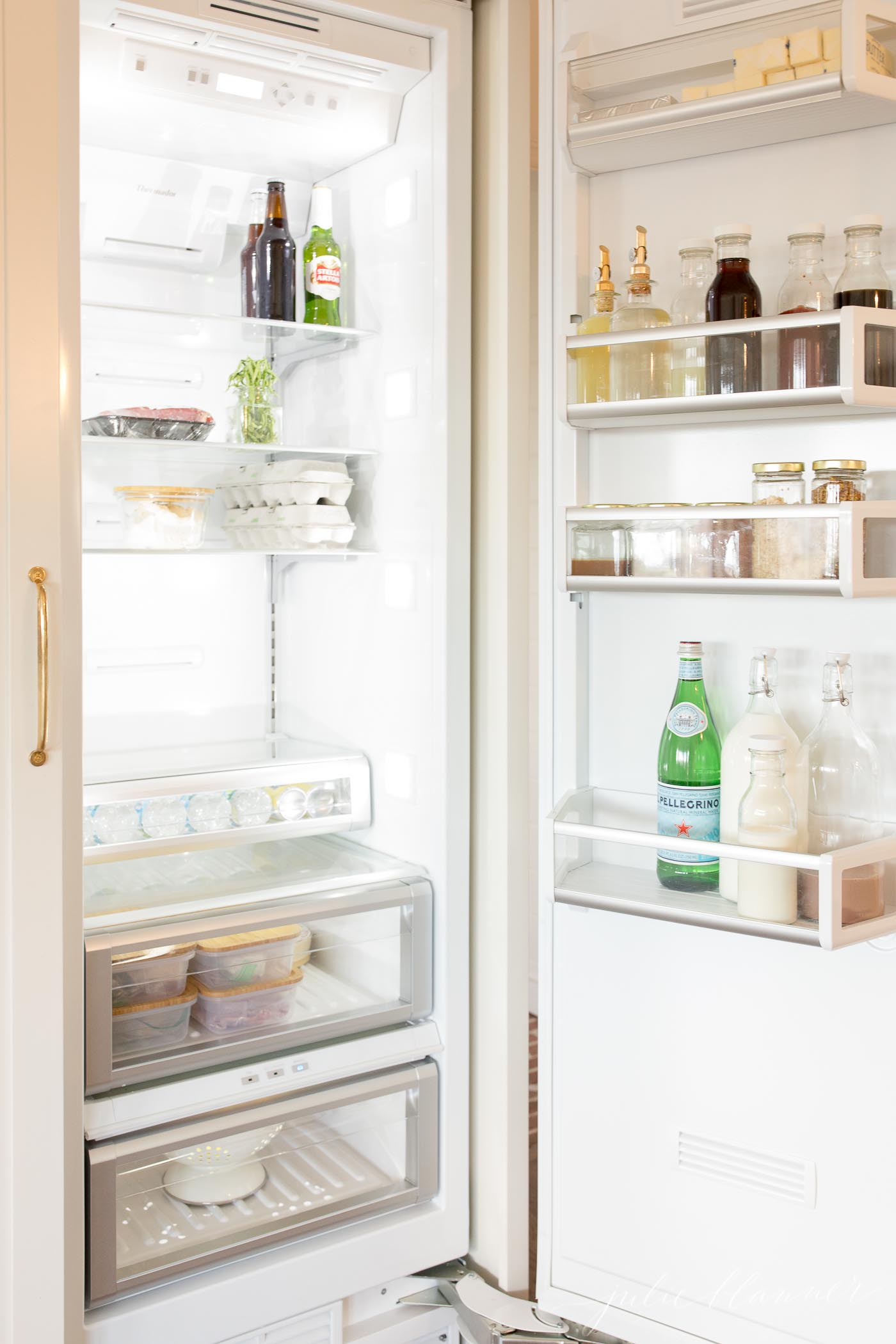 Powder Room
The small Powder Room felt so tight with a deep garage sink and counters that extended over the sink and the toilet.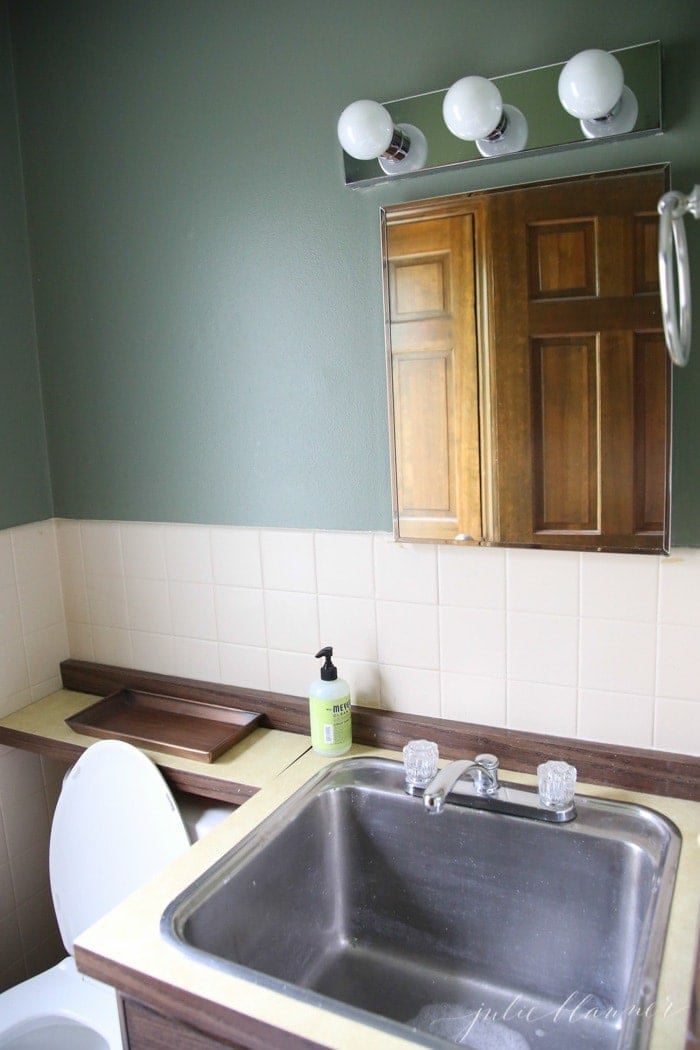 I utilized several tricks to make the space look and appear larger. Since it's in the mudroom and primarily used by kids I also implemented a few features to make it easy to maintain.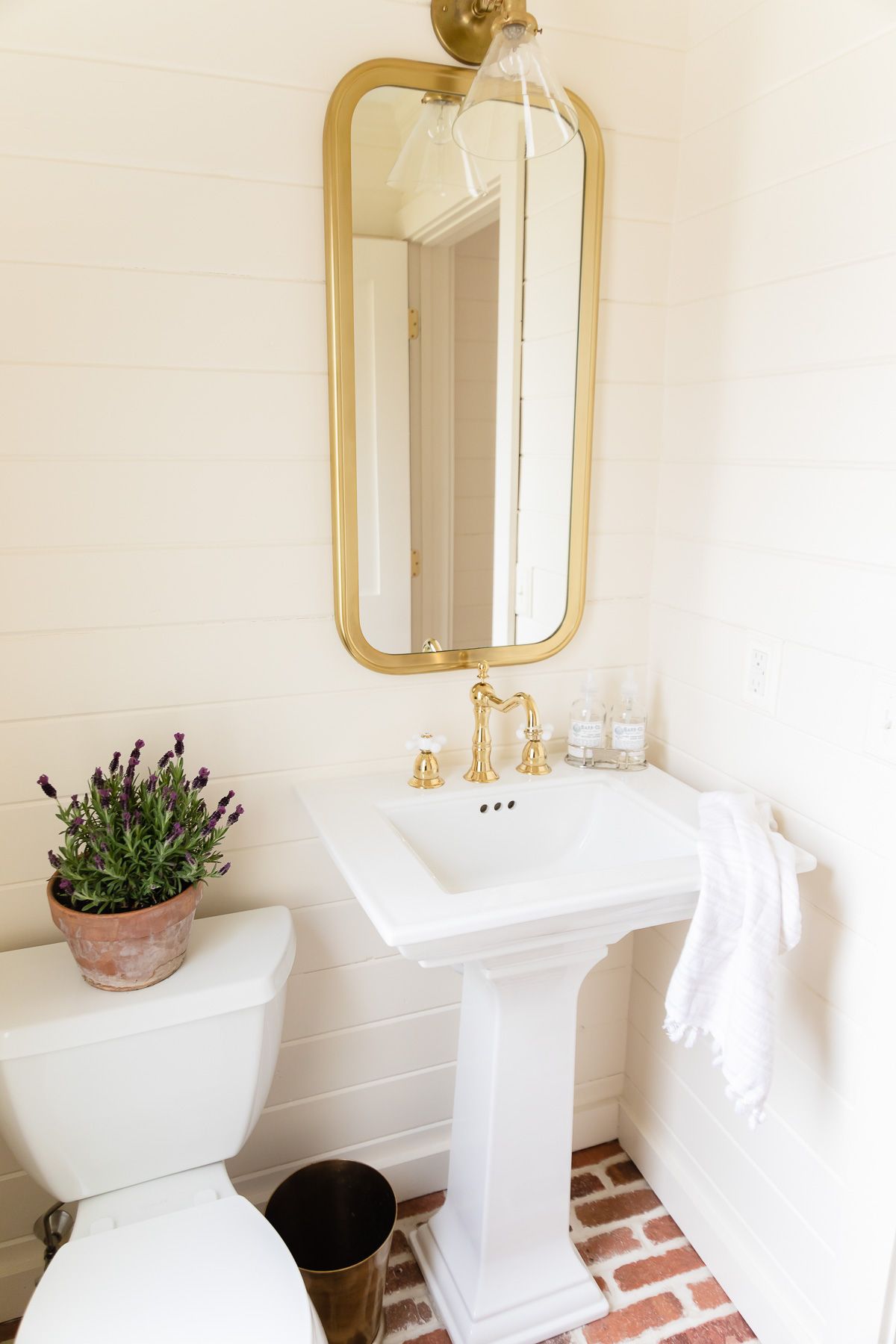 You can read (in the link above) to learn more and see a video tour. This is the current view of this space, it's always fairly calm and super functional for our family as it leads to the garage and backyard of our home.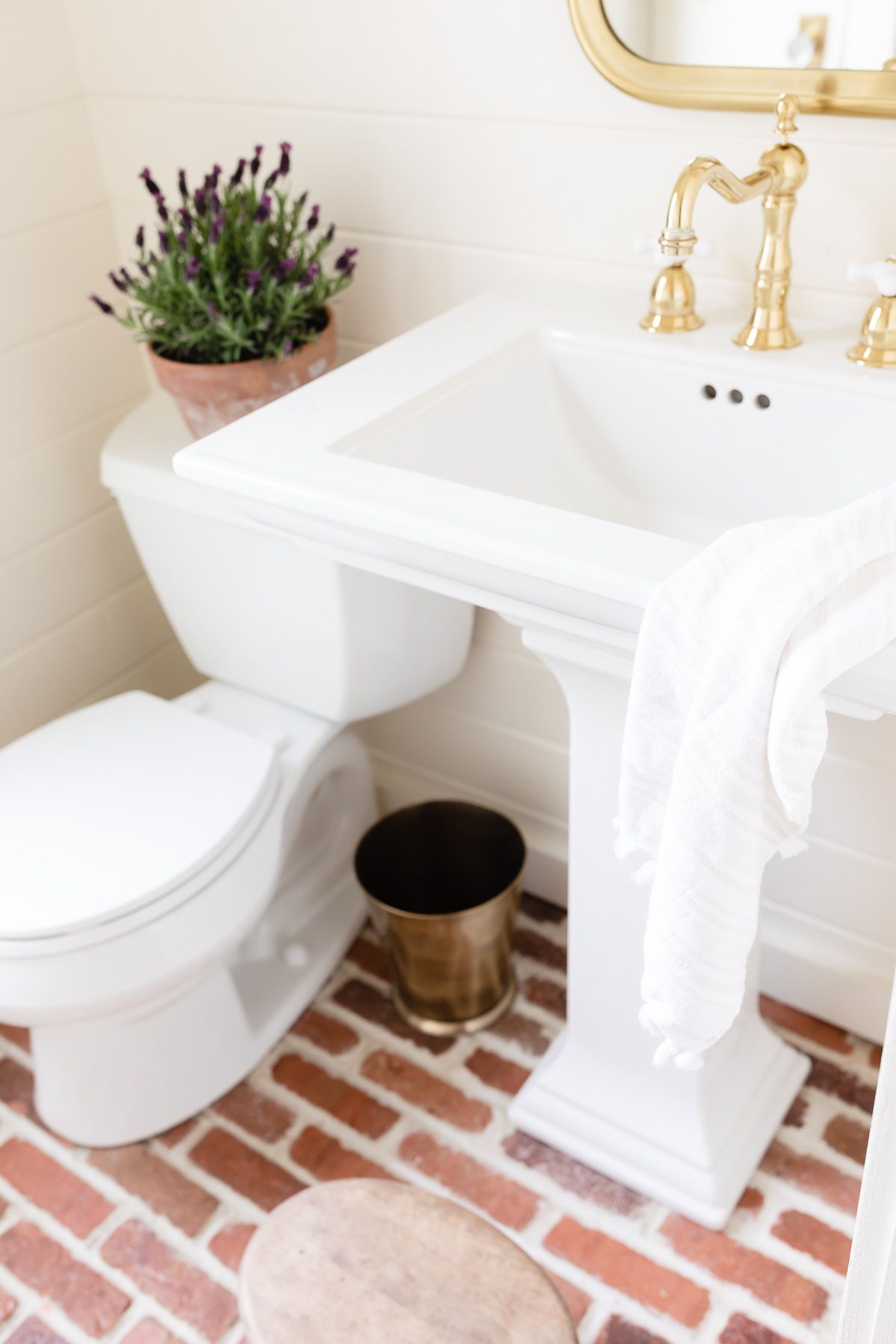 Mudroom
The mudroom also felt dark and tight. We opened it up, added character and made it easier to clean – and keep our home clean. You can see the before photos below.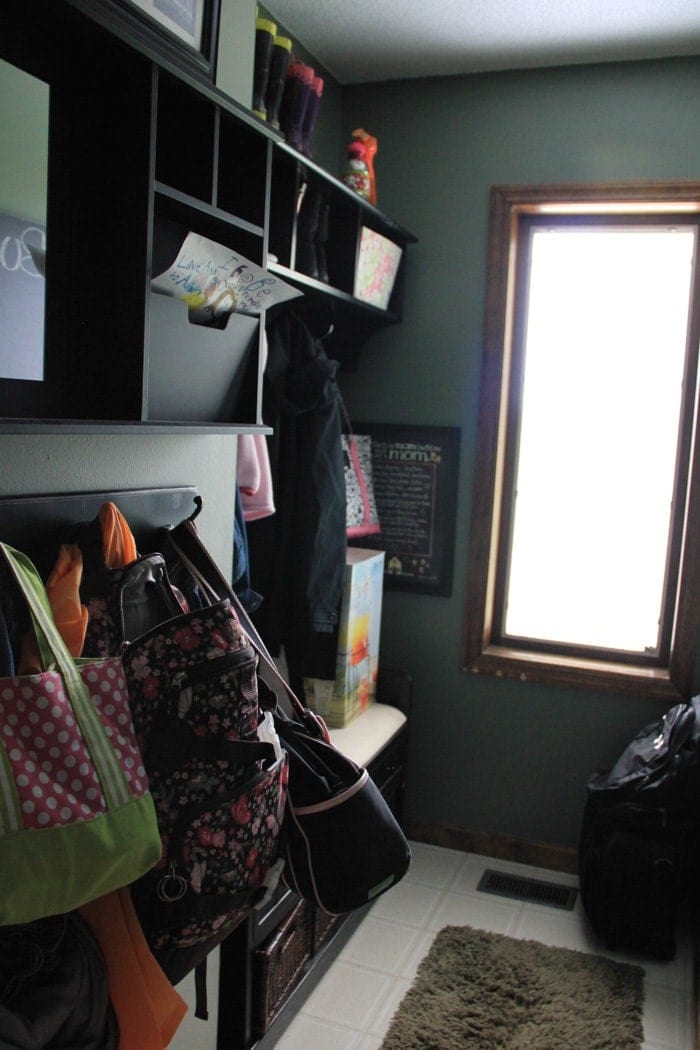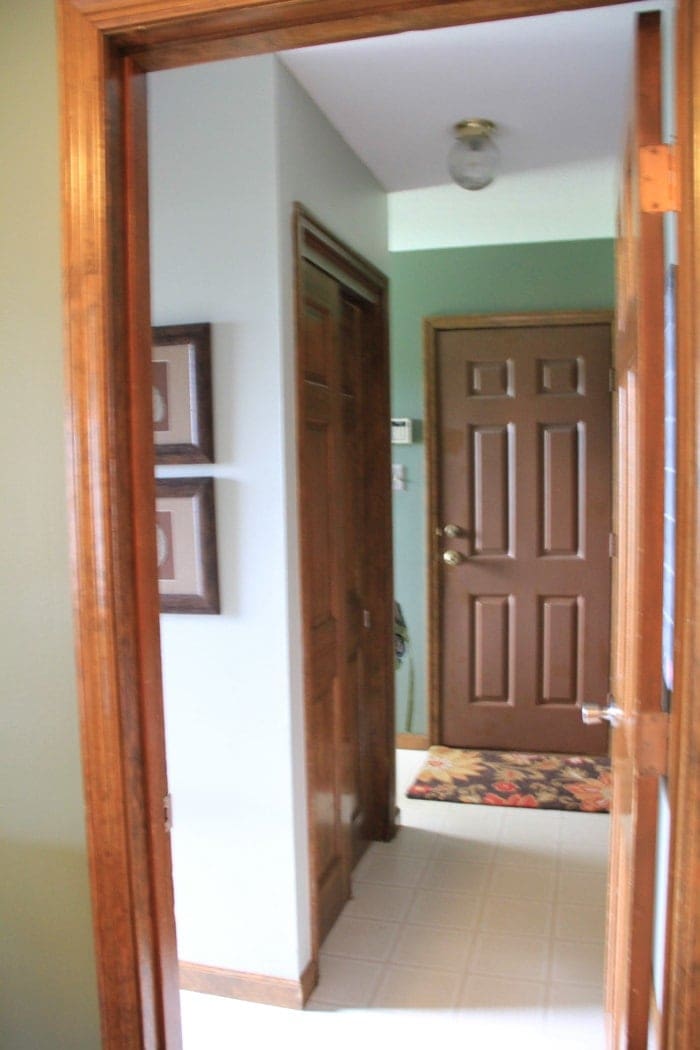 Hard to believe this is the same view of our mudroom! Visit the post to get all the details!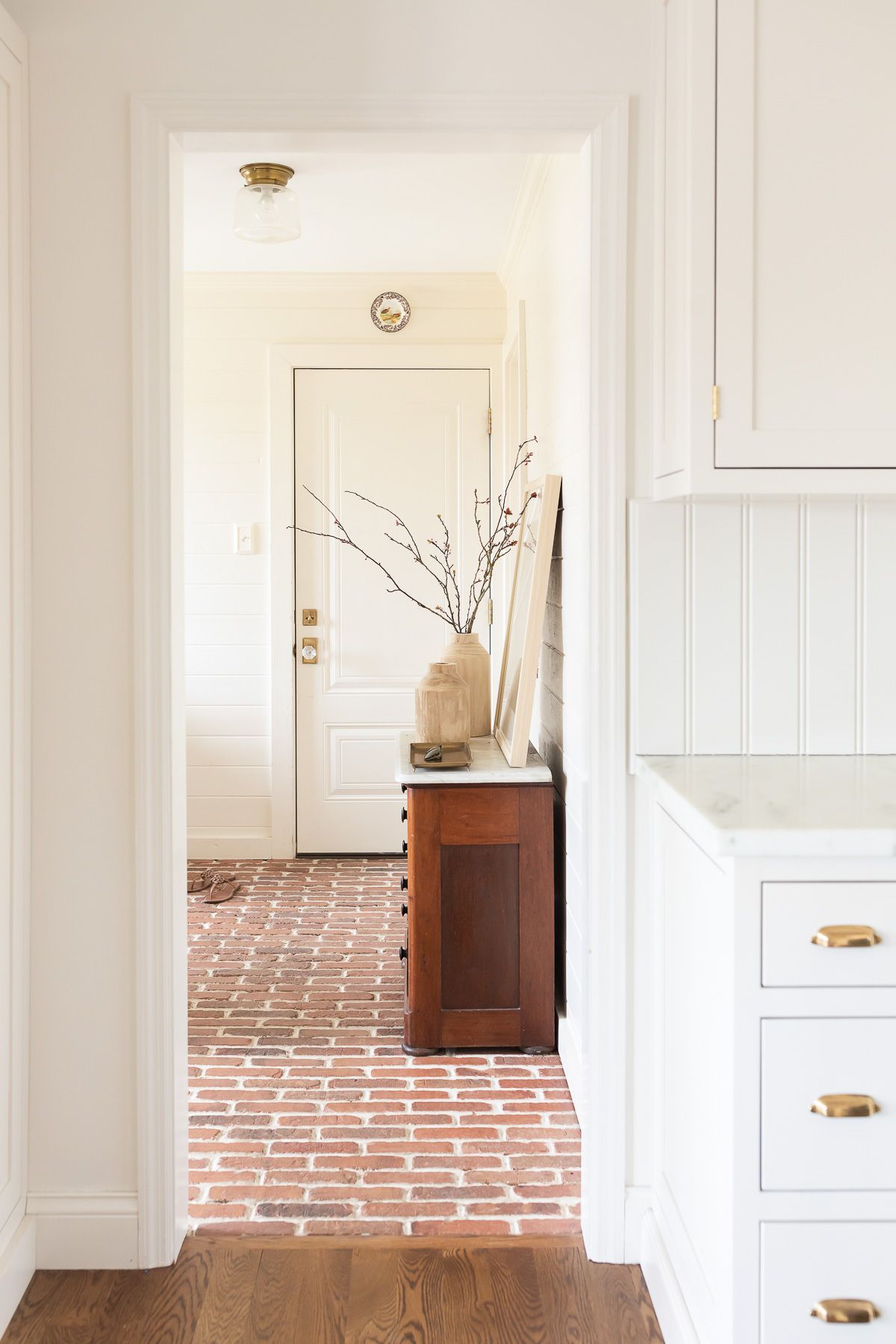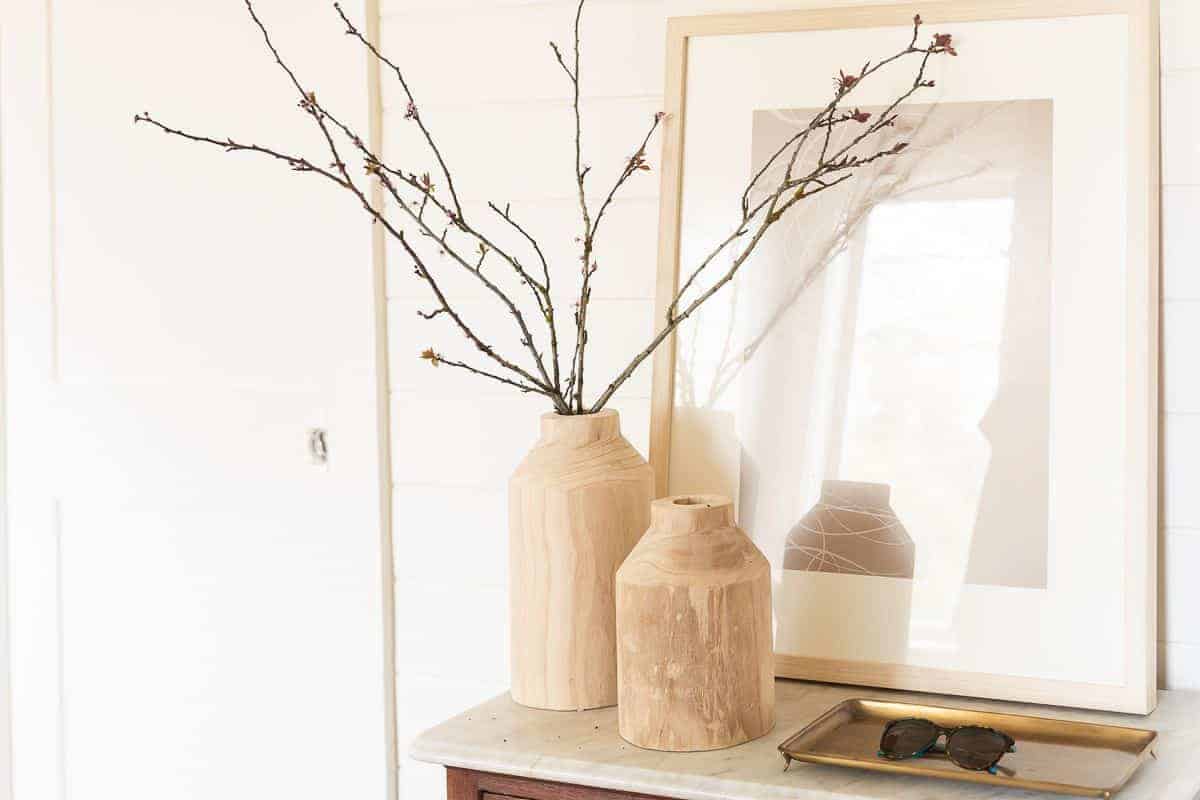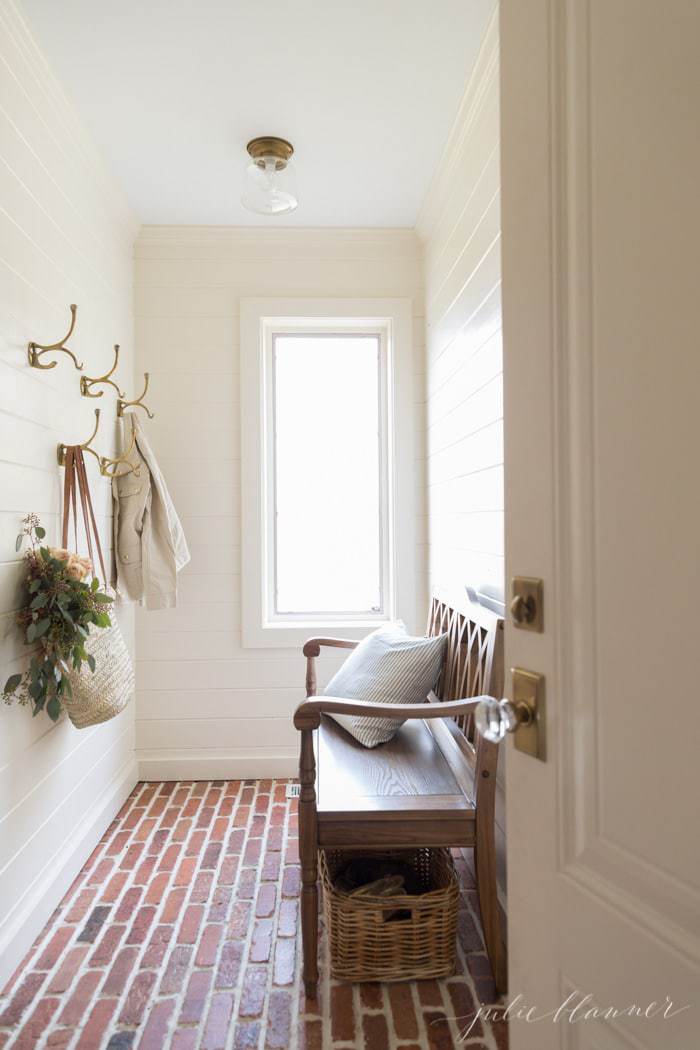 Garage
The garage reeked of smoke and when we moved in. After weeks of airing it out, we still struggled to get rid of the smell. You can learn How to Get Smoke Smell Out of a House here if you've struggled with the same.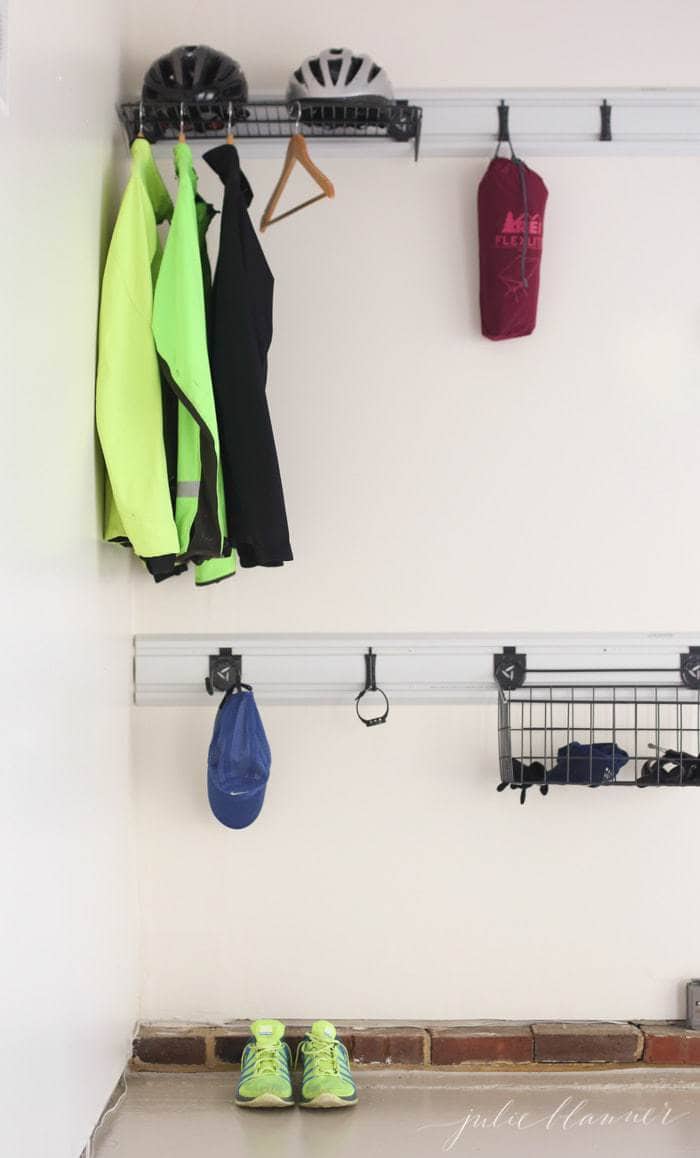 We also moved in fast and furious with construction soon to follow. This left us with a disastrous garage until we implemented storage systems like an outdoor running organization project, above.
This peg rail helped pull everything together and was an awesome Garage Organization project!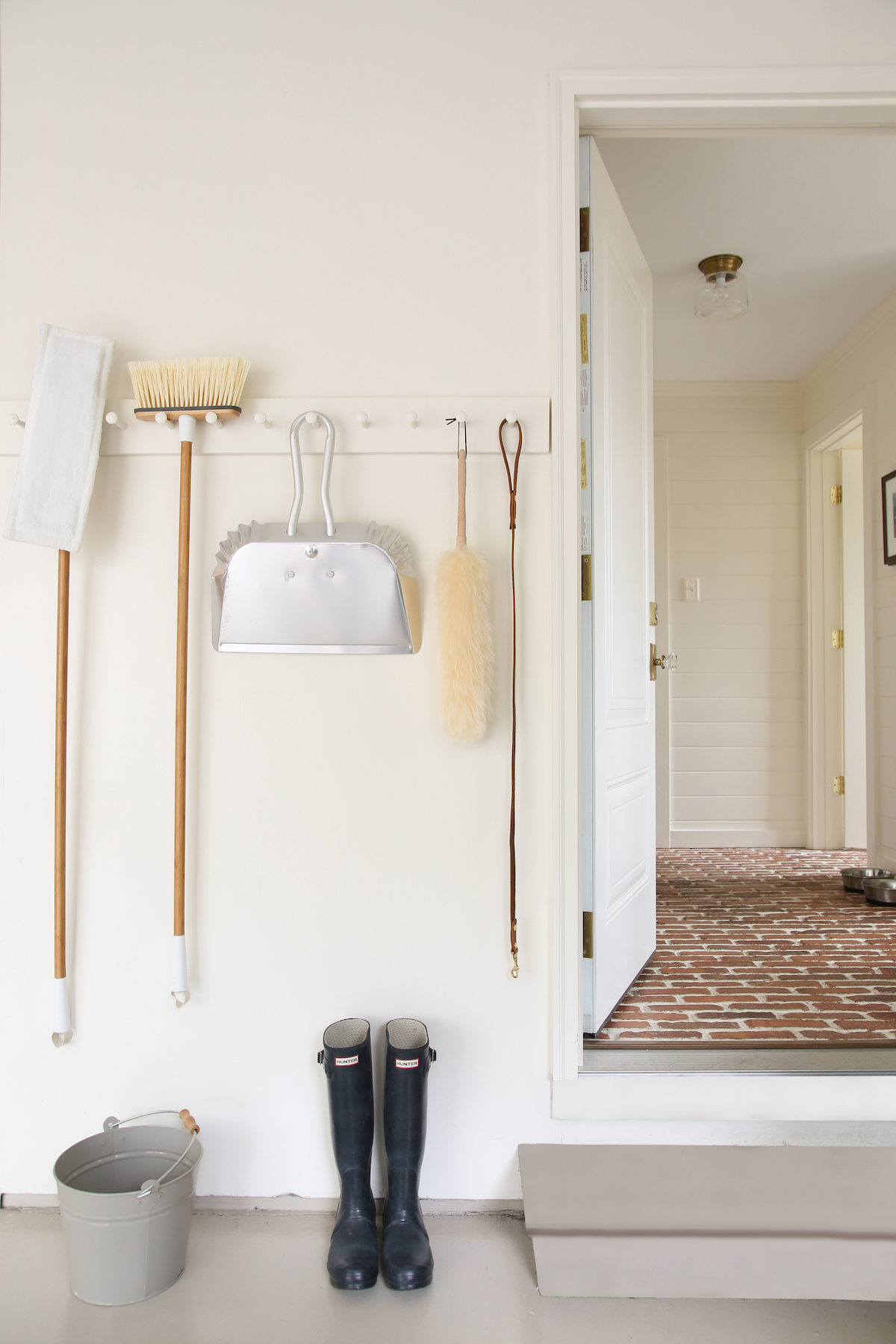 But this year, we took on a few more garage projects that really changed our home for the better! We redid the floor with a new garage floor coating, and added this charming potting bench area.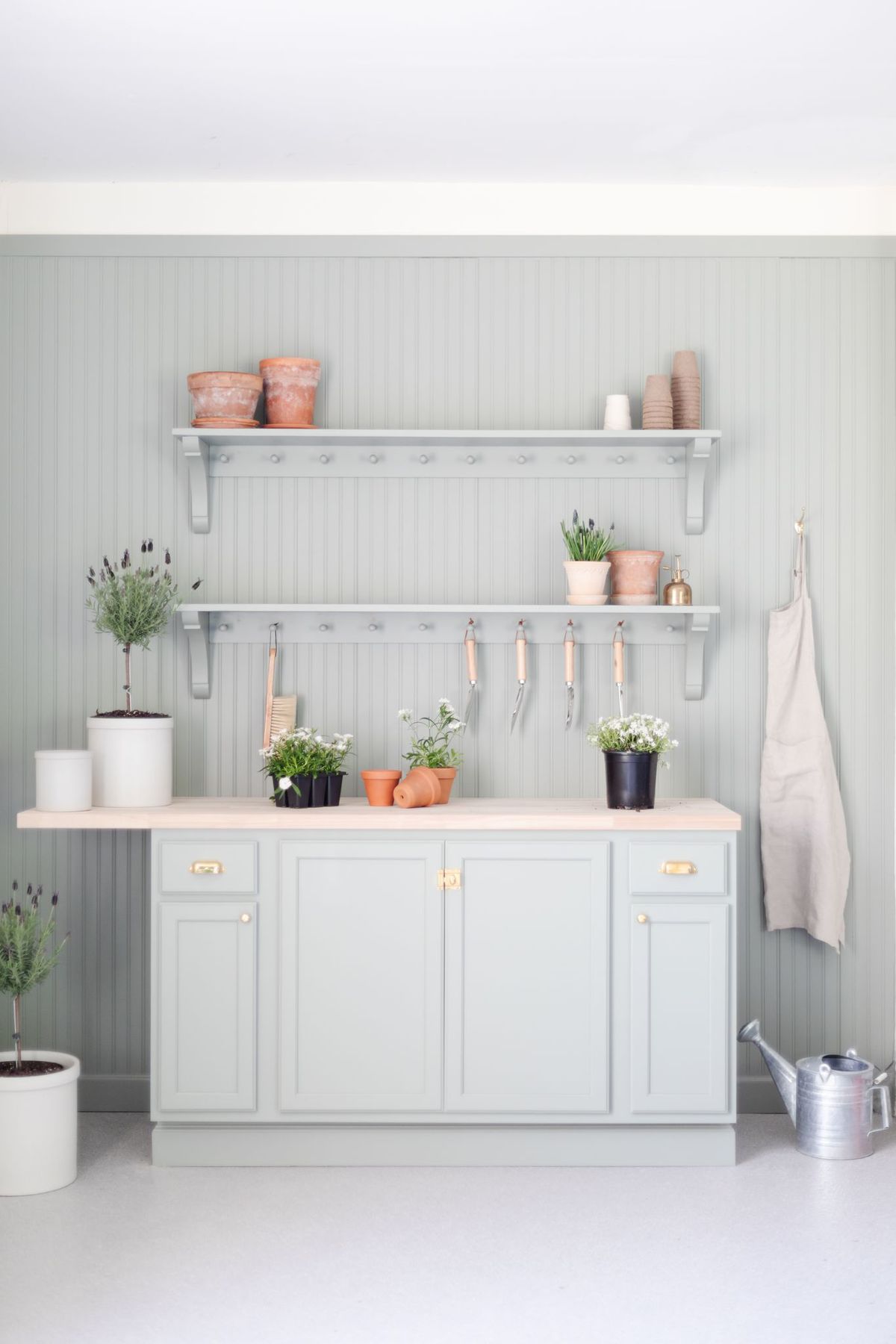 Side Entry and Rear Exterior
Even the side entrance received a little makeover. I failed to take a before shot, but this "before" back view of the home gives a little perspective.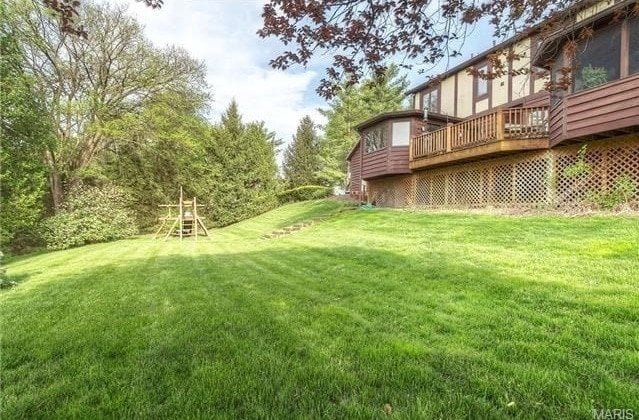 In addition to painting the exterior, we retained the light fixture (for now) and door and updated the hardware. It's amazing what a difference simple tweaks can make.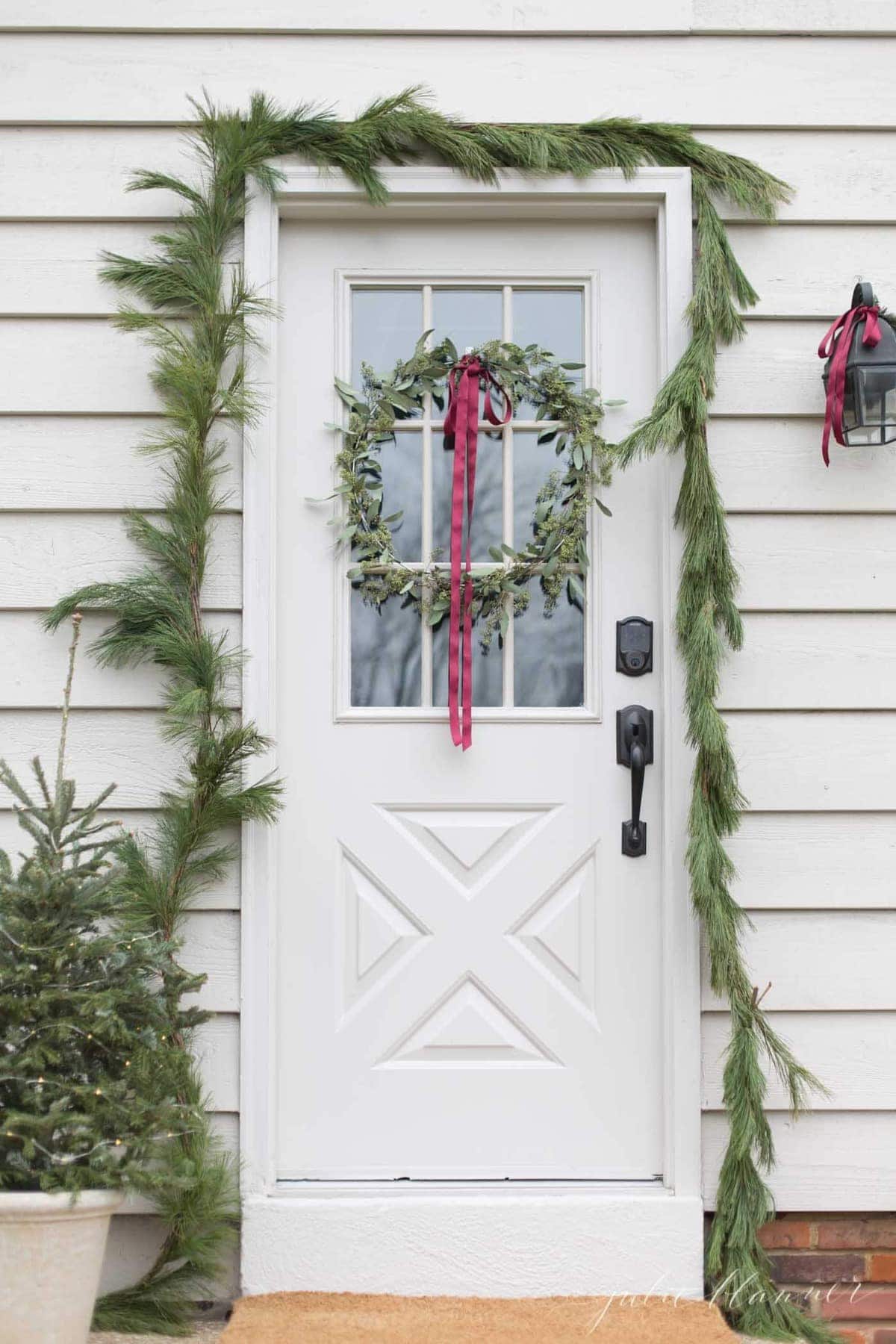 The garage exterior is the first thing you see as you come around the bend down our street. It stood out – but not in a positive way.
This is another area that is currently undergoing a transformation!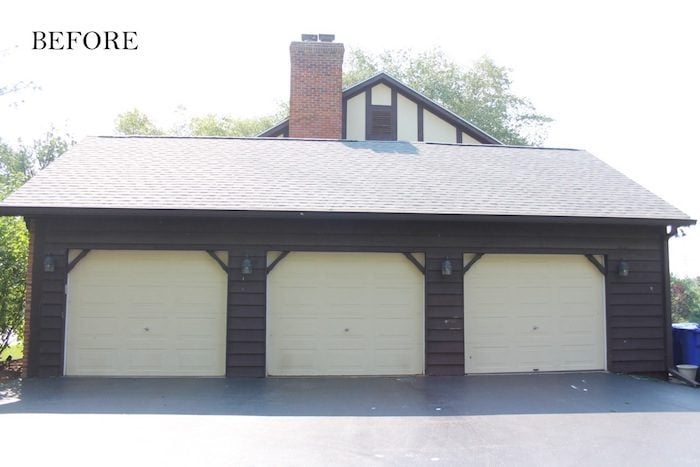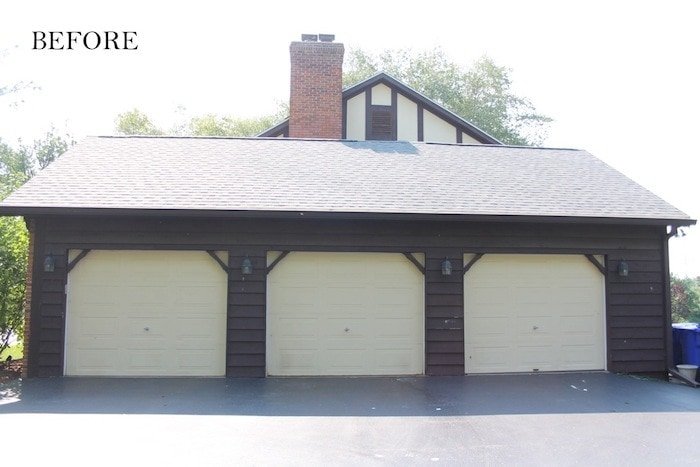 Painting it in a monotone color with a muted roof really elevated it. For true tudor style, we incorporated copper lanterns and copper gutters.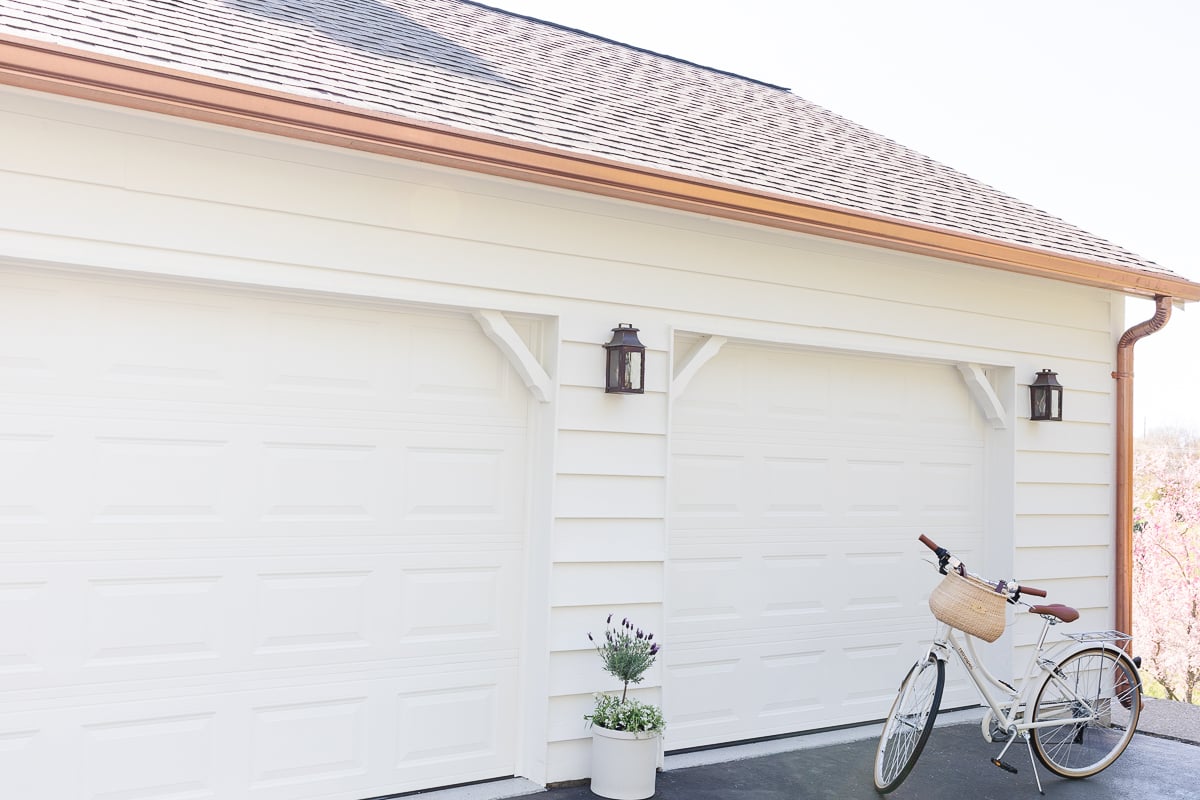 Living Room
The living room is small, which presented a number of challenges. The fireplace felt dated and the wet bar was an unnecessary use of space. Even Ani was unsure.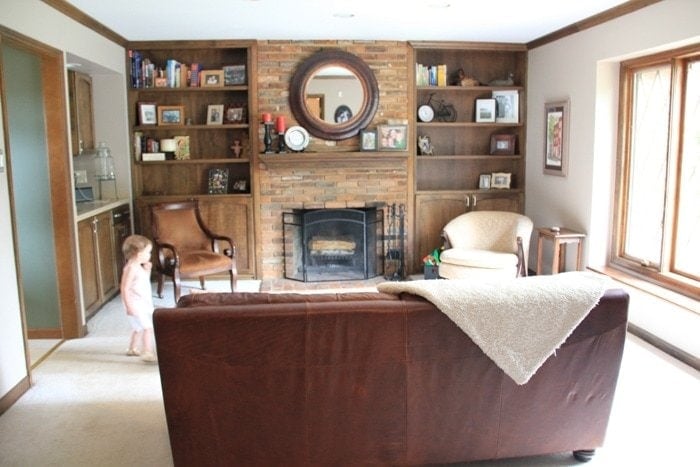 We opened up the wall where the bar once stood, used paint, hardwood floors and molding to create a timeless space. You can see more of this Neutral Living Room here.
We've updated this space quite a bit recently, adding new Pillow Covers, a new lamp, fun accent furniture from Studio McGee at Target, and redoing our Bookshelf Decor.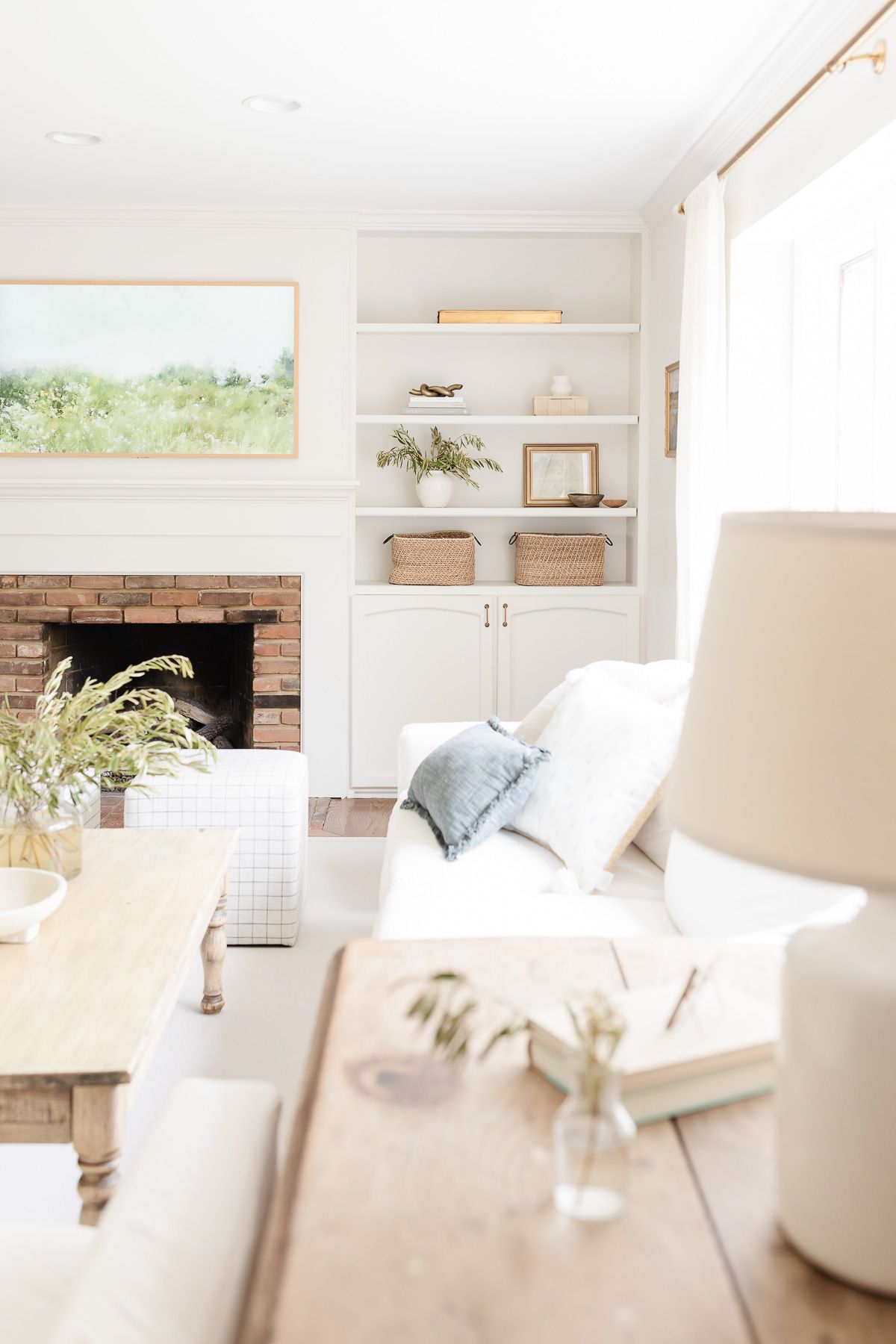 Oh, and don't forget the Samsung Frame TV. It might just be the best thing that ever happened to our living room!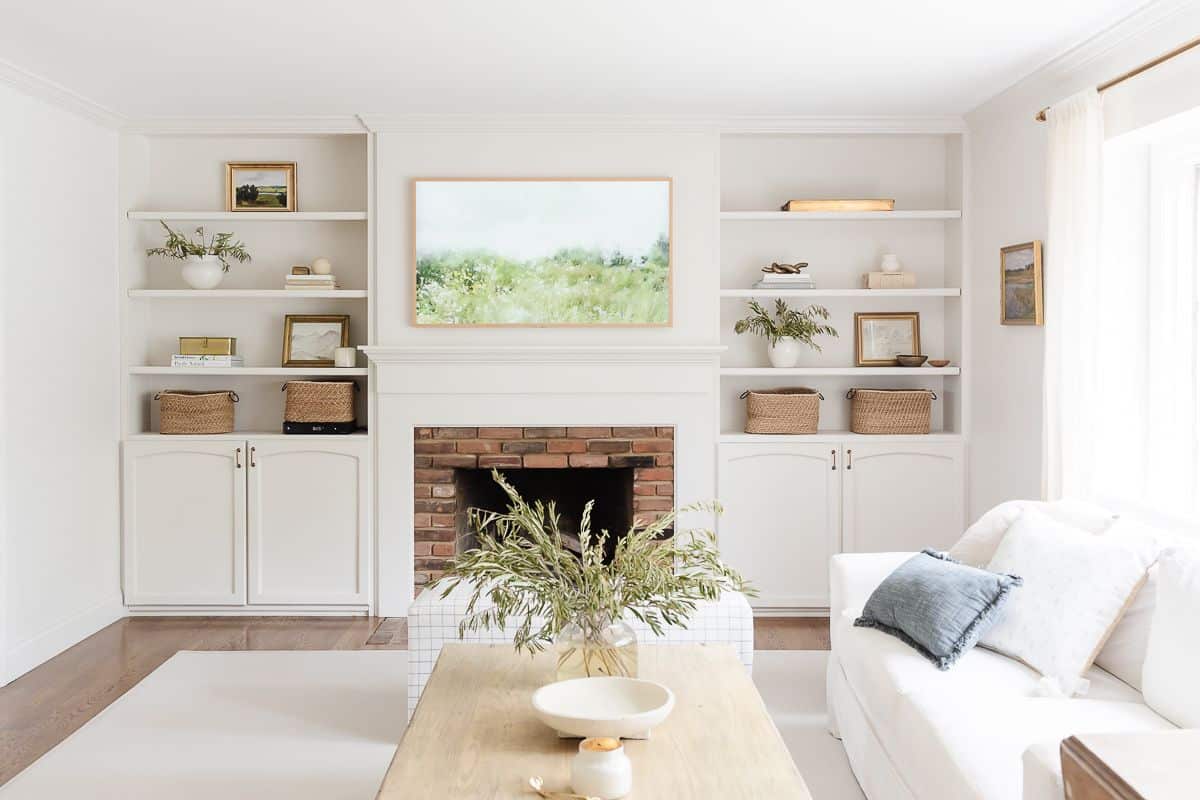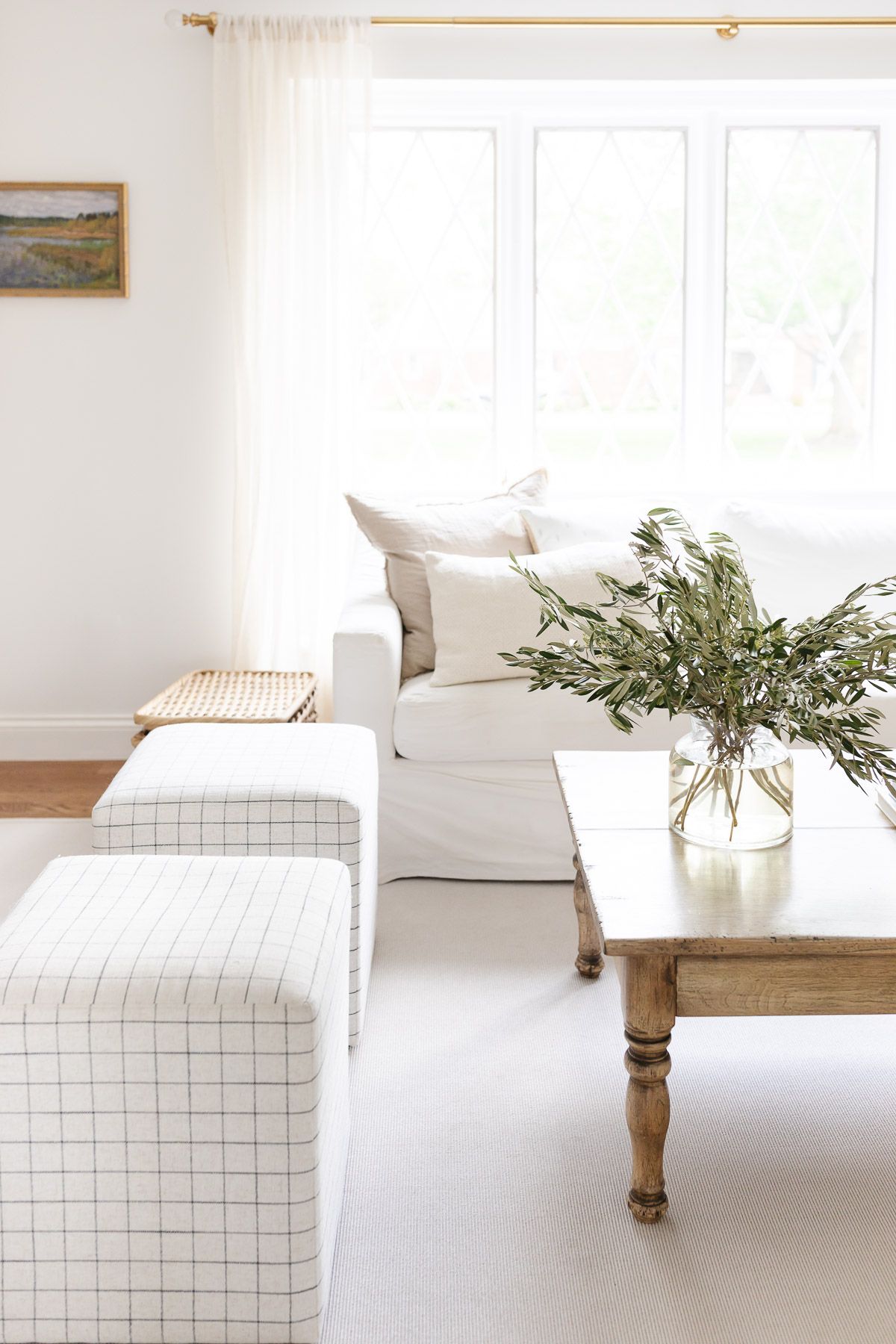 Basement
The basement bar, basement bathroom and basement stairs projects were all a long time coming! Many of our choices were both functional and inexpensive.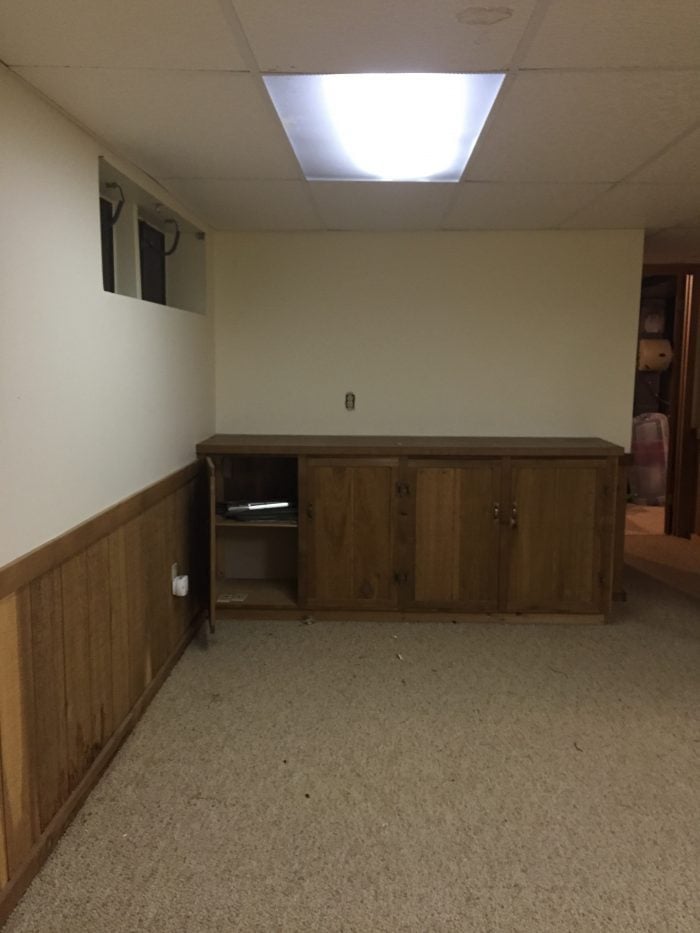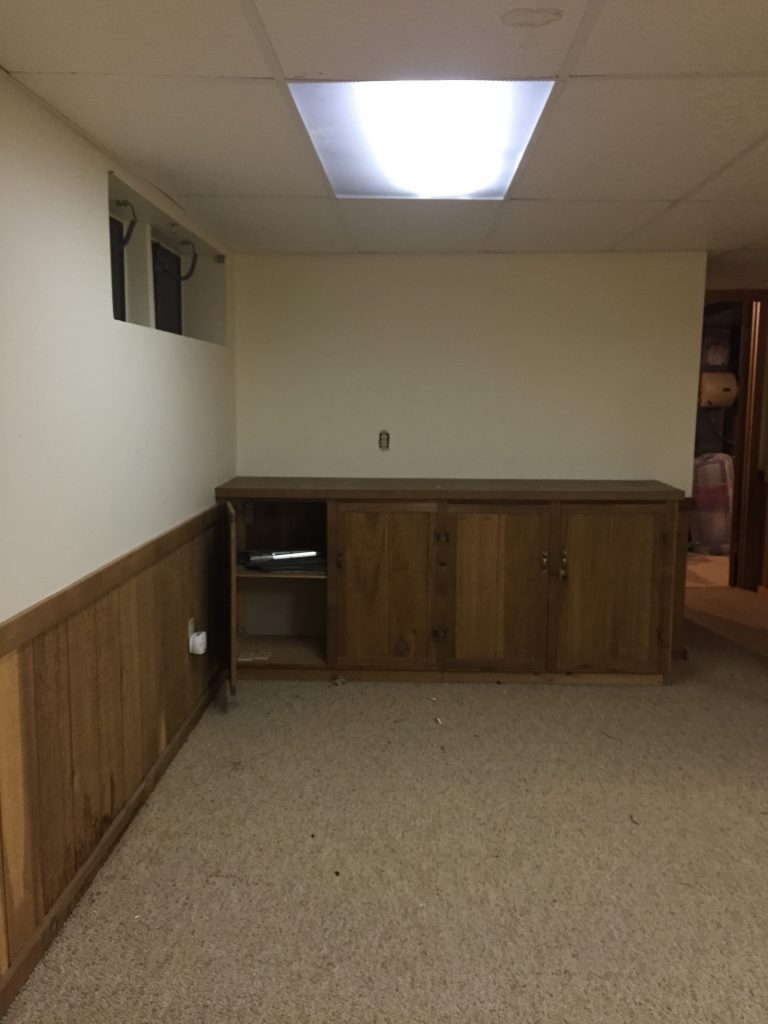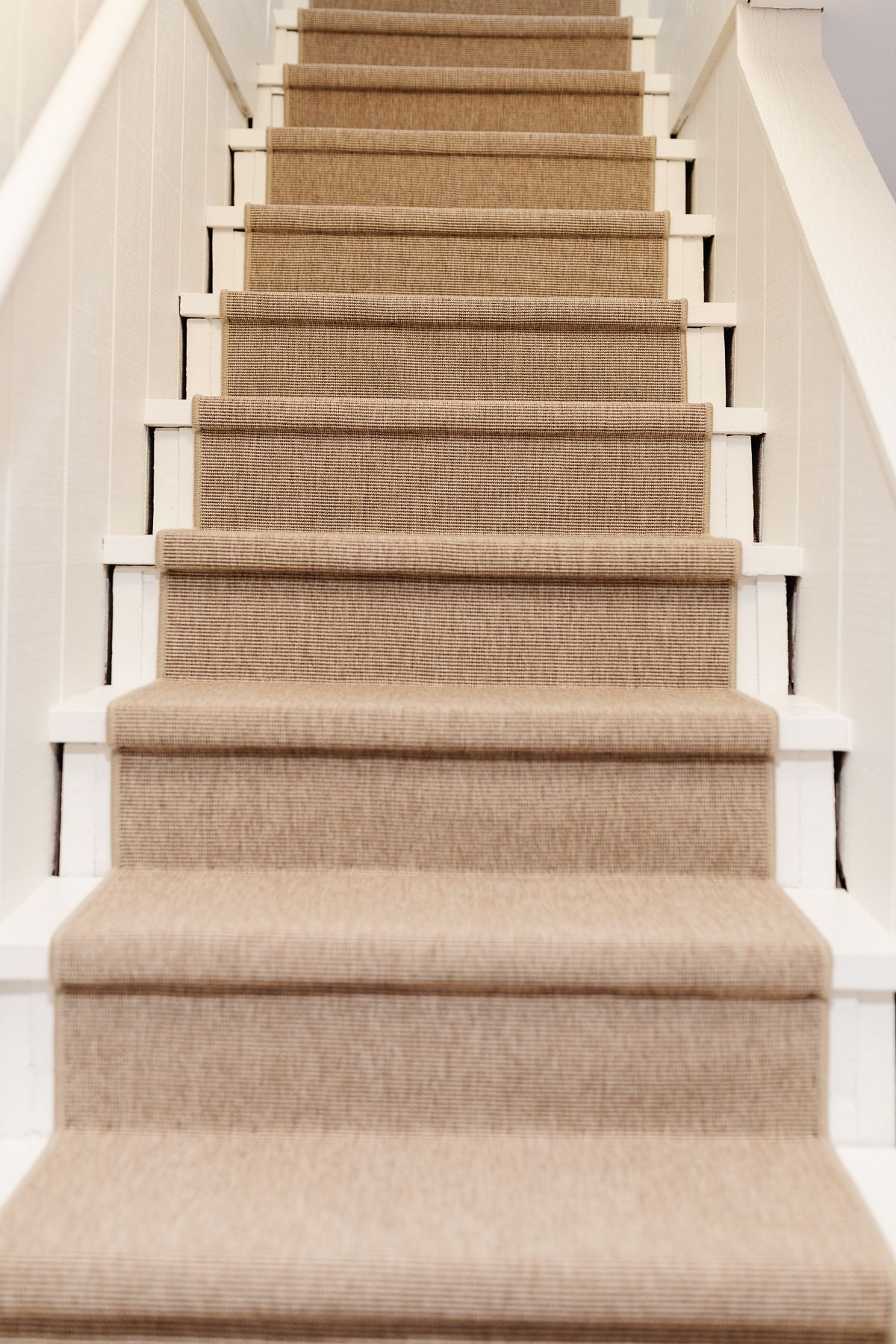 After our basement flooded last year, we did another update with a little paint and easy to clean LVP floors it felt like a new space! We painted the walls in Benjamin Moore Swiss Coffee and it's feeling like a fresh and fun clean slate.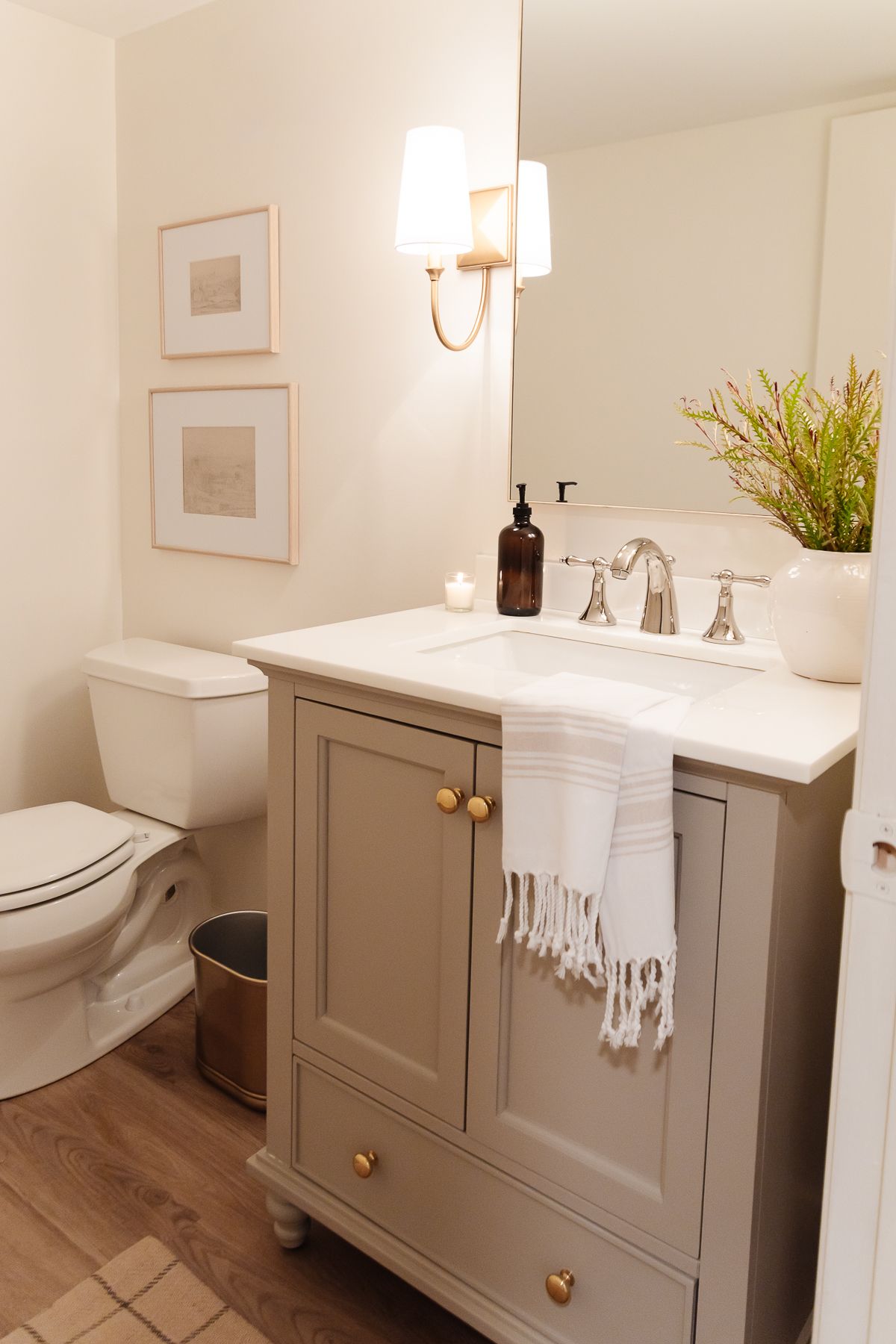 We overhauled the entire basement with a drywall ceiling, can lights, new windows and floors (we ripped out cabinets and bars) and a new bath.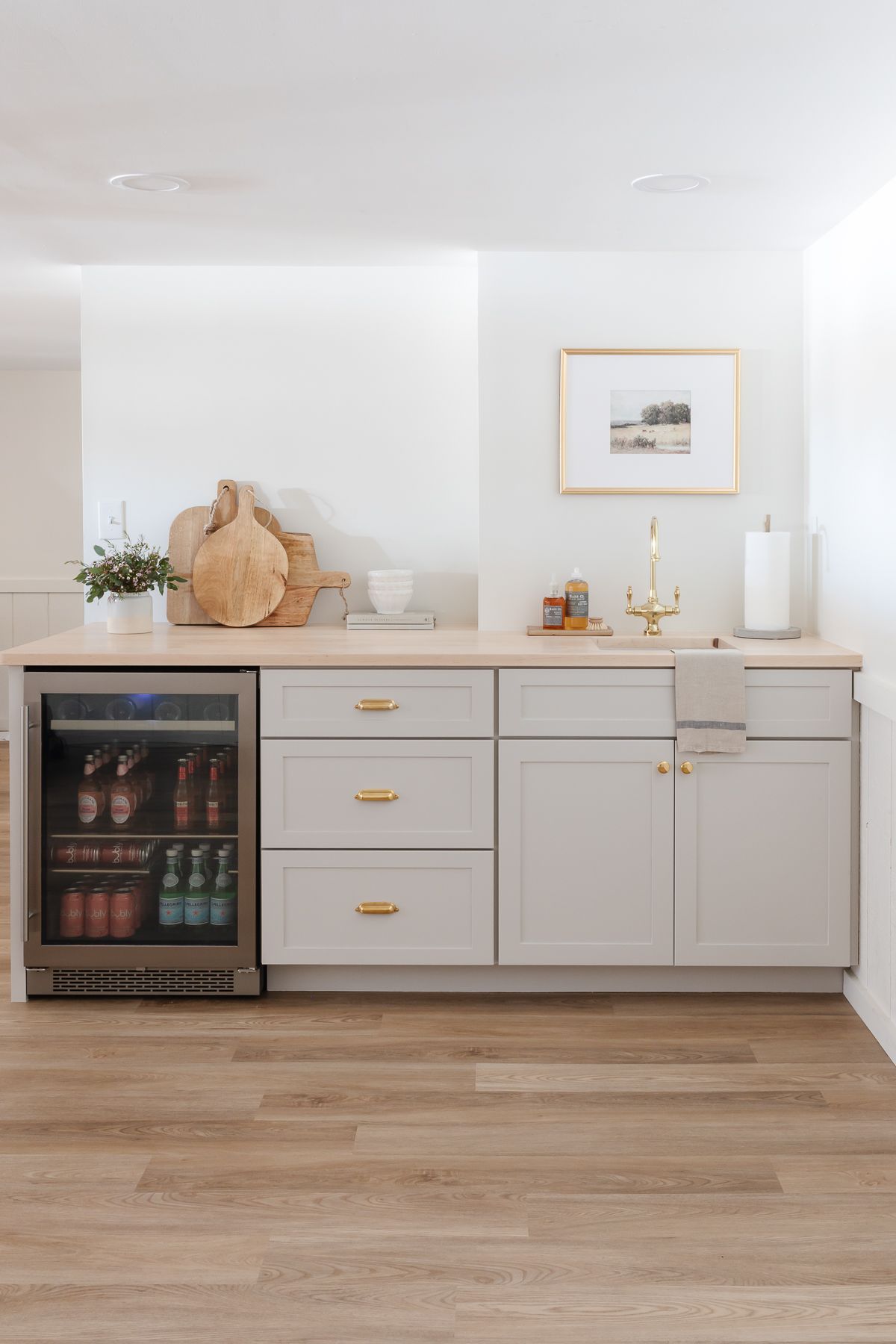 I can't wait to show you the next update with pretty new furnishings down here – it's coming together slowly but surely.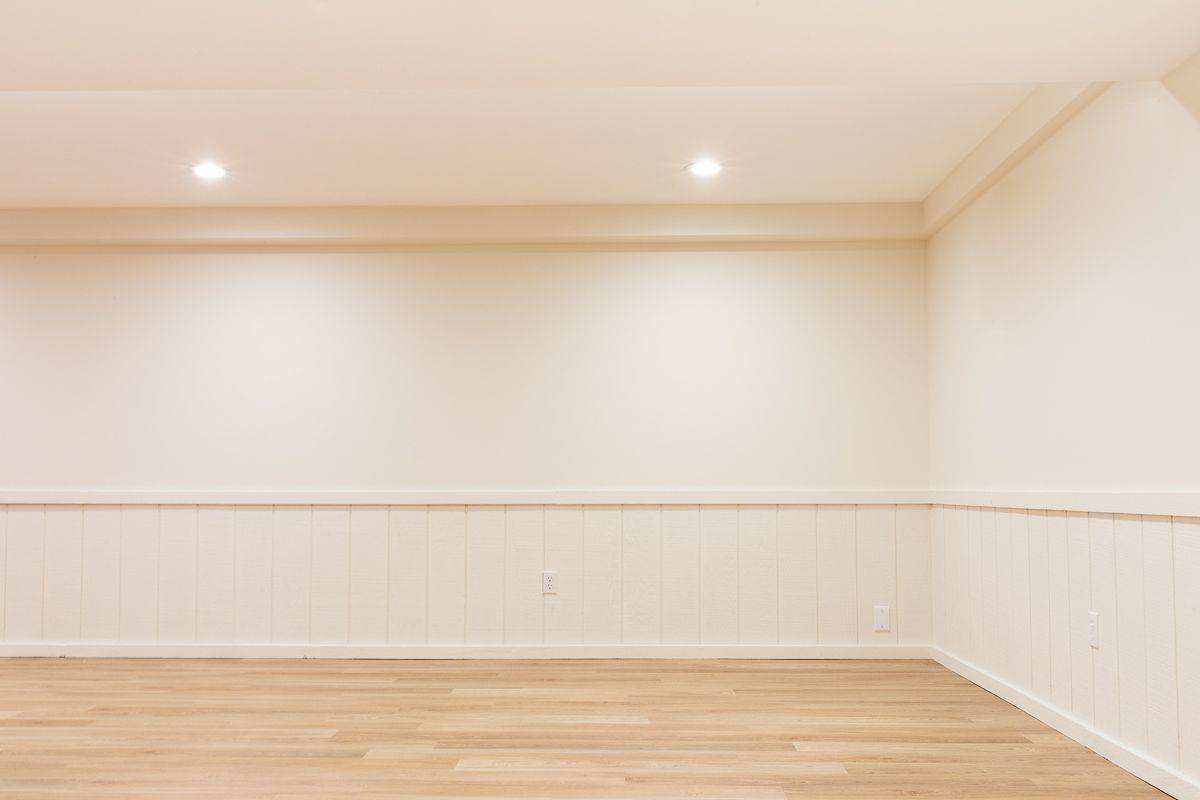 Upstairs Hallway
The hallway was so dark! It boasts 8 doors which makes it feel really small. We replaced the carpet with hardwood floors, added new lights, new doors, brass door knobs and more.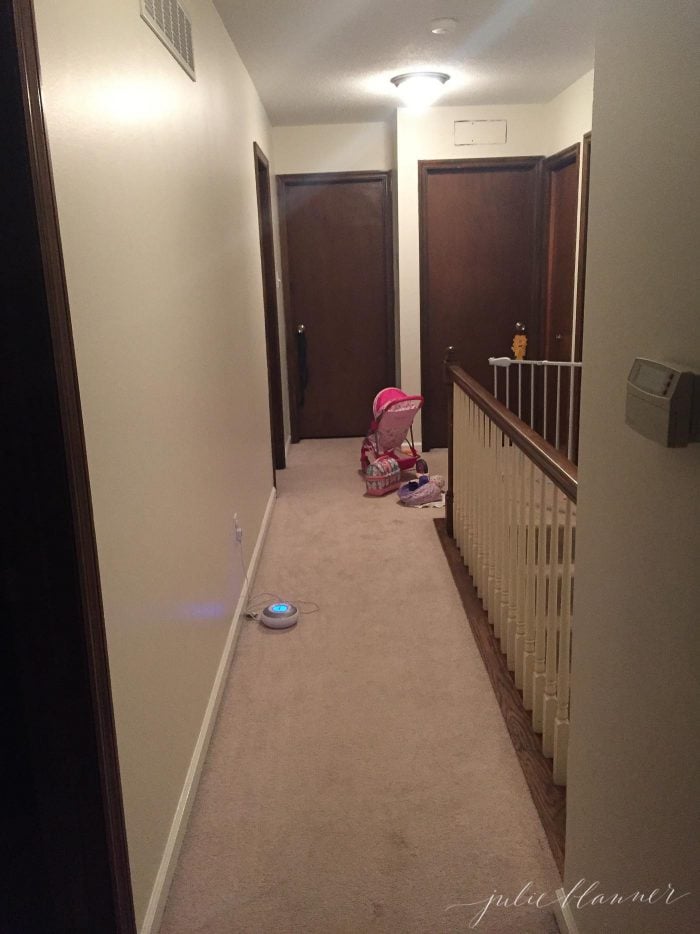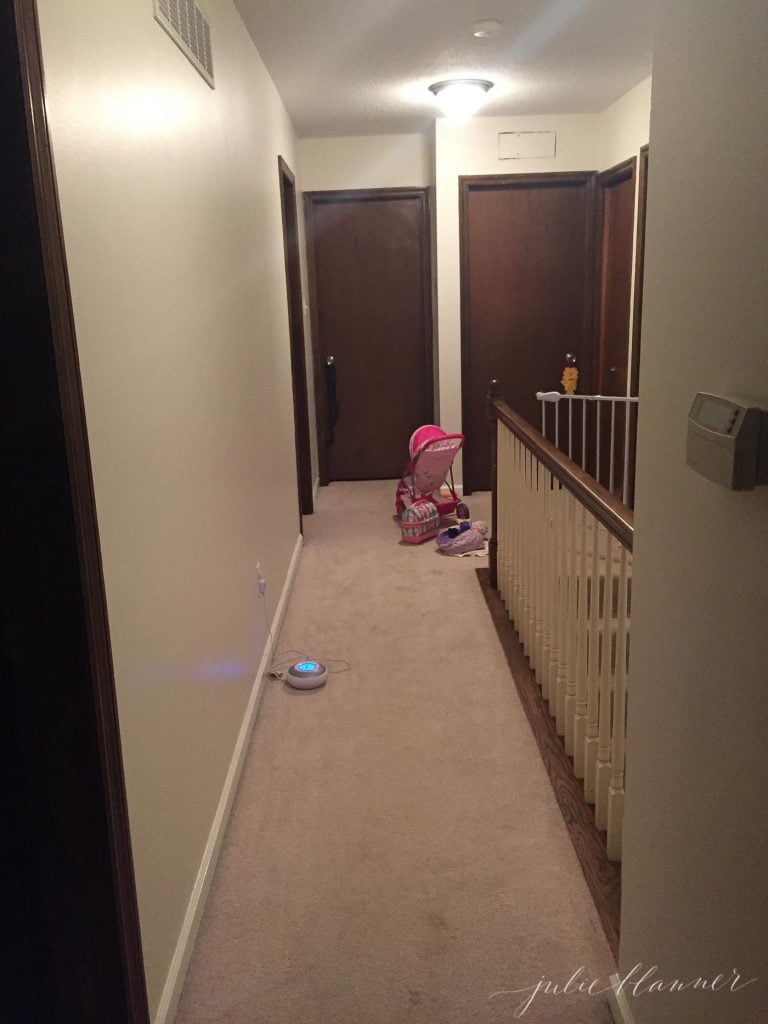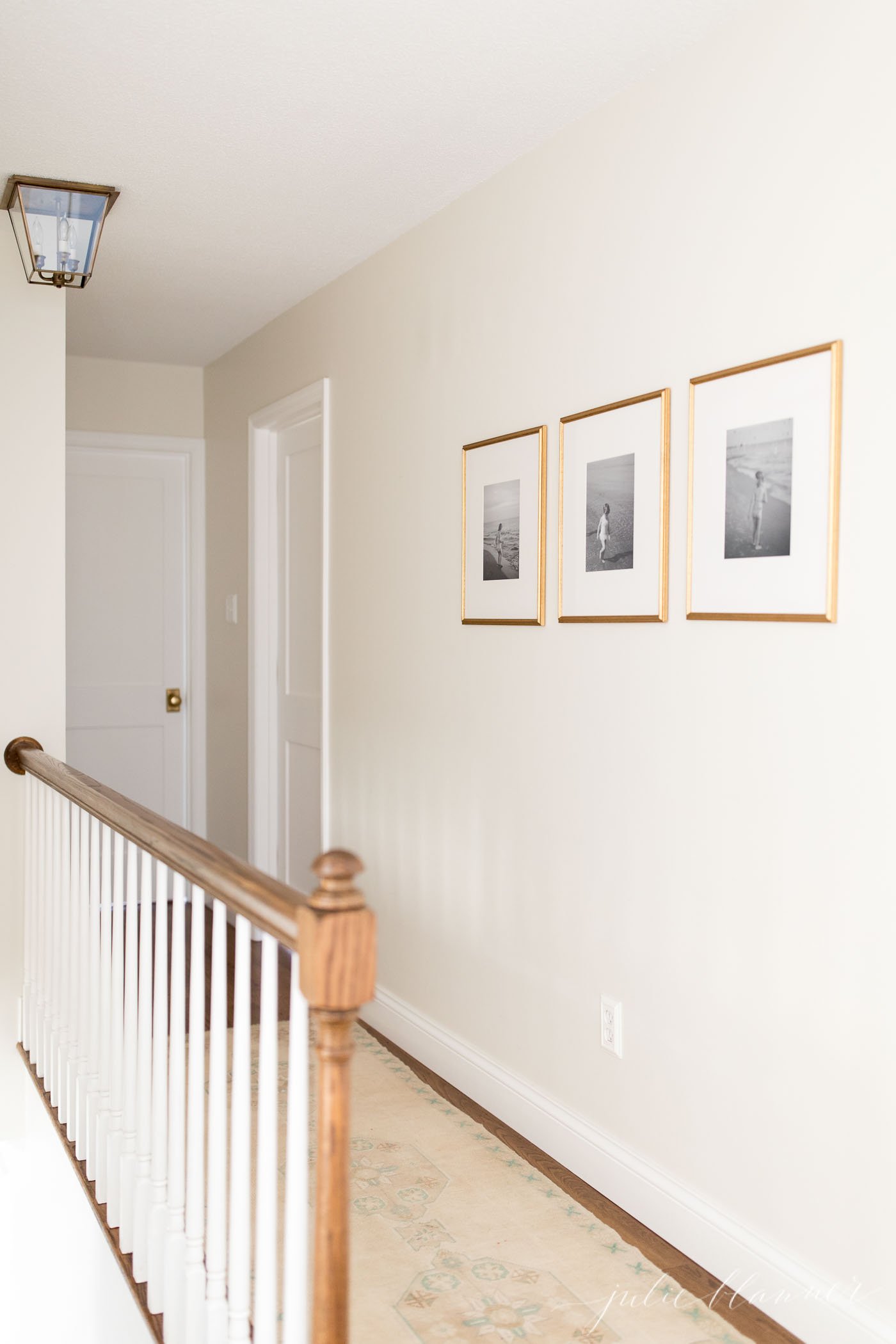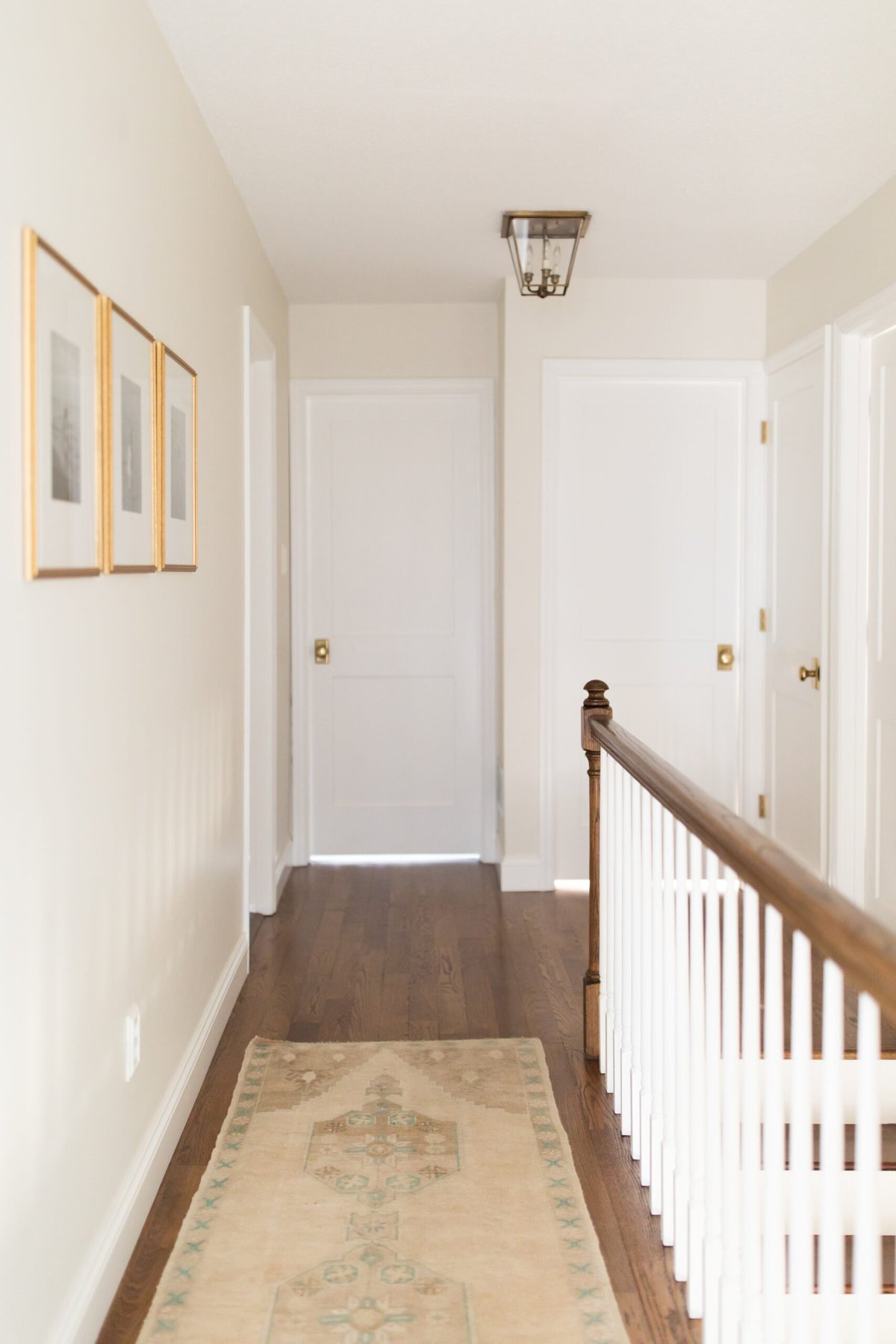 The Linen Closet was a quick and easy update that maximized function. You can get all the details of how I pare down, what I store in there and the inexpensive labels used by visiting the post.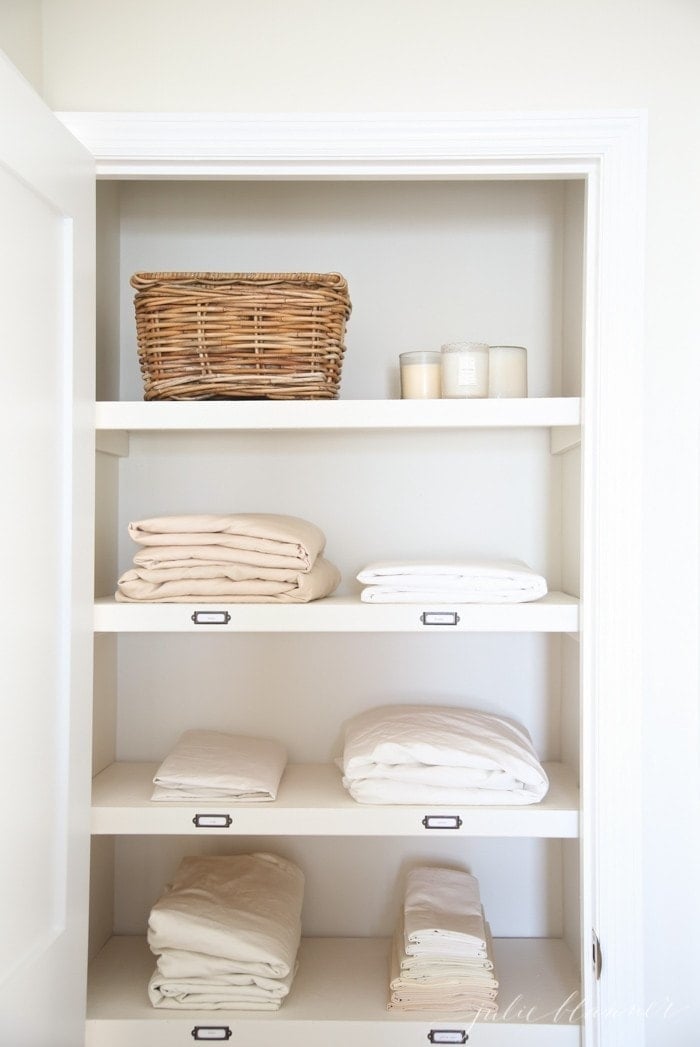 Shared Bathroom
The hall bath (which the girls share) needed a lot of help! It wasn't even close to code, soffits made it feel small and had two showers!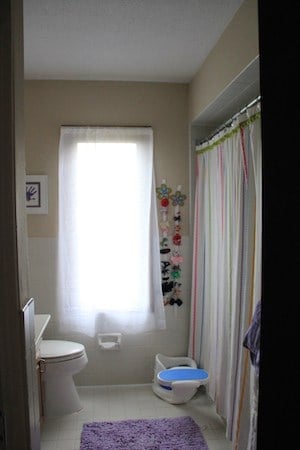 We turned it into a Spa Bath – the girls use it daily and it doubles as a guest bath!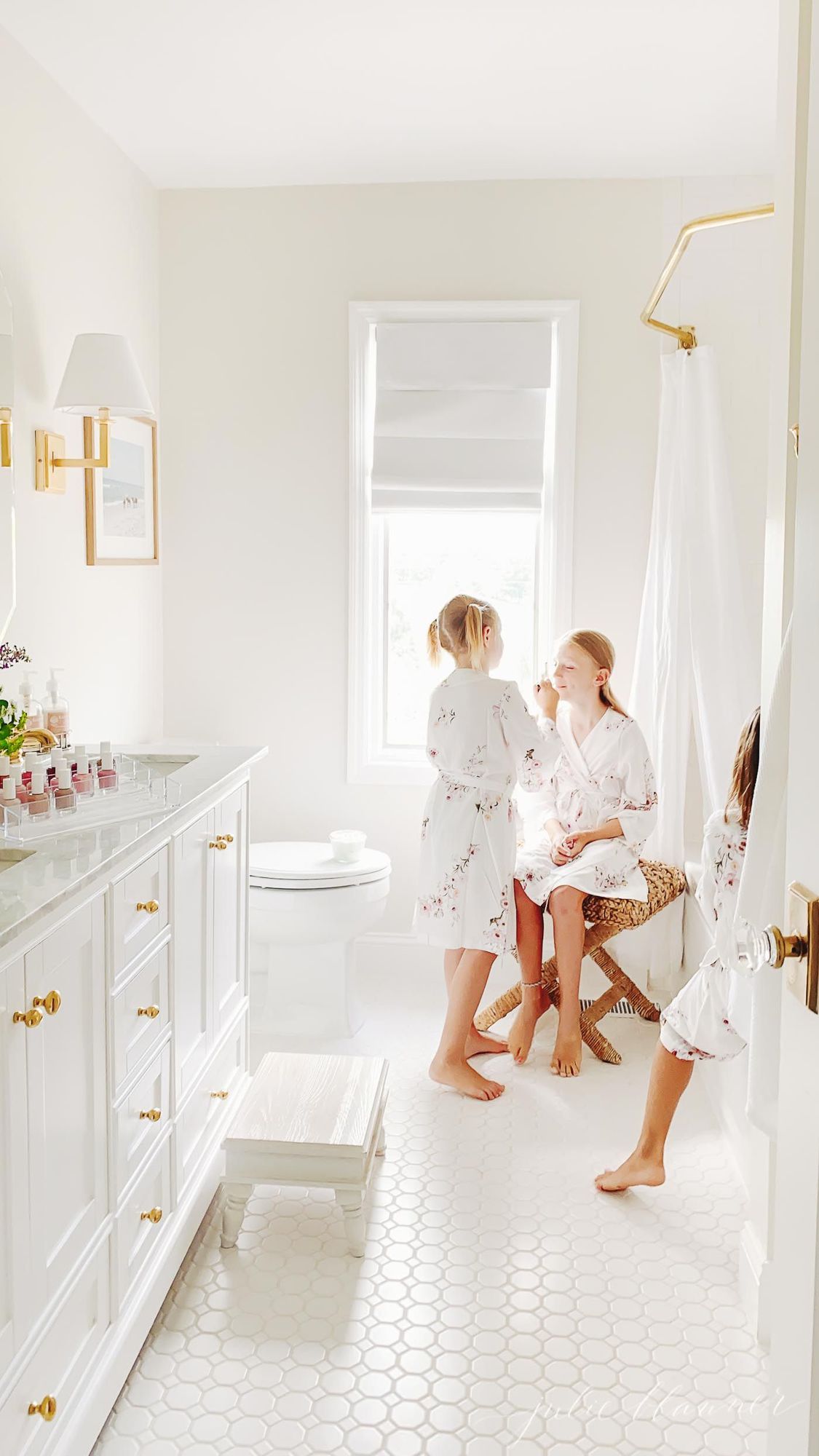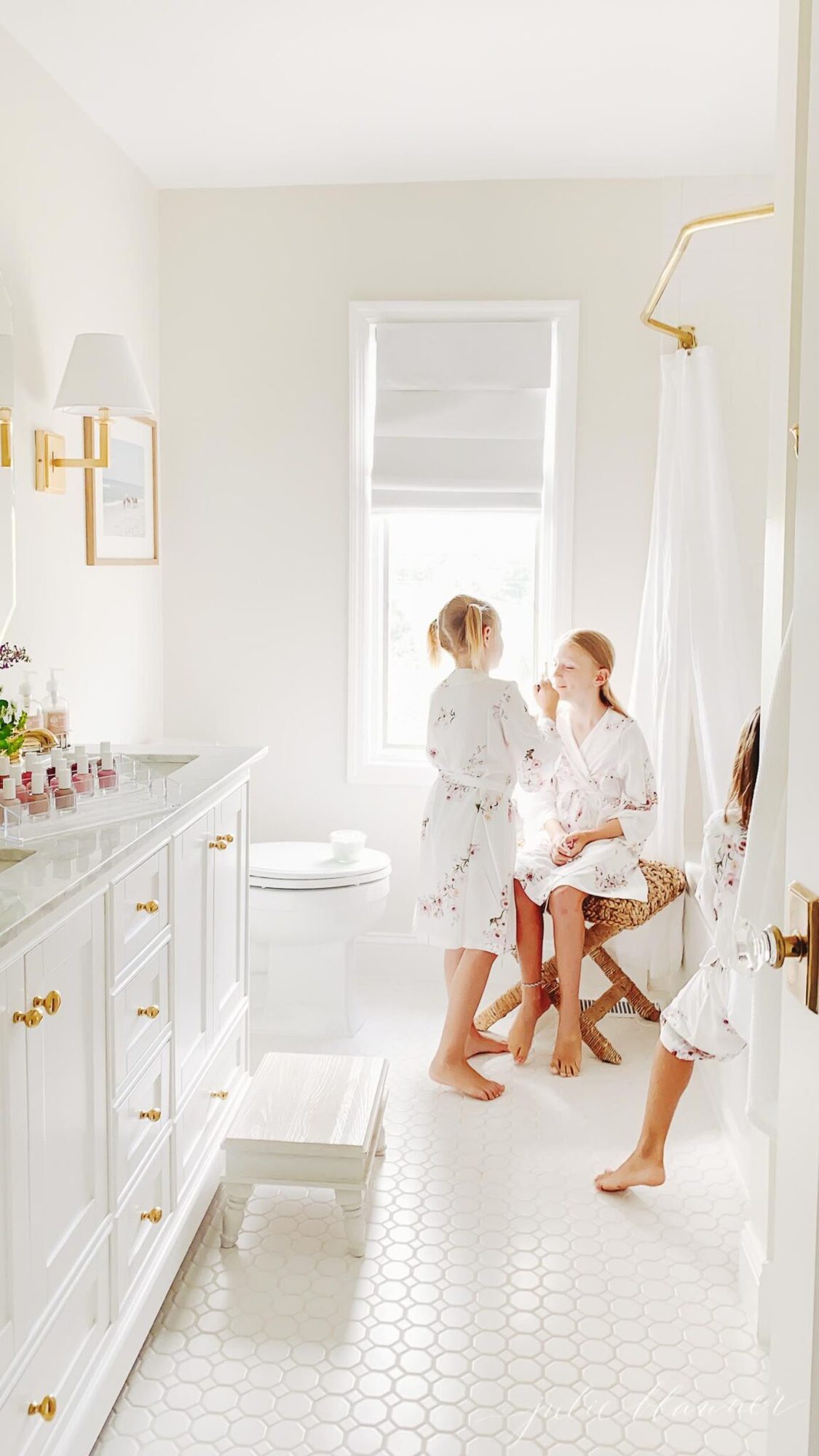 Girls' Bedrooms
The girls have now switched rooms and each have been redecorated to suit their age. I'm long overdue in sharing them! This is Ani's previous room before and after.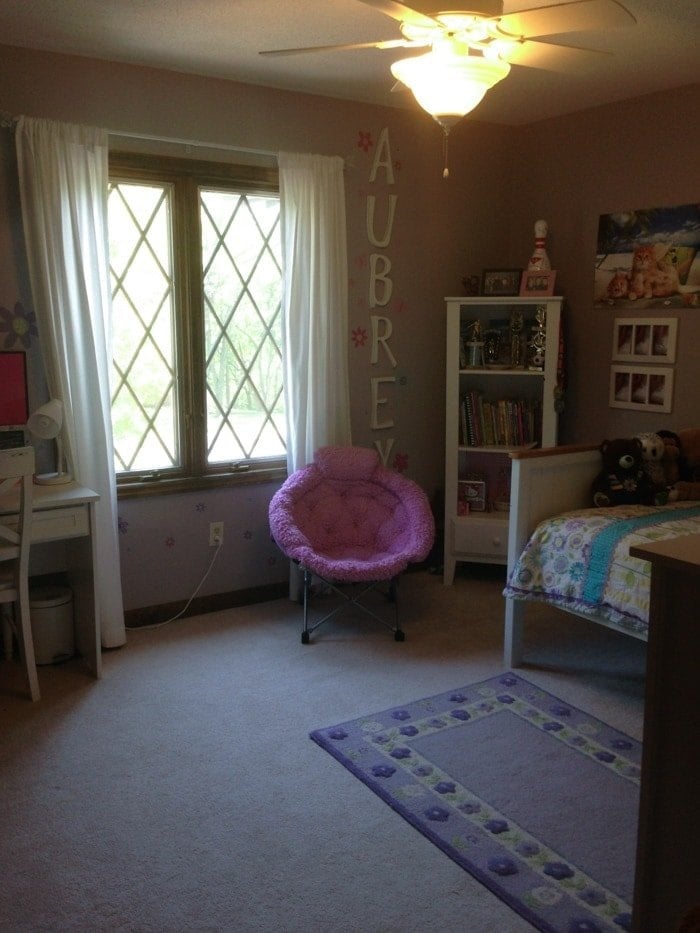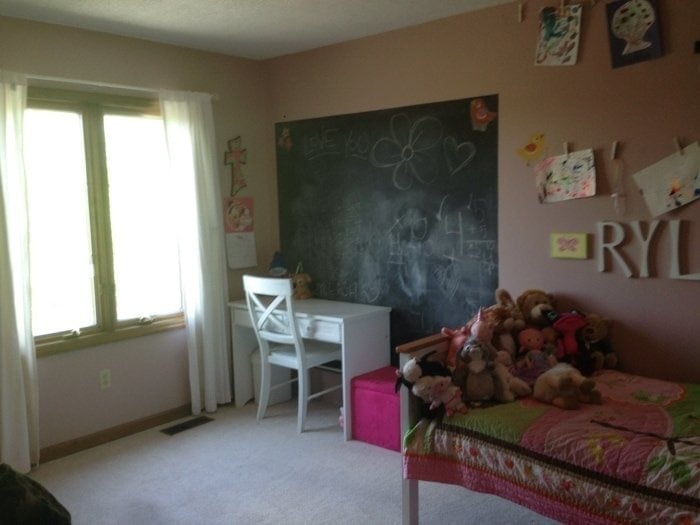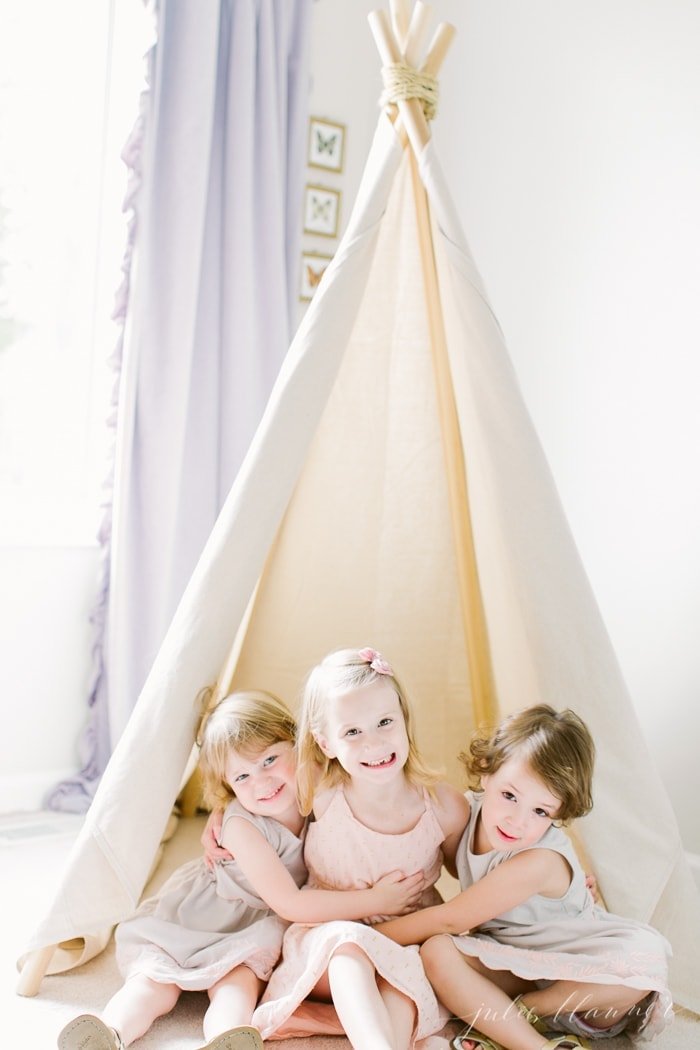 Here's a sneak peek of her new room: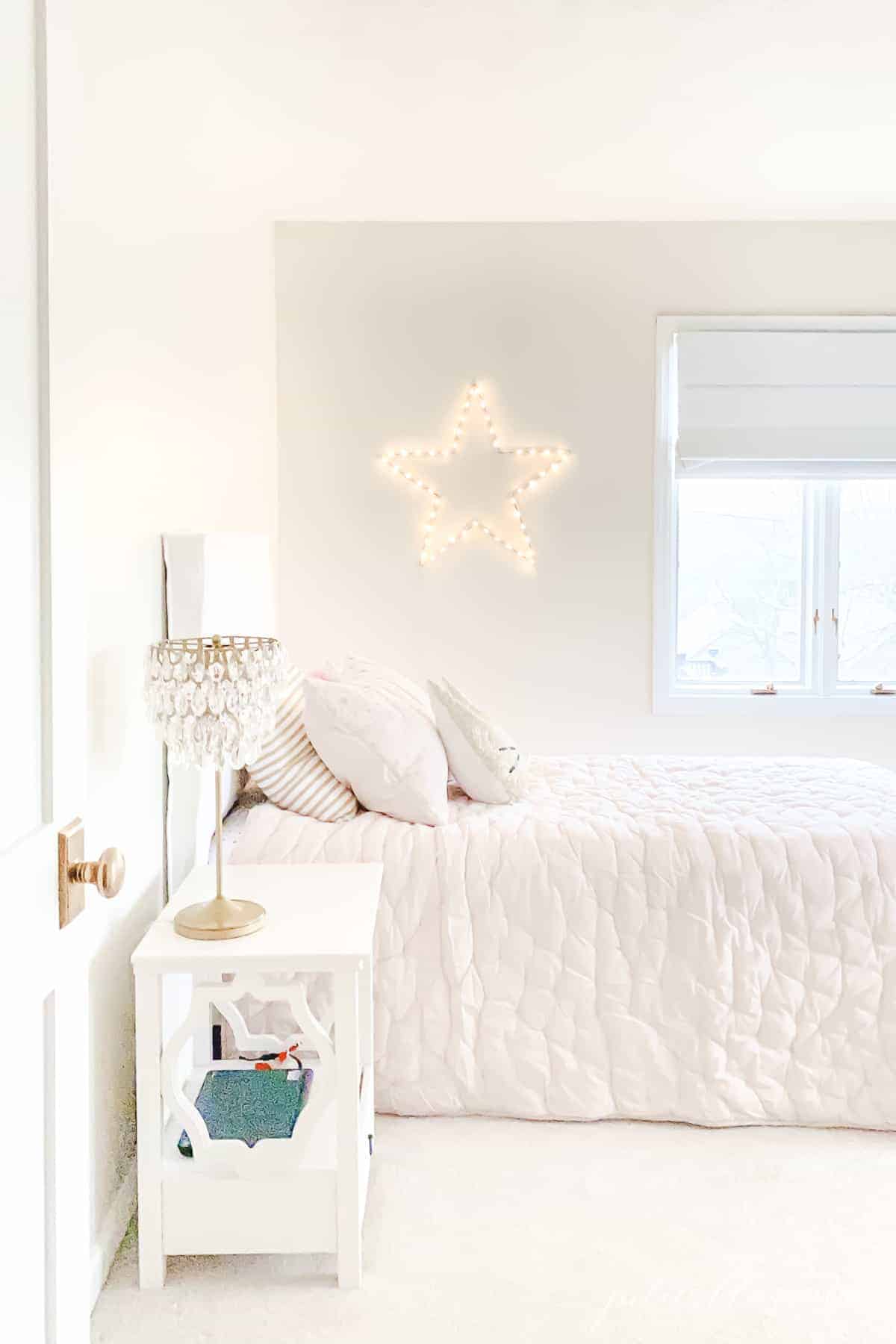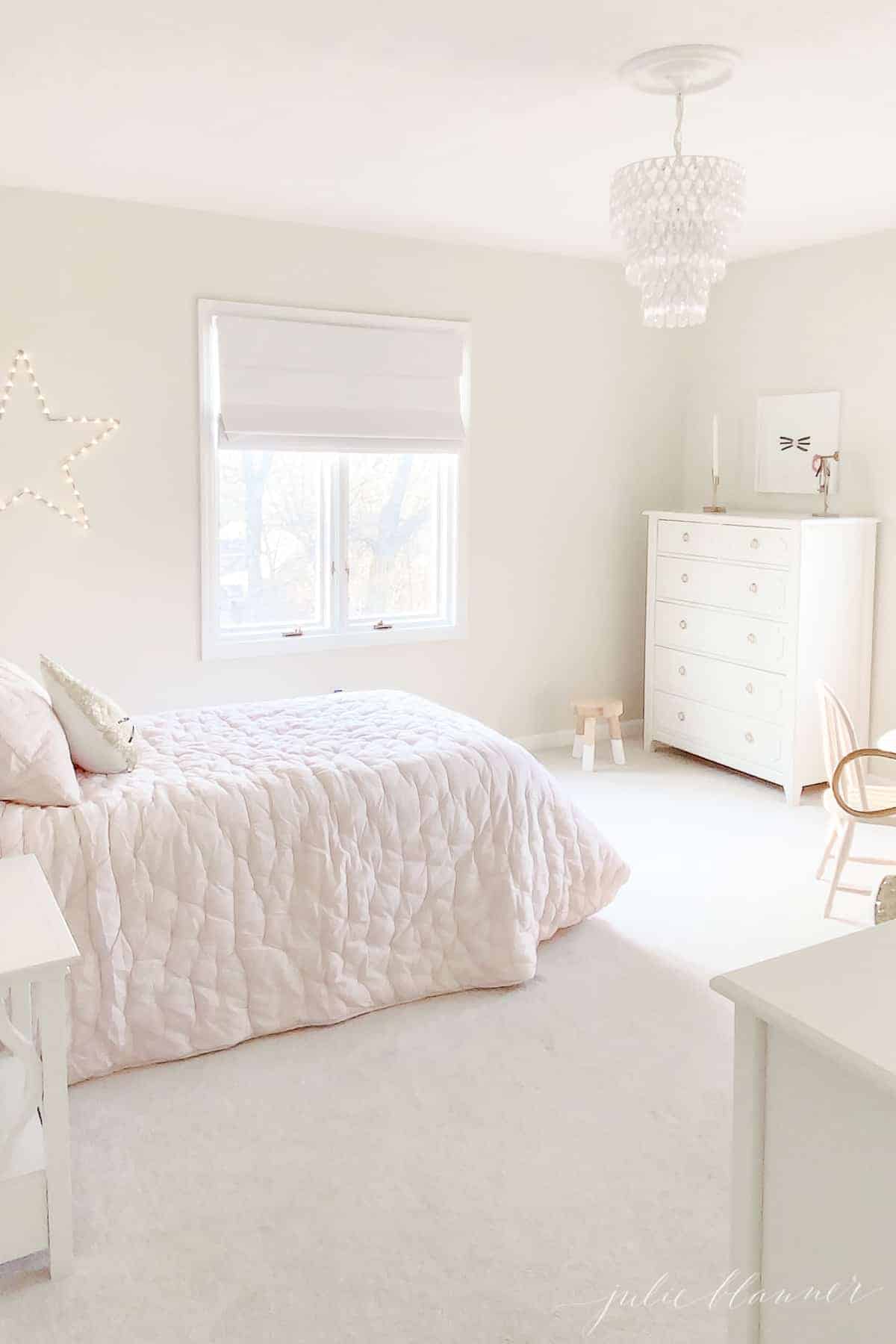 Adalyn's Room has undergone a major transformation this year. She's growing up before our eyes and deserved a new Tween Bedroom!
Below, you can see the space before we bought the house and a glimpse of her six years ago when we first redid this space.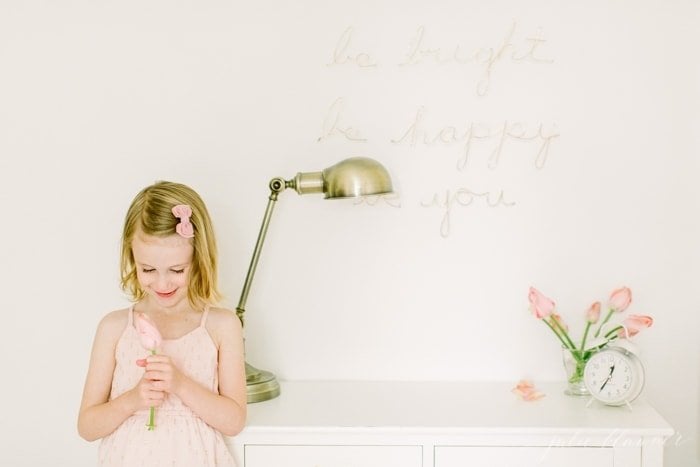 When we changed it into a sweet pale pink little girl's room, I cut down a console table to make a desk that doubles as a side table. Just above it I added a little custom word art.
Now she has a beautiful gold canopy bed, glitzy gold touches and a splash of big pink peonies on one wall. It's a fun, grown up space for her!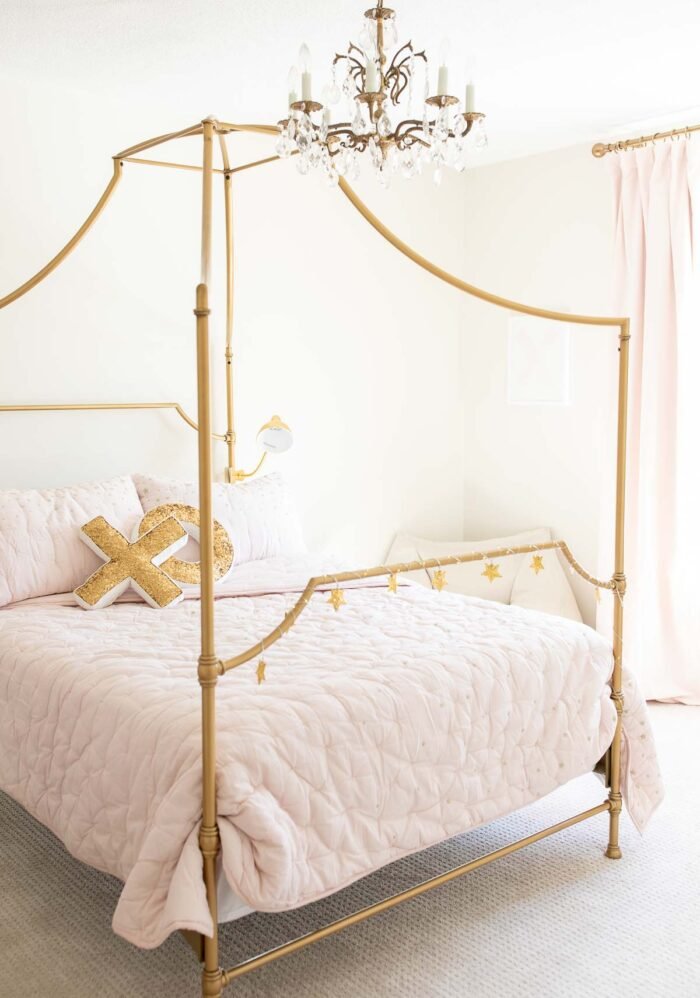 The now replaced fabric pinboard was perfect for displaying artwork and precious photographs.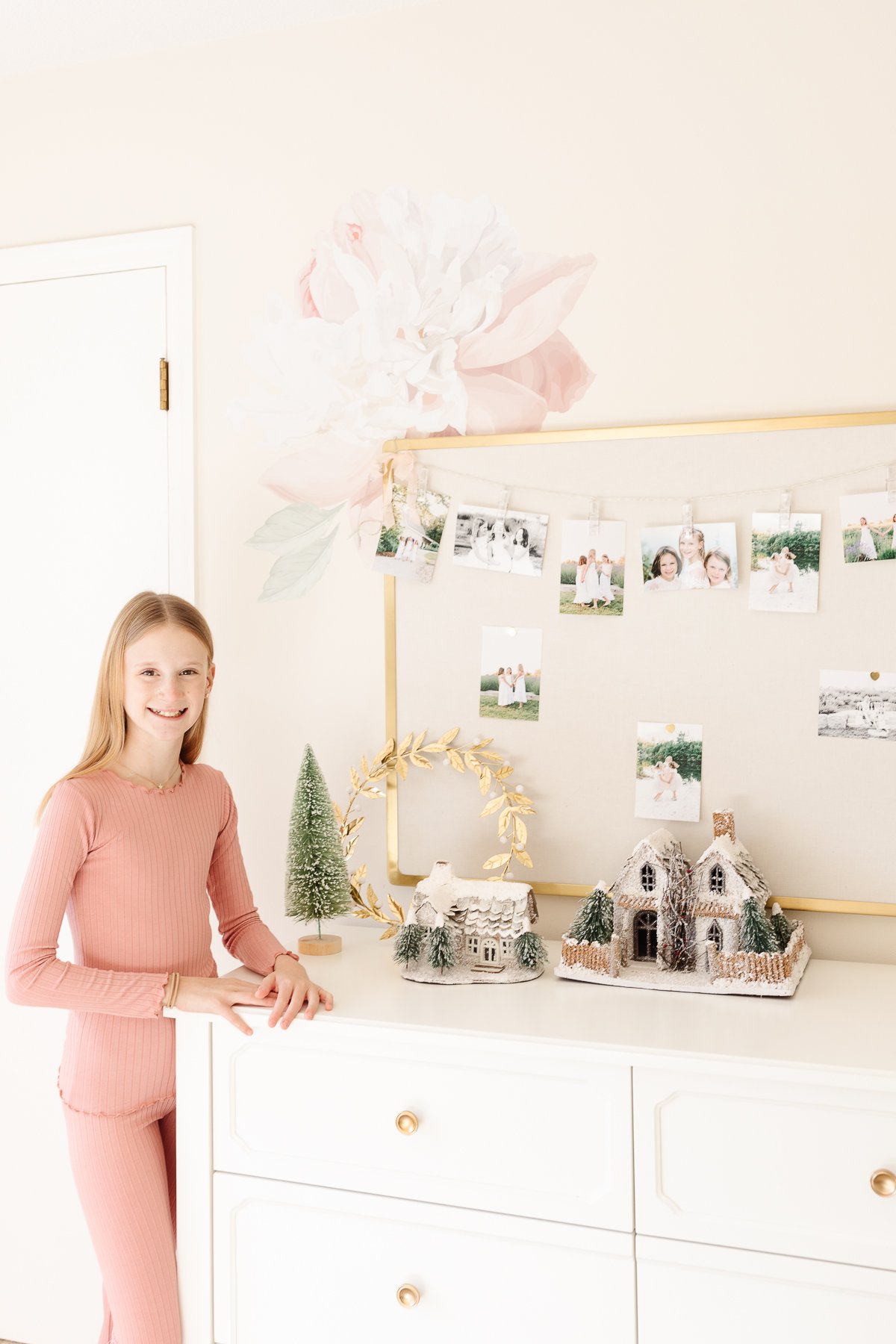 Isla's Room was small, but functional. She has since moved to a larger room and her former room was converted into the guest bedroom.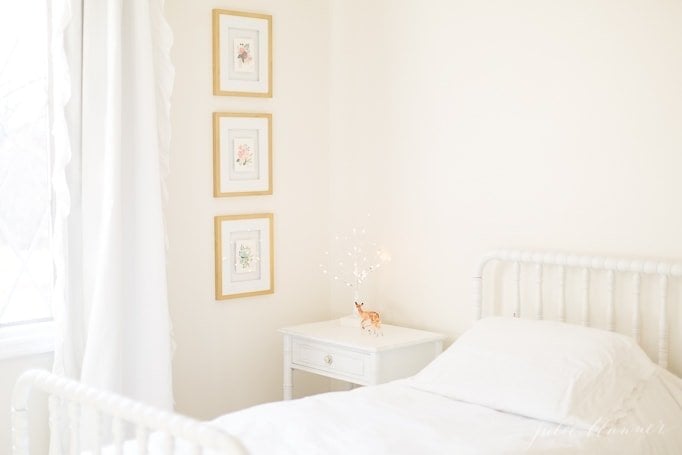 We are fortunate to have a Second Level Laundry Room adjacent to our master bedroom. It is incredibly convenient. As you can see, we initially gave this room a light refresh with a sink skirt, new faucet, hardware, light fixture, paint and accessories.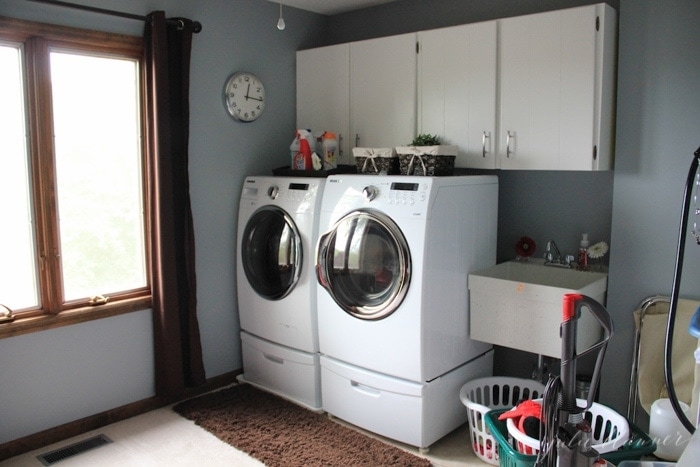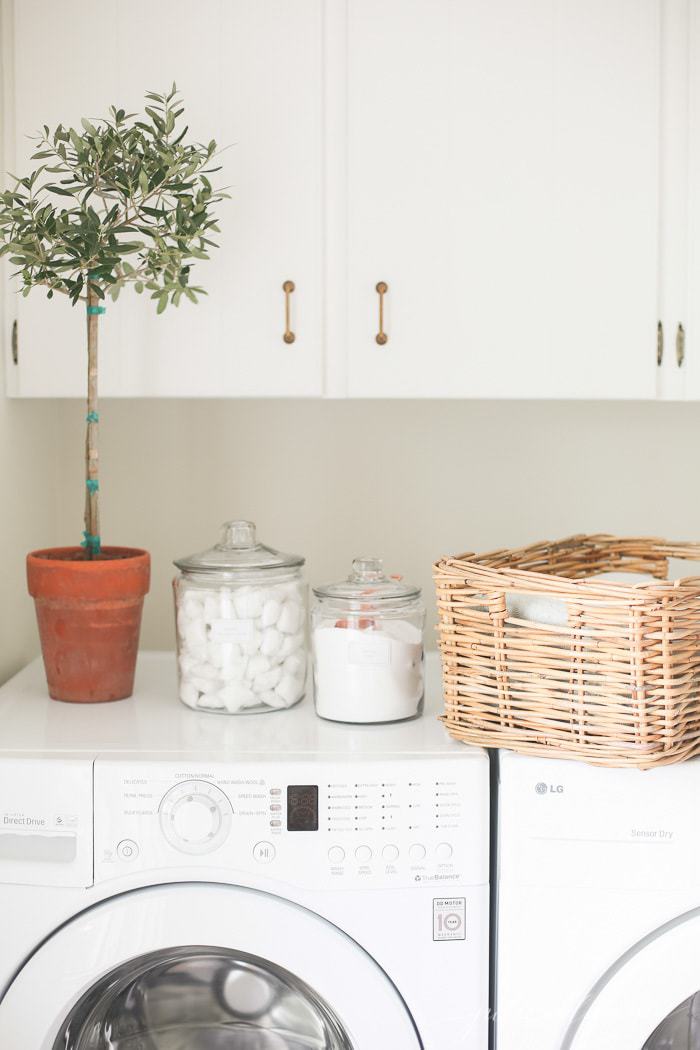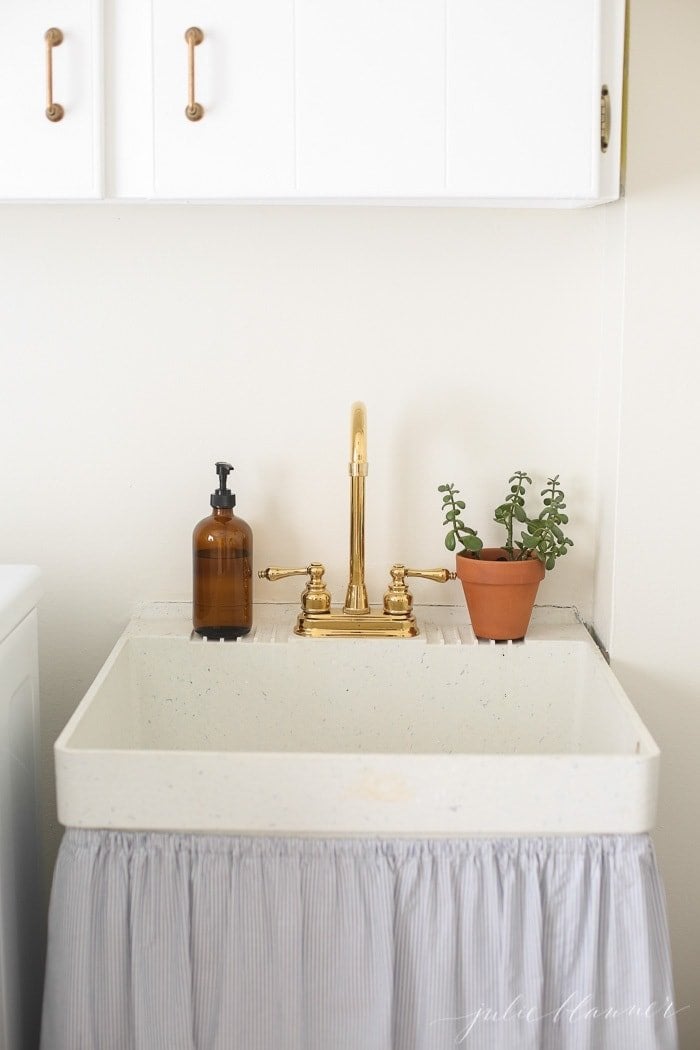 Now we've done a full refresh, with new cabinets, peg rail, a custom built closet to add function and feel more intentional and a new wall sink.
Want to see all the photos of this pretty laundry room? Check out our Modern Laundry Room update! I'm in love with our herringbone floors.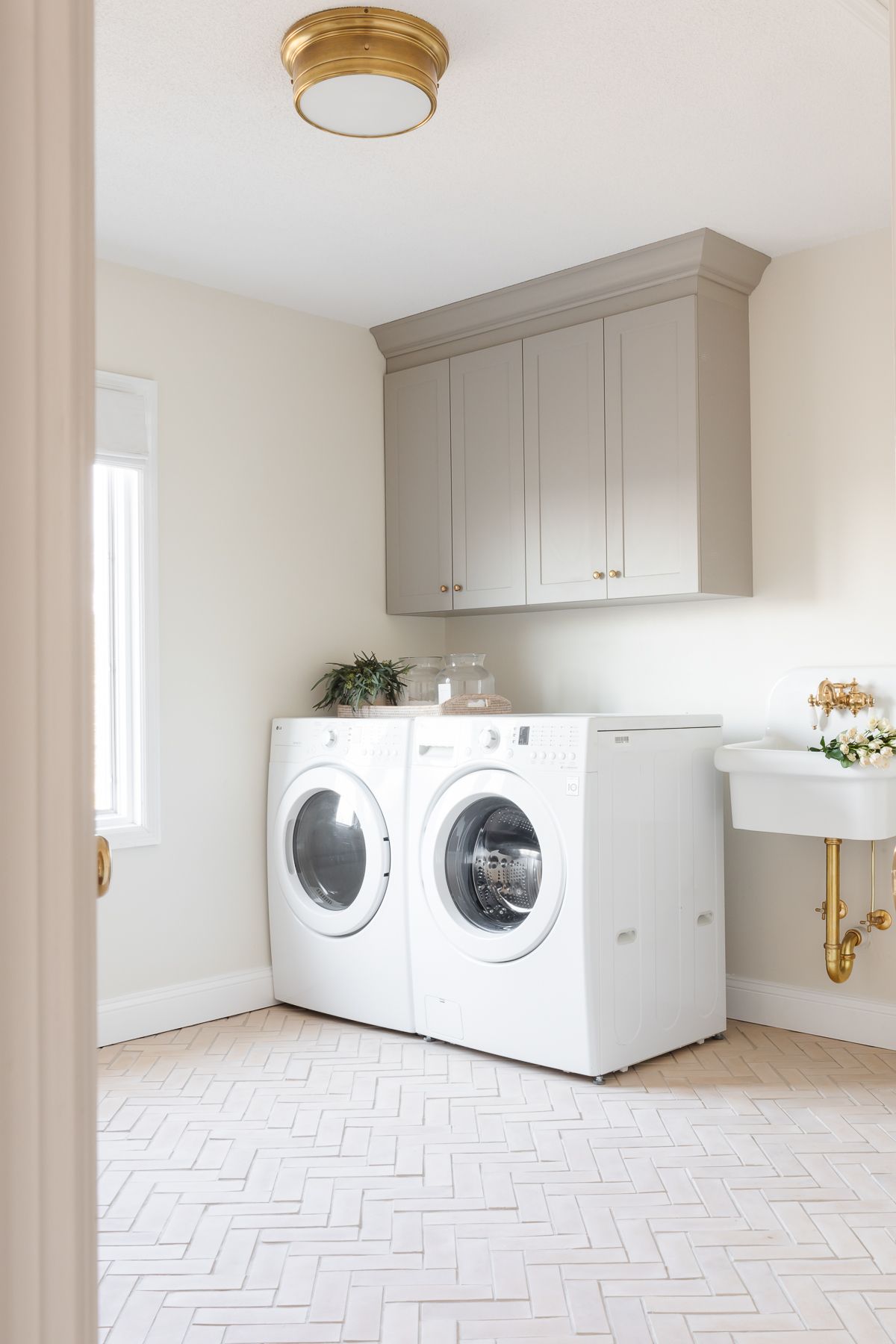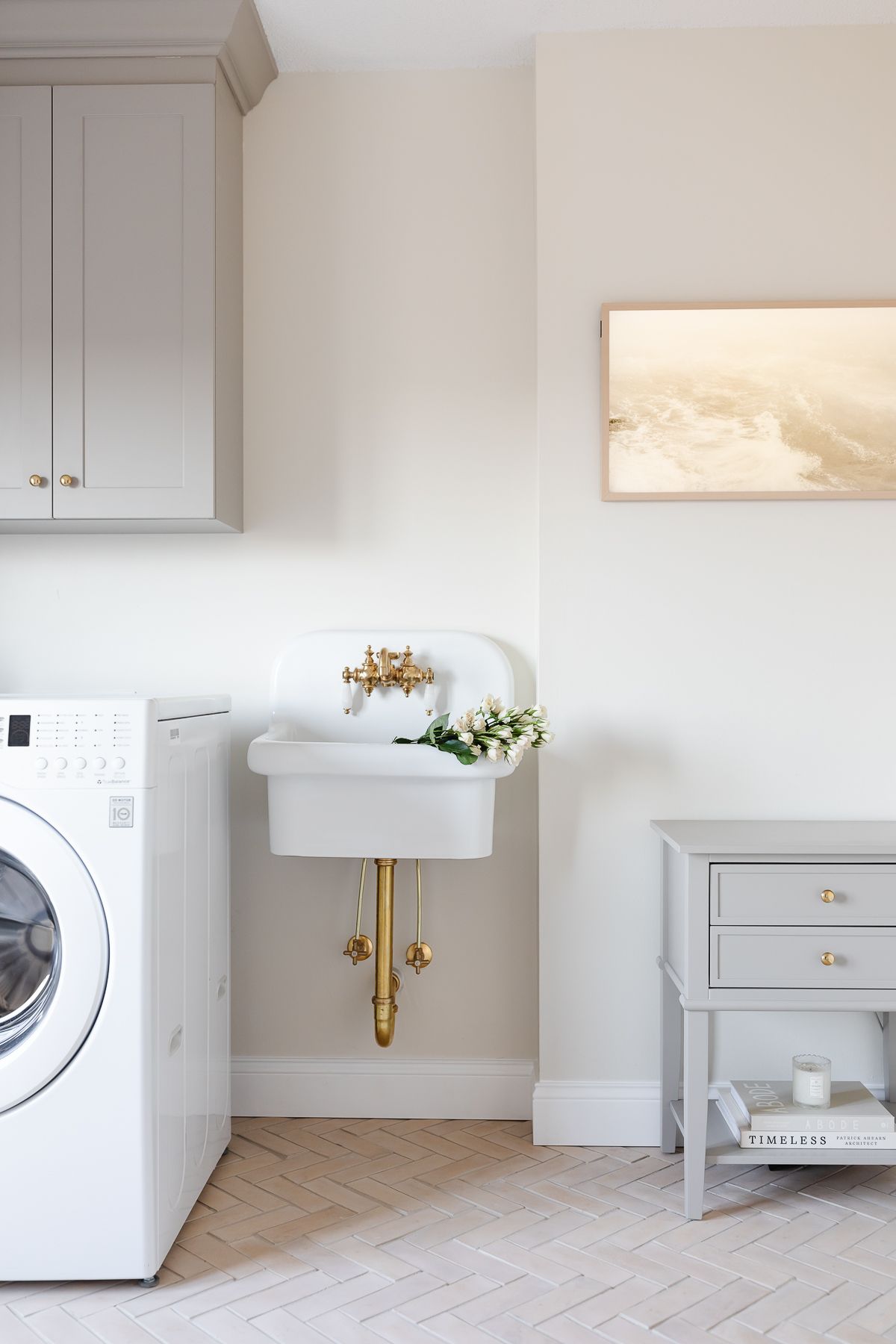 Primary Bedroom
The Primary Bedroom has two large windows but still somehow felt dark.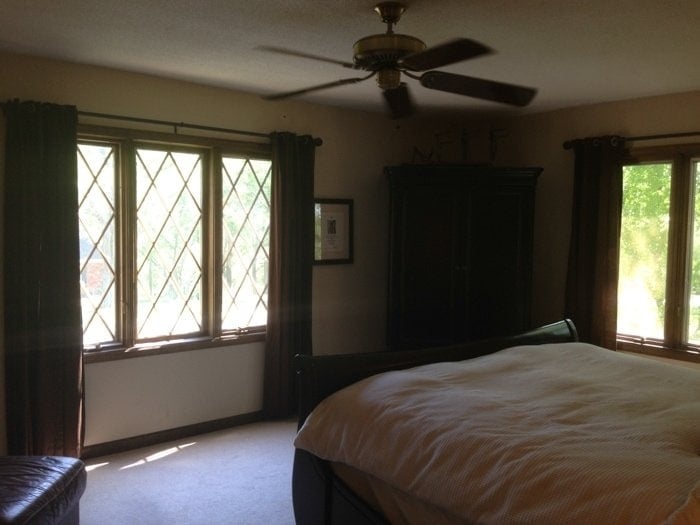 It, too, received a little refresh with a larger project to come!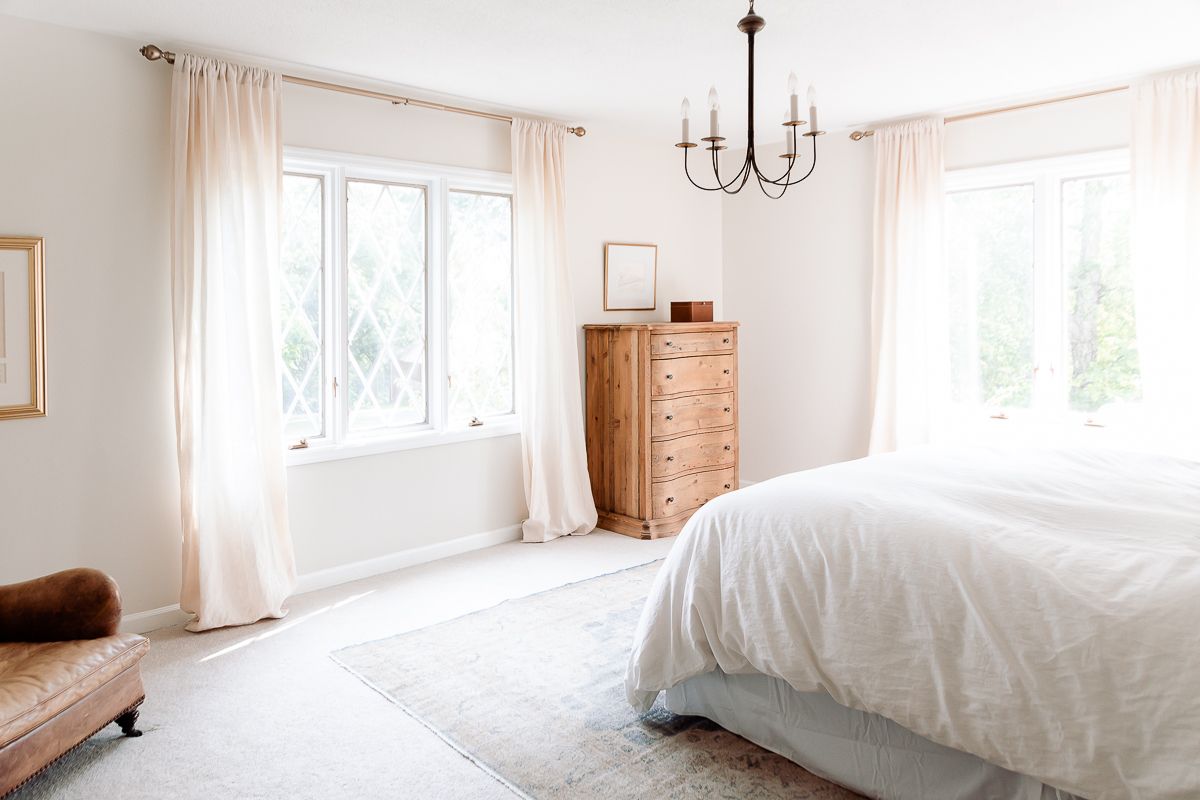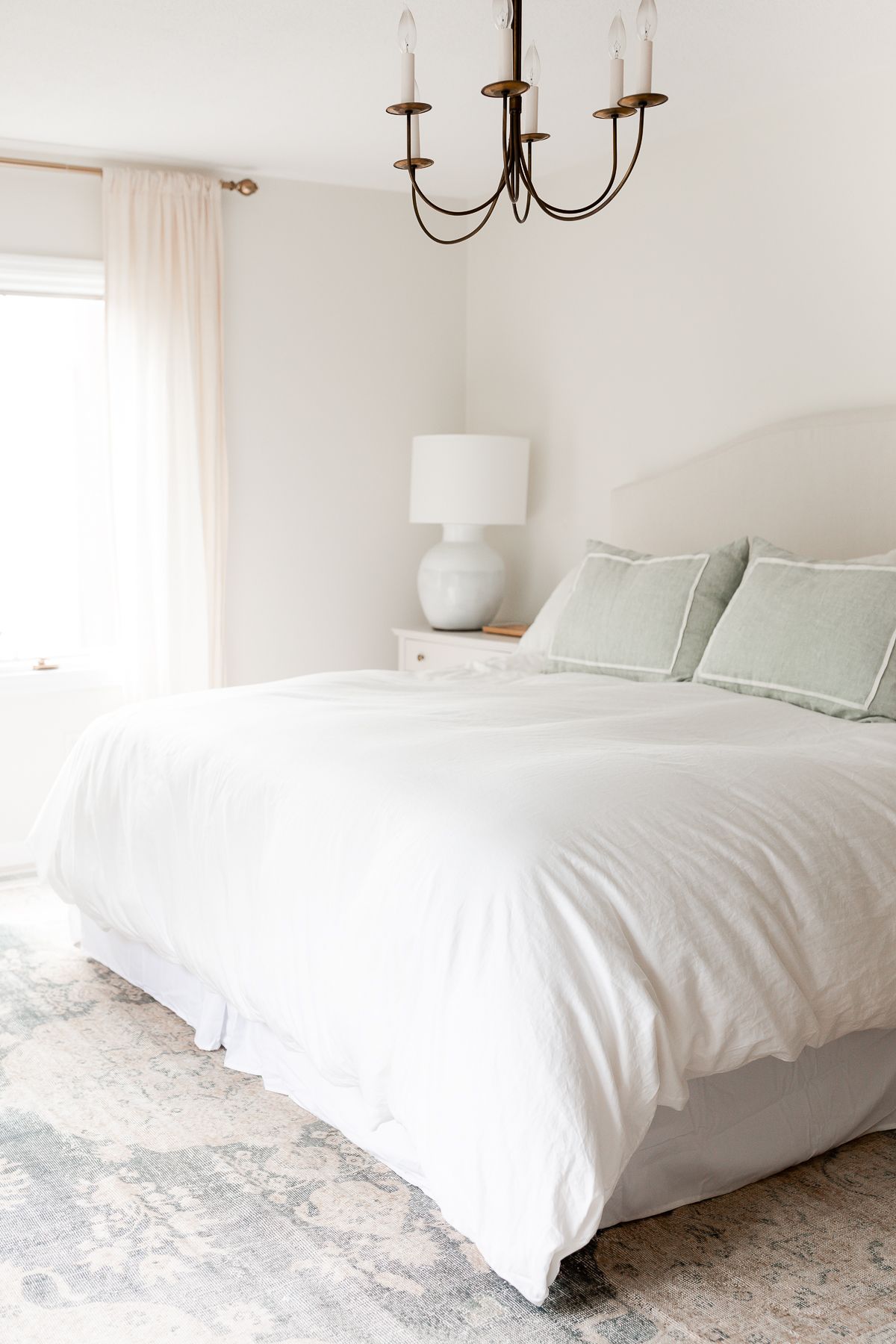 I'd like to update our primary bedroom bedding this year! Any ideas or thoughts on what would look good in this space? We just added new bedside tables and painted them for a soft, pretty look.
Primary Bathroom
While we haven't found the time or budget to take on a full renovation of our primary bath, we did upgrade it this year! These simple cosmetic changes made a world of difference.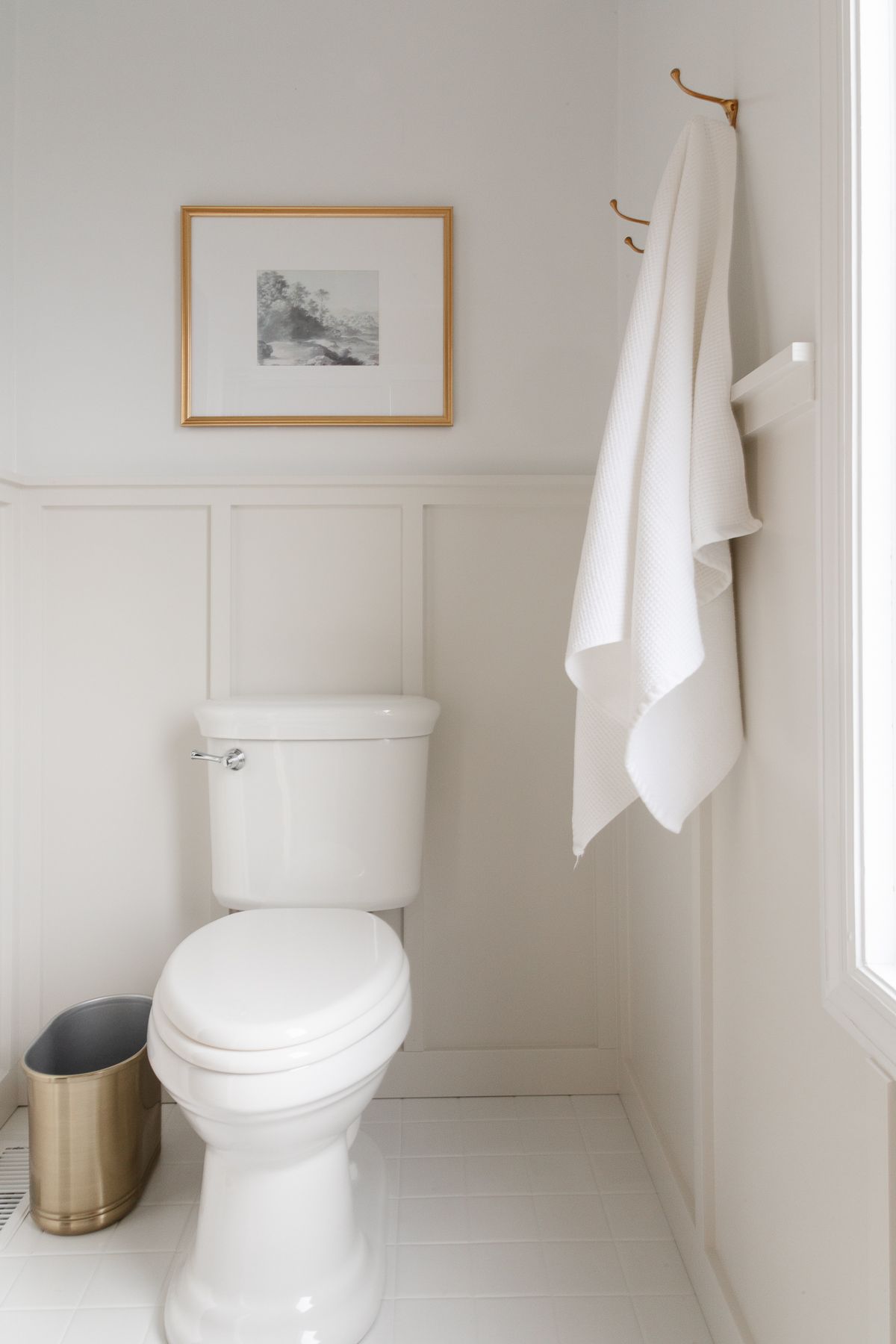 See the full update about our board and batten here, and learn how to paint ceramic tile here!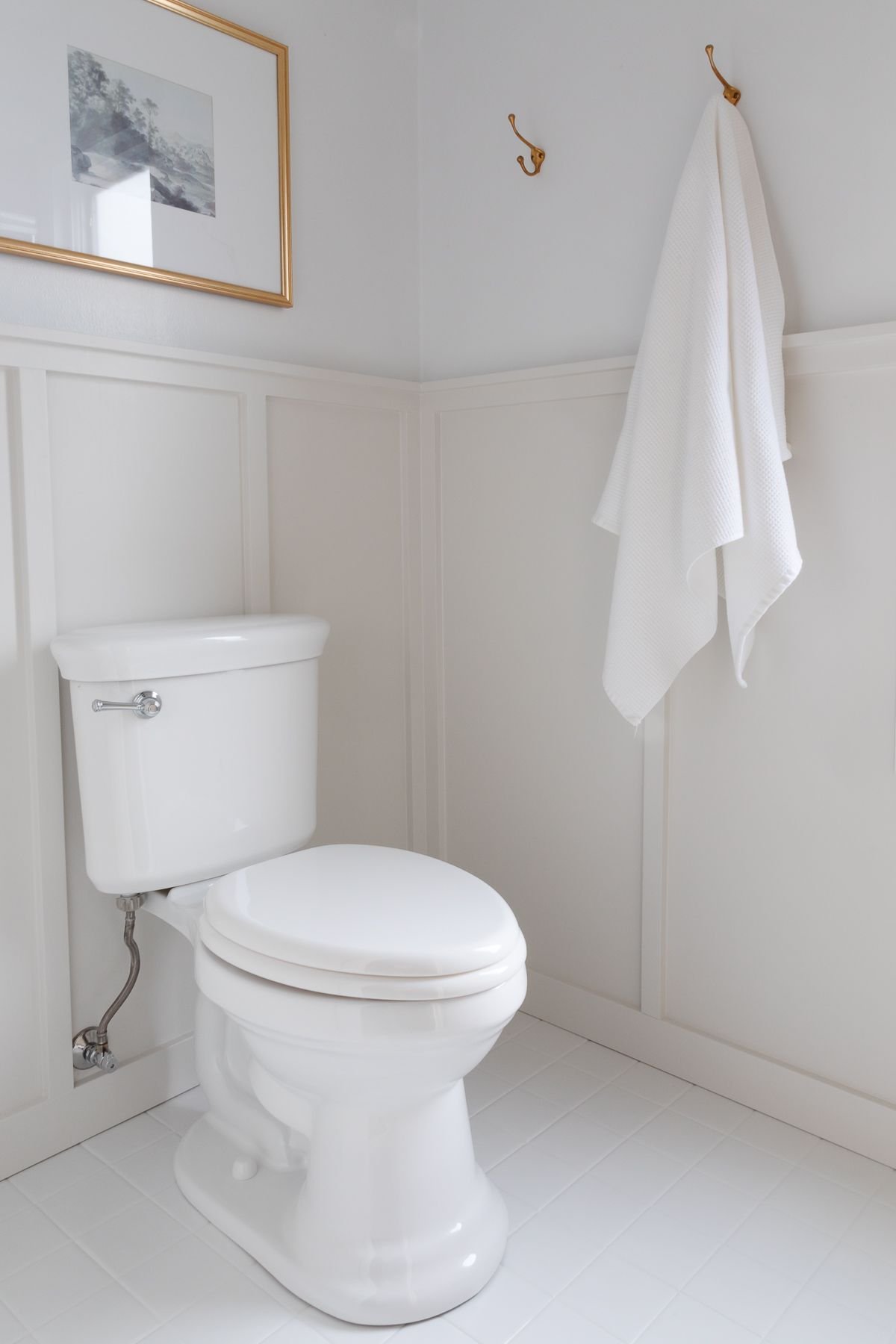 Guest Bedroom
The guest bedroom is simple, yet fitted with everything a guest needs for a relaxing stay. It's decorated with inexpensive block print sheets, Craigslist furniture like this Rattan Bed and a sailboat painting.
We had custom peel and stick wallpaper made to create an accent wall, but it ended up bubbling and sadly had to be removed. Fortunately, I love the space just as much with our simple cream walls.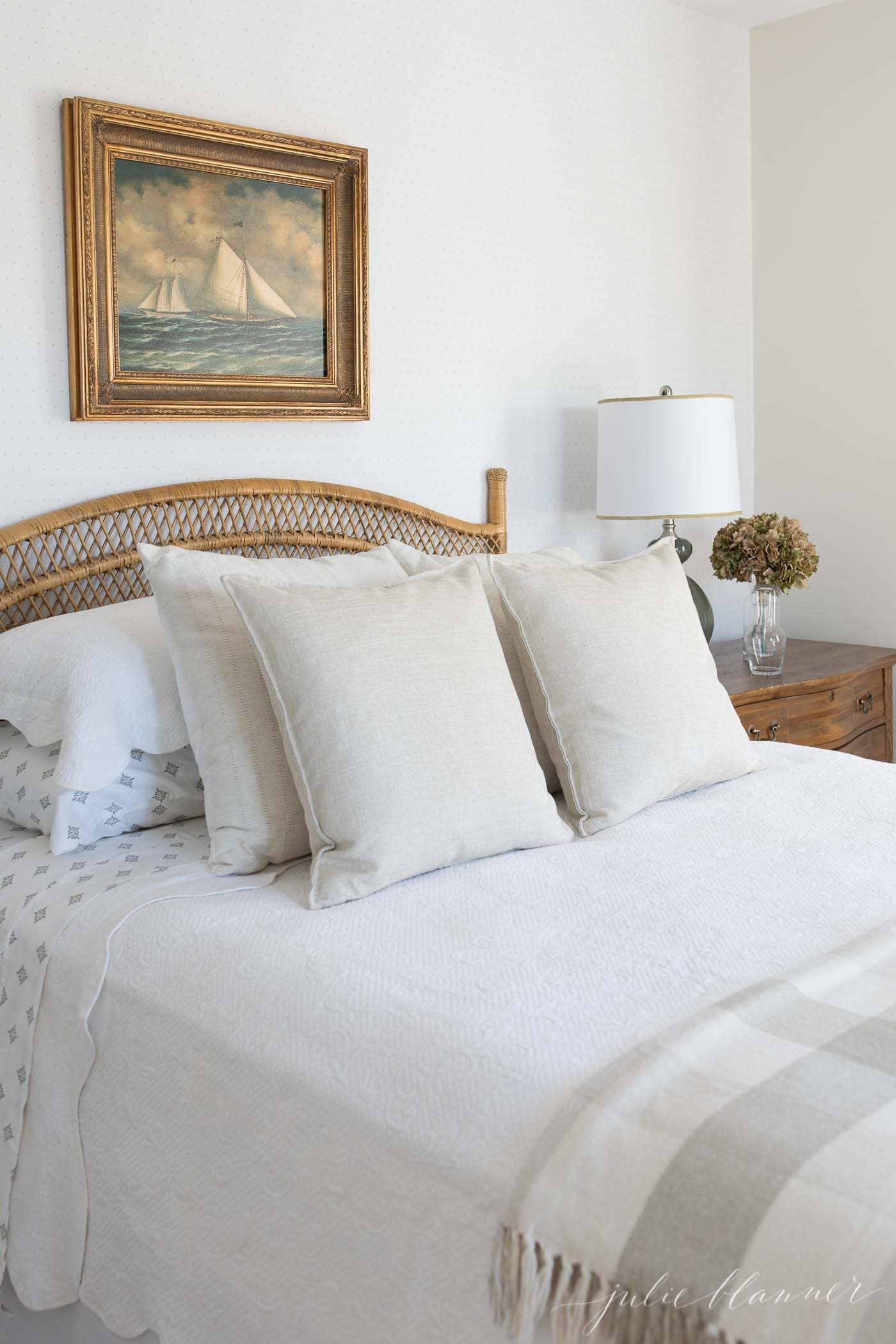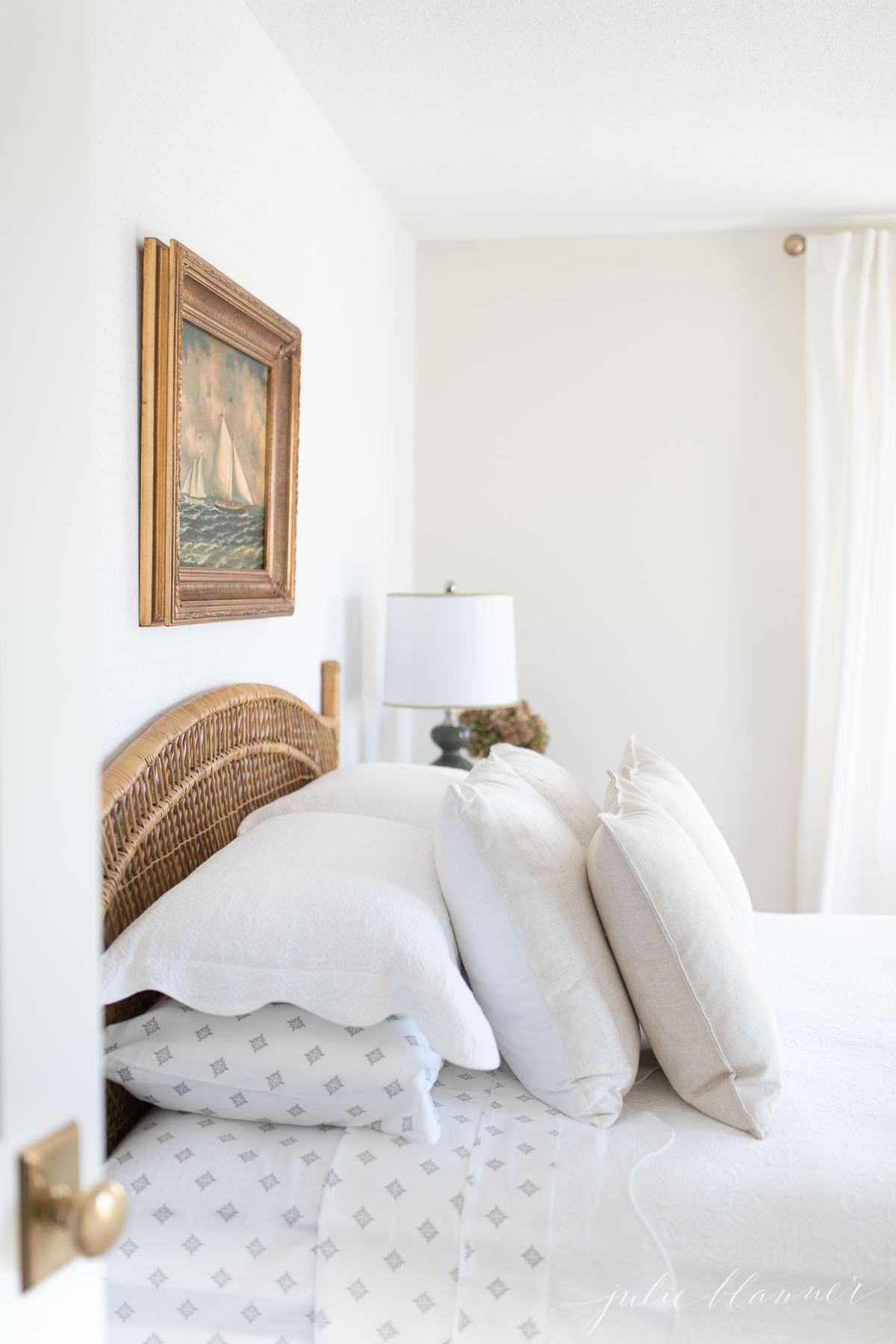 Thanks for taking time to reflect with me on a before and after look of our home. Truly, it's a before and during, but it's always nice to take a moment and appreciate what you have done when you feel overwhelmed about your to do list.
I often remind myself that it's more important to enjoy our home than to decorate it. Think about all the things you love about your home rather than the things you don't. It will not only bring you peace, but will also help better define your next project.
Right now my favorite room is our breakfast room. What's your favorite room in your home and why?
As always, if you see something you love, you can follow the link to the post or shop our home here to be directed to the specific product.
---
More Home Details
---