Bright and Beautiful Eat In Kitchen with a Small Dining Room Table
See the before and after transformation of our eat in kitchen at the lake cottage. Get the details on our small dining room table – a teak table can be so much more than traditional outdoor furniture!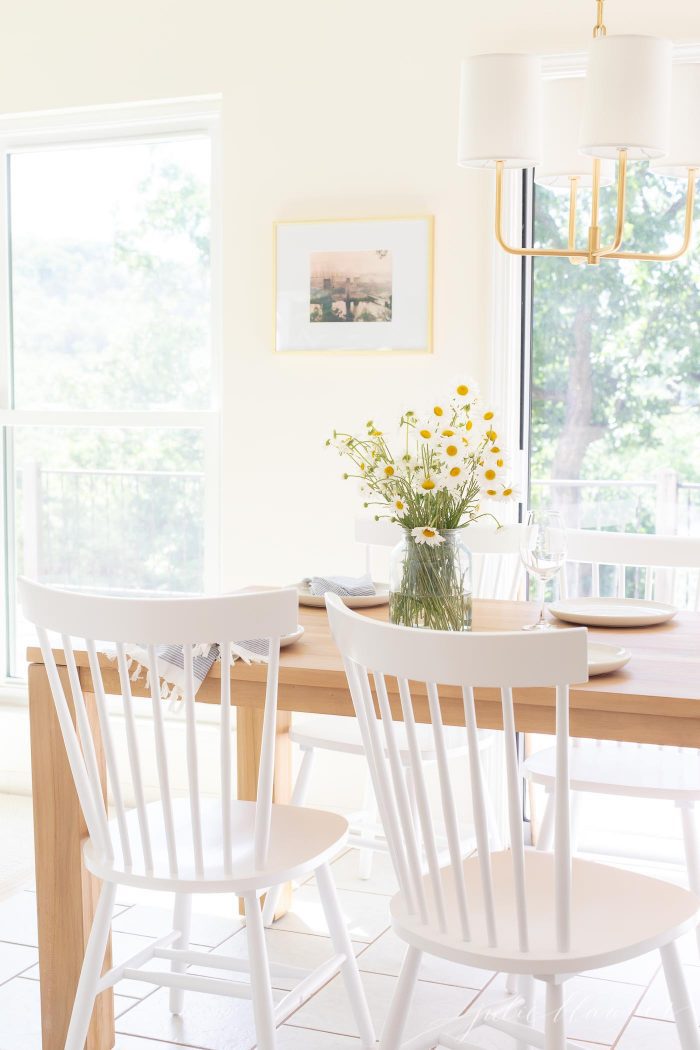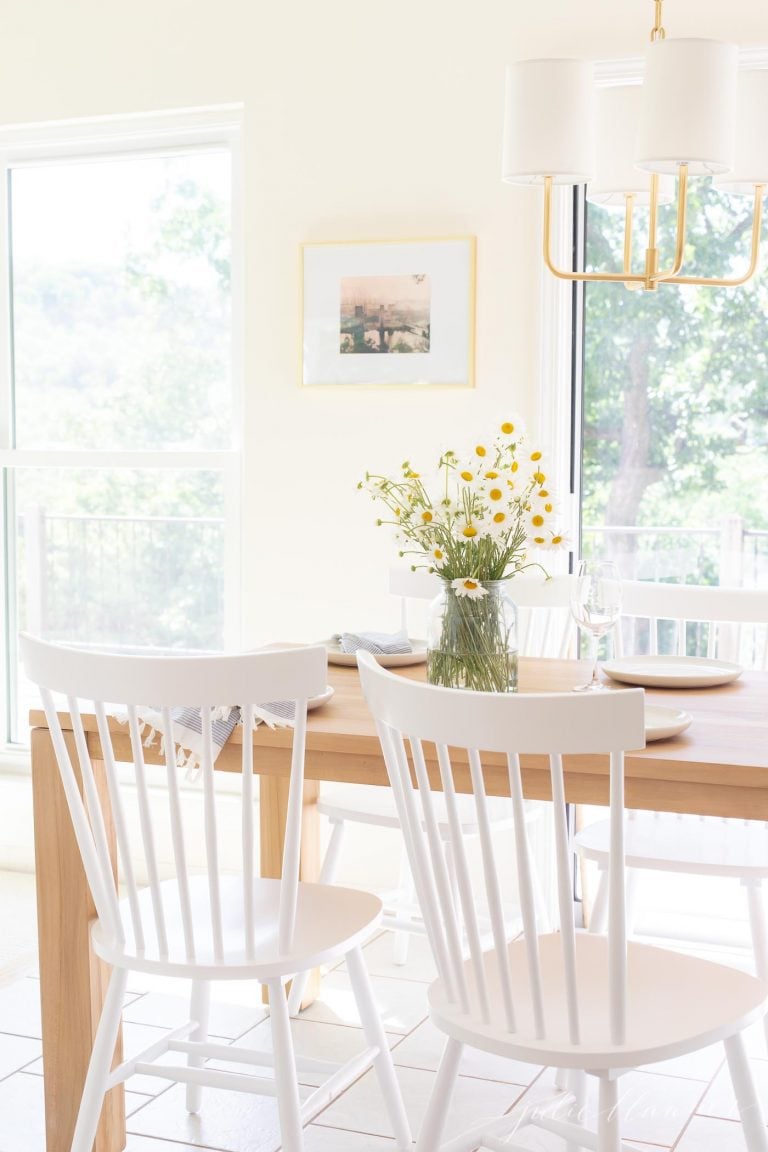 An eat in kitchen can be cozy and quaint. It offers an intimate setting for dinner and is very convenient to serve. One of the things we fell in love with at Calm Water Cottage is the open floor plan. It is small, but more than sufficient, even when entertaining.
When we purchased our home the kitchen and eat in kitchen were wallpapered, while the adjacent living room was not. To make it feel like one continuous space, we removed the wallpaper.
We painted it in White Tie which is soft, but cheerful. See more of this Coastal Modern Living Room here!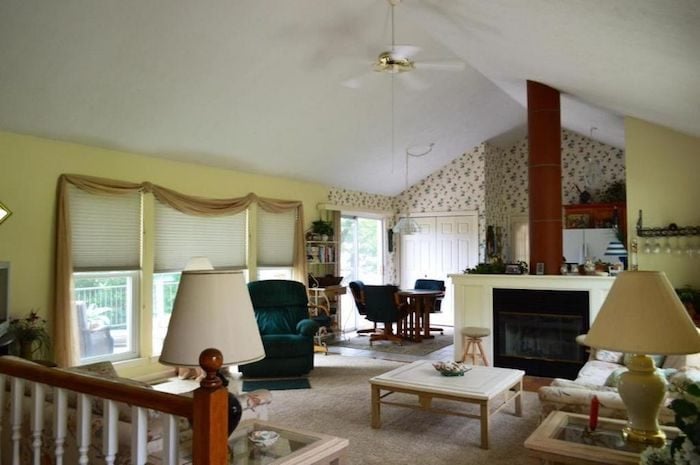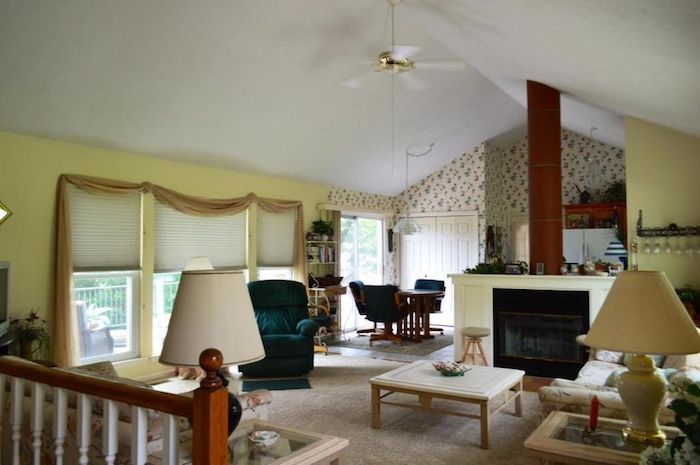 We updated the light fixture, choosing a low chandelier to hover over the small dining room table. Doing so again creates an intimate setting – even with an open floor plan. However one of the most important features is our small dining room table. When you have a small space, everything you integrate makes a bigger impact, so choose wisely!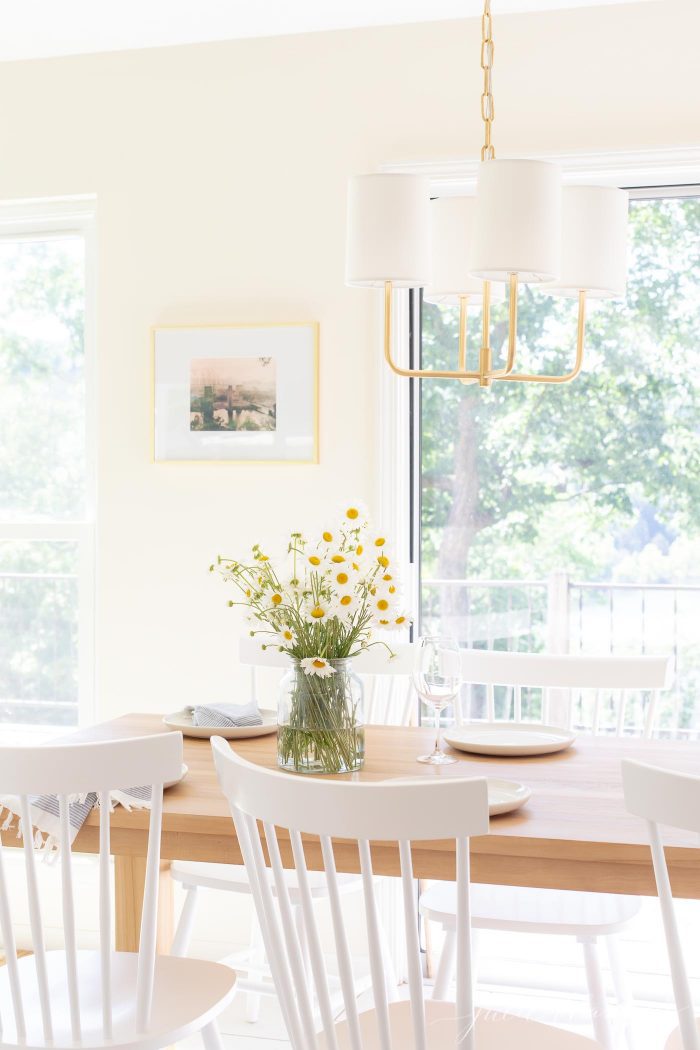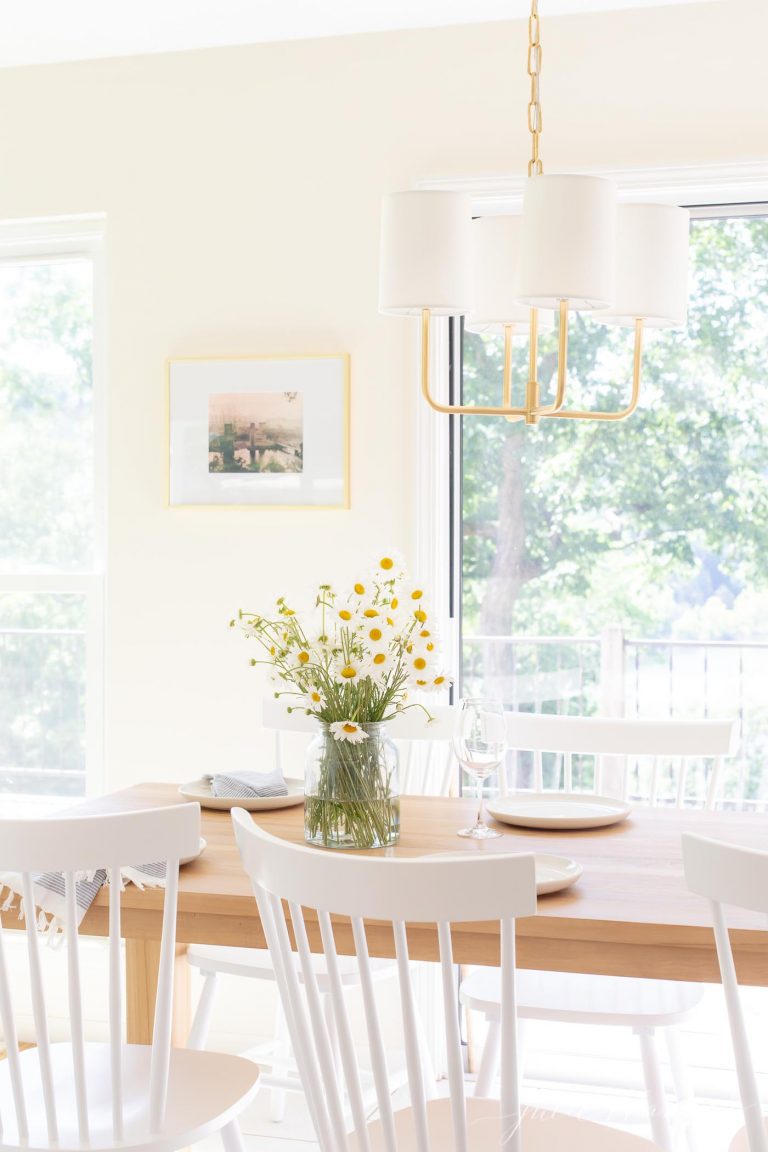 Choosing A Small Dining Room Table
Does your home have an eat in kitchen? I know what a struggle it can be to work in seating for your whole family when you're dealing with a tight space. A small dining room table is often ideal, but it can be hard to find the right fit for your space! I have searched endlessly for the right fit for our space, and I am so glad I finally found it!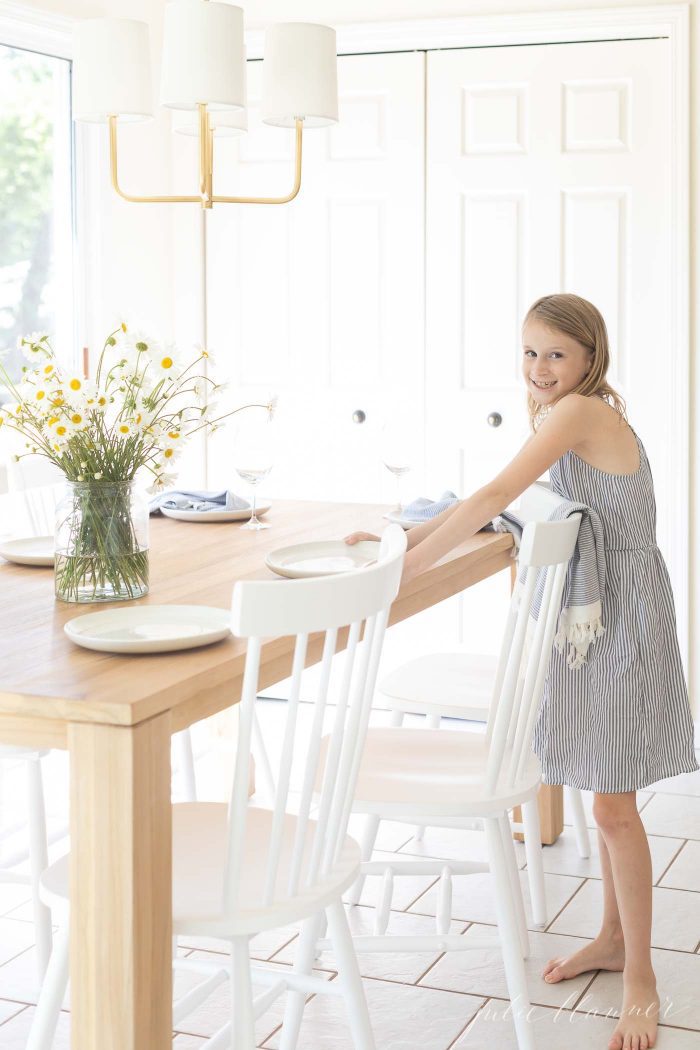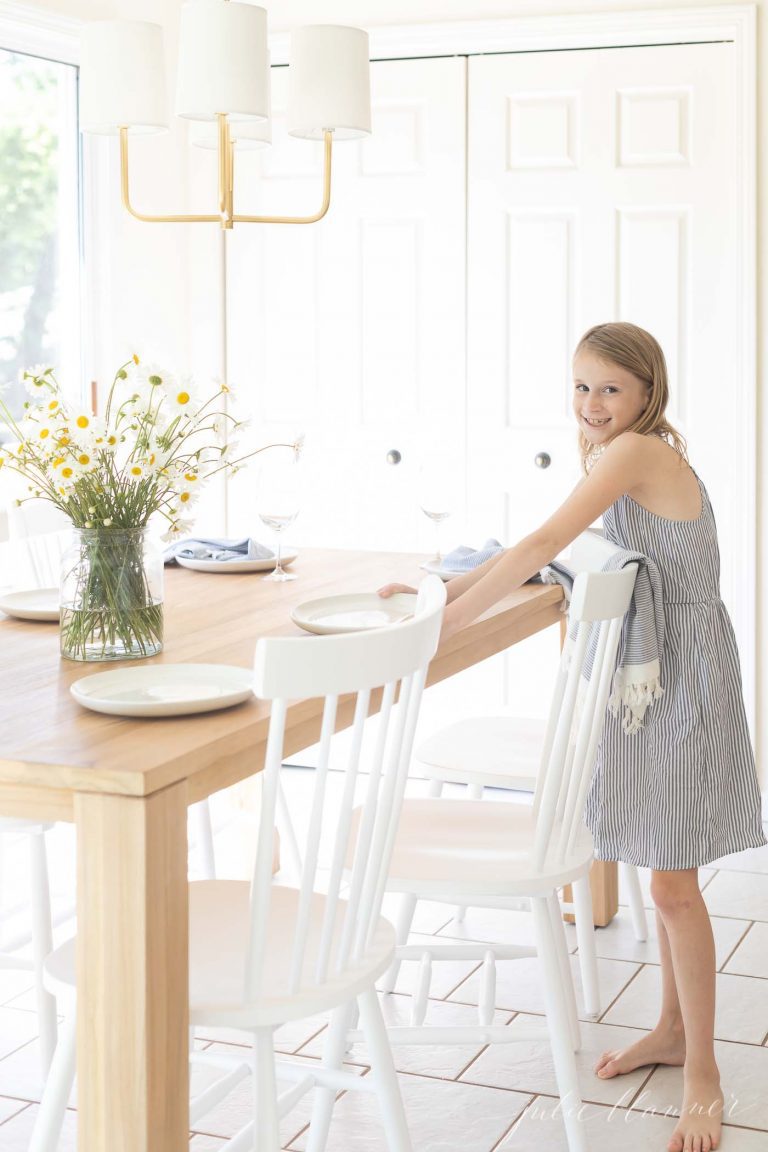 Our lake cottage has one eating area, which works perfectly for us in such a casual setting. Our family loves gathering near the kitchen at all times, but when we're at the lake it's especially evident. Swimming makes those little girls so hungry! This home wasn't blessed with a kitchen island or a breakfast bar, so we needed the right table that would work hard for us.
I was at the International Housewares Show when I stumbled upon this beauty! I was so glad to find this gorgeous, modern teak dining table (available very soon!) from Design Ideas because it fit our needs and aesthetic perfectly. It seats 6 for everyday use to accommodate laundry in the nearby closet. However, when needed, it can comfortably seat 8.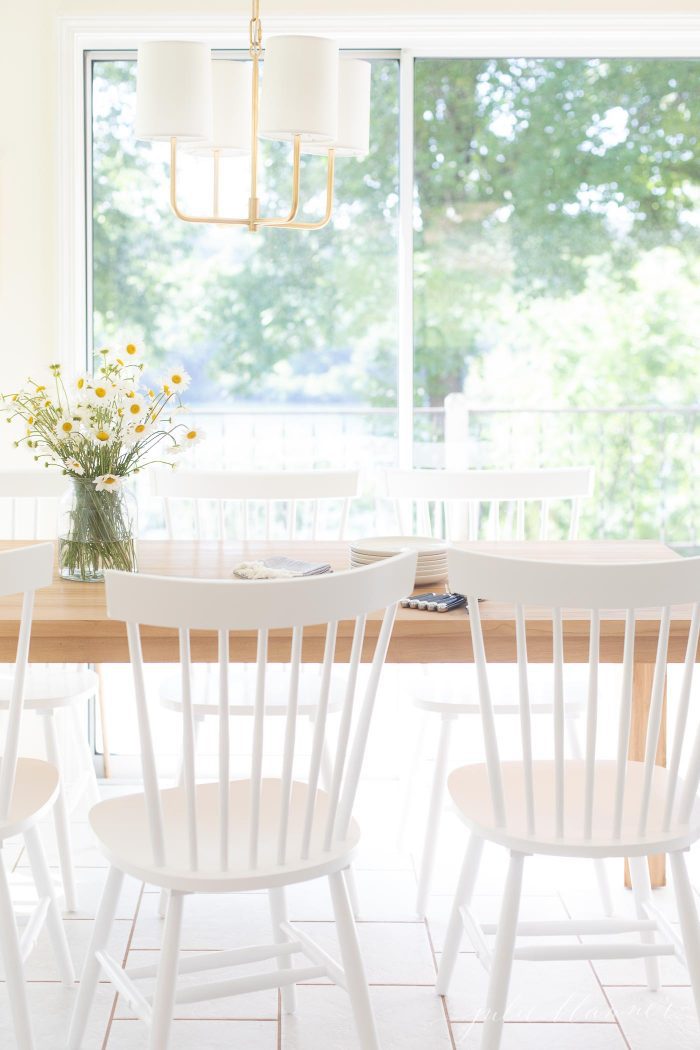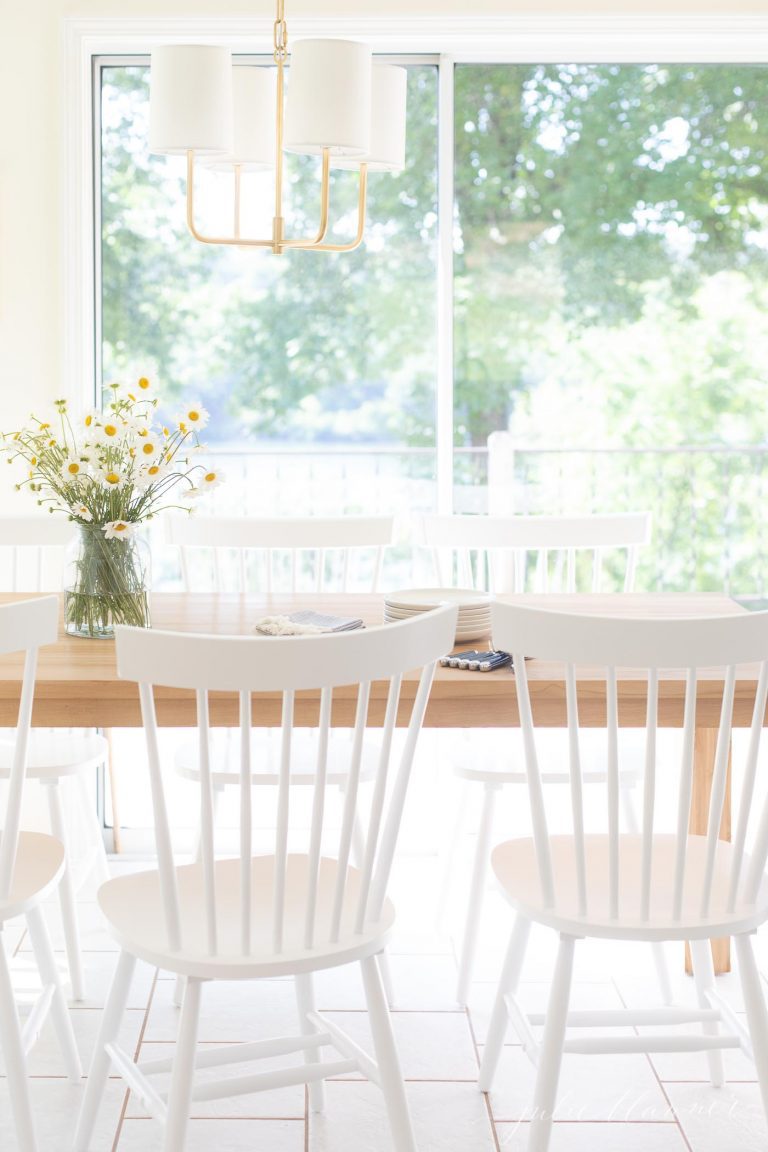 For a little contrast, we paired it with white dining chairs. The high backs offer a lot of comfort so we don't feel rushed to leave the table. As you know, I love mixing high and low and this is no exception. Paired with the teak dining table, they make the kitchen feel classic but modern, overshadowing the old tile floor.
Just above our small dining room table in our eat-in kitchen is a gold chandelier with linen shades. It's small and scaled perfectly so it nestles well over a table for six. Hanging a chandelier just over the table adds ambient lighting and makes the space feel cozier.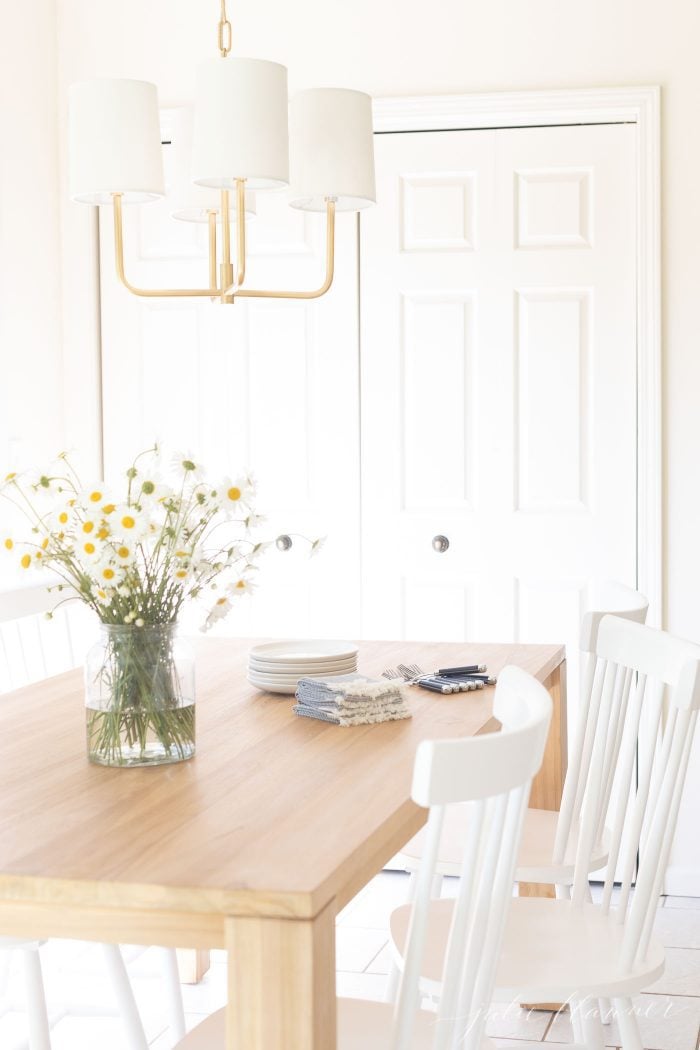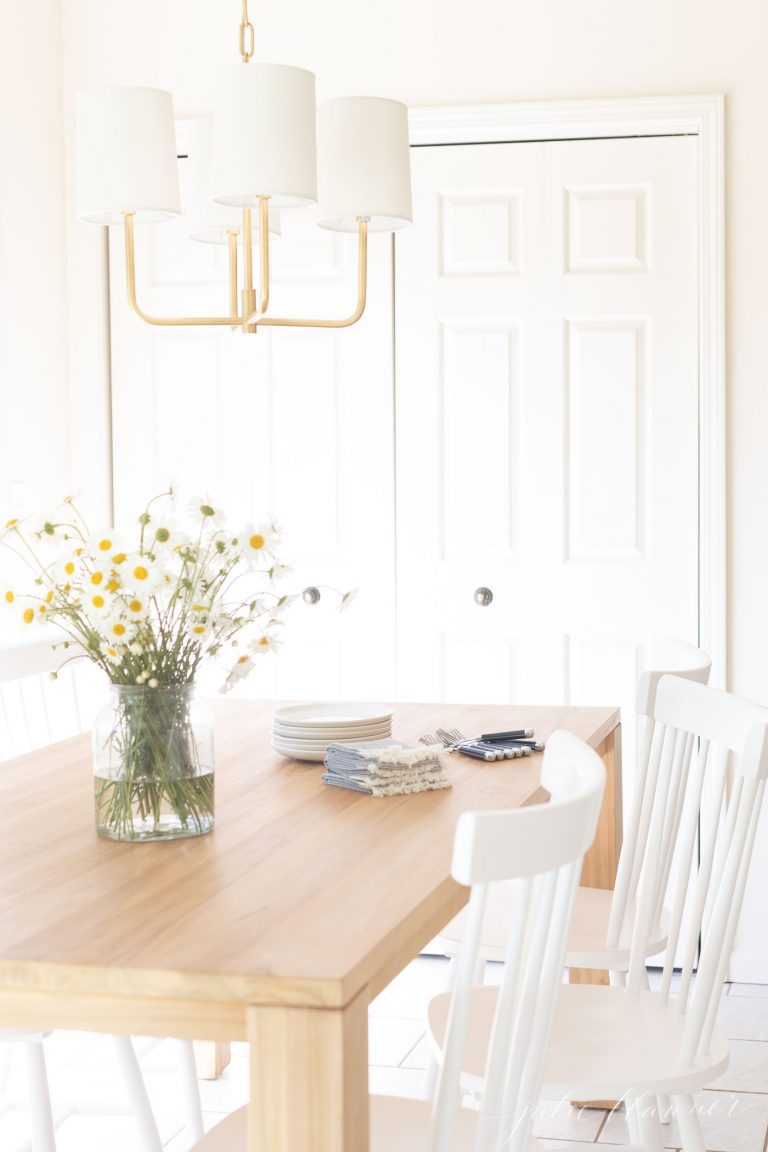 The chandelier is paired with the larger chandelier in the adjacent living room. While they're the same style, they're very different which adds interest. In the kitchen we chose a woven pendant to add a little texture.
Making The Best Of An Eat In Kitchen
When we were searching for our lake cottage (a long-term dream of mine that you can read more about here), I knew that we would be faced with a smaller eating area because we wanted to limit the size of the home we purchased. As we searched, we realized that space was at a premium, and an eat in kitchen would likely be our best bet! Luckily, we have grown to love this cozy space in our home.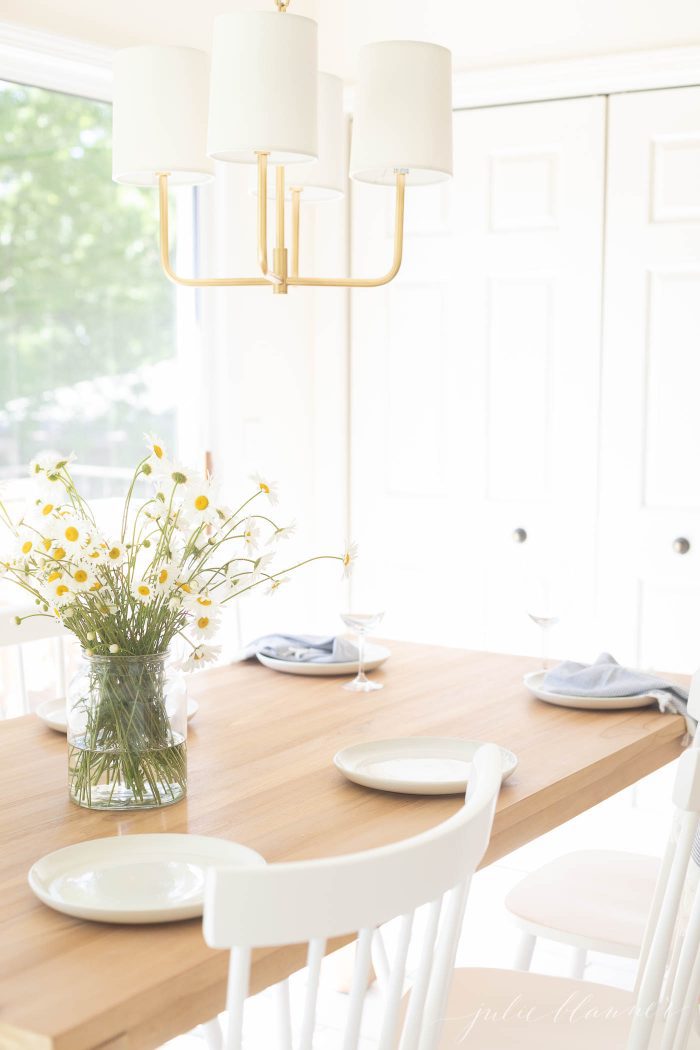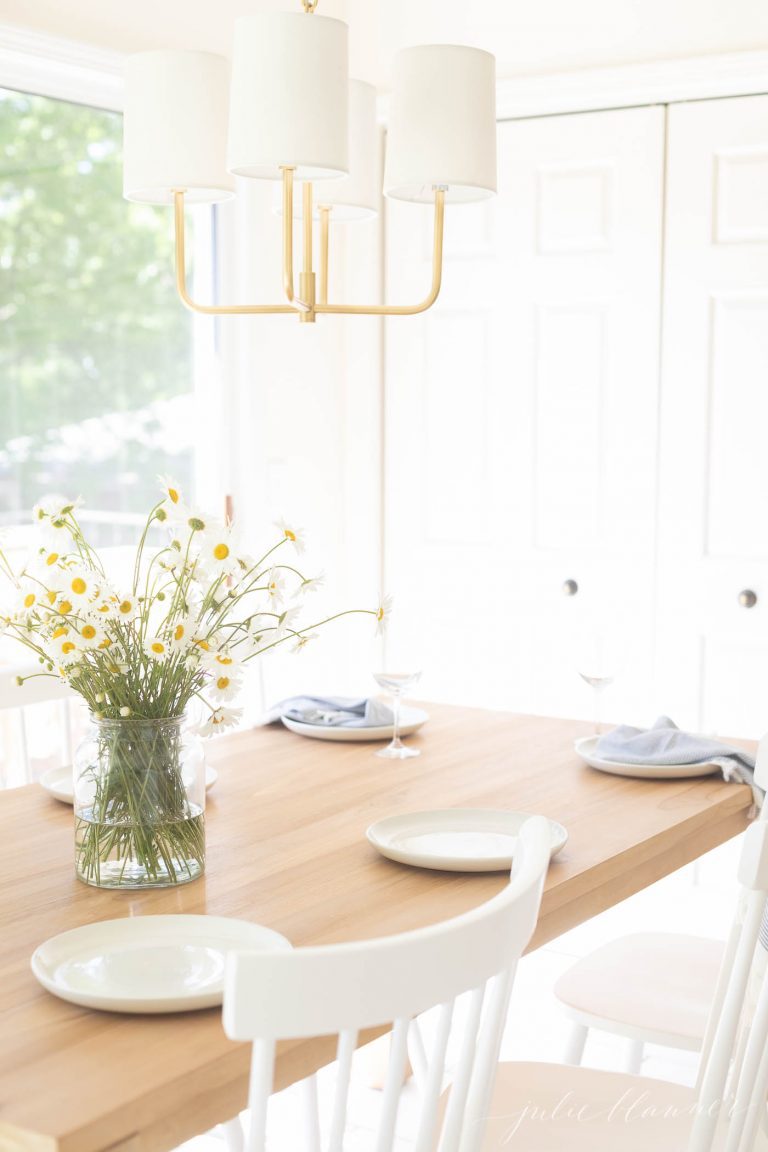 This table will serve our needs for years to come. Investing in a quality teak dining table is a long-term commitment we were happy to make, regardless of our kitchen layout. We know it will last us a lifetime with a little care.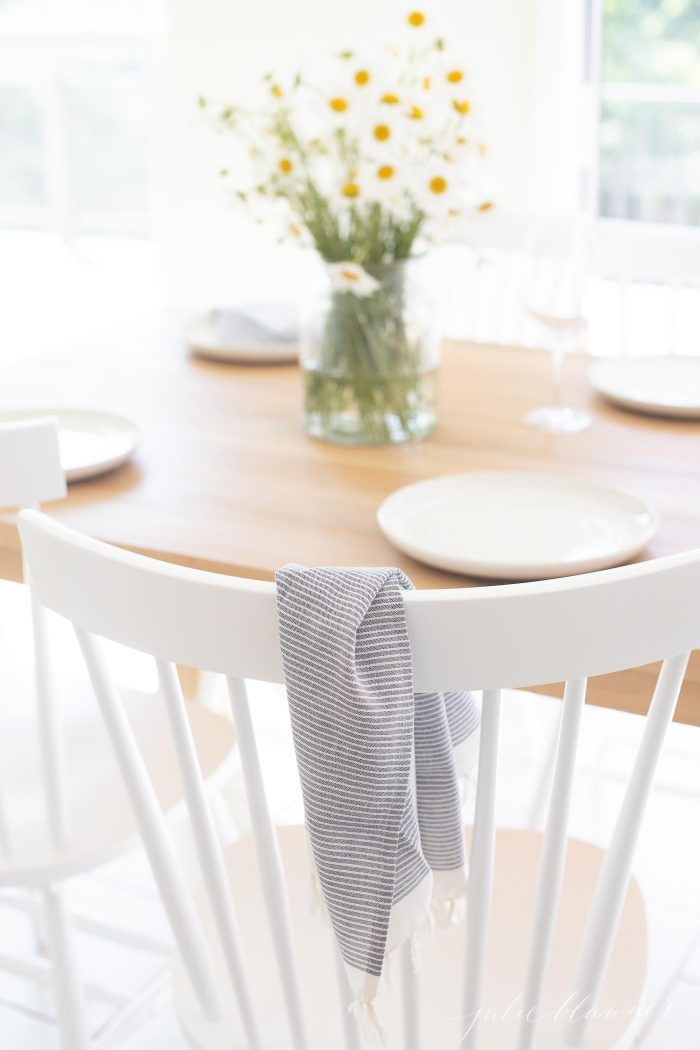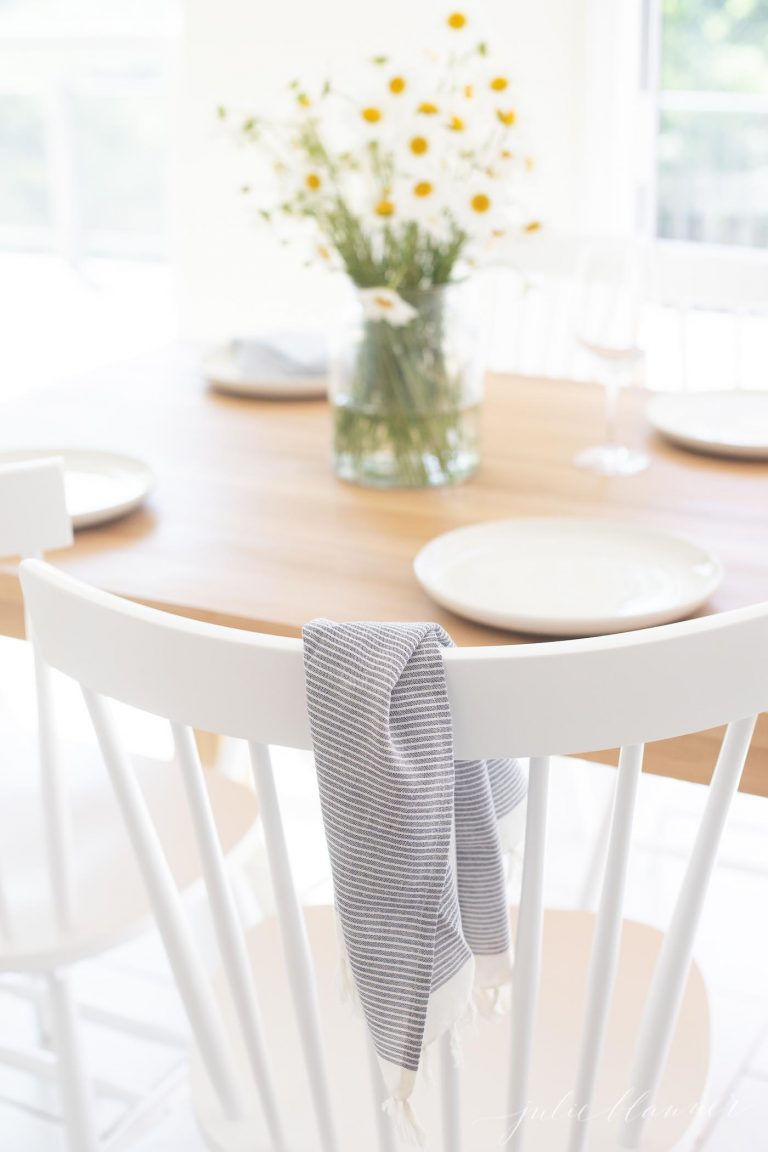 Teak evokes a relaxing, resort-like feel, which is exactly how I want our home to feel.
Choosing A Teak Table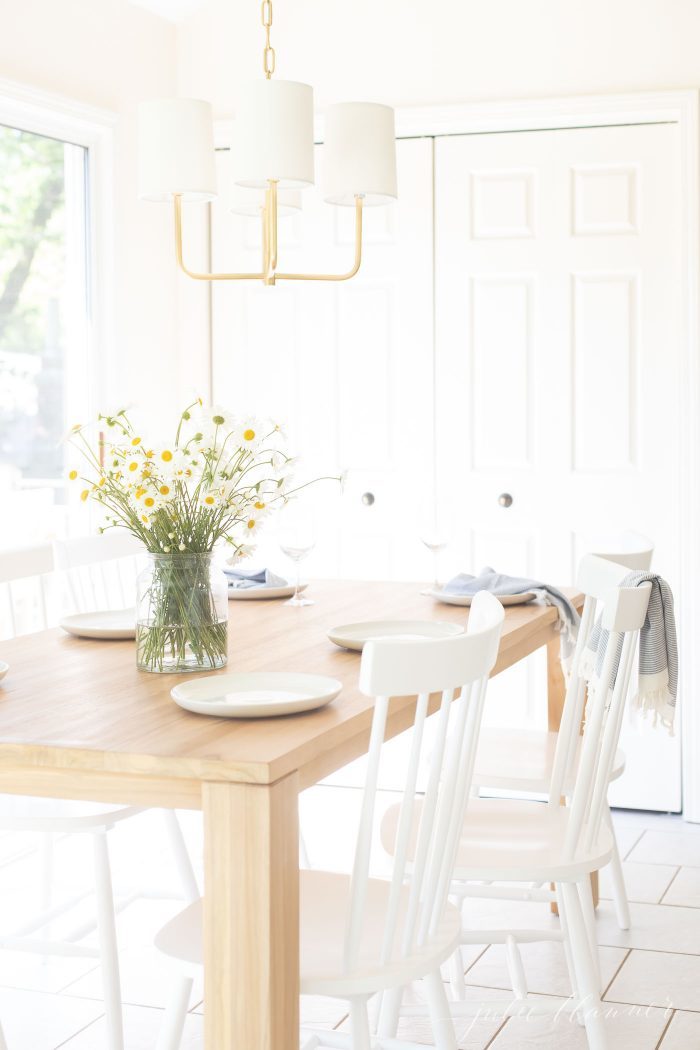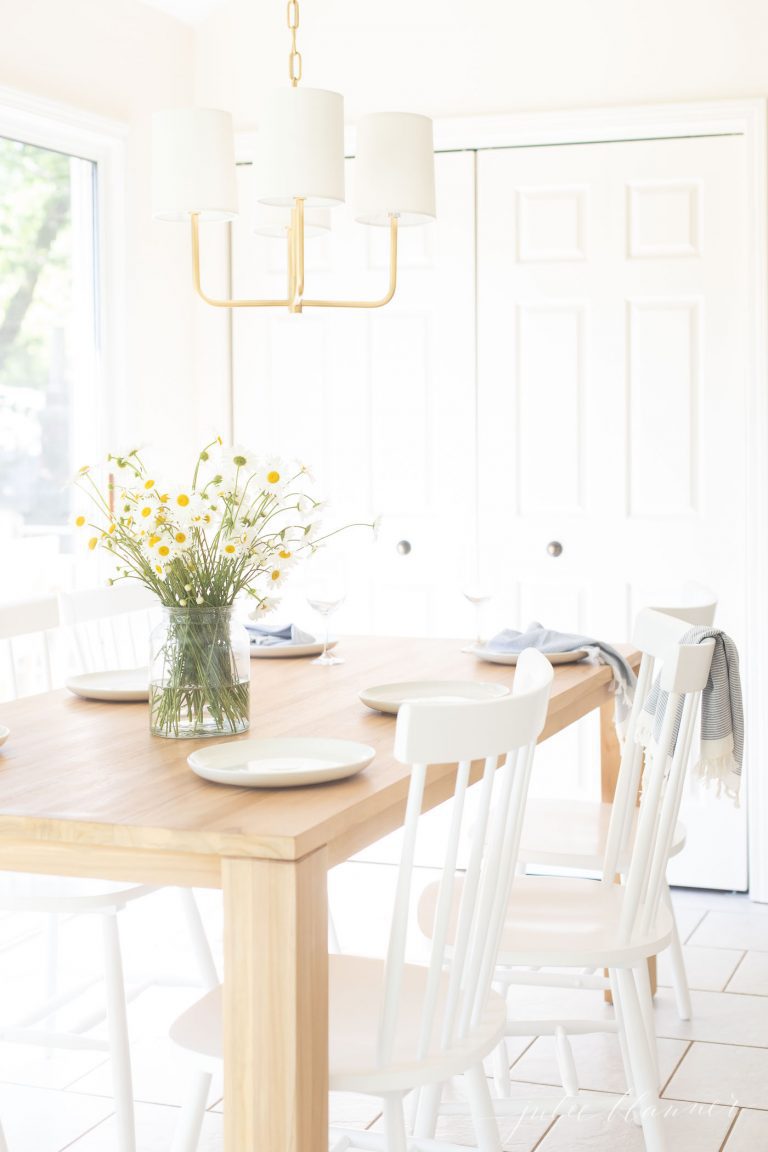 You might be asking yourself a few questions. "Why choose a teak table?" and "Isn't teak meant to be used outdoors?". Well, there are several reasons that I made this choice for this dining space!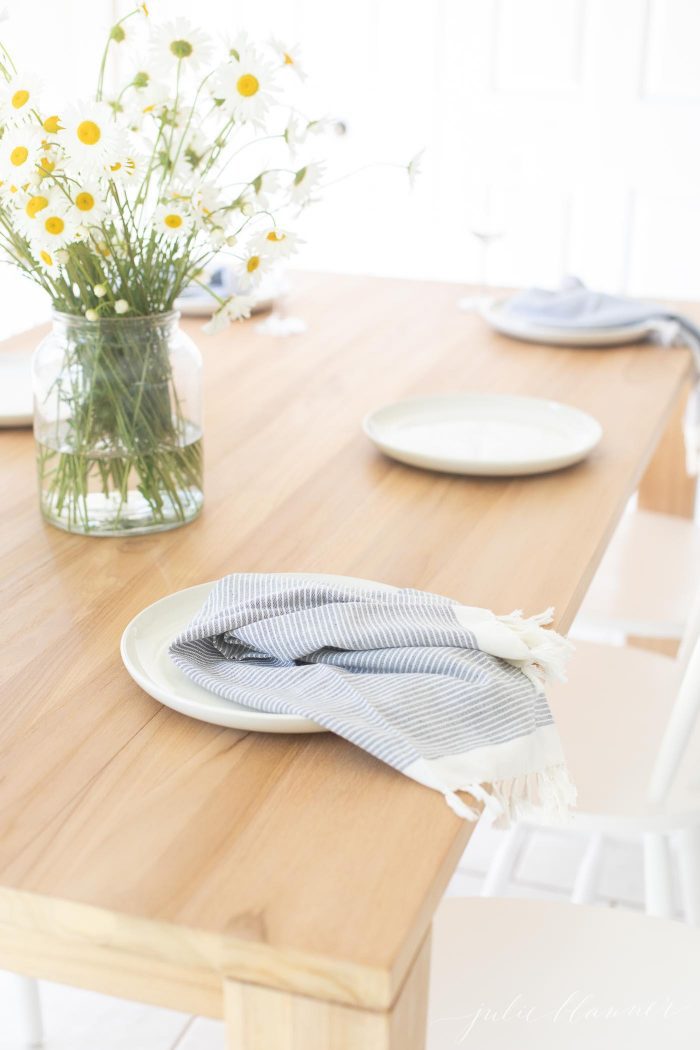 First, I loved the modern simplicity and lines of this table. Teak lends itself to clean, beautiful lines, and this table fits the bill perfectly…indoors or out! I was also so drawn to that soft, pale wood color! Isn't it the prettiest golden, smooth tone?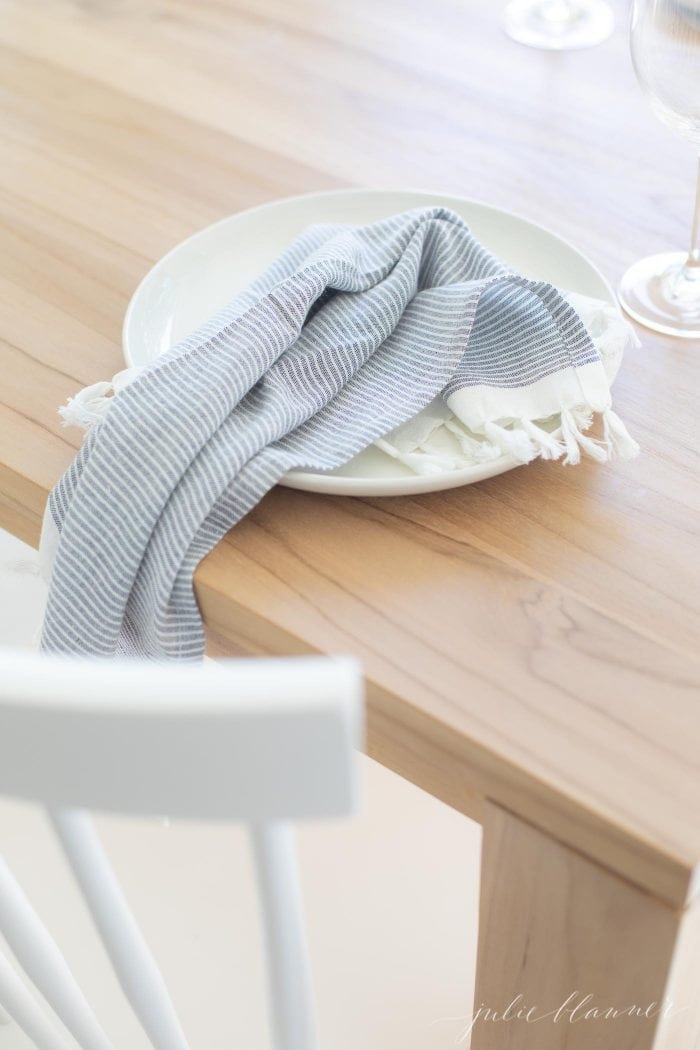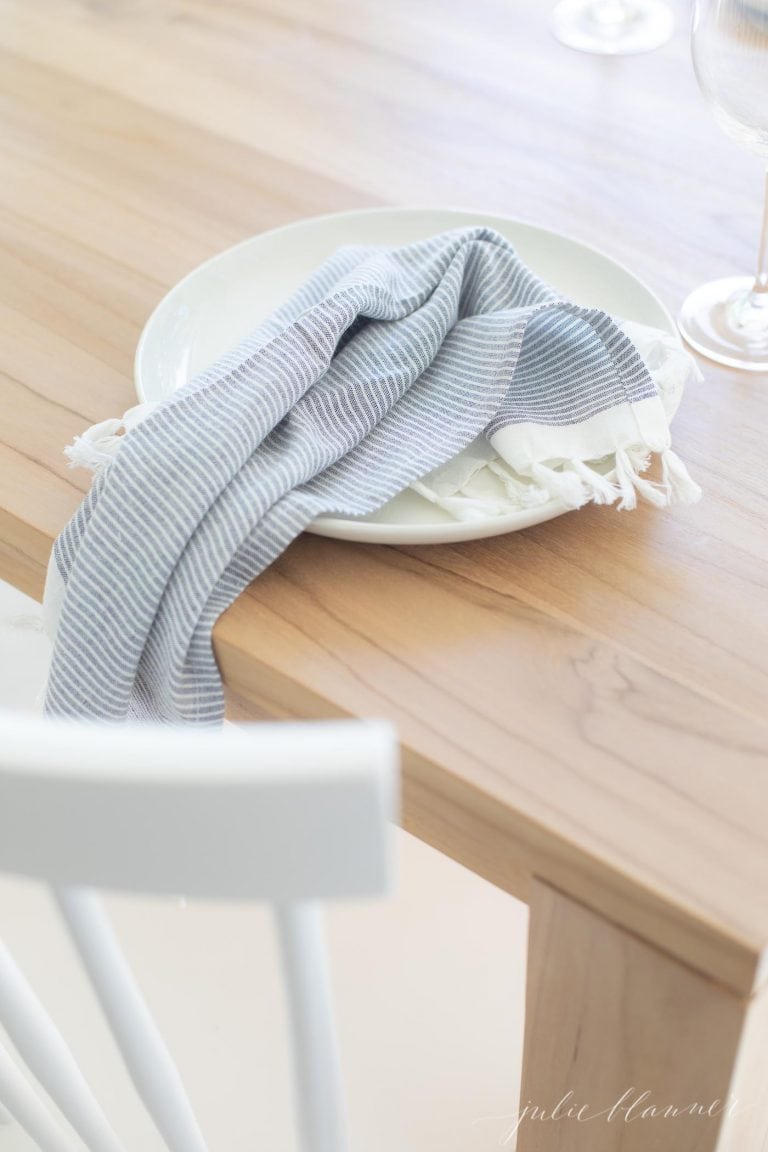 Beyond the beautiful design of this teak table, I love using teak for our lake cottage because this is where we spend so much time feeling at one with nature. Teak has long been a popular choice for outdoor spaces because it's such a dense hardwood, making it naturally waterproof.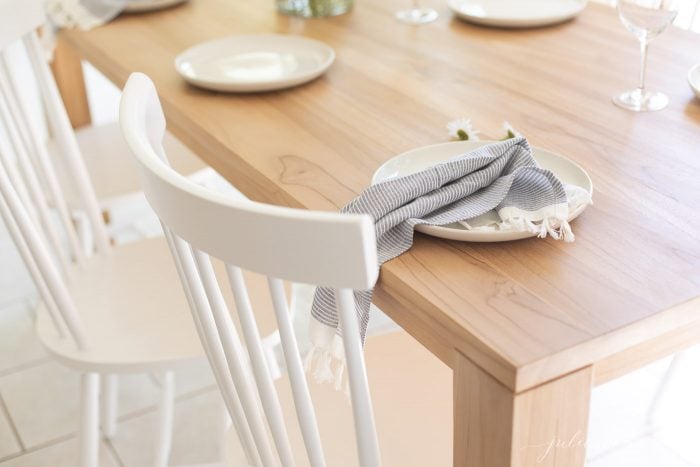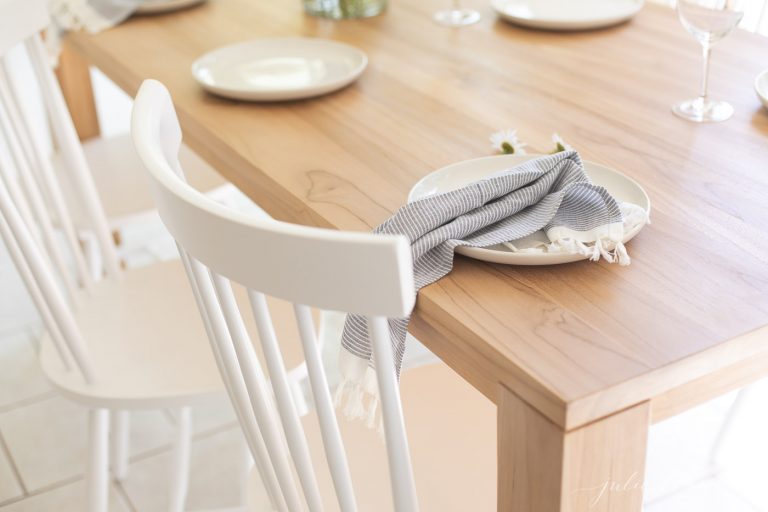 Thankfully, the beauty of this wood shines just as bright indoors and that same durability and waterproof feature will help stand up to our busy family! I love that this small dining room table is truly helping us bring the feel of the outdoors inside our home!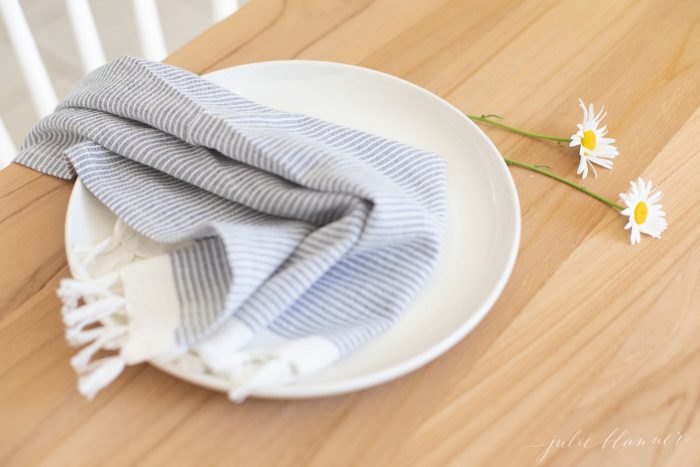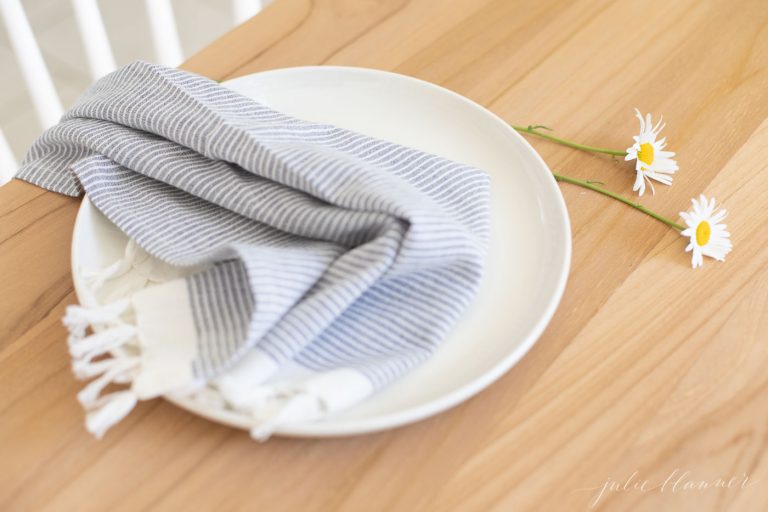 Benefits Of A Teak Dining Table
This teak table is so structurally sound simply because teak is such a strong, durable wood. I can't get over the quality of the wood and the craftsmanship. The wood is finely grained, with tight, straight lines. I love that the natural oils in teak create an incredible moisture barrier. It's the perfect modern look for this home!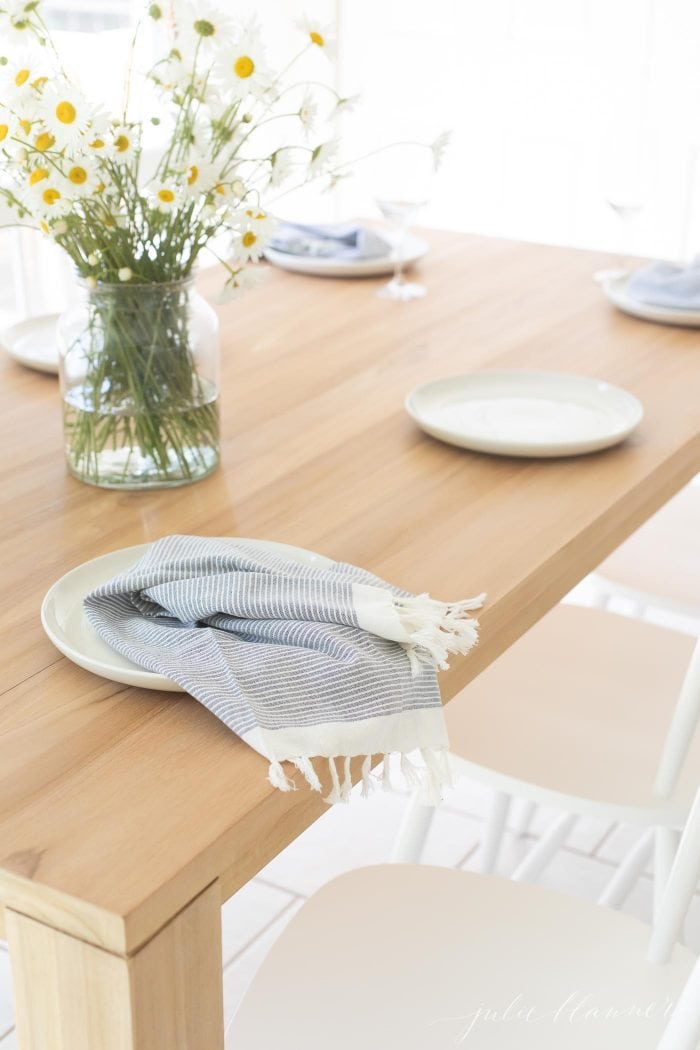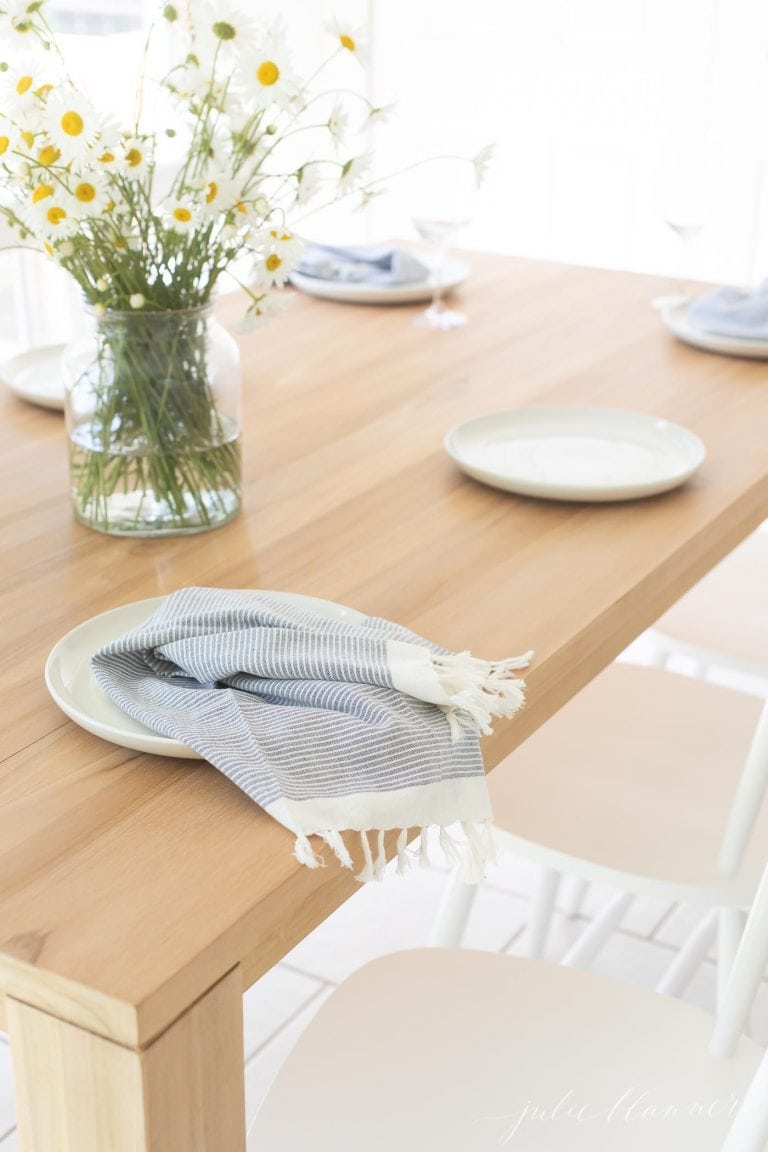 This table is used for so much more than meals, so we needed to make a choice that was durable and long-lasting! Our family spends a lot of time here, especially as we wait out any less-than-ideal weather at the lake. We do art projects, play cards and board games, and so much more!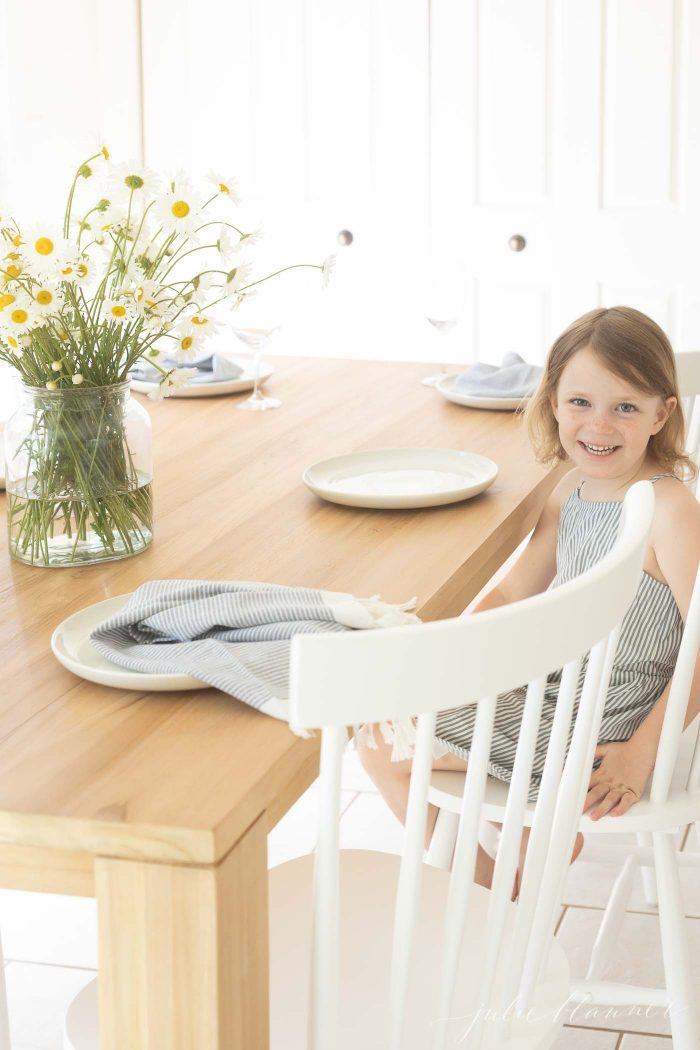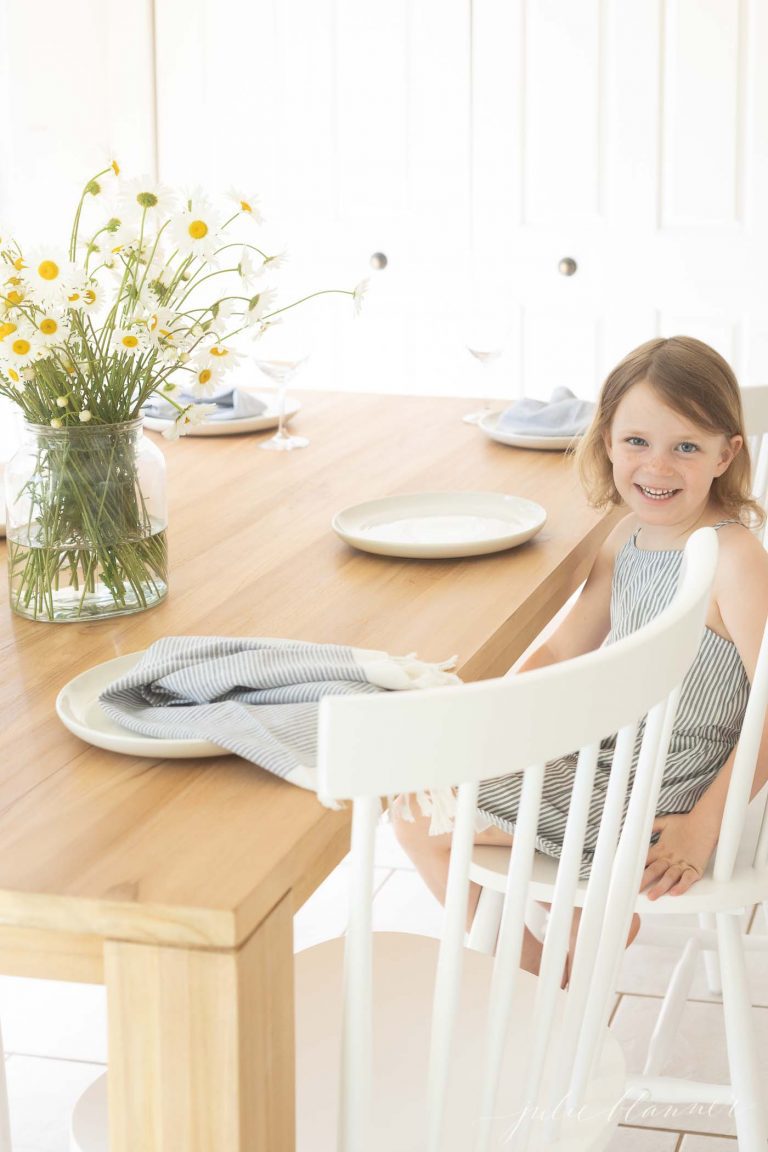 Teak Furniture Care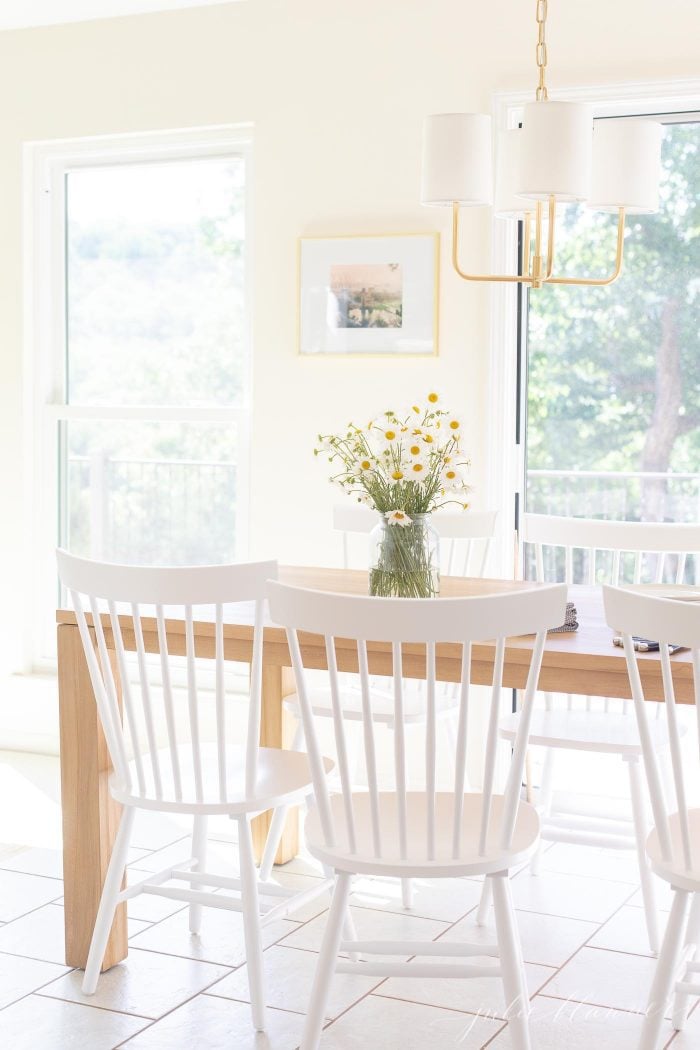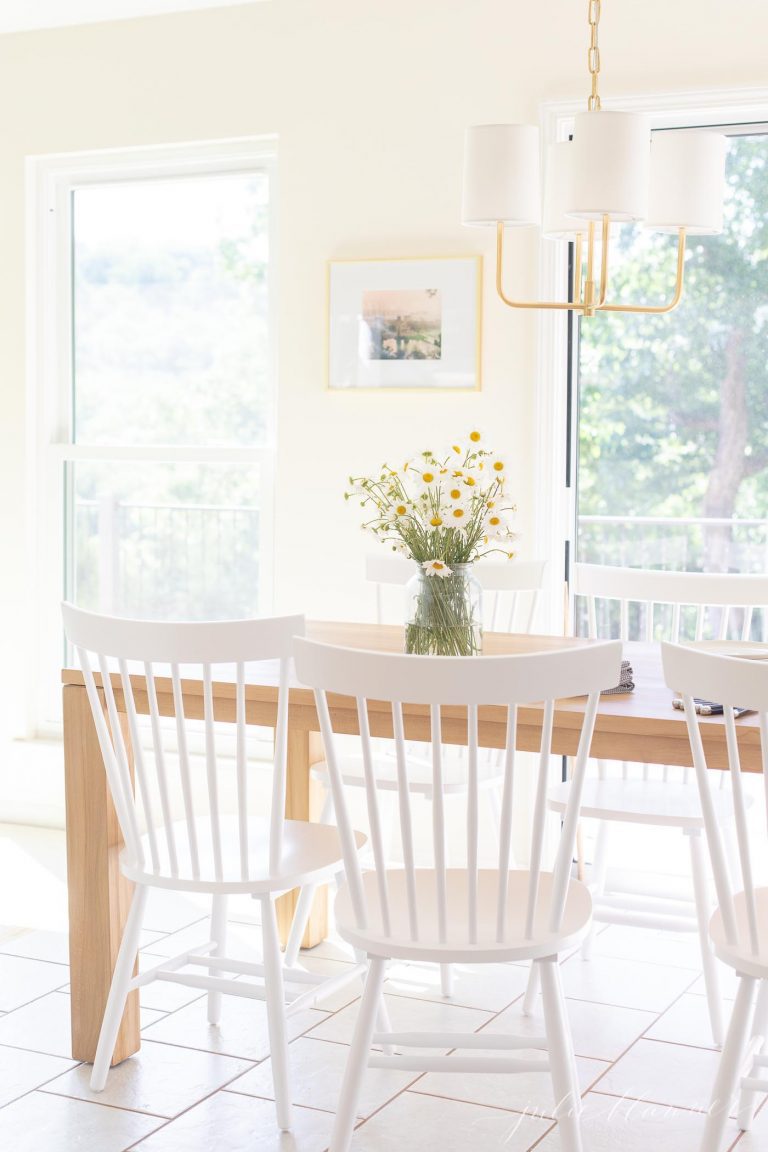 I am of the opinion that teak furniture is beautiful as it ages outdoors. I love that it takes on that gray, weathered look because it reminds me of charming faded beach cottages.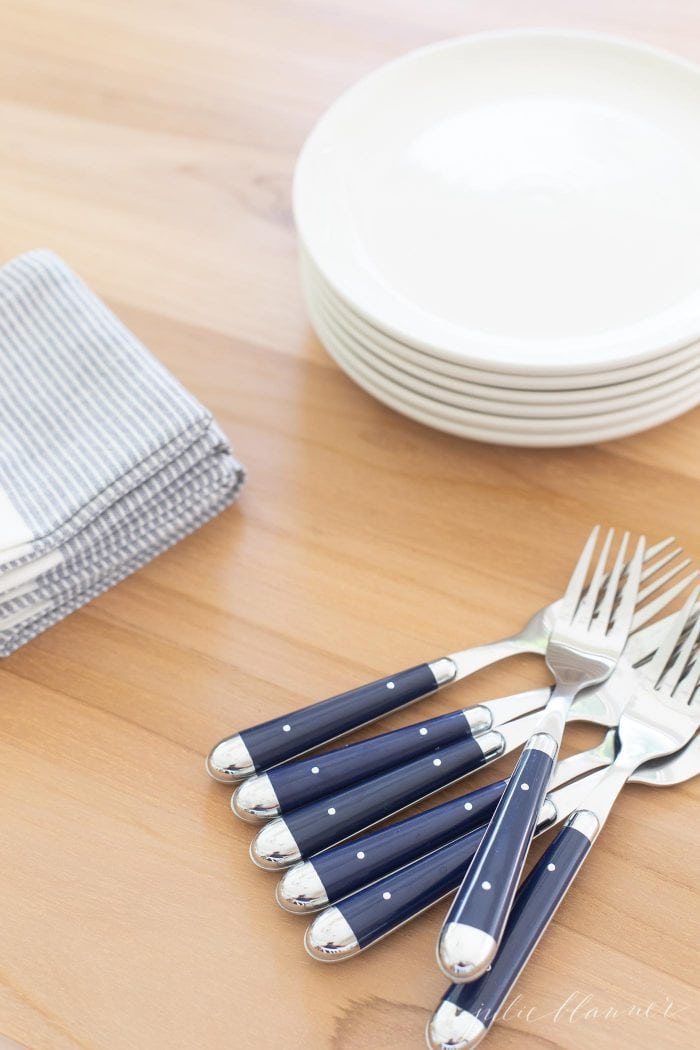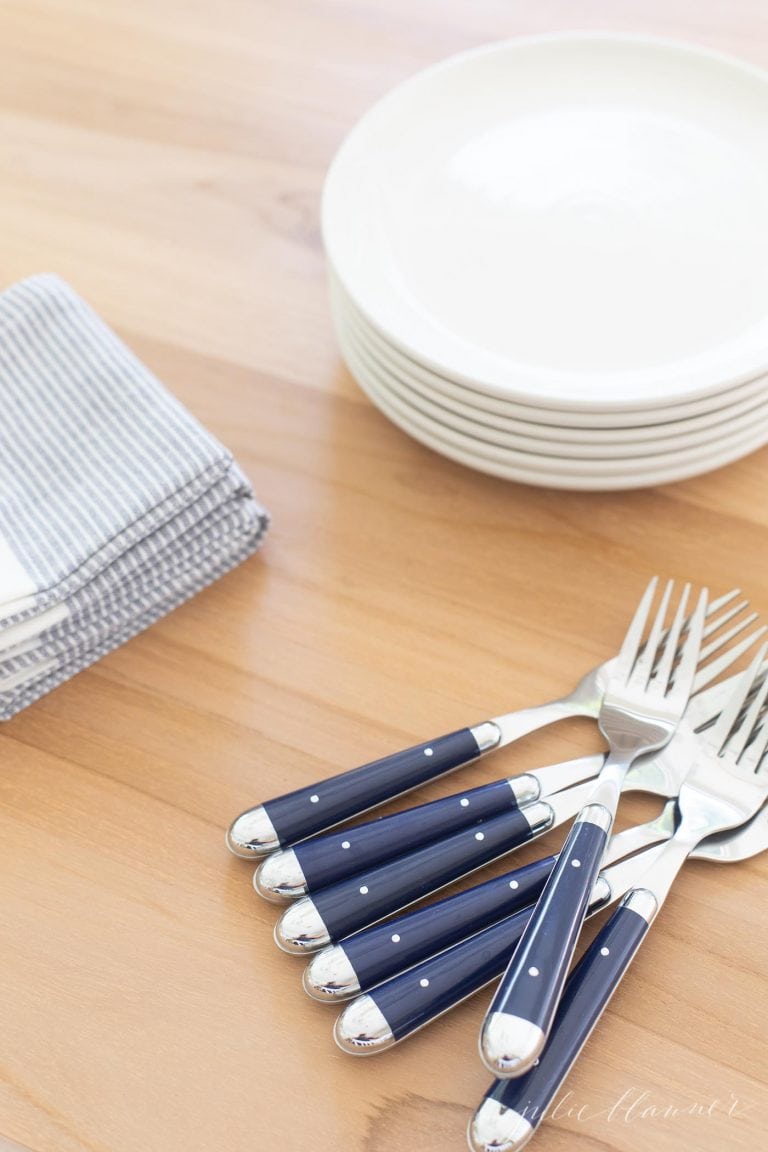 However, maintaining the naturally pale golden color of teak is possible, especially if you're using your teak dining table indoors. Simply use a soft cloth to wipe teak oil onto your teak dining table periodically. Many people do this yearly, but you can oil your teak furniture as often as you'd like!
We used a product to provide protection since ours already had a coating and therefore teak oil couldn't be used. It maintained the matte appearance. This product is perfect for things like wood doors, tables and more!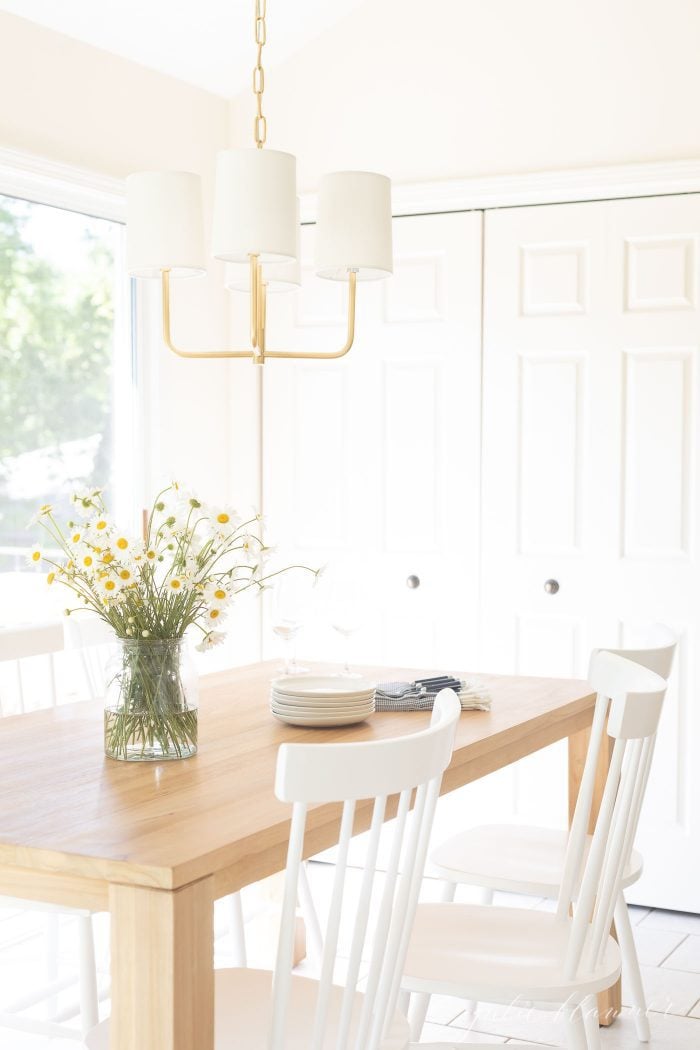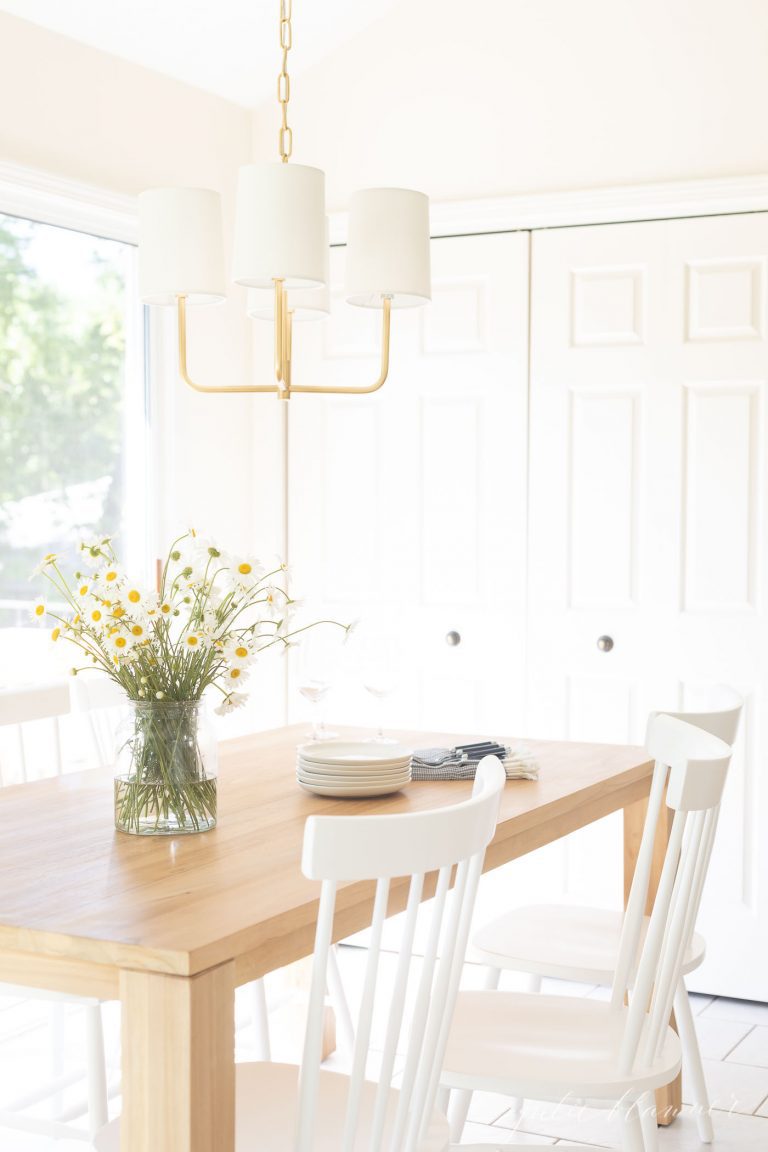 What do you think? Would you choose a teak dining table for your home, indoors or out? Have you ever spent far too long searching for the perfect small dining room table? I'd love to hear from you!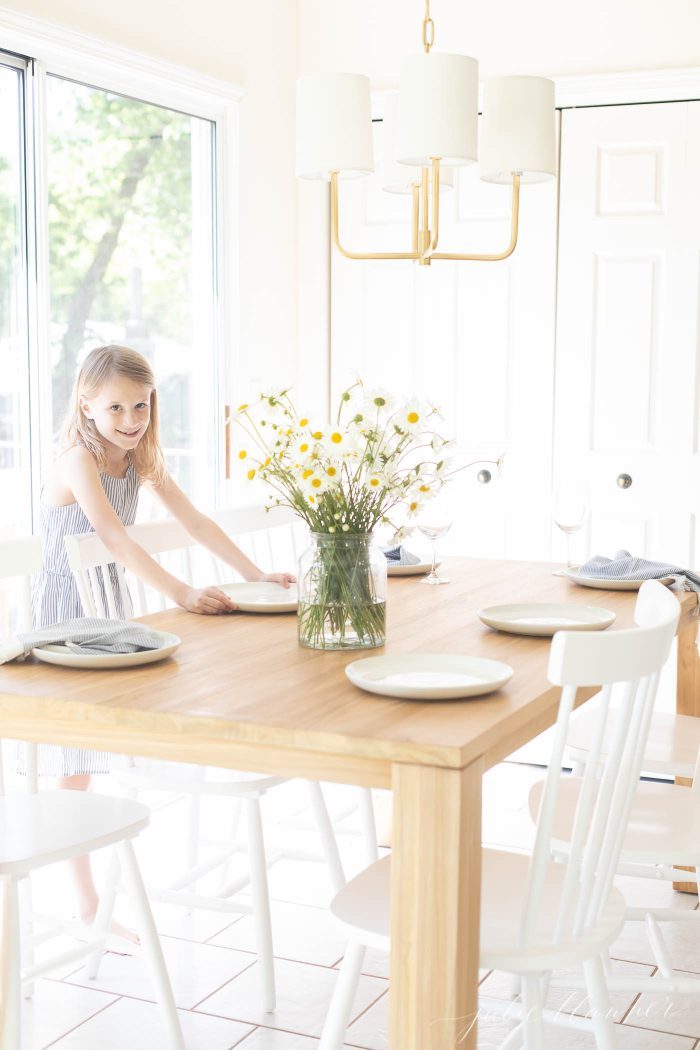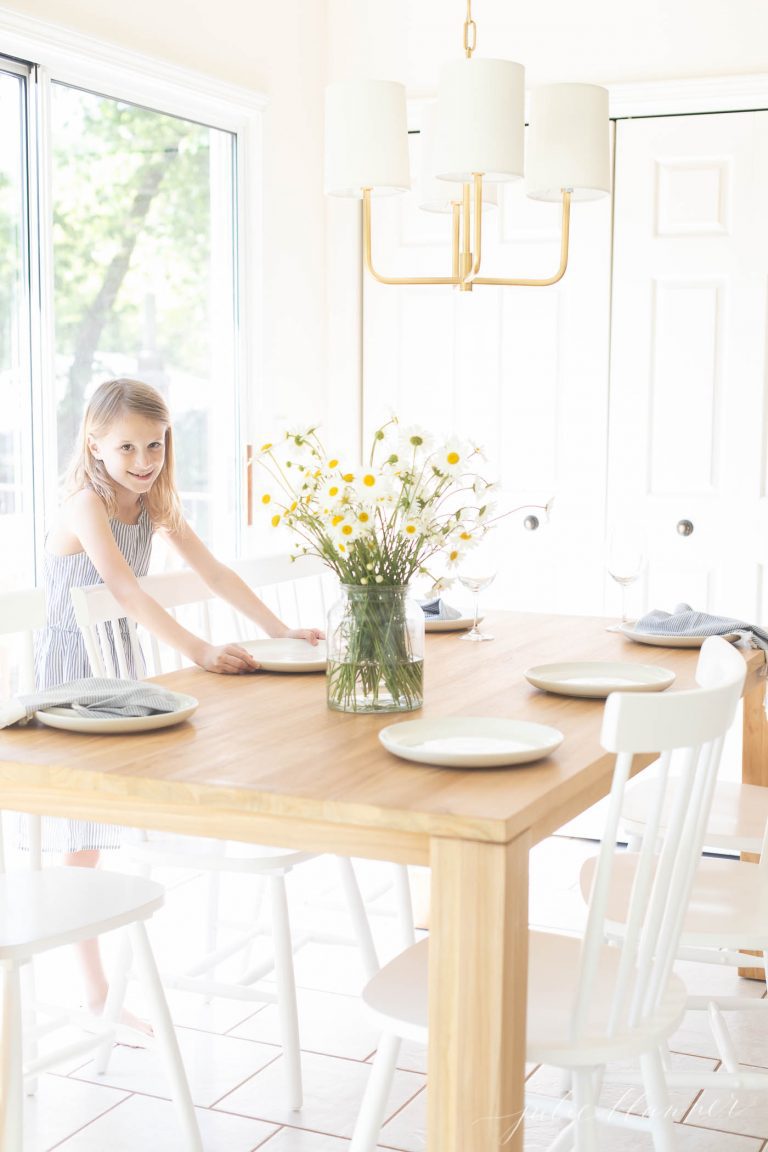 Eat In Kitchen Sources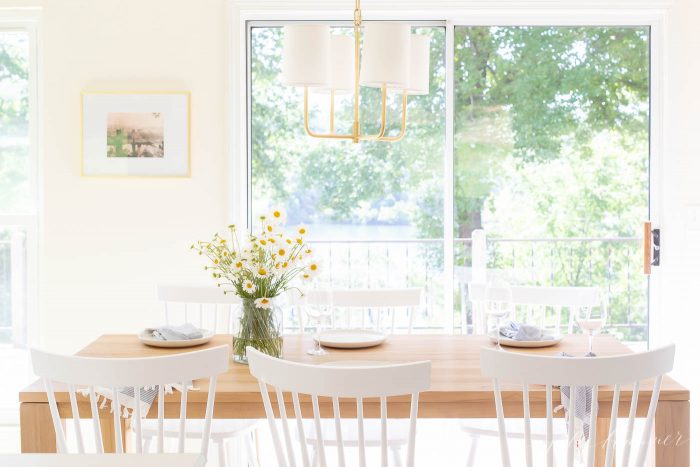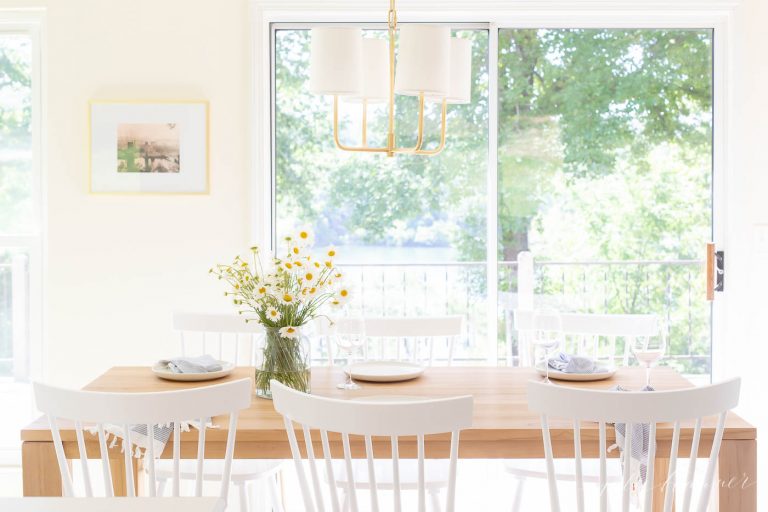 You can see more of our lake cottage eat in kitchen in this YouTube video! Don't forget to subscribe!
More Furnishings Inspiration