When our oldest daughter started to grow up right before our eyes (seemingly overnight), we knew it was time to officially give her a tween girl bedroom refresh with some of her favorite girly bedroom ideas.
Feminine details and an incredible new bed that she loves add up to create a cream, blush pink and gold bedroom that will grow with her in the years ahead.
There is much to be said about the difficulties and joys of motherhood. And while this has never been a mommy blog, specifically, it's always been a place to share our home life and the changes and updates as our family grows.
I love sharing our home updates with you! If you've never seen our Before and After of our St. Louis home, or the ongoing renovation of our Lake Cottage, be sure to check them out!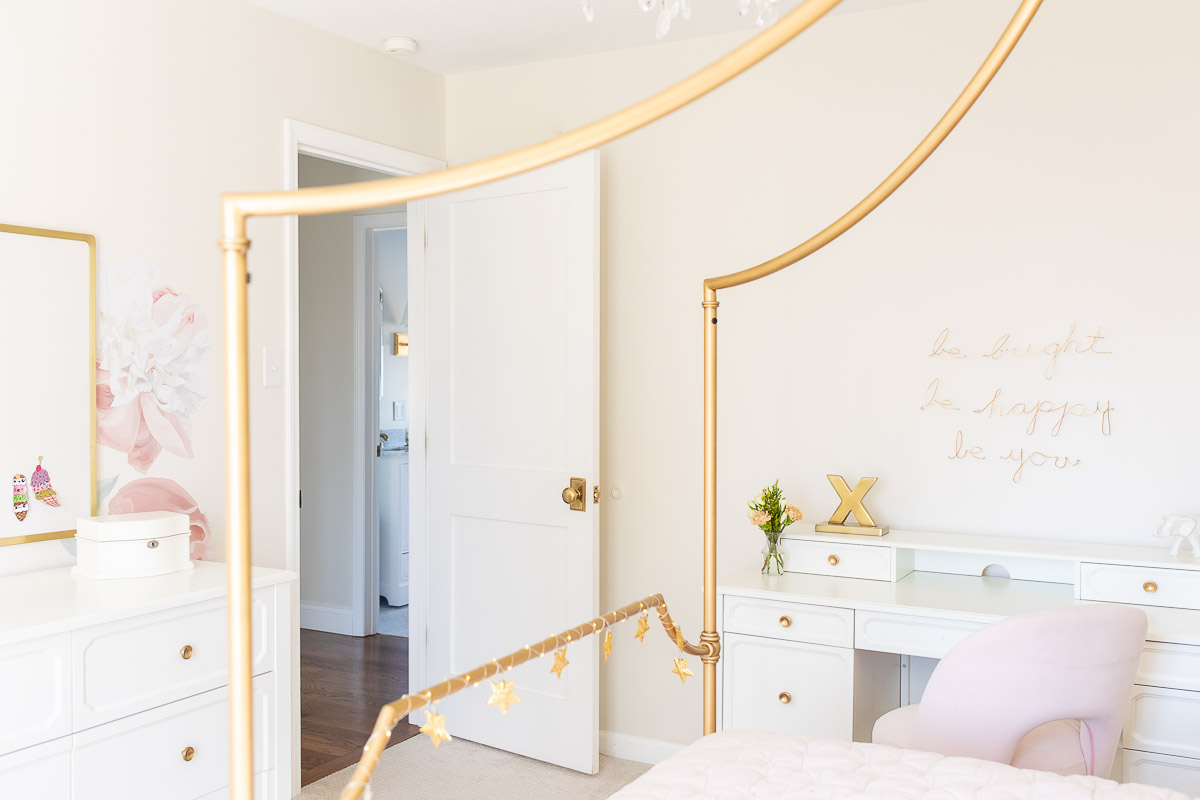 Tween Girl Bedroom
It seems this year that our oldest daughter, Adalyn, grew into a tween quite literally overnight! How does that happen? It's such a joy to watch them grow, even as it tugs at the heartstrings of parents everywhere.
With this newfound maturity and new interests, we realized that we needed to update her space to match her personality and stage in life! That growth, along with some virtual school time this past year, were the motivation we needed to give this room a gorgeous fresh update.
Save Your Favorites
Save your favorite recipes, tutorials and guides!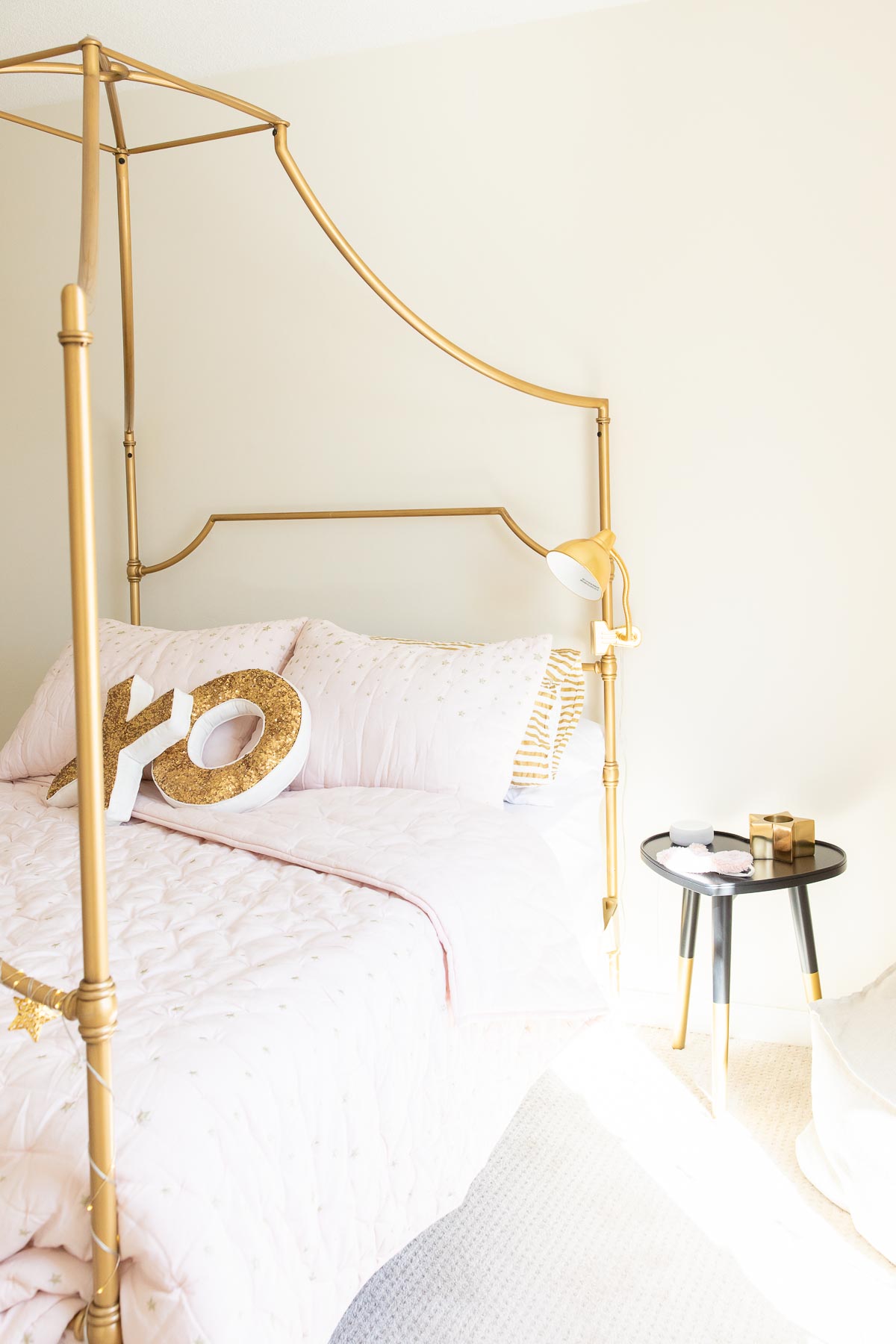 A beautiful new gold bed, along with a pretty new desk and new tween-inspired details were in order. It was so much fun to work on this room and give it a girly, blush pink and gold bedroom makeover.
Read more about the desk and dresser here: Desks for Teenagers (and Girls Desks They Can Grow Into).
I hope you love this little bedroom makeover as much as we do. We are never short on pink sparkles, girly giggles and lots of love around here… and thankfully Chris likes pink as much as all the girls in his life!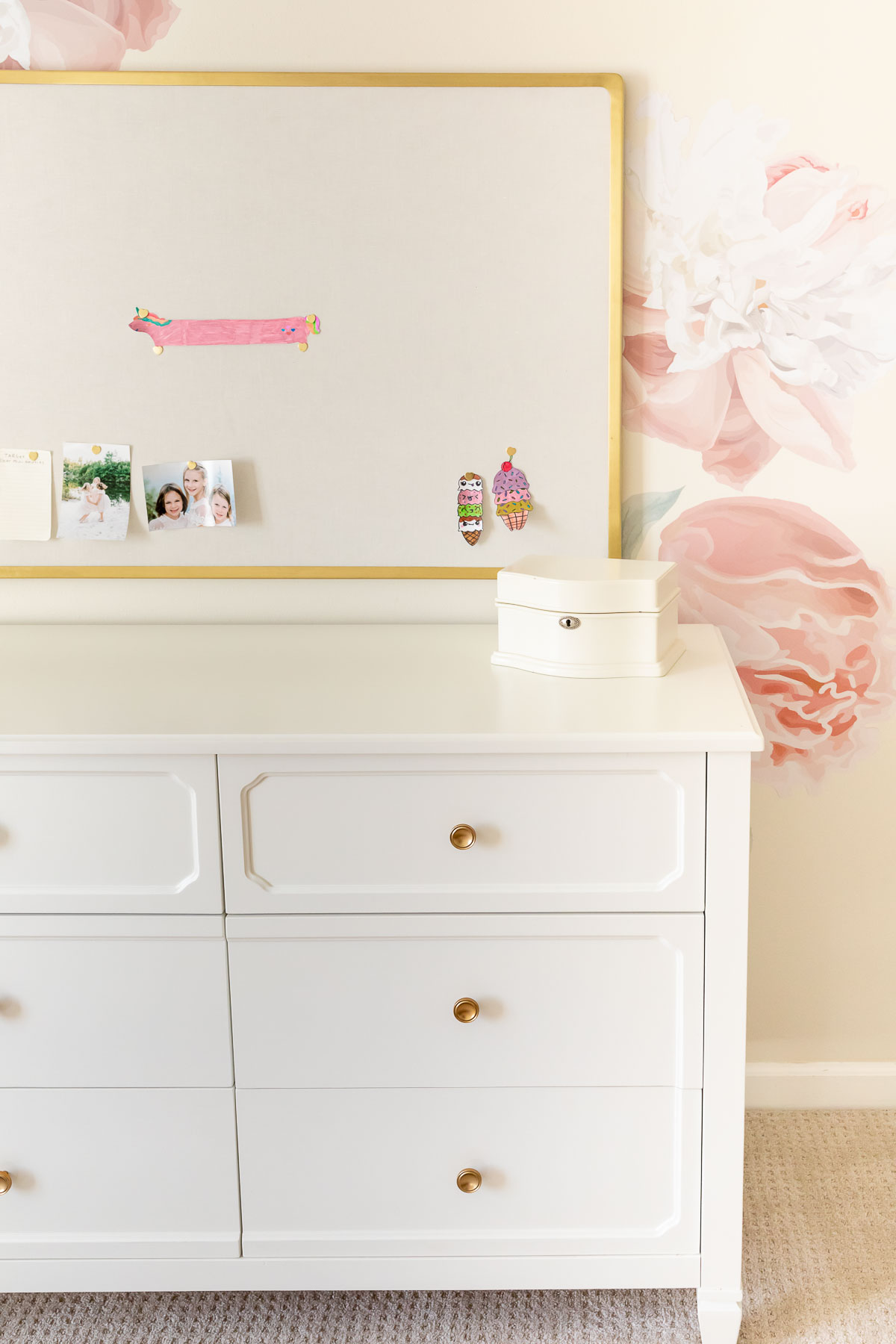 Pink Tween Bedroom
My motto when designing the spaces in our home is always to blend function and form, and the same goes for a tween girl bedroom! As a minimalist who still loves a warm and cozy home, I like to focus on pieces that are both beautiful and functional.
When furniture does double duty, it's always the perfect solution! This cute little heart shaped table serves as a nightstand and a side table for her overstuffed chair.
More function and form meet in her new desk! This pretty piece (unfortunately discontinued, but a similar one is linked below) doubles as a place for her to do virtual school, artwork, and maybe one day even makeup!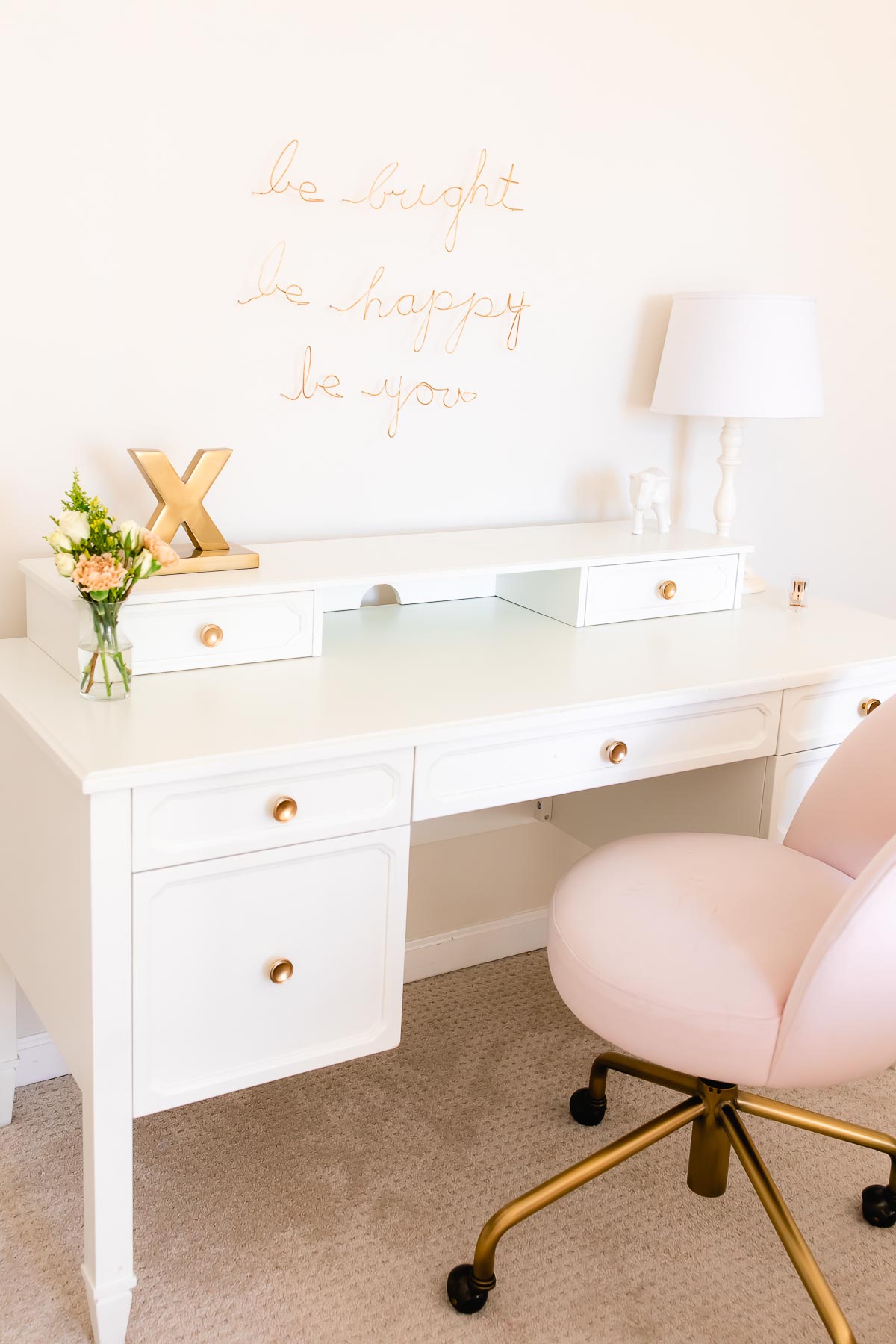 The paint color on the walls of this bedroom is Soft Chamois – if you want to see the prettiest feminine paint options, check out our guide to 15 Blush Pink Paint Colors. Find the details about Patterned Carpet here!
Art for a Tween Bedroom
I love when we find a piece that can grow with our kids! This Be Bright artwork is one of those things – it was one of the first items we bought for her room and it still works! Read all about this Wire Artwork here.
One of my favorite things about this room is that it's not just full of tween bedroom ideas – many of the details here can translate to anyone's space!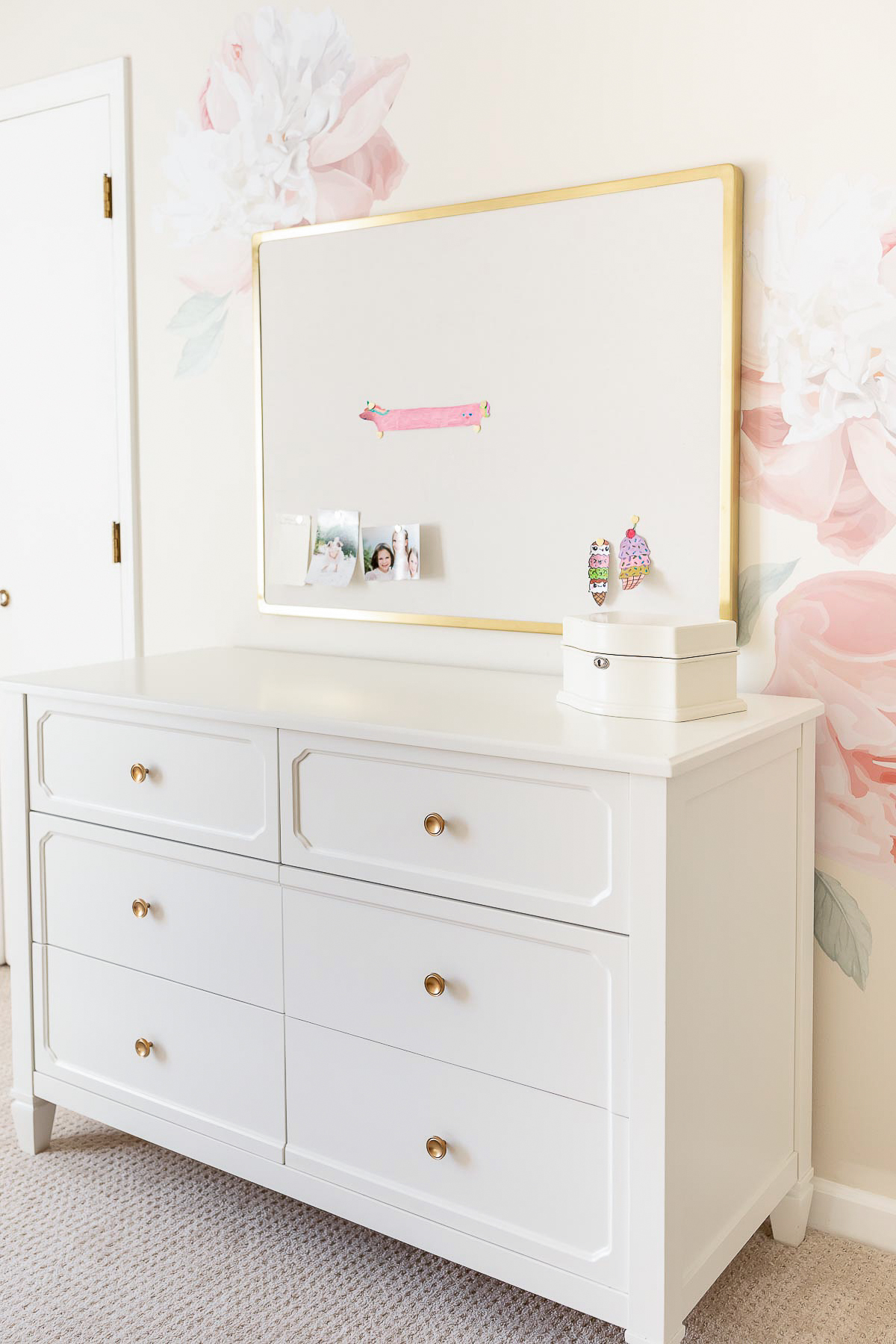 One of the most inexpensive pieces of art you can choose is one that your kids make themselves!
The sweet pink and white XO on the wall surrounding her window is one that she painted herself! It adds the sweetest touch to this space and ties in the theme, too.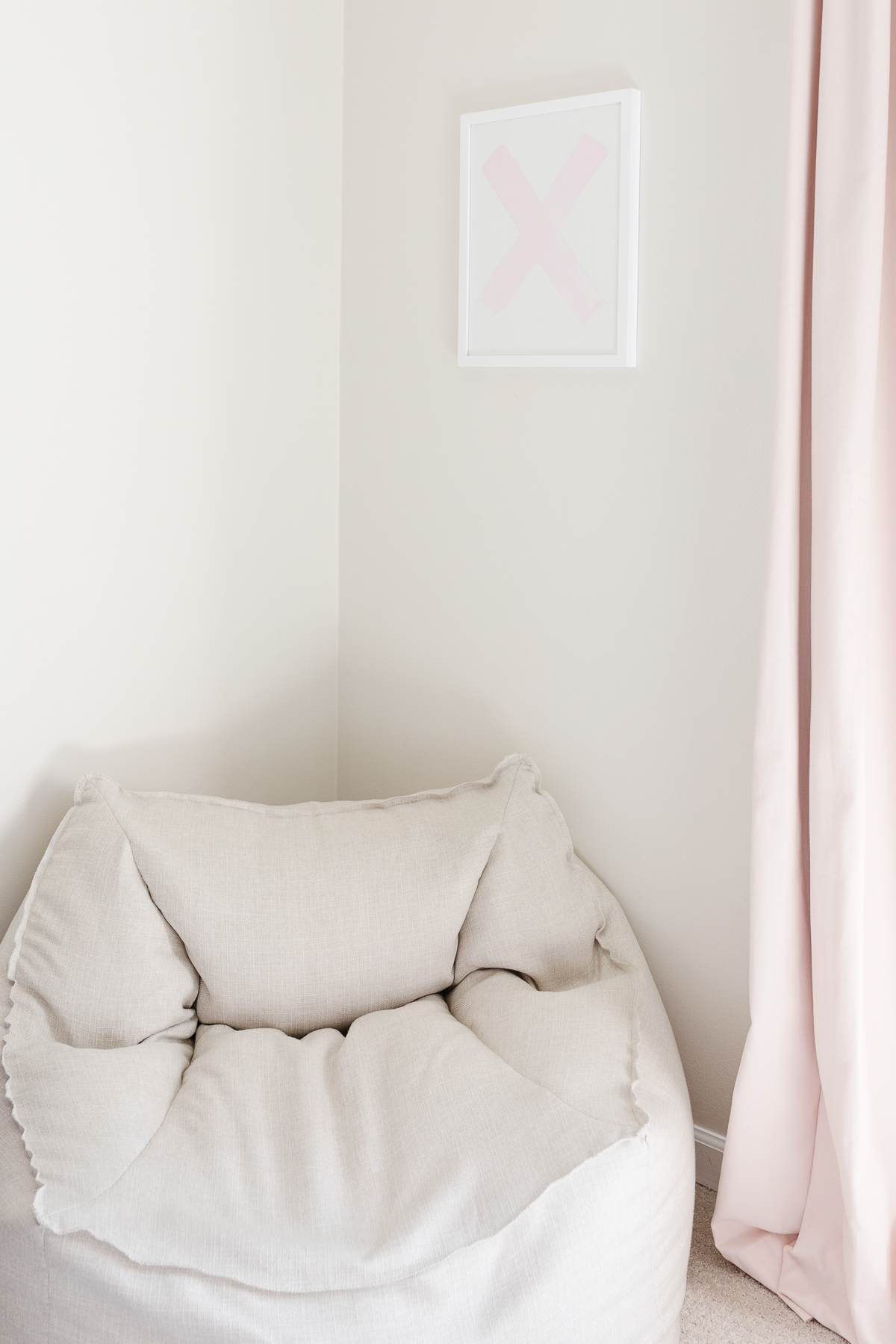 Pink and Gold Bedroom
One of the ways that we wanted to bring some fun and vibrancy into this room was with the large floral decal on the wall behind her dresser. (Source below!)
This pink peony decal brought the perfect touch of feminine floral pattern into the space, without feeling too childish or too old. It's modern, fresh and feels like a great compromise between wall paper and a stencil!
To learn more about her bean bag seating, check out this incredible round up of the best bean bag chairs for kids! We've also got a new post dedicated to Peony Wallpaper where you can find the one in this post and many more.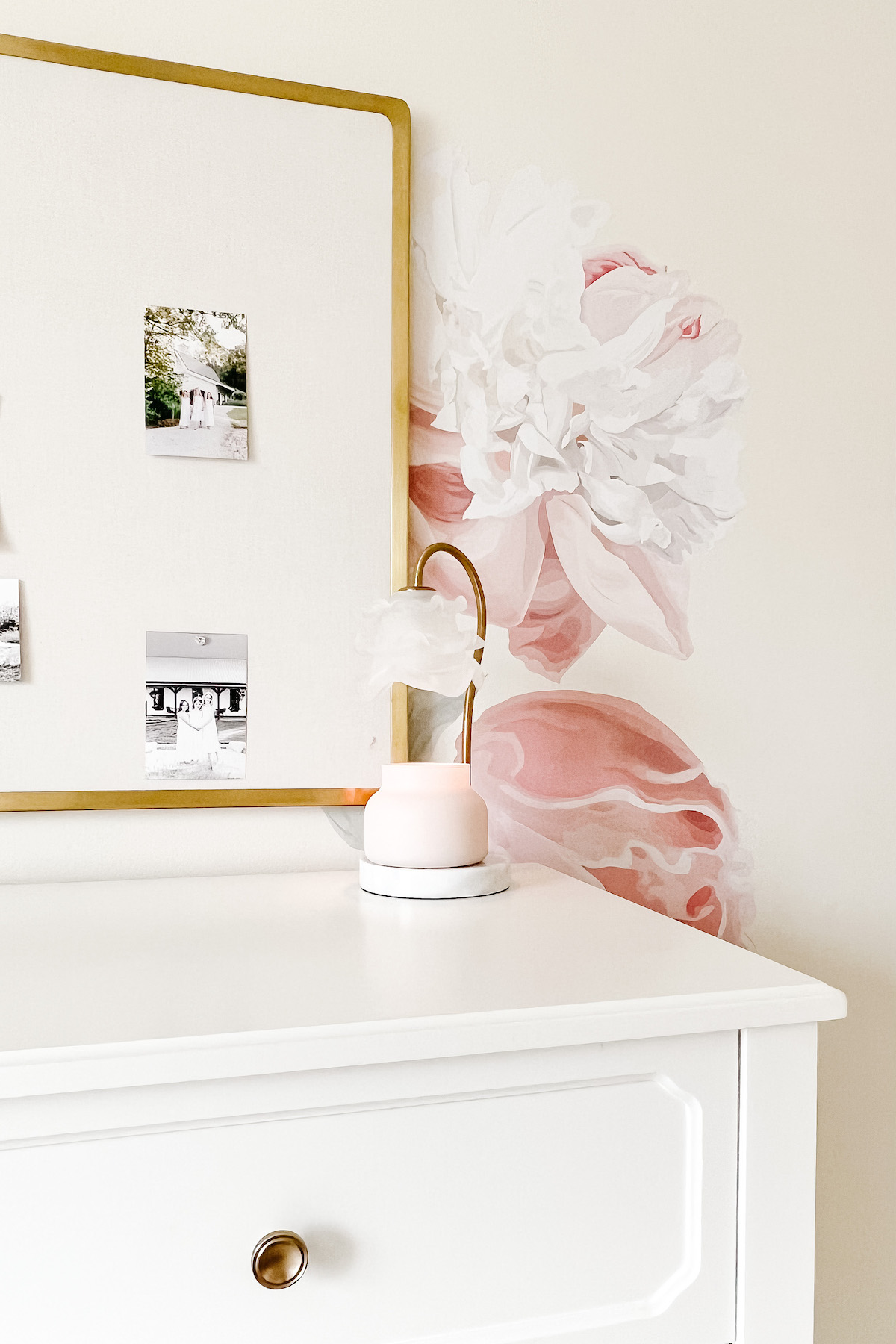 She has already filled the pin board up with photos of friends, inspirational images and ideas she likes to save. Pin boards are such an easy way to allow a child to customize their space, while keeping them somewhat contained!
Tween Bedroom ideas
Even the most functional pieces in this room tie into the cream, blush pink and gold bedroom theme we went with!
Over her closet door, we hung a modern gold mirror! It brings light into the room when the closet door is open… and let's be real, that's pretty often around here!
We've had these blush pink cotton curtains for years and thankfully, they still translated to this room. Read all my best tips for How to Hang Curtains here!
Another must-have for a girly bedroom idea? The adorable sequined pillows! They are such a show stopper on her gold canopy bed, aren't they? I love that they tie into the other gold accents in the room and really tie everything together.
As you probably already know, I'm a huge fan of pillow covers to freshen up a room. Pillows are such an inexpensive way to brighten any space, bedrooms included!
Another design feature that always blends form and function is lighting! I can't stress the importance of varied light sources enough.
In this room, the focal point above the gold bed is a vintage brass and crystal chandelier. She has another functional light source at her desk, as well as a reading lamp on the bed itself.
Again, these little details translate well beyond the girly bedroom ideas where we began! I want this to be a tween girl bedroom, for sure, but also a place where she can feel comfortable for years to come.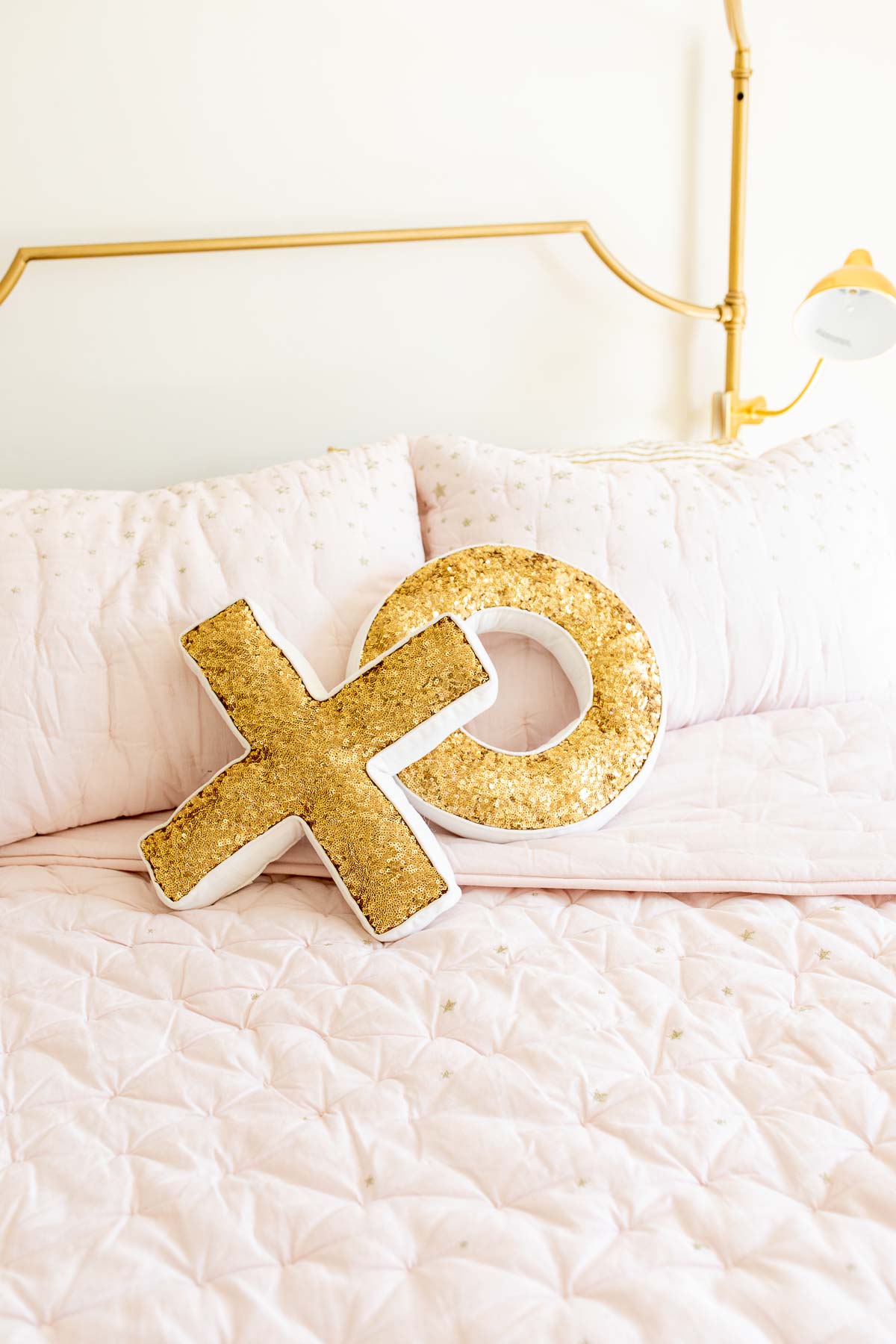 Shop this Blush Pink Bedroom
Desk | (hutch version has been discontinued) | Similar Desk
Side Table | Discontinued
Desk Lamp | Discontinued | Similar
Bedding | RH Teen, Discontinued | Similar
Pink Cotton Canvas Drapery | RH
Pin Board | RH Teen | Similar
Star Votive Holder | Discontinued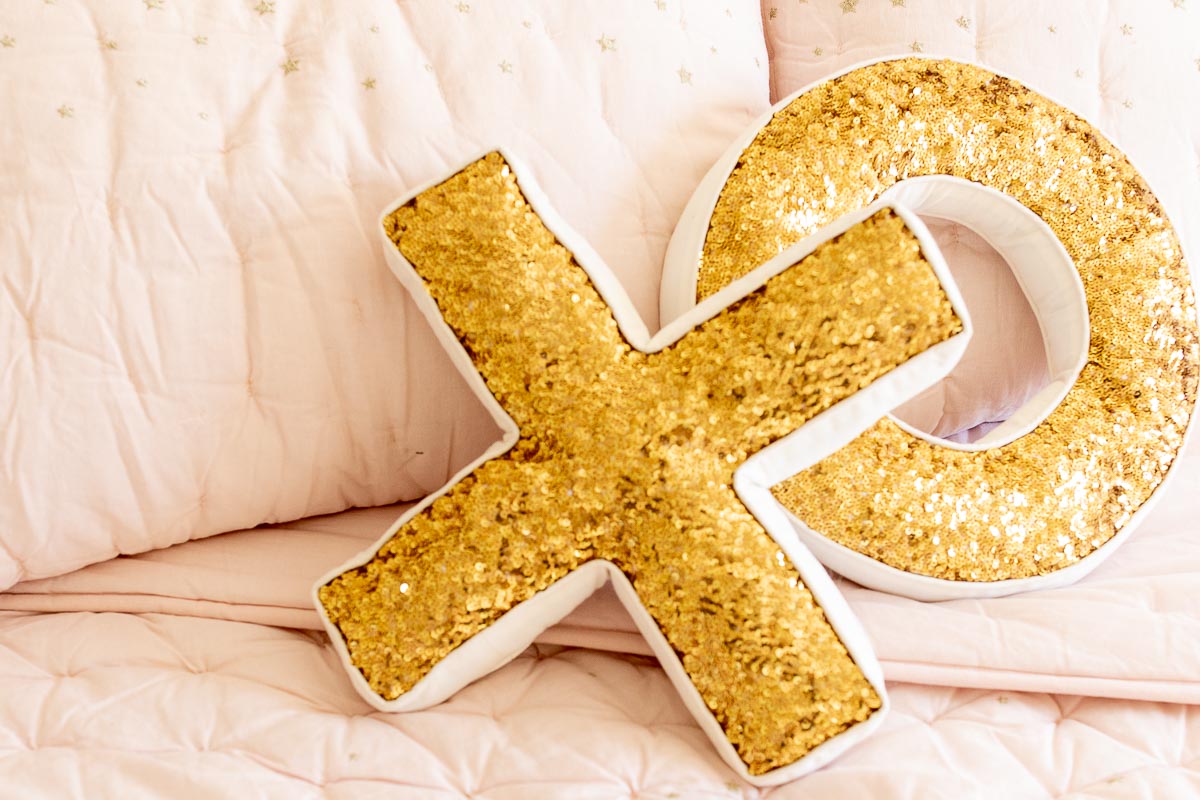 Well, what do you think? Do you wish for a blush pink bedroom for yourself, too? Are you in the market for tween bedroom ideas like we were?
I'd love to hear from you! Please leave a comment or question and let me know what you think. And as the tweens say, XOXO!!!