Learn how to choose colors that complement your oak cabinets, plus I'll share my favorite wall paint colors that go with oak cabinets.
Updating an oak kitchen doesn't have to mean you paint your cabinets!
Take a dated kitchen and turn it into a showpiece with an inexpensive refresh by painting your walls, not your cabinetry.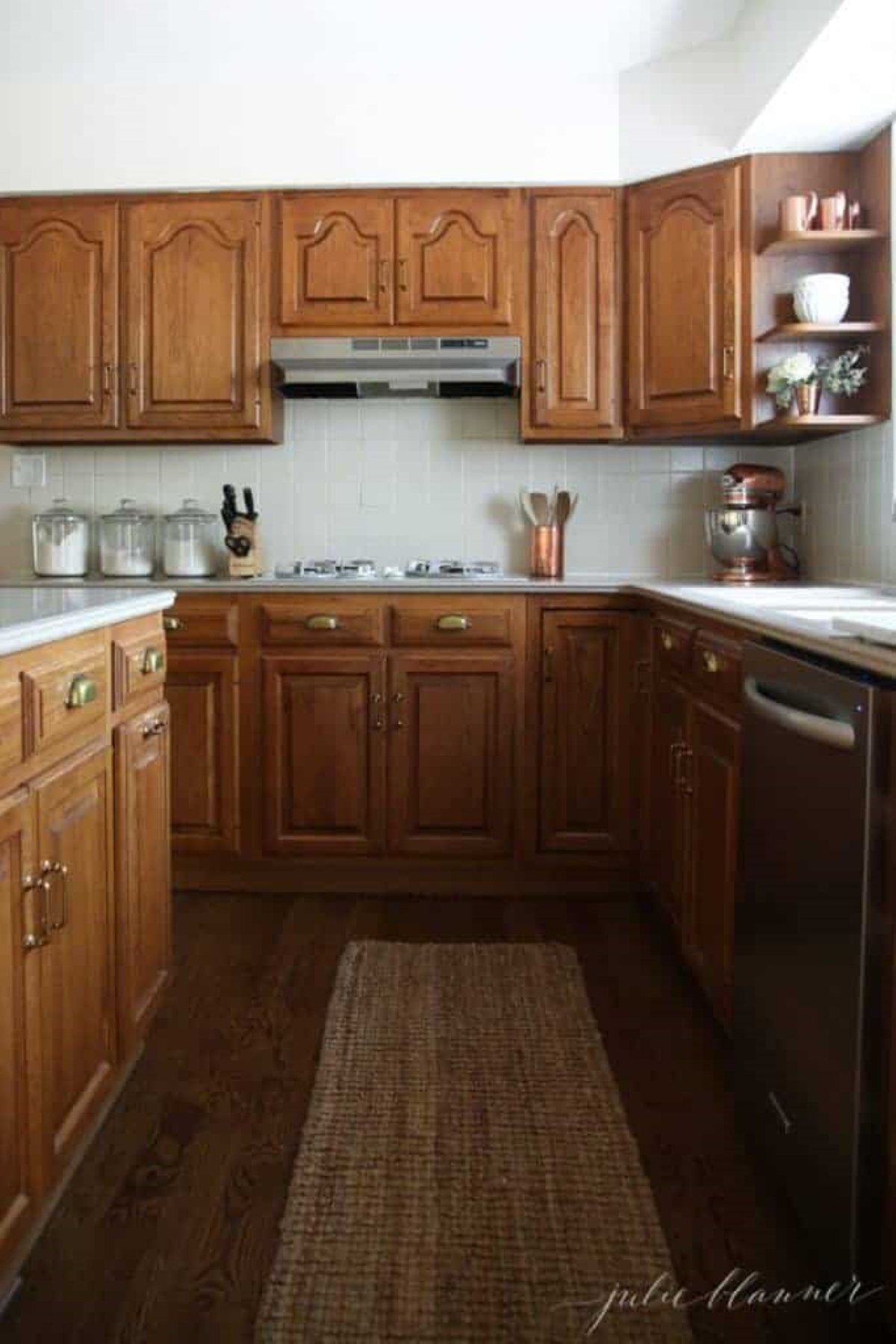 What can you do when your kitchen is outdated, yet your dream kitchen is nowhere in sight? Maybe for you, a partial makeover is possible – paint the cabinets white, install a beadboard or subway tile backsplash, and update the countertops.
Or maybe those updates aren't an option. Perhaps they aren't in your budget or you don't have the time. Maybe you're renting and not allowed to make permanent changes to your space.
That's where I found myself several years ago. After a stressful summer of renovations, we had decided to wait on doing a major kitchen overhaul. Still, I knew I wanted to make some changes without committing to painting our orange oak cabinets.
Paint Colors that Go with Oak Cabinets
My goal was to make simple, inexpensive changes that would help me embrace our imperfect kitchen until we were ready to remodel. I had to find simple and creative ways to update the space. Luckily for me, I love to get creative!
I set out to find wall paint colors that go with oak cabinets, that would compliment the orange undertones instead of compete with them.
Kitchen Before
But first, here are some before photos of our kitchen. It was functional and served us well in many ways. Yet it was outdated and not quite what I wanted it to be. I knew I could improve it with some simple changes.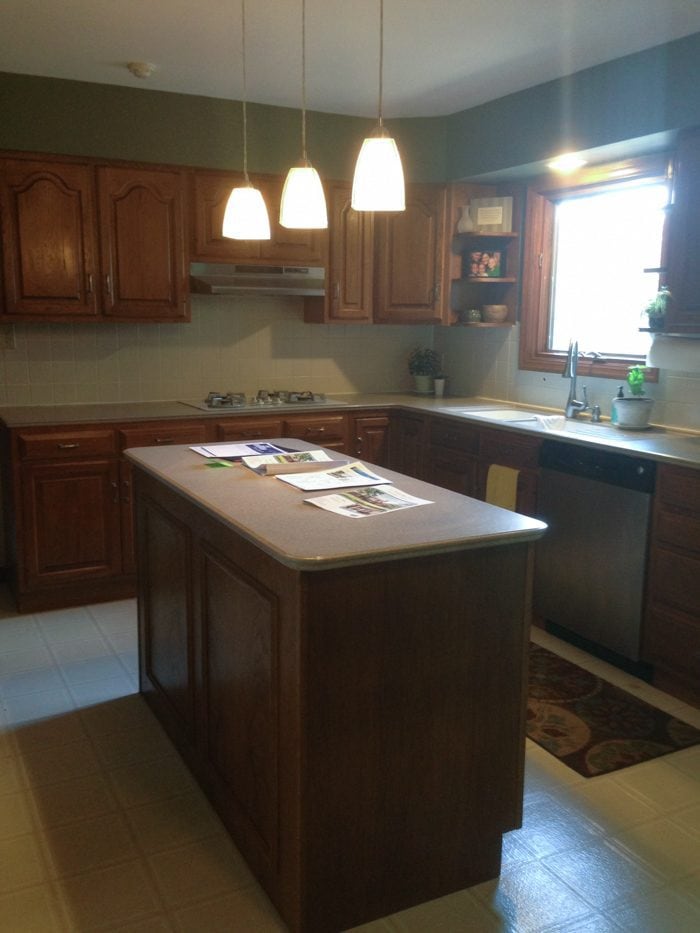 Our kitchen was like many others from its time. It was filled with 1980s oak veneer cabinets, a dark green soffit overhead that made the room feel heavier and smaller, light brown countertops that blended into the cabinets, and only one small window over the sink.
The kitchen did have some things going in its favor. The cabinets were in good condition, for one. And even though the countertop was a bit drab, it didn't compete with the cabinets or the floor. It was a start!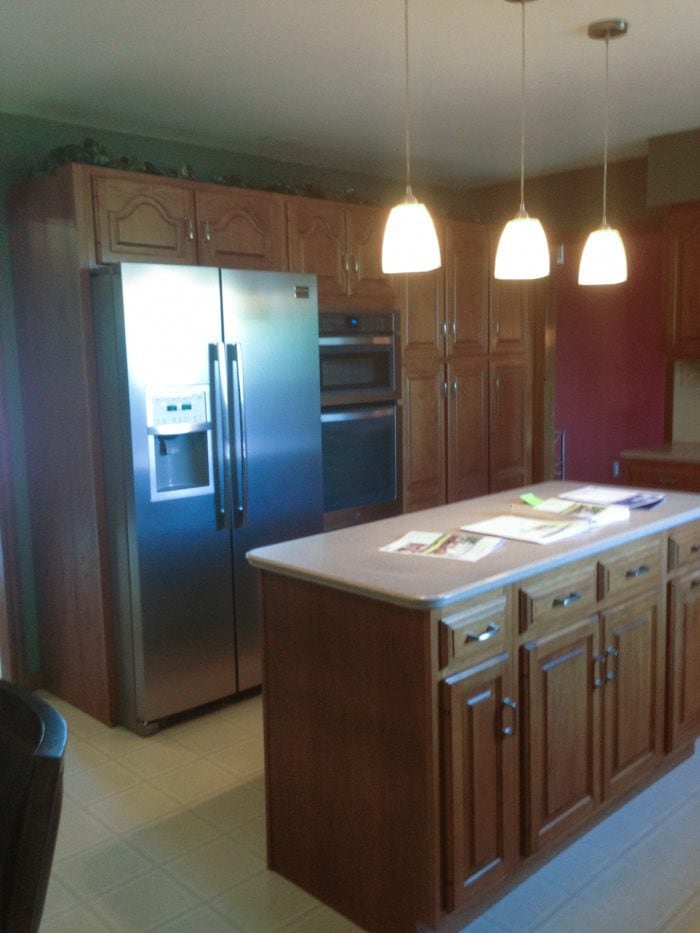 Where to Start
First, I knew I had to paint the walls. The existing colors – dark green and red – didn't compete with the orange oak cabinets, but they were dark and heavy in an already dark space. I wanted to lighten things up.
Paint is one of my go-to tricks to add light to a room. There is nothing like a can of paint to brighten a dark room and make it feel clean and fresh! Plus, painting is budget friendly, easy, and quick – you can paint your kitchen as a weekend project!
I love a beautiful warm white or soft cream on my walls and trim. Sometimes I even paint the walls and trim the same color, to really open up the space and make it feel larger and more cohesive.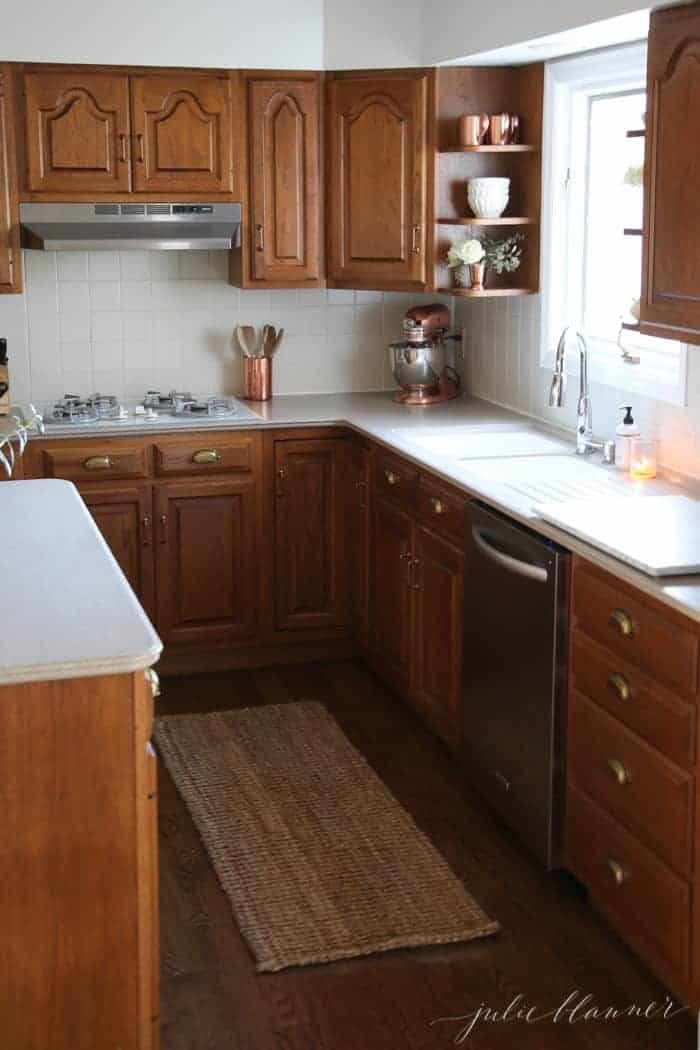 In this kitchen, I painted the soffit, walls, and ceiling a lovely soft cream. It matched the creamy tones of the tile backsplash as well. The dark green soffit had made the kitchen feel heavy, plus it had made the space feel choppy.
Painting the soffit a creamy white instantly made the kitchen feel more open, light, and airy – it was amazing! The soffit blended in with the ceiling and almost disappeared, making the ceilings appear taller.
Since it was closer to the color of the backsplash, the whole room looked less choppy, making it feel so much larger and brighter!
I also painted the trim white for the perfect finish. Fresh white baseboard and trim around the doorways and window showcased the creamy walls and highlighted their lovely soft color. The whole effect was a clean, fresh, light, and airy kitchen!
Downplaying the Orange Tones
Oak cabinets can pose a bit of a challenge, because they are just so – orange. You don't have to paint your cabinets to have a beautiful kitchen! But you do have to listen to your home and embrace it for what it is.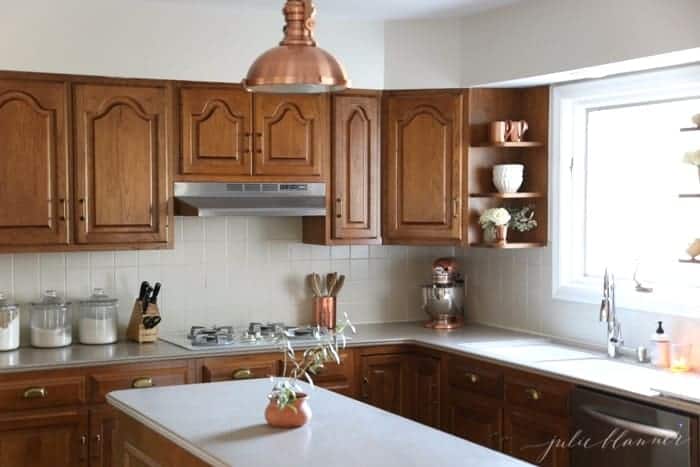 The trouble comes when so many homeowners, loving cool tones, ignore their homes and paint their oak kitchens in colors like gray or blue.
Or maybe they think they'll play it safe and paint the walls white – only to choose a stark white with cool undertones.
Pairing cool tones with warm oak cabinets actually accentuates the orange in the wood, making the cabinets look more – not less – orange! Now those cabinets that you didn't love to begin with just stick out like a sore thumb.
The trick is to paint your walls in a color that will downplay the orange tones in the oak, not exaggerate it.
It may seem counterintuitive, but you should choose colors with warm undertones. The warmth in the wall color will complement – not compete – with the cabinetry, making it feel more cohesive and less orange.
Favorite Paint Colors that Work with Oak
Here are some of my favorite go-to warm whites. I've used all of these in my own home: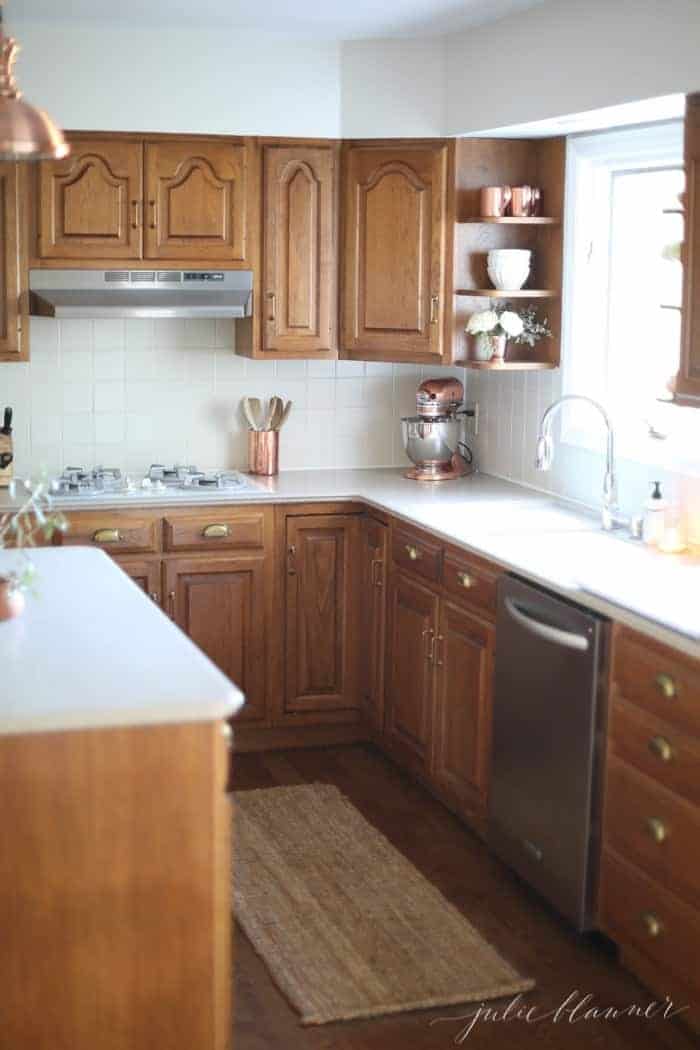 More Paint Options
Here are some of the neutral colors in my home, that have more color to them than white. All of them are paint colors that go with oak cabinets:
And if you're really wanting color, why not try a natural color like Sherwin Williams Rosemary or Pewter? After all, green is on trend right now.
I know, in my small kitchen I painted over my dark green soffit. But if your space is more open concept, a warm olive-toned green may be the perfect combination with your oak cabinets.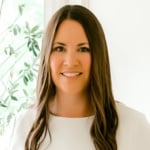 Tips
Mushroom paint colors are especially popular right now! Consider these colors as a warm, cozy wall color to complement your oak cabinets.
Remember, paint colors darken as they dry.
Learn about Light Reflectance Value in my comprehensive guide: What is LRV?
Samples – Use paint samples! As you try different shades, you'll begin to recognize a pattern in the colors that feel good in your home. In fact, you should check samples on different walls throughout the day.
Keep all light sources in mind, as this can also change the way the color feels- read up on light bulbs, too.
Frequently Asked Questions
How do you tone down honey oak cabinets?
To downplay the orange or yellow tones in honey oak or maple, choose a calm, fresh neutral color that is warm enough to balance and yet soft enough to distract.
Are honey oak kitchen cabinets outdated?
While I would argue that good quality wood cabinets are always in fashion, it's true that the orangey-yellow finish of oak 80's cabinetry is not particularly en vogue these days! Downplay the finish by choosing a paint color that calms the color!
---
Shop This Post
---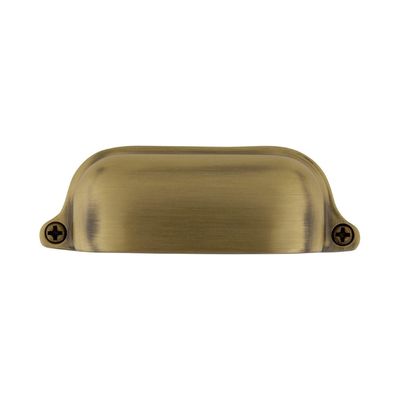 Antique Brass Cup Pulls
While our brass cup pulls are no longer sold, this one is very similar in style and finish.
What do you think? Would painting your kitchen walls the right color help you embrace your oak cabinets for a bit longer?
Let's keep in touch! Receive exclusive content, including never-seen-before photos, our favorite home decor DIYs and more!
Paint Colors, Tutorials & Tips