If you thought you could only love one type of deck railing, then let glass railings change your view – literally! You will love what you see!
You've heard the saying, "Less is more," right? With glass deck railings, the design world is putting that idea to the test. Tempered glass panels are visually minimal, and that is what makes them so appealing. In other words, the less you see, the better!
The beauty of glass deck railings is that they let you focus on what you want to see. Glass railings highlight the outdoor view, rather than obstructing it with a busy system of posts, rails, and balusters.
Glass deck panels act as a window to your world, turning your deck into a true extension of your home. Not only do glass panels let you fully enjoy your view to the outdoors, but they don't obstruct your view from the outside in, either!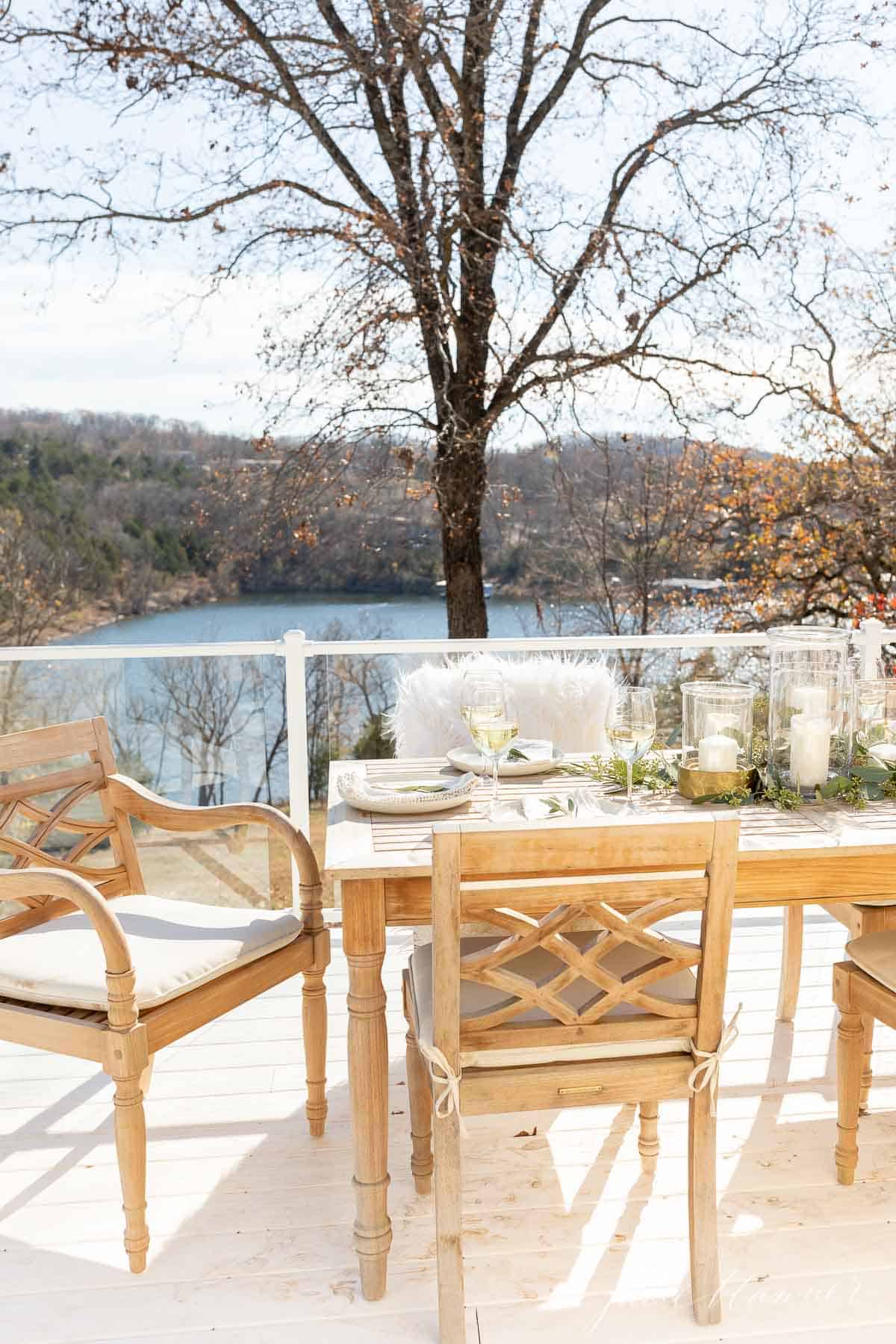 No matter your style, it's easy to see that glass deck railings are sleek, durable, and elegant. However, this does NOT mean that they are cold or uninviting. Glass railings can be used to create a style that is minimal AND cozy and inviting, all at the same time.
For one thing, glass is so versatile! You can pair it with wood, composite or vinyl decking! Also, combine it with any post material you can imagine, and end up with a custom look that is entirely your own.
It's true that glass railing systems lean toward contemporary and modern styles. However, depending on what materials you combine them with, you can help them lean toward other styles.
We opted to include them on our lake cottage and couldn't love them more! They provide a beautiful view of the lake from the living room and of course, the deck.
For more outdoors, why not refresh your deck stain, add a new indoor outdoor rug, or makeover your patio? Then relax and enjoy!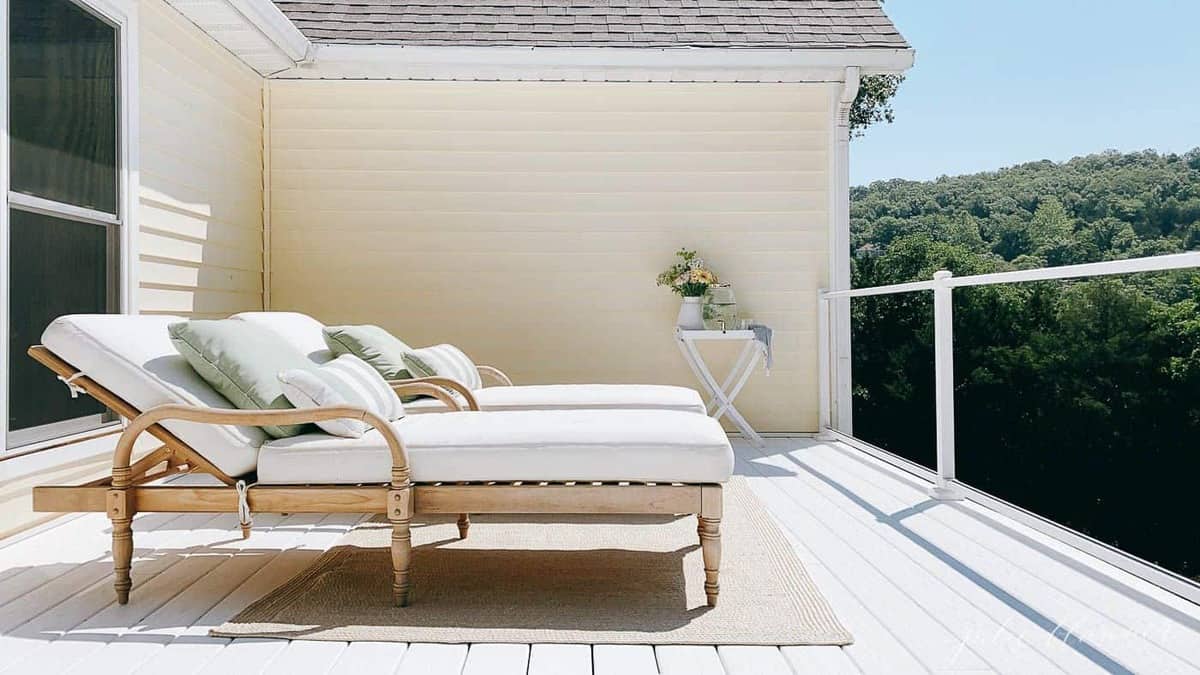 Glass Deck Railing
Glass deck railings open up the view and make outdoor living spaces feel larger. They are a stunning design element that makes its biggest impact by being visually unobtrusive, encouraging you to focus on the view beyond your deck.
Glass railings also seamlessly connect deck spaces with the outdoors. Not only can you see the view, but you feel like you're a part of it too. That's because there isn't a visually disrupting line of handrails and posts to separate one space from the other.
You work hard beautifying and maintaining your hard, so why not enjoy it to the fullest? Glass deck railings let you enjoy the comfort of your deck and still take in the full view around you.
The solid barrier created by the glass panels also provides a semi wind barrier. At least, it is more of a barrier than a traditional railing system, which is open between balusters. They somewhat mimic the feeling of a screened porch, without the roof!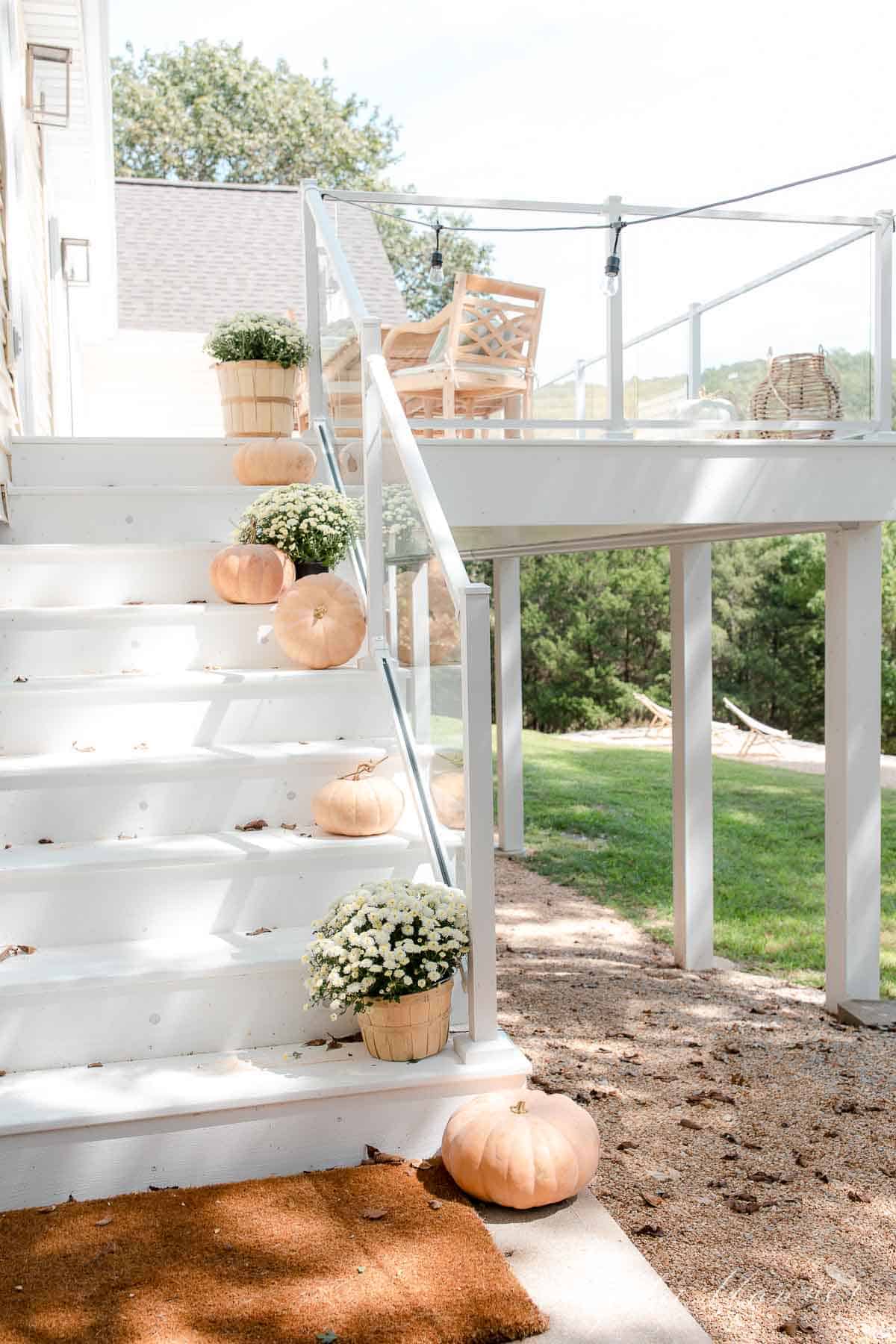 Glass Balcony Railing
Go ahead and set your sights higher than just decks. Glass railings can be used on raised balconies, too!
In fact, glass balcony railings make a lot of sense beyond just their gorgeous style. Their glass panels provide a solid barrier, meaning large, continuous surfaces. This is a noteworthy safety feature, especially on balconies high above ground.
Of course, when you sit on your balcony, you're there to soak in those splendid views! They allow you take full advantage of the high vantage point. So you can sit back, relax, and take in everything your view has to offer.
How it works…
Glass Deck Panels
Glass panels come in a variety of sizes, from full panels (typically 4-, 8-, or 12-feet long) to individual balusters. They are typically flat panels for straight installations. However, they can be angled for staircases or even curved for rounded installations, such as circular decks and spiral staircases.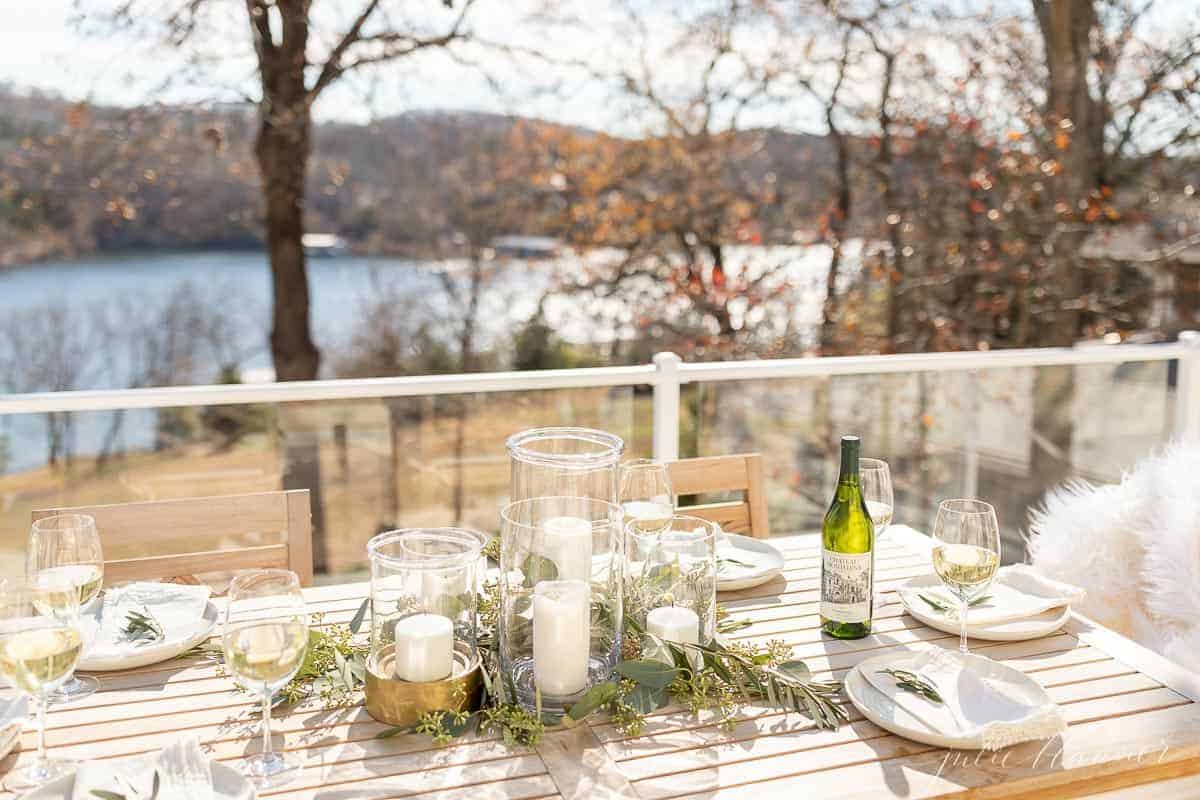 Glass deck panels are typically purchased through your local glass company, custom made to the specifications of your glass railing system.
The glass used to make these panels and balusters is commonly 1/4-inch tempered or laminated glass for durability. Rest assured it isn't just standard window glass!
Tempered glass panels are heated in an industrial oven, followed by high-pressure cooling to make them stronger. They offer a completely transparent look, with durability four times stronger than traditional glass. In the rare occurrence that a glass panel breaks, it fractures into blunt pieces rather than sharp. As a result, the chance of injury is very low.
Glass Railing System
All glass deck railings require a railing system to hold the glass into place. There is a wide array of options to choose from, including a frameless glass railing (the most expensive), glass balusters (narrow, individual panels that allow air to pass through between), and traditional glass deck panels.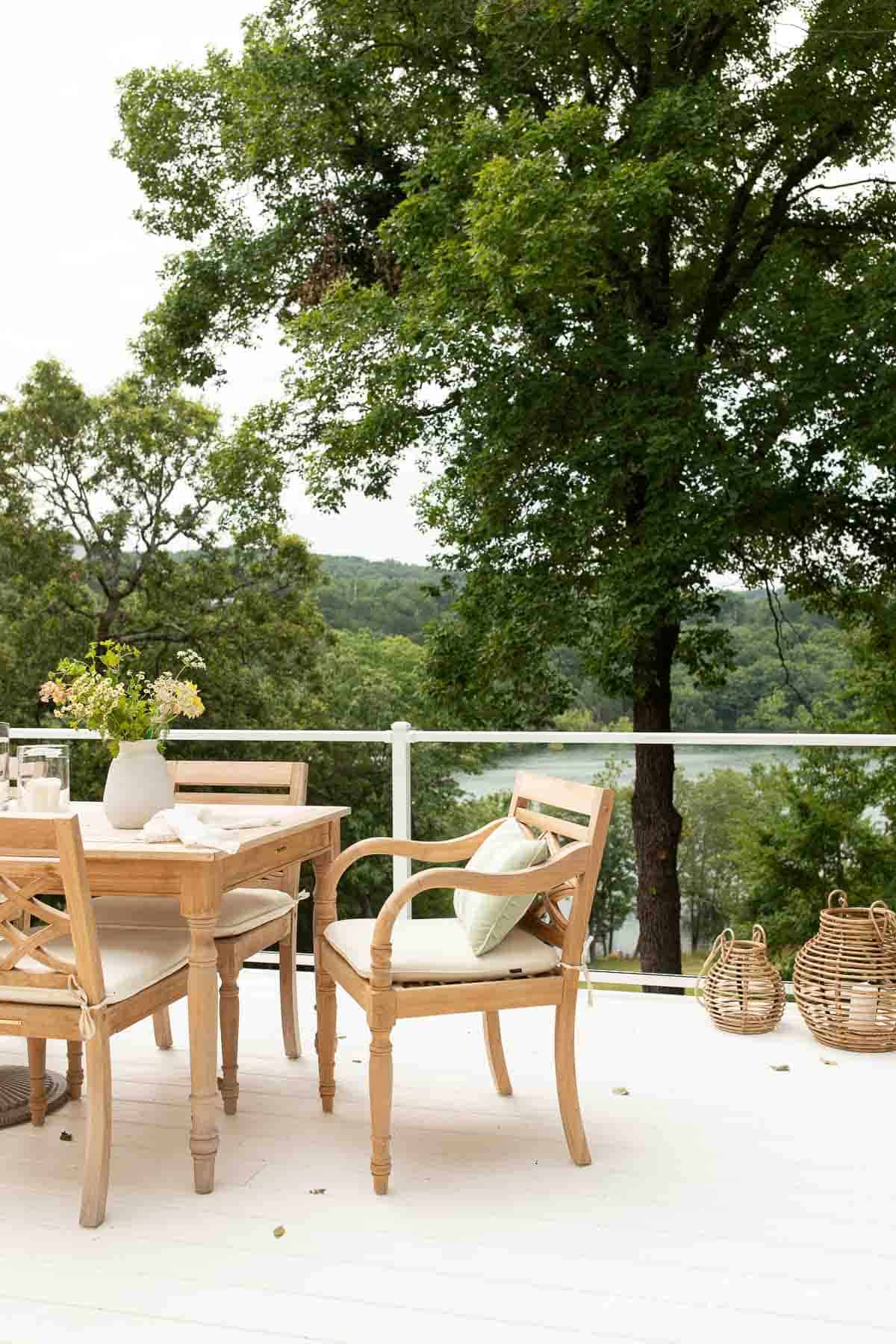 Each railing system has a different installation. For instance, some railings have vertical posts with a top and bottom railing, while others use the glass itself as the hand rail. Glass deck railing installation is typically fairly straightforward no matter which system you choose. Basically, the glass panels slide between the grooves of each post, base rail, or talon.
We used minimal railings for ours to balance design and cost. Frameless tend to be significantly more expensive.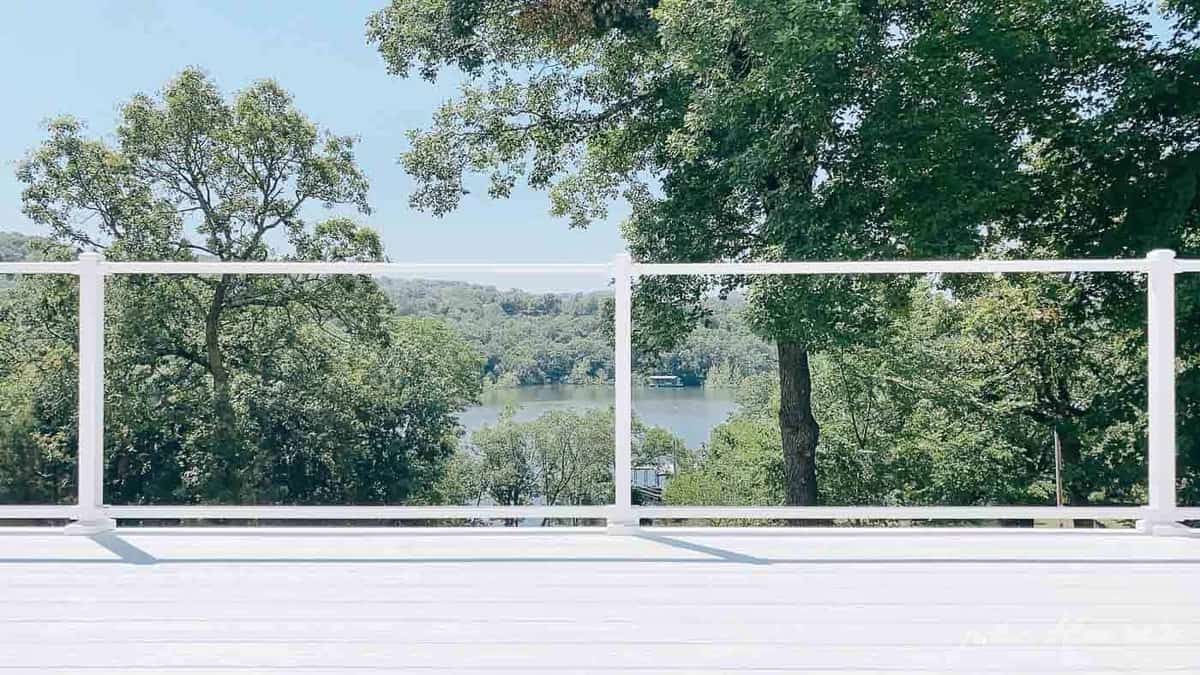 Frameless Glass Railing
Traditional installations have posts on each side of the glass panel, with top and bottom railings. The posts and railings each have a groove, called a dado, cut down its length that the glass panel slides into. In other words, it's like the four sides of a picture frame with glass in between.
Now imagine taking the frame away and leaving just the glass. This is the basic idea behind a frameless glass railing. It is a sleek, modern look with not a lot of visual distraction.
Without posts and rails, there are a few different types of frameless glass railing. Each one has a different approach for supporting the glass panels, and in turn, creates a slightly different look.
Base Rail
With a base rail, the glass panel is frameless with no exposed edges. A thin piece of metal holds each panel in place at the base of the glass. The top of the glass panel acts as the hand rail, or you can choose to add a metal cap or rail. These typically come in 4′, 8′ and 12′ sections and offer an unobstructed view.
Talons or Clamps
This style creates a minimalist, frameless look that is raised off the ground, allowing runoff underneath. Each 4′ section is secured by 2 talons on each side, attached by a side or surface mount.
Stairs and angles require larger talons for additional strength and support. The glass panel itself can be used as a handrail, or an additional rail can be installed.
Pins, aka Standoffs
This rail system is completely frameless. It is achieved by using pins, also called standoffs, which are round metal cylinders. The pins attach to the glass panels through predrilled holes, then mount to a support such as the sides of a floating staircase.
The metal pin leaves a space between the glass and the support, creating a floating effect. As a result, the glass panel appears to be suspended in air. This completely frameless glass railing is perfect for floating stairs, because the overall look is so clean and minimal.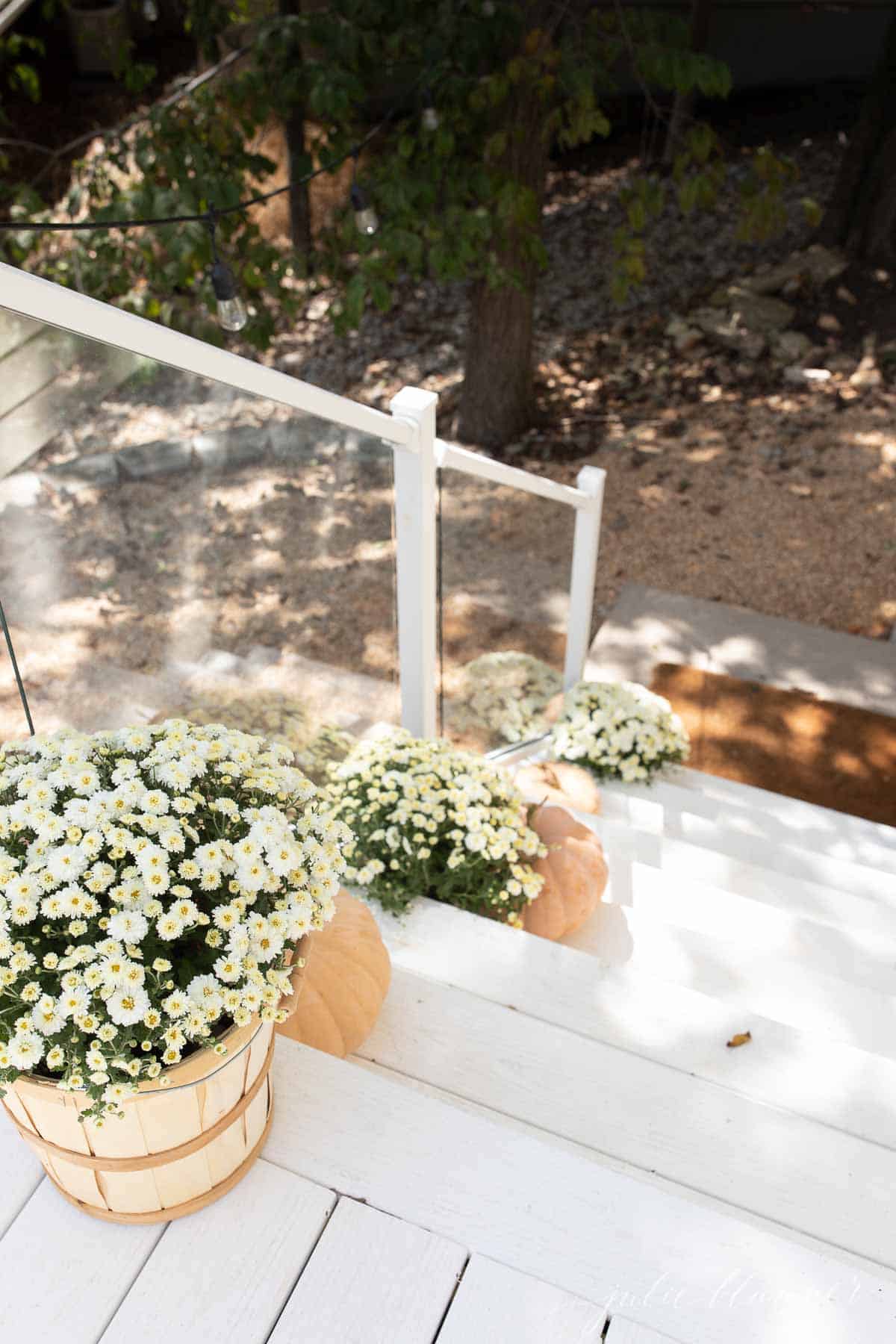 Sources
If you're interested in your own glass deck railings, here is a list of great companies to start with. Keep in mind that they all sell the railing system, and glass must be sourced locally.
View Rail
Level Lock
Legato
Durarail
Invisirail
Fortress
Century
Westbury Veranda – We opted to use Westbury Veranda.
Trex
Deckorator
Aquaview
Veka
Pros
Unobstructed Views
Minimal Aesthetic
Solid Barrier
Durable – It is extremely unlikely that glass will crack or break.
Reduce wind
Cons
Cost – Glass deck railings are significantly more expensive than other railing systems like post or cable.
Cleaning – Glass railings require frequent cleaning.
Let's stay in touch! Join our newsletter for access to exclusive content, never-before-seen photos, your questions answered, and our favorite projects. You'll receive the best design secrets delivered directly to your inbox! Sign up here!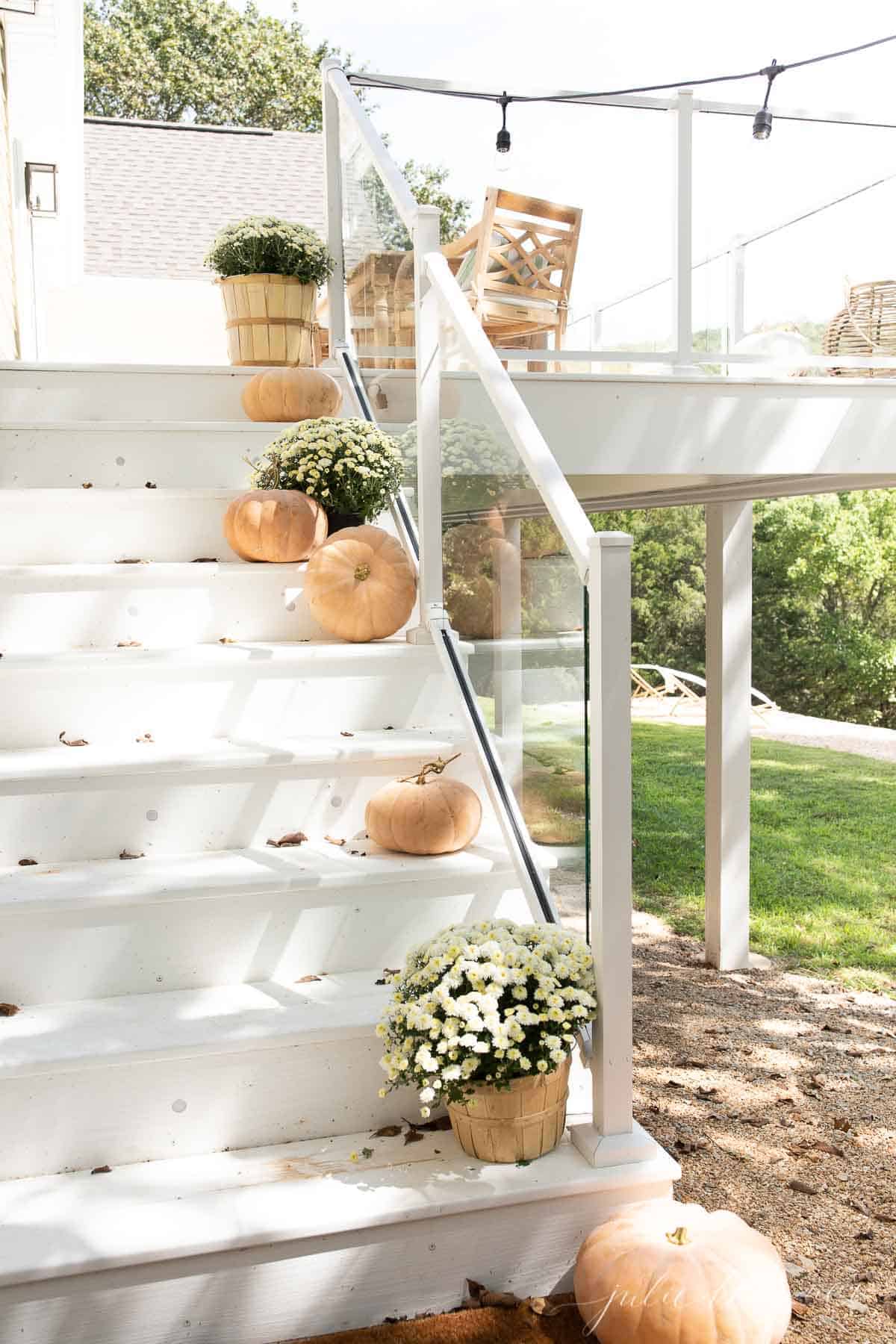 Frequently Asked Questions
Are glass deck railings safe?
When they are installed correctly, glass deck railings are extremely safe. The glass is typically 1/4-inch tempered safety glass, so it isn't your typical window glass material. It is specially constructed for strength and durability, and it will not shatter into sharp pieces if for some reason it does break. Of course, check your local safety codes before installing.
Are glass deck railings hard to keep clean?
Although glass deck panels require regular cleanings, inside and out, the cleaning itself is not difficult. Use a mixture of water and dish soap, a 1:1 mixture of water and vinegar, or regular window cleaning spray. Wipe clean with a microfiber cloth. For stubborn dirt and bird droppings, first spray to soak with vinegar, then lightly scrub. Do not use abrasive cleaning pads, since they could scratch the glass.
Integrating a glass railing is one of my favorite design decisions we have made to date. The openings between and under the rails allow air to pass through, keeping it comfortable in the spring, summer and fall, but reduce the wind so that with a heater, we can make the space feel cozy and comfortable all winter!
And no – fingerprints aren't a problem! We have had them 7 months and we haven't cleaned them yet! If you have any questions, I'm more than happy to help! I spent countless hours researching before making our decision.