The Best Cream Color Paint
Cream color paint is a warm neutral wall color that fits just about every home and every room. The best cream paint colors for walls – these warm white paint colors are all around easy to use.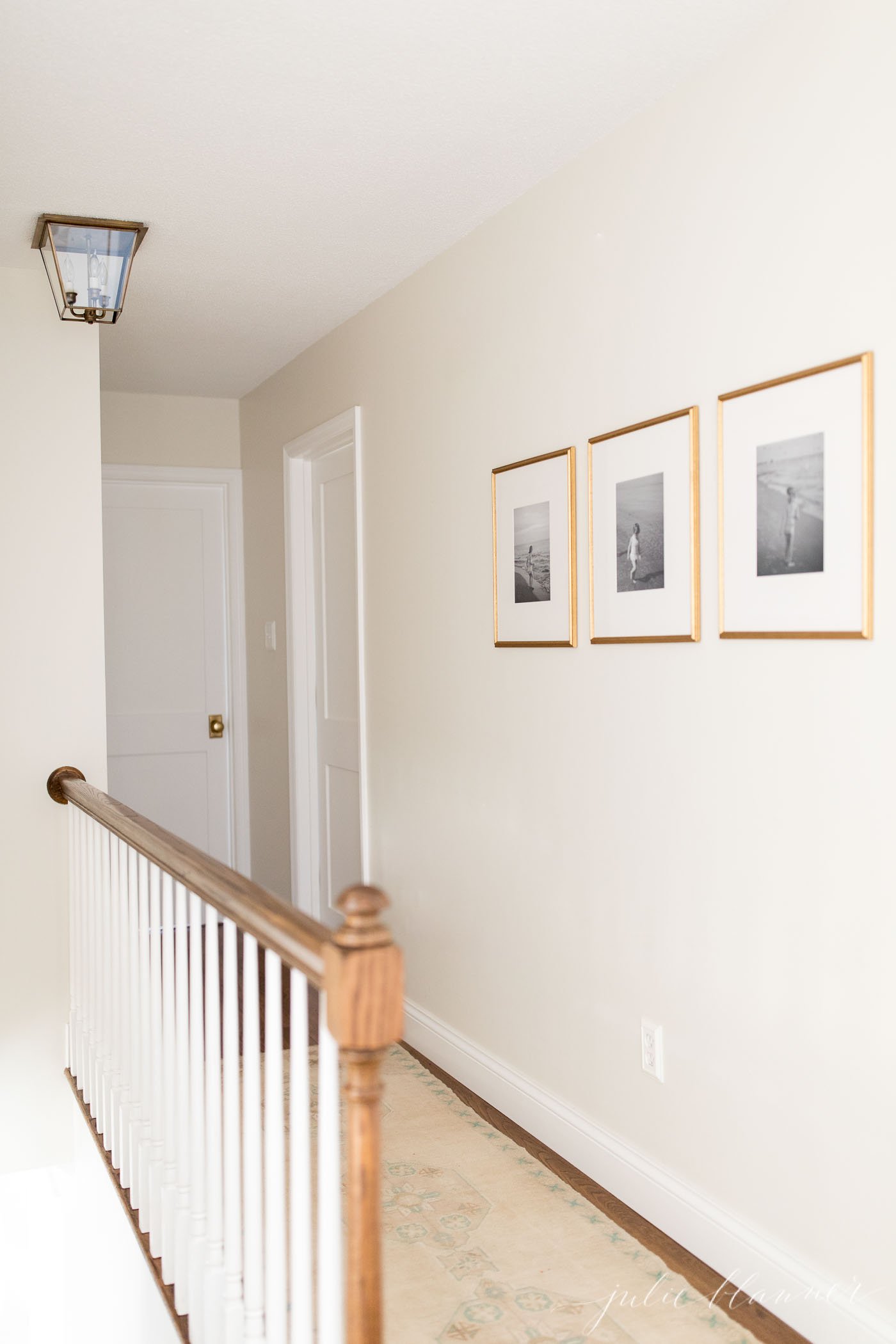 You've seen all of these pretty cream paint colors before in our home, but given that it's one of the most frequently asked questions, I wanted to share more about them. I know how agonizing selecting a color can be!
Furthermore, I don't take paint color decisions lightly. Fortunately for you, you can! I am taking the guesswork out of selecting paint colors for you. I've got so many great paint guides – don't miss my favorite Warm Whites!
By detailing pros, cons, features, styles, where to use it, colors to pair them with, sheens and more, I hope to eliminate the guesswork. All you'll need to do is sample to confirm.
The Best Cream Color Paint For Your Walls
Maybe you recall how I obsessed over our exterior paint colors and had the neighbors thinking I was crazy with every swatch I had Chris test! In response to your questions, I'm sharing my tried and true cream paint colors and how they look in actual rooms.
One of the most frustrating things about selecting a paint color is how the swatch varies from computer and swatch to wall.
Last week I thought I had selected the perfect blue hue for a piece of furniture online. When I got to the store I realized it was a much brighter indigo versus the dark, dusty navy I thought it was.
While colors can still vary from one space to another, seeing it in a room is much more indicative of the color than a swatch.
I'm going to walk you through four of my very favorite cream colors. You don't even have to choose a favorite, as they coordinate beautifully throughout various spaces of a home.
You can see even more in this YouTube video!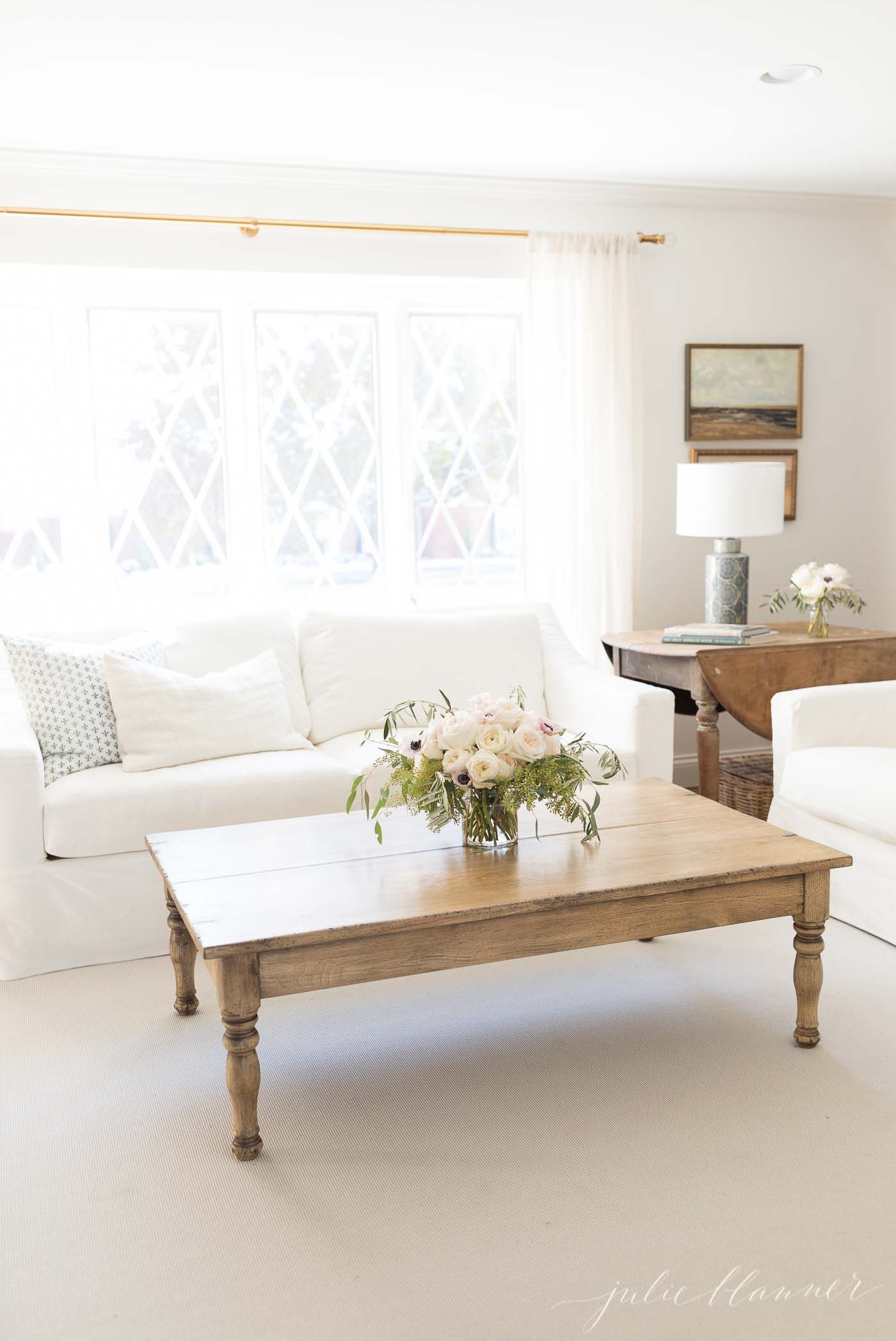 How To Choose Cream Paint Colors
Paint colors can vary based on the previous wall color and light in the room, so I thought I'd show you various lighting situations for paint colors so that you can make an informed decision on the best cream color paint for your home.
Warm white paint colors offer a neutral background but feel anything but stark. Cream color paint makes your home feel warm and inviting. Most importantly, the color needs to work for you and the feeling you want to create in your home. Subsequently, paint is not a one-size-fits-all decision.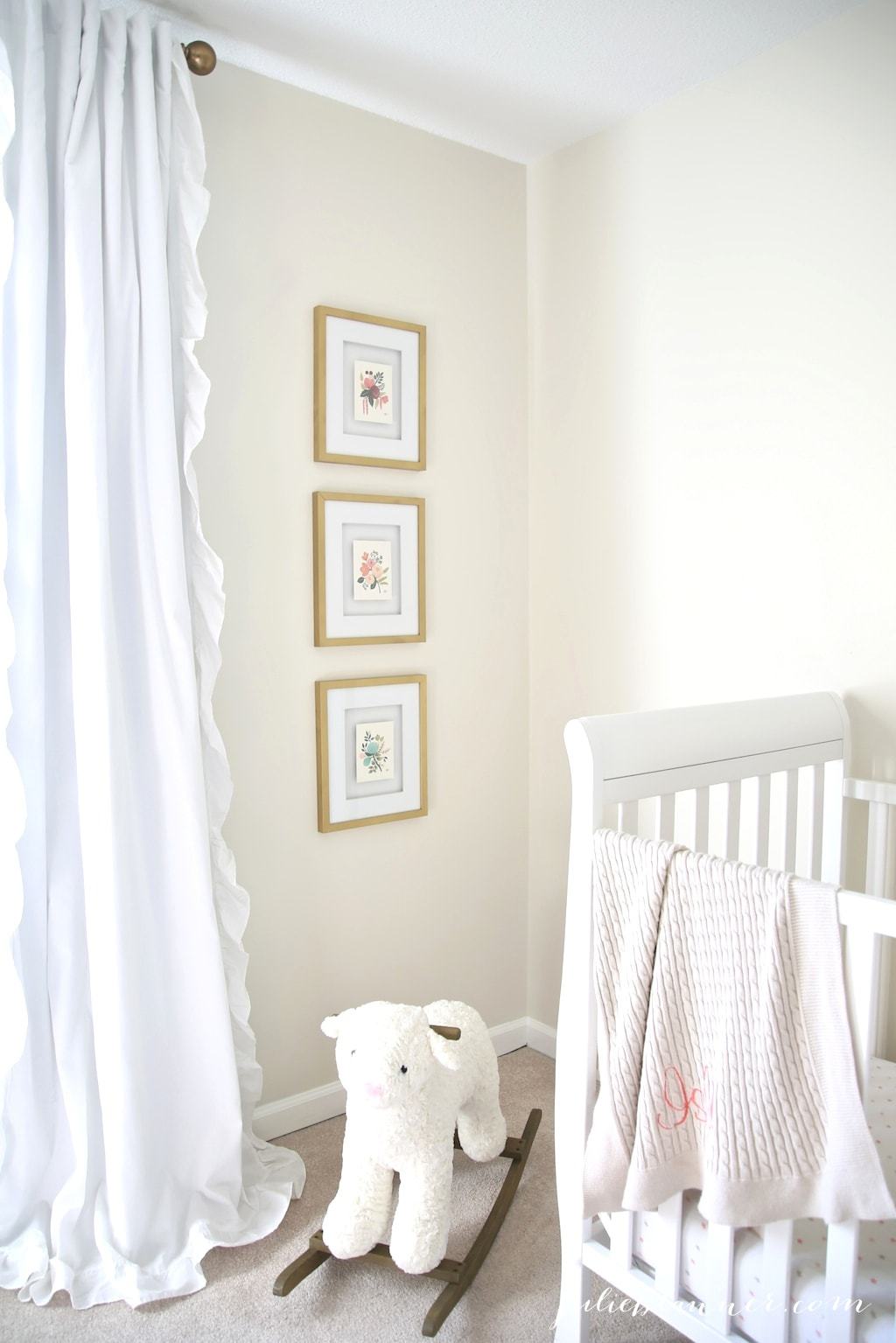 For example, the image above and below is the same paint color used on bedroom walls. One is photographed in morning sun, and the other in afternoon sun.
Isn't it amazing to see the difference? The good news is that I love both! That's why it's so important to test your sample colors on opposite walls.
Is Cream A Neutral Color?
The answer is yes. In my humble opinion, it's the best neutral paint color because it's warm and cozy. While a clear white can often feel a little cold, warm creams are a perfect compromise between whites and deeper gray/brown neutrals.
My reasoning for choosing these warm cream colors for the walls of our home? I want a space that reflects the love of our family and friends.
Choosing a soft, neutral tone for a backdrop allows the people and love inside the home to really stand out. It gives us a soothing, calm interior that can help create a sanctuary in the craziness of our lives!
Moreover, I just love that I can change my decor accents throughout the seasons. I never have to worry that a new pillow, artwork or rug will clash with my walls! In short, it's the best way to simplify your decorating process.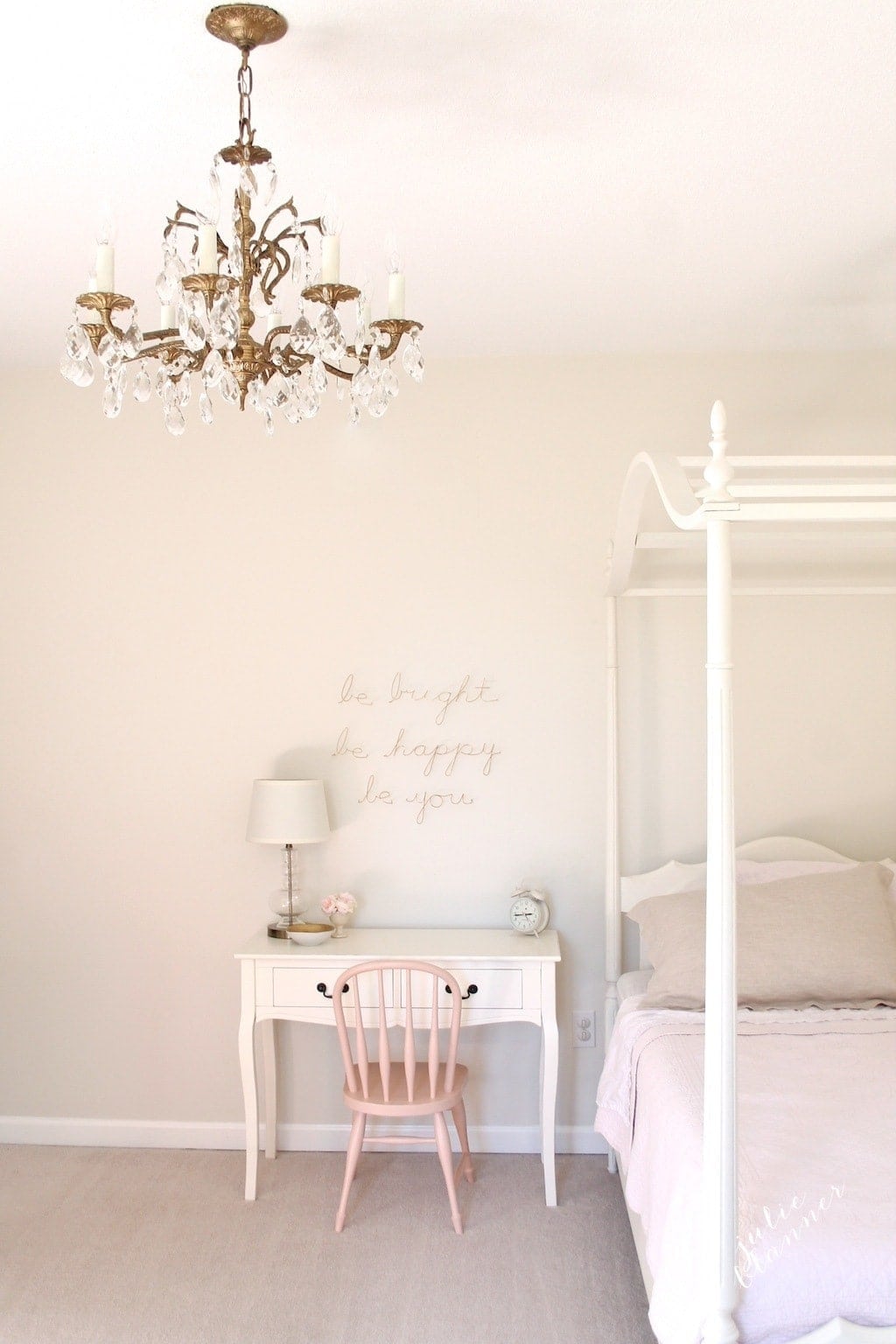 What's The Best Warm Cream Paint Color?
Do I have a favorite out of all of these options? One that is guaranteed to work in any space, in any lighting situation? Don't I wish it was that easy!
With the difficulty of my past decision-making process in mind, make sure you read all the cream color posts. This is truly helpful if you're looking for guidance to choose the best warm cream paint.
While I have narrowed it down to some wonderful options, every home is different. The windows, trim and floor colors, and layout of your home can impact your wall colors.
Here is another example of the same cream paint color (Soft Chamois) in the master bedroom: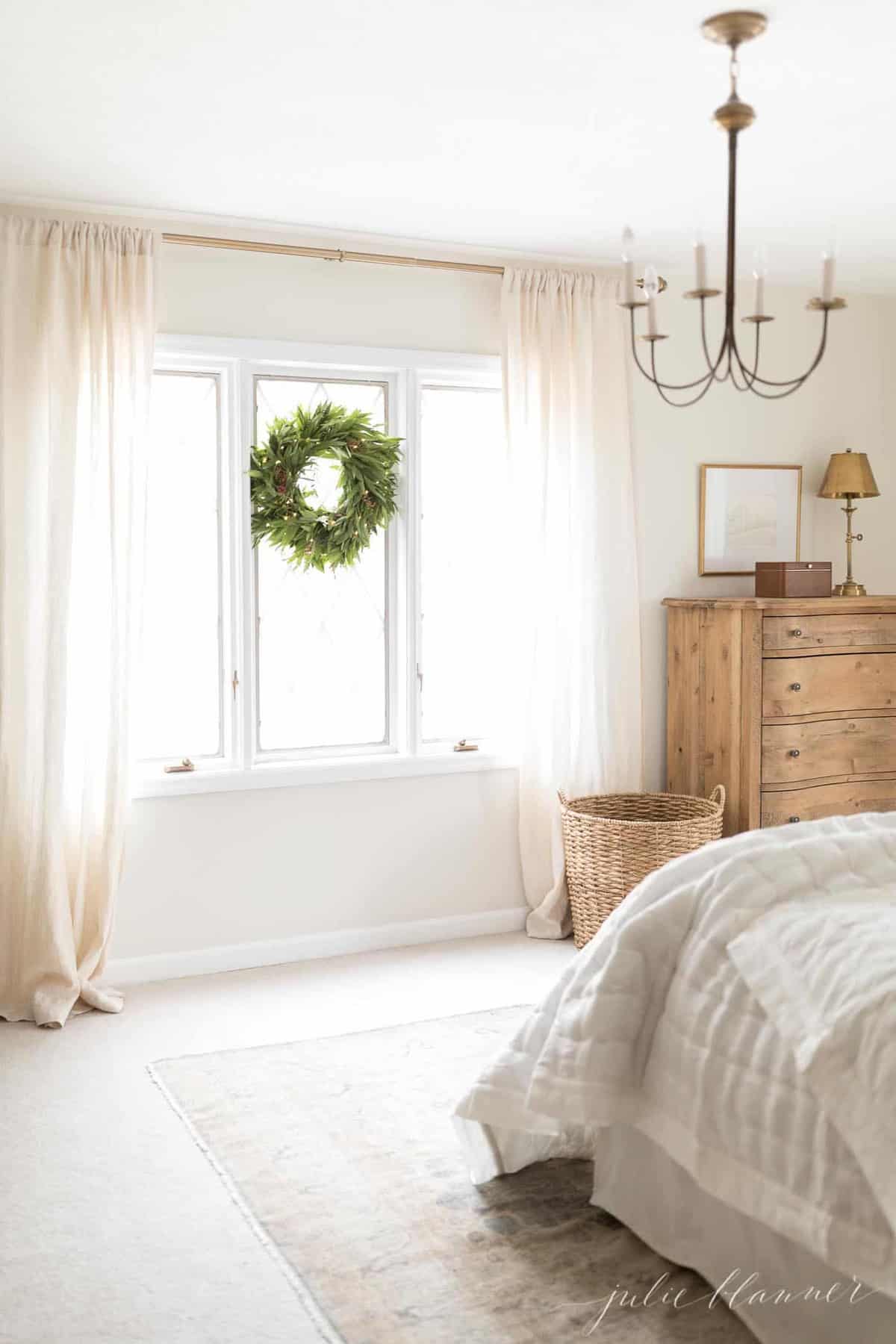 Benjamin Moore Soft Chamois
All of the above bedrooms are painted Benjamin Moore Soft Chamois (using Valspar's Signature paint found at Lowe's), in eggshell. This is one of the most versatile paint colors I've used to date. It's a great fit for a lot of spaces and it's so soft.
This color is a foolproof choice. It's not too yellow even though it has that tone in the background, and in fact it never reads yellow even at night. You can read more in detail about this lovely paint color in the link above.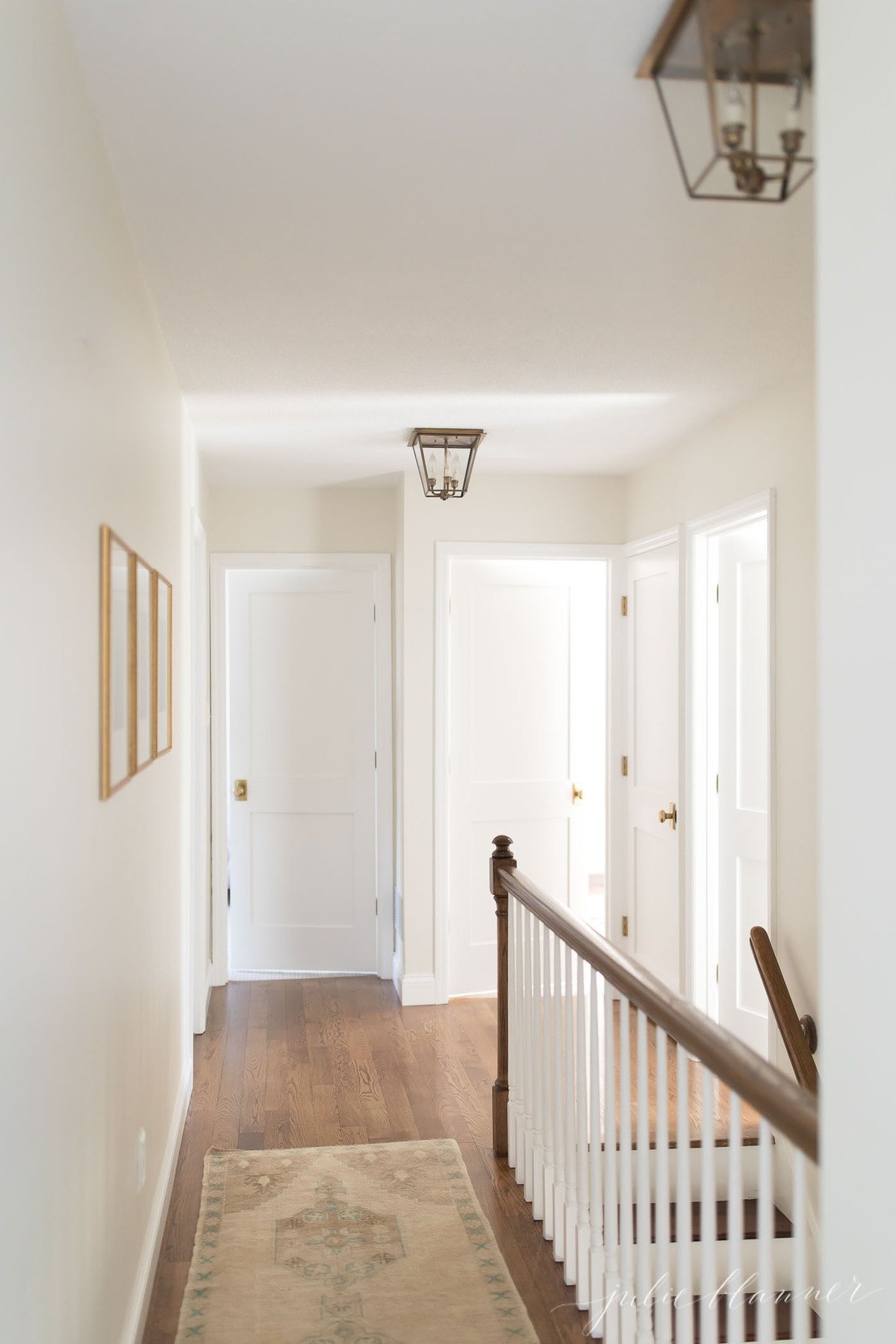 Sherwin Williams Zurich White
We painted the living room Sherwin Williams Zurich White (in Valspar Signature at Lowe's) eggshell sheen. You can see how the same cream paint color reads in full daylight.
Zurich White has just a touch of greige without being too much. It's a wonderful option for those who love grey, but would like something a touch warmer or a slightly greige tone or if you're transitioning from a grey room.
In the same vein as the other options I'm showcasing here, this color works in almost any lighting situation. To summarize my thoughts on this color, read about it in greater detail at the link above.
You can see how dusty this cream becomes as the sun fades in the image below.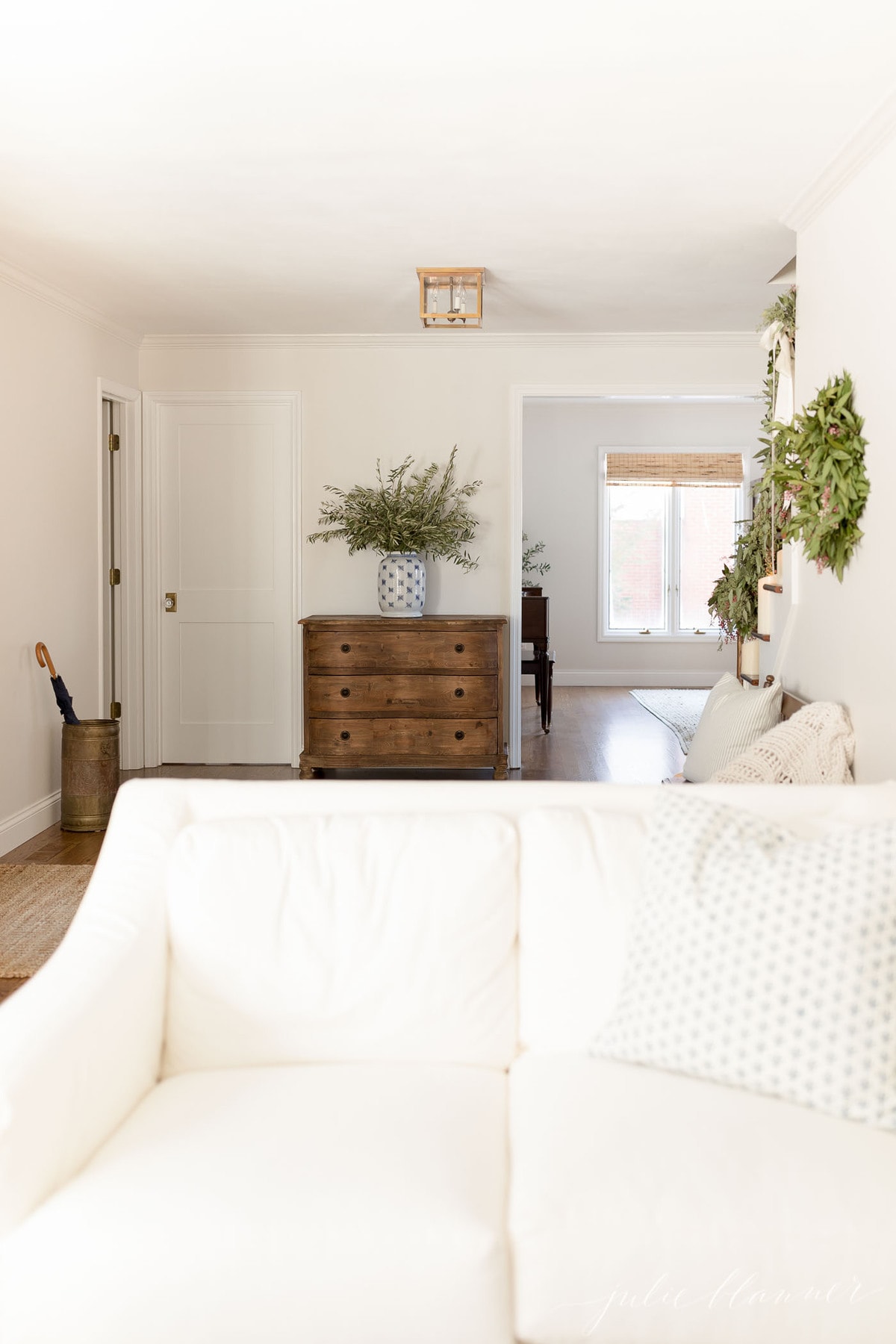 Another go-to cream paint color I love is Sherwin Williams 7012 Creamy which I also contemplated using in our mudroom and kitchen. This photograph of Adalyn's dresser is a good representation of the color. The wall behind is also Zurich White – the color of the 3 images above.
It's a soft, warm white that is classic, but not stark. This wall color is a warm white. Not dirty, not yellow, not blue. A great in-between for any lighting situation! This is a warm cream that also works beautifully for trim, cabinets and furniture.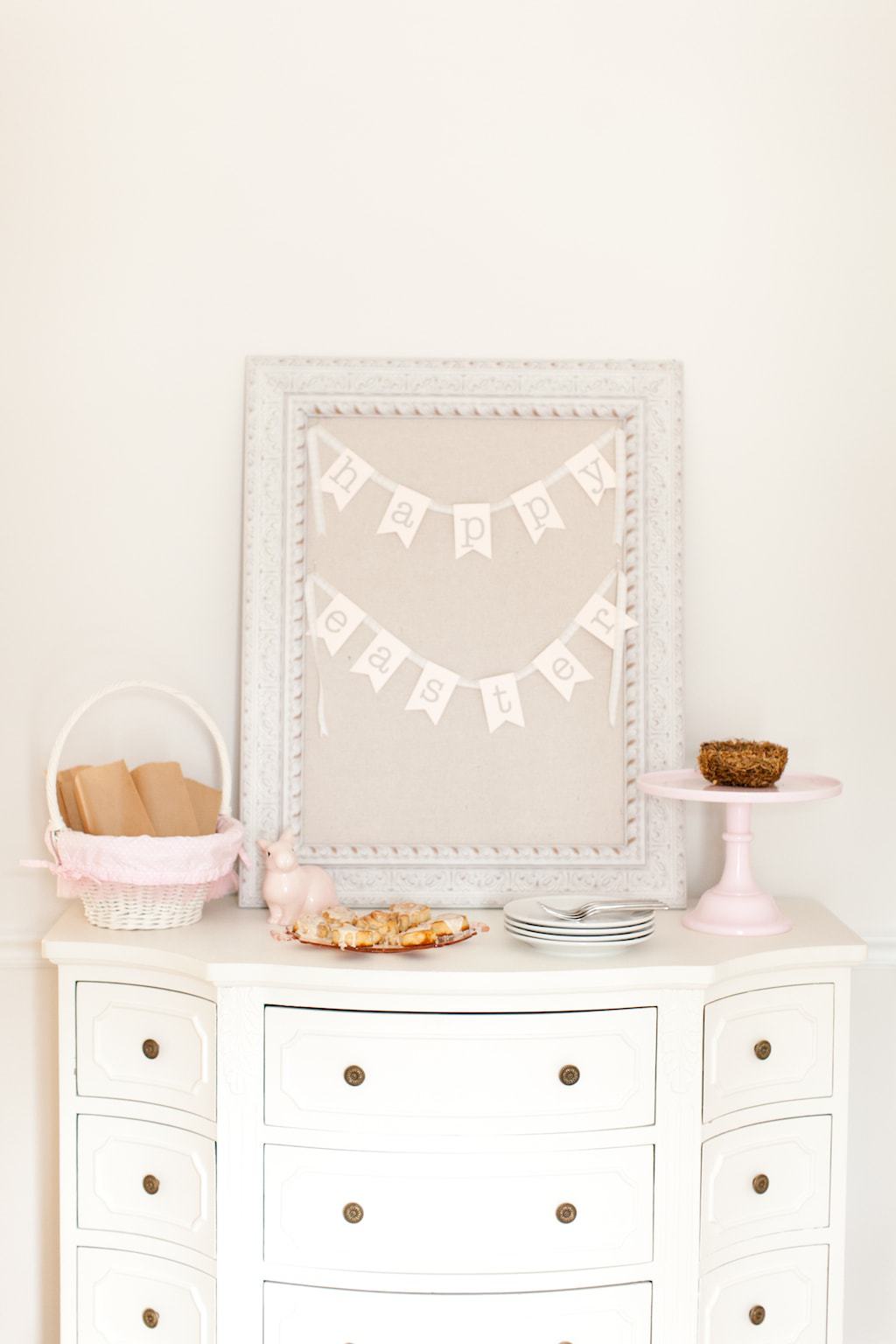 And for trim? I like to pair these colors with Valspar Paint + Primer Ultra White Base 221395.
You can read more about trim paint here and furniture paint here. Did you know you can even paint tile?
Benjamin Moore White Dove a flexible white color with more of a greige undertone. Because so many creamy whites have more of a yellow undertone, this one tends to work well with grays and creamier wall colors, and it transitions beautifully in a variety of lighting situations.
We used White Dove on the trim of our girls' Spa Bath, and when combined with my favorite Soft Chamois, it's the perfect trim color! When paired with more of a deep cream, it almost reads as a white.
This color would also be perfect for a cabinet color in kitchens, laundry rooms and bathrooms.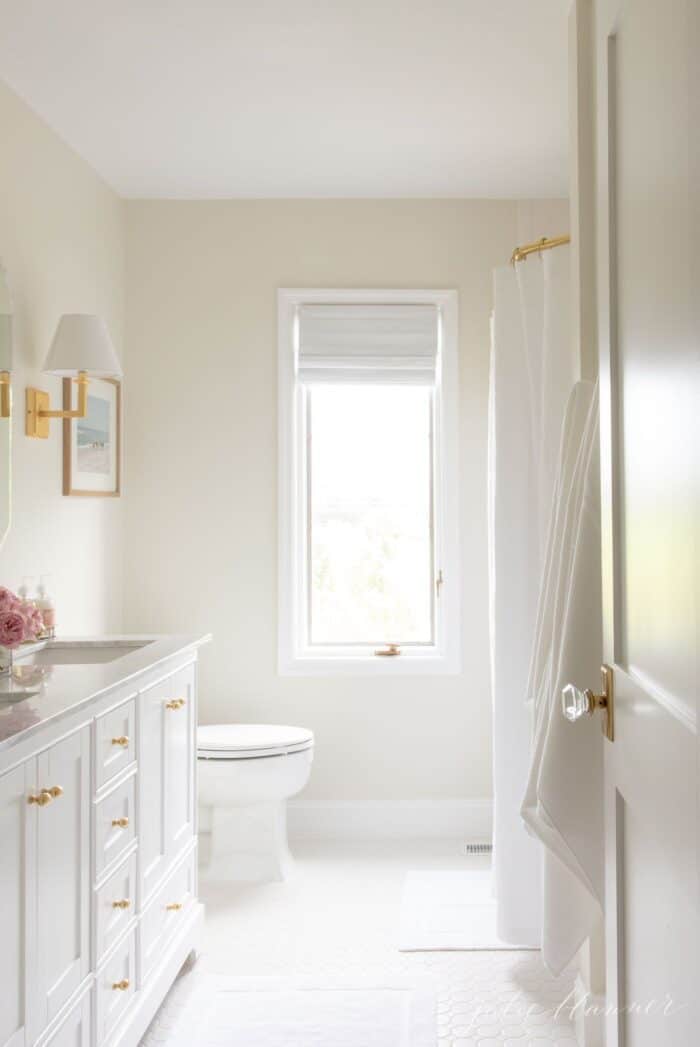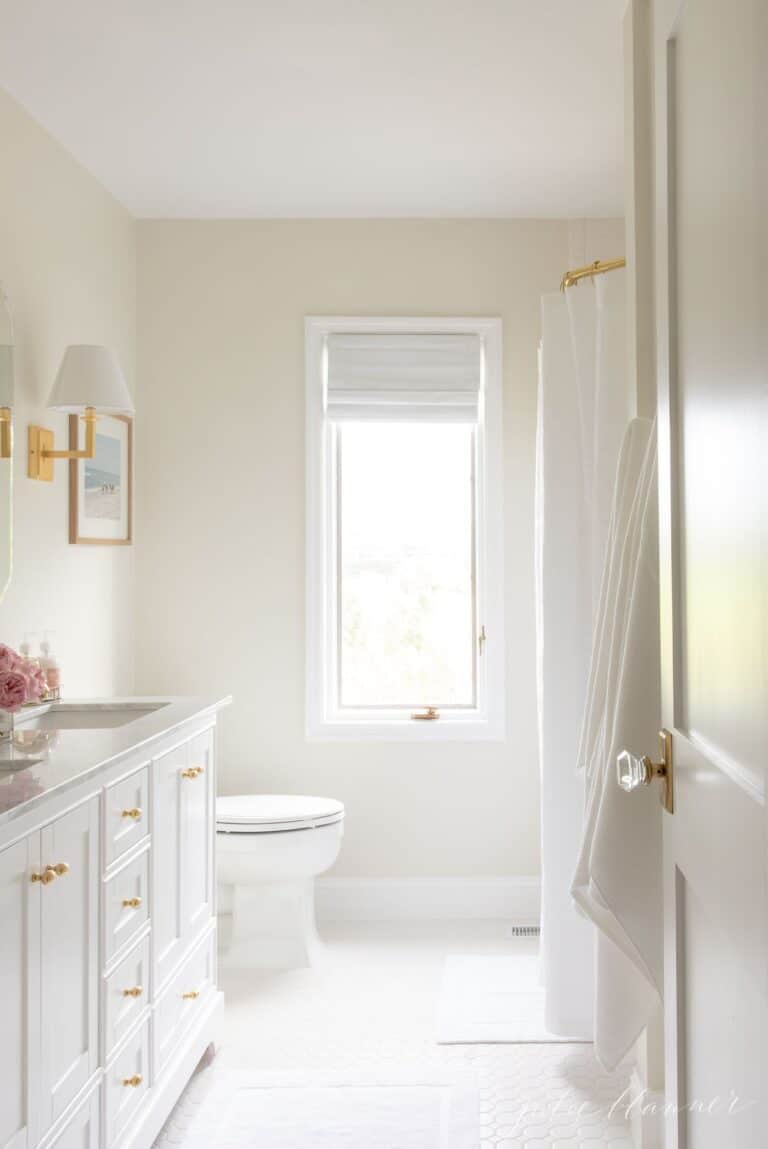 We painted the screened porch in Sherwin Williams Everyday White in Valspar Signature – it's so soft, yet warm and inviting.
This color was used in our screened porch and also on the exterior of our home. Everyday White has a hint of beige and yet reads in the perfect creamy white tone.
It's wonderful for any exterior projects or any rooms in your home that might receive a little lower light. For instance, this photograph of our screened porch shows you just how warm and soft it is.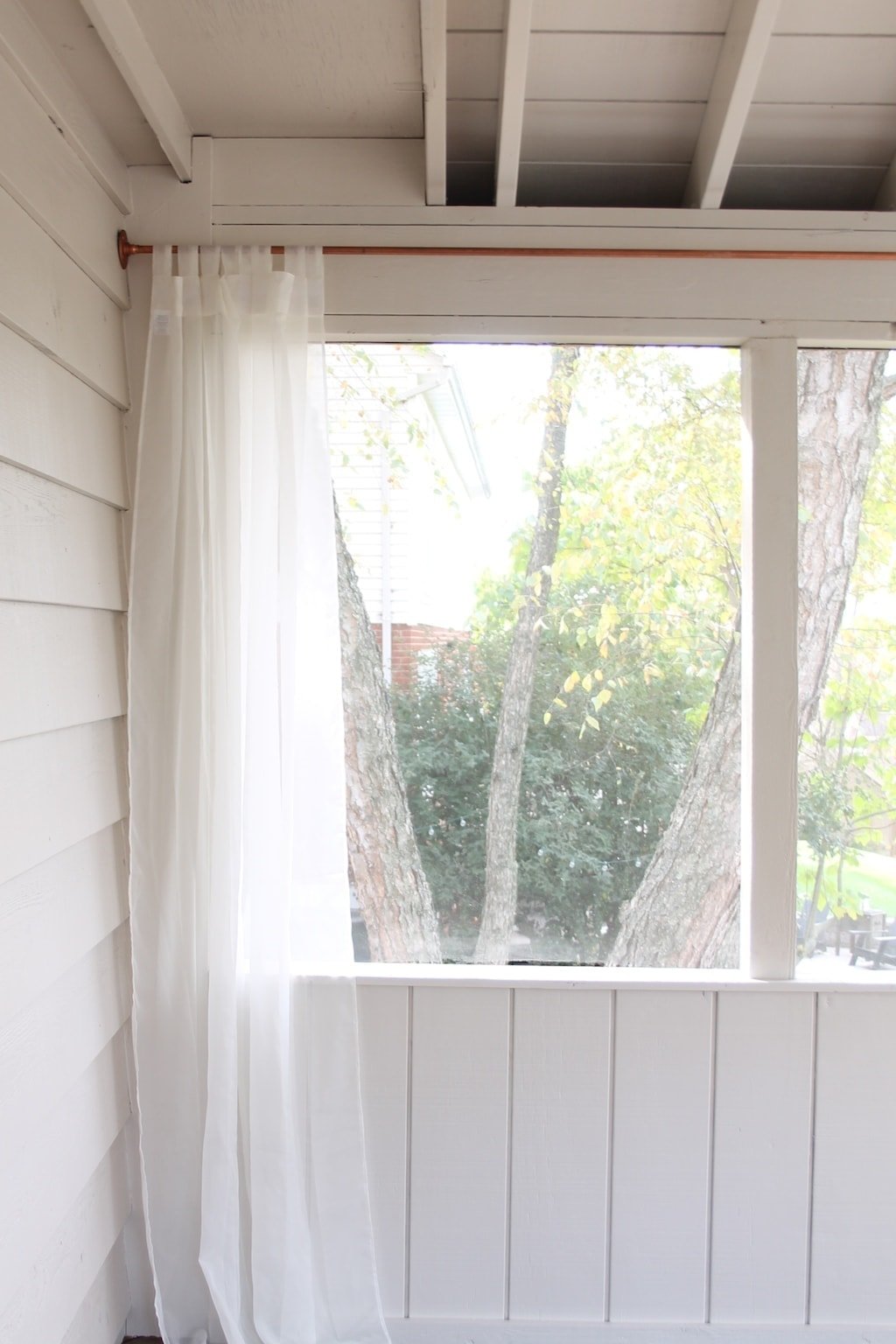 For an option that is a little less creamy and "off-white" try White Dove. It's the perfect creamy white for trim, and as seen below, it's a beautiful compliment to one of my favorite wall colors, Soft Chamois.
This is a warm white that reads as a true white when placed next to a deeper cream, as you can see below, even though it has the slightest gray undertone.
However, if you put this color next to a clear, cooler white, it would be a very obvious cream. Paint is so complicated, isn't it?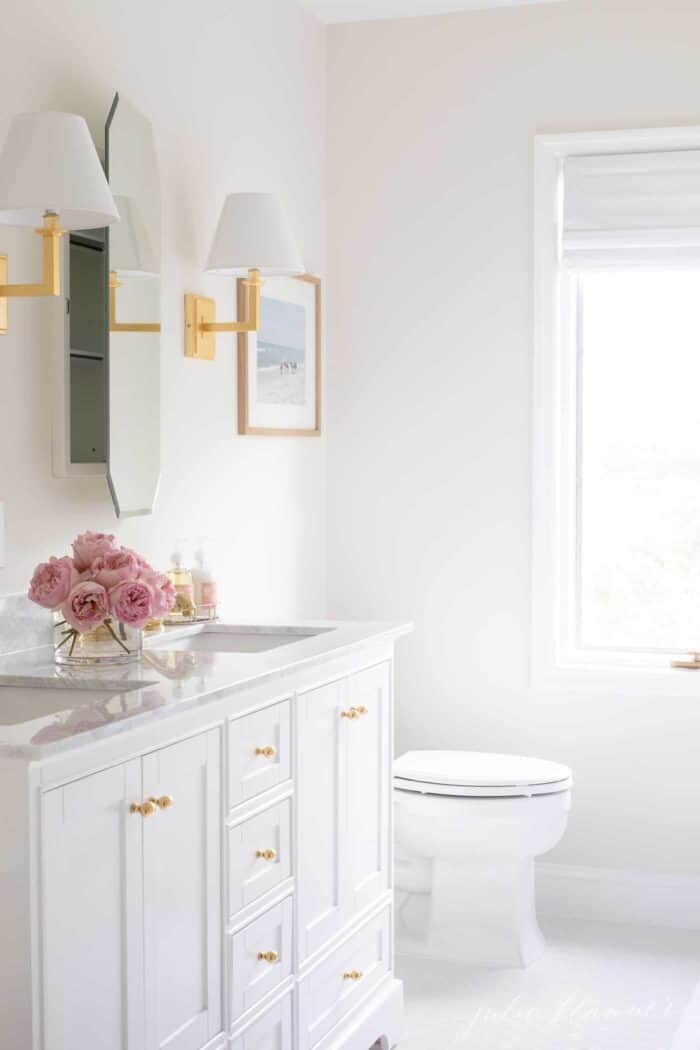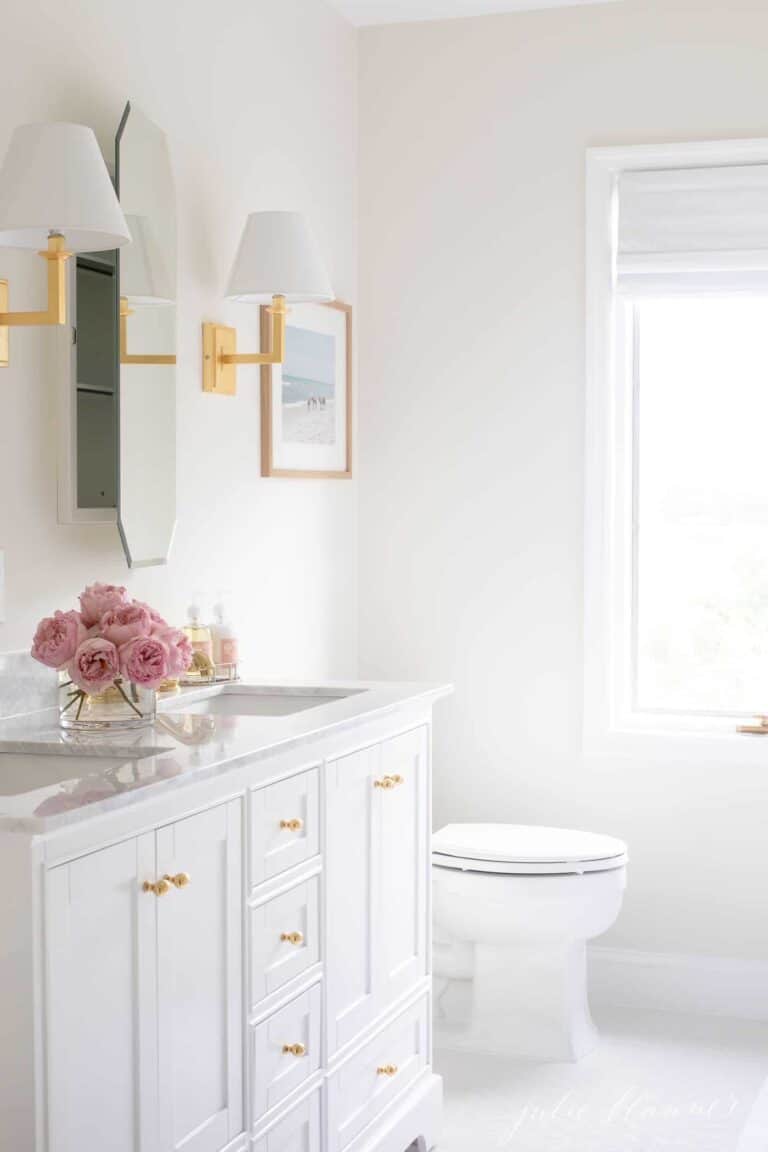 What Color Looks Good With Cream?
That's the beauty of these tones. Anything looks good with these colors! They are the ultimate neutral tones that can work well with any accent colors.
Personally, I like to keep my interiors soothing and neutral. With that in mind, I like to stick with warm wood tones and accents of blue and pink throughout most of our spaces.
Reader Questions About Cream Paint
Tabitha says "Hi! I really liked your article on cream colors, and want to paint the walls cream throughout my house. However, the trim and floors are honey oak. Which color paint would you recommend for the walls? Thanks!" Tabitha, I bet you'll love Soft Chamois.
From Beth "Hi Julie! Your decorating is elegant yet simple, artistic yet classic…all at once. I am so inspired from your posts and hope and pray I can make my home as cozy and as inviting one day. Is there a reason why you choose Sherwin Williams colors and use them with Valspar paint? Just curious! I saw your post from today about the beautiful breakfast room and then clicked over to this post to study paint color!" Because it's less expensive and at the time, we were doing a ton of renovations and hadn't closed on our other home, so every penny counted. I often still do, pending the project!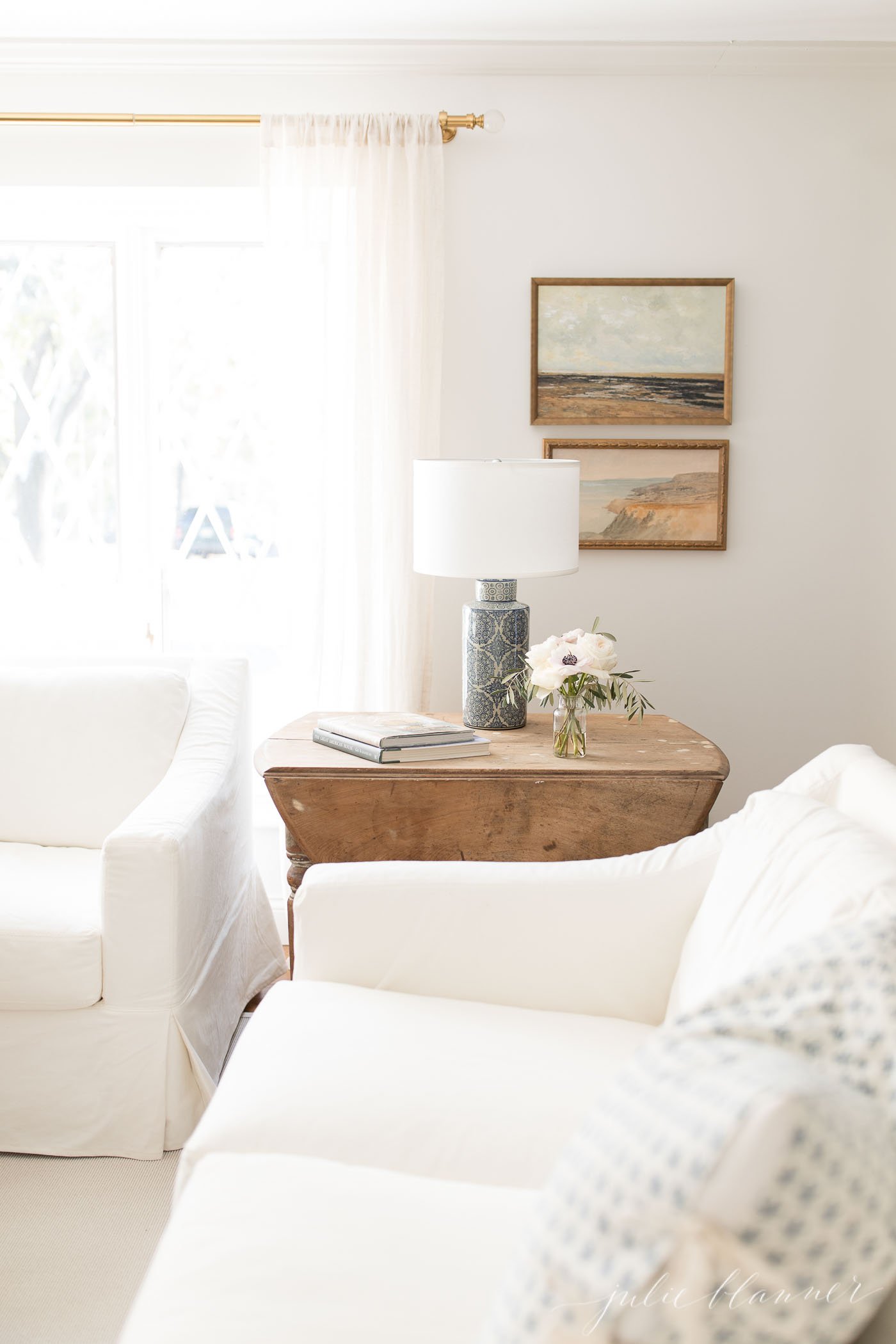 How To Choose Cream Paint Color
A few tips to see if it's the right paint color for you:
Get a sample.
Try it on two walls in the room or exterior that face different directions.
Look at it various times during the day to see how it reads in various lighting situations.
Test it with your trim color.
Painting indoors? You can learn all about choosing ceiling paint and trim paint here, including Painting Trim White! You will also find detailed information about using this color in tile paint, How to Paint Linoleum, paint sheens, Eggshell Paint, Painting Walls and Trim the Same Color and furniture paint.
You can read more here about my favorite interior paint colors and Tudor Paint Colors, exterior paint colors and take a tour of our home here. I hope it helps seeing our cream paint colors in various rooms and lighting situations.
You can also find my complimentary paint color chart here to keep them all organized!
Need ideas for things to hang on those freshly painted walls? Don't miss 17 Easy Wall Decor Ideas!

More Creamy Paint Colors