Adding a Dutch door to your home's entry will bring instant personality, historic charm, and can even help create better airflow. What's not to love?
You'll find all the details right here! We're covering the history of these doors, which modern upgrades to look for, and the pros and cons of adding this timeless door style to your home.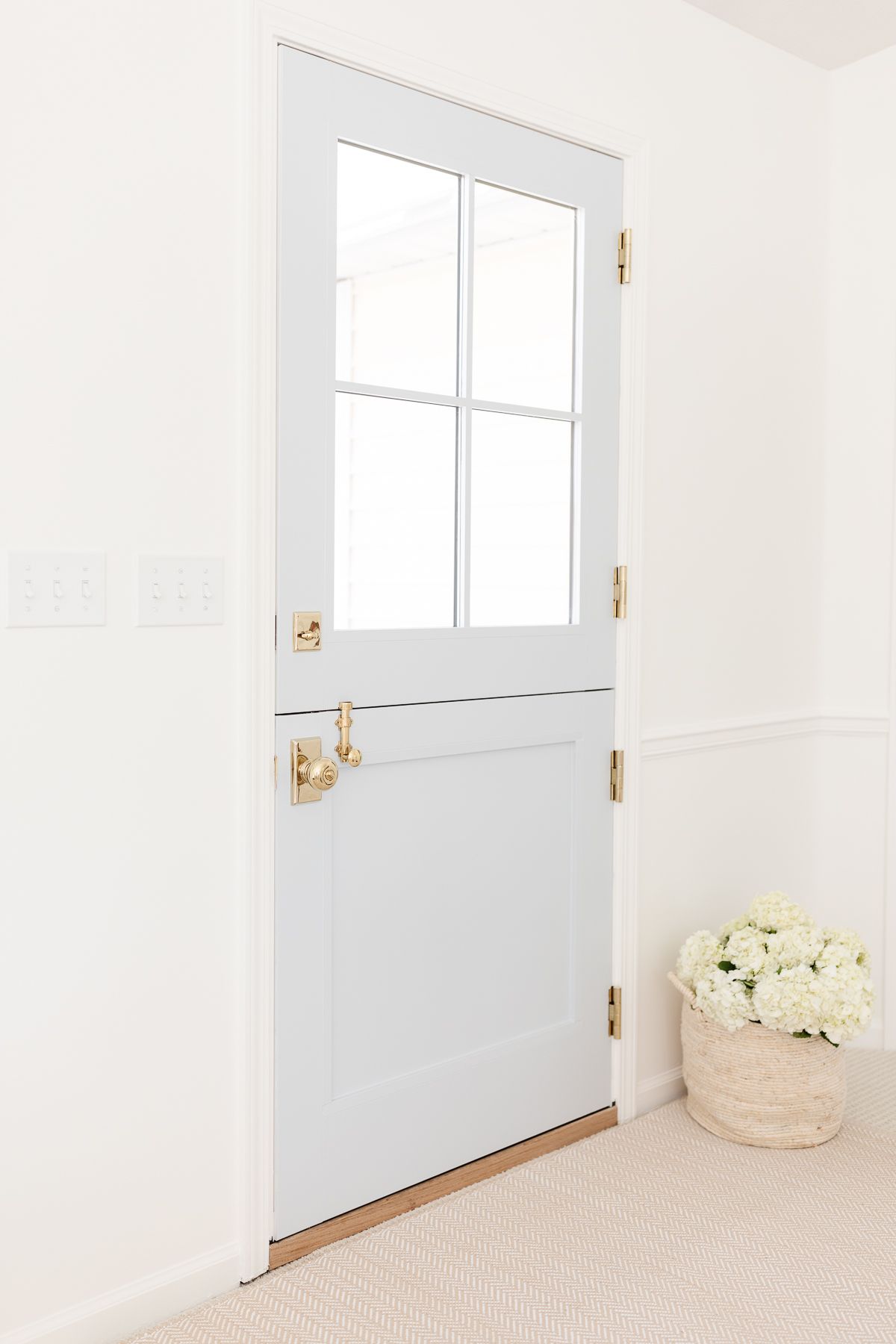 The front door is your home's first chance to make a lasting impression. It should make a statement! One of the easiest ways to add curb appeal to your home is a Dutch door! It adds so much charm and feels inviting.
This charming type of door is the best of both worlds. Opening the top allows fresh air to pass through without bustling leaves and debris entering your home. It feels warm and welcoming.
I love sharing about the small details that make a house feel like a home. Don't skip these posts: Brass Door Knobs, Exterior Copper Lanterns, and Exterior Door Handles.
Curious about the lake cottage behind this cute dutch door? Stop by for the full before and after tour and get all my favorite lake house decor ideas!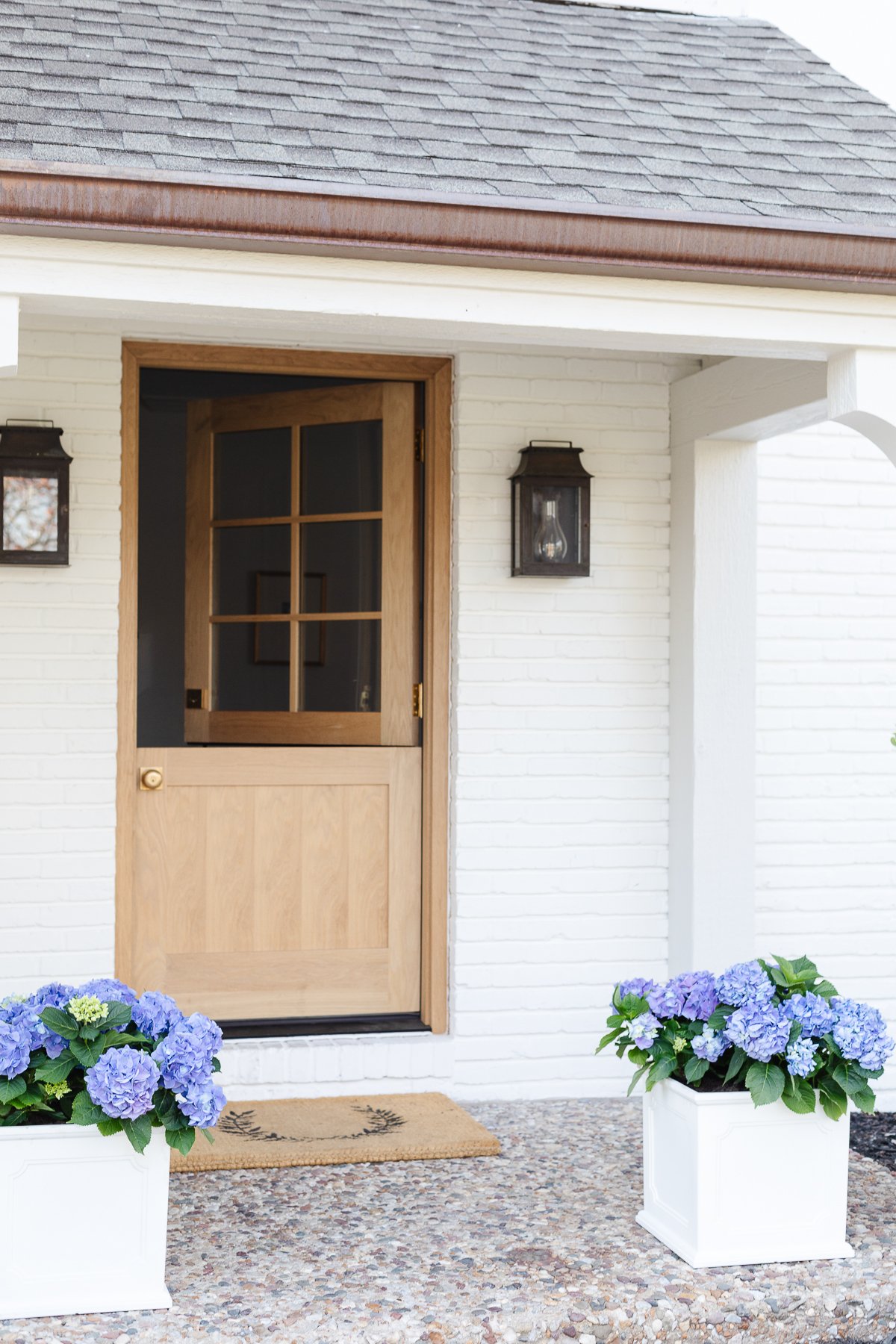 What is a Dutch Door?
A Dutch door, (also known as half or split doors) is simply a door that is split in half. It has a split personality – it's open and inviting on the top while protective and private on the bottom. When connecting hardware is locked, the two pieces function as a single, solid door.
These doors were designed in the Netherlands in the 17th century to keep animals out and children in. Dutch settlers brought this charming style to the United States in rural homes of New York and New Jersey.
While this door is deeply rooted in history, it adds a lot of function to modern homes.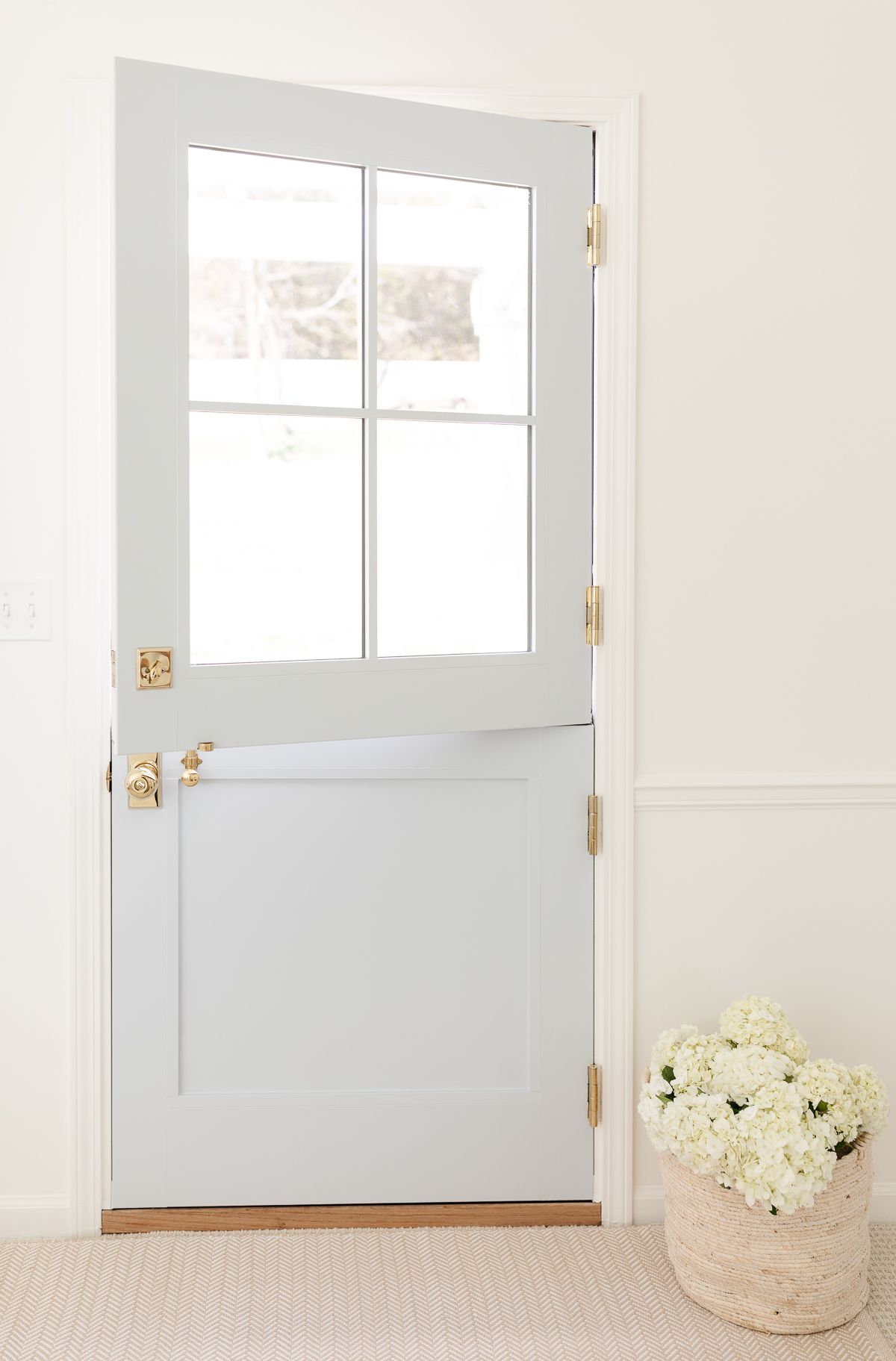 Dutch Doors
In fact, we love the look (and function) so much that we have one on both our lake house and our more traditional St. Louis home. These doors are beautiful on almost every style of house!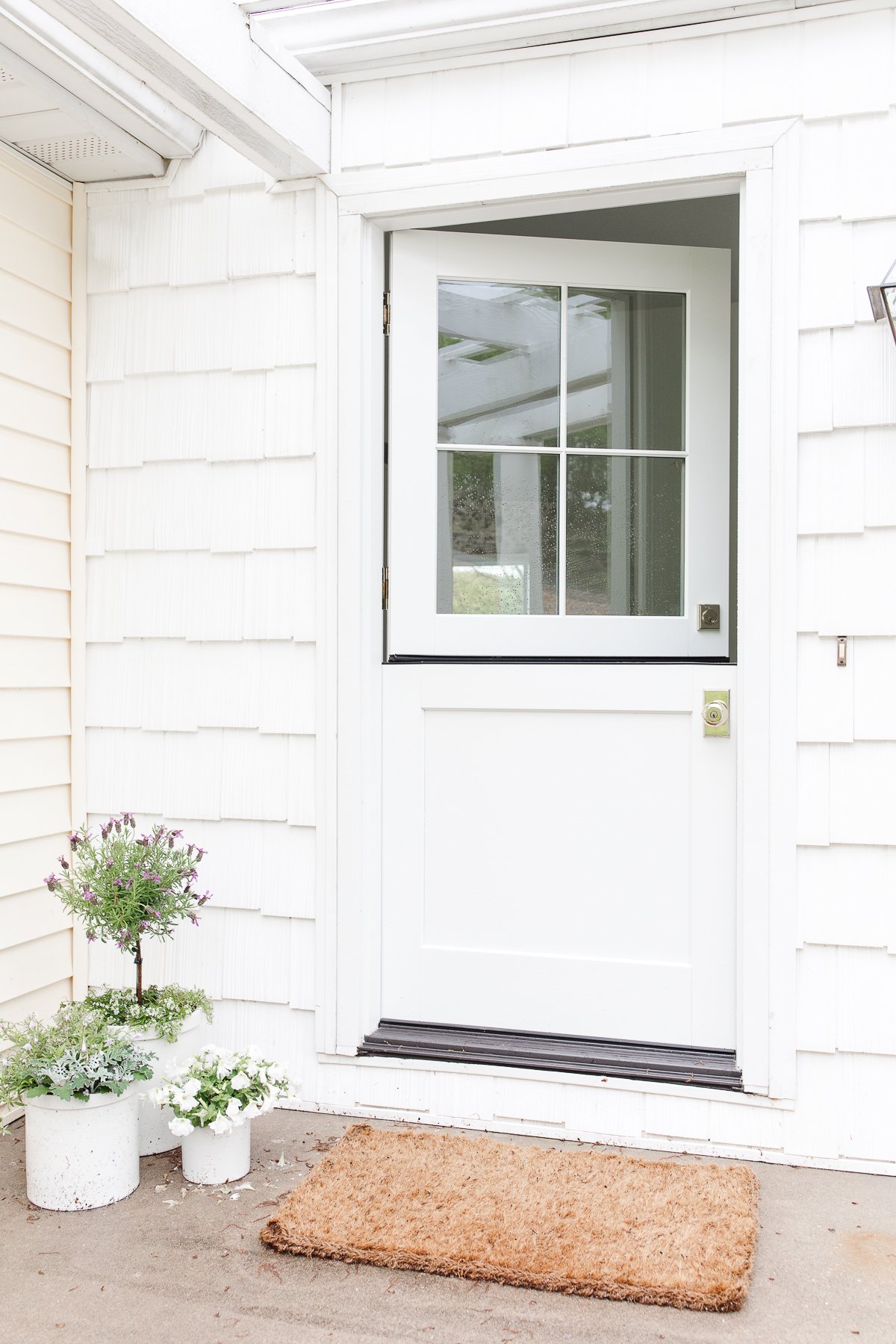 Dutch Door Pros and Cons
Like any feature in your home, it's important to consider the good, the bad and the ugly before making an investment. Dutch doors are often custom made-to-order, and range widely in price and quality of materials.
Pros
Adds charm
Creates a welcoming entry
Adds a historic element to any age of home
Adds value to your home
Brings more light into your home
Keeps pets inside and unwanted creatures out
Cons
Bugs can be a concern. We tend to open it during the day time where bugs are minimal. If bugs are an issue in your area, you can certainly pair it with a screen door.
Solid wood installations are best for interior use or covered exterior installations because wood expands and contracts with weather.
Because they have more hardware, they are more susceptible to maintenance issues.
There can be issues with insulation and warping because the weight of the door can cause balance issues, because the door openings can create gaps around the frame.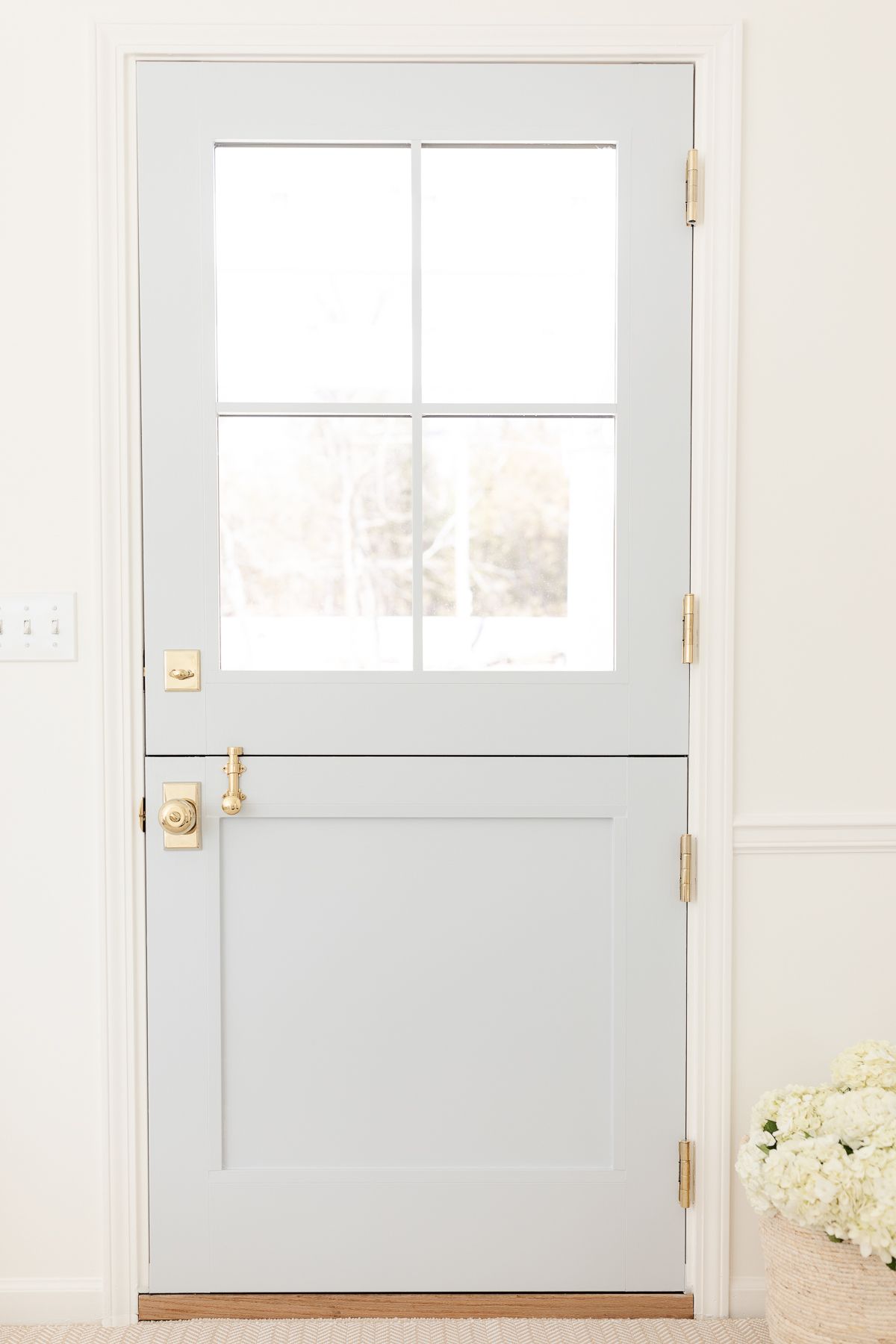 What Dutch door hardware do you need? Click through the link above a for a complete guide, but we wanted to give you an overview here as well.
This type of door requires standard hardware – hinges, door knob and deadbolt, along with latch or bolt to secure the two pieces together.
Finish your new door with thoughtful hardware like a brass door knob and bolt.
Hinges
A Dutch door requires a minimum of four hinges, two for each half, while a standard door uses just three. Standard door hinges are suitable provided they are rated for the weight.
Colonial style hardware like strap hinges can be used for Dutch door hardware as well.
Knob and Lock
The door knob and lock are installed on the lower half to secure the door. You can opt to add a deadbolt on the top half for added security, so both top and bottom portions are completely secure.
Latch or Bolt
A latch or bolt secures the top and bottom leaves of the door together so that they function as a tradition door when closed or locked.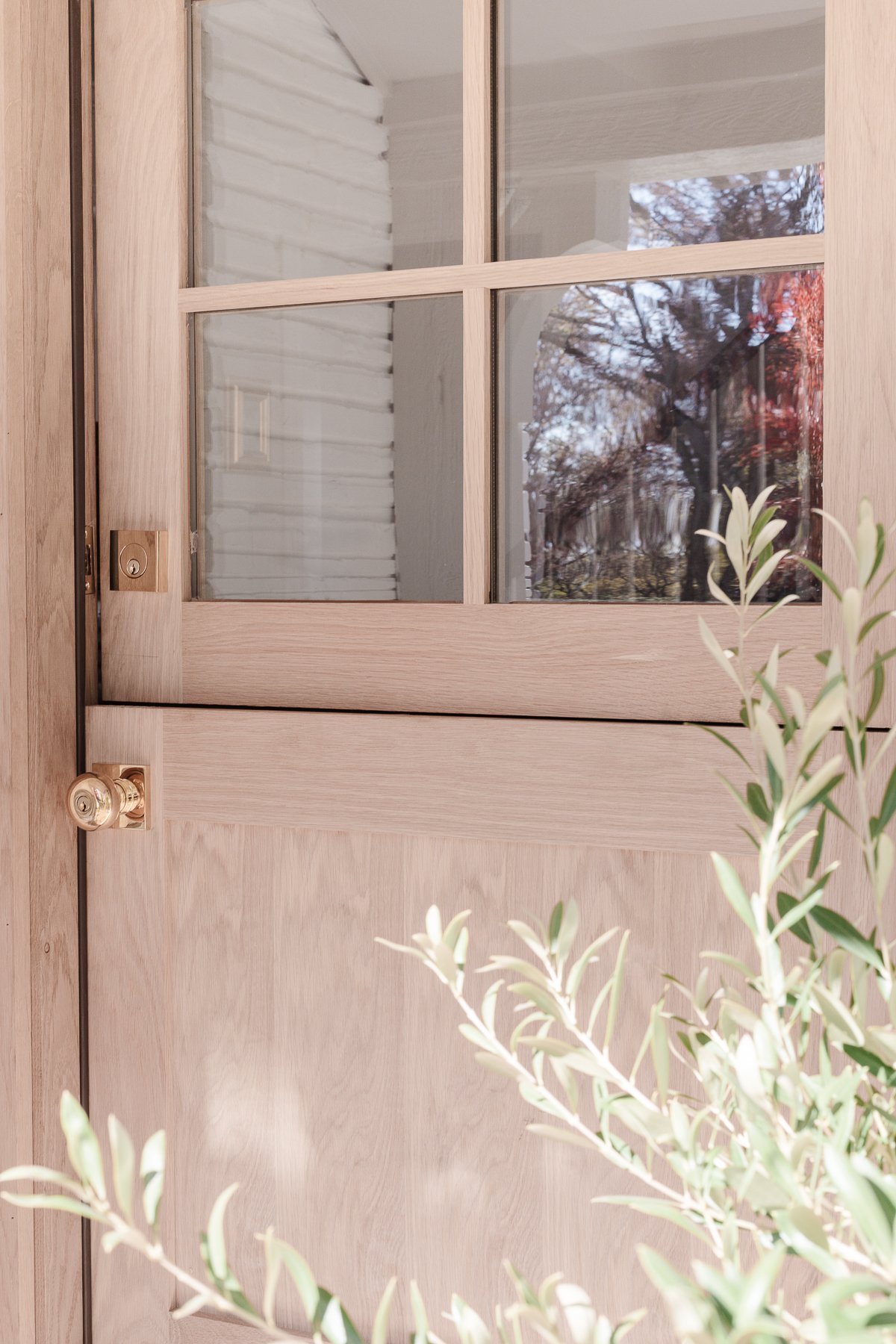 Frequently Asked Questions
Why are Dutch doors so expensive?
In general, Dutch doors are more expensive than standard doors because of the hardware requirements. Items like hinges, knobs and locks, and upgraded weather seals are often necessary because there are simply more moving parts.
Are Dutch doors secure?
Yes, absolutely! Our Dutch door has a deadbolt on the top portion of the door, and a traditional locking knob on the bottom portion. There's often a surface bolt on the interior of the top door as well.
Are Dutch doors energy efficient?
Because the top and bottom halves of Dutch doors can open independently, exterior versions are great for increasing airflow. In our case, this has resulted in a more energy efficient home, and we can often delay turning on our air conditioning in the warmer months.
Can you turn a regular door into a Dutch door?
Yes! If you're handy and up for a great project, you can turn your existing door into a Dutch door. It's an affordable project and one that is within reach for many homeowners!
Of course, the type of door you're using and the shape and style of the door will matter. For more details on turning your front door into a Dutch style, check out this comprehensive tutorial, and this one is excellent for an interior Dutch door.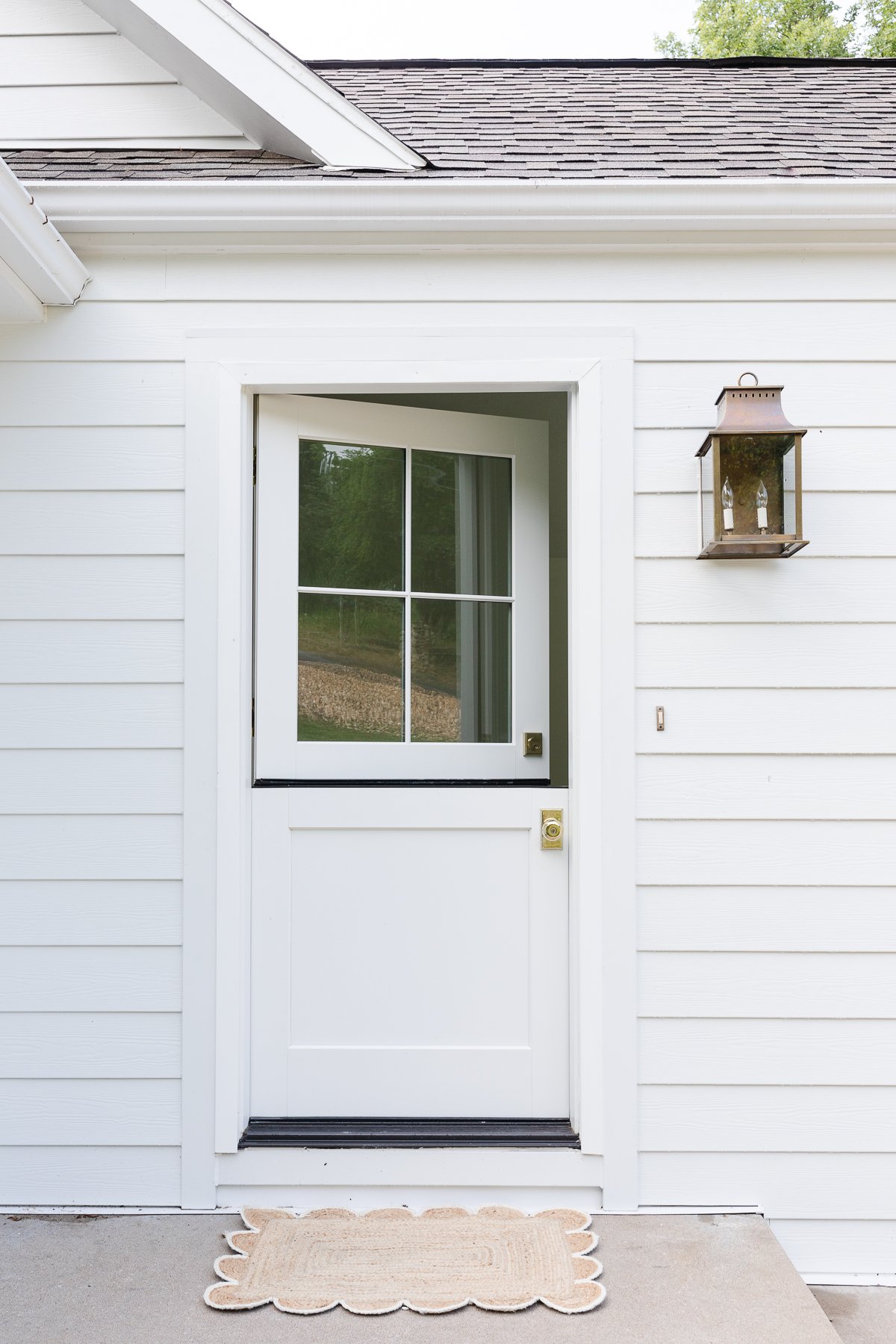 ---
Where to Buy Dutch Doors
---
We chose polished brass for the hardware on our door shown throughout this post!
Unfortunately, while we wanted to love our custom made door for the lake, we can't recommend the manufacturer due to a few issues.
However, here are a few places to begin your search!
Find a selection of exterior Dutch doors here.
Check with your local door businesses and support local!
Find an artisan woodworker to custom make a Dutch door here.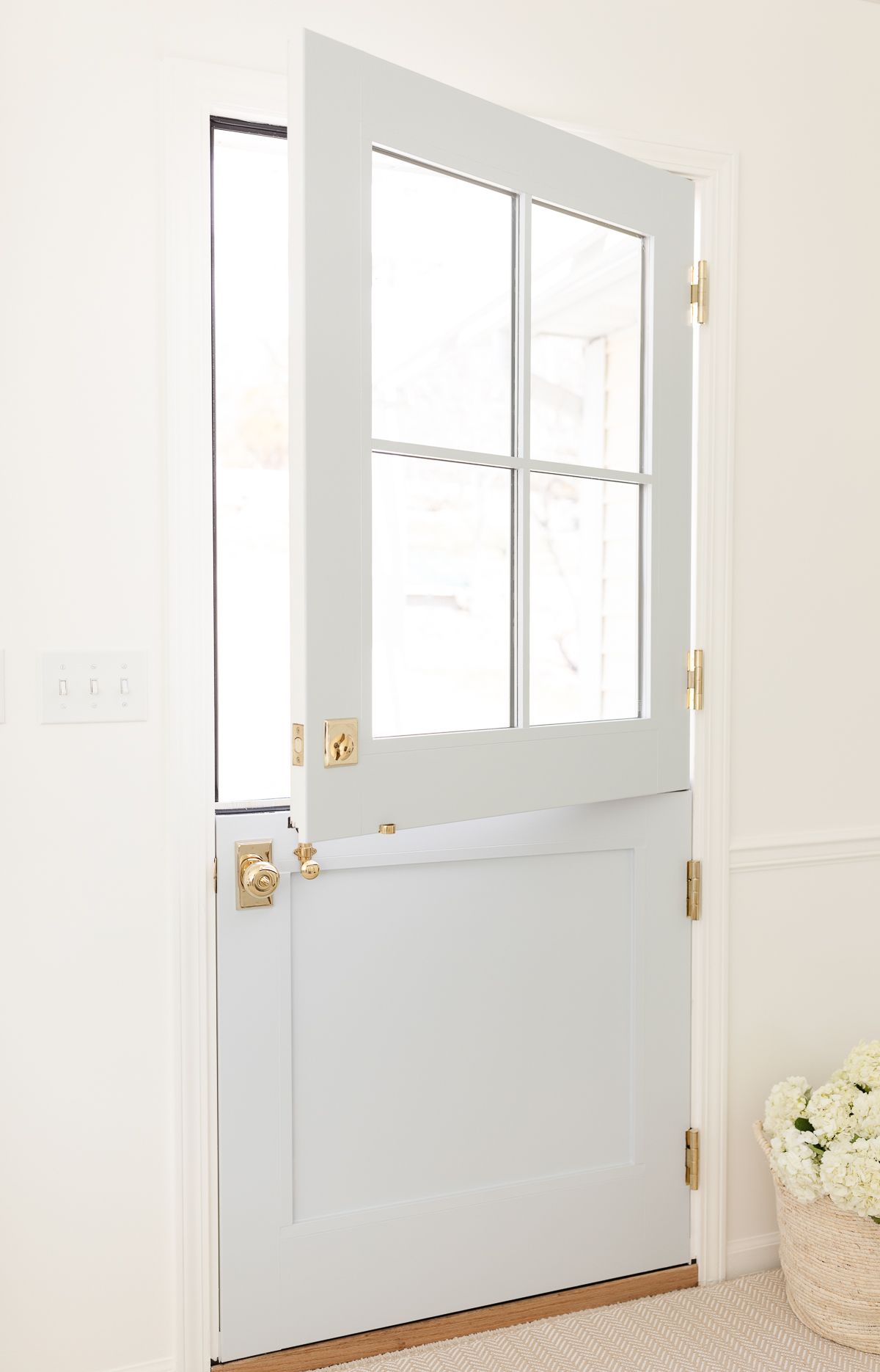 Would you consider a dutch door to create a welcoming entry? I'd love to hear from you!