How to Hang Platters and Plates
Learn how to use plate hangers to create a beautiful and functional art display for your home. This simple technique for hanging platters and plates with plate wall hangers translates to a charming display for your walls!
Learn how an inexpensive wall plate holder can transform your walls in an inexpensive design where form meets function!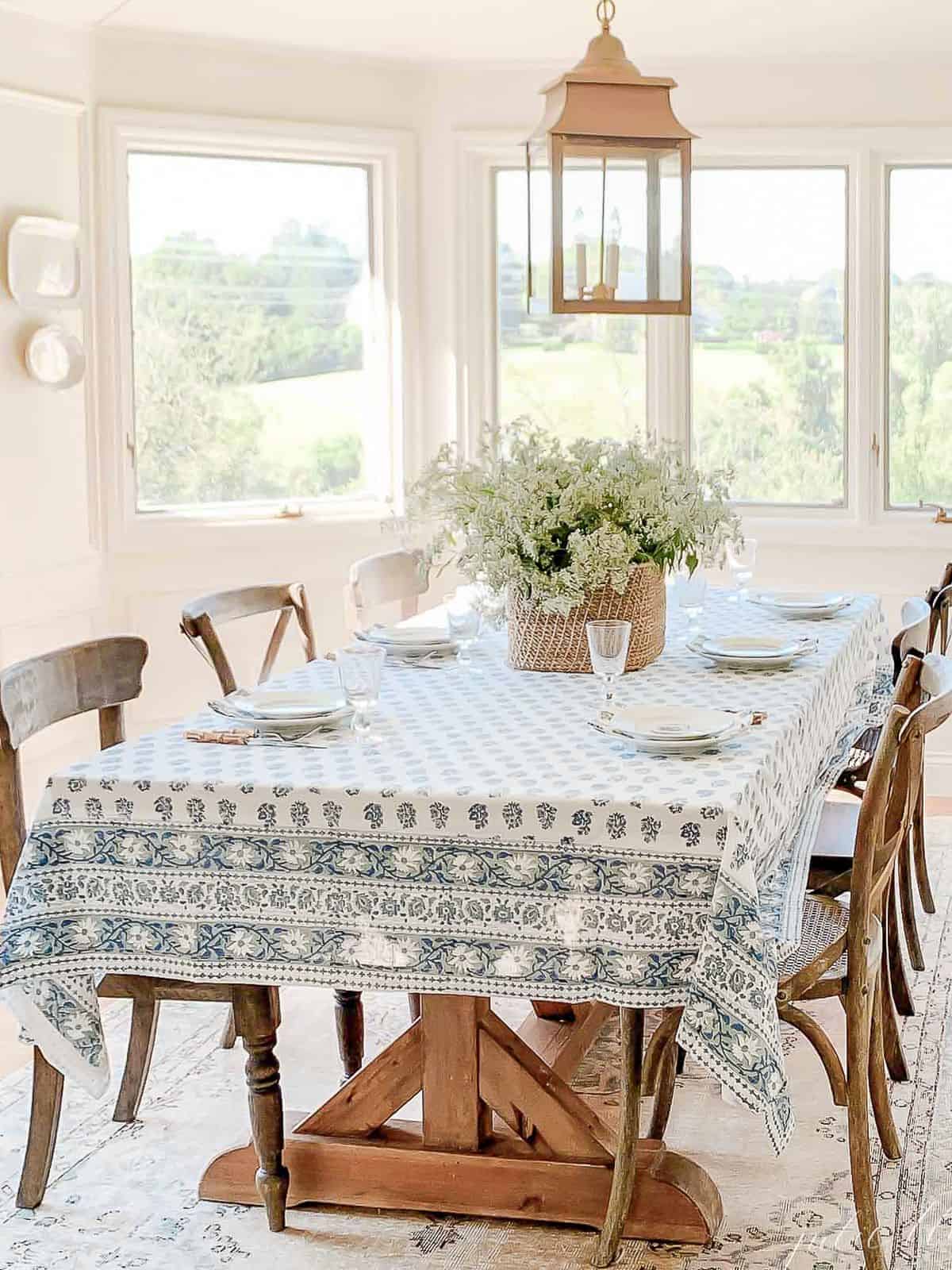 This post was originally published June 16, 2014 and updated with fresh content March 31, 2021.
Creating a cozy, welcoming home does not have to be stressful or cost a fortune. You certainly don't have to buy out your home decor store to be "finished" in a day! Rather, creating a home takes place over time, as you cultivate your style.
Throughout my home, I've hung clocks, wreaths, DIY artwork like pressed botanicals and vintage prints on linen, and purchased art and decor from various stores.
One of my favorite wall treatments is the decorative platter display hanging in our breakfast room. I wanted it to add a little interest to the room, so I used vintage platters to give it a collected-over-time feel.
I've used this trick several times over the years, as you can see here in the dining room of our colonial home. This room is painted in Accessible Beige, if you love the color as much as other readers!
I am in love with the results! The plates and platters give visual interest and depth to the space. Plus I love that it puts them within easy reach if I need an extra serving piece.
Yes, if you hand wash them carefully, you can still use them to serve appetizers or your next dessert bar!
Where to Hang Decorative Plates
Beautiful plates and serving dishes don't have to stay in the dining room. Plate hangers make it so easy to hang a beautiful display of dishes wherever you want in your home.
A few years ago at our previous home, I created a platter wall display over our piano. I absolutely loved the texture and dimension it added to the space.
Decorative dishes would look beautiful in the kitchen, living room, and even bedrooms! Of course, they're right at home in the dining room, too. After I fell in love with my first display, I created a miniature version over the bar cart in our dining room – in just 5 minutes!
Where to Find Plates for Art
Start by shopping your own house. You may be surprised at what you find! Pull out any dishes you may want to use, even if you're not sure they'll work together.
Remember, plates hung in a wall display don't have to match. It's all up to your personal preference and style.
You may have enough dishes already. If you decide you'd like a few more, you don't have to spend a lot of money on them. I found the platters for my first plate wall for less than $3 each!
Check out Facebook Marketplace, local shops, garage sales, and thrift stores. The beauty of a plate wall is that you can add to it over time. So even if you only have a few pieces to start with, you can add to it as you find more. Patience is the key!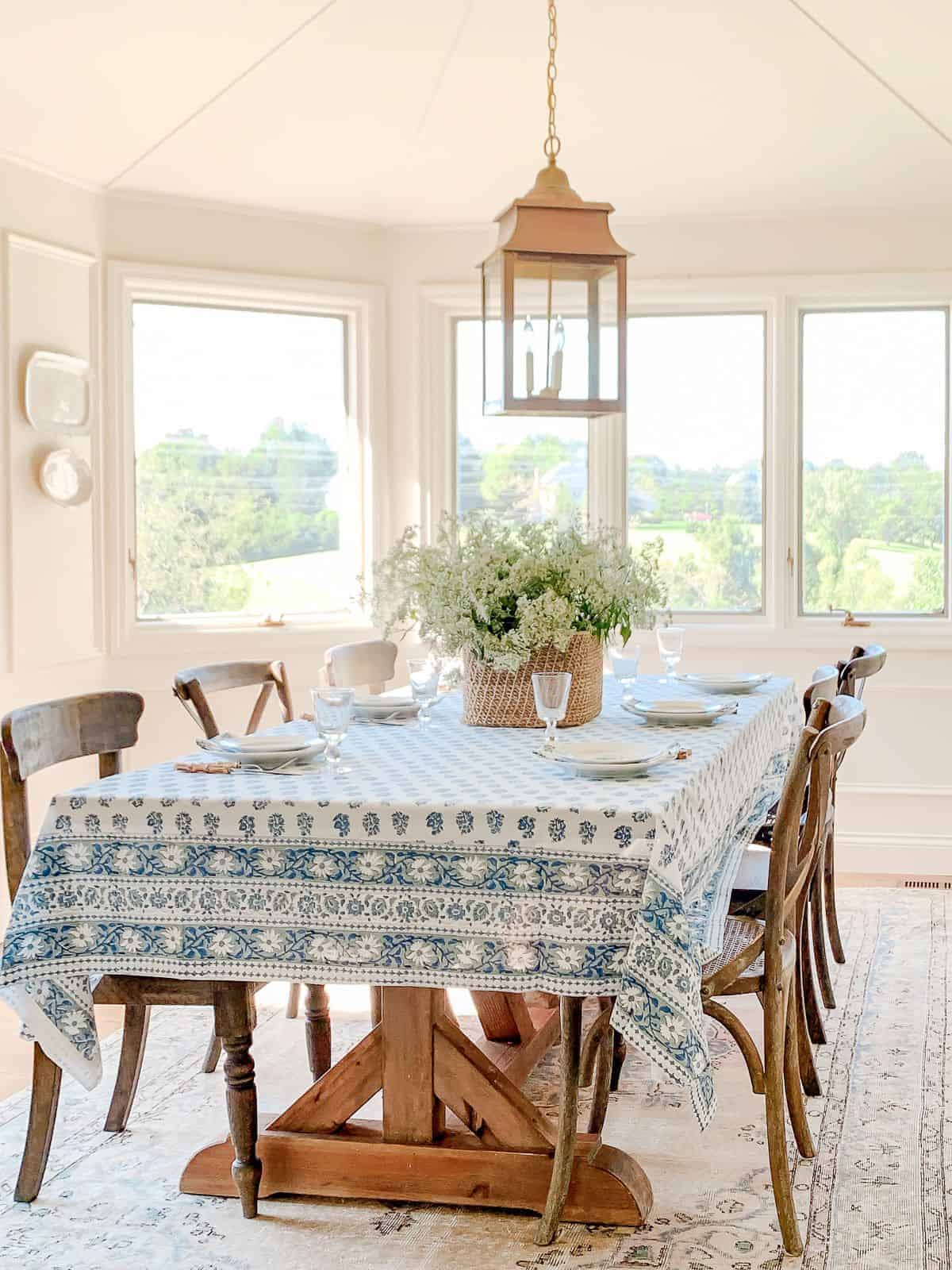 How to Design a Plate Wall
Once you have a collection to work with, start by spreading them out in front of you so you can get a good look. Decide which ones you want to use for your wall.
If possible, mark off an area the same dimensions as the wall you'll be filling – you can use painter's tape for easy removal. Rearrange the dishes into different layouts within the area you've marked.
It may be easiest to start with the largest pieces first, then fill in with smaller plates. However, there are no rules here, so feel free to play with the layout until you find one you love!
Try a symmetrical layout that is the same on both sides. Or go asymmetrical for a more laid back and free flowing design. Either way works and looks stunning!
Once you have a layout you like, do something to help you remember it. You can snap a photo on your phone for easy reference. Or you can transfer it onto graph paper or trace it onto a large piece of paper. Whatever works for you!
Types of Plate Hangers
Now that you've chosen your dishes, you'll be able to decide which type of plate hangers you'll need. There are two popular options, each with pros and cons.
Disc Plate Hanger
A popular option is to use a disc plate hanger. These are what they sound like – adhesive discs that you attach to the back of your plates and then hang on the wall. They come with a ring that you can easily hang from a nail or wall hook.
The main advantage of the disc plate hanger is that it is invisible once hung. Since it sticks to the back of the plate, it can't be seen once you're all finished. It gives this project a clean, simple look.
They are perfect for dishes with flat surfaces on the back, such as large bowls, platters, and plates. They don't work as well if the dishes have a rim or feet that stick out, since the disc has to be able to lay flat against the wall.
A single 5 1/2″ disc plate hanger can hold up to 7 pounds, but you should check your specific hanger for weight limits, just to be sure. Another plus about this type of wall plate holder is that you can use more than one on large dishes, if necessary.
This type isn't quite as conducive when it comes to taking the dishes off the wall for use. There will still be a disc attached to the back. You can still use the dishes for serving, but you'll need to carefully clean them by hand afterward, to keep from getting water on the disc.
Wire Plate Wall Hanger
Another type of plate hanger is a 4-pronged wire hanger. This design has springs that can stretch to fit the size of your plate or dish, and hooks that fit around the edge.
This type of wall plate holder is slightly visible, with the four hooks showing from the front. They're not overpowering, however, and they can even contribute to a more vintage feel.
The hooks come in metal finishes, such as brass or stainless steel. If you can't find exactly what you're looking for, here's a tutorial on how to use Rub 'n Buff to create just the right finish!
If you're worried about scratching your dishes, you can also find vinyl-coated hooks. They will securely hold your dishes without doing any damage.
This type of hanger works perfectly for dishes you want to use. Since the dishes are held in place by hooks on springs, there is nothing actually attached to the dishes themselves.
Note that this type of wall plate holder often runs small, so you may want to purchase the next size up.
How to Hang a DIY Plate Wall
You've already designed your layout and decided which type of plate wall hanger to use. Now it's time to move it to your wall!
It may save you time – and a lot of extra holes in your wall – to trace the shapes of your dishes onto paper. Cut them out and hang them on the wall in your desired design using painter's tape.
This lets you make small adjustments as needed, without nailing putting any holes in the wall. Stand back and look at the paper cutouts. Make any changes that are needed.
Next, attach the plate hangers to the back of your dishes. The instructions will depend on the type of hanger you choose.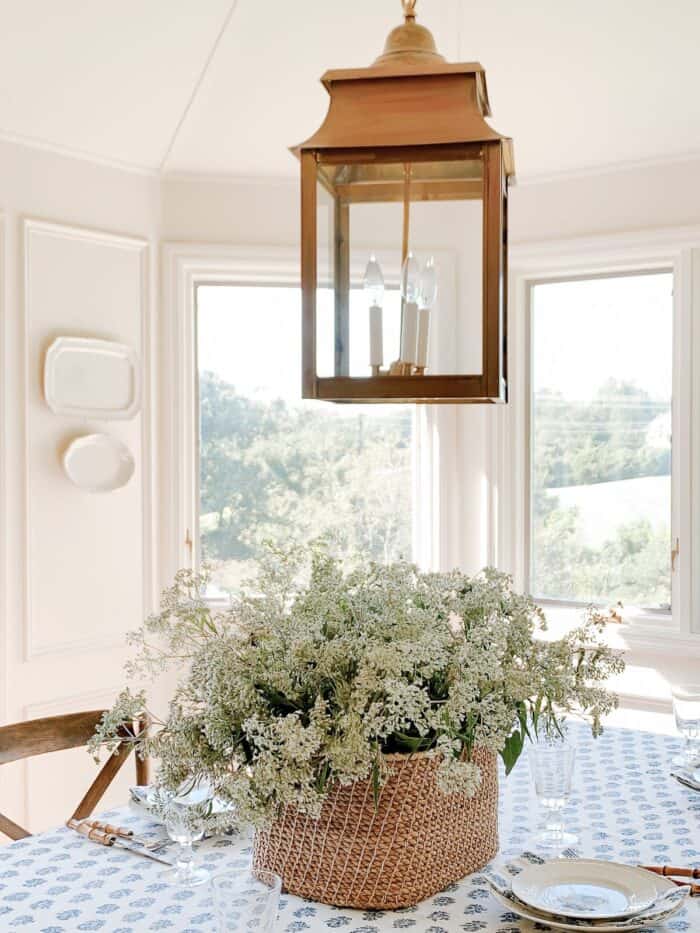 Disc Plate Hanger
For disc hangers, start by thoroughly cleaning and drying the back of each dish. This step is crucial to the hangers adhering properly, so don't skip it!
Follow the instructions on your disc plate hanger. It requires using your fingers to spread a small amount of water onto the adhesive. After a few minutes, the glue should be tacky and ready for hanging.
Apply the disc to the back of your plate or dish. Pay attention to its orientation. It has a small ring for hanging, so if your plate has a design that needs to face up, make sure you hang the ring on that side.
Press firmly to secure the disc to the back of the dish, working any air bubbles out and to the side. Let dry overnight.
Once dry, test for proper adhesion by pulling firmly on the disc plate hanger's ring. You want it to feel secure before use!
Wire Plate Hangers
This is as easy as selecting the right size, and stretching it to fit around your dish. Turn the plate onto its face to check the fit of the hanger. It should be snug with no wiggle room.
Adjust the hooks as needed so they are evenly spaced on the dish. You'll want the top two hooks centered around the top center of the plate, so the hook will be able to hang level.
Instructions for Plate Wall Using Plate Hangers
Choose plates, platters, and bowls and arrange them on a table or the floor. Purchase the appropriate plate hangers for your project.
Trace and cut out template for each dish on paper. Then tape to wall in your arrangement using painter's tape.
Clean dishes and dry thoroughly.
Attach plate wall hanger – disc or wire – to each dish following instructions.
Find top center on each paper template. For each dish, measure how far from the top the hanger will be and mark this measurement on each paper template.
Nail directly through paper at mark using a hammer and nail. Hang dish on nail using the plate wall hanger, and if happy with the placement, remove paper template.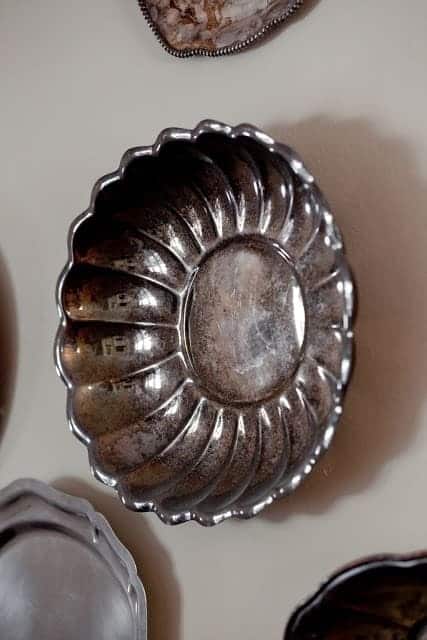 Expert Tips for Hanging Platters
Remember that wire plate hangers often run small, so consider buying the next size up.
Clean and dry the back of your plates or platters well. This step is important so that the hangers adhere.
If you are using heirloom plates or platters and you are concerned about scratching, try using vinyl coated plate hangers.
Allow disc plate hanger to dry 24 hours.
Most dishes will be fine hanging from a nail or small wall hook. For heavy dishes, you can use a molly bolt and screw if desired.
Use two discs or wire hooks, one on each side, for extra long dishes.
For very small dishes, you can hot glue paper clips to the back instead of using plate hangers. I don't recommend this method for heirlooms or dishes of high value.