A New Spa Bath at Home | Luxury Bath for Less
This post is sponsored by Lowe's Home Improvement
Get ideas to create a luxurious and timeless spa-inspired bathroom design! Learn how to choose classic finishes to create the feel of a spa bath, as well as tips for increasing your bathroom storage and functionality during a remodel.
This is a detailed breakdown of sources and information about purchasing an air tub, creating a shower niche, and so much more!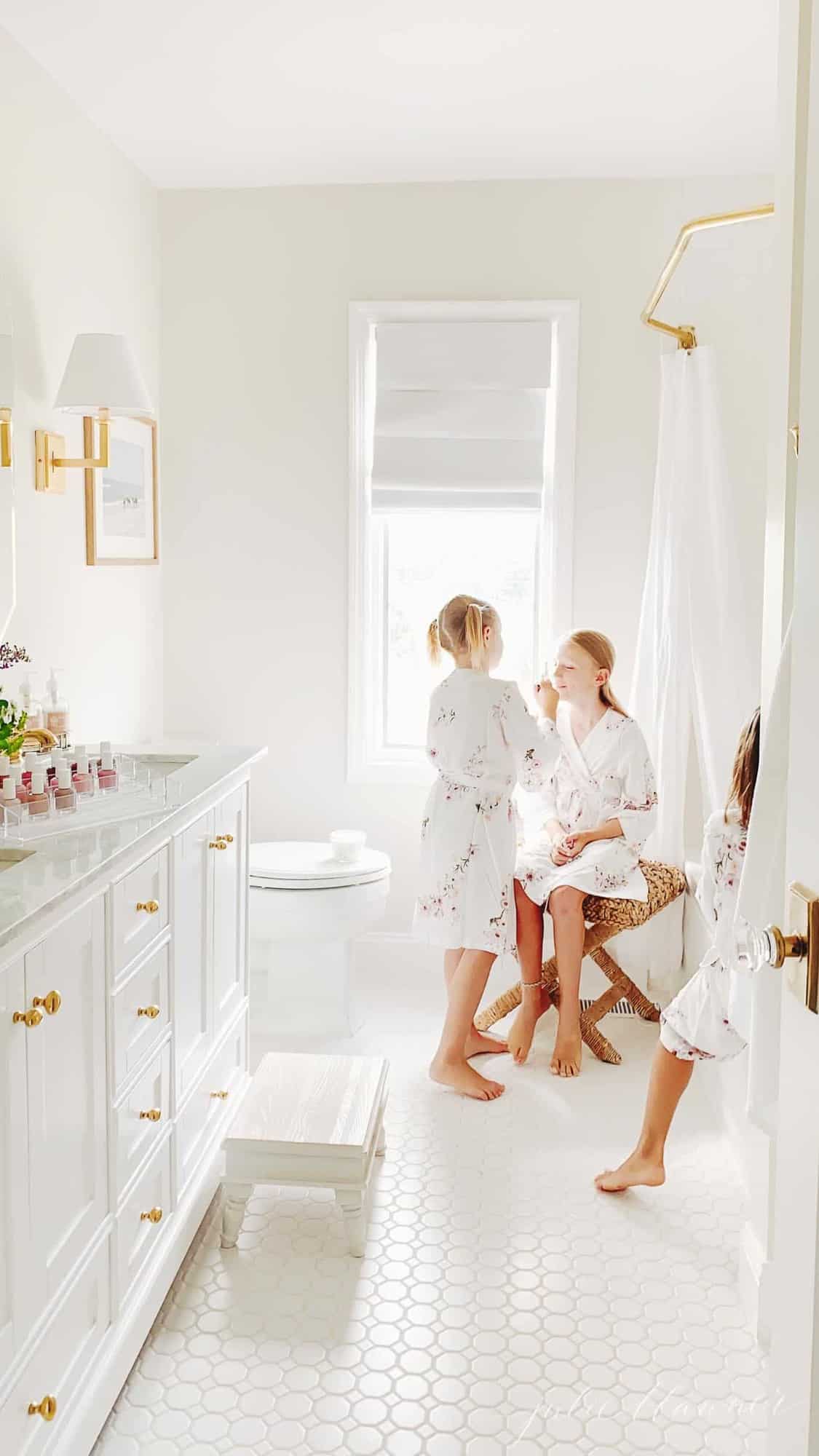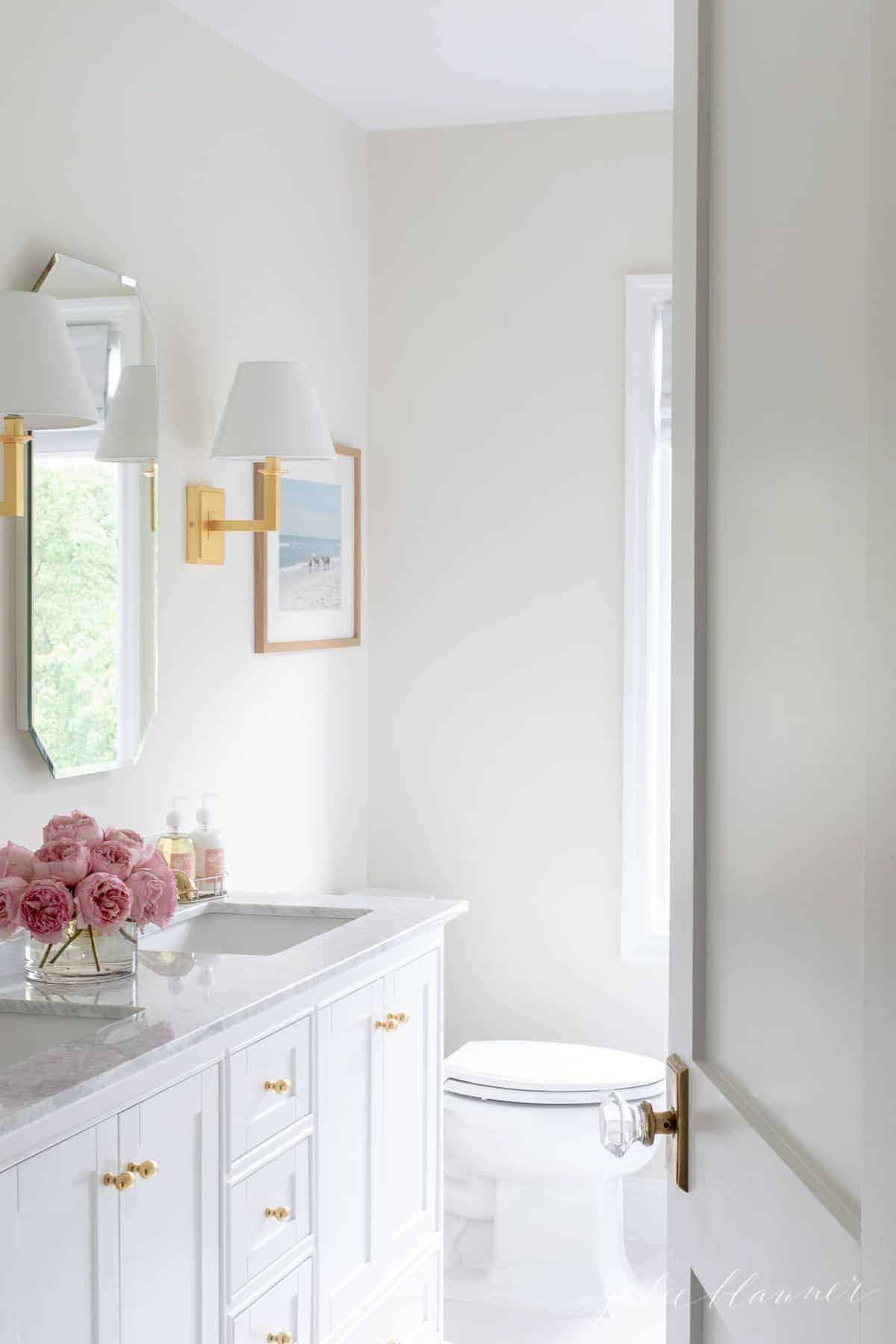 Creating a Spa Bath at Home
Oh my friends, this bathroom remodel was such a long time coming. We've lived in this home for five years and while I never anticipated that it would take this long to finish our upstairs bathrooms, I am certainly so proud of all that we've accomplished in that time.
It's a great reminder that creating a home takes time, and we can indeed live a beautiful life with spaces that are less than perfect. (See our ongoing before and after!)
I love a good bathroom makeover. There's just something about taking a dark, dated space (often with very little natural light) and turning it into something clean, bright and updated.
Over the years, we've created a charming guest bath, this nautical bathroom makeover, a small half bath on a budget, and a powder room with brick flooring. This modern guest bath at our lake cottage was a hit as well, and you've got to check out the incredible modern roller shades we added to the bedrooms there!
When we began this process, we made a list of priorities for this shared bathroom. First of all, it needed to serve our three little girls well by adding more functionality, storage and space. Secondly, this bathroom also serves as our guest bath.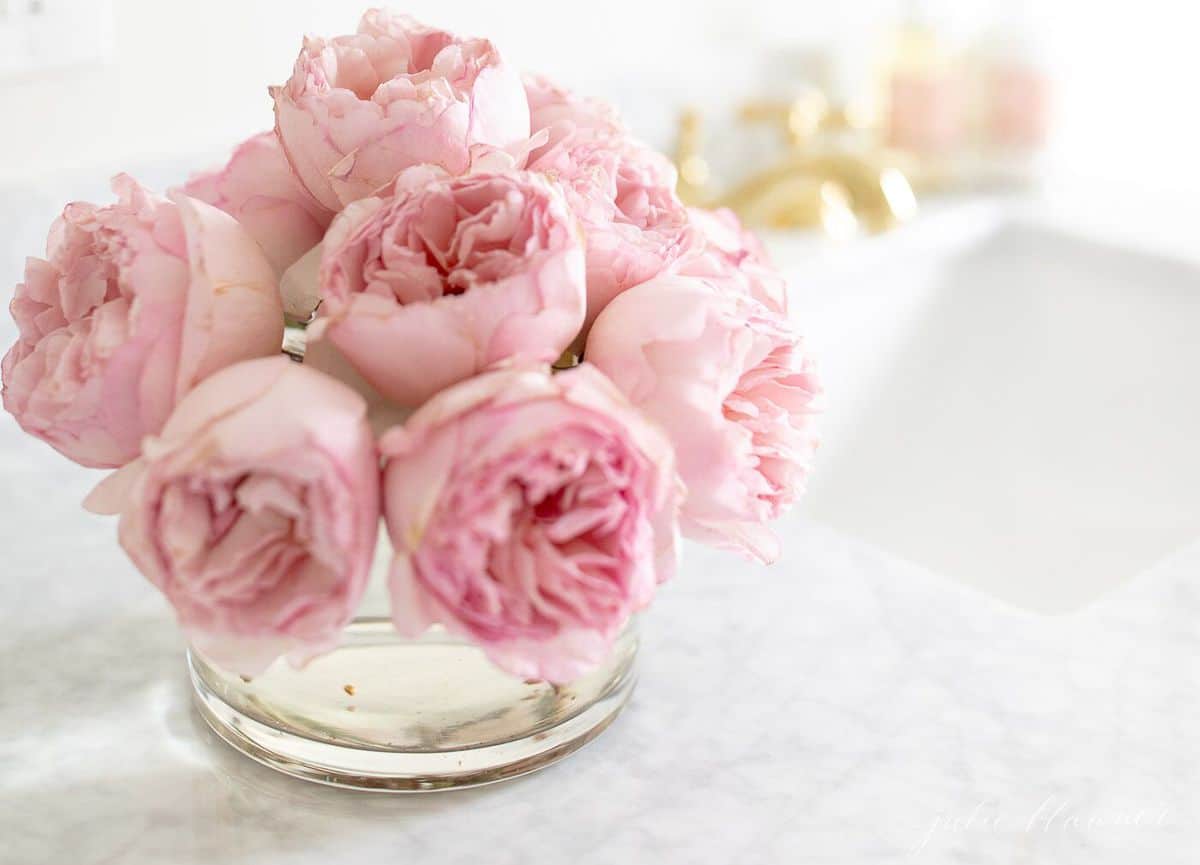 I spent years feeling pretty embarrassed about the dingy, dark and dated reality of this bathroom. I wanted to create a space that would give guests the impression of a luxurious hotel spa getaway!
While I knew that it was possible to do it all, it took some time and thoughtful planning to put it all together. I'm so proud of the way it turned out and so thrilled to share the results with you!
But first…you have to see the BEFORE images. Was it the worst bathroom ever? Certainly not. But it was well past time for a major upgrade!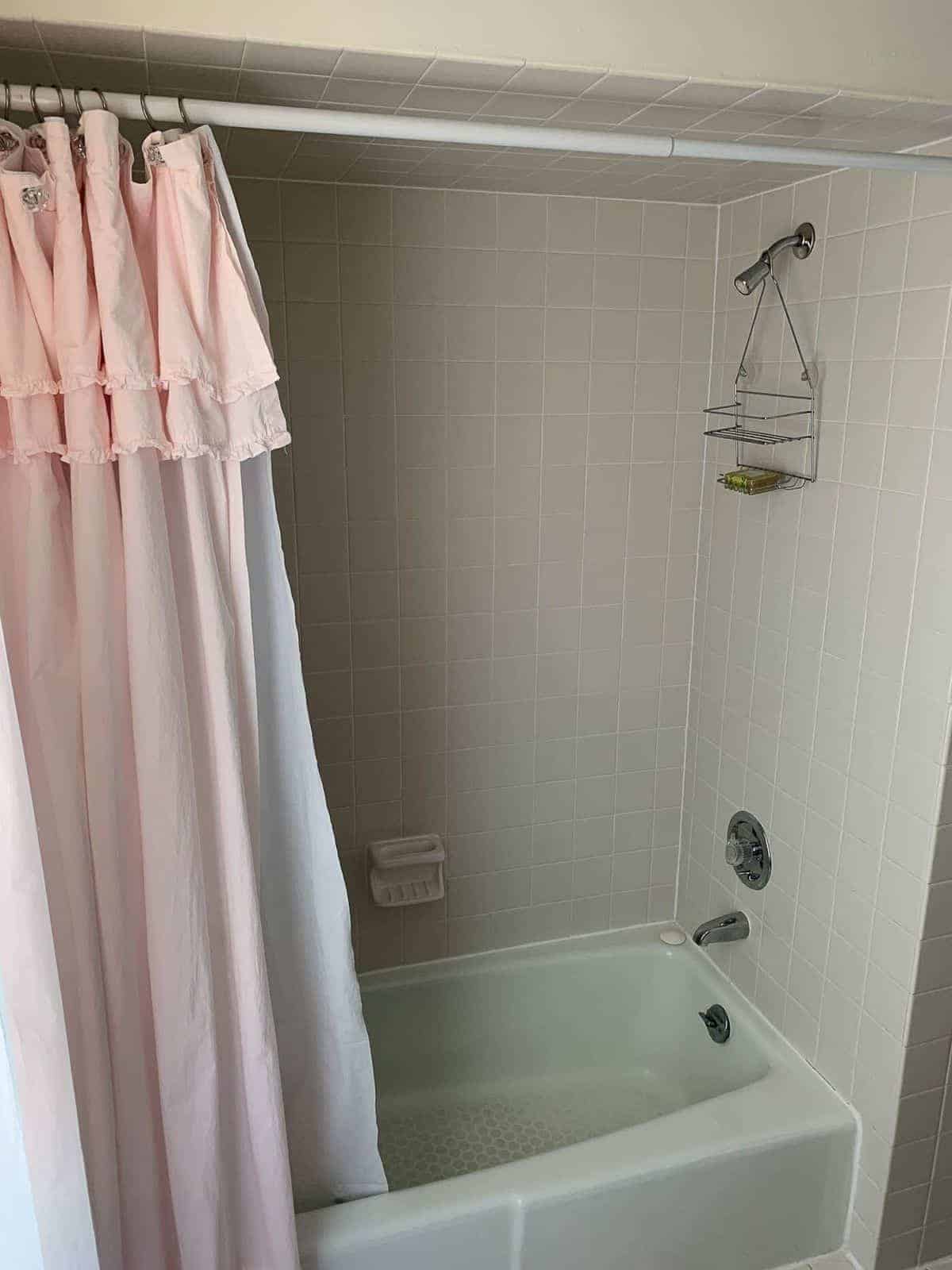 This is a long post, broken down into categories that I hope you'll find helpful. I wanted to cover everything and show you how it can be done.
You can create the spa-inspired bathroom of your dreams, and it's not as intimidating (or expensive) as you might think.
Now that our shared guest bath is complete, I think I'll go soak in the new air tub while I contemplate how long it will take to ever start our master bathroom remodel!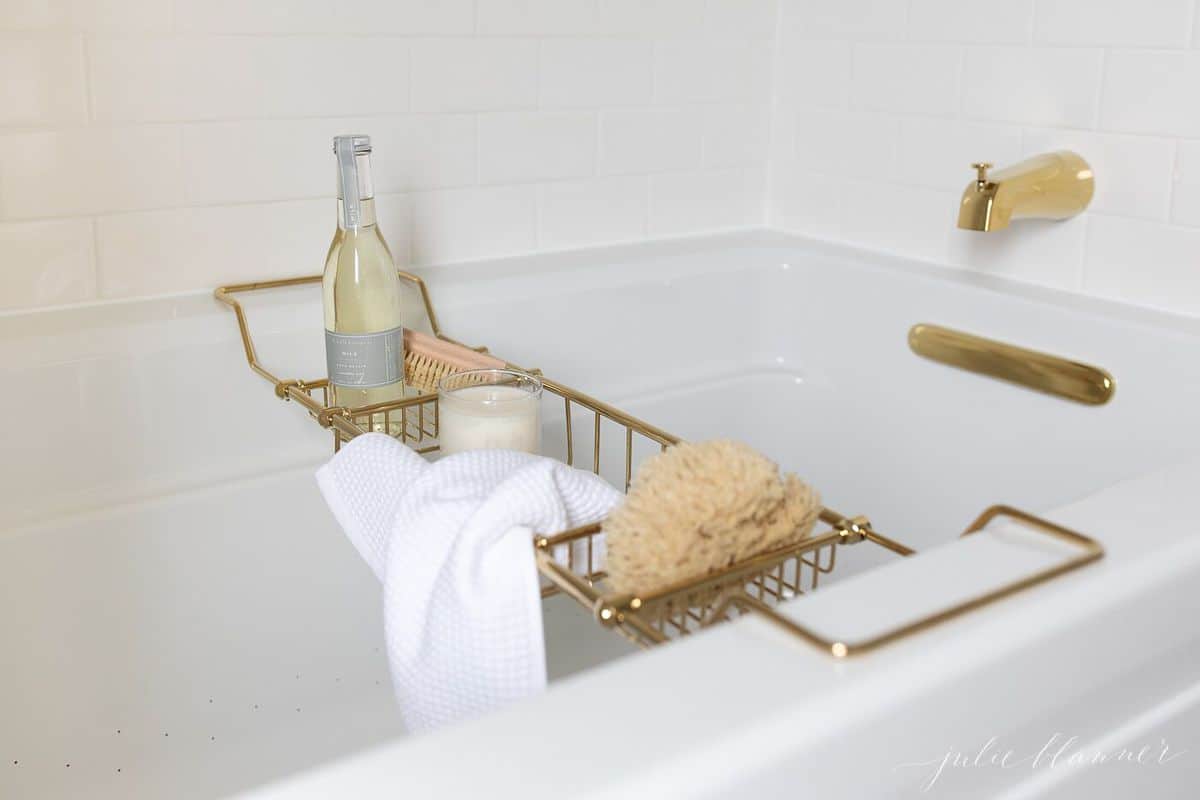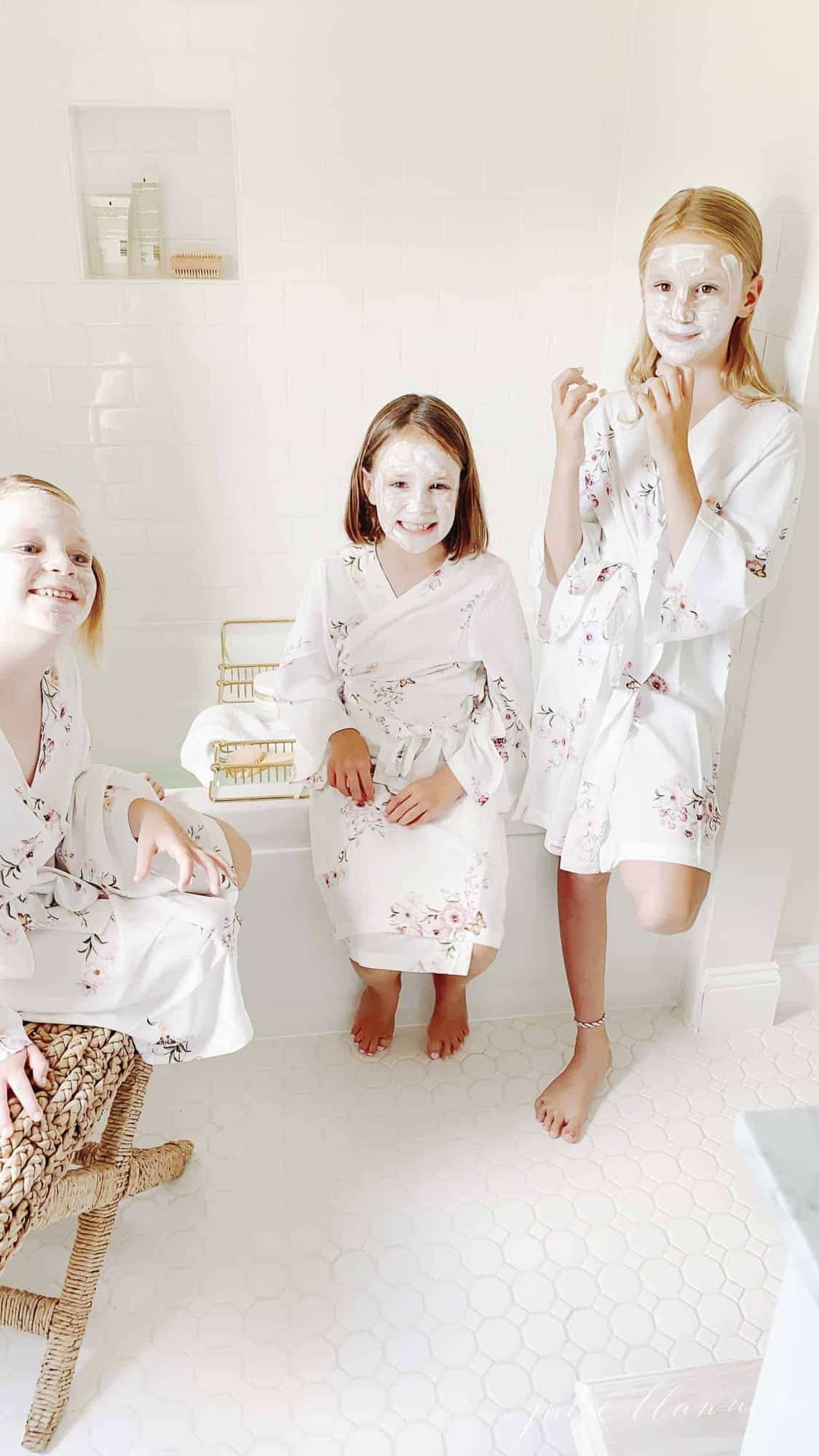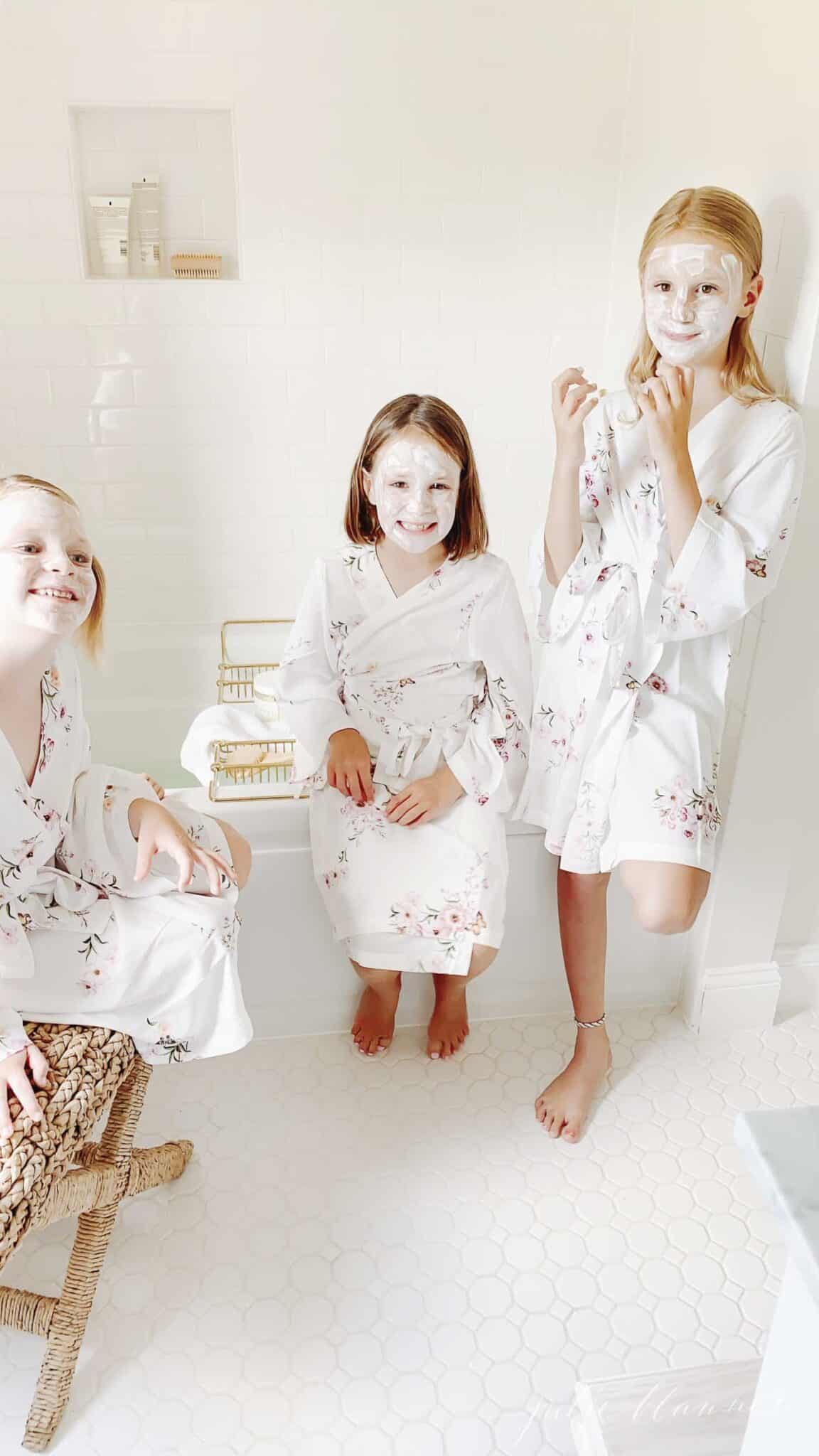 You can create the spa-inspired bathroom of your dreams, and it's not as intimidating (or expensive) as you might think.
You can see the full before and after in my latest YouTube video – don't forget to subscribe!
How to Choose Timeless Bathroom Finishes
My approach to choosing the finishes in this bathroom was quite simple. I wanted it to be as timeless as possible for our traditional-style home, while still functioning beautifully with modern spa-like conveniences.
---
With that in mind, I kept asking myself the same question: would this tile/faucet/mirror/etc have worked in a one hundred year old home?
---
We don't know if we will stay in this house for two years or 20. I want to be able to sell this home down the road with finishes that I don't regret!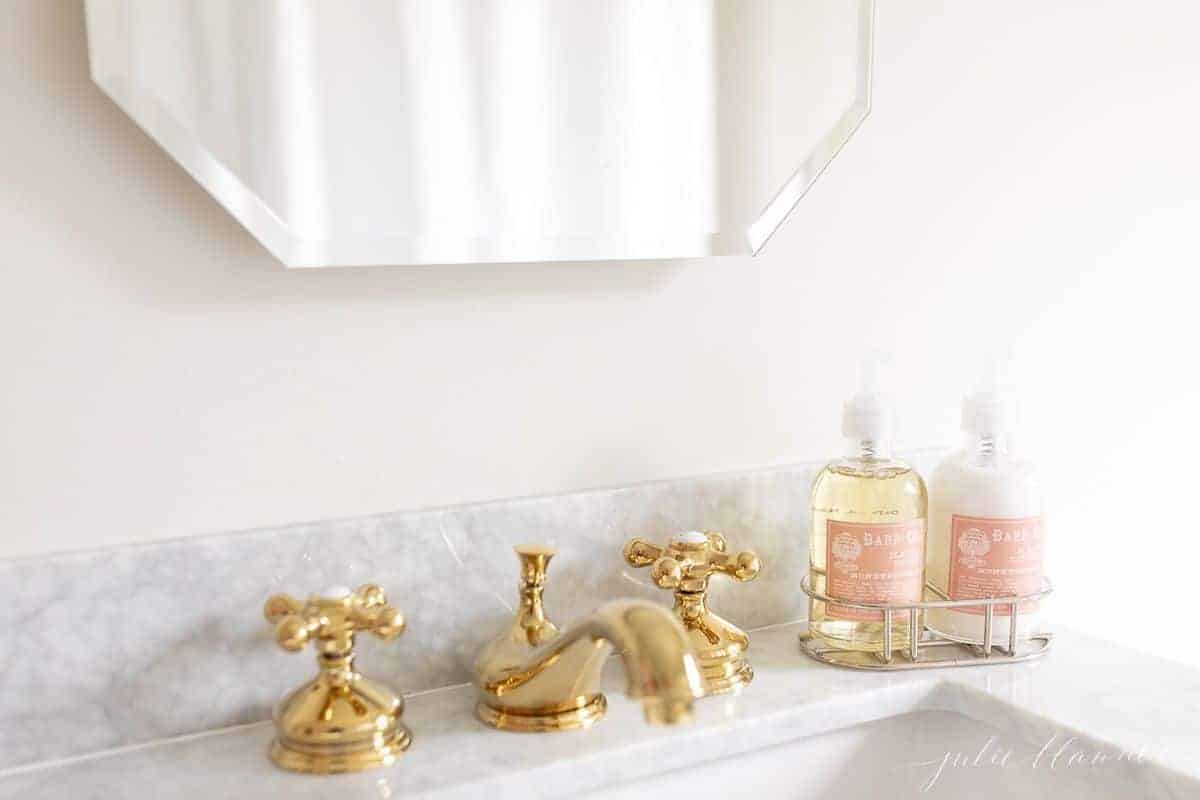 When looking back at bathroom inspiration from older homes (like this historic show home that I featured in Kansas City, Missouri), you'll notice many of the finishes are what we're still craving today!
There's a reason for that. Subway tile? Timeless. Hexagon or any mosaic-inspired floor tile? Also timeless. Brass hardware? Recessed medicine cabinets? I know you see the pattern in my choices here!
I love how easy it made our decisions…almost as much as I love the pattern on this honeycomb tile!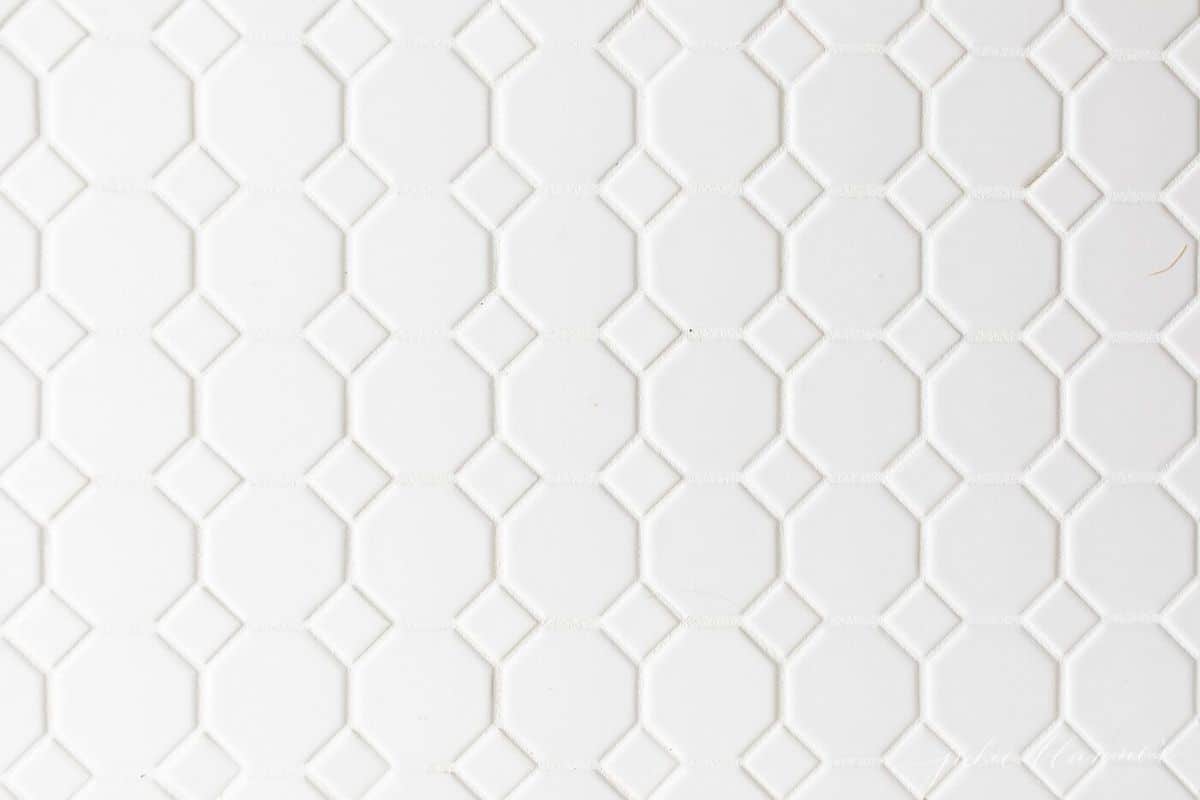 At one point in the planning process, I considered using a larger rectangular shape marble-style tile on the floor. I had to remind myself that it might be dated in ten years, and that's definitely not what we were going for.
A huge bonus to choosing these type of classic tiles that don't belong to any particular decade? They're often quite affordable, which makes them an even better choice!
It's easier than you'd think to keep these white grout lines clean, too. Check out my natural grout cleaner for all the best grout cleaning tips!
Renovating a bath can be exhausting, but it's so easy with Lowe's – a one stop shop for everything you need. In fact, I designed this entire bathroom from the comfort of our own home using this How to Design Your Room (When You're Not a Designer) trick and ordering online.
It was all delivered to our doorstep. How is that for convenience?
Ask yourself: "Would this tile have been used in a vintage home? Will I still love it in ten or 20 years?
Brass Bathroom Fixtures and Gold Sconces
We chose Kohler's Devonshire brass collection from Lowe's because of it's clean lines and traditional feel.
I am in love with the look of these pieces – they coordinate beautifully and create the luxurious spa bath feel we were after! It's a curated collection that is so timeless and fit perfectly within our budget.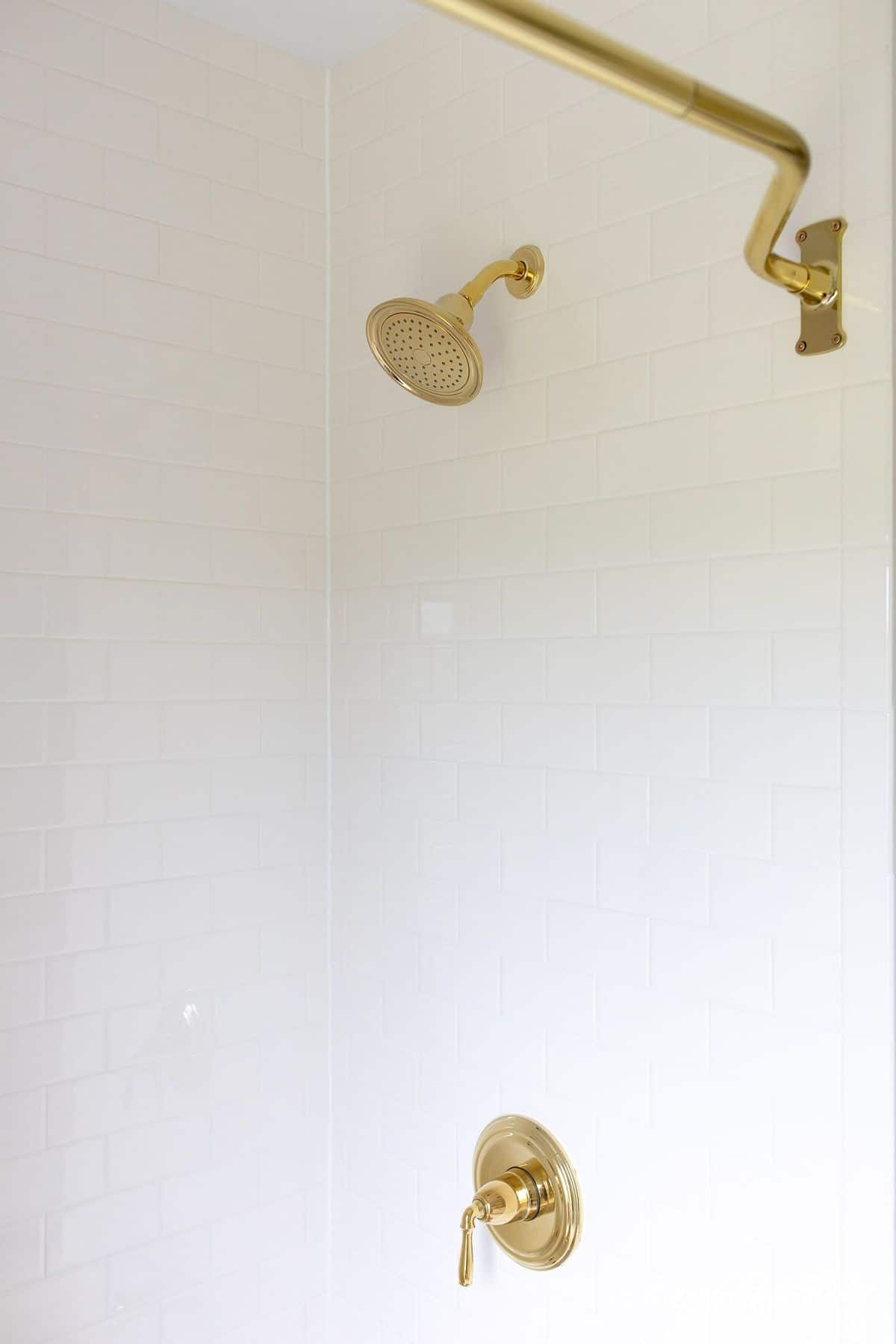 Instead of harsher overhead lighting, I decided to incorporate three gold sconces into the space. It adds an immediate feeling of charm and warmth – they are traditional and create both lighting and ambiance for the room.
I was shocked at how affordable these sconces are, and they blend beautifully with the higher-end finishes throughout this spa bath.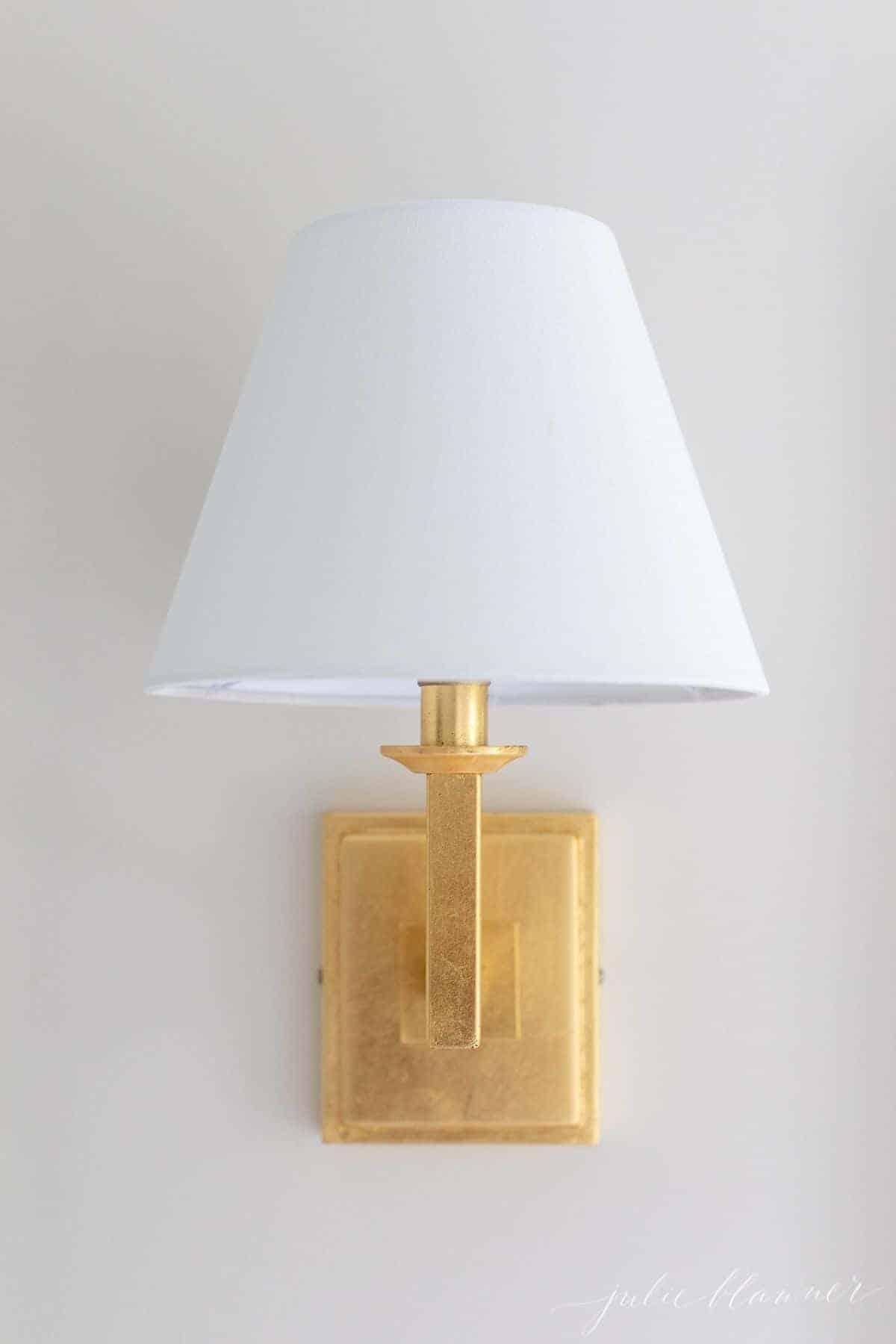 Shower Remodel
Our shared upstairs bathroom had a unique layout that might be more common in a traditional master bathroom. There was a stand alone shower on the left as you first walk in to the room, and then a tub + shower combo to the right.
One of the first ideas that we pondered over for this bathroom shower remodel was whether or not to remove the stand alone shower.
While it was occasionally useful when we had three little girls trying to get ready at once, we really thought the additional storage space would be incredibly useful as well. What to do?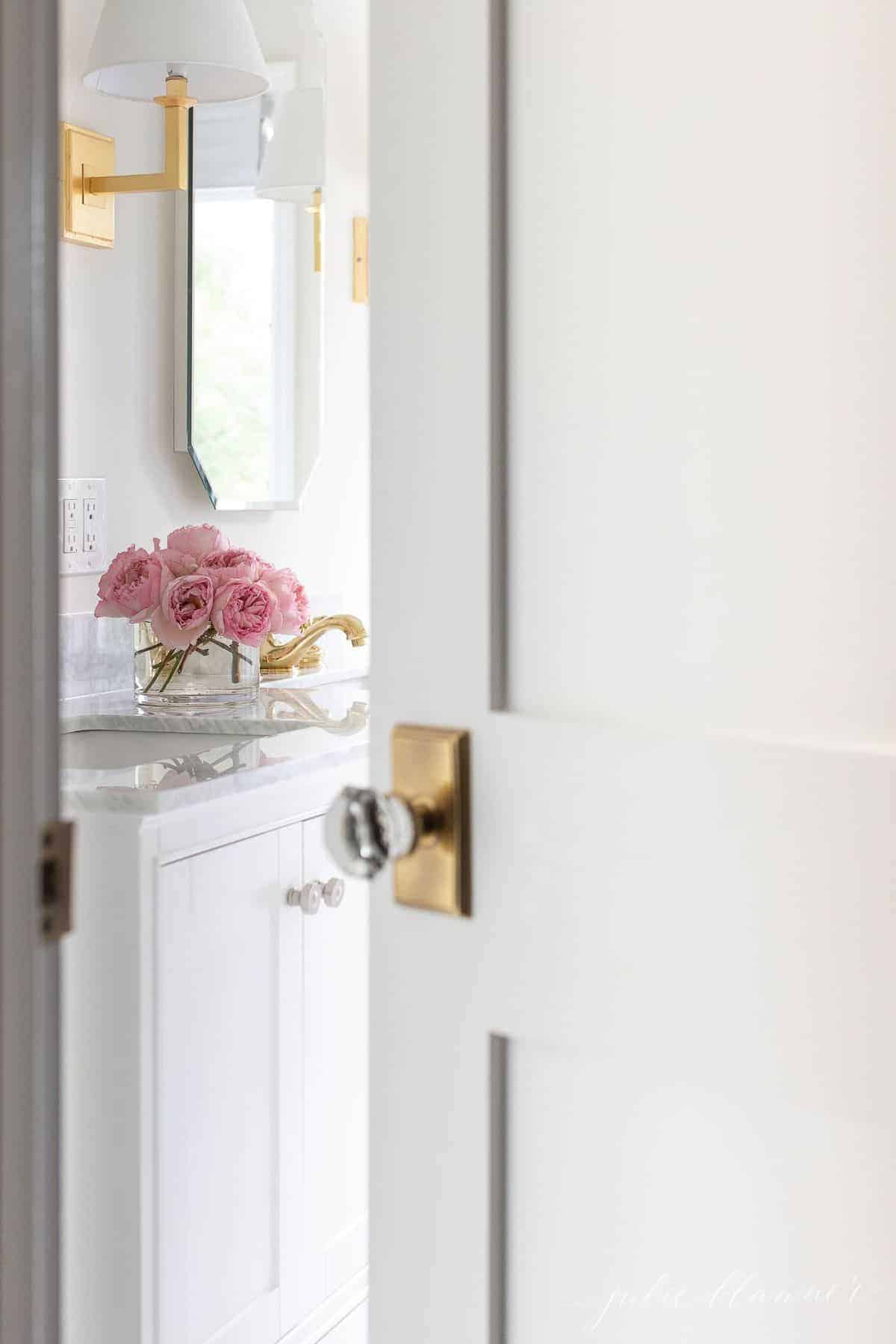 In the end, the decision was made for us, simply because of the difficult layout of the shower space itself and the need to bring this bathroom up to code. Our contractor voted for removing it, along with the plumbing to create so much more space.
Finally, this gave us space for a larger vanity and proper distance around the toilet. He also removed the dated soffets overhead and I still can't get over the difference that made! Hey, we can walk around in this bathroom now – who would have thought?
It's the best of both worlds! A beautiful spa bath that offers luxury, comfort and relaxation and a comfortable place to shower.
I incorporated a traditional brass shower curtain bar that extends out, which adds a little detail and visual interest as well as interior space. Shower doors can tend to make you feel confined and also detract from a spa bath.
A linen shower curtain filters the light, softening it as it flows in.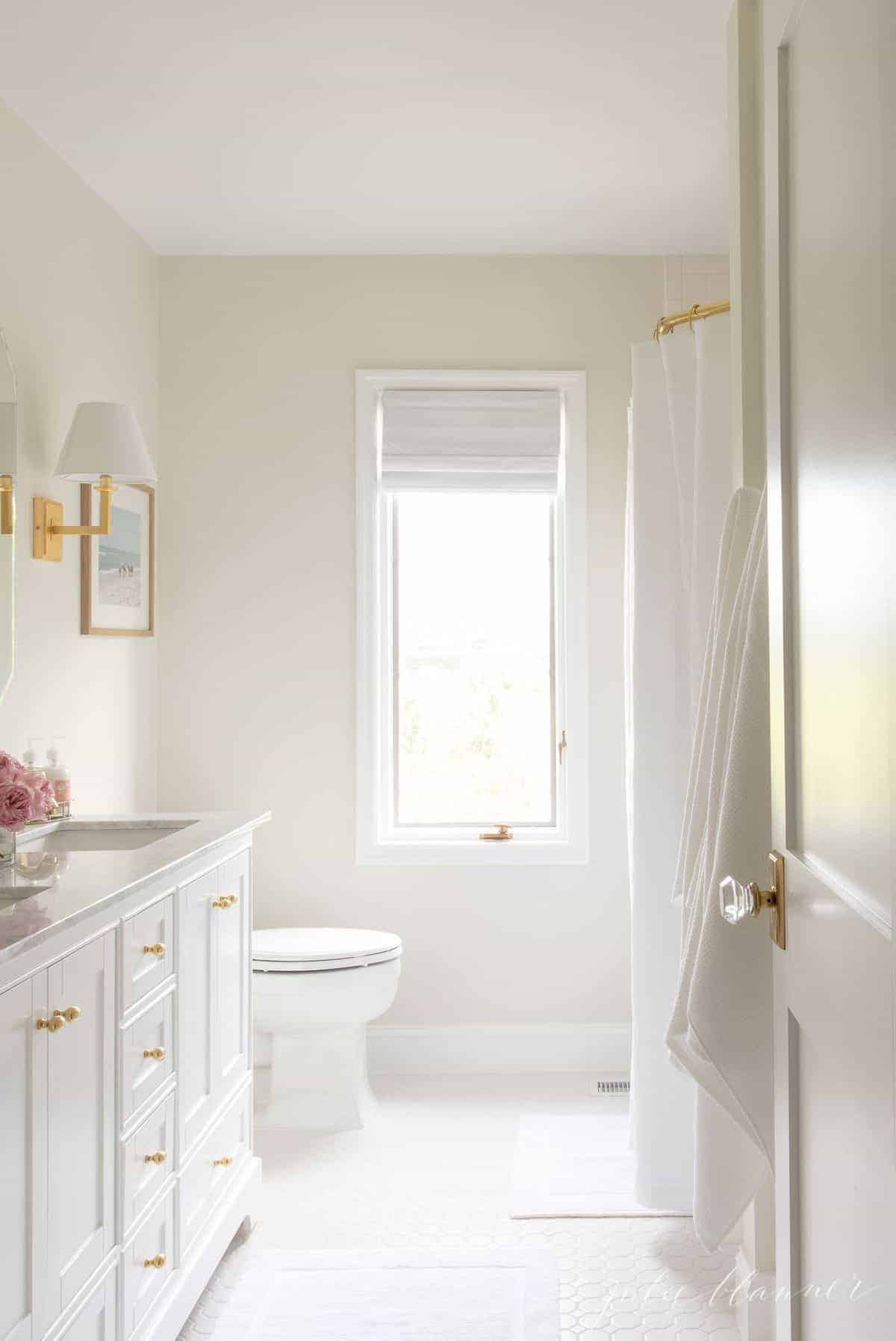 How to Maximize Space In a Small Bath
Give the illusion of additional space by using a paint with a high LRV. We used Soft Chamois on the walls and White Dove for trim.
Draw the eye to the ceiling by using tile all the way to the ceiling. We removed the soffit above the bathtub and used tile to the ceiling which allows the eye to continue.
Legs on a vanity offer a little break between the floor and deceive the eye.
Use mirrors to reflect.
Use otherwise hidden space between the studs by incorporating a shower niche and medicine cabinets.
Creating a Shower Niche
Since the spa bath multi-tasks as a shower, we needed to make both equally functional, so we added a shower niche to maximize space by utilizing space within the wall.
Does your shower have a cute little shower niche in the shower wall? Our old one did not, which made storing bottles of shampoo and soap awkward and difficult.
A shower niche is easy to install and not particularly costly- ask your contractor to use the space between the studs to create a little recessed shelf like this one. You'll be so glad you did!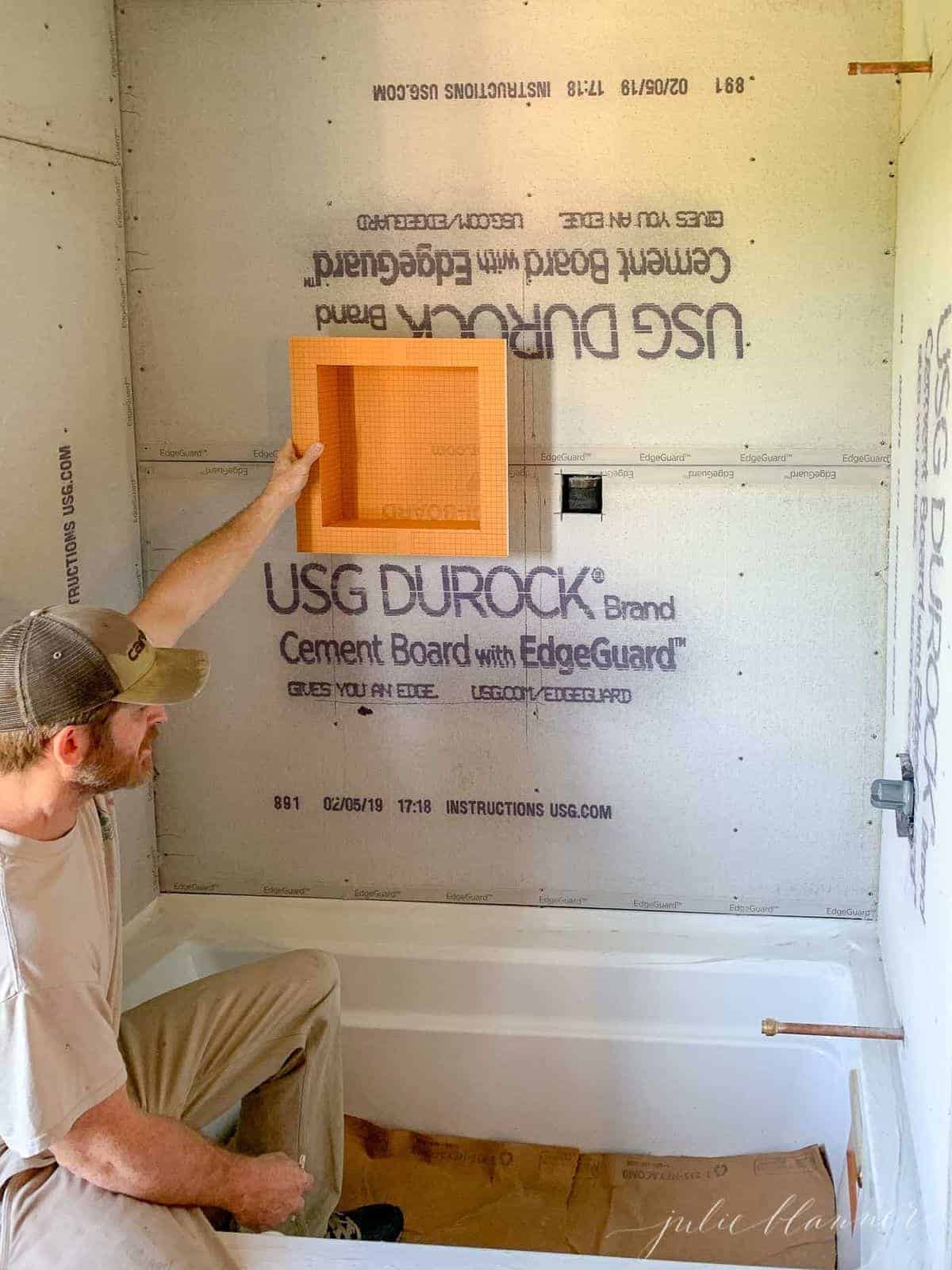 You'll want your shower niche to sit somewhere between chest and eye level – in our case we went lower than adult eye level simply because this bath is mostly used by our children. Our finished shower niche is 12 by 12 inches, which fit perfectly because of the placement of studs.
We used the same tile to give the shower niche a soothing, simple look and through the use of bullnose tile had clean, finished edges.
You can also use an accent tile to break up the tile if you prefer. Beyond our basic square shape, consider adding a single shelf into the center of your rectangular shower niche for added storage. I love that it creates a custom look at very little cost overall!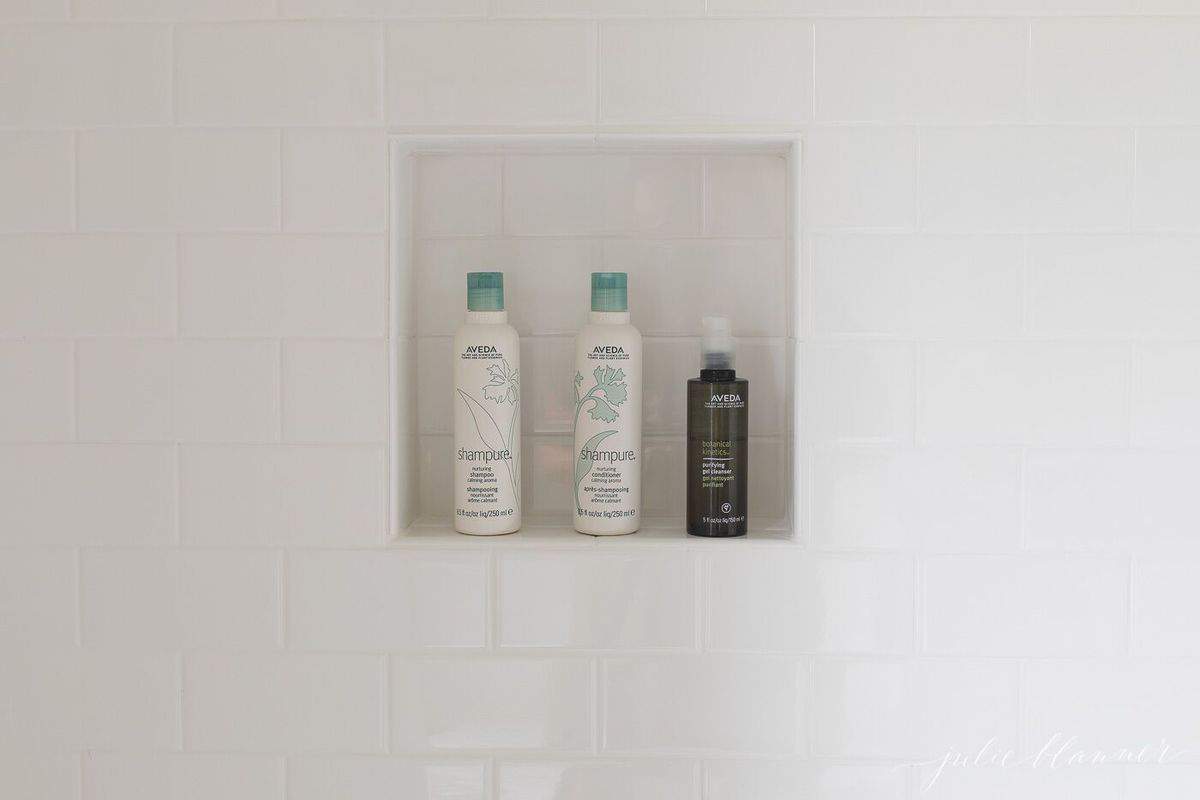 A Spa Tub Experience at Home
This was a big priority for me! Two reasons – we haven't remodeled our own master bathroom yet, so this was an opportunity to create a relaxing spa escape for me as well as the girls.
I can admit it – I was craving a beautiful spa tub experience in our own home after waiting so long to remodel.
We are so excited to create our own spa treatments right here at home! I considered a traditional whirpool tub or a soaking tub, but the air tub experience won out.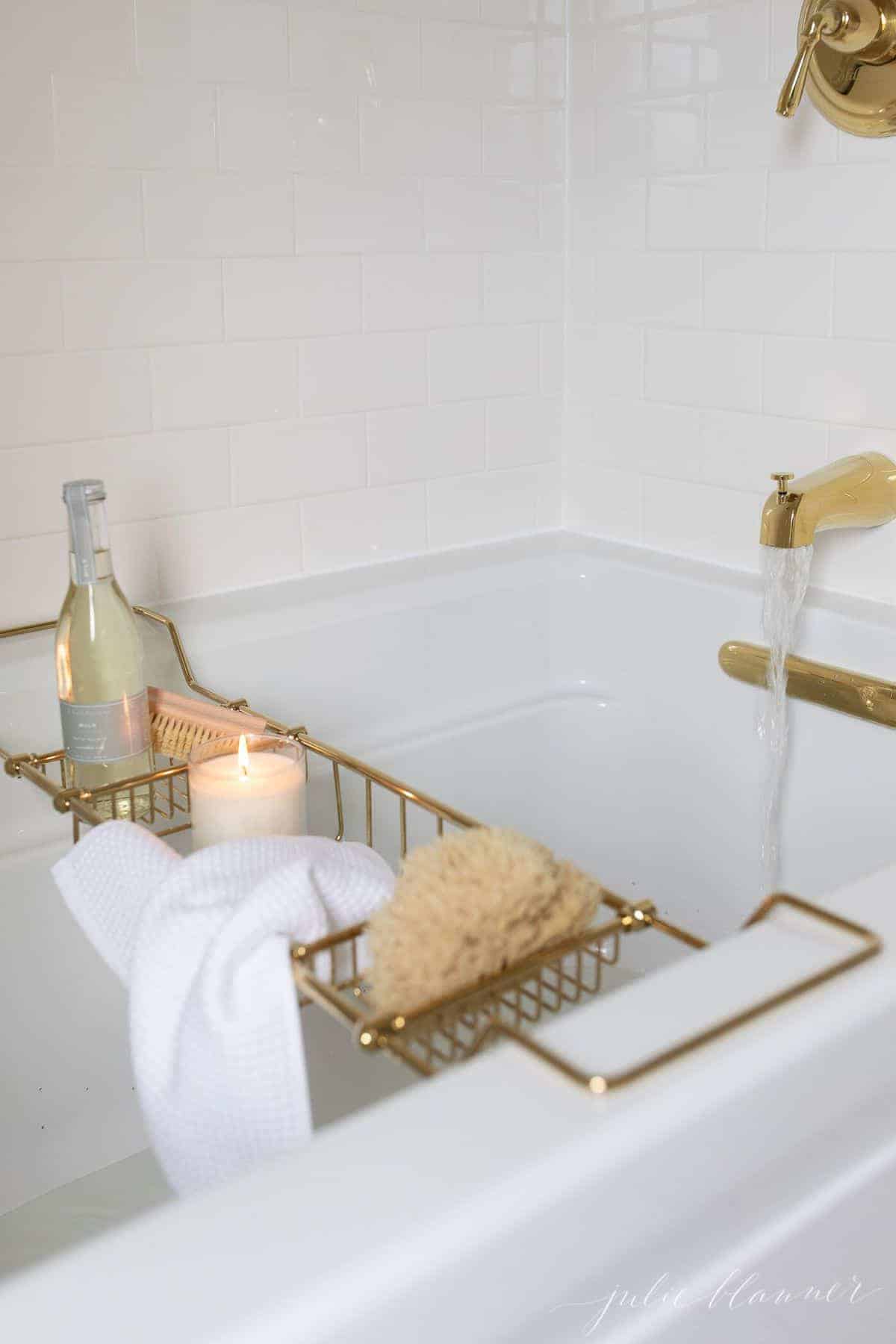 Beyond my own air tub dreams, I knew that adding a spa tub would give our guests that experience as well! When we have guests stay in our home, I want them to feel relaxed. Giving them a luxurious spa-quality bathroom escape accomplishes just that.
Who wouldn't want to soak in an air tub after a day touring a city that's not their own? Get all my favorite tips for creating a tranquil guest room experience right here.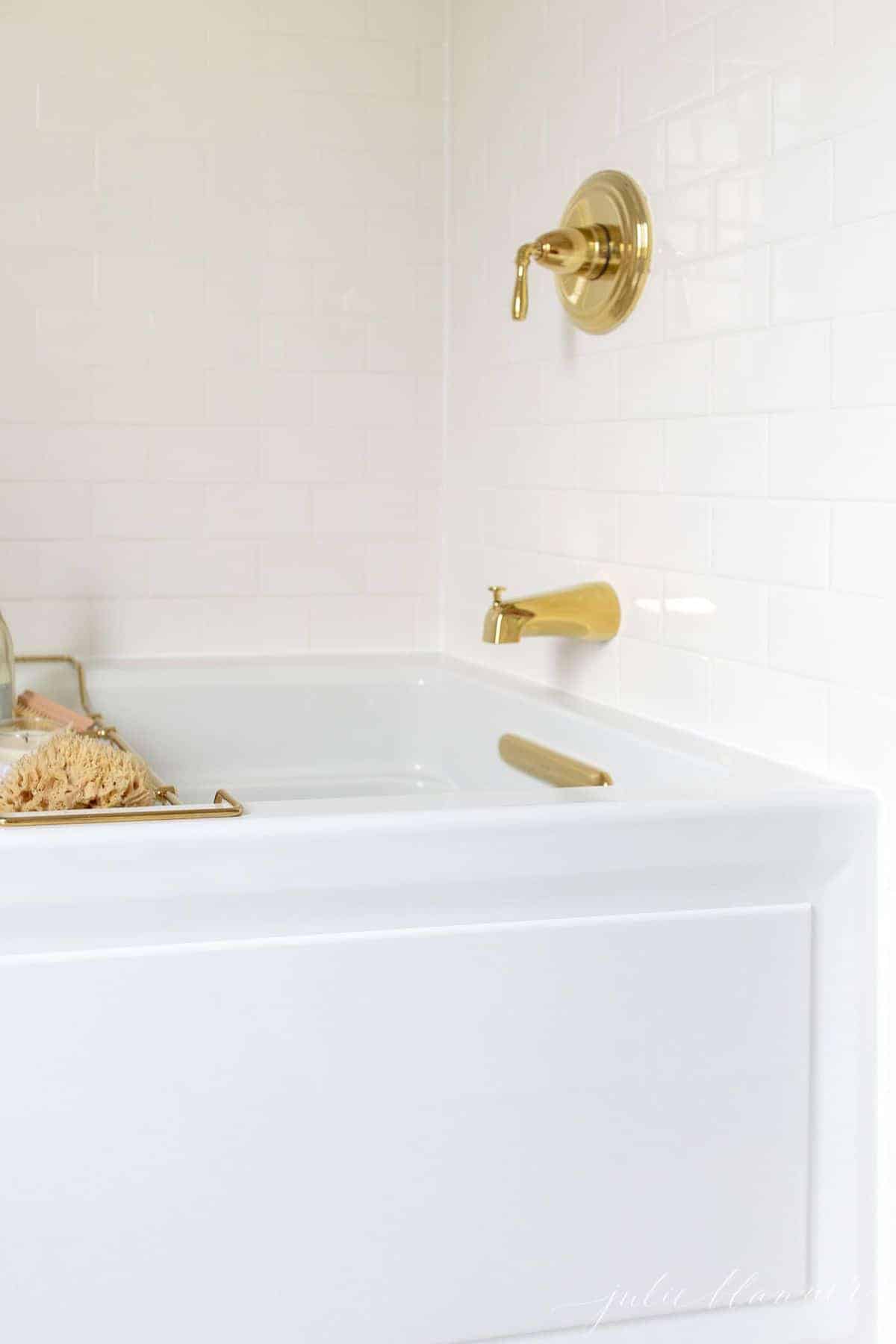 What is an Air Tub?
An air tub is simply a variation on the traditional whirlpool jetted spa tub. However, instead of a few powerful water jets, an air tub is filled with tiny holes that shoot air through the water.
It creates an effervescent effect in your spa bath that is beyond relaxing! I fell in love with this style of spa bath while visiting one of our favorite spa hotels.
Both a whirlpool tub and an air tub can create the spa tub effect that we desired. However, an air tub is a little gentler, and it creates the ultimate feeling of soaking in relaxation.
You can read more about the differences right here – but trust me, put one of these air tubs on your list for your next bathroom remodel!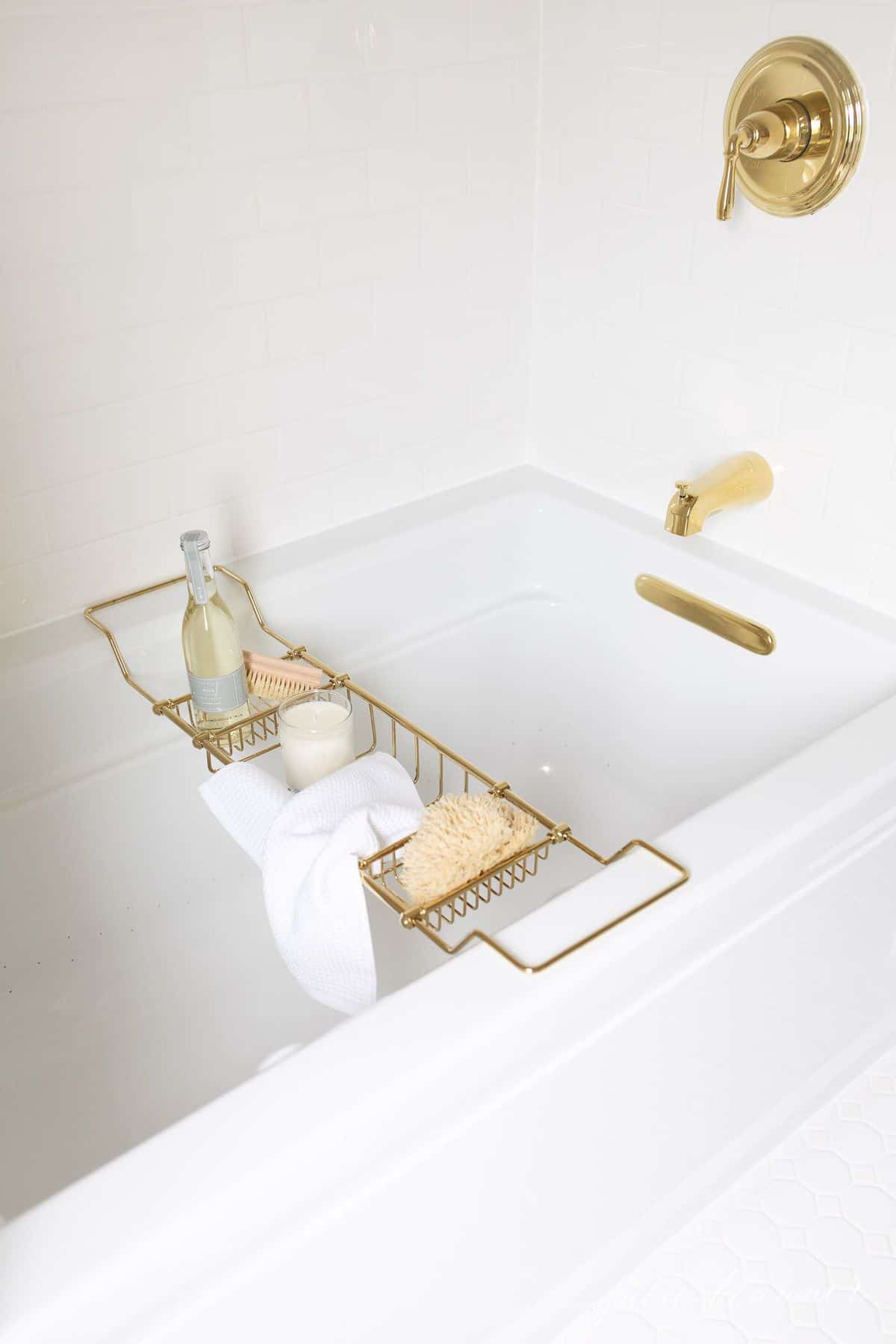 Adding Storage and Function in Your Spa Bath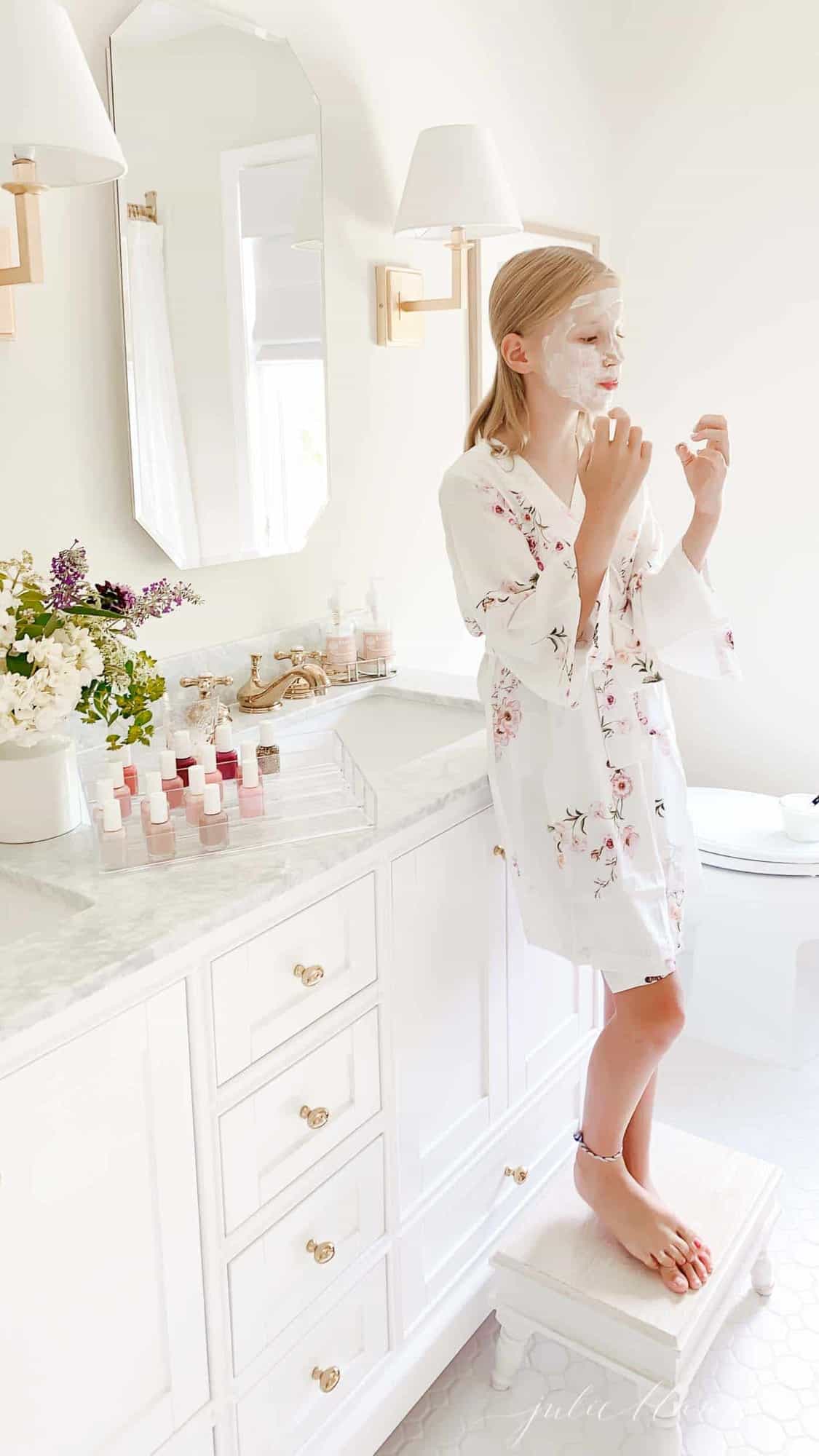 With three little girls, we desperately needed more storage, so we chose a vanity with six drawers and two large cabinets. I fell in love with the Audrey vanity at Lowe's because of the gorgeous (and timeless) Carrara marble top and the incredible storage features. (It's sold out in white right now, but there's a beautiful gray available!)
Come over and see how we finally organized this vanity in my Bathroom Organization post!
While I could have used the silver knobs that came with this vanity, I wanted to add to the luxurious contrast of the space, so I upgraded to beautiful brass knobs that coordinated with the faucets and brass door knob. It's such a classic look!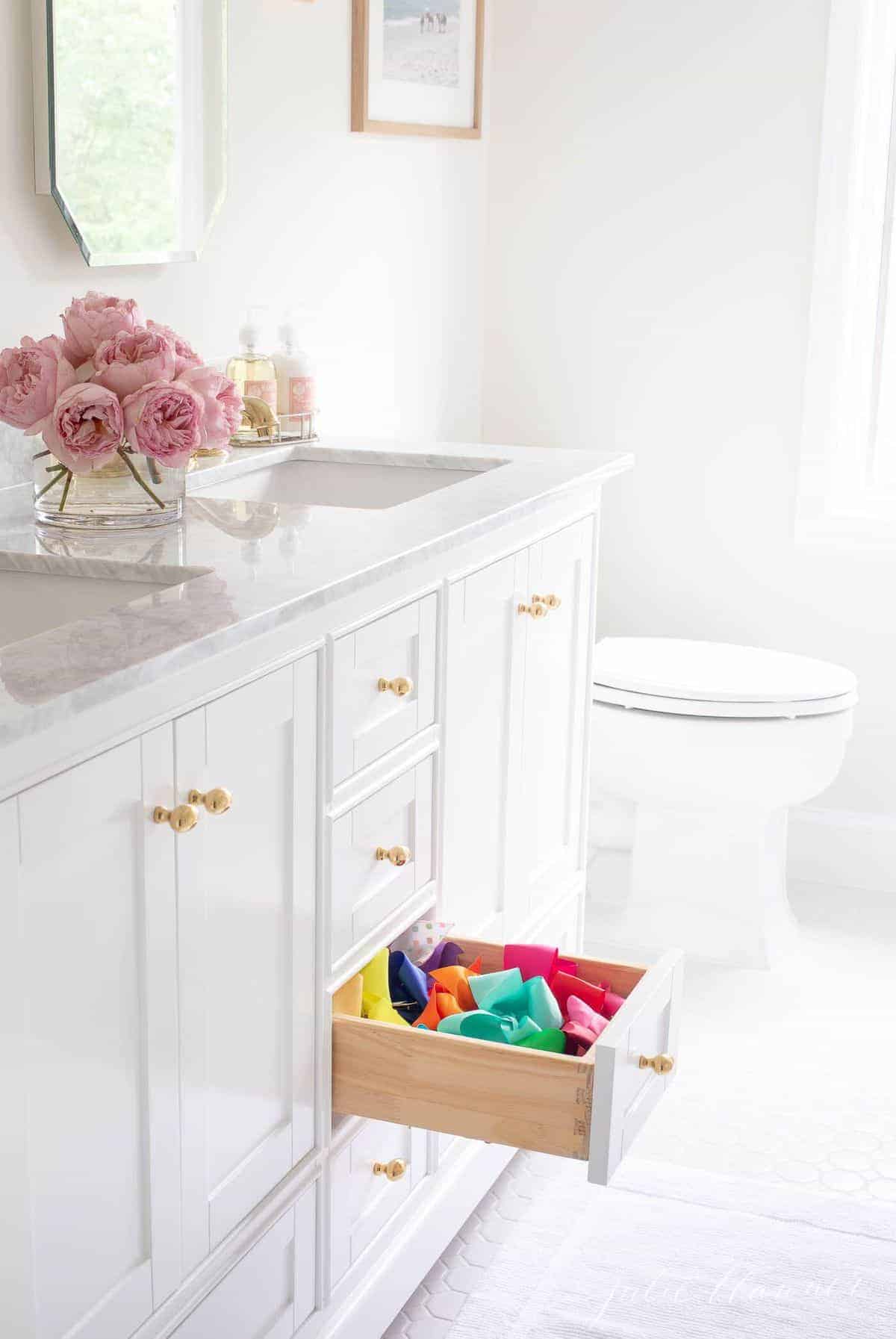 Just above the new vanity, the recessed medicine cabinets offer even more storage! I knew that with three young girls, we would need a multitude of storage options for the years ahead.
I love that they can store so much in these beautiful frameless mirrored medicine cabinets. Between the vanity, medicine cabinets, and the new shower niche, we finally have some storage space for bottles!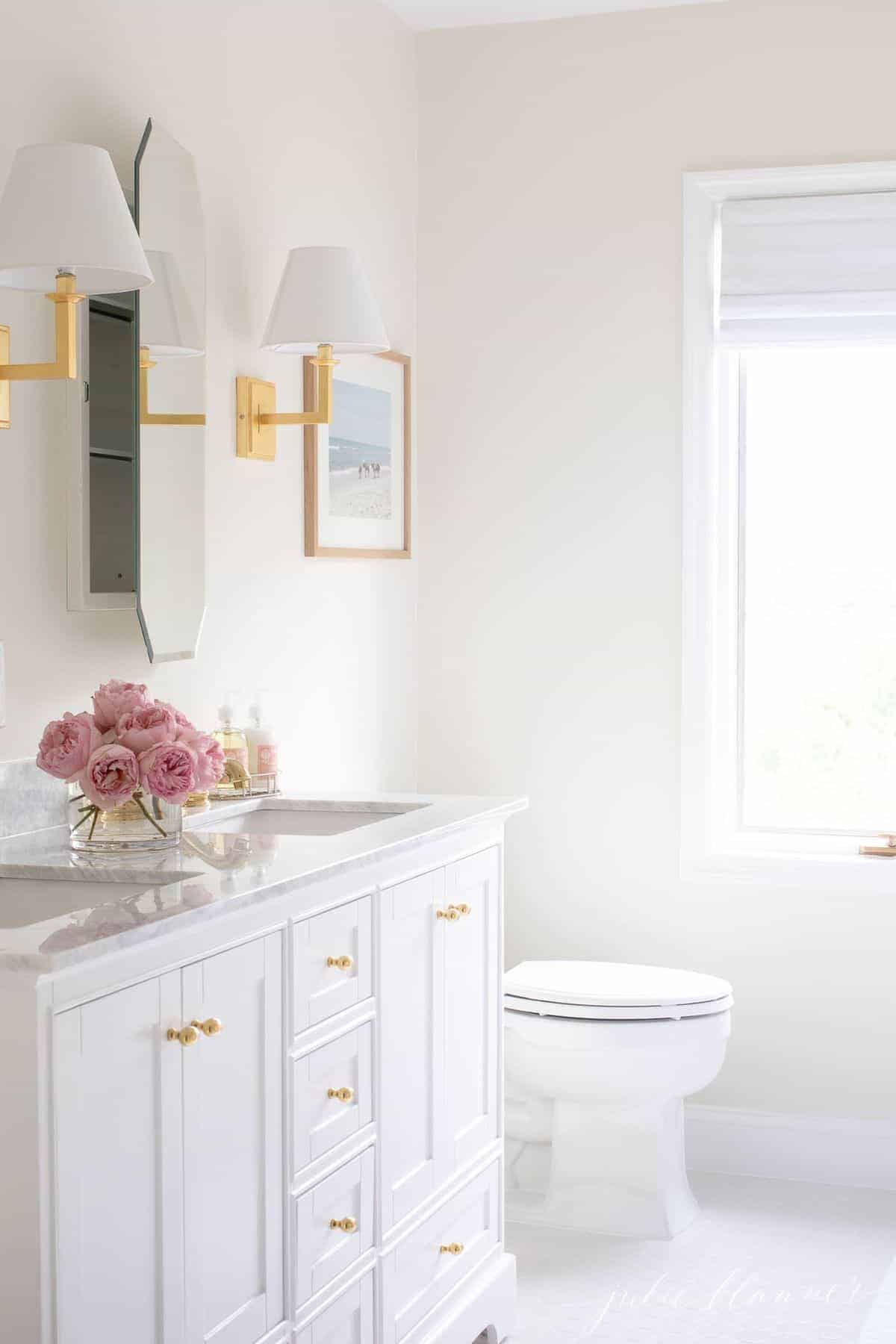 Instead of a traditional towel rack, we opted for three of these beautiful robe hooks. I find that my girls are more likely to actually hang their towel on an individual hook, versus crowding them onto a traditional rack.
These are working beautifully so far and help to visually break up the space.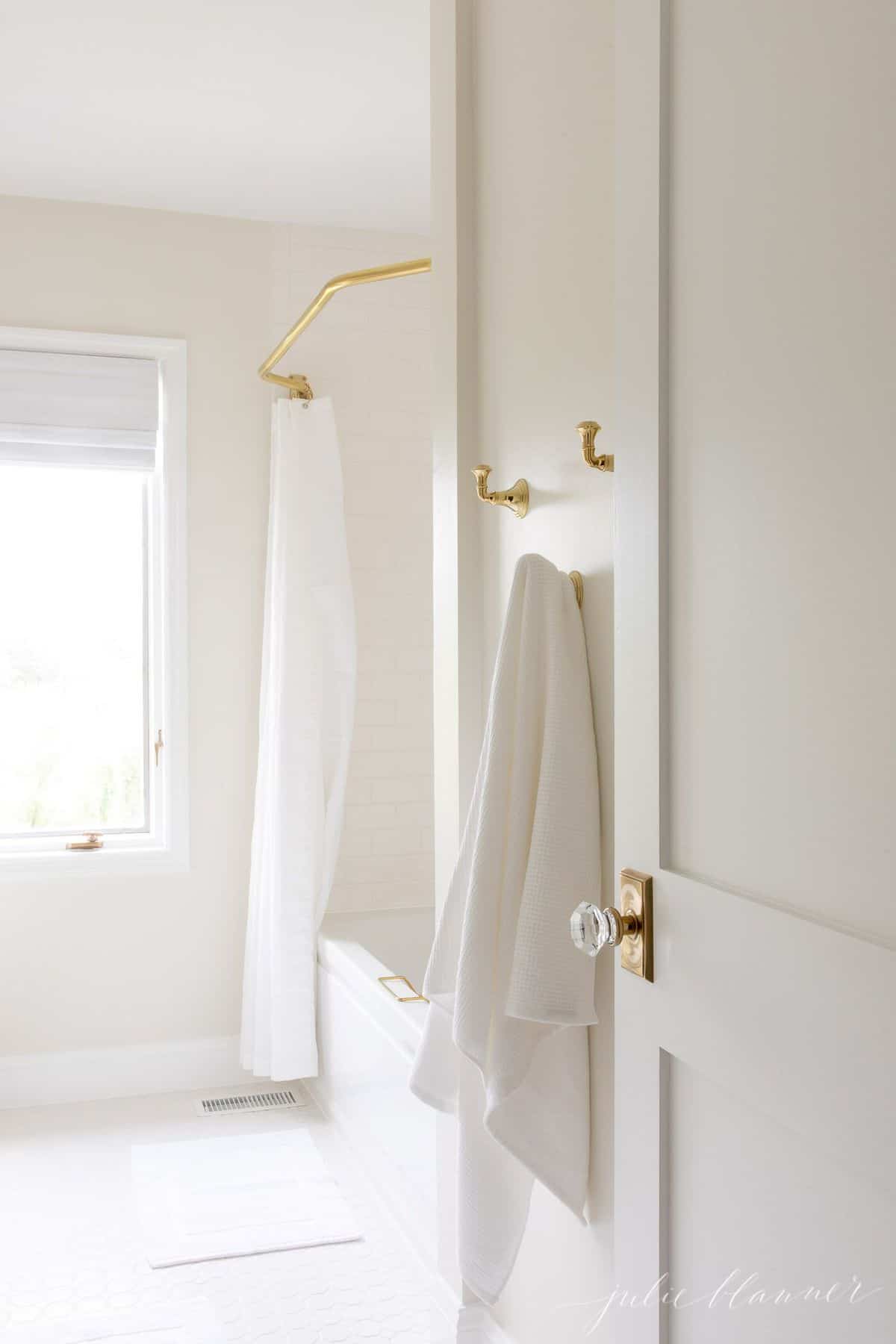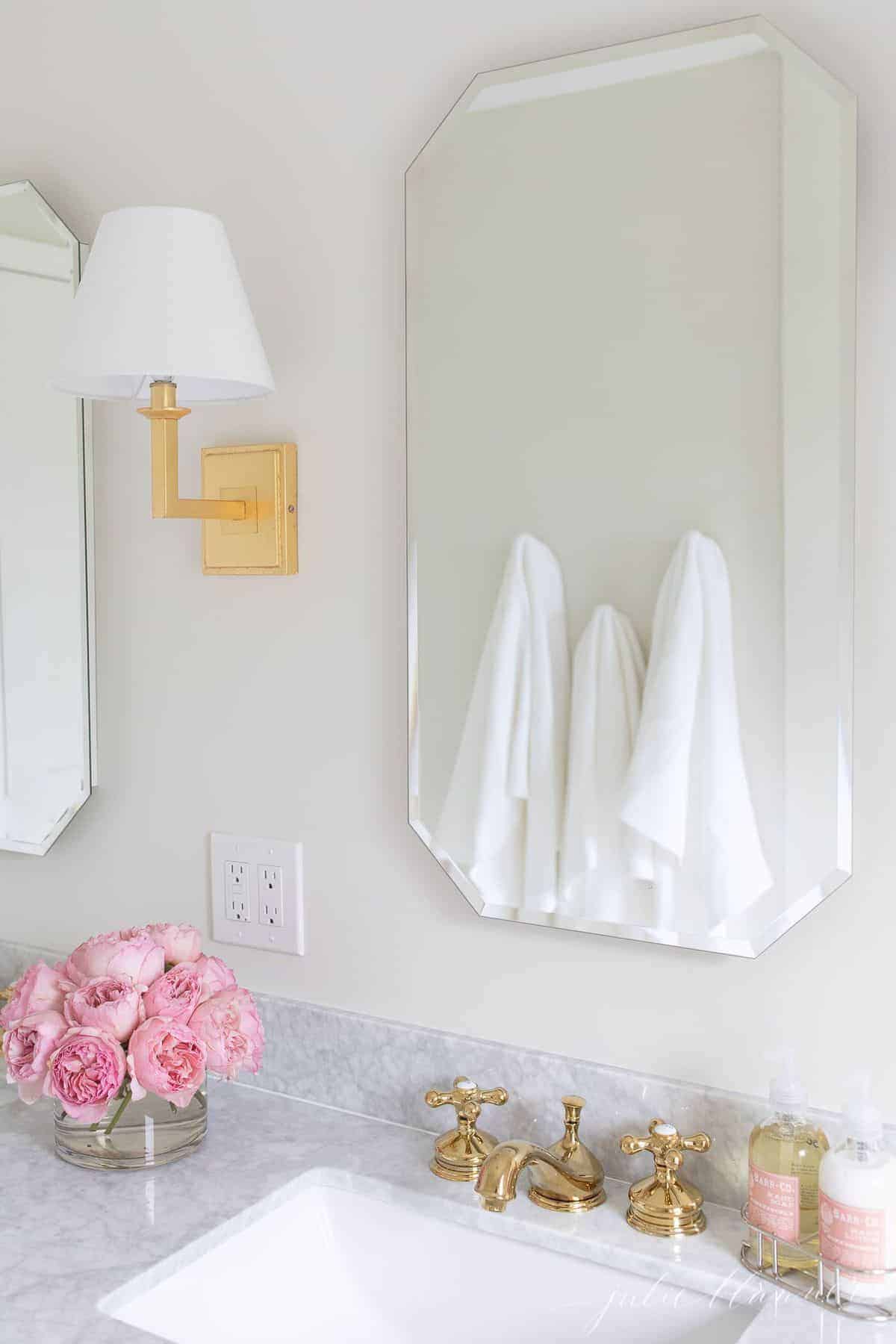 Finally, we had a blackout shade made which replaced the makeshift curtain to provide more privacy. I love the seamless, tailored look of this shade and it's so nice to find such a custom look at an affordable price!
Bonus: these shades are not only affordable, they are cordless! I love an added safety feature!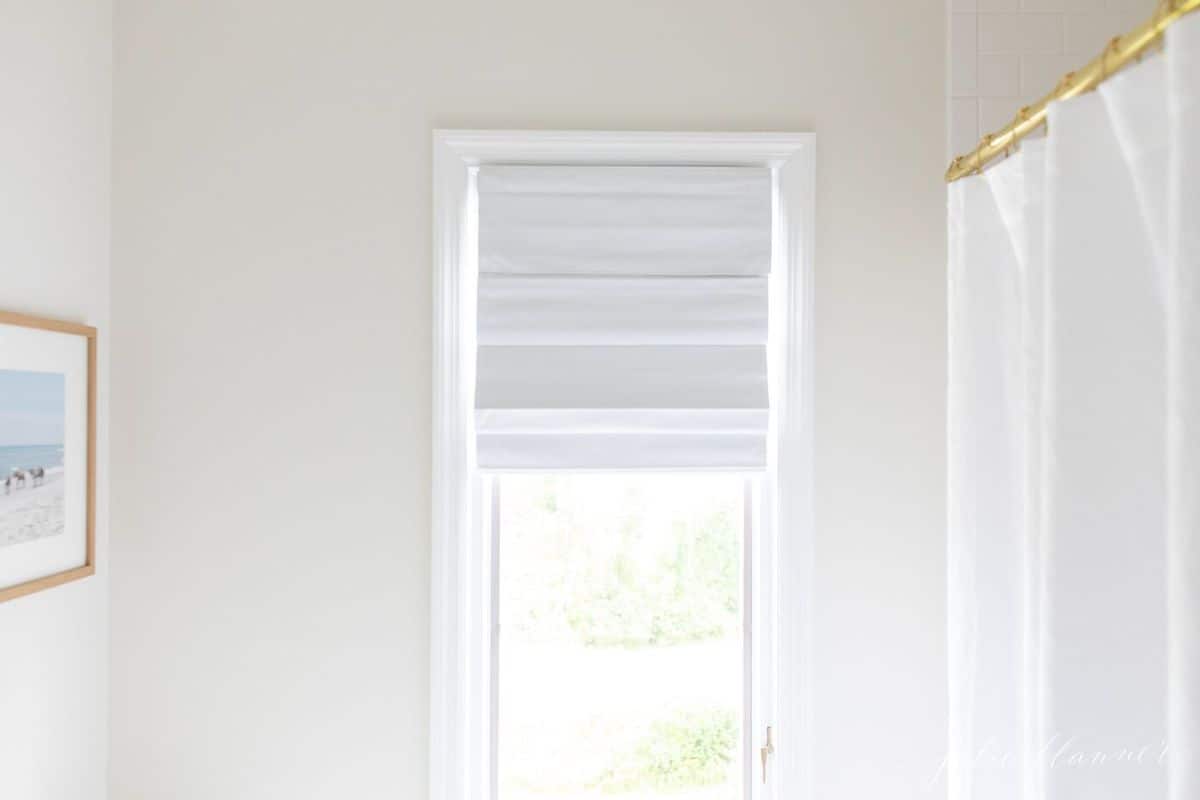 Luxury Spa Bath For Less: Sources and Cost
If you're interested in the products we used to complete this project, read on! Designing a bathroom can be overwhelming.
Lowe's is a great one stop place to shop and I'm making it even easier for you by listing everything you need – including those easy to forget things like toilet seats!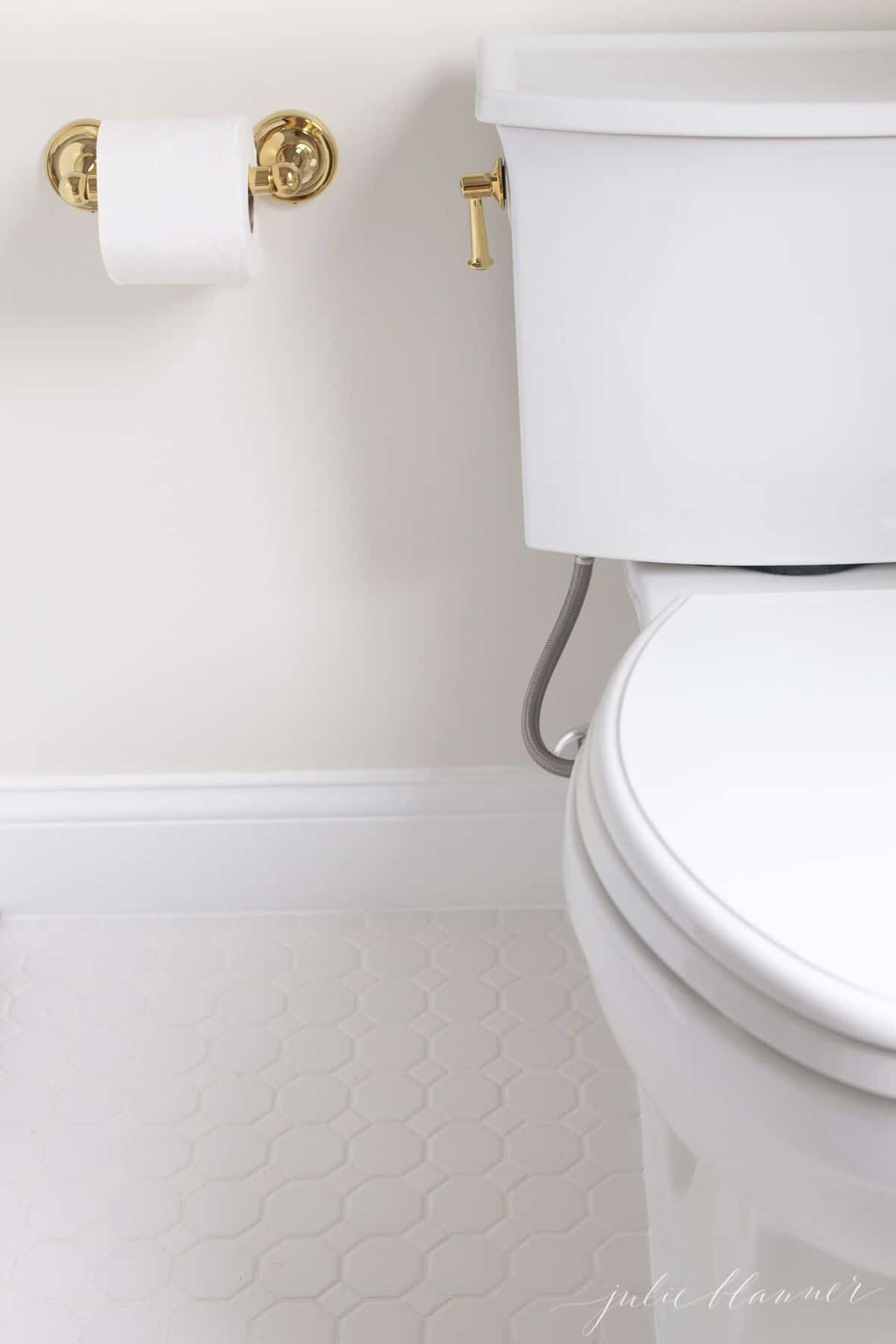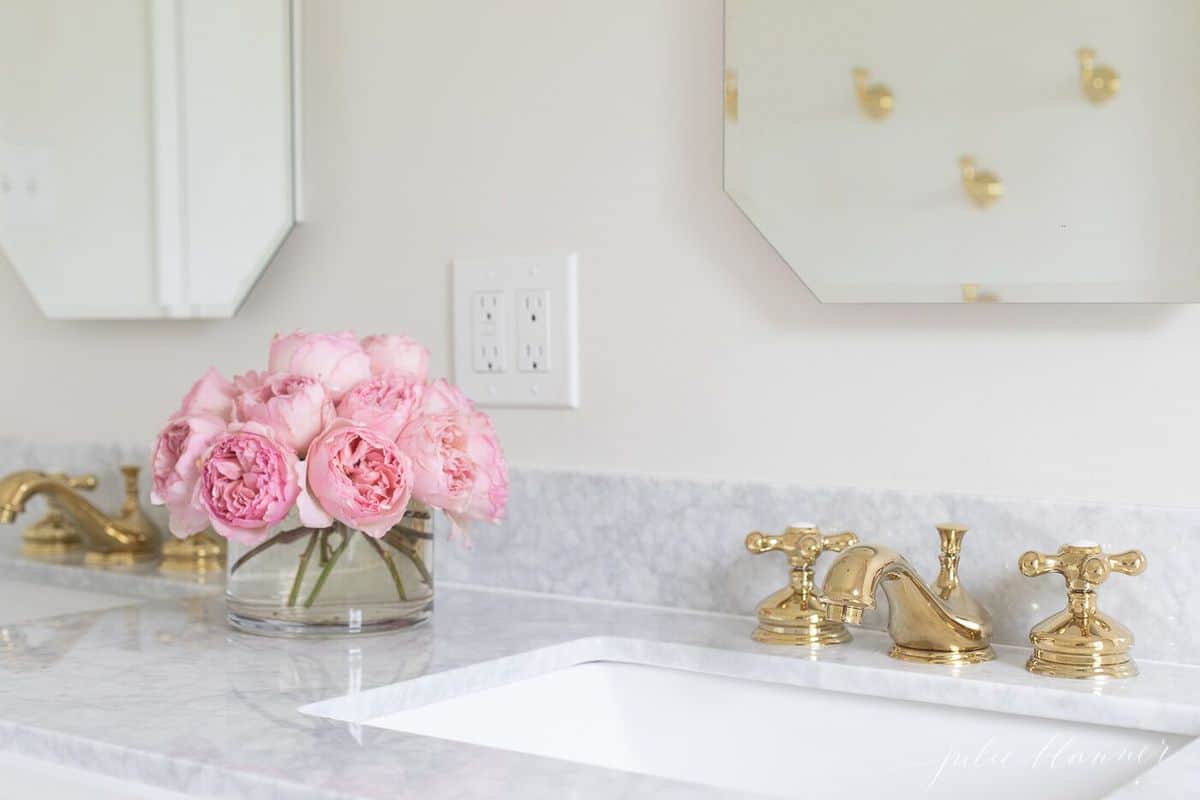 How Much Does a Bathroom Remodel Cost?
Below is a cost breakdown of our luxury bath for less for your own planning purposes! I know how helpful that's been to me in the past. The big ticket items were the air tub and marble top vanity. Shopping at Lowe's made this luxury bath more affordable and easy to shop!
Materials: $8,000
Labor: $9,200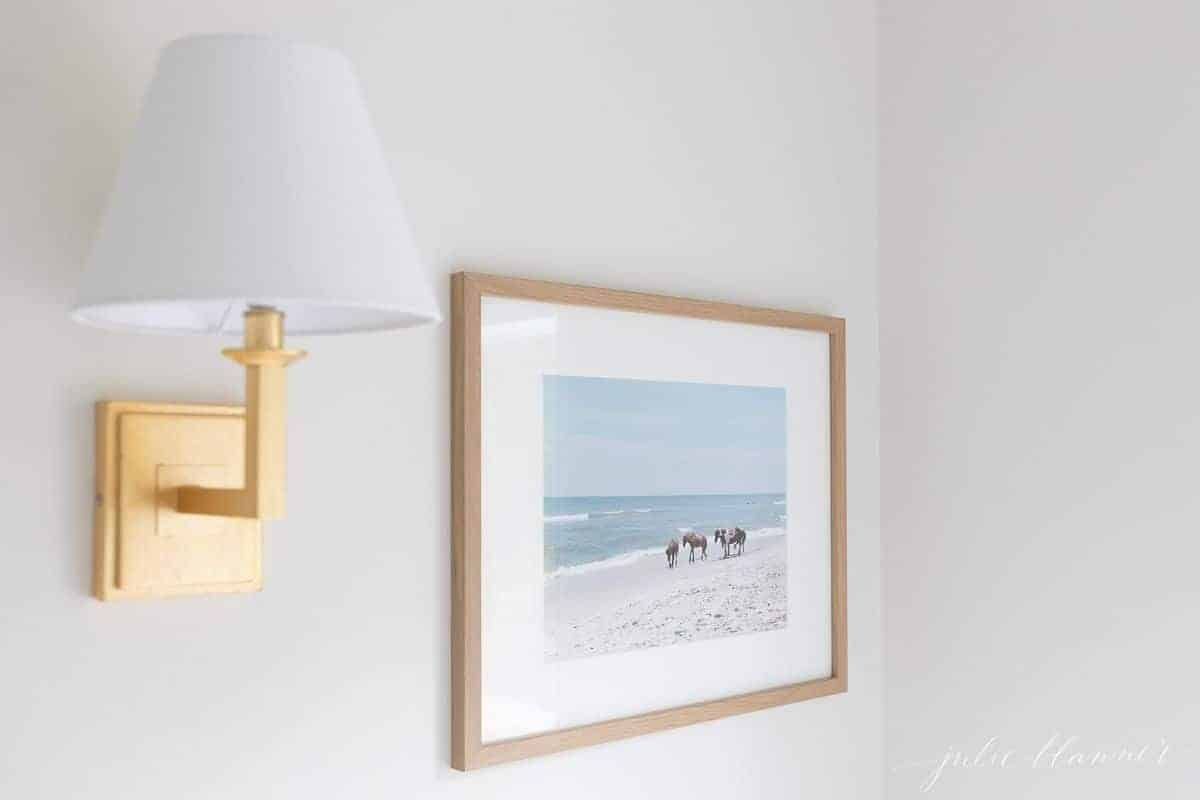 I'd love to hear from you! What do you think of our new spa-inspired bathroom? Have you ever tackled a bathroom remodel like this one? (And if you lived to tell the tale, would you do it again?) Thanks so much for following along- please be sure to pin these images or share on social!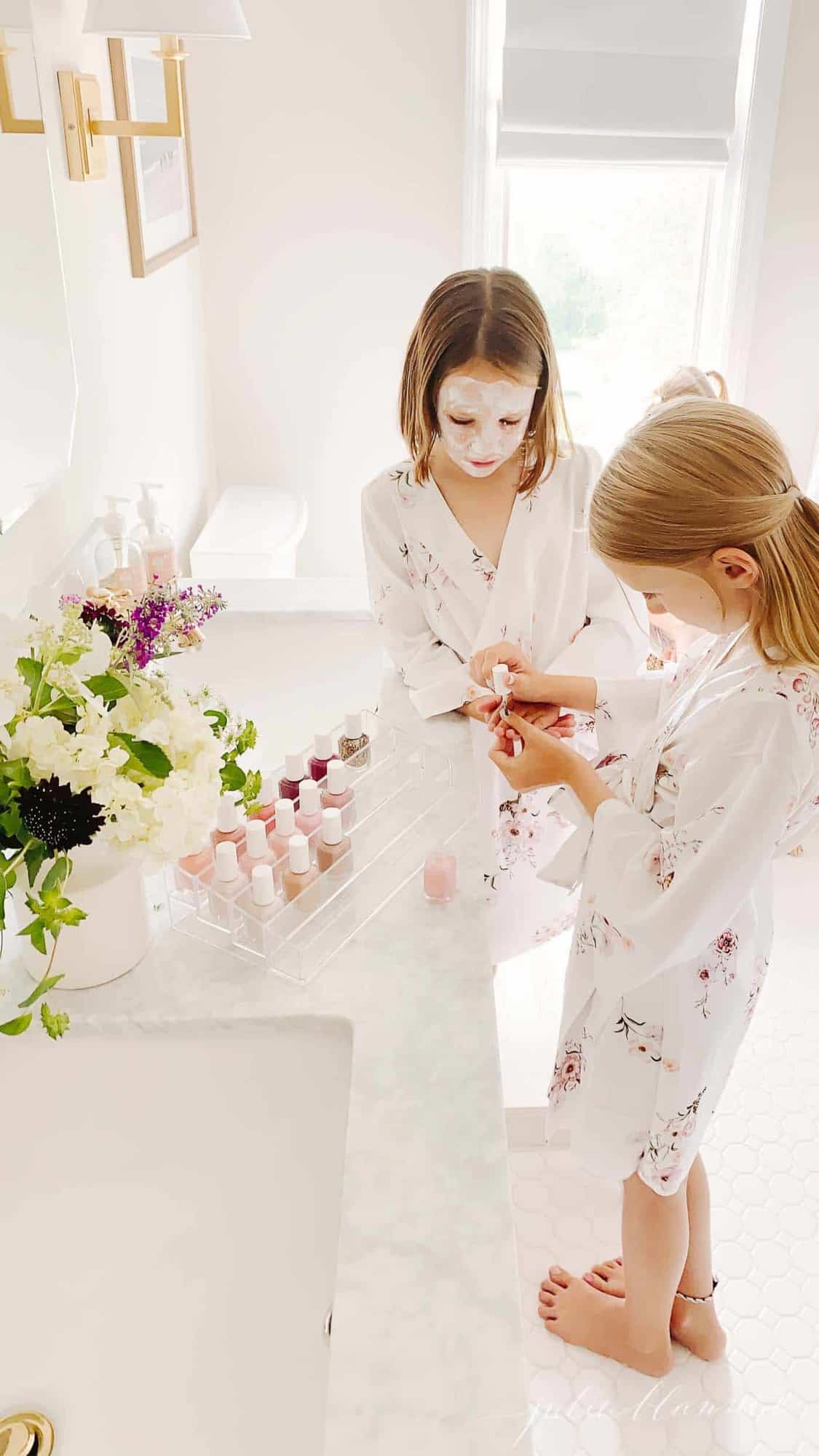 See More of Our Home
Learn how to get vacation vibes at home, creating the ultimate retreat you'll never want to leave!