Learn how to host an outdoor movie night, complete with magical twinkling lights, fun snacks, and a cozy atmosphere anywhere in your yard! Whether you're creating an indoor or outdoor movie night, you'll find tips to create fun family memories.
Now, more than ever, we're always looking for fun outdoor activities. One of our absolute favorite things to do is watch an outdoor movie! It's simply magical, and the kids will treasure the memories.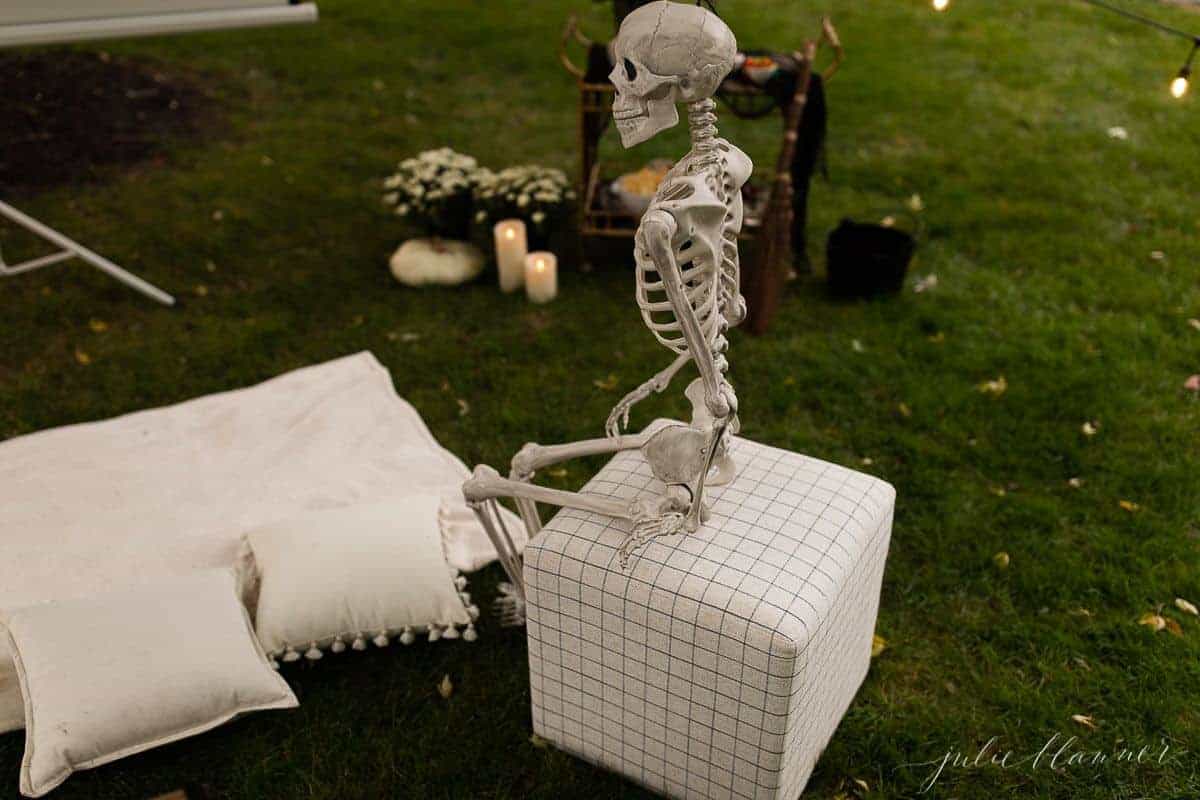 I love sharing my favorite fall and Halloween decorating ideas with you! Don't skip Fall Living Room Decor inspiration for a few more of my favorite autumn ideas.
I'm sharing everything you need to know about how to host an outdoor movie, effortlessly. You can set up a fun and festive outdoor movie night in less than 30 minutes or a simple outdoor movie in just 10!
Hosting a movie outdoors is a fun way to spend an evening with your family and a great way to entertain friends and neighbors!
What are you waiting for? It's time to turn your backyard into an outdoor movie theatre and let the fun begin!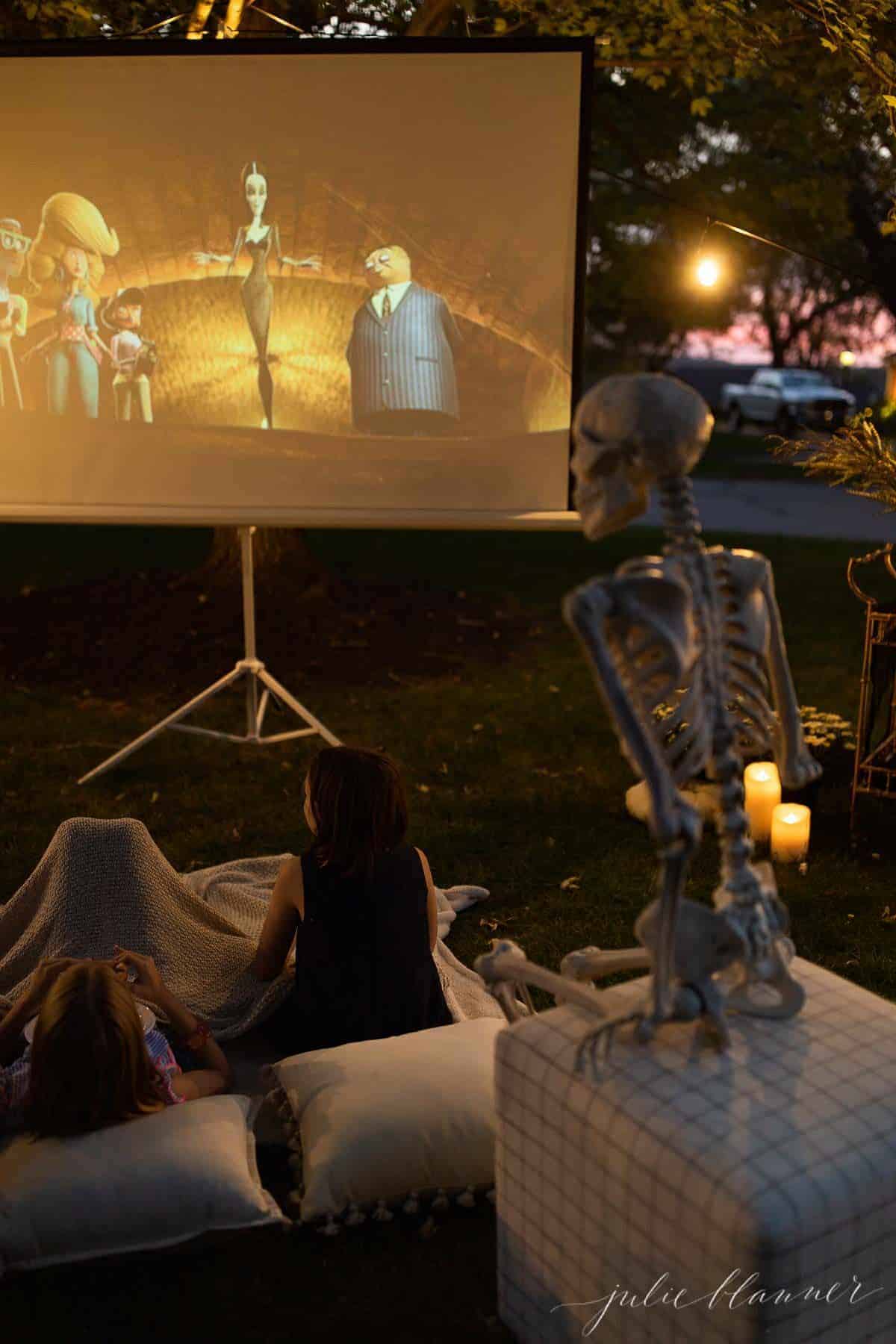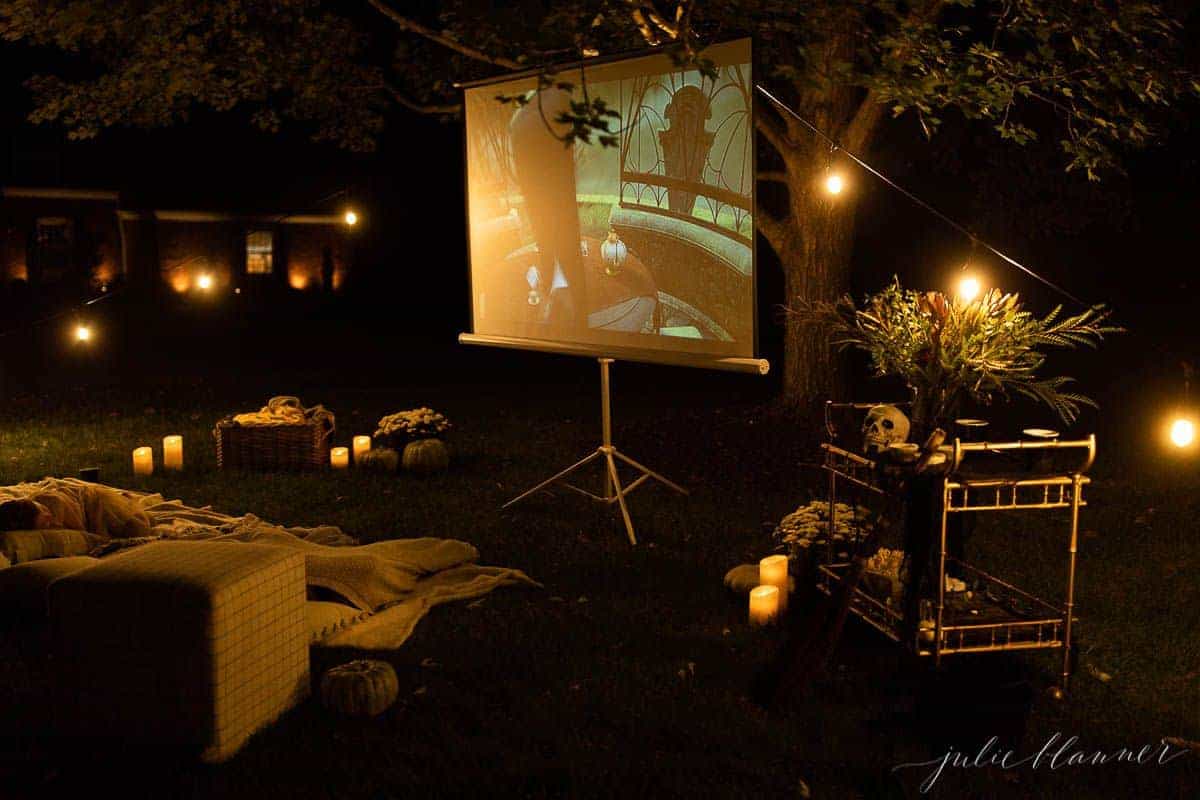 Outdoor Projector
What to Consider When Selecting an Outdoor Projector
Screen Size (1080 or 4k preferred)
Resolution
Brightness
Size / Portability
Throw Distance (how far the projector is from the screen)
Bluetooth (if you prefer over cable/hdmi)
Cordless (some charge rather than have to be plugged in during the movie)
Streaming (some offer streaming from Netflix and Amazon while others do not)
Price – they range anywhere between $100 – $2,000 (great news, there are a lot of great affordable options!)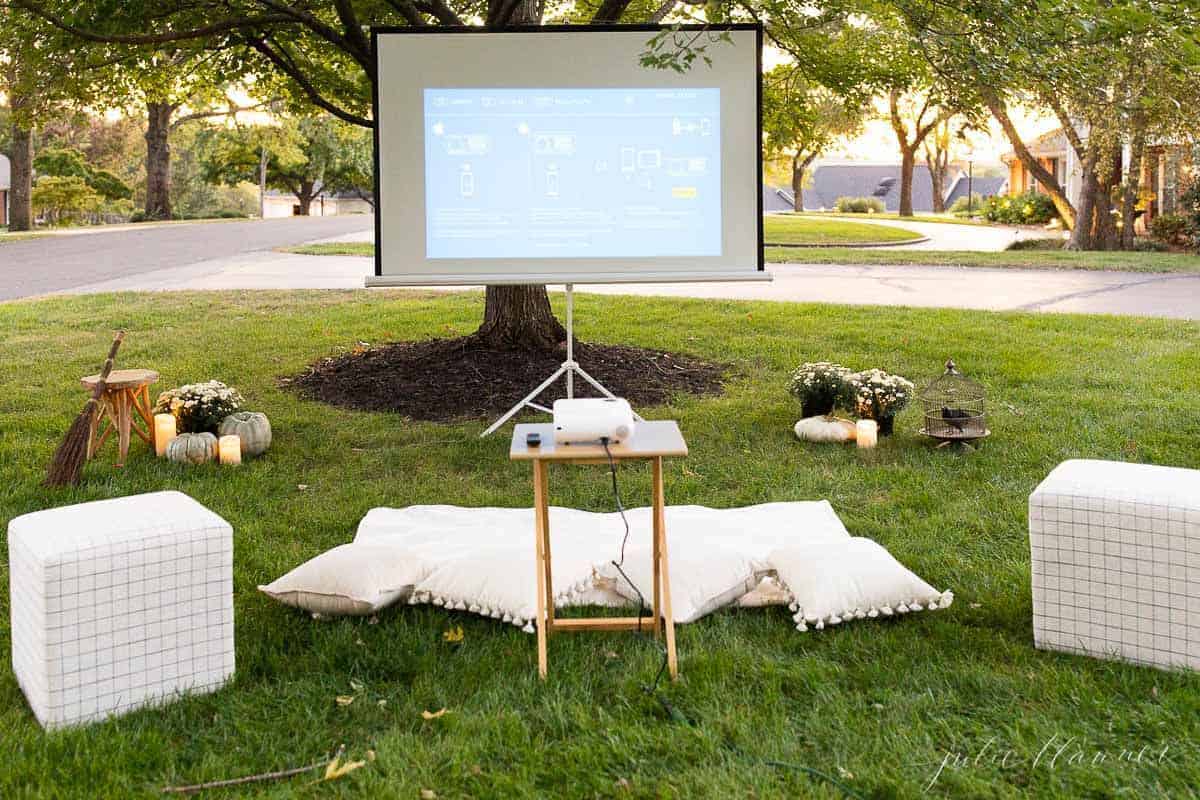 Video Source
DVD or Blu-Ray Player – Effectively, but adds additional equipment and cords.
Stream – It's important to note that most projectors block streaming of services like Amazon, Hulu or Netflix (even for paid rentals) due to DRM file protections. You can workaround using an Amazon Fire Stick, Roku Stick or Apple TV to stream if you have a strong wifi connection. You can also set up your projector by utilizing the hotspot on your wireless phone.
Phone with USB – Some users have also had success using the usb cable to mirror onto the projector to effectively stream.
Laptop Computer – A larger, but often reliable source.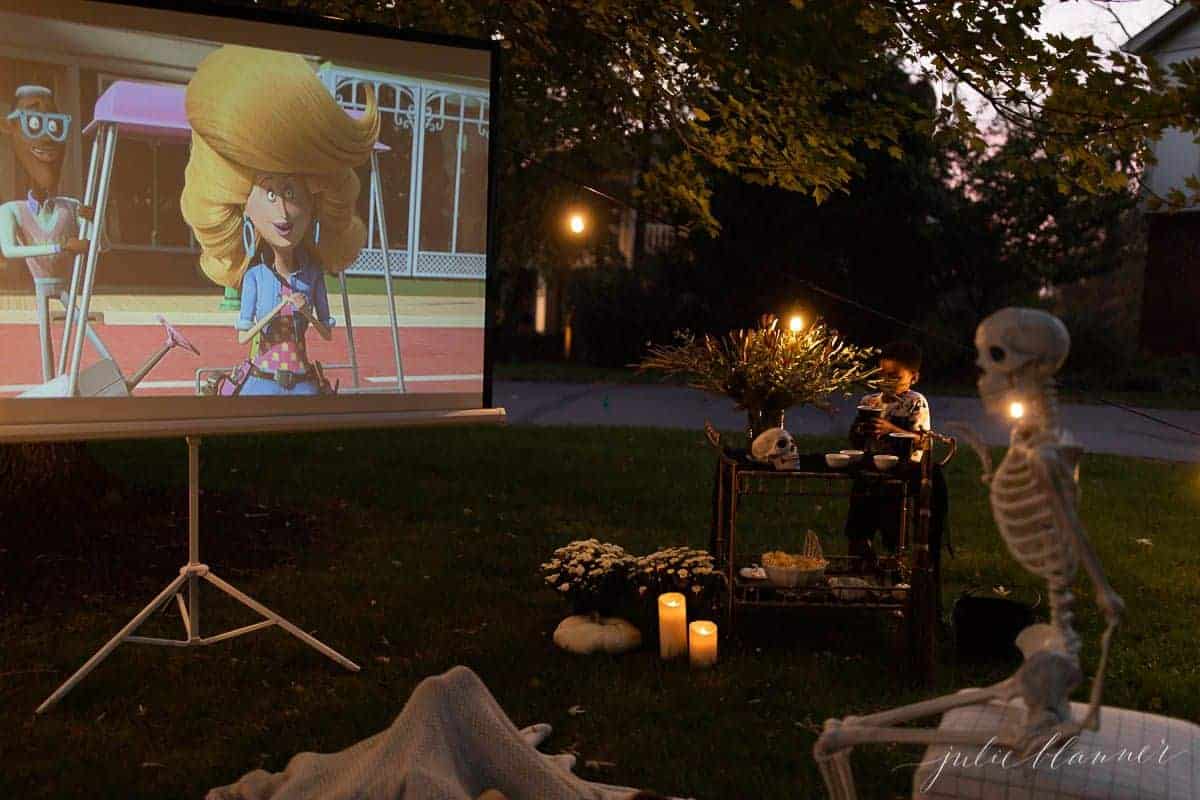 Speaker
While most projectors offer sound, it's not the best, or very loud – especially if you have a lot of guests for your outdoor movie.
Bluetooth speakers are ideal so your video source can seamlessly stream wirelessly. Note that Bluetooth audio isn't standard on all projectors. In that case you can use audio cables.
Soundbars are an excellent option for small to medium get togethers and 2 large speakers set up on each side of the screen work well for large get togethers. You can also use a portable Bluetooth speaker.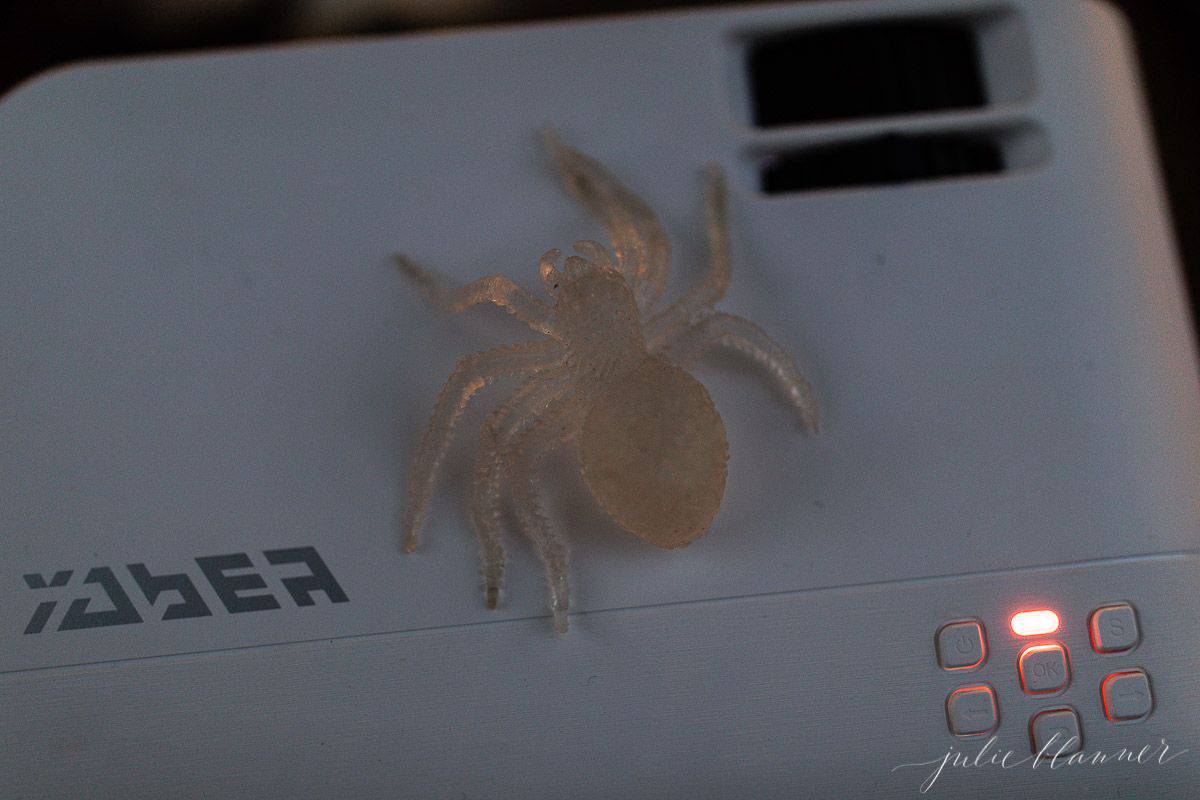 Extension Cord
Unless you're using a cordless outdoor projector, you'll need an extension cord. You may also want to utilize it for outdoor lighting.
Small Table
You'll need a small table to set your projector and optional speaker on. I highly recommend using a TV tray because it's sturdy, yet small, and doesn't impede the view if anyone is watching the movie behind it. It's also easily portable.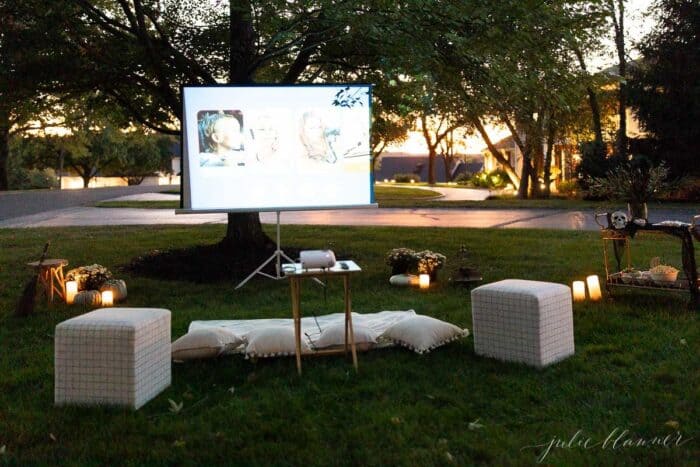 Outdoor Movie Screen
You need a flat screen to project your movie onto. Fortunately, there are several outdoor movie screen options, including a free option!
Sheet
Use an existing white sheet to create an inexpensive, impromptu projector screen. While this is a very viable option, this will result in a lower quality experience. The picture won't be as clear.
It is best to hang a sheet against a solid surface like your home or garage so the image doesn't go through the sheet, further deteriorating the picture. However, you can hang from a ceiling if you prefer.
Inflatable Projector Screen
Inflatable projector screens are so much more affordable thank you'd think! They're easy to tote and store as well. A 14′ screen is as little as $159. This is a great option for a crowd!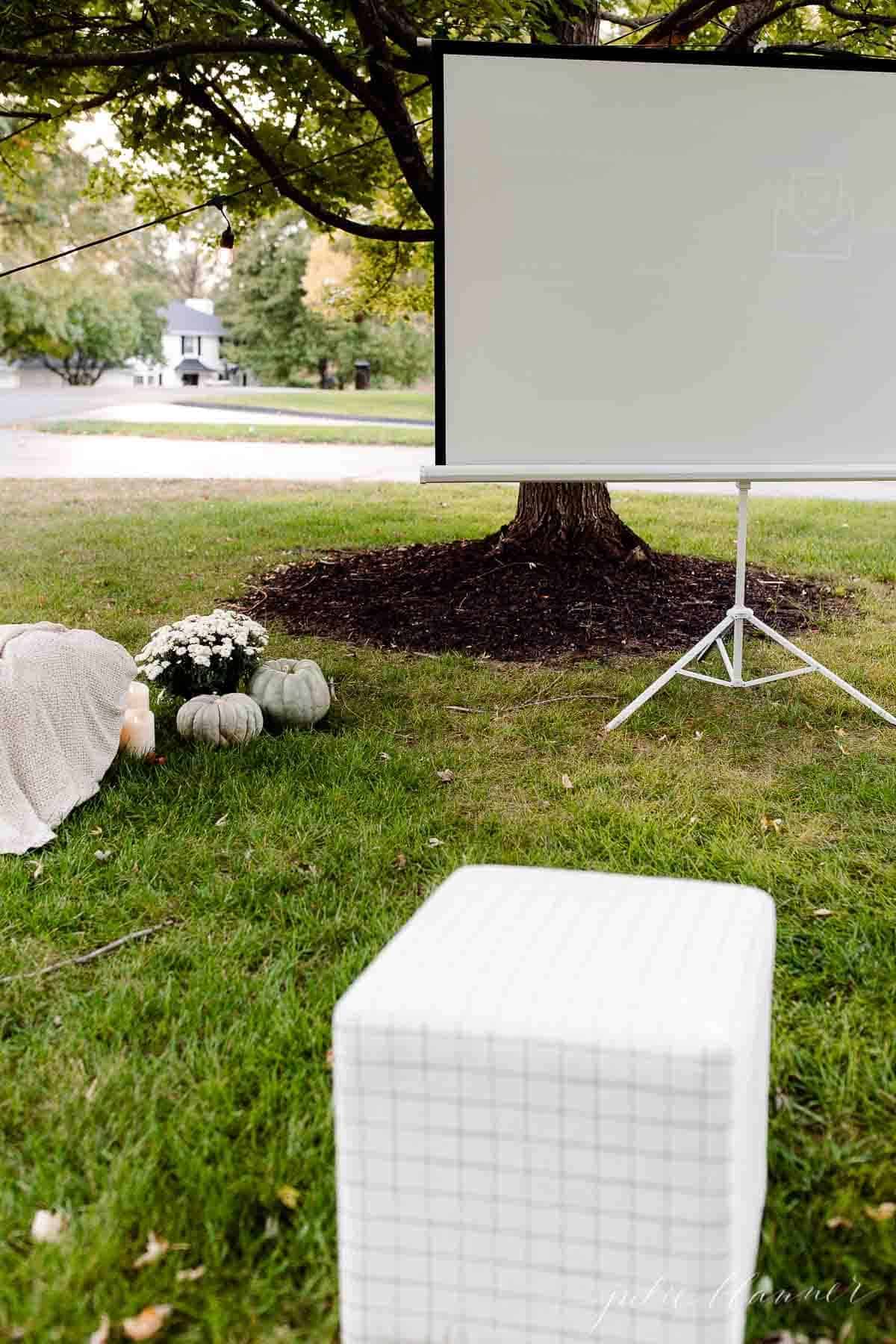 Outdoor Projector Screen
An outdoor projector screen will offer the best gain – or focused light and ambient light rejection, which will prevent the lighting being diluted from other sources (like outdoor lighting).
With Stand – As shown above, this outdoor projector screen with a stand (just $84.99) will consume more space, but are quick and easy to set up.
Without Stand – A lot of projectors will even come with a projector screen that can be folded and stowed away. You can hang them by string from the trees or up against your home.
Projector Screen Size
Size matters! Of course there's little you can do with a bed sheet, but for an outdoor projector screen, select a size that works well with your outdoor projector.
A projector with a 1080 capacity will need to be place approximately 15 feet away.
A 4k projector will need to be place about 10 feet away to fit the screen.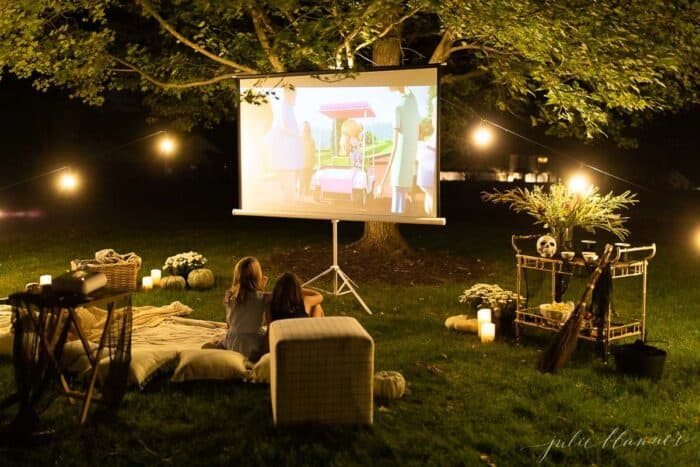 Make it Cozy
Add blankets and throws – offer an abundance of throws in a nearby basket in case temperatures drop so that everyone is cozy! They're great for lining the lawn, as well, in case of damp grass.
Add pillows – bring all the comforts of home, outdoors! I just pull our outdoor pillows from neighboring benches, chairs and outdoor sofa. They're incredibly easy to clean, if needed.
Oversized outdoor pillows, poufs and ottomans also make great seating for an outdoor movie. They add to the special feeling of a cozy outdoor space.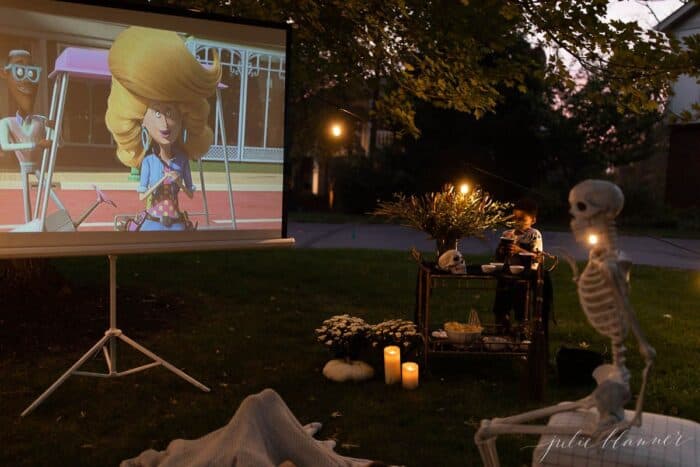 Adding a little glow not only creates a magical scene, but it also allows everyone to move around safely without tripping on a cord or shoes!
Bulb Lights are always an element of magic in any outdoor setting. Even better, they don't have to be plugged in! These solar powered string bulb lights create the perfect glow…no cords required.
Flameless Candles are another lighting element that I adore all year long! They are perfectly spooky (and yet safe) when tucked in next to Halloween decor, and extra romantic and charming for Christmas, too.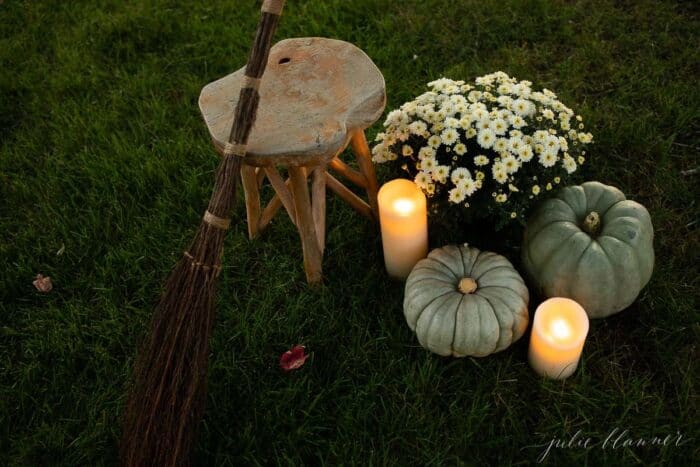 Add Decor
Of course this is completely unnecessary, but an easy way to make it feel festive for Halloween or Christmas! Any outdoor movie night can benefit from a little decor.
Fortunately, you don't have to look far for decor – or even visit the store! You can source from your own home! Move a few potted plants around to frame the outdoor movie screen… in our case, we pulled potted mums from the front porch to frame the seating area.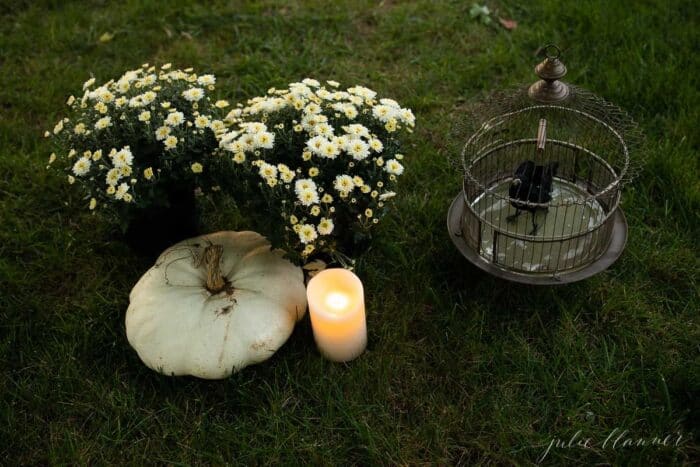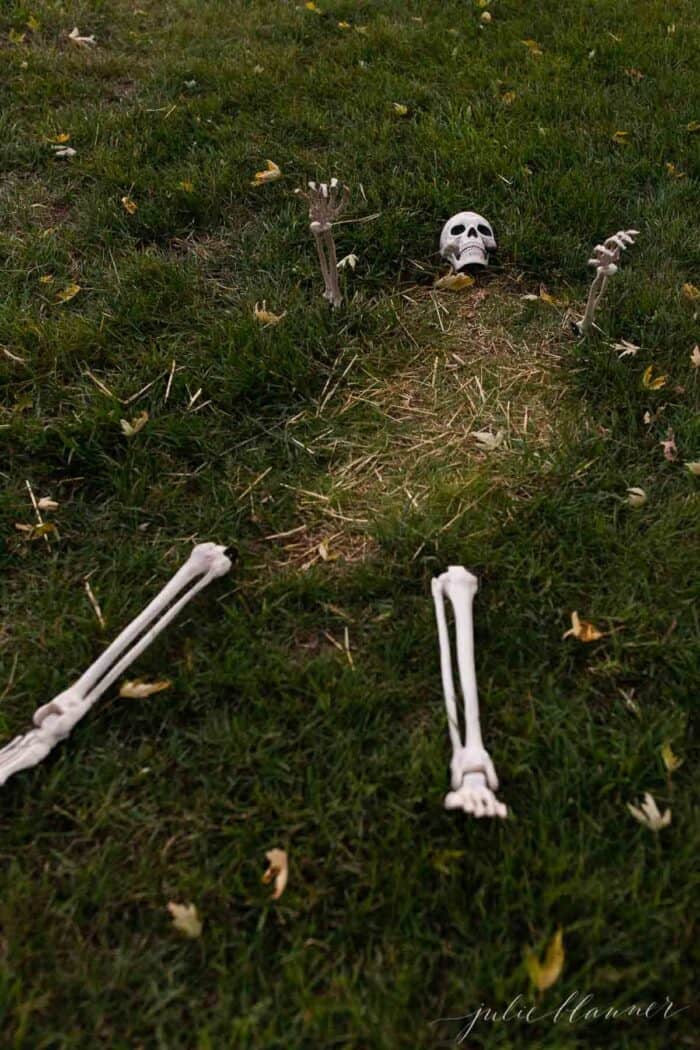 For Halloween Mr. Bones the skeleton made an appearance for a little spooky fun, as well as a few porch pumpkins. I also added indoor Halloween elements like a little witch's broom and cauldron, a skull, and a little creepy black netting for effect.
Don't forget the spooky eyes hiding in the bushes nearby…these are just the right amount of scary for the kids!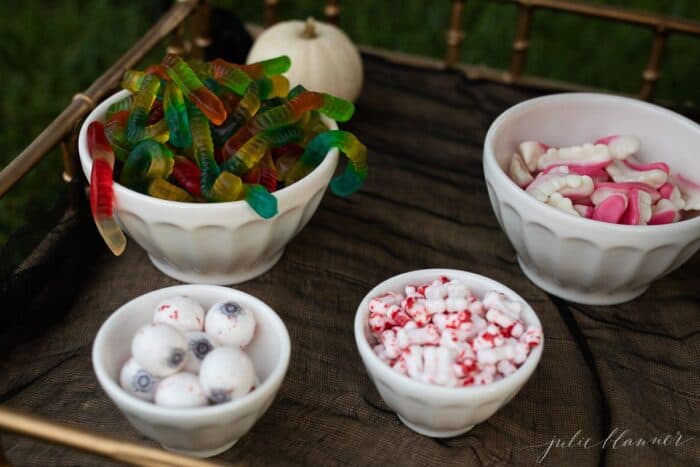 Make a Snack Bar
No outdoor movie is complete without a snack bar, but again, you can create one in minutes with these simple tips!
Move a small table or bar cart outside. (You can learn how to style a bar cart here). Add some flowers and decor, along with bowls and platters of simple snacks.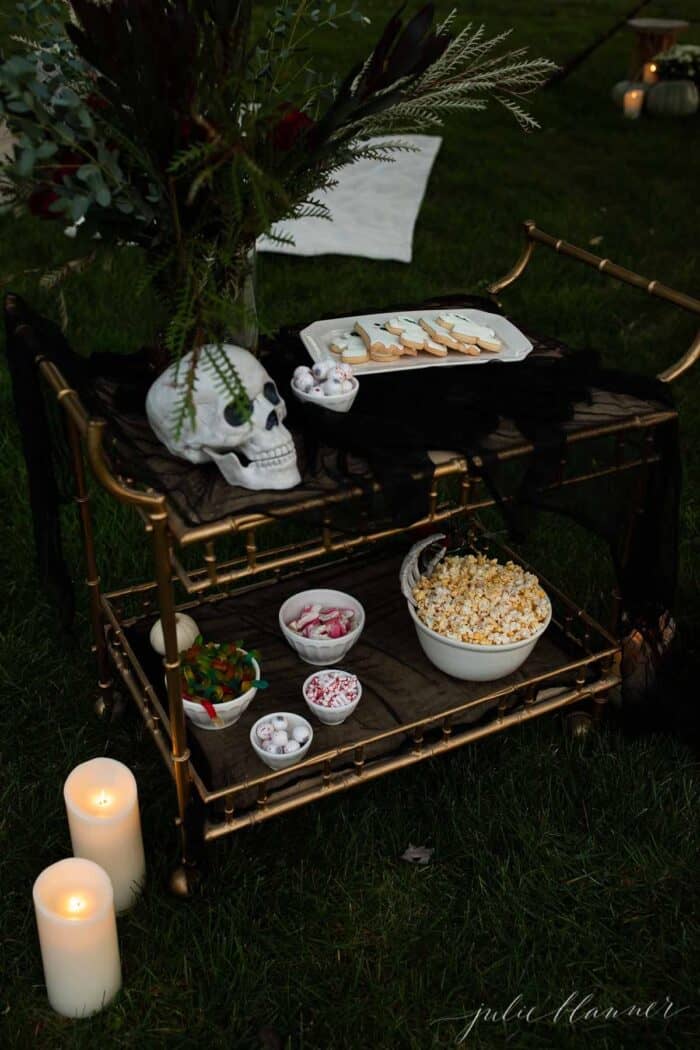 Some of my favorite outdoor movie night snacks include: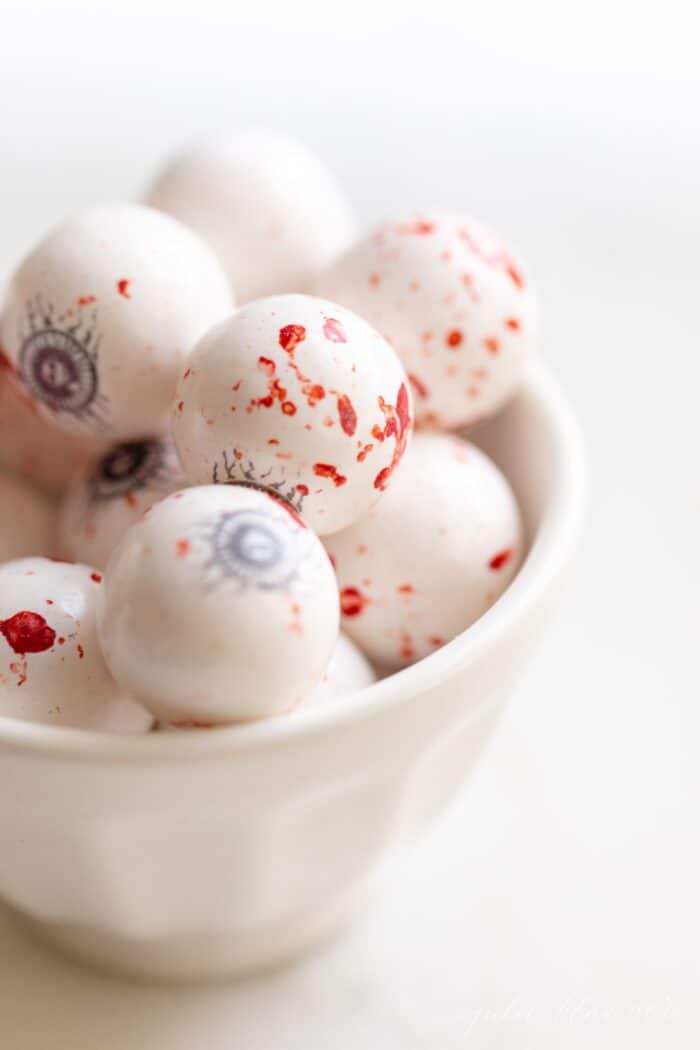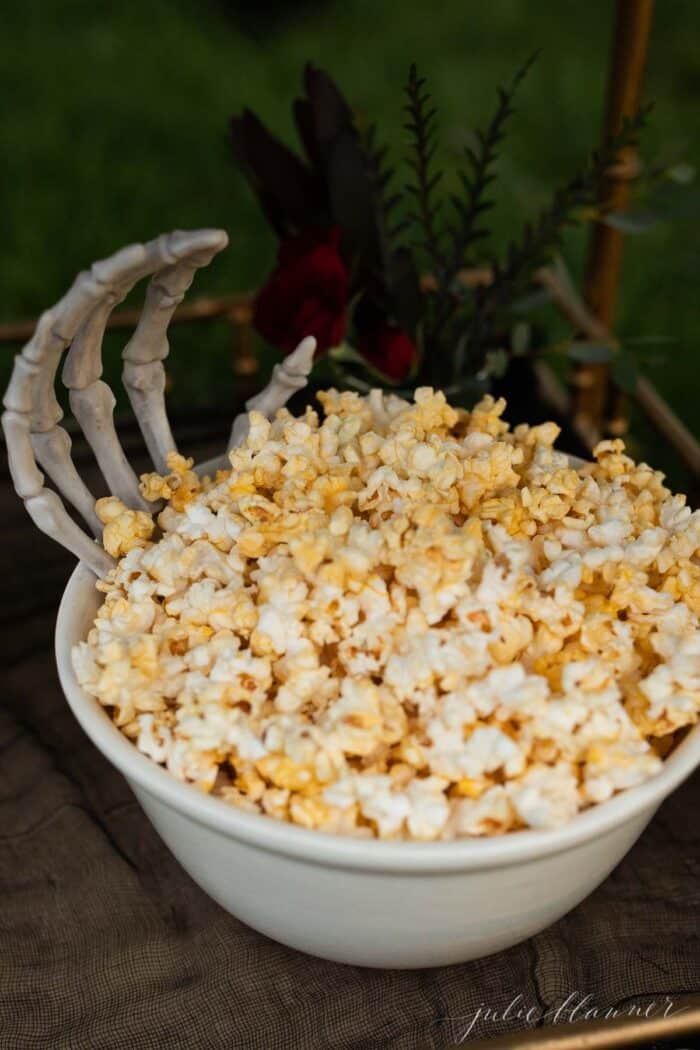 Tips to Host an Outdoor Movie
Test your wifi connection at your desired movie location before setting up. You may need to utilize your phone hotspot or find a more suitable location.
Test your movie and equipment.
Start the movie after dusk – it will significantly increase the quality of the picture.
Use tape, blankets or flags to mark any cords so no one trips in the dark.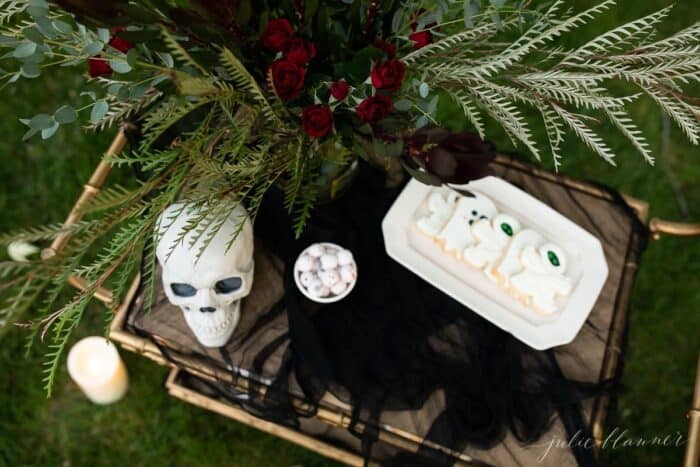 Favorite Family Movies
Harry and the Hendersons
The Bee Movie
Beethoven
Mrs. Doubtfire
Freaky Friday
Parent Trap
Matilda
Free Willy
Edward Scissorhands
Sister Act
The Little Rascals
Back to the Future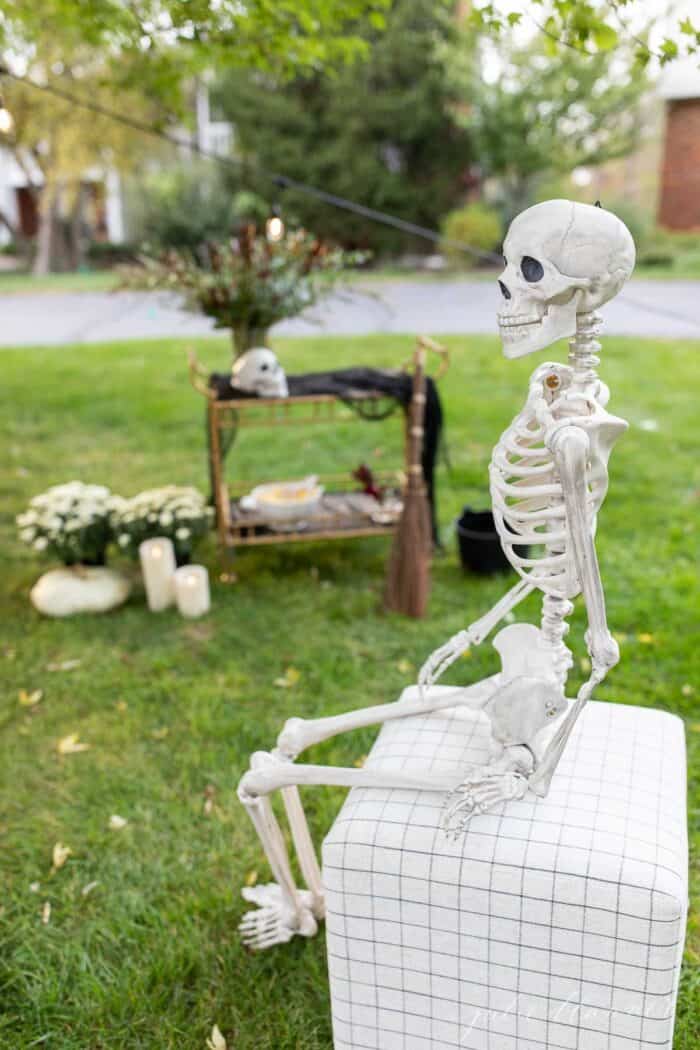 Favorite Kid-Friendly Halloween Movies
The Addams Family
Hocus Pocus
Beetlejuice
Casper
Hotel Transylvania
Coraline
Ghostbusters
The Nightmare Before Christmas
Gremlins
ET
It's the Great Pumpkin, Charlie Brown
Monster Family
Paranorman
Coco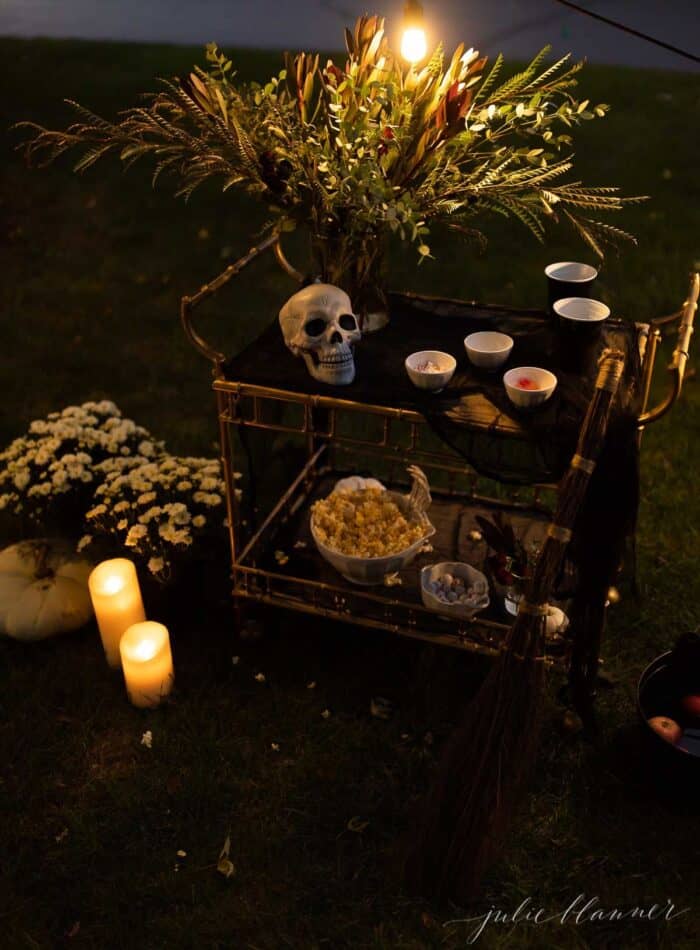 Have you hosted an outdoor movie night with your family? It's such a fun way to host friends, family and neighbors in your own backyard!
For more easy entertaining ideas, subscribe to our free email club and follow on Instagram!