One of the easiest ways to make a room feel larger and richer is to paint walls and trim the same color. This design choice takes the guesswork out of what color trim paint you should use.
These tips will help you achieve the perfect aesthetic for your home!
A home trend on the rise is painting walls and trim the same color. It's a beautiful – and a bit daring – design choice that has so many advantages.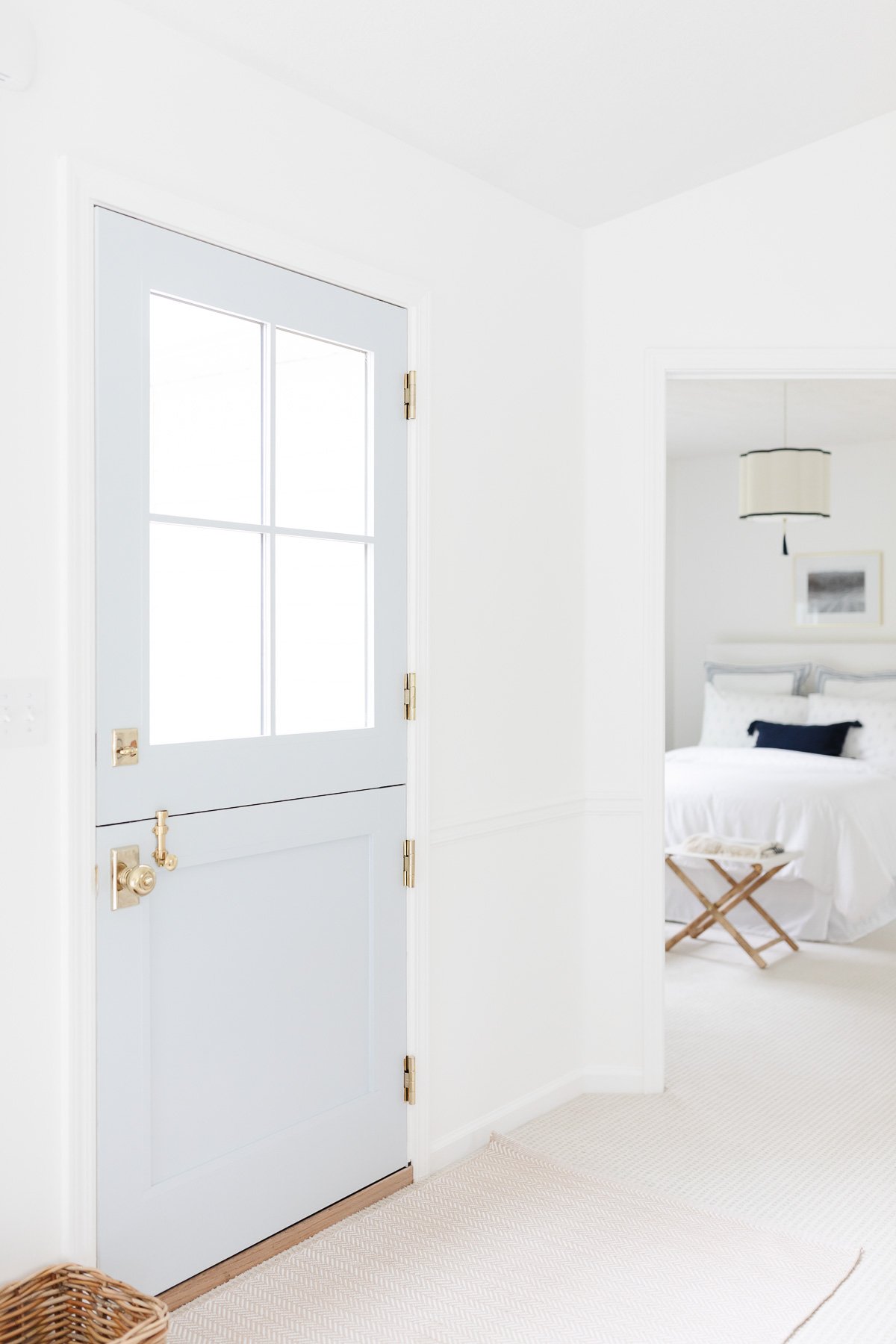 If you've been here for very long, you know that I believe that paint can completely transform a space. Painting can be a quick and easy update that can instantly brighten a room. I love the cozy feeling of the neutral colors in our home.
However, we all know that it's not as easy as simply painting your walls. You also have to consider your trim – that's your baseboards, window and door trim, crown molding, and any built-in cabinetry.
How you decide to paint your trim will have an impact on the overall aesthetic of your space.
Contrasting trim breaks up a space, whereas painting walls and trim the same color unifies a space. The effect can be subtle and serene or daring and dramatic, depending on your color choice.
For everything you need to know about painting trim, check out my post all about Trim Paint. It has everything from choosing the right brush, paint, and color to how to paint without sanding.
Painting Walls and Trim the Same Color
A few years ago, I painted the walls, trim, bookcases and moulding Sherwin Williams Zurich White. It instantly made our small living room feel larger, brighter, and more cohesive.
When painting walls and trim the same color, I recommend painting trim one sheen higher. For the living room of our lake cottage pictured here, I chose to paint trim in a semi-gloss finish and walls in eggshell.
Semi-gloss is perfect for trim, because it is durable and cleans easily. I prefer eggshell for walls for its high LRV (light reflective value) without too much shine. Below, note that our walls and built-in bookcases are painted in the same color (Sherwin Williams Zurich White) just a different sheen.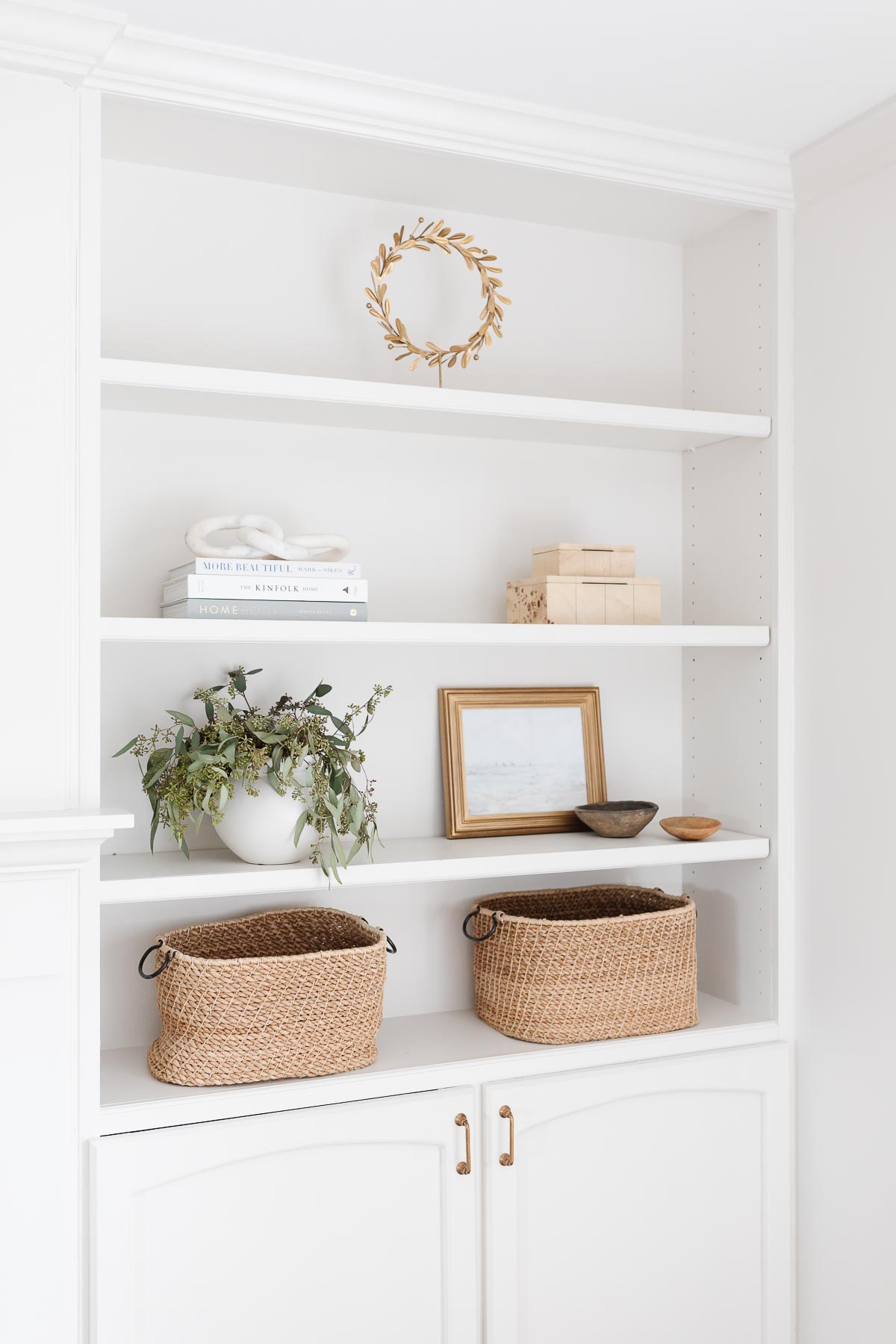 The difference between the two sheens is subtle, but it creates a lovely contrast when the light catches it. The higher gloss of the trim catches the light and looks so lovely!
If you'd like to save time and effort, this is the style for you. Of course, you should always be careful when cutting in lines between trim and walls. Using painter's tape helps keep lines clean. However, when painting walls and trim the same color, if you make a tiny slip here and there, no one will ever know!
If you want to use just one paint sheen for both, I recommend using a good-quality satin finish. It's a middle of the road sheen and will be durable yet cleanable without being too glossy. Learn more about paint sheens here.
Why You'll Love this Look
There are so many reasons why painting trim the same color as walls is a fabulous design decision. This simple design detail makes rooms feel larger, more open, and more seamless – even the cabinetry.
It creates an elegant, classic look, but not in a showy or fussy way.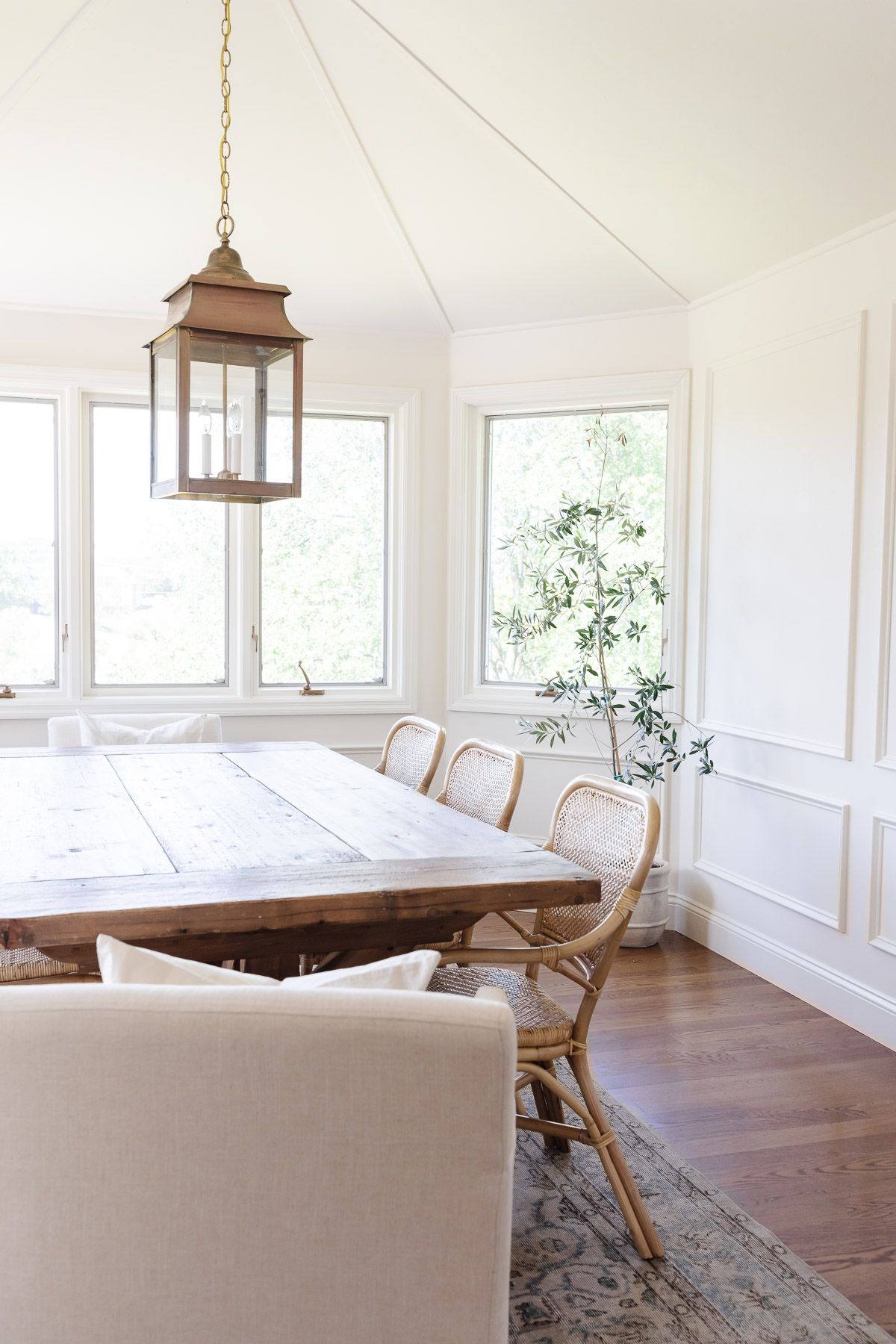 It Adds Elegance
At its core, this design trend is meant to be understated. Painting walls and trim the same color means that they will blend together, and that nothing will stand out.
In previous years, bright white trim against dark contrasting walls cried out, "Look at me!" It definitely wanted to be noticed. Painting trim the same color as the walls, however, is asserting that trim and molding can be beautiful without demanding attention.
And yet, it doesn't quite slip into the background, either. Perhaps the trim is a slightly glossier sheen than the walls. Perhaps it has pretty curves or interesting architectural elements. Or maybe it's simply because it isn't demanding our notice – we are taking notice.
Painting crown molding, baseboards, and trim the same color as walls elevates the entire space. It creates an understated elegance that feels simply effortless.
Makes a Room Appear Larger
It's easy to see how painting crown molding the same color as the walls makes ceilings appear higher than they actually are. When trim is a contrasting color from the walls – especially if it is a stark contrast – it creates a harsh line between the walls and ceiling, essentially stopping the eye from moving up.
Contrasting trim around windows, doors, and along floorboards do the same thing – it stops the eye from moving around the room freely. Instead of being able to sweep around the room and take it all in, the eye sees the room in smaller sections and pieces them together.
With the walls and trim the same color, the eye can move around the room in one sweeping motion, with nothing to stop it. As a result, ceilings appear taller and walls appear wider than they really are. Everything seems larger and more open.
This is in part because having everything the same color helps to hide unwanted elements. An unwanted kitchen soffit, exposed pipe, awkwardly placed vent cover, drop-down ceiling – they all blend together and in a sense "disappear" when they're the same color.
For our breakfast room, we even painted the ceiling in the same color (Benjamin Moore Navajo White) to make the space feel larger and richer.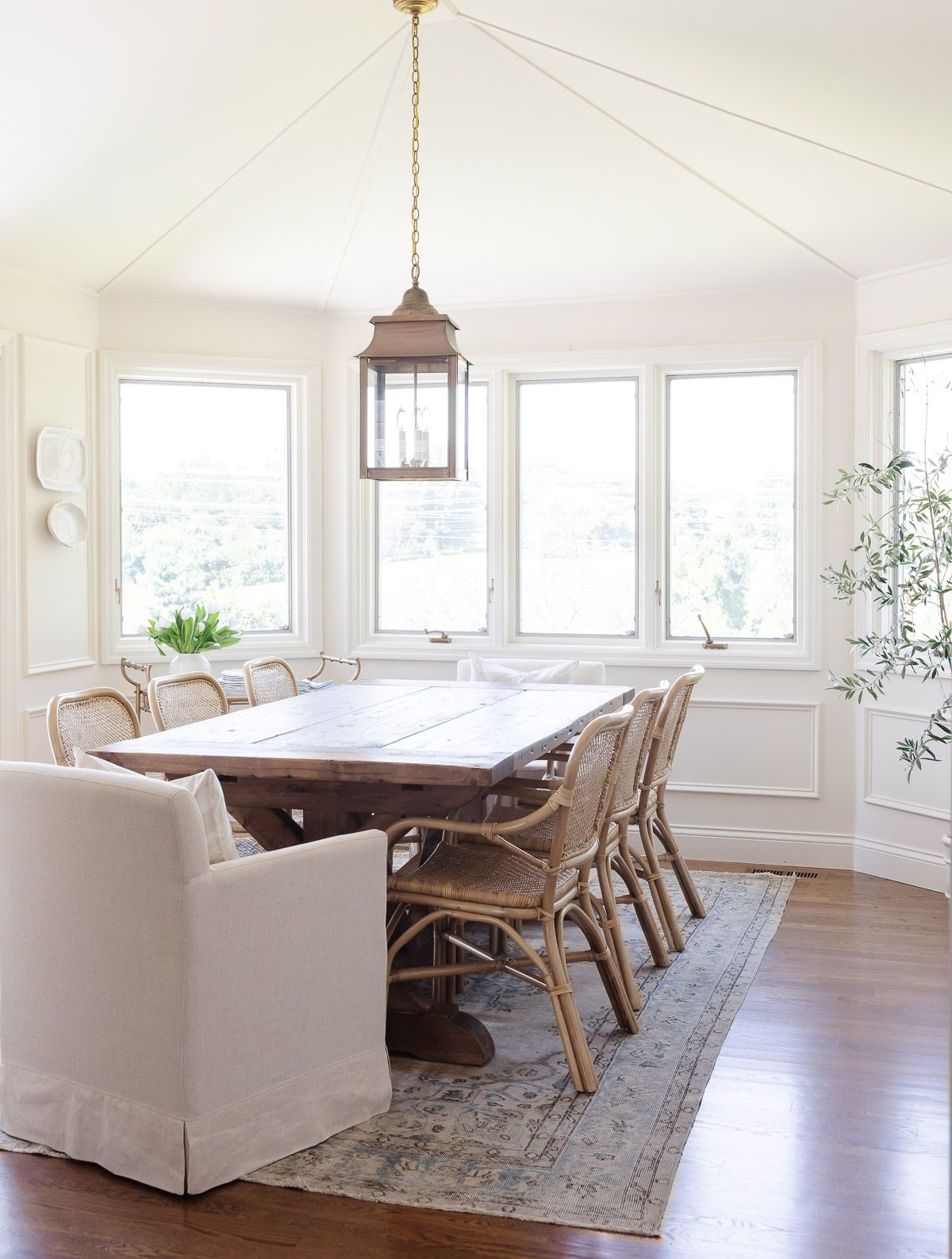 Make Cabinets Feel Built In
Painting cabinets the same color as your walls creates a cohesive, built-in feel. Even after market cabinets can look custom when they're painted well.
Painting cabinetry the same color as walls and trim makes it feel like a seamless, integral part of the space and not an afterthought.
In our kitchen, we had our inset cabinets painted the same creamy white as the beadboard backsplash, oven hood, window trim, and crown molding. The effect is a classic, timeless kitchen that will be "in style" for years to come.
See another example of this style in our guide to the prettiest gray green color, Sherwin Williams Evergreen Fog.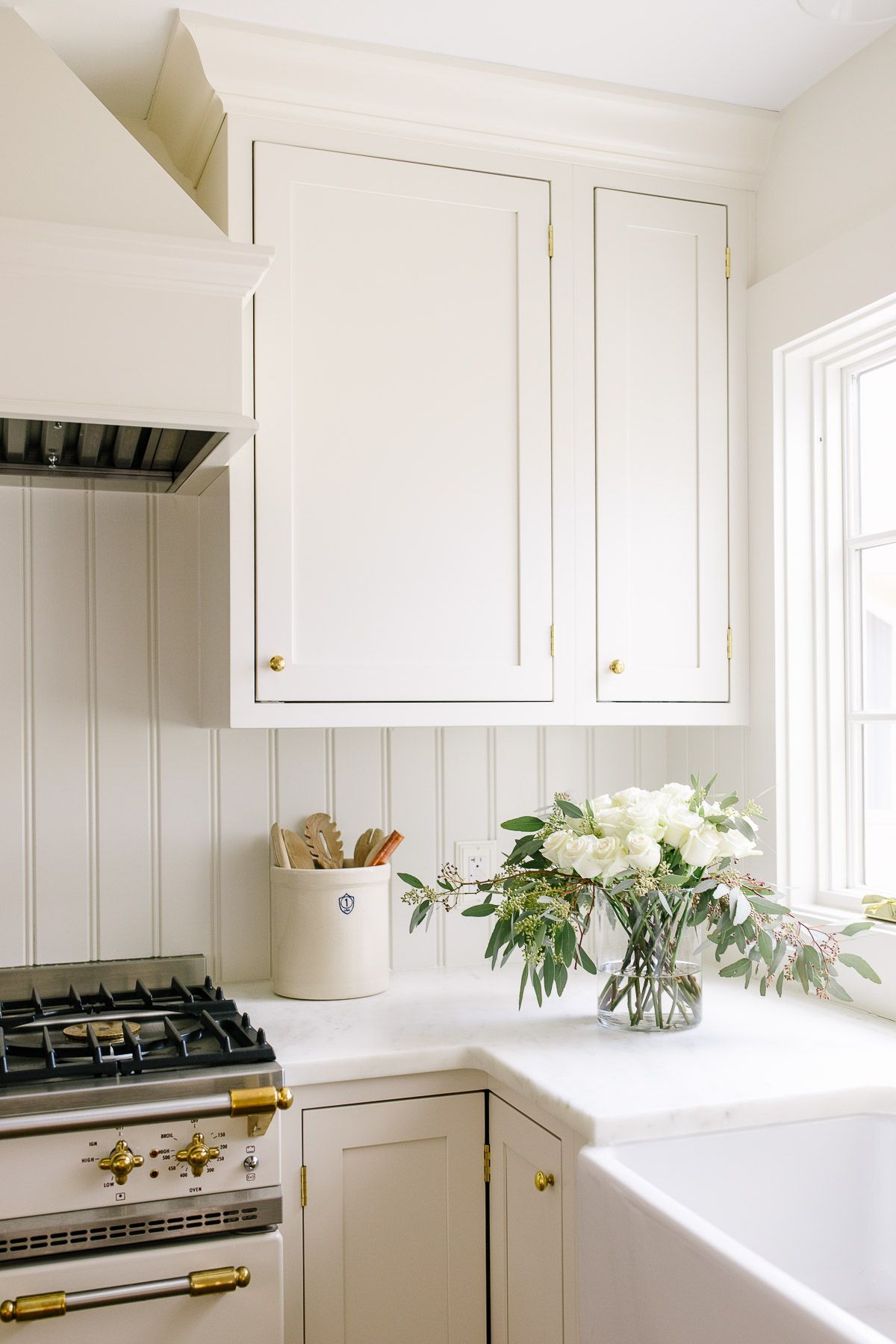 Simplicity
The beauty of this trend is that it can fit seamlessly into any design style. It is right at home with the simplest of styles. You can see it above in the style of our Shaker cabinets.
Painting walls and trim the same color would look just as beautiful in a home with ornate woodwork or in a Craftsman with thick, squared off trim. This simple design works with all home designs!
And because of its simplicity, this trend lets other design elements in a room be the stars. Beautiful artwork, furniture, or textiles can take center stage, because they have the perfect, neutral backdrop.
High Drama
I love my spaces to be warm and cozy. I create this atmosphere by keeping my color palette and furnishings neutral. Get my tips for creating a neutral living room.
However, if you want color, drama, and excitement paint your moldings and walls a dark and moody color! Think of emerald green, navy blue, or even black… the options are endless.
Everything I've said about this design trend being understated and simple is true, but it can also be fun and exciting and over the top! It all depends on the colors you choose.
These "jewel box" rooms are becoming much more popular, and it's easy to see why. They are gorgeous and a bit moody, with rich saturated color to make a statement.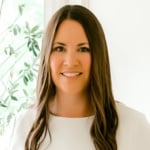 Tips
Paint molding one sheen higher than the walls. If your walls are eggshell, use semi-gloss. If your walls are semi-gloss, use gloss for all of the trim including crown, baseboards and other moldings.
Learn about Light Reflectance Value in my comprehensive guide: What is LRV?
Samples – Use paint samples! As you try different shades, you'll begin to recognize a pattern in the colors that feel good in your home. In fact, you should check samples on different walls throughout the day.
Keep all light sources in mind, as this can also change the way the color feels- read up on light bulbs, too.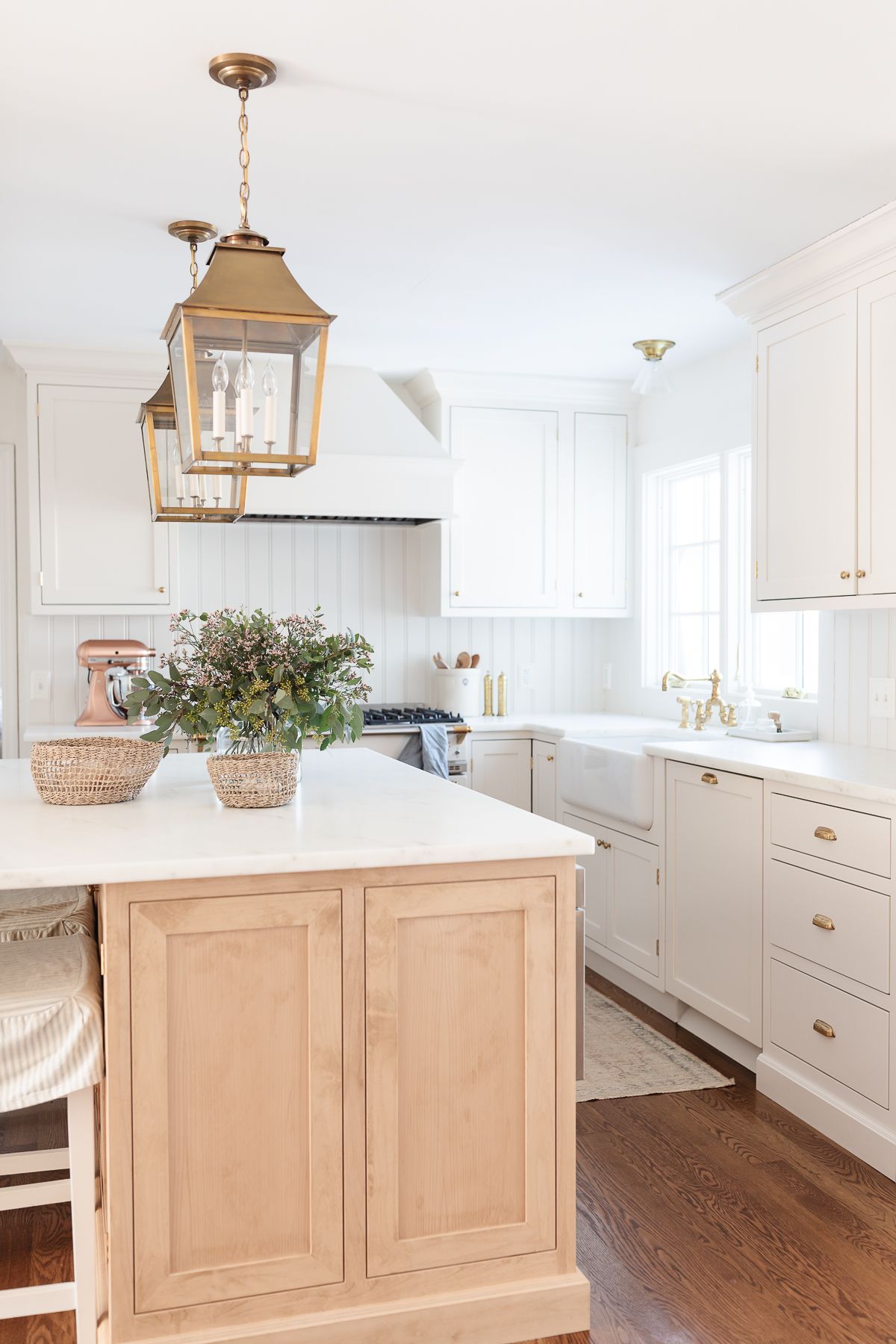 Frequently Asked Questions
Is it okay to paint walls and trim the same color?
Yes! Painting walls and trim in the same color is a popular trend. Whether you choose a light neutral color or a dark jewel tone, it is more than okay to paint your walls, baseboards, window and door trim, doors, crown molding, and even your ceilings all the same color.
Should white walls and trim be the same color?
There really isn't a rule to follow, so there isn't anything you "should" or shouldn't do. It's whatever look you prefer. White walls and trim certainly can all be the same color. Your space will feel larger and more cohesive.

However, you can also choose two white colors that coordinate but don't exactly match. Tip: Stay away from competing whites. For example, don't pair a warm white with a cool white.
Let's keep in touch! Receive exclusive content, including never-seen-before photos, our favorite home decor DIYs and more!