A neutral living room can feel effortless, warm and welcoming, but they're not as "effortless" as they look. These simple tips will help you create a space that feels anything but uninspired!
A neutral space is a balance of color, texture, tones and layers. It creates the ultimate retreat – in the comfort of your own home.
This formula for neutral living room decor is tried and true.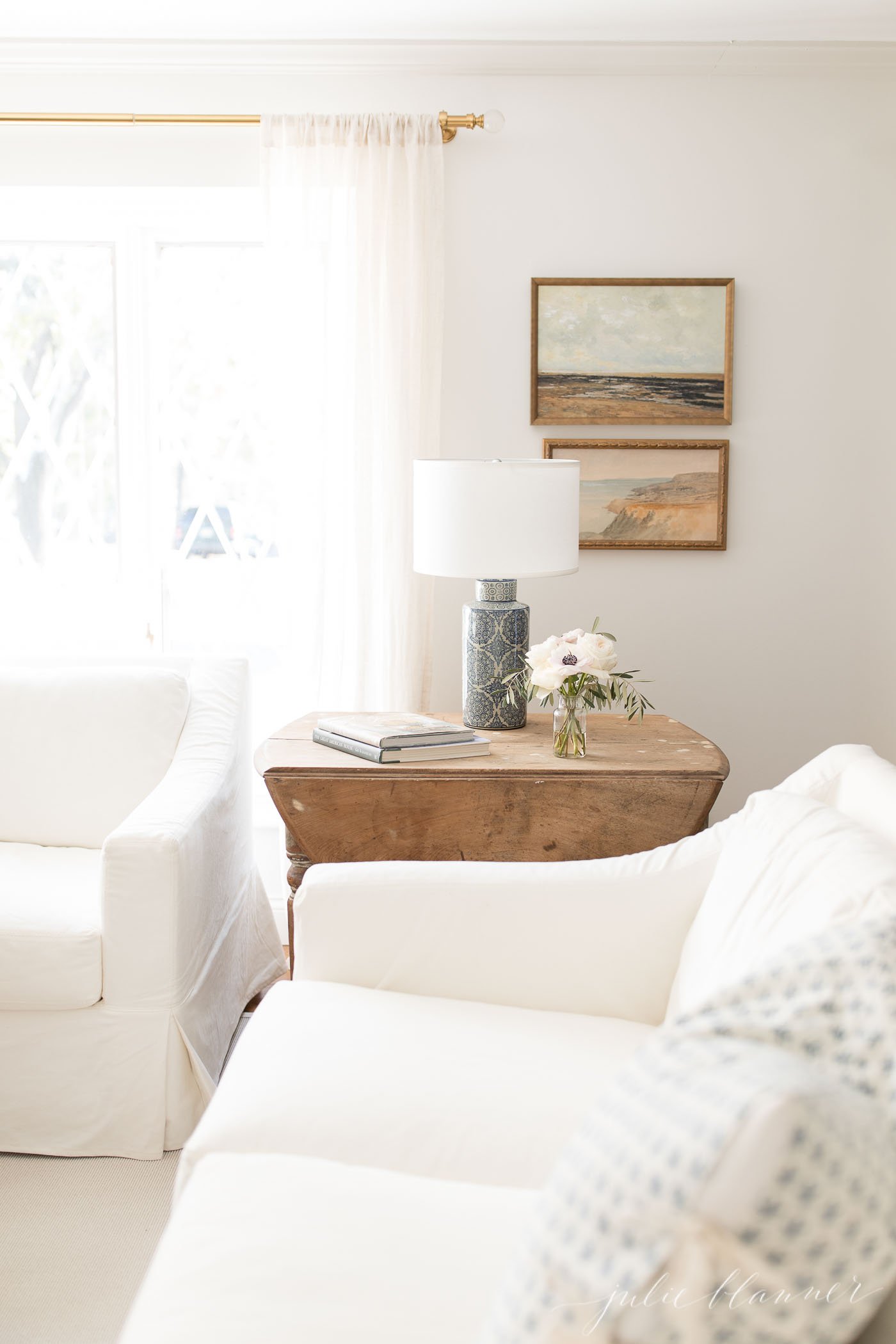 Some might think that I'd get bored with a neutral living room, but it's actually quite the contrary. Before I embraced soft, subtle colors and found the right white paint colors, I lived a colorful life, painting every neutral room a beautiful bold color.
Then every year I thought about repainting, but we were on a limited budget, lacking the time and resources to repaint, let alone redecorate. Colors seemed to only suit me temporarily, so I went back to my roots and took a cue from my childhood home and returned to a neutral color palette.
In fact, don't skip my comprehensive guide to the best Living Room Paint Colors!
I love chatting home design details with you! Don't skip these popular posts about choosing a sofa: Pottery Barn Sofa, Ikea Ektorp, and Sectional Sofas.
How to Design a Neutral Living Room
Paint Colors
Neutral paint colors are anything but boring! They can be calm and relaxing, and create a nice escape. You can use Cream Color Paint to make your home feel warm and cozy. A neutral palette creates a backdrop allowing you to effortlessly transition from one season to another.
Mix shades to add a little depth. Use crisp whites, creamy hues and even subdued colors for the perfect quiet palette.
Furniture
You'll never tire of neutral furniture. A linen sofa or white slipcovered sofa is so versatile!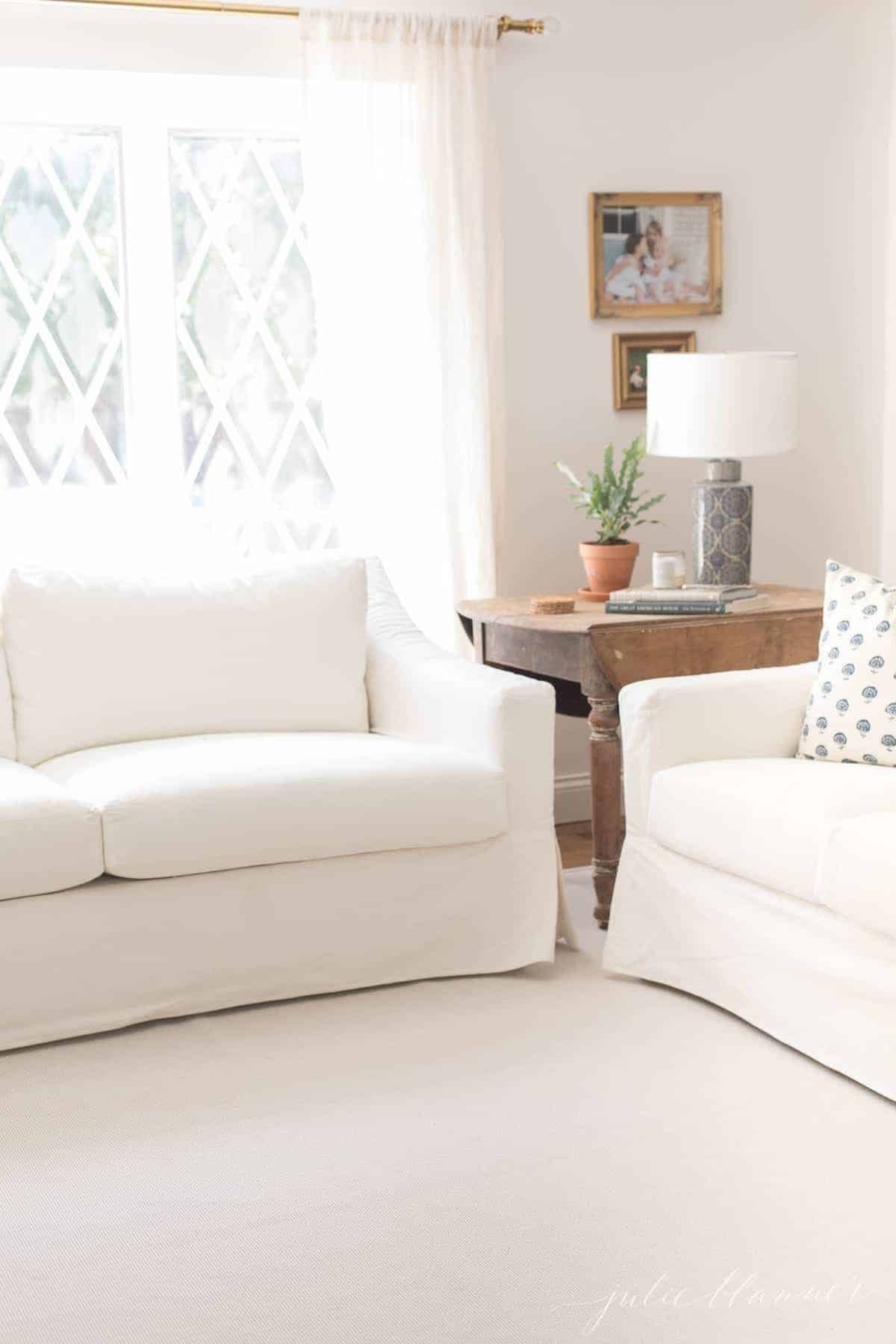 Texture and Pattern
You can compliment furniture integrating color, patterns and texture through your pillow covers and throws.
You can create contrast using cable knits, sheepskin, linen and leather. A variety of textiles will help you maintain a neutral color scheme without feeling boring.
Using subtle patterns minimally can also add a lot to your neutral space.
Architectural Features
When decorating a neutral living room, as yourself, "what features can I highlight?" For our living room, it's the abundance of natural light and diamond paned windows that overlook our cottage garden.
Beams, molding, wainscoting can all make an impact in a room. Built in Bookshelves and a Traditional Fireplace Mantel were key in our home.
To maximize features, arrange the furniture or position the curtains to embrace them.
Select a Rug
There are so many options for a beautiful neutral rug! You can incorporate a vintage turkish rug for a little pattern, a sisal rug made to fit your space, or an indoor outdoor rug that hoses clean! Stick to a neutral color palette and it will fit seamlessly into the space.
Get my tips for purchasing a rug here.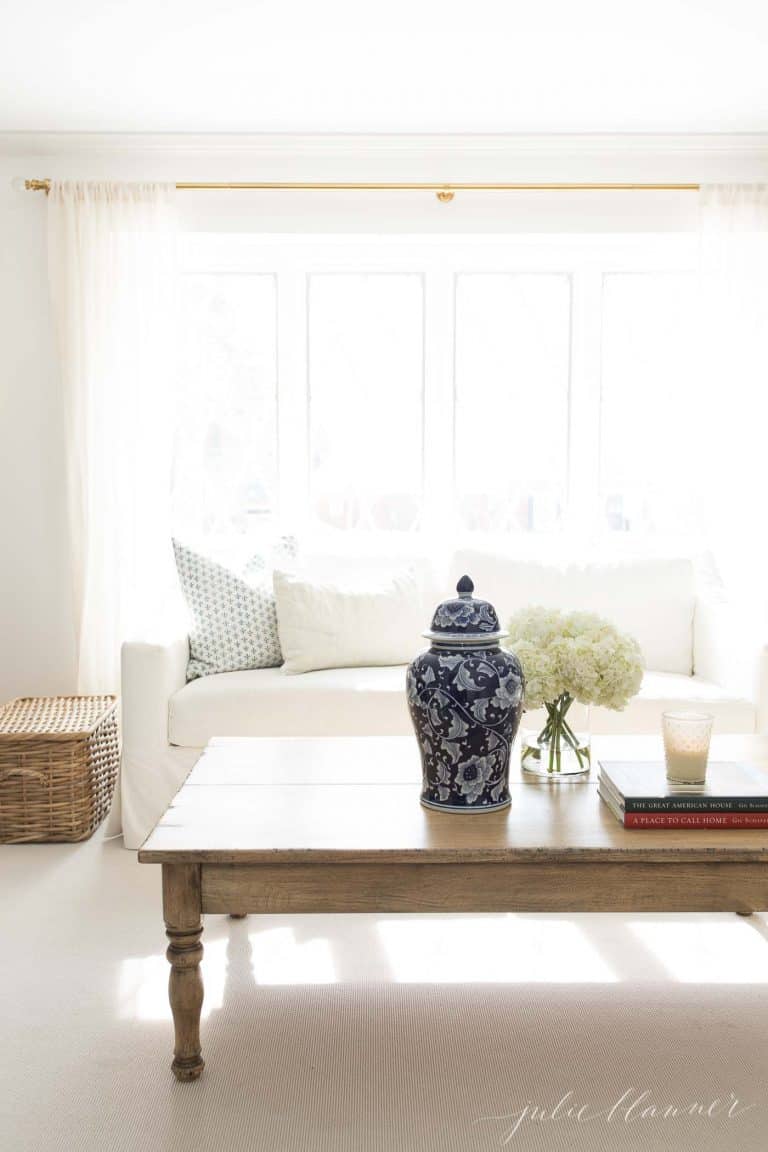 Eliminate Clutter
Clutter can be very distracting. Determine how you use your living room…do you need storage for games, dvd's, magazines, the remote, etc. Declutter and create storage solutions that blend design and function!
We use a lot of baskets in our living room in addition to the storage we've created in our bookcases. When we removed the wet bar, we created a bar cabinet in our bookcases!
TV
Nothing stands out in a neutral living room like a big black box. It creates a black hole that your eye is immediately drawn to. Make your TV a piece of art!
The Frame TV has a bevel to coordinate with your neutral decor, disguising it as a picture frame. It hangs just like art, too, flush to the wall! You can select a piece of neutral art to be displayed when the tv is not in use. It has one tiny optic cord that can easily be hidden in the wall.
You can also also minimize your tv by hiding the cords with this little trick.
Add Something Organic
To prevent your neutral living room from feeling flat and lifeless, add something organic. Plants (fruits and flowers) immediately bring a room to life. Fortunately ferns, olive trees and more require very little maintenance.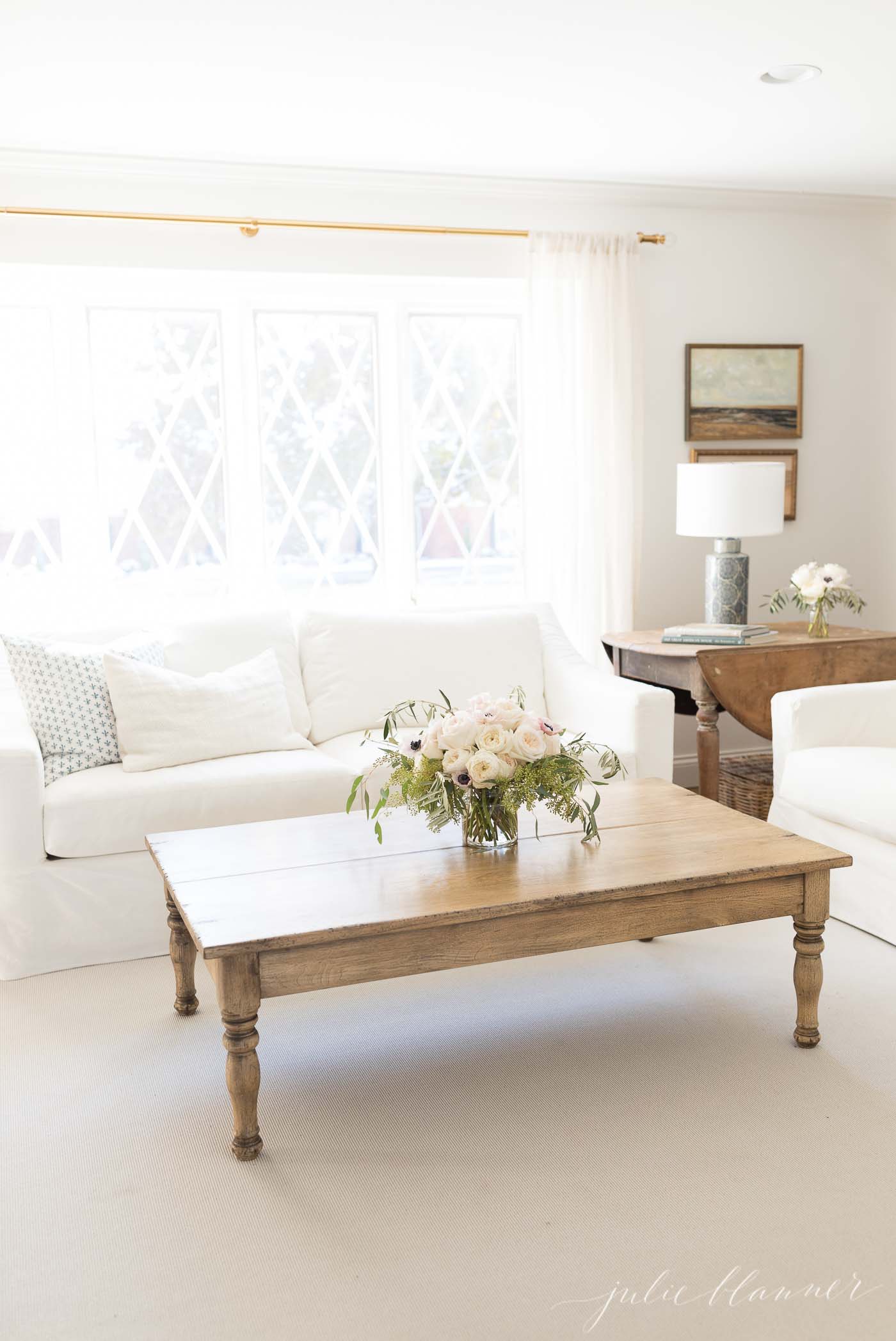 Add Warmth
Every space needs a little warmth You can use warm metals like brass hardware on your cabinetry, brass or copper curtain rods, hang gold frames, integrate brass light fixtures and brass door knobs.
Wood tones also add a lot of warmth. You can incorporate a table or simply wooden chair or sofa legs. Even a hint makes the space feel warm. For our living room we mixed in an antique wood side table purchased from Craigslist with a new wood coffee table to add a little interest. You can use varied wood tones to make it feel even more interesting.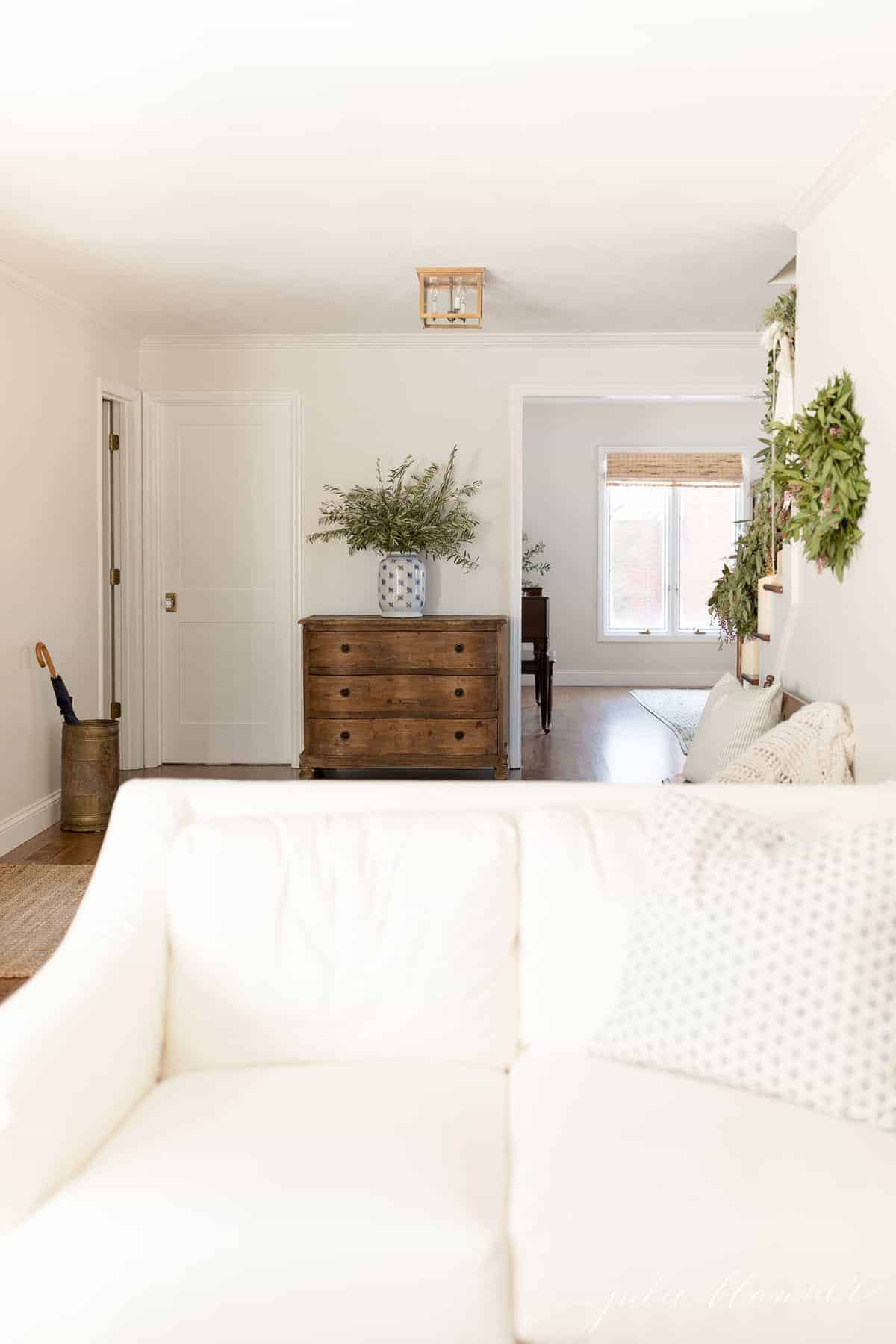 Personalize It
Our home isn't covered in family photos, but I love integrating them in the living room. Miniature frames on end tables and in our bookcases and framed on the walls balanced with art from trips we have taken makes the room feel like home.
---
Shop This Post
---
Let's keep in touch! Receive exclusive content, including never-seen-before photos, our favorite home decor DIYs and more!
More Home Decor Inspiration
Design Guides, Decor & Tips