Would you love the look of hardwood floors for a fraction of the cost? What about flooring that is durable, waterproof, and easy to clean? Let me walk you through the best vinyl plank flooring options for your home – LVP is so much more than you might think!
Learn about the pros and cons of vinyl plank flooring to help you make the right flooring decision for your family.
Let's face it, vinyl flooring has come a long way in recent years! It used to be sheets of floral printed squares in our grandmother's kitchens. Now we have to do double takes to see if it's real hardwood!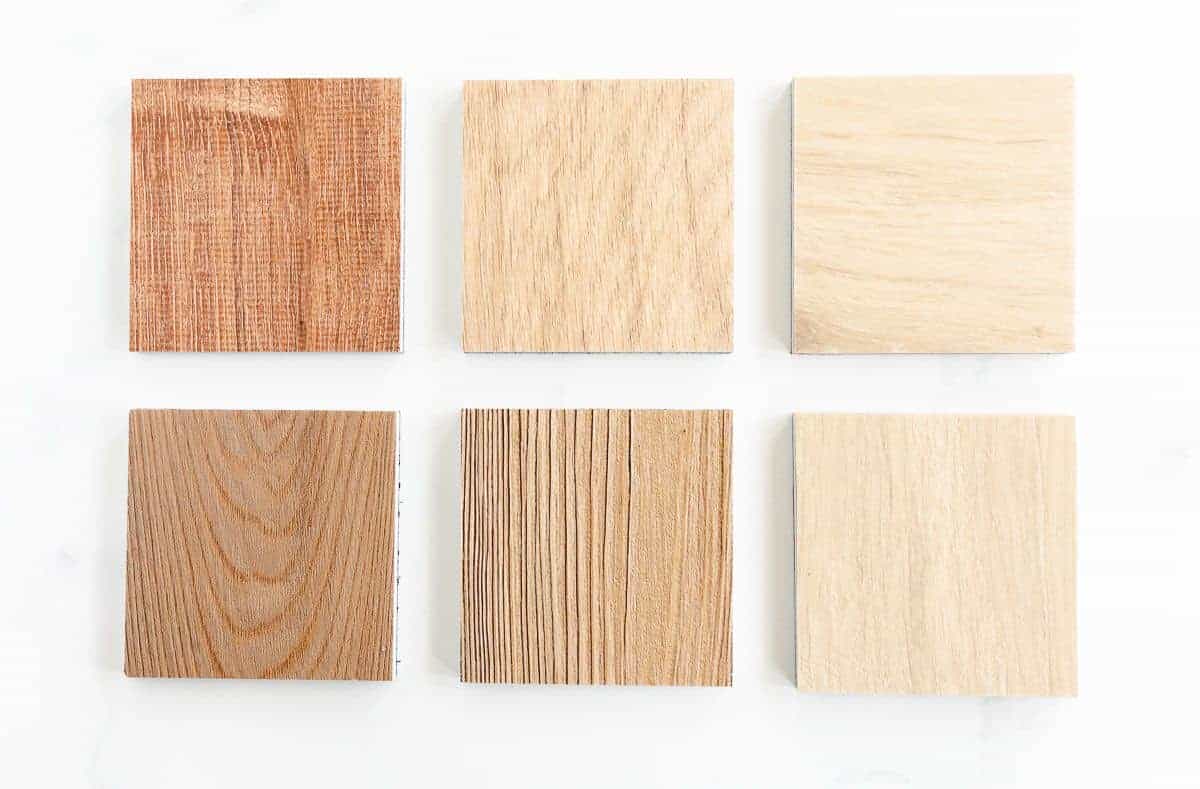 Vinyl plank flooring, often called LVP (luxury vinyl plank), is known for its wide selection of styles and colors – not to mention its durability. It's great for homes with children and pets, where spills and mishaps are bound to happen.
My first experience with LVP was years ago when we installed it in our basement. (You can see those photos of our original basement and the flooring upgrade at the very bottom of this post, along with a shopping guide where you'll find our newly chosen LVP!)
We turned a previously unusable corner into the sweetest play nook for our girls! They loved playing down there after that!
Since then, I've learned a lot more about vinyl plank flooring, and I want to share it all with you! Keep reading to find out all about this innovative new type of flooring and to find out if it could be the right fit for your home!
For more great flooring resources, check out White Oak Floors, Brick Flooring, Herringbone Floor, How to Purchase and Install Carpet Flooring, and What Type of Basement Floor Is Best?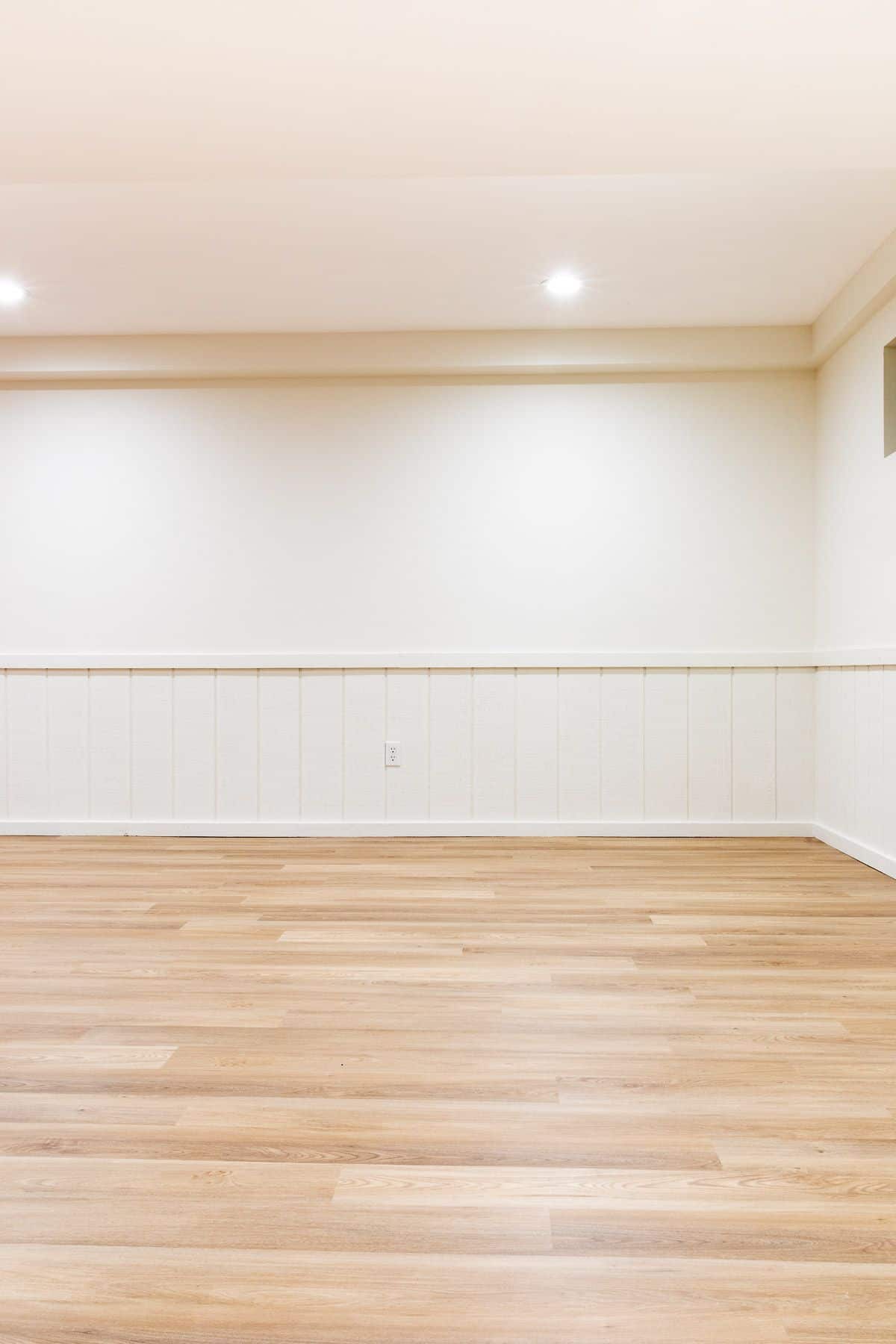 What Is Vinyl Plank Flooring?
Vinyl Plank Flooring is an umbrella term that encompasses several different types of flooring – each similar in looks but manufactured differently.
The best vinyl plank flooring comes with an embossed wear layer, made to mimic the texture of real wood. It also comes with several different wood grain options in each case, so you don't have repeat frequently.
Vinyl planks come in any type of wood you can think of. That means types that are cost prohibitive in real hardwood floors, such as ebony and sandalwood.
You can find vinyl plank flooring to look like any type of wood you want, in any color, any tone, to fit any design style – from rustic to traditional to modern.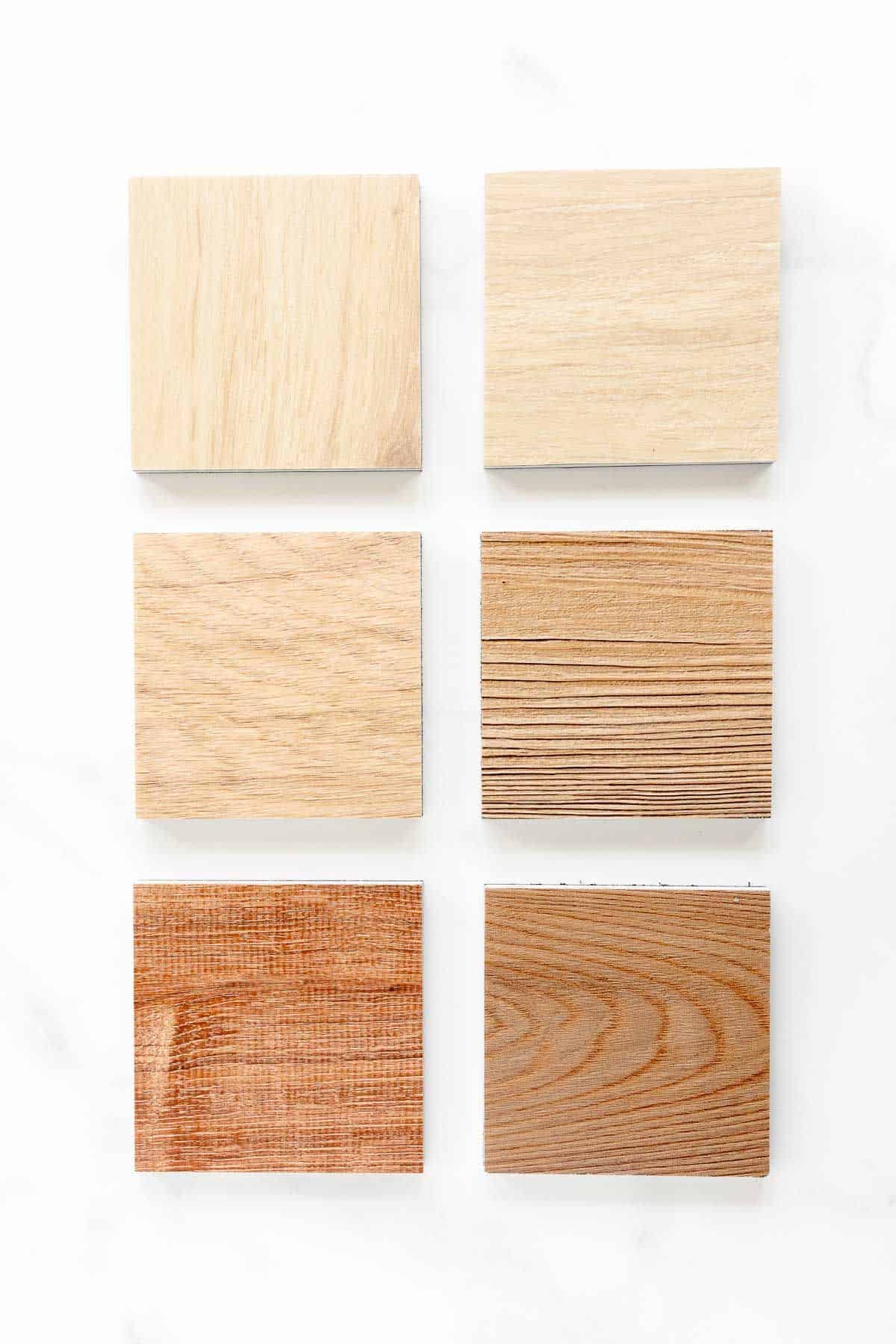 Luxury Vinyl Plank
Luxury Vinyl Plank Flooring, or LVP, is probably the most well known of this type of floor. It is a water-resistant vinyl floor made to look like planks of hardwood.
Typically, each plank is constructed from layers of melted down PVC and stabilizers, a photographed image of a wood grain surface, and an outer wear layer.
Luxury Vinyl Tile
There's also Luxury Vinyl Tiles, or LVT. Sometimes the terms LVT and LVP are used interchangeably to mean any type of vinyl flooring.
Where LVP is in the shape of planks and made to look like wood, LVT is typically found in squares and rectangles to look like tiles. It can resemble stone such as marble, travertine, slate, quartz, sandstone, limestone, and cement. Some types of LVT can even be grouted to look even more like real tile.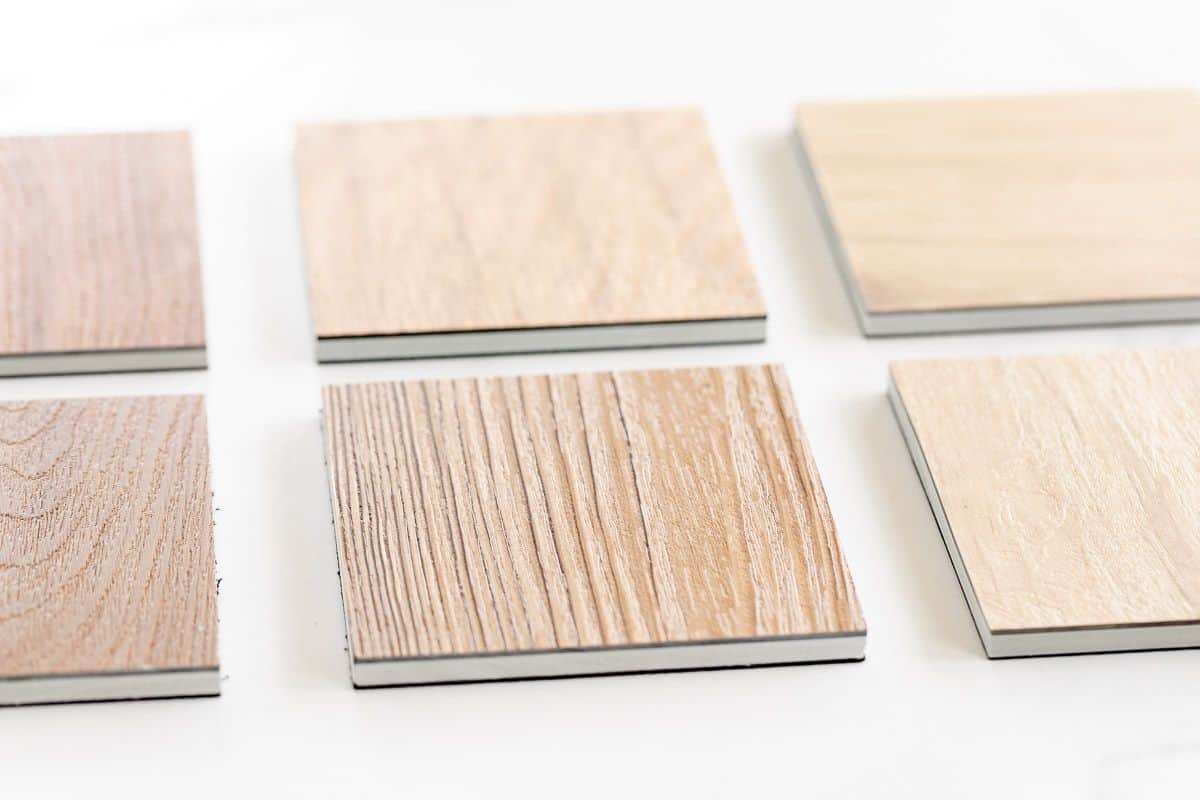 Rigid Core Vinyl Plank
Now, to be even more precise, Rigid Core Vinyl Plank is a type of vinyl plank flooring that comes in two sub-types: WPC (Wood-Plastic Composite or Wood-Polymer Core) and SPC (Stone-Polymer Core).
Both WPC and SPC are constructed in layers, with a wear layer on top, vinyl, rigid core layers, and a cushioning layer of foam or cork. The "W" and "S" refer to the core layer – if it's constructed with a composite of wood or stone.
There are differences between the two. WPC is a bit thicker and more cushioned, and it's known for being a bit a warmer underfoot. SPC, on the other hand, is slimmer, cooler, and a bit more resistant to dents and scratches.
Where LVP is water resistant, both types of rigid core vinyl plank flooring are waterproof.
History of Vinyl Flooring
Vinyl flooring hit the stage at "A Century of Progress" Exposition in Chicago in 1933. The event showcased its many benefits, including its easy installation, durability, and affordability.
Vinyl flooring really took off after World War II, when soldiers returned home to marry, start families, and buy homes. Vinyl became a popular choice for homes and businesses, because it was inexpensive, looked great, and was easy to maintain.
Manufacturers continued to improve the design throughout the 1950s and 60s, and in the 1970s they introduced vinyl plank flooring. Now homeowners could get the look of hardwood without the cost – and with all the benefits of vinyl!
In the 1980s, inspectors discovered that vinyl flooring contained asbestos. Fortunately, manufactures quickly developed new methods to make vinyl without this dangerous component. As a matter of safety, vinyl flooring from before the 1980s should always be removed by professionals.
Today, vinyl plank flooring is completely safe to use. In fact, many manufacturers practice eco-friendly methods in their product development.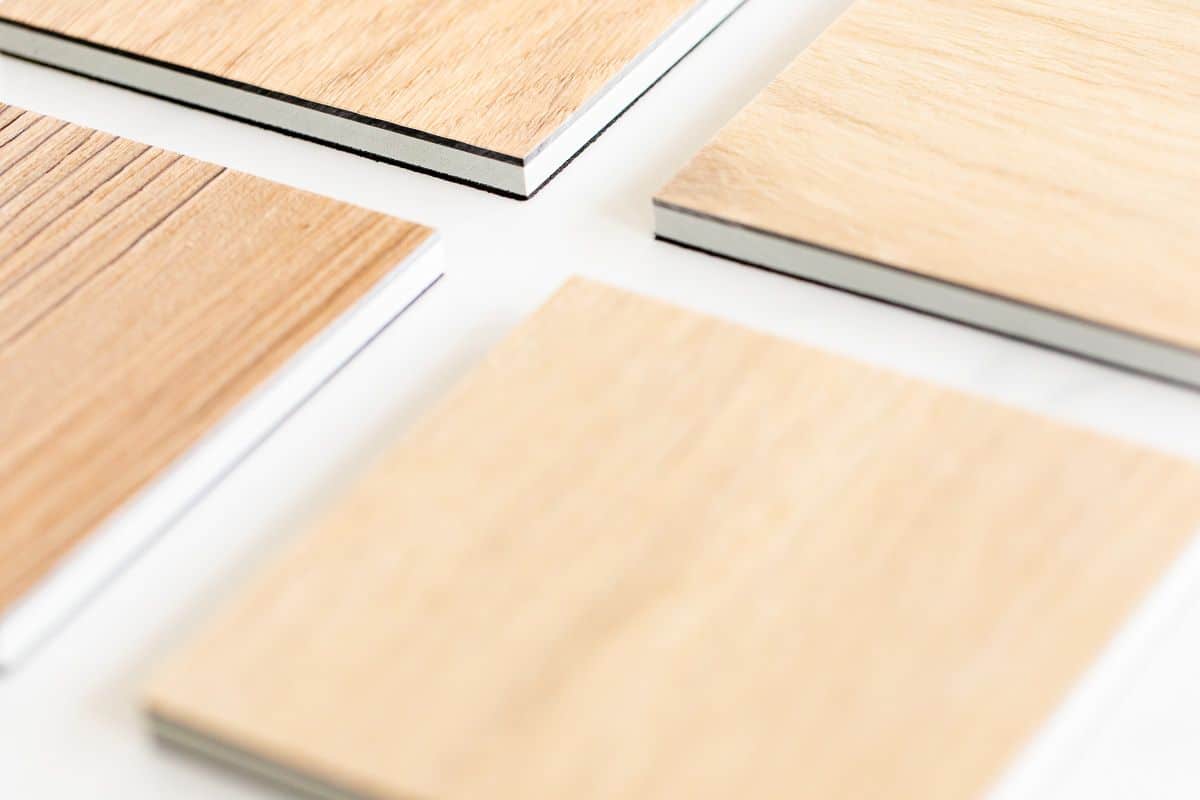 Benefits of Vinyl Plank Flooring
Inexpensive – Vinyl plank flooring can be installed for a fraction of the cost of hardwood floors. LVP ranges from $2 – $5 per square foot, whereas hardwood typically costs 2 – 3 times that amount (or more, depending on the type of wood you choose).
Waterproof – The best vinyl plank flooring is waterproof, making it perfect for wet spaces like kitchens, bathrooms, and laundry rooms. Other types are water resistant. It often depends on the type of attached underlayment. Make sure you check closely to know which type you are getting.
Easy Installation – Both methods of installation (glue down or floating floor) are fairly easy to do. This keeps the costs of professional installation lower, but it also makes this a doable intermediate DIY.
Can Be Installed Over Other Surfaces – Most types of rigid vinyl plank flooring can be installed over nearly any surface, such as existing tile and concrete. Make sure the existing surface is dry, level, and in good condition first.
Easy Underfoot – One of the greatest benefits of vinyl flooring is that it is easy on your feet! Unlike tile and even hardwood that don't have any "give," vinyl plank flooring has just enough softness to it to be easy on your feet and joints. If you've ever felt back pain after doing the dishes on a tile floor, you know what I'm talking about – you won't feel that with a vinyl plank floor!
Insulated for Sound – Vinyl flooring's layers have been specifically engineered to provide insulation from extra sound. Combined with some beautiful rugs, your spaces will feel warm and cozy.
Wide Array of Colors – The best vinyl plank flooring comes in the look of any type of wood, any color, and any style. The planks even come in varying lengths and widths, so you can truly customize a look that is all your own.
Great Alternative to Hardwood – With everything going in its favor, it's no wonder so many homeowners are choosing vinyl plank flooring over hardwood. Thanks to improvements in technology, it is extremely difficult to tell the difference between hardwood and vinyl plank flooring from simply looking at it.
Great Alternative to Laminate – Vinyl plank flooring doesn't expand and contract like laminate flooring. That means it can be installed in long stretches without transition strips – unlike laminate that requires transition pieces between rooms.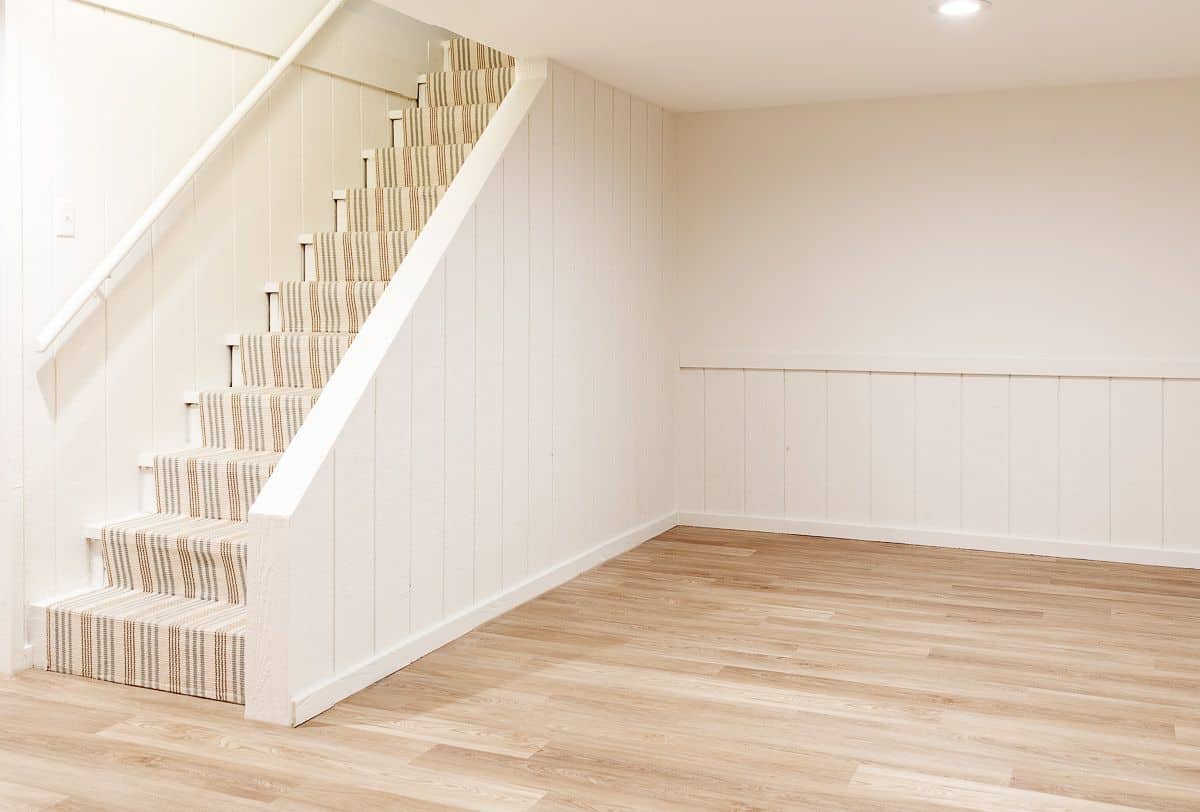 Cons
Home Value – Even the best vinyl plank flooring doesn't impact the value of your home. That means it doesn't add any value to your home. There are still a lot of reasons to consider installing LVP – perhaps it will help you love your home more or if you're moving it will help your home sell faster. But keep in mind that it won't make your home worth more.
Can't Be Repaired – Vinyl flooring is engineered to be durable and resist dents and scratches. However, such damage can still occur. Unlike hardwoods that can be sanded and refinished several times, vinyl plank flooring cannot be repaired. With glue down installations, individual planks can be removed (not extremely easily) and replaced. With click and lock installations, the entire floor up the to damaged piece must be removed and reinstalled.
Glue Can Smell – With glue down installation, the glue can sometimes leave behind a strong smell that bothers some homeowners. It will fade and disappear with time.
Sun Fading – The least expensive LVP options can be subject to some fading in direct UV light. The best vinyl plank flooring, however, has been engineered to resist the sun's rays. Also, because of its stone component, SPC does not fade in the sun.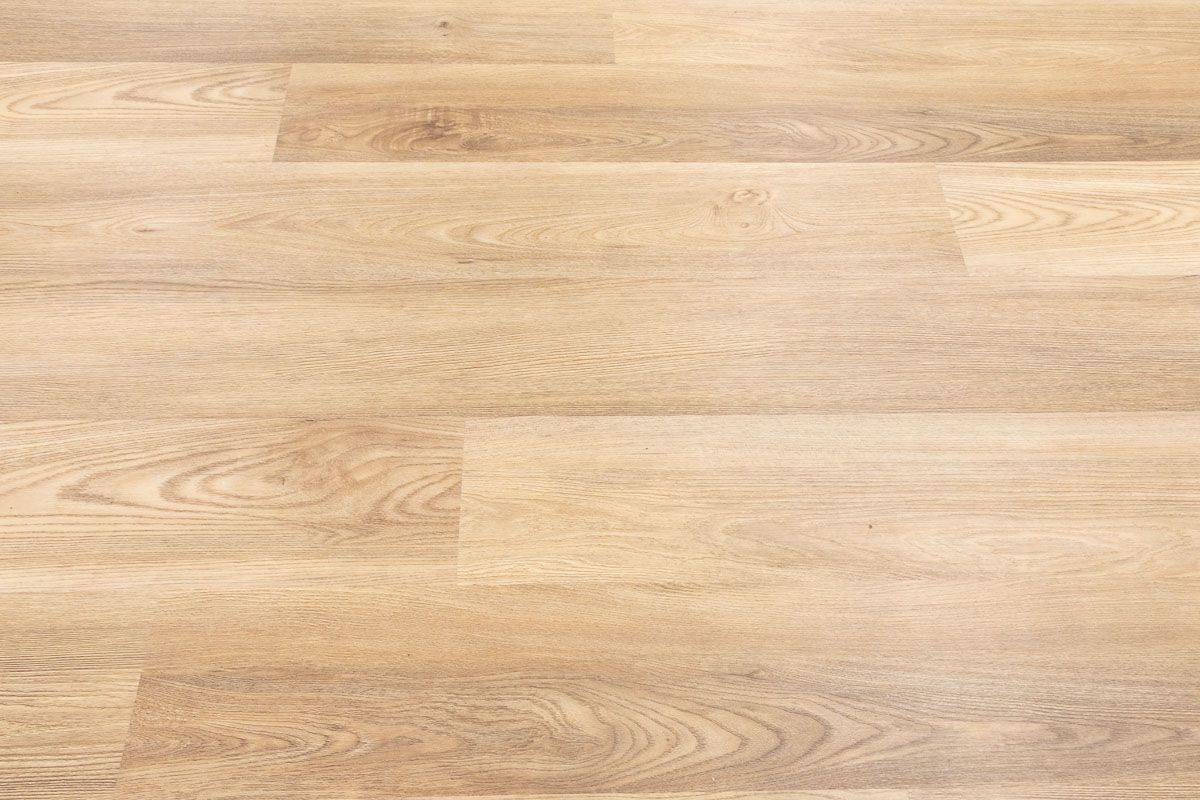 Frequently Asked Questions
What is the Difference Between LVP and SPC?
Both LVP and SPC are types of vinyl plank flooring. The difference is in the construction. LVP, or luxury vinyl plank, is constructed with layers of melted PVC and various strengthening agents.

SPC, or stone-polymer core, has a core layer of composite stone powder and resins. Both types of flooring have a printed image of wood and an outer wear layer. While LVP is water resistant, SPC is waterproof. SPC is also more rigid and cooler to the touch because of its stone element.
What is the difference between LVT and LVP?
The difference is in the shape and the digital image printed on the flooring. LVP, or luxury vinyl planks, is made to look like planks of hardwood.

LVT, or luxury vinyl tile, on the other hand, is made in the shape of squares and rectangles and printed to look like tiles. It can resemble stone such as marble, travertine, slate, quartz, sandstone, limestone, and cement. Some types of LVT can even be grouted to look even more like real tile.
Is LVP better than laminate?
It depends on your home and your needs. LVP is a great option for homes with children and pets, because it holds up so well to spills and messes.

Since it is water resistant and even waterproof, it can be installed anywhere that water may be an issue – including kitchens, bathrooms, laundry rooms, and basements.
What are the disadvantages of vinyl plank flooring?
One disadvantage, compared to hardwood floors, is that vinyl plank flooring doesn't add value to your home. It also can't be sanded down and repaired like hardwoods if it ever gets dented or scratched.

Many homeowners, however, find that the benefits outweigh the disadvantages.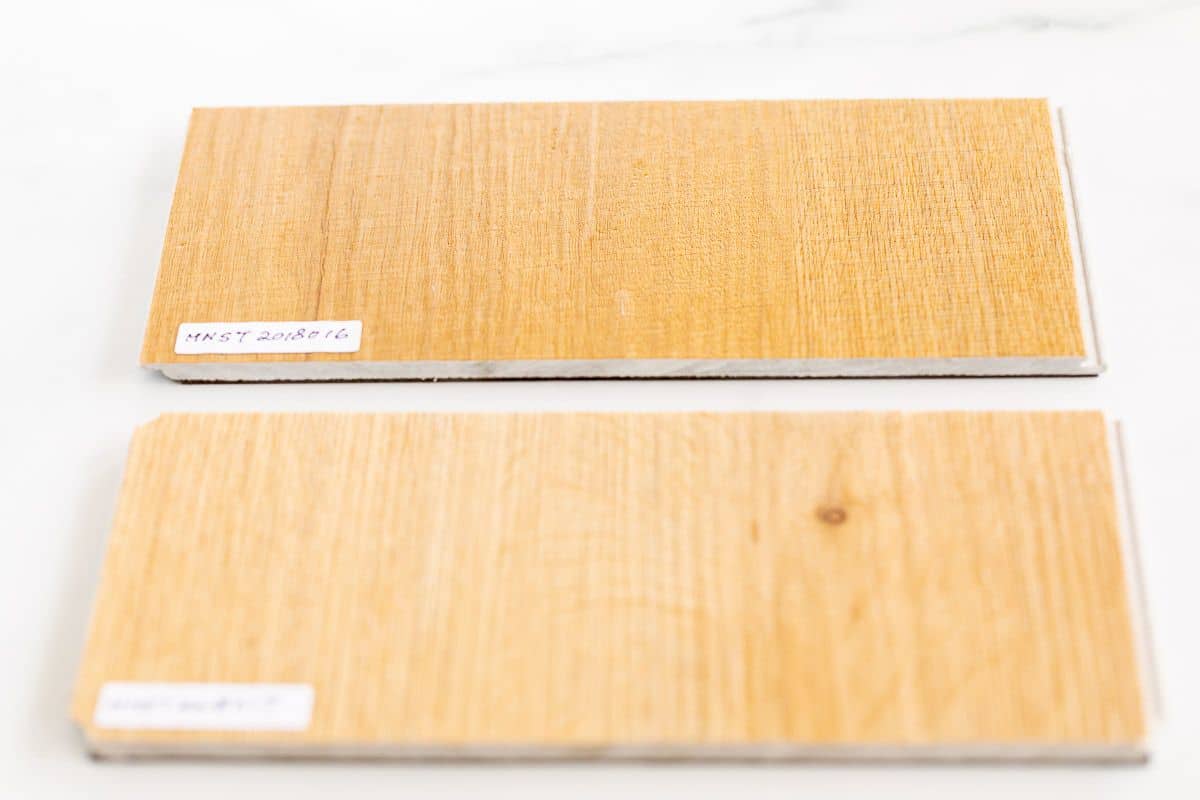 Installation Options
Vinyl plank flooring comes as an adhesive installation or as a floating click and lock installation. There are reasons to consider each option.
Glue Down
Some types of vinyl plank flooring are glue down installation. These planks tend to be a bit less thick and less rigid. Therefore, this is the best option for really uneven floors, since the planks will be able to bend and conform to the shape.
Here are some cons to the glue down method as well:
Glue can leave smell that will fade over time
Floor difficult to remove later on
Planks colder underfoot
Imperfections more visible (including popping nail heads)
Water resistant, not waterproof
Floating Vinyl
Installing a floating vinyl plank floor means it isn't secured to the subfloor with glue, nails, or by any other means. Installers either click and lock planks together or use adhesive strips along the length and width to stick them together.
Floating vinyl planks are often more rigid and have an added layer that provides cushioning and absorbs sound. Because of the rigidity, they don't show imperfections in the underneath floor as much. They are a better option for installing over existing tile floors.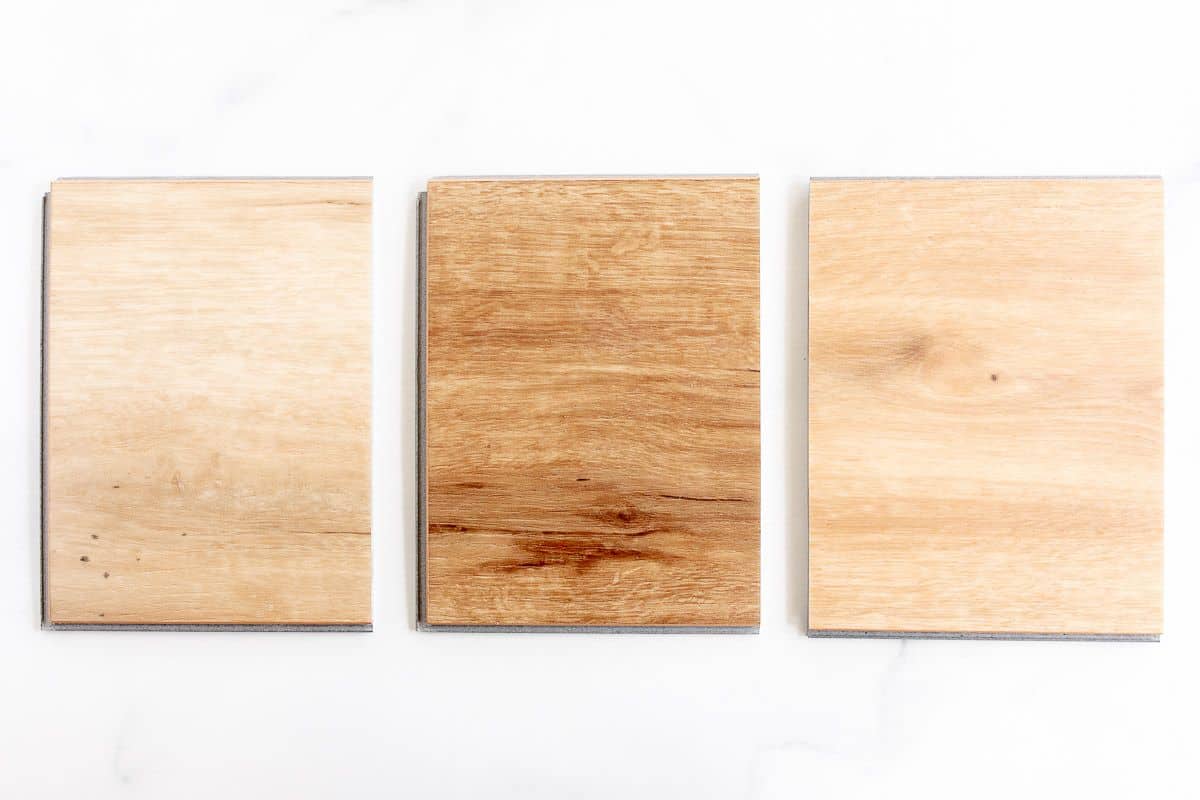 Best Vinyl Plank Flooring
There are so many great options to choose from that me telling you the best vinyl plank flooring is virtually impossible! It really comes down to your home, your needs, and your personal tastes.
I do, however, have some helpful tips on how to choose the flooring that's best for you.
Tips
Gather Inspiration – Scour blogs, Pinterest, or Instagram – wherever you look at beautiful images. Look for photos of vinyl plank flooring in all types of colors, styles, and spaces. Pay attention to what you're drawn to. Dark or light tones? Warm or cool? Rustic or sleek? Wide or narrow planks?
Consider Your Needs – Think of your specific space. Do you have any particular needs or limitations? Will you be covering an existing floor? If so, you may need a rigid core vinyl plank. Is it a space with water? Then consider a waterproof floor. Will you be standing on it for long periods, such as at the kitchen sink? Then maybe choose one with a softer underlayment, such as a WCP. Carefully consider what you need your flooring to do for you!
Visit a Showroom – If possible, visit a showroom where you can see large displays of vinyl plank flooring. Touch them, feel them, walk on them if possible. Samples are great, but they don't always give you a full picture of how a floor will look, especially one with a lot of variation.
Get Samples – Take samples home for any flooring you're considering. Try them in different areas of your home. Put them up against walls and cabinetry. Look at them in different lighting to get an accurate idea of color. Now is the time to put them to the test – do your best to scratch, dent, and chip them. Try to stain them with juice, coffee, and markers. How durable are they?
Professional Measure – Once you're satisfied and ready to order, have a professional installer measure your space. If you'll be installing the floors yourself, measure your space and add 10 – 15% to account for extra cuts and waste. You'll want to get all of your flooring from the same lot, since different lots can vary slightly in color and sheen.
Use a Vapor Barrier (if required) – If the instructions call for a vapor (or moisture) barrier, make sure to use one! It helps to protect against moisture and mold. Many rigid vinyl plank flooring products, however, have a built-in underlayment and don't require an added barrier. Adding an extra cushion could actually make your floor too soft and make the likelihood of dents and dings higher.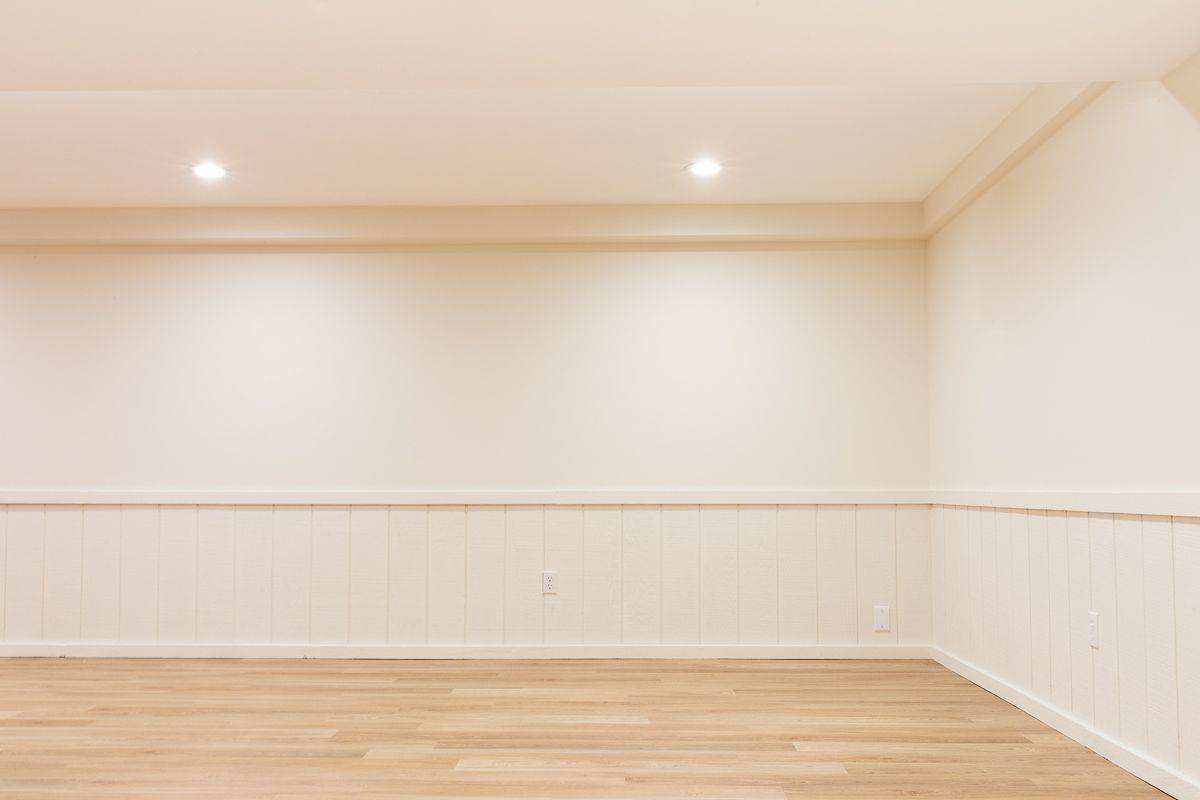 How to Clean Vinyl Plank Flooring
When it comes to cleaning, vinyl plank floors are very user friendly. In other words, they don't require a lot of effort to keep them looking like new!
When choosing your color, consider that the darker your floor, the easier it is to see dust, pet fur, and foot prints. On the other hand, lighter floors show spills more easily.
As with most types of floors, a quick sweep with a broom or stick vacuum will take care of most of the daily messes. For pet fur, a light go over with a dust mop does the job well.
Mop vinyl plank flooring with a damp rag, mop, Swiffer, or your own preferred method. Just make sure not to get them sopping wet, since water can seep in between the planks. Even if the flooring is waterproof, there's really no need to risk it!
You can probably use your favorite cleaner – apple cider or white vinegar, Pinesol, Pledge, Mr. Clean, Windex, Murphy's Oil Soap, etc. And any kind of soft mop, rag, or microfiber cloth will work great. Just don't use any abrasive sponges or cleaners.
That's it! With some easy, routine maintenance, you'll keep your floors clean and looking beautiful!
---
Shop Our Favorites
---
Our Original Luxury Vinyl Plank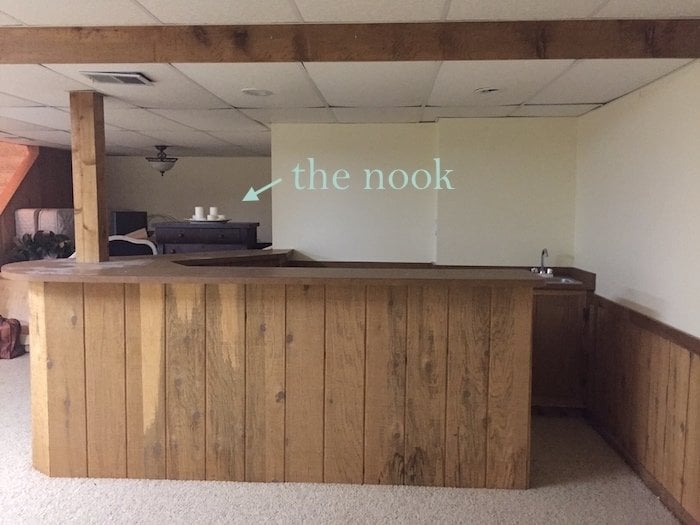 Not long after we moved into our St. Louis Tudor, we removed the basement carpeting and upgraded to a new LVP. The girls loved it, and as you can see, it served us well for this play area!
However, last spring the floors were ruined when our basement flooded. Unfortunately, the flooring was discontinued, so we had to start from scratch.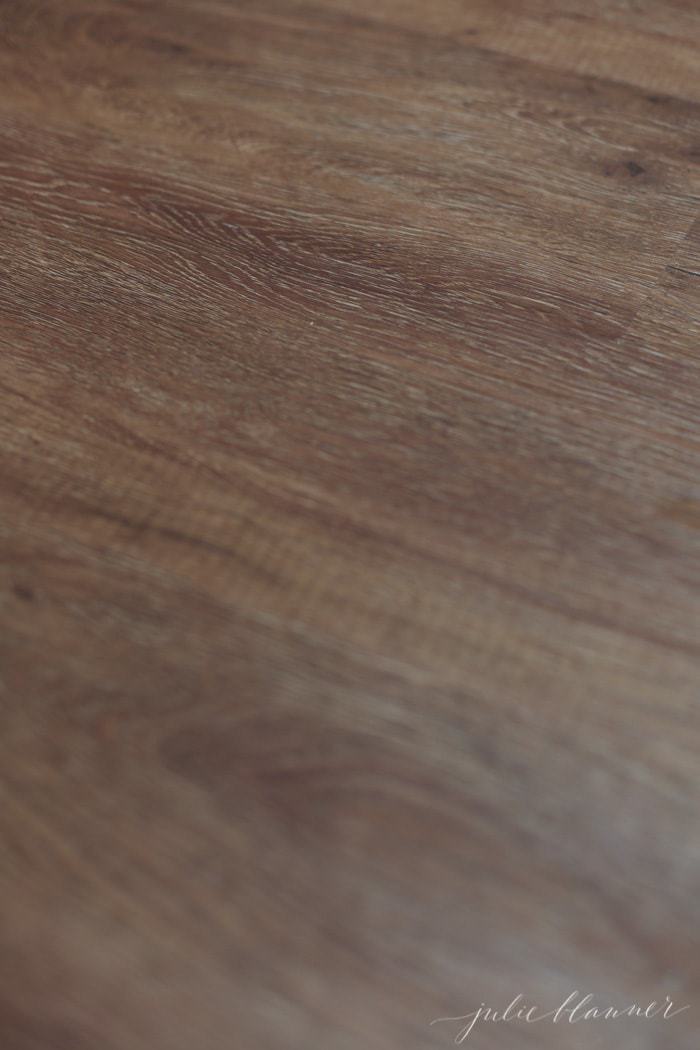 Get more of my best tips for layering rugs in this design guide for Layering Rugs on Carpet! It's another inexpensive way to upgrade your flooring fast!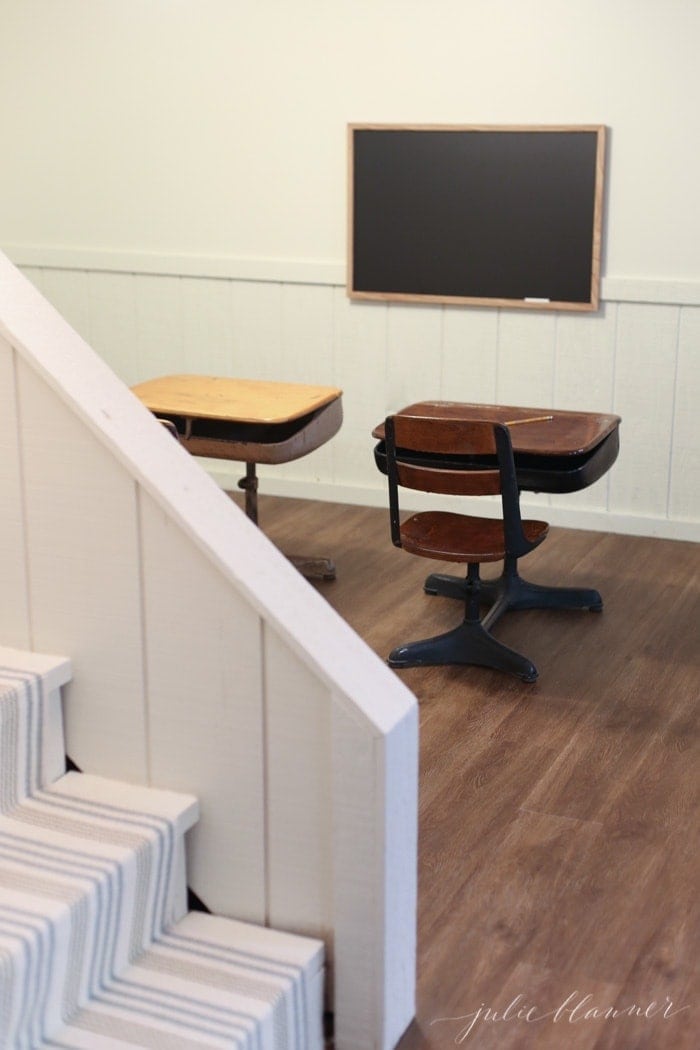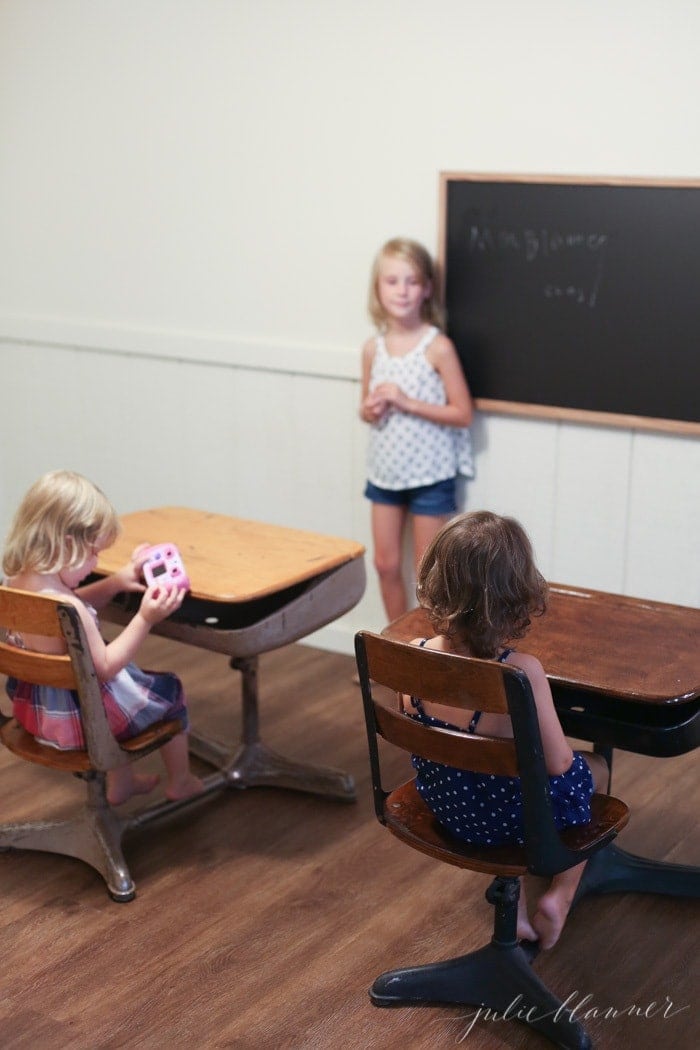 More Flooring Resources