If you're in the market for new desk for your growing kids, you'll want to stick around! We're reviewing these Pottery Barn Kids and Teen desks for teenagers – and if your kiddos are still young, these are options they can grow into, as well.
Get the quick details (and unbiased reviews – this is not a sponsored post) of our new girls desks from Pottery Barn Kids and Pottery Barn Teen.
It can be difficult to choose new furniture for children – you want something that will grow with them and last for years to come. Find out why we chose these timeless pieces and if they might be a good fit for your kids, too!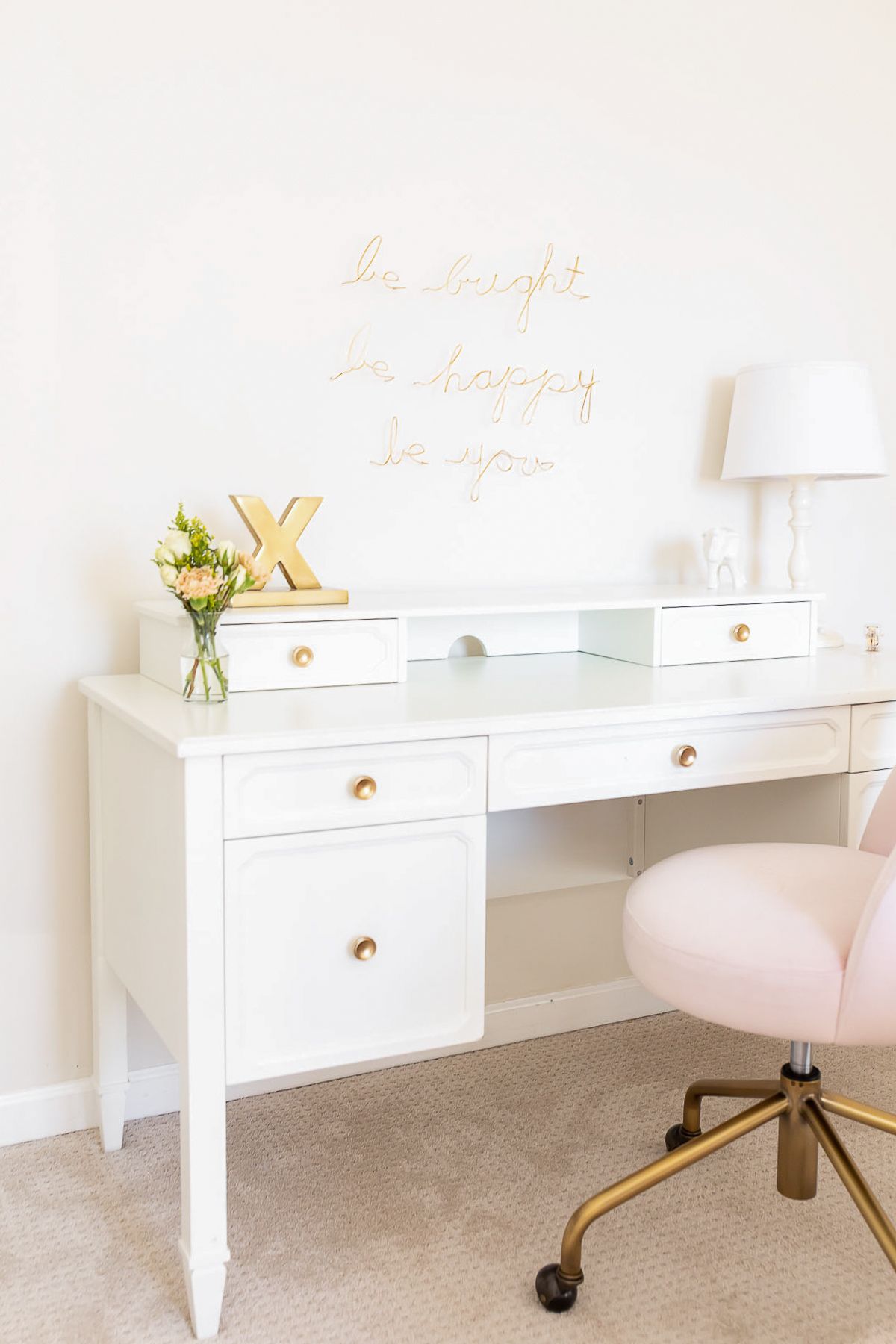 One thing I know for sure about children's bedrooms is that they are constantly evolving. Their needs change, their styles change, and of course… they are also growing like weeds.
With that in mind, it can be complicated to pull the trigger on new furniture for them. How do you know if something will last? And how do you ensure that your child will still love it in a few years since their tastes and needs change so quickly?
Desks for Teenagers (and Big Kids!)
We've always really enjoyed buying second hand Craigslist pieces for our girls over the years, giving them makeovers with our favorite no-sanding paint technique and our favorite furniture paint. It's such a great way to save money on furniture for your kids, especially when they can be so hard on things!
However, we realized recently that it was time for an upgrade. When the girls were working on virtual school projects here at home, they needed more space, efficient storage and quality pieces that would last for years to come.
Enter our new desks from Pottery Barn Kids and Pottery Barn Teen! We are so happy with the quality, style and finish of these pieces that I knew it was time for a review.
You can see more of Adalyn's new Cream, Pink and Gold Tween Bedroom here.
If you'd like to read more of my furniture reviews, don't skip this one about our white Pottery Barn Sofas and our Ikea Ektorp Review.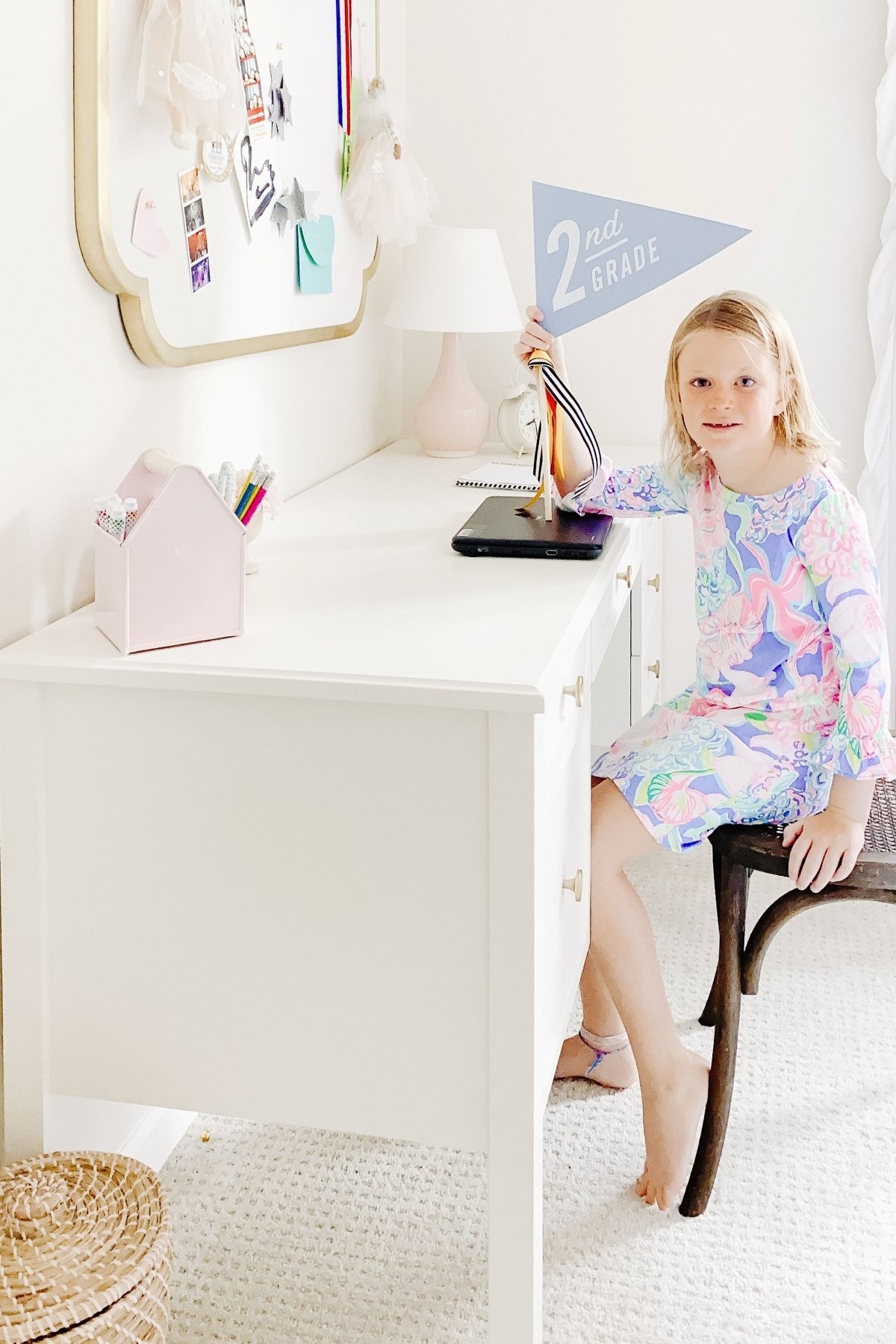 Where to Start
When you're beginning to research furniture for your kids, you'll want to take note of a few important details. This can help narrow down the field and make your shopping so much easier!
Measurements – ensure that you've got the appropriate space for the furniture you're considering. For desks, this includes the space required for moving a chair in and out, as well.
Style – Take the room's current (or future) style into consideration, as well as that of your child. Are you going in a more glamorous direction? Rustic? Traditional? Make sure your choices fit in with their current style but are also neutral enough to carry your child into their next stage of life.
Quality – In my opinion, once your child is a little older, it's a great idea to buy the best quality you can afford. Hopefully, this furniture can carry them into their college years or even beyond!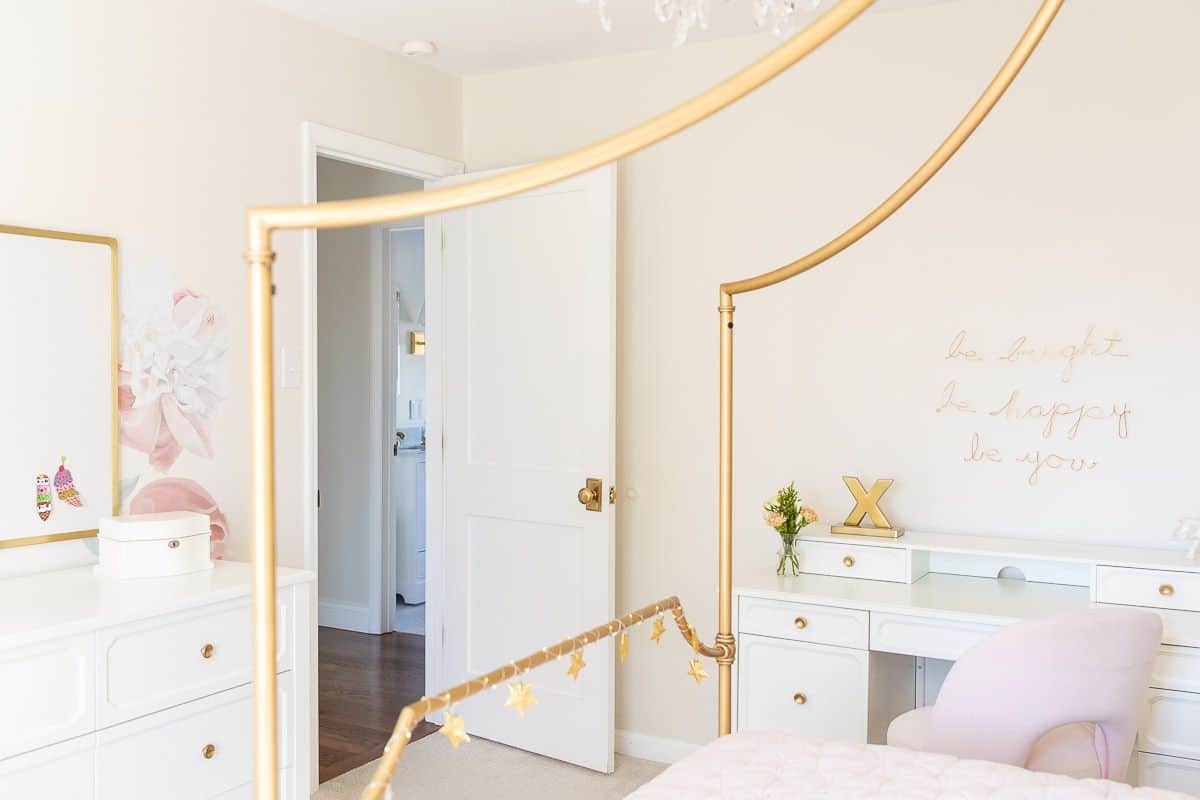 Pottery Barn Kids Girls Desk
For our youngest daughter Isla's room, we chose the Ava Desk from Pottery Barn Kids. It works beautifully for her space, with plenty of storage and workspace so she can craft to her heart's content!
We've paired this desk with a variety of chairs as we try to figure out what works best for the girls. While it's not pictured here, we have now paired it with this Velvet Tufted Swivel Desk Chair and she loves this comfy space – this cute bow chair is unfortunately discontinued.
This is a kid-size desk but it's got plenty of room, and gives us the flexibility we need as she grows. It's got pretty molding trim details on the drawers and I love the little gold ring pulls.
Overall Dimensions: 45″ wide x 22″ deep x 30″ high
Open Space for Chair: 24″ wide x 23″ high
Desk features three large drawers and a pencil drawer
Retails at $899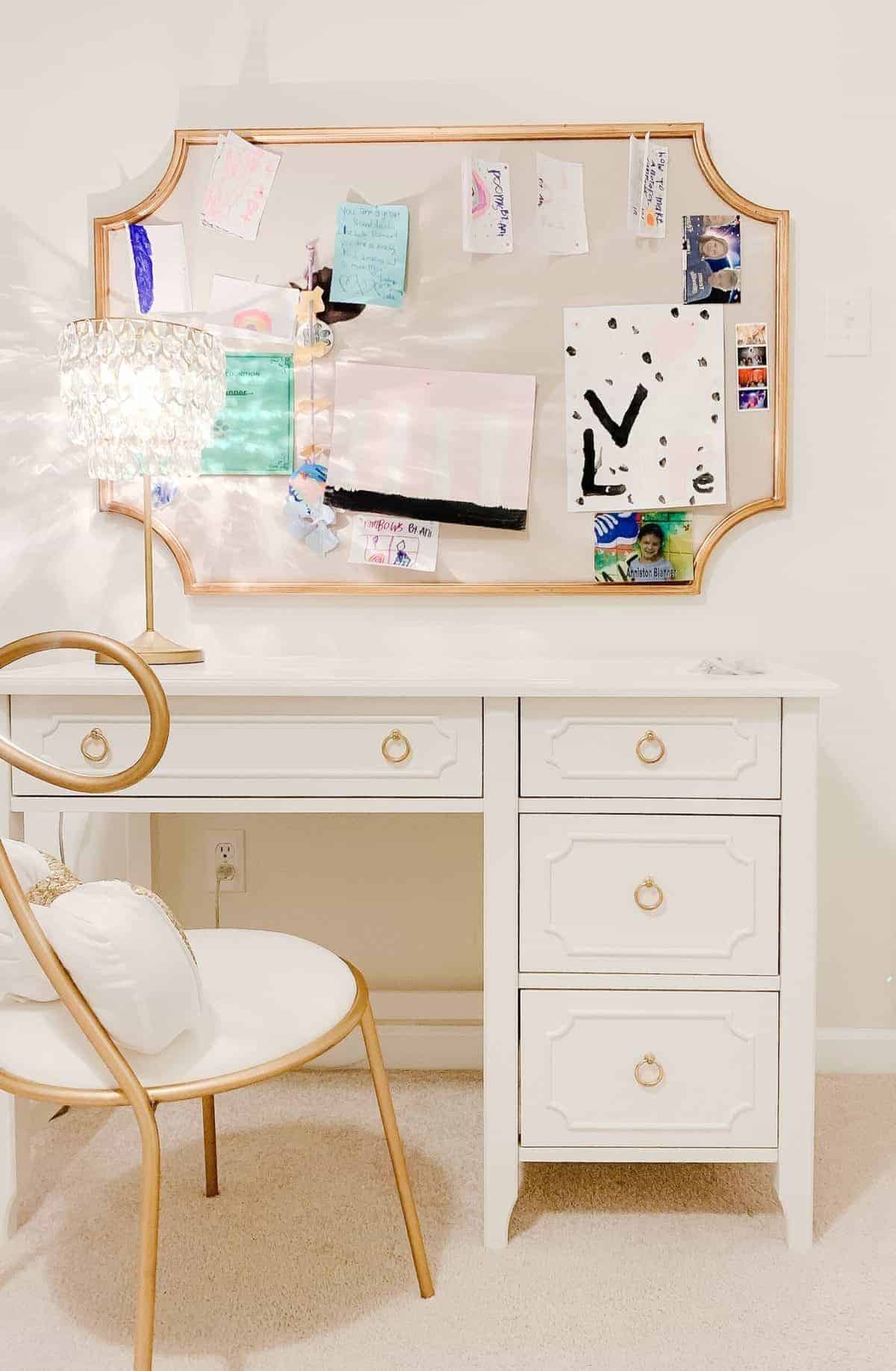 Pottery Barn Teen Desk
In Adalyn's new Gold Tween Bedroom (and our youngest daughter Isla's room), we chose the Auburn Hutch Desk from Pottery Barn Teen. It has pretty tapered legs and beveled drawer fronts that fit beautifully in her feminine room.
This desk is significantly larger than what she had before, and larger than the options from Pottery Barn Kids… making it a perfect desk for teenagers. (I can't believe how quickly she will be one!)
Luckily, her room has plenty of space for a desk of this scale, and it has been the perfect way for her to spread out on virtual learning days.
Overall Dimensions: 57″ wide x 23″ deep x 30″ high
Features 6 drawers with stops to prevent pull outs with spillage
Solid poplar construction
Retails at $1,795 with hutch, $1,399 without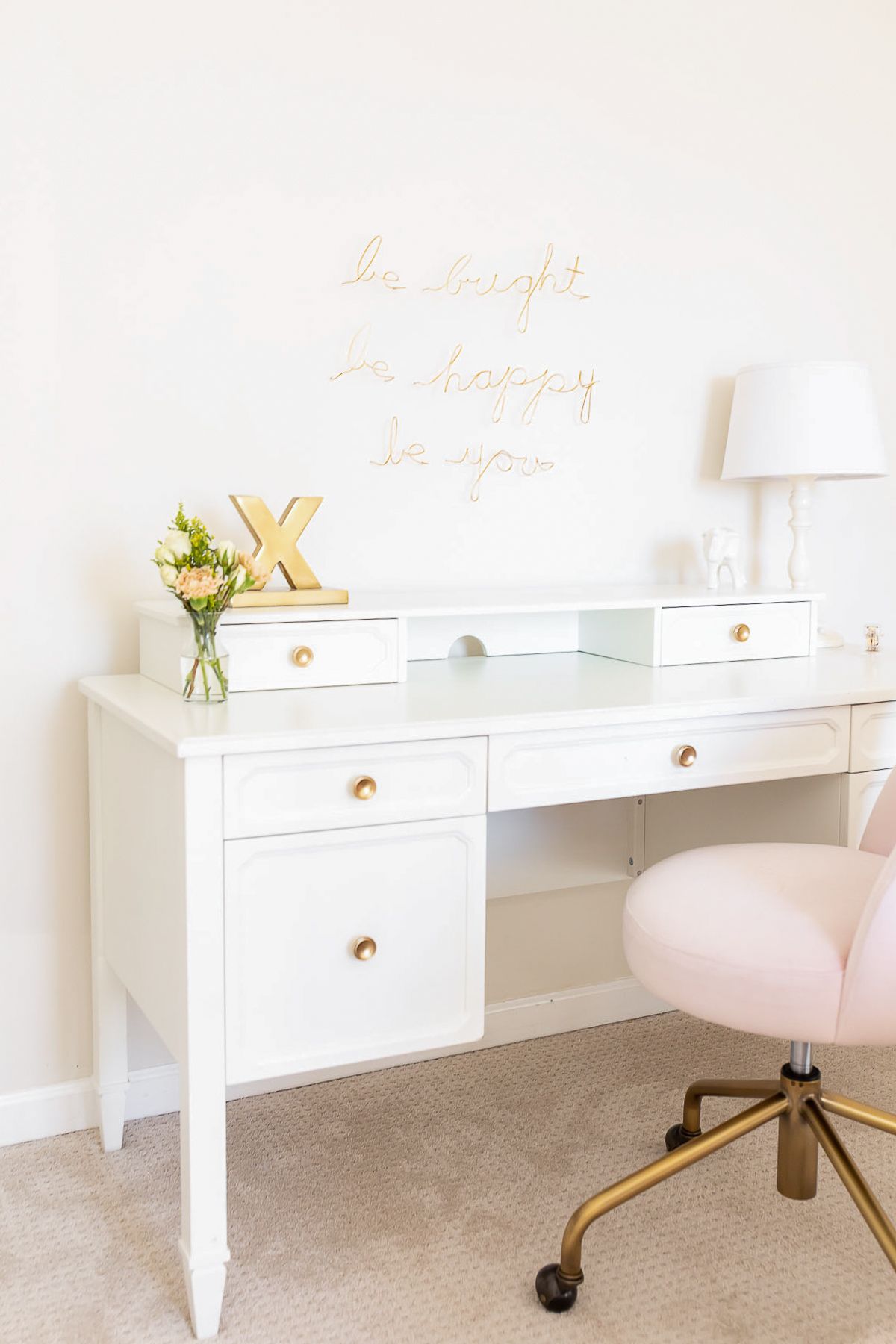 We're so lucky to have a Pottery Barn Outlet here in St. Louis! If you've got one near you, be sure to check frequently when you're on the hunt for kids furniture like this desk – you might be surprised at how frequently they get shipments!
This is one of my favorite tips in my Luxury Home for Less guide – don't skip it!
Frequently Asked Questions
Do teenagers need an adult size desk?
Generally speaking, the desks available at Pottery Barn Kids and Teen seemed to be the same height, giving the same amount of leg room for both kids and adults. That way they can grow into them!
The difference in sizing between kids desks and those built for adults, are more about length and width for storage and scale.
Are Pottery Barn desks worth the investment?
In our case, yes! We were lucky enough to purchase our desks at the Pottery Barn outlet in St. Louis, but even at full price, these are beautiful investment pieces that are holding up to daily use.
Sources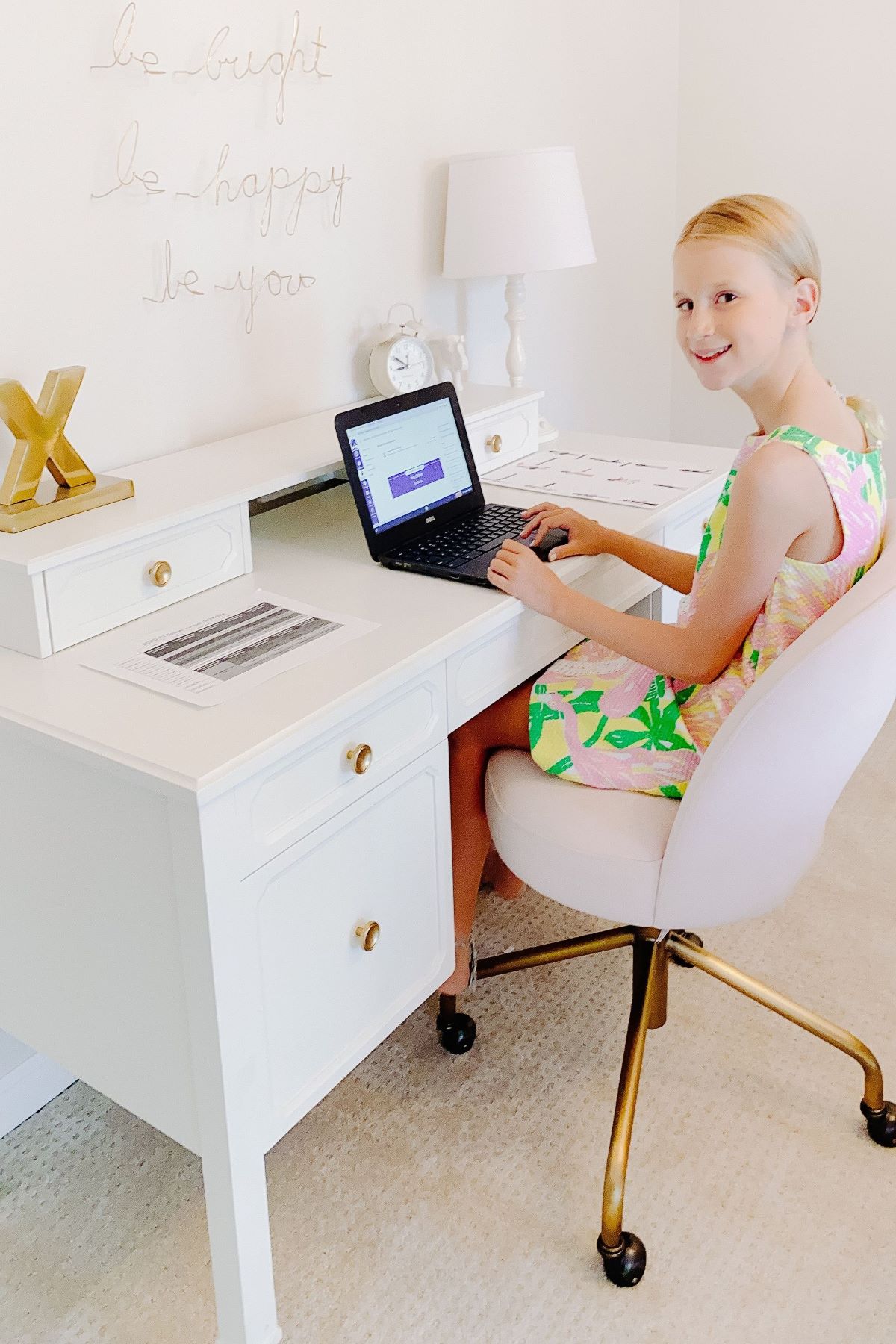 Have you been shopping or updating any bedrooms lately? I'd love to hear from you!
Design Guides, Decor & Tips