Get the complete rundown on panel ready appliances for your upcoming build or remodel. They offer a beautiful, seamless look that will enhance any kitchen!
Designing a kitchen can feel like a daunting task. There are so many decisions to make, and each one will affect the final look (and budget!) of your kitchen.
One of the biggest decisions is which appliances to purchase. Not only are appliances one of the largest expenses, but they also make a huge impact on the finished style of your space.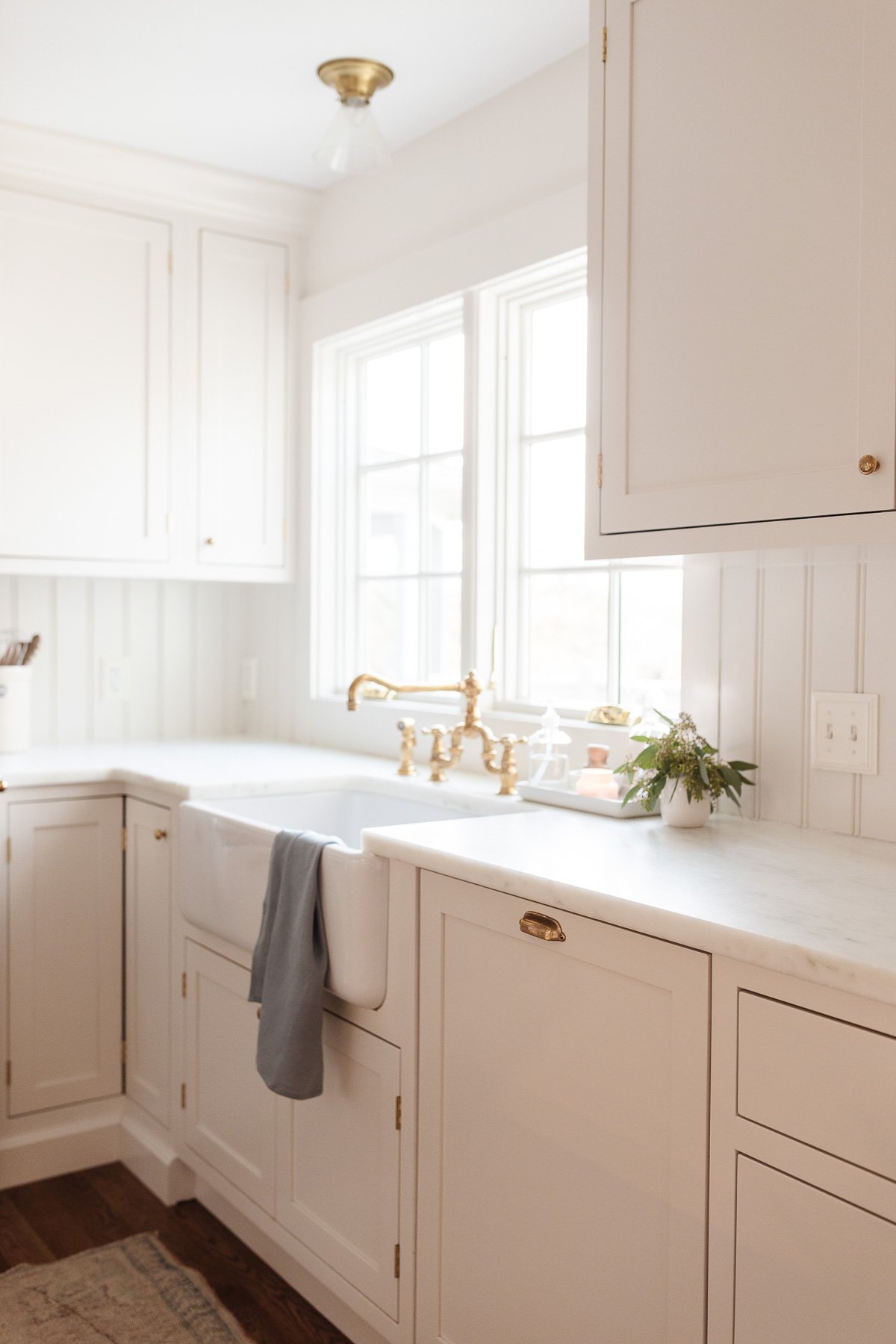 Panel ready appliances are more expensive than traditional options, but they also offer a custom, streamlined look that you can't get any other way. Often, the decision becomes a balancing act between your budget and your desired outcome.
When I designed my dream kitchen, I knew panel ready appliances would give me the classic, timeless look that I wanted. It was worth it to me to include them in my budget, even though it meant making some cost-saving decisions elsewhere.
I'm here to make your kitchen designing a little easier by filling you in on everything I've learned about panel ready appliances.
For more details on my classic kitchen renovation, be sure to check out Our New Kitchen, Cream Kitchen Cabinets, Beadboard Backsplash, and Unlacquered Brass Kitchen Faucet.
If you're not quite ready for paneled appliances but you still want to update your old ones, check out my trick for Updating Appliances with Stainless Steel Contact Paper. It's quick, easy, inexpensive, and looks stunning!
What Are Panel Ready Appliances?
Panel ready appliances are just what their name implies—unfinished appliances that are ready to be covered with a panel that matches the rest of your cabinetry. Essentially, they are appliances that look like cabinets from the outside.
When we remodeled our kitchen, we moved the refrigerator to a new location. In its new home, it could be seen from the living room. I didn't want a big refrigerator being in the main line of sight.
So we purchased a panel ready integrated refrigerator and designed it to look like a built in French pantry. It's a beautiful look, and I don't mind at all that everyone can see it from the living room.
You can purchase most standard kitchen appliances in a panel ready option. This includes refrigerators, dishwashers, trash compactors, and wine coolers.
Ovens and microwaves aren't available in panel ready options, because of the heat they emit. You can, however, purchase wall ovens that are completely flush with cabinet fronts for the most streamlined look possible.
Microwave drawers also contribute to a custom, seamless design. This is where the microwave sits under the countertop and pulls out like a drawer, rather than opening with a standard hinged door. The microwave itself is still visible, but the control panel is concealed when not in use. It flips out so you don't have to bend to see it and push buttons.
Panel Designs
It's no secret that appliance finishes go in and out of style. In the 1970s it was orange or avocado green. For years, stainless steel has been the reigning choice. Now matte finishes like black, white, slate gray, truffle brown, and bronze are rising in popularity.
The point is that appliance design can change rapidly. For most of us, replacing appliances with every new trend isn't an option. Panel ready appliances are a great way to make sure your appliances don't go out of style. After all, they look like cabinets, not appliances.
Since the appliances come unfinished, you get to choose which style of cabinet panel you want to use. They come in any style and material that you can think of for cabinetry. If you want a modern look, go with a flat panel front. For a more traditional style, use Shaker style doors. Wood finish or painted a color, either one works!
In my kitchen, I chose to match our cream colored inset cabinets on our appliance fronts. Or you can go with a partial or full overlay. It's completely up to you and your personal preference.
Panel ready appliances are especially well suited to small kitchens, where you don't want to visually break up your cabinetry. Having your appliances look like your cabinets will make your small kitchen appear larger and more open.
Most big box stores sell panel ready appliances online, but you may not be able to find displays in stores. Many manufacturers stock a limited variety of panel styles and finishes. However, to get exactly what you're looking for you may need to order custom panels through a cabinet maker.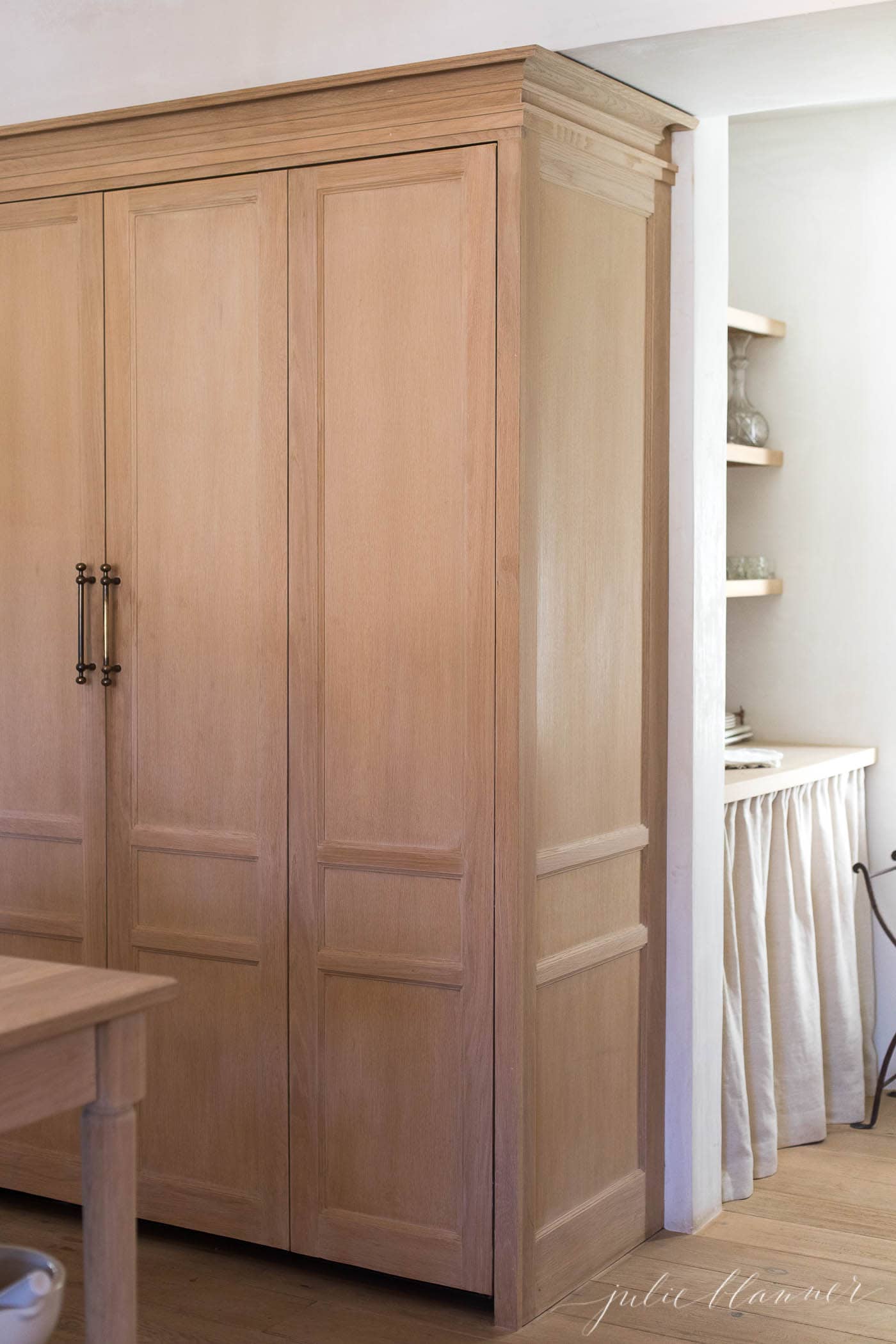 Cost of Panel Ready Appliances
Unfortunately, panel ready appliances cost more than standard options, often by quite a bit of money.
Panel ready refrigerators, for example, can cost double or triple the amount of a regular stand alone refrigerator. That is for the appliance alone, not including the cost of the panels themselves.
Panel Ready Refrigerators
There is a wide range of prices, depending on what brand, size, and features you purchase. Top brands like Sub Zero, Thermador, and Viking can cost between $7,000–$15,000 for a refrigerator. Mid-level refrigerators by brands such as Bosch, KitchenAid, and JennAir may cost closer to $3,000–$8,000.
You're not likely to find panel ready appliances in lower-end brands. This is because the panel ready option itself is a high-end feature.
The cost varies greatly depending on the type of refrigerator you choose. You can purchase a panel ready version of just about any type of refrigerator on the market, including the popular side by side or French door options. Added features such as a water and ice dispenser will also add to the cost, as much as $1,300 more.
Panel ready refrigerators are often narrower than a standard 36-inch appliance. You can purchase one in 36 inches, but you will pay more for it. Typically, panel ready refrigerators are 30 inches or less in width.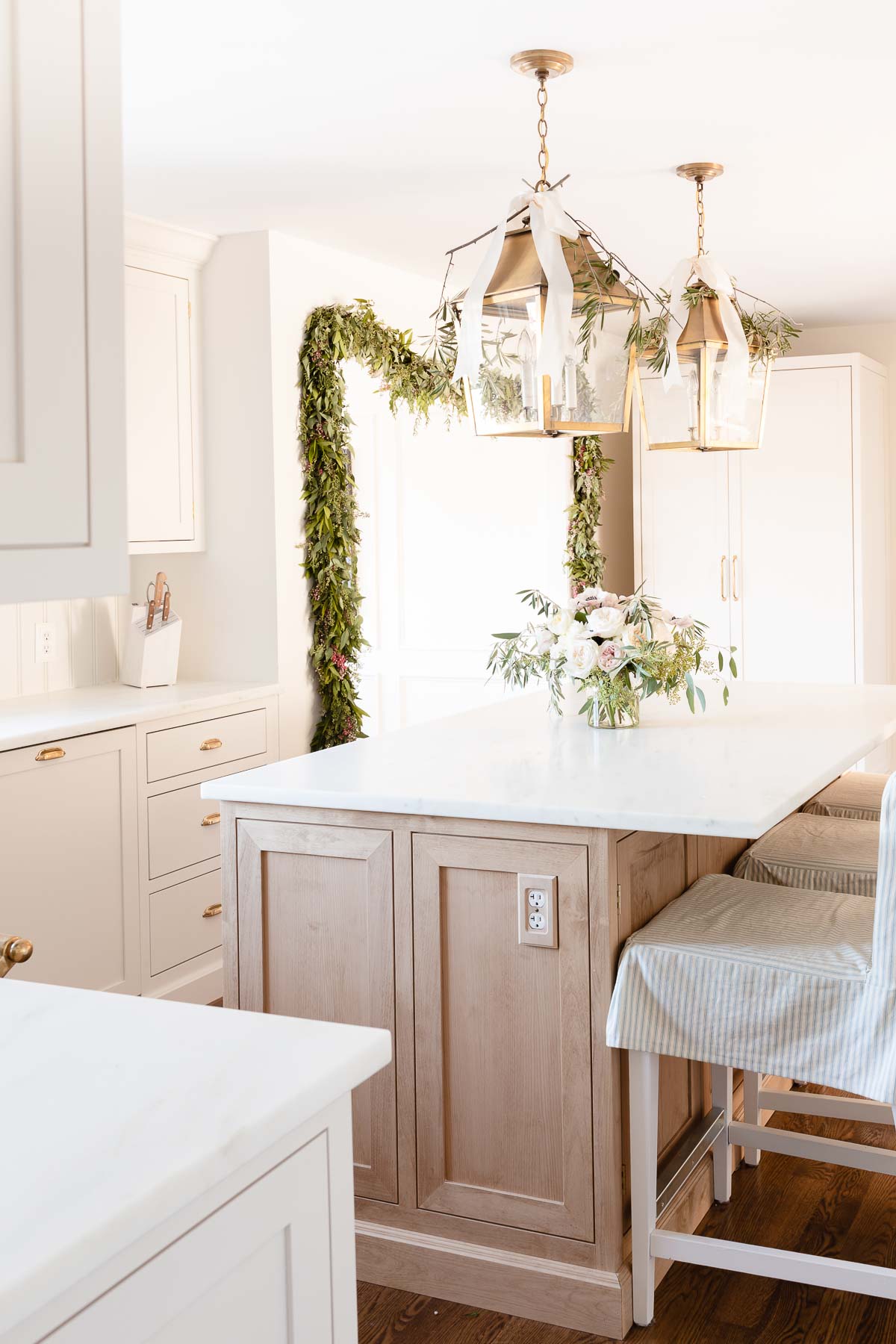 They're also not as deep as standard refrigerators. Since they're made to blend in with cabinetry for an integrated look, they're usually about 24 inches deep. This puts them sitting flush with the cabinet face for a truly seamless look.
Side by side refrigerators will cost less than French door. However, French door refrigerators look great covered in cabinetry, since the lower freezer door often matches the rest of the cabinetry. In other words, lower cabinets often have drawers, so the drawer on the French door refrigerator will blend right in!
Panel Ready Dishwashers
Panel ready dishwashers typically cost between $800 and $1,500, but you can spend more on top brands with a lot of features. Look for a dishwasher that will sit flush with your 24-inch base cabinet.
A note about panel ready dishwashers – the cabinet panel often starts to show wear sooner than refrigerator cabinets. This is because water and wood cabinets aren't a great mix.
Over time, water from wet hands and dripping dishes can wear away at the cabinet finish. You can easily prevent this from happening by being vigilant against water.
Keep a drying cloth nearby, and wipe up any water spots as soon as they happen. It only takes a few seconds, but it will keep your dishwasher cabinetry looking beautiful for years to come!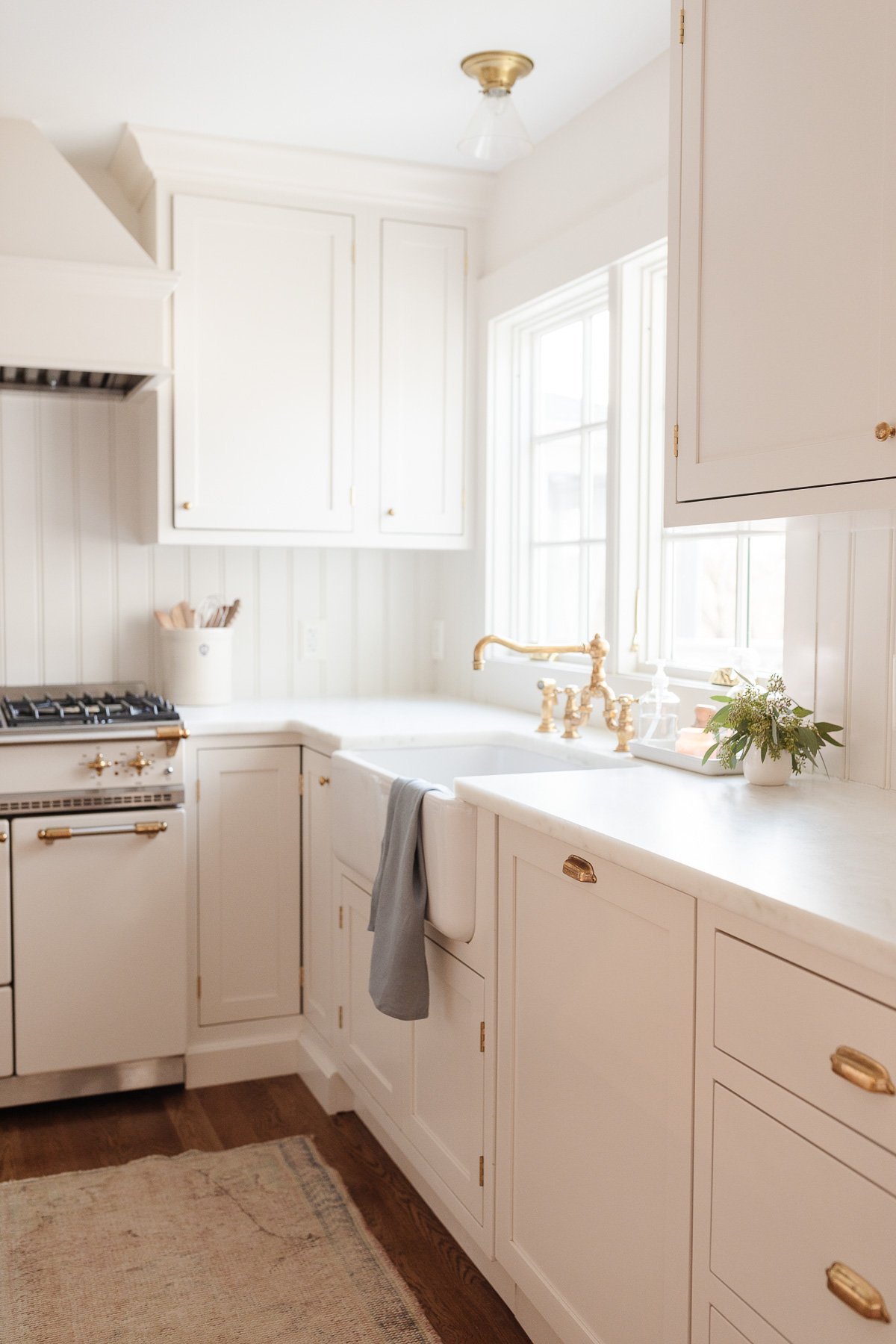 Panels + Installation
Remember, the cost of the appliance does not include the cabinet panels. Sometimes you can find exactly what you're look for in stock. Often, however, you have to custom order panels through a cabinet maker. The benefit is getting exactly the style you want. The downside is that custom almost always means a higher cost.
Custom panels plus installation can add another $2,000 to the overall budget, on top of the cost of the appliances. While you could save money installing the panels yourself, it can be tricky to get it just right, plus mistakes are costly. This is one project I felt great about hiring out.
If you do hire it out, make sure to hire a cabinet maker or woodworker who is experienced in installing panel ready appliances. This isn't the time to try to save a few dollars by hiring someone who is inexperienced. Remember, mistakes will cost you more time and money in the end.
Also, make sure to budget in the cost of appliance hardware. Regular cabinet pulls and knobs are not designed to carry the weight of a heavy appliance door.
Appliance pulls are a lot larger and sturdier than regular cabinet hardware. They're also a lot more expensive, at about $60–$130 per pull.
You can find appliance pulls in many different finishes and styles, but there still isn't the huge selection that you can find in standard pulls. You may have more luck choosing your appliance pulls first, then matching the rest of your cabinet hardware to coordinate it.
See my post on Cabinet Knob Placement for more information about specialty appliance pulls. While you're at it, learn more about cabinet latches too.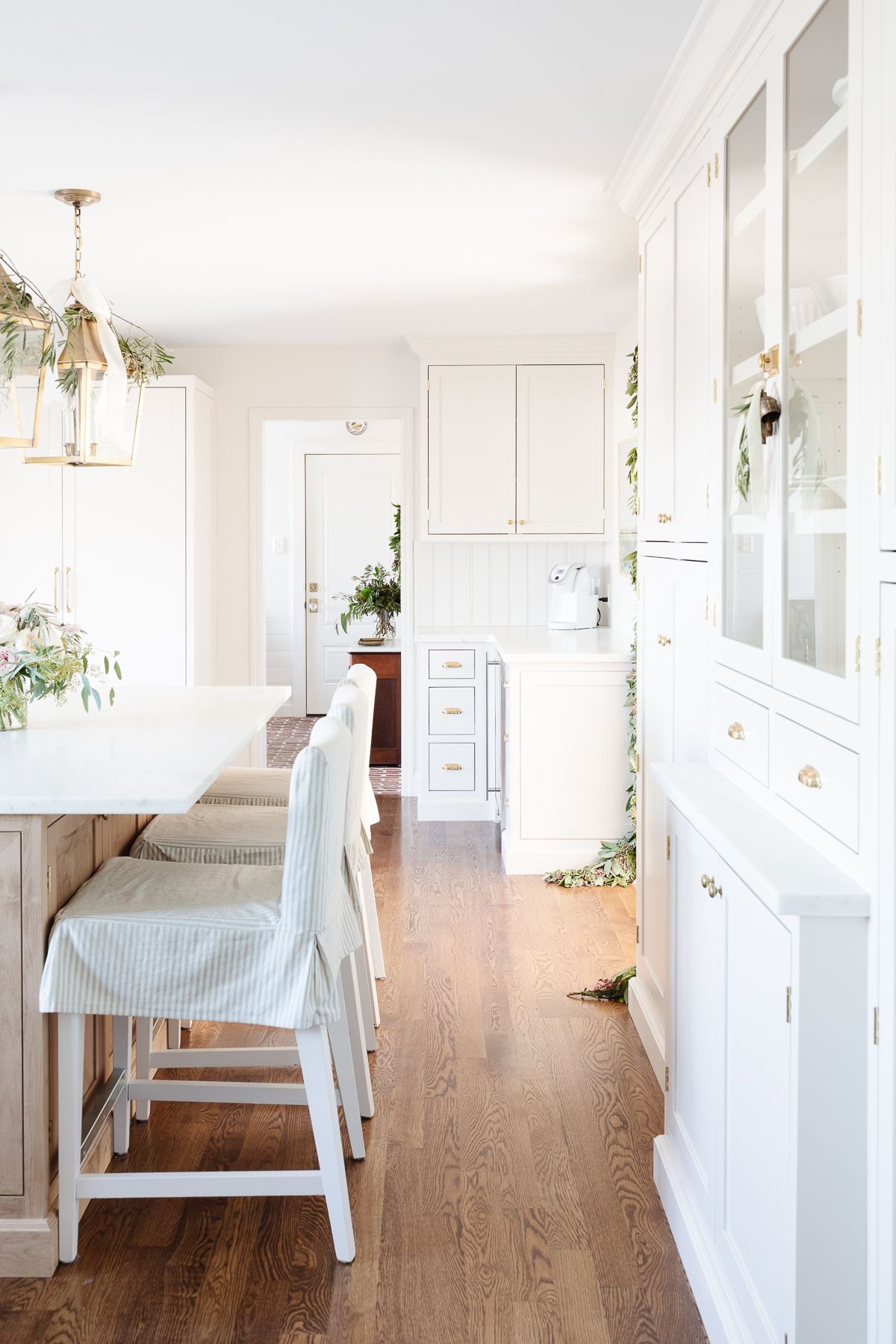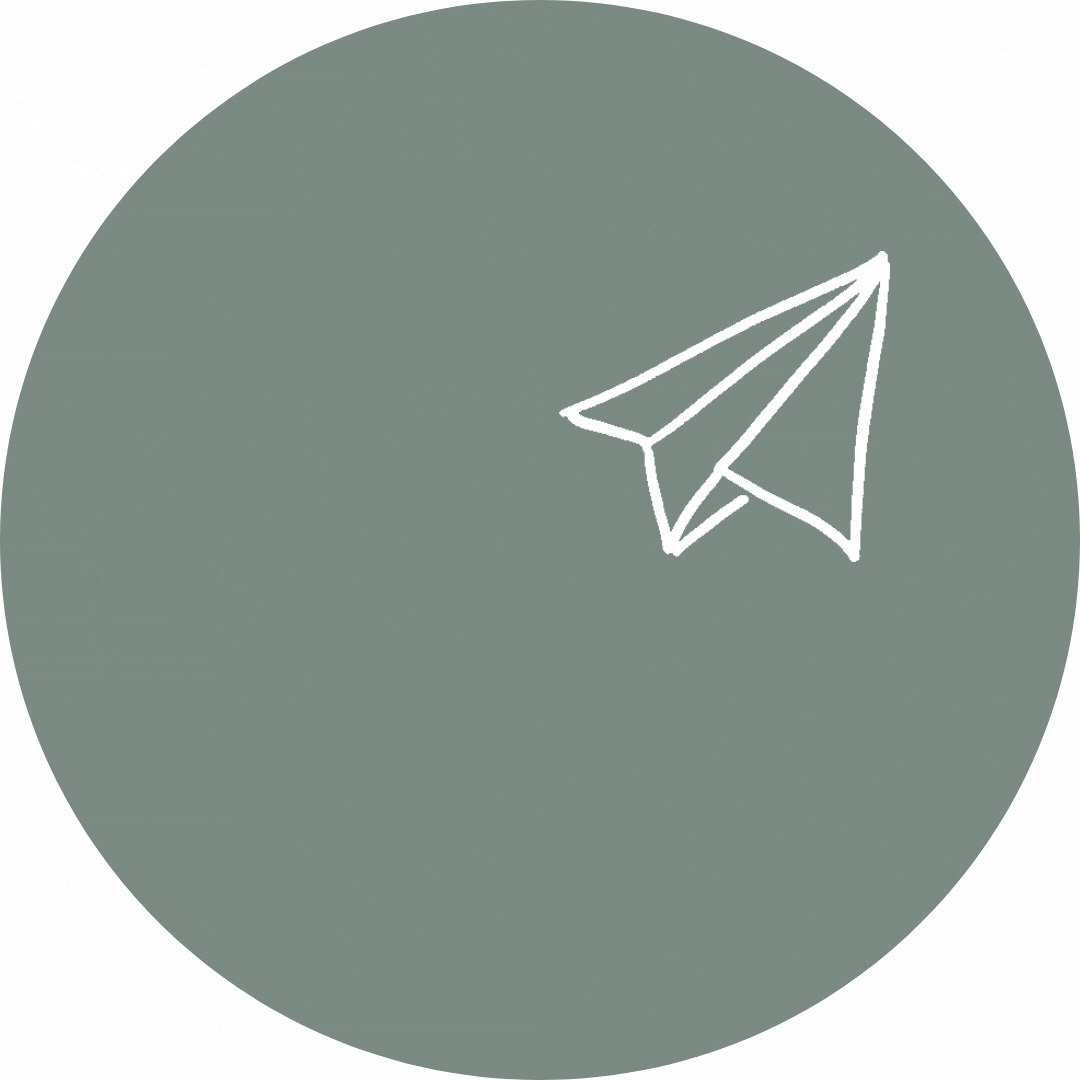 Where to Use
Panel ready appliances are of course designed for use in a kitchen. However, you're not limited to using them in your kitchen! Because they blend in so well, panel ready refrigerators and drink coolers are perfect for anywhere you want to keep food cold.
Consider installing them in a butler's pantry, rec room, pool house, or home office. They're perfect for anywhere you want access to cold food and drinks, but you don't want it to look like a kitchen.
You can hide a small panel ready refrigerator or drink cooler anywhere you have built-in cabinets. Everyone will love easy access to cold snacks and drinks, and you'll love seeing beautiful cabinetry.
Even in a kitchen, you can install them on your own terms. If you don't have it in your budget to do all new panel ready appliances, you can still have one or two!
Consider installing a panel ready dishwasher and wine cooler, even if you'll be using a standard refrigerator. This will save you money, and it will also make your kitchen feel more custom and seamless. It doesn't have to be all or nothing!
Pros and Cons of Panel Ready Appliances
PROS
Offer a seamless, streamlined look
Classic and timeless
Personalize panels to match the exact look you want
Won't go out of style as quickly as standard appliances
Can be used anywhere without looking like a kitchen
CONS
Appliances double or triple cost of standard
Added cost of panels, installation, and hardware
Water on wood can cause wear to show, especially on dishwashers
Frequently Asked Questions
What is a panel ready appliance?
Panel ready means the appliance is unfinished and able to have a cabinet panel installed to it. From the outside, they look like the rest of your cabinetry for a beautiful, seamless look.
Are panel ready appliances more expensive?
Yes, panel ready appliances can cost 2–3 times more than standard appliances. This is partly because they are available only in high- and mid-level brands, and partly because the concept is still fairly new.

In addition to the cost of the appliance itself, purchasing and installing custom cabinetry panels will add another $2,000 or more to the overall cost. Plus specialty appliance pulls cost $60–$130 each.
How much is a panel ready refrigerator?
There is a wide range of pricing for panel ready refrigerators. High-end brands like Thermador, Viking, Sub Zero, and Monogram offer refrigerator designs from $7,000–$15,000 each. Mid-range brands like Bosch, KitchenAid, and and JennAir sell them for $3,000–$8,000.

The cost varies greatly depending on the size, style, and extra features you choose. This does not include the cost of cabinet panels, installation, or appliance hardware, which can all add up to $2,000 or more.
Can you add panels to any refrigerator?
There may be ways to try to DIY the look of panel ready appliances, but they won't look or function quite the same way. Standard refrigerators vent differently than those designed for panels. If you cover those vents, you'll cause your refrigerator to overheat.

The hinges on standard appliances also aren't designed to carry the extra weight of cabinet doors. In the end, if you love the look, it's best to work it into your budget, even if it means cutting costs elsewhere in your kitchen design.
Our Kitchen Sources
We have separate refrigerator and freezer panel-ready columns in our kitchen, noted below.
Freedom Series 24 Inch Built In Counter Depth All Refrigerator Column, Freedom Hinge in Panel Ready (Thermador T24IR800SP)
Freedom Series 18 Inch Built-In Counter Depth Full Freezer Column, Freedom Hinge in Panel Ready (Thermador T18IF800SP)
While those models might not currently be available, these look the most similar:
Let's keep in touch! Receive exclusive content, including never-seen-before photos, our favorite home decor DIYs and more!