Learn the simplest method to create a DIY fire pit patio – one that you can accomplish in a single weekend! This pea gravel fire pit is a gorgeous, welcoming addition to our backyard.
Our new gravel fire pit area is fresh and functional, and was so easy to put together. If we can do it, so can you!
We are so thrilled with the results that we couldn't wait to share it with you. We're giving you the simple steps we took to create it and photos of the finished results!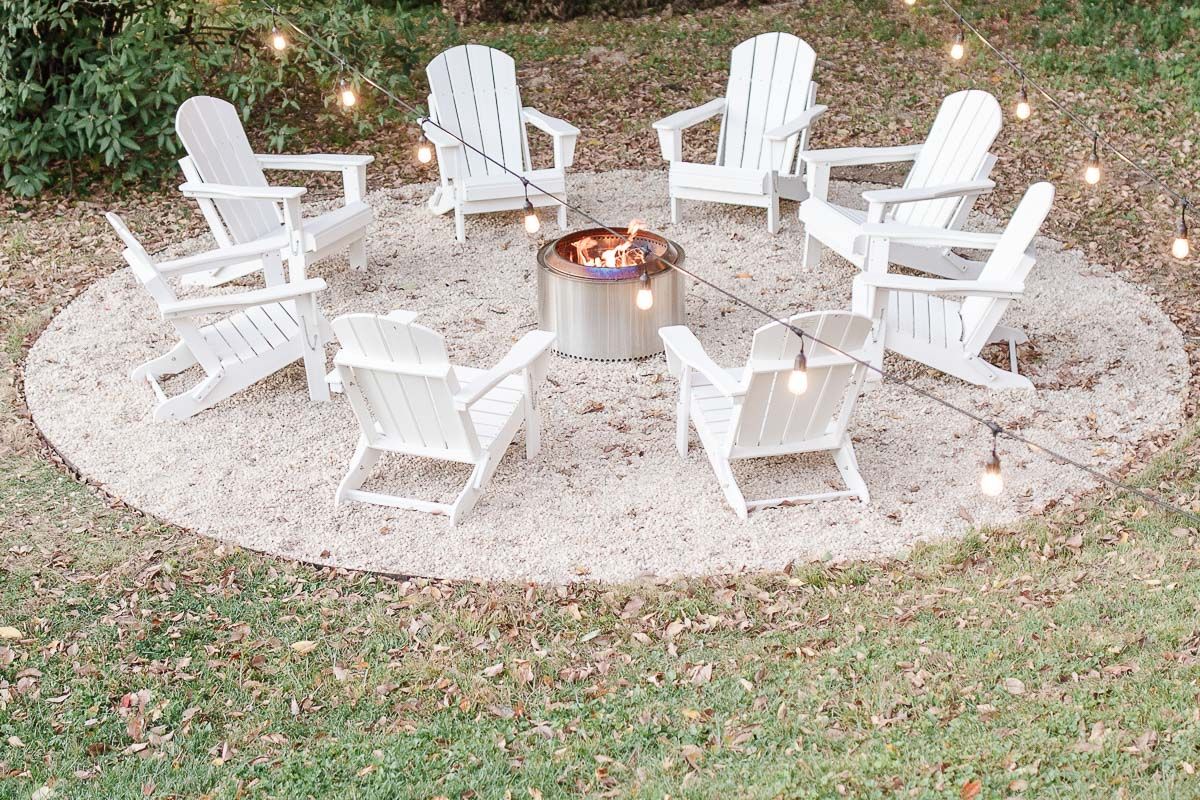 Welcome to our new pea gravel fire pit! We couldn't be happier with the way it turned out, and it has added so much function to a previously unused part of our backyard.
If you're dying to add a fire pit area to your yard, but you're intimidated by all the complicated DIY projects out there – this one is for you! We simplified this project in a way that meant we were planning, executing and enjoying it all in one weekend.
In fact, the easiest shortcut in this project is our Solo Stove. It's the only fire pit you'll ever need – we have one at the lake and a larger one here in St. Louis.
To create this DIY fire pit patio, we did a little research, selected the right products, and put it all together in just a day or so. Yes, it took a little sweat equity, but the results are well worth it!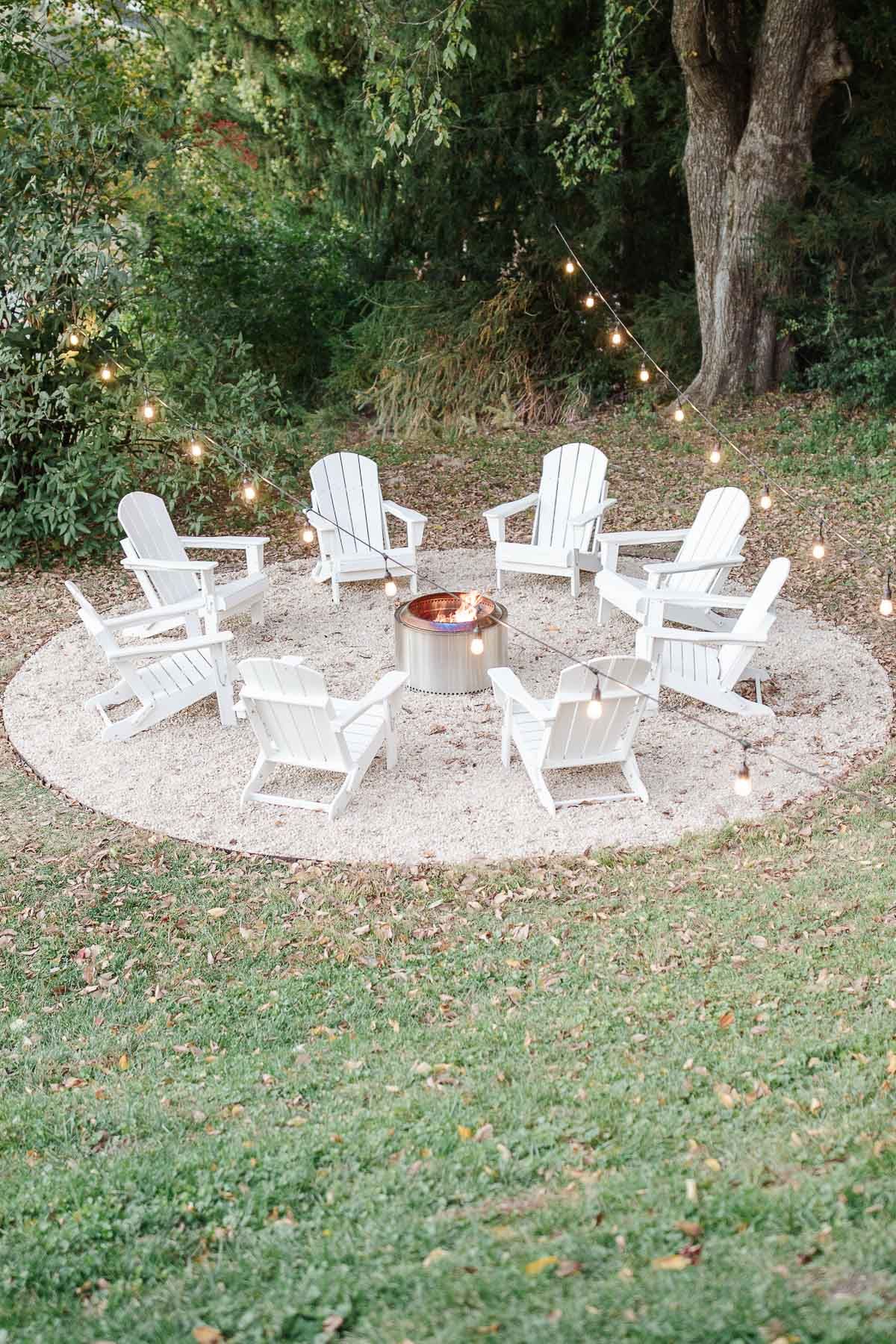 DIY Fire Pit Patio
There's a variety of things that hold us back from taking on projects like this. Sometimes it's the expense, or the lack of expertise or lack of time.
In this case, we knew we needed this fire pit patio to be both affordable and achievable. We love the look of pea gravel and have used it extensively at the lake – you can see more of it here in this Serena And Lily Outdoor Furniture guide.
With pea gravel in our minds, we knew we could make this project happen fairly quickly and enjoy many fire pit nights this fall! We measured (once, twice, three times), ordered the pea gravel and other supplies, and got to work.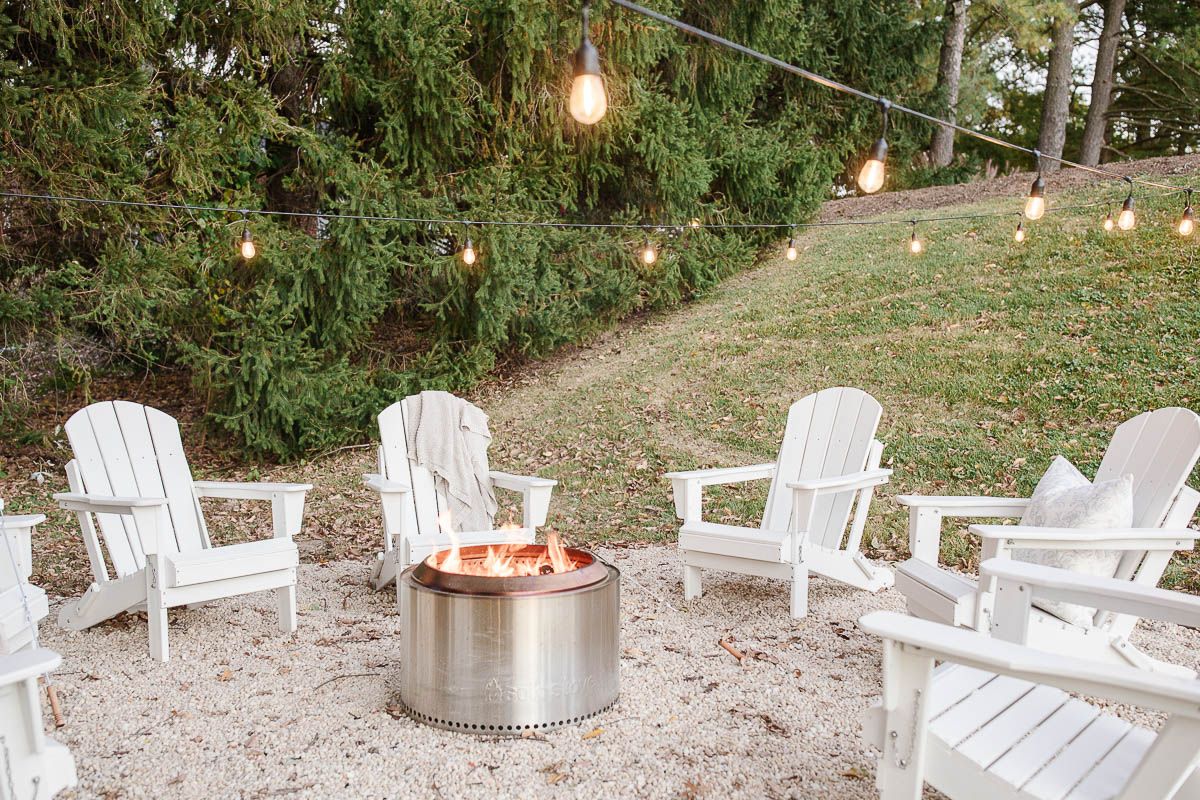 Quick Facts
Our DIY pea gravel fire pit patio is circular, and 16 feet in diameter.
That's the perfect size for eight Adirondack chairs.
Our Pea Gravel is called Sand Pebbles and is linked in the source section at the end of this post.
We used 75 0.5 cubic feet bags for this project.
Approximate cost for that much gravel: $426 (pre-tax)
We laid landscaping fabric underneath.
We used Edge Right hammer-in landscape edging around the perimeter of the patio.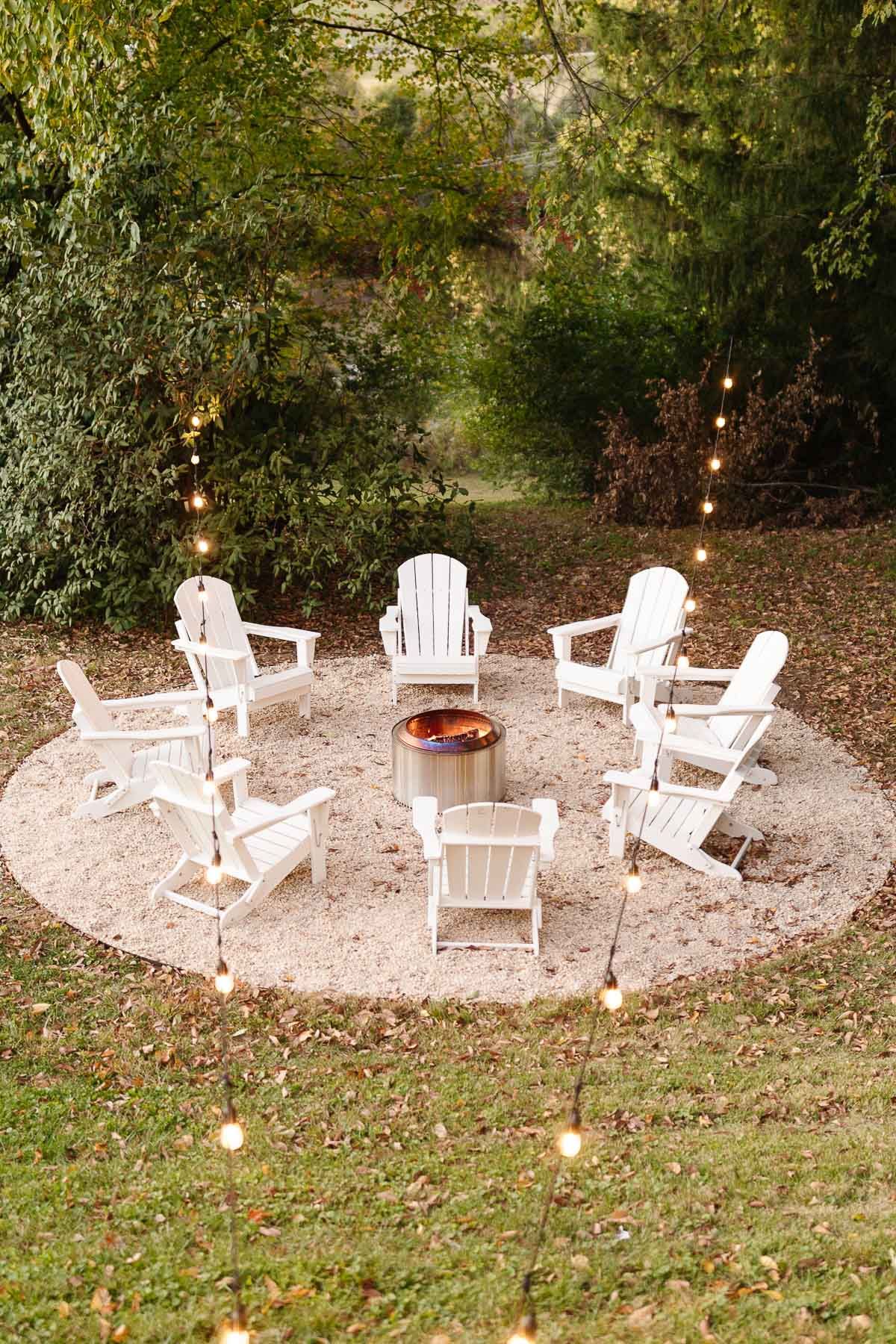 Pea Gravel Fire Pit Supplies
Take stock of your space, take measurements and get everything ordered. Here's what we used to create this circular fire pit patio.
Wooden stake + String (to create the circle perimeter)
Spray Paint for marking the circle
Shovel for digging the exterior trench
Weed Killer
Landscaping Fabric + stakes
Perimeter Edging (+ a heavy duty hammer)
Pea Gravel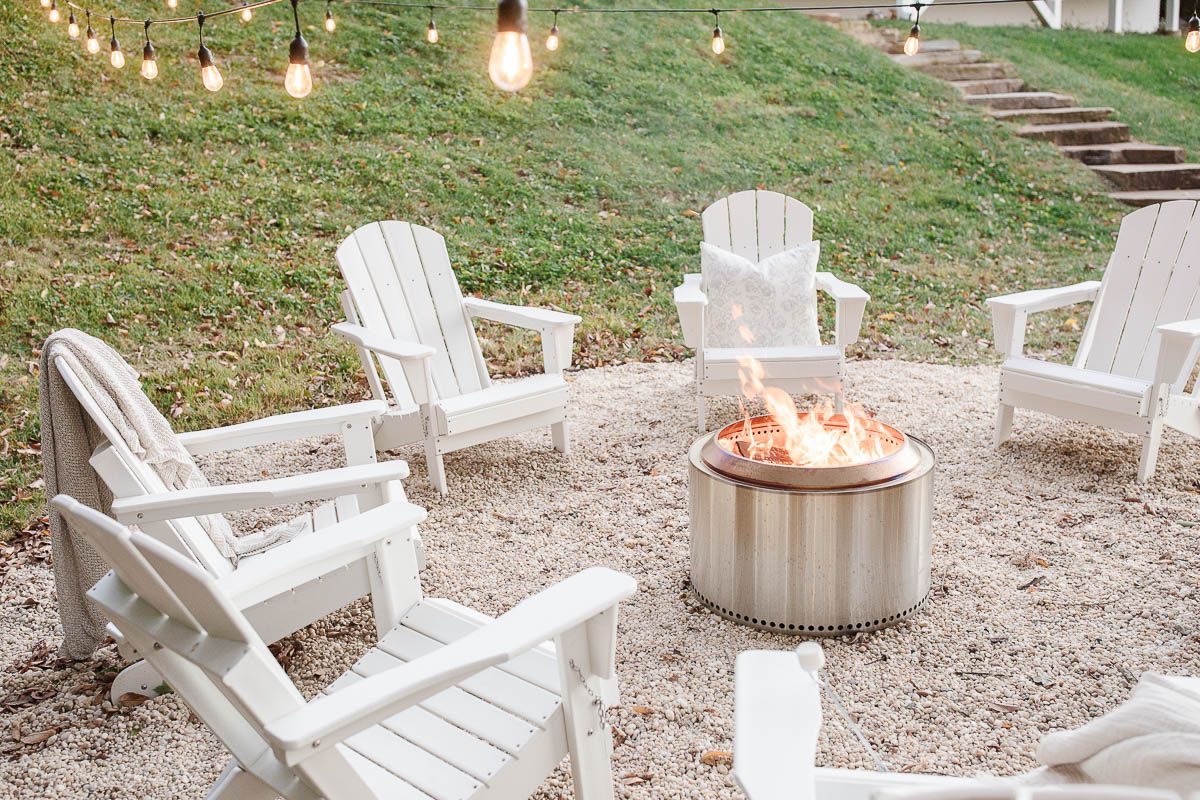 How to Create this DIY Fire Pit Patio
Choose your spot (think about trees above, access from house, etc)
Put a stake in center of your circular space and attach a string. Use string to spray paint circle of desired size of your pea gravel patio space.
Dig a trench at the edge of your circle. It should be approximately 2 inches deep by 5 inches wide.
Spray the grass inside the circle with grass killer. Wait a day or two, then use a weed eater to cut to ground level.
Next, install your perimeter edging. We used Edge Right hammer-in landscape edging – see more in the Sources section at the end of this post. For a circle, you gently and slightly bend it before installing it.
Hammer it in using a wood block between the hammer and metal (so you don't gouge the metal).
Lay landscaping fabric (or a tarp) and make it tight, securing with metal landscaping stakes every 1-2 feet (less of a chance of rock going under it).
Finally, bring in your pea gravel and start spreading it across the patio.
Add your fire pit, seating, and of course, your favorite string lights. Relax and enjoy!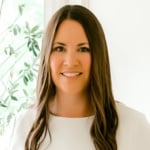 Tips
First, remember: this project is meant to celebrate time with friends and family outdoors. You're using natural materials, so it doesn't have to be perfect, it only has to be functional to blend in with your yard and look amazing!
Use the video tutorials from the products you choose! The edging brand we used provided an excellent tutorial that saved us a lot of time.
You can always use a machine to remove more dirt for the edging, or dig it out yourself like we did.
We used a 4 pound hammer to install the edging.
While Chris installed the edging by himself, note that a second pair of hands would be incredibly useful here! Recruit a partner in crime for this part of the project if possible.
Want a DIY fire pit option in the center of your pea gravel patio? While we love our Solo Stove, you can install a more permanent version – check out this DIY Fire Pit project from our friends A Beautiful Mess.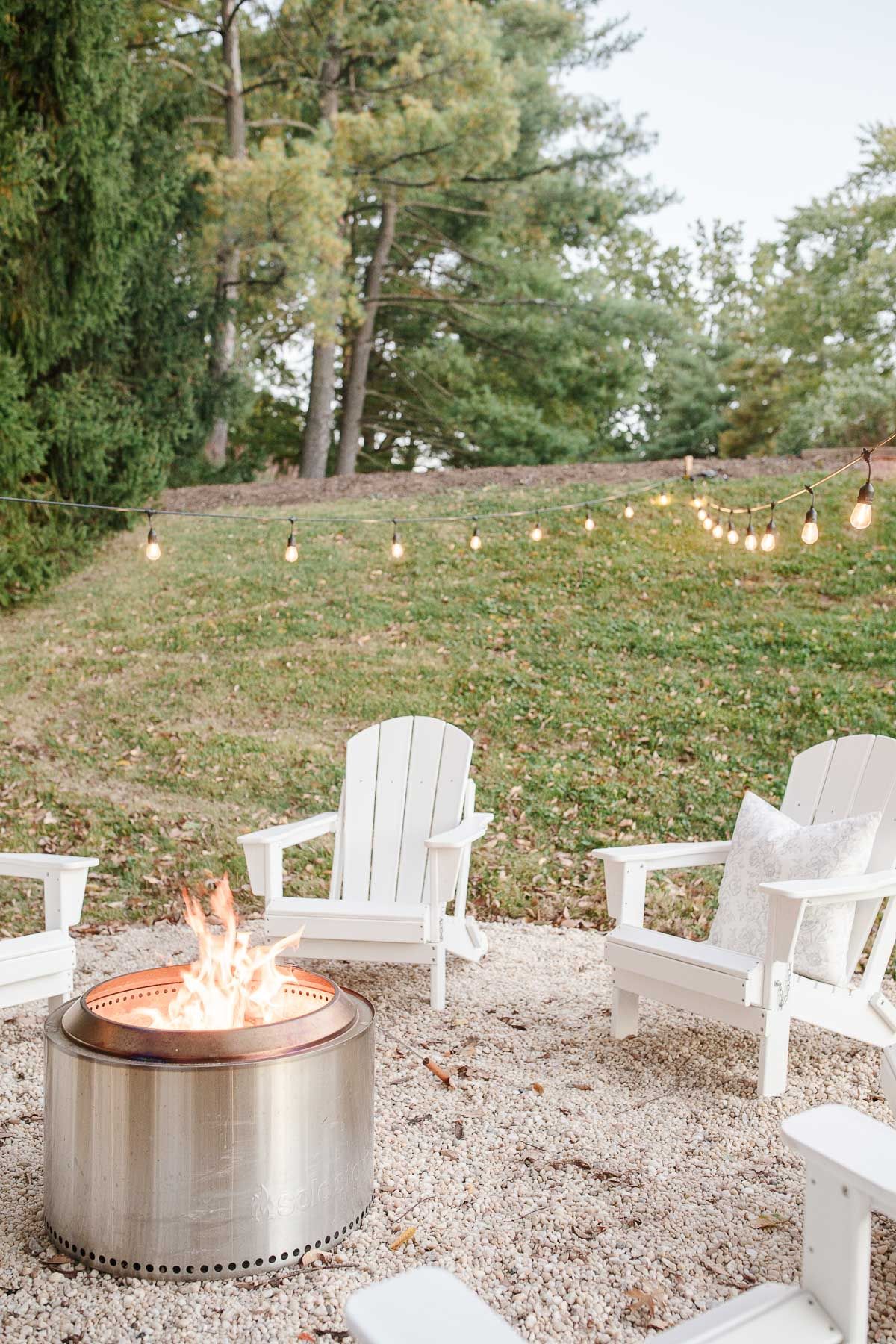 Frequently Asked Questions
How much does it cost to build a fire pit patio?
For this 16 foot diameter DIY pea gravel fire pit, we spent around $1,000 for necessary supplies. Of course, Solo Stove, Adirondack chairs and string lights were additional!
How far away should a fire pit be from your house?
As suggested by insurance companies, a fire pit should be at least 10 feet away from your house – preferably as far away as 25 feet.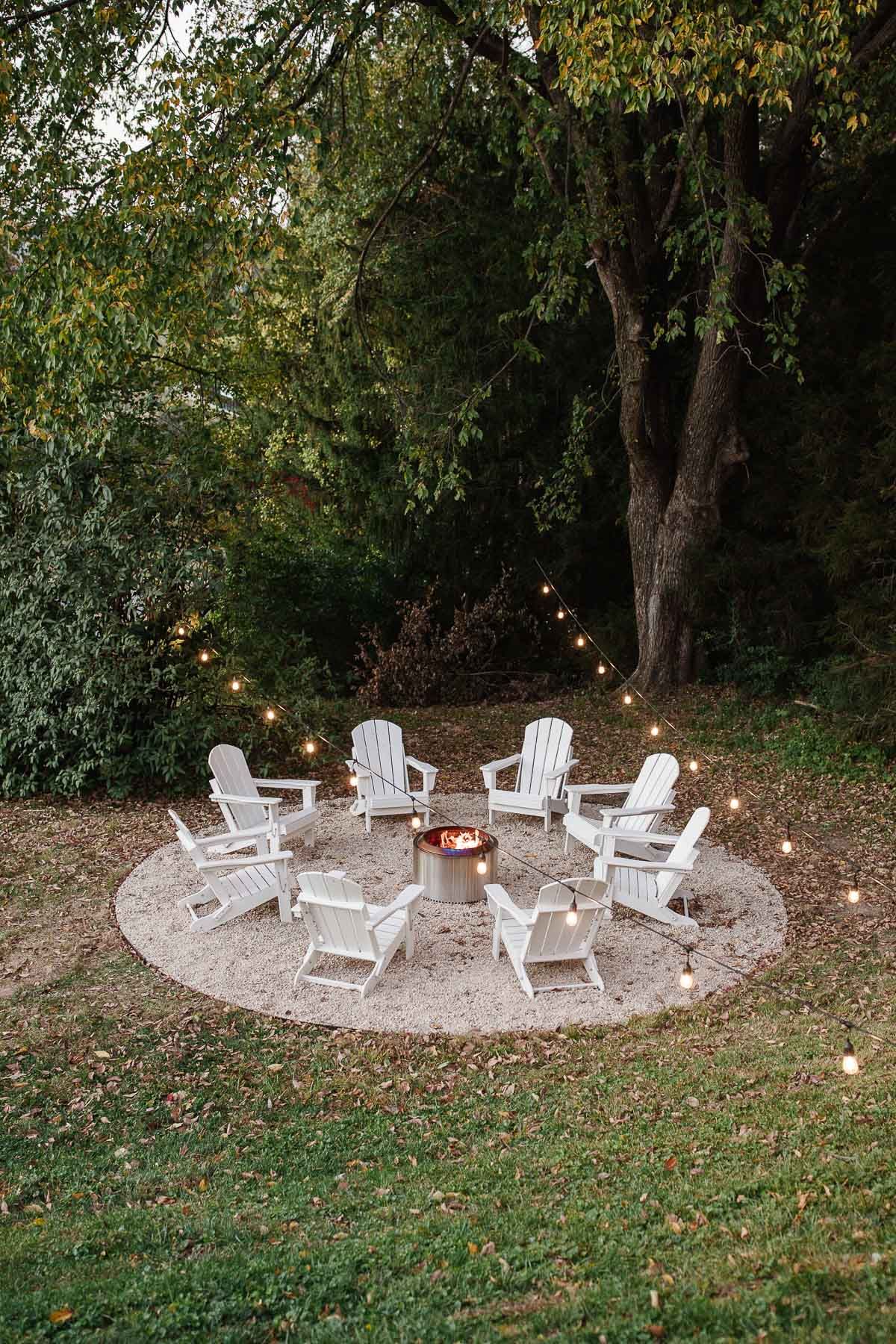 Sources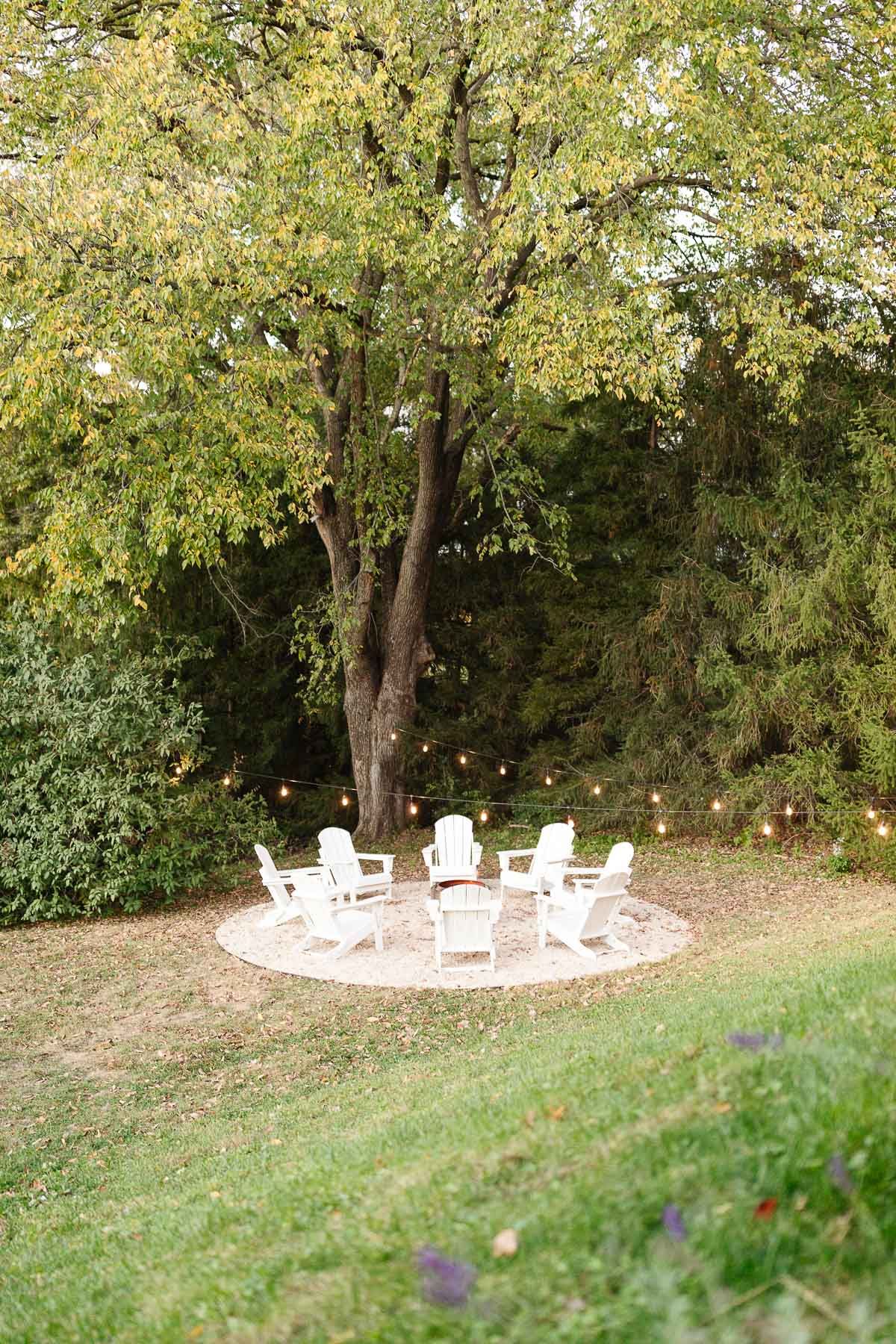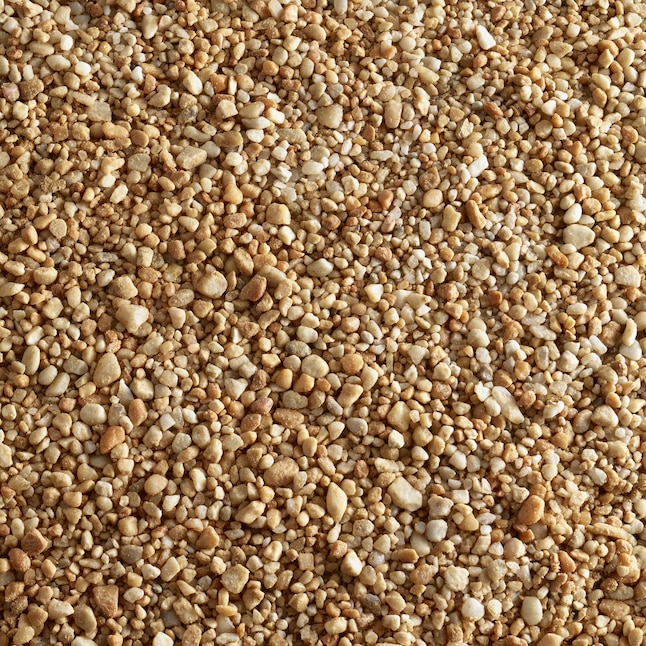 We found the color to be a little inaccurate – it's much lighter in person!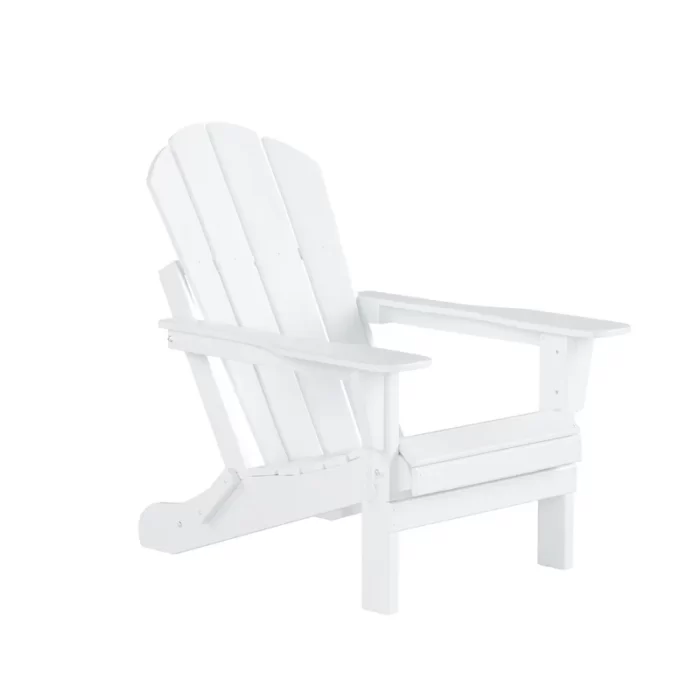 We love these chairs – comfortable, affordable AND weather proof!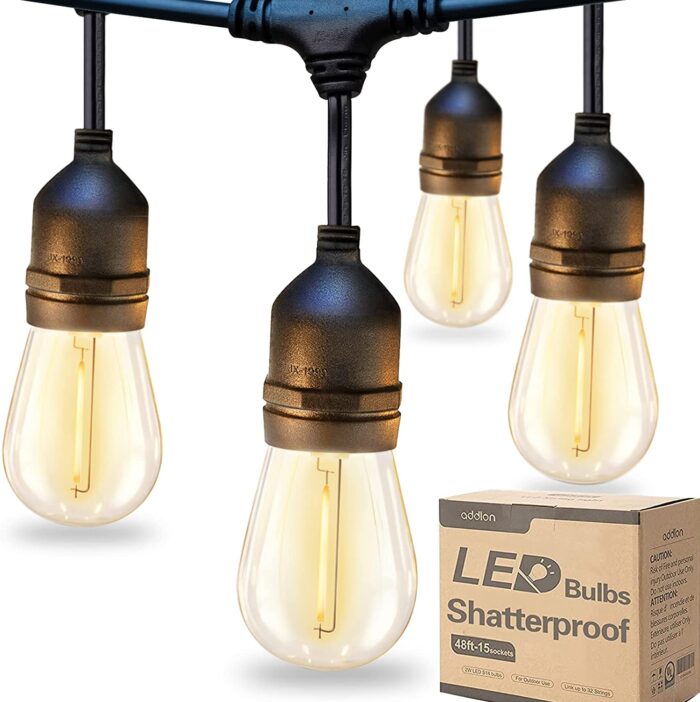 No electricity? No problem – read more about your String Light options here.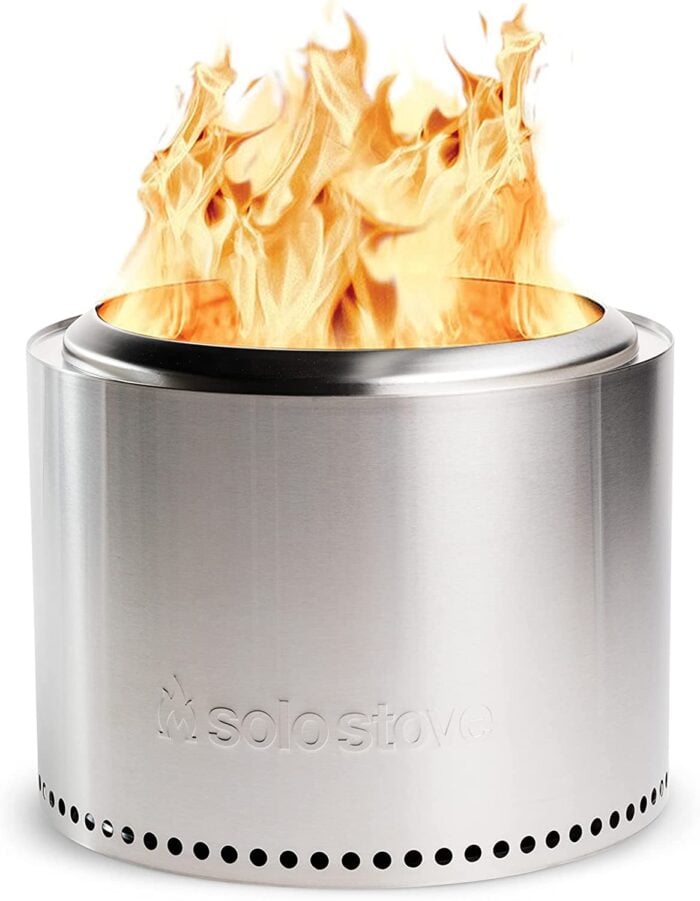 We have the larger Yukon size here, and the Bonfire size at the lake. Read more about Solo Stoves here!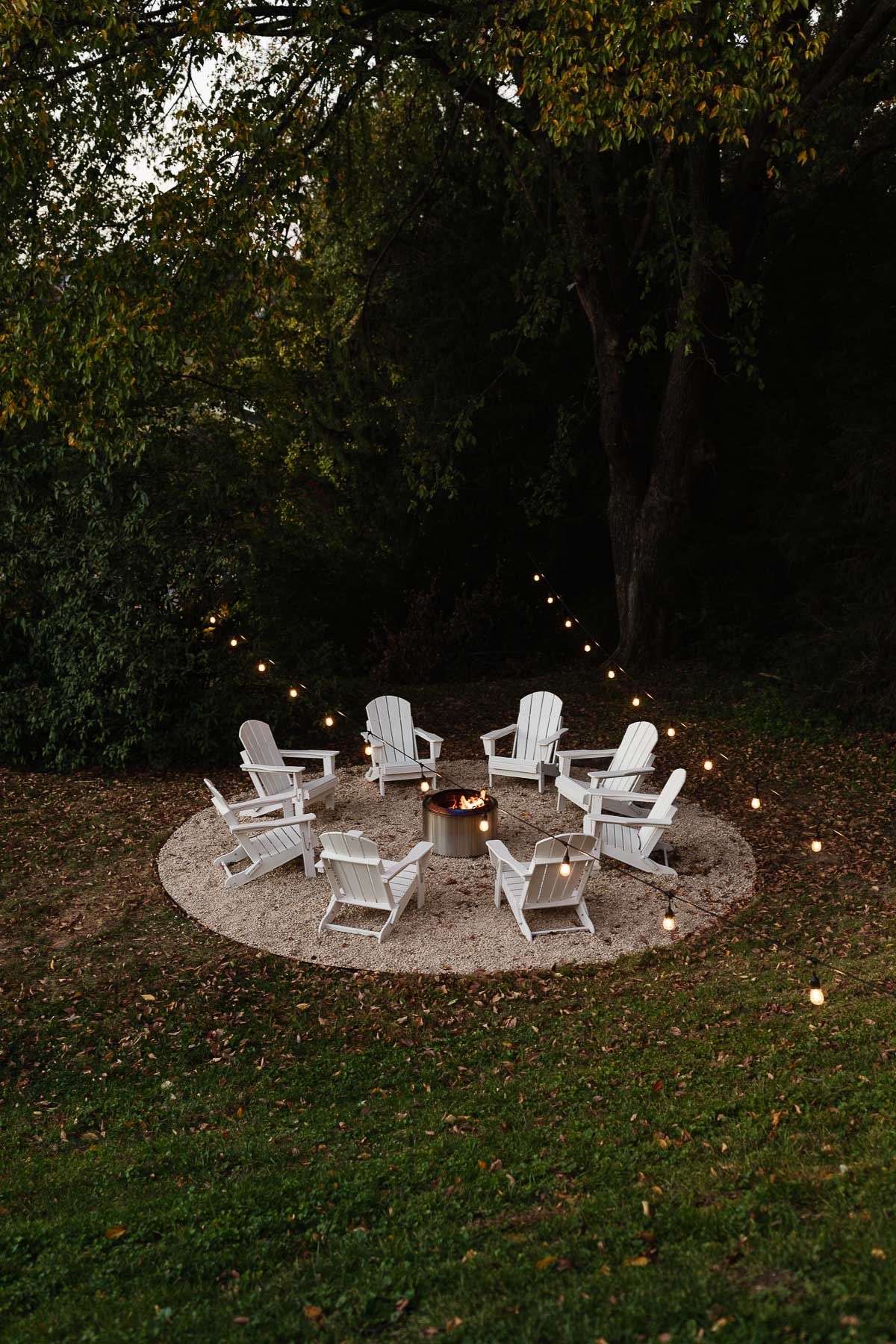 Let's keep in touch! Receive exclusive content, including never-seen-before photos, our favorite home decor DIYs and more!
More Inspiration for Outdoor Living
Design Guides, Decor & Tips