Get all the details for a DIY staircase makeover with cost efficient, easy to clean stair runner rugs! Use an indoor outdoor runner for a look you're going to love. Find sources for modern stair runners and get a complete tutorial for how to accomplish this DIY in your own home – it's easier than you might think!
As it turns out, the inexpensive solution for making over your old staircase may fit in your budget and your design dreams, too! You'll find pretty and practical ideas in this diy staircase makeover tutorial.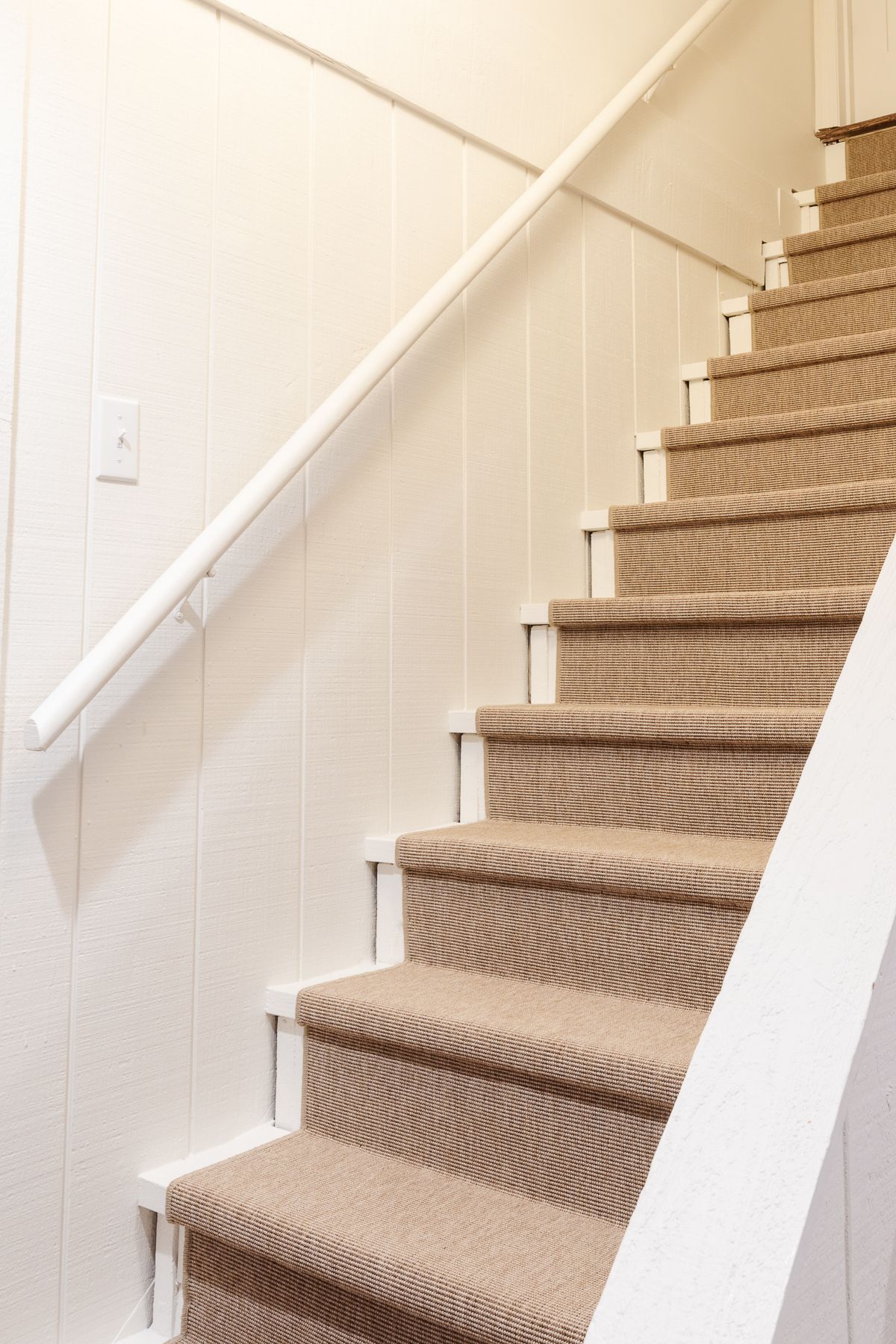 Budget… yes, I said it. I don't like that word, but sometimes, you just have to make compromises when you're renovating your home, or at least what you would think will be a compromise.
I've brought you some posts about rug shopping in an effort to give you excellent resources to turn to when you are researching and shopping for flooring in your home.
It can be complicated, right? Finding the right size, affordability, durability and so much more…but don't stress!
I've done the legwork for you and now you'll have a world of info at your fingertips! This is an easy tutorial for a diy staircase makeover using a fresh, modern stair runner. We've done this project twice, actually – which means we're almost experts.
Use the drop down Table of Contents feature in this post to head to directly to the organized categories of this post. You can also head right to the sources, or the easy step by step tutorial.
DIY Staircase Makeover
When we first moved into our St. Louis home (see the full before and after here) we wanted to freshen up the basement right away so we had a space for our little girls to play.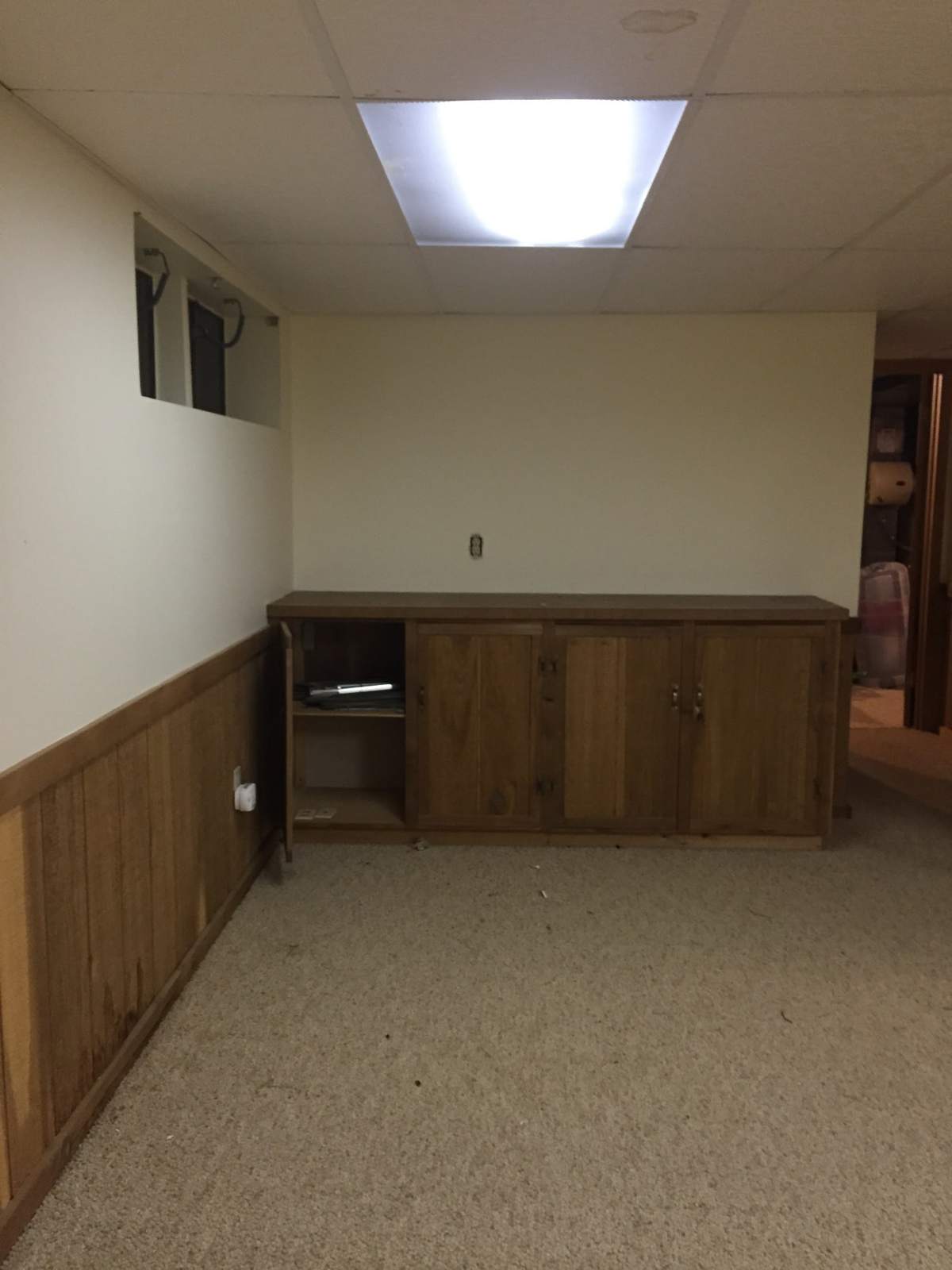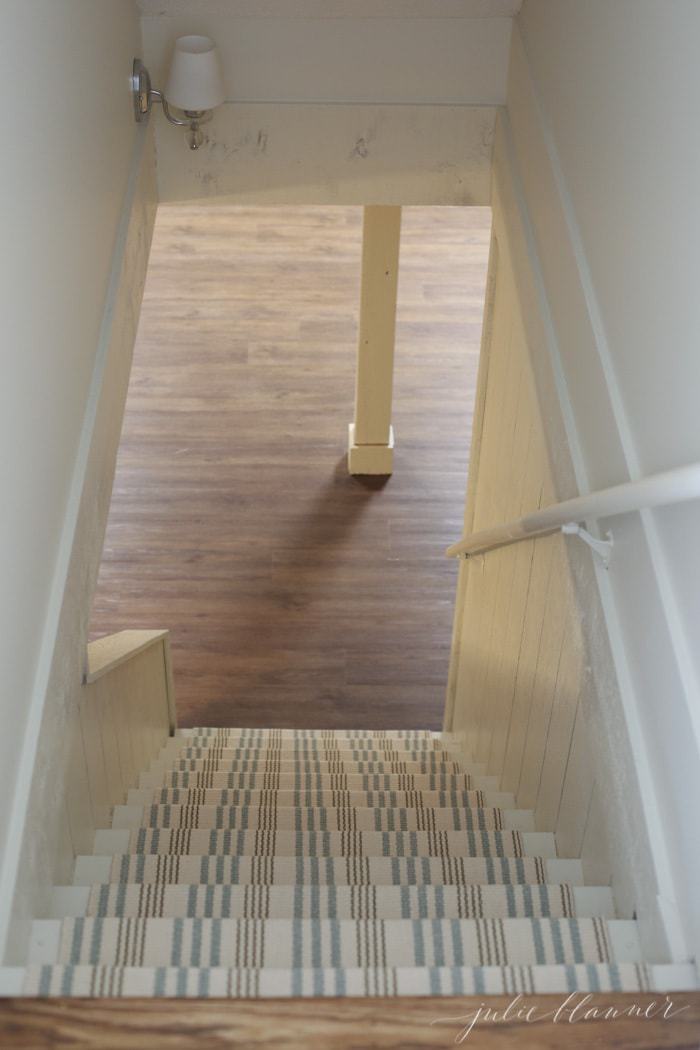 We immediately added new LVP flooring and painted the space in Farrow and Ball Clunch. Next up: the basement stairs! Because they were clearly cobbled together with a variety of woods, we knew right away that we would paint them.
Once we put a coat of paint on the stairs, we decided that investing in a new indoor outdoor stair runner would be the best DIY staircase makeover! The striped stair runner look is one of my favorites, and this was such an inexpensive, easy way to accomplish the look.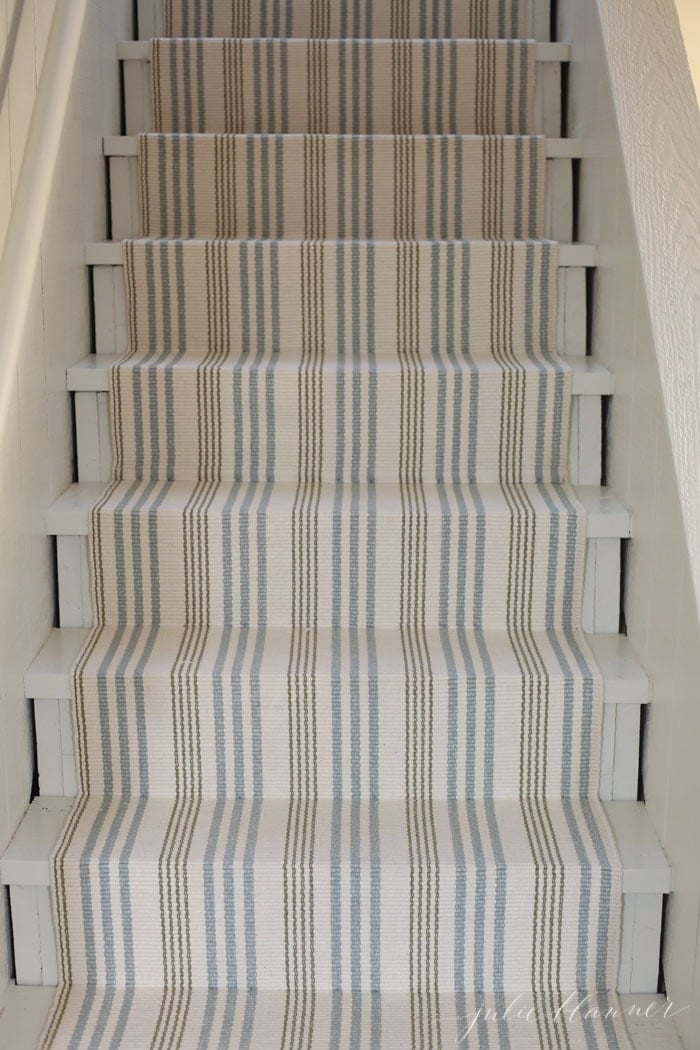 Here, you can see the basement as it has progressed over the years. It was originally a dark and dreary place. We did a quick update with LVP and paint, and added this striped runner.
We want the basement to be a comfortable place where the girls and their friends can play and create without fear and burn off some energy on rainy days. It worked well for that purpose for several years. And then, we had a little flood.
After our basement flooded, we updated to a new lighter LVP, updated the basement bathroom and added a basement bar. The basement walls are now painted in Benjamin Moore Swiss Coffee, as you can see below.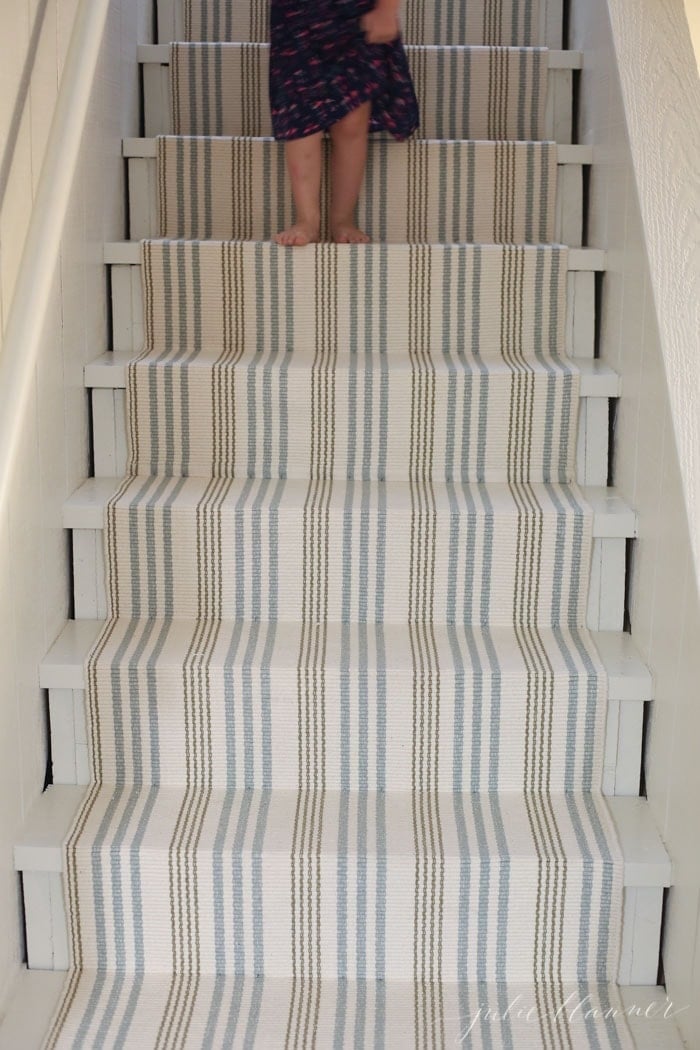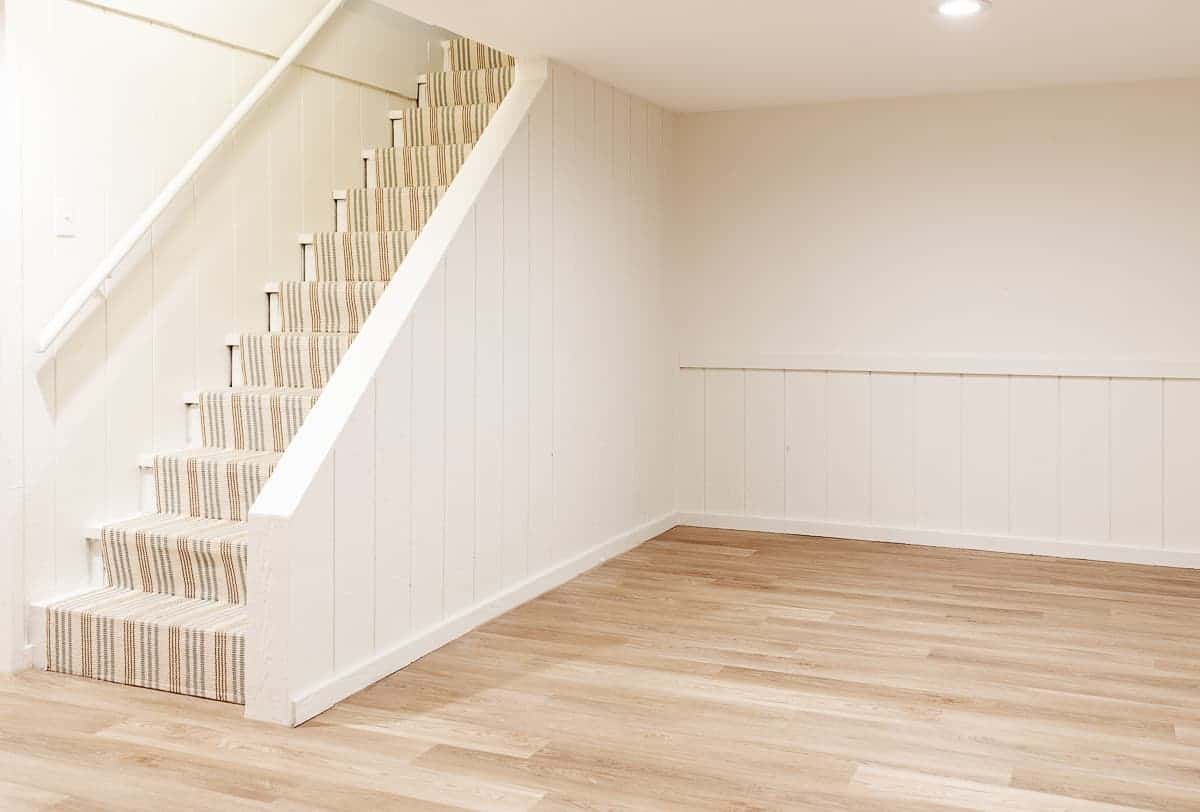 Stair Runner Rugs
Now that we were taking a more time and cost intensive approach to the basement renovations, we realized our beloved striped stair runner needed an upgrade too.
Luckily, my indecisive nature finally paid off. I had purchased a sisal look indoor outdoor runner years ago, that we had intended to add to our main staircase. We never got around to it, and it worked beautifully for the basement stairs, luckily!
Indoor Outdoor Rugs are incredibly easy to clean. You can wipe them down with water and wild dish soap or hose them down when they need a thorough cleaning.
Indoor Outdoor Runner Benefits
easy to clean – with water or soap (if needed)!
inexpensive
easy to install
Indoor Outdoor Runner Project Materials
Most treads and risers (the steps themselves and the board that connects them) are never intended to see the light of day.
Builders use leftover materials, broken or ill fitted boards and as we learned the hard way (from our second level stairs), even different species of wood. Still, I was determined. Just because your stairs are ugly, doesn't mean you need to start from scratch.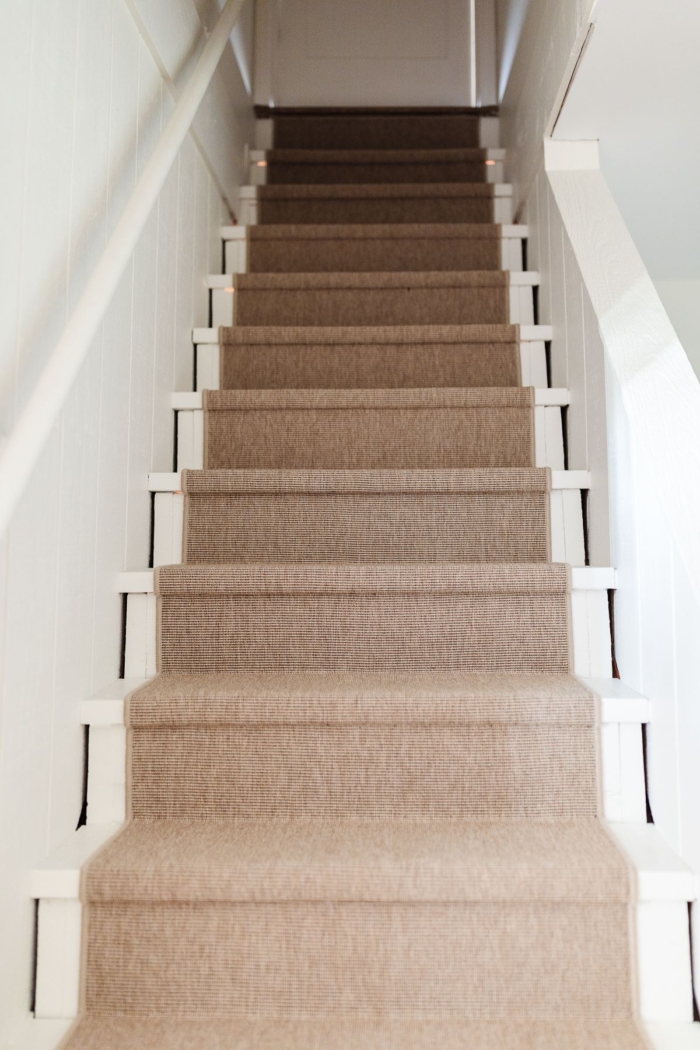 Bonus? The project is very affordable to do. The first striped stair runners that we purchased cost us less than $300!
Redoing basement stairs isn't difficult or time consuming! You'll need the following:
Your stair runners, of course. Measure your stairs according to the tutorial steps. Find excellent sources towards the end of this post!
Stair padding or tape (our stair runner came with this, at the time we ordered it).
How to Install Stair Runners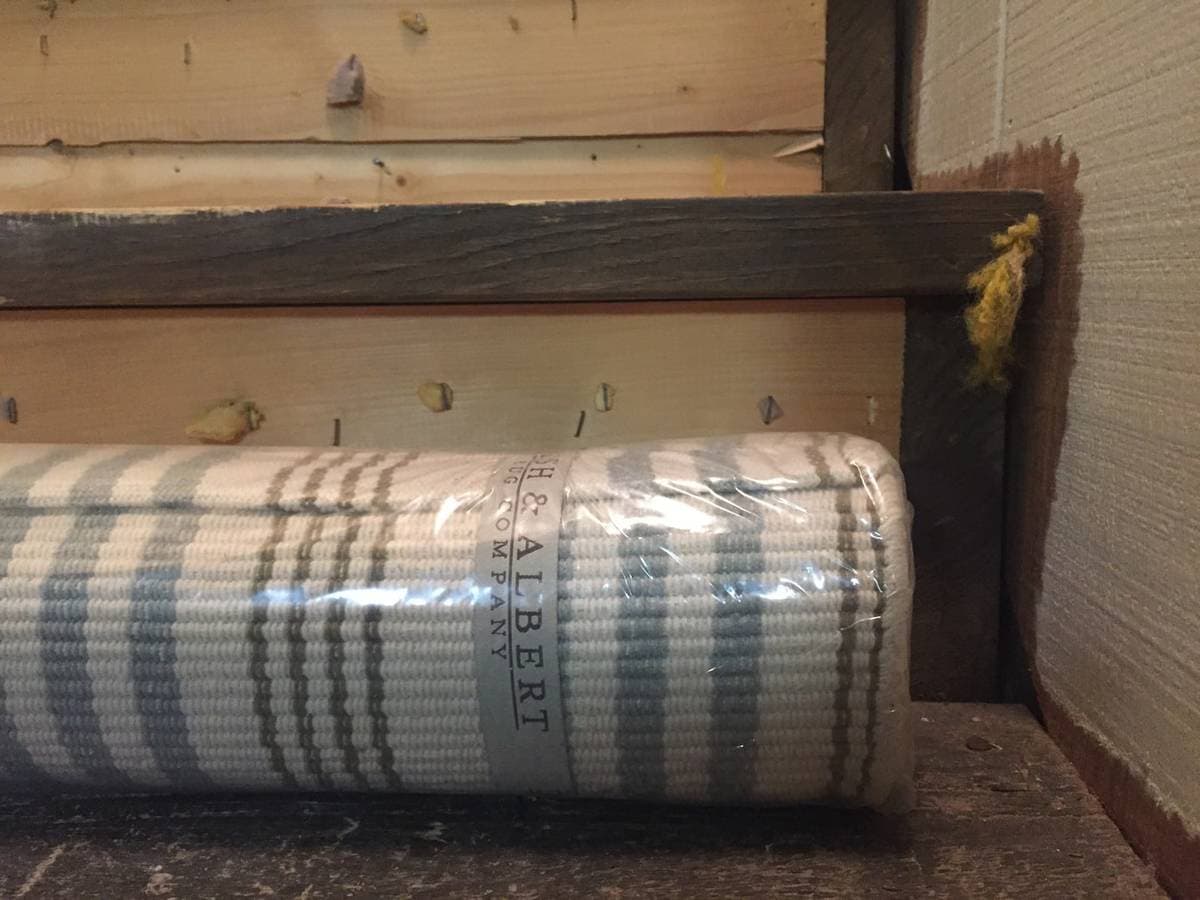 We started by removing the old, dingy carpet and the ridiculous amount of staples that accumulated through the years as carpet had been replaced. (In the photo above, you can see what we were dealing with prior to installing the original striped stair runner.)
Measure to get the right amount of stair runner. We measured a tread and riser, added the number together and multiplied the number of stairs to determine how many we needed.
I centered the runner to gauge just how much area needed to have nails filled, caulked and painted. Why work any harder than you have to?
Fill in holes and paint the stairs. Use my favorite tips for Painting Trim to get a clean, solid finish.
Cut a strip of double-sided tape slightly shorter than the width of the rug and press the tape along the top edge of the riser. Or, add a little rug padding for extra cushioning and stability.
Line up the runner rug with the tape and press firmly. Carpet tacks should be used next hold the rug in place.
Smooth the rug against the stair. Use nails to attach runner according to specific step by step installation details below.
Repeat the process until you reach the last tread you can cover.
If you want to DIY this project, scroll down to my printable DIY tutorial card.
Stair Runner Project Tips
It took 3 2'6″ x 8 runners to cover our stairs, but I was also able to use the remnant as a kitchen rug in our lake cottage!
Be sure to add 6 inches to account for waste in this project!
Don't bother painting the center of your stairs that will be covered by the runner.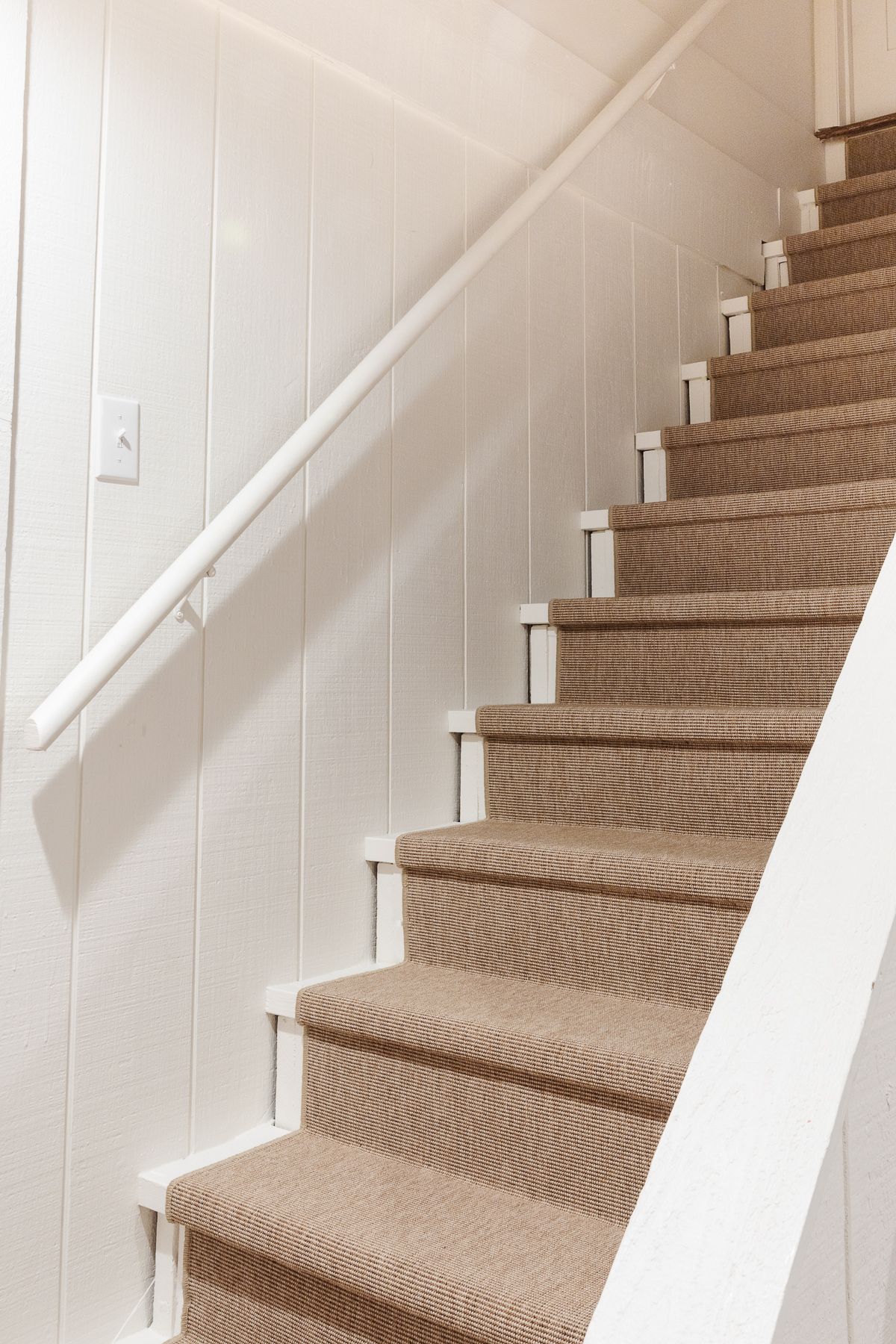 The Best Stair Runners
I have rounded up all of my favorite Dash & Albert Indoor Outdoor stair runner rugs (they're the easiest to clean) and two marled runners that hide the dirt.
Our new runner that looks like a classic sisal is available HERE. It's the Belize Outdoor Sisal in the Dune color, with a serged edge. And of course you know I love our former striped stair runner, too!
Looking for more sources for affordable stair runners? Check out my incredible rug selection in my curated Amazon Storefront!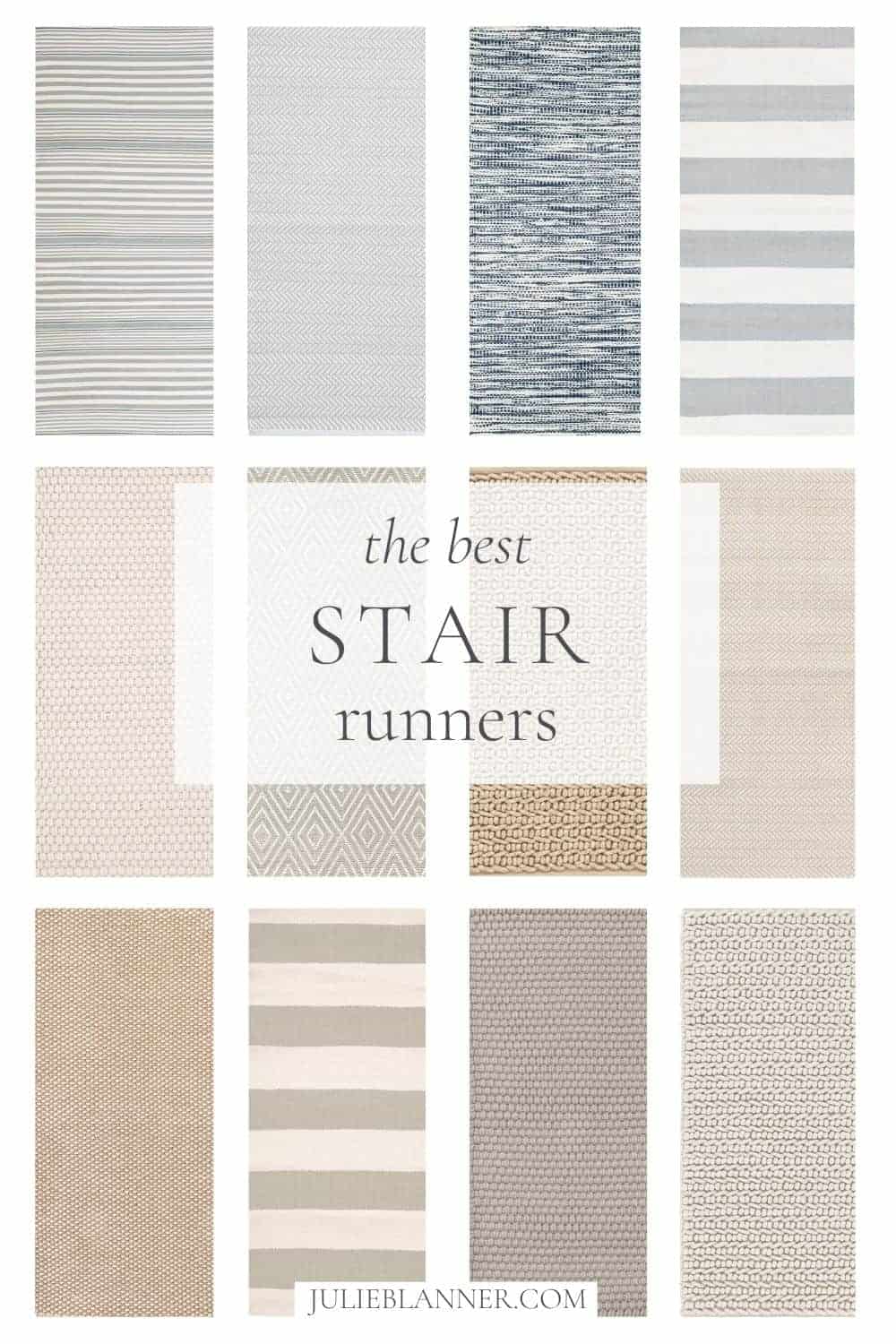 ---
thin stripe | herringbone | tidal | thick stripe
rope | diamond | veranda | herringbone
thick stripe | pebble | rope | veranda
Frequently Asked Questions
Is it hard to install a stair runner?
No, it's extremely simple if you purchase a ready made stair runner. It's more challenging to use carpet not designed to be a runner and tuck the edges.
Do stair runners need an underlay?
You can extend the life of a plush stair runner by using an underlay. They are not required, but add comfort when using an indoor outdoor rug or woven runner.
Are stair runners more or less expensive than carpet?
Stair runners are typically less expensive and labor intensive than running carpet across the entire width of the step.