These hors d'oeuvres recipes are so good, you'll want to make a meal out of them! They're quick, easy, beautiful and so delicious!
As a former event planner, caterer and entertaining enthusiast, I believe food should look as good as it tastes and I'm all about the hors d'oeuvres. They're a deliciously easy way to elevate any holiday or event!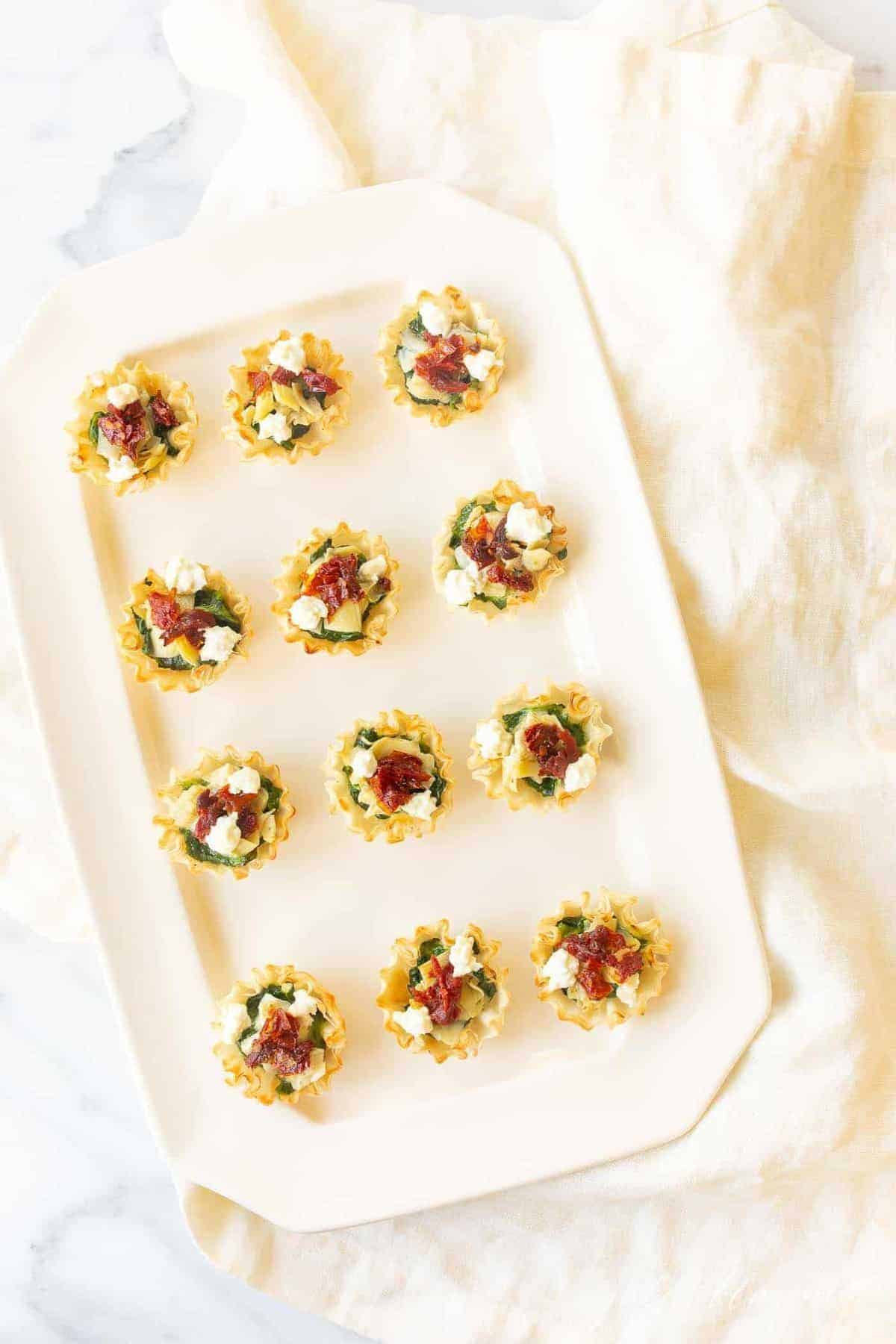 Hors d'oeuvres are a must-have for any cocktail party. They're easy to serve and even easier to enjoy! These finger foods are simple, beautiful and delicious!
Whether you're hosting a large or intimate gathering, these small bites are sure to impress your guests. They're so good you can even skip the main course!
They're perfect to serve with cocktails while guests are waiting for dinner to begin!
These easy hors d'oeuvre ideas require very little prep. It doesn't have to be difficult to be amazing! In fact, anything you put on top of my easy crostini is sure to be a crowd pleaser!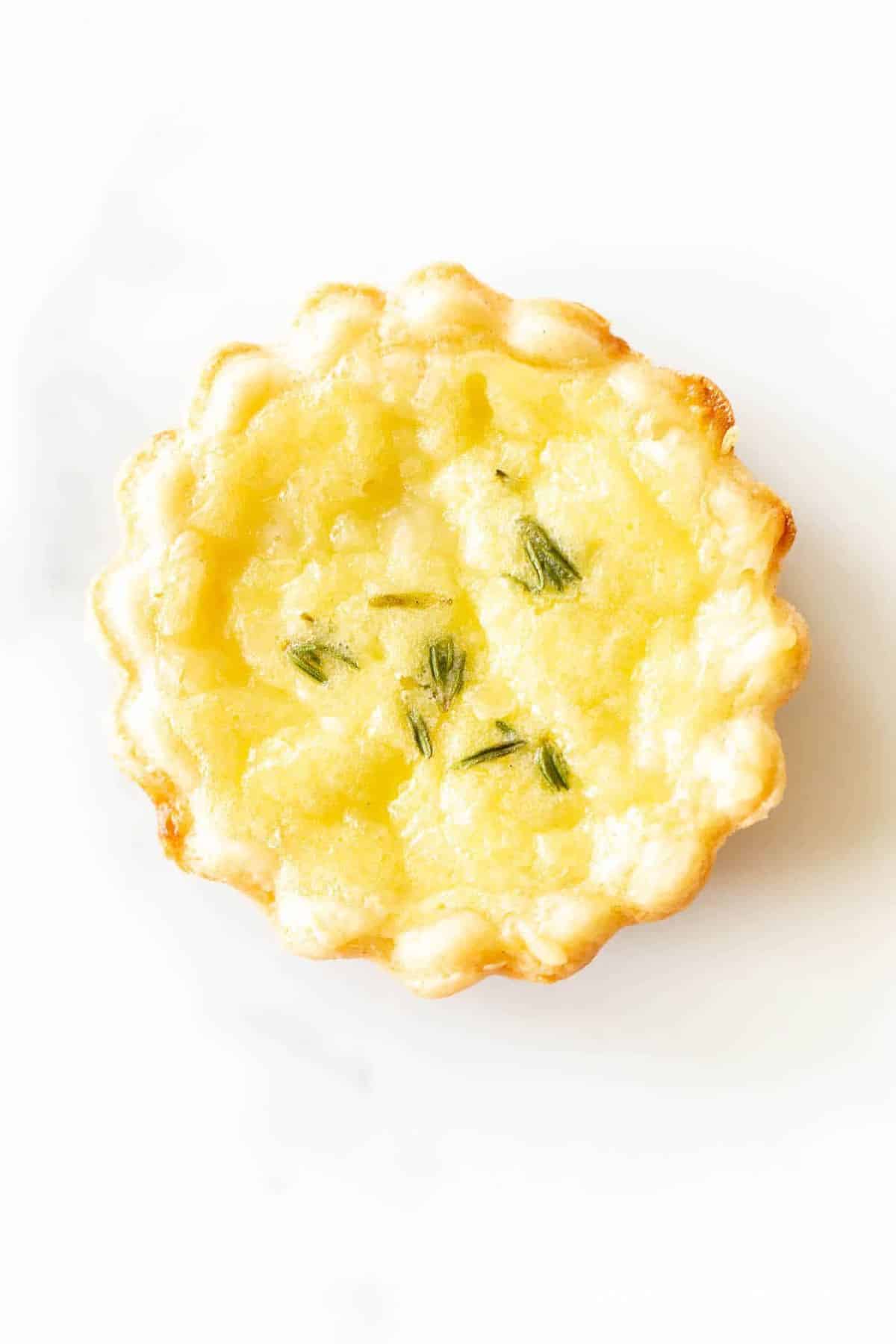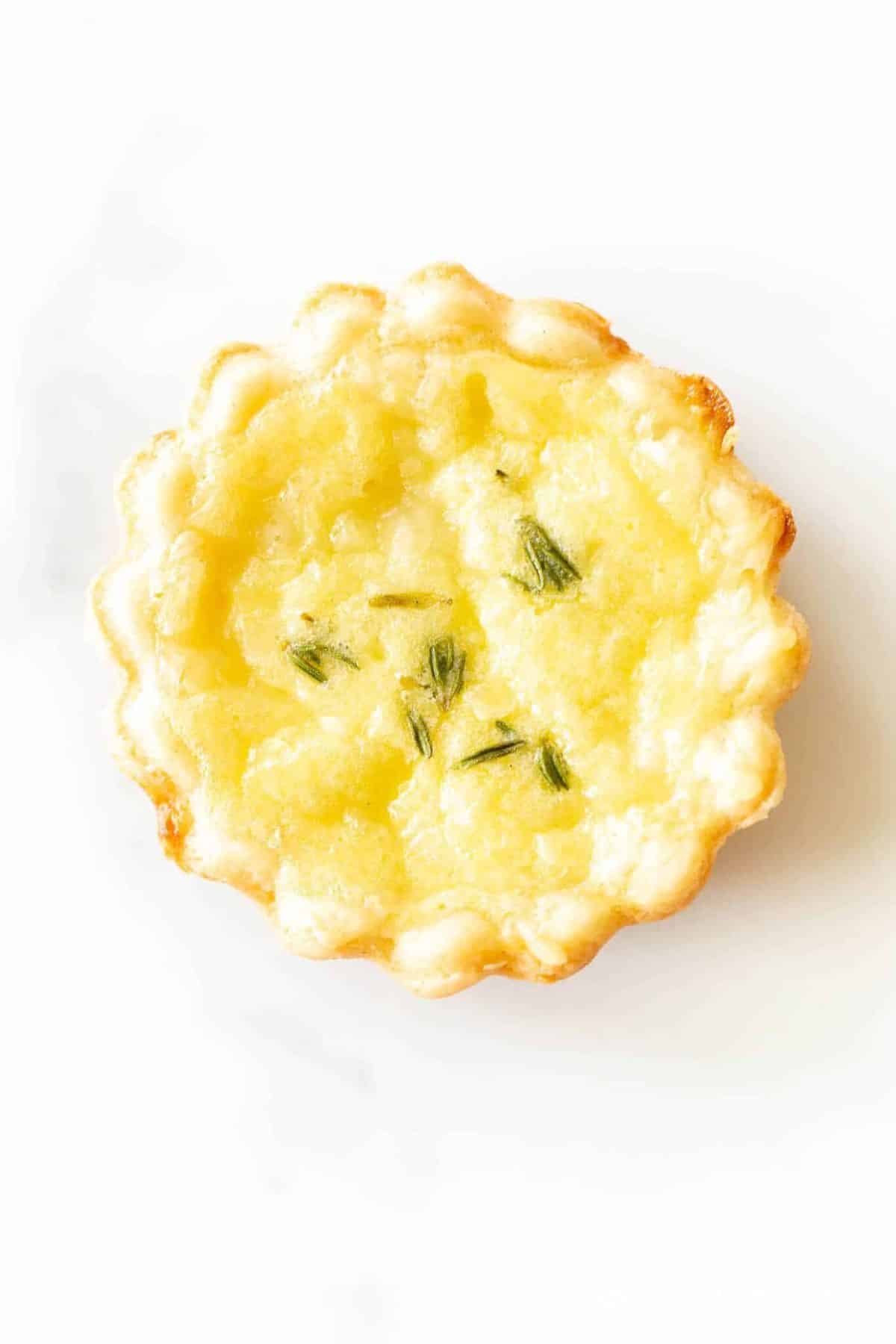 What are Hors d'oeuvres?
They're a one bite appetizer (pronounced or-DERVS) that are often passed but sometimes displayed on a platter. Heavy hors d'oeuvres typically indicates 3-4 or more will be served. They're sometimes called passed appetizers.
Click the photos or links to get to the easy recipes!
Easy Hors d'oeuvres
Cheese Tarts are bite sized cream cheese pastry filled with rich cheddar cheese and your choice of additions including herbs and caramelized onions.
They are packed with protein making them suitable to serve for a heavy hors d'oeuvres gathering. They come together effortlessly in minutes!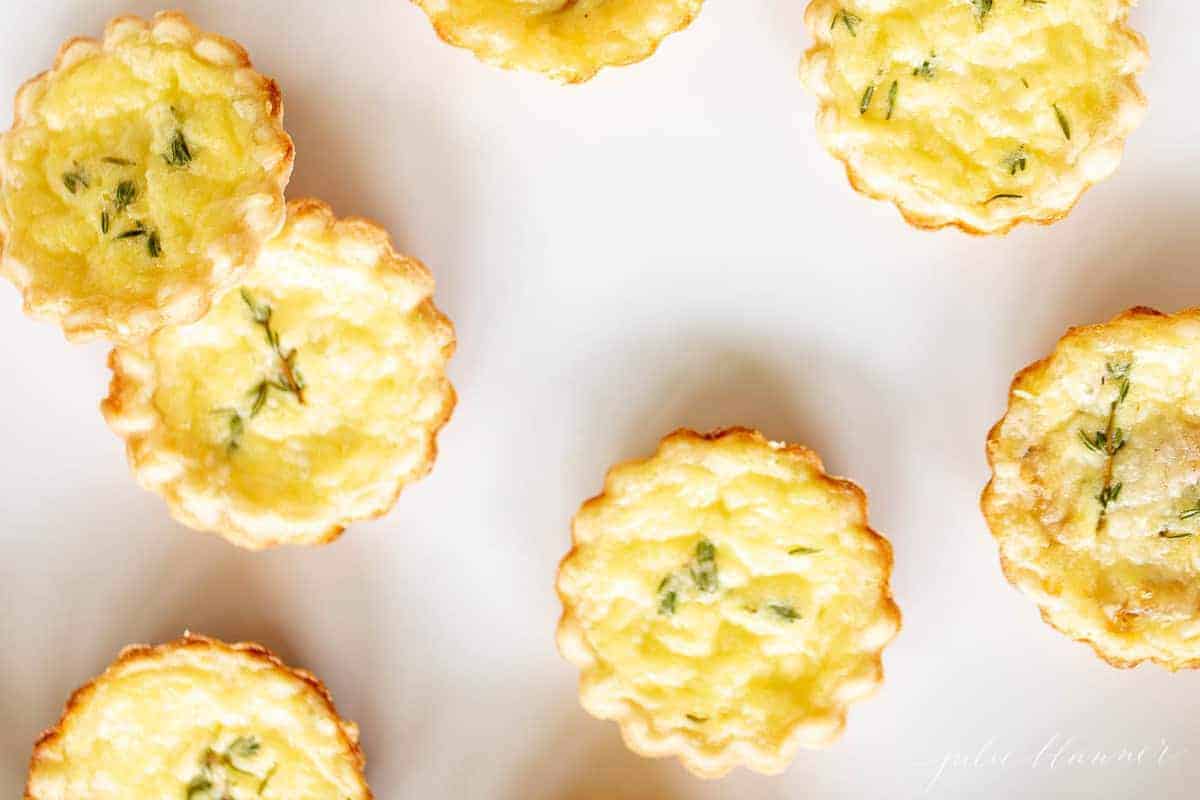 Baked Brie Bites are one of the easiest bite sized eats to make! Simply fill phyllo shells, bake and serve! They can be served warm or at room temperature.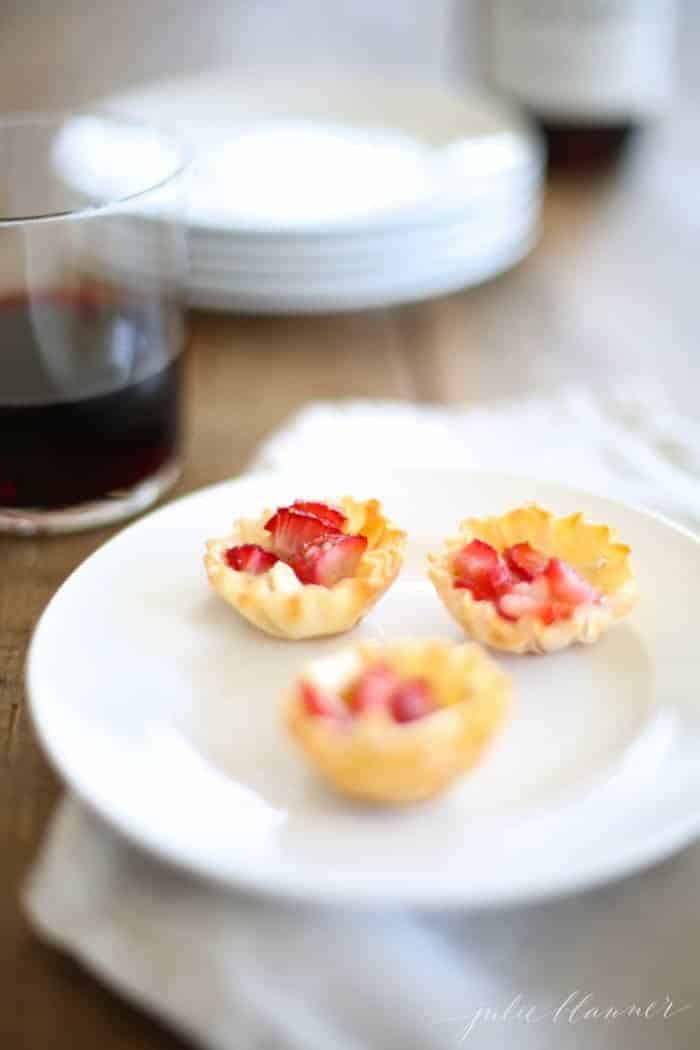 Guacamole Bites are also made with phyllo shells. They take less than 20 minutes and are no bake, freeing up precious oven space. They're packed with protein making them filling, too!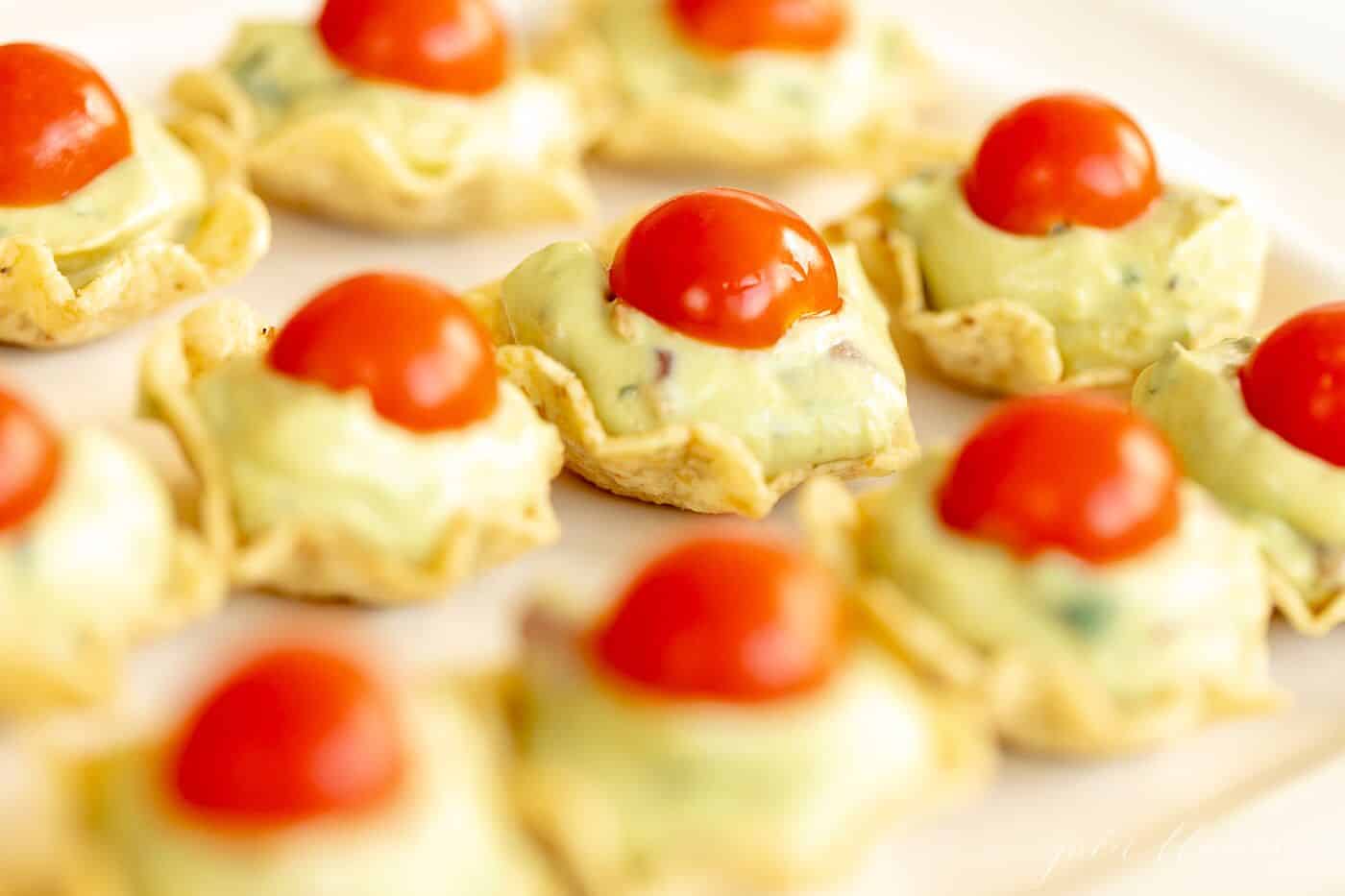 Spinach Dip Bites are always a crowd pleaser! It's your favorite dip in easy to eat form. Rich, creamy and so delicious! These come together easily and are foolproof!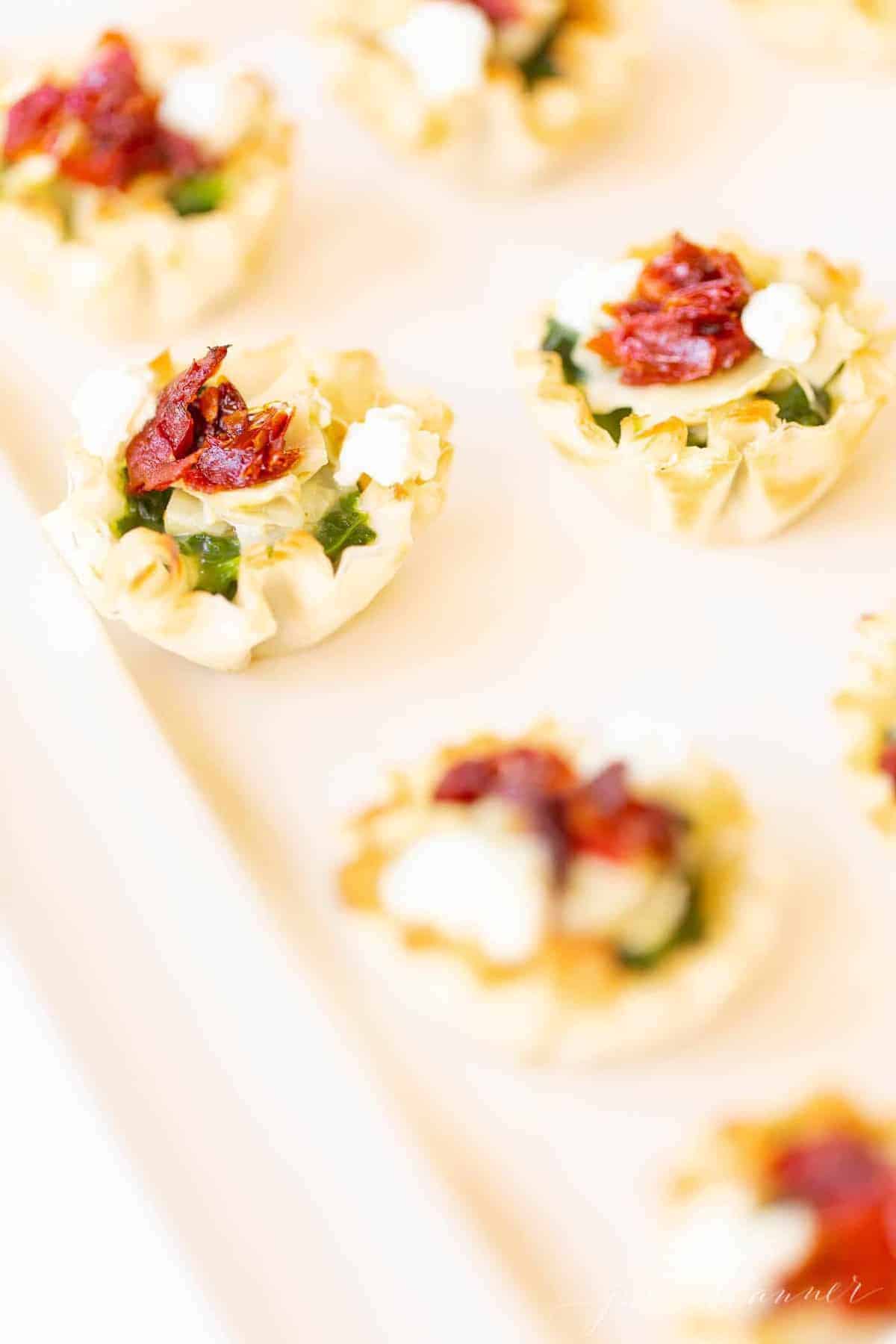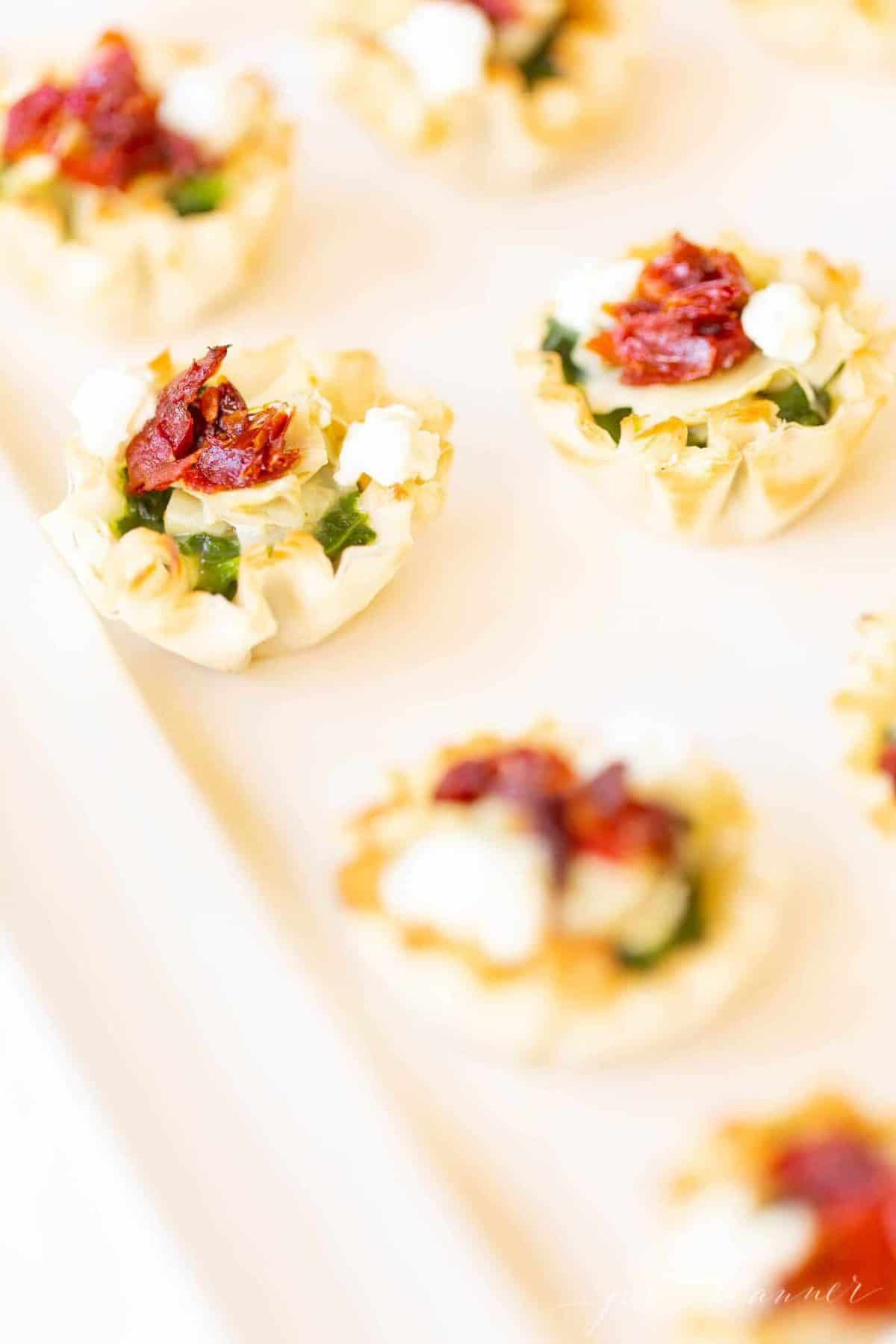 Pear Crescent Roll Hors D'oeuvres
These Crescent Roll Appetizers are filled with a sweet, salty and savory combination of Baked Cheese, pear and prosciutto.
It's one of the most delicious Fall Appetizers that will have everyone talking – just four ingredients and you're all set!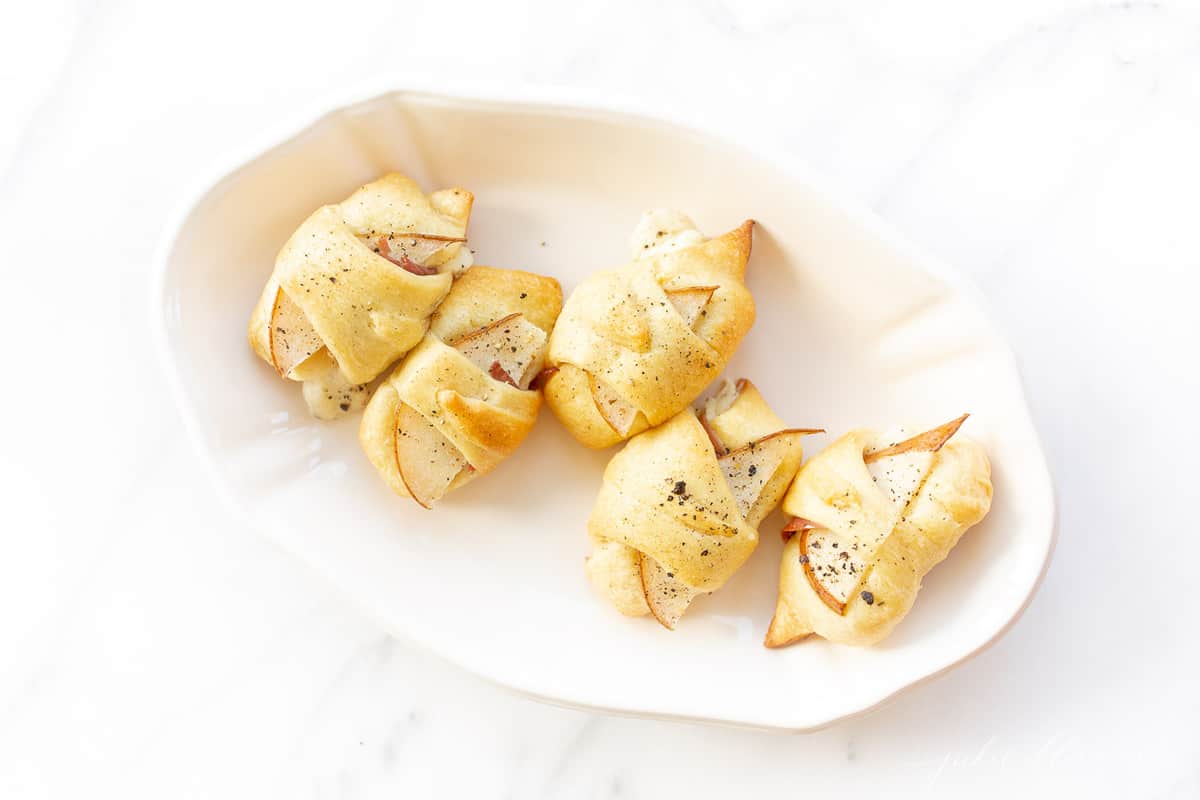 This easy endive appetizer is everything you crave for entertaining! It's healthy, gorgeous, and simply bursting with fresh flavor. Bonus? Endive lettuce is naturally so easy to hold… your guests will keep coming back for more!
This is an easy and delicious hors d'oeuvre you can feel good about serving!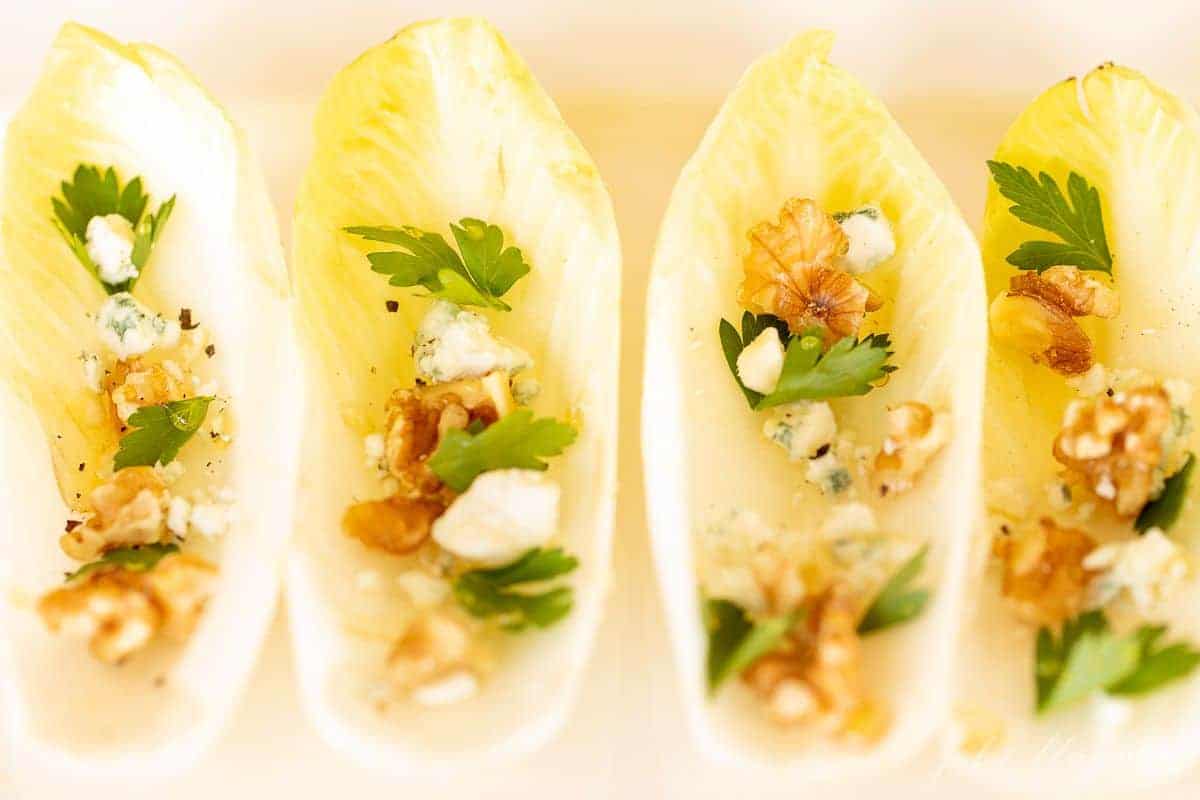 Sweet Bacon Wrapped Chicken Bites
Incredibly easy, 5 ingredients sweet bacon wrapped chicken bites that are just as easy to make as they are to eat. Crushed chips make the irresistible crunchy coating that make these chicken bites irresistible!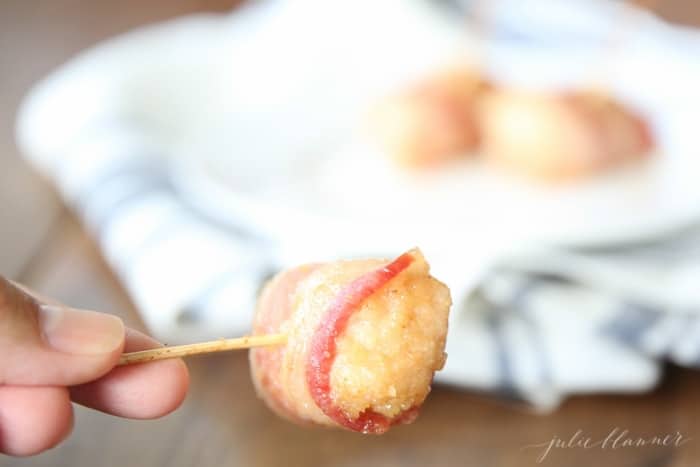 Pear Blue Cheese and Walnut Bites
When serving hors d'oeuvres it's important to have a variety of options to accommodate various diets. These Pear Blue Cheese and Walnut Bites are perfect for gluten-free guests!
They're full of flavor, quick and easy to make and the pairing is out-of-this-world delicious!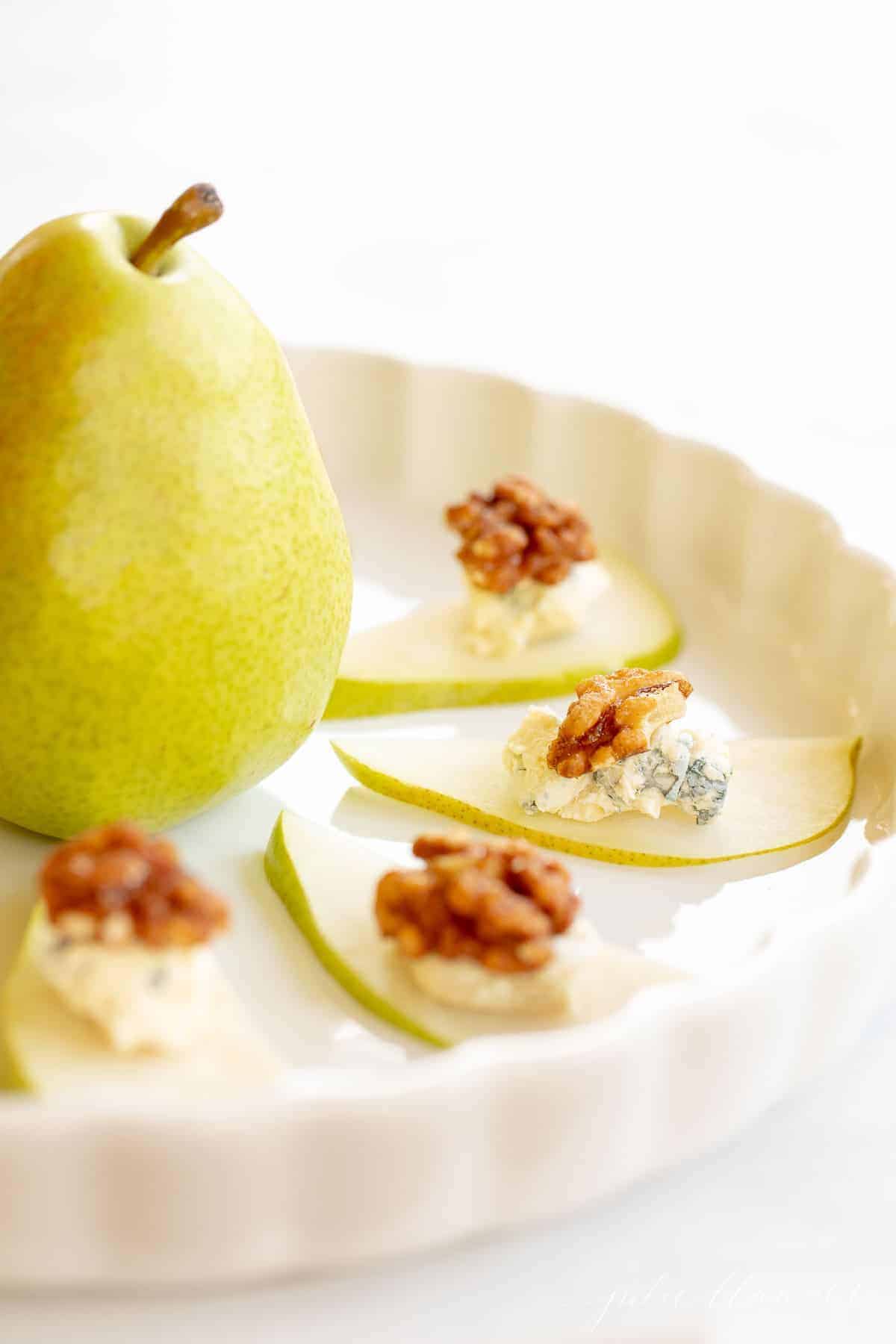 Gnocco Fritto is so easy to make! Puff pastry is brushed with extra virgin olive oil, topped with prosciutto and a few thick flakes of salt. They bake into heavenly pillows that are hard to resist.
They can be served warm or at room temperature.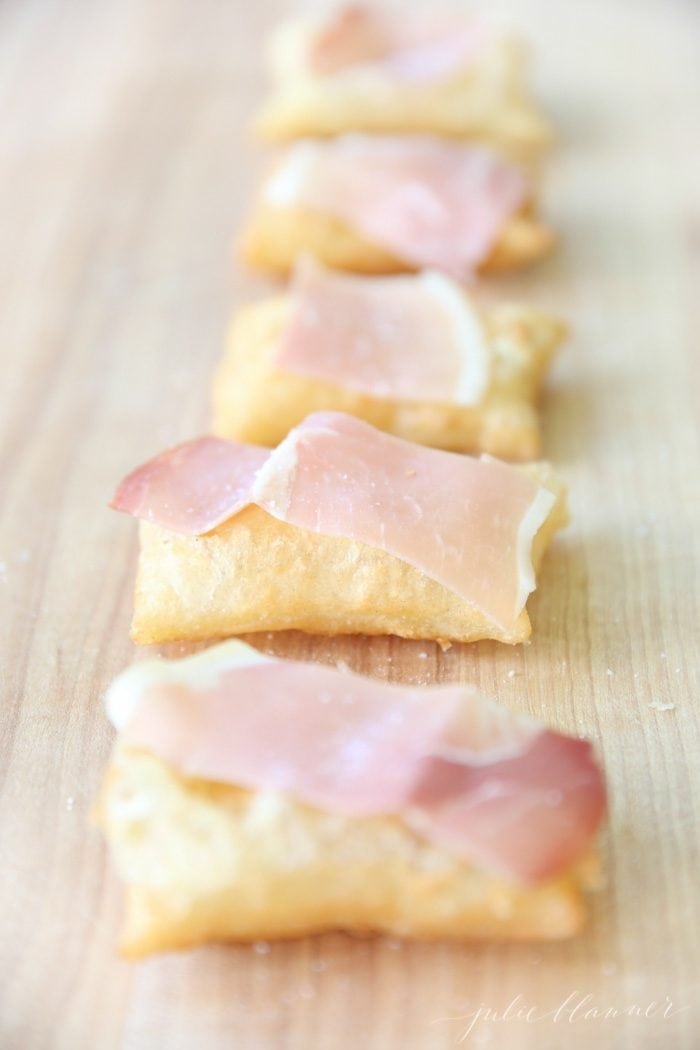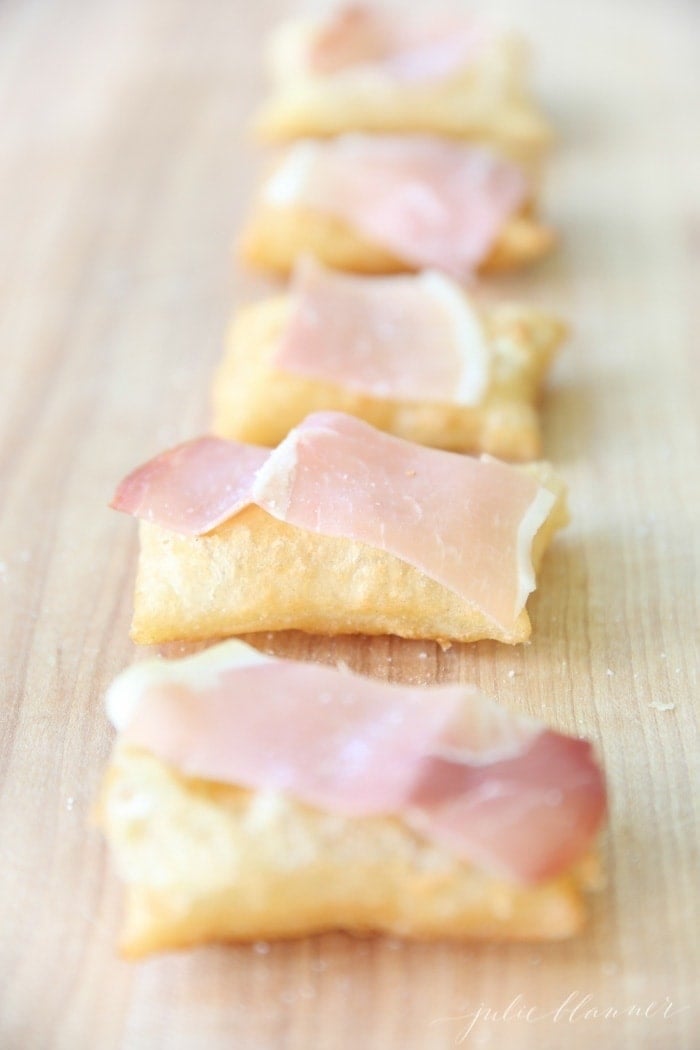 A fun twist on classic deviled eggs, America's favorite hors d'oeuvres! It's a delicious mix of guacamole and deviled egg that make them so flavorful.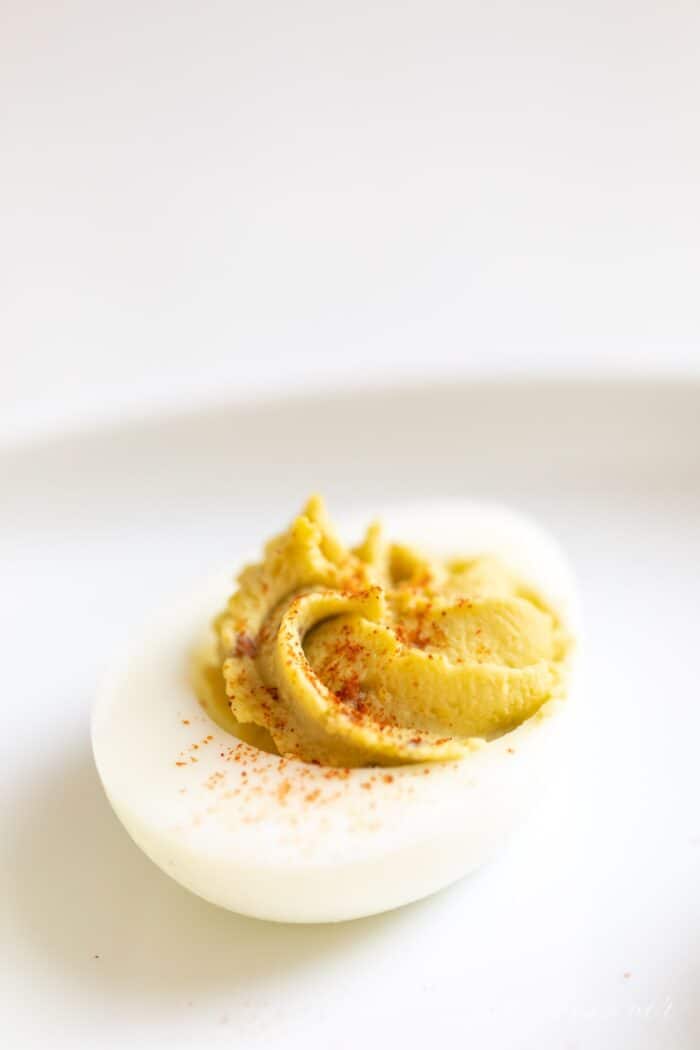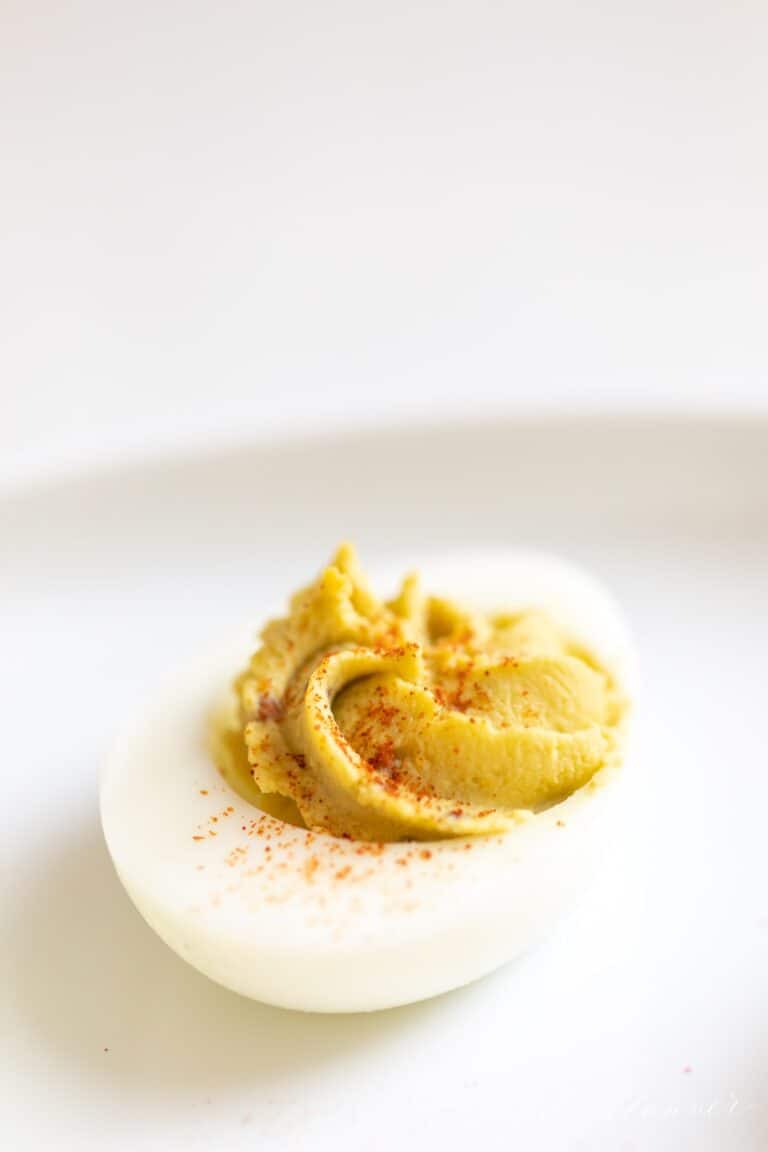 It's everyone's favorite comfort food in the perfect bite-sized portion! Easy to make and even easier to eat, I dare you to try and stop at just one mac and cheese cup!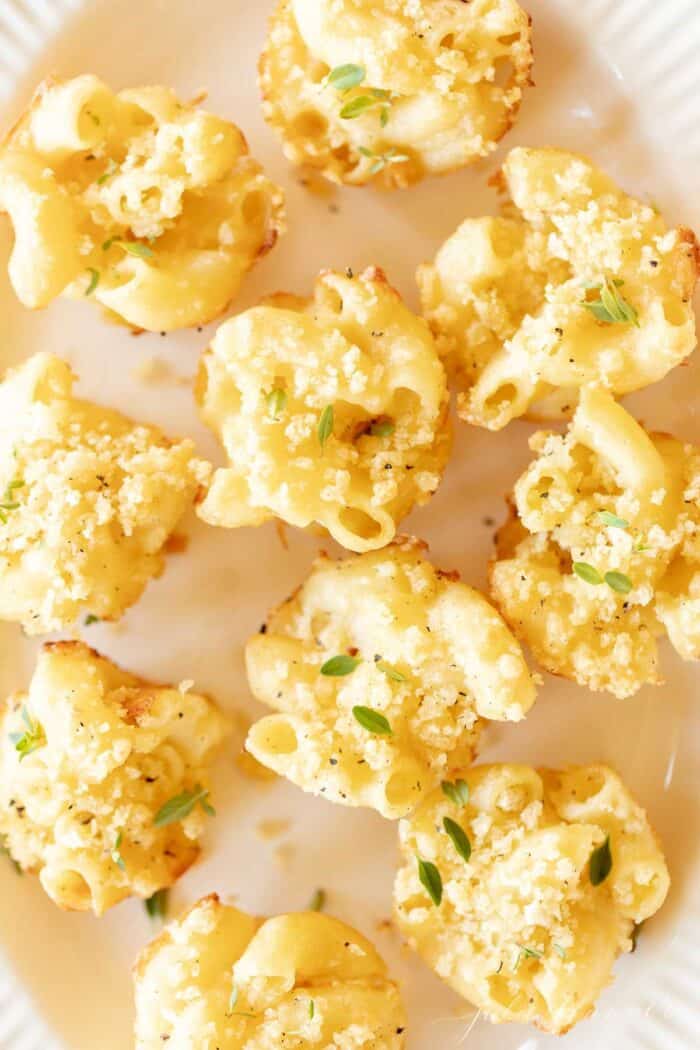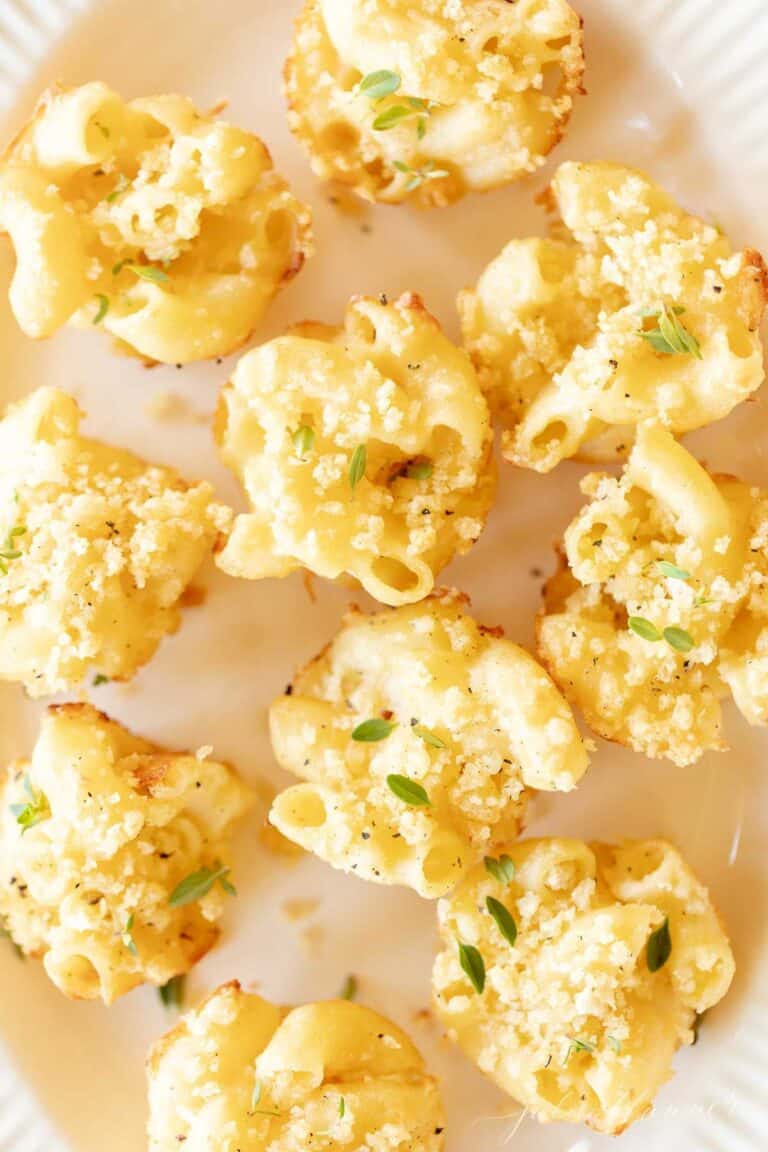 Bruschetta is a quick and easy appetizer and can be varied in so many ways. This recipe is great for summer, just throw it on the grill or in the oven and you'll have a new seasonal favorite!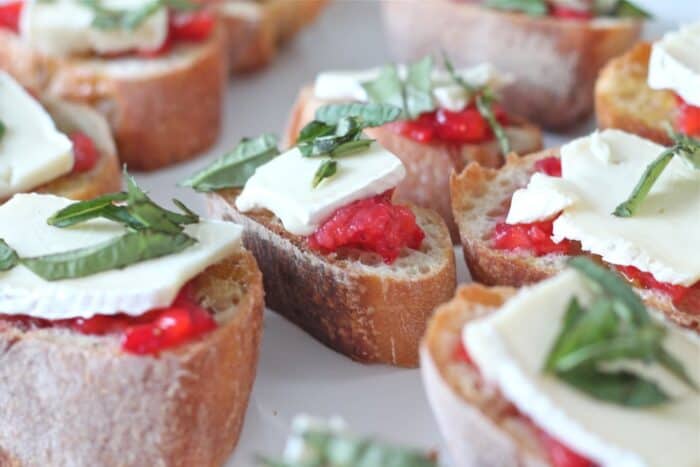 Baked Artichoke is one of the easiest side dishes and ways to get your veggies in! These roasted artichoke are so delicious on its own or tossed into a salad.
It's not only delicious, but a good source of fiber, Vitamin C and Vitamin K!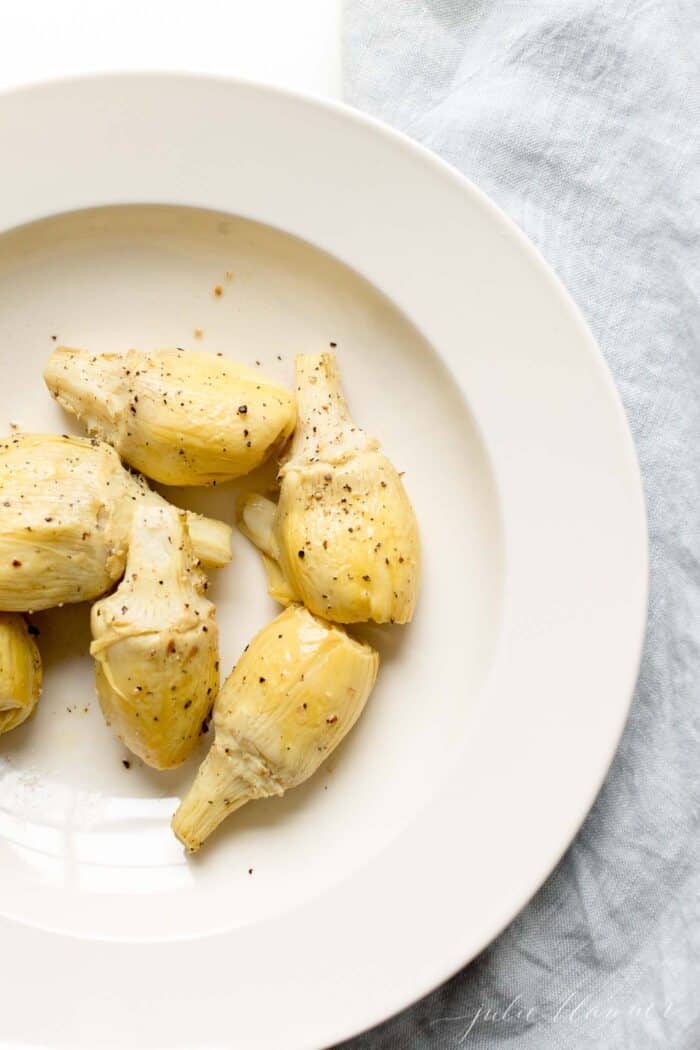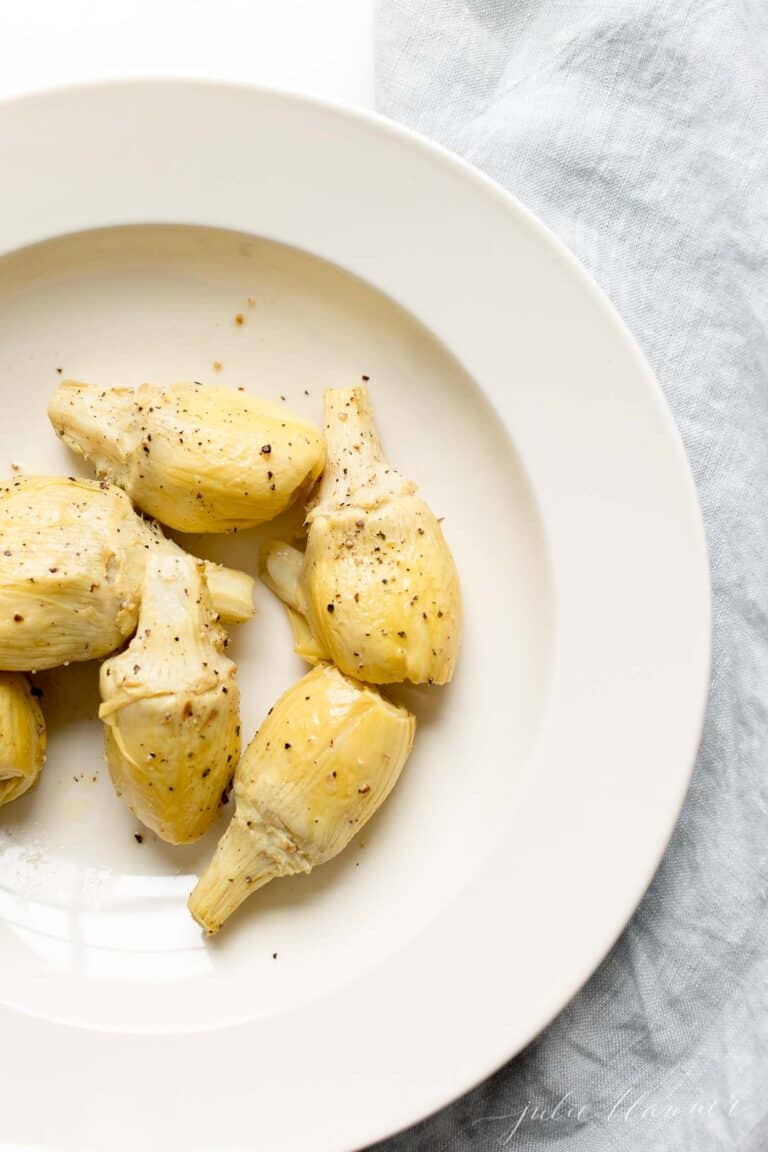 Bacon and Cream Cheese Stuffed Mushrooms
These bacon and cream cheese stuffed mushrooms simple and easy to make. They are perfect to serve at parties and require just a few simple ingredients. You won't be able to have just one!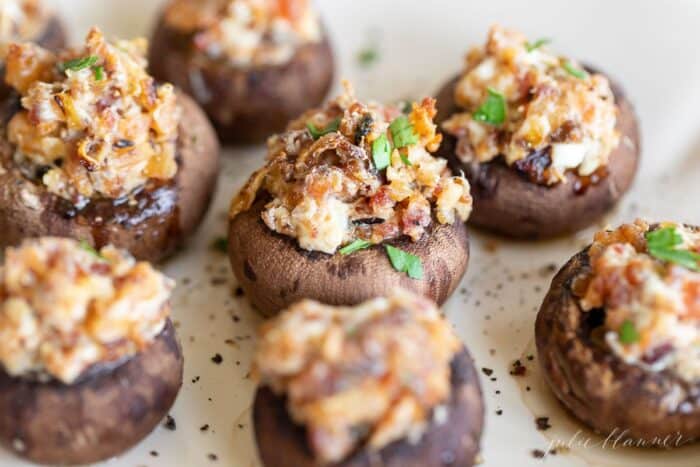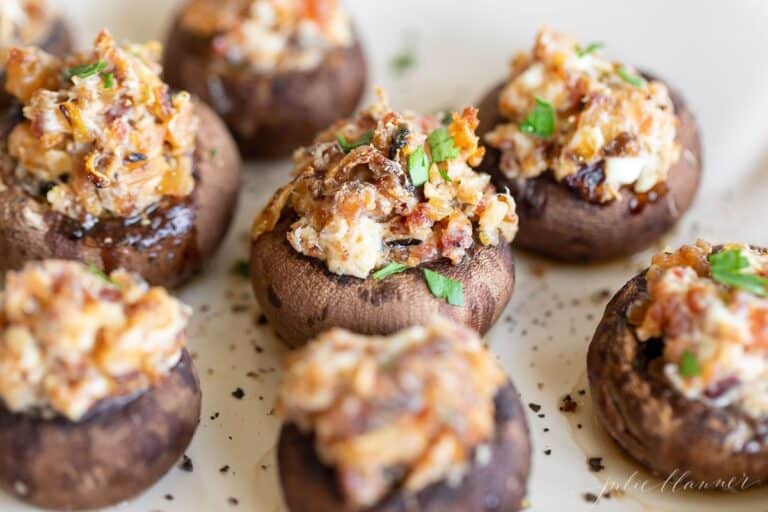 Classic deviled eggs are always a hit. They're beautiful, easy to eat and are another protein packed option which is ideal when you're serving just a few options or making a meal of them.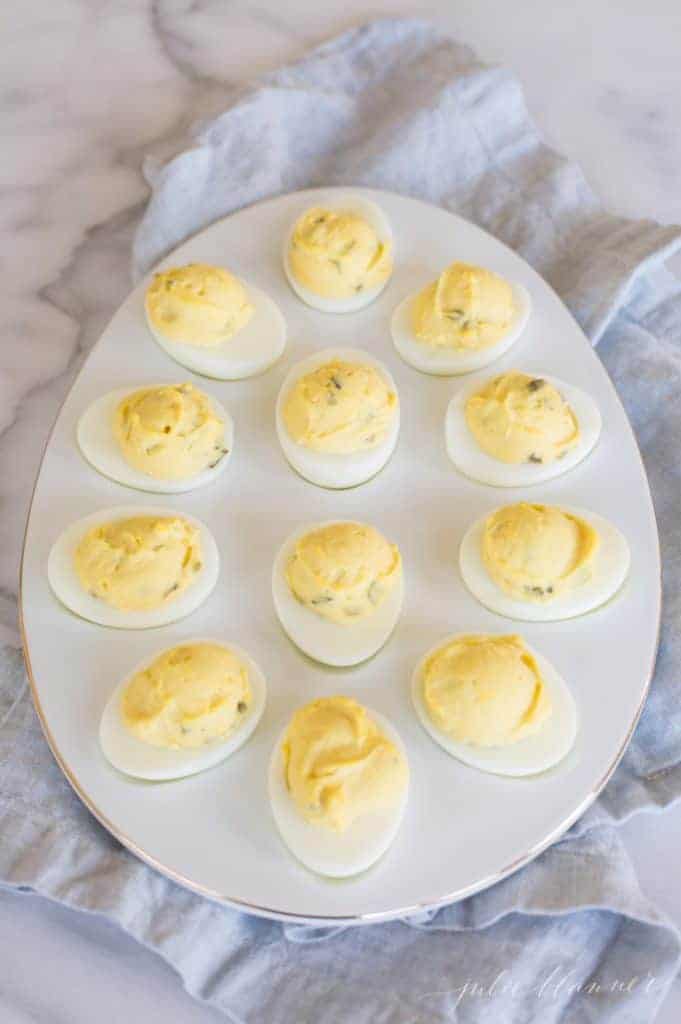 These bacon wrapped dates are stuffed with decadent cream cheese… it's the ultimate combination of sweet and savory flavors.
Textural, creamy and oh-so-delicious, you're going to love this incredible appetizer!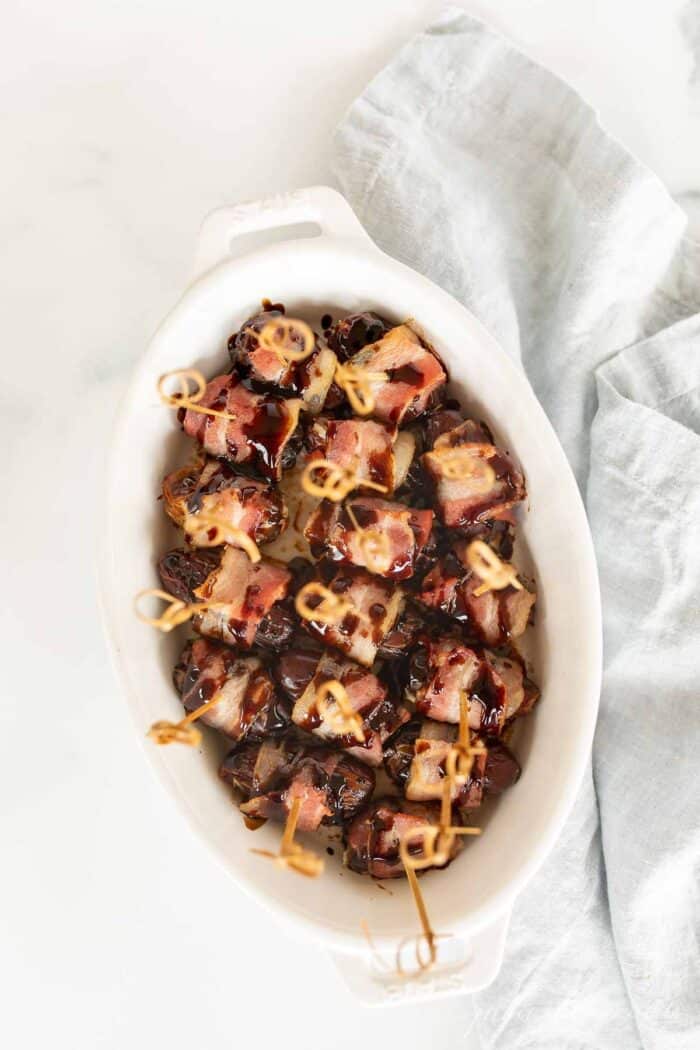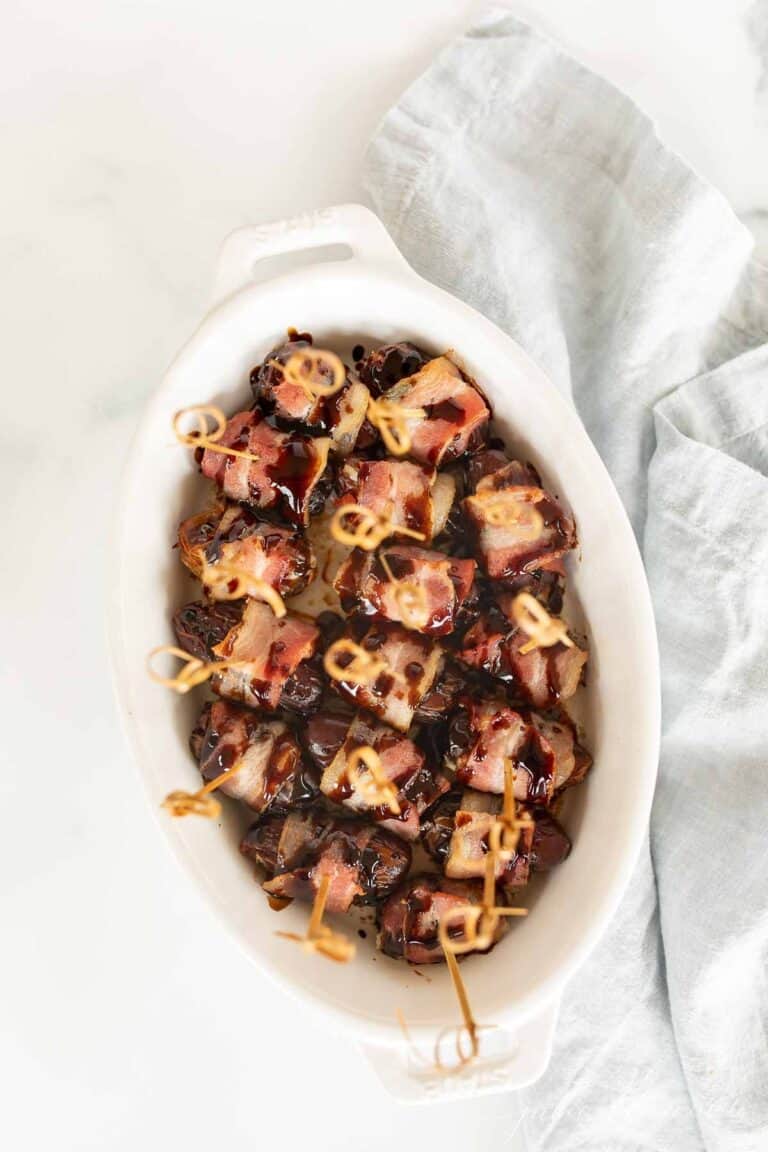 Onion Tartlets are one of my absolute favorites! Pillowy puff pastry is topped with caramelized onions, goat cheese and thick flakes of fresh ground black pepper. It's the most amazing flavor combination!
You can cut them into shapes using cookie cutters to fit your cocktail party theme or season, too! Serve them warm or at room temperature.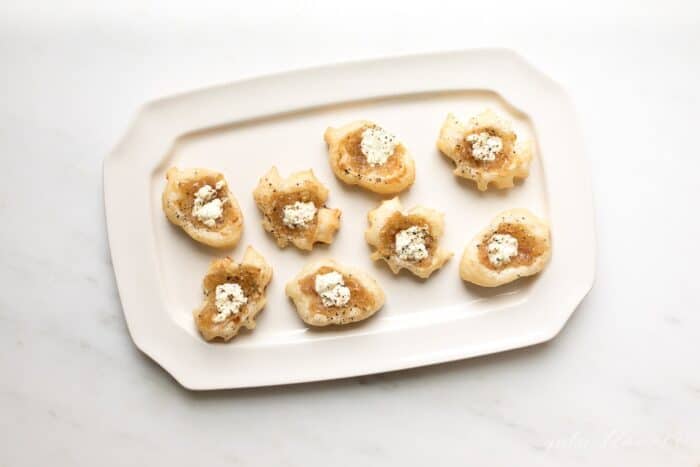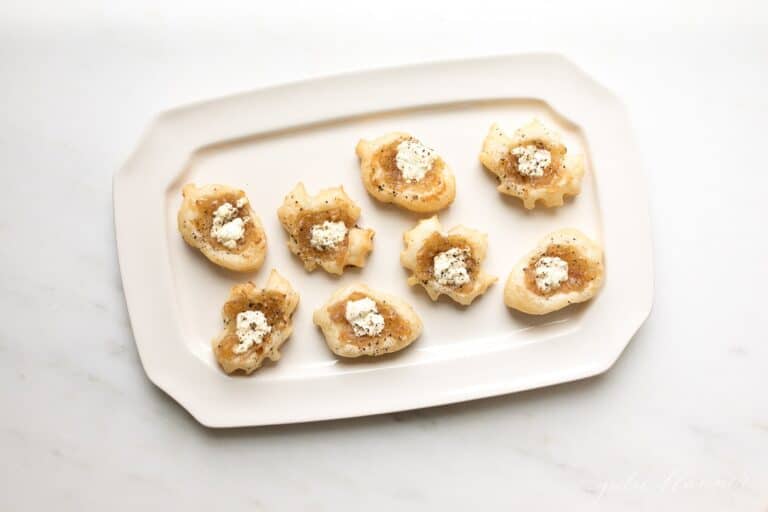 Prosciutto Wrapped Peaches are a sweet and salty summer favorite. They can be made on the grill (or stovetop). They're light, yet flavorful and will have all your guests talking!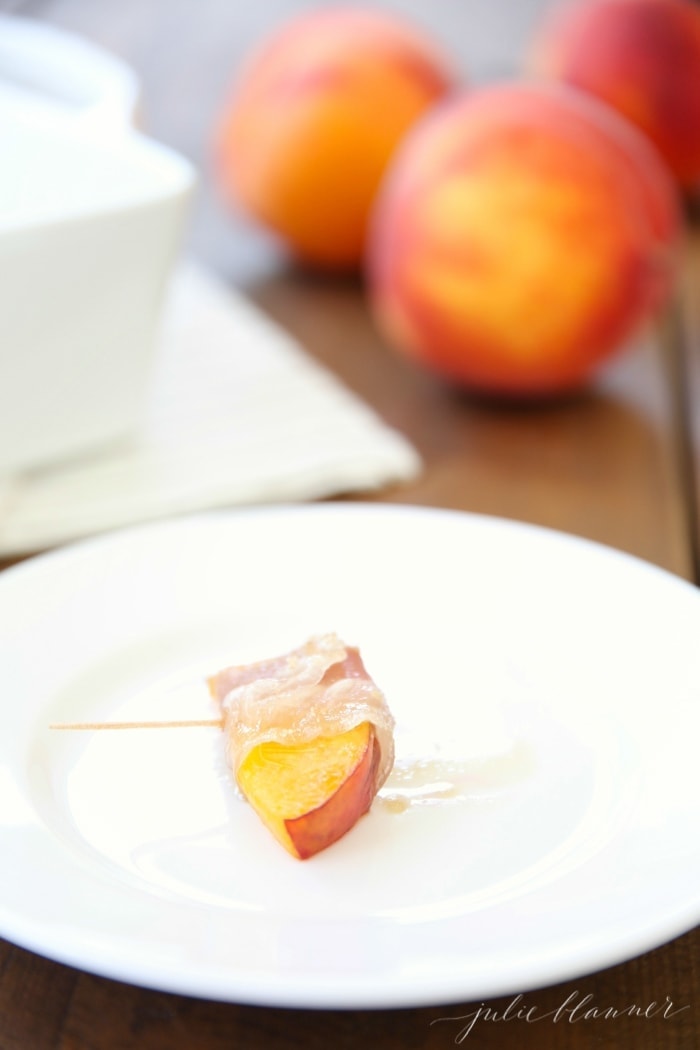 Crunchy crostini are topped with fresh cheese, peaches and thyme and drizzled with honey.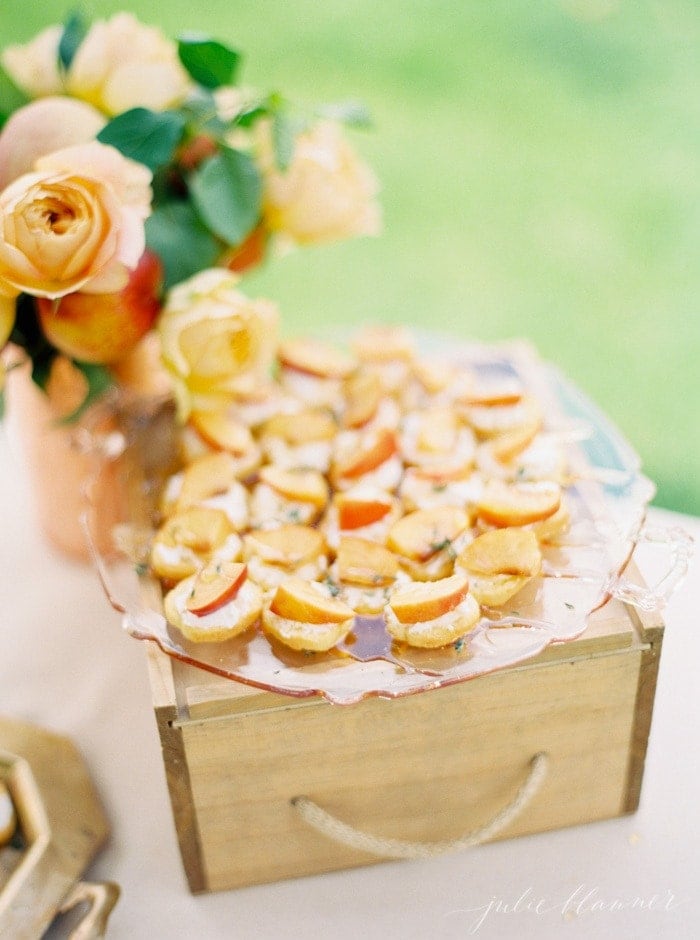 This classic recipe is always a hit! Adults and children alike love Bacon Wrapped Little Smokies! The brown sugar caramelizes with bacon to add amazing flavor.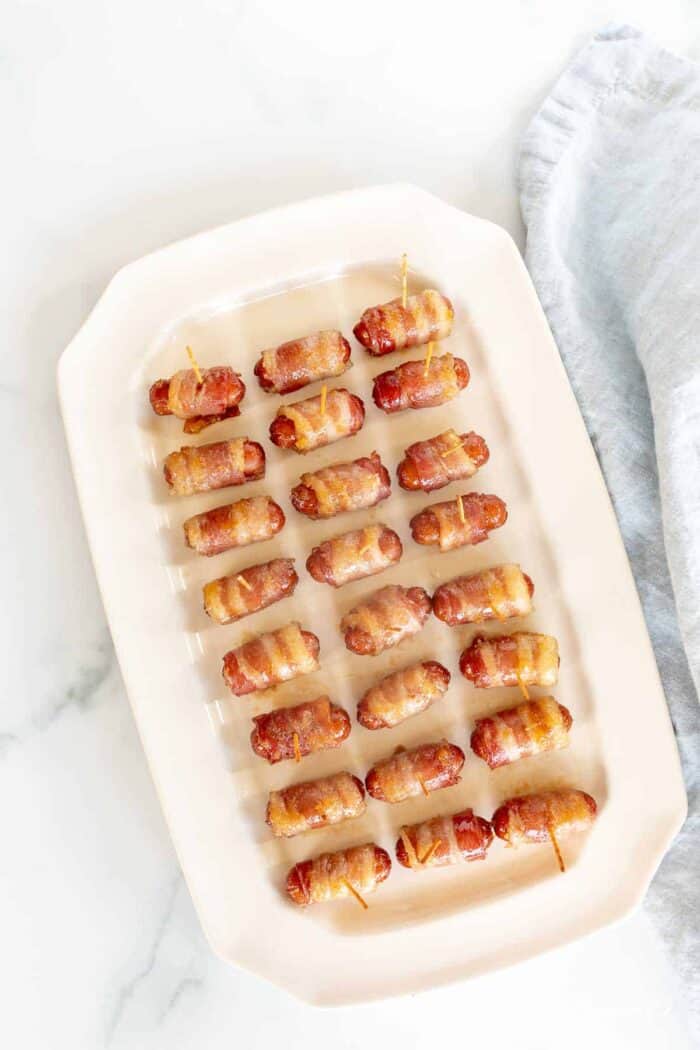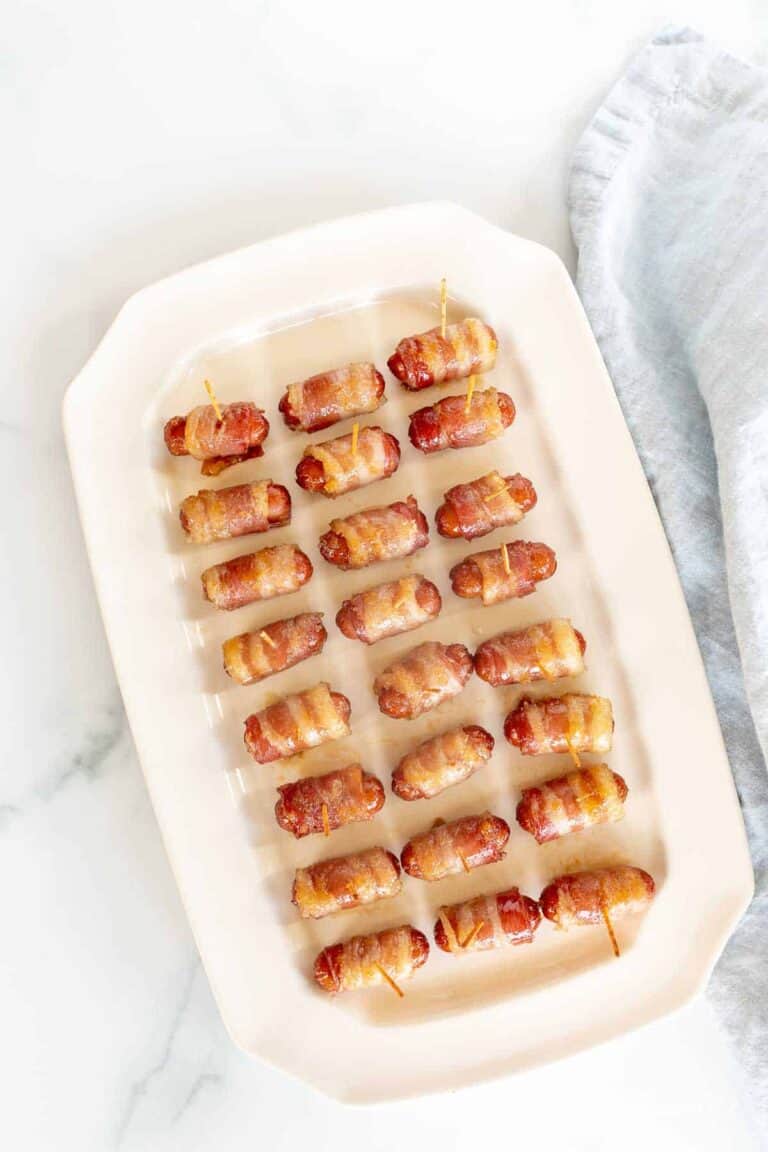 Shrimp make the ultimate party pick. They're light and easy to serve. They're great passed, but also pretty on a platter. Even more, they're incredibly simple to make.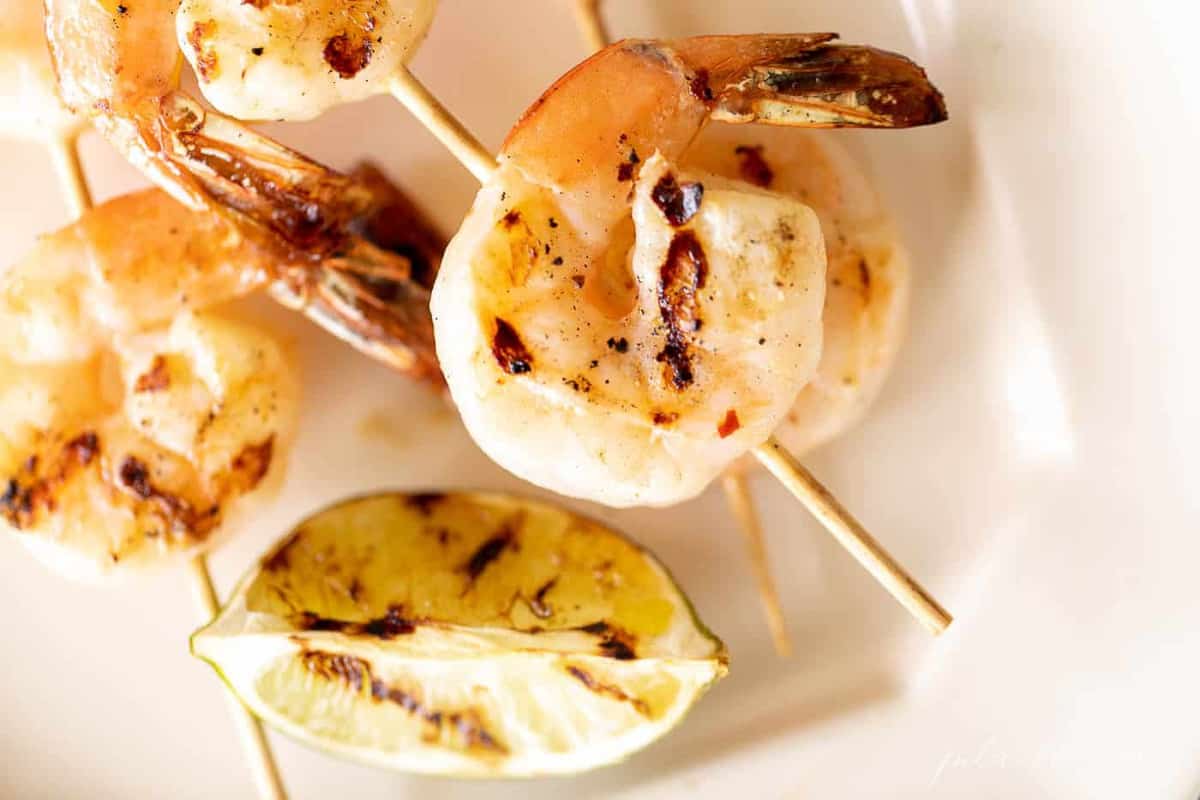 When estimating how many hors d'oeuvres to serve, anticipate each guest will consume 6-8 per hour. The pace will be faster earlier in the evening.
I hope you enjoyed these easy hors d'oeuvres ideas and can't wait to hear your favorites!
Christmas Inspiration