If you're considering adding a bar to your basement, these fresh basement bar ideas are for you! See the before and after of our basement wet bar renovation and learn how to tackle this project on your own.
After we experienced some flooding in our basement, we knew it was time to finally approach this project for the long term. This basement bar really improved our living space for the better! What was once an unusable, dark and dated old wet bar has become a space we are so proud to call ours!
Get ideas, tips and tricks for creating a functional, beautiful basement bar of your own in this complete inspiration guide.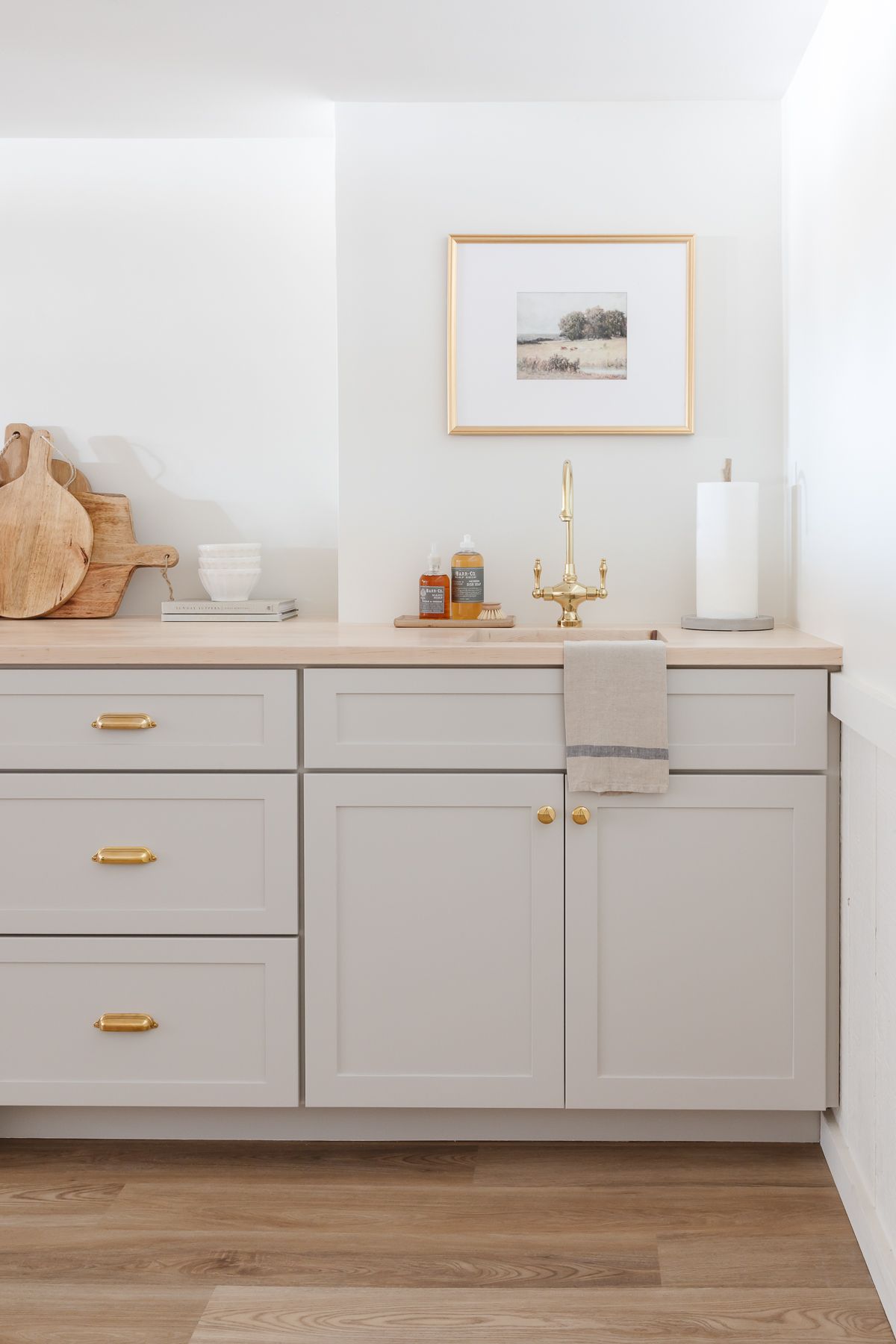 Recently, we've shared out new LVP flooring in the basement, along with our new basement bathroom. These projects came about because of flood damage, but the truth is… it was time!
When we moved into our St. Louis home, we did some basic upgrades in the basement to make it a usable space. However, while it worked for a play space for the girls, it was never a space we wanted to spend much time in as a family.
Once we were forced to upgrade the flooring, we knew it was the perfect opportunity to take on this entire space! We are so excited to make it into more of a family lounge area. We are adding a big, oversized comfy sectional for a cuddle space to watch movies and play games.
After the bathroom, the next step was this basement bar area! What was once an over-sized bar that took up a lot of space is now an efficient, beautiful basement wet bar. Find all our ideas, inspiration and sources for this basement bar right here in one place!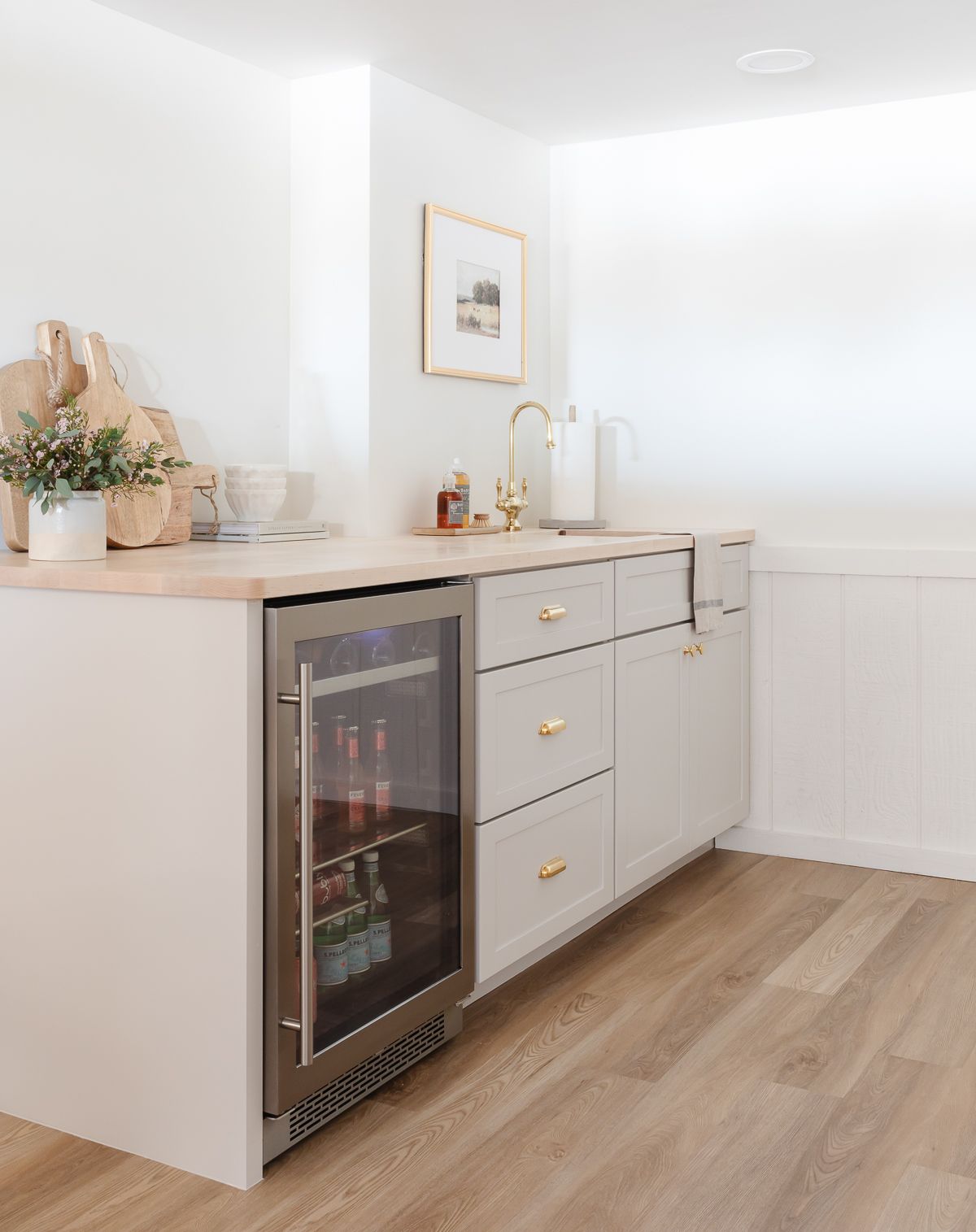 Basement Bar
Knowing it would be more of a family space helped us define this area for our family. Luckily, we already have a wine fridge in a corner of the kitchen and that's where most of our entertaining takes place.
Instead, we wanted this space to feel a little more family oriented. We envisioned fun drinks and snacks and a place to gather for the girls and their friends as they grow, too!
With that in mind, we chose to add a simple wall of super efficient cabinetry, along with a new sink, a pretty beverage cooler and plenty of storage. First – are you ready for these before images?
These images were taken before we painted the basement in Swiss Coffee and replaced the flooring.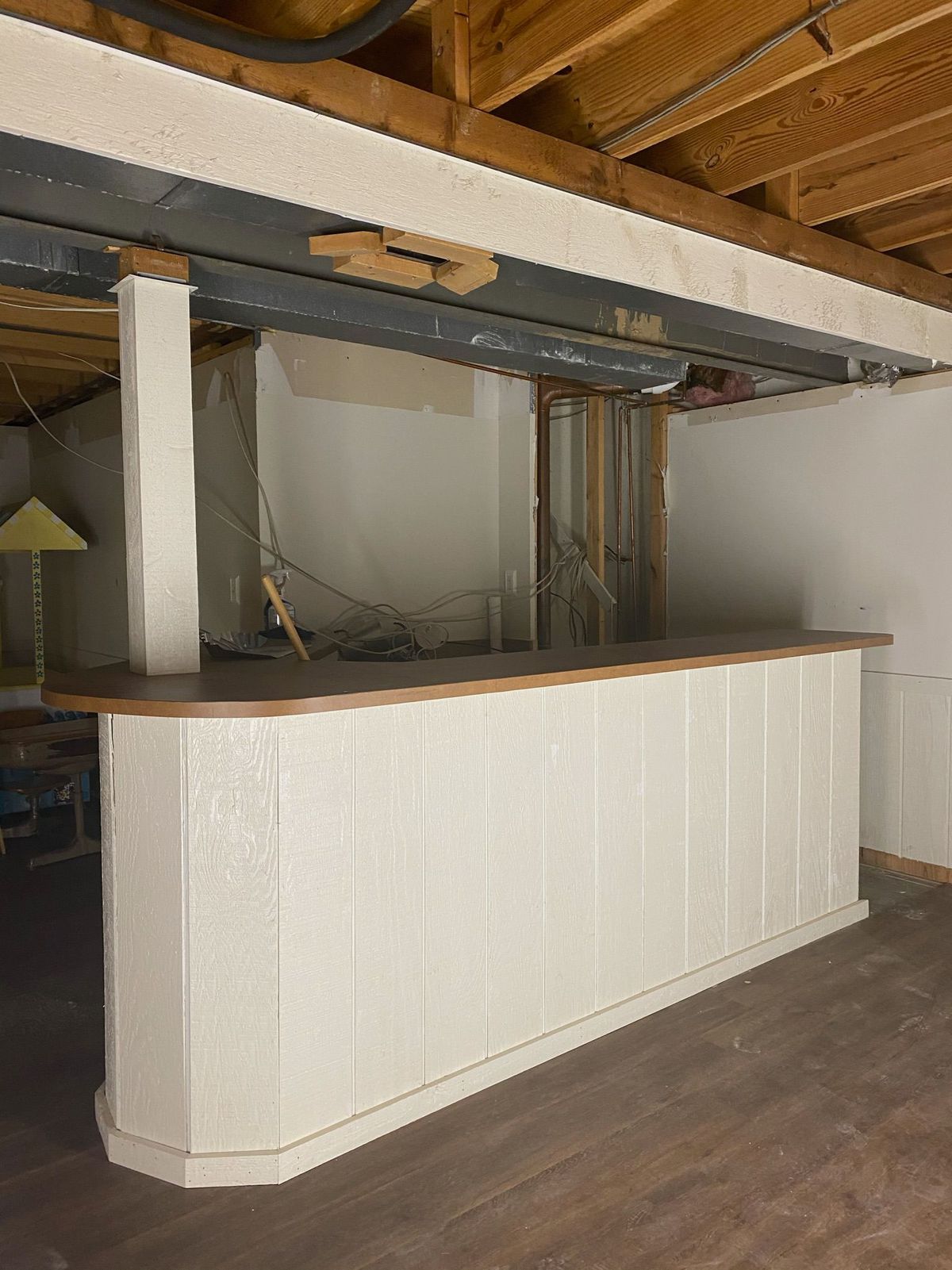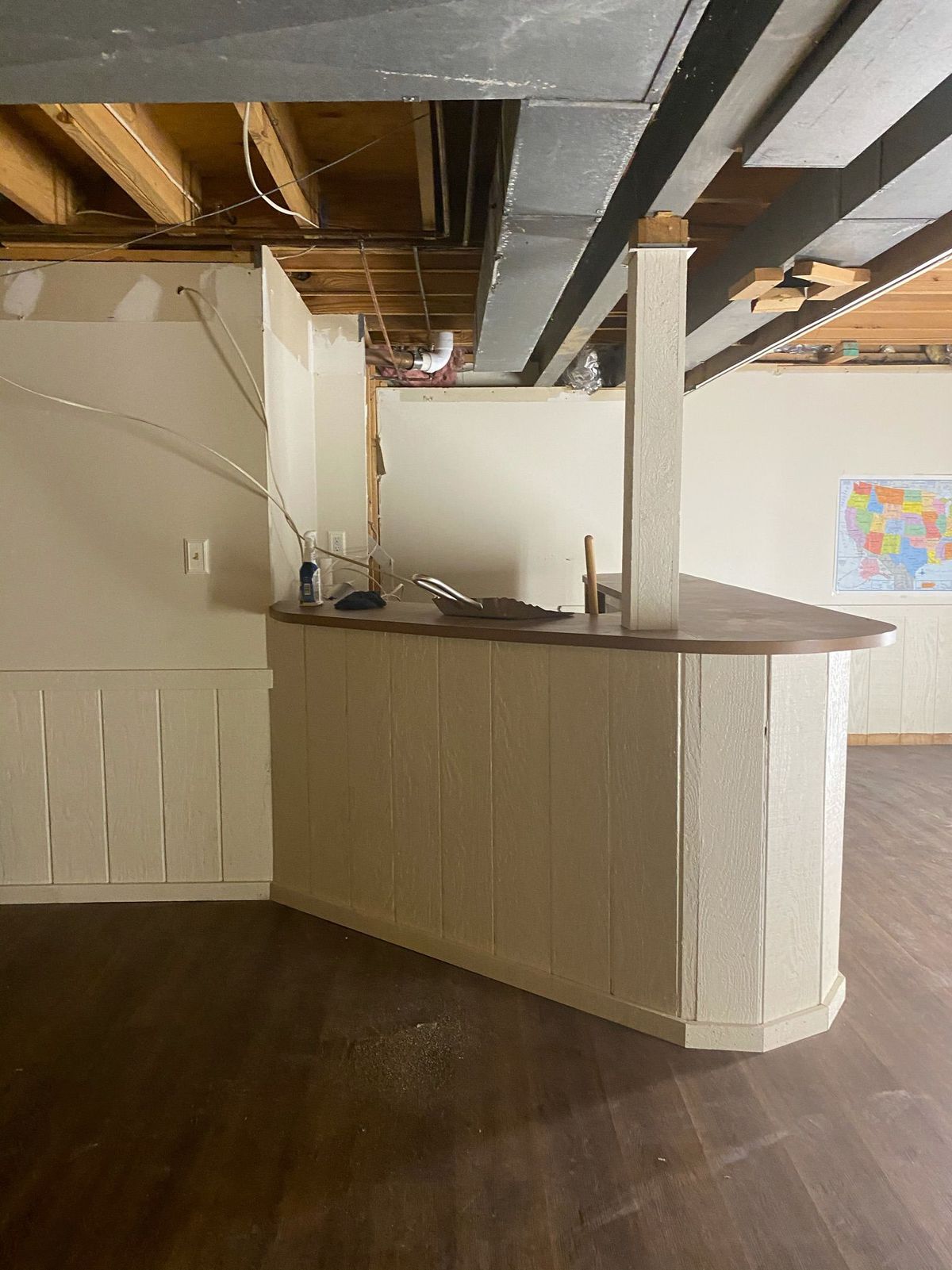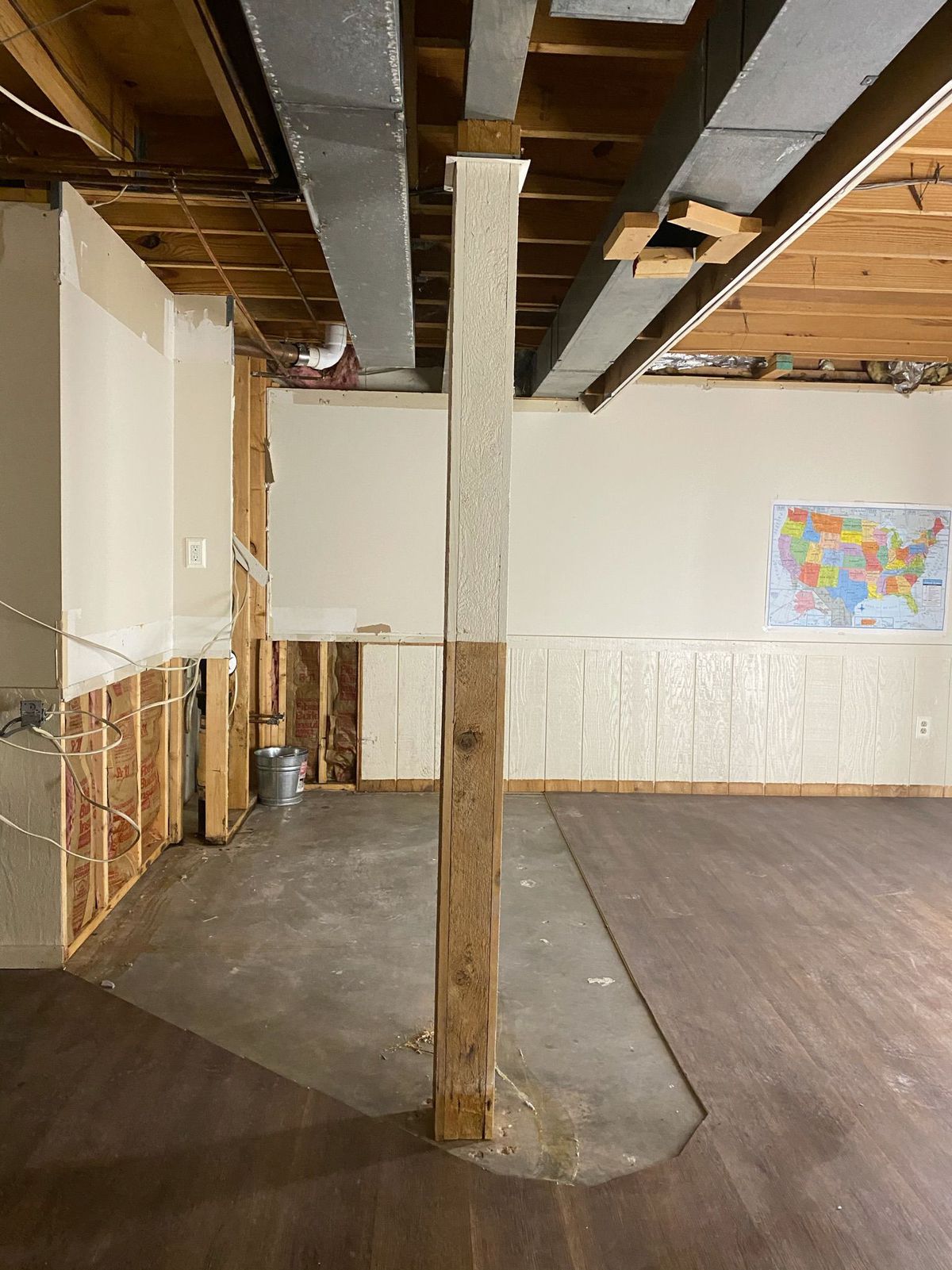 I love sharing ideas for improving your home!
We've renovated many homes during the last 20 years, and I am always thrilled to pass along the knowledge we've gained along the way. See the complete Before and After tour of our St. Louis home here, and our modern Table Rock Lake Cottage as well.
Getting Started
Luckily, our previous basement wet bar left us with an open layout and plumbing. We decided that keeping the sink would be incredibly beneficial, so we added a new one with a gorgeous faucet that I adore.
After demo-ing out the old cabinetry and countertops, we were left with a blank slate. We knew we didn't need something as big as what was previously there… and in fact, we wanted to leave more open space for seating and play.
That left us with a simple wall of lower cabinetry that we decided to have custom built to fit the space well (note the bump out in the center). This look could work in almost any small space you're working with!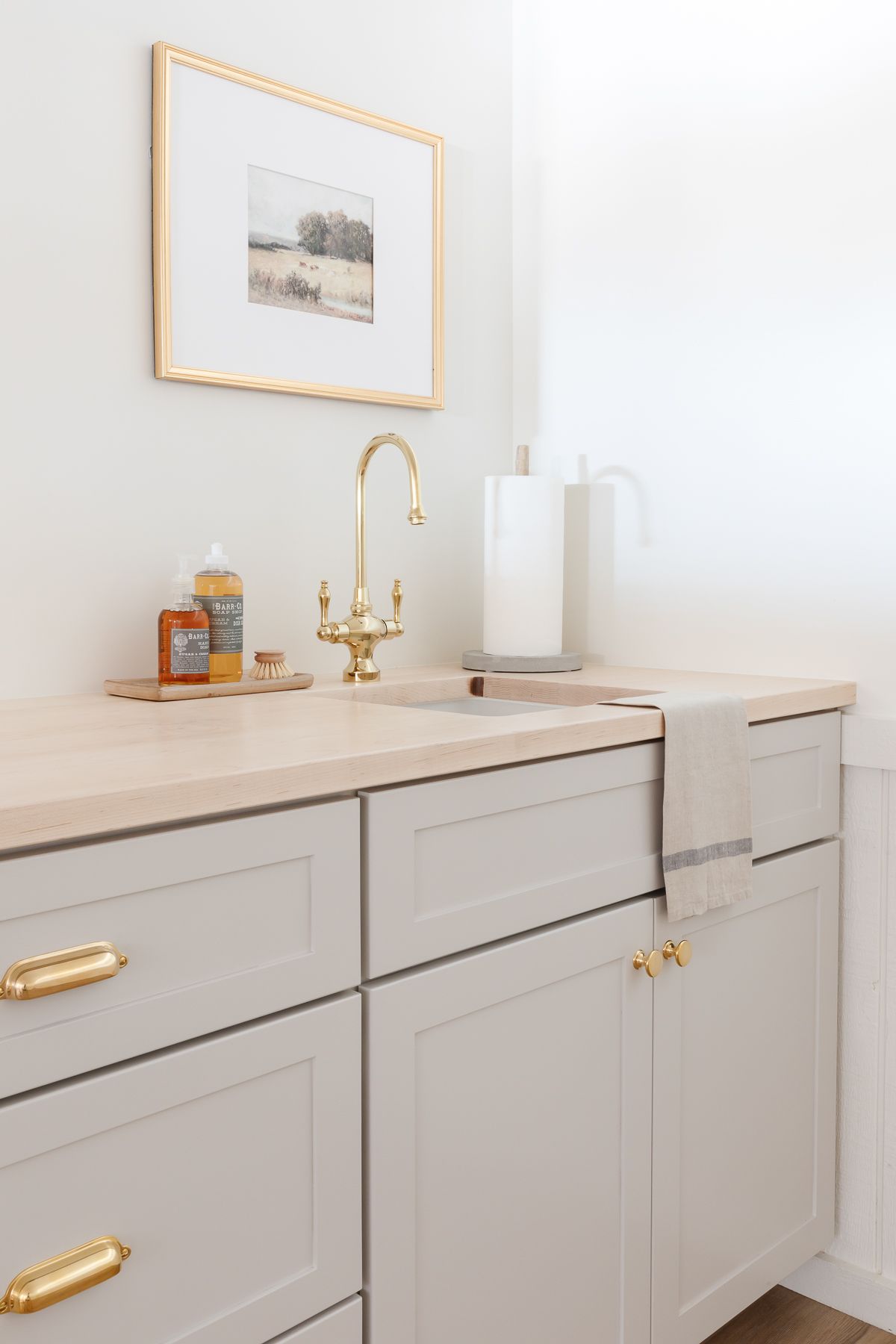 Whether you include a beverage cooler or sink, or just keep it simple with an affordable wall of stock cabinets and a butcher block countertop, I hope this little renovation can serve as inspiration for any home basement bar you're dreaming up.
Our Basement Bar Details
The measurements of our bar were customized around the bump-out in the wall. The details are as follows:
87" wide
36" tall
25" deep by sink, 35" when it bumps out
Frequently Asked Questions
Are basement bars worth it?
A basement bar enhances your living space and adds value to your daily life, but only if the basement is an area where you like to entertain or gather as a family.

Keep in mind that it might not add value to your home overall, so be cautious of investing too much in this area.
Are wet bars dated?
Like anything, they certainly can feel dated. In our home, a wet bar built into our main floor living room felt dated and not in tune with our lifestyle. However, in the basement, a wet bar perfectly fit the space and our needs. It's a personal decision!
Is a wet bar considered a kitchen?
A wet bar is intended just for drink preparation, so it's not meant to act as a full kitchen. Many basement wet bars have a built-in ice maker, a beverage refrigerator and more.
Basement Bar Cabinetry and Color
We used a custom cabinet maker to create this cabinetry in order to fit the beverage refrigerator and accommodate the bump-out in the wall. We used shaker style cabinets because I just love the simple lines.
We painted it in a fabulous new paint color that I will cover soon – Sherwin Williams Agreeable Gray!
Can't update with a built in bar right now? Check out these adorable Gold Bar Carts and Rattan Bar Carts for incredible style!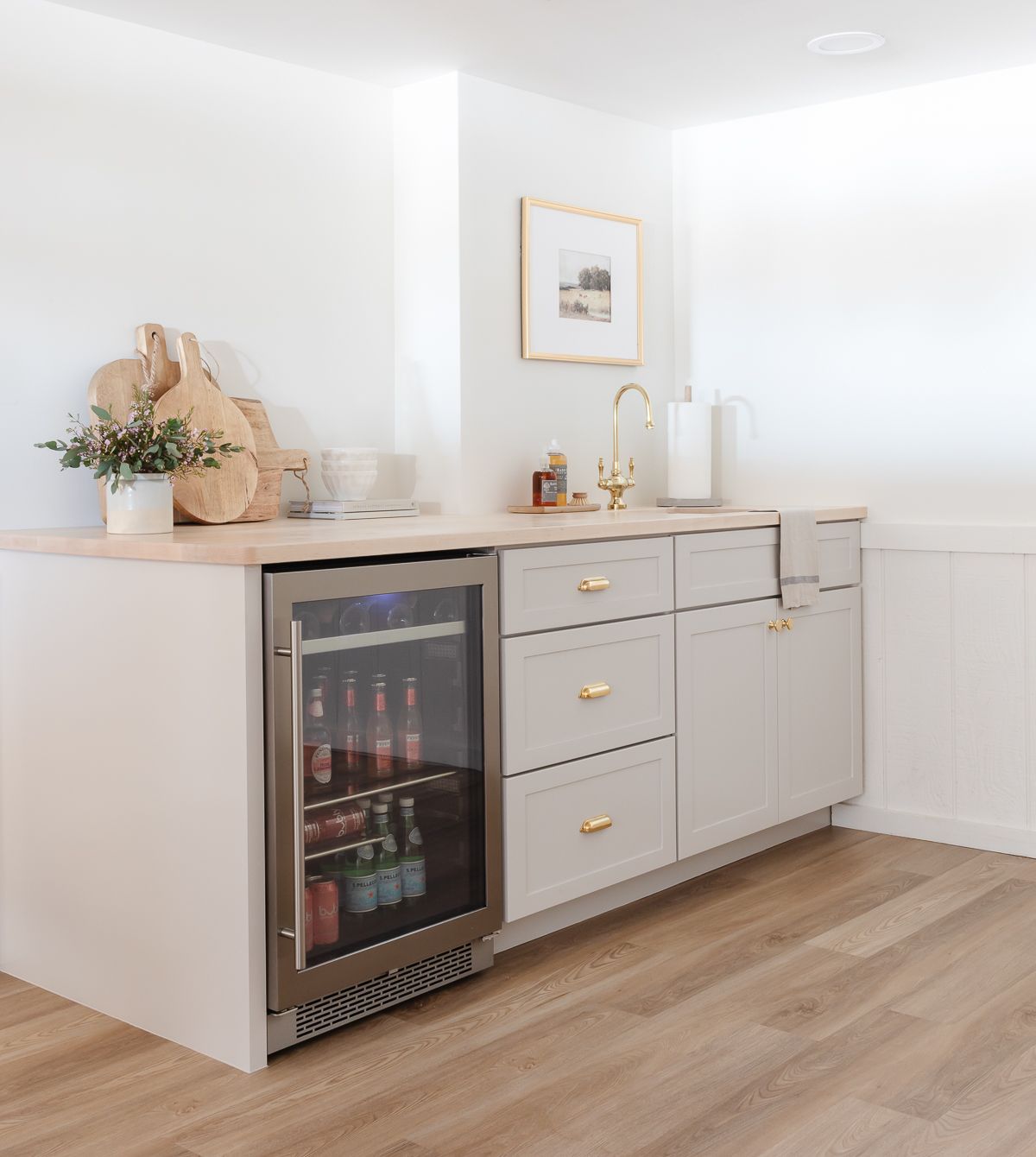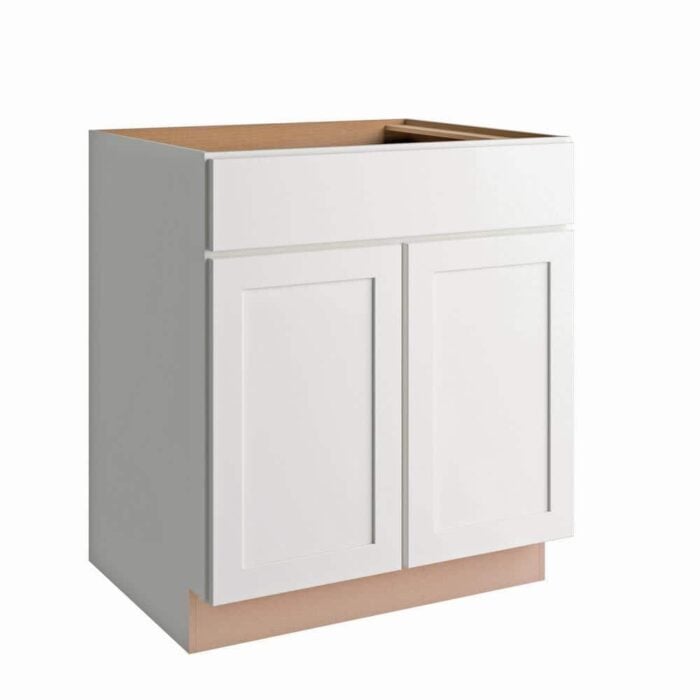 Get the look with these simple and affordable cabinets!
Affordable Basement Bar Countertop
We chose a simple butcher block countertop for this area. I wanted a light color, and something that would feel timeless, but still fresh and modern.
What do you think, would you choose butcher block? I can't wait to tell you all about these in a future guide to go along with our Danby Marble and Quartz Countertop guides!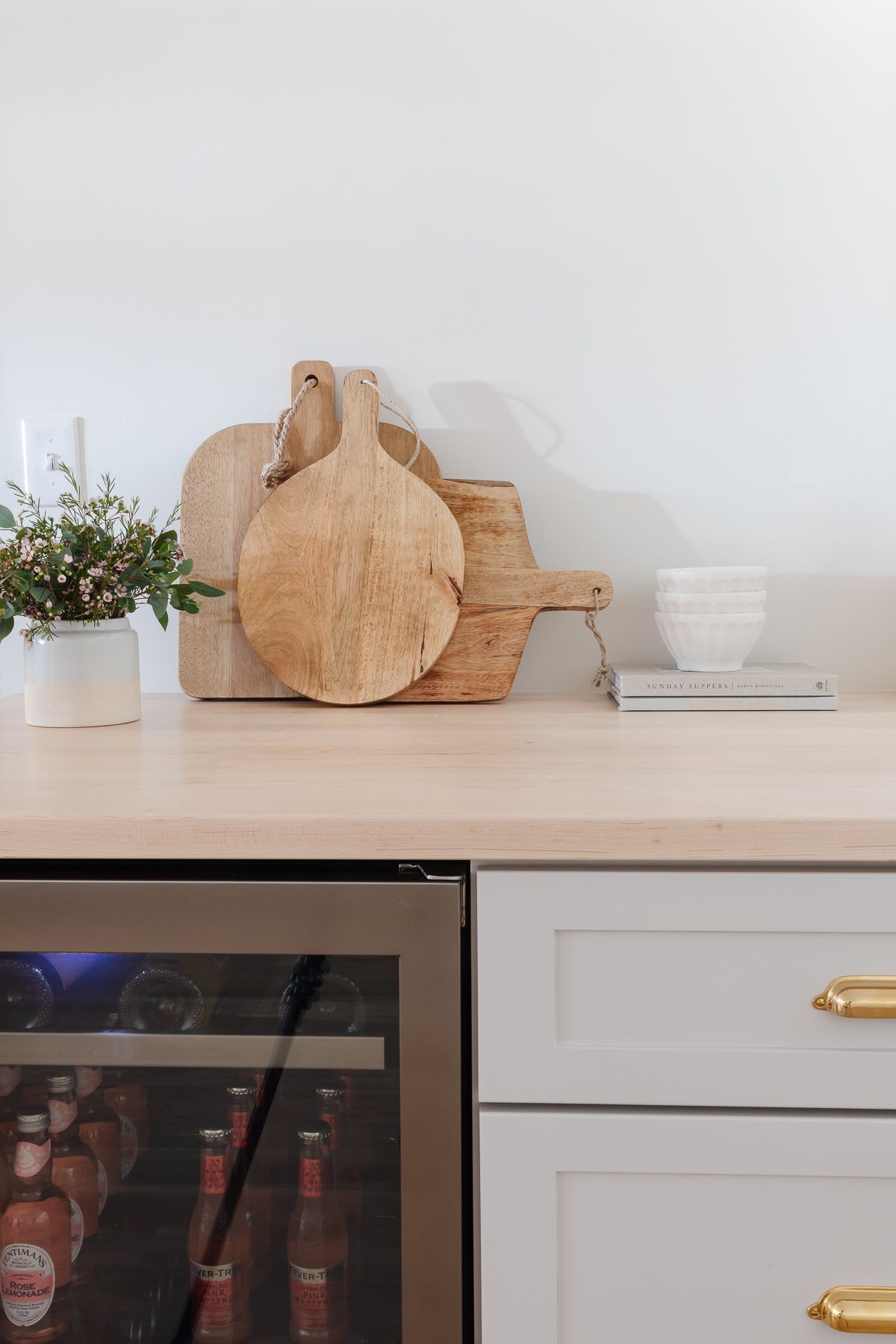 Basement Wet Bar Sink
Basement Wet Bar Faucet
You know I can't resist a pretty gold or brass faucet! I think it's like the jewelry of your home.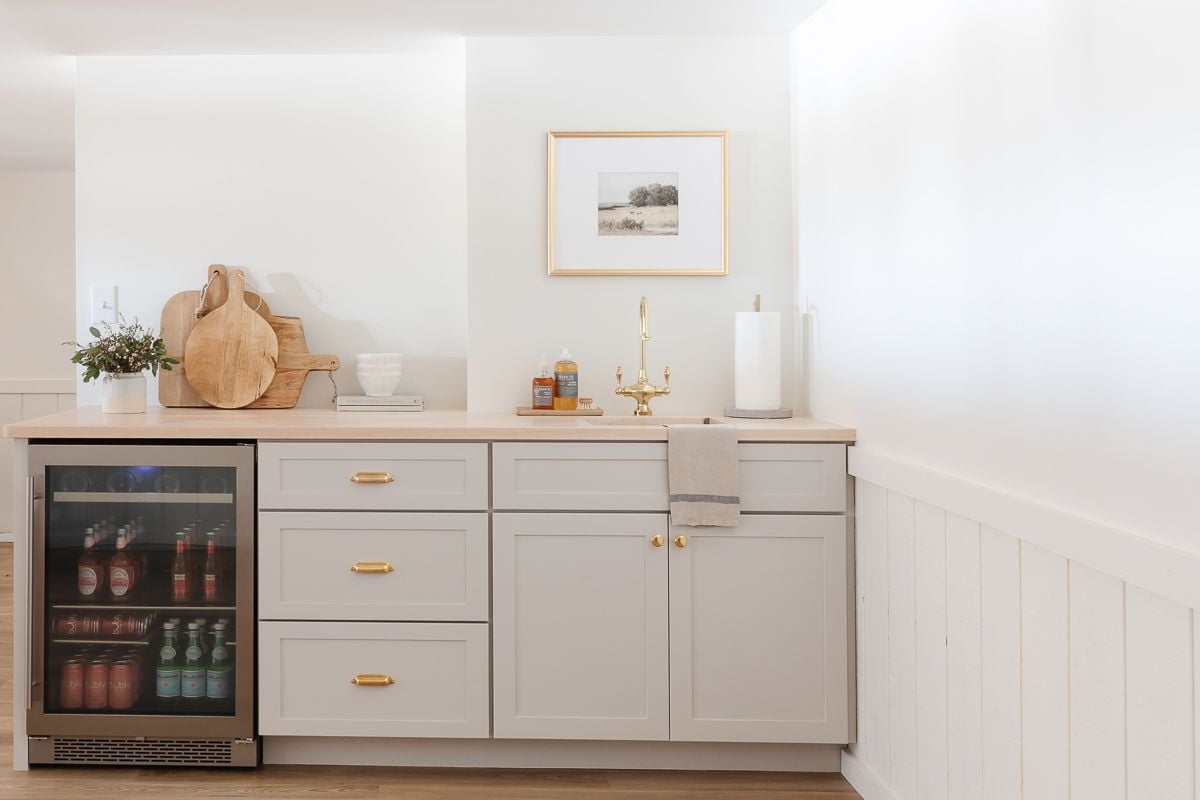 Basement Bar Hardware
Simple unlacquered brass hardware will always have my heart!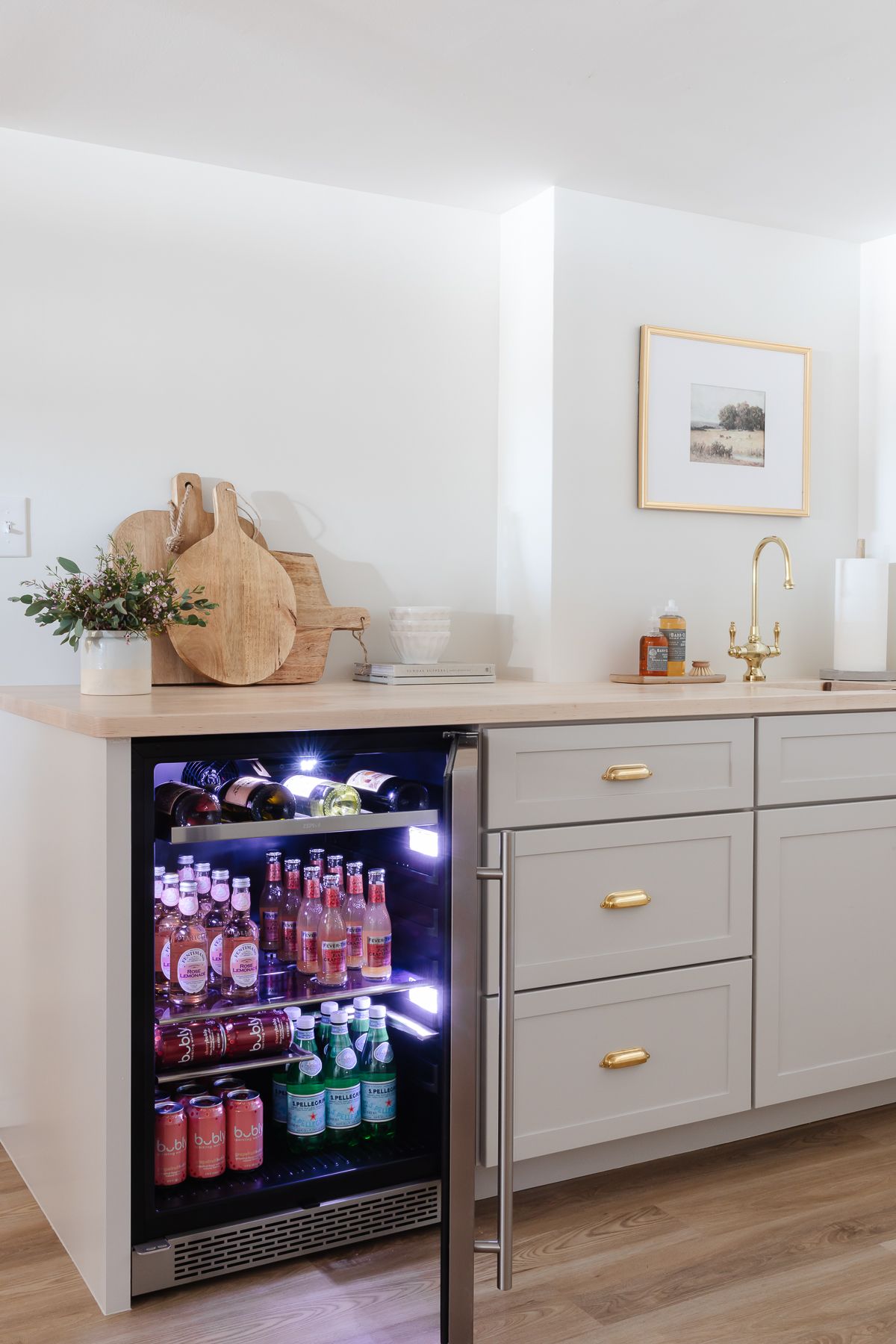 Beverage Center
We were so excited to incorporate this beverage refrigerator into this space, because we love our upstairs wine fridge so much!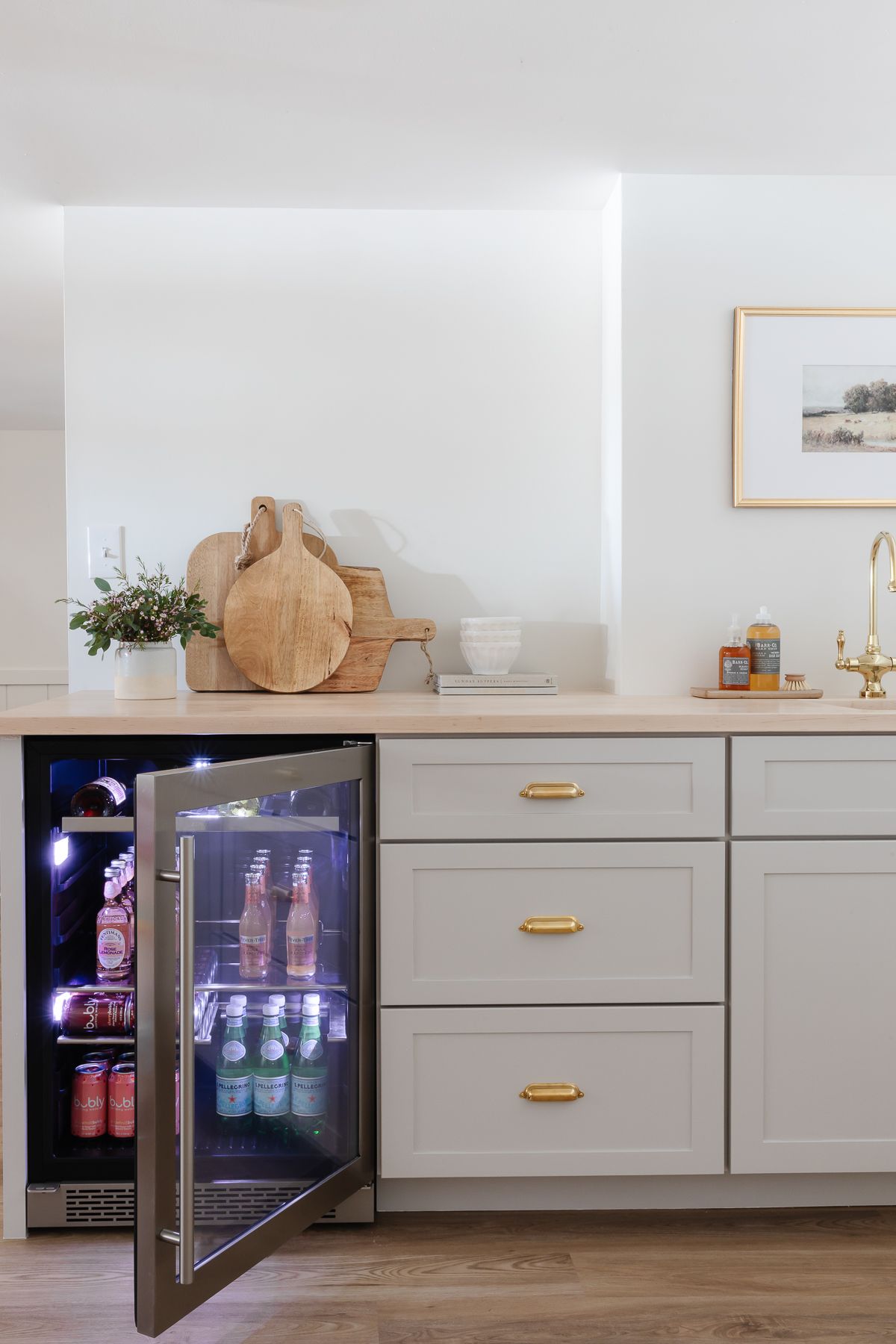 Basement Bar Accessories and Decor
An affordable art download, plus my favorite gold frame, and pretty little accessories helped bring this space together.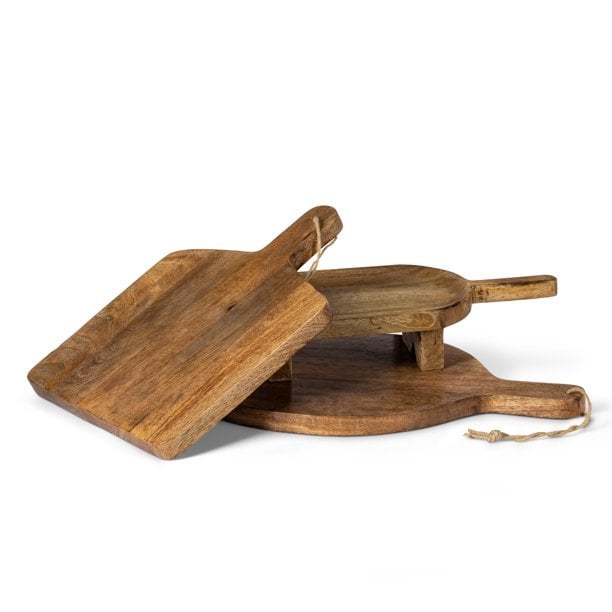 I'd love to hear from you! Do you have a basement bar area, or are you renovating a small space like this anytime soon?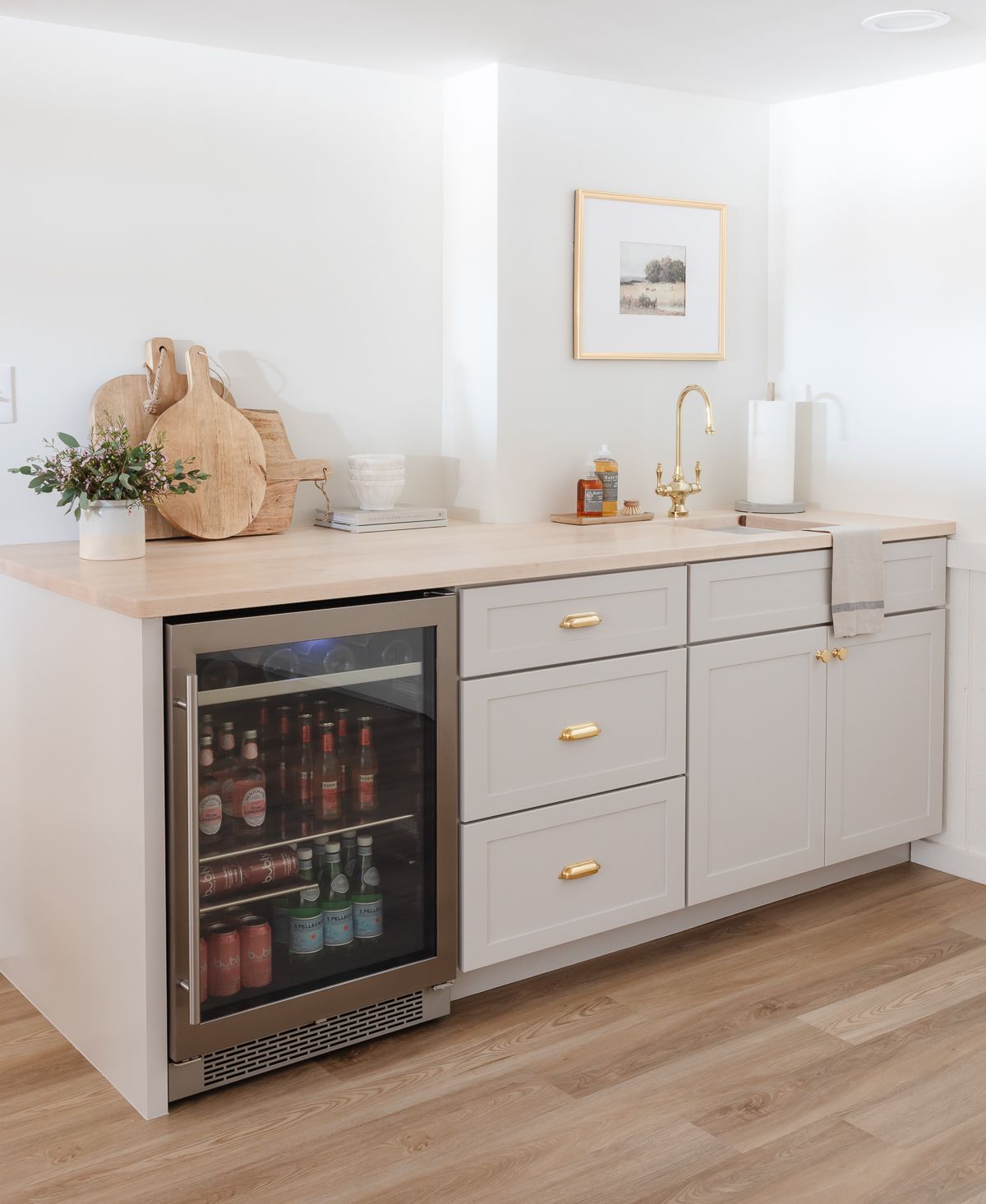 More Cabinetry Inspiration