Get beautiful vintage botanical prints for any space. Make your own botanical art prints for $5 in under five minutes with a home printer.
Customized art work can add warmth and sophistication to your home. Learn how to upgrade any space with charming botanical art prints you can make yourself!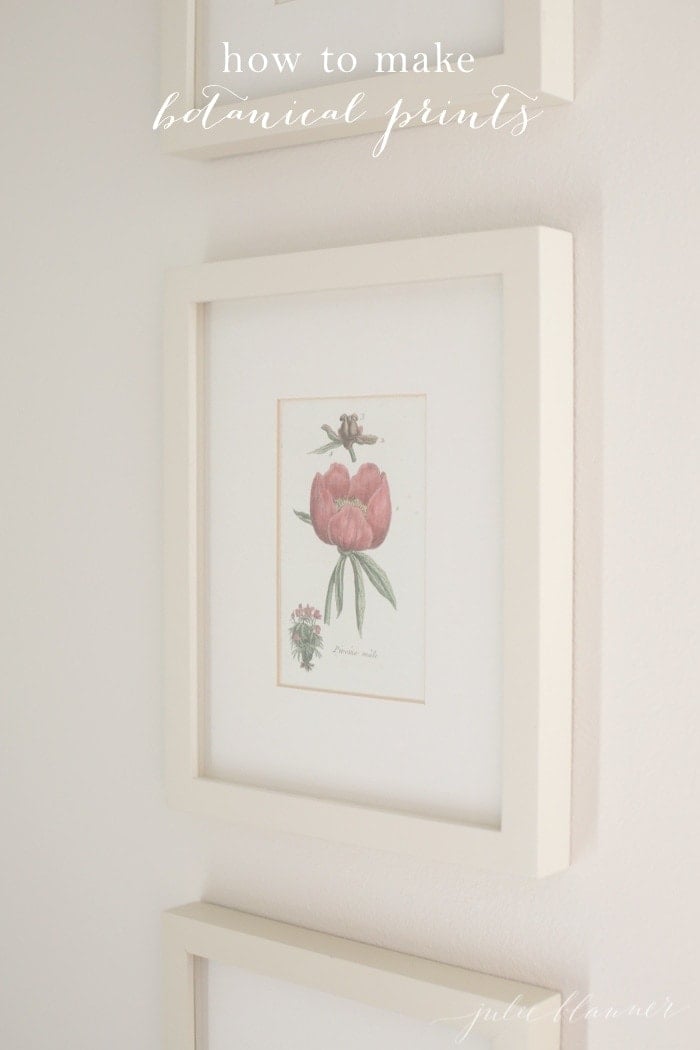 If you have a computer and home printer, you can make these in five minutes for less than $5. They're so pretty, no one will ever know you made them yourself!
Vintage botanical art adds a lovely softness to a home. It adds nostalgic charm, and it's perfect for any room in your house. These prints are detailed enough to hang in a grouping for a big impact, or you can tuck a small frame onto a shelf or mantel.
The organic shapes and colors are a beautiful contrast to the many straight lines in our homes. I'm thinking of picture frames, furniture legs, and trim work around doors and windows. All of those lines need an occasional break, and these botanical art prints are such a pretty way to do it!
The colors are a bit muted, but they're still so rich and deep. I love a beautiful neutral room, but I need a room with some color and texture woven throughout, to bring everything to life.
See my Tips for Creating a Neutral Living Room that is anything but boring. It's totally doable! These botanical prints help to create a space that is simple and serene, without falling flat.
I've had these prints hanging in my daughter's bedroom, at her birthday party, and even as Christmas decorations next to our tree. As a result, I've had some reader questions about where I purchased them. The beauty of these is that I didn't exactly purchase them—I made them!
These are the perfect quiet afternoon project. They are simple and quick, and if you already have a frame on hand, they're free! In just a few minutes, you can be standing back admiring your new artwork. Trust me, you'll love these botanical prints anywhere in your home!
And if you're looking for more sweet and simple DIY art ideas, make sure to check out Pressed Botanical Wall Art, How to Make a Silhouette Portrait, and How to Make Paper Flowers.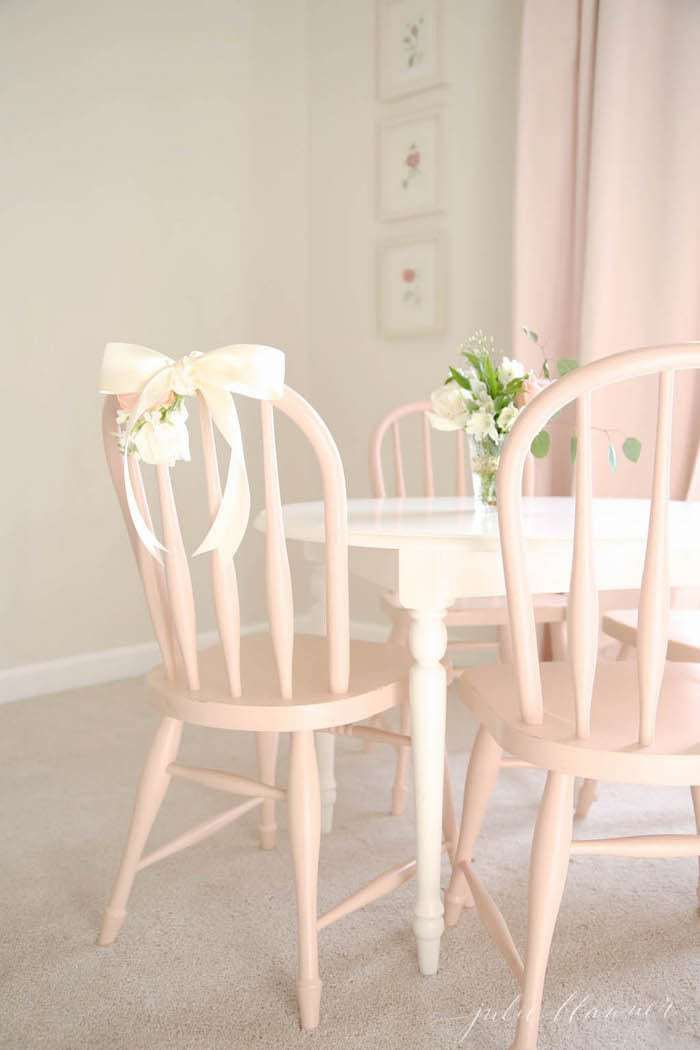 Tools and Supplies
You probably have everything you need for this project already on hand. In fact, you can even reuse an old picture frame for a completely free project!
Here are the supplies you'll need to make your own botanical prints:
Computer
Printer
Scissors
Picture frame (mat is optional)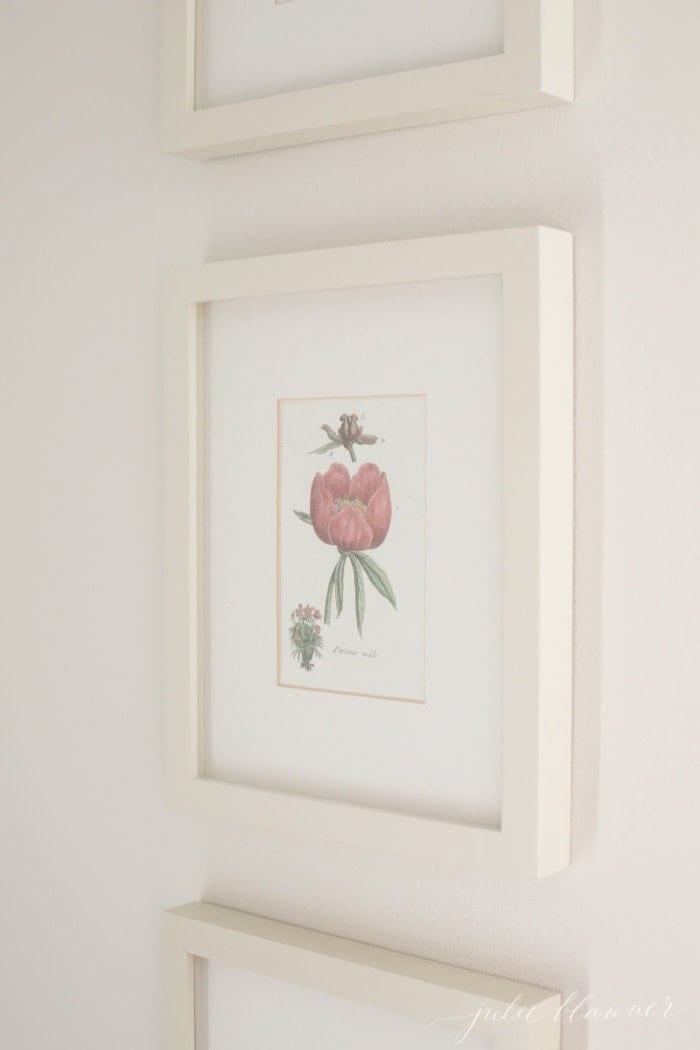 How to Find Printable Images
The trick to this DIY art is to use high-quality, beautiful images. Fortunately, with technology at our fingertips, it's so easy to find exactly what you're looking for!
I use various image galleries for my projects. For example, these particular botanical prints came from Vintage Printable and Graphics Fairy. Both of these sites have a huge selection of free printable images.
In addition, it's easy to search by keyword or category. Once you've found the perfect image, simply right click on image to save it as a file on your computer. If you use Graphics Fairy, you don't even have to resize the image for printing because they're already full size.
I have been so impressed by the huge selection of free art online. So many of the classic paintings and images we love are actually public domain art. That means that after a certain amount of time, they're no longer under copyright, so you can print them and use them for free!
Make sure that you have permission to use the print you choose. Most of the copyright-free images will have a disclosure, granting permission to print and use the image for your personal use.
Go here for my full list of Free Art Sources. You'll be amazed by how much art is available to you – at NO COST!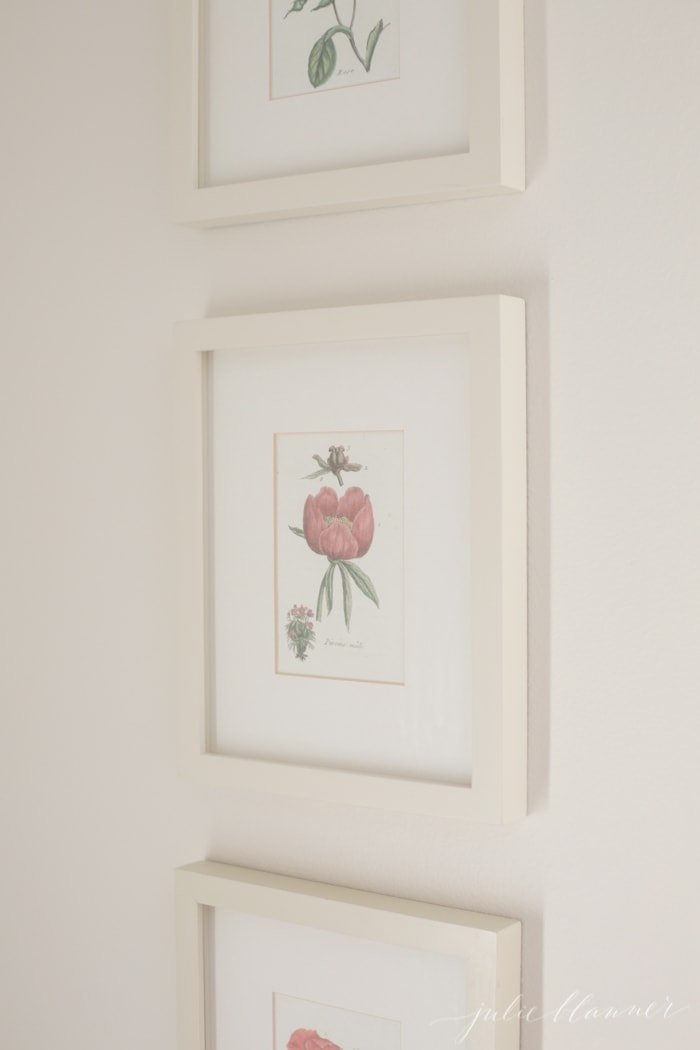 How to Print Free Art
It's really so easy to print your own art from the internet. Believe me, anyone can do this!
Here are the DIY details to create your own botanical prints: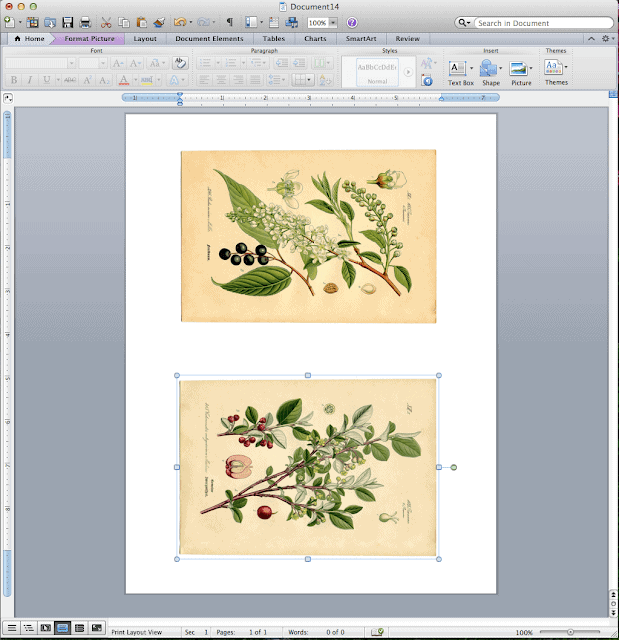 Find image

—Search online sources such as Vintage Printable or Graphics Fairy to find the perfect botanical art prints. If you're not finding exactly what you want, try to vary your keywords. For example, try "botanical prints," "vintage botanicals," or "botanical art prints."

Save image

—In Graphics Fairy, right click on your image to save it to your computer. Some sites may be a bit different, so read the instructions on how to save and resize images.

Resize

—Like I said, if you're using Graphics Fairy, you don't even have to resize your images. However, if you're using a different art source, it's easy to resize images. Save your image to your computer, then open it in a program such as

Photoshop, Lightroom, or Preview. Follow the instructions to resize the image for printing.
Adjust as needed

—This step is optional, since the images are already beautiful just the way they are. However, I prefer mine with colors that are just a little muted. Using one of the above editing programs, reduce the saturation by 25% for a softer look.

Print—Under your printer settings, select the option for the "best" or "highest quality" image. This will get you the best possible results. Then print your image onto high-quality cardstock. I love using Paper Source's text weight card stock in the color Luxe Cream because it is so soft and pretty!
Cut to size—Using scissors or a paper cutter, cut your print to the appropriate size for your frame. Alternatively, you can crease the edges and tear for a softer, more organic look. Remember to crease the paper away from the print (as shown above), then tear with the image facing down. That way the white edge of the torn paper won't show from the front.
Add tape

—Optional tip: Adhere a piece of foam double-stick tape to the back of your image, and center the print over a piece of white paper. You can even use the insert that came with the frame—simply turn it over and it's the perfect size. The thick tape raises the print off the page the slightest bit, giving it a high-end, custom look. You can see I used this trick for some of my botanical prints and not for others, and they look beautiful either way!

Frame

—Put your botanical prints into the frame of your choice, then hang them on the wall using a small nail or hook.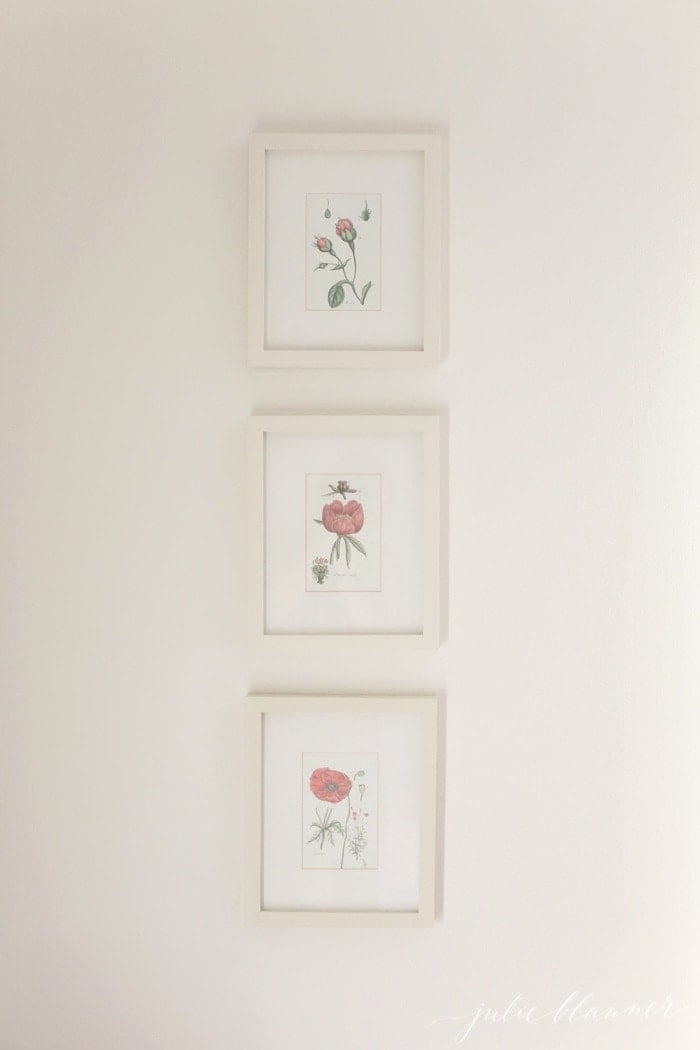 DIY Botanical Prints for Children's Rooms
I highly recommend printing your own art for children's rooms. Since kids grow up all too fast, their preferences evolve quickly too. Changing out their artwork is costly, so why pay a lot of money when they'll likely outgrow it in a year?
With free printable art, you can easily update your kids' spaces without a lot of time, money, or effort. Plus, there are so many options, you're sure to find images that your little ones will love!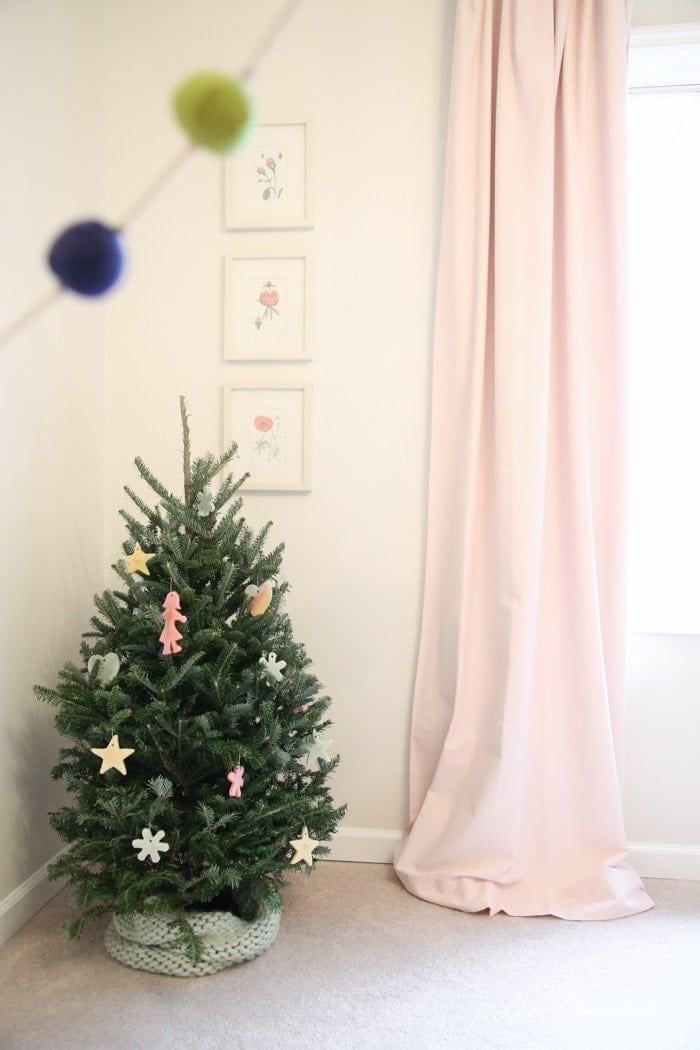 How to Display Botanical Art Prints
Really, it couldn't be easier! I created and hung six of these in about a half hour.
I guide you through How to Frame a Picture Professionally here, but even if you're framing it yourself, so many of the design principles are the same. It's worth reading if you have questions about mat size and proportions.
Even standing up close, you would never know that these vintage botanical prints were printed on a basic home printer. They're that good!
These look so vintage, rich, and pretty with their natural shapes and colors. They add the perfect layer to my design. I love them in a group of three stacked vertically, like I hung them here.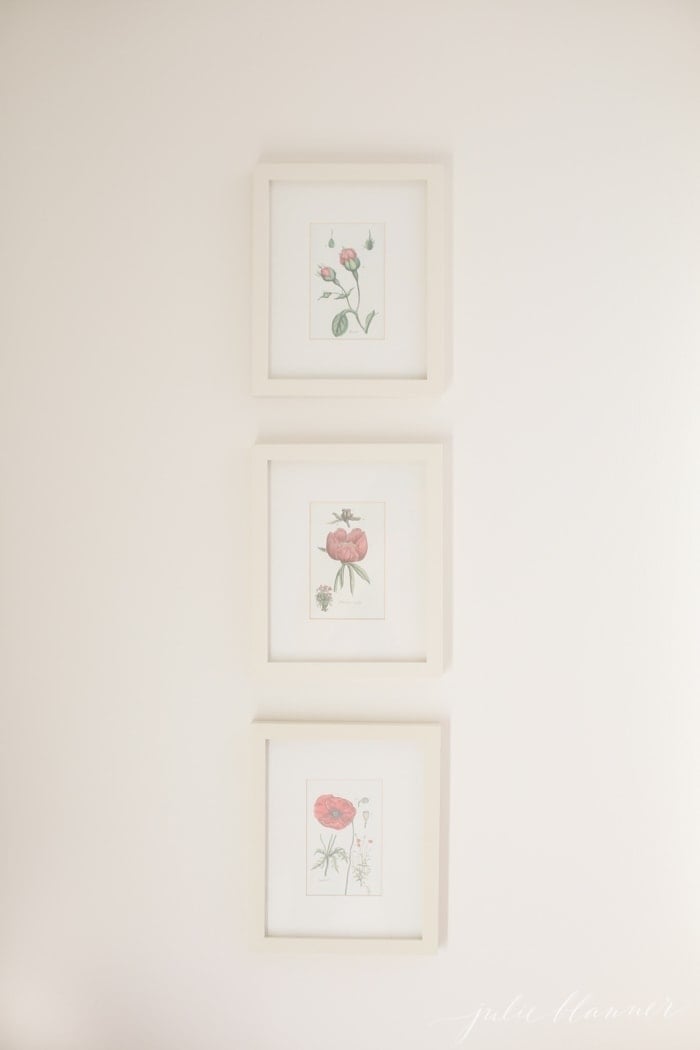 But they're equally as gorgeous hung in a grid of four, as shown here. The darker wood frames contrast with the subtle color of the prints. It creates bolder statement that is still serene and peaceful.
Botanical art prints are often framed and hung in pairs or groups. Because the designs are often so subtle and yet share similarities, this can create a beautiful display.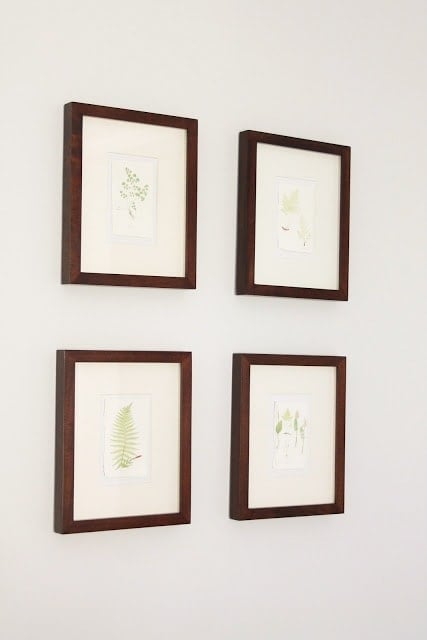 What is a botanical print?
Botanical (meaning derived from botany) art is an illustration that shares the details of plant species. They are technically accurate but often also have an artistic style, making them ideal for home decorating.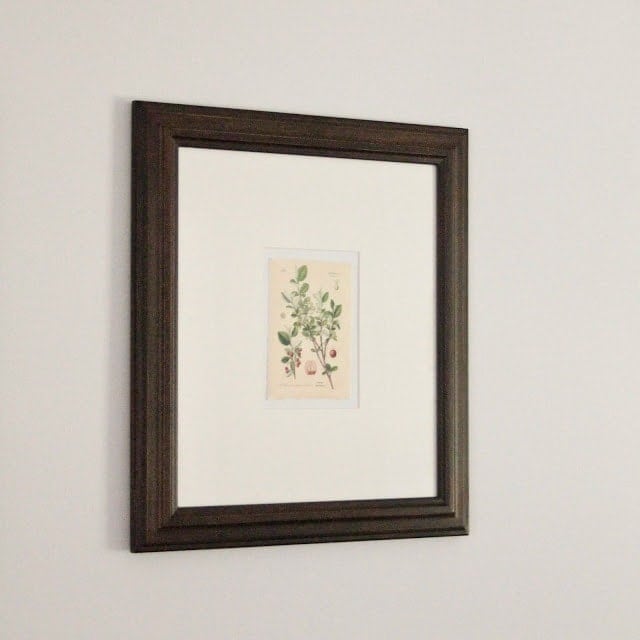 More Easy Art Ideas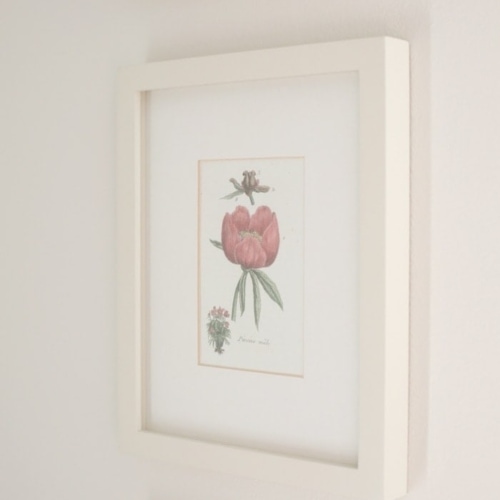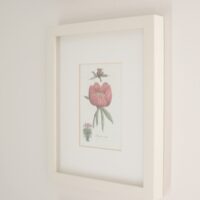 How to Make DIY Botanical Prints
Create your own botanical prints 5 minutes!
Ingredients
White card stock

Picture frame

Double-stick tape

optional
Instructions
Find an image online at a free art site such as Vintage Printable or Graphics Fairy.

Right click on the image to save it to your computer.

Resize image if needed, using a photo editing program such as Photoshop, Lightroom, or Preview.

Reduce the saturation by 25% for a softer look, if desired.

Print image onto card stock using the highest-quality print option available.

Cut image to size using scissors or paper cutter. Optional: tear edges of images instead, but folding paper away from image, turning image onto its face, and gently tearing.

Optional: For a floating effect, adhere foam double-stick tape to back of image and secure print to center of white paper.

Insert print into frame of choice and hang with nail or small hook.