Find simple tips and tricks for a functional, organized and beautiful linen closet. Linen closet organization doesn't have to be overwhelming! Learn the keys to getting organized and staying that way.
These easy linen closet organization ideas will help you start with a clean slate and move forward with ease.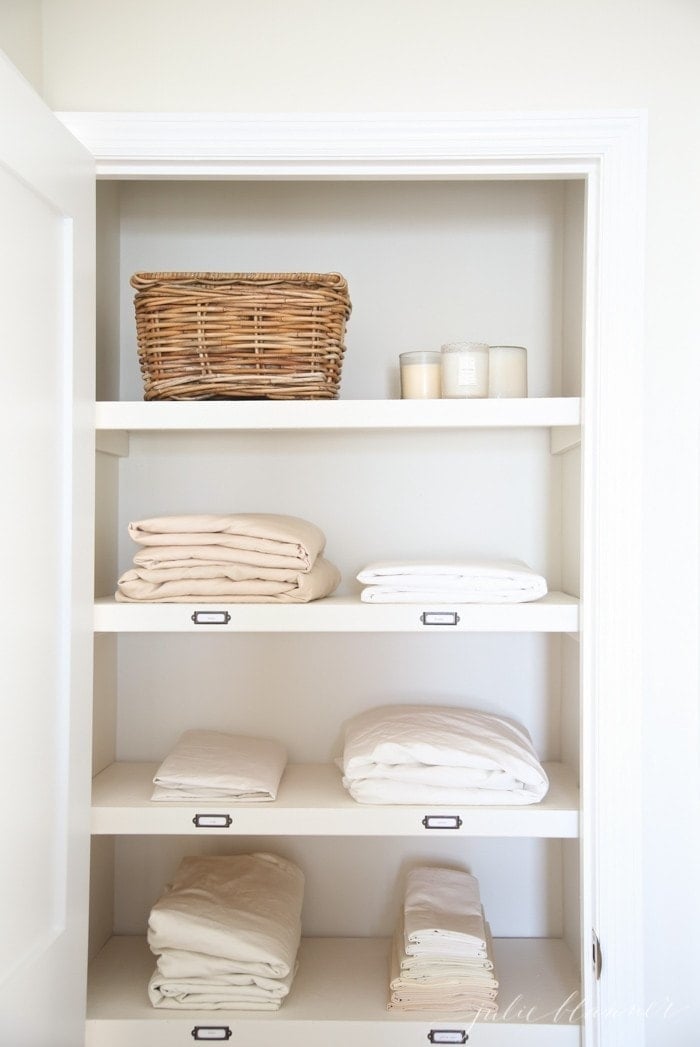 This post was originally published January 11, 2016 and updated with fresh content and ideas April 29, 2021.
I'm ridiculously excited to add function and organization to our home. After living in chaos for the first couple years of living in our St. Louis home, we were finally able to implement some storage solutions that made life a little less chaotic.
The hall linen closet was dark (as was much of our home). Though small, it had a bi-fold door that fell off every time we tried to open it, posing a threat to the girls and our sanity!
Our linen closet, like so many others, had collected a lot of things that didn't belong there or that our family outgrew. You can see a glimpse of the closet in progress to the right in the below photo below.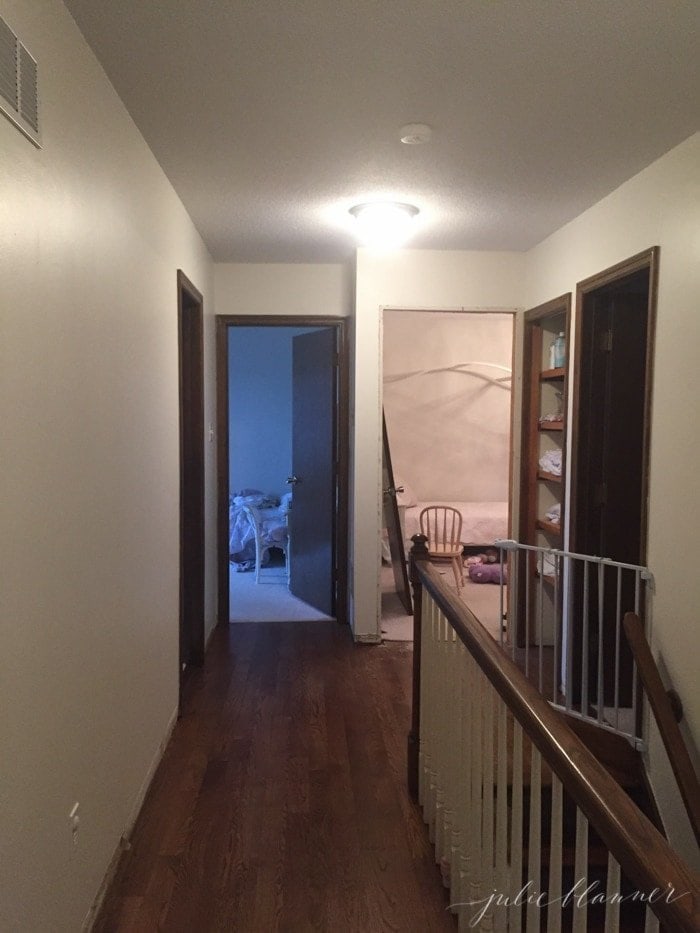 It was so bad that we rarely (if ever) used it, storing our sheets in laundry baskets and only forgotten bath toys in the hall closet.
Over the summer we replaced the worn carpet with hardwoods for the hallway and more recently we had all of the doors in our home replaced with new shaker doors, including the dreaded bi-folds.
What is a Linen Closet?
Linen closets tend to be small in size and are anywhere between 12-24″ deep. This accommodates towels and sheets comfortably without allowing anything to get lost behind.
However, because of their small size, it's important to utilize them wisely to maximize function.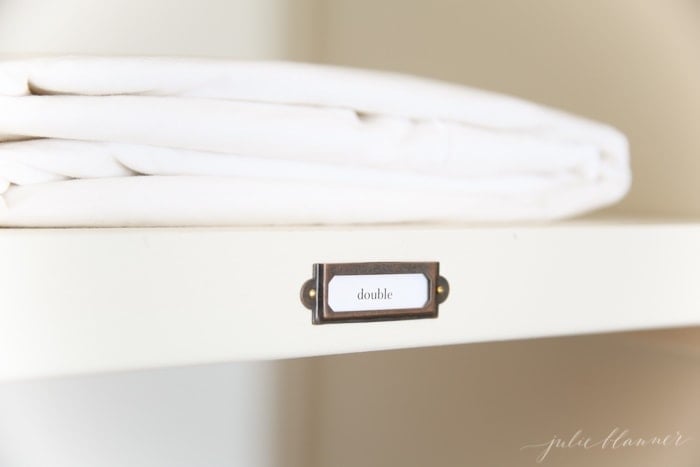 If you love the look of our linen closet, don't skip this post about our vintage Linen Cabinet, as well as our new Modern Laundry!
Tips for a Functional Linen Closet
A fresh coat of paint or a "white" backdrop sets everything apart. It reduces the risk of things getting lost, as they often do in a dark closet and allows everything to easily be seen. I highly recommend using a shade of white. You can find all of my favorite cream paint colors here. We used Benjamin Moore Soft Chamois for our hall linen closet.
Use adjustable shelving, if possible. This allows you to adapt your closet as your needs change. Maintaining the same width between your shelves is visually appealing. We are lucky to have built in wooden shelving, but wire shelves work well for linens too.
Leave empty space. I can't stress this enough! This not only makes for a visually appealing space, but it leaves you room to expand and store more items when necessary.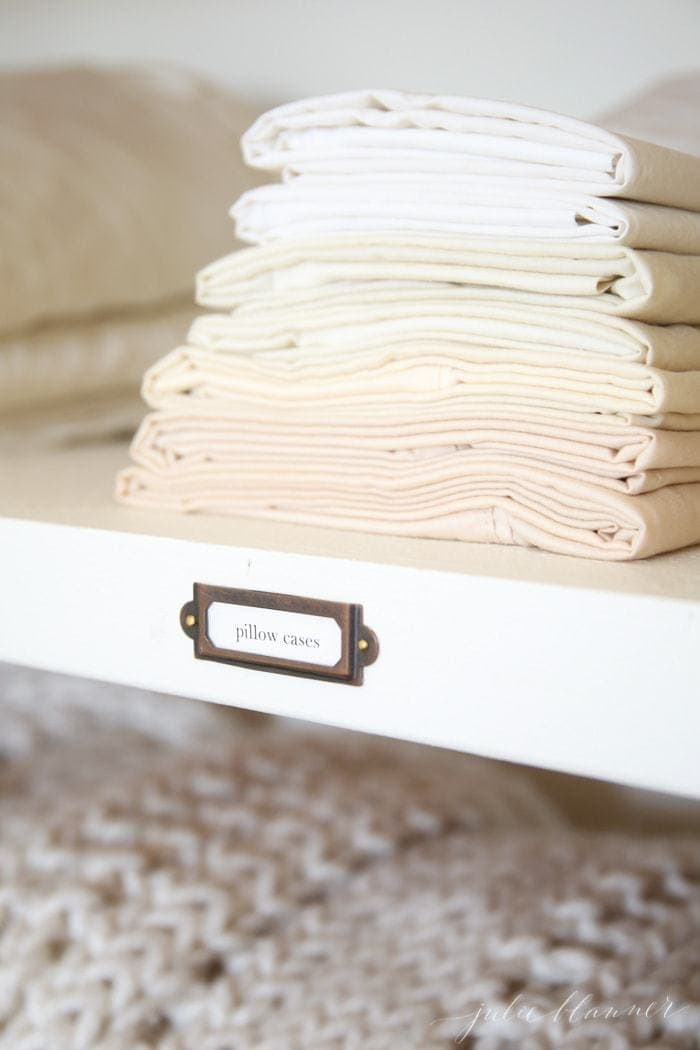 What Should Go in a Linen Closet?
Everyone's needs are different, especially depending on whether it's in a hall or bath, but typically this space is suitable for:
bath towels and hand towels
sheets
Out of season blankets and duvets
extra pillows
extra blankets
toilet paper
10 Steps to Linen Closet Organization
The first step is to remove everything. This will allow you to see what you have.
Eliminate excess. How many sets of sheets do you need? Two sets of sheets for each bed is often sufficient – one on the bed and one to rotate with.
Eliminate anything that doesn't belong (toys, anything that made its way there over the years).
Store infrequently used items on the top shelf.
Keep smaller items together in a basket or storage bins.
Organize linens by category keeping towels on a separate shelf from bedding.
Use labels (like these bronze metal label holders with tiny nails) to decipher which sheets belong to which bed. (I cannot tell you how many times we've unfolded sheets only to discover that they weren't the ones we were trying to change.)
Store sheets in sets with corresponding pillowcases or dedicate a space for them.
Learn how to fold a fitted sheet like Martha. Or don't, and stack them as neatly as you can and call it good!
Close the door and pat yourself on the back!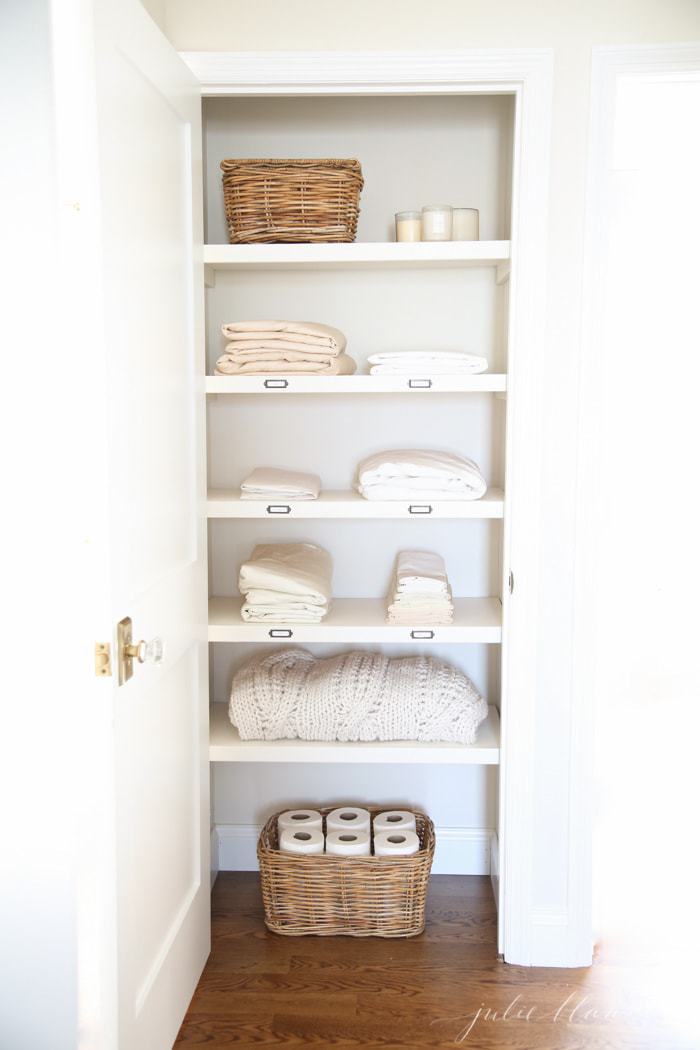 This little closet is also a great place to store excess toilet paper and even candles that aren't in use.
Frequently Asked Questions
Are linen closets necessary?
That depends on how many linens you need to store, how many family members you have, etc.

While some folks make due with a higher shelf in a bedroom closet, or a space under a vanity sink in a bathroom, these closets can serve a major purpose in your home: defined storage and organization.
Should a linen closet be in the bathroom?
A linen closet can certainly be located inside a bathroom, but they can also be found in bedrooms and hallways. A linen closet can come in handy in any area of your home!

However, the main reason that I prefer a hall closet is because of the humidity in a bathroom. You run the risk of too much moisture inhabiting your clean linens.
What can I use if I don't have a linen closet?
Use a Linen Cabinet! Much like a linen closet, this is a freestanding piece of furniture that will serve the same function but with much more flexibility to move around your home.
How deep should a linen closet be?
Generally, linen closets are designed at around 15 to 24 inches deep. That's purposeful, in order to make sure items don't get lost in the back.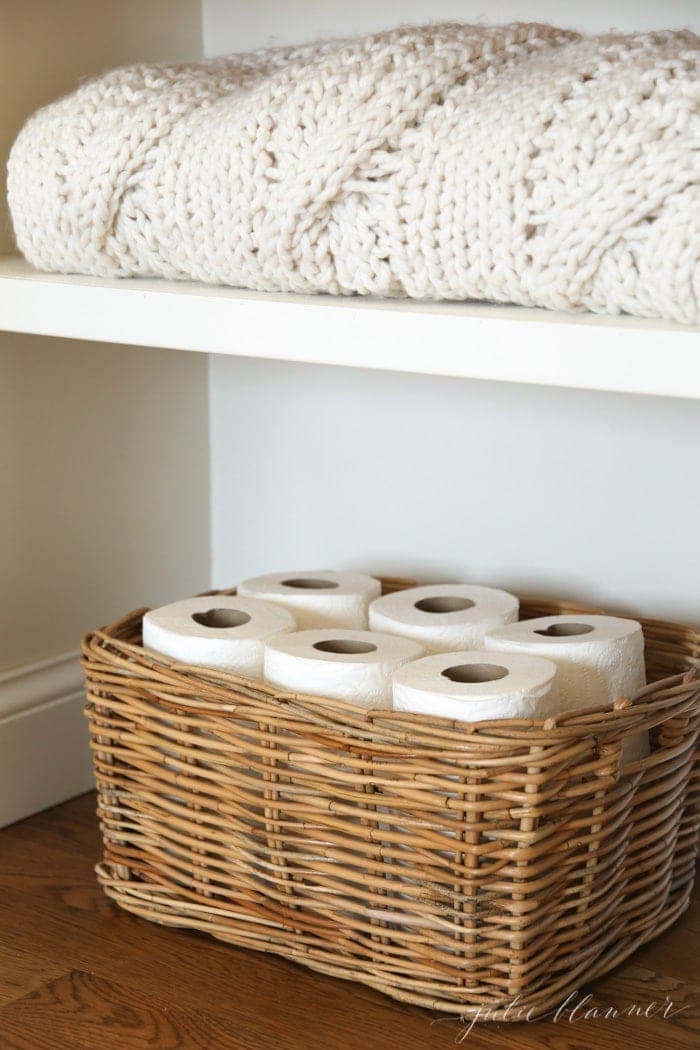 You can see more of our hall and linen closet before and after in the video.
I know it seems simple, but I love our new hall linen closet and am unreasonably proud of it. It's a good day when we can add a little more function to our home. What have you organized lately?