Unlacquered Brass Kitchen Faucet (aka Living Finish)
Get the details on purchasing an unlacquered brass kitchen faucet (also known as uncoated brass, a living finish or raw brass), including where to shop, what to look for, and what to expect as it ages!
If you're shopping for an unlacquered brass faucet, you'll find that your options can feel limited and they are quite the investment. Get all my favorite tips and tricks for that charming aged brass finish you're searching for!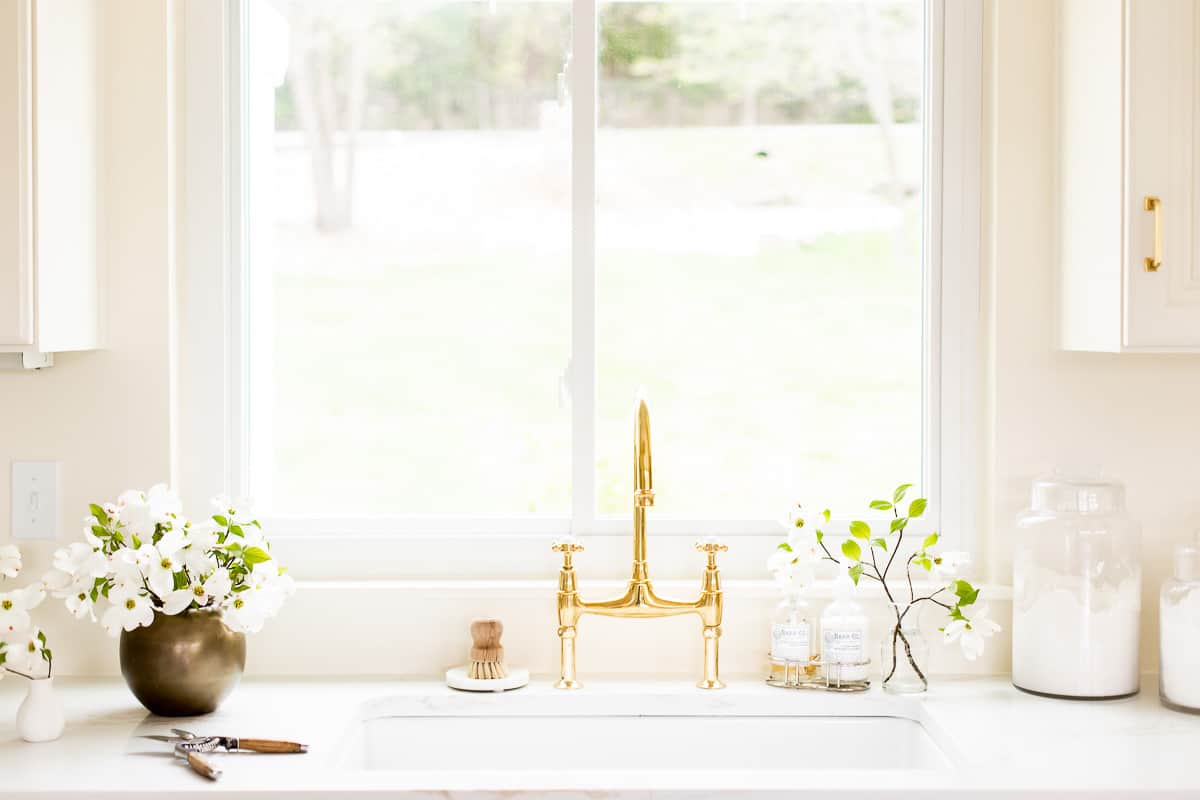 When we undertook our kitchen remodel several years back, I knew right away that unlacquered brass had my heart. There's just something about that patina that I cannot get enough of… it adds an immediate warmth and elegance to any space.
You already know I'm a big fan of brass in our home. I was inspired to use this finish after visiting Patina Farm in Ojai California. Don't skip their fabulous French farmhouse decor!
After receiving so many questions about our new Cream Kitchen, I knew it was time to update you about our unlacquered brass faucet. It pairs beautifully with our Farmhouse Sink, doesn't it?
In fact, we loved our sink in our St. Louis home so much that we just added an unlacquered brass Bridge Kitchen Faucet to our lake cottage, too! (Click through for the full before and after tours of both homes!)
Keep reading for all the details, including where to find them and how to care for them!
What is Unlacquered Brass?
Unlacquered brass, (also known as raw brass, uncoated brass or a living finish) is polished, raw brass without a protective coating that darkens and develops patina as it ages.
It is often used for lighting, door knobs, cabinet hardware, faucets and more. Each piece is unique and will age unevenly from use, exposure to water, elements, etc. Heavily used door and cabinet knobs will become darker faster than those that receive minimal use.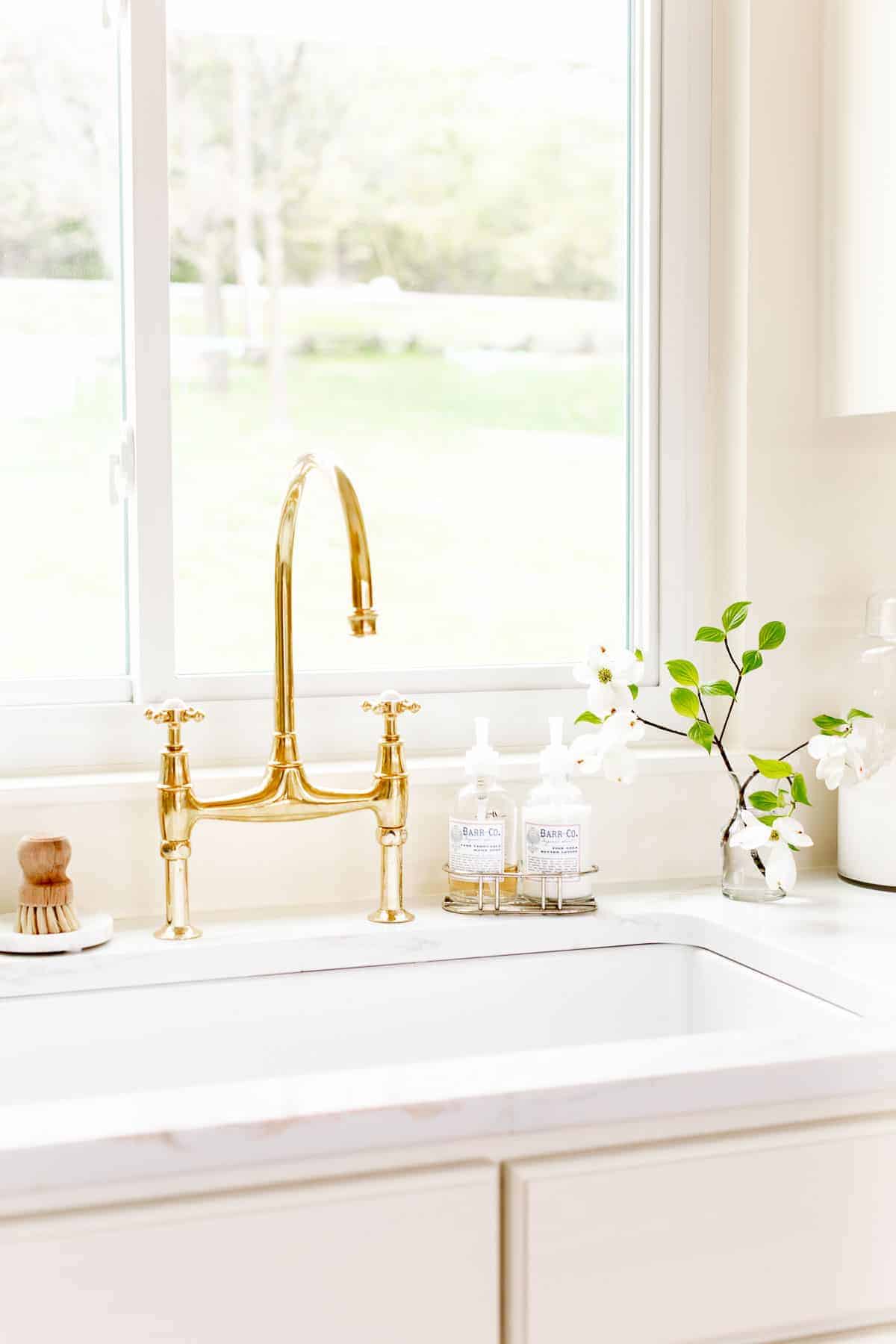 Unlike protected brass, it becomes darker and ages gracefully, adding warmth, character and timeless charm. It is a durable material that won't rust and lasts a lifetime.
It is often used in traditional homes. However, it is frequently being installed in more modern designs as well!
If you enjoy embracing imperfection (like marble countertops), you will love unlacquered brass because it requires very little maintenance. While a polished brass faucet has to be frequently wiped down because it shows spots, on an uncoated brass faucet, they just blend in with the patina!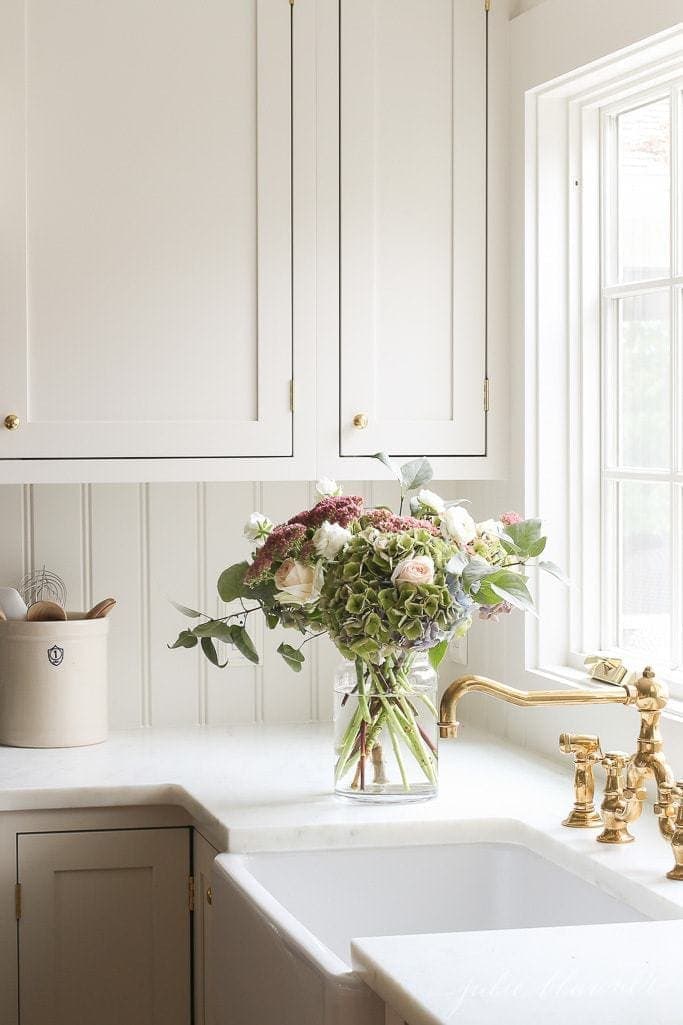 Unlacquered Brass Kitchen Faucet with Sprayer
As with any project, we had to make a few compromises with our new kitchen along the way. One such compromise was with the purchase of our unlacquered brass kitchen faucet.
I have long loved this Barber Wilsons faucet or this Perrin & Rowe bridge faucet, but after a lot of debate, we decided on the Newport Brass Chesterfield Kitchen Faucet with Sidespray. Just be sure to choose uncoated (living) brass!
With the side spray it was significantly less expensive than other options, and had a lot of characteristics that I love.
More than anything, the sprayer is a life saver! We contemplated on doing without the side sprayer, but I'm so thankful we didn't.
With our farmhouse sink, it's almost a necessity to encourage bits of food down the drain. It has made cleaning the farmhouse sink a breeze. Now that we have it, I'm convinced we could never live without it!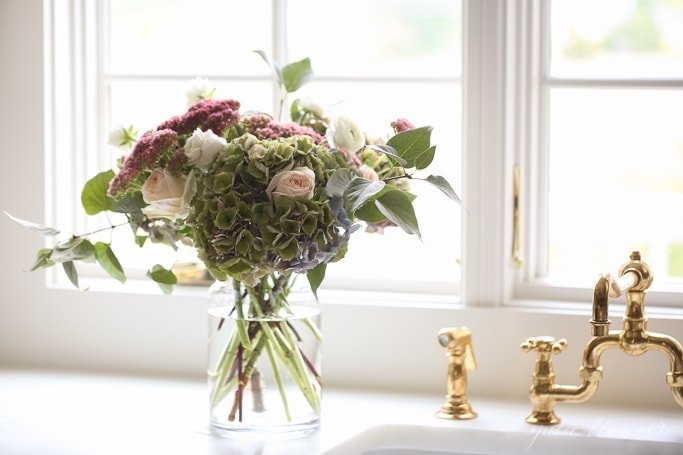 Why Choose a Living Finish Faucet?
It's hard to make a timeless decision… one that will stand the test of time and something you'll love just as much 10 or 20 years from now!
This faucet needed to feel special! Because my style is so minimalistic and simple, I wanted the faucet to be a star in our kitchen.
Unlacquered Brass has no comparison in my eyes. It's timeless, ages beautifully and cannot be replicated in less expensive formats. Simply put: it's special!
Learn about my favorite Brass Polish to keep all your brass looking good as new!
Is it possible to fall in love with a faucet? I love the delicate knobs that mimic those on our nearby range and that a living finish allows us to choose whether we want the brass to age gracefully or polish to its original state.
Psst… read all about our Shaw farmhouse sink and I'll spill all the secrets for shopping for one of your own!
If you love the look of our classic cream kitchen, don't skip this post about our Inset Cabinets! You can find our cream cabinet color and details about our Danby Marble countertops, too!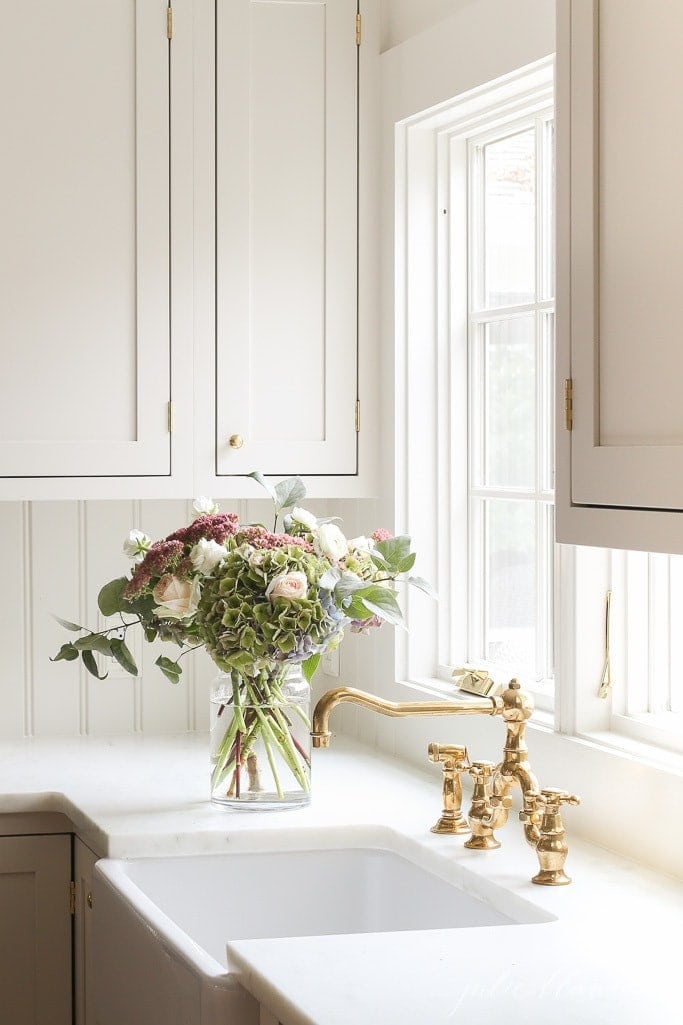 How to Shop for an Unlacquered Brass Faucet
It can be difficult to find true unlacquered brass. And without question, it's a long-term investment for your kitchens or baths so you'll want a quality piece that will stand the test of time.
A few tips as you shop for your unlacquered brass faucet:
Try to visit high-end kitchen show rooms in person. This can give you a better idea about scale, shape, and details that photos might miss.
Order a sample whenever possible. Because brass has become such a popular finish in home design, there are manufacturers who put claim on a variety of "brass" finishes that are certainly NOT true unlacquered brass.
Allow plenty of lead time. In many cases, these higher-end kitchen fittings are made to order and can take a long time to receive. Plan ahead for your kitchen renovation needs!
True unlacquered brass can genuinely last a lifetime. Be sure to consider a timeless style if you're investing in a brass kitchen faucet like this… you don't want to regret your decision down the road by choosing a "trendy" style. Refer to historical kitchens for context and help in choosing a style that will stand the test of time!
Frequently Asked Questions
How long does it take for unlacquered brass to patina?
As you can see in the photos in this post, it takes around a year to really start to see the patina. In fact, two years is probably when it was darkest.
Does unlacquered brass age?
Yes! Unlacquered brass ages to the perfect patina, which adds so much charm and warmth to your home.
Does vinegar damage uncoated brass?
Vinegar is safe on uncoated, raw brass. Find all the best methods for cleaning your brass with this Brass Polish.
Can you age brass?
Yes! You can give your uncoated brass a patina by using vinegar and salt or a brass ager.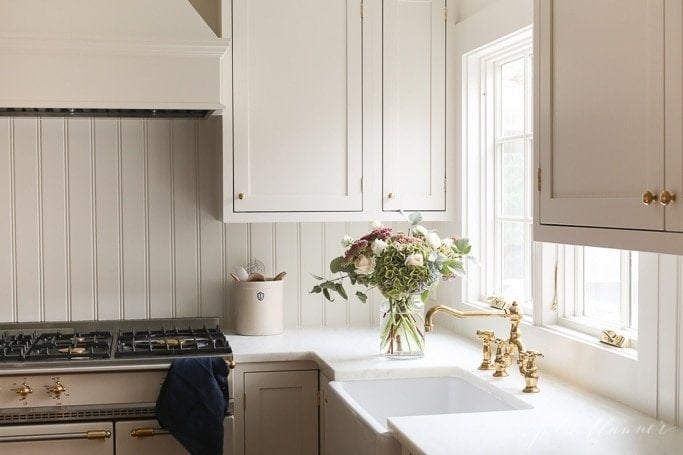 Unlacquered Brass as it Ages
I've discussed unlacquered brass hardware in the past in a comprehensive post, along with info about our appliance pulls. It's a must-read if you're considering this finish for your kitchens or baths. You also can't skip Brass Lighting for all my favorite lighting sources throughout our homes!
There's a reason that raw brass is also called uncoated brass, or a living finish. Quite simply, it's brass that has been stripped of any protective lacquer. This means that it changes as it ages, and you can choose to polish frequently or enjoy the patina over time.
I much prefer the patina of our unlacquered brass kitchen faucet vs. frequent polishing. Oxidation happens fairly quickly in my experience.
One and a half years later, this is how it has aged…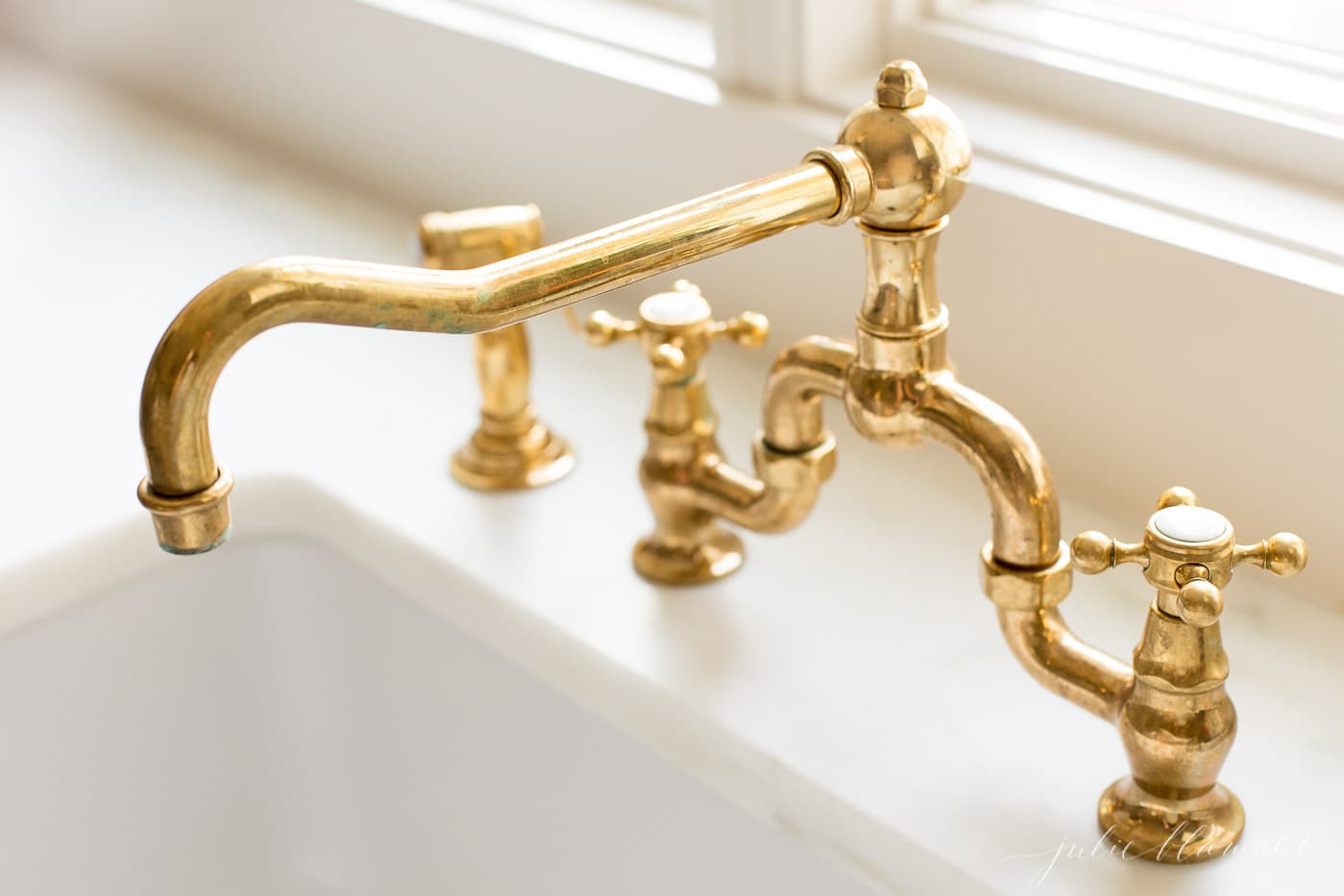 How to Polish
If you want polished brass, I highly recommend you install polished brass. However, you can return brass with patina to its original condition by polishing it.
Anything with acidity including tomatoes, citrus juice, toothpaste, etc will tarnish brass – often in a way that feels uneven and unwanted. A powdered brass polish or soft cleanser can renew the finish in just a few minutes. Be careful to protect surrounding surfaces, especially marble.
If you want to restore it and make it shine, you can get the step by step tutorials and tips to polish unlacquered brass here.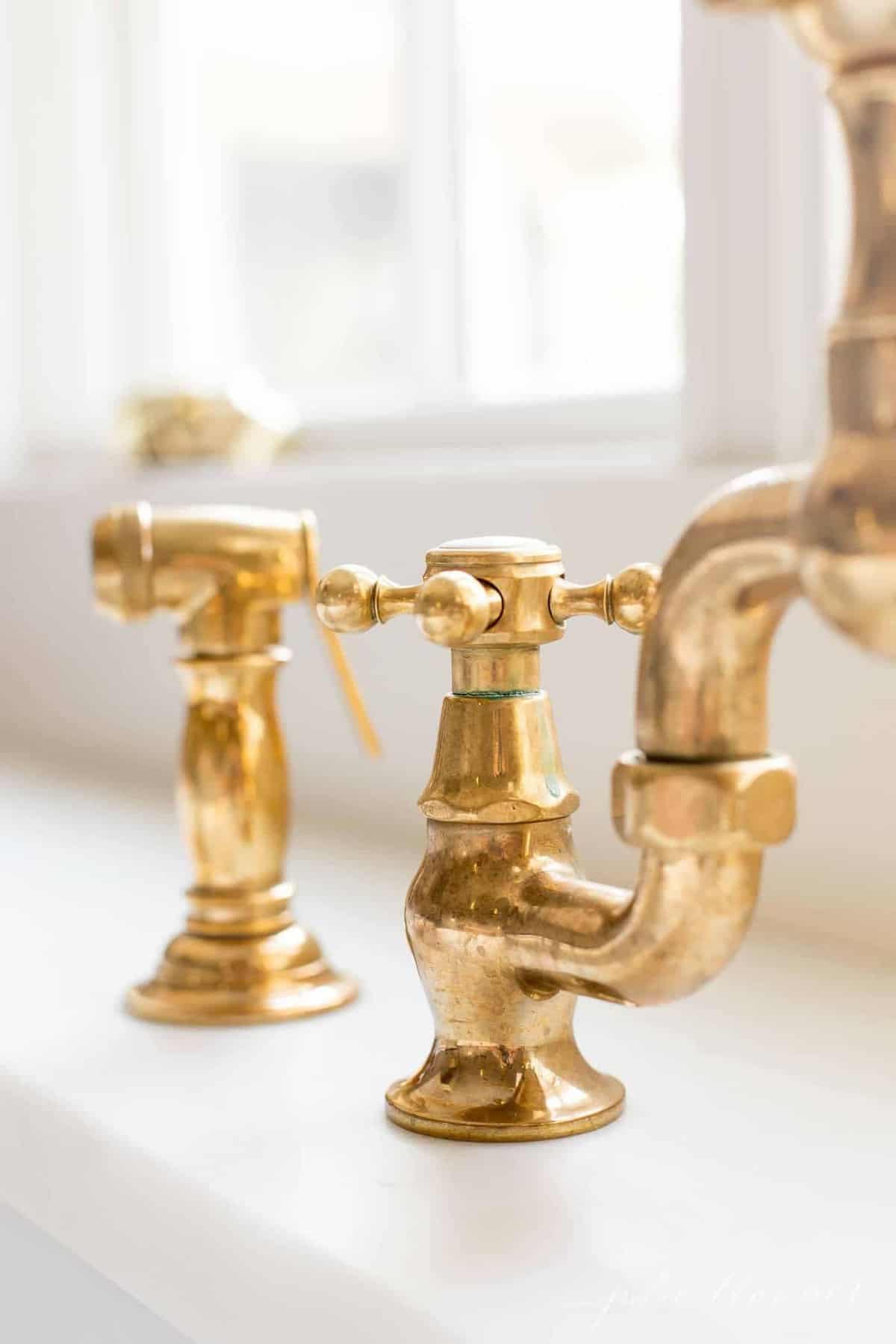 Maintenance
Clean using a soft cloth, soap and water or a surface spray. Dish soap effectively removes oils, food, fingerprints and more with a soft cloth, microfiber or a paper towel.
You can remove the protective coating from brass by submerging it in a lacquer stripper to expose the raw brass, however I recommend leaving it to professionals.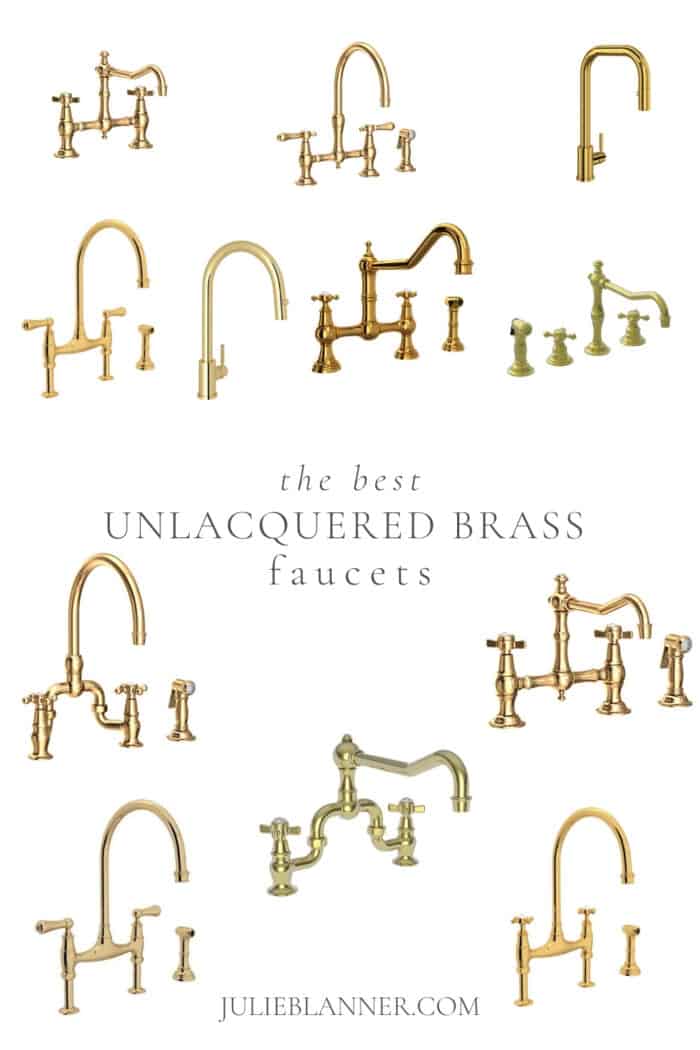 Sources
Don't skip this guide to Exterior Door Handles too!
Let's keep in touch! Receive exclusive content, including never-seen-before photos, our favorite home decor DIYs and more!