There's still so much to share with you about our kitchen remodel, even if it hasn't been moving right along as we'd hoped. Little has changed since late May, but we're living in our kitchen and loving it! I'm excited to share a little about our unlacquered brass kitchen faucet with you today.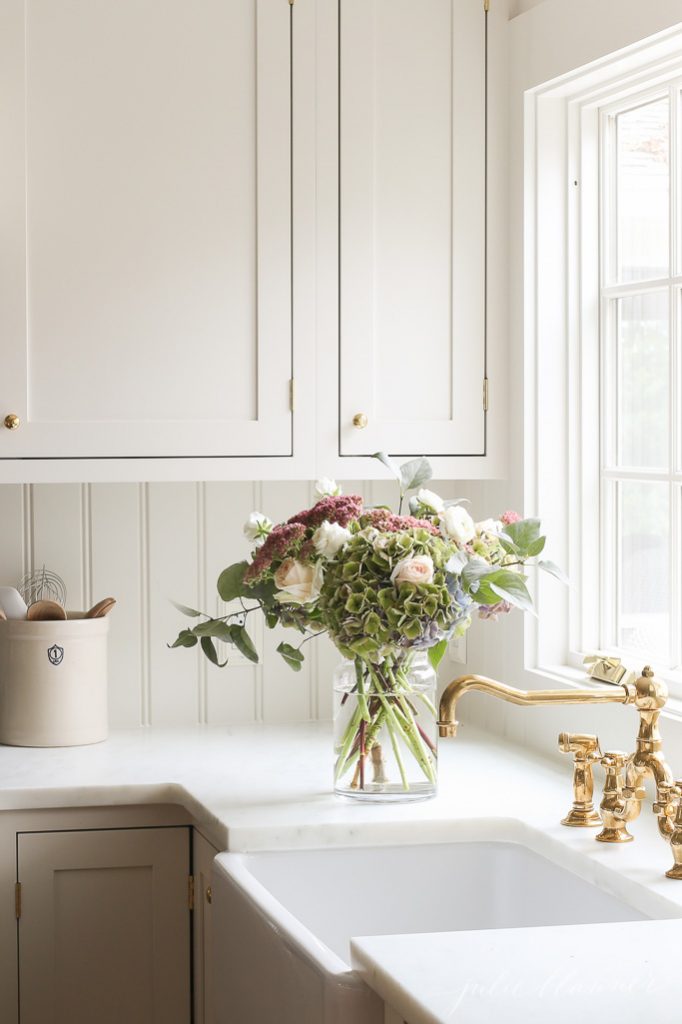 First, I wanted to mention that when we started planning our kitchen remodel, Chris and I decided we would not have any element of the kitchen sponsored. I wanted it to be 100% authentic to our design/taste without even the slightest of compromise. Also, to share a kitchen with a real budget with you.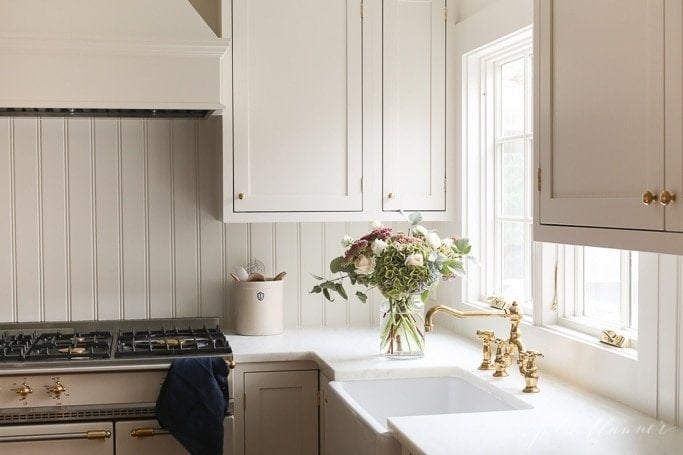 As with any project, we still had to make a few compromises along the way. One was our unlacquered brass kitchen faucet. I have long loved this Barber Wilson's faucet or this Perrin & Rowe bridge faucet, but after a lot of debate, we decided on the Newport Brass Chesterfield Kitchen Faucet with Sidespray. With the side spray it was significantly less expensive and had a lot of characteristics that I love…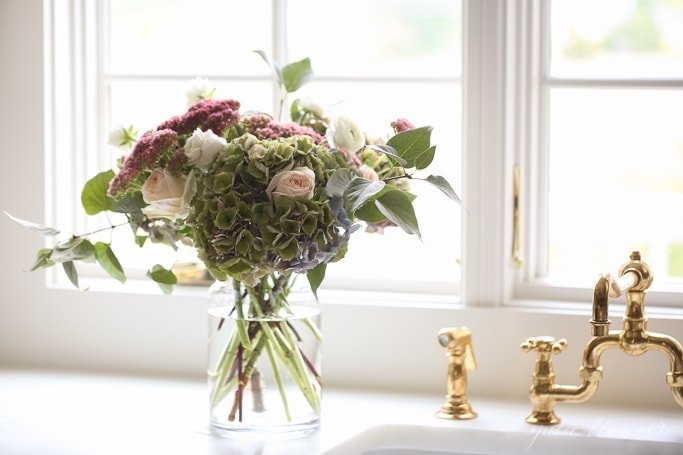 I love the delicate knobs that mimic those on our nearby range and that a living finish allows us to choose whether we want the brass to age gracefully or polish to it's original state. More than anything, the sprayer is a life saver! We contemplated on forgoing it, but I'm so thankful we didn't. With our farmhouse sink, it's almost a necessity to encourage bits of food down the drain. It has made cleaning the farmhouse sink a breeze.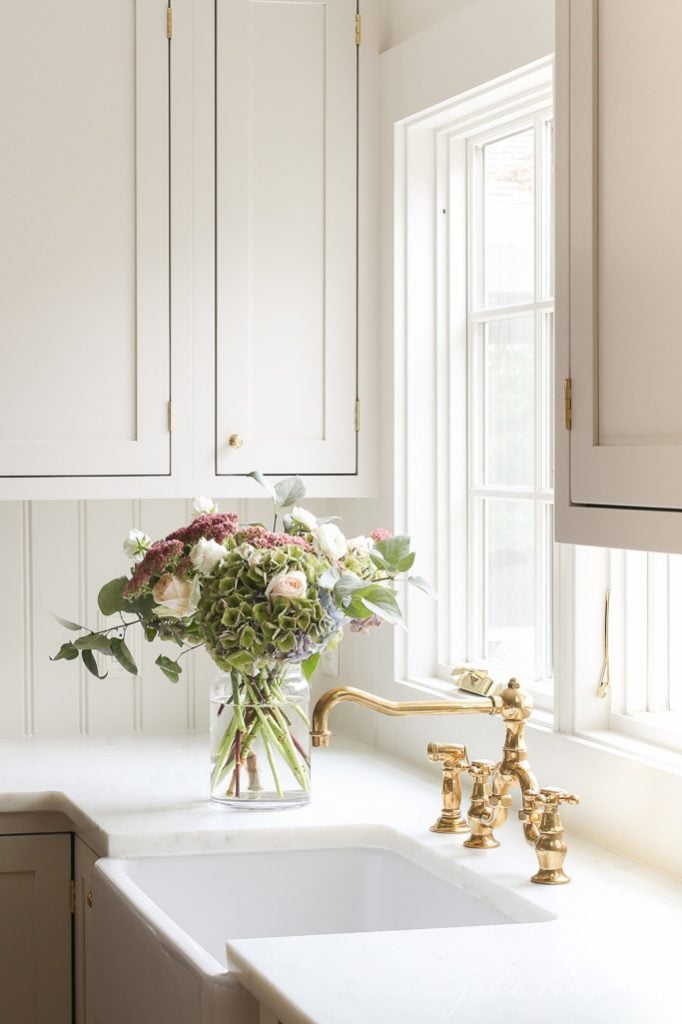 One and a half years later, this is how it has aged…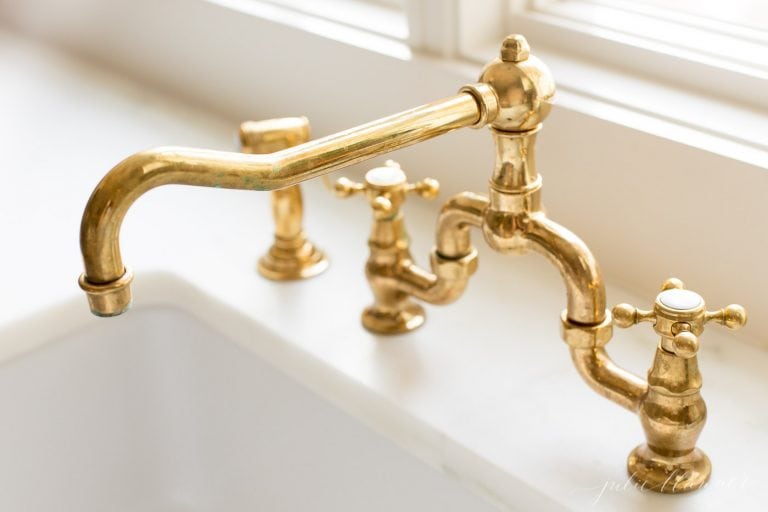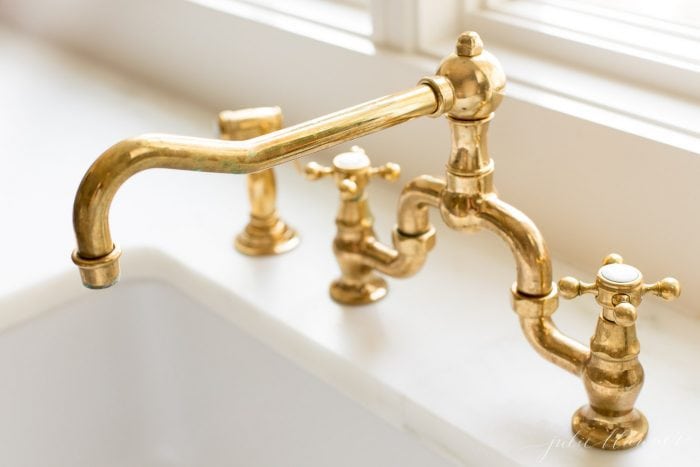 An unlacquered brass kitchen faucet is timeless and classic no matter which you select. Do you love a sprayer as much as we do?
LET'S CONNECT!
instagram | newsletter | facebook | pinterest