There's nothing that can transform a room like wallpaper! Learn about our powder room wallpaper, and how a pretty paper will instantly upgrade this small room in your home.
Powder rooms see frequent use in your home, and they are a perfect way to treat your guests to a splash of color and personality.
Wallpaper can often be expensive to purchase and install. A small powder room or bathroom is the perfect place to make maximum impact for minimal expense!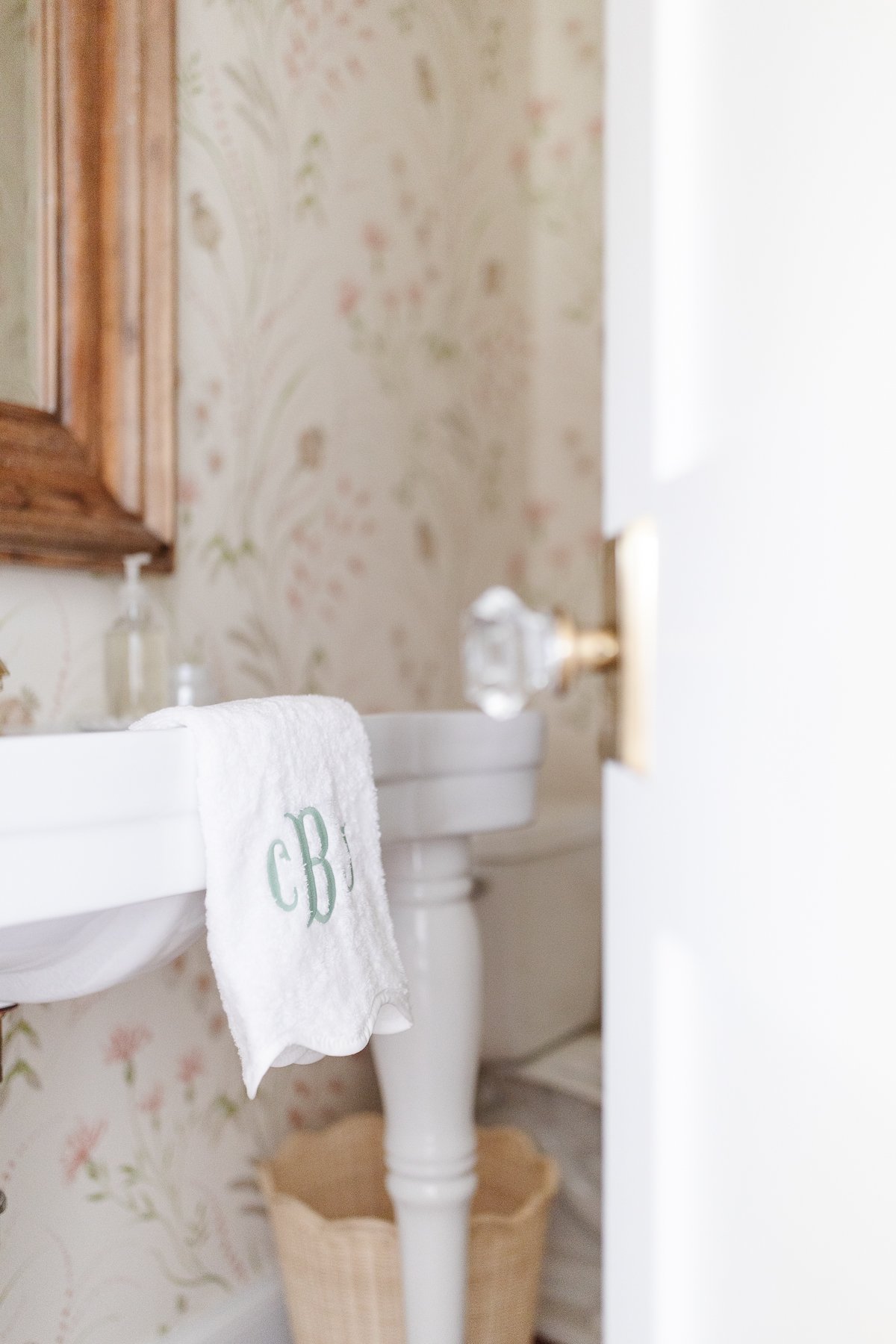 My love for wallpaper runs deep. I say this now with a good sense of humor, because for many years of renovating vintage homes, we removed dated wallpapers and borders with a gusto.
Luckily, wallpaper has come a long way. Many wallpaper options are easier to install (and remove) and come in an incredible array of colors, styles and price points.
We love wallpaper around here. You don't want to miss our modern bathroom makeover with pretty Serena and Lily wallpaper and our guide to the best Amazon wallpaper, too!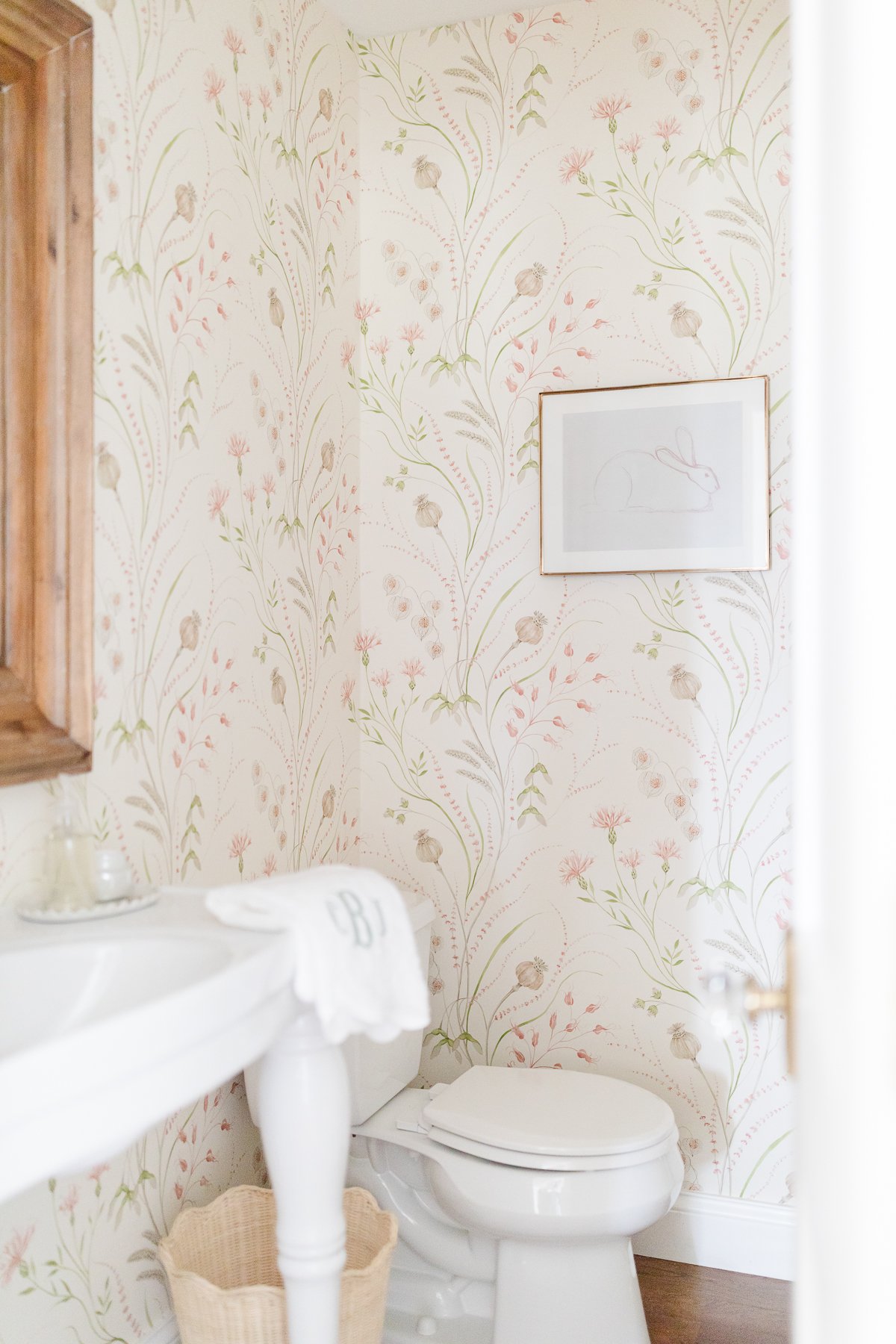 Powder Room Wallpaper
We recently added wallpaper to our powder room, which is right off the entry of our St. Louis home. While I still adored the sink and mirror in this space (renovated soon after we purchased this home) I wanted to give the room a shot of personality.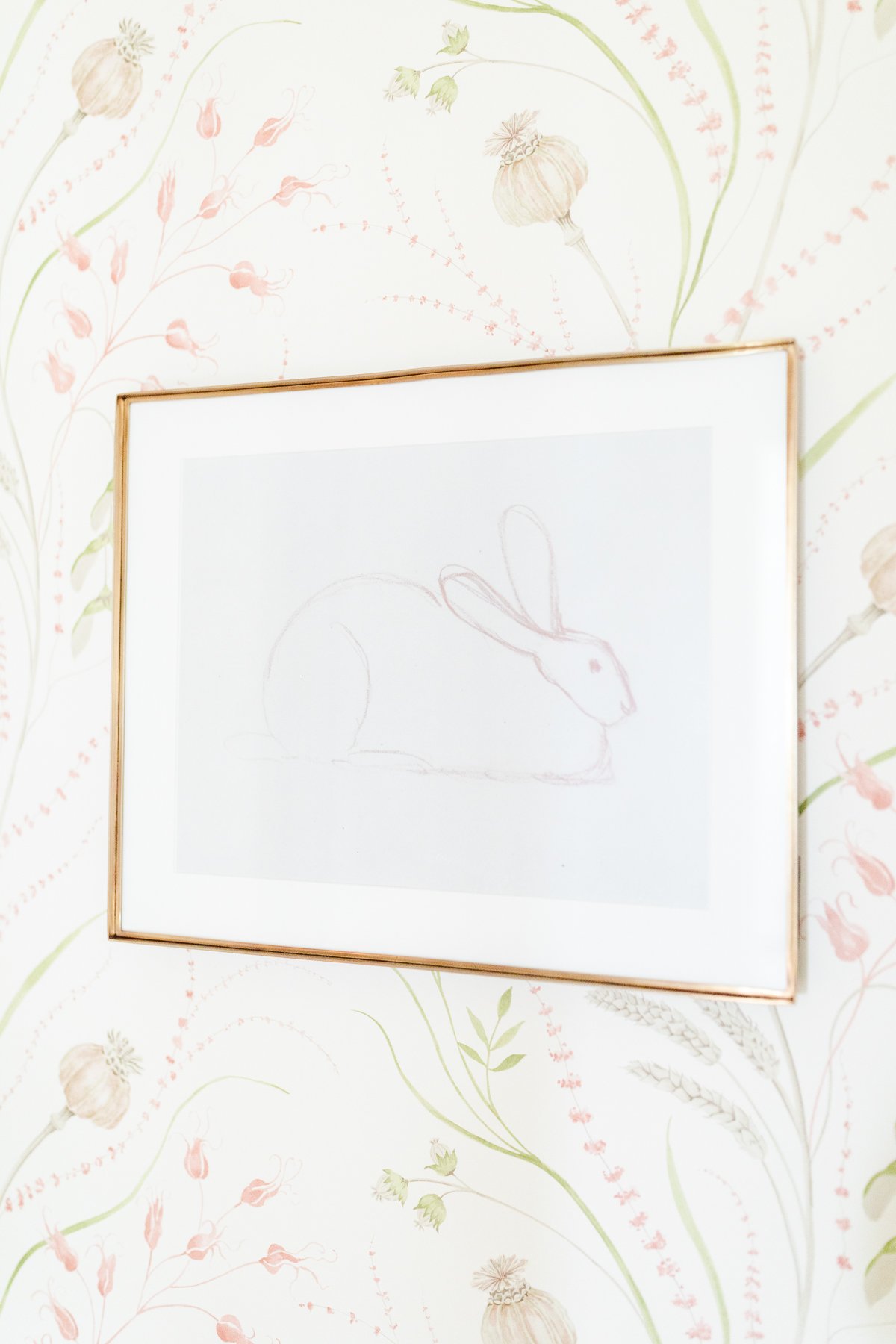 Before and After
This little powder room has undergone a transformation not once, but twice now in the years since we moved into our home. Initially, we started from scratch, adding a pretty sink, new floors, and warm creamy paint on the walls.
Can you believe that before image? Sometimes I forget that it looked this way!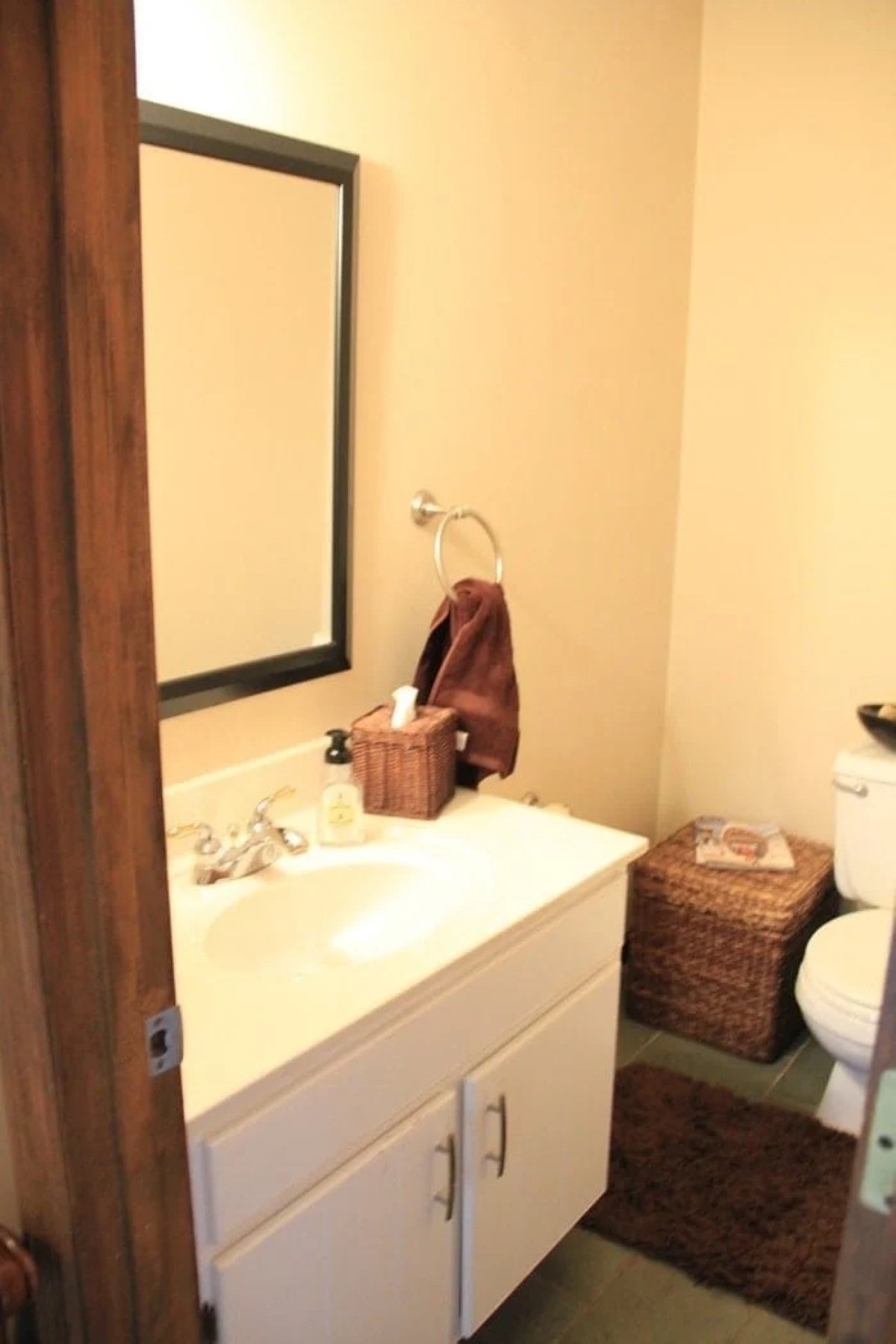 After the update, we enjoyed this simple, welcoming space for many years. I still love the pressed botanical art we made and I'm considering using it elsewhere. It's one of my favorite easy wall art ideas!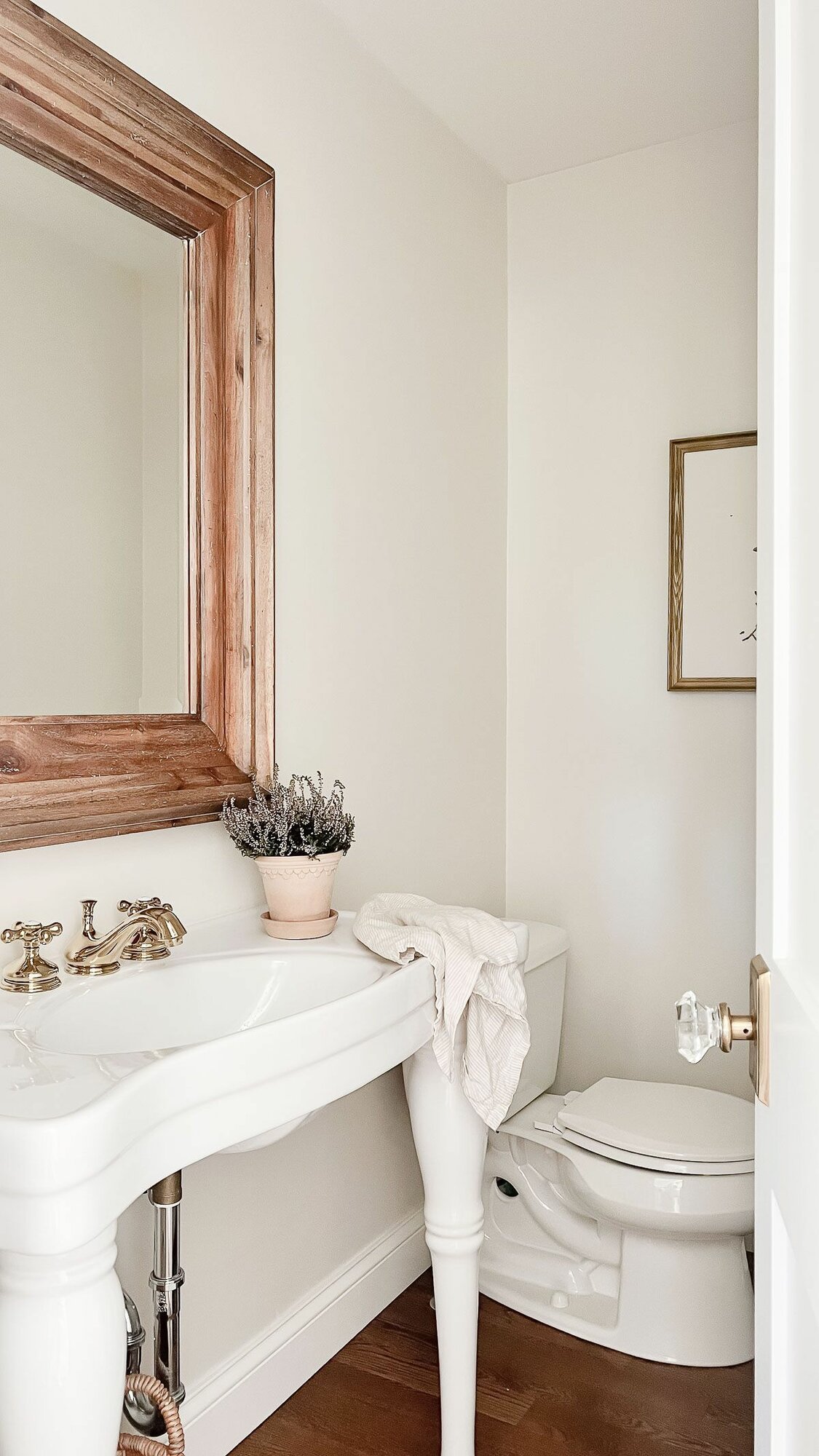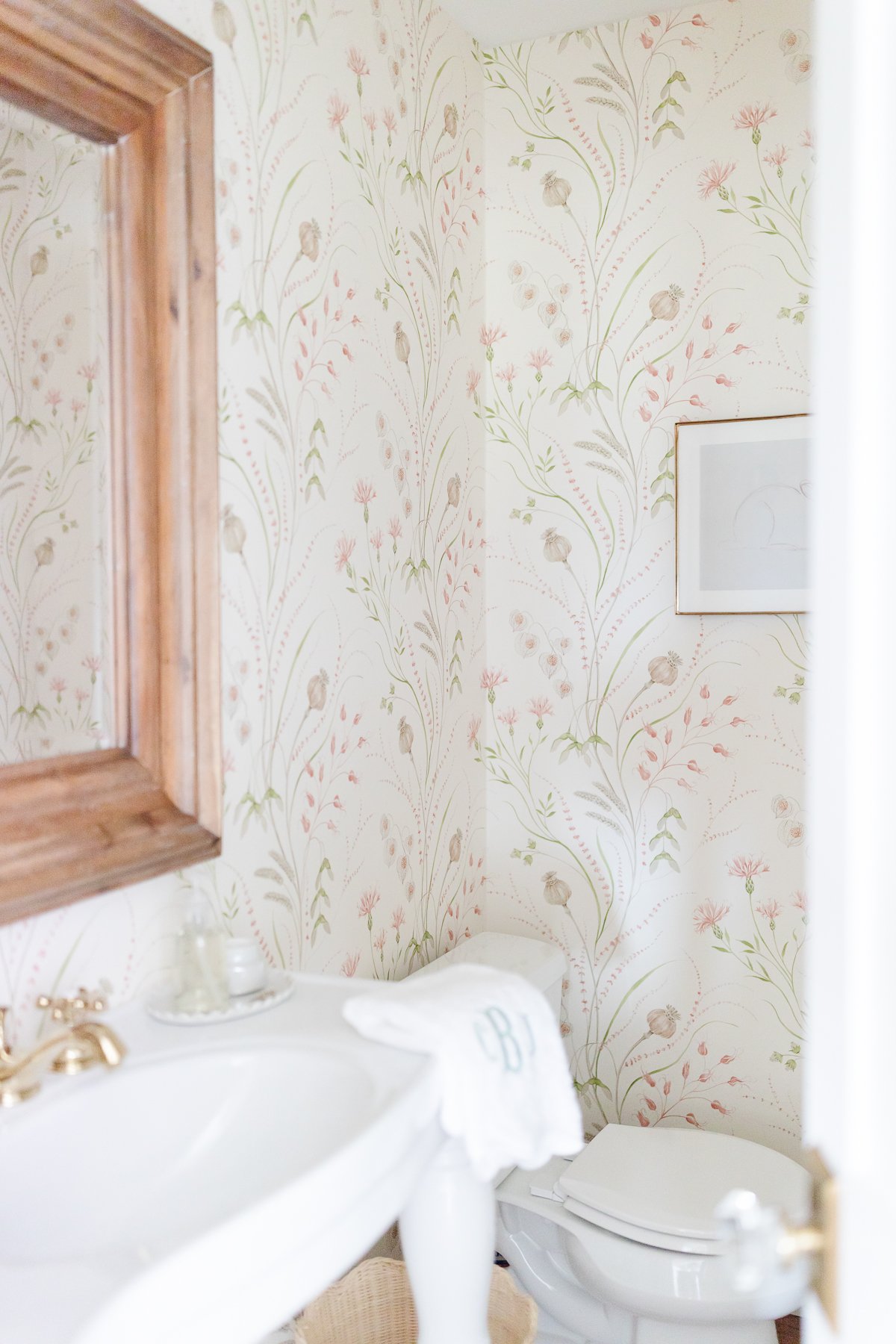 I love sharing ideas for improving your home!
We've renovated many homes during the last 20 years, and I am always thrilled to pass along the knowledge we've gained along the way. See the complete Before and After tour of our St. Louis home here, and our modern Table Rock Lake Cottage as well.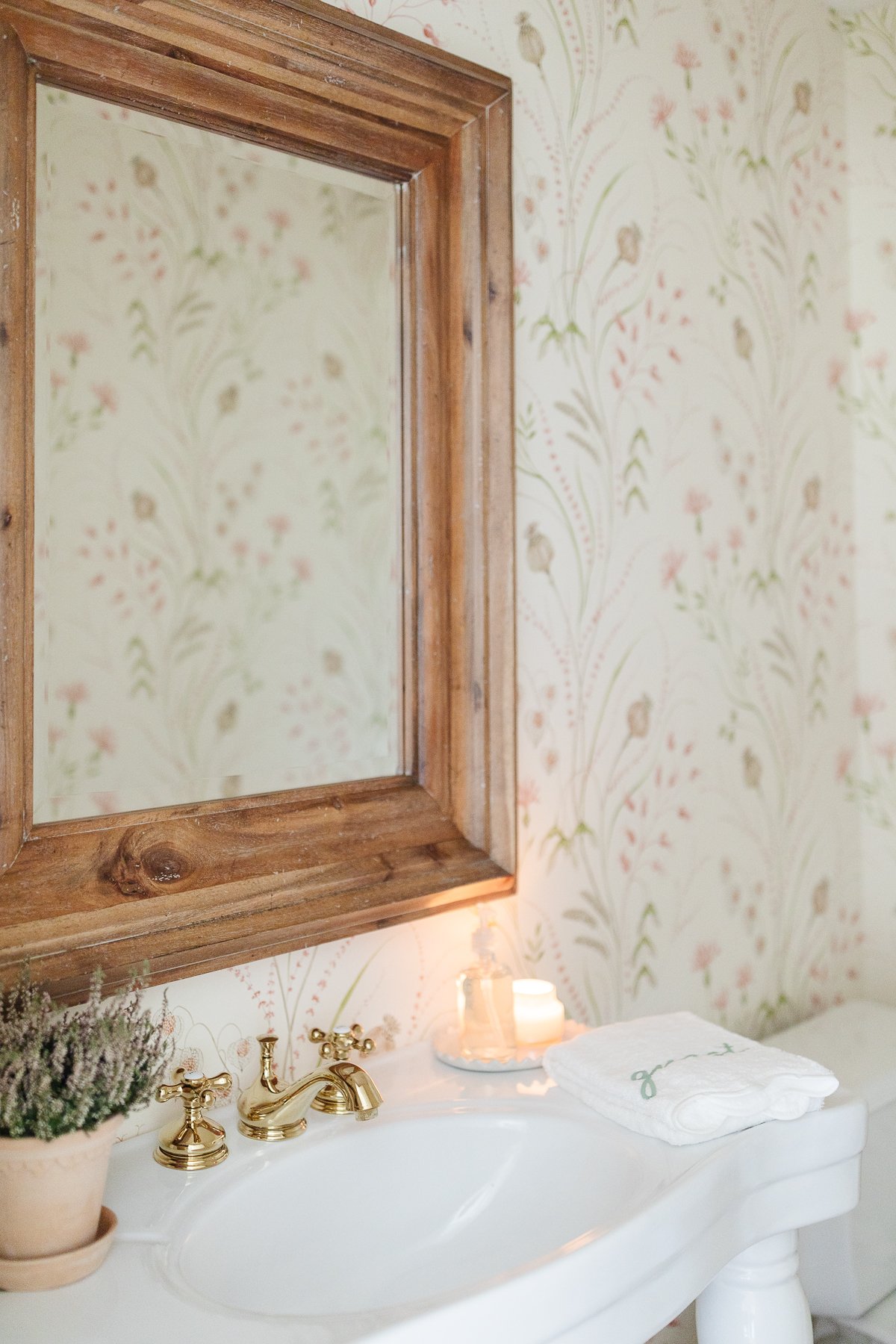 How to Add Powder Room Wallpaper to Your Home
Set a budget for your paper, and call a pro to get an estimate for installation.
Choose from all the beautiful options – start in our curated source guide at the end of this post!
Learn how to measure wallpaper, and do it three times to ensure you've got it right. Be sure to account for pattern matching, etc.
While some wallpapers can be installed as a DIY, we've found that calling in a professional is important for a fabulous finish.
Accessorize and enjoy!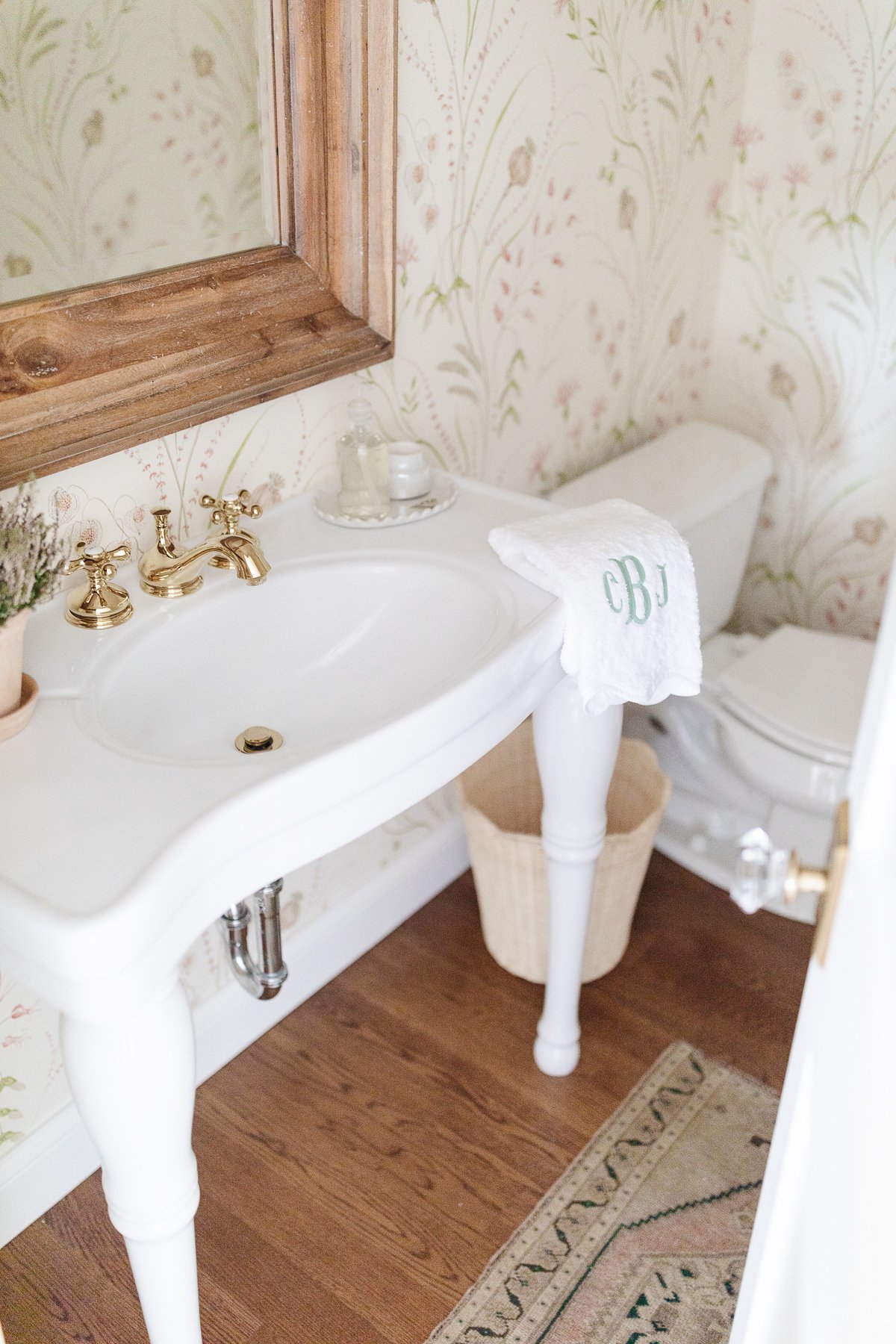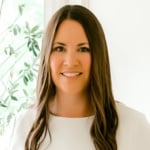 Tips
Integrating a pedestal or Parisian sink gives a pretty powder room wallpaper room to shine while making the space appear larger than it is!
Cant swing the cost to cover all four powder room walls? Consider a feature wall for a big impact.
If your powder room is small, choose a paper with a smaller scaled pattern. Some of the larger mural style papers might not be scaled properly for a small space like this!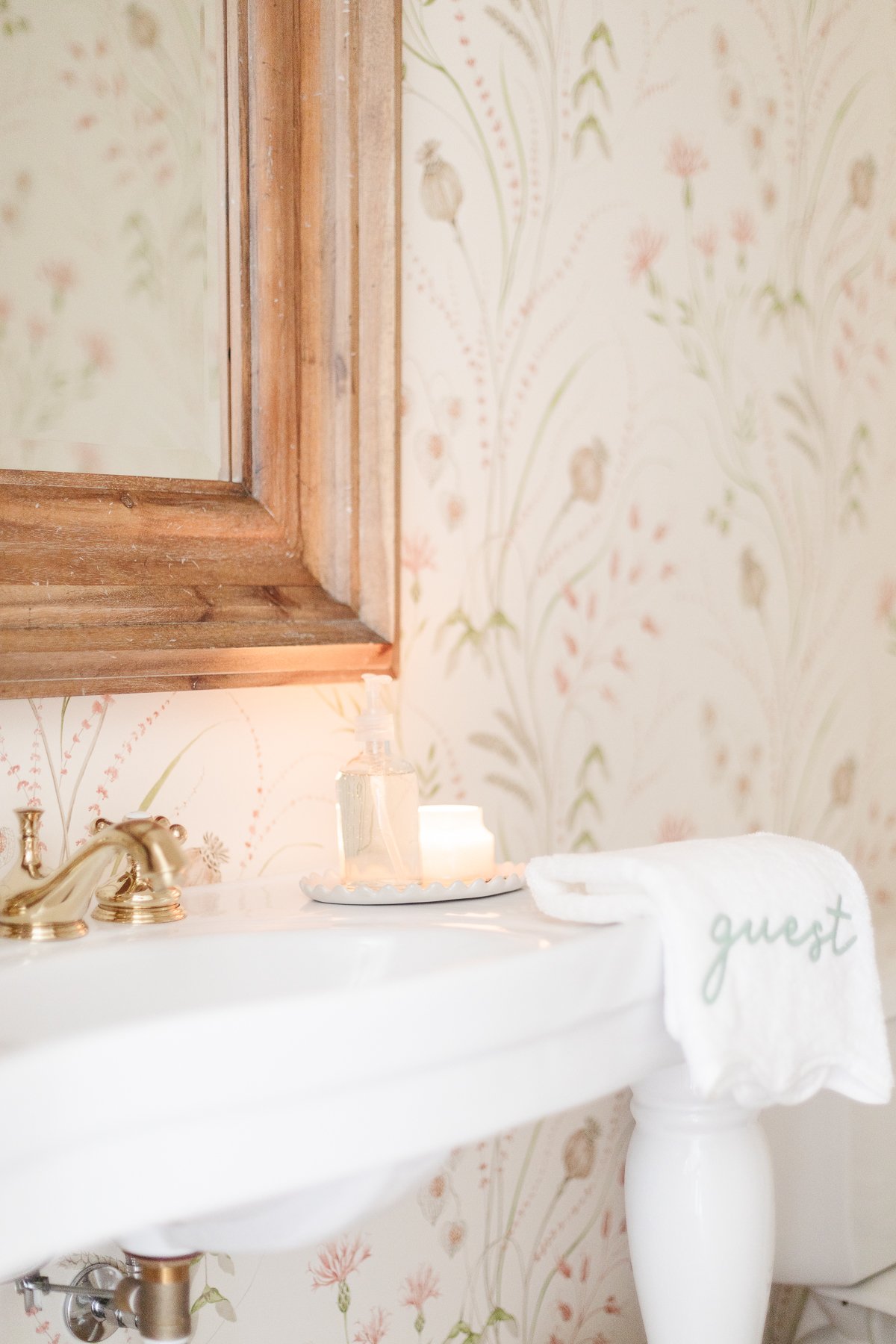 Frequently Asked Questions
What kind of wallpaper looks good in a small bathroom?
Smaller scaled prints tend to look good in small spaces like these. If you'd like to lighten and brighten your space, choose a cream or neutral background that will help bounce light around in the room!
Which wall should be the accent wall in a small bathroom?
If you're only wallpapering one wall in your powder room, choose the wall opposite the door or behind the sink, for the largest impact as guests enter the space.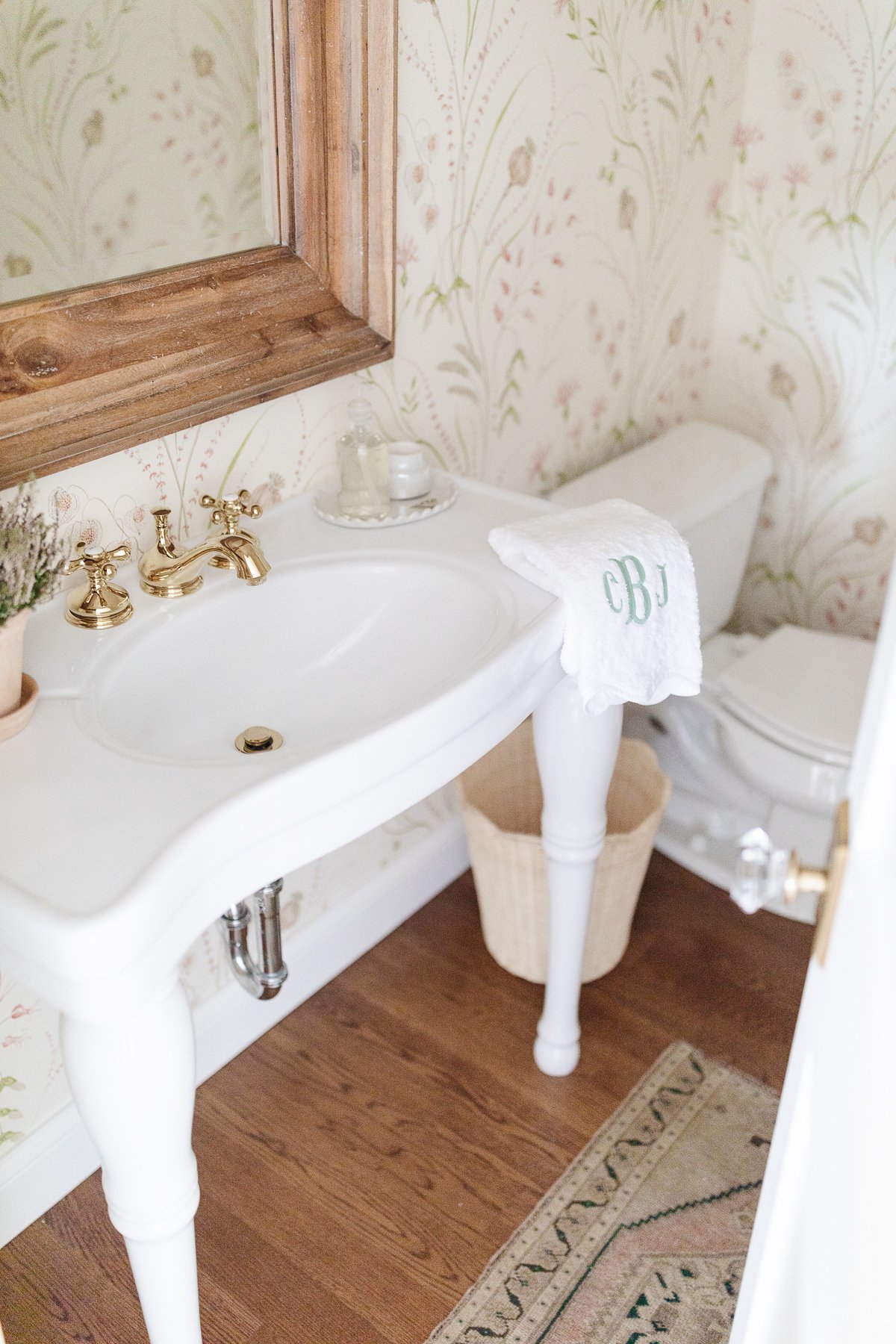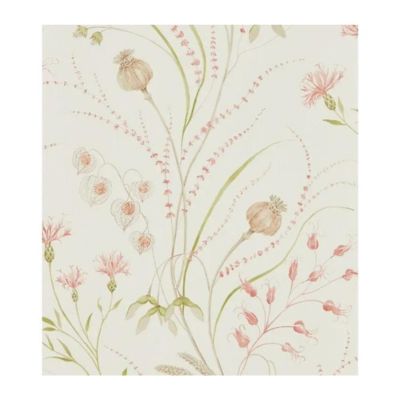 Summer Harvest Wallpaper
As shown in our powder room.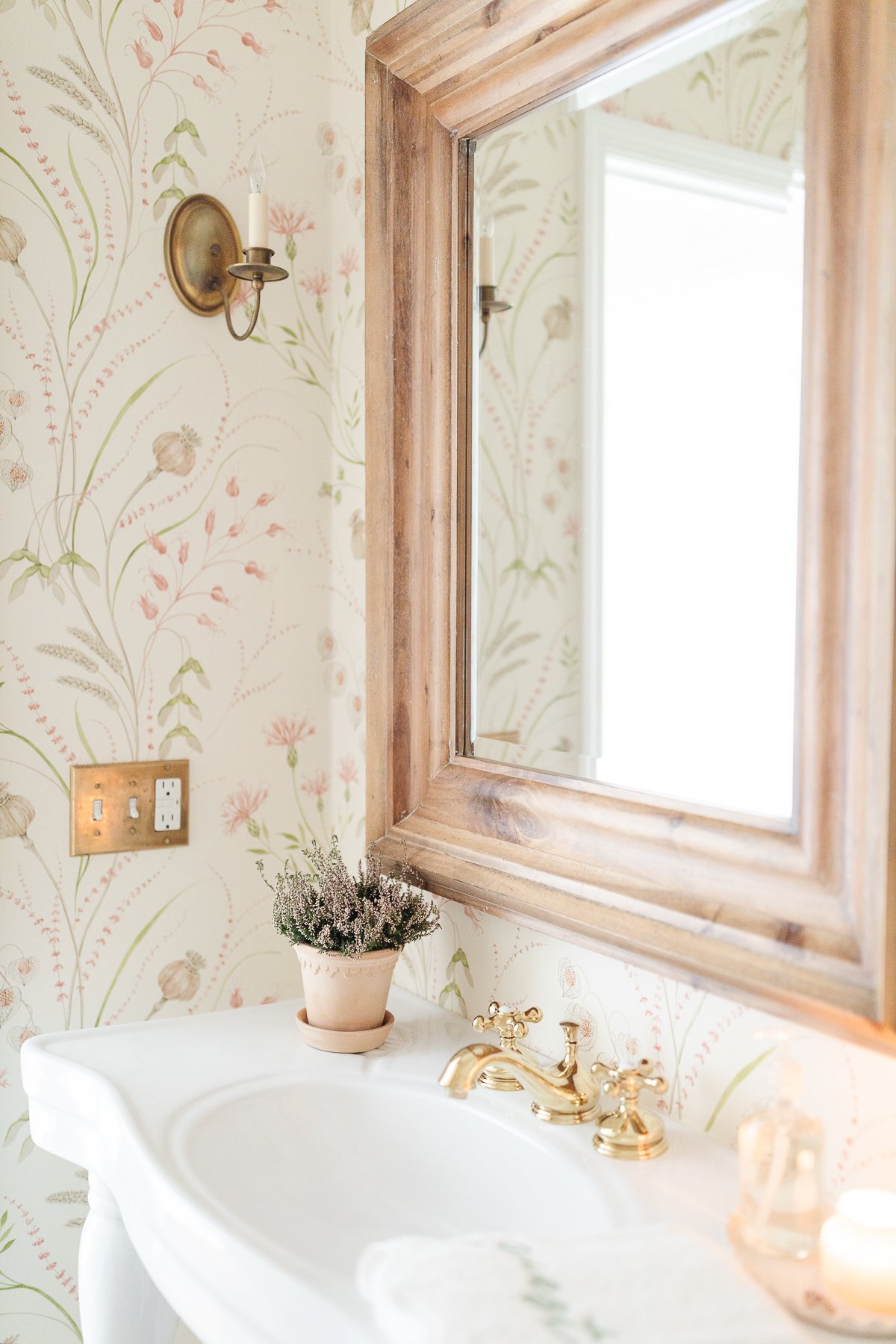 Love wallpaper as much as we do? Don't skip our guides to block print wallpaper and peony wallpaper, too!
More Powder Room Wallpaper Sources
More Bathroom Inspiration