Benjamin Moore White Dove
Benjamin Moore White Dove is a paint color that is tried and true. Beloved by homeowners and interior designers alike, this is a warm white paint that you can use with confidence – read on to find out why!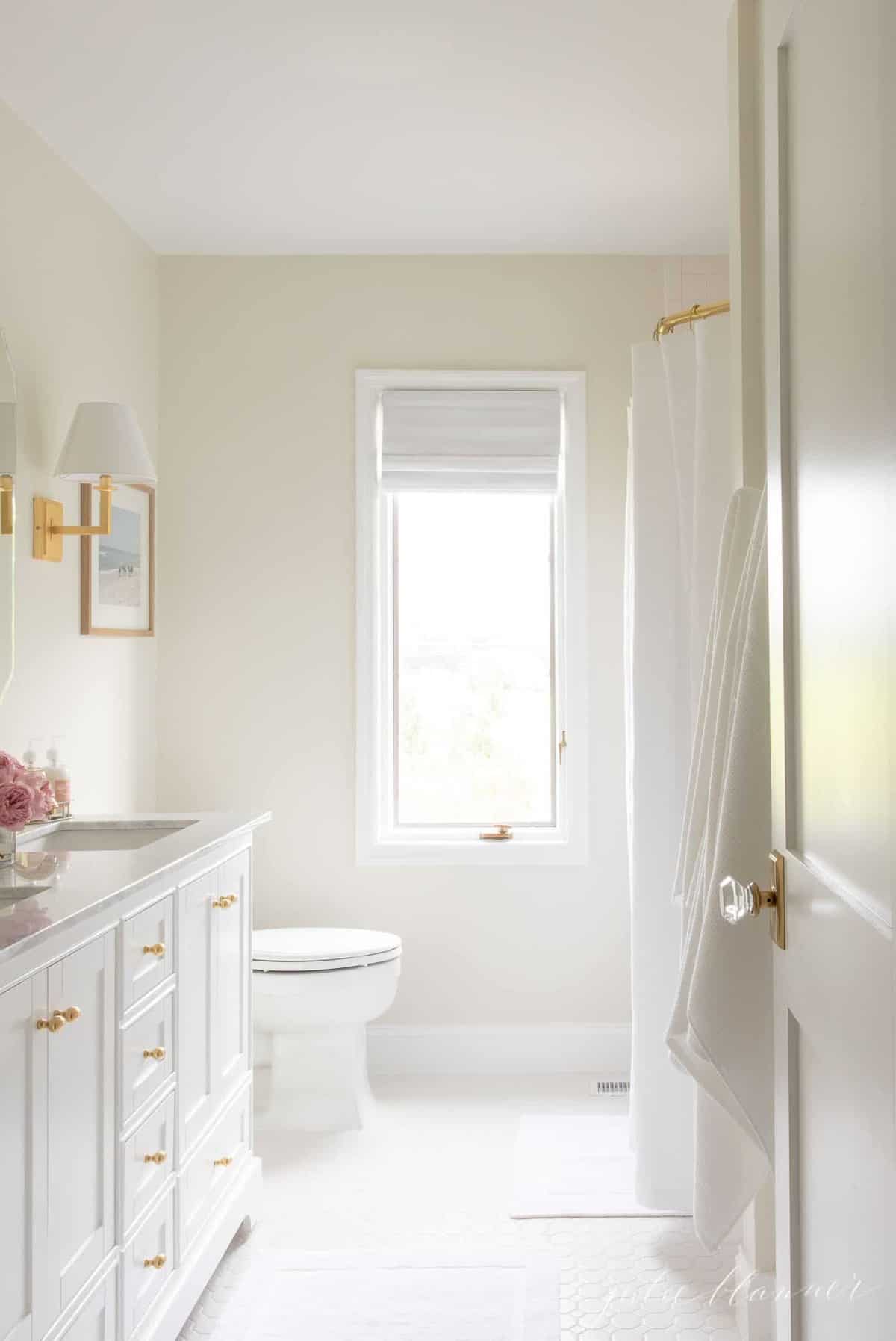 We've all been there… standing in the paint aisle at the hardware store, debating. How can there be so many different white paint colors? Painting the walls in your home shouldn't be this hard, right?
When I first began transitioning to a home filled with lighter and brighter soft neutral and creamy paint colors, I realized that this dilemma is a real one. Every color looks different in different homes, lighting situations, and rooms.
In fact, I've spent a lot of time researching paint colors and all of their details so you don't have to, and shared extensively since these are some of my most commonly-asked questions!
I love chatting paint with you – don't miss my favorite Warm Whites!
I've shared all about the neutral greys, creams and beiges we used in our old Colonial home, some of the creams we've used for our current home, my favorite cream paint color for furniture and exterior colors for our Tudor and the Colonial.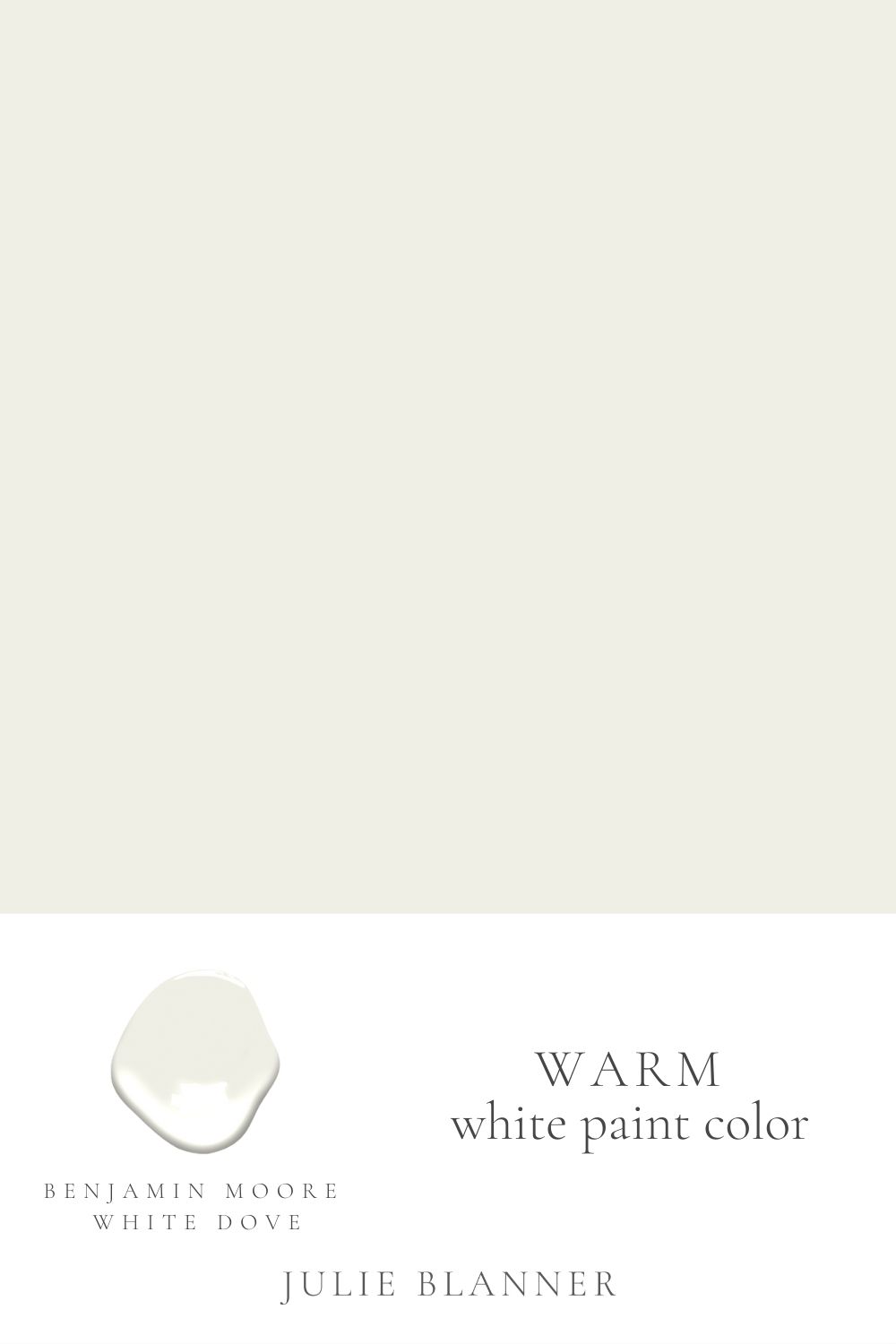 Benjamin Moore White Dove: A Warm White Paint
Don't forget to check out my list of the BEST cream paint colors and this great selection of neutral paints.
Looking for more soft white and creamy paint colors? Don't miss my detailed discussions on the following options:
You can see even more in this YouTube video about choosing the right white paint! As you can see, it's a subject near and dear to my heart.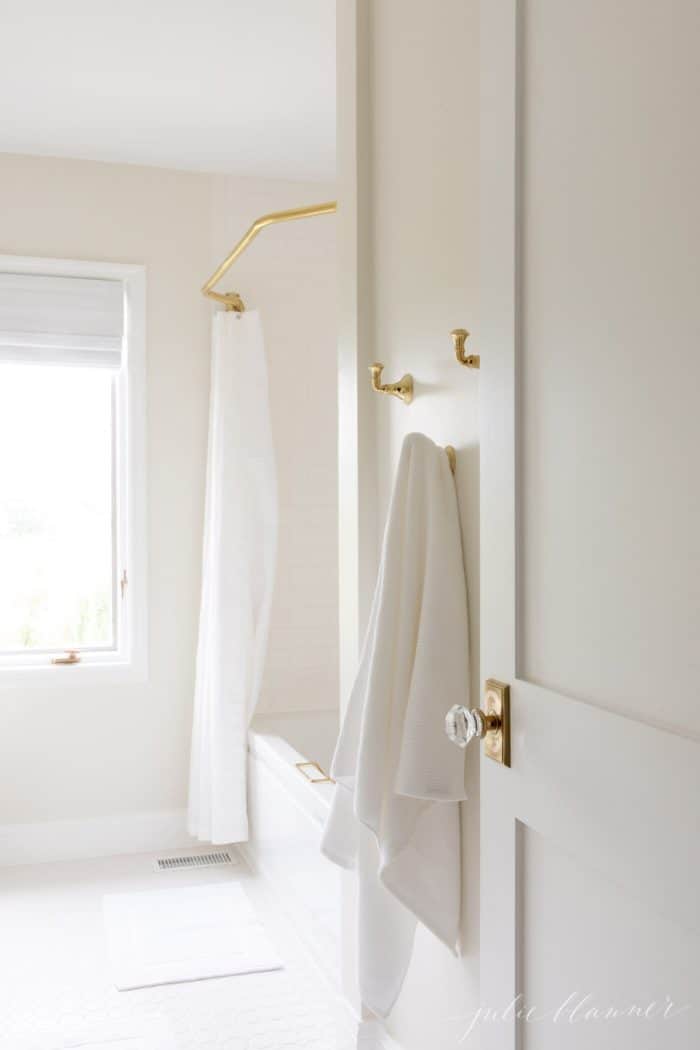 If you're researching paint palettes, don't skip the beautiful black and white combo of this charming White Brick House!
Why You'll Love Benjamin Moore White Dove
For many years now, both dark and light grays have tended to be the choice of homeowners. I think a lot of people are afraid of "boring" stark white walls and they don't want their homes to feel cold or unwelcoming.
Thankfully, there are certain whites that do NOT lend those feelings and this is one of the best. This one works beautifully on both the walls and trim of any home. I've also seen it used on kitchen cabinets with great results!
This is an incredibly flexible white color with more of a greige undertone, vs the yellow undertone in so many creamy whites, and it transitions beautifully in a variety of lighting situations.
Whichever way you look at this paint color, White Dove paint color is a total winner!
This post shares our spa bath trim that we painted in this color, as well as some of my favorite Instagram images from designers who feature this color often! I hope sharing a variety of images of this color will inspire you to feel confident in taking the leap!
The room above features White Dove on the walls and Chantilly Lace on the trim.
Benjamin Moore White Dove Trim Color
This color goes far beyond the walls in your family room or dining room! In our particular situation, I wanted to try it out as a trim color.
We used BM White Dove as the semi gloss trim in our spa bathroom, in combination with Soft Chamois as the wall color. It worked perfectly and I think this is a great example of combining this color with other soft whites and creams.
What do you think of our choice of Benjamin Moore White Dove trim?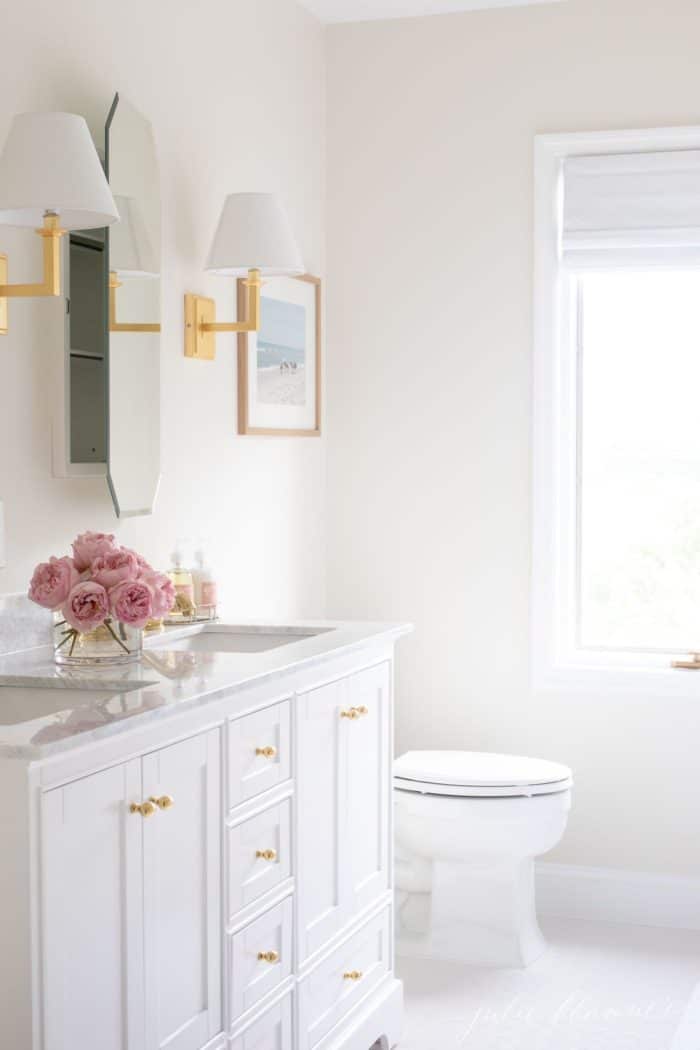 White Dove Paint
Works Well For
open concept spaces
traditional floor plans
rooms with natural lighting
Feels
The kitchen featured above has White Dove on the walls and exterior cabinetry.
Undertones
Styles it Fits
traditional
transitional
country
Pairs Well With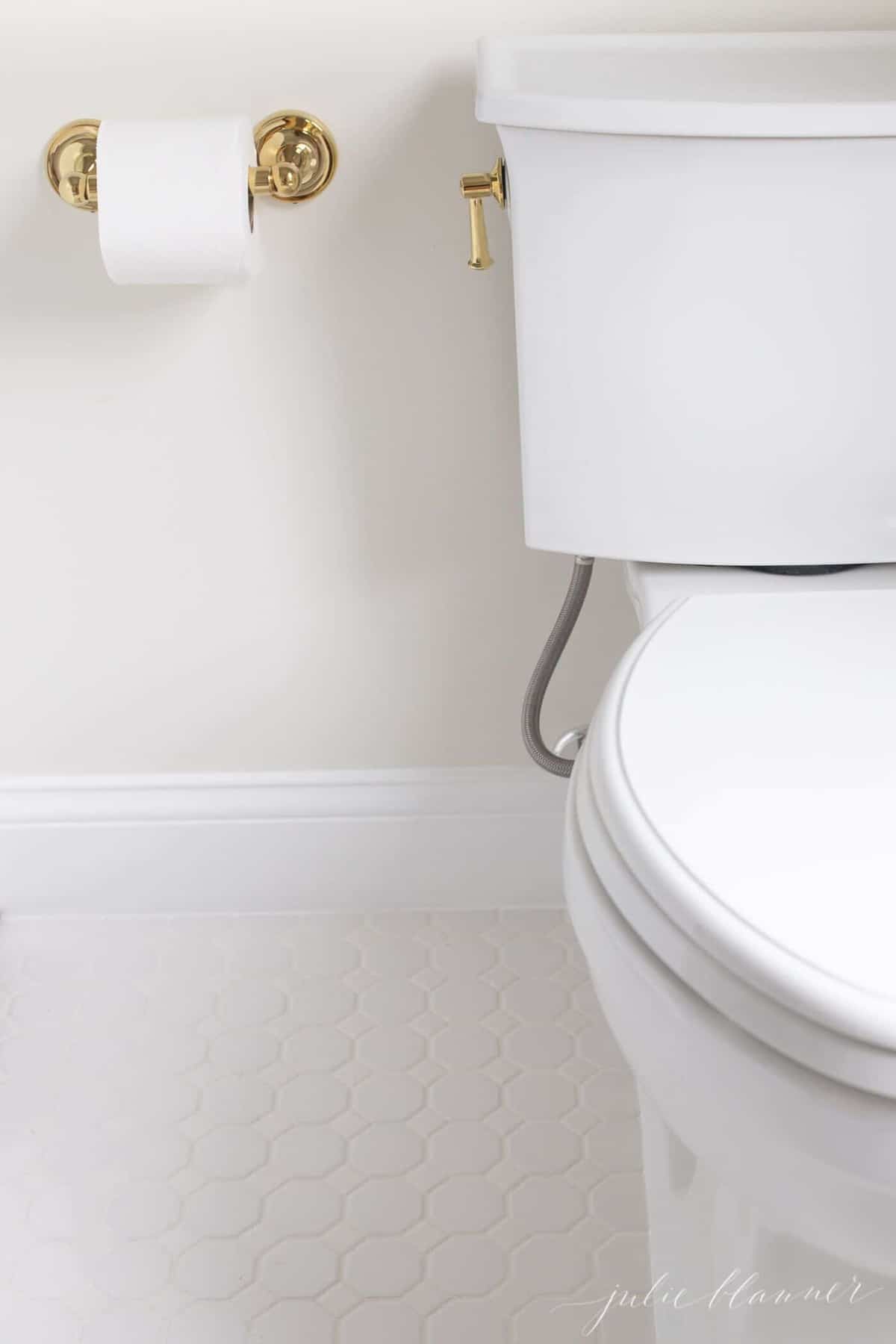 Benjamin Moore White Dove LRV
I've chatted about LRV at length, because it's such a fascinating subject and one that is hugely beneficial to homeowners as they choose their paint colors.
LRV is light reflectance value. It's a number that is generally found on paint websites or the back of fan decks or paint chips.
It's simply a system that measures the percentage of light reflected from a surface. It's a scale commonly used by designers and helps to show the lightness and brightness of colors.
The higher the LRV number, the more light the color reflects. So the more "white" a paint color is, the higher the number on a scale of 0-100. For example, White Dove has an LRV of 85 and Simply White is 91.7. Hale Navy has a very low LRV because it's so dark, almost black!
The primary bedroom featured above has White Dove on the wainscoting and trim, and a warm Benjamin Moore paint color called Spring in Aspen on the upper walls.
How To Choose the Right White Paint Color
A few tips to see if it's the right paint color for you:
Get a sample. Learn more about Paint Samples here!
Try it on two walls in the room or exterior that face different directions.
Look at it various times during the day to see how it reads in various lighting situations.
Test it with your trim color.
The landing featured above has White Dove on both the walls and trim, which is one of my favorite tricks. Read more about Painting Trim and Walls the Same Color!
Painting indoors? You can learn all about choosing ceiling paint and trim paint here, including Painting Trim White! You will also find detailed information about using this color in tile paint and furniture paint.
You can read more here about my favorite exterior paint colors on our tudor, exterior paint colors (colonial) and take a tour of our home here. I hope it helps seeing our cream paint colors in various rooms and lighting situations.
You can also find my complimentary paint color chart here to keep them all organized!
Let's keep in touch! Receive exclusive content, including never-seen-before photos, our favorite home decor DIYs and more!