Unlacquered Brass Hardware
Unlacquered Brass is polished, unfinished raw brass that darkens and develops patina as it ages. Keep reading to learn more about it along with the knobs, pulls, hinges and cabinet latches.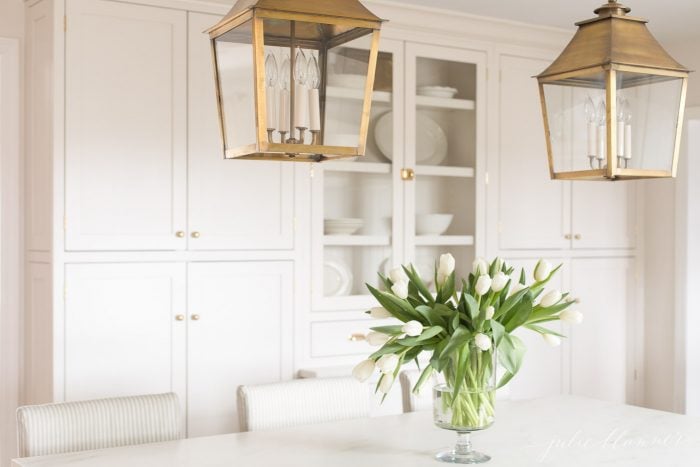 Unlacquered brass hardware. Classic, timeless, yet much more difficult to find than I had dreamed, but some things are worth searching for. Raw / unlacquered brass has my heart and was worth every minute of the search. Is it normal to spend countless hours searching for just the right hinge?
I love brass light fixtures so much, but then again… I am such a fan of all things brass! Don't skip this Brass Lighting post, as well as details about our Unlacquered Brass Hardware and Brass Door Knobs.
What is Unlacquered Brass?
Unlacquered brass is also known as raw brass or uncoated brass. It can be brushed, satin or polished, but left without a protective coating. It therefore ages over time developing a beautiful patina that adds character to new and old homes alike.
When designing our new kitchen, I decided to invest a little effort into finding the perfect unlacquered brass hardware to grace our kitchen. I love the warmth the matte finish offers and enjoy watching it turn over time.
Since it is a living finish, no piece will look exactly the same. The variation adds a little warmth and interest in design. It can age unevenly, becoming duller over time.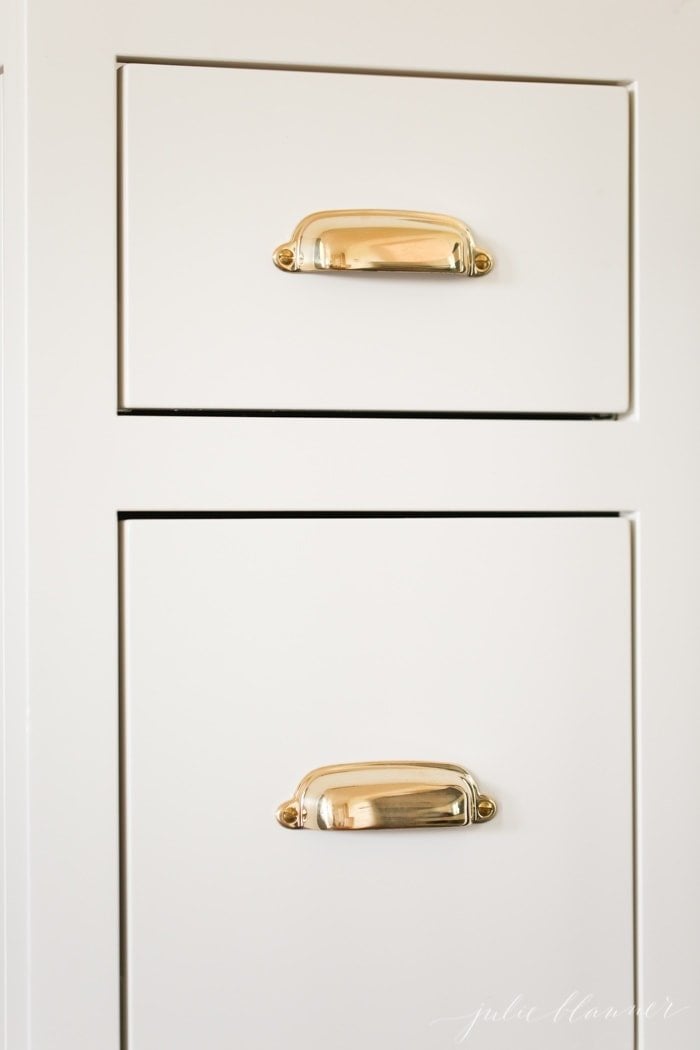 Call me boring, but we used cup pulls in our last 2 kitchens and still love them just as much today. So surprise, we selected unlacquered brass cup pulls for our new kitchen as well.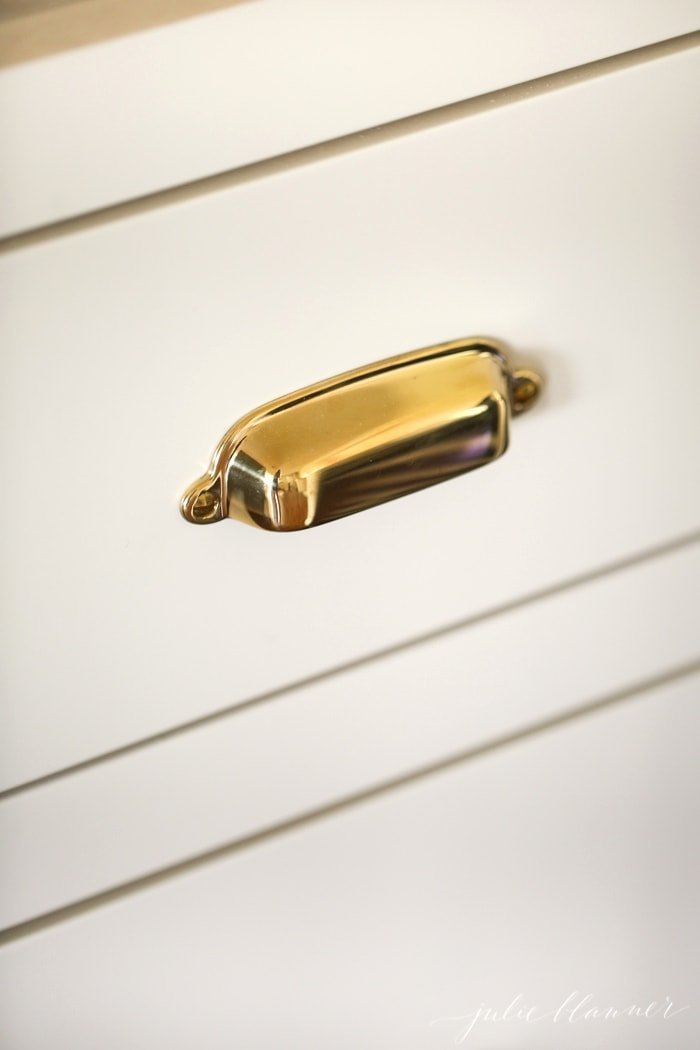 How long does it take for brass to patina?
Unlacquered brass becomes tarnished when exposed to air, so naturally, it will age over time. Other factors contribute as well – The oils of your hands, minerals in water and other factors contribute. Weathered brass or antique brass attempt to simulate natural patina.
How do you protect unlacquered brass?
To keep it shiny, clean regularly. Using a soft cloth and ammonia, wipe the surface. You can polish it with brass polish and a soft cloth, rinse with water and dry.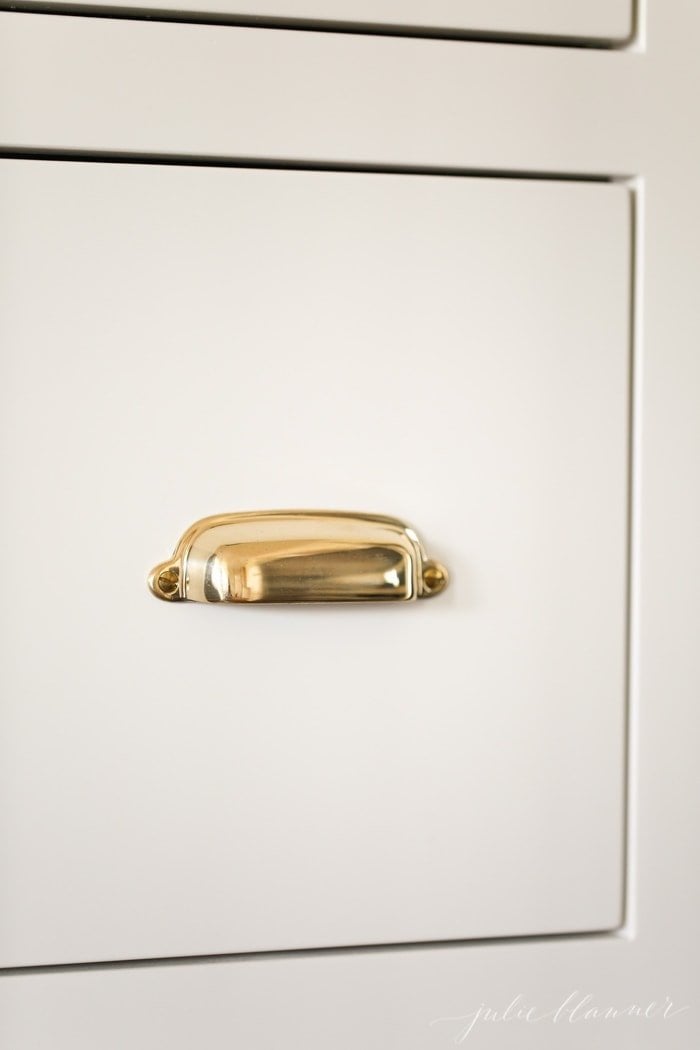 At our last house our existing cabinets had holes for knobs, but in our 80's kitchen we had holes for handles, so I updated them temporarily, but I'm so excited to return to knobs for the cabinet doors for a more traditional look.
We selected 1″ unlacquered brass knobs which is often smaller than what you see in kitchens, but I like the understated elegance they add to the kitchen without detracting from other features.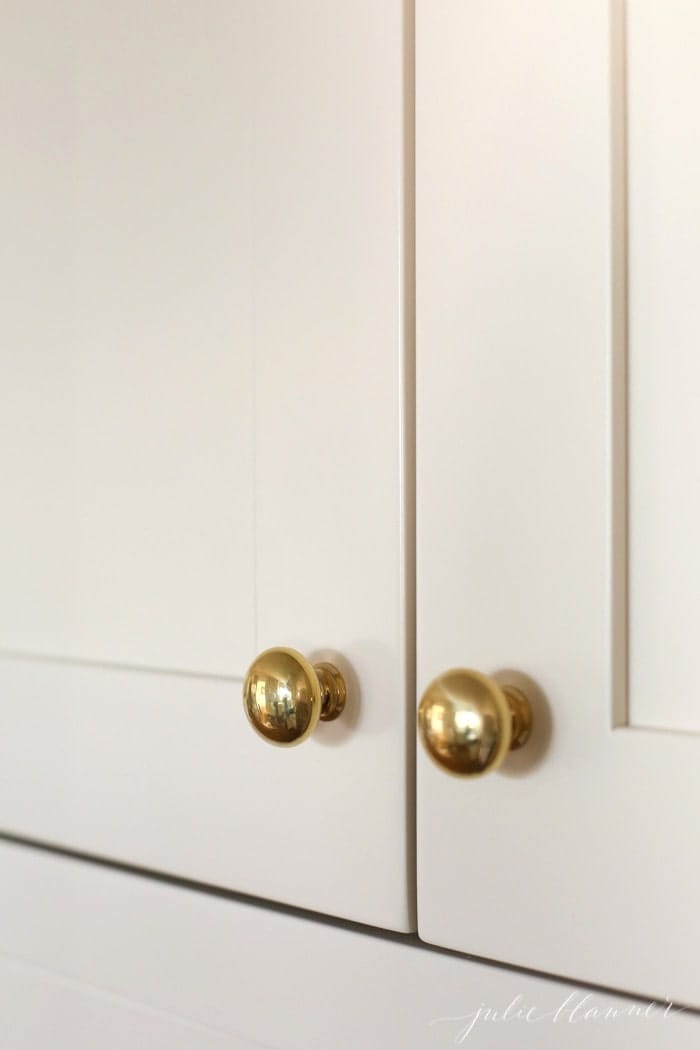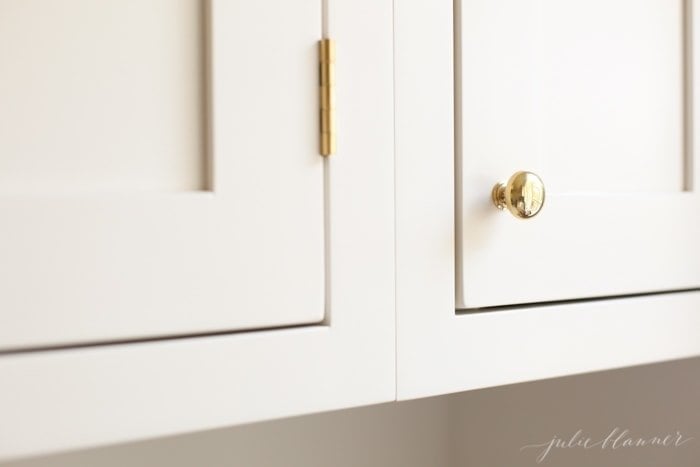 Hingeless cabinets have become increasingly popular, but I love the added decorative detail hinges provide. Who doesn't love a little extra jewelry? I think a new kitchen deserves plenty of jewelry, too!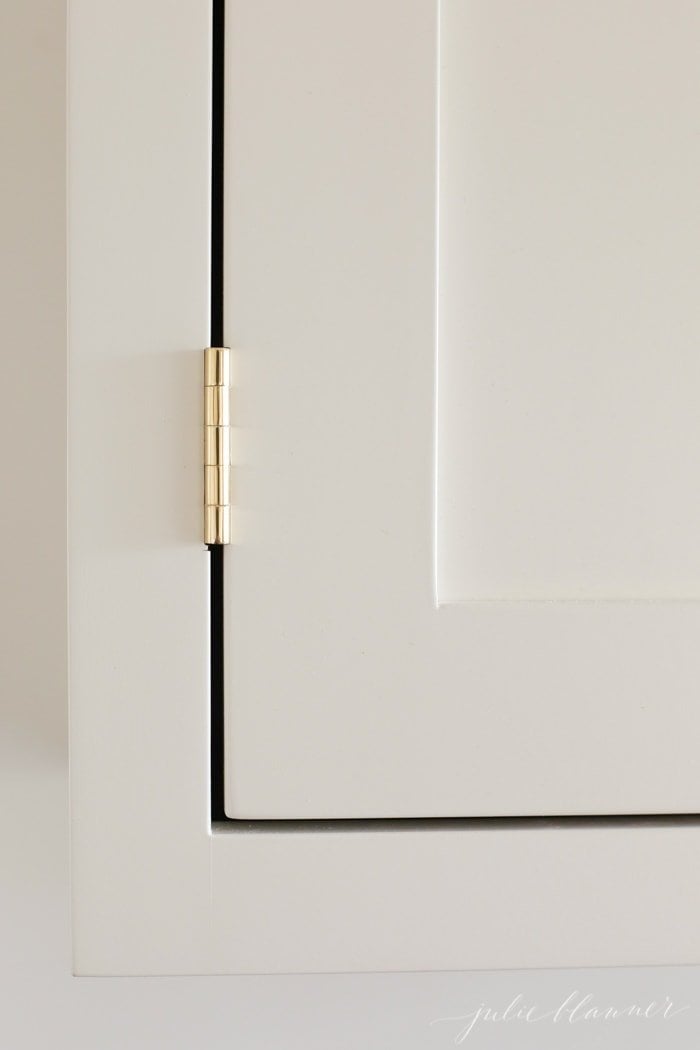 Finding unlacquered brass hinges was a bit more challenging. Almost all quality cabinet hinges are lacquered.
My cabinet maker said that inexpensive solid brass hinges can be easily compromised and reminded me that it's important to find quality hinges for durable cabinet doors that will stand the test of time.
How to Test if Brass is Lacquered
Dip in acetone or nail polish for two minutes. If clear film starts to separate, it is lacquered brass.
De-Laquering Brass
Submerge brass pieces in acetone or stripper to expose raw brass.
Once it has become gummy, rinse.
Repeat if needed.
I also wanted to incorporate cabinet latches in our new kitchen – I can't get enough of them. I considered using them throughout the kitchen, but for ease of use we opted to use them just for the hutch (which will be installed after the marble counters). It's so fun to mix it up a bit.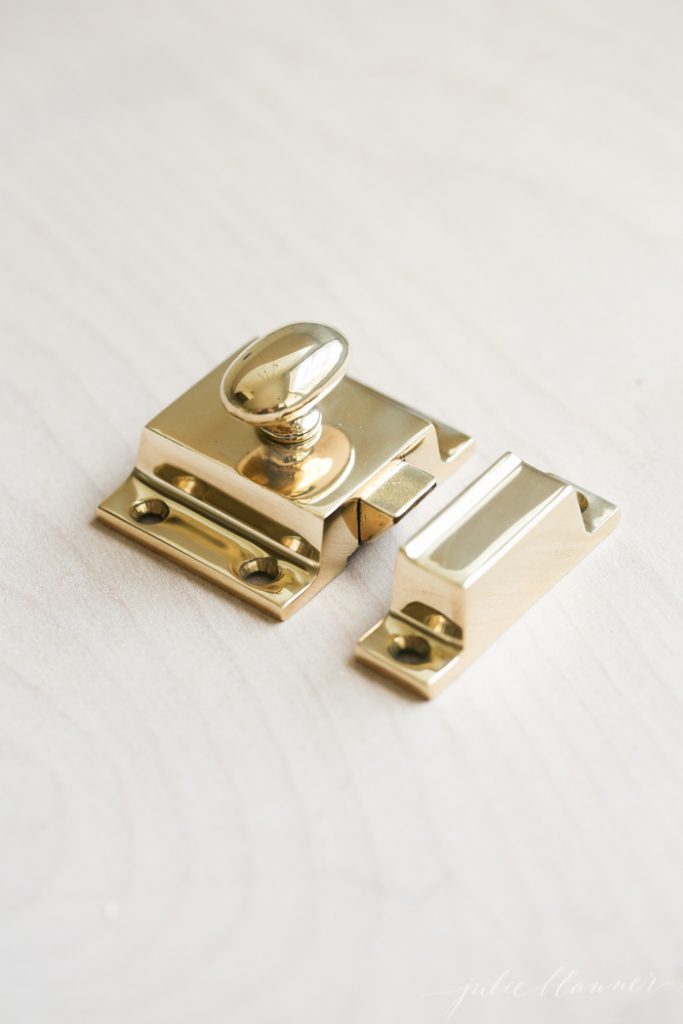 You can get more details on this unlacquered brass kitchen faucet here and purchase it here.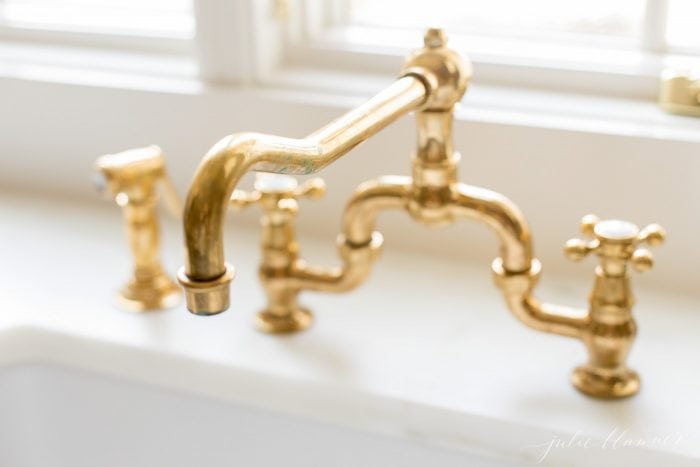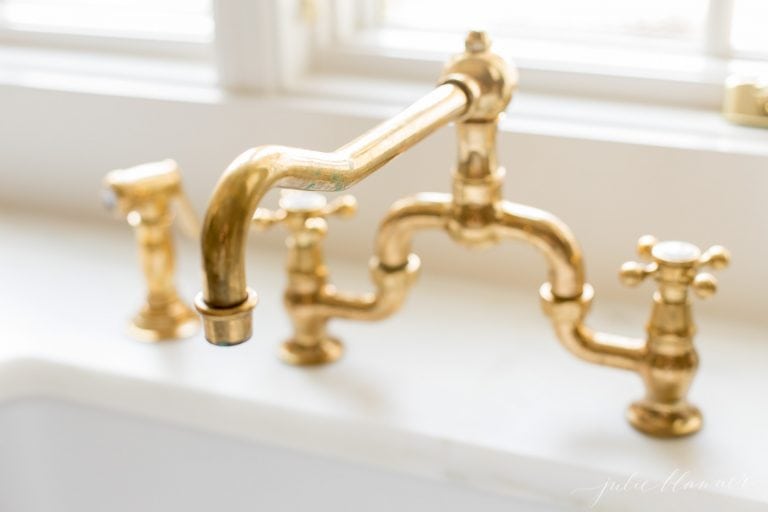 I have received several questions about how our unlacquered brass hardware aged and I'm happy to say, beautifully! Well, that is in the eye of the beholder. I know it's not for everyone. If you prefer the polished look, I would purchase polished rather than take the time to polish unlacquered brass.
The below photos are a year and a half worth of aging.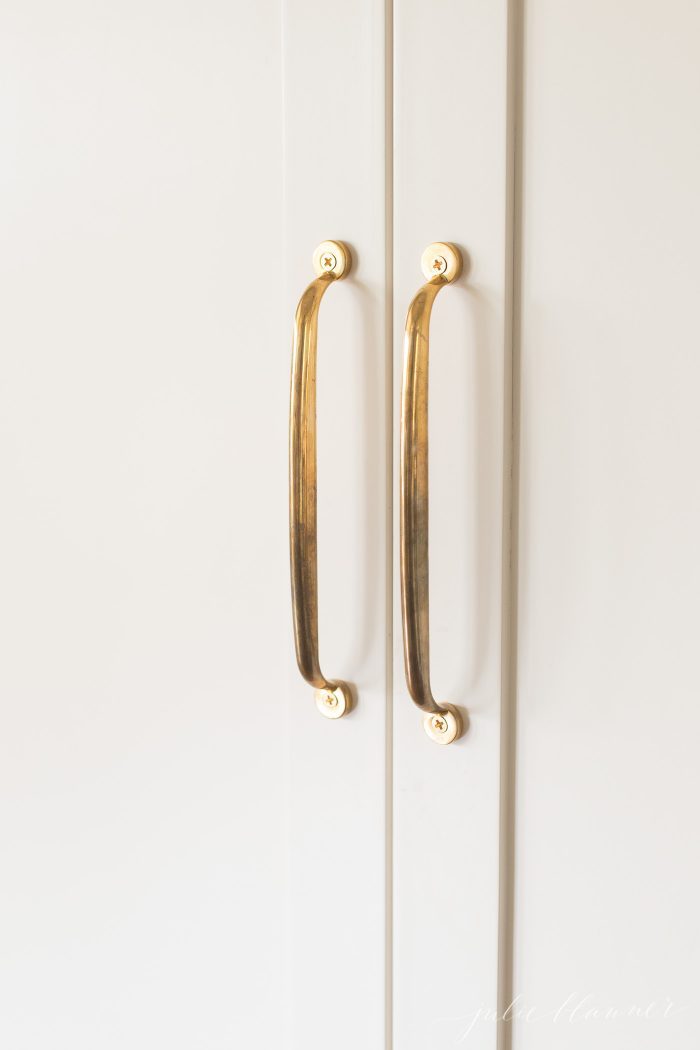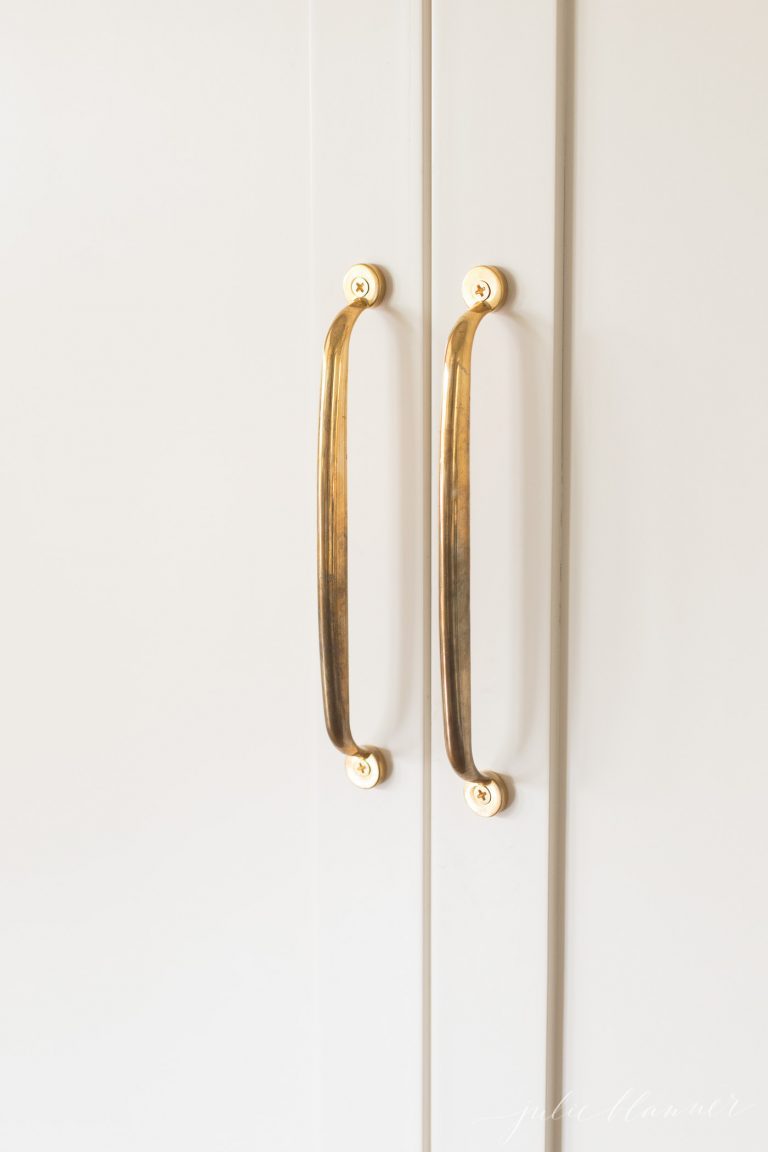 You can see where little hands reach and I think it's oh so sweet!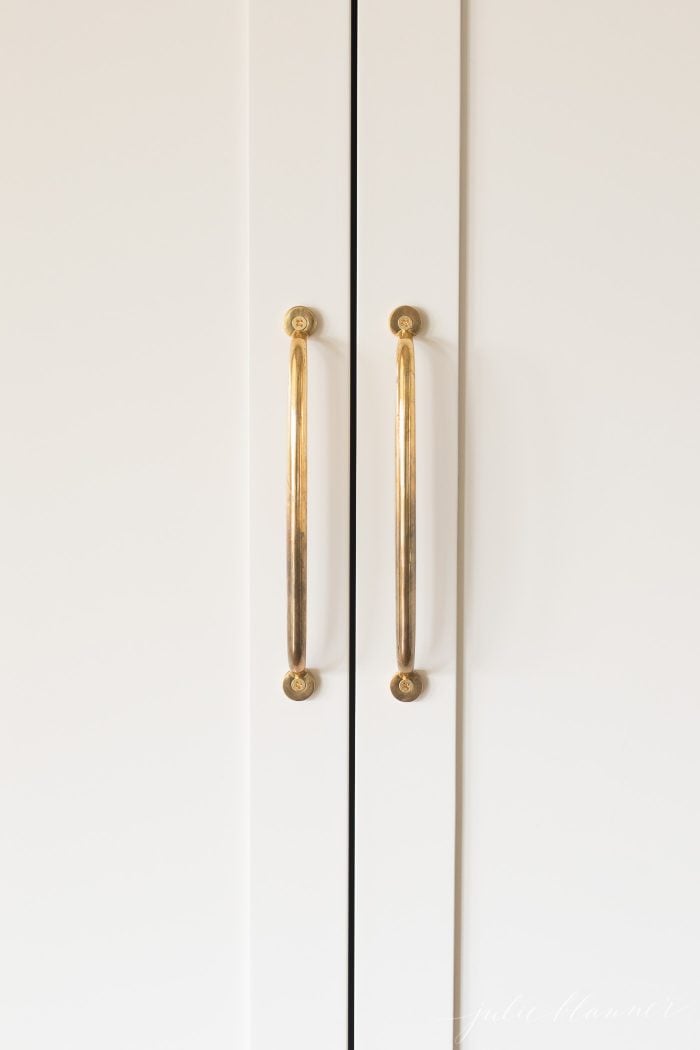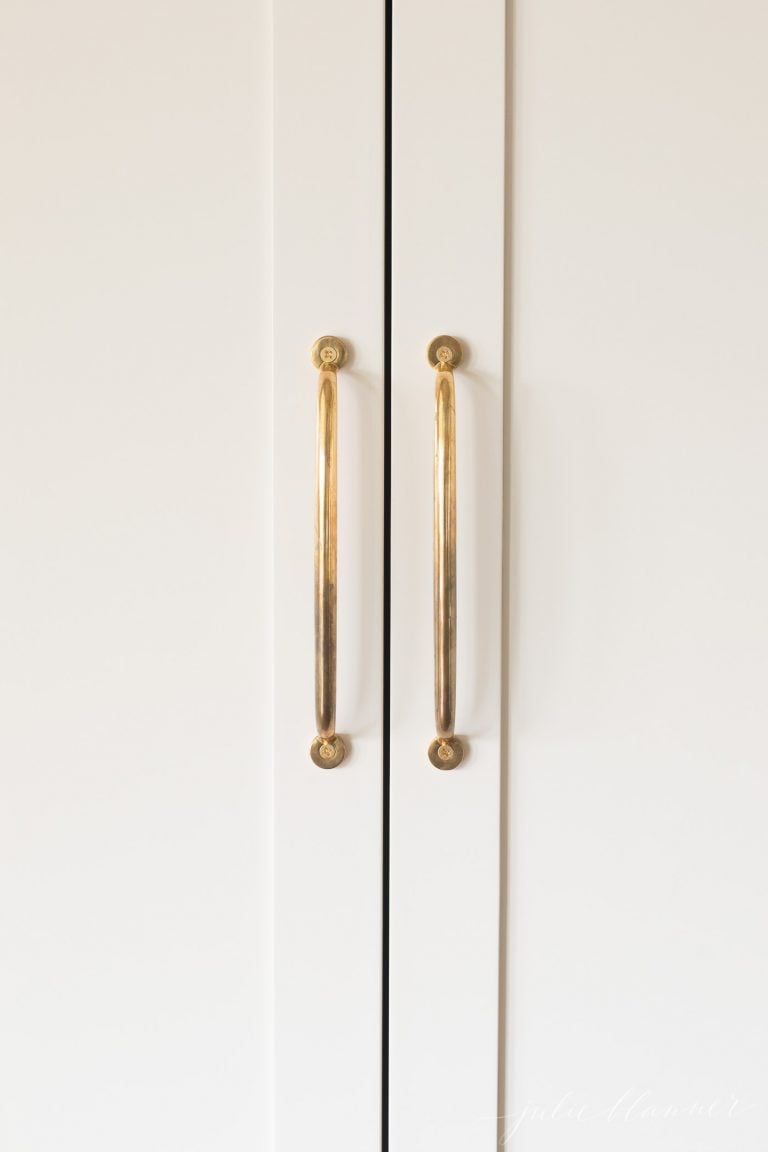 Of course these appliance pulls can be polished and restored to look like new!
How to Polish Brass
Apply cleaner to surface.
Using a damp rag, apply pressure to wipe brass clean.
Rinse the brass thoroughly using a clean cloth.
Love the look of brass as much as we do? Check out this Rub 'n Buff tutorial to turn any home accessories into the perfect antiqued brass!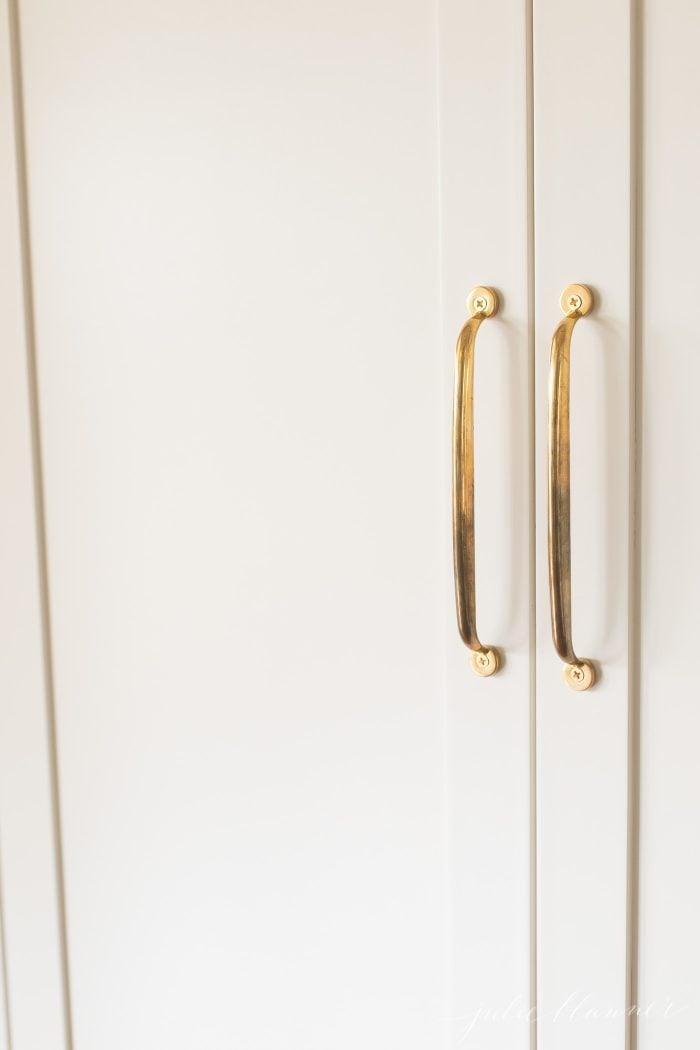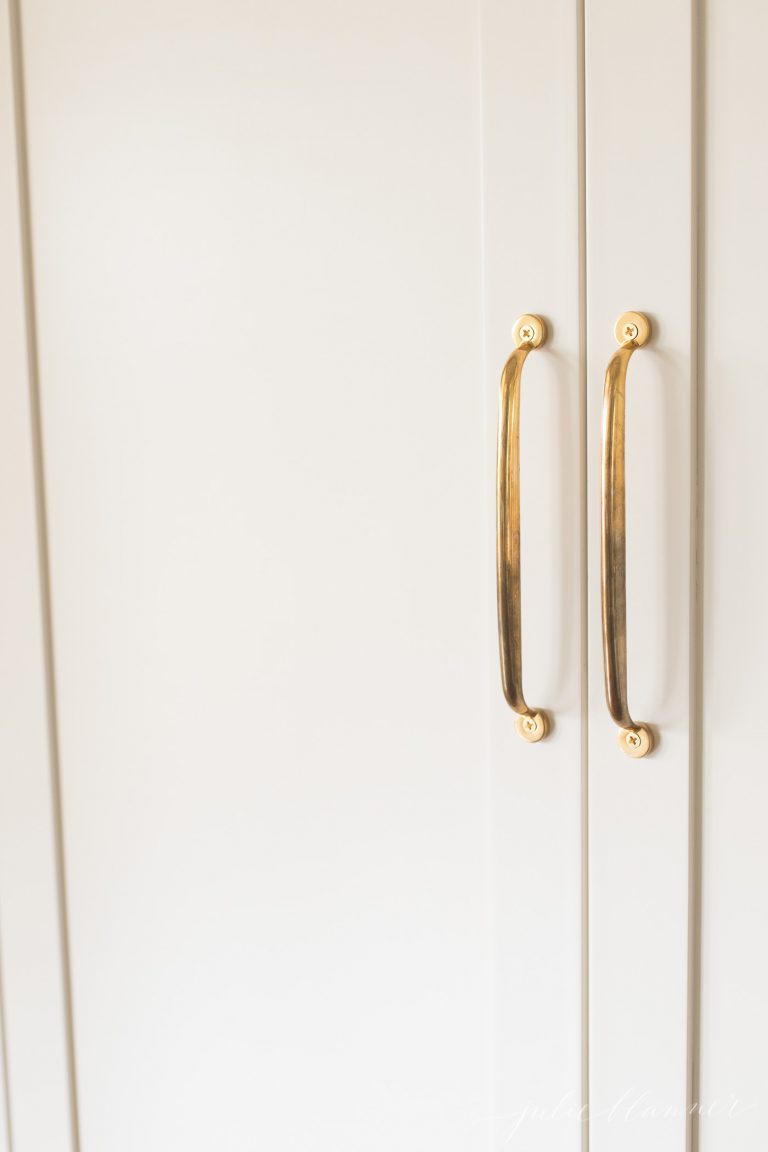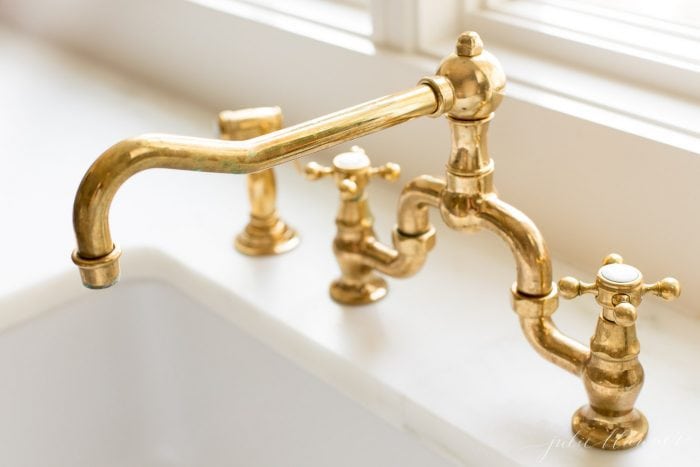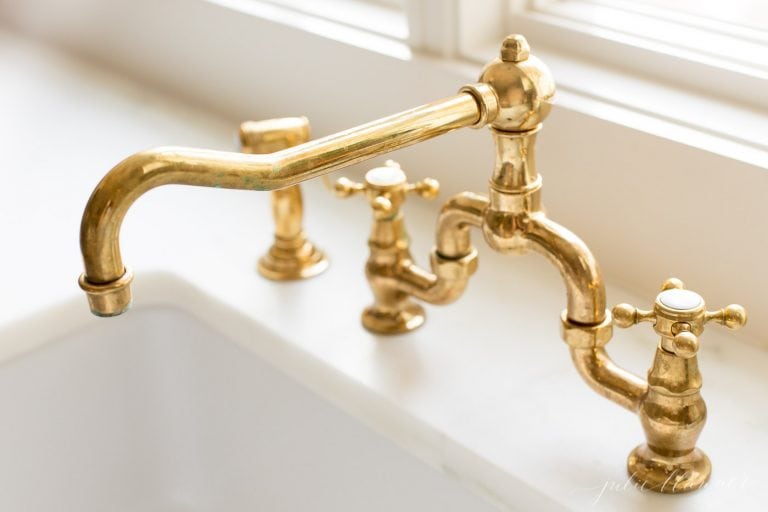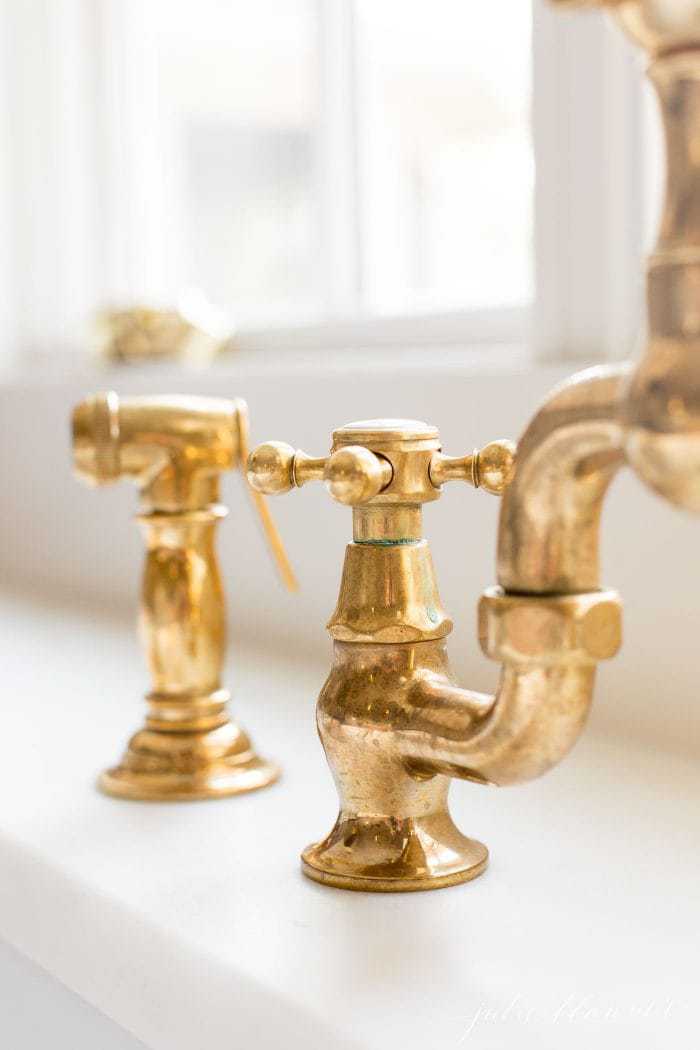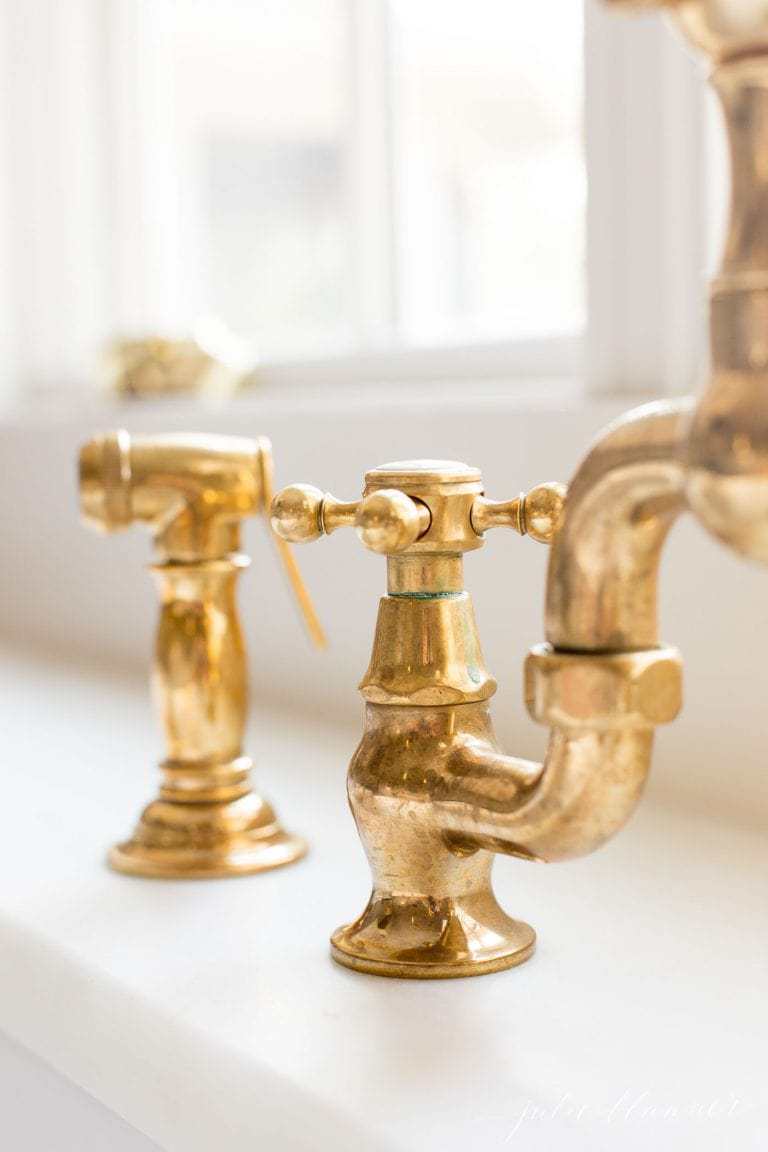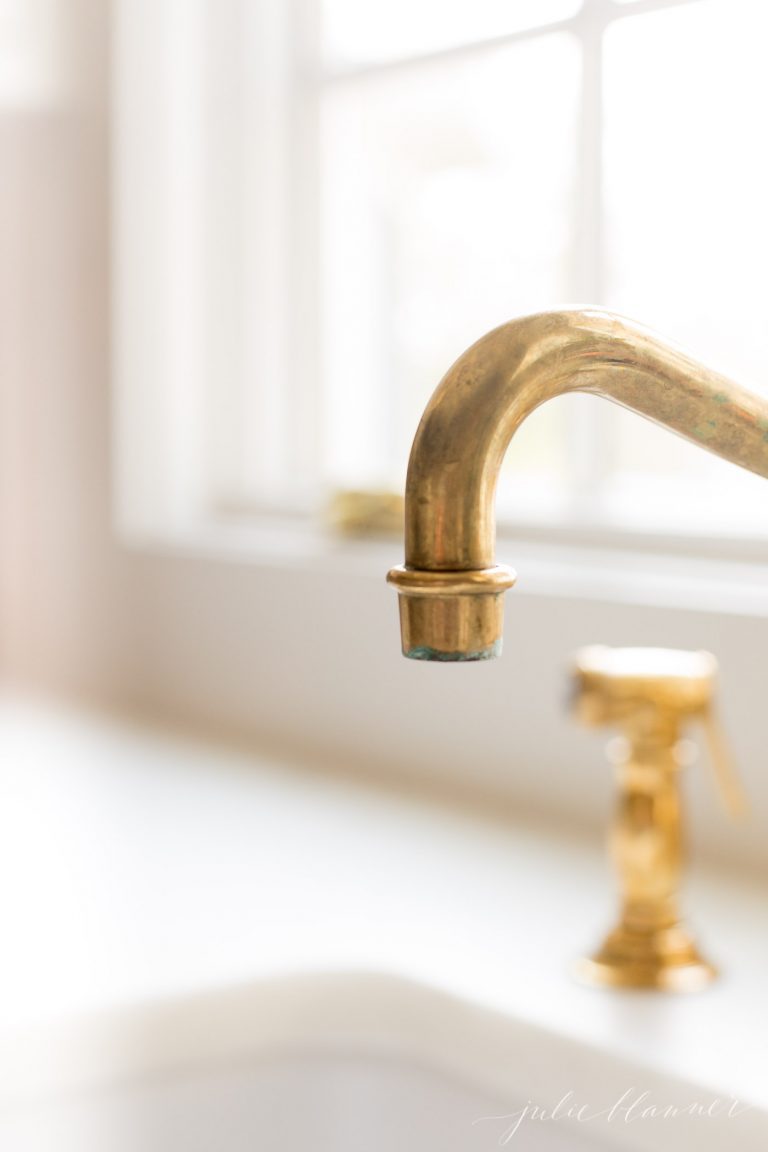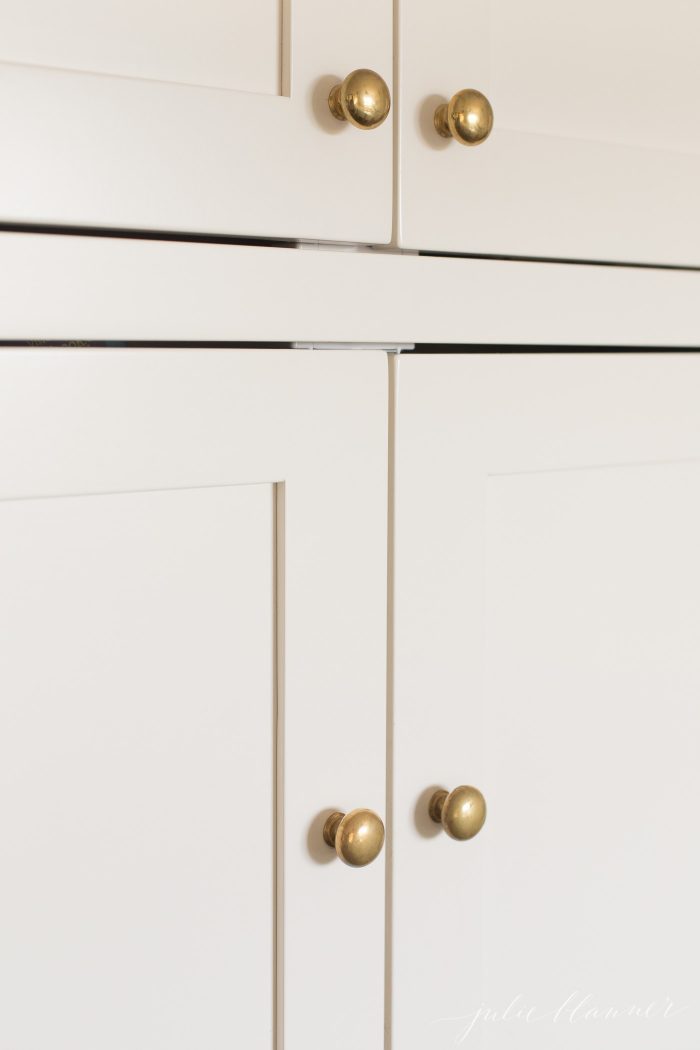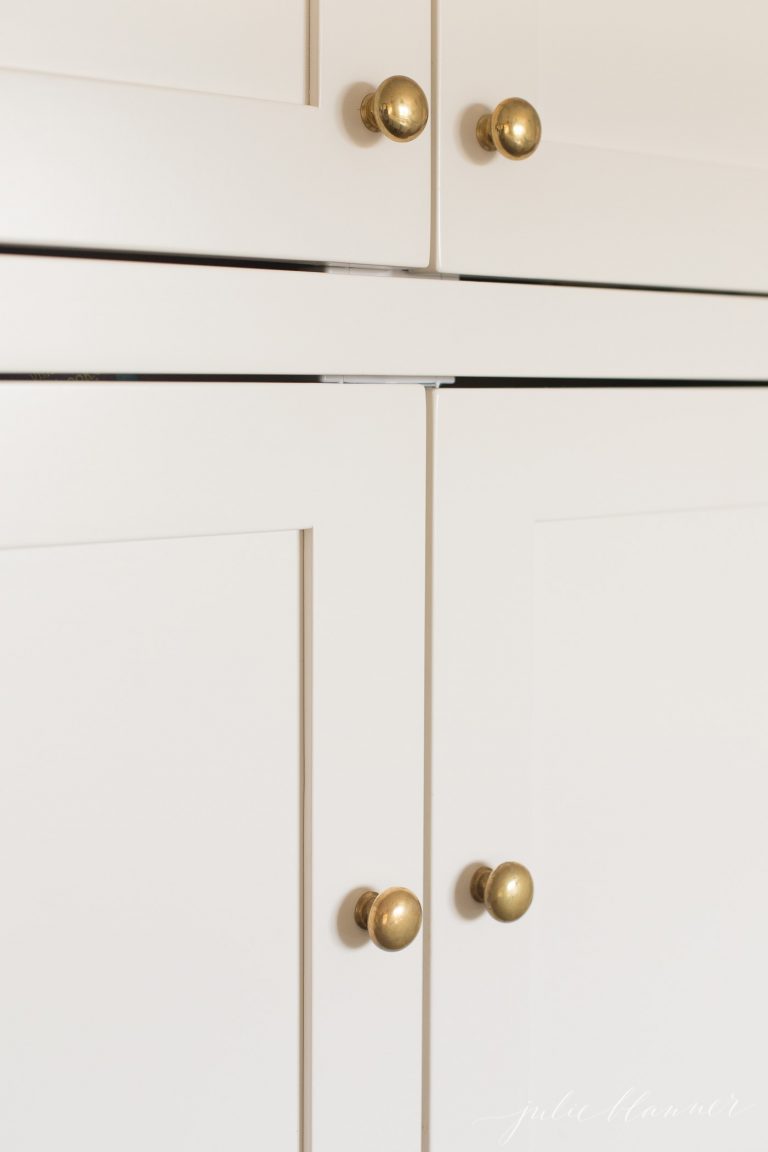 You'll find unlacquered brass in faucets, light fixtures, and even knobs on ranges like this Lacanche Range.
Learn about my favorite Brass Polish to keep all your brass looking good as new!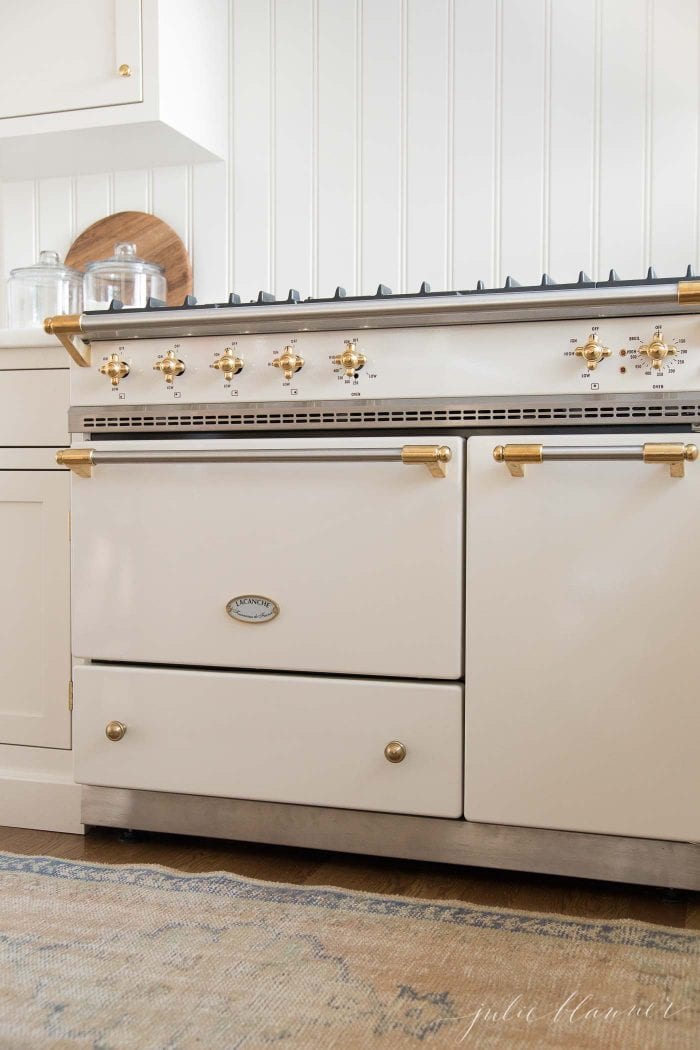 This post was originally shared May 2017 and updated with video December 2019 and additional tips and details April 2021.

Do you share my affinity for unlacquered brass or do you prefer a more polished look?
My Favorite Unlacquered Brass Hardware