Learn what to include in a guest room to make your guests feel welcomed and at home during their stay. You'll find guest bedroom ideas that are cozy, charming and welcoming.
Find 20+ easy ideas to show you how to create the guest room you've always wanted!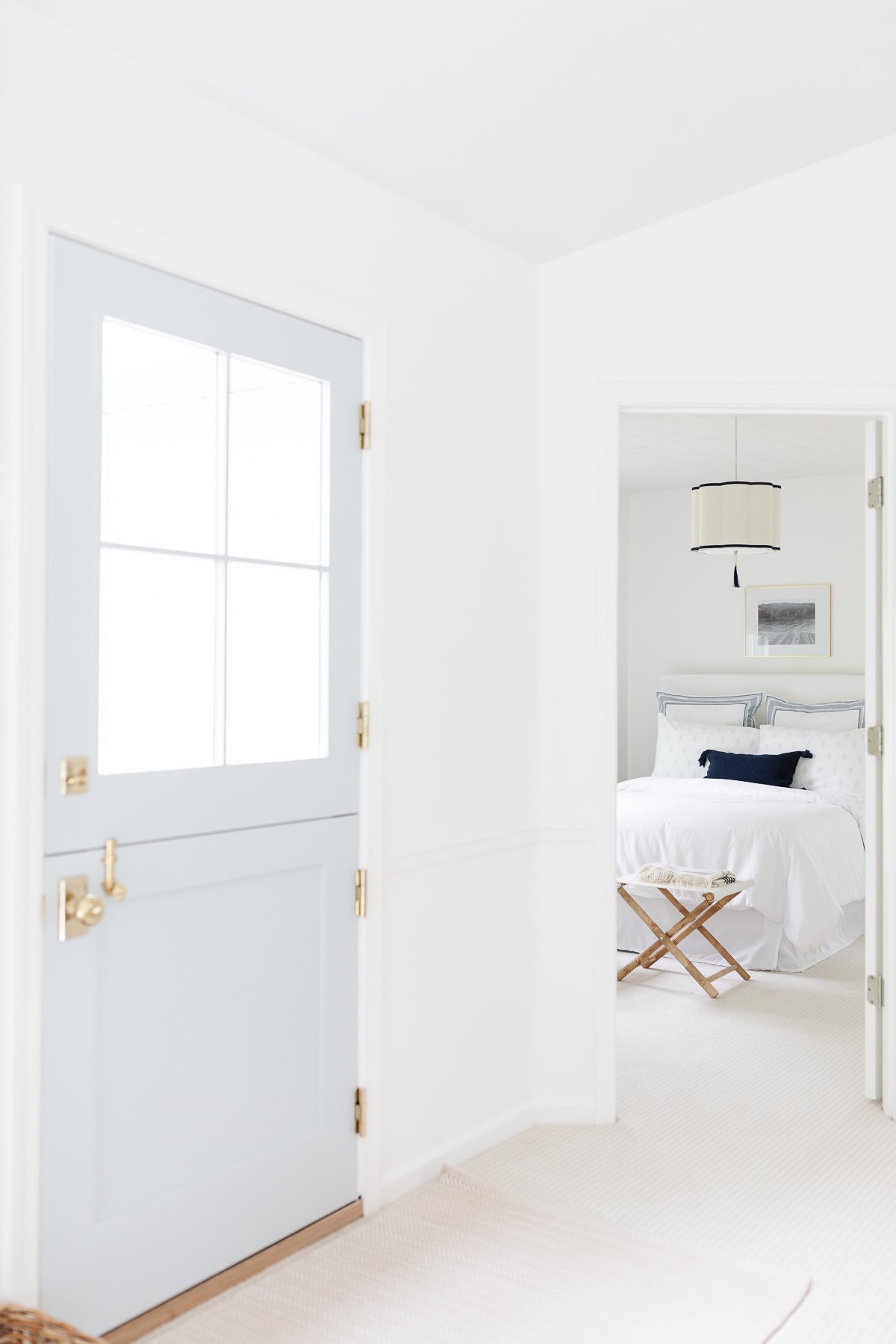 Thanks to our modern lake house getaway, we are often blessed with family and friends visiting. While the holidays can add an abundance of joy, they can also add a layer of stress. These are my tips for preparing a guest room and preparing for guests so that you can relax and enjoy along with them!
I shared these tips in a December issue of Midwest Living a couple years ago, and wanted to share with you here, too!
I love creating simple, welcoming spaces in our homes and sharing with you! Entertaining doesn't just apply to brunches and dinners, it actually begins the moment guests enter your home.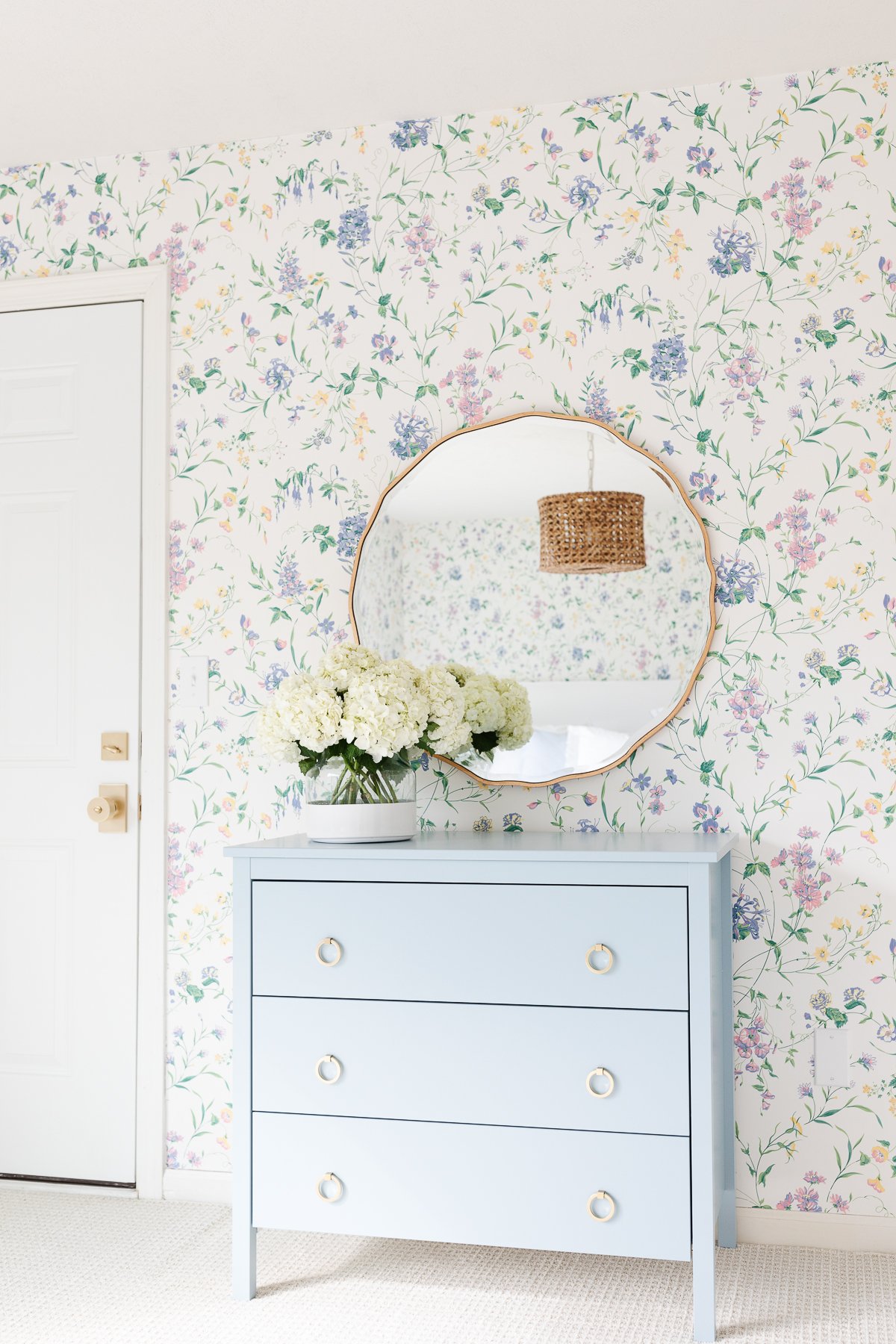 Guest Room Ideas
When hosting guests, I want to make them feel at home, at ease and as if they are vacationing at a relaxing resort, though our accommodations aren't quite the same.
How can you achieve that? Well, there are several ways to make a guest room feel a bit more like a luxury hotel, without a lot of effort.
We are lucky enough to have two designated guest bedrooms at the lake cottage and I've learned a few tips and tricks over the years!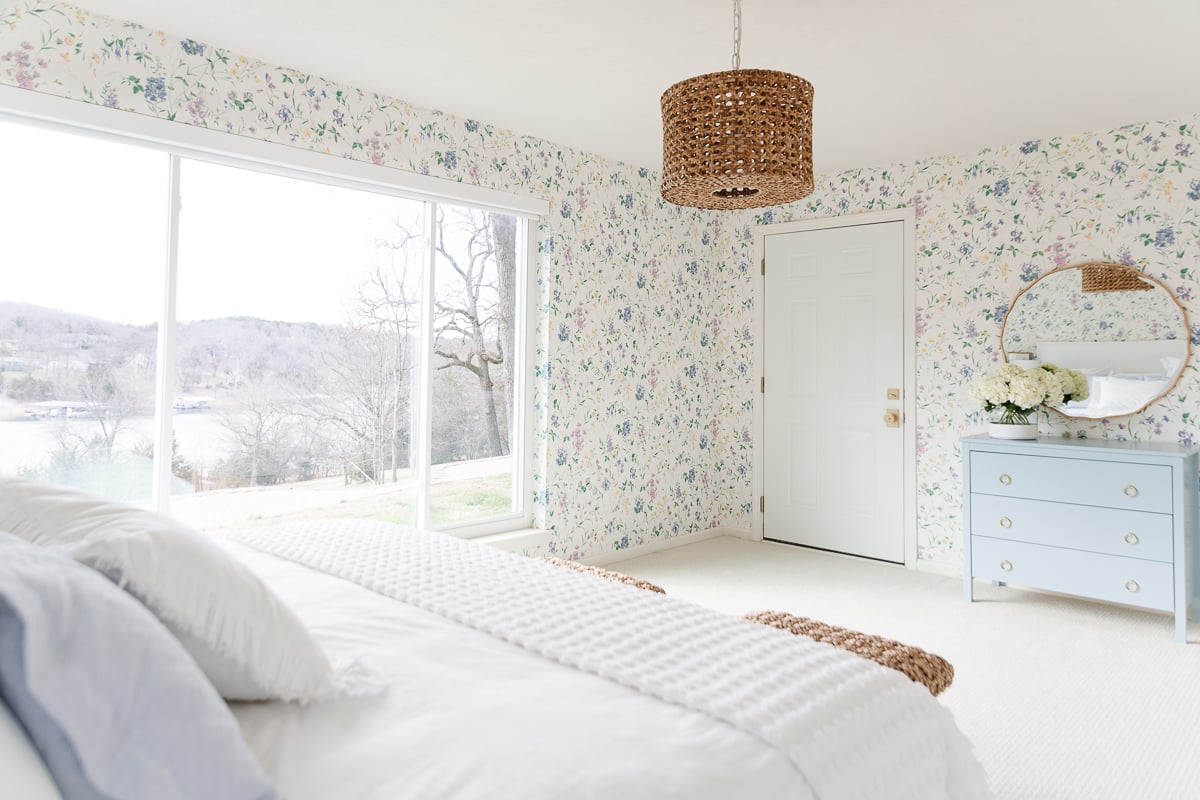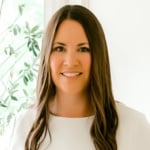 Tips
The most important factor in a guest bedroom is the bed itself. Buy the best quality mattress you can afford… and try to provide comfortable, soft, luxurious bedding. It makes a world of difference and will have your guests longing to return!
If you don't have a dedicated guest room or bath, don't fret. These easy ideas will help you transition an office, craft room, multi-purpose room or children's bedroom into a space fit for guests!
Give them somewhere to sit, and somewhere to place luggage! That's why we love folding stools at the end of our guest beds – they double as both.
Working with a small guest bedroom space? Eliminate all the "extra" furniture like dressers, etc, that aren't used by short term guests. Leave the space for multi-function elements.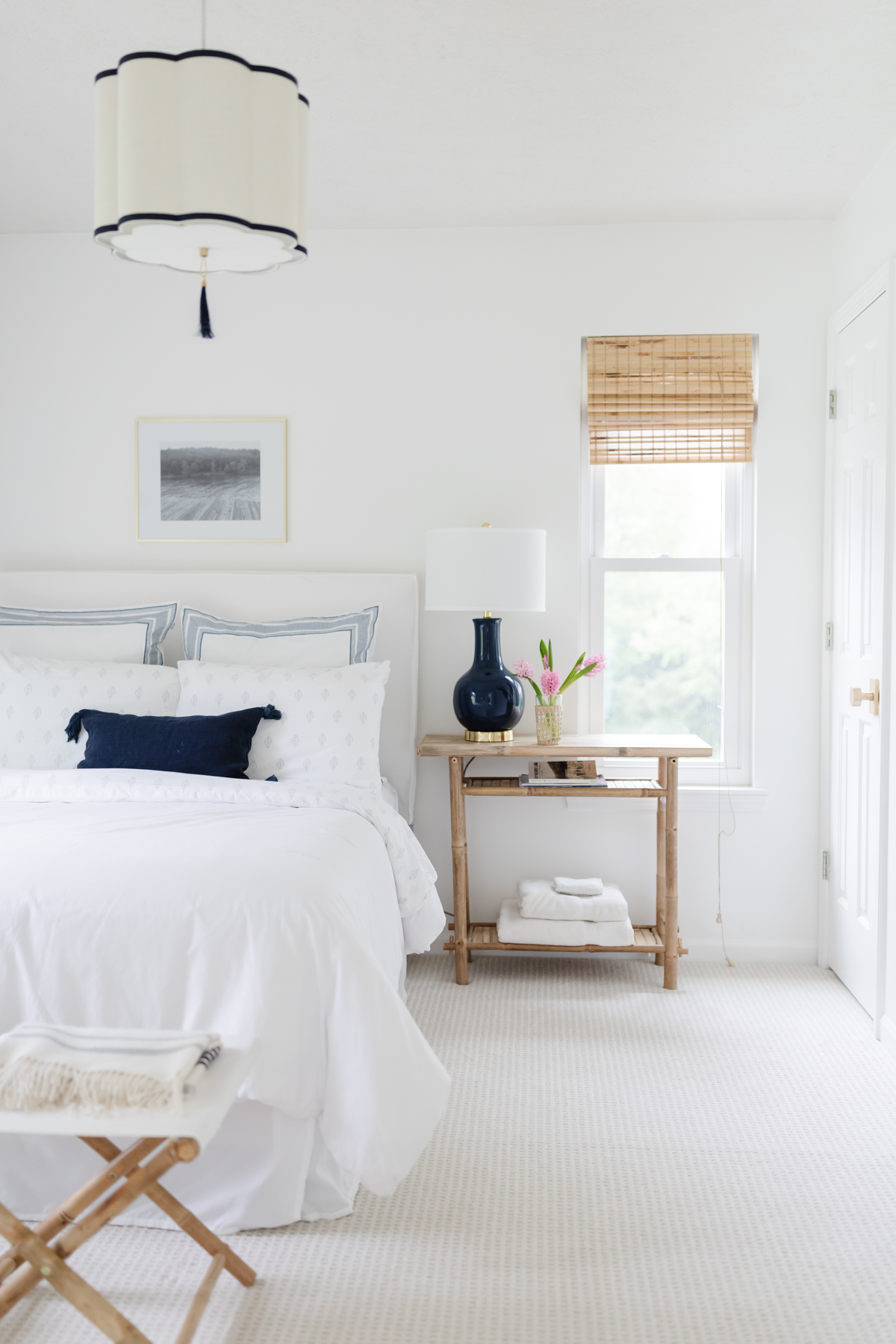 Frequently Asked Questions
What makes a guest room comfortable?
The most important feature in a guest room is a comfortable bed! Choose a high quality mattress, comfortable bedding and pillows.
How do you design a guest room?
Keep clutter to a minimum and concentrate on the bed and high quality bedding. Beyond that, add thoughtful cozy comforts like a little empty closet or drawer space, accessible outlets for charging, luggage racks, and more!
22 Guest Room Essentials
Paint – To create a calm and relaxing space, stick with neutral colors. Paint the guest room in one of our favorite warm white paint colors to make the space feel warm, while light and airy.
Lighting – Use both overhead and task lighting (like a bedside lamp) for ambiance and convenience.
Multifunctional Furniture – Keep furniture simple, thoughtful and multifunctional. Consider that a small chest of drawers can double as a nightstand. A folding luggage rack can also be used as a stool, doubling as seating in a small guest bedroom.
Luxurious Bedding – Use soft bedding for a lux feel. There are wonderful options at every price point – find all my favorites in this guide to Guest Bedding. Learn about the Best Mattress for a Guest Room while you're at it!
Extra Bedding – Equally important to the bedding on the bed, be sure to supply extras! Stash a couple extra blankets and different pillows in the closet to ensure your guests' needs are met. Everyone has different requirements for comfortable sleep and these are easy ways to ensure comfort.
Water – Of course, you can add a bedside carafe on the nightstand so guests have easy access to water.
Toiletries – In the bath, don't forget a basket of toiletries! I like to include shampoo, conditioner, body wash, bar soap, lotion, a toothbrush, makeup wipes, razor (the latter always seems to be forgotten) and a hair dryer for their convenience.
Robes – If guests will be using a shared bath, offer robes in their room to provide added comfort.
Towels – Next, don't forget towels! I recommend placing folded towels in a basket at the end of the bed or on a nearby table for their convenience.
Snacks – Is any welcome basket complete without snacks? I like to include a little basket with an array of local favorites, a mix of sweet and salty with a little protein.
Codes – Include a printed card welcoming your guest/s with any information they may need like the wifi password, garage door codes, etc.
Open outlet – On that same note, be sure to have at least one available outlet where guests can plug in their devices. An often-forgotten charger tucked into your nightstand organization drawer is an even bigger bonus!
Reading Materials – Include a few magazines or books with local significance and area guides.
Writing Utensils – Similarly, a small notepad and pen can come in really handy- just like a hotel room.
Fresh Flowers (or a house plant you can't kill) – A flower arrangement or single bloom to bring the room to life. Fresh flowers don't have to be expensive to feel luxurious – read up on my best tips for Trader Joe's Flowers!
Tissues – Include a box of tissues next to the bed. It's the little things in life!
Ear Plugs – Disposable ear plugs can be a lifesaver if you know what I mean!
Wastebasket – Add a wastebasket. So simple and easy to throw in the closet if you don't want the additional clutter in the room itself!
A mirror – Even if it's not a full length mirror, give guests a place to check themselves out before heading out for the day, or even heading into the kitchen for a cup of coffee.
Coffee Station – Speaking of coffee, consider adding a small single serve coffee maker to their bedroom for a really luxurious touch.
Window Treatments – Blackout shades or blackout curtains are the ultimate final touch! This allows guests to sleep in if they are able.
Wall Decor – Last but not least, personalize your space with art that speaks to your love of travel, family and more. At our lake cottage, we have images of the dock outside to show guests a bit of what's to come. Consider any of these DIY Wall Decor Ideas for more personalized inspiration!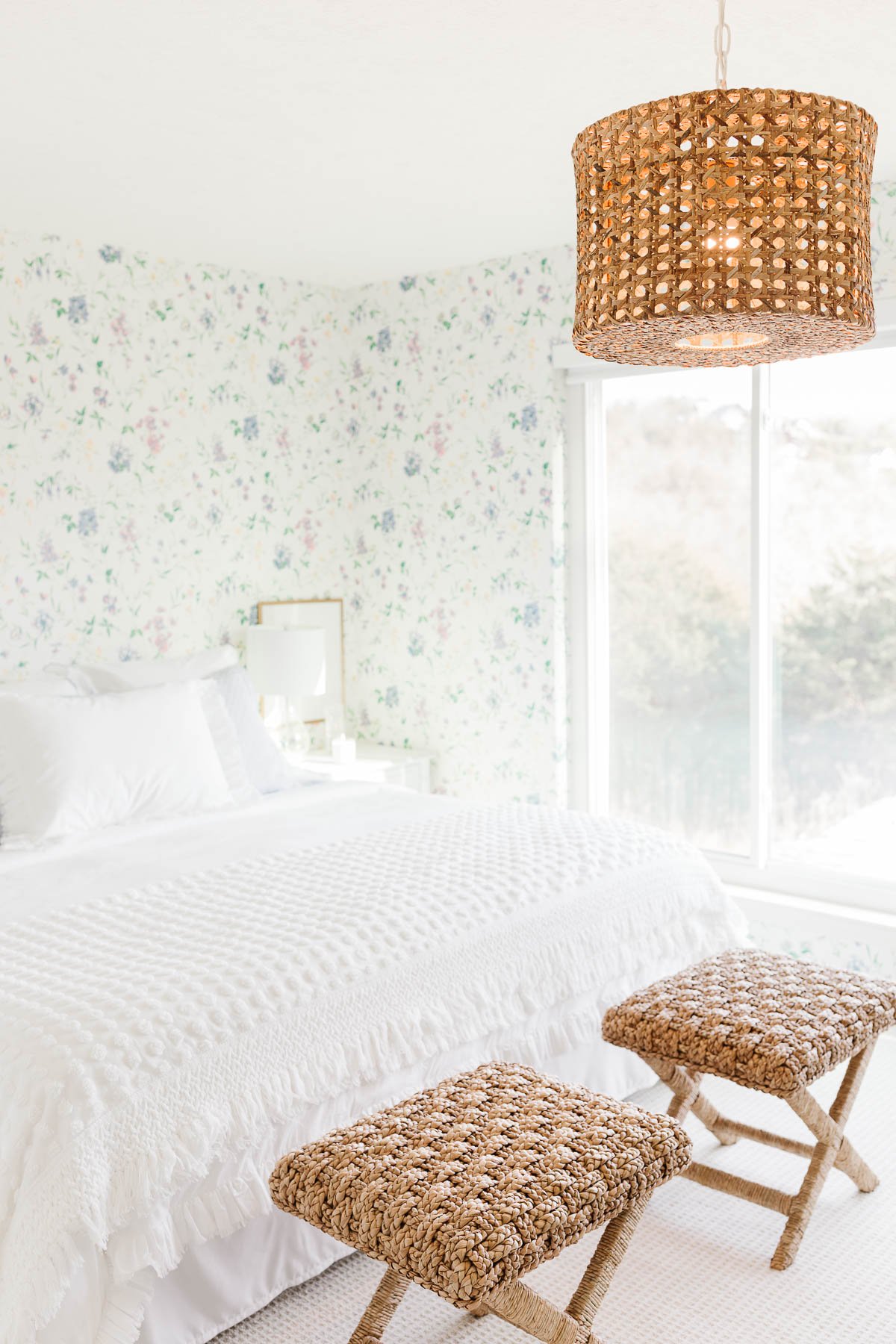 What do you like to include in a guest room? Any guest bedroom ideas I missed? I'd love to hear from you!
Paint Colors, Tutorials & Tips