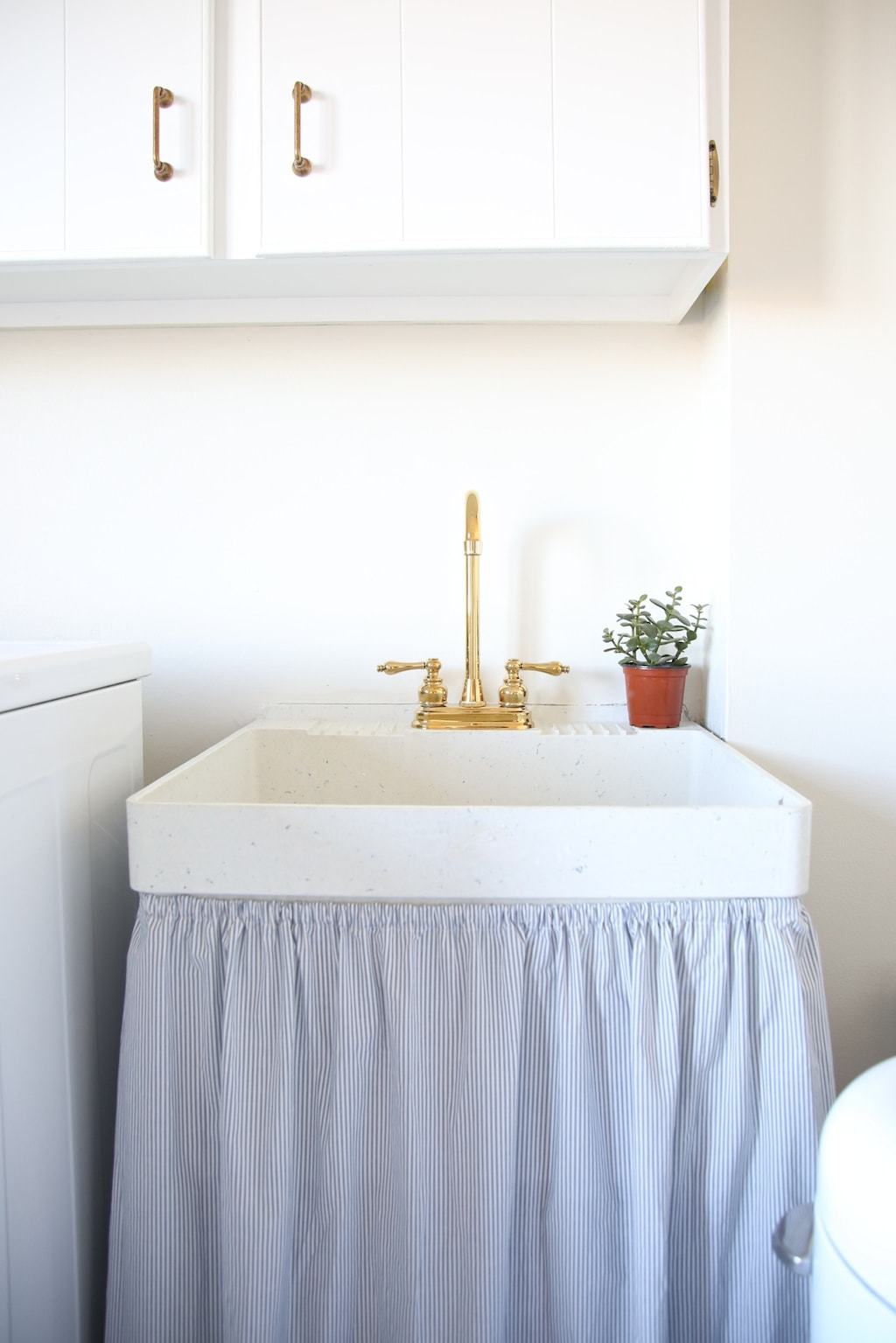 Our laundry room is almost complete! It feels like a huge accomplishment because I rarely finish a space. Our home, like me, is always a work-in-progress. I'm not sure how I neglected to photograph the space between closing on the home & moving in, but it may have been that the day of closing I was more in the walk away state of mind than moving forward. This was our 4th home purchase & by far the most frustrating. Somehow I managed to return to Kansas City without capturing a few "before" photos. I'd like to preface this post respecting that everyone has their individual tastes & needs. I know my zero clutter, neutral aesthetic isn't for everyone, but I wanted to share my laundry room decor, update & tips with you today!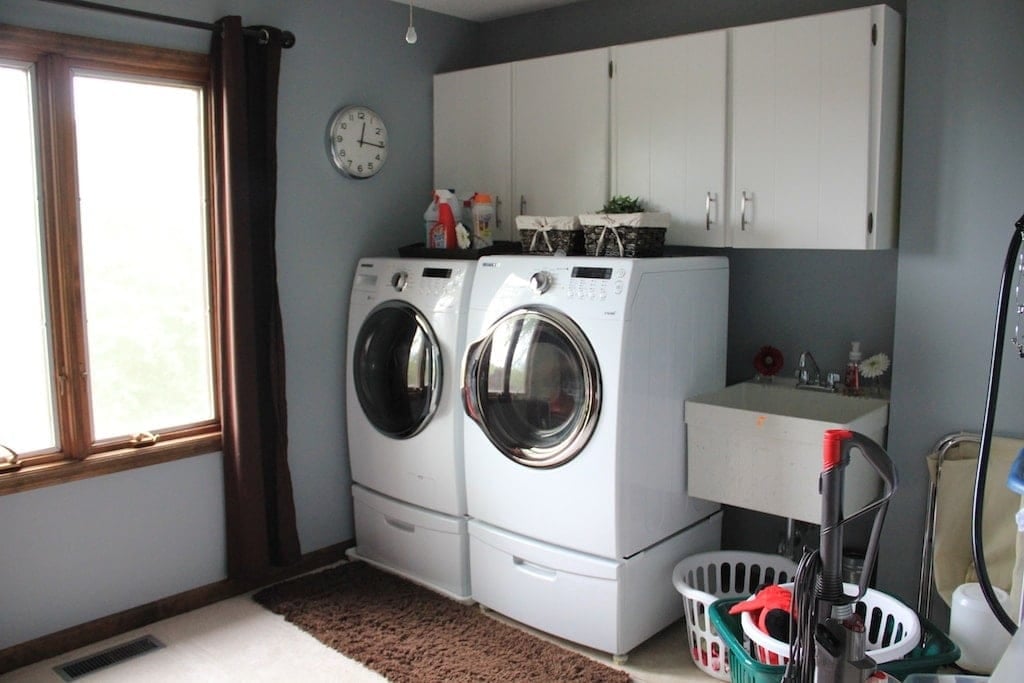 I wanted to open the room up a little, create workspace & make it feel like a charming cottage kitchen. It felt dark & small, yet has one of the best views in the house!
To keep the makeover manageable, I divided the room into 3 sections so I could focus on our needs for each individual space at a time. I started with the "closet" which provides us with storage, & a place to sort & hang laundry. You can see the area & read more about it here.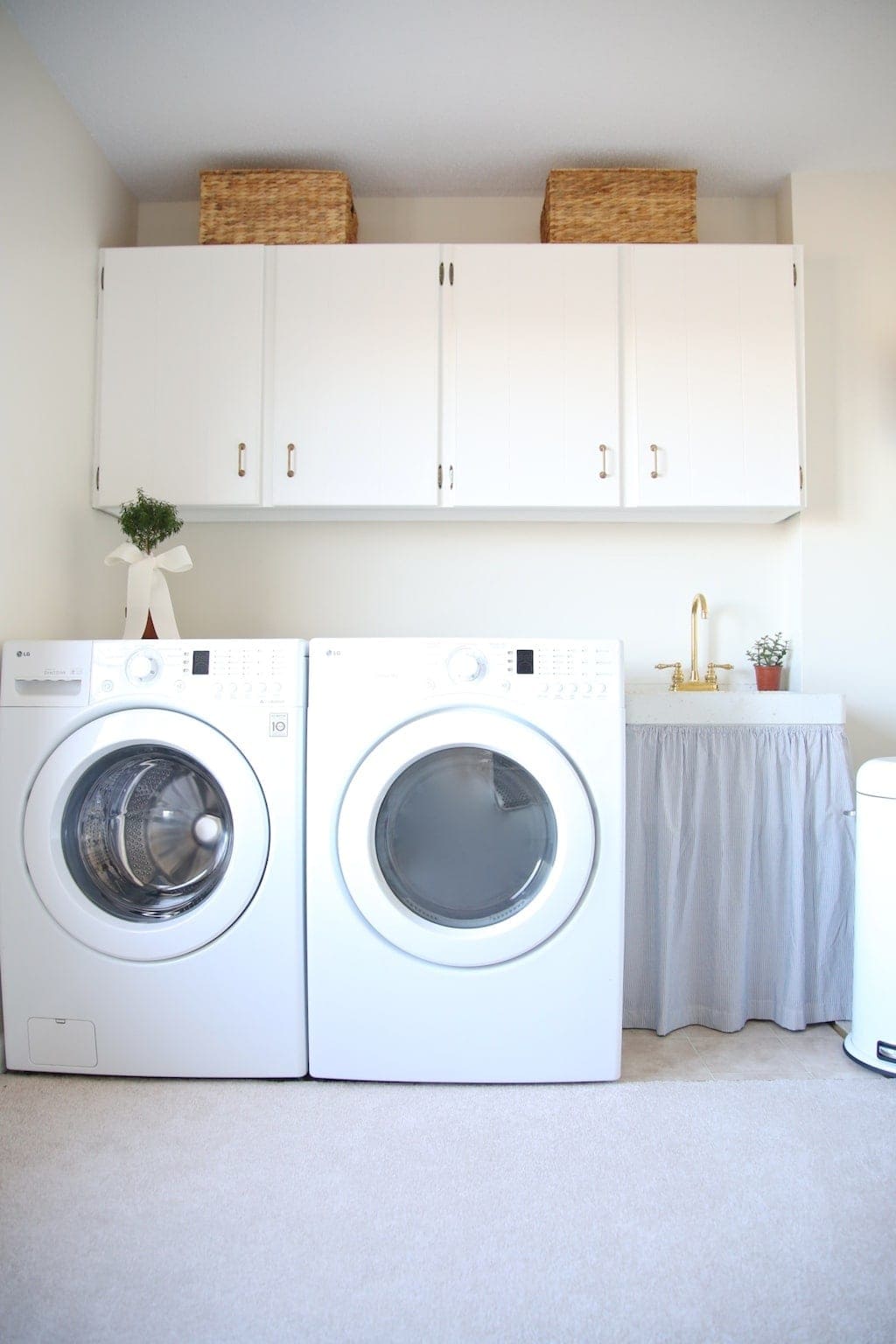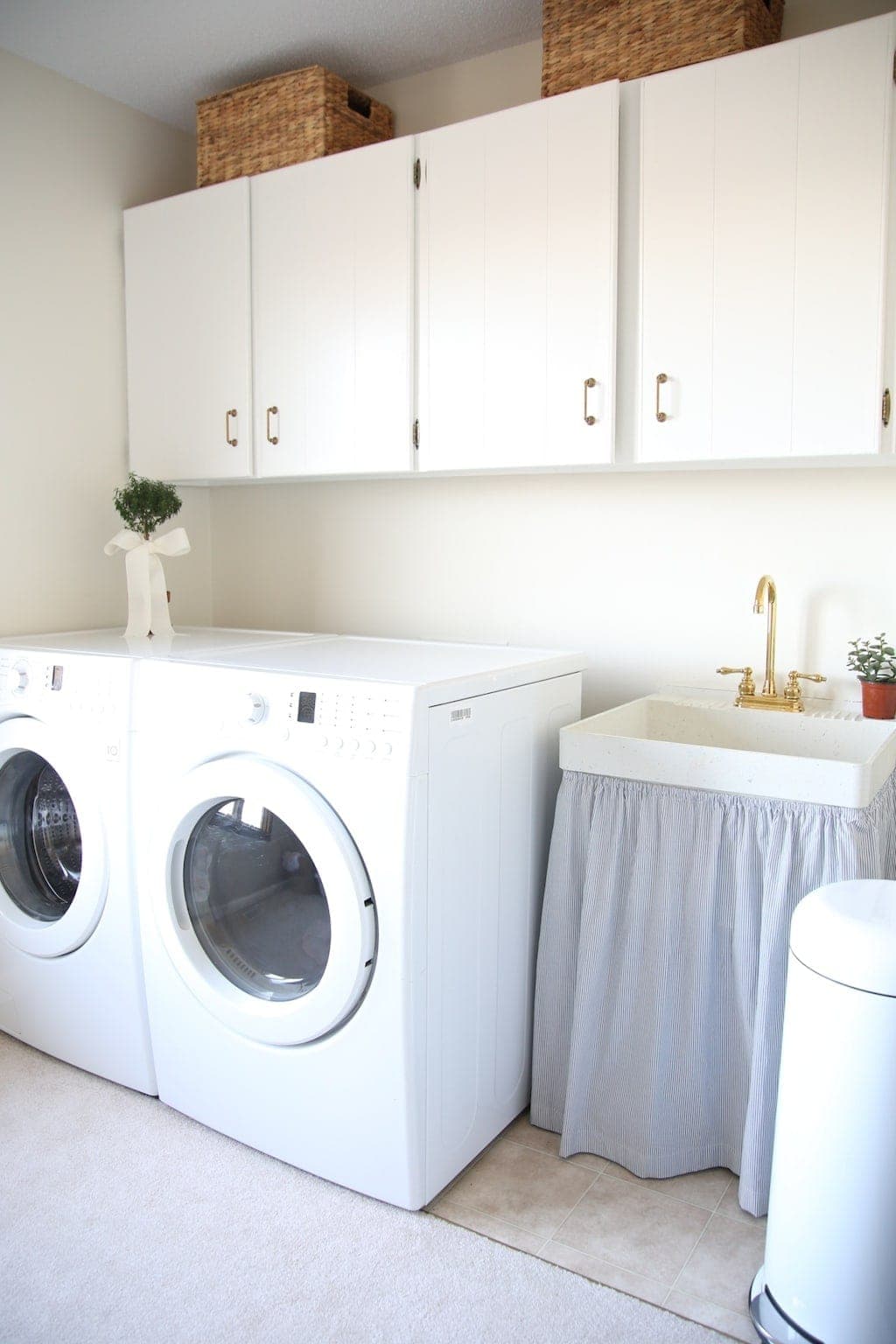 I wanted a countertop height workspace in the laundry area because I have to spray endless amounts of clothing with stain remover. Keeping the washer & dryer at it's original height not only grants me that space, but also makes the cabinetry accessible.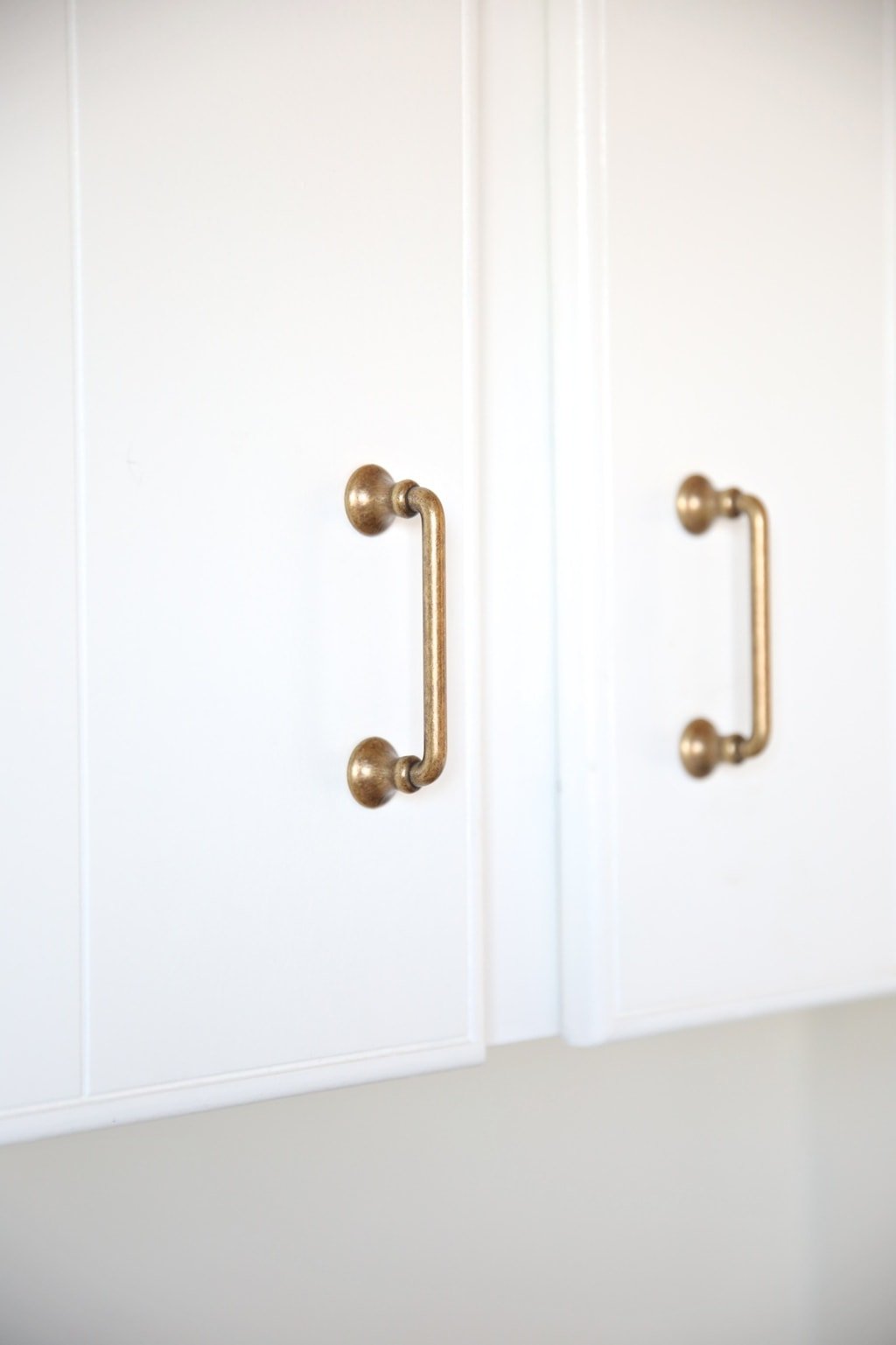 I updated the hardware with traditional brass pulls. The modern pulls made the cabinetry feel dated while the new pulls balance it & add a little classic charm.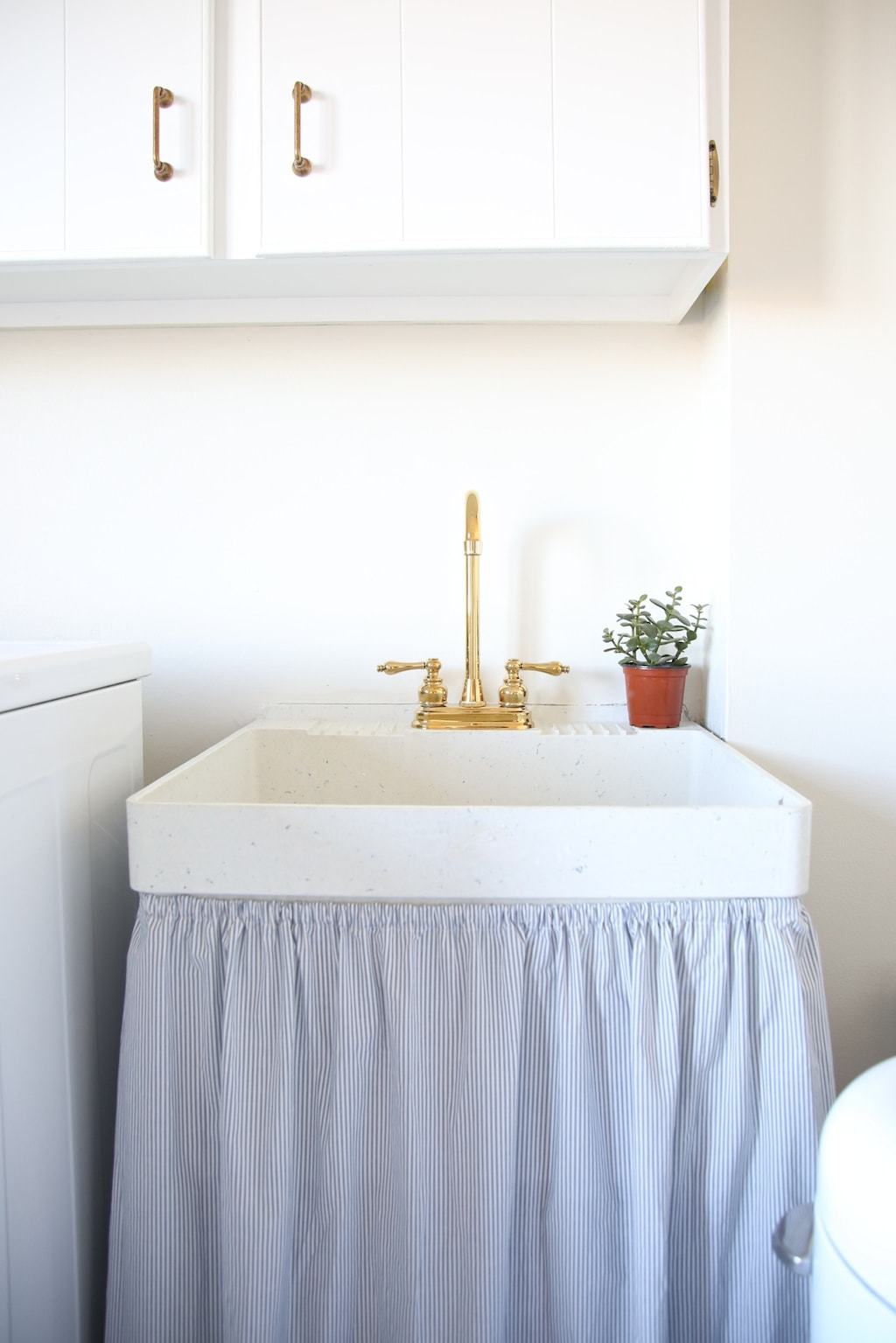 Because it's a laundry room, I significantly limited our budget for the space. $250 total, to be exact – lighting, accessories, paint, etc. I found a polished brass faucet that wasn't my everything, but was only $50! A dear friend was kind enough to make a skirt for the existing less-than-pretty utility sink, which not only disguised it, but made it look beautiful!
The laundry room is also a utility room for our second level, holding miscellaneous things like light bulbs, a set of tools, cleaners, etc, so we needed a full-size trash can so that we don't have to empty it frequently. I love this one that mimics a more expensive version from William-Sonoma. You know my motto, white is always right.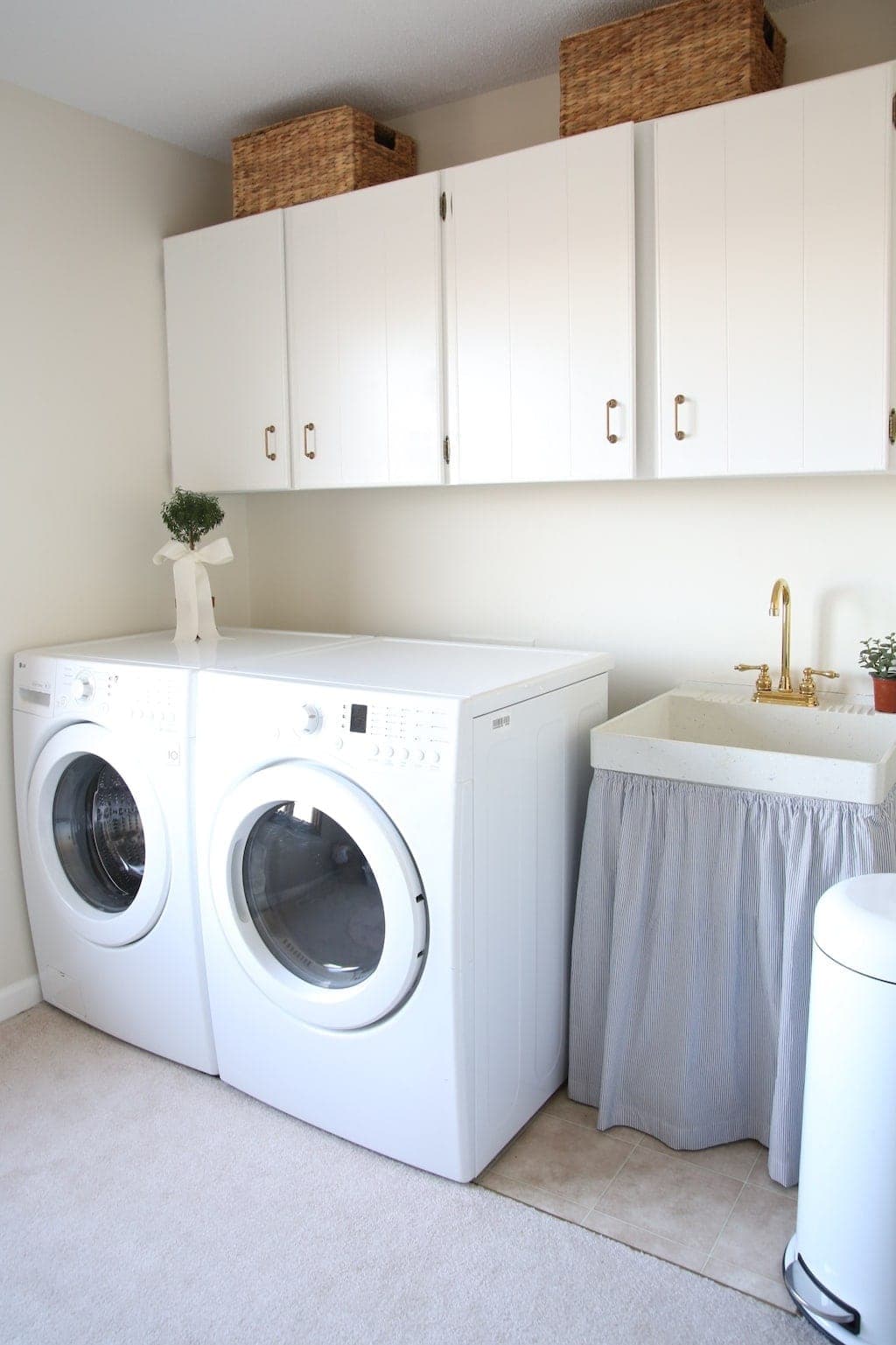 The baskets on top of the cabinets are a perfect fit. They were originally used in our linen closet at our previous home. I have the measurements saved on my phone & every chance I get, I stop by Home Goods to see if I can score two more! They're great for rarely used things like the girls' artwork & keepsakes.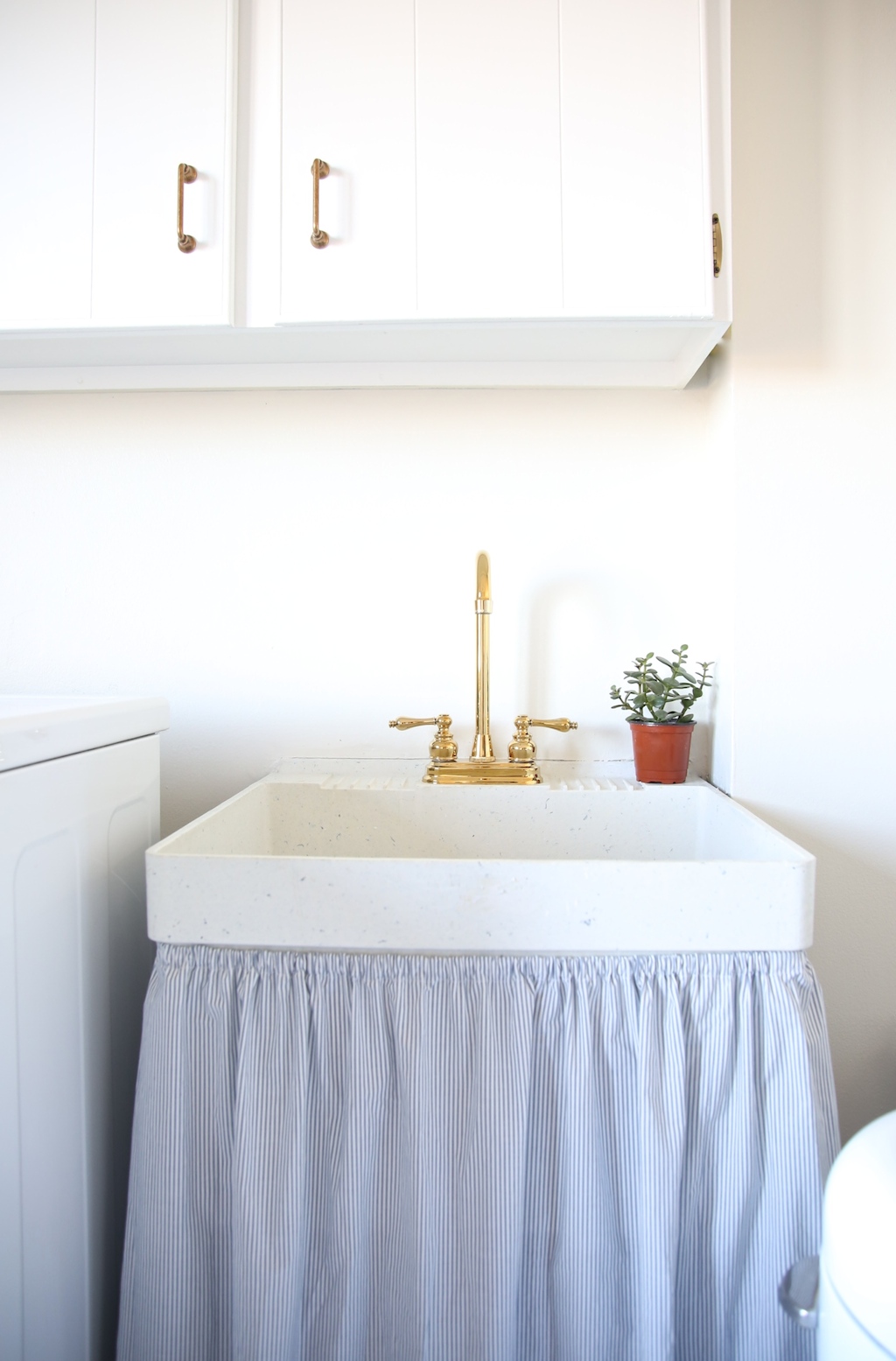 You may also recall that I'm making an effort to include something living in almost every room, laundry room included! I found this beautiful myrtle at an adorable boutique, Sammy Soap, in downtown Kirkwood, Missouri. It requires daily water, but it's one of the most frequently used spaces in the house, plus, a topiary just feels right in the laundry room! I like incorporating a little laundry room decor with necessary accessories & plants. Succulents are a great low-maintenace addition, like the one on my sink.
Now I need to locate we just have to paint the window & replace the ceiling fan with the light fixture I have ordered! I hope we continue to make a lot of progress on our home throughout the winter months.
source list: paint color | trash can | topiary | faucet | pulls
Happy Monday!
Julie