Tips and tricks to create a modern laundry room that blends function and design.
One of the most appealing things about our home is that is has a second level laundry room. This makes laundry extremely convenient! In addition to saving endless trips up and down the stairs, it also minimizes the mess of dirty clothes and stacks of clean clothes on the main level where guests frequent.
When we purchased our home, we did a mini makeover making it feel a little softer and brighter, but it lacked function and still felt a bit too utility and messy for me.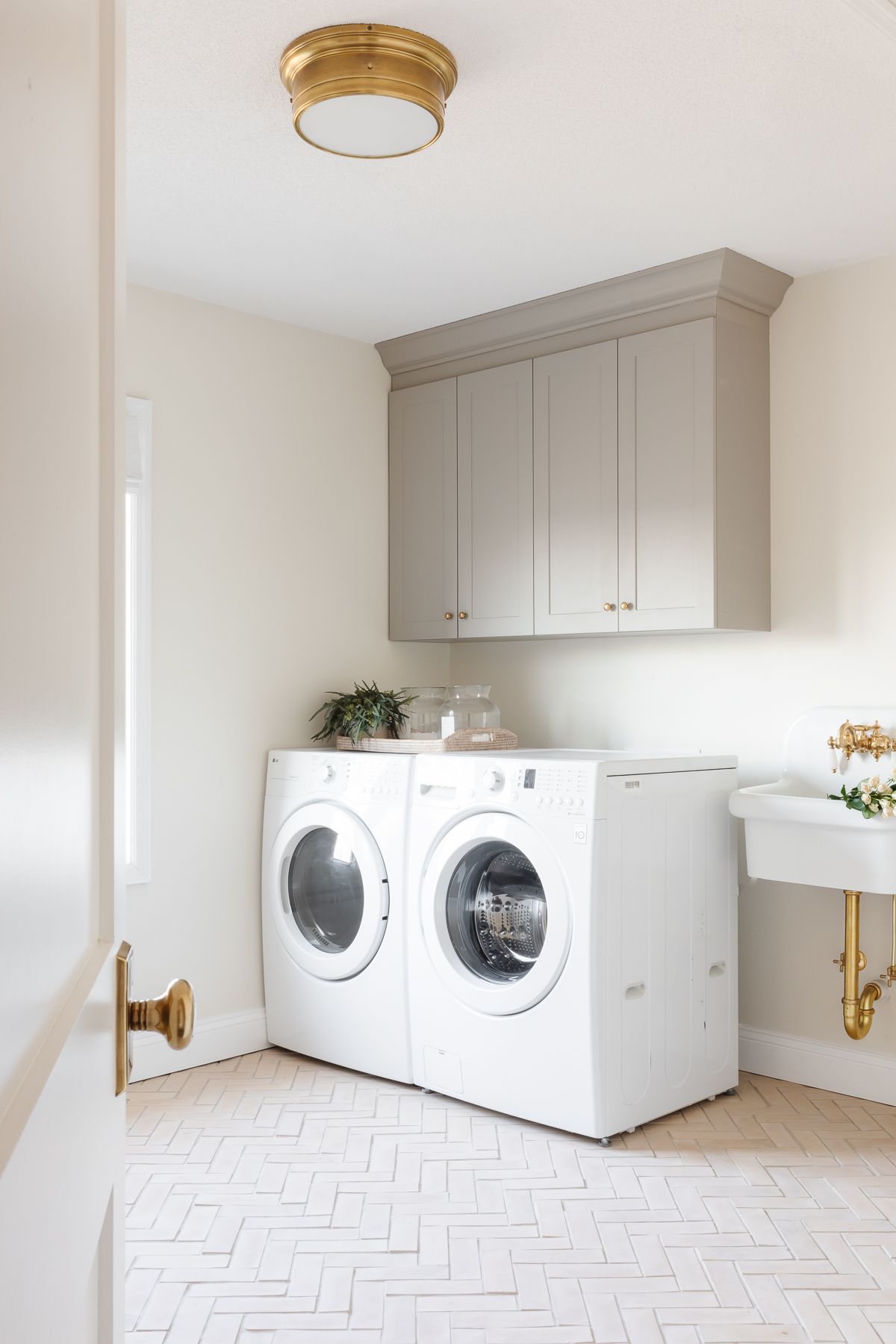 Our laundry room has seen several upgrades over the years. What was once a second story bedroom has become a laundry room and exercise room combined – it's such a great space and one that's so functional for our family.
Today, I'm sharing the process with you, including the reasoning behind some of our decisions. My hope is that this is helpful to you when renovating the laundry room in your own home.
Make it functional for your family! What's right for one family might not be right for the next. Let's think outside the box and make this space not just functional, but beautiful.
Modern Laundry Before
When we first moved in, we immediately updated this dark space to make it feel more like us.
We painted the space in Benjamin Moore Soft Chamois Cream Paint Color which feels warm, light and airy, painted the trim white to make it feel up-to-date, added new pulls, a sink skirt and a brass faucet.
This easy and inexpensive update carried us for six years.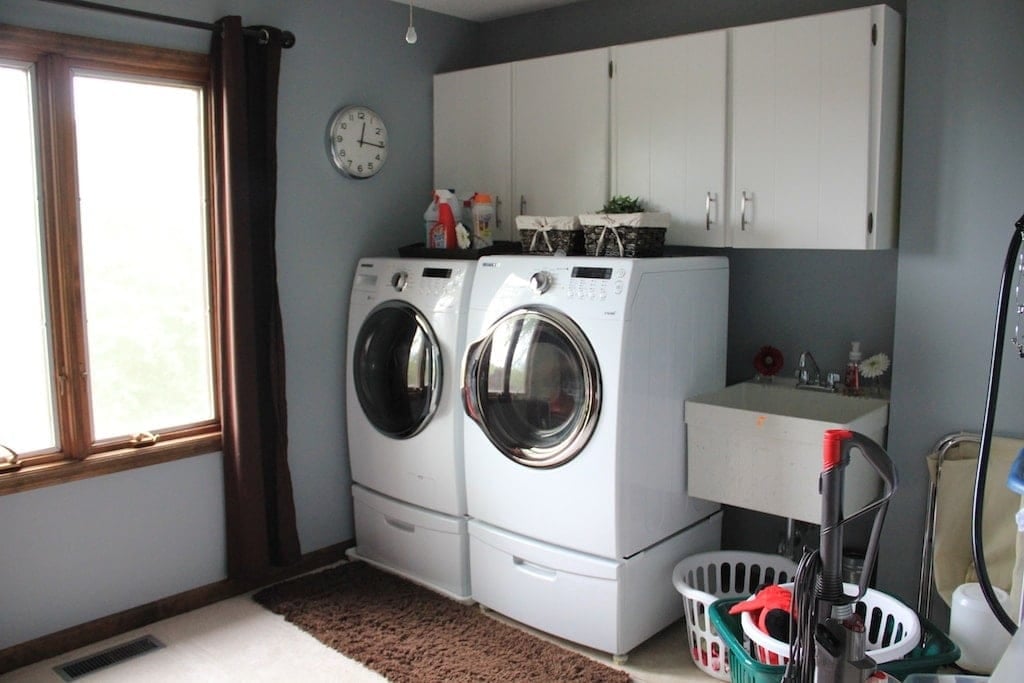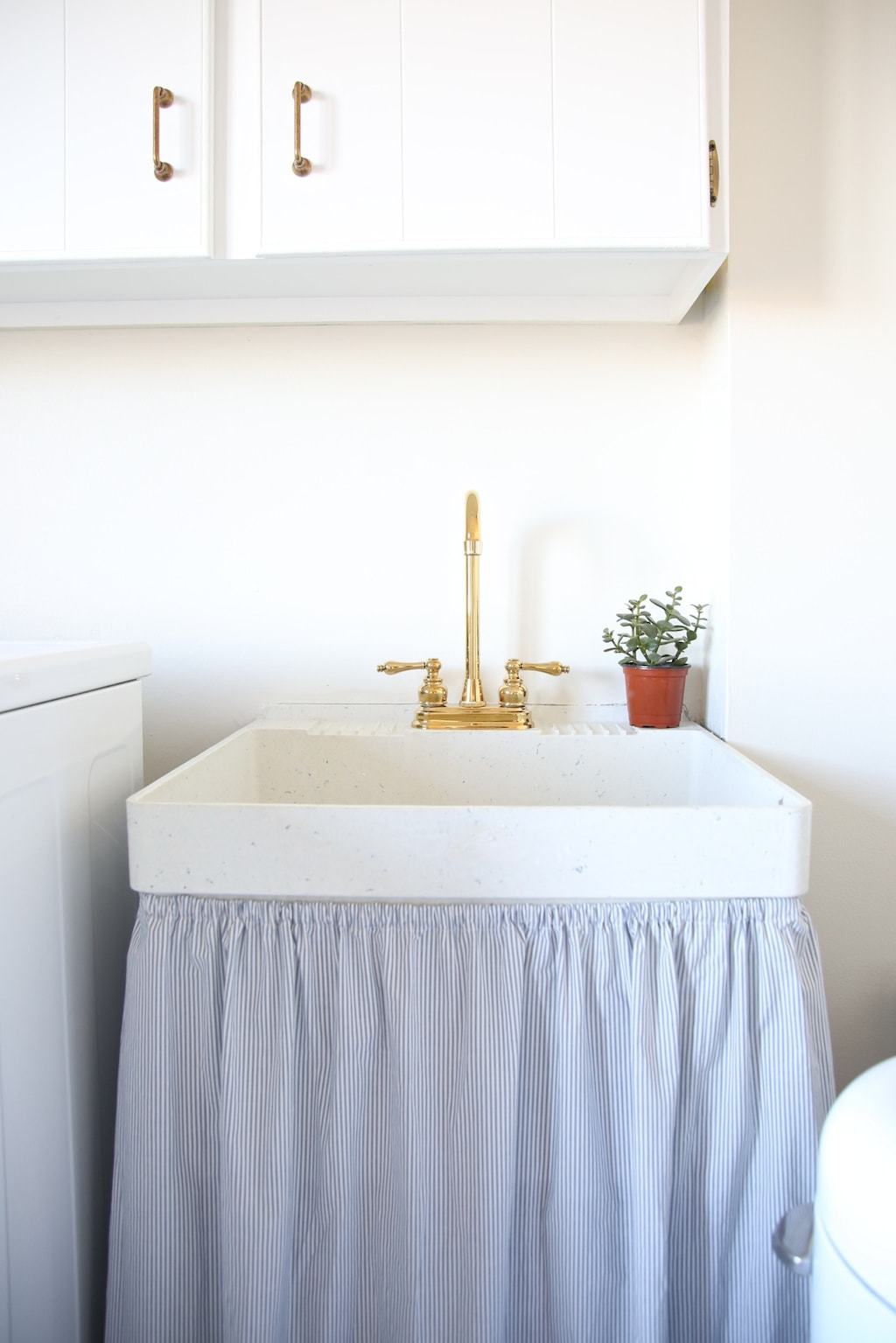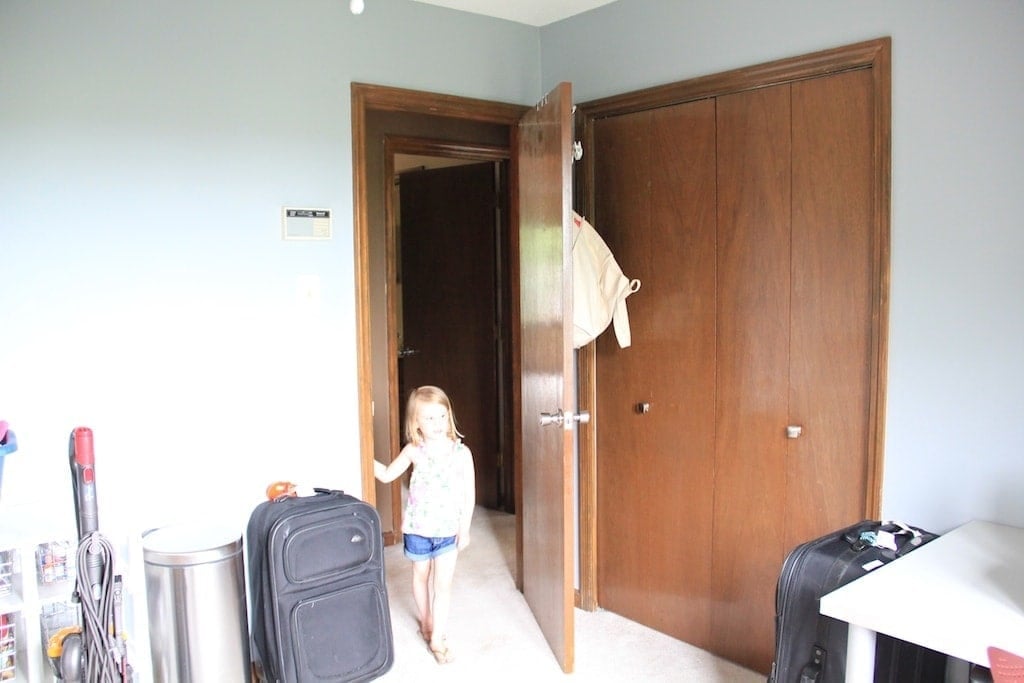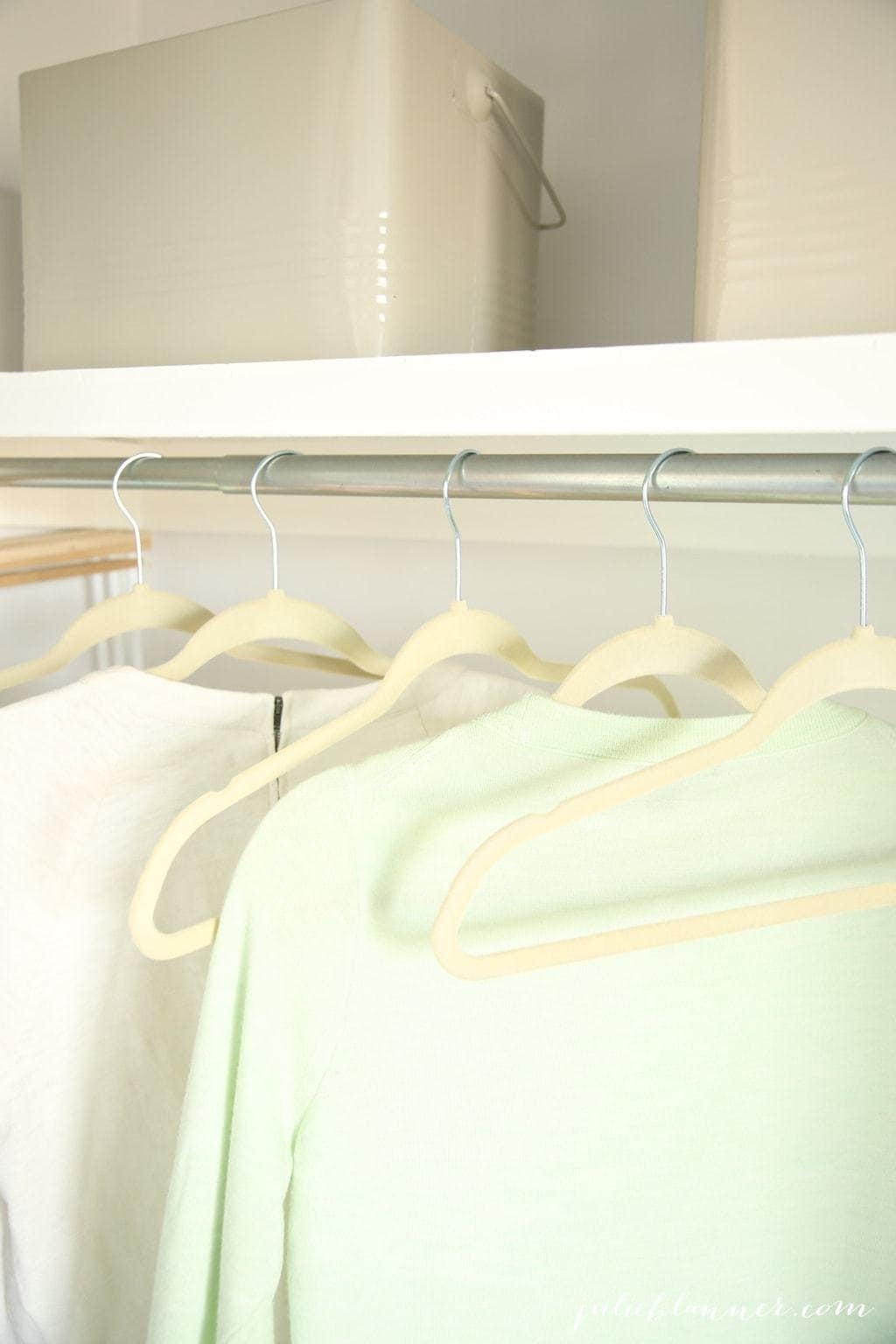 Modern Laundry
Finally, it was time to give the space a complete update!
I like to create mood boards to ensure a space comes together like I envision it. Below are the plans for our modern laundry room.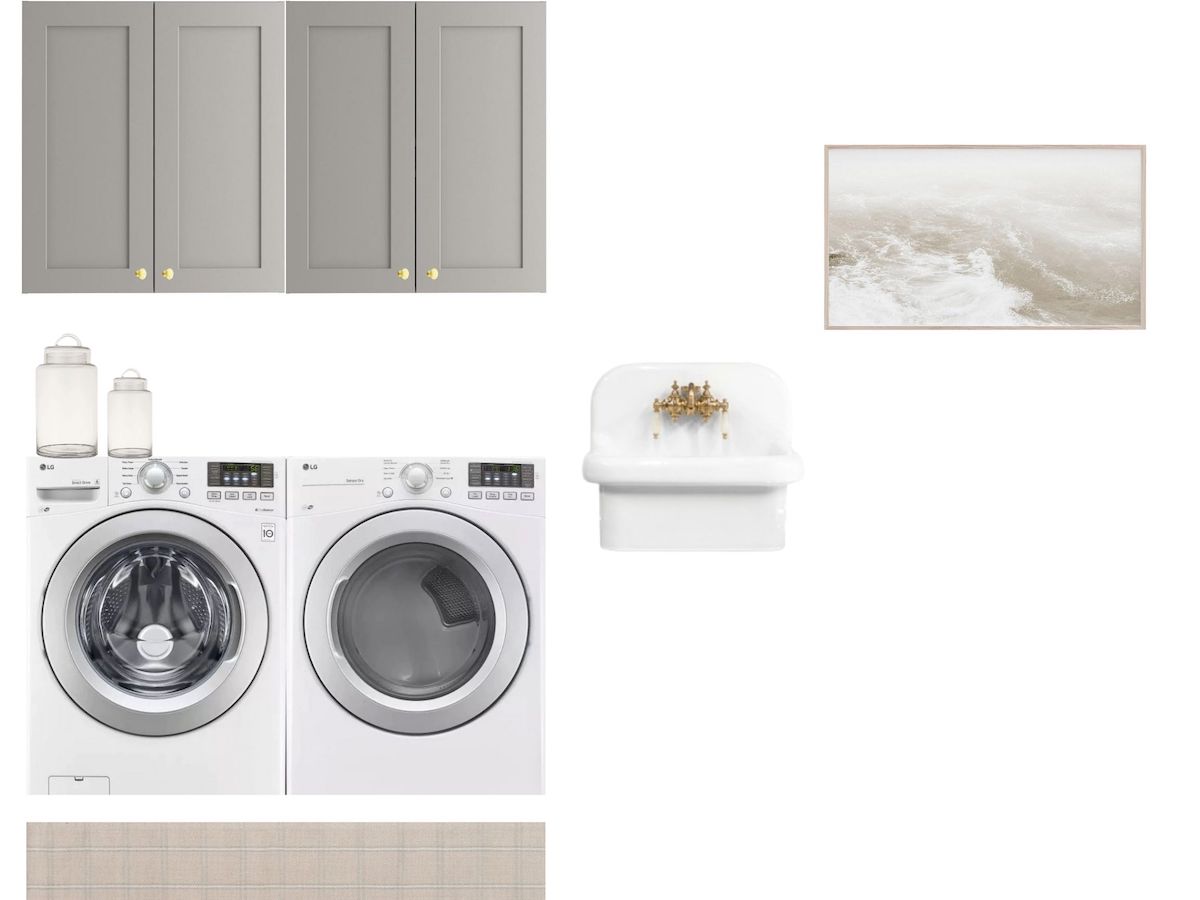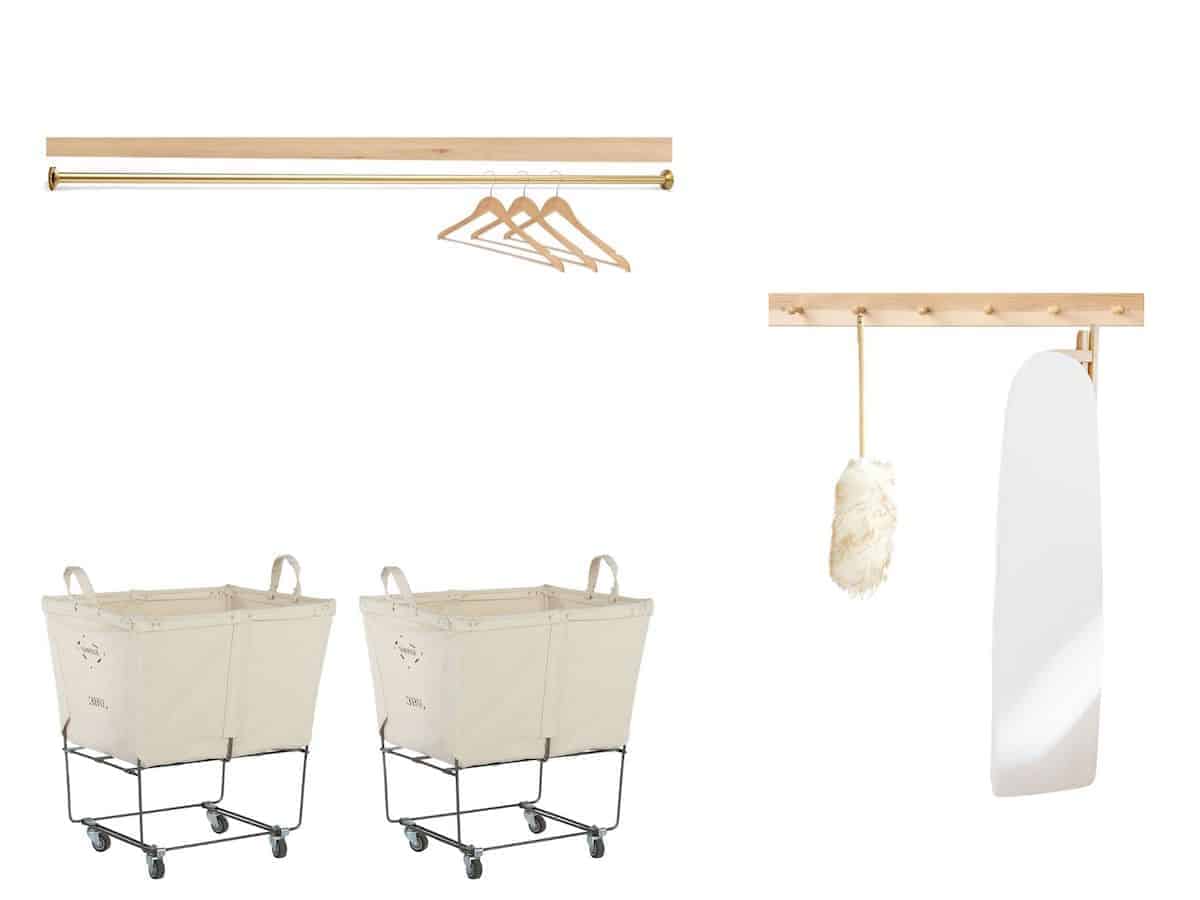 Come on in and see how it all came to fruition!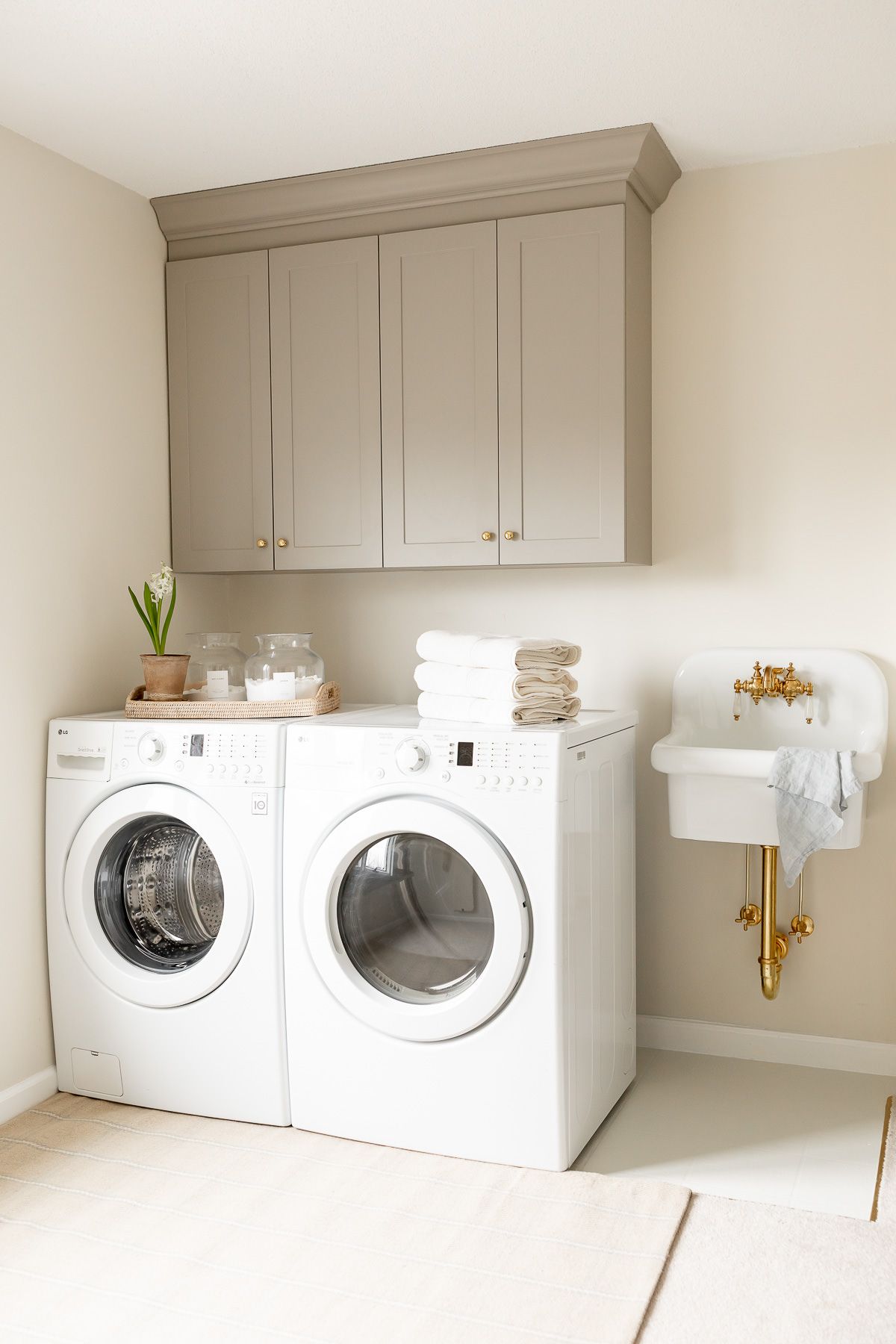 The photos throughout this post are over this long renovation period. Now we've added a new herringbone floor, but some of these images include the original carpet and painted linoleum. Progress takes time, my friends!
Prior to adding the herringbone tile, this painted linoleum was a great fix. Get more of my best tips for layering rugs in this design guide for Layering Rugs on Carpet! It's another inexpensive way to upgrade your flooring fast!
Our Modern Laundry, Step by Step
Laundry Room Cabinets
As a minimalist, I like to blend design and function, maximizing space and ease of use. When you live in a space, you can easily assess your wants and needs to add function to a space.
The laundry room cabinets were deep and made of particle board which made it difficult to get things in and out of them. They we also short, making the room appear small. They were also crooked which wasn't a fit for my Type A personality!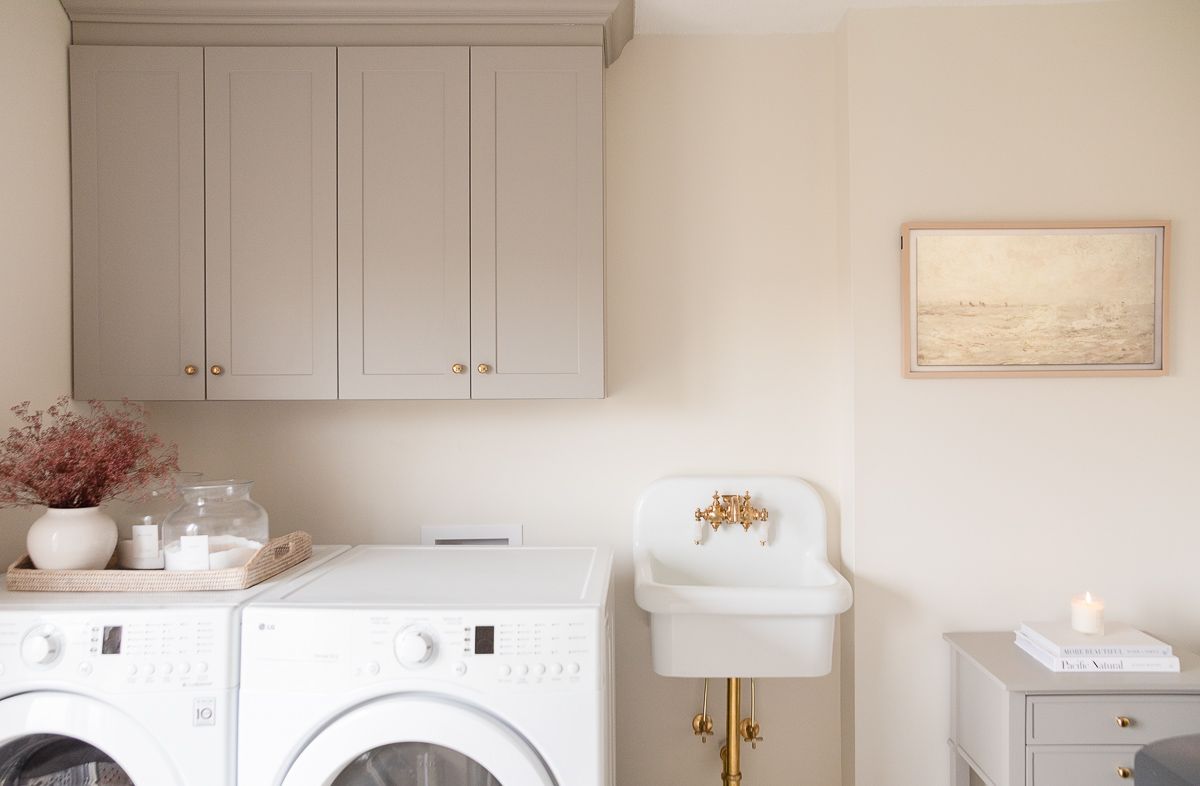 To make the space appear larger, we integrated stock cabinets and used crown moulding to go to the ceiling, while keeping them accessible. This draws the eye up, giving the illusion of more space!
We chose to use 2 large full overlay cabinets which provide sufficient space and kept the space over the sink open. Blank space is yet another way you can make a room appear larger. This also created better working space to get stains out of clothes in the sink.
The shaker style cabinets are the perfect addition for modern laundry. It's greige – hints of grey and mushroom feel warm when paired with our creamy walls. To finish them, we incorporated unlacquered brass knobs. You can learn more about cabinet knob placement here!
The height and depth of the cabinets paired with standard washer and dryer height allows us to freely work in the space while keeping the cabinetry accessible.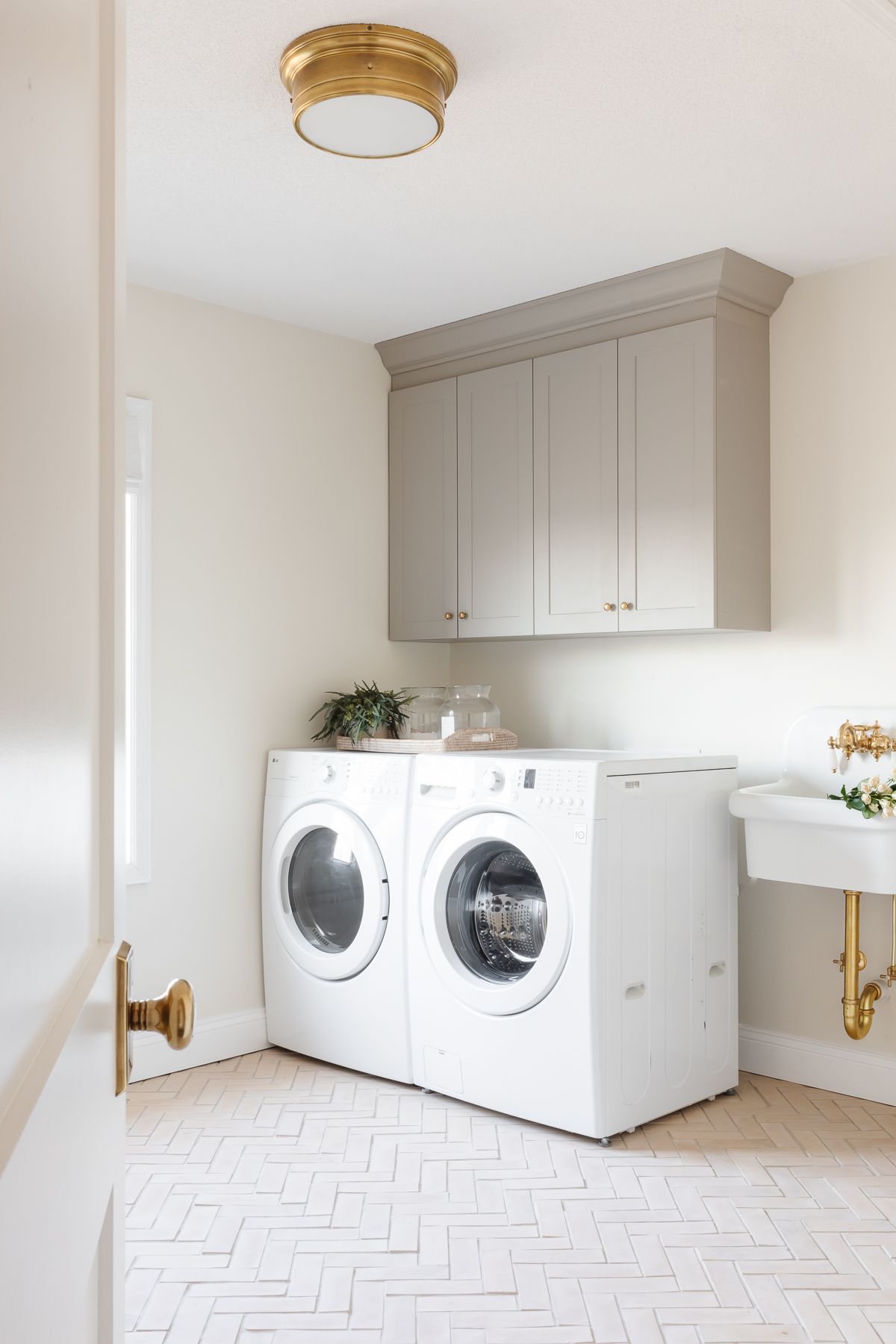 Laundry Room Sink
This vintage inspired wall sink adds a touch of design to the laundry room while providing a place to work on stains.
Unfortunately as lovely as ours from Watermark Fixtures looks, it has been an absolutely nightmare and a waste of nearly $900. This sink, along with the cheap leaking hardware, is being replaced with a functional wall sink.
While I'm disappointed with our wall sink, I encourage you to find one you DO love and read more about them at the link above! It's such a charming vintage look and there are many great quality pieces out there, I can't wait to find one that functions better for us.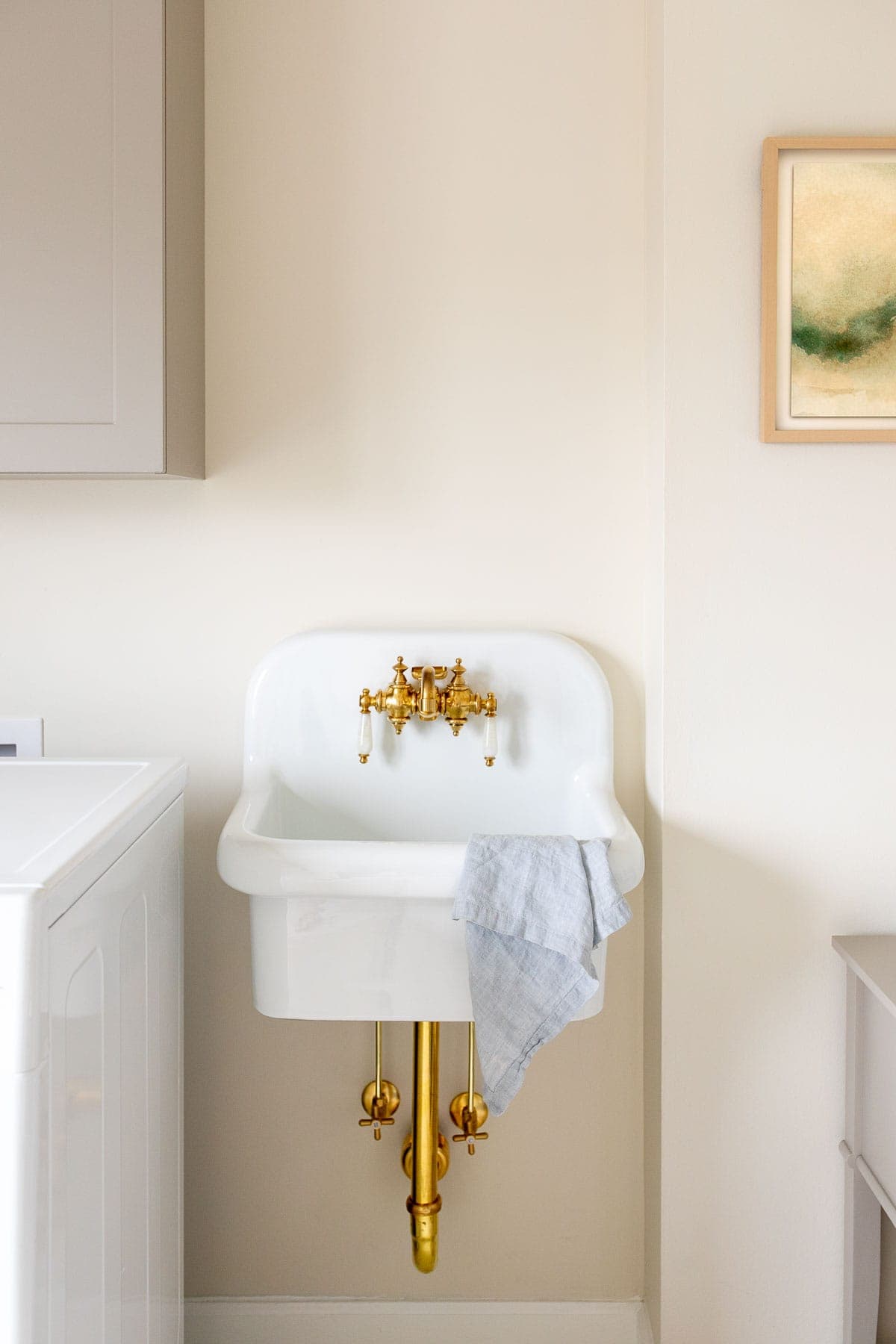 TV Art
We are absolutely obsessed with the Frame TV and have it in our master bedroom, living room and now laundry room! With its oak bevel, it is easy-to-update art when not in use. (You can find my public domain art sources here).
However, when we're doing endless laundry, folding and ironing, it's nice to watch TV to pass the time!
This space also doubles as my workout room where I exercise on the elliptical each morning. Adding the Frame TV makes it feel more intentional, once again blending function and design!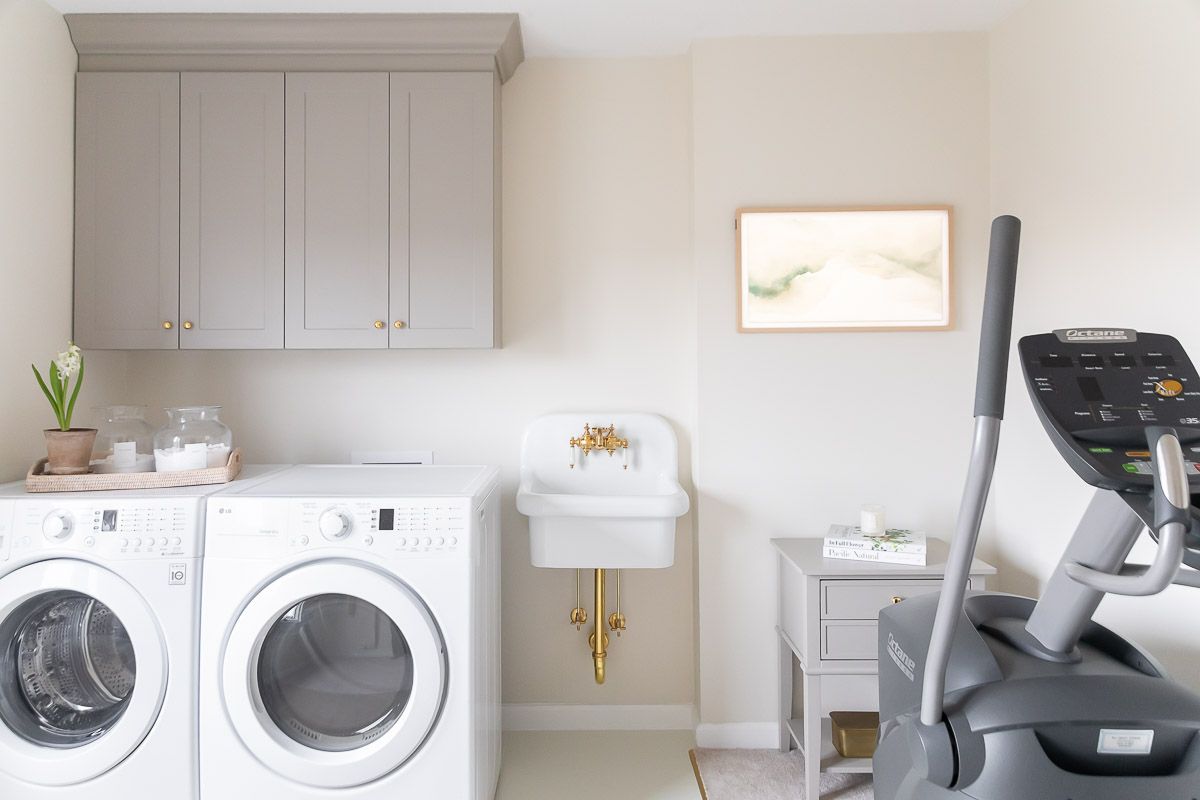 Storage and Function
Just below it I added a side table painted in the same greige as the cabinets to store the box and hide the elliptical and extension cord. To keep it cohesive I replaced the knobs with the same unlacquered brass knobs used on the cabinetry.
You can get my tips to paint without sanding and how to paint furniture for a smooth finish here! (Find the paint color match at the end of this post.)
This modern laundry also serves as a utility room, storing cleaning supplies. To make them accessible, I store them in easy to grab caddies. I tote them from room to room while cleaning and stow them away when done.
Peg rails are another great way to stow cleaning supplies and the frequently used ironing board without consuming space. This utilitarian approach almost doubles as decor. Integrating your supplies makes it feel interesting, while adding function.
To make the closet (again, this space was formerly a bedroom) feel more intentional we removed the existing particleboard shelf, builder's grade closet rod and remaining door hardware.
I added a raw oak floating shelf made to size. Raw wood adds another layer of warmth while giving it a modern touch and is the perfect place to stow cleaning caddies. It is substantial and balances the space. It makes the closet feel intentional rather than like an afterthought.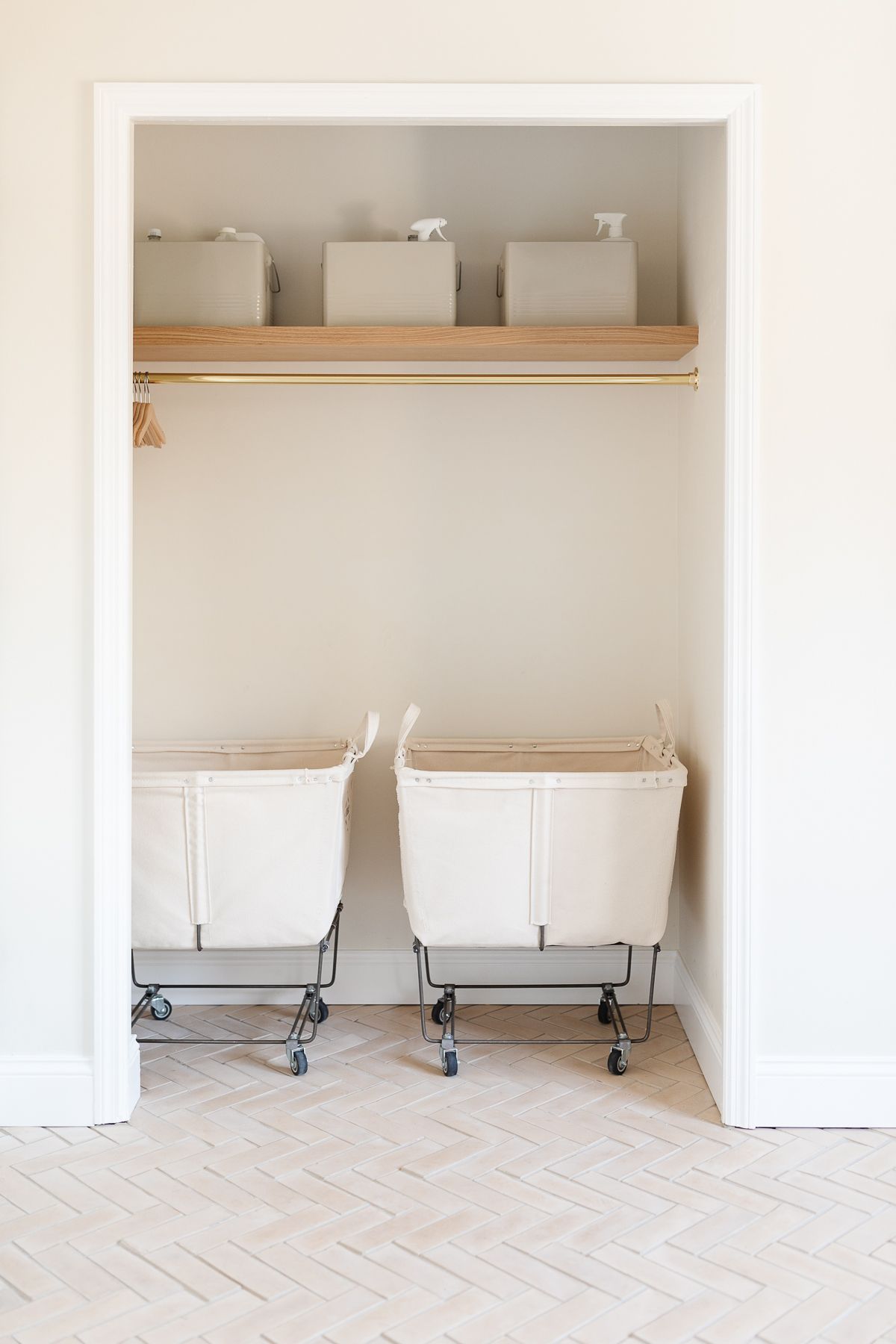 A brass rod dresses it up and makes a statement. It's a great place to hang shirts that have just been ironed or to allow the occasional shirt to dry. It also brings in warm color, tying in the laundry room cabinet hardware and brass flush mount light fixture.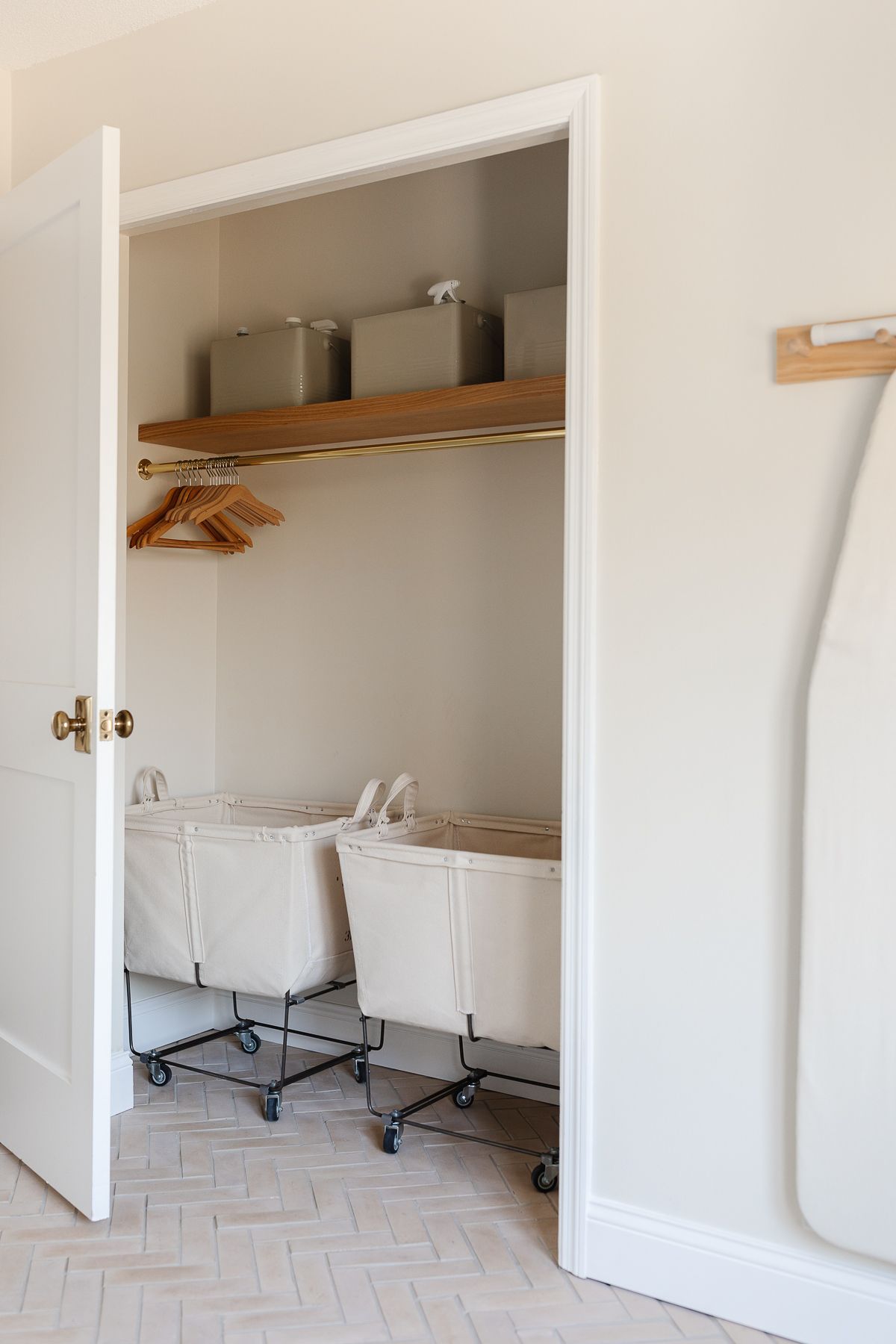 Laundry Room Accessories
Just beneath plastic laundry baskets have been replaced by functional laundry carts.
Not only are they more charming, but the height is perfect for transferring clothes into the washer or out of the dryer. They're easily accessible to fold clothes as well.
They effortlessly transport clean towels, sheets and clothing to bedrooms, bathrooms and the linen closet on both wood and carpeted surfaces.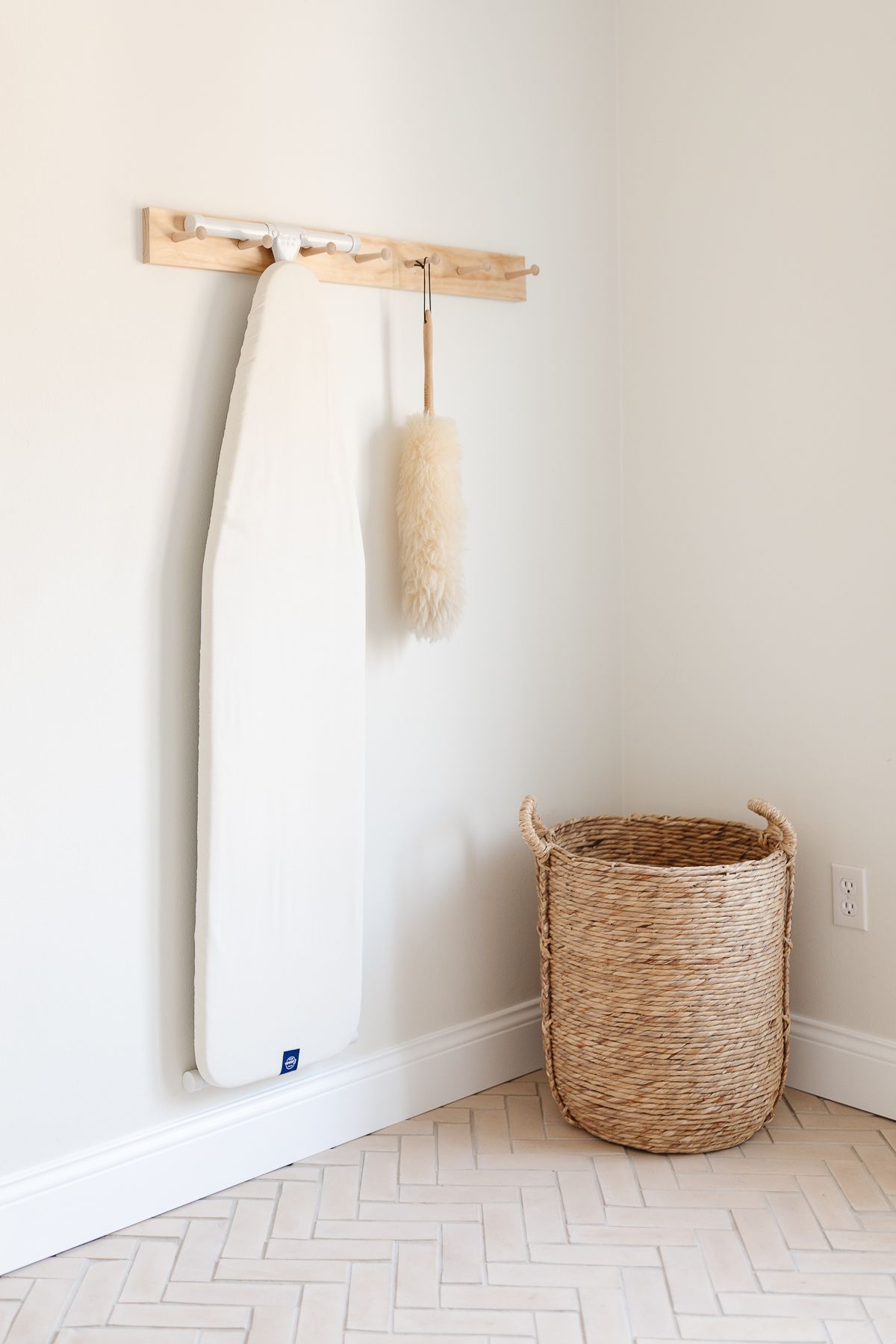 A white roman shade completes the space. It polishes the laundry room without a lot of effort or expense.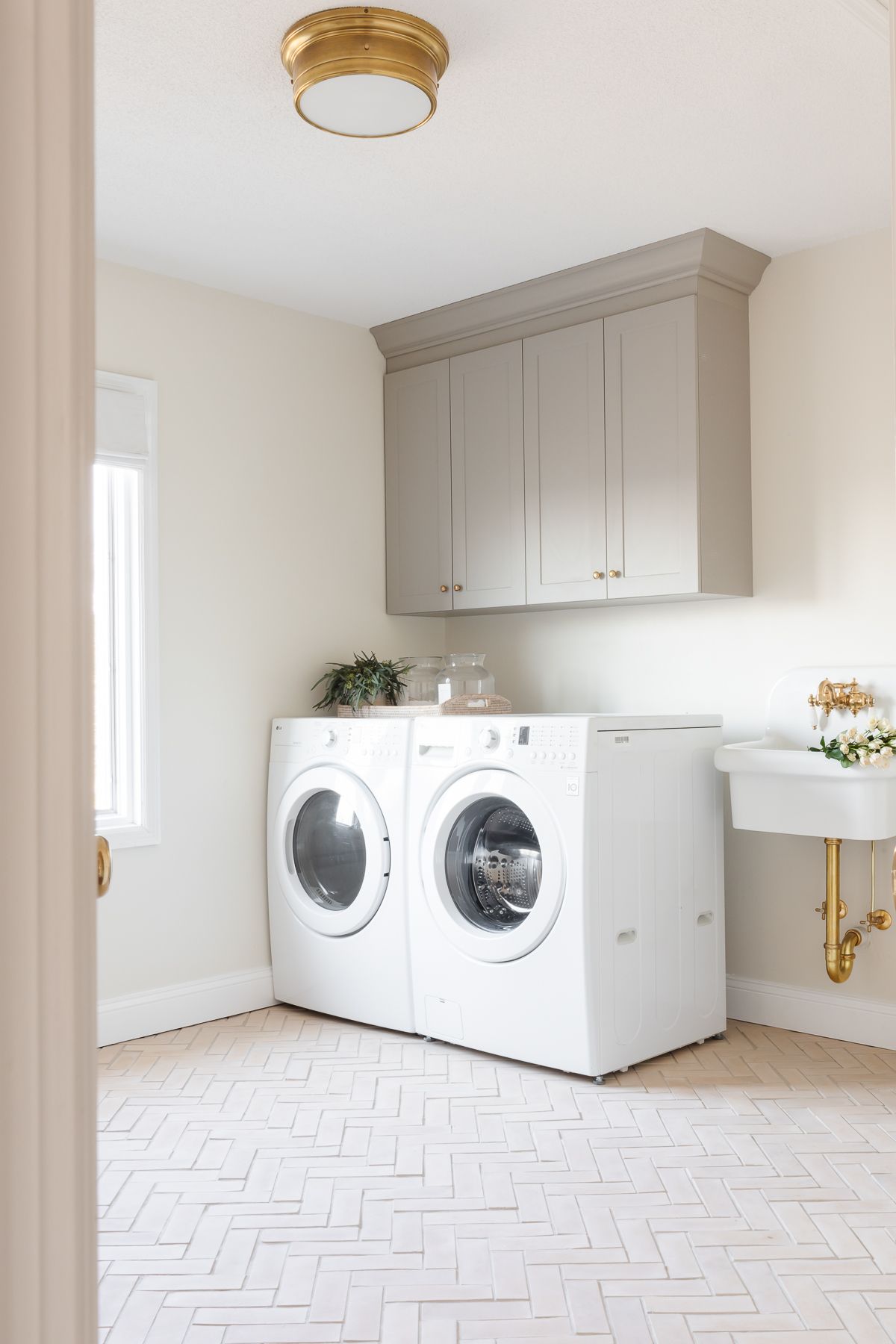 Let's stay in touch! Join our newsletter for access to exclusive content, never-before-seen photos, your questions answered, and our favorite projects. You'll receive the best design secrets delivered directly to your inbox! Sign up here!
Greige Cabinet Color
Looking to match this cabinet paint color? We bought the gray stock cabinetry in this color and matched the small table to this paint in a custom code.

Here's a snapshot of the paint can to help you achieve the same result. While the cabinets appear a true gray online, in our home they are much more of a greige/mushroom color!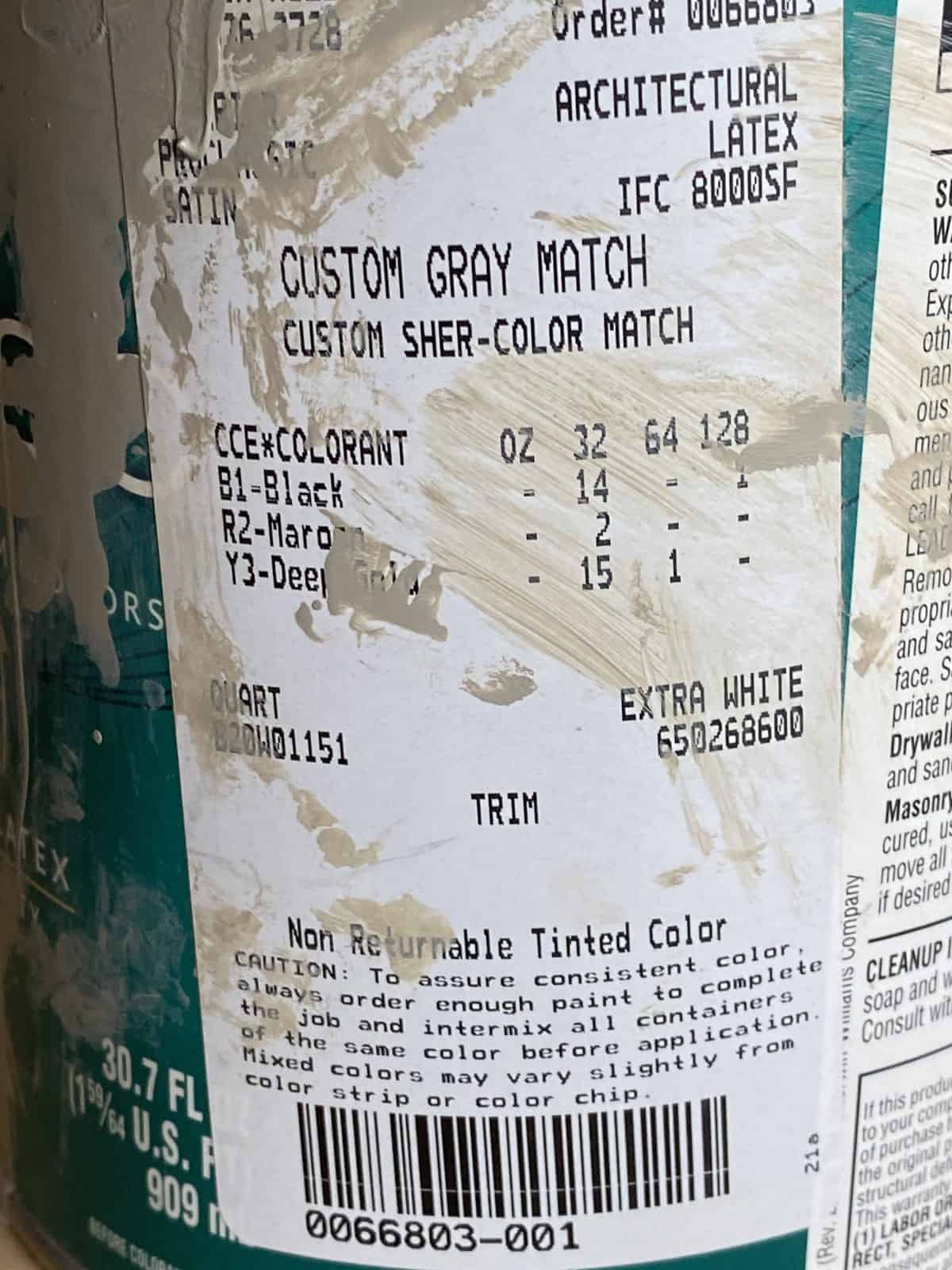 I love chatting paint with you – don't miss my favorite Warm Whites and Greige Paint Colors! The walls in this room are painted Soft Chamois.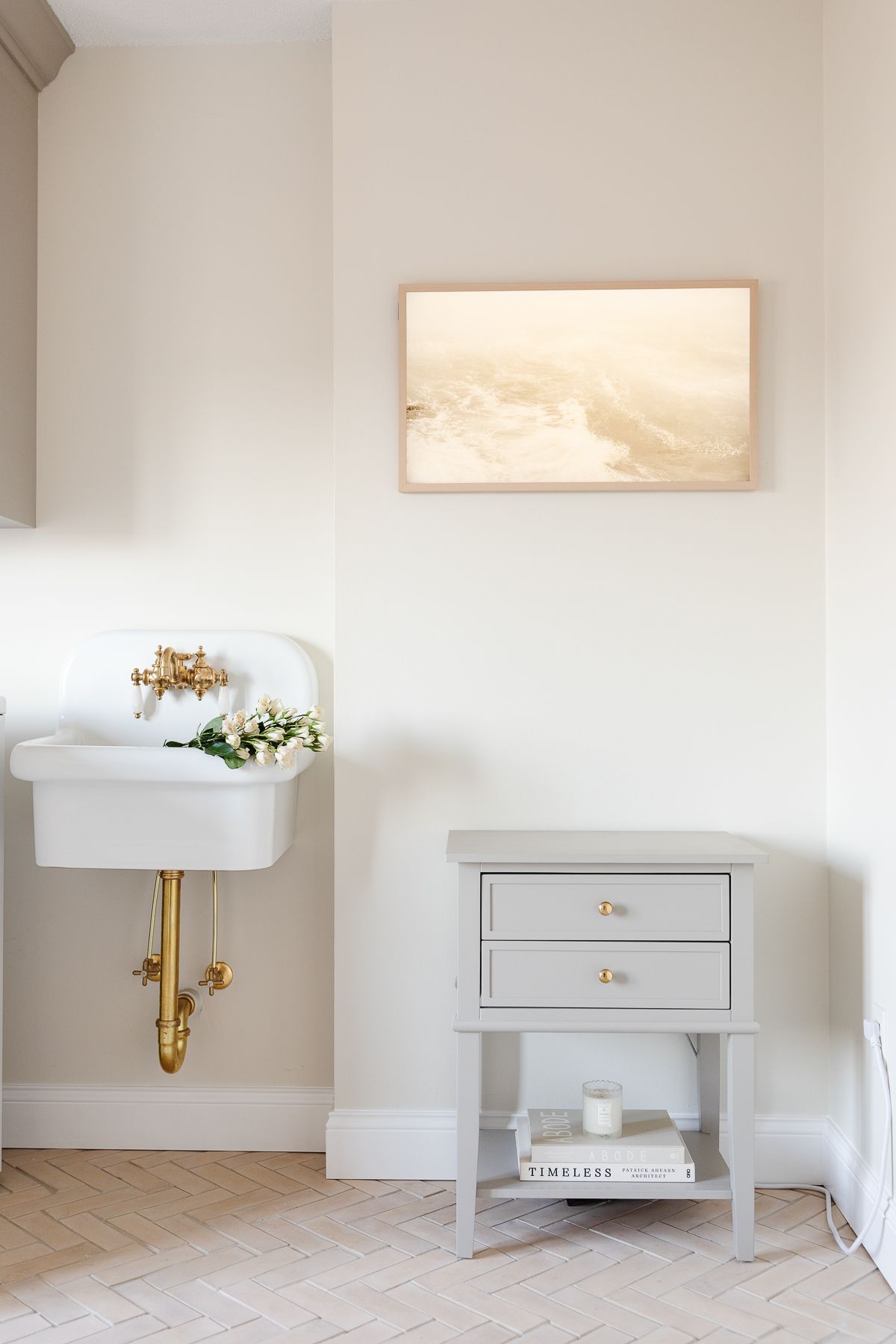 Let's keep in touch! Receive exclusive content, including never-seen-before photos, our favorite home decor DIYs and more!
Entry, Mudroom, Garage & Laundry