Adding Christmas Lights in a bedroom can make it feel warm, cozy and magical for the holidays. Learn how to make your bedroom and kids' bedrooms festive!
The best way to make your bedroom feel magical and cozy is to add Christmas lights for the prettiest Christmas bedroom decor. The last couple years we decorated our master bedroom for Christmas and I have to say, there's no better way to wake than being surrounded by the magic of Christmas.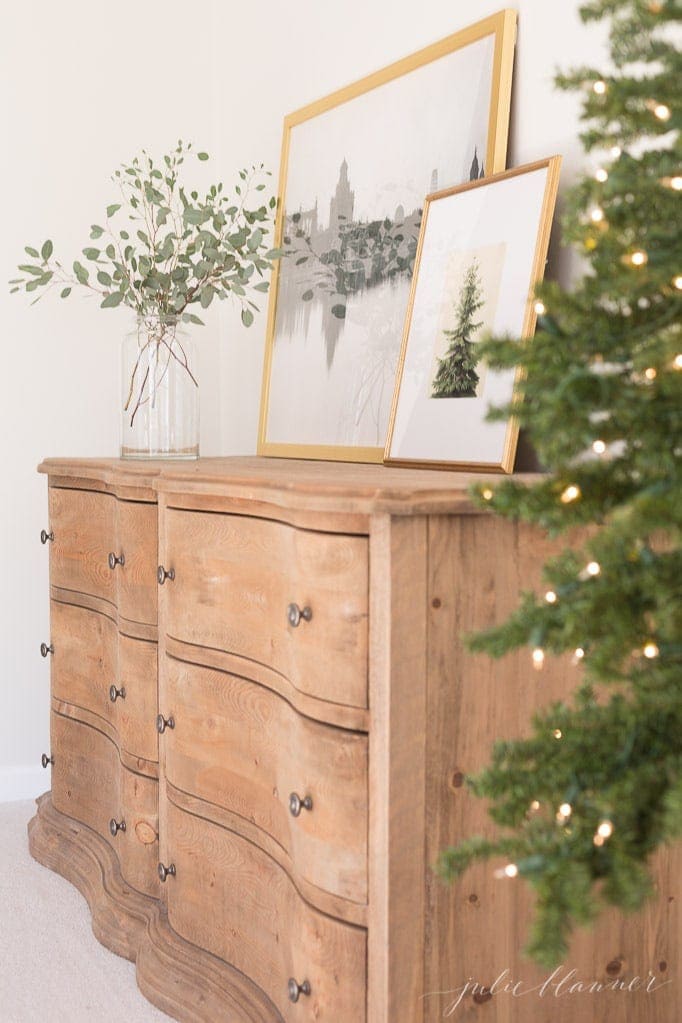 Christmas lights create a warm and welcoming atmosphere that just feels magical. They're quick and easy to integrate and inexpensive. Their beautiful glow adds a hint of Christmas to any space – including your bedroom!
I was overwhelmed with your kindness when I shared our bedroom last year and decided to add Christmas lights in bedroom decor this year. It's amazing what a Christmas tree or a few string lights can do to make to make your bedroom feel festive!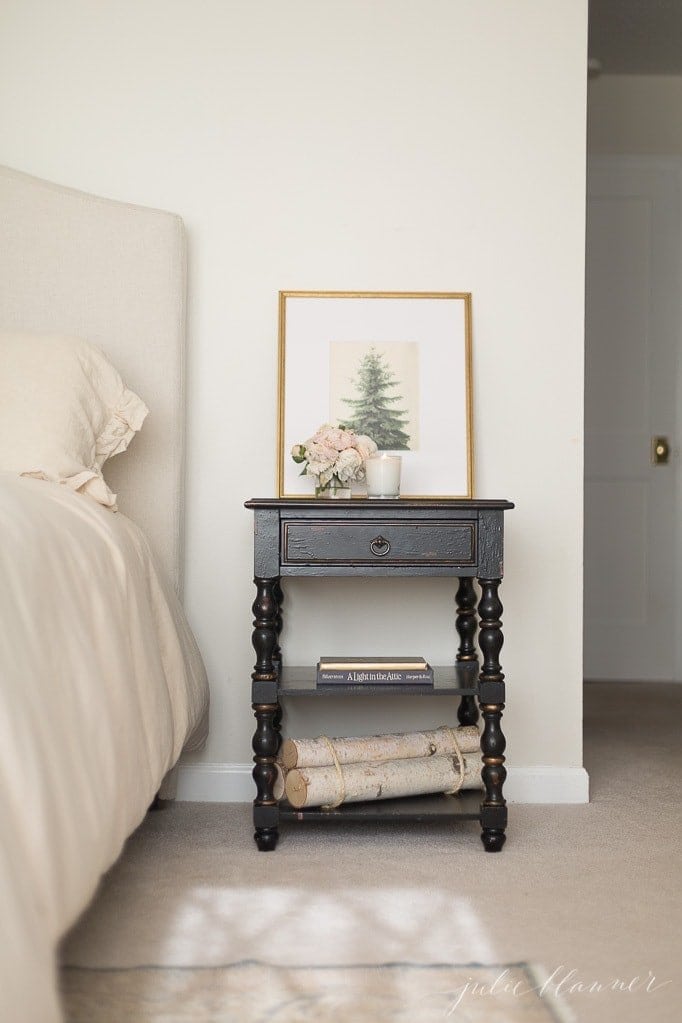 Our Christmas bedroom decor is just a few simple hints of Christmas, that can be enjoyed all winter. I purchased these night stands last year with the intent of stripping or painting them (think Giannetti style), but it hasn't been a priority – likely because it feels like entirely too much effort.
So until then, I try to often them with faded peonies, a little candlelight, my mom's Apples of Gold book which I treasure. I also added a bundle of birch logs that will grace the night stand all winter – it's one of my favorite Winter Decor elements.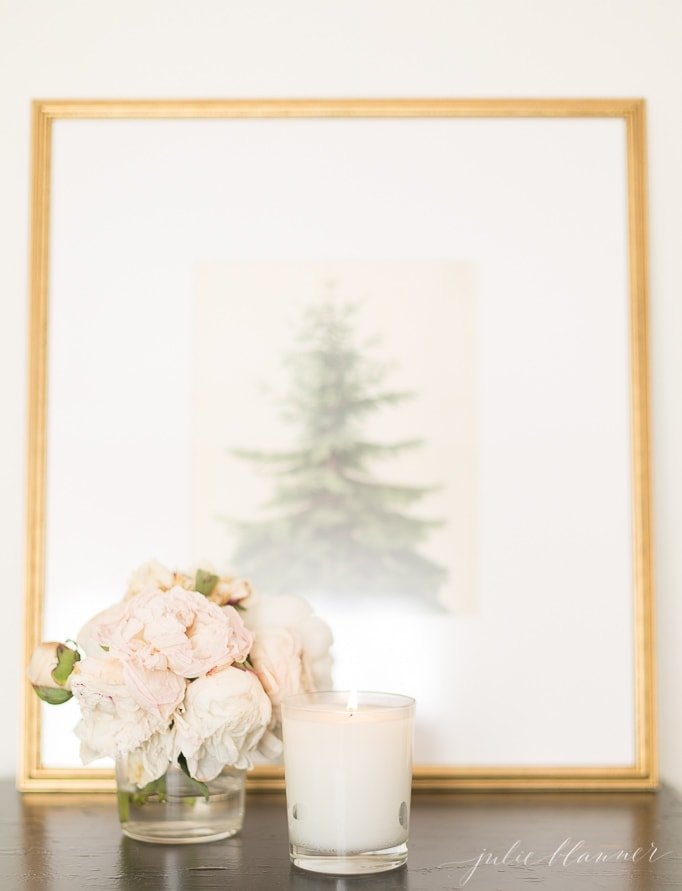 I also love incorporating free vintage printables like this Framed Christmas Decor Tree Printable. It is one of my favorites that I used in our previous home. There are so many beautiful pine and evergreen trees, pine cone and holly botanicals that lend well to the season.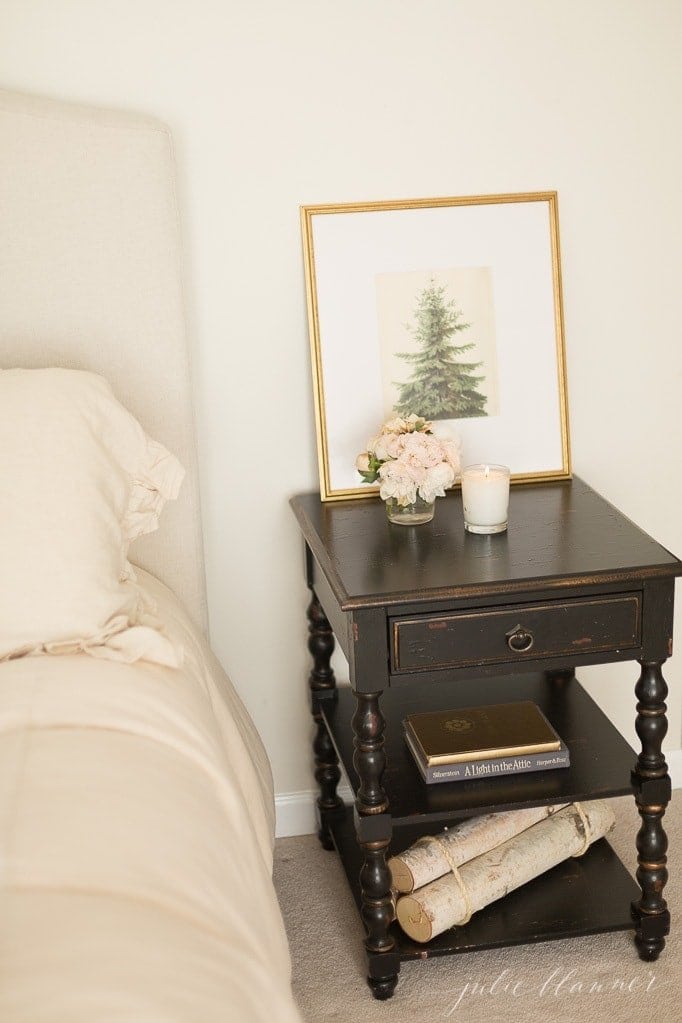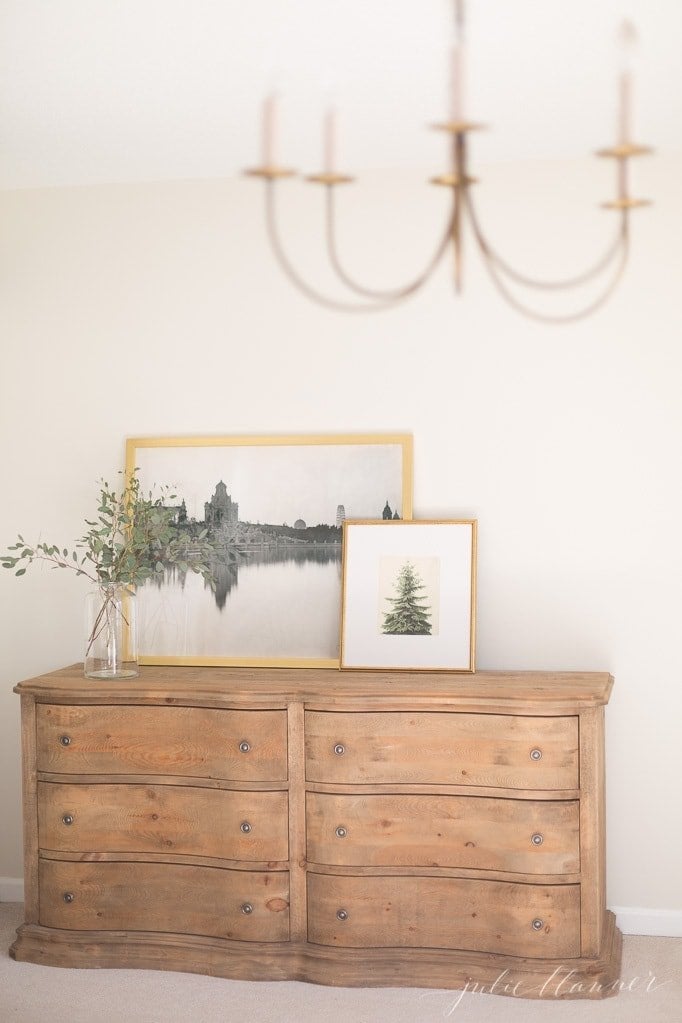 I replicated it on our dresser as well with a framed photograph of the 1904 Worlds Fair – the site where we married 10 years ago and a few branches of eucalyptus.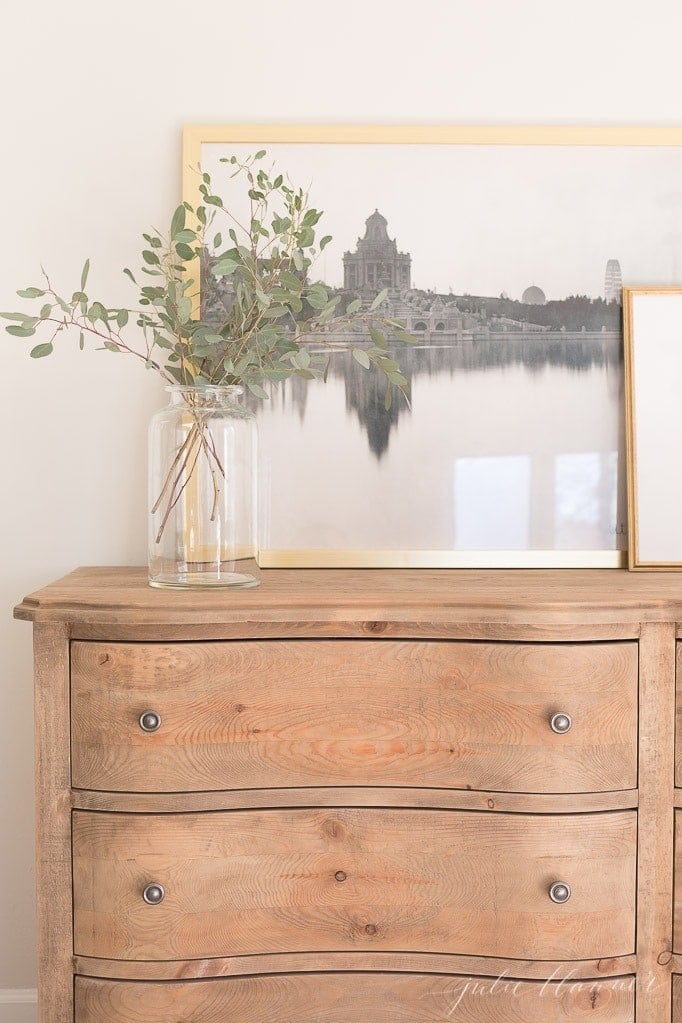 But what really brings it to life are Christmas lights in the bedroom.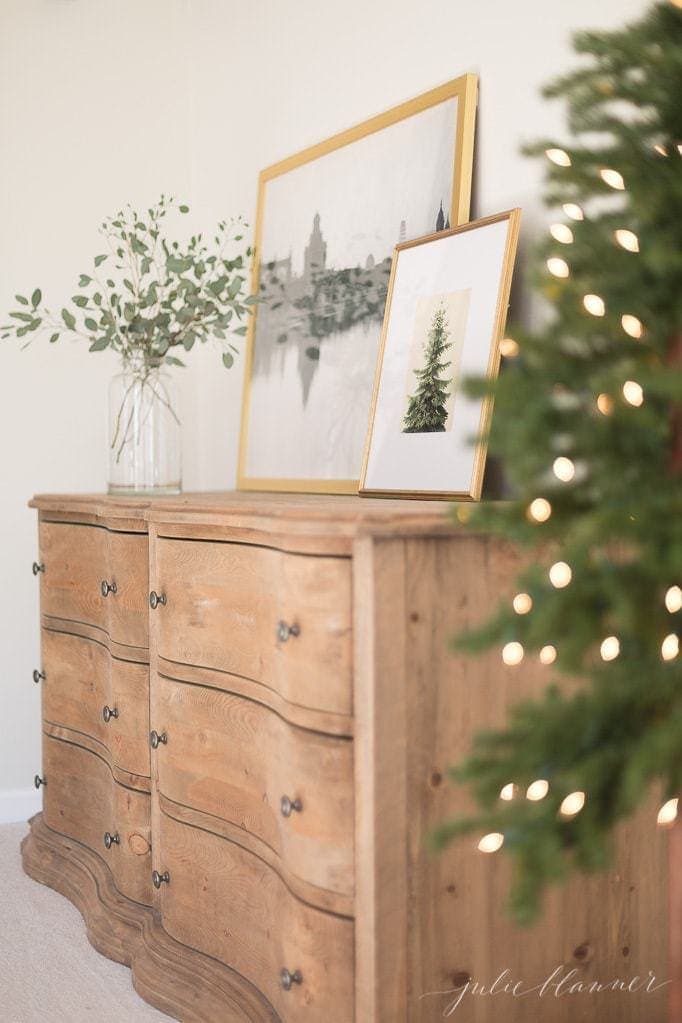 I added a few miniature trees throughout our bedroom to make it feel festive. A single strand of Christmas lights adds the most beautiful glow. You can even use the battery operated LED lights for a little twinkle without the fuss. Hanging lights has never been easier.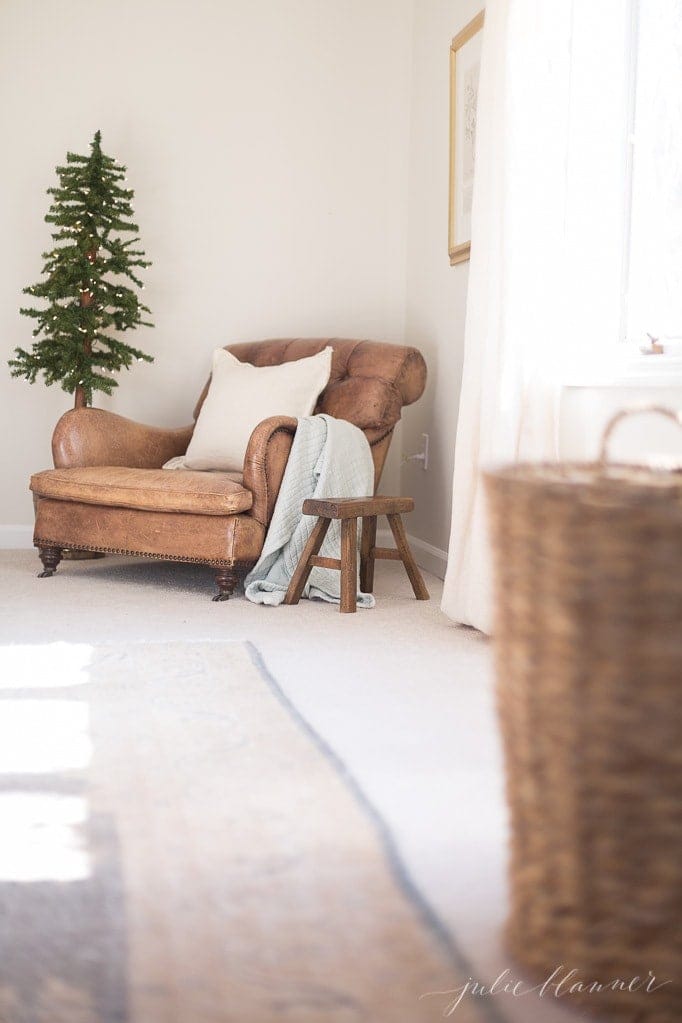 Wrap them around a tree or a wreath to add a little twinkle. There's really no cozier space than your bedroom, is there?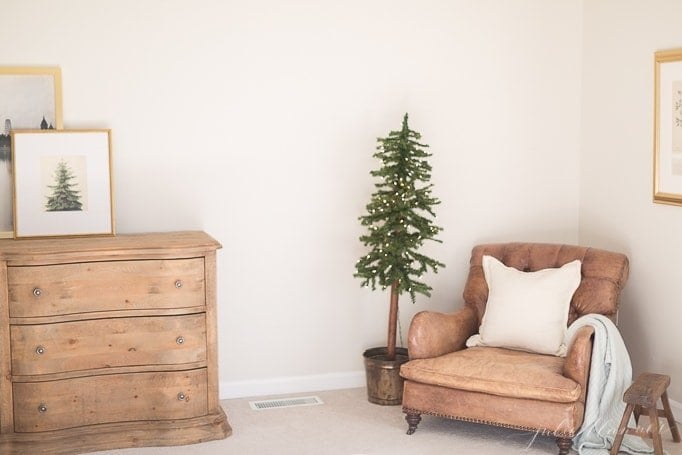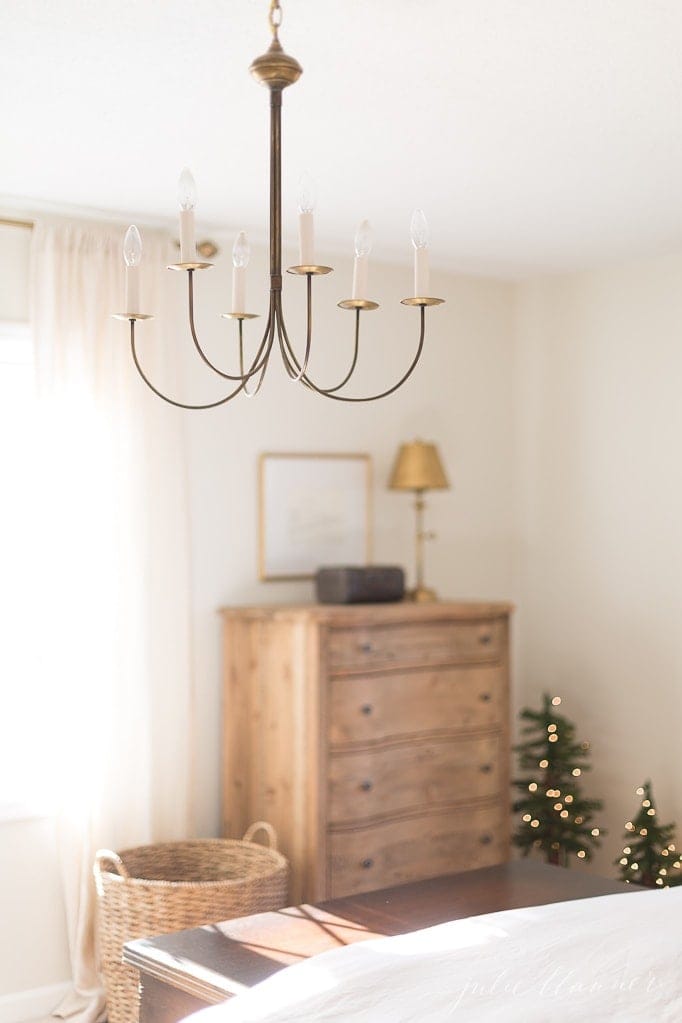 Simple touches and soft blue hues combined with twinkling lights.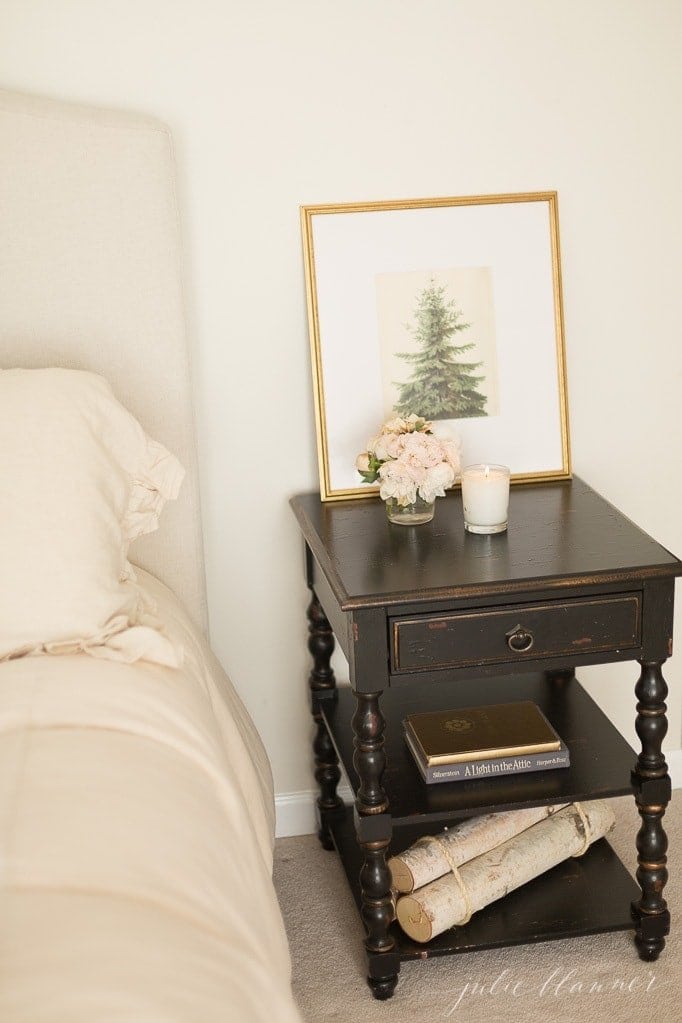 We loved them so much we just may hang string lights next time!
More Lighting Inspiration