If you're dreaming of copper gutters for your home, this is a great place to start. Learn the ins and outs of all things copper gutters: cost, downspouts, design decisions and so much more!
Copper gutters are a significant investment, but one that will change the entire look and feel of the exterior at your home. Find out if they are right for you in this complete guide!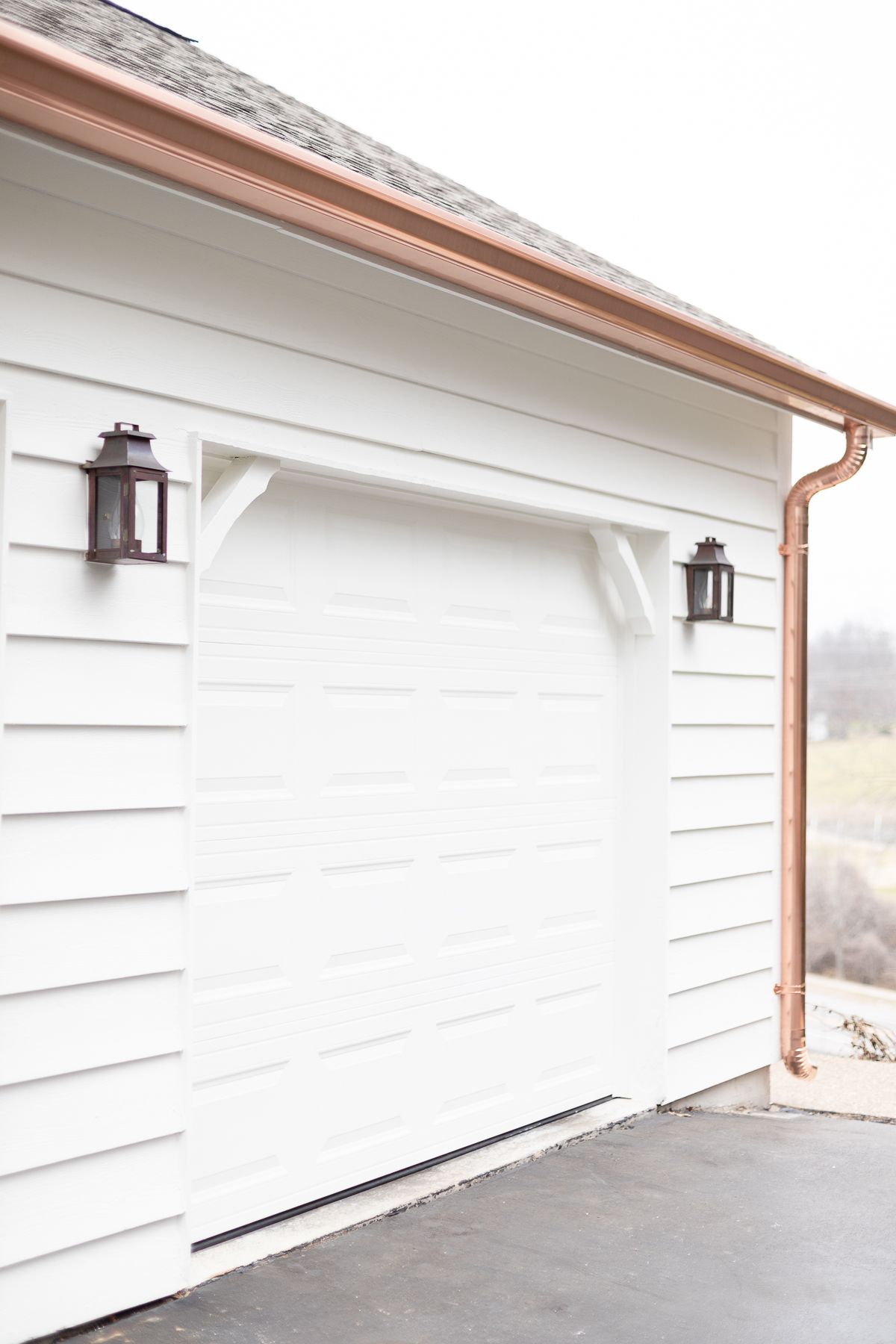 To say that I've been dreaming of copper gutters for years is not an understatement. It's one of those investments that can be difficult to make: they are expensive and you've got to get the timing just right with other exterior makeover decisions.
When we moved in, we decided to update the exterior of our home first, so we could be proud to pull up to our home! We chose Tudor Paint Colors that we've enjoyed for years.
However, that paint was already showing so much age. This time, we knew the damage to our siding was too big to hide with a quick fix paint job.
We've long suffered from drainage problems and old siding issues with wood rot, water damage and more. After replacing the roof and repairing things in a piecemeal fashion over the years, it was time for a bigger, more long-lasting renovation.
After months of wavering, we finally decided to work with what we had and give our home a fresh new look with a more realistic investment.
We had the wood rot and bad siding repaired, and jumped into painting our home. We decided we'd take the money we might have spent on sleek new siding to add our dream COPPER GUTTERS instead.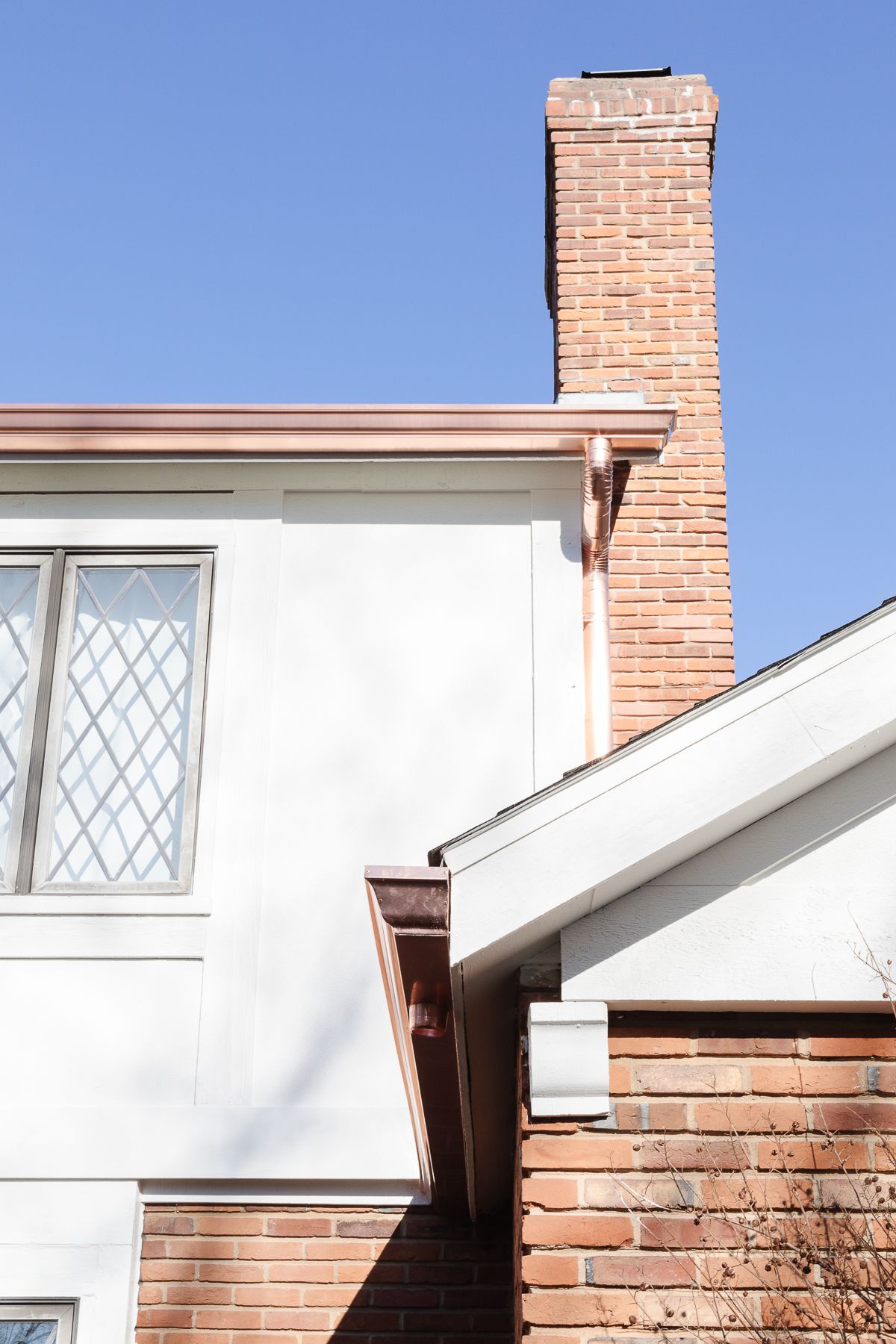 I'm so glad we took the leap. The new paint and gutters have completely changed the exterior of our home!
Throughout this post, you'll find photos of our new copper gutters as well as photos of completed homes that feature these beauties. I hope this inspires you to feel confident in your own decisions for your home!
A Complete Exterior Makeover
We received many bids over the past year to renovate the exterior of our St. Louis home. It was overwhelming, to say the least. The options were vast and the proposed styles were just never quite right.
That's because I was dreaming of a fresh, creamy white house with timeless copper gutters and lanterns. I wanted something a little southern, welcoming, and full of charm. I just love the patina on copper and knew we had to incorporate it – much like my love for unlacquered brass!
These metals are like the statement jewelry of your home, adding elegant, timeless style!

– JULIE BLANNER-
We finally decided to embrace the classic tudor style and just give it a fresh spin with the perfect Warm White Paint and these fabulous new copper gutters to match our copper lanterns.
While I can't yet show you the front our home (we're waiting on a new front door and it's still too cold to paint the brick) my excitement to share what we've accomplished so far (including these fabulous new gutters) is overwhelming!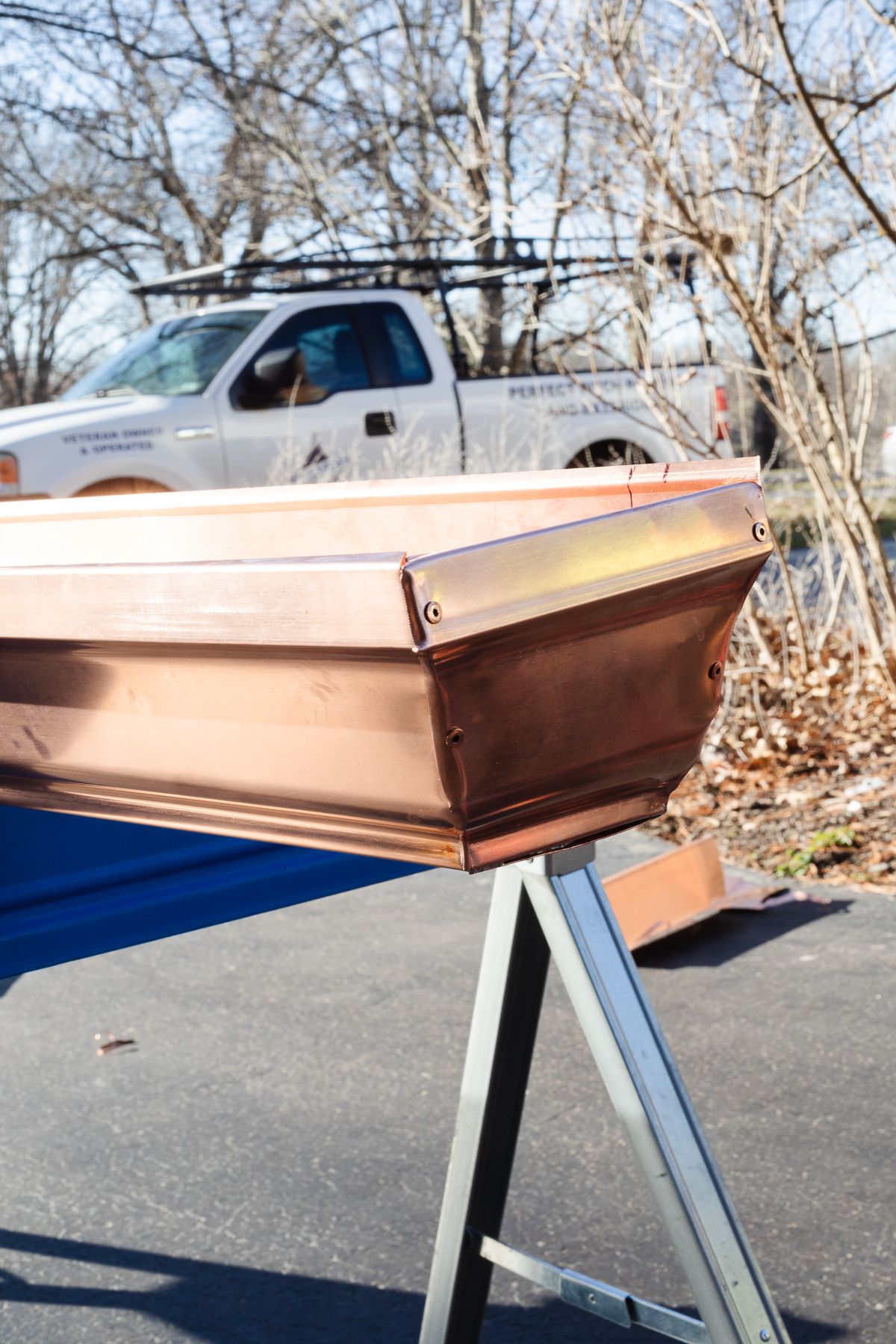 Copper Gutters
Luckily, our copper gutters were installed by an experienced pro! Today I'm sharing the ins and outs of this project, with details about costs, a question and answer section, and all the information you'll need to take this project on yourself!
There are many factors to consider in regards to copper guttering. And once you decide to take the leap, there are even more! You'll need to choose the style of your copper downspouts, you'll choose between half round copper gutters and square, and there are accessory choices too.
The first thing we learned is that copper guttering is expensive. The second thing we learned is that it all needs to work together: you'll need to line up copper with copper for a true, long term experience with your new copper gutters.
That means this isn't an area to try and skimp and save. If you're going to invest, listen to the pros and do it right the first time!
Copper Guttering Pros and Cons
Pros
Copper gutters are more durable than aluminum gutters
A copper gutter system can last a lifetime – 80 to 100 years
Less expansion and retraction
Increase the value of your home
Cons
Copper costs significantly more than other gutter systems
Can be difficult to find experienced installers
Longer installation process, heavier product
Patina (the antique look that happens to copper over time) can be considered a pro or a con. I love the way copper ages, but it might not be for everyone!
Patina is the natural oxidation process that forms a protective layer on copper – think of that pretty green color of the Statue of Liberty!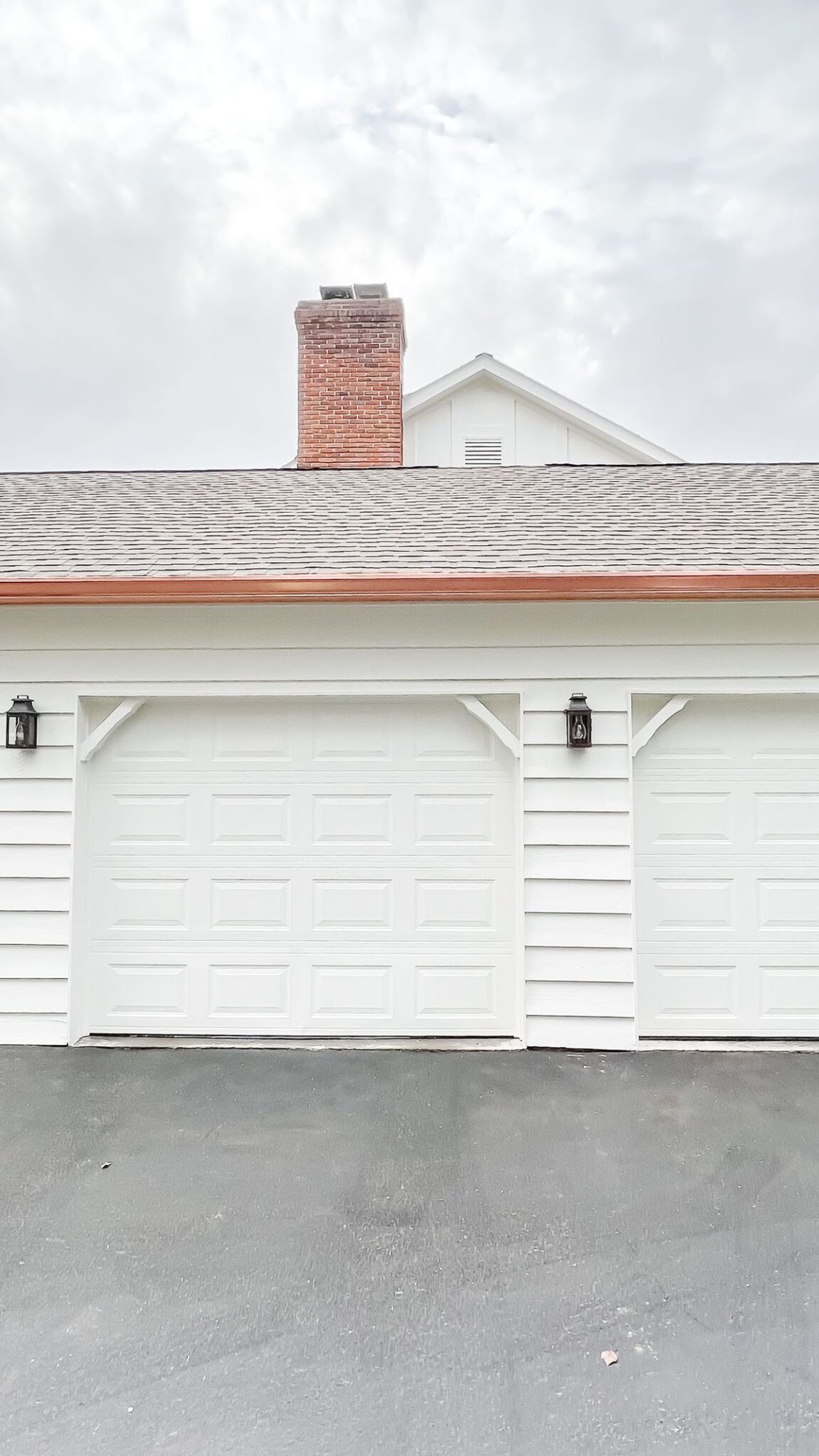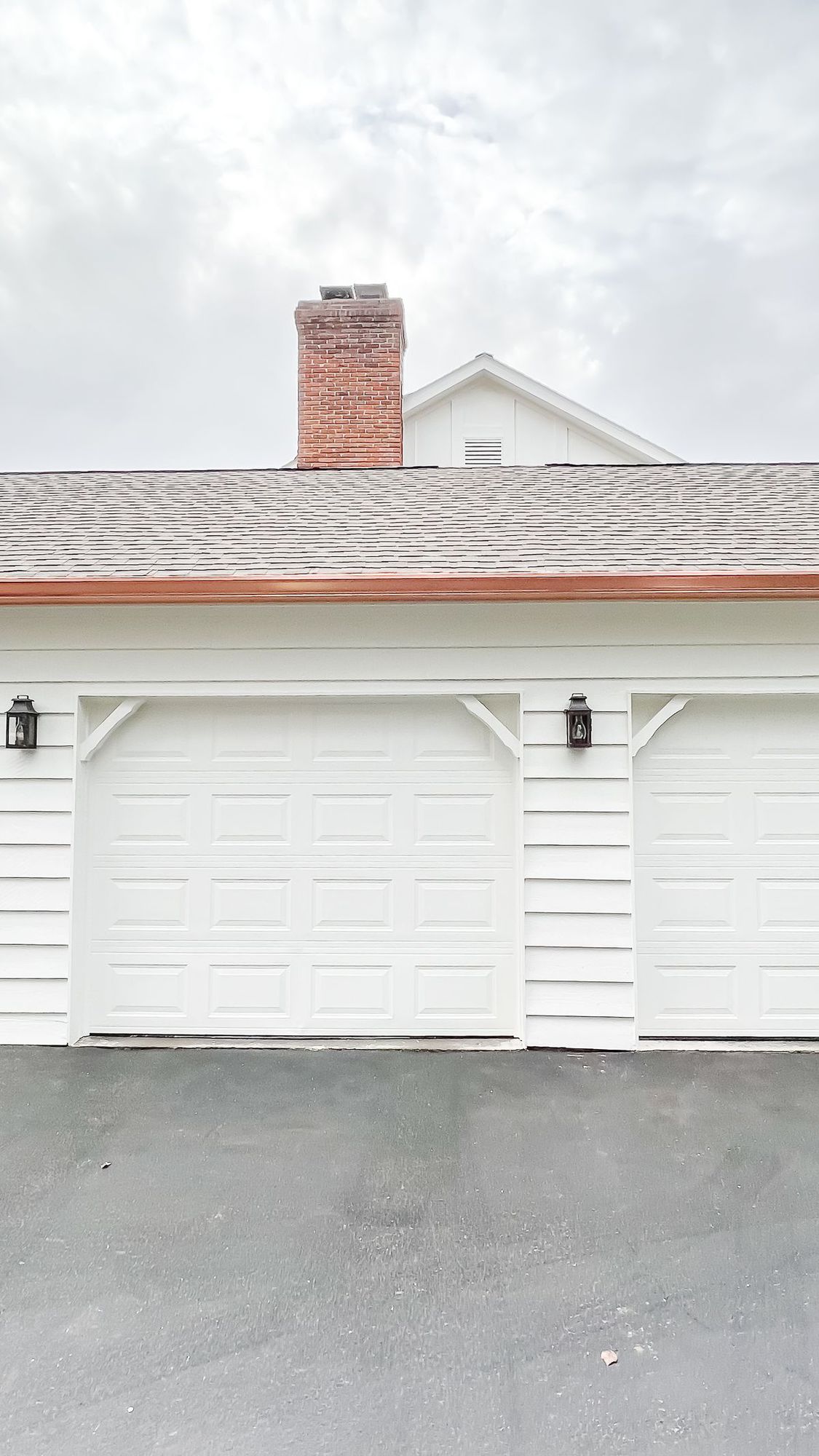 Copper Guttering: What to Consider
First, step back and look at a few factors before you decide to take the leap.
Does your HOA allow copper guttering? Not all will do so, with specific covenants for home exteriors.
Does the style of copper gutters work with the style of your home? They might not be appropriate on a midcentury modern ranch, but they work beautifully on our vintage Tudor!
Does the investment line up appropriately with the value of your home and those of your neighbors?
Have you received an accurate bid? Consider both the costs of materials and the cost of labor. A complete gutter system is required, which includes copper downspouts, brackets, and more for appropriate installation.
Copper Gutter Styles
Round downspouts (these look like like tubes and are what we chose for our home)
Square downspouts (squared, more modern edges)
K-Style gutters are flat on the bottom and the back, with an ogee or curved from edge. These carry more water than half-round style, which can be good for certain climates.
Half-round gutters – these are a half-rounded tube style of gutter, with a semi-circular tray hanging over eaves.
How Much do Copper Gutters Cost?
Copper guttering is priced by the linear foot. A variety of factors go into determining an accurate bid. Which style of gutters you choose, along with downspouts and accessories, should be considered.
Gutter hangers alone can cost $10.00 or more for a single gutter hanger, and they are generally added at the 24″ mark throughout your entire system. In comparison, aluminum gutter hangers generally cost from $1 to $5 per hanger.
Labor is much more intensive with copper guttering as well. Copper is heavier and more cumbersome, and requires a knowledgeable installer who is familiar with soldering and more.
In our situation, the pricing was estimated at a $85 per linear foot. This included labor, accessories, copper downspouts and everything we needed to get the project accomplished.
Some contractors will bid you with materials and labor separately. Make sure you ask questions about what's included with each proposal!
Frequently Asked Questions
Are copper gutters worth it?
Copper gutters are an expensive investment but one that is ultimately determined by a variety of factors unique to each homeowner and situation. For our home, YES copper gutters were oh-so-worth-it!
How much more do copper gutters cost?
If you're comparing to traditional aluminum guttering, expect to pay anywhere from $15 to $25 more per linear foot for copper gutters. Experienced copper guttering installation experts will cost much more than traditional gutter installers, as well.
Do copper gutters turn green?
Copper that is exposed to the elements develops a beautiful, aged green patina over time. This is part of the oxidation process.
How long does it take for copper gutters to turn green?
At somewhere around the five year mark, copper takes on a bright green hue that darkens in the years thereafter.
How long do copper gutters last?
If installed appropriately, your copper gutters might very well outlast all the other elements of your home exterior – and you! Frequently used in historic homes, they often last 80-100 years.
How do you care for copper gutters?
You'll need to regularly clean any leaves and debris from your new gutters, and clear roof runoff, just like all gutter systems.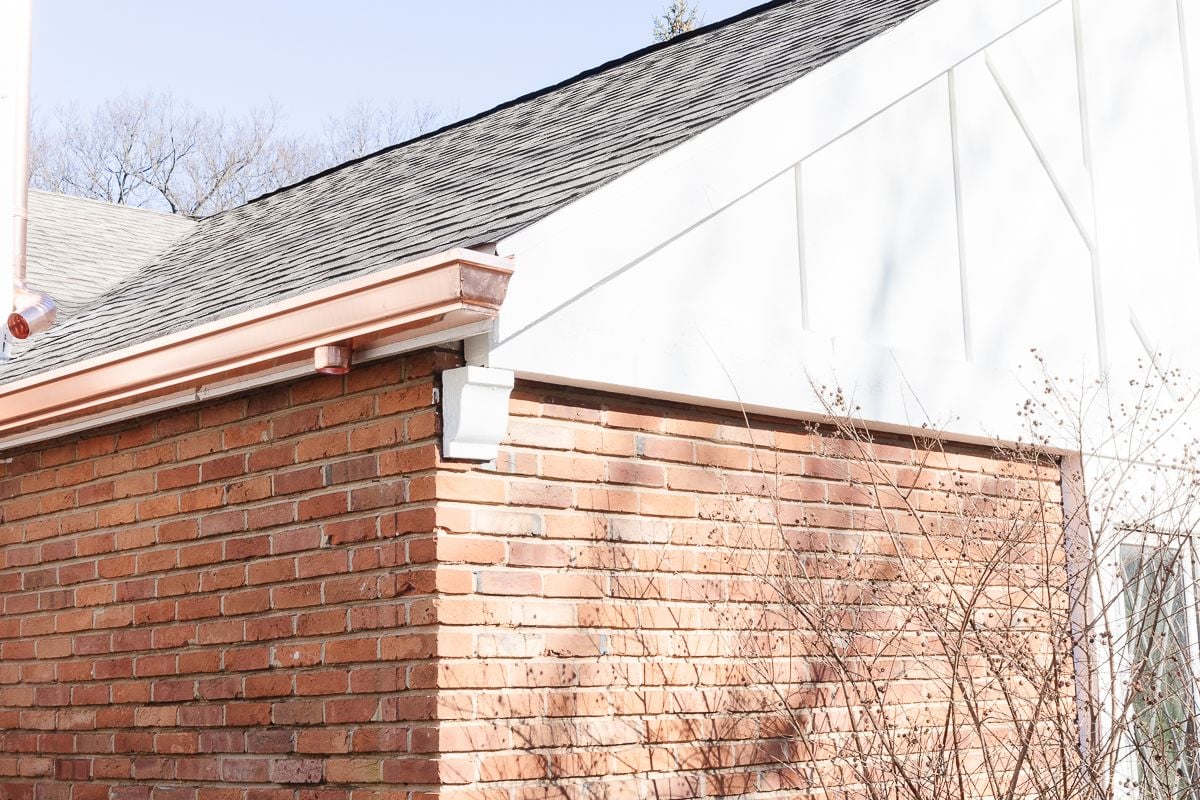 Do not mix and match component materials in your copper guttering system. Every part must be copper, (from end caps to elbows and hangers). Otherwise you'll risk staining, corrosion, rust or worse… causing your gutter system to fail.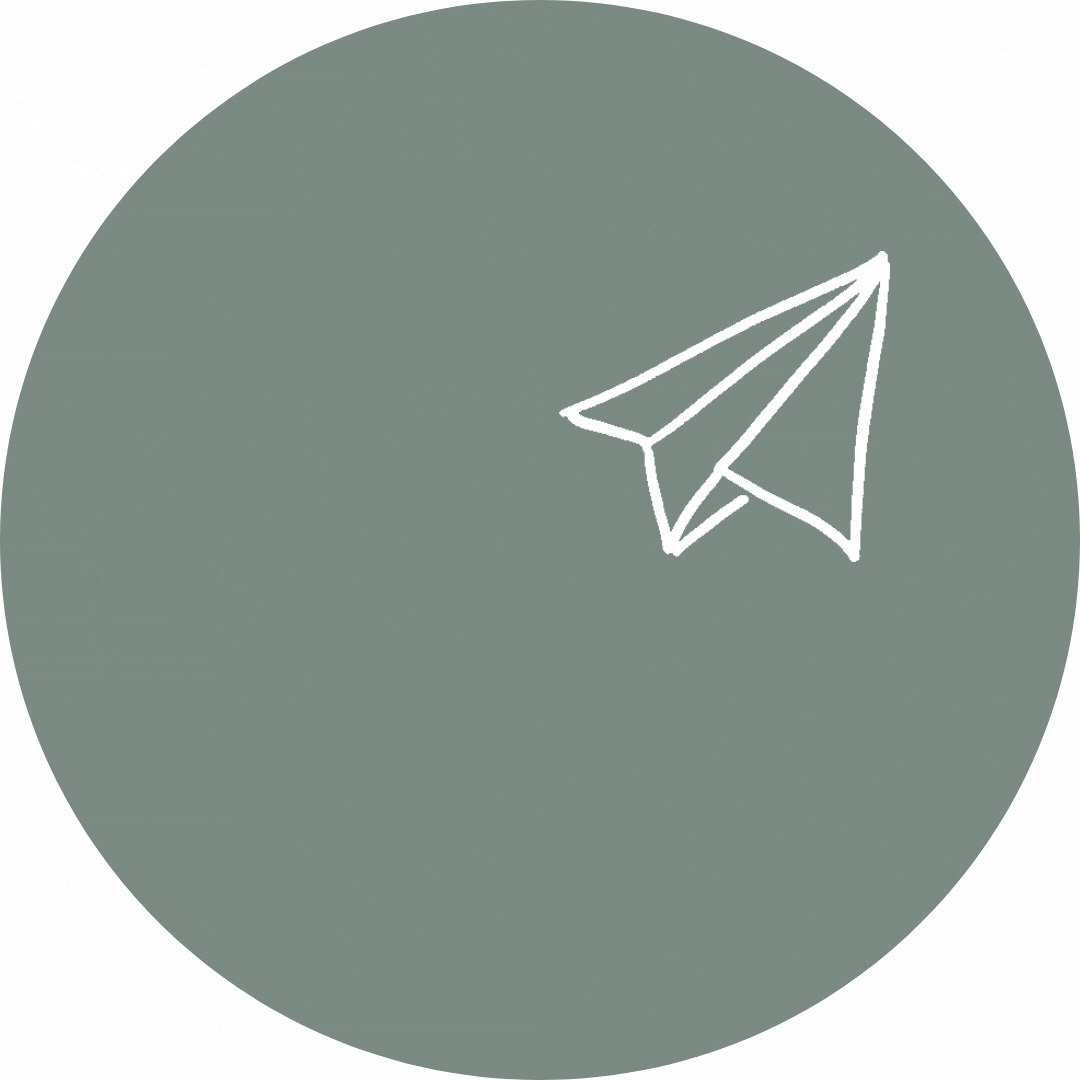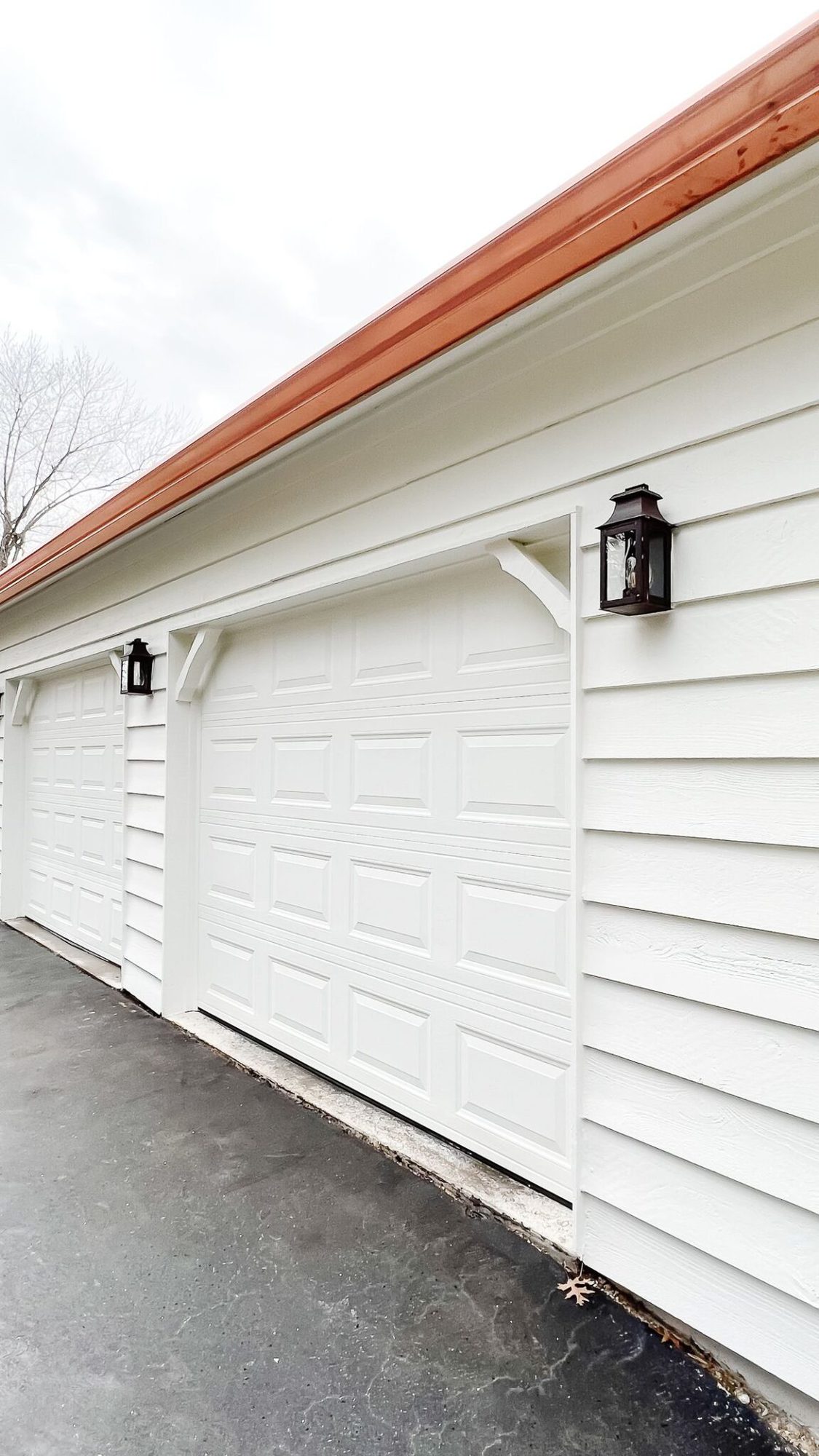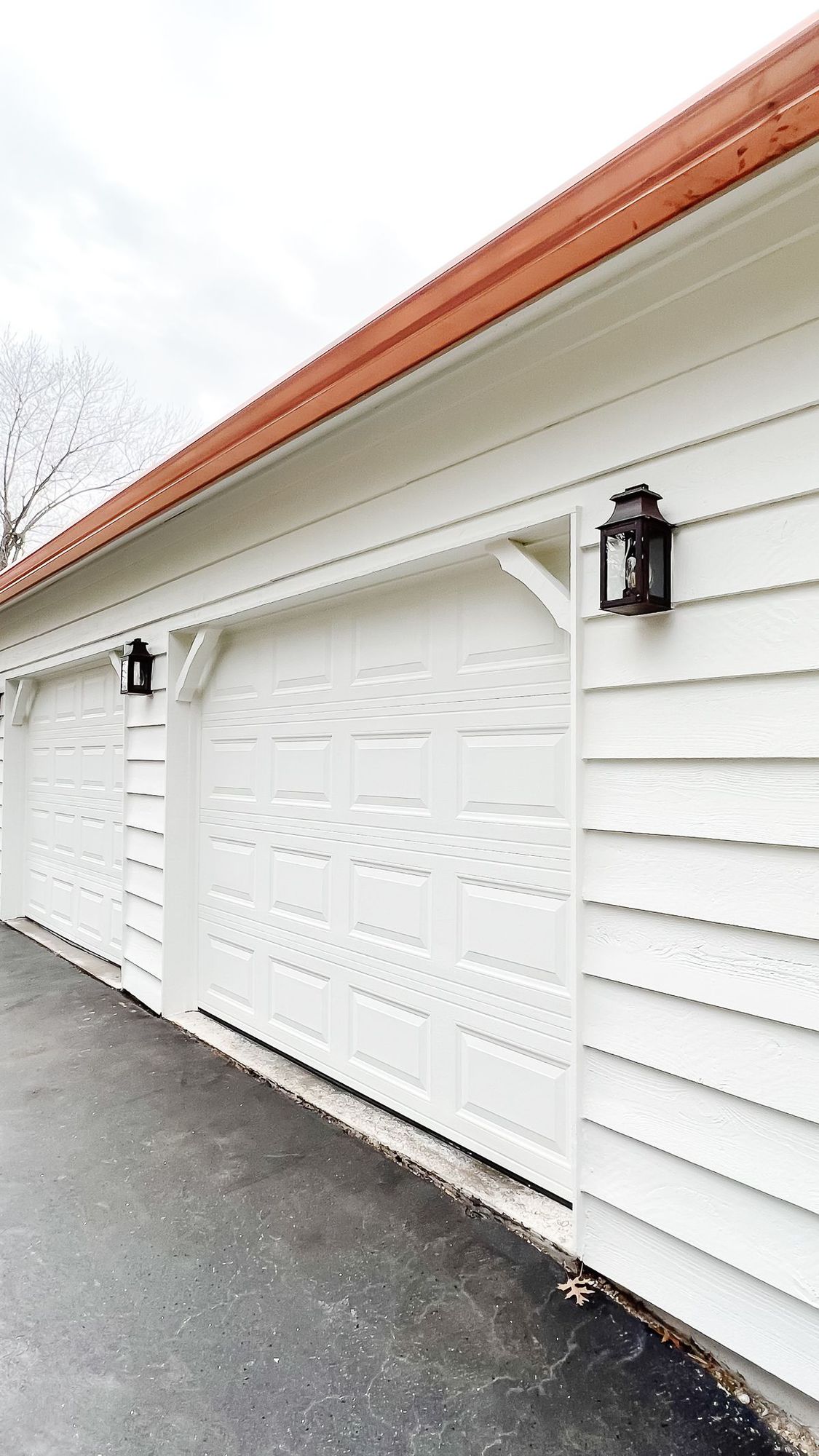 What do you think? Are you as much a fan of copper guttering as I am? I'm so thrilled with the difference they've made on our exterior, and I can't hardly wait to show you the rest!
More Exterior Inspiration