Can you paint ceramic tile? Yes, and I'm sharing everything you need to know about tile paint including where to purchase, how to apply and more! Floor Tile Paint is extremely durable and an easy and inexpensive way to update tile floors and walls – even for high traffic areas!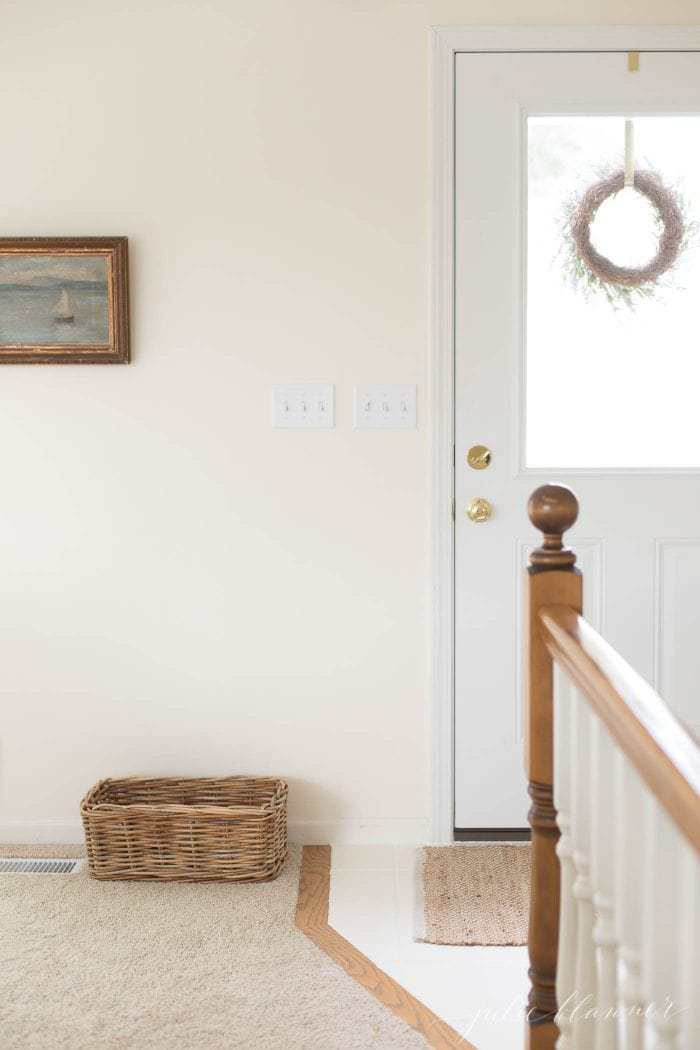 A year and a half ago, Chris and I purchased a lake cottage full of charm – and some 90's features like hunter green tile.
Over time, we've been updating the home removing wallpaper and updating light fixtures. The green tile started to feel more and more out of place and is central to our open floor plan. It was also infringing on our "white" walls and furniture.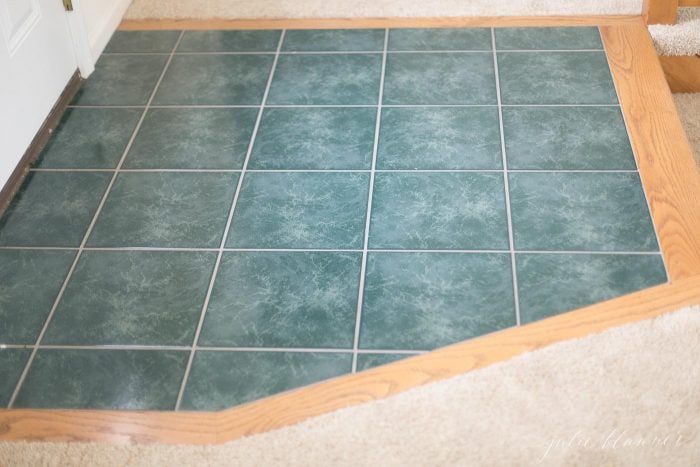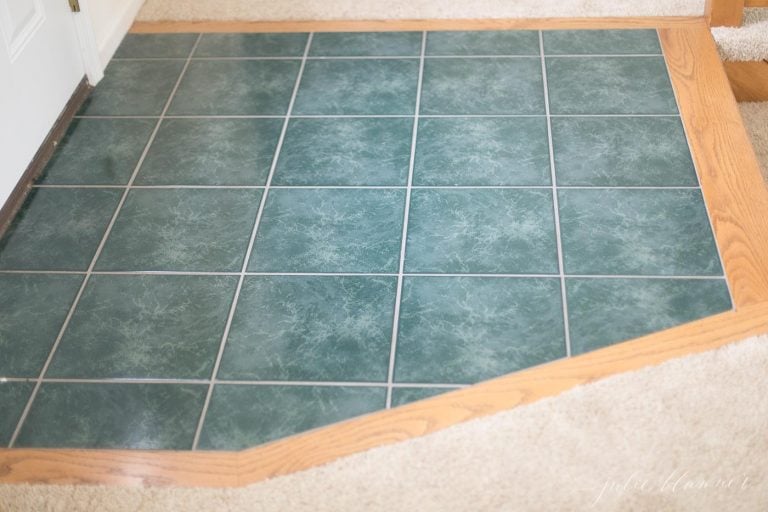 Can You Paint Ceramic Tile?
Yes! You can floor tile and wall tile with ceramic wall paint if you follow a few simple steps using high quality product. It can handle substantial wear and tear (more on that later in this post).
We contemplated replacing the tile, but have another long-term plan in mind and didn't want to go to the trouble or expense, so decided to use ceramic tile paint to give it a facelift.
Ceramic tile paint is very durable and can be used as floor tile paint if you do a few basics – sand, clean, and prime first.
Painting floor tiles is so much easier than we ever anticipated. For our small entryway it was a quick project with a lot of downtime to allow the primer and paint to properly dry and cure between coats.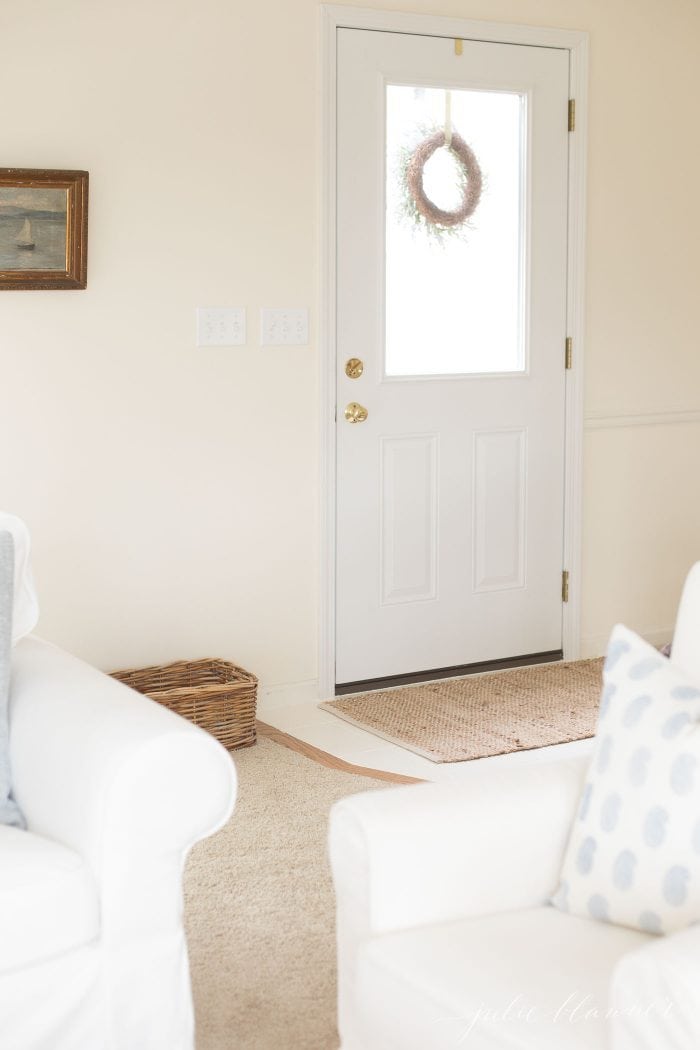 Before we get into the step by step tutorial on how to paint tile, I want to cover all the questions you may have!
How Much Does it Cost to Paint Tile
This project cost less than $60 in all to redo the entryway and the tile by our fireplace and we had a lot of product leftover!
Does Tile Paint Hold Up?
YES! We loved this tile paint even more after we decided to remove it in favor of installing one continuous floor (rather than breaking up the floor plan at the entryway). It had to be removed using a hammer and crow bar. The floor tile paint did not chip at all. We were blown away at how well it adhered. (updated October 2018)
Even with a crowbar, this ceramic tile paint floor did not chip!
Where Can You Paint Ceramic Tile?
Anywhere that needs an update! It's the perfect long term solution for dated tile in an entryway, kitchen, laundry room, mudroom, bathroom floors – any high traffic area! You can paint tile any color you want, too! I chose to match the walls but it can be tinted to the color of your choice.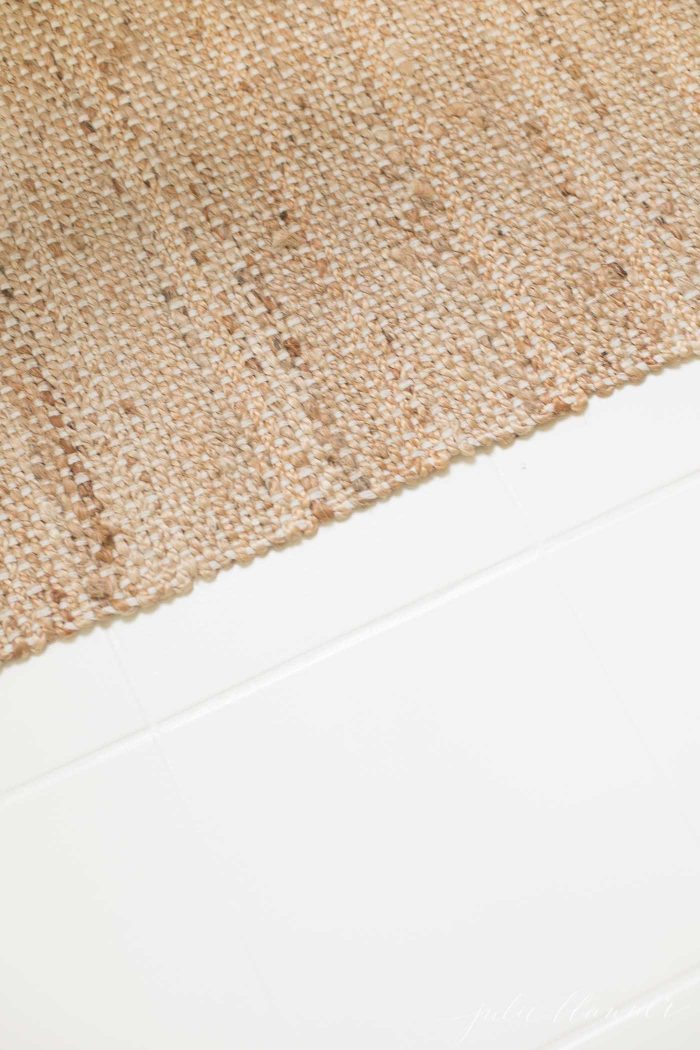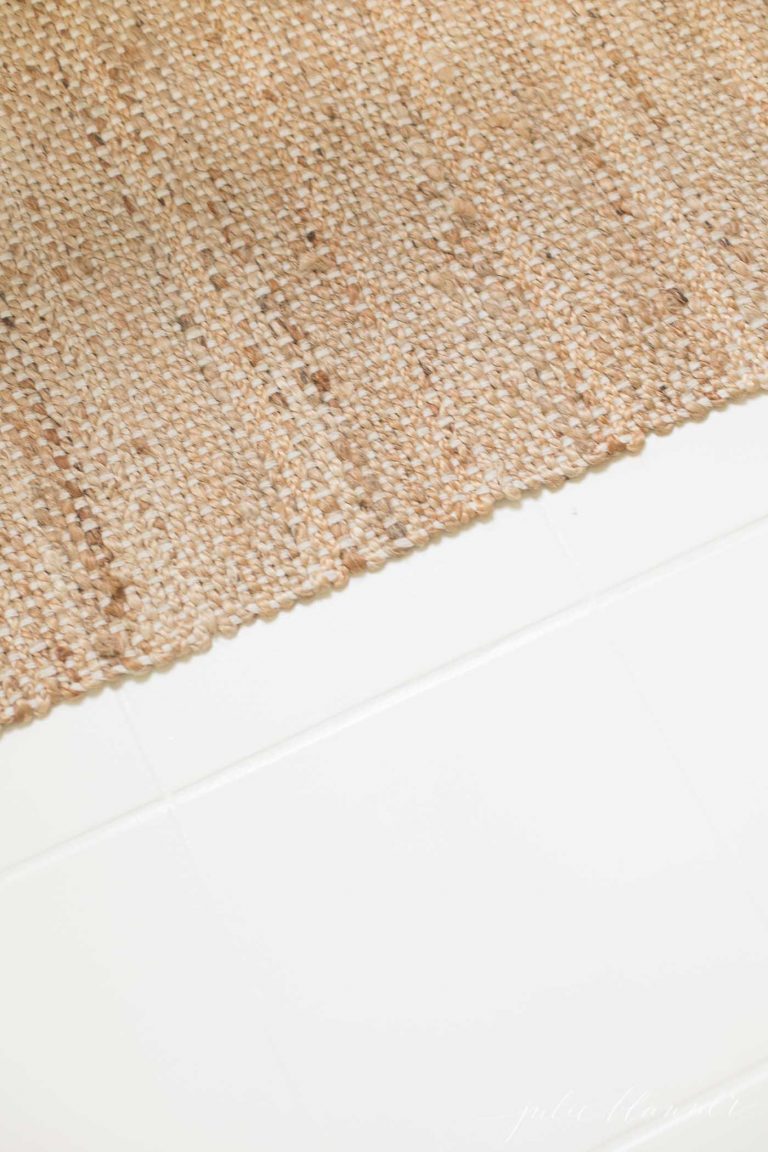 Should I Paint Grout Lines?
As you can see, we decided to paint over the grout lines for ease and a monotone finish, but you can tape to retain them if you prefer.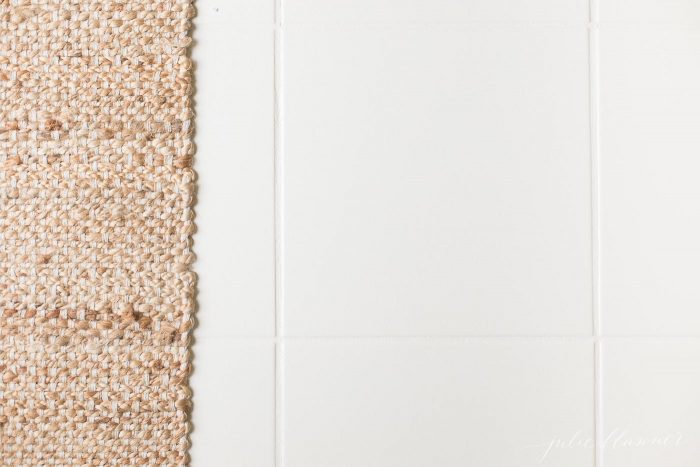 What is the Best Primer for Tile?
I highly recommend INSL-X Waterborne Bonding Primer STIX because it adheres to hard to coat surfaces and is very durable.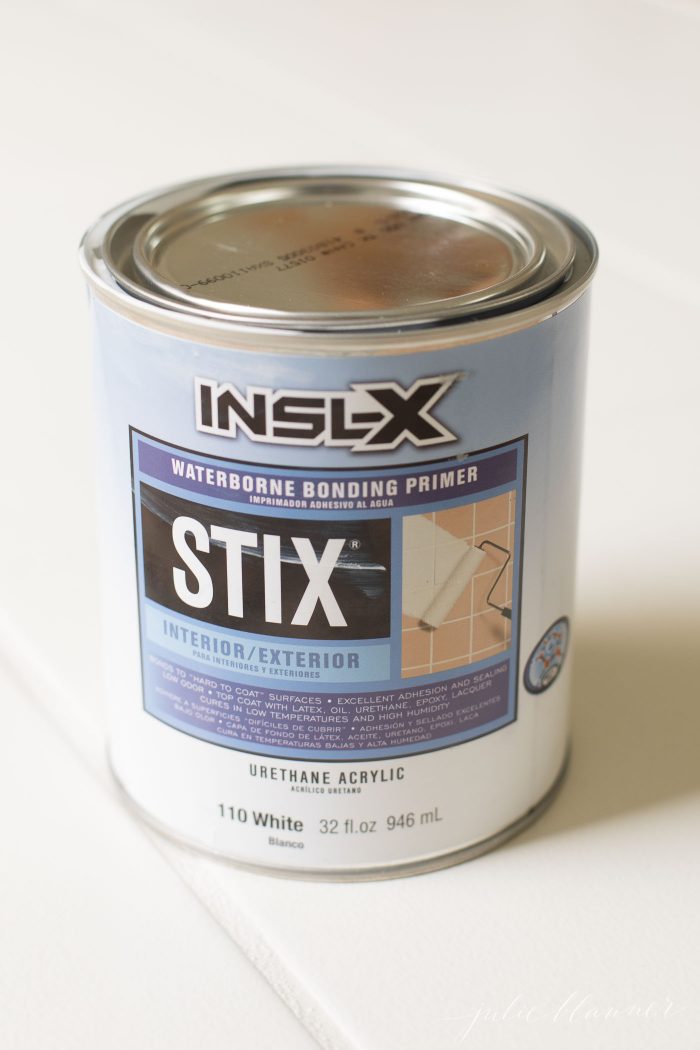 What Ceramic Tile Paint Should I Use?
The type of paint you select is very important. You want to choose a high quality ceramic tile paint like Benjamin Moore Satin Imperial Low Lustre Enamel. An enamel is very durable and stain resistant so it can can handle a lot of wear in high traffic areas. Latex paint is not a good fit for this project as it won't stand up to the wear and tear.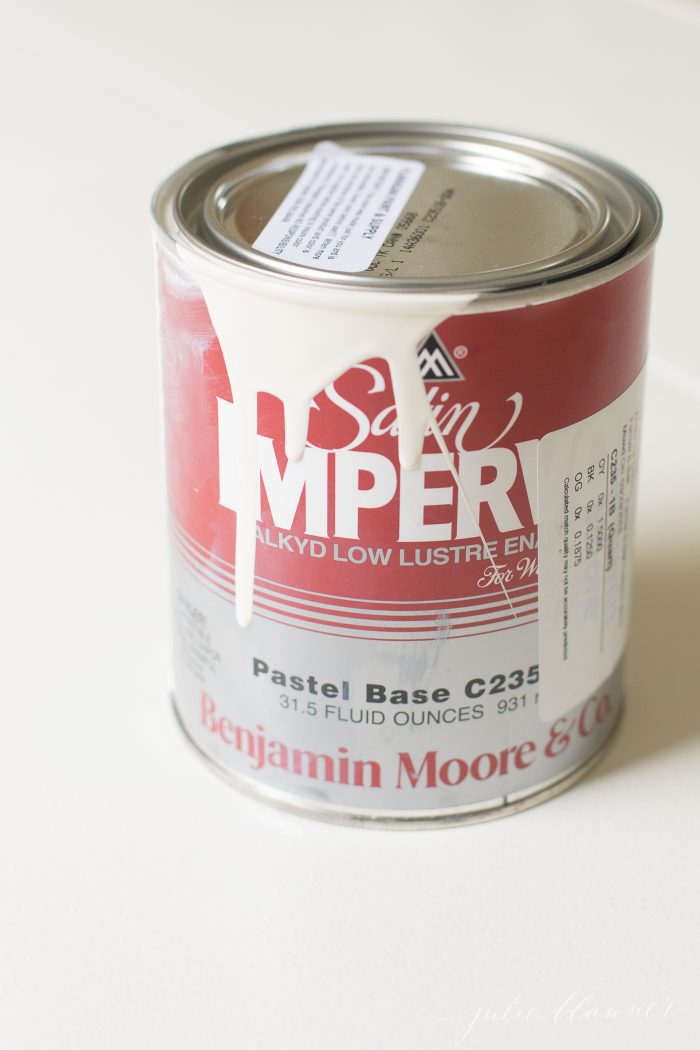 Supplies to Paint Tile:
Painters Tape
Ceramic Tile Paint (Benjamin Moore Satin Imperial Low Lustre Enamel)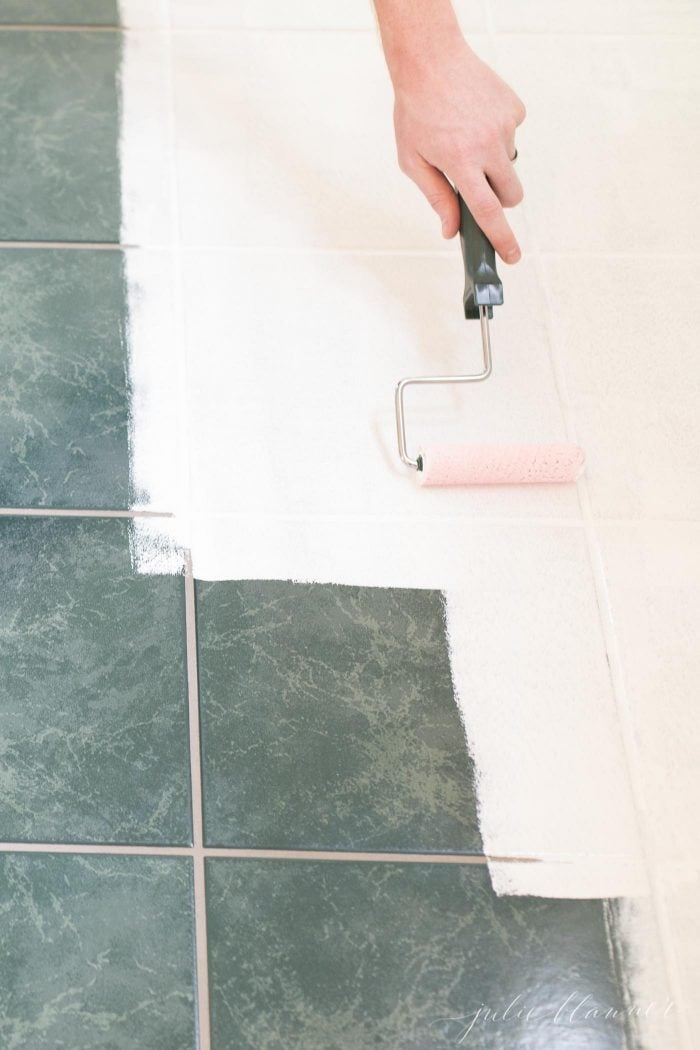 You can use a sander if you have one. We forgot to bring ours to the Lake Cottage so we just did it the old fashioned way, which worked just as well and doubled as an arm workout!
Any heavy duty stripper will work. We just picked up one at our local hardware store. This project is simple – no need to overcomplicate it!
How to Paint Tile:
Tape around tile to protect surfaces around tile if needed.
Hand sand using medium grit sandpaper with a sanding block or if possible an electric sander to rough up the surface so that primer can adhere.
Thoroughly clean the tile with a stripper. Rinse clean and allow to dry.
Prime tile and allow to dry. Use a second coat if needed.
Paint tile with ceramic tile paint. If you choose to do a second coat, lightly sand between coats so the paint properly adheres.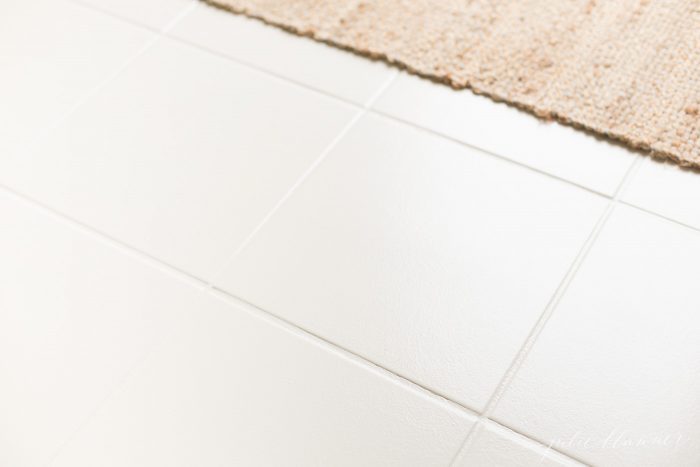 To see how to paint tile, watch the video in the post.
More Painting Tips
You did it! If you use this technique to paint tile, please return to share your experience using the comments below or tagging me on Instagram! I'd love to see!
Painting tile is an easy and inexpensive way to update your home without a lot of effort. You can see more of our lake cottage here!