Get unique ideas for decorating your Hallway, as well as Small Hallway Ideas that will add light, function, and character.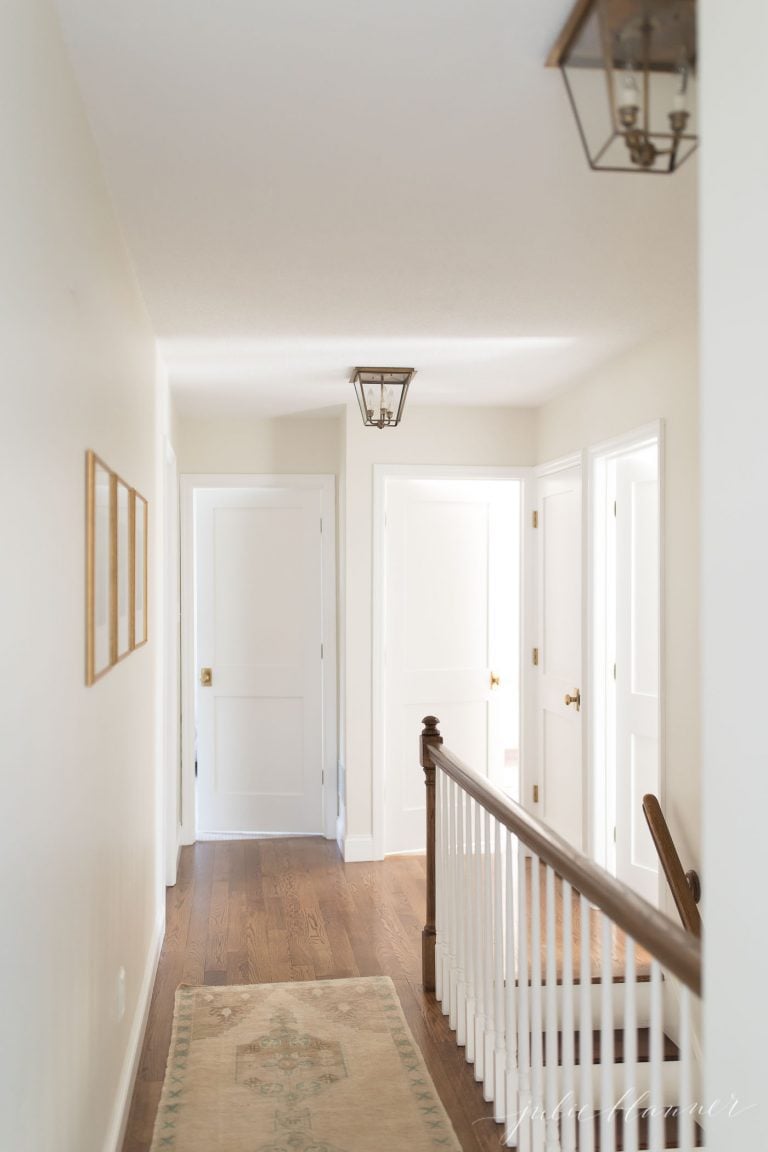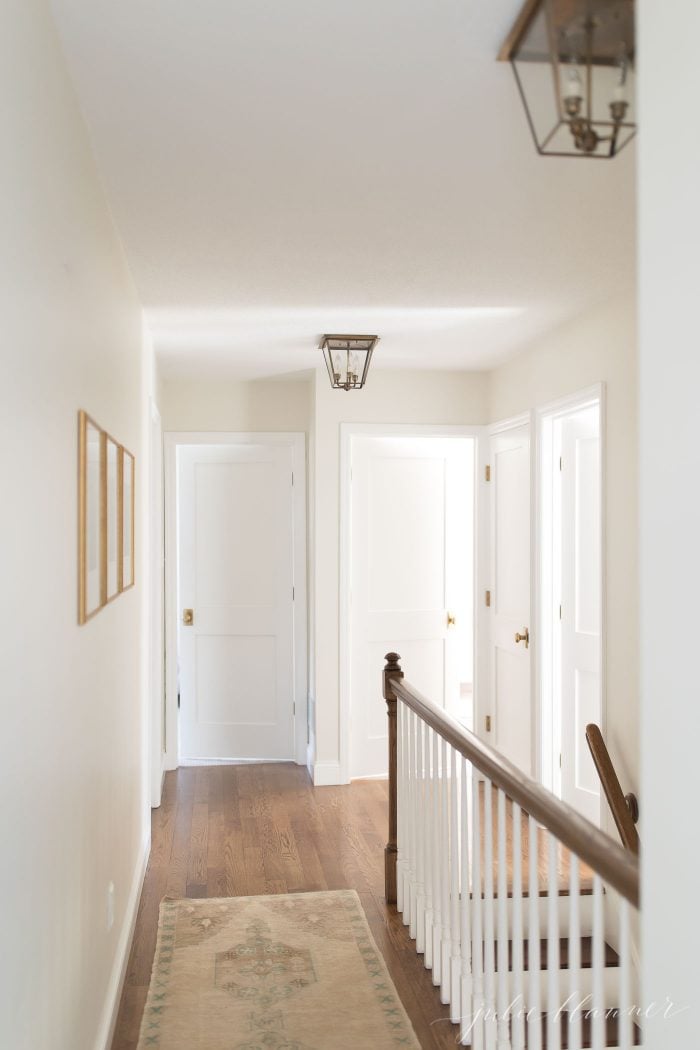 One of the quickest and easiest ways you can update your home is to start small – choose a small area that has maximum impact. In our home, that's the hallway.
It's a heavily traveled space in our home that leads to all of our bedrooms, two baths, and laundry room. Yet updating it isn't quite as overwhelming of a task as a living room or kitchen.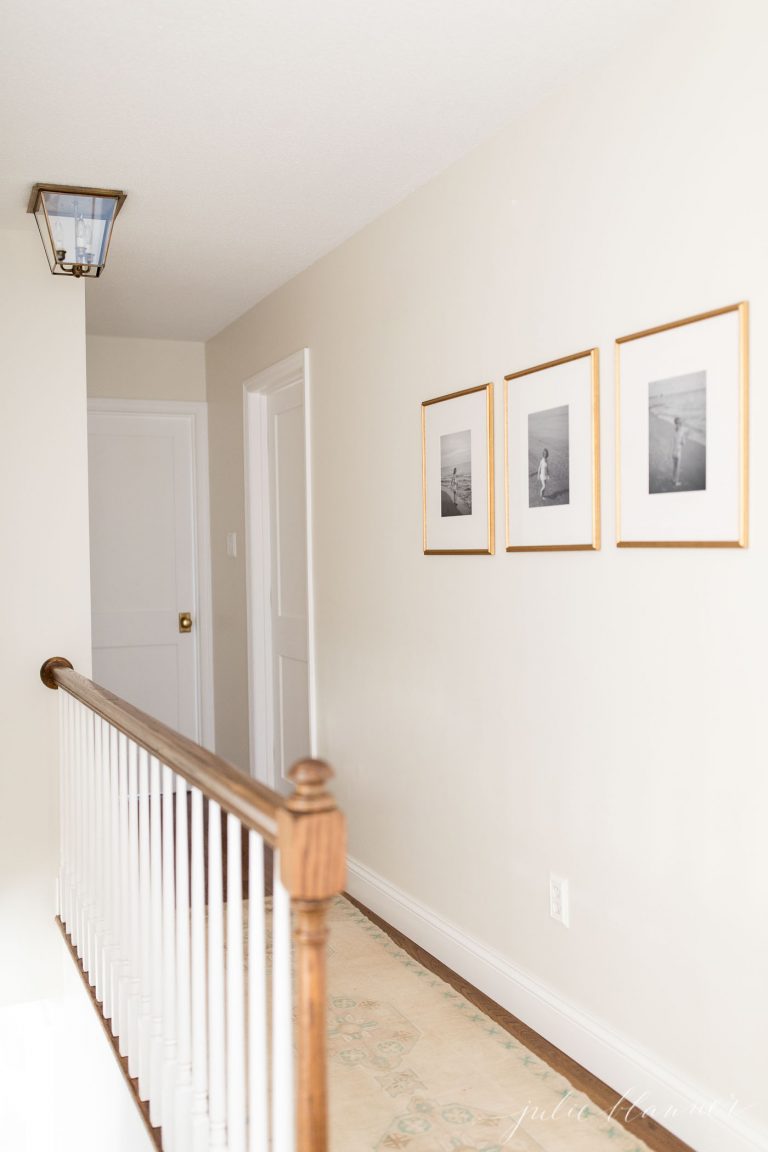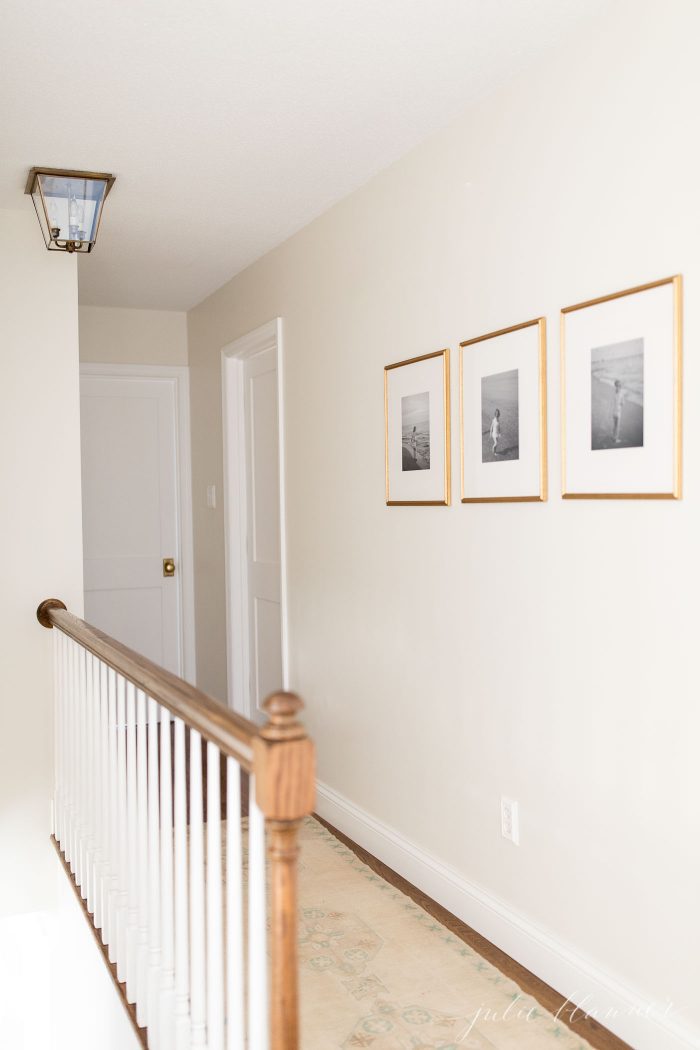 How To Decorate Your Hallway
It's funny, isn't it? A long empty hallway is both exciting and intimidating when it comes to decorating. So much empty wall space is the perfect opportunity to add personality! And yet, where do we begin? How do we add light, character and perhaps even the illusion of more space? Thankfully, I have learned a few things in our homes over the years, and I'm excited to share with you. First I'll share an after photo of the same angle for reference.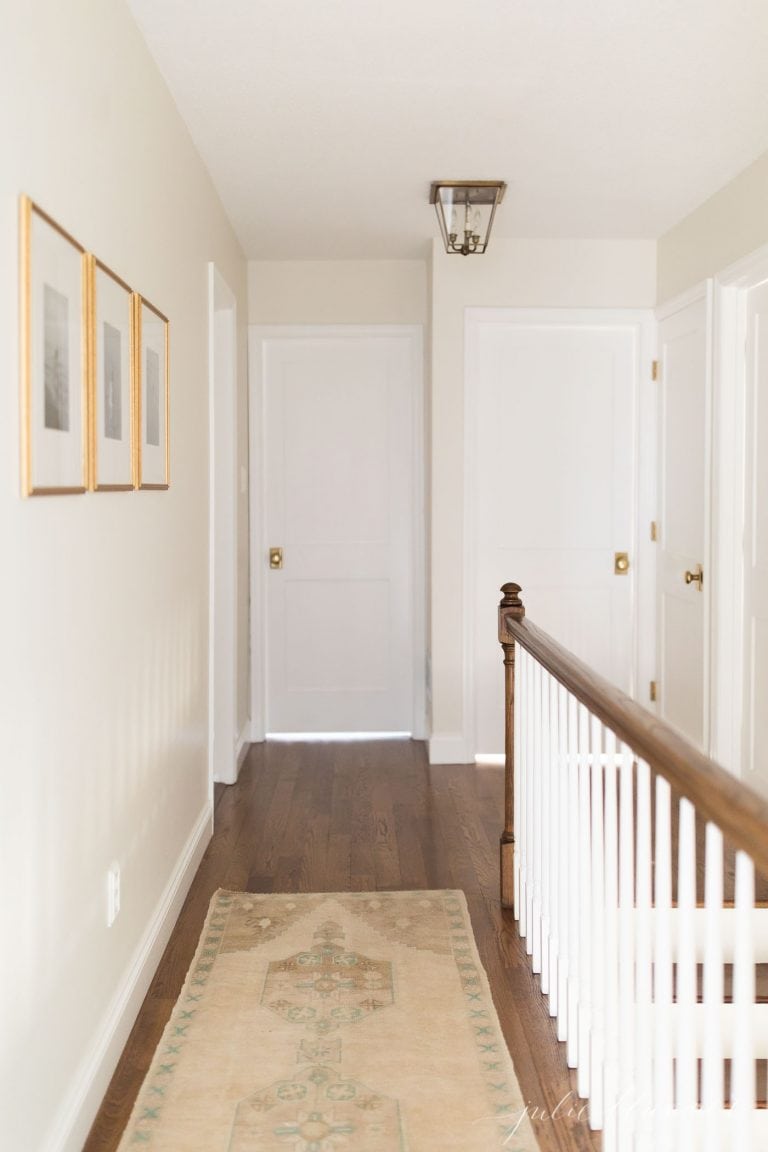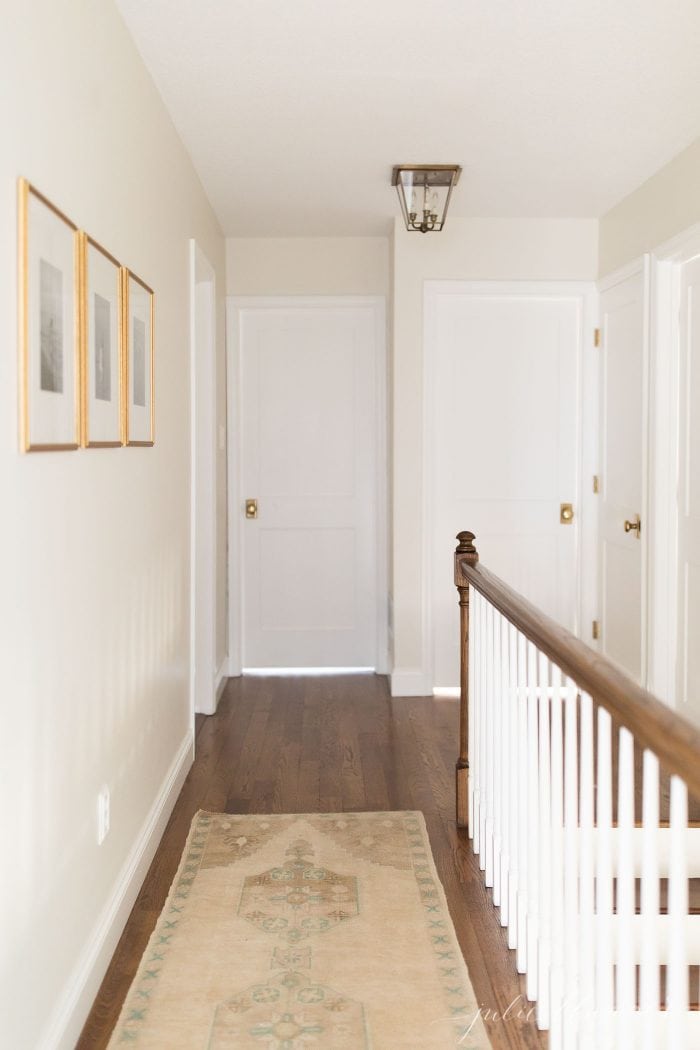 Let's start at the beginning. While I don't have a true "before" photograph, I have one just after we painted days after we moved in.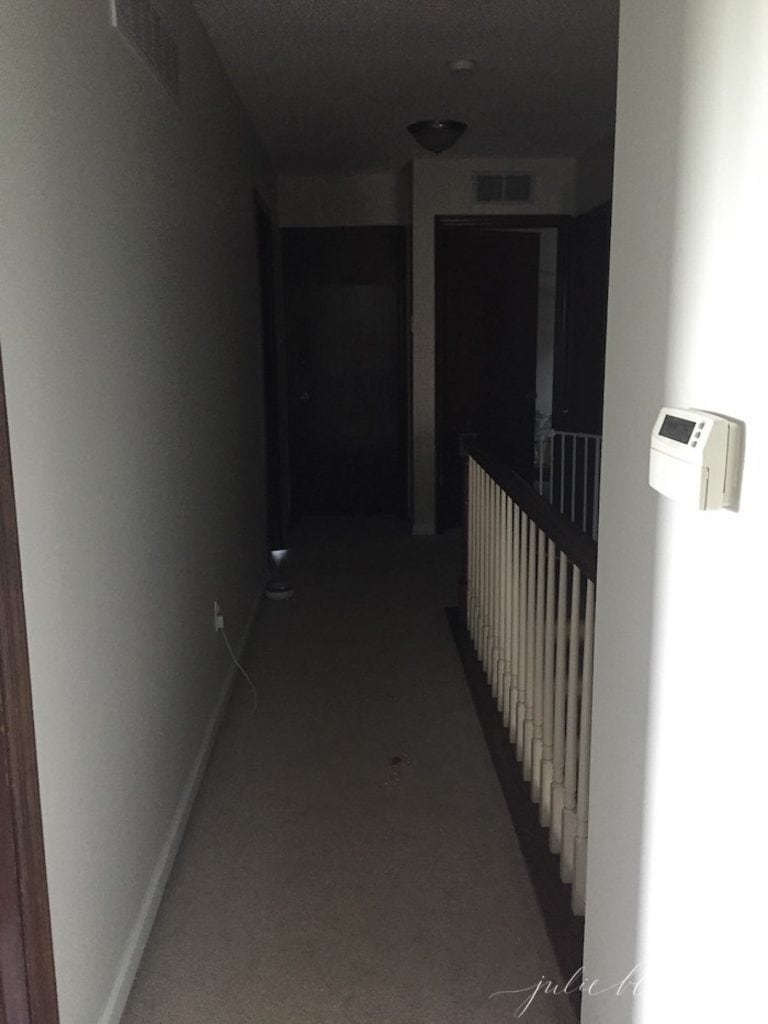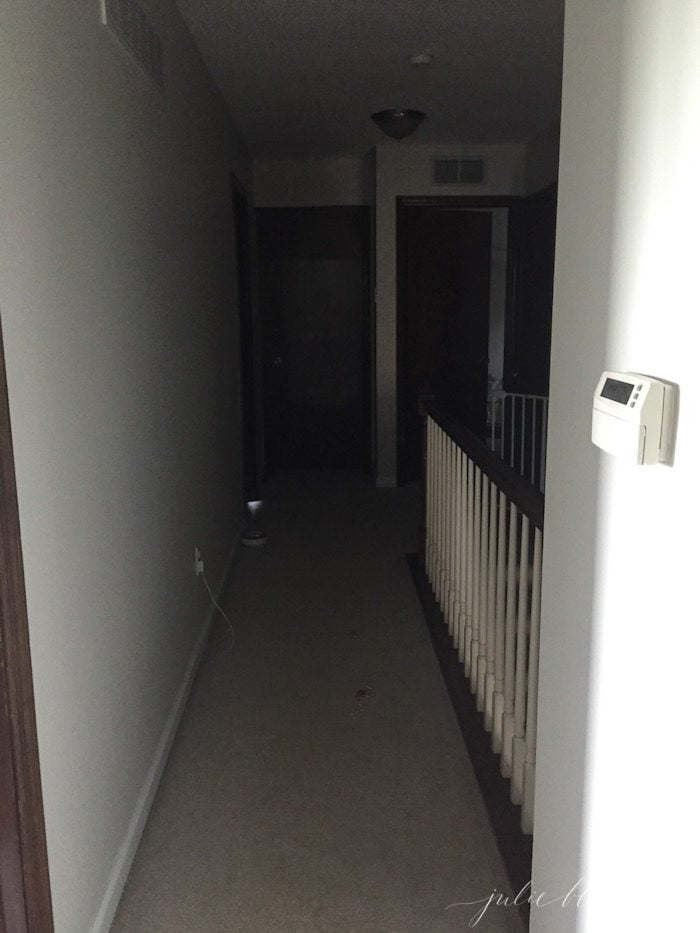 You can see from the photo above just how dark it was. It lacked character, the carpet was tired and worn and it was covered in return vents. (We relocated one just to the left so that it is out of view as you can see in the process shot below).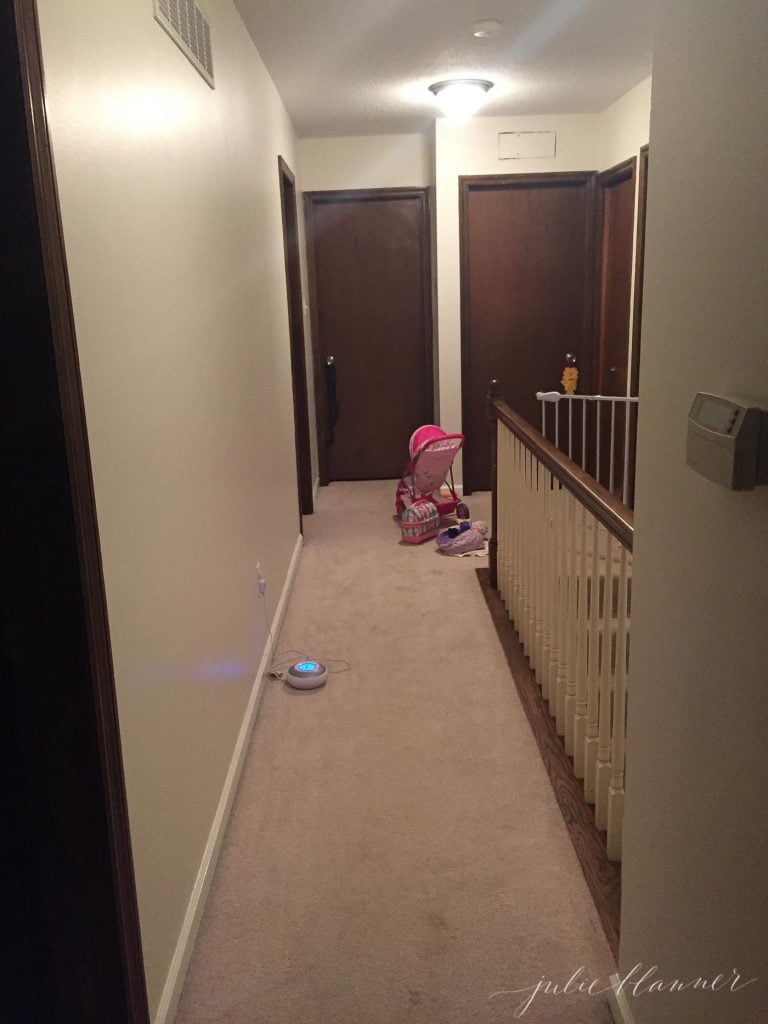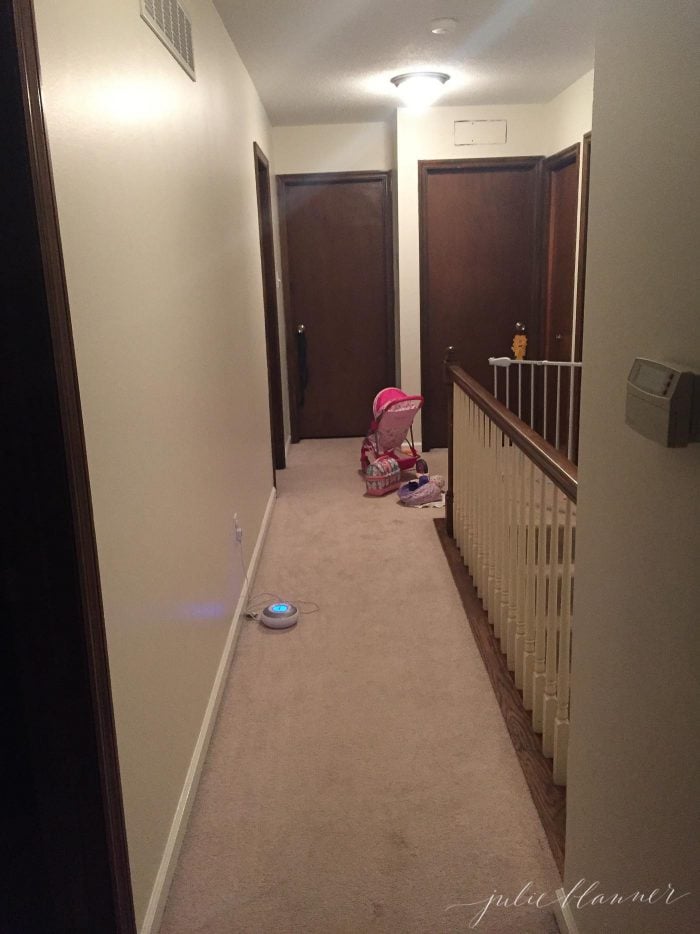 We started after replacing the dated hall carpeting with new hardwood floors. You can read more about how we decided to replace the carpet with hardwoods, and how we chose the new doors right here. Those two decisions truly improved this space right away – the difference was remarkable!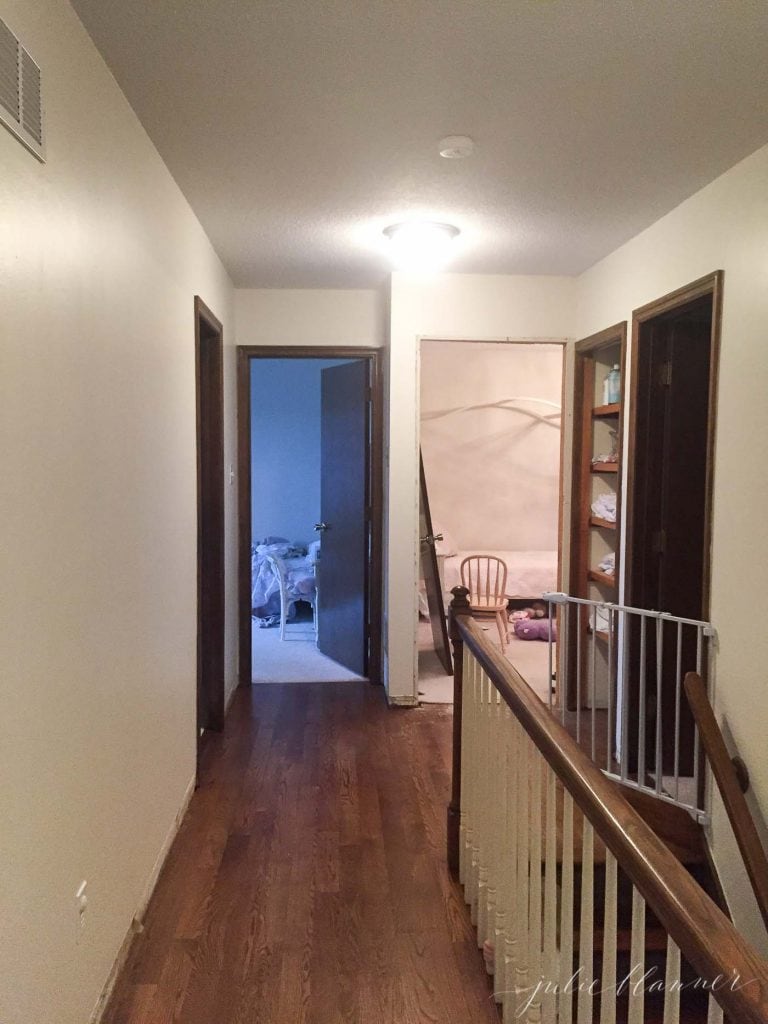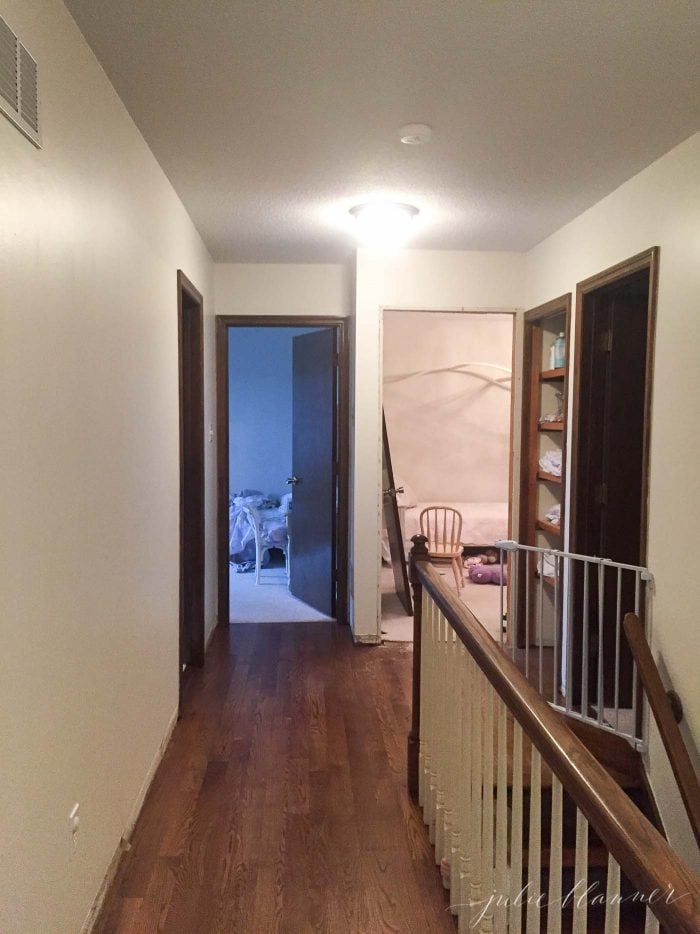 Replacing the doors added charm and reflected light which made a significant difference in this once dark hallway. I always recommend using a color with great LRV (light reflective value) and of a semi-gloss sheen. Rather than a hall filled with dark doors, it became a hall full of white doors which gives the illusion of space.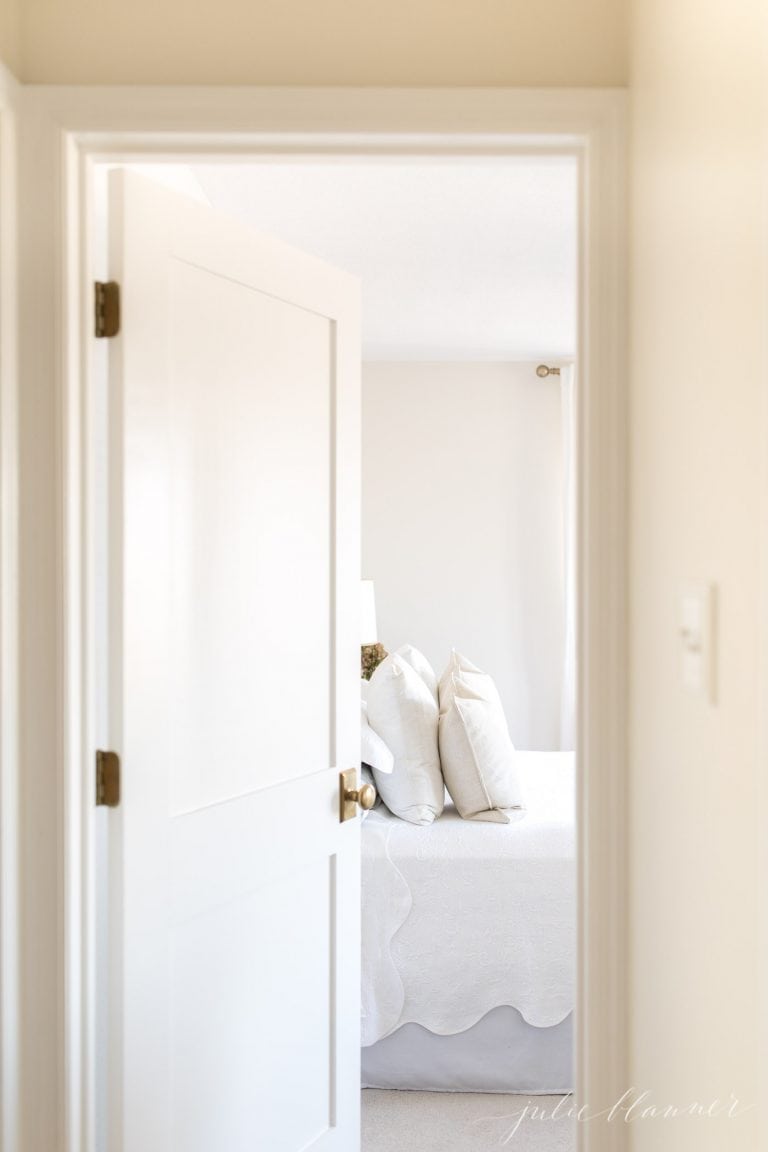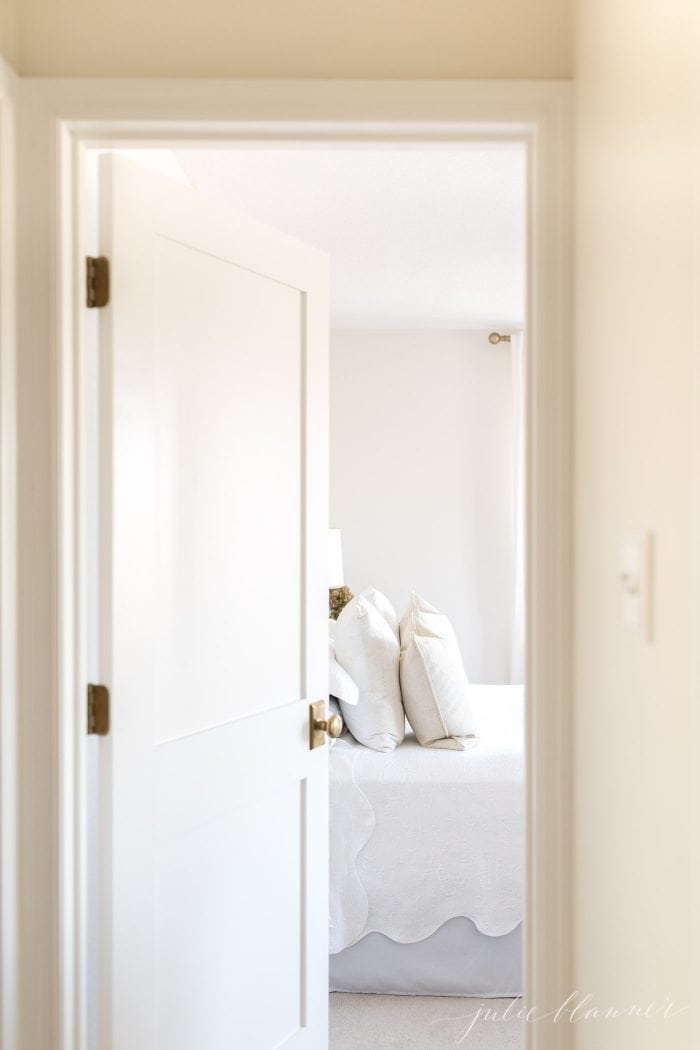 New doors offered architectural detail typically found in older homes, restoring integrity to our Tudor.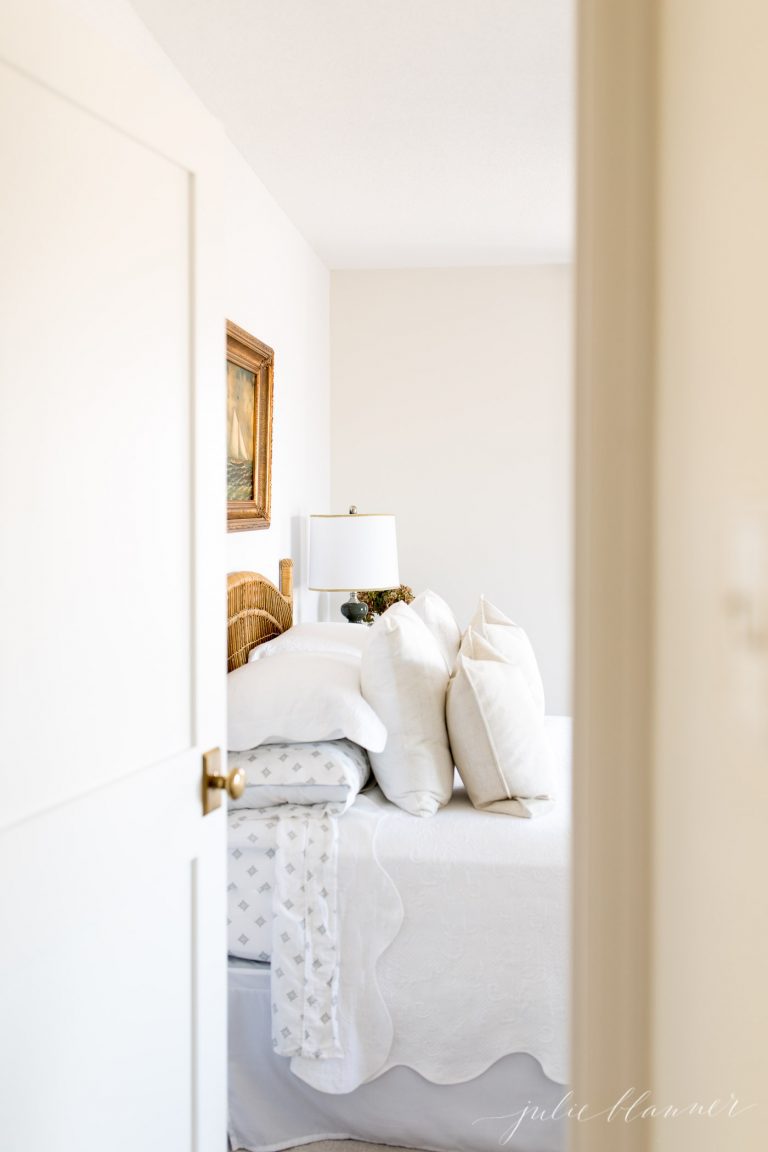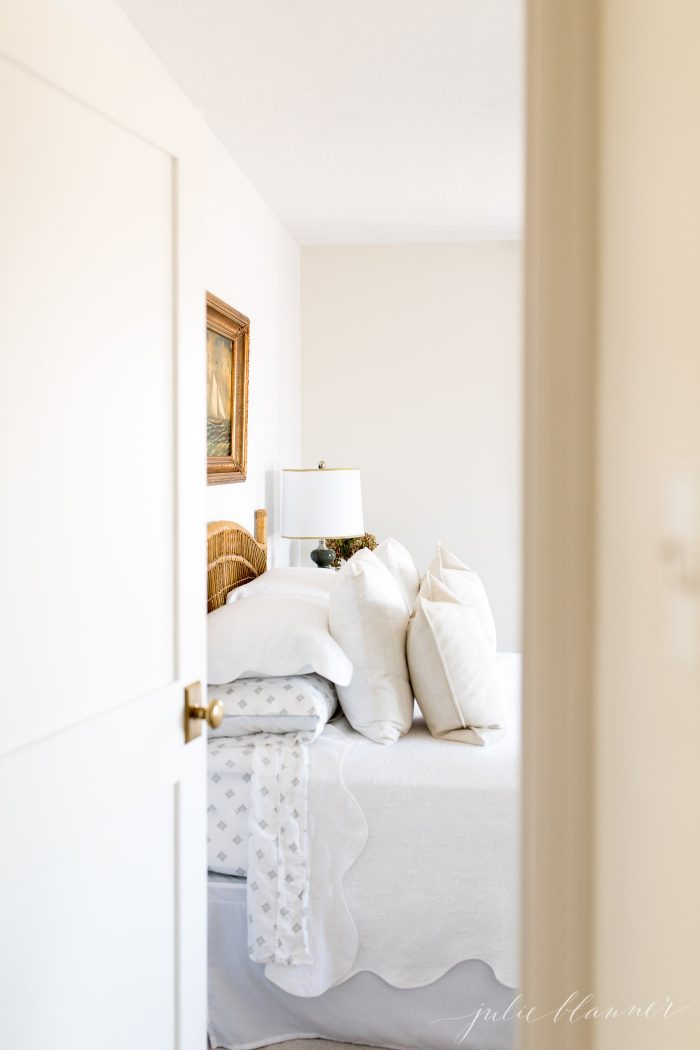 The wood floors added much needed character and a lot of function. They wear much better than carpet in a high traffic area and are easy to keep clean.
In a small space, every detail counts.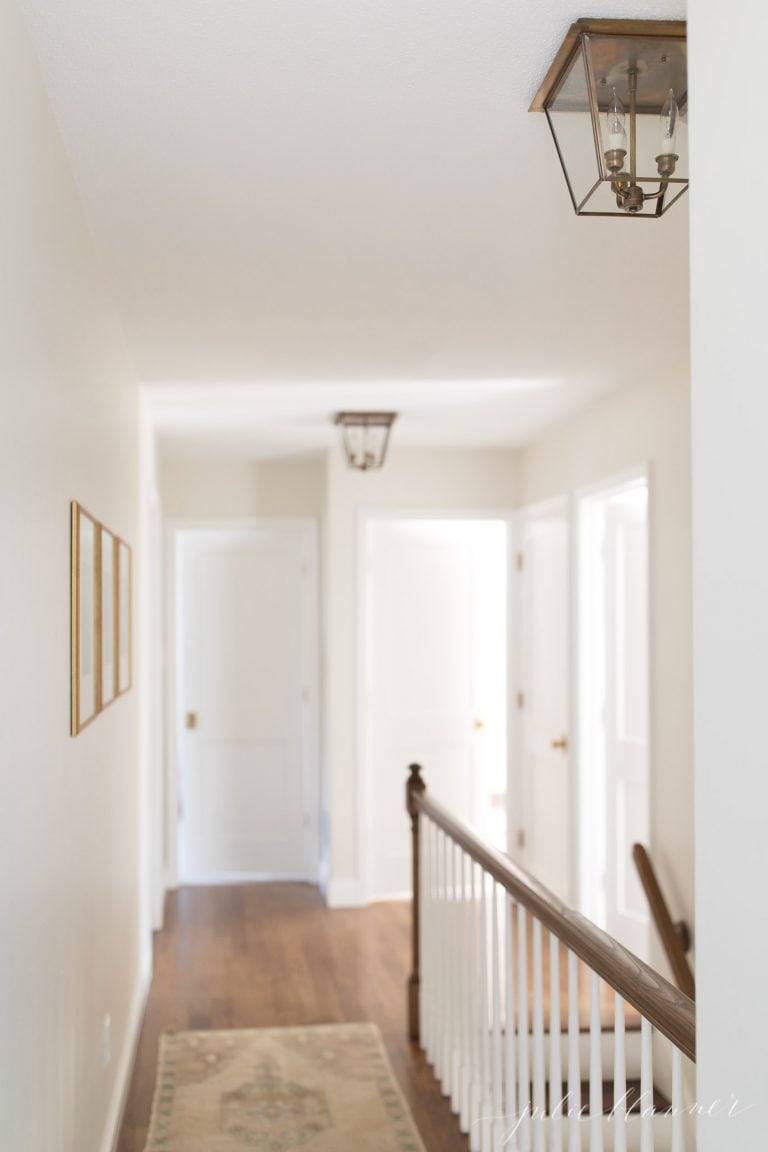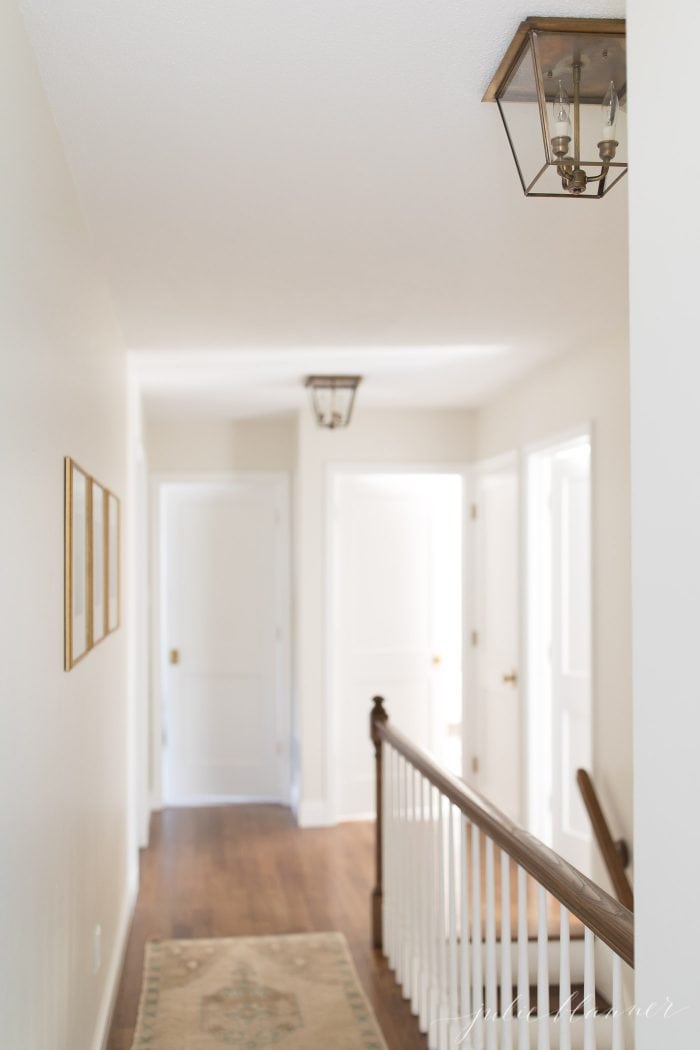 Above is the same view as the before photographs!
The Best Art Ideas For Hall Decoration
One of the most popular ways to infuse your home with personality is to add a gallery wall of family photos. The hallway is often the perfect place to try this look, as you have an open stretch of wall space just begging for the perfect decoration ideas. A hall is also a more intimate space which is perfect for family photographs.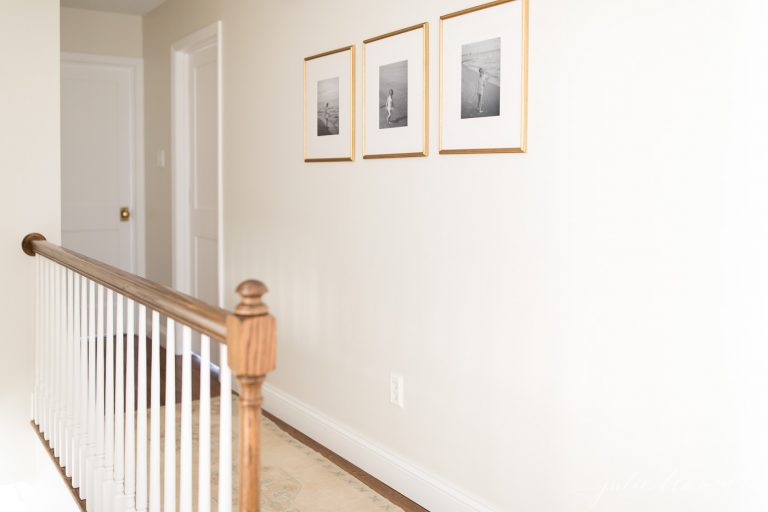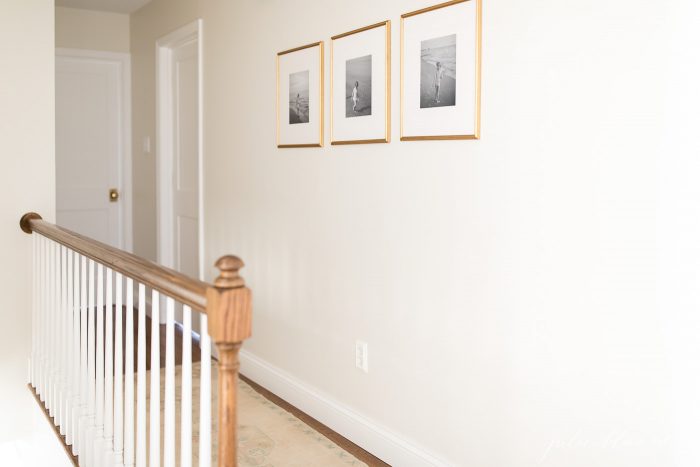 I prefer to group photos by color, style, or subject. When we chose images for this gallery wall, I used three photos (one of each of the girls). They are taken in the same location, and they feel cohesive with the black and white portraits and brass frames.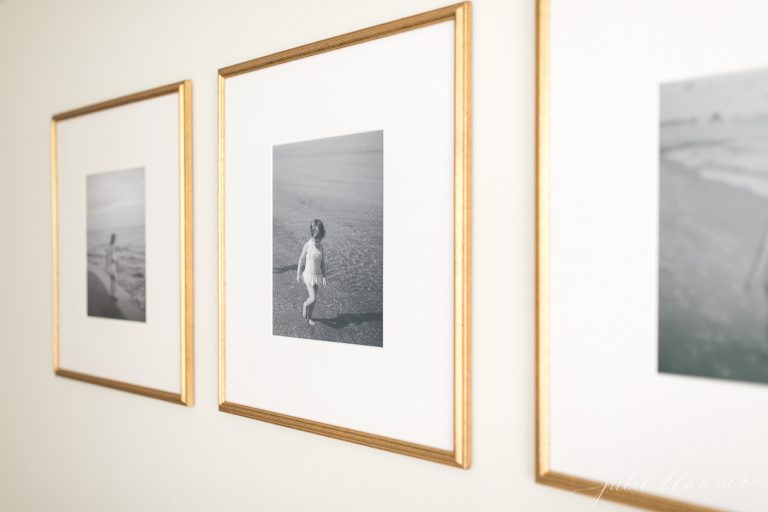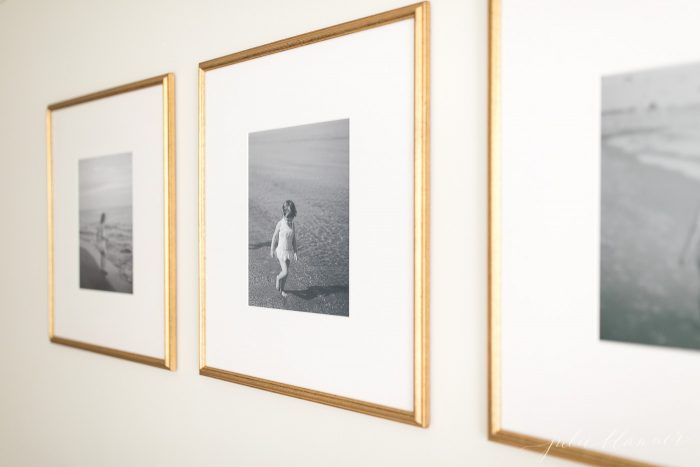 A gallery wall is also the ideal decor to draw attention away from the features you don't like. While we've made many changes to this hallway, we still have popcorn ceilings (not ideal but as I always say: progress over perfection). Thankfully, these charming, personalized framed photos distract from the less pleasant features of this narrow hallway.
Progress over perfection.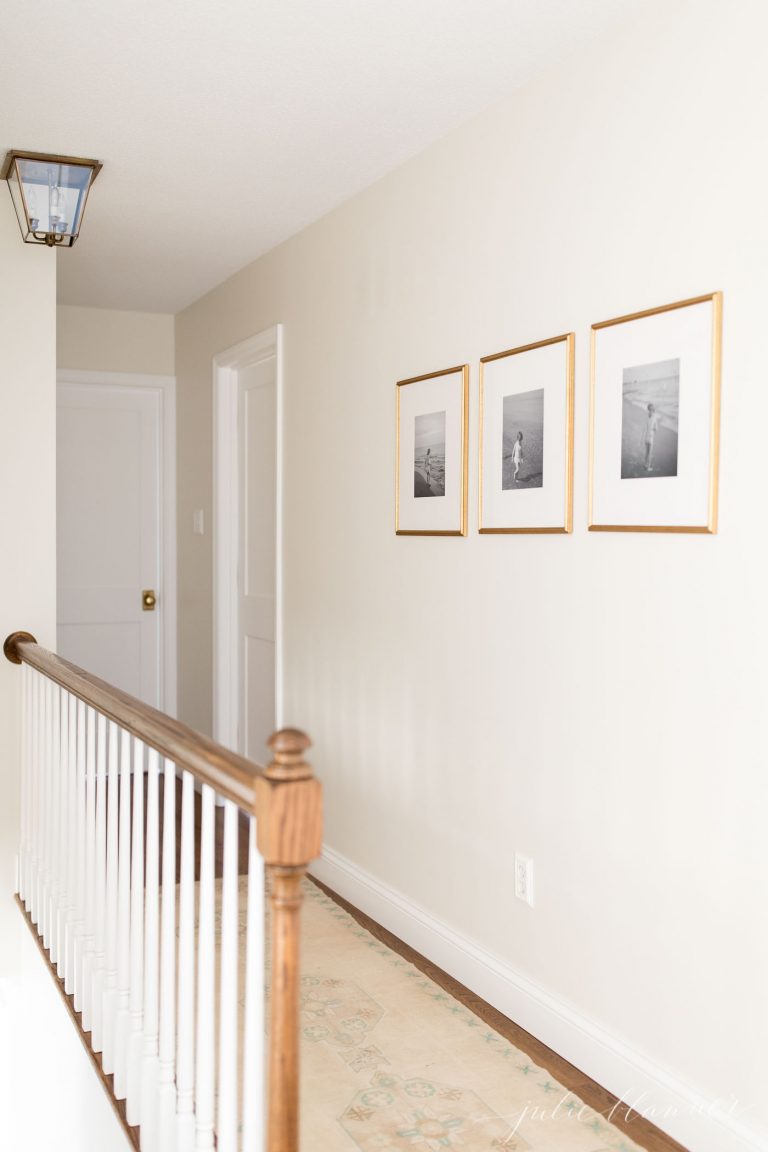 Hall decorations can be kept to a minimum. Simple, yet thoughtful.
Small Hallway Ideas That Will Change Your Home
Can't afford to change your hallway flooring at the moment? Perhaps adding a cozy vintage rug will add a charming layer of texture and warmth. Not to mention, hallway floors take a beating with constant foot traffic. A rug is always a great way to hide less than desirable flooring.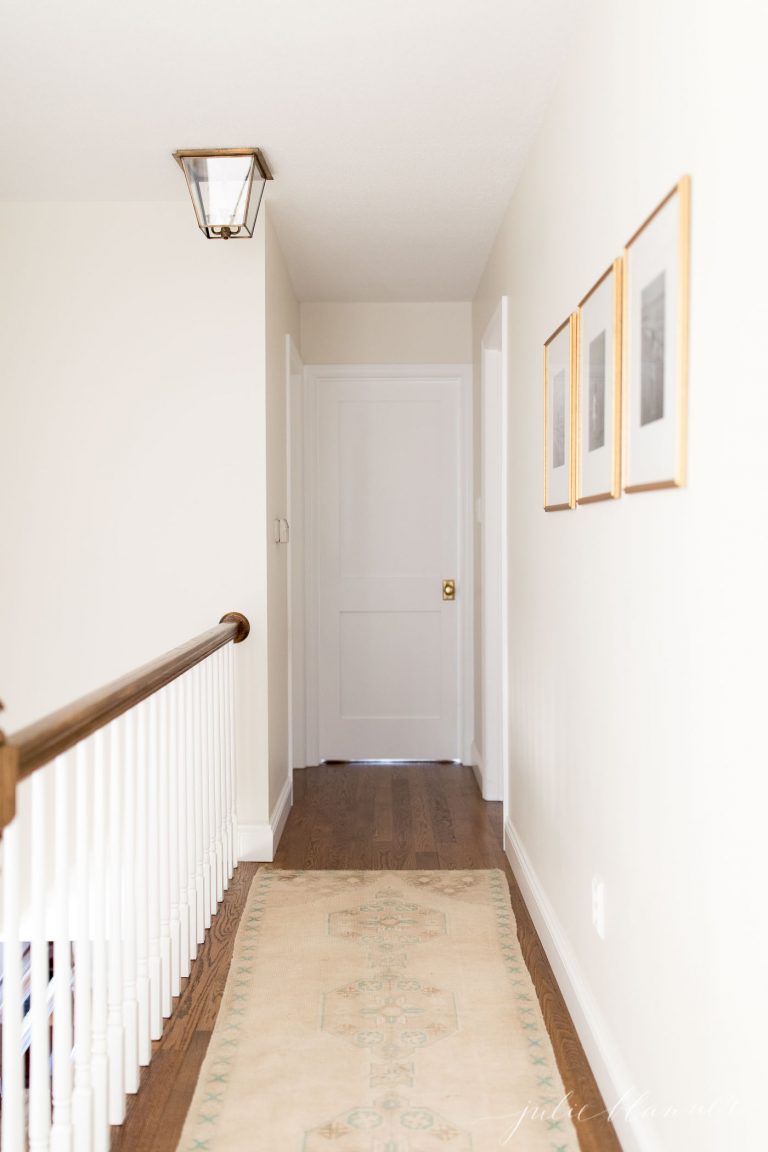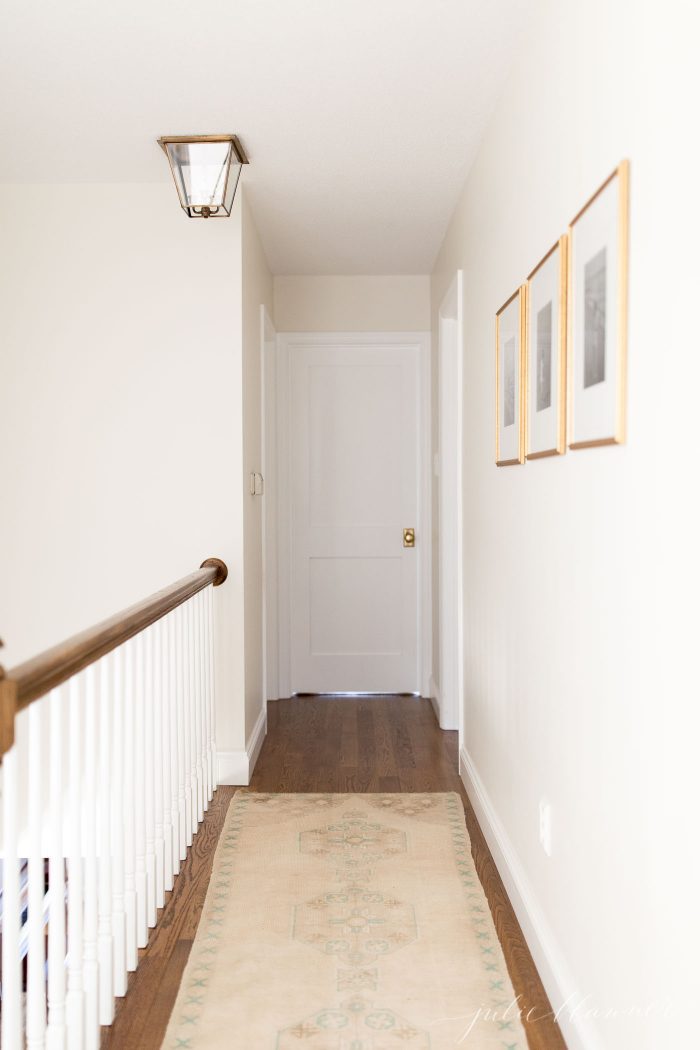 I love vintage rugs because they add instant character to a space. When an item isn't perfectly "new" it feels a little less precious, too.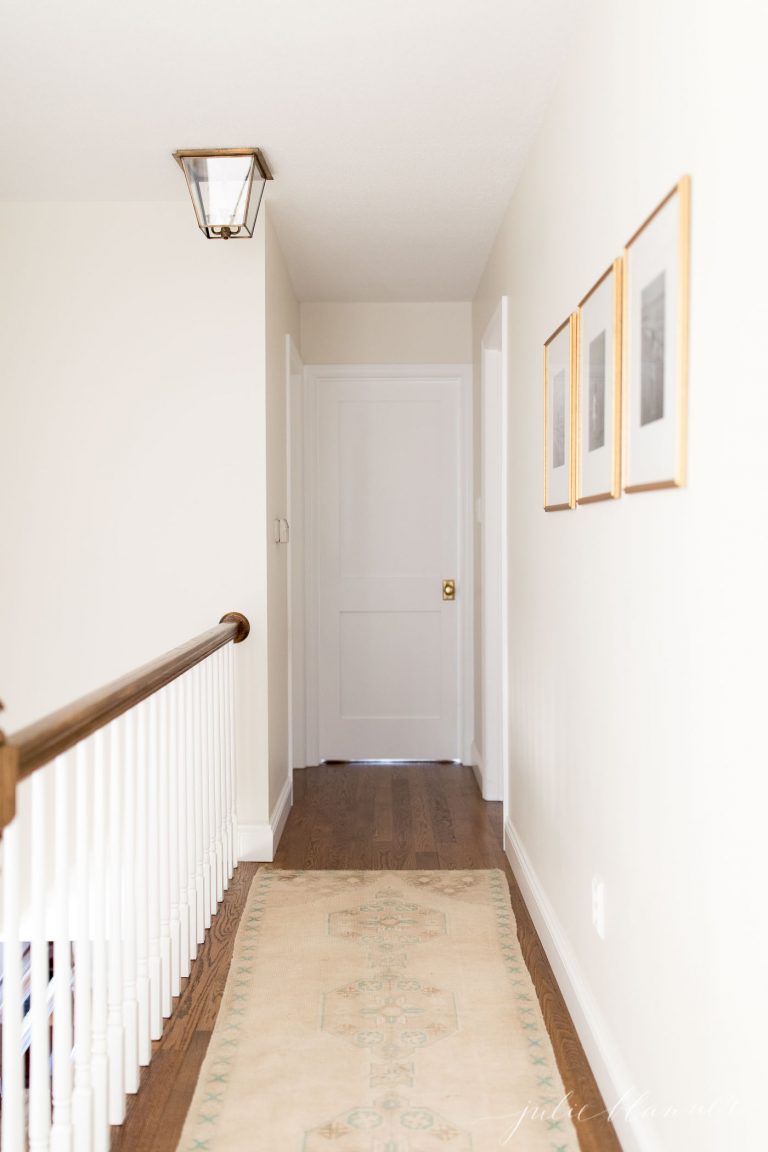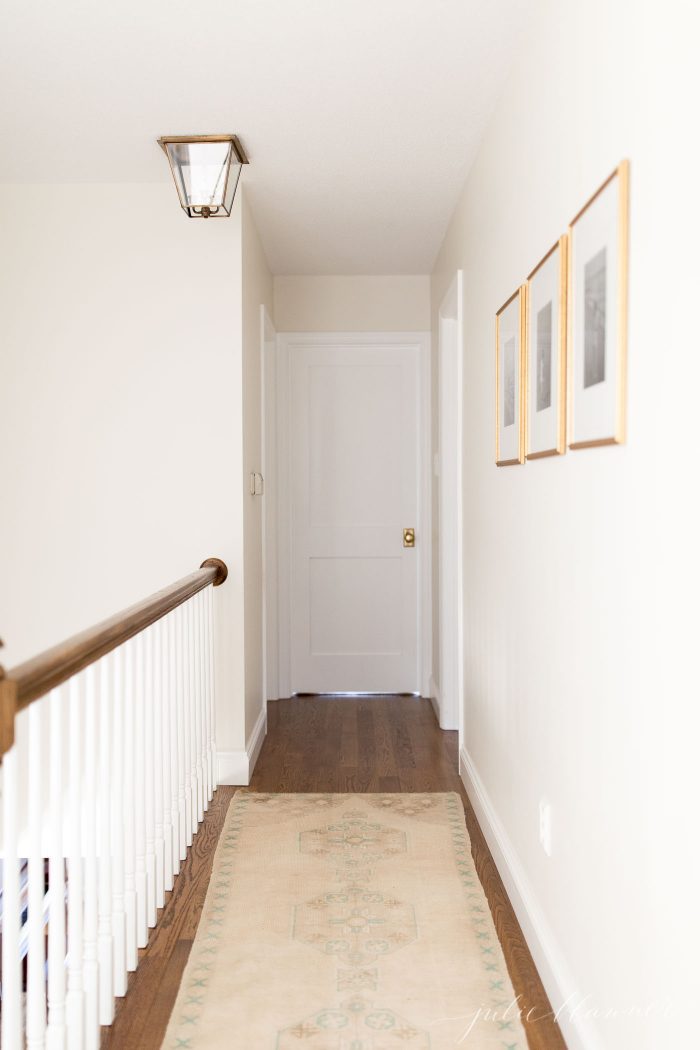 It's difficult to find storage solutions for narrow hallways, especially when there are often so many doorways breaking up the space. We are lucky to have a linen closet for storage. It's the perfect place for organizing necessities! You can learn how we maximized space in the linen closet as well!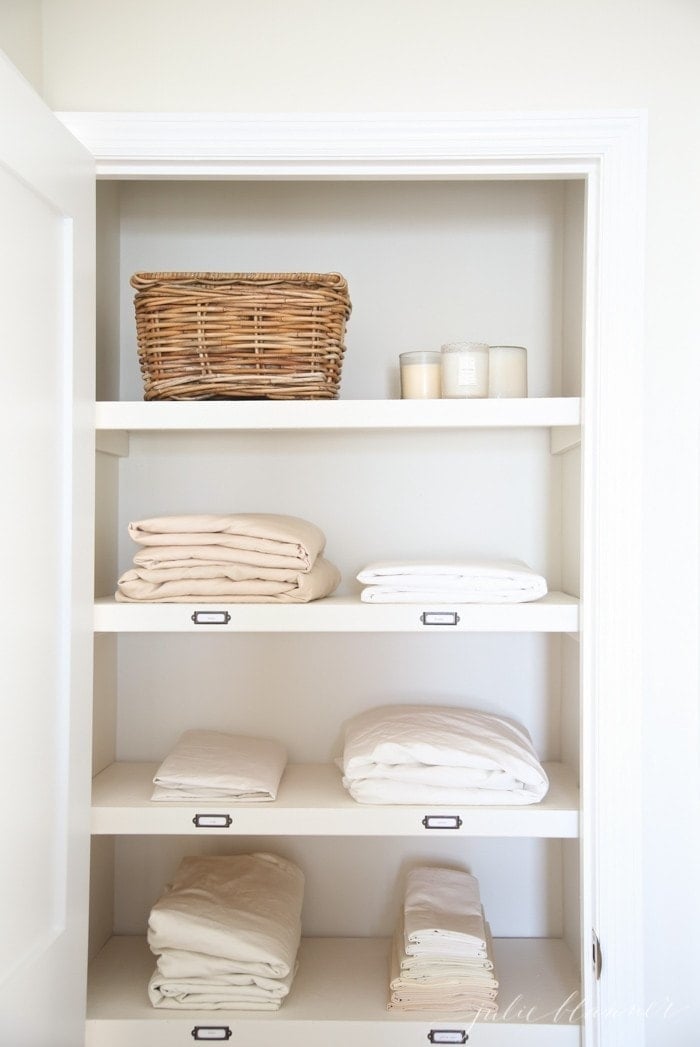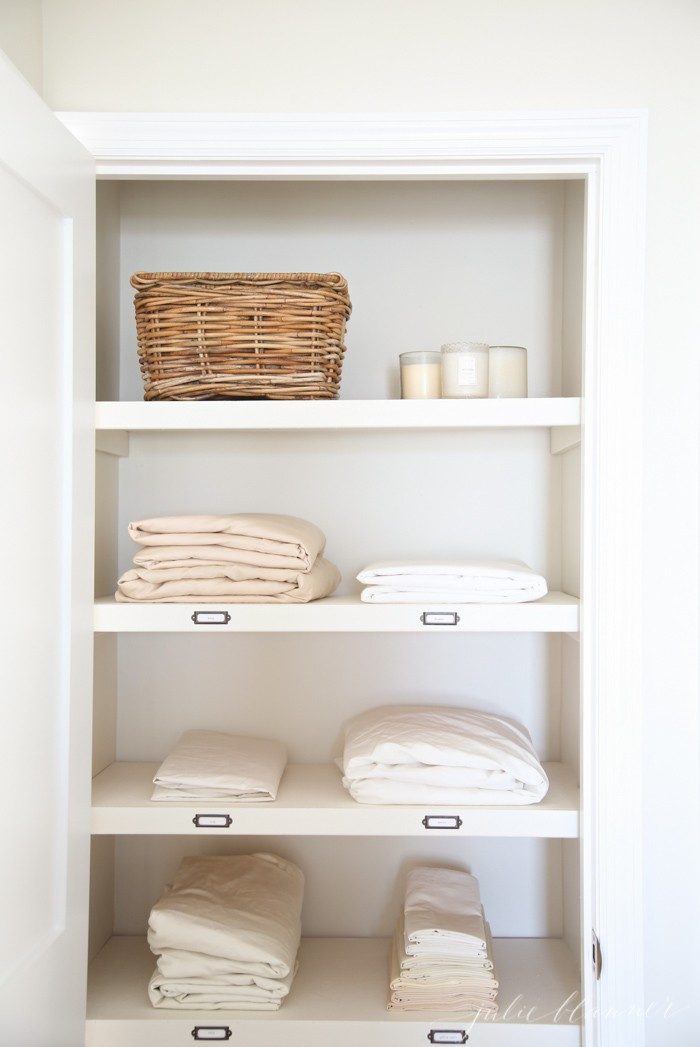 One of my favorite unexpected elements in our hallway design is the addition of these stunning brass door knobs. It's truly the little things in life, isn't it? These pretty knobs act as jewelry for our doors, adding sparkle and charm in this small space. It's just one more way to draw attention to the details you love!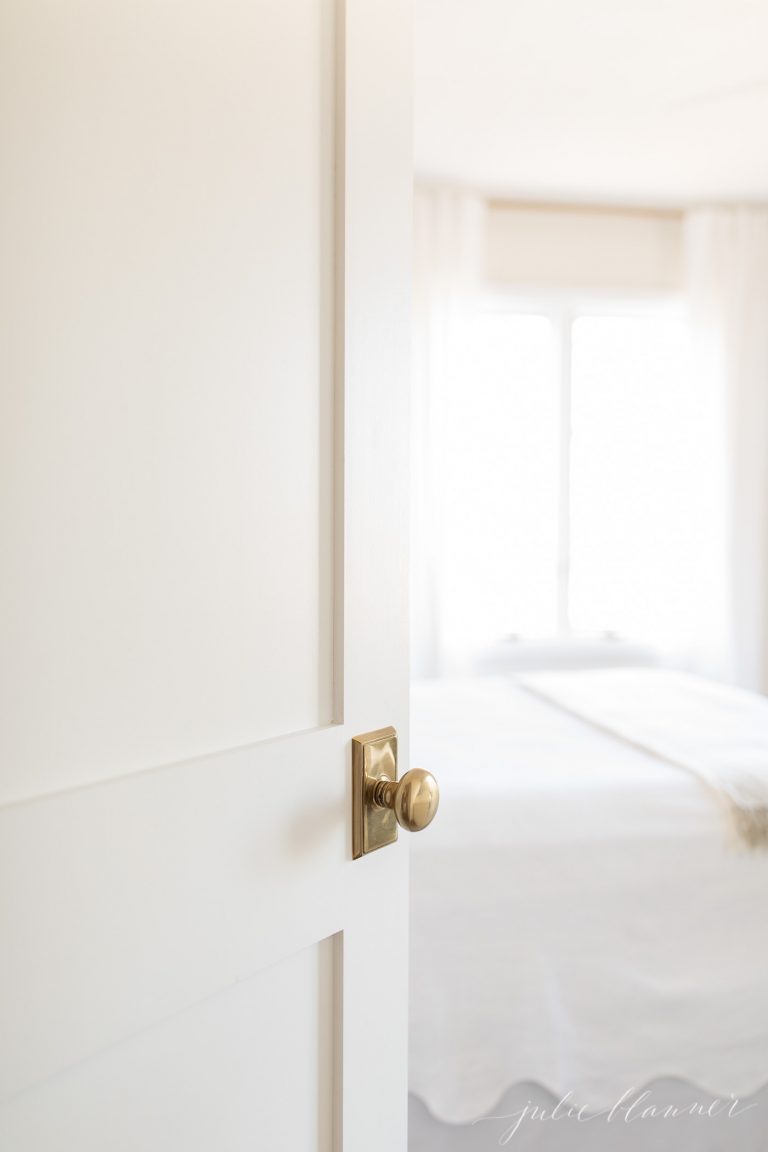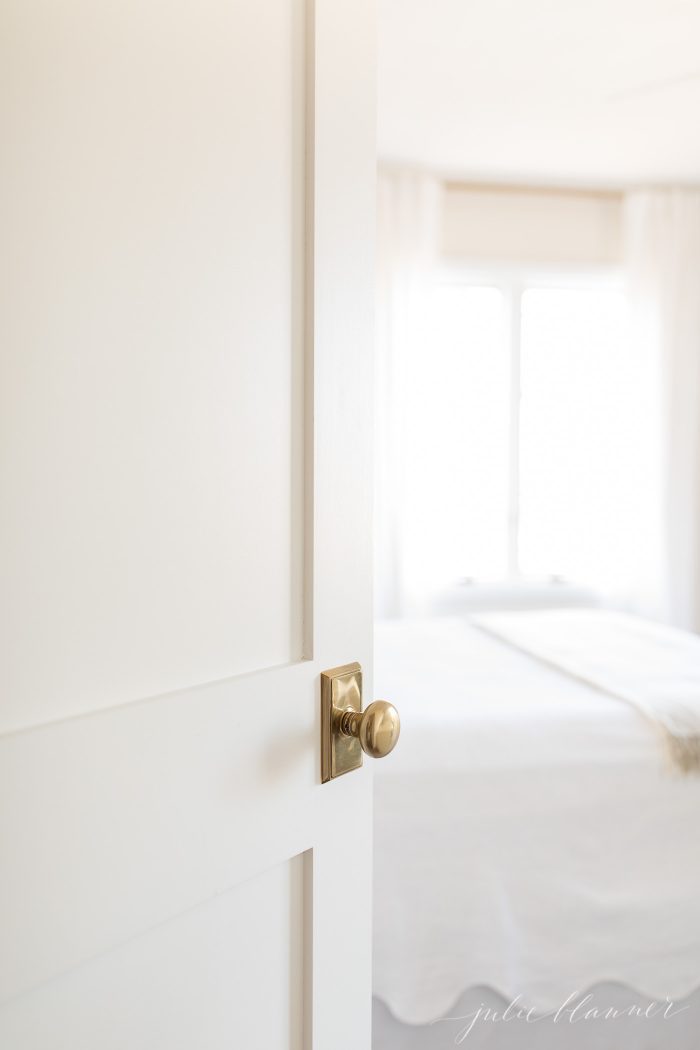 To differentiate the hall bath from the linen closet, bedrooms and laundry room, we used a crystal and brass knob! They're a nice added hall decoration!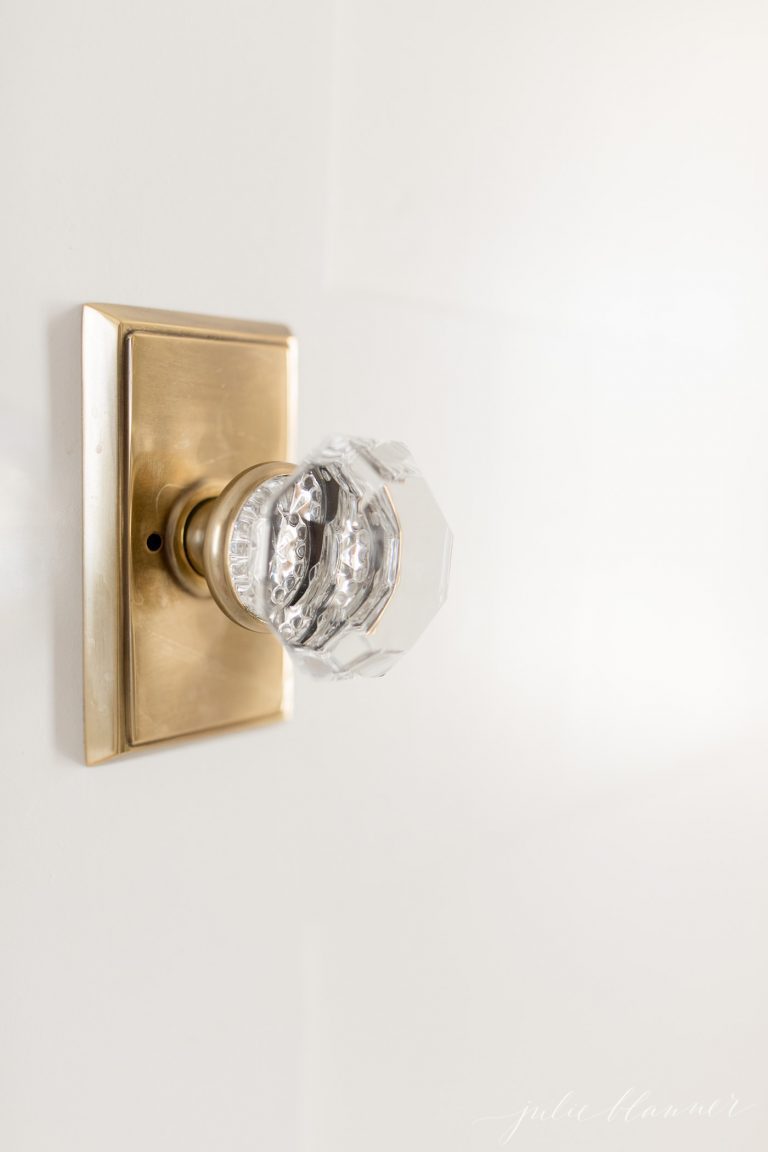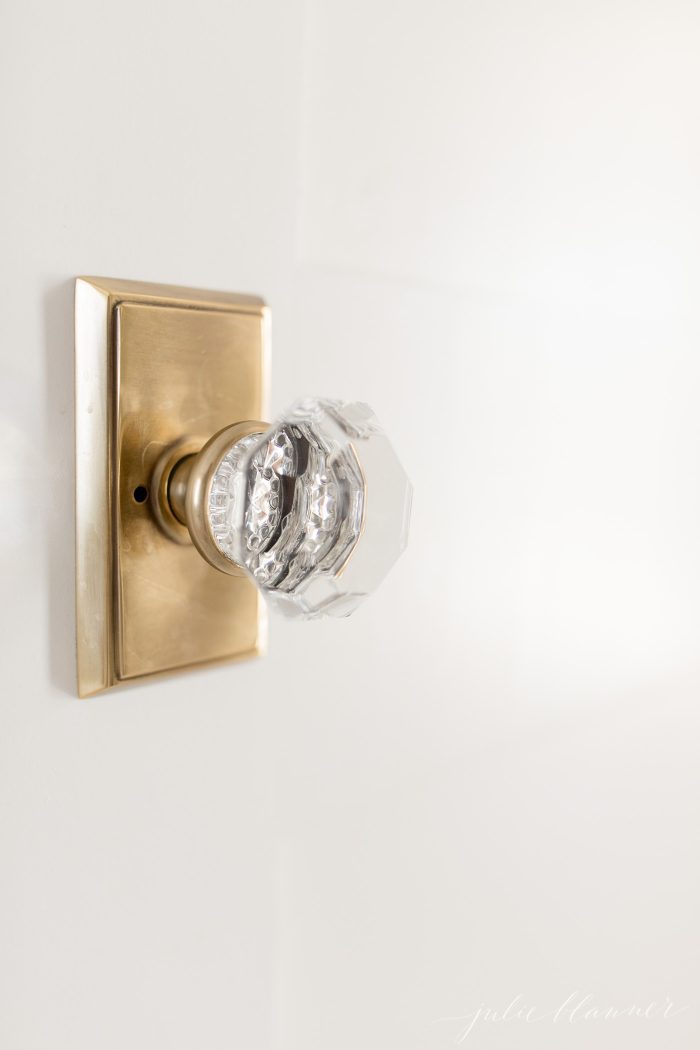 How Do You Make A Small Hallway Look Bigger?
If your small hallway feels dark and dreary, it's so important to prioritize adding light. In fact, I've got an entire post about ways to add light to your home.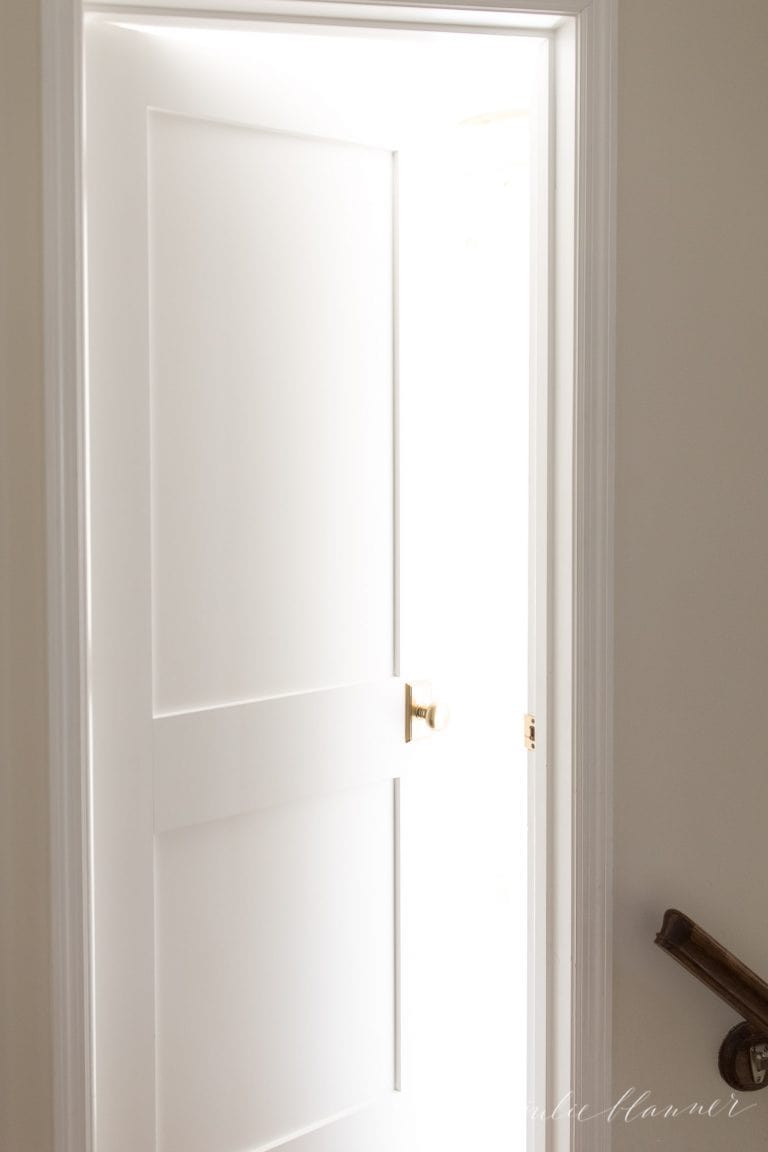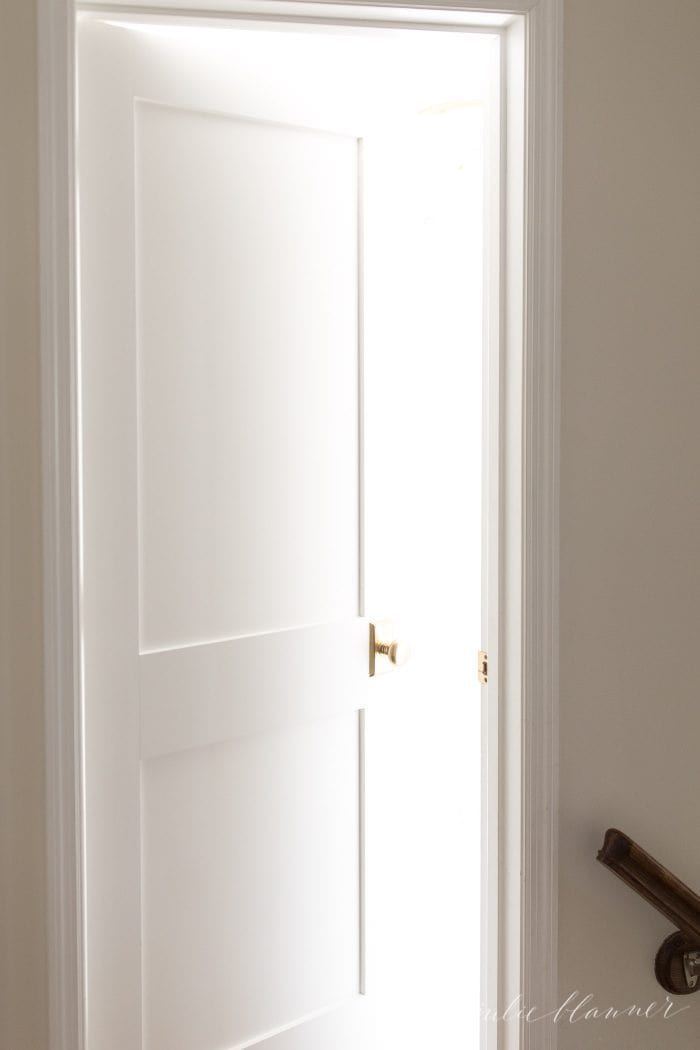 You can do this in your narrow hallway in a few ways. First, is your overhead light adequate? Consider changing the bulbs, adding new fixtures or even charming wall sconces if the budget allows.
We replaced two lights (whose nickname I won't mention – see the above before photo for reference) that had frosted glass and 2 bulbs apiece with two new brass lanterns. Each has 3 bulbs and provides an abundance of light in this little hallway.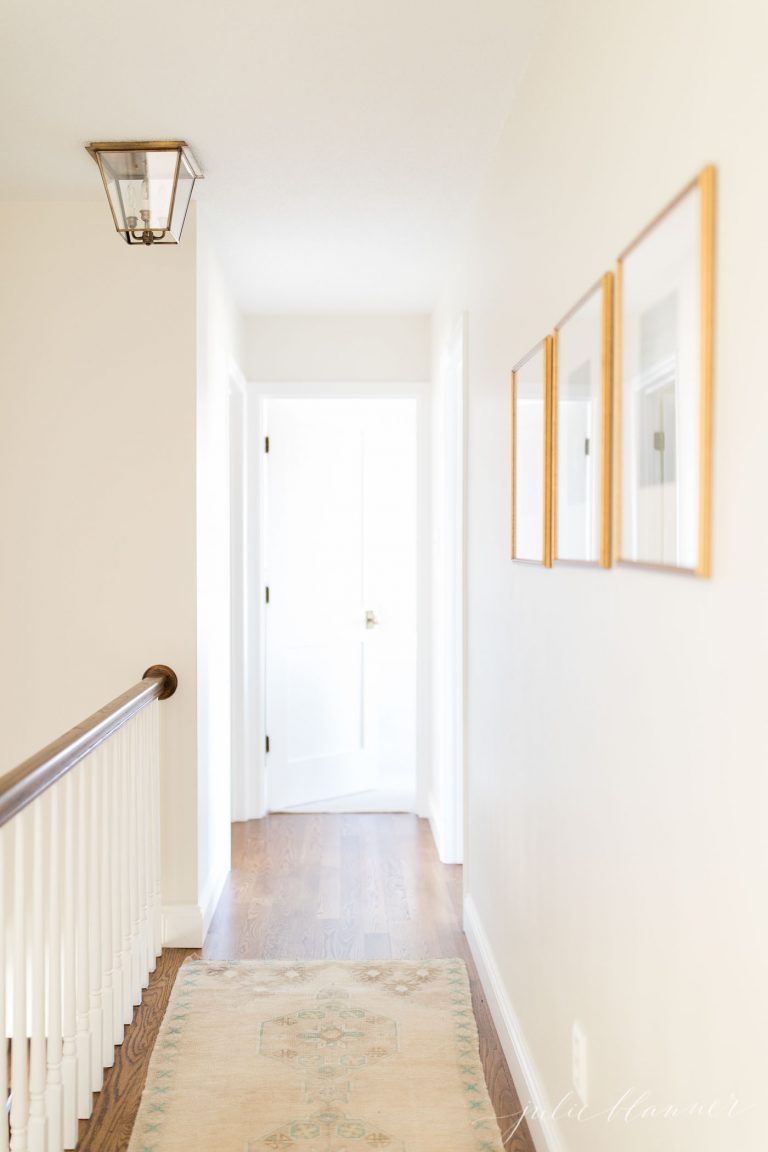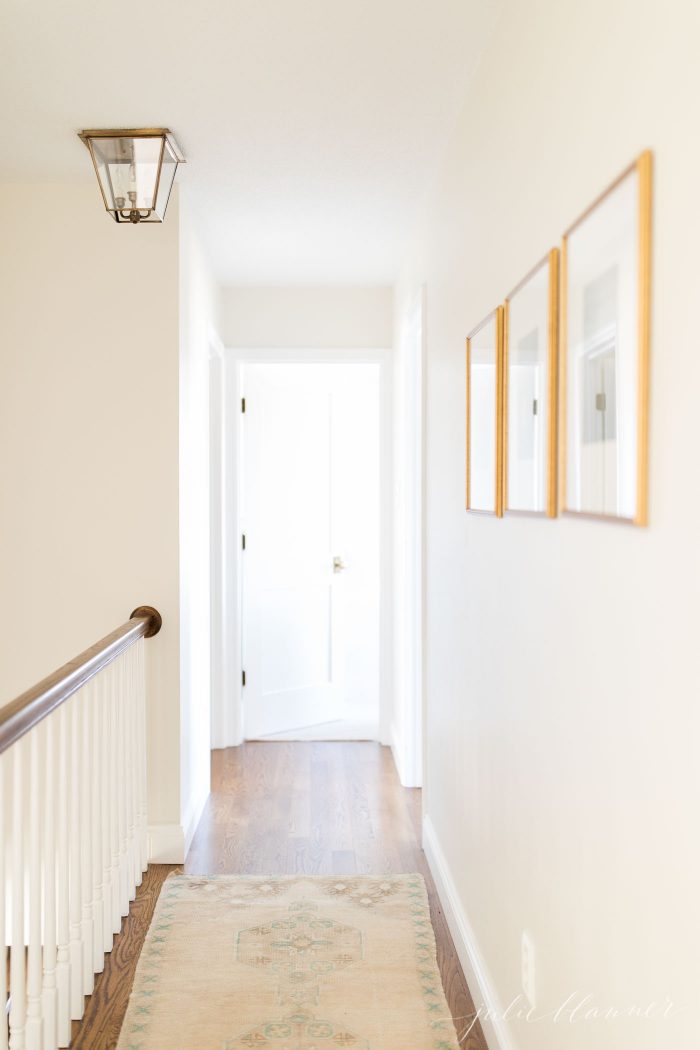 The simplest way to to add light to dark hallways? Paint! Read on for my best paint color suggestions.
As I mentioned before, in a small space, make every detail count! The light switch and outlet plates in this hallway (less than $5 apiece) add another architectural element.
What Is A Good Color For A Small Hallway?
If you've seen other photos of our home, you know that I prefer a soft, creamy neutral backdrop to our lives. I want our loved ones to be the focal point in our spaces! You can read all about my favorite paint colors right here. I love discussing paint colors and I have so many suggestions.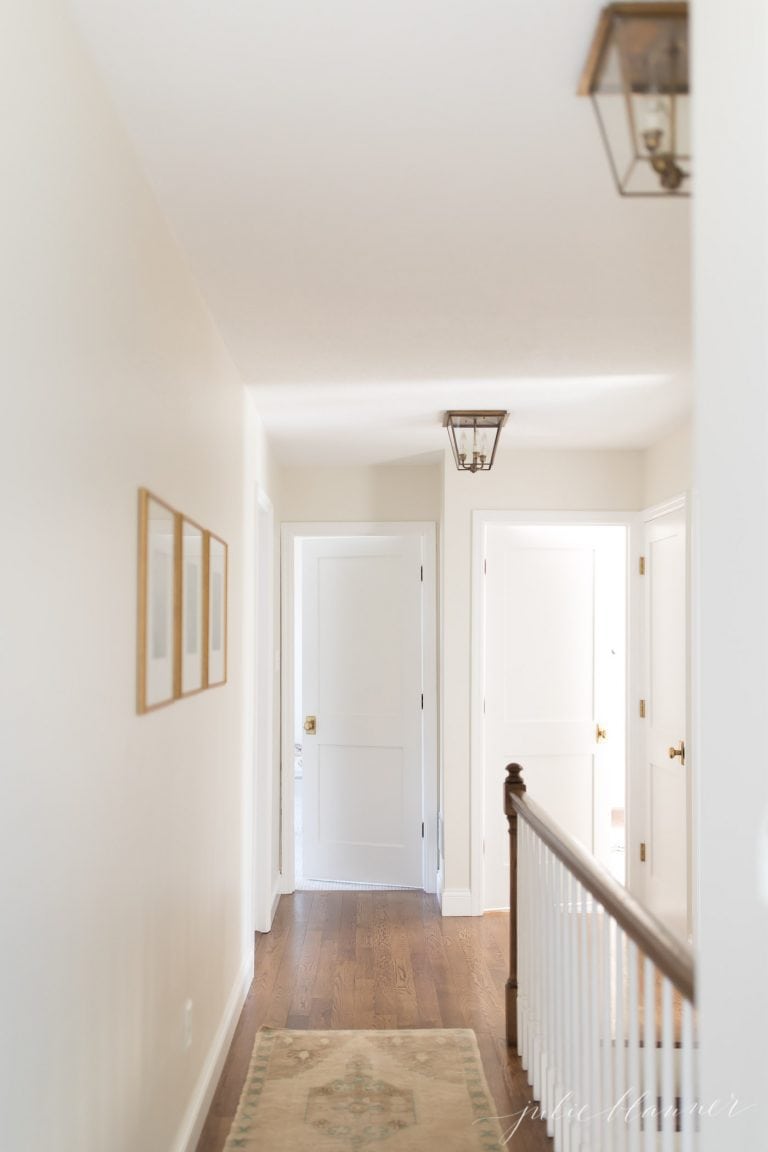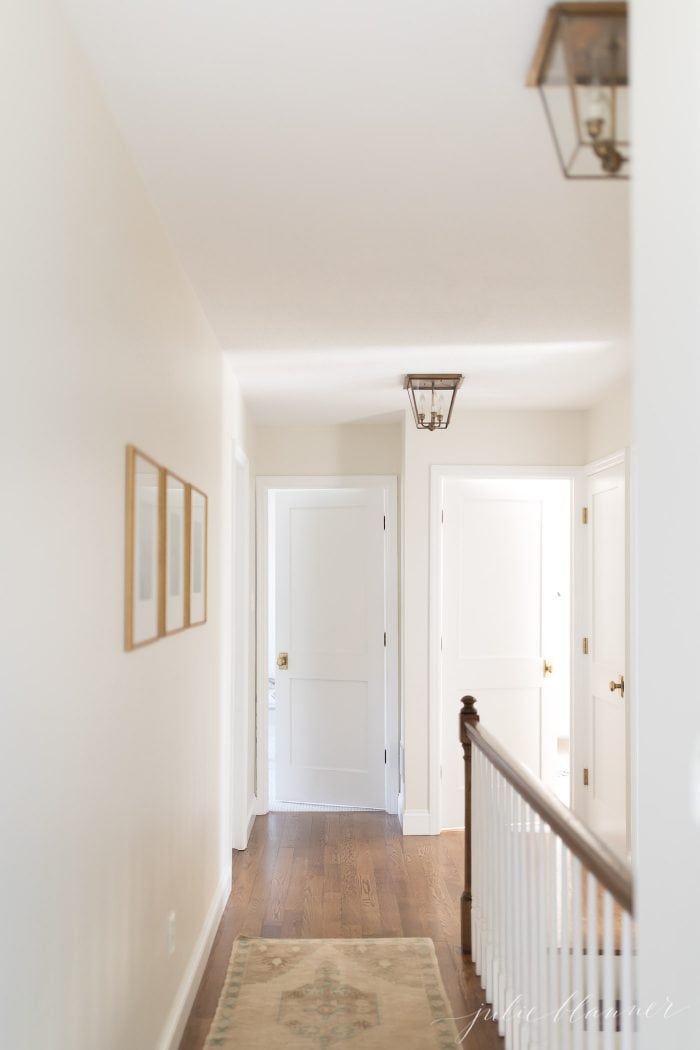 Our hallway is painted in Benjamin Moore's Soft Chamois. It's such a perfect warm cream color, as it reflects light and truly gives the illusion of more space in this narrow hallway. Other favorites? Navajo White and Zurich White are both great options for adding light to small hallways.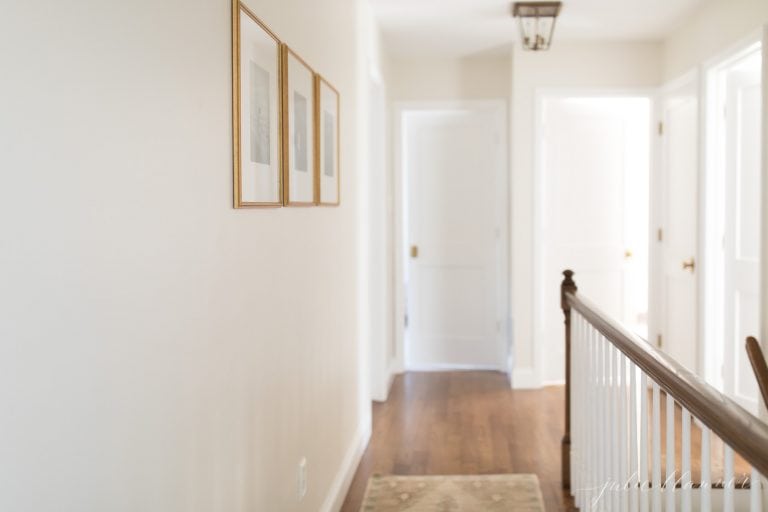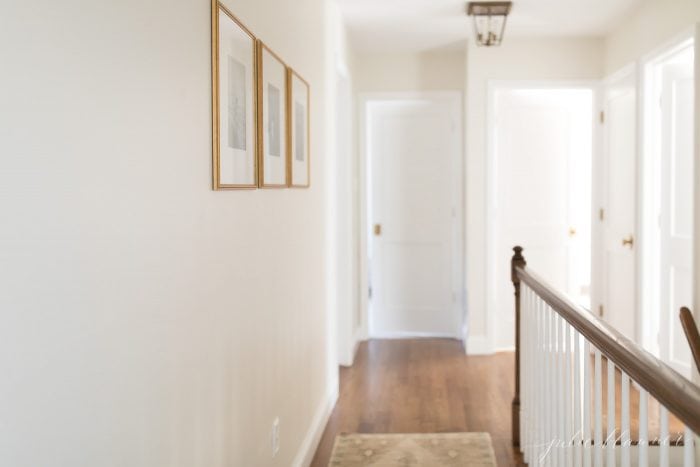 For more details and hallway ideas, take a tour of our traditional hallway in the video below. Don't forget to click to subscribe for more design ideas!
I hope you enjoyed these hall decoration ideas! Don't forget to save it by pinning on Pinterest!
Julie