Now more than ever, it's important to embrace outdoor living. Whether you have a patio, deck or even just a small backyard, learn to love what you have with these ideas to create a comfortable and enjoyable outdoor living space.
Thinking of your patio or deck as an extension our home is a simple way to figure out how to decorate it. However, if you live in a part of the country that experiences harsh weather, it's important that the decor is both flexible and durable to account for extreme weather conditions.
How to Create an Outdoor Living Space
Make it an extension of your home! Don't be afraid to paint, furnish and decorate it like you would an interior space!
You can see below that our deck needed a little TLC.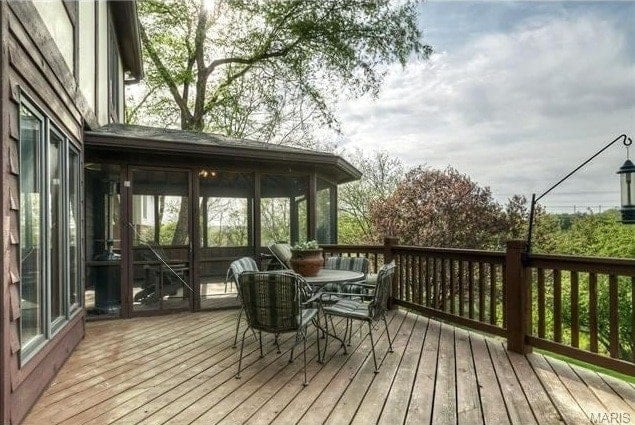 Bring new life to it using a solid stain! We used Realist Beige, which translates to a warm cream outdoors. It's the same color that we painted the exterior, it suddenly defined the deck as a "room", and a cohesive extension of our home. Suddenly the rails felt less obtrusive and more like windows to the world.
Learn how to stain a deck, the easy way.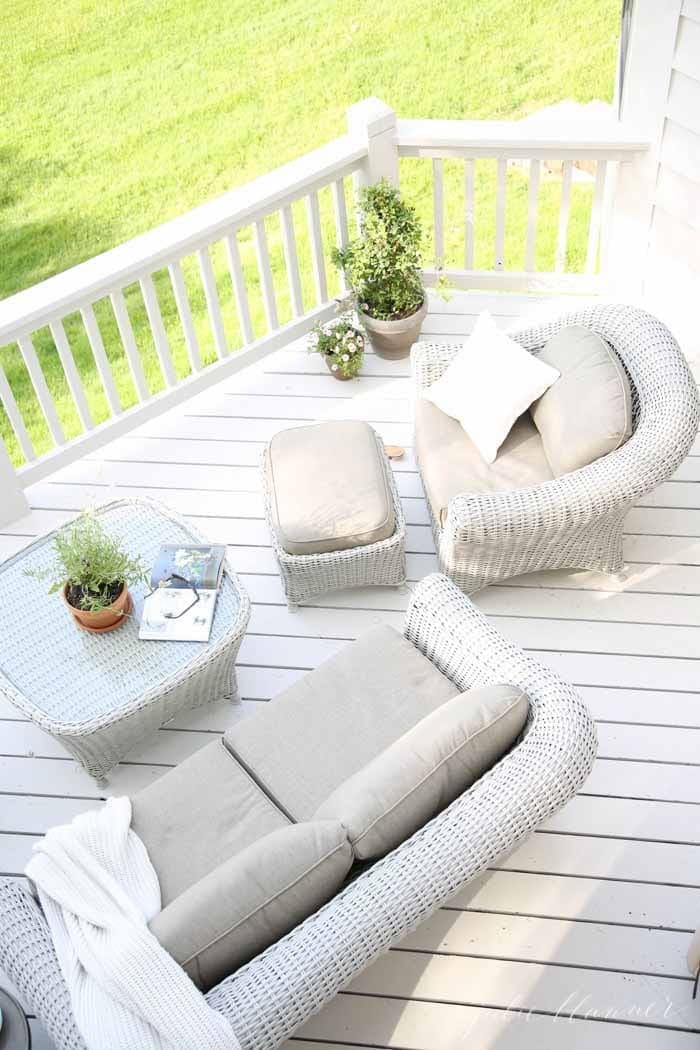 Add a Rug
Just like in a living room, a rug defines a space, adds texture and warmth. A deck is no different and can be treated like an outdoor living room.
There are an array of Indoor Outdoor Rugs that look and feel like indoor rugs, but have the durability to withstand even the harshest weather conditions and hose clean!
If only everything in our home could wash clean with a hose! I ordered an 8.5×11 braided ivory rug that consumes the furnished area of the deck, just as I would in the living room. The front feet of all of our furniture rests on the rug.
You can get all my Tips for Purchasing a Rug here!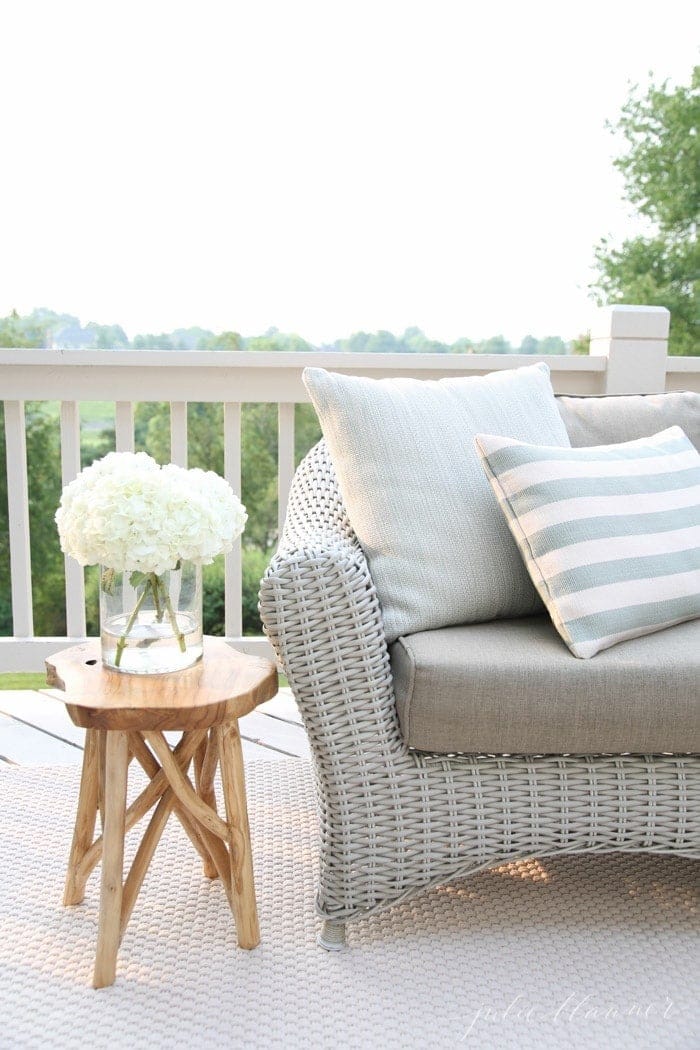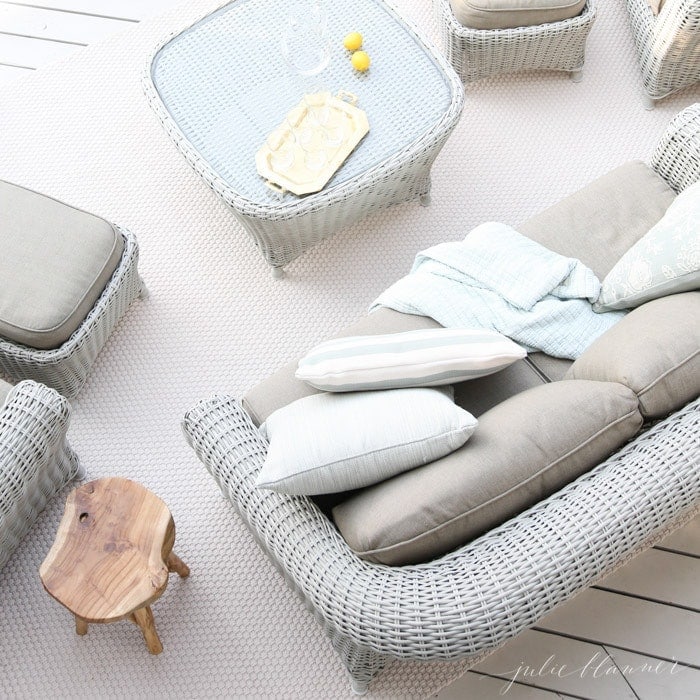 Outdoor Furniture
To create a relaxed Hamptons feel, I selected Martha Stewart wicker furniture in nearly the same color. I debated over a contrast versus "matching" and am so happy that I chose the latter. It creates a peaceful place to relax!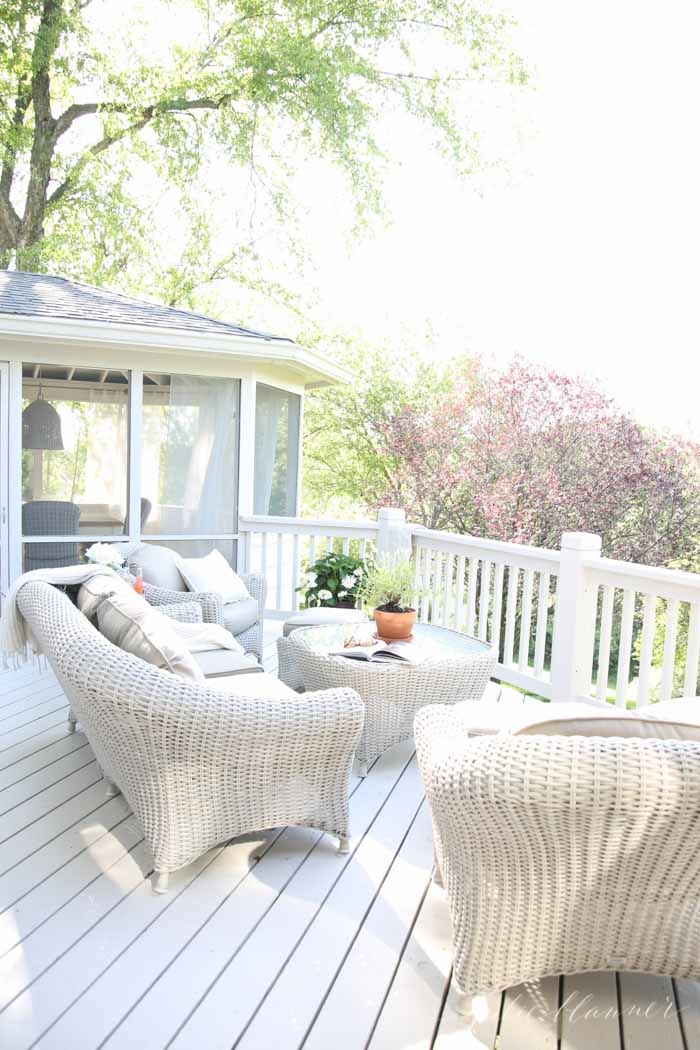 I think patio furniture is the exception to the rule on "sets". Indoors, I avoid purchasing a set of furniture, trying to thoughtfully collect pieces that work well together to create interest. Outdoors I want it to be as serene and cohesive as possible.
I broke it up a little using plants and a brass side table. It created a tranquil space and works effortlessly.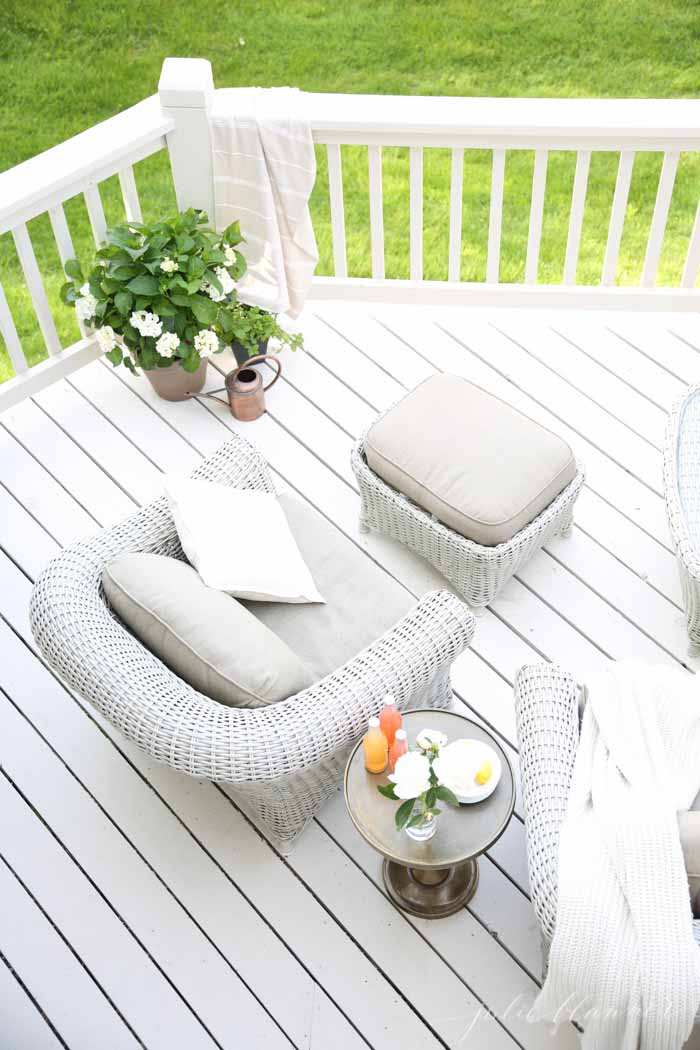 It was important to me to choose furniture that would stand the test of time in both durability and style. I spent nearly a month weighing the options. The love seat and chairs have already endured golf ball sized hail, significant rain storms, lots of greasy little fingers and looks brand new. The cushions are water resistant and stains wipe easily.
A soft throw makes crisp, cool evenings curled up on the sofa even more enjoyable, allowing us to spend even more time outdoors.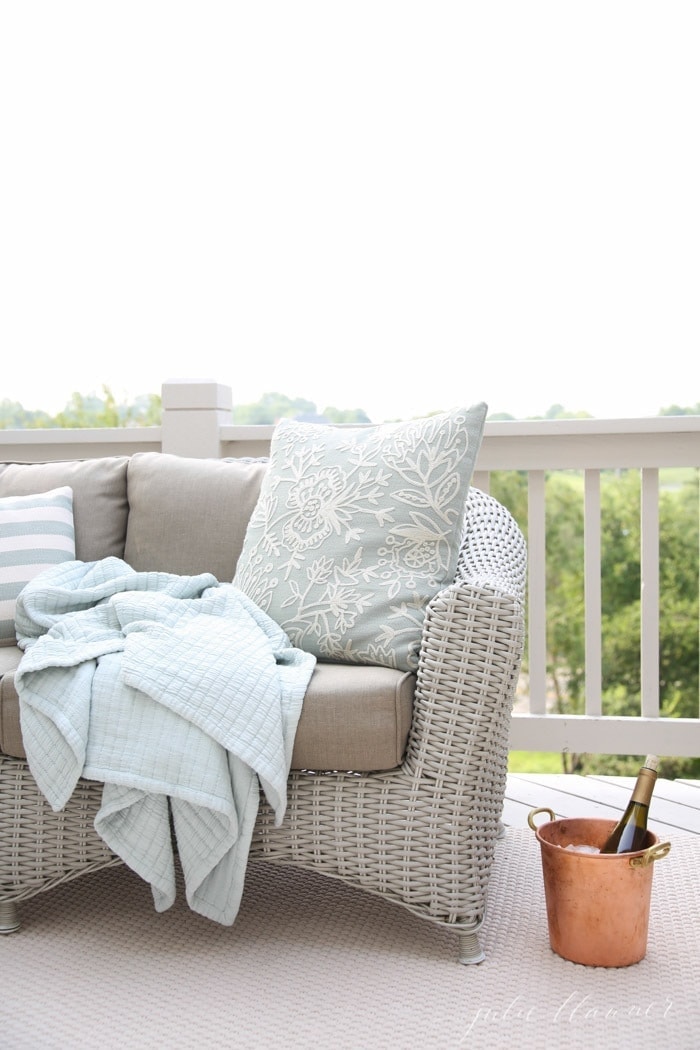 I added plenty of pillows for added comfort and style. I love mixing and matching patterns in the same color palette for to keep it serene, but visually interesting. The Flora Crewel, stripes and mangled patterns play nicely together in various shapes.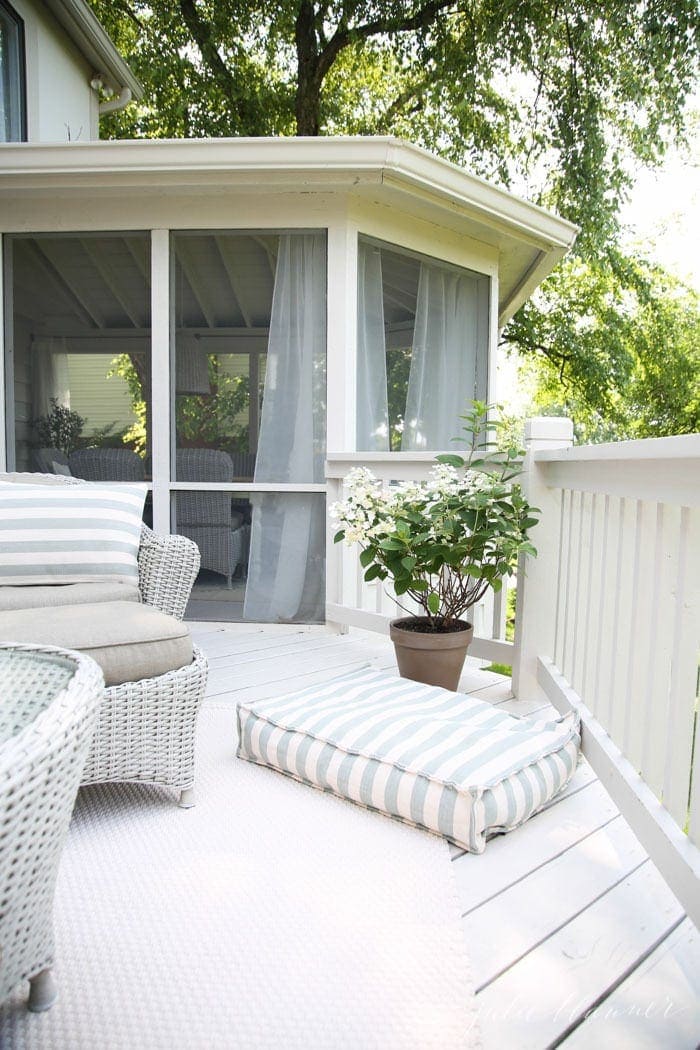 Of course we couldn't leave out our sweet pup, Dusty! His gorgeous striped dog pillow can be used both indoors and out. We place it in his favorite perch for watching the deer who frequent our apple trees.
I'll be honest, the kids love it as much as he does! It is apparently a great place to read a book or snuggle your pup.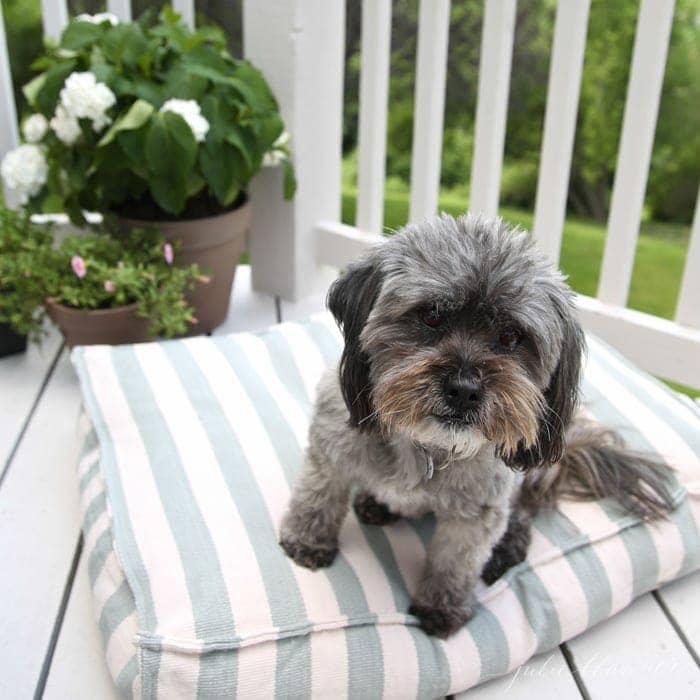 Lighting is another important element to decorating. Our new copper wall lanterns. Raw copper is a living finish that will patina over time. Over the years, verdigris will become visible adding color and interest.
Add Greenery
It should go without saying that any space, whether indoors or outdoors, will benefit form the addition of some greenery. Whether that means a planter of pretty flowers, large potted tree or even a simple vase of flowers, it's really the perfect way to finish off your space.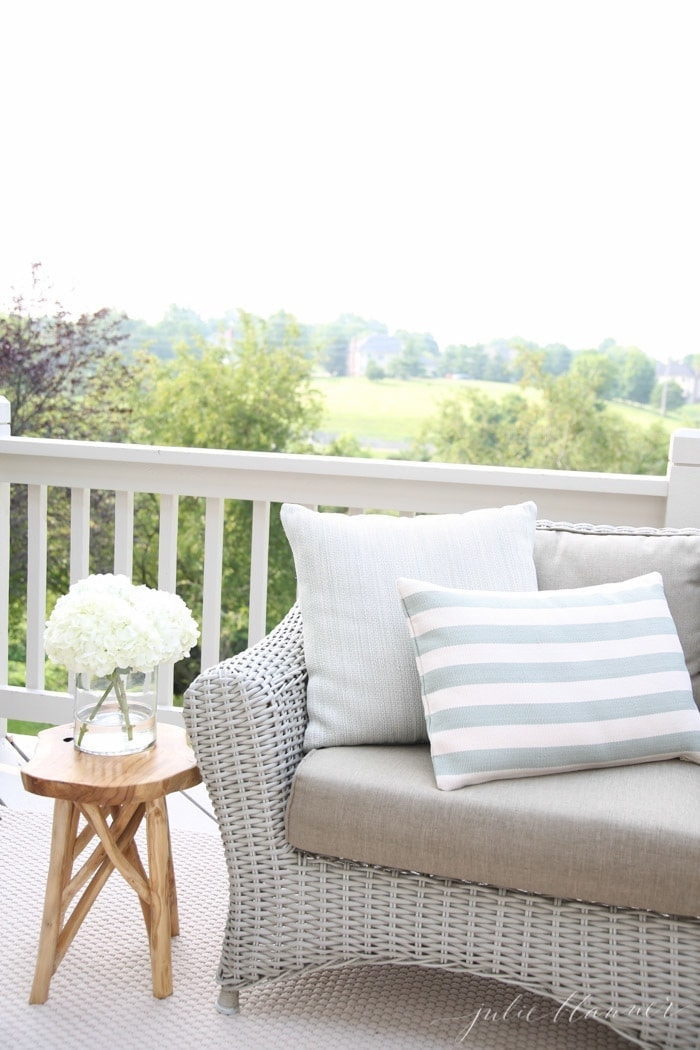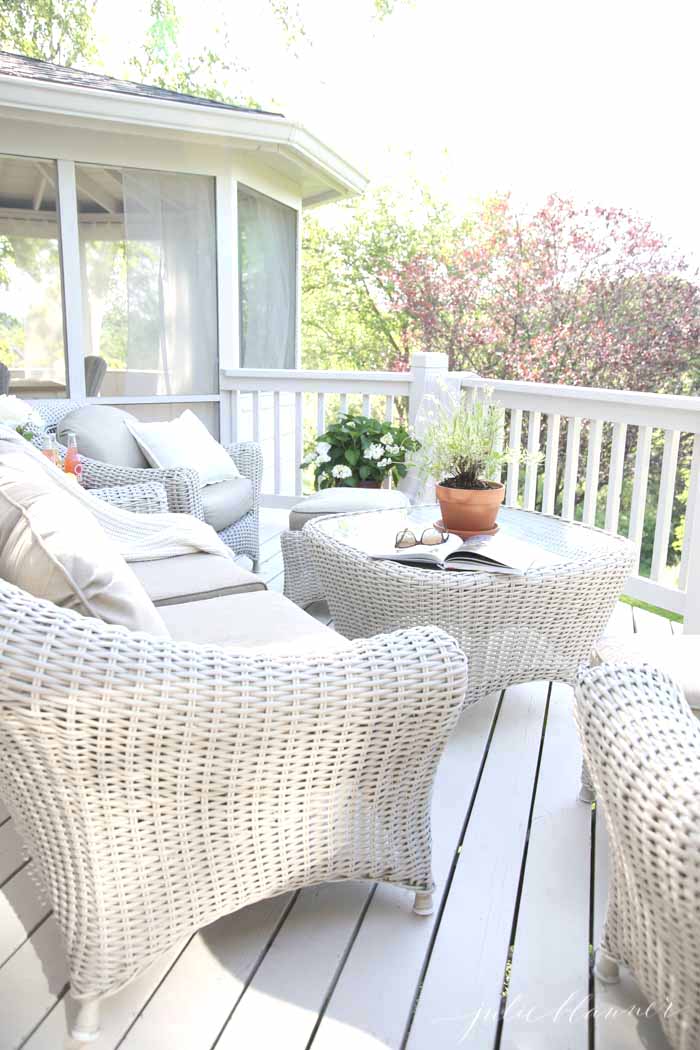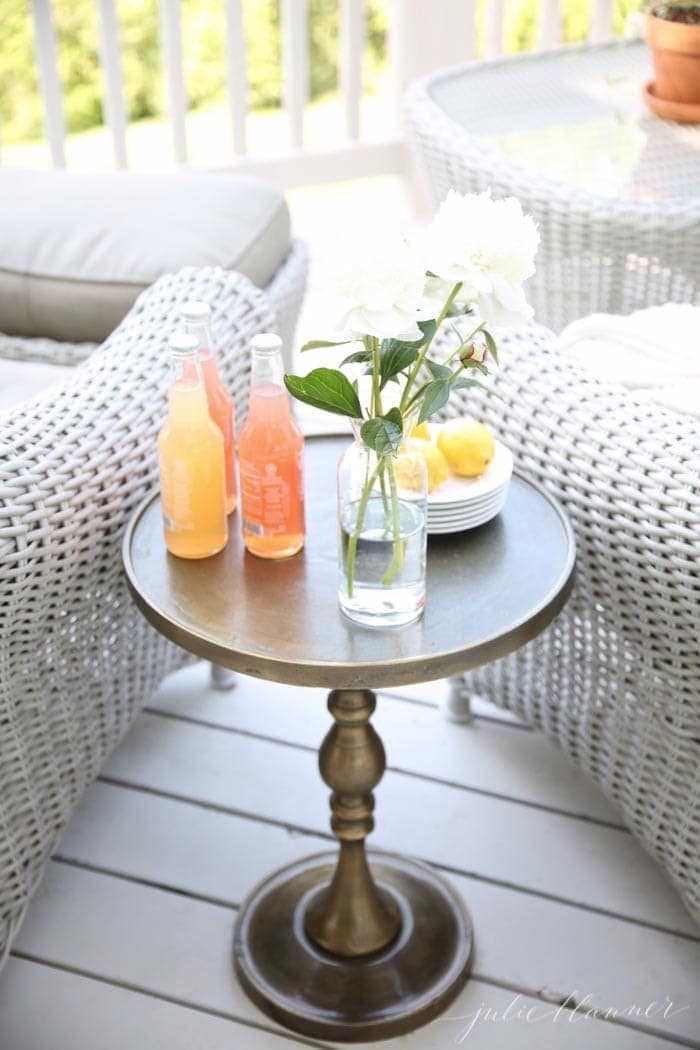 Most of my patio plants are temporary as I'm waiting for my favorites to become available – large lavender, lemongrass, and catmint. They're all mosquito deterrents and extremely easy to care for. The plants currently on our deck are actually going to be planted in our yard, but add that much needed organic touch that's perfect for now!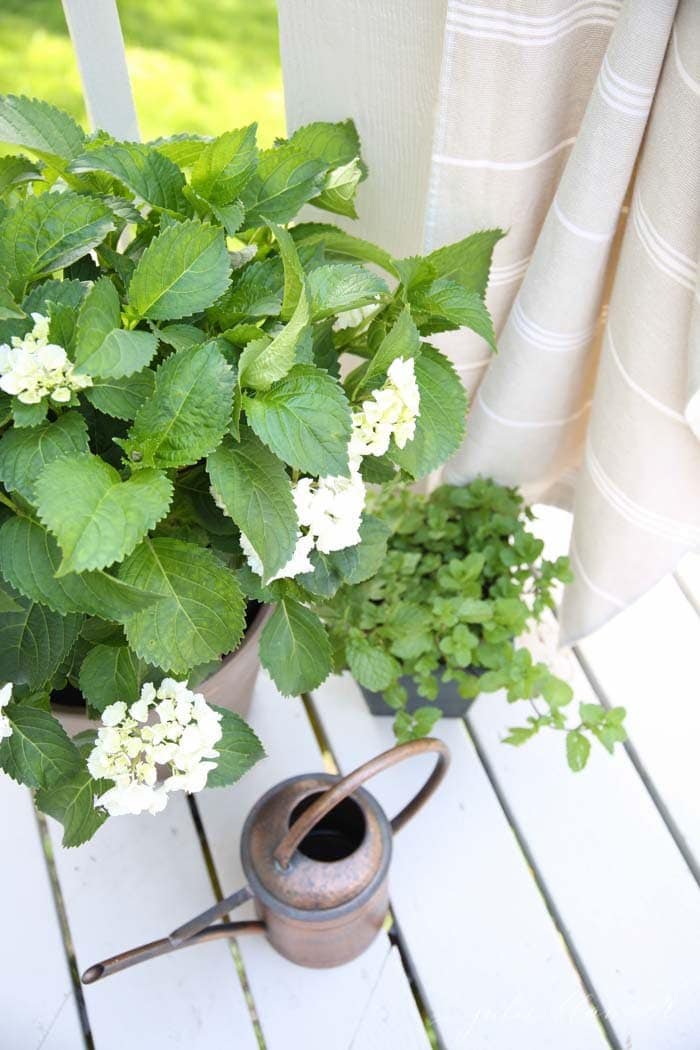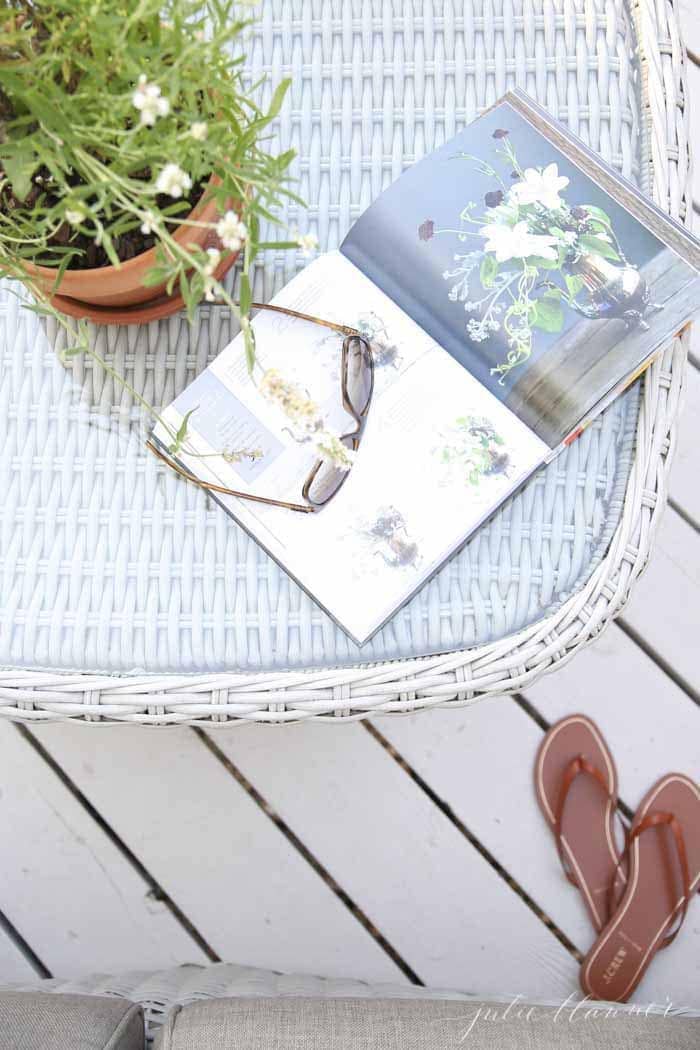 Don't underestimate the value of your outdoor spaces. I am so thankful that we recognized the value of our deck and decided to invest in it.