If you're shopping for a timeless French stove, you've come to the right place! This is a real-life review of our Lacanche French range, including lots of photos, details and insight into this brand and others.
You'll find purchase considerations, real life pros and cons for Lacanche ovens, and so much more!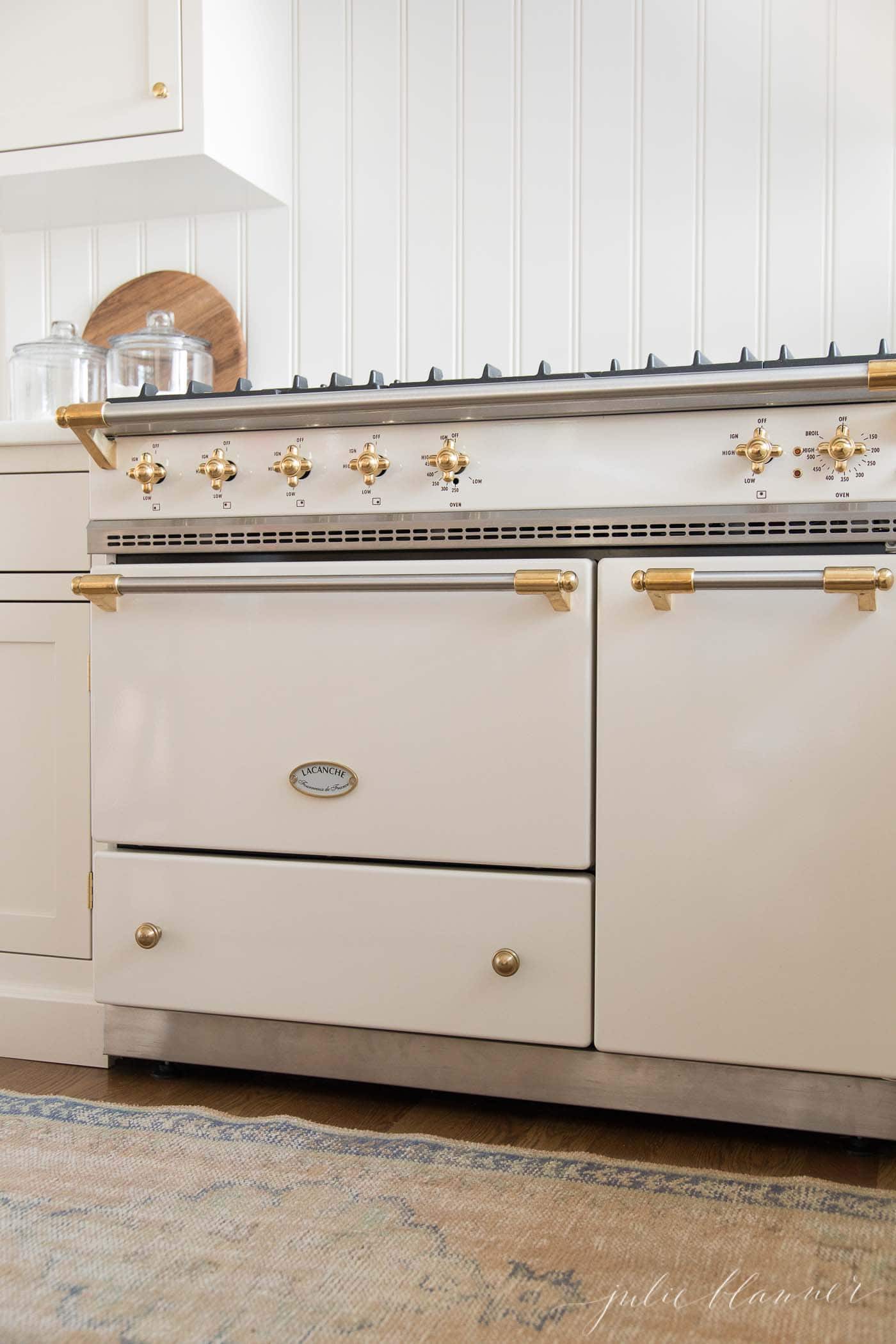 Our Lacanche range is the centerpiece of our new kitchen.
When planning our remodel, I knew I wanted to integrate a professional range / oven, consolidating our existing wall ovens and countertop range. I had been drawn to La Cornue and seen Lacanche in the kitchens of several great designers, as well my friend Jennifer's kitchen.
In fact, we went a different direction for our lake cottage – you can read more about it in our ILVE Range Review here!
I wanted to take some time to write an honest review about this beautiful French stove. We love it, yes… but there are things to consider!
Why We Chose a French Range
A French stove truly just feels timeless, with a warm, classic and vintage flair. At the time we purchased it, it felt a little different than what you see in most American kitchens.
I considered a variety of other professional ranges including Wolf, Thermador, Viking, Blue Star and Dacor. Ultimately as you see, I chose a Lacanche range.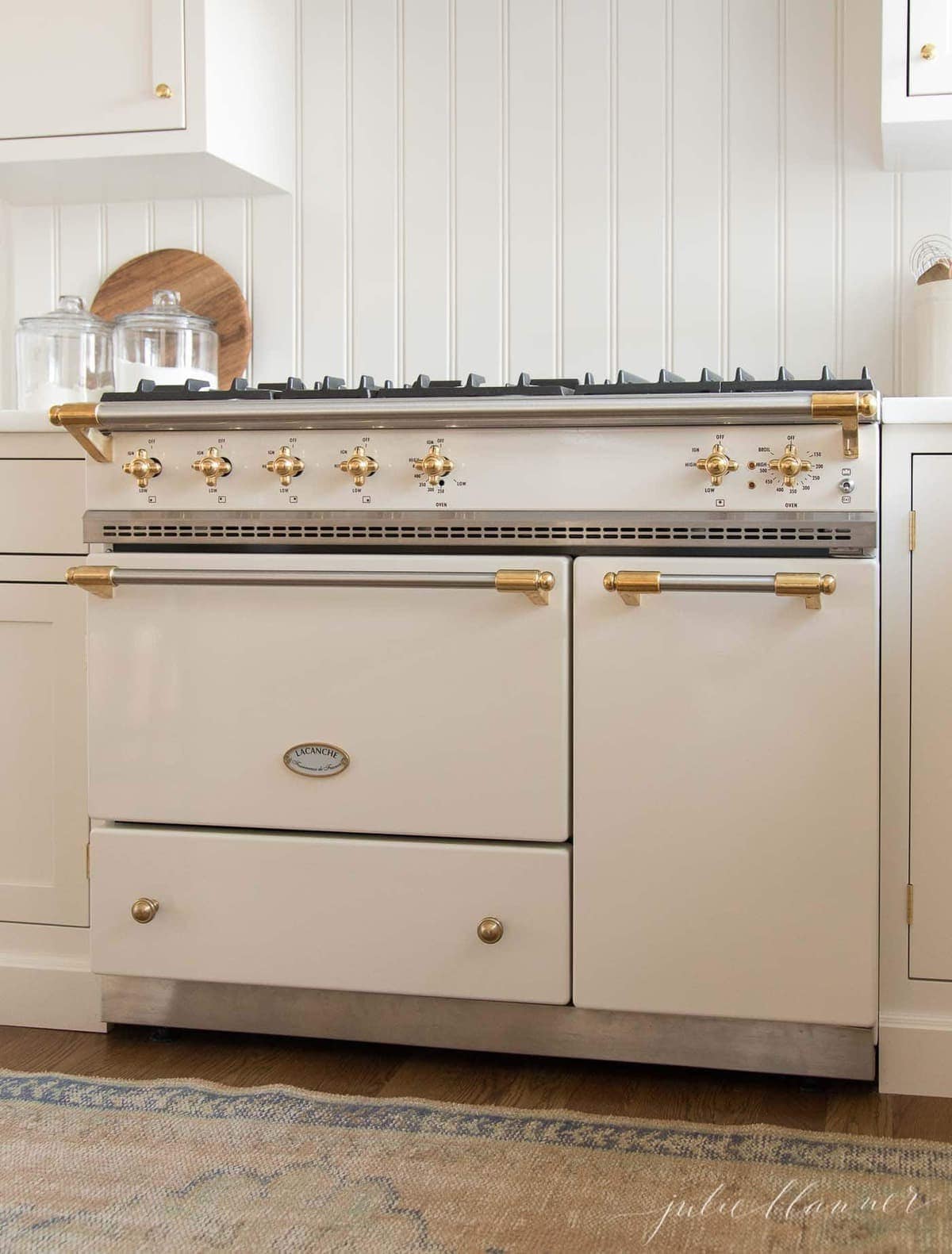 One notable difference between most Thermador, Wolfe, Viking and Blue Star ranges is that there are no windows on the doors. I think that's what drew me to the Lacanche – the simplicity.
It fits seamlessly into our kitchen and feels understated, but elegant. To further ensure that, I had the cabinet paint color matched to the enamel sample of this French stove – which we chose in their ivory color.
While I found the decision-making to be a bit overwhelming and would do things a little differently if I could do it again, I love that you can configure a french stove to fit your needs.
If you love the look of our classic cream kitchen, don't skip this post about our Inset Cabinets! You can find our cream cabinet color and details about our Danby Marble countertops, too!
What to Consider When Contemplating Purchasing a Lacanche Range
cost of freight – $1,575
additional cost of color – black is standard, color upgrade is $900
additional burners – I paid an additional $850
cost of installation
time/availability. It takes 3-6 months for your range to arrive depending on the shipping method you select and lead time, so plan accordingly
the handles stick out several inches from the range, so be sure to include them in your measurements for walkways. Most cities have codes that dictate how many inches you need.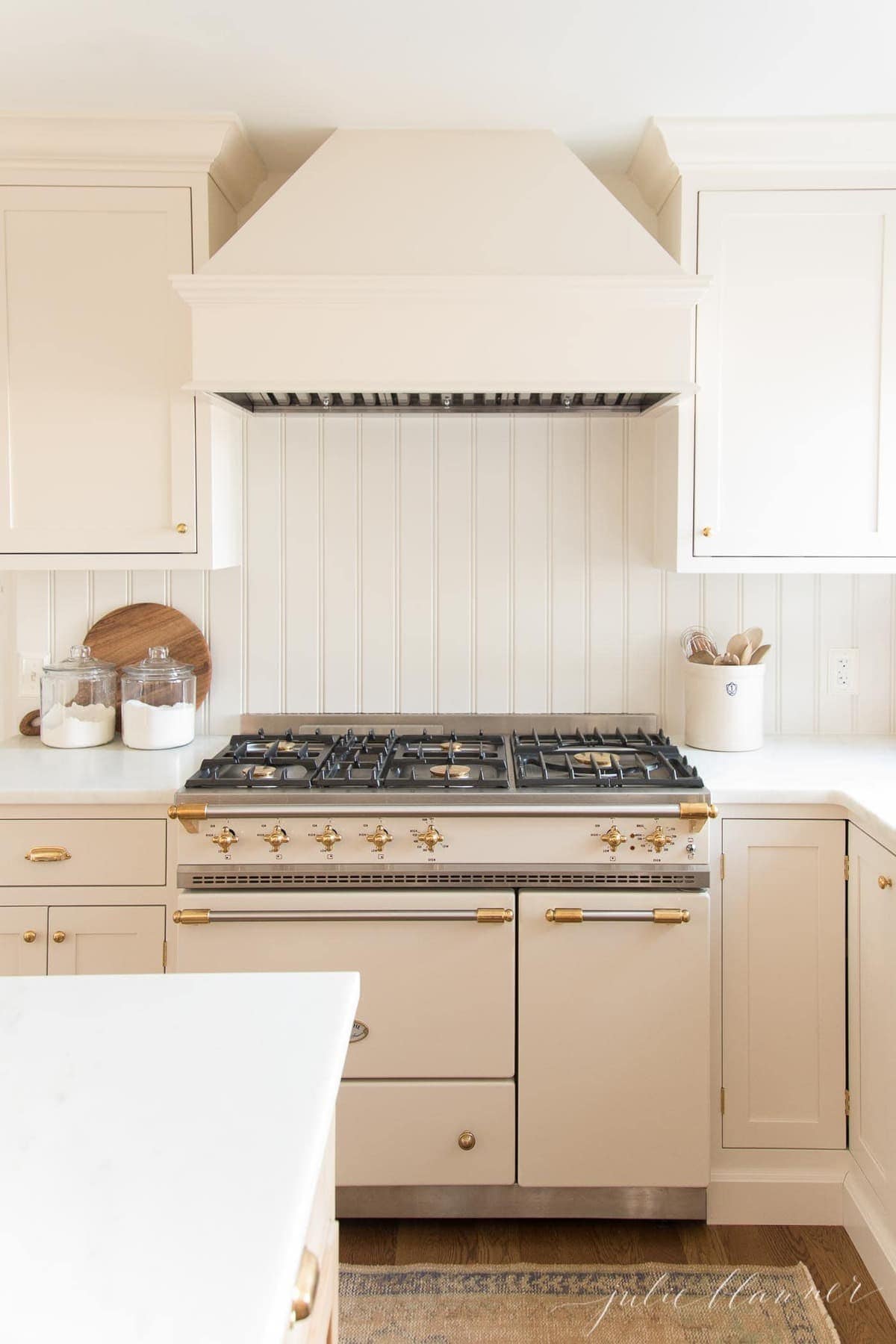 French Stove Installation
Though we were already going through a remodel, installation was a considerable expense given the number of people it took to successfully get it through the door, placed in the kitchen at the proper height and properly leveled.
Our Lacanche was installed before our marble to ensure the marble would not be damaged, but that made adjusting the height a little tricky. It's about 1/4 higher than our counters, but I didn't want to go through the additional expense to have it disconnected and reconnected and before we knew it, the backsplash was in and we were committed.
While we had a lot of confidence in our team, they had never installed a Lacanche before and there was a learning curve, even with the abundance of documents shared from the Lacanche team.
To be honest, I wish there was a bit more support on this end or local installers they could confidently recommend. It is my understanding that they do now have more installers/service nationwide, however when ours needed repairs, they sent someone from Florida.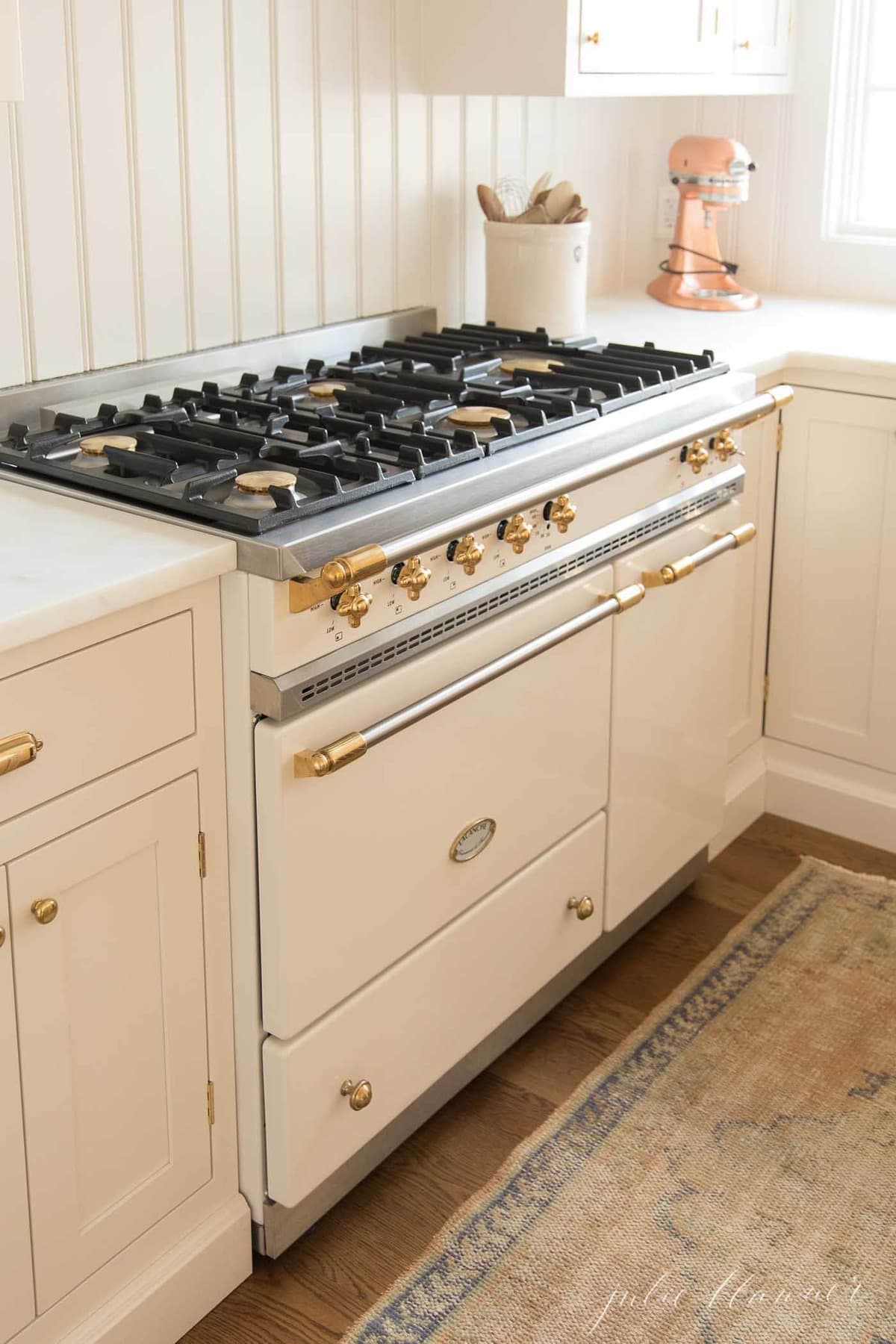 What I Love About this French Range
Plain and simple – the style. The brass knobs and burners make my heart sing. The grates are easy to remove to clean the cooktop and the ovens are easy to clean as well. The unlacquered brass ages beautifully.
After the tech came out, (keep reading for more on why) I love the way the gas range cooks.
Lacanche Ovens
I was so excited to bake with convection I must have overlooked that the Lacanche convection doesn't work like modern convection. It doesn't bake evenly because fans are solely at the rear and the seals are at the front. Modern convection has multiple fans throughout.
This is why a Lacanche oven bakes on a bias. You have to rotate baked goods halfway through to bake evenly.
Even with an added rotating process, baking on convection has been more of a struggle than I anticipated. I'm finding more success turning the convection off.
I have also noticed that when baking in the gas oven, items on the left tend to bake much quicker than the right… with items in the back right needing several additional minutes. Below is a snapshot of an example testing the oven.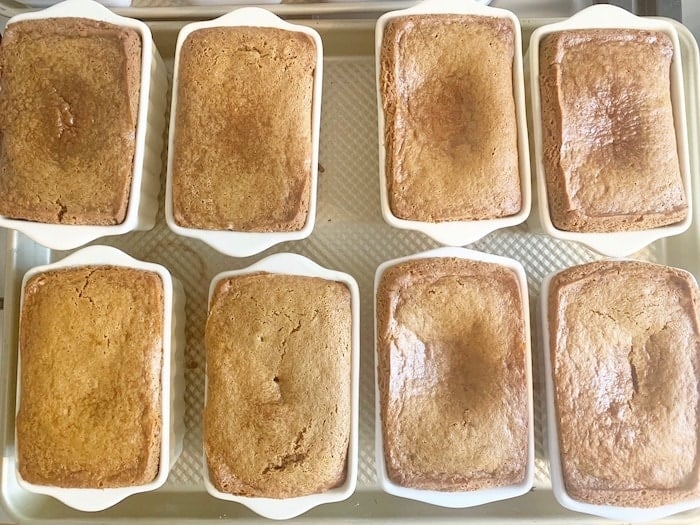 You can see I tested the second loaf from the bottom with a toothpick which came out clean, but the others needed additional bake time.
While I'm a baking enthusiast, I'm not an expert, but given all the questions I receive via email and Instagram direct messages about our Lacanche oven, I wanted to provide some examples for you.
Maintaining a French Stove
Finally, I would be remiss if I didn't mention the issues we experienced in our first year of ownership.
I looked at a French range as an investment – a workhorse for our family and business. I wasn't concerned about service because it would be years before it would require any maintenance.
From the start, we had a few problems. I'll be very honest – I become quickly overwhelmed and the manual, emails back and forth were just too much for me. We had our plumber out again (at our expense) to make adjustments that Lacanche recommended to the best of their ability with the information provided.
We had a second plumber, then my husband Chris attempt to correct the issues. I gave up. I wanted to enjoy it and let go of the frustration. Lacanche reached out a couple times about a fix, but honestly, I didn't want to keep sinking time and money into it.
More Problems…
In the meantime, the seal came out of the gas oven. Despite putting it back in time and time again, it continued to fall out – most often while the oven was in use leaving it to drape while backing.
Eventually a reader contacted me and said they would really love to make it right. I decided to make one last attempt at a fix and they sent a tech from Florida since no one was available in our area (St. Louis).
I was told that I was one of a handful of ranges with a seal issue and that this was isolated to early 2017 ranges, though I wish they had contacted me to provide a fix knowing it was an issue.
Two of my burners left the warehouse turned wrong which is why we were having issues "firing" them up. As previously mentioned, it cooks flawlessly now.
As for baking in my Lacanche oven, well, some things never change. To make it work I carefully plan and calculate placement, timing and turning to ensure proper baking.
Can you fit a full size cookie sheet in a Lacanche?
It depends which one you purchase, but I can in my gas oven (on the left). I use 6 of these cookie sheets at a time in the electric / convection oven to the right.
How much do Lacanche ranges cost?
Most Lacanche French stoves will run at least $10,000, depending on customizations and specifics. Of course, if you're shopping in the US, shipping plays a large part.
Which is better, La Cornue vs lacanche?
This is a question that will receive a different answer from everyone. While Lacanche is more sleek, timeless and minimal in its aesthetics, La Cornue seems to have a better reputation for performance and upkeep.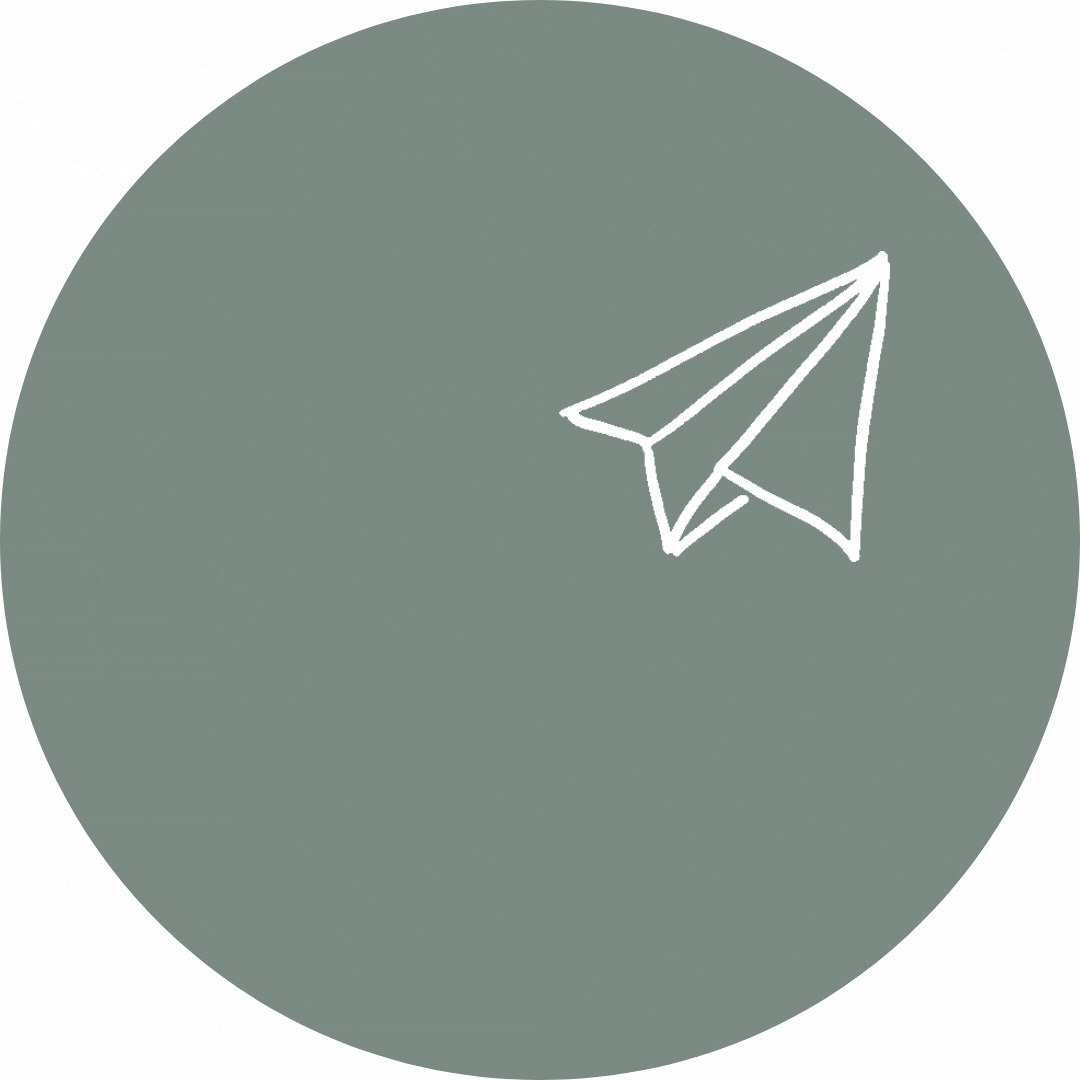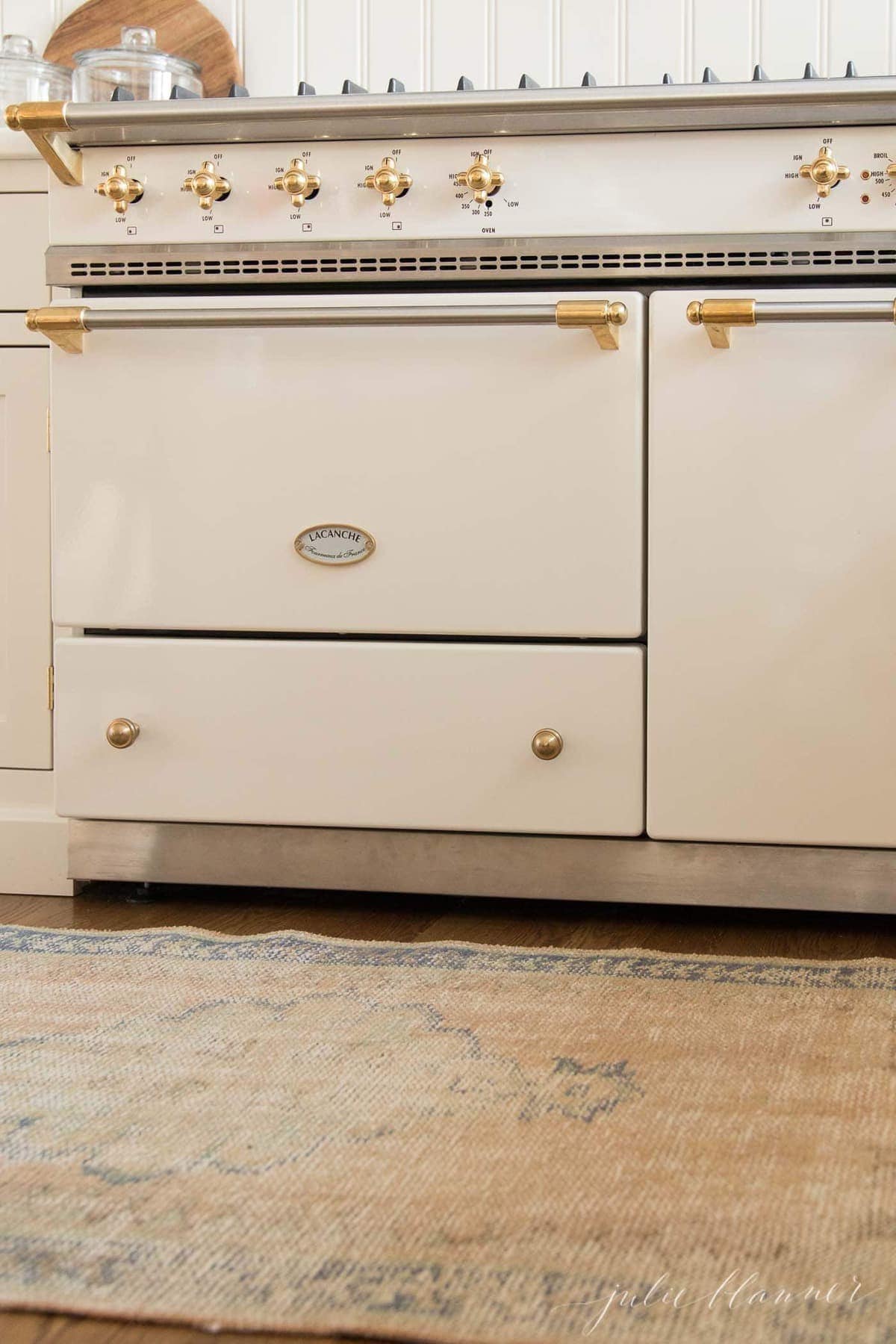 I know this is a lot of information and that it's not everyone's experience, but hopefully it helps you make an educated decision about whether or not it's right for you and answers all of your questions.
You can learn more about my friend Chloe's experience with her La Cornue here for a great comparison between these two brands of French stoves.
Do you have a French range or are you considering one?