Get all the details for a charming breakfast nook, including our breakfast nook table. Use our tips to create and decorate a warm and cozy dining table nook in your home.
Step inside for a photo tour and get inspiration for creating a little breakfast nook table area.
From the moment we toured this house, I knew this space had potential to be great. It's taken several years and a variety of changes to bring it to life.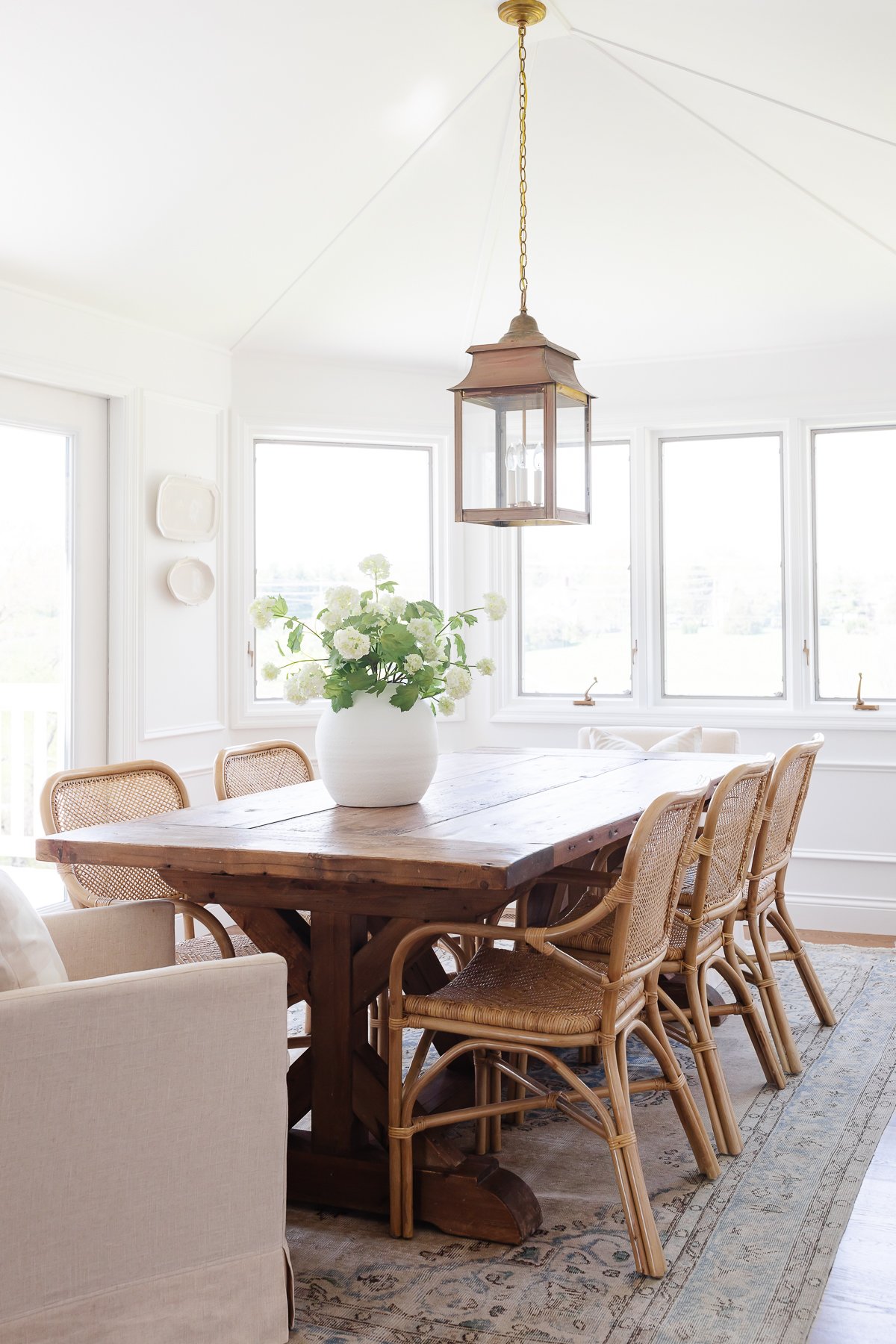 We were lucky enough to see the potential in this space as a breakfast nook for casual dining. While we do have a formal dining room, this is the space where we frequently dine together as a family.
Kitchen dining is much more in line with the way we live day to day, although I will always love setting a more formal table on occasion!
Breakfast Nook Table Ideas
For me, the breakfast nook is one of the most important spaces in our home. It's where the girls' day begins, chatting over bowls of cereal and fruit, and where we come together as a family in the evening.
I always envisioned lingering around the table long after dinner, talking about our day and playing board games. It's fun to bring that vision to life, creating a space to spend quality time with our family and entertain friends.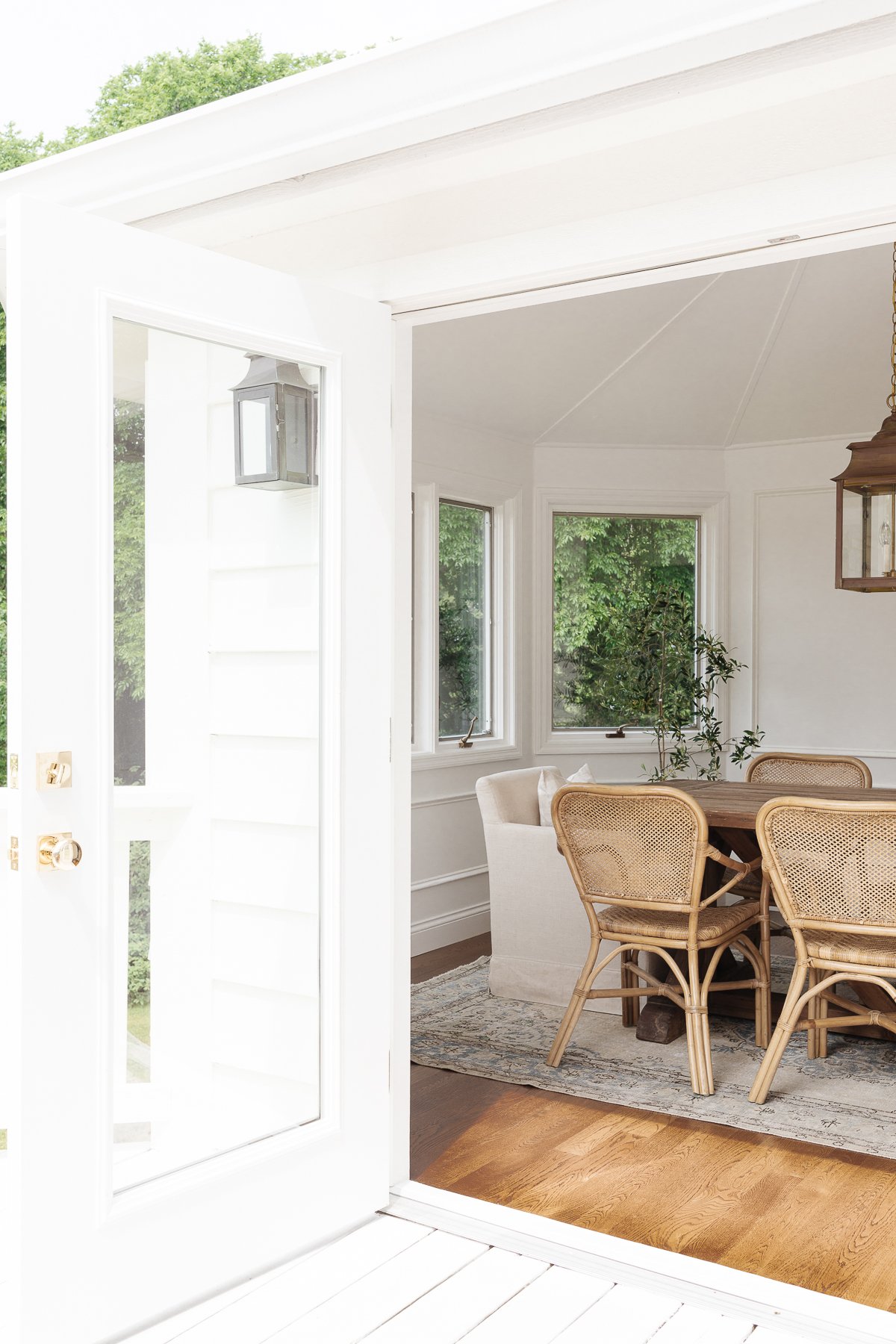 Frequently Asked Questions
What Is A Breakfast Nook?
A nook is generally defined as a small part of a room (separate from the rest of the room), or a slightly secluded separate space near your kitchen. Often, breakfast nooks in the past featured a built-in table or banquette seating, which enhanced the cozy, casual feeling of a vintage kitchen.
Do I need a breakfast nook?
For our family, the answer was a resounding YES! We needed to utilize this extra living space off our kitchen in a way that worked for our family and cleared space in our small-but-mighty kitchen.
Turning that unused living space into a breakfast nook was the perfect way to create a space that worked for our family.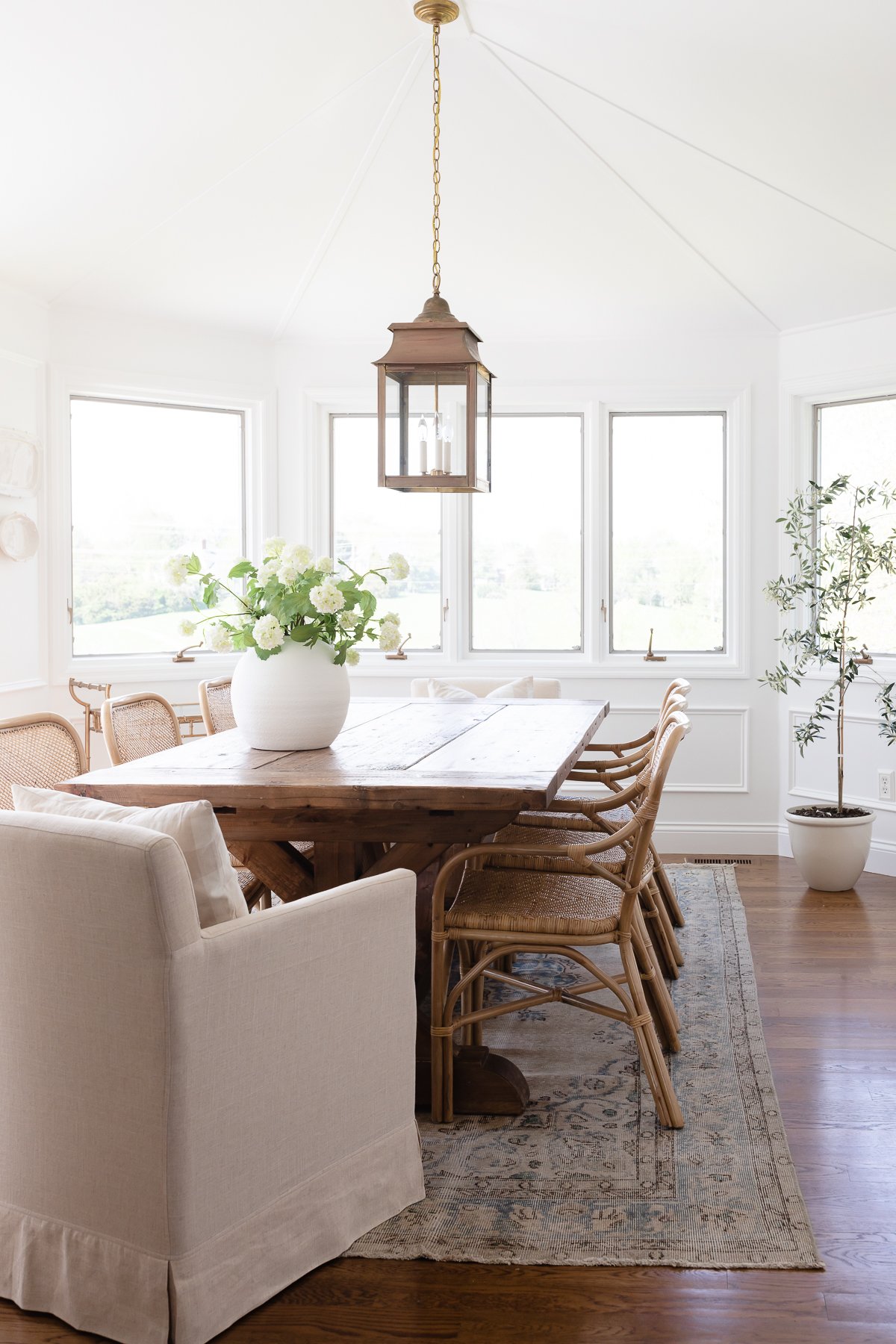 Where to Begin
Before we get into the details of this space, I think it's helpful to see where we started!
It appeared that what is now our breakfast nook was a bonus room for the previous owners. The beautiful view was somewhat hindered due to blinds inside the windows and doors (learn how to add light to a room here).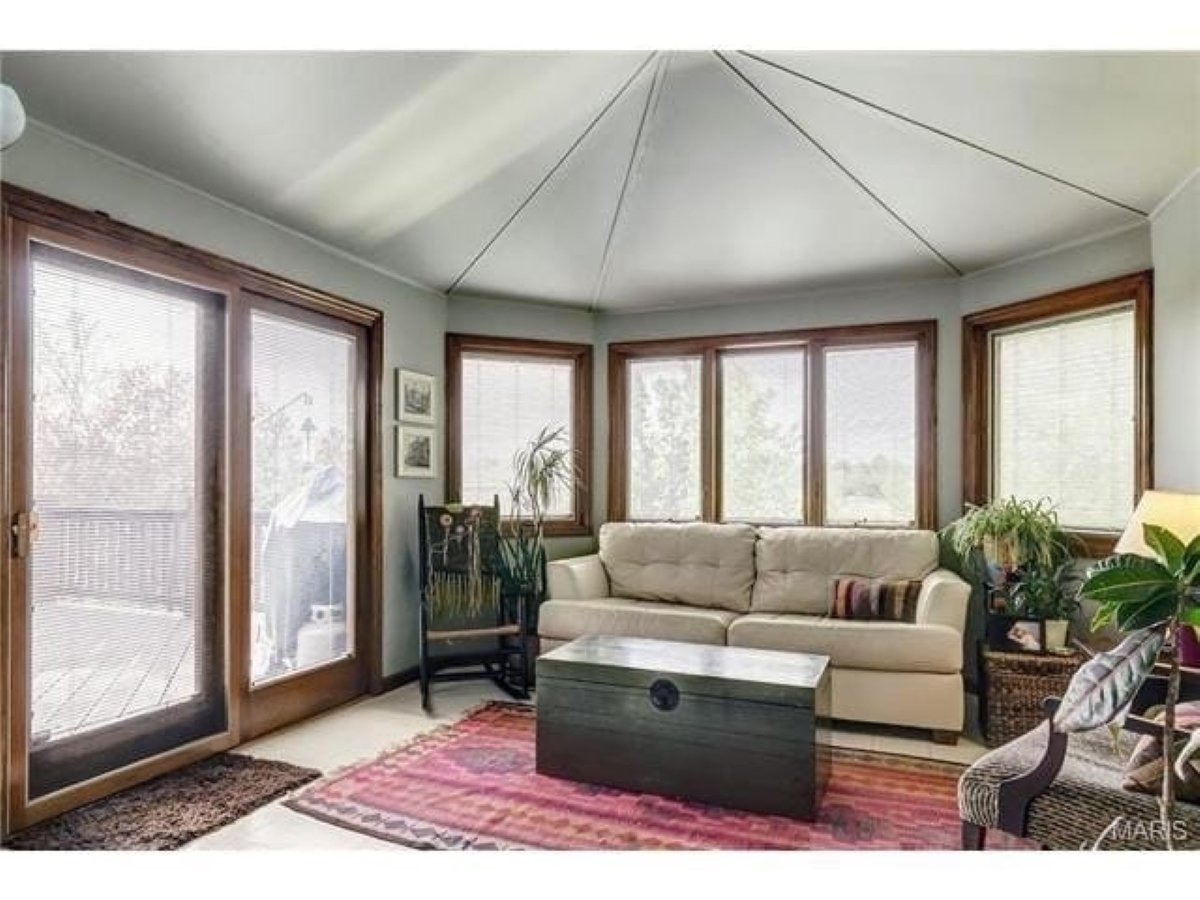 After living in it for a few months, we realized exactly what the room needed and over the past several years, it has evolved significantly. We redefined the space as a breakfast nook.
The previous owners had a small kitchen table near between the island and mudroom. It impeded with the walkway and felt cramped.
You can see the layout of our home below and the original oak kitchen here for reference.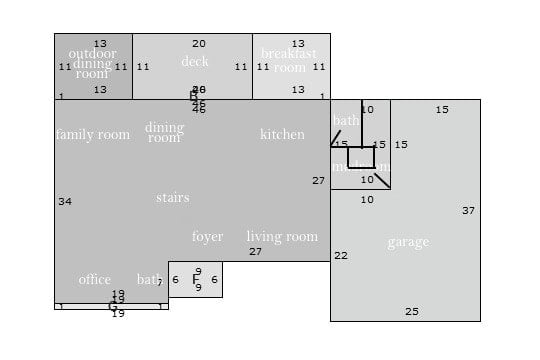 Moving the eating area to the adjacent room immediately made our home feel larger and more functional. It added a nice flow which is really important in a traditional home filled with walls.
In the first week or two we lived in our home we removed all the blinds from the windows to allow the light to flow in and painted the walls. Both are very quick fixes to add light.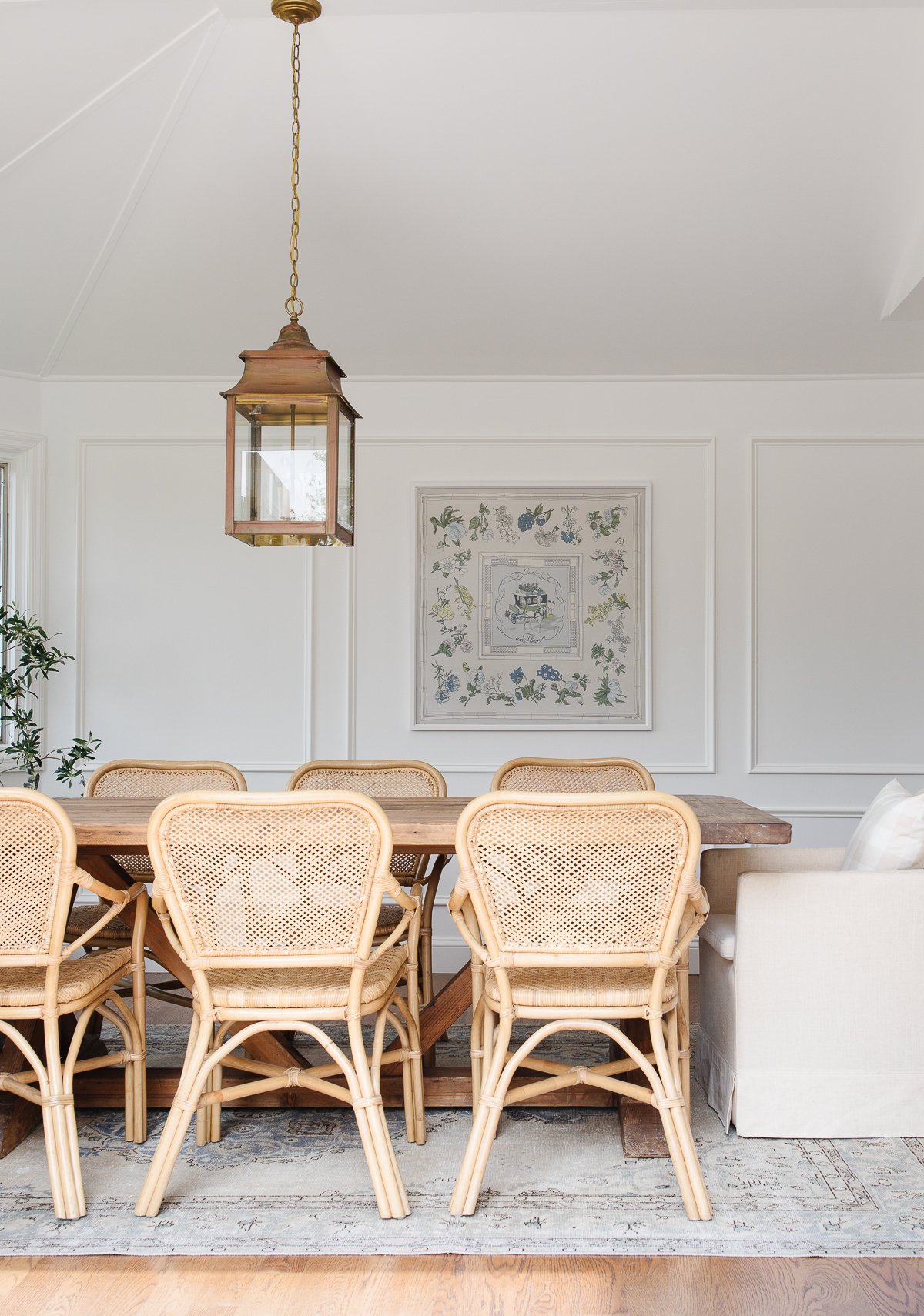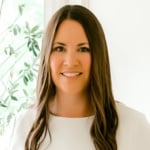 Tips
Every room in your home can be re-imagined to fit the needs of your family. Don't use a formal dining room? Great – make it a library or game room! This sun room didn't suit us, so we turned it into a breakfast nook we utilize every single day.
Start with a foundation that can transition through the seasons and the years. Classic hardwood flooring and soft neutral walls will work with any style you'd like to try over the years to come!
Make the space flexible and fun with accent furniture that rolls and can be incorporated into other rooms.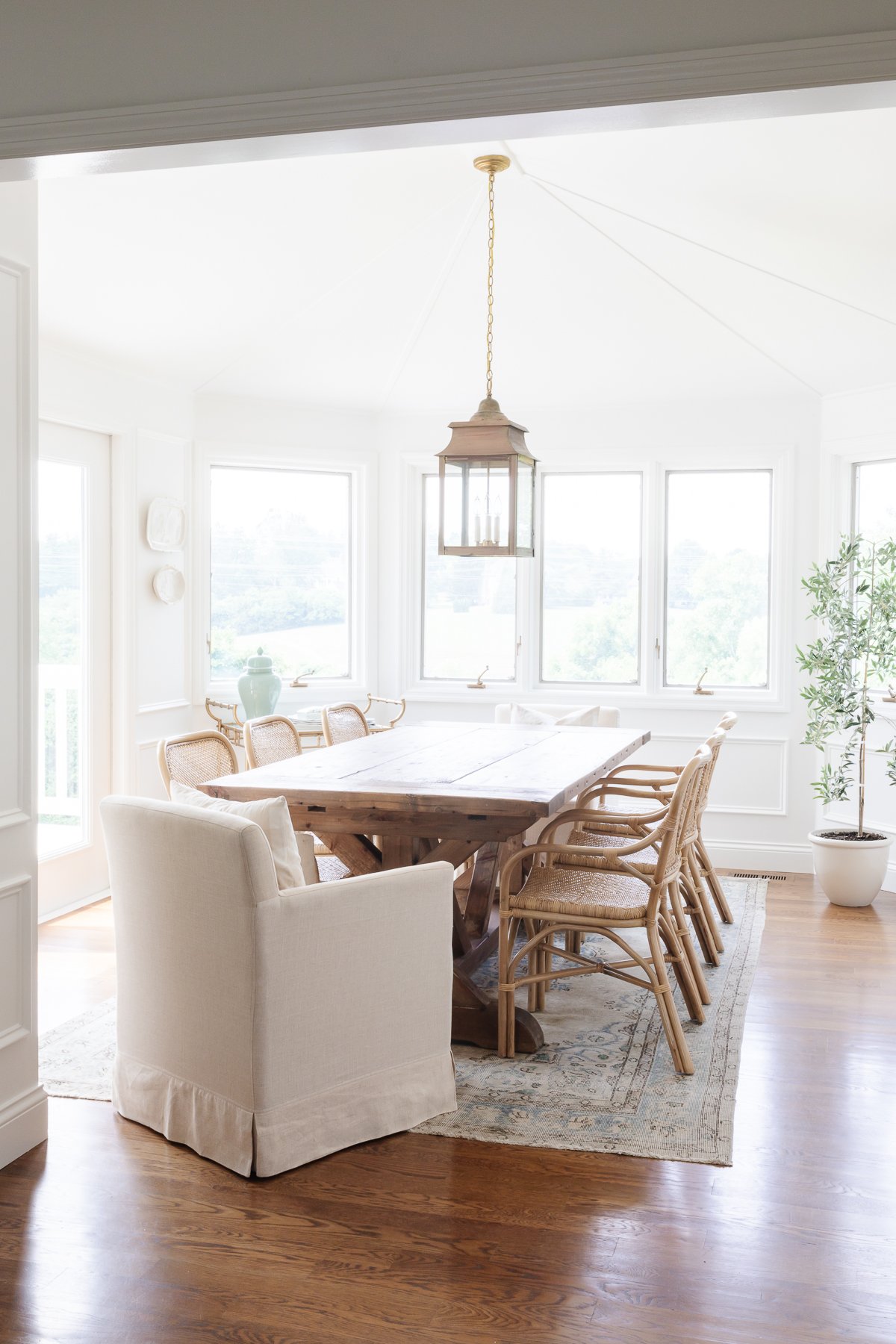 Flooring
First, we replaced the linoleum with white oak floors when we switched the main level flooring right after we moved into this home. Unfortunately, a new roof, followed by significant leak and a second new roof ensued.
The wall had to be replaced, but the wood floors eventually dried out and went back into place. (One of the many reasons I prefer sand and stain wood floors to engineered wood floors.)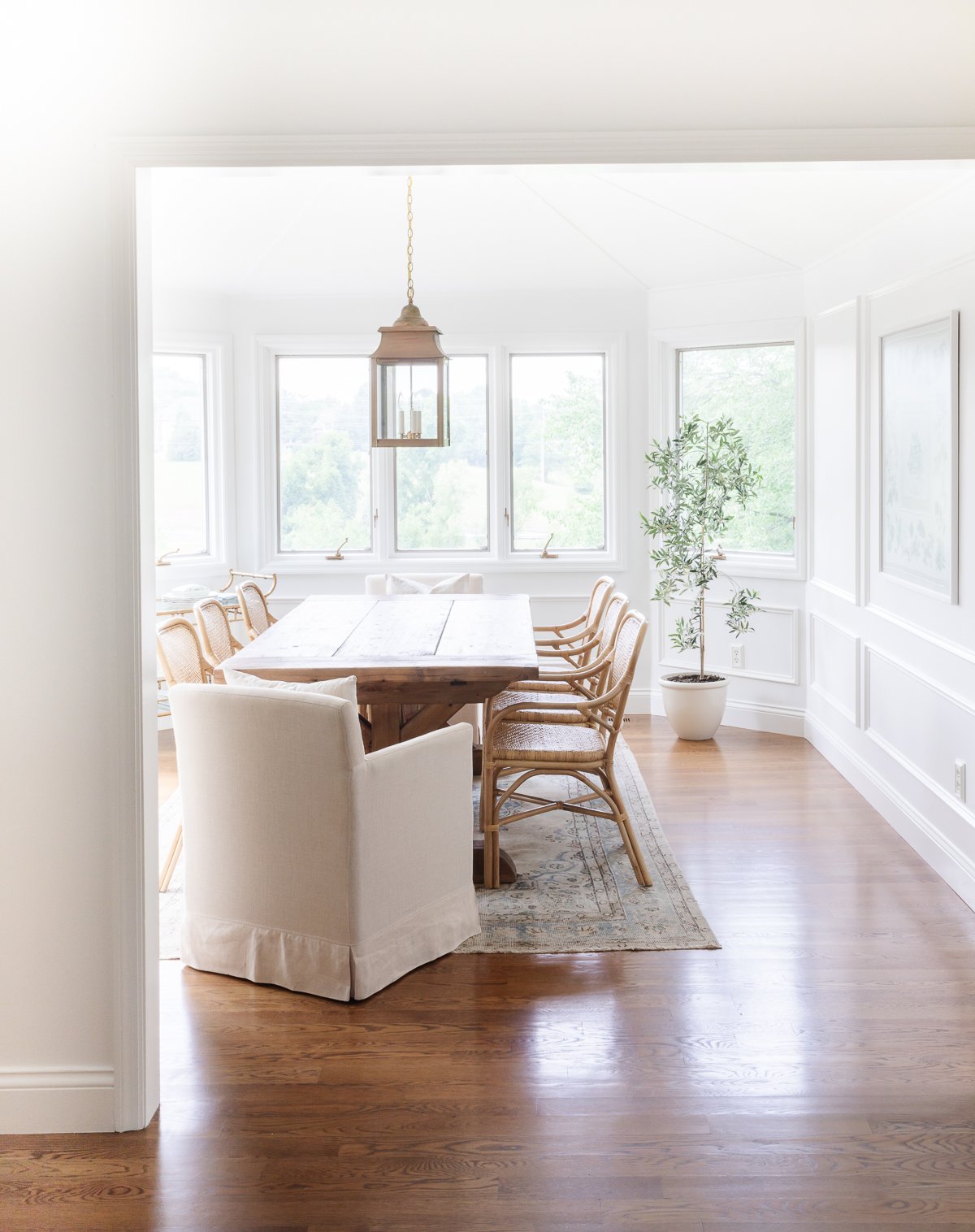 Breakfast Nook Paint Color
Next up, paint!
We had picture frame moulding installed to add character and balance the windows and doors. I absolutely love it! We had it painted the same color, but in a different sheen for depth rather than contrast.
This room went through several shades of white when we first moved in, and for many years we enjoyed this space in Navajo White.
It's now Benjamin Moore Simply White and we are loving the light and bright feeling in here!
Why was it so complicated to find the right white? The lighting in this room really threw me off. Northern light tends to read blue and Simply White has just enough of a cream hint to feel warm in here.
This dining nook space has a vaulted ceiling. If the ceiling were painted white, the eye would stop at the top of the wall. To give the illusion of more space, we painted the ceiling in the same color.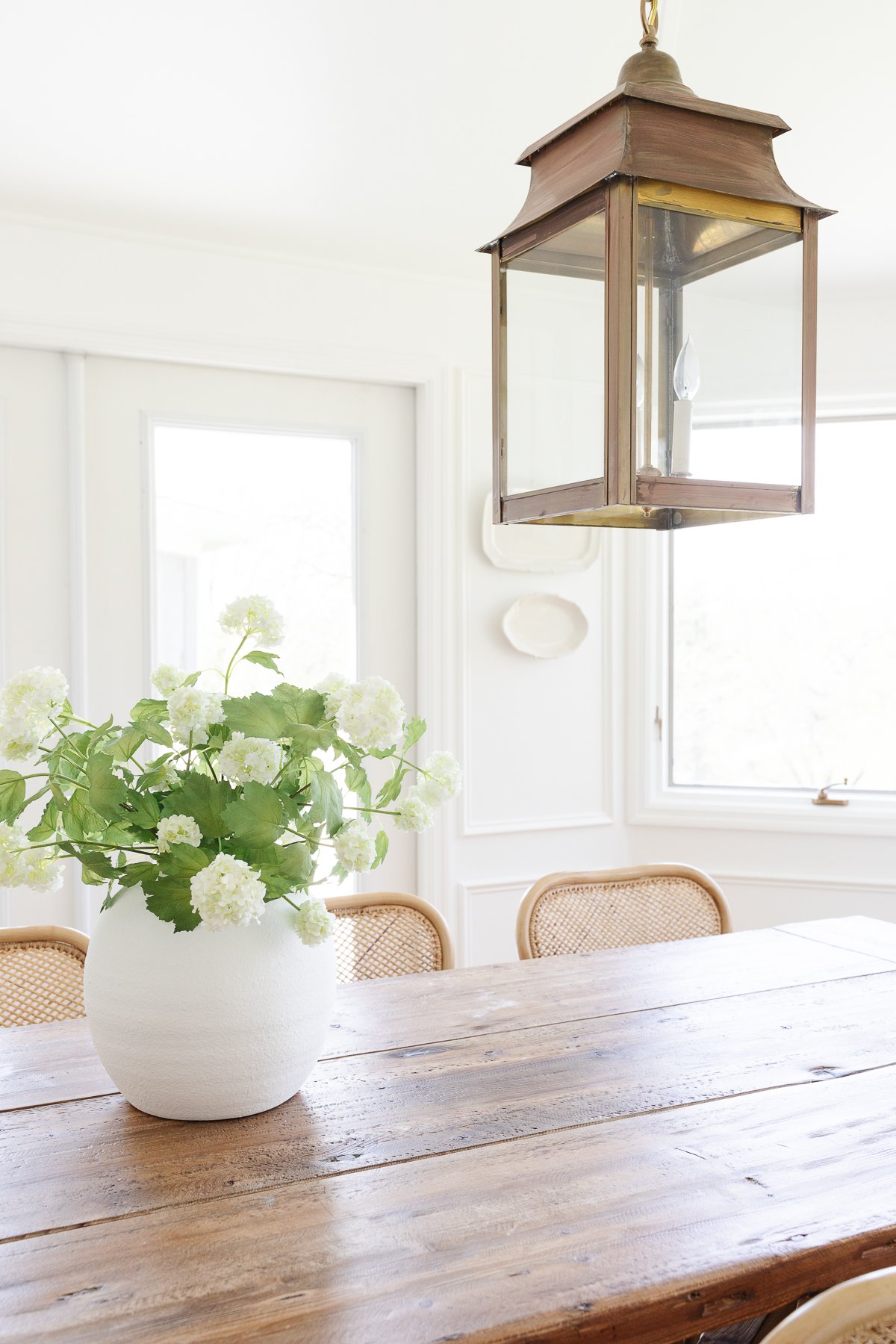 Table
No breakfast room is complete without our first purchase, a table! We purchased a Restoration Hardware dining table because we loved the look.
If you're considering purchasing an RH table for your breakfast nook (or anywhere!), I highly recommend that you read these posts, as well as the comments and answers to questions.
Our table is generally set for eight in our breakfast nook unless we're anticipating company. Learn where to find beautiful furniture pieces inspired by Restoration Hardware in this guide to the RH Look for Less!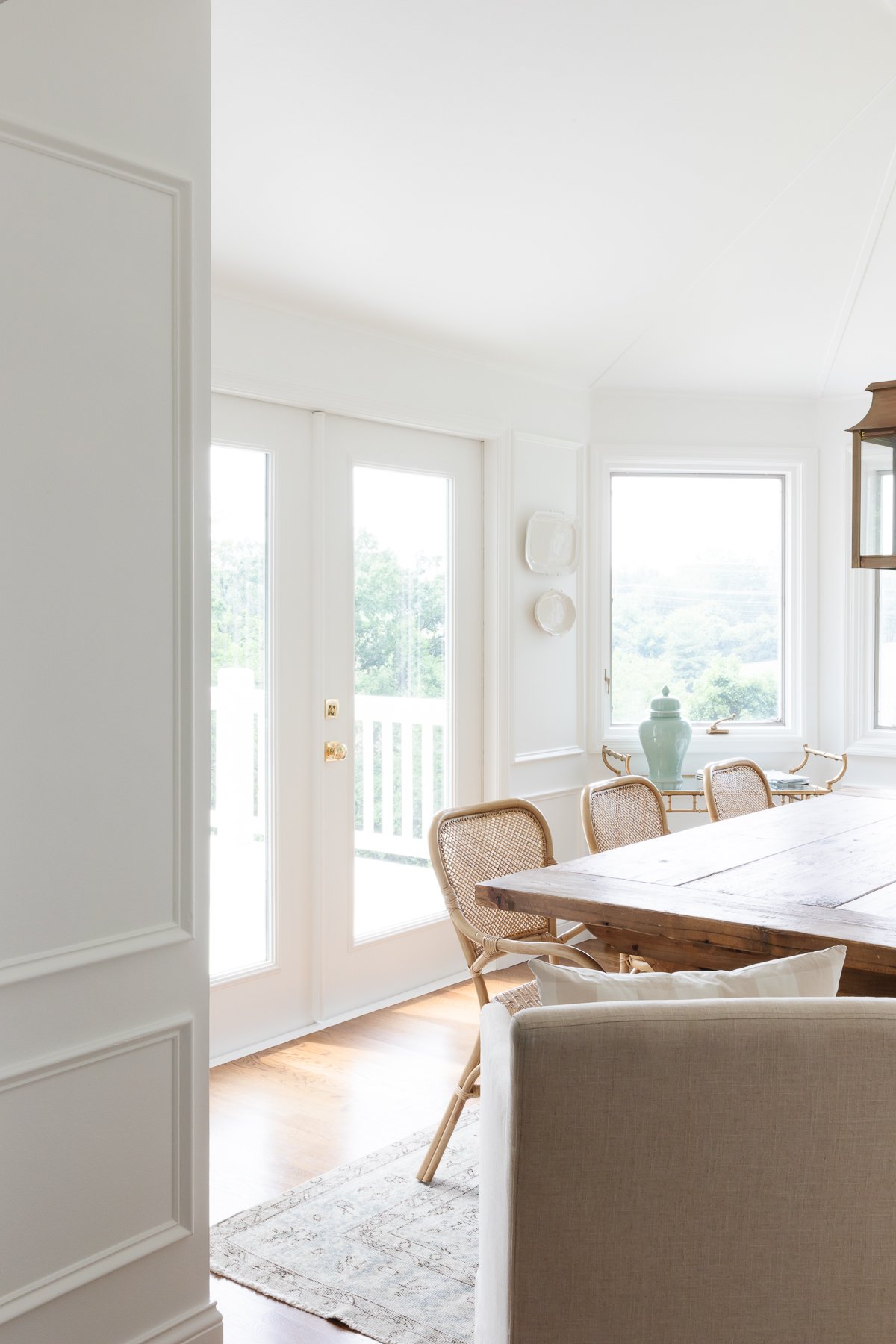 Lighting
You'll notice in the before photo, there wasn't a light at all, which made this space unusable after 5 pm over 4 months out of the year. We hung a raw brass lantern over the dining table which instantly added character.
The casual feel of this piece is perfect for adding a warm glow early in the morning or late into the night. You can find it in the sources at the end of this post.
Breakfast Nook Rug
That brings me to my next addition – the rug!
I fell head over heels in love with this rug online, but love how soft it feels on our feet even more. It gave the room the traditional style I was looking for, in addition to eliminating an echo from Isla. She only has one volume, and it's not low.
But you know me, it was a lot of color to commit to. After several years enjoying that lovely rug, we chose a vintage Turkish rug. I wanted something with a subtle color palette and I love the character that vintage rugs can bring to a room.
You can read more about my obsession with vintage Turkish rugs right here along with my favorite sources to find your perfect rug.
Did you know that ideally, your dining table rug should reach at least 24 inches on all sides of your table? This allows your chairs to scoot in and out effortlessly.
I don't mind breaking the rules occasionally though, and this rug is the perfect fit under our long and narrow breakfast nook table.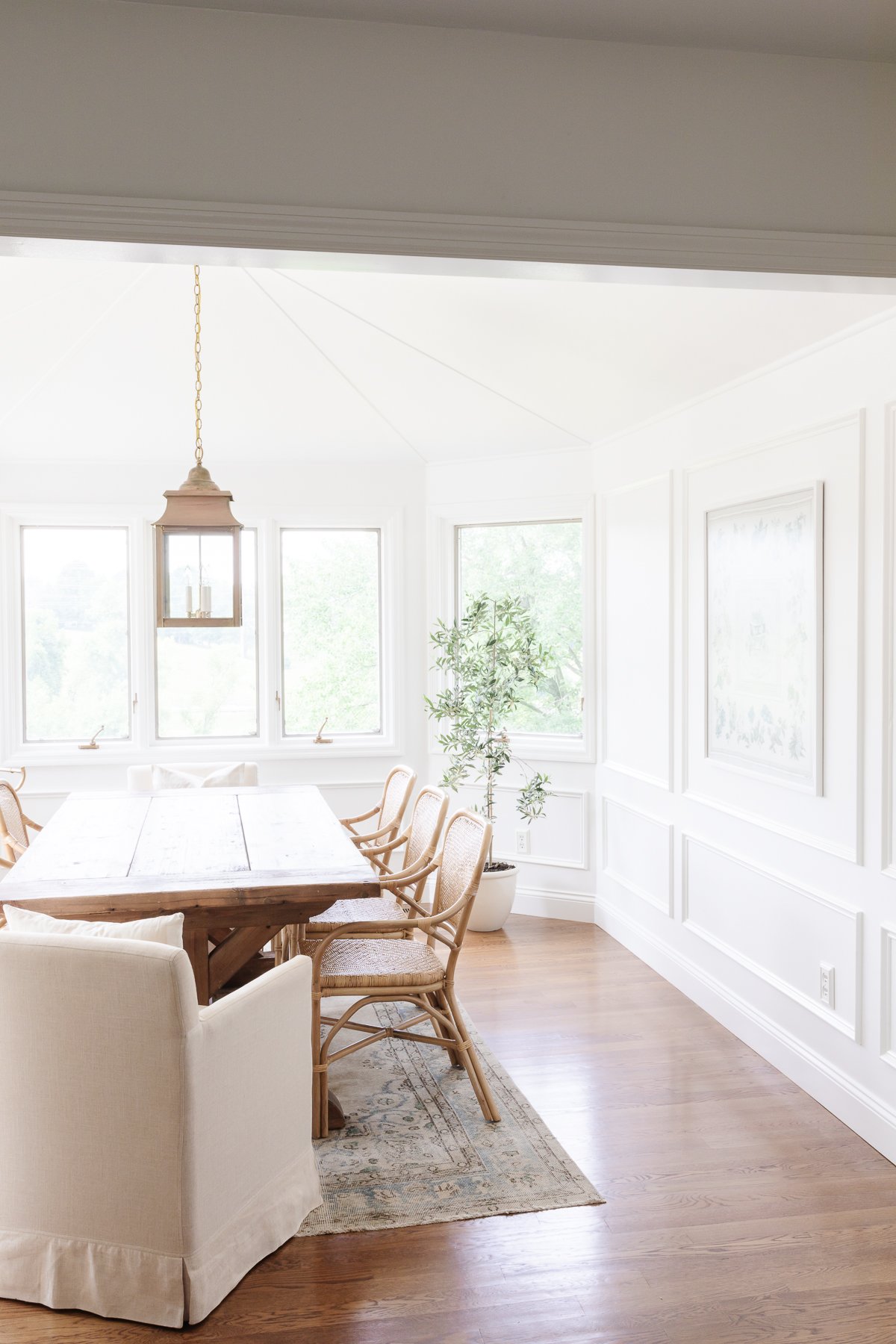 Art
We felt the breakfast nook lacked warmth after paint and flooring. I needed something to balance the patio doors and windows. We loved our farmhouse inspired cow painting for many years, but we were ready for an update.
We chose to frame an antique silk scarf, which has the perfect botanical pattern and quiet texture and color we wanted.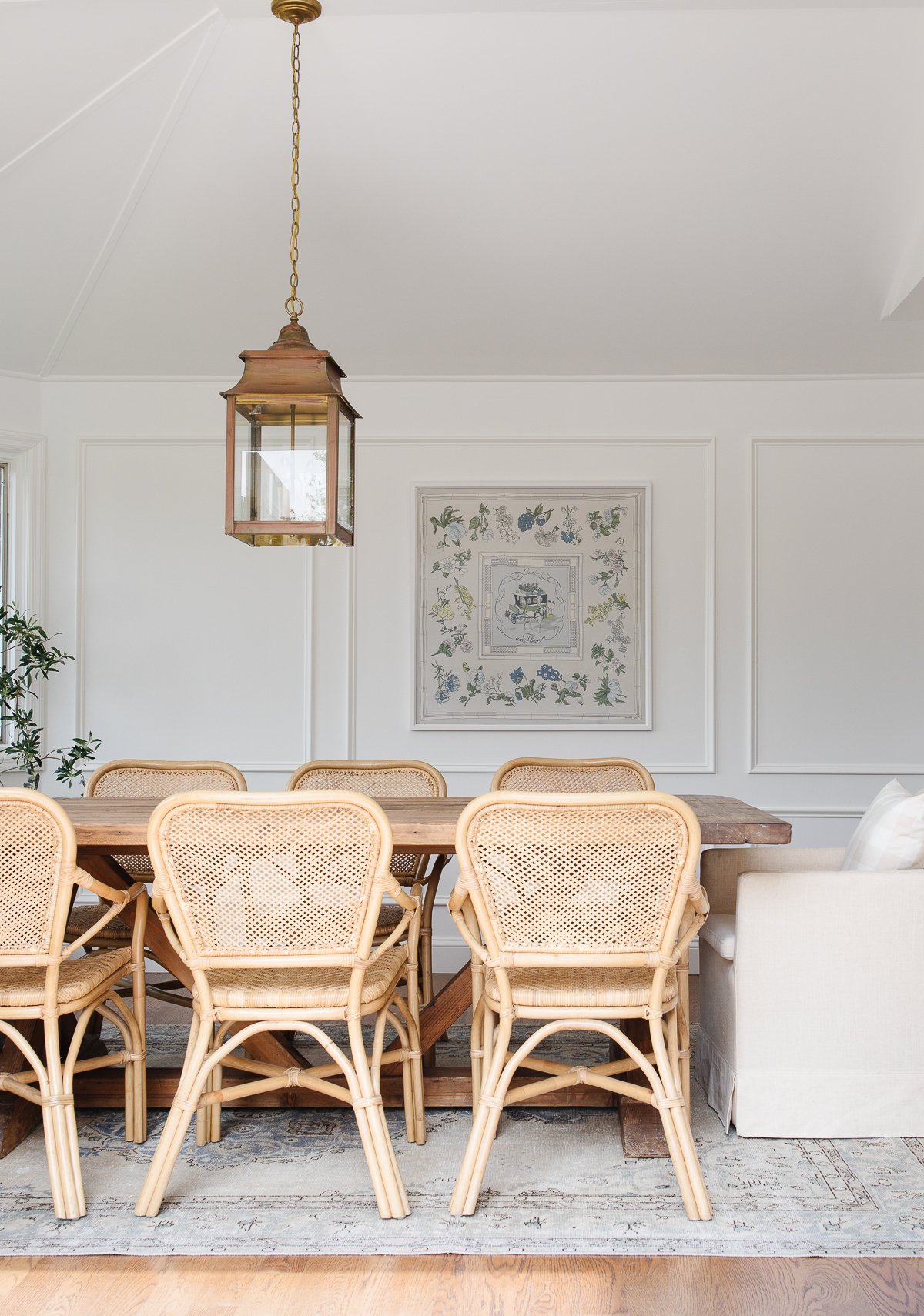 Ever the utilitarian decorator who appreciates minimalist living, I also hung platters that can be easily removed when we needed for entertaining. Check out more ideas in this guide to the best DIY Wall Decor Ideas!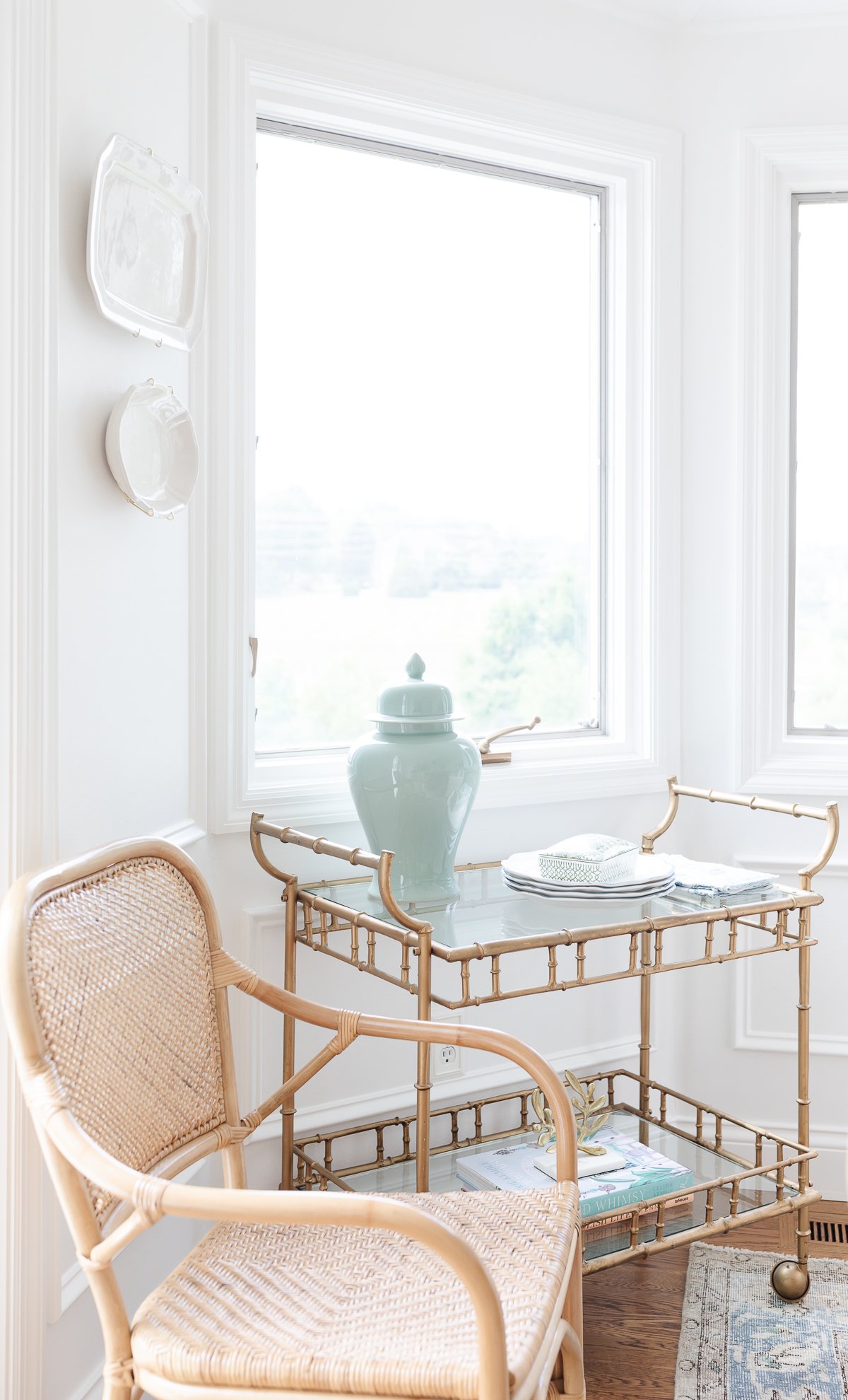 Accent Furniture Pieces and Decor
You know I love versatile pieces and this gold bar cart is no exception! We bought this vintage piece years ago and it has lived in many rooms of our home. A rattan bar cart is a wonderful addition to a dining nook, too.
The kitchen bumps out into our breakfast nook, creating these little corners that needed something.
I also have a sweet little brass tray table in this room because it's a beautiful accent for everyday, but also makes a great option for entertaining. It's also easy to move, so we can also use it in our nearby outdoor living room or screened in porch.
Add an olive tree for a touch of green, and of course fresh or faux flowers, too!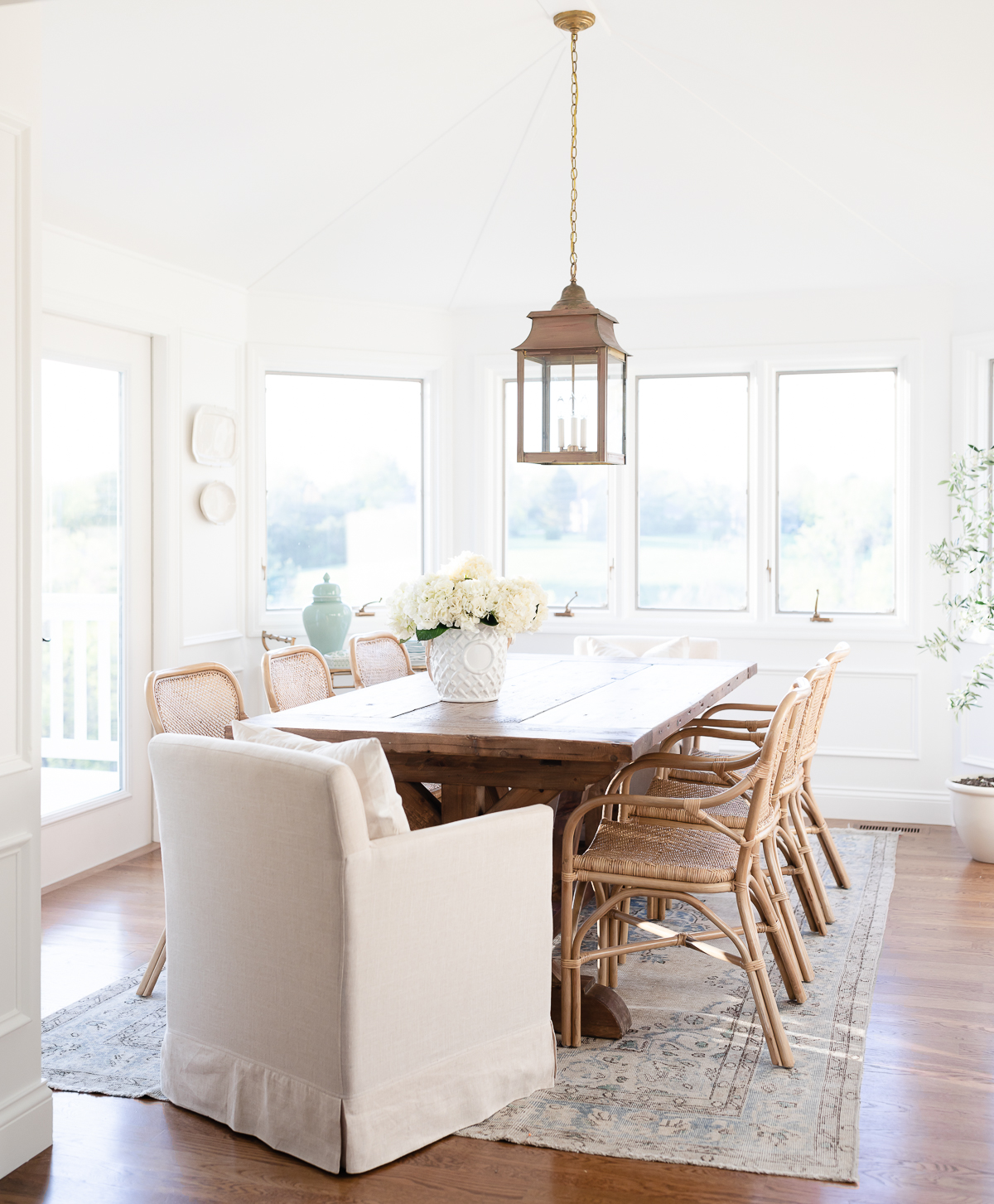 Get the Look
Love simplicity as much as I do? Be sure to check out one of my most popular posts: How to Live a Simple Life.
Design Guides, Decor & Tips
Design Guides, Decor & Tips
Design Guides, Decor & Tips