Cream kitchen cabinets are so popular, and with good reason – they are warmer than a true white and not as stark as gray. Cream colored kitchen cabinets are the prettiest way to create a warm and inviting kitchen!
Learn about the custom paint color we created for our cream cabinets, and find out how to recreate this look in your own kitchen.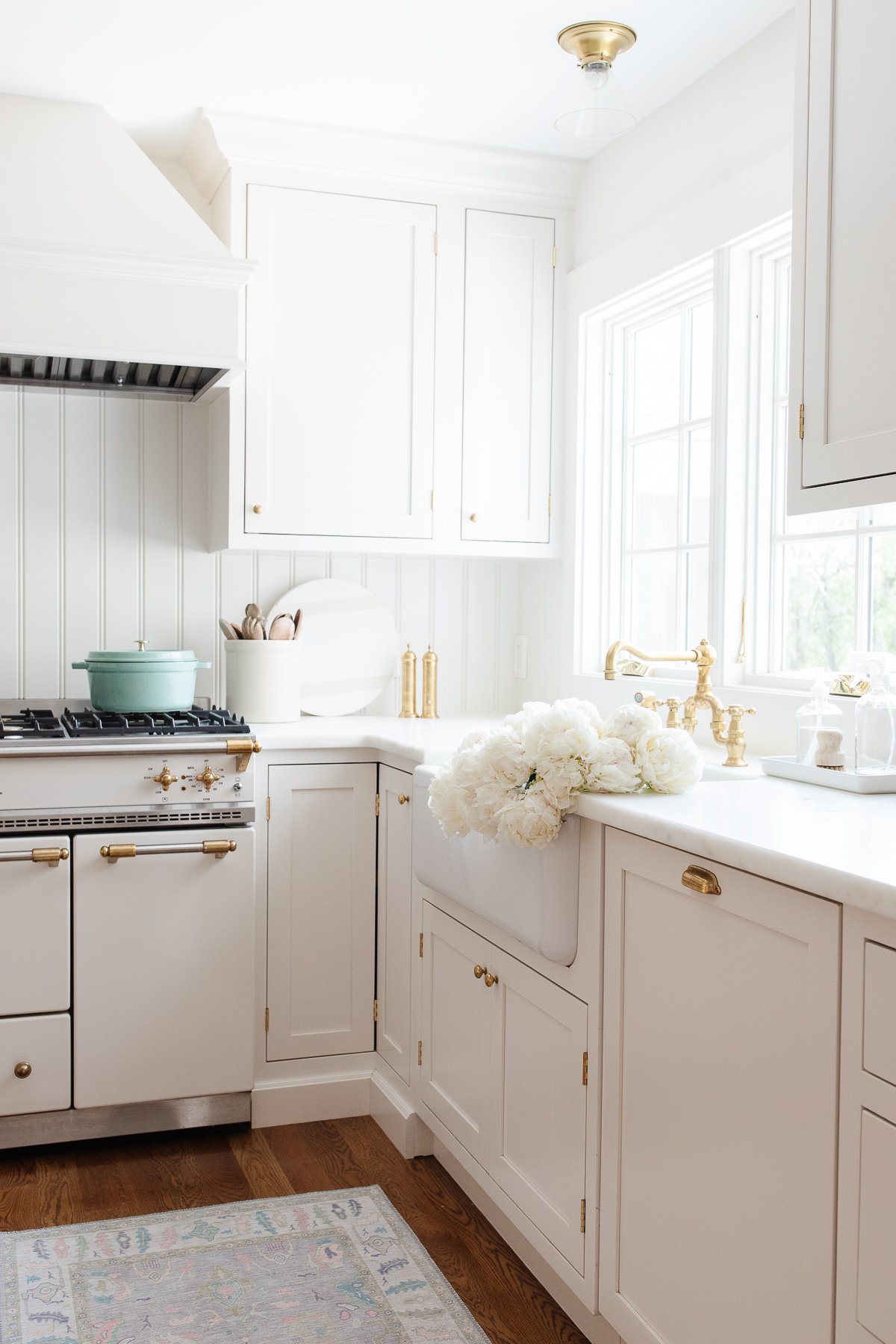 Today I'm sharing the answer to one of the most frequently asked questions about our kitchen: What paint color did you use on your cream kitchen cabinets?
Oh, if only it were that easy to share with you. Finding the exact paint color you want can seem impossible at times! For our kitchen renovation, I envisioned a warm, deep cream color for the shaker style cabinets. A shaker cream kitchen just feels so cozy and traditional to me!
In our previous home, we had white kitchen cabinets, but at times it felt a bit stark. This time, we knew we wanted a richer, more traditional and timeless look.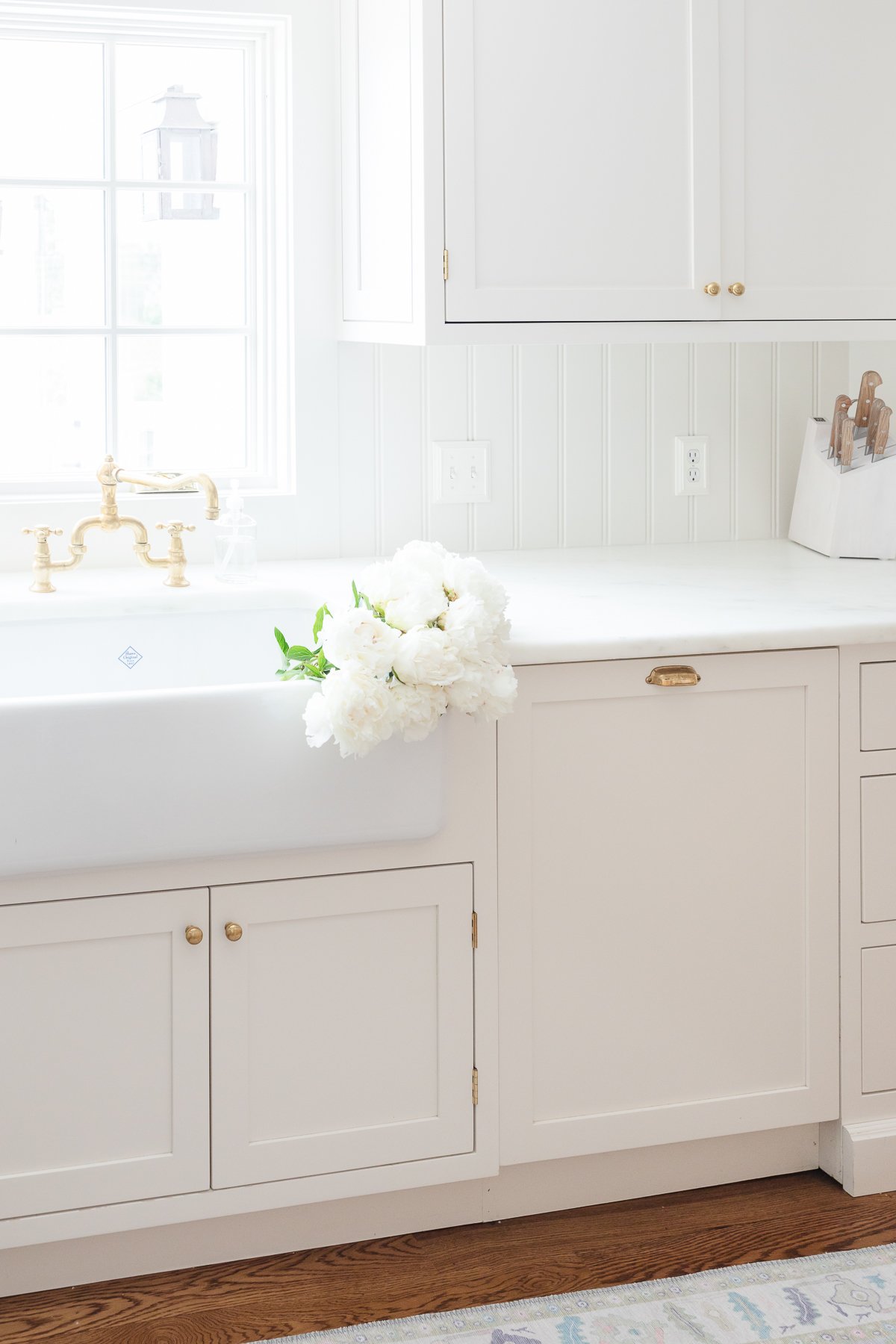 Cream Kitchen Cabinets
Cream kitchen cabinets feel warm, but still offer a light, breezy feeling. They're perfect for a North or South facing room that tends to read blue – especially in winter.
That's why I'm sharing with you today. You'll find the exact code for our custom cream kitchen cabinets, as well as a few of my other favorite cream colors that might work well for your own cream colored kitchen cabinets!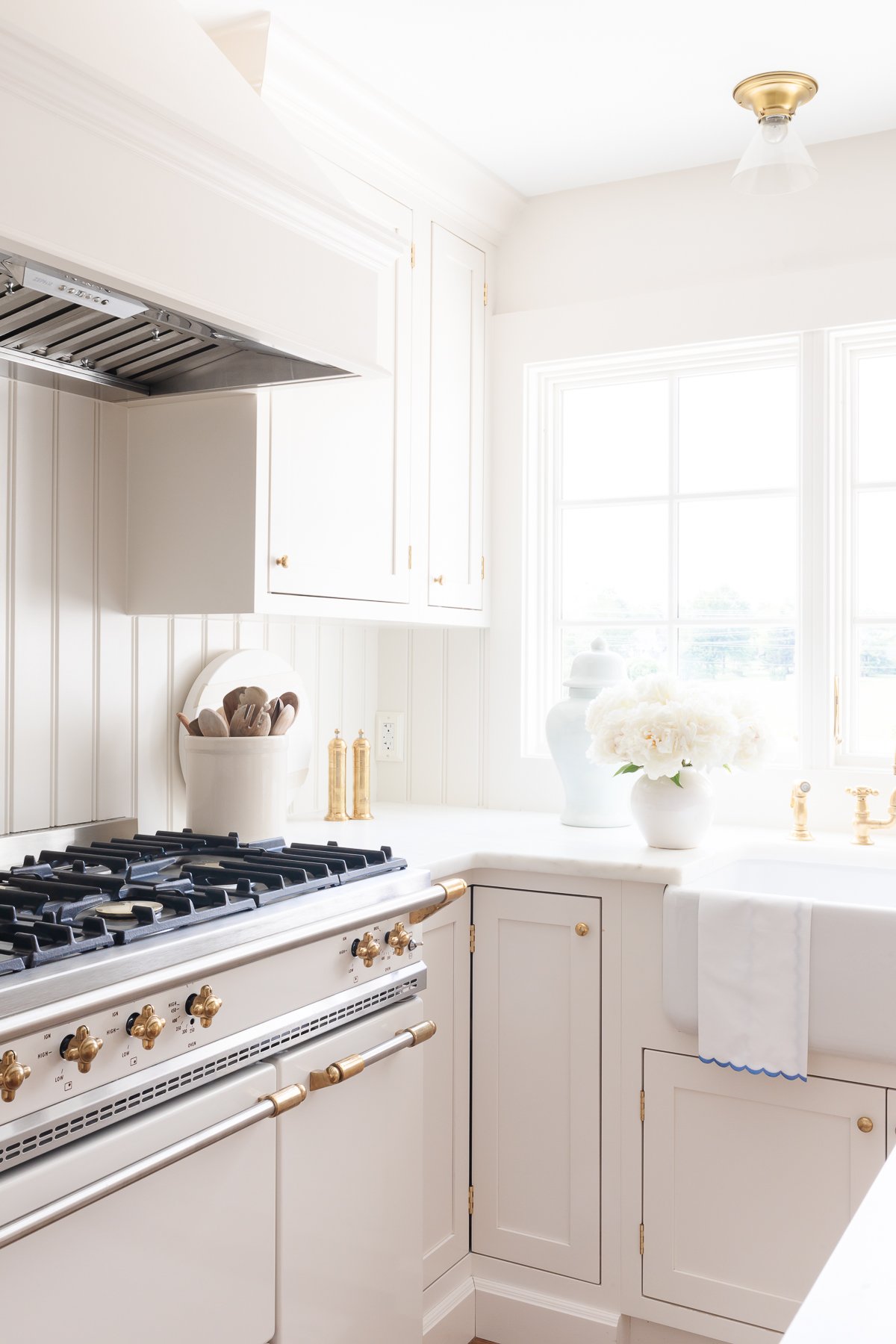 Colors like antique white tend to look too dingy or yellow in our home, although they are different for everyone. I love a light yet warm cream paint color which can be difficult to achieve.
You can see my favorite cream paint colors and the best warm whites here, but I wanted something a little different for this kitchen. I knew that even though I wanted something richer than a bright white, it still needed to have a high LRV to help bounce the natural light around.
The cream cabinets needed to blend with the adjacent breakfast nook and mudroom that are painted Navajo White. However, this color is not quite as "yellow".
The color also had to blend with the neighboring living room, which is Zurich White… a dustier cream.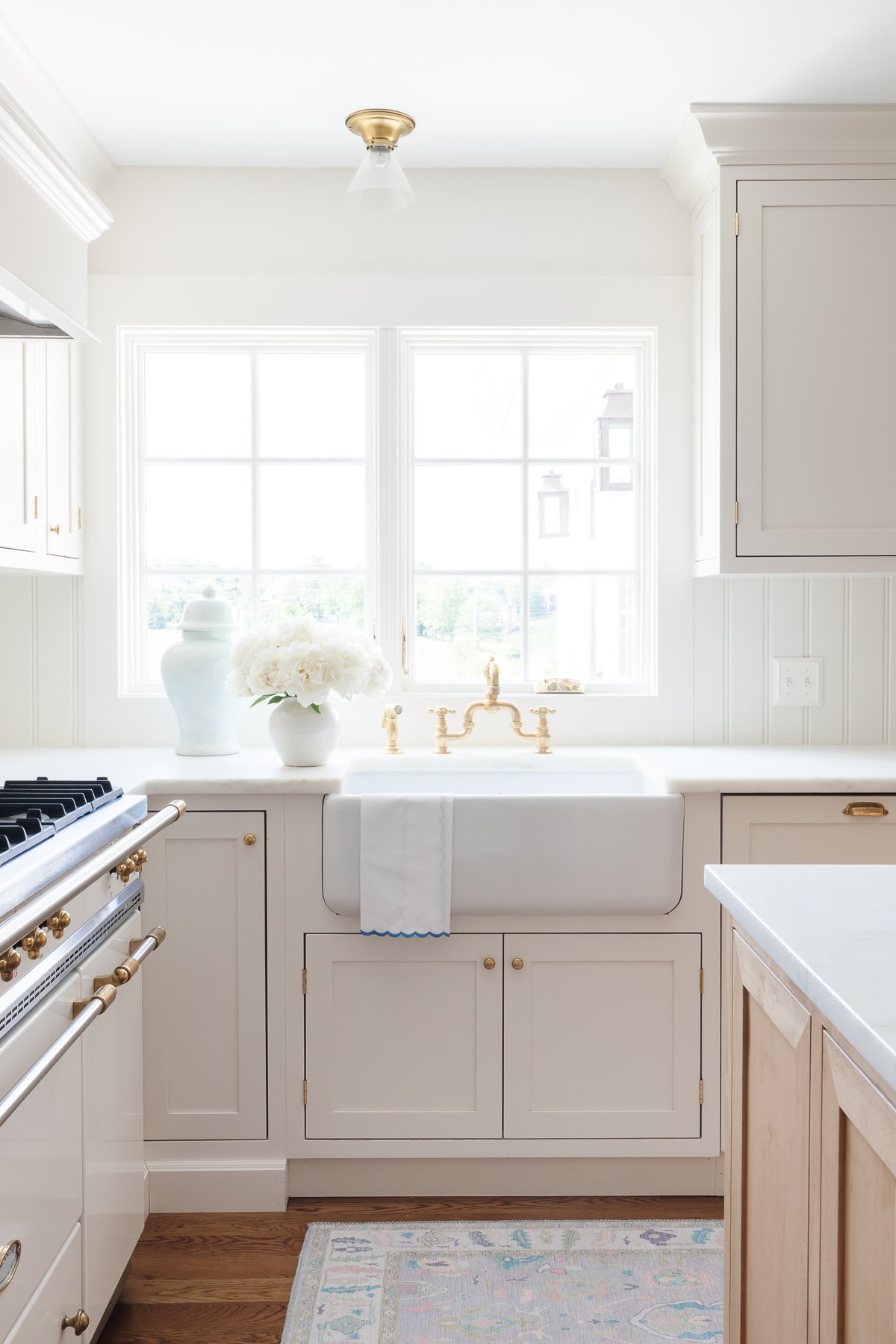 A Custom Cream Color
The color we chose also had to complement the Olympia Danby marble without making it feel too white or too gray. Small feat, right?
So I took the easy route. I had Lacanche send a swatch of the range I had on order and had it color matched. It took a few attempts, but I think it's absolutely perfect.
Our cream kitchen cabinets are not too white, too bright, too dusty, or too yellow. So what should I call it? Just Right White? Lacanche Cream? Sugar Cookie? I had to work sweets in there somehow.
Whatever you want to call it, I thought I'd share the color code for those who want cream cabinets that remind you of a sugar cookie.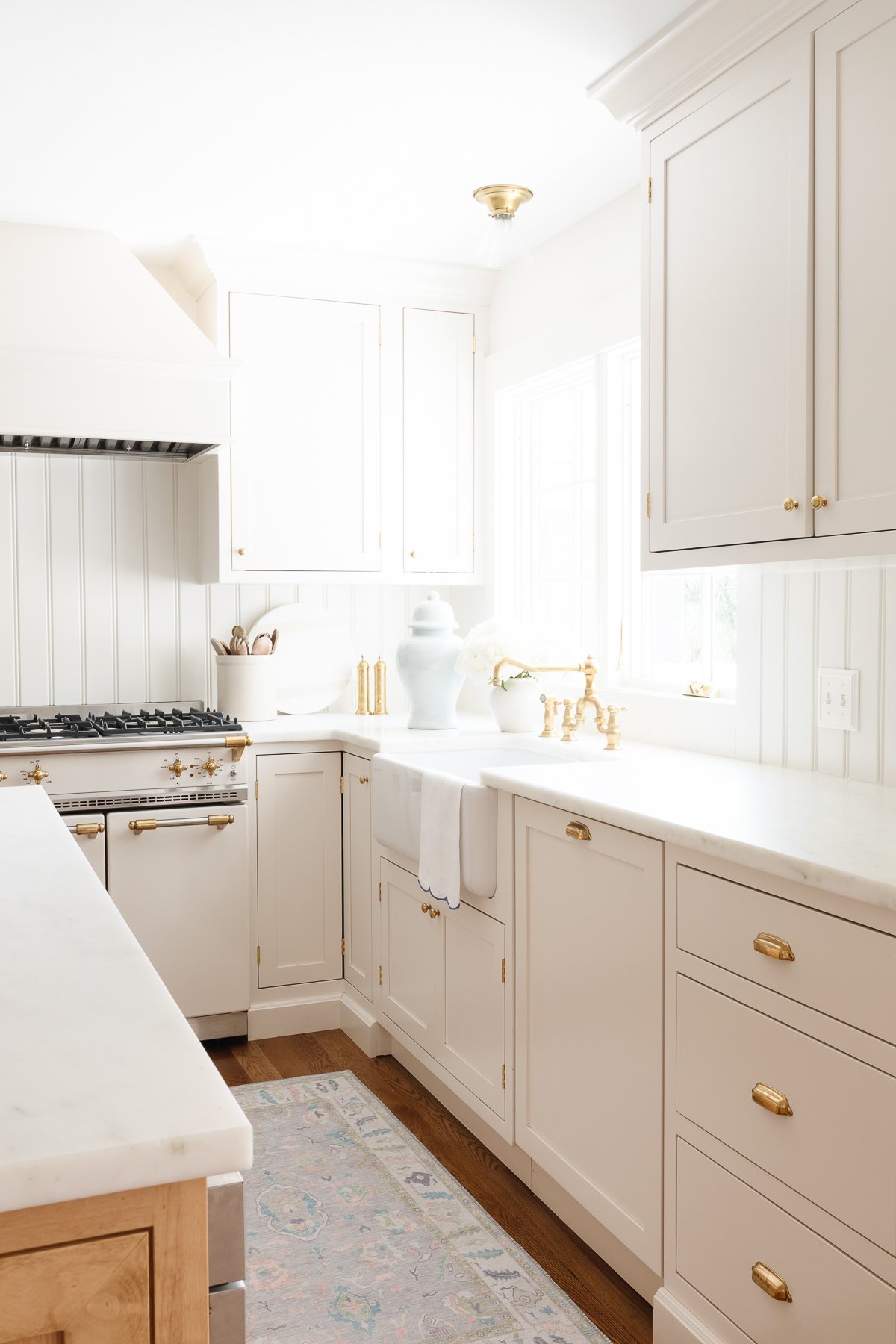 This color would make the perfect furniture paint color, too! After all, our kitchen cabinets were designed to look like furniture.
You can use it on your kitchen island, though we chose to compliment it with a wood island.
This color is perfect for a traditional kitchen, but also works well for a modern, contemporary or country kitchen. It is a beautiful contrast to hardwood floors. You can also find subway tiles similar in color or opt to use a beadboard backsplash and paint it in the same color.
Tips
If you use the same color for your walls as your cream cabinets, your kitchen will instantly appear larger. We chose a true white ceiling paint, though, as we wanted the cabinets to appear truly cream!
Read more about painting walls and trim the same color here.
Check out this post about how to paint interior doors – these tips work well for cabinets, too!
Not sure what to paint the walls with your cream cabinets? The same color works well for both walls and ceiling, if you'd like. For walls I like to use eggshell sheen and for ceiling, flat.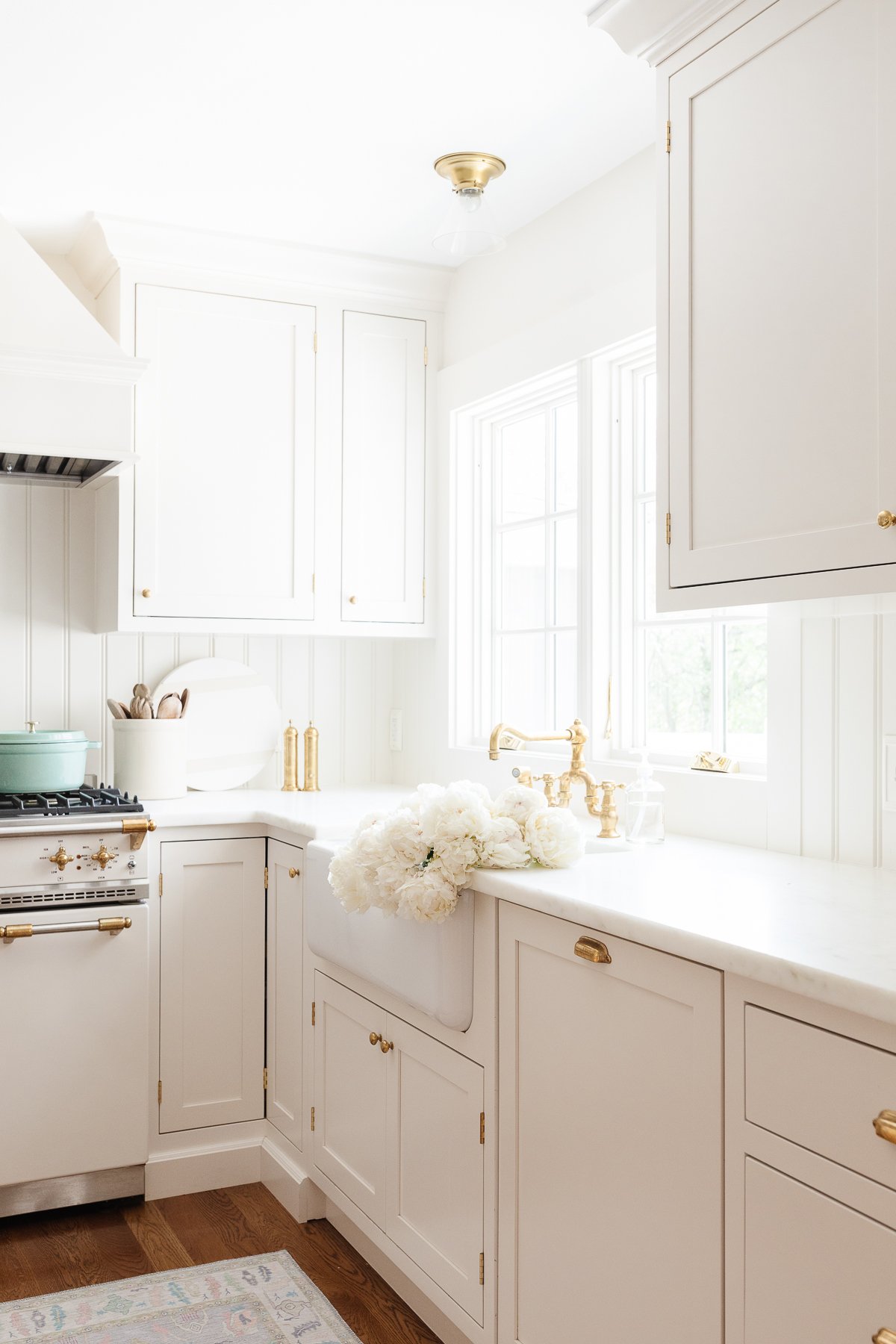 Our Shaker Cabinet Rails and Stiles
As you can see in the photo below, our rails and stiles are 2 and 1/8 inches all around. Learn more about custom cabinetry here!
Our Custom Cream Kitchen Cabinets Color
I had this color matched at our local Sherwin Williams.
The following information is exactly how our label reads on a one gallon can of paint. Download this free printable color code card to take with you to the paint store!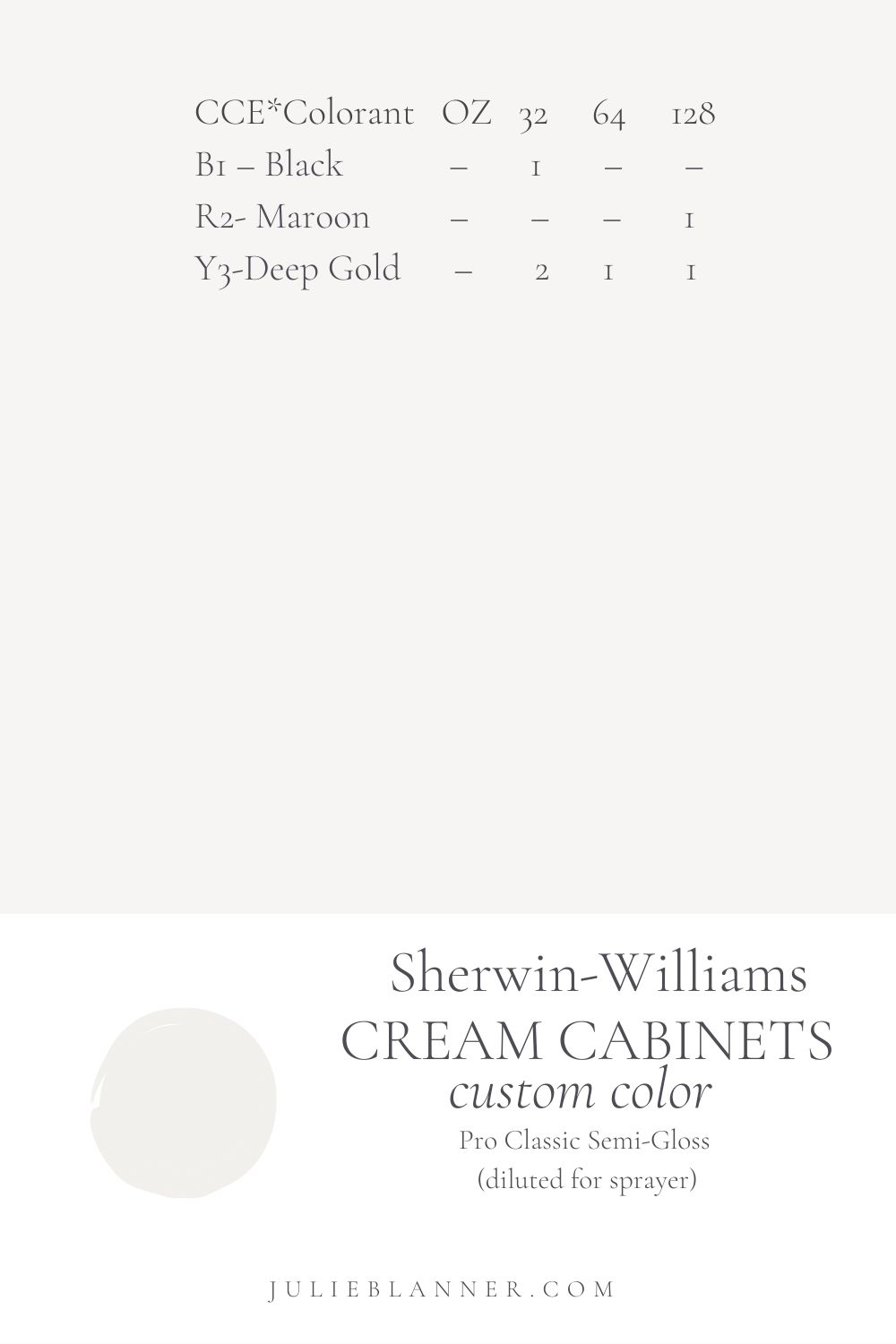 Quick tip: I have heard from several readers that occasionally someone at their paint store will be confused about this formula, and I'm not sure why that is. If you get someone new that seems unsure, perhaps ask to speak to a manager for clarification!
Sherwin Williams Pro Classic Semi-Gloss (diluted for sprayer)
CCE*Colorant OZ 32 64 128
B1 – Black – 1 – –
R2- Maroon – – – 1
Y3-Deep Gold – 2 1 1
More Cream Kitchen Cabinet Colors
Of course, our custom color won't be for everyone! Luckily, we've got an incredible guide to Cream Paint Colors with my top 10 favorite cream colors detailed.
If you're looking for more great options for cream cabinet colors to check out, don't miss these beautiful choices!
Frequently Asked Questions
Is cream a good color for kitchen cabinets?
Cream is a truly timeless color. You can never go wrong with choosing cream kitchen cabinets. In fact, I'd argue that they will look current for longer than any wood tone that you might choose instead.
What countertop goes well with kitchen cabinets?
Consider Danby Marble or Quartz Countertops in a warm white tone. While the cooler gray colors of marble can work beautifully with cream cabinets, many of the quartz options have more of a greige or brown undertone to the veining.
Does cream and gray look good together?
Yes, this is a combination we've used in many rooms of our home. A combination of grays, greige tones, and creams are beautiful, fresh, and still timeless.
You can see more of our new kitchen design with pendant lights and unlacquered brass hardware here!