If you're researching pinch pleat drapes, you're in the right place! We're sharing all the details. From the various types of curtain pleats, the materials you need, and where to buy them at every price point.
We found the prettiest triple pinch pleat drapes at such an affordable price, and we knew we had to share the love!
Curtains and drapery can be a little overwhelming. This guide is meant to simplify your shopping process, every step of the way.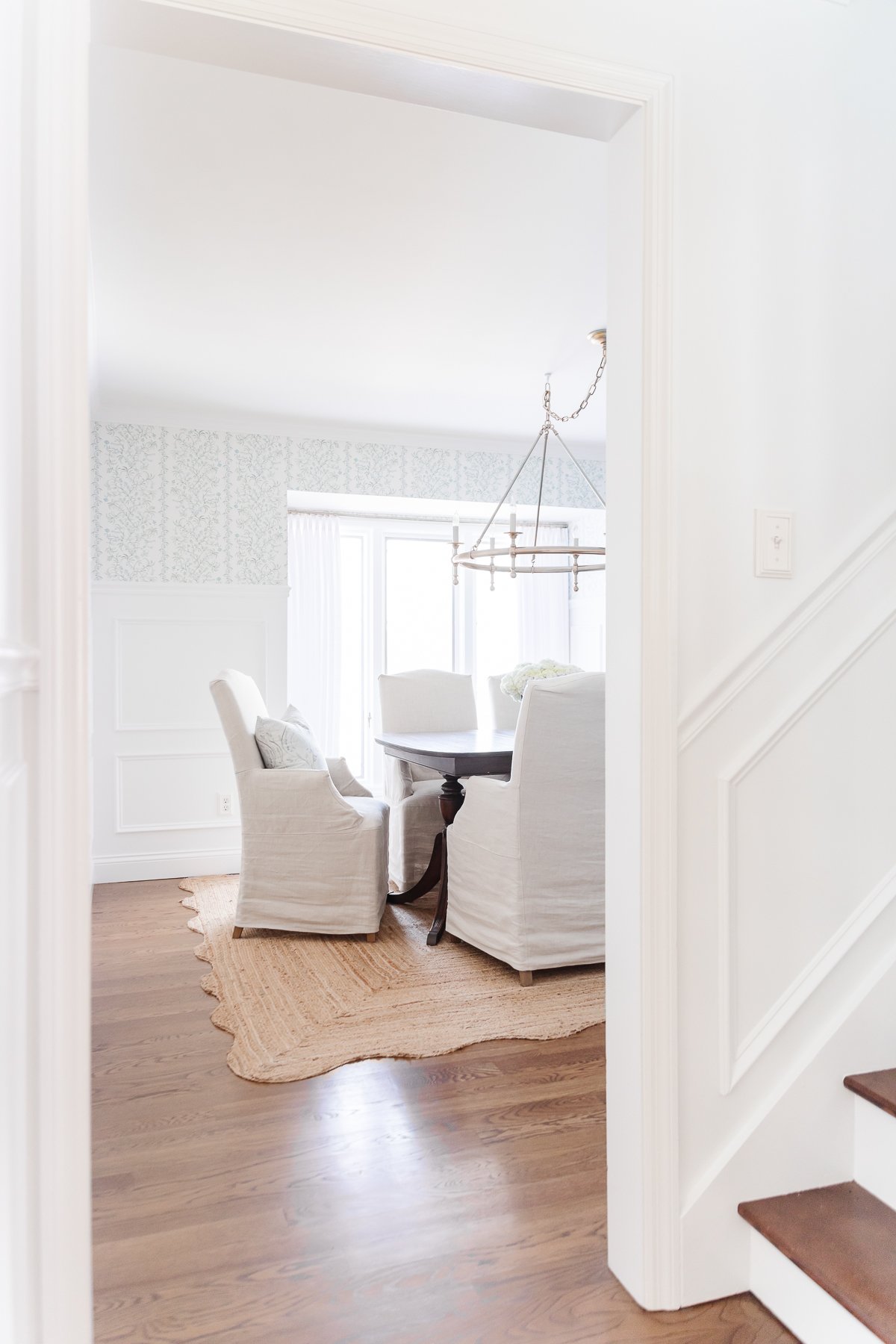 Sometimes, no matter how much time, money and energy you spend thinking about the details a room… it just doesn't feel quite finished.
That was the case for our formal dining room. When we first purchased this space, we did a quick remodel because it was as dated and dark as the other rooms in our home.
We added new white oak floors throughout the main level. We painted the walls, added a beautiful brass chandelier, and then brought in our family heirloom dining furniture. This space served us well for many years, just as it was.
It was still missing some pizzazz, though. We debated for a long time about what type of window treatments we wanted – bamboo blinds? Roman shades? We've used blackout curtains in other rooms (we've shown you how to hang curtains to look custom before). However, we knew we wanted this room to have a more formal look.
Enter: pinch pleat drapes! Keep reading to find out about this drapery – why we chose it and how we hung these curtains in our room!
Pinch Pleat Drapes
Sometimes, the best spaces come to life over time. Last spring, we decided it was time to rethink this space, and brighten it up to match the rest of our home and current stage of life.
New wallpaper, new woodwork, and now… new drapes, too! The space feels brighter, more personalized, and entirely fresh and new.
Like everything when it comes to decorating, pinch pleat drapes are available at an incredible variety of styles, materials and price points.
Today, we'll discuss the types of pinch pleats as well as showing you the materials you need to accomplish this look in your own home. We ended up loving them so much in the dining room, we added them to our living room, too!
We hung them a little differently, though – we'll show you the tools you need to achieve either look.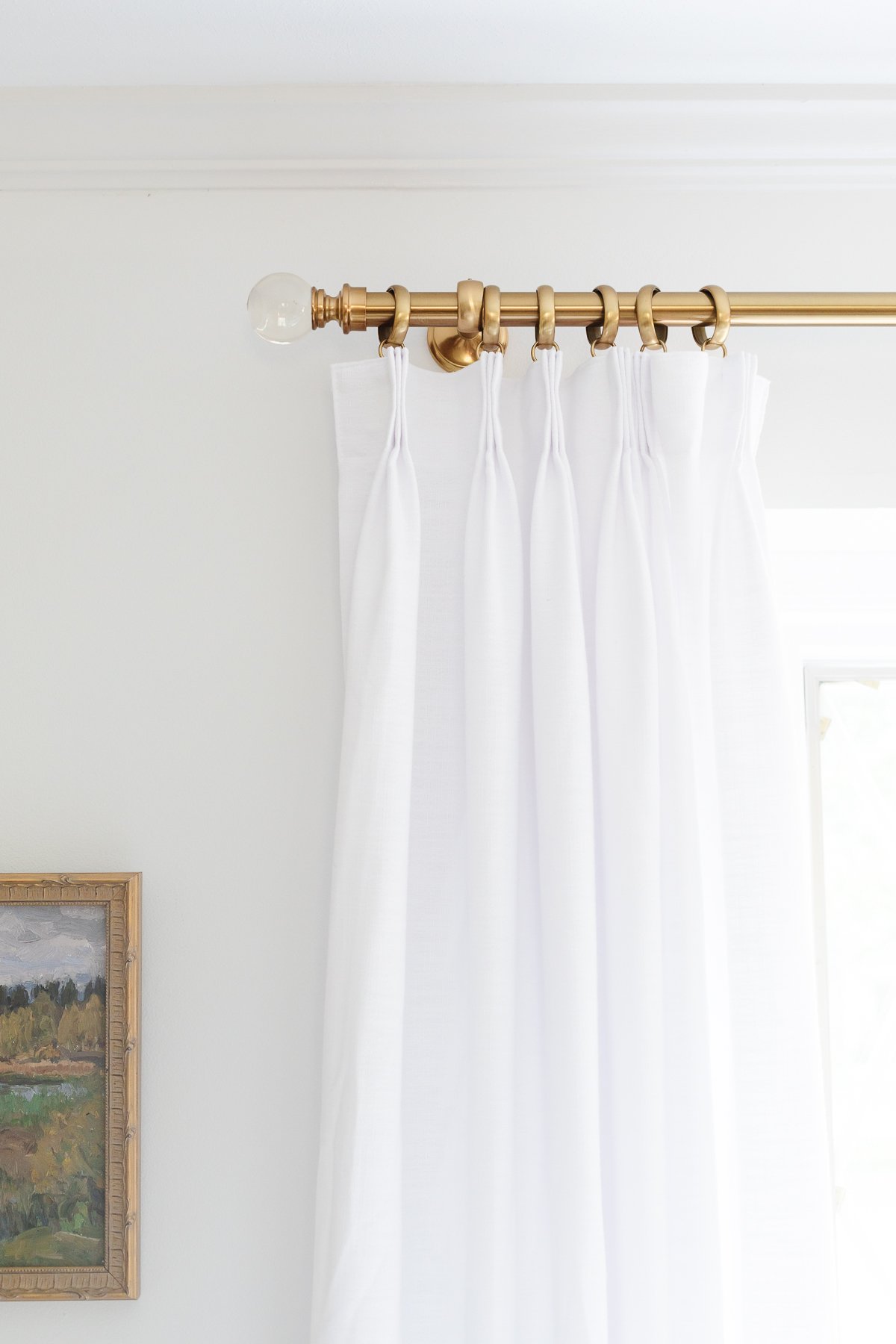 Types of Pinch Pleats
While there are many types of drapery, spanning decades and even centuries of window treatments, there are a few that are most commonly used in today's interior design.
Double Pinch Pleat
Double pinch pleated drapery (which is also called two-finger pleats) is a double fold across the top of the panel, and is a little more modern in style. The two folds create a deep V-shape, as they are sewn into the fabric.
Triple Pinch Pleat
Similarly, a triple pinch pleat panel will feature three folds at the top of the panel. These folds are placed at specific intervals, sewn into the top edge of each panel. To create a pretty fan shape, they are then tacked along the bottom of each pleat.
This is the style of drapery you'll see in the photos in this guide, in both our living room and dining room.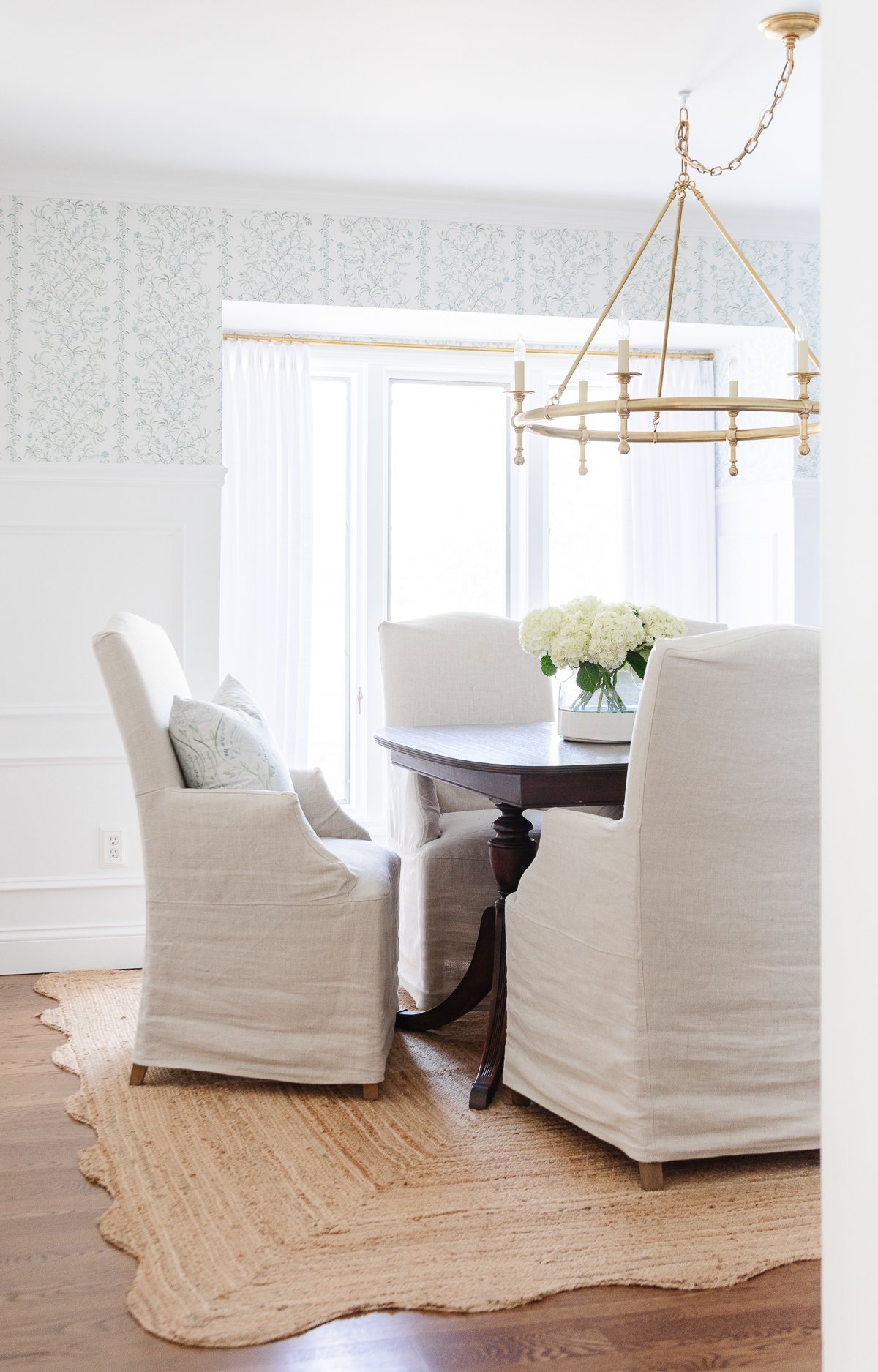 Parisian Pleat
Also called a Euro pleat, this style is most similar to the double. This is a modern pinch pleat curtain style with a bit less structure than its counterparts. A Parisian pleat is folded and stitched right along the top edge, so the inverted pleat flows in a slightly less tailored fashion.
Goblet Pleat
Goblet pleats are created by rolling a stiff material into the top opening of each pleat. Tacked at the base, this style often features a padded top edge.
Inverted Box Pleat
The inverted box pleat is a more tailored style. Whereas the other styles of pin pleats show from the front, the inverted box pleat is created from the back of the panel. The front of each panel therefore has a flat surface – while the look is more modern, it's not as functional for day to day use.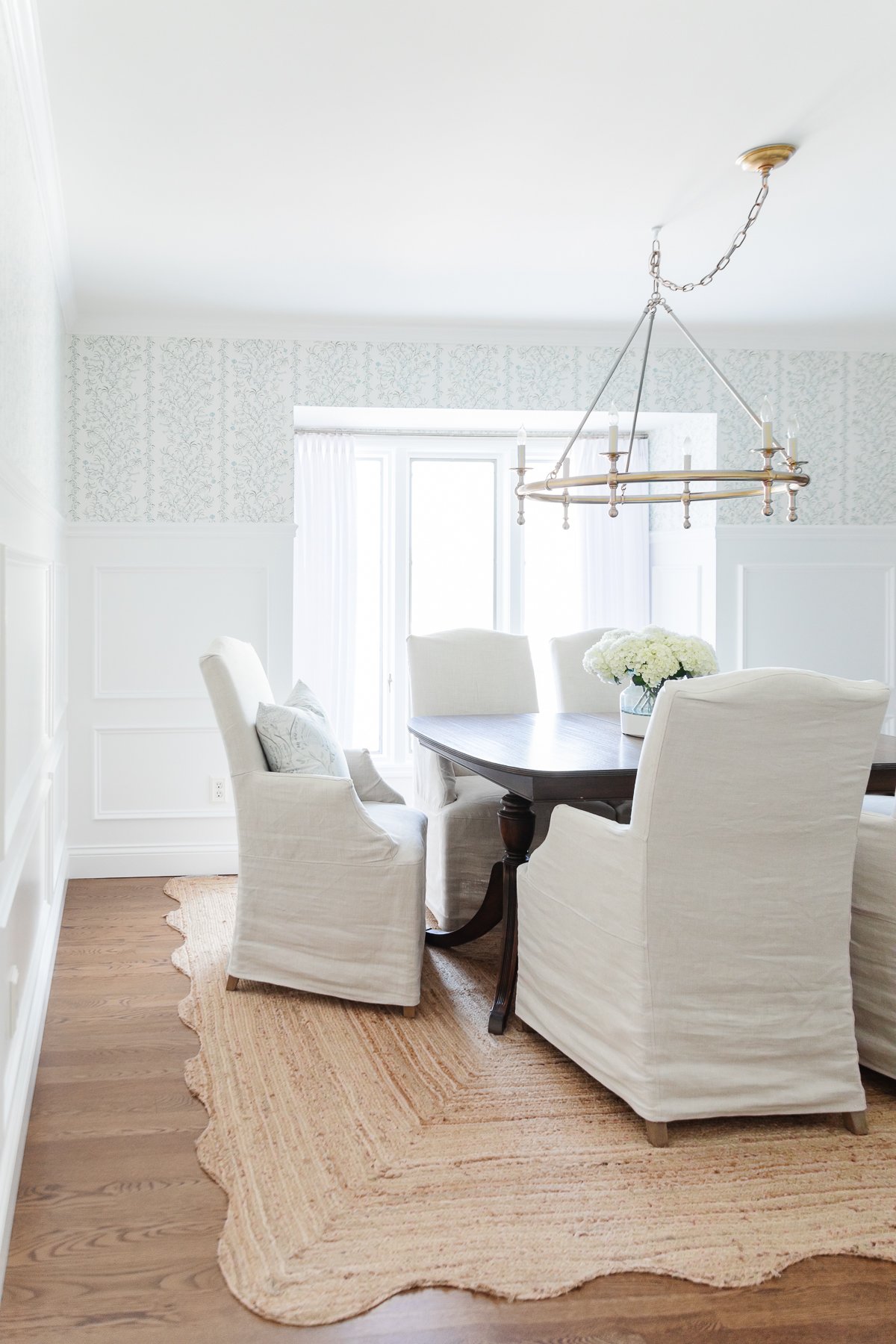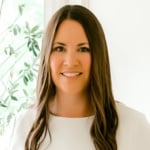 Tips
Need a tutorial? Don't miss our guide to How to Hang Curtains to look like professional drapes!
While we opted not to upgrade (we wanted our pleats to feel just a touch relaxed), you can choose a memory training option to help your pinch pleat drapes look even more polished and professional.
There are so many options to customize the pinch pleat drapery panels we're sharing today. Choose from pinch pleat styles, fabric, lining, and length, and see our customizations below.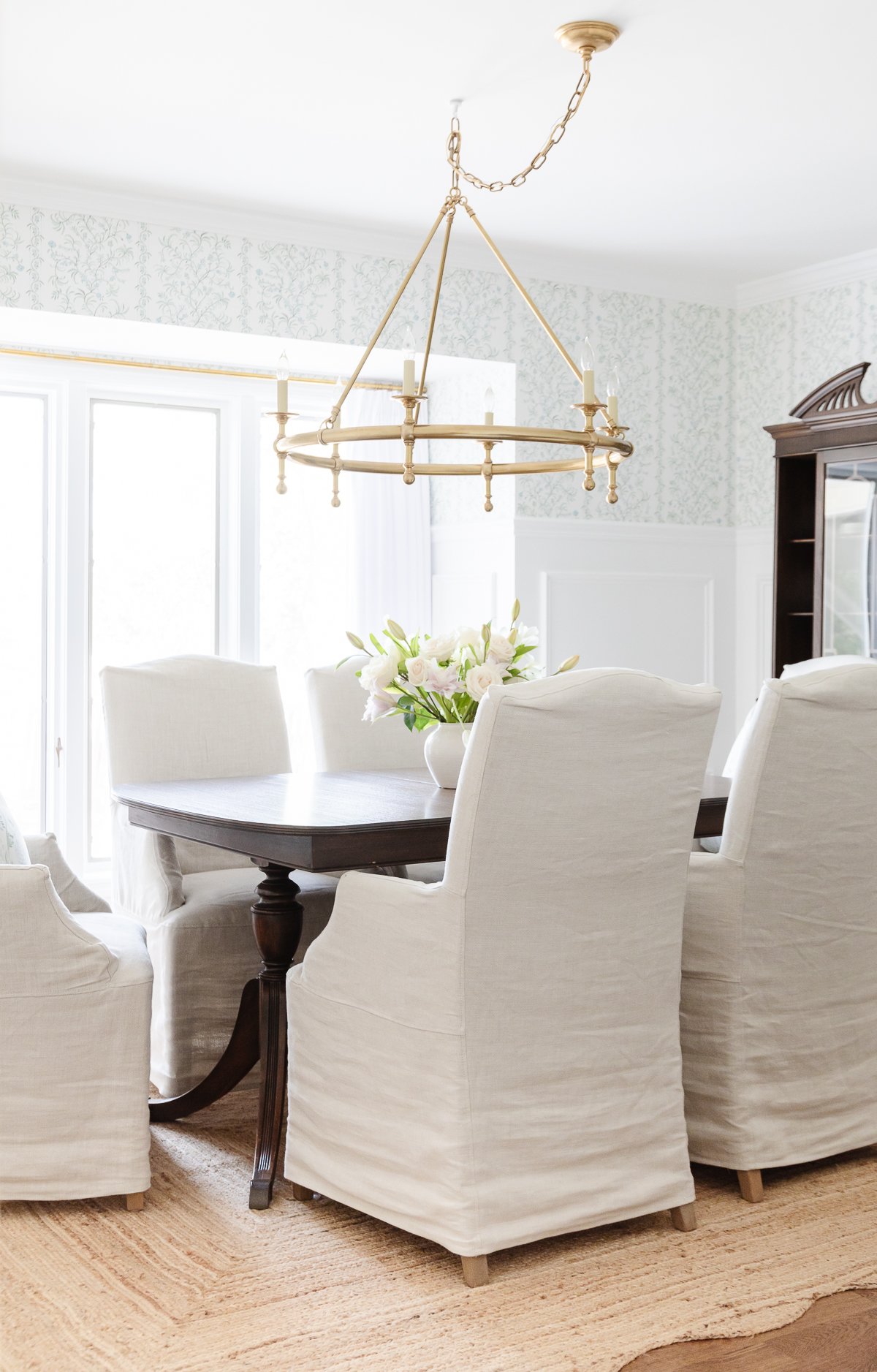 Customizations
For our dining room and living room triple pleat drapery, the customizations were as follows:
Liz Custom Curtain
Color : 1908-0 (Snow White)
Header Type : Triple Pleat
Single Panel Finished Width (Inch) : 26
Single Finished Length (Height) Inch : 87
Lining Type : Unlined
Tieback : No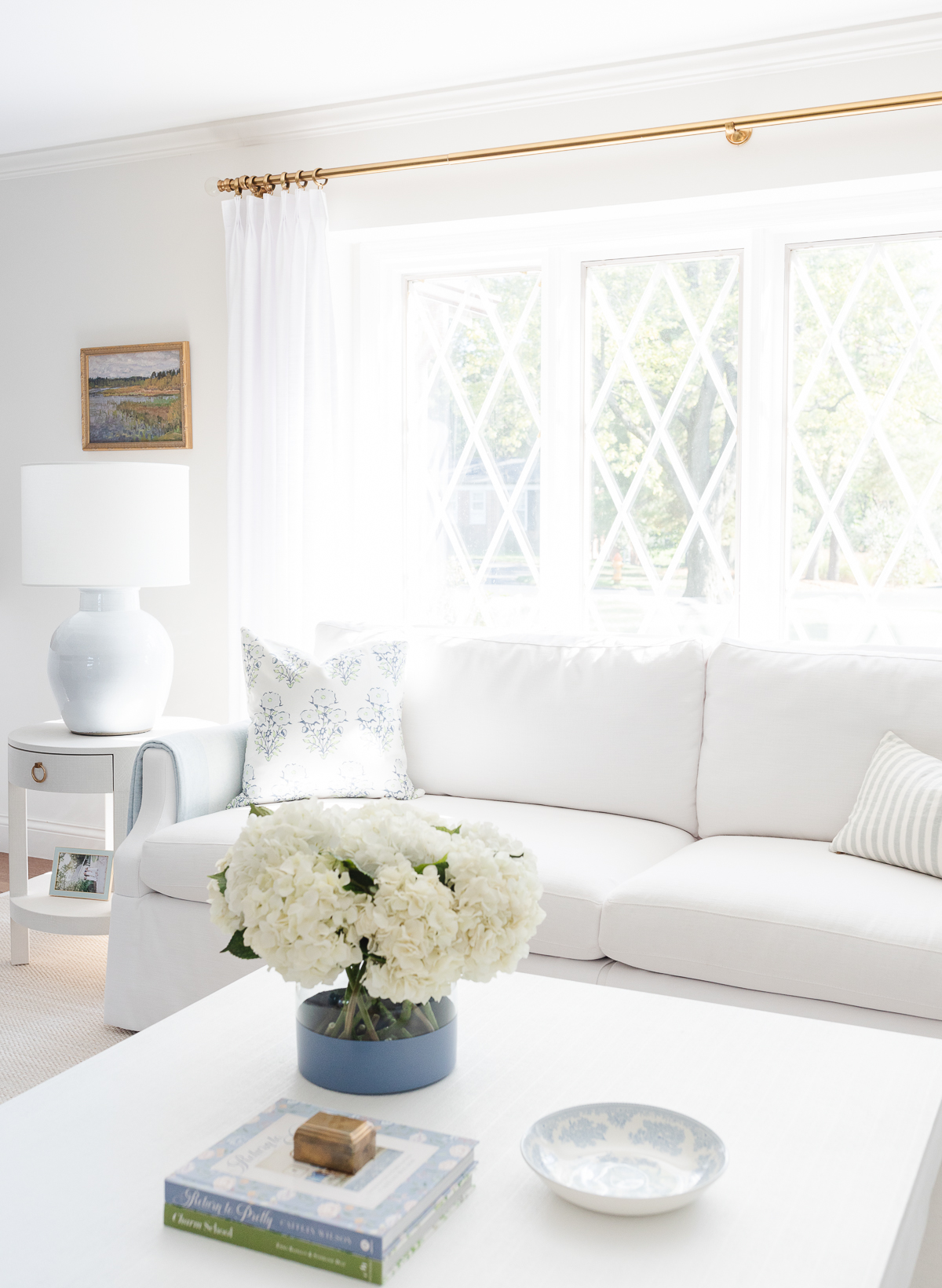 Frequently Asked Questions
What is the difference between pinch pleat and triple pinch pleat?
Double and triple pinch pleats are very similar. Triple just gives you the same simple, clean header with a slightly more controlled and full finish. The pleats are a little more visible in a triple pleat over the double.
Is French pleat the same as pinch pleat?
These two types of pinch pleats are very similar. They function and look almost the same, but a Euro style pleat is tacked at the top.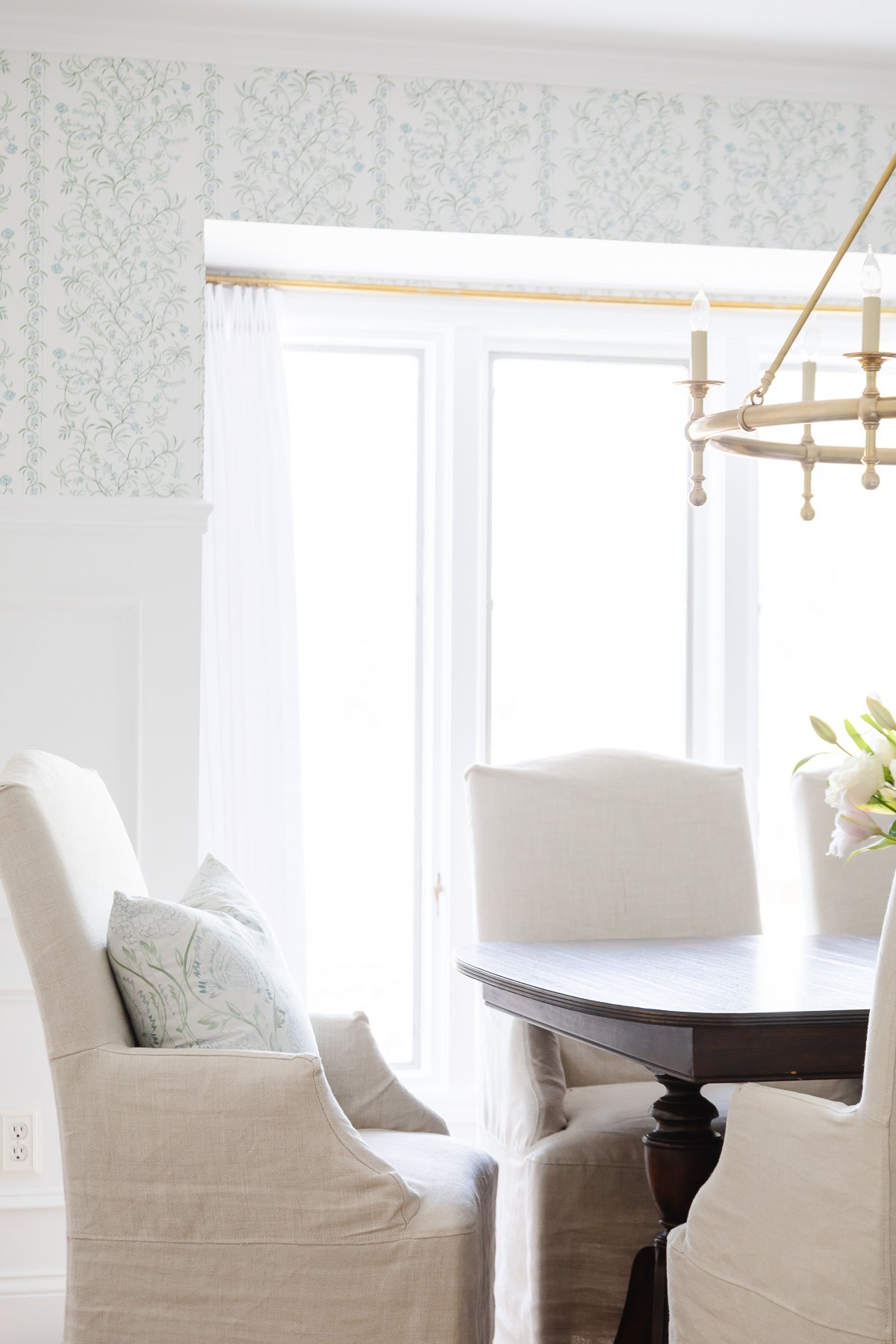 Sources
Get the look of our living room and dining room pinch pleat drapes! While our living room hooks aren't available online, we found very similar options linked below.
Just click through on each photo to find the items! Or, check out more of our drapery inspiration on Amazon.
Design Guides, Decor & Tips