Learn how to incorporate a charming gold bar cart into your home, utilizing this incredibly flexible furniture piece anywhere you need an extra serving or display piece! A cute brass bar cart is the best kind of furniture investment.
That's because it's inexpensive, flexible, and perfect for collections, gatherings, and serving! This purchase will pay you back in dividends with holiday and party styling options galore.
Get a round up of the best gold bar carts on the market right now, in a style you'll adore. There's something for everyone here!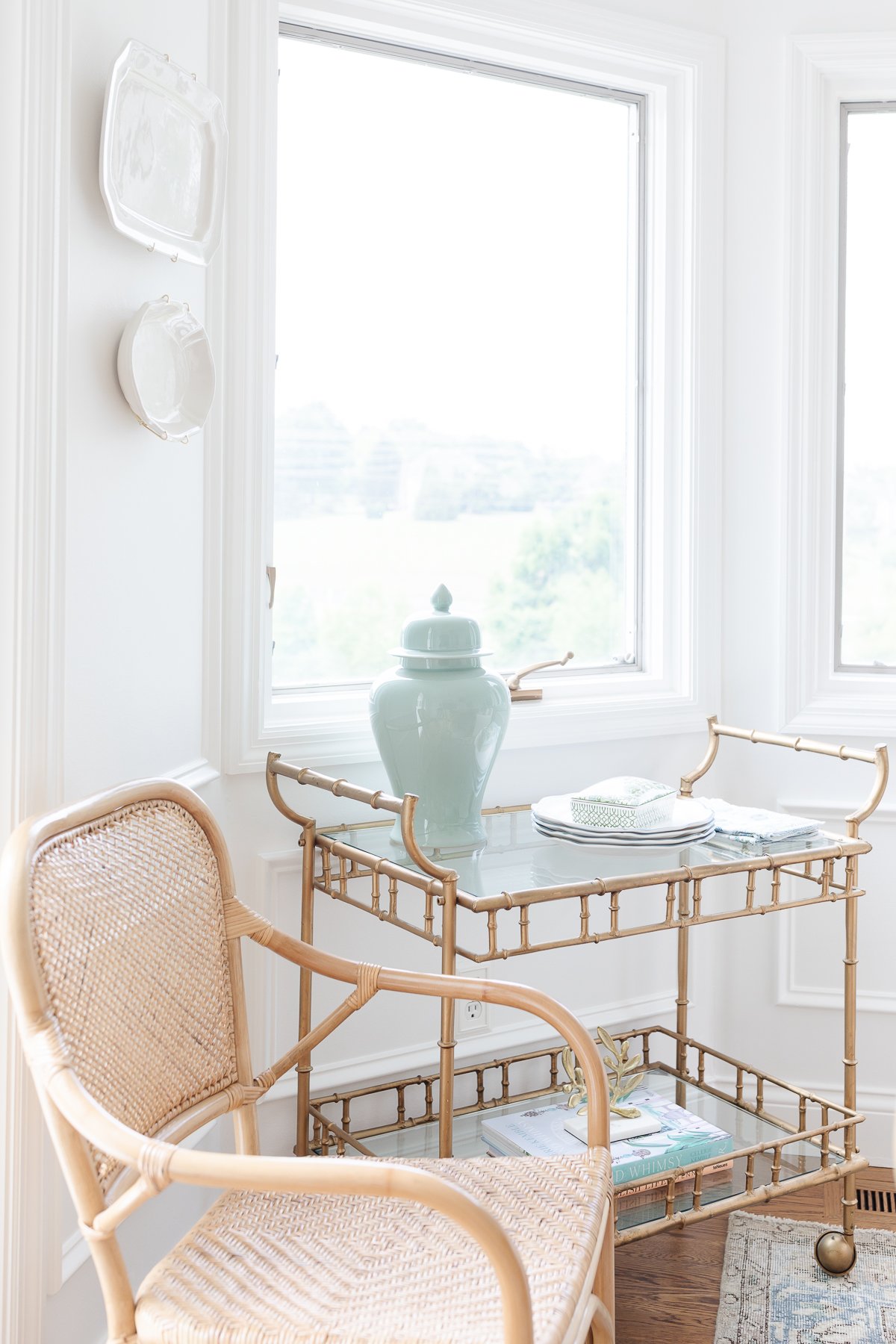 Years ago, (over a decade, now that I think on it) I became obsessed with the idea of adding a brass bar cart to our home. While my husband will likely never understand it, I feel bar carts are a classic and versatile piece.
I envisioned using it as a "console table" and end table in our living room, and wheeling it into the dining room when hosting dinner. So, I bought a vintage one, and that search began one of my favorite (most tragic) Craigslist tales ever.
You can read more about that tragedy at the end of this post!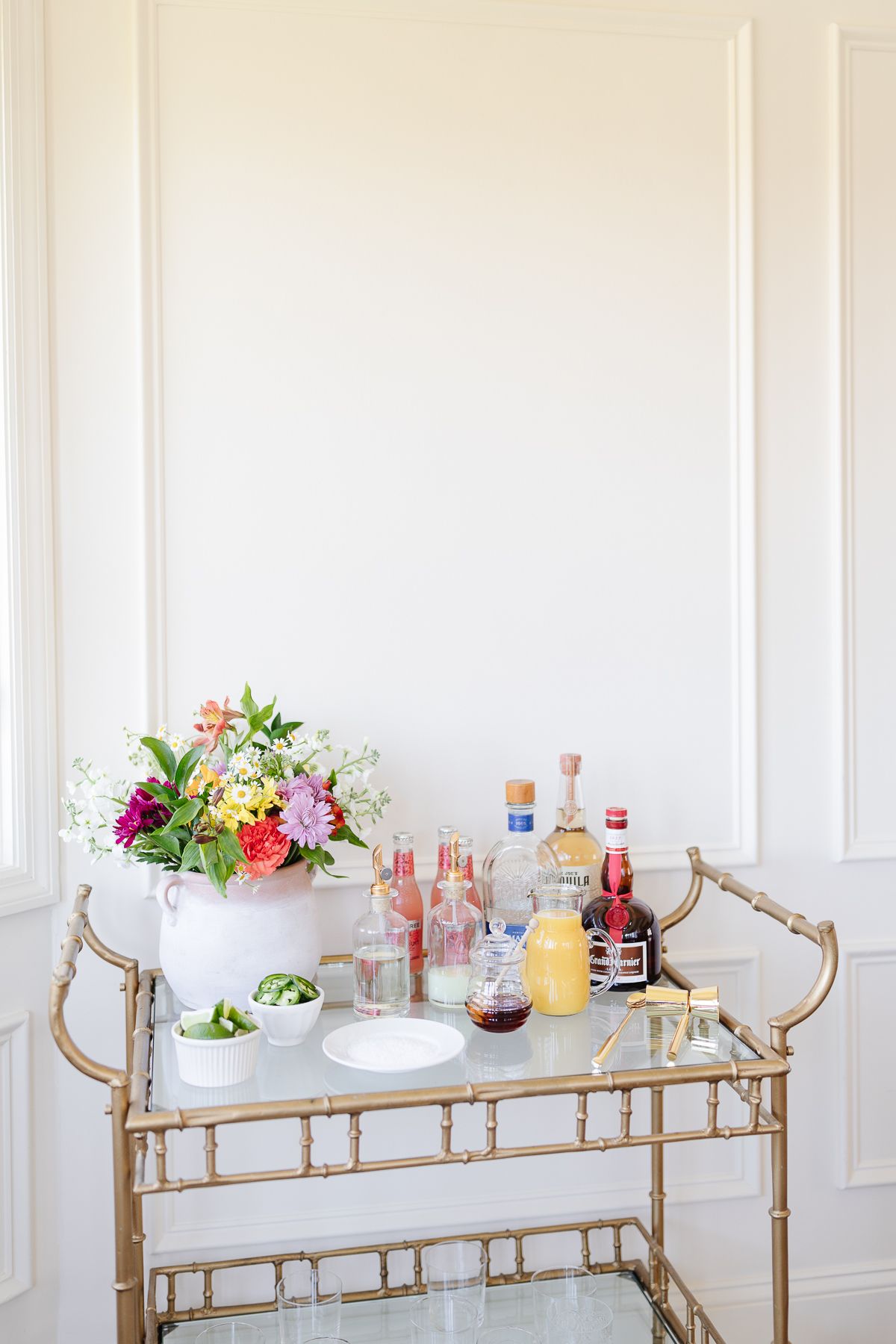 Gold Bar Carts
Luckily for you, now there are countless gold bar carts on the market! We're bringing you all the prettiest gold bar carts in this complete guide.
I'm also sharing a little detail about our vintage brass bar cart today, as well as information about how to use them and where to buy one.
Learn about how I used this cute gold bar cart for a Mimosa Bar, and learn about Rattan Bar Carts here.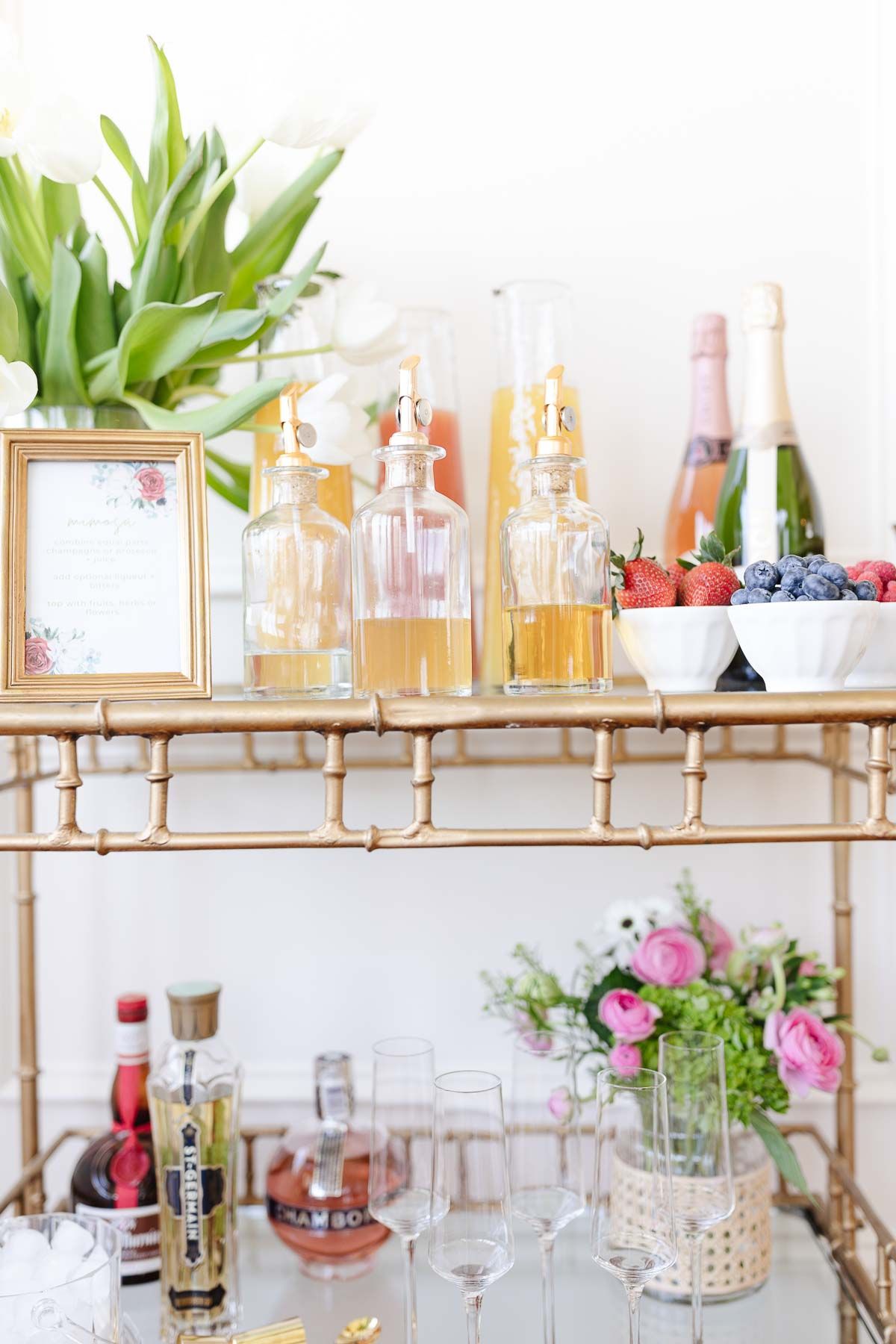 The History of Rolling Bar Carts
First popularized as a tea cart in the Victorian era, rolling bar carts were called a "tea trolley" during their first decades of use. They were used to navigate hot tea and small pastries, tea cakes, etc for tea time.
It wasn't until the end of Prohibition in 1933 that the rolling bar cart replaced that tea. However, they were mostly enjoyed by socialites and Hollywood elites.
It was post WWII, into the prosperous mid 1950s when bar carts became a staple of many American households. The era of real cocktails and entertaining made this little piece of furniture a mid-century modern staple!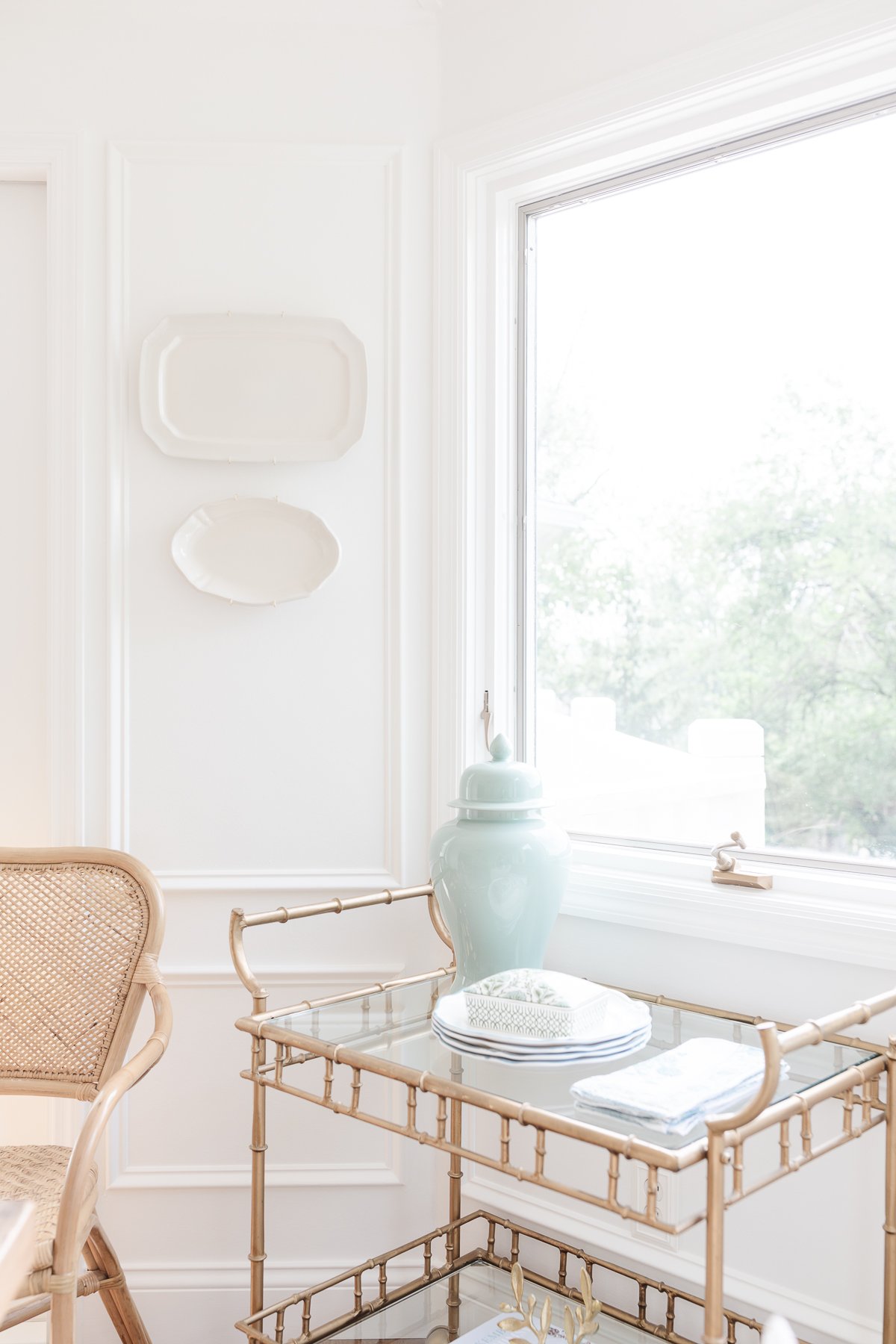 Bar Cart Uses
This incredibly versatile piece of furniture can be used in almost every room of your home!
Coffee or Hot Chocolate Station
Bathroom Storage
Console or Entry Table
Plant Stand
Nursery Necessities
Side Table
Bar, of course
Frequently Asked Questions
What is a bar cart?
A bar cart is simply a small table that has wheels, often with tiers to accommodate bottles and glassware.
What should I look for in a bar cart?
Look for a sturdy piece with wheels that actually move, especially if you plan to use this flexible piece of furniture in a variety of settings!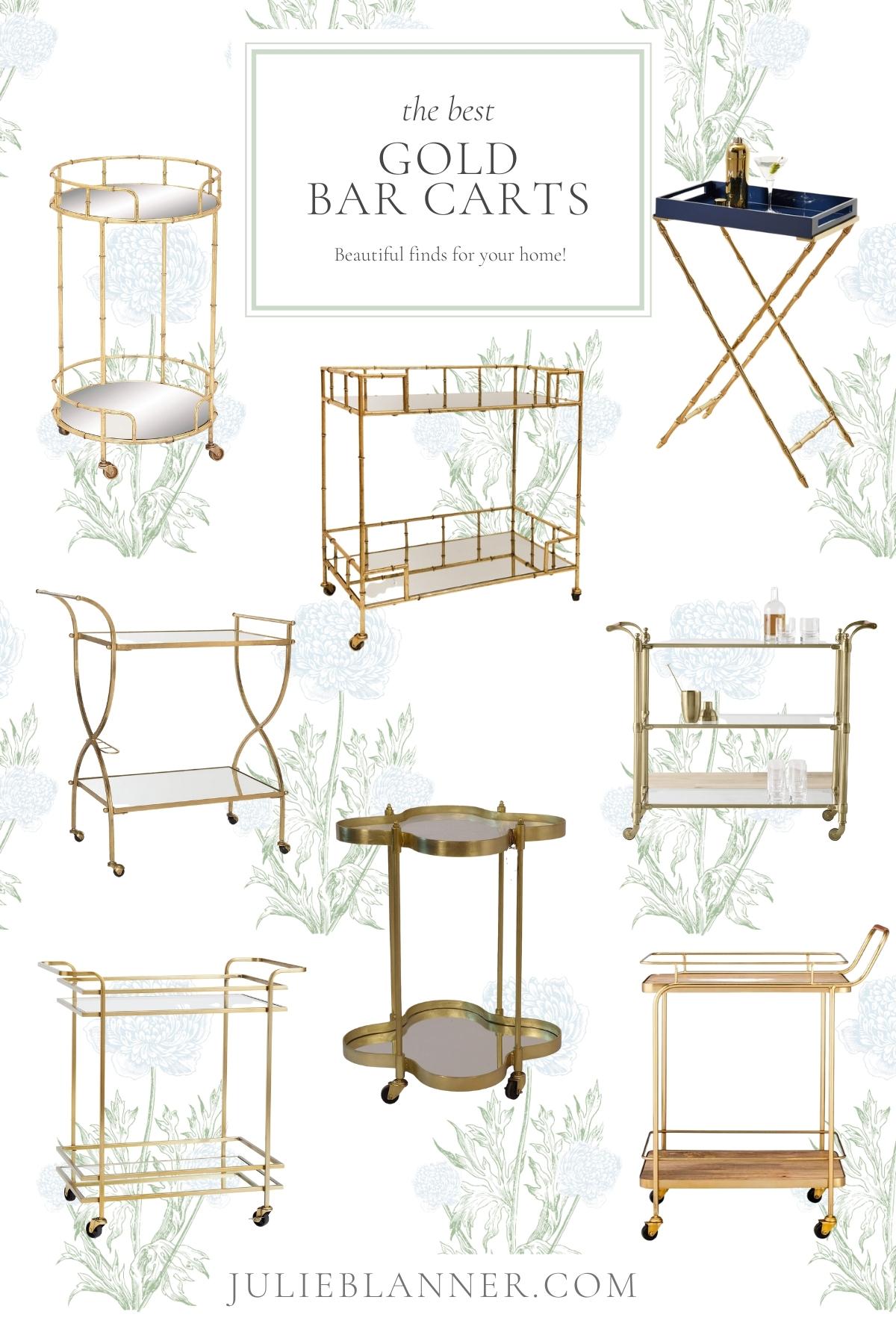 Gold Bar Cart Sources
Lucky for you if you're reading this, you won't have to spend a year digging through Craigslist ads! You can find a charm brass or gold bar cart at an incredibly affordable price these days.
I'm linking a few of my favorites so that you, too, can experience a little of the fun!
Our Antique Brass Bar Cart
Before I leave you, I have to share the story of our Craigslist bar cart. When I began the search for a pretty cart (over a decade ago) I found that they were simply too expensive – most were at least $1500!
At that time, Craigslist was my friend. I sent my husband to a somewhat sketchy location late at night to pick it up and it barely fit in my tiny SUV. While it was the perfect shape and size, it appeared dated to me with foggy marbled glass. Hence my desire for a makeover!
I loved that bar cart. In my desire to update it, I spray painted it in an antique gold and proudly showcased it here on the blog.
A reader commented on my post about How to Style a Bar Cart: "Hi Julie. That looks like a genuine Maison Bagues bar cart. They sell for about $3,000."
Say what? It couldn't be true. I visited the link. My heart sunk. It is an original Maison Bagues bar cart – identical, and it fact it's what bar carts of today are modeled after. It was valuable, before my "update".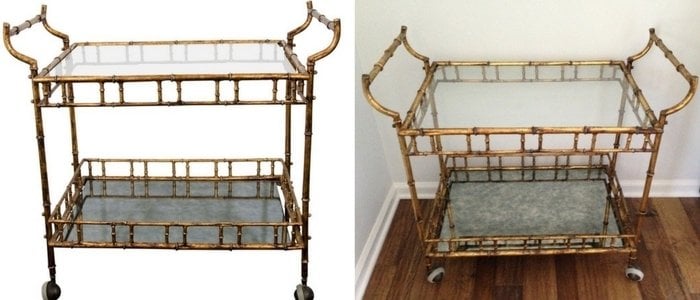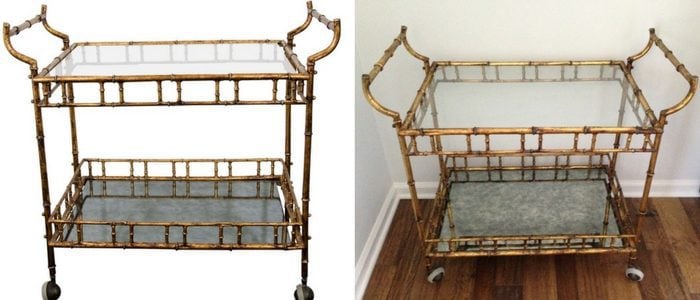 I did a little research and a similar cart is listed for $9,000 with taxes and shipping. $9,000! Are you laughing or crying with me?
The lesson? Sometimes you have to open your eyes to see a piece's true beauty and embrace what you have. There's nothing more beautiful than a piece in its original state in all its integrity.
I'd love to hear from you! Do you have a cute gold bar cart in your home? How have you used it?