You don't have to spend too much time or money on these simple room updates. Learn how to update a bedroom (or any room in your home!) with these quick and easy fixes!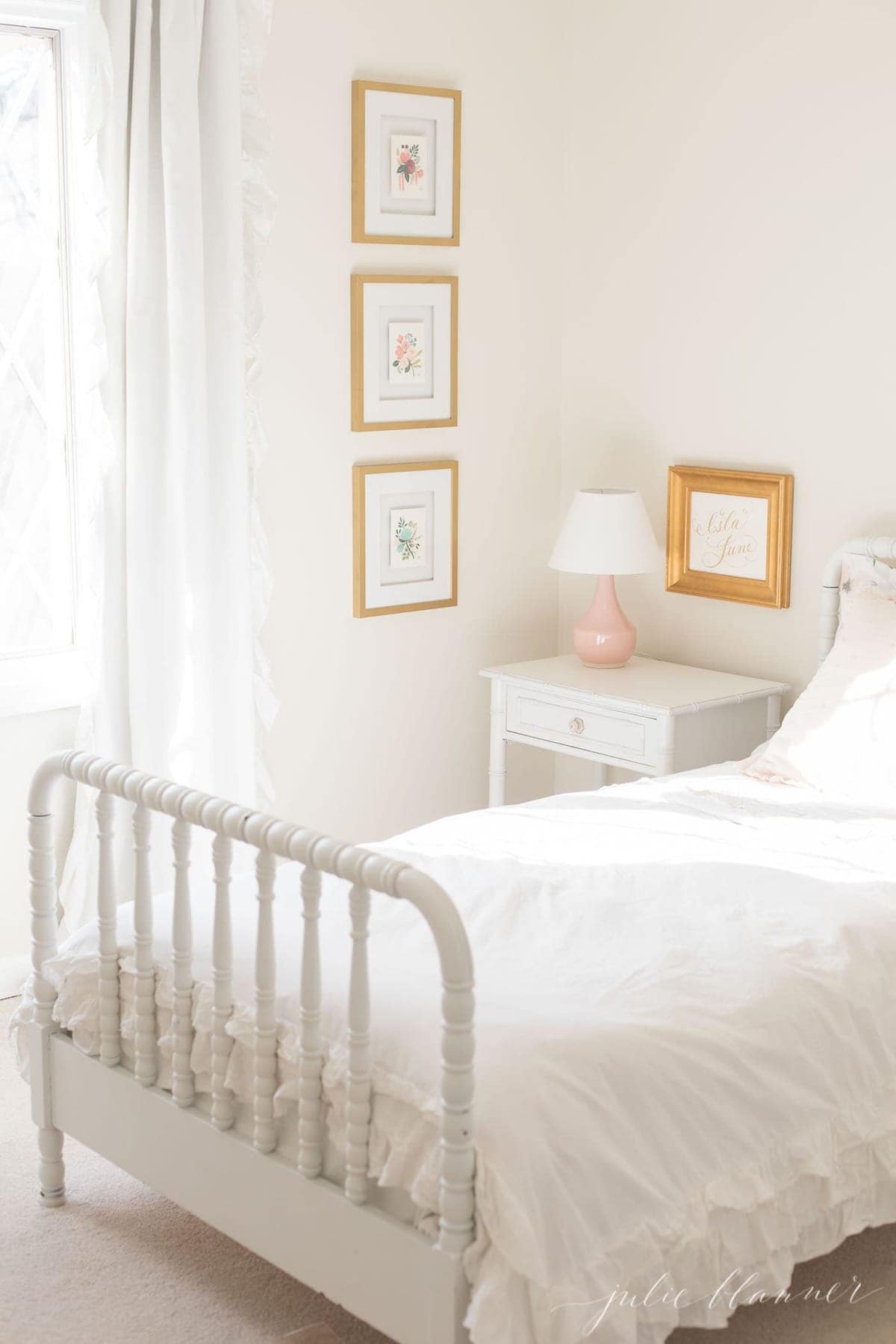 Budget. It's a word I don't like to use, but part of minimalism is being mindful of spending.
It's amazing the transformation you can make with a few simple strategies. Today I'm using Isla's former bedroom as an example! She just graduated to a slightly larger bedroom and a couple of new pieces of furniture. More to come…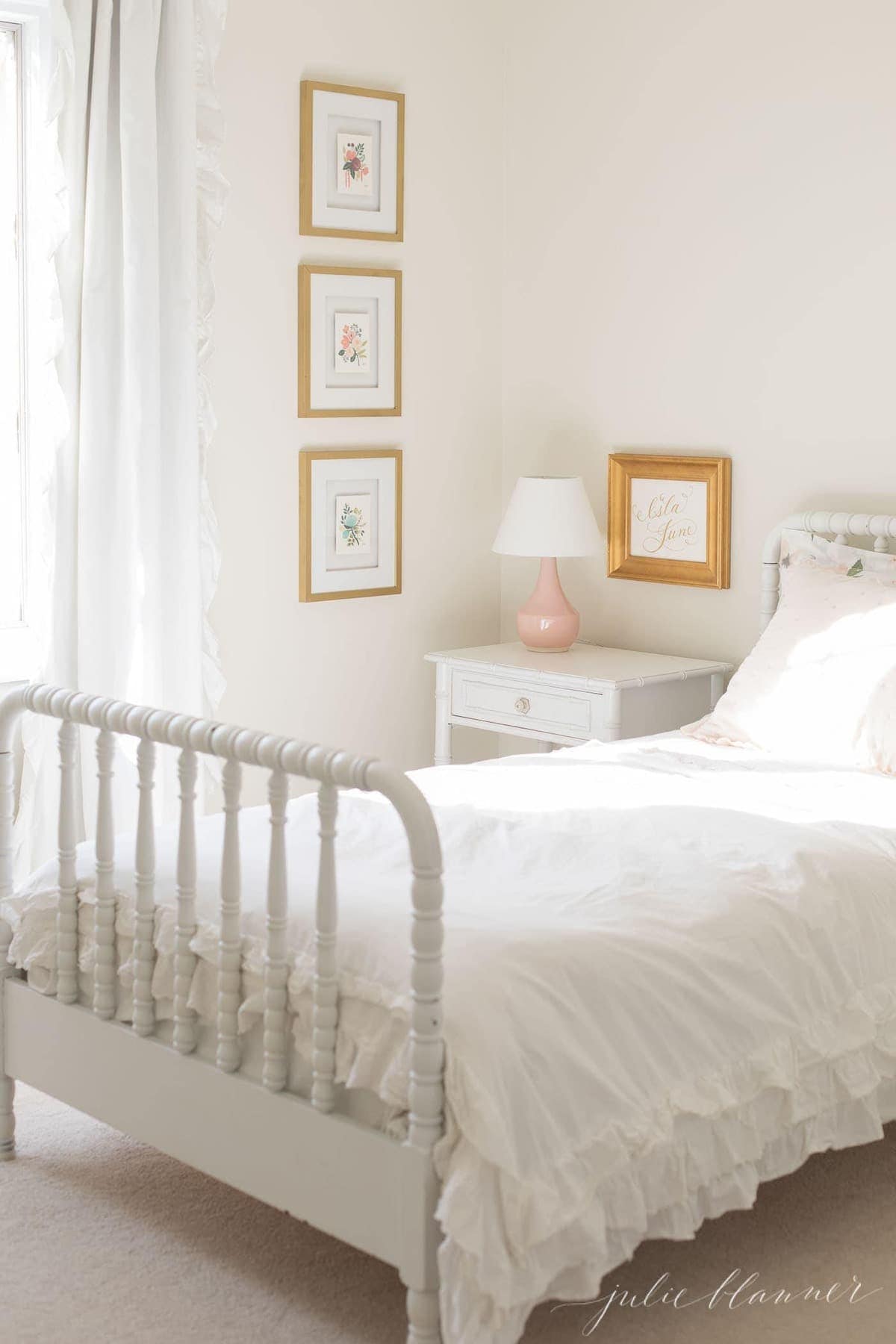 I love blending high and low. Knowing Isla would outgrow this room, I really wanted to maintain a tight budget. It's easy to update a room on a budget, especially when implementing simple strategies.
I utilize these all the time, especially at the Lake Cottage.
I love sharing my ideas for DIY projects, decorating, and home improvement with you. Check out my inspiration for quick and easy weekend home improvement projects, learn how to paint without sanding, and where to invest in your home for the best return.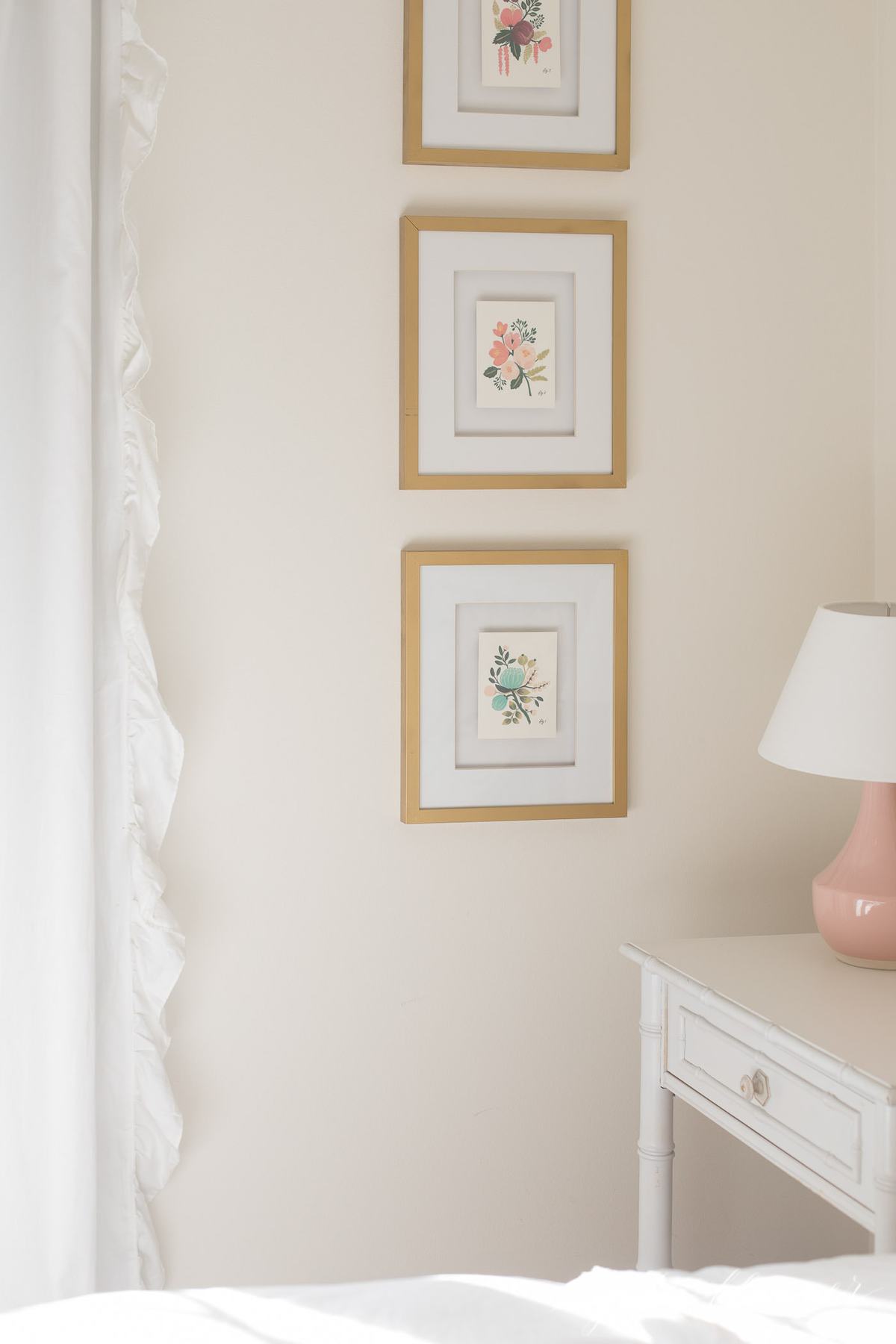 Budget Room
Shop your home first. I have a few shelves of miscellaneous decor in our basement that are not in use, but I'm not ready to let go of yet. I find that shopping your own home often inspires you or forces you to get creative.
Shop Etsy. I purchase a lot of our custom art from Etsy and not only is it inexpensive, but it's personalized, which makes a room feel special. I had her name done in calligraphy for her nursery in our previous home and it fits beautifully above her nightstand (Robin Love Steele).
Create new storage! Adding pretty textured baskets and containers will take your cluttered, dated space and make it immediately feel more streamlined and clean.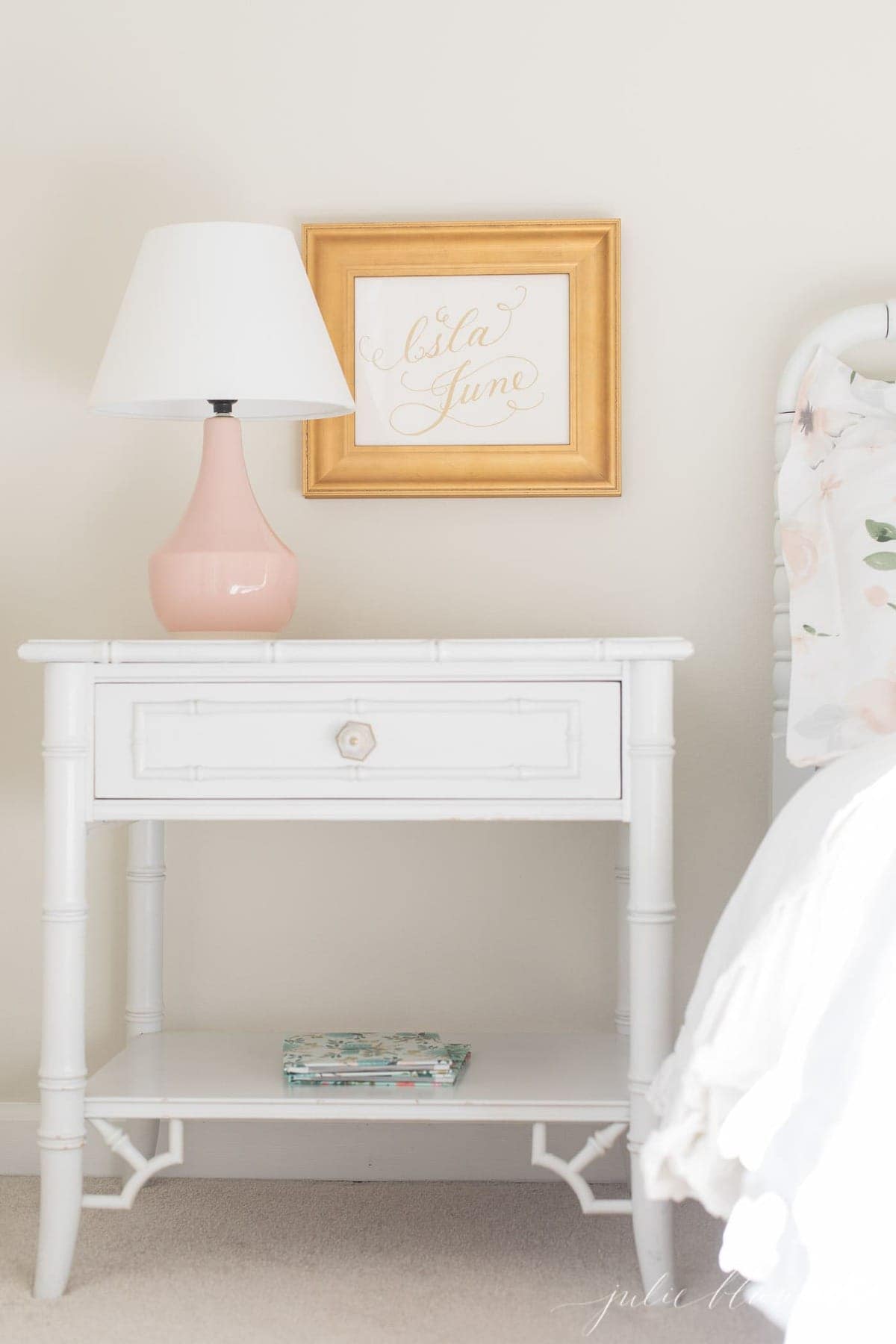 Look to big box stores to shop the look for less. Similar lamps are $100+, but this was less than $30 at Target. She is so proud of her cute pink lamp! I utilize this trick all the time. for example, these blue chairs are a incredibly similar, but the price difference? $1,861 The Original | The Look for Less (PS we purchased for the lake cottage and LOVE them!)
Add an unexpected pattern for a pop of happy surprise color! I often purchase solid comforters or duvet covers instead of patterns, and that's because I prefer to add a little pattern in my pillows or even sheets. You don't have to go to the effort and expense of wallpaper to bring in pattern. A duvet and/or a pillow or two is an easy way to bring in both. What's more fun than pulling back your blankets and finding a soft new patterned sheet set? So inexpensive, too! You can get my tips for mixing and matching Throw Pillow Covers here.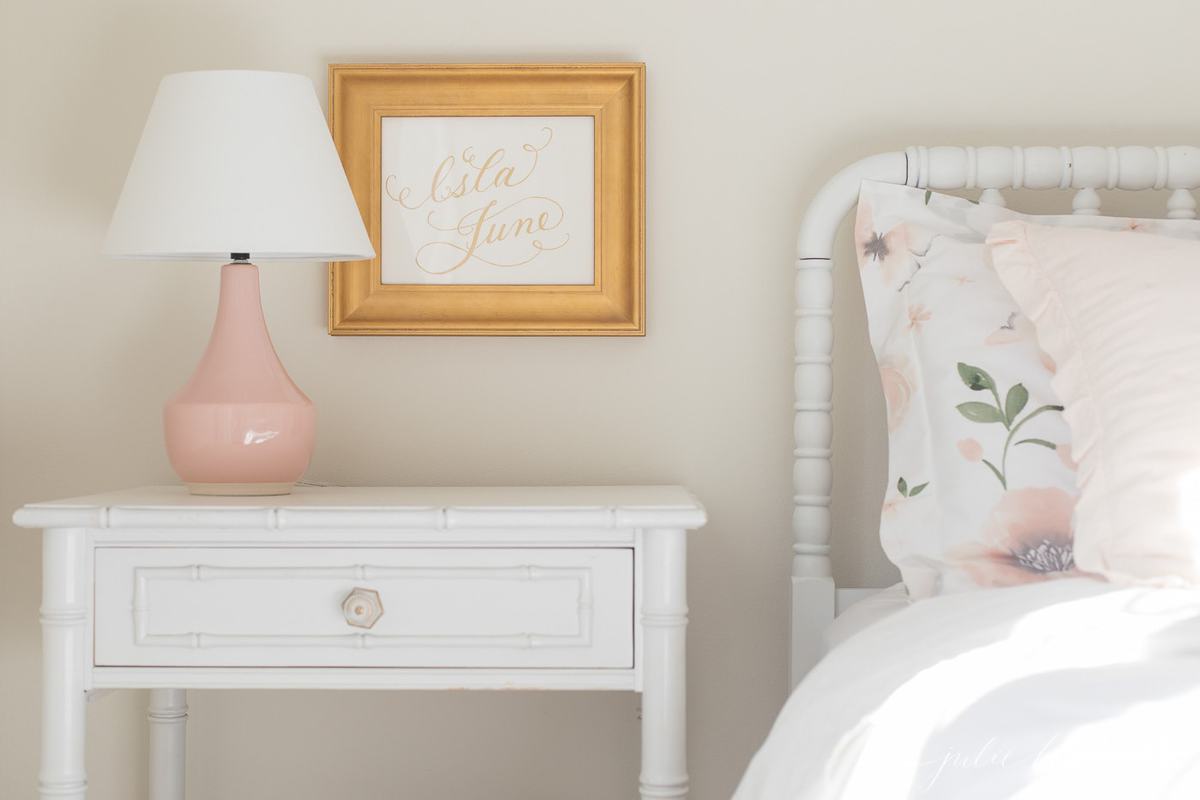 Change the hardware on your furniture. I always find the cutest knobs and pulls at Anthropologie and even Hobby Lobby! It's such a simple way to bring an outdated piece into the new century.
Declutter. I know, I know, I say this time and again. But it's true! Eliminate all the "stuff" that weighs you down and your room will instantly feel lighter, brighter, and cleaner. Take it one bag at a time, and your progress with donating the things that you don't need will amaze you! Get my tips and checklist to declutter.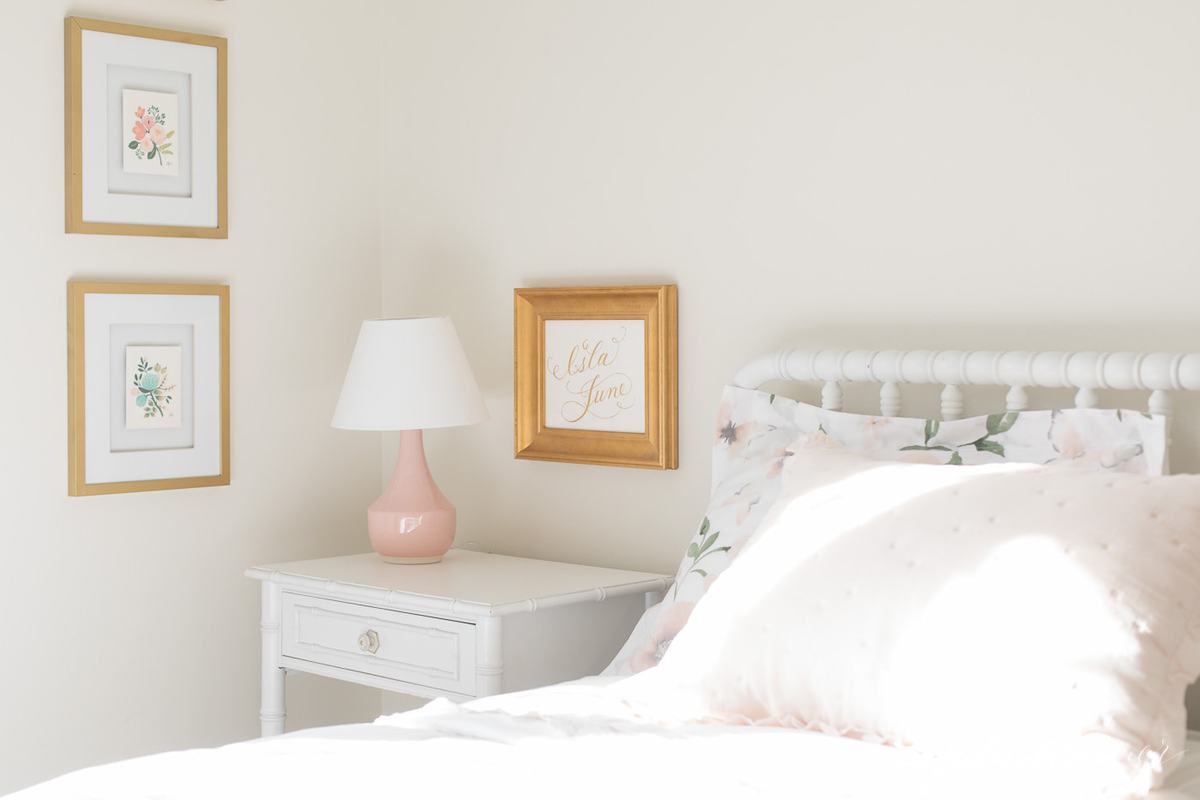 Add shelves. This can mean something as simple as floating shelves near a desk or above a bed. Just this simple addition to a room can allow you to add so much decor and create a whole new look!
Add a mirror! This one might seem so simple, but adding a mirror to a room that is dark and dated can make a big impact. They will reflect any window light in your space and instantly make your room feel larger. Get more tips to Add Light to a Room.
Take it one step at a time. With so many before and afters online it's easy to feel the pressure to do the same, but often design doesn't happen overnight. It can also help you create a thoughtful space.
I love chatting home design details with you! Don't skip these popular posts about choosing a sofa: Pottery Barn Sofa, Ikea Ektorp, and Sectional Sofas.
More Simple Updates and Ideas
Craigslist – Isla's bedroom furniture was a Craigslist purchase. As they get a bit older and can care for their furniture, I don't mind investing. This way I don't sweat it when it gets colored on, chipped, etc.
Inexpensive Art – The art on the left wall was a quick and easy project utilizing stationary, mounting tape and spray paint to update inexpensive frames for her nursery. You can find more DIY Wall Decor ideas here.
If you have any questions or tips, leave them in the comments below. I love hearing from you!
More How-tos and Home Improvement