Get the best ideas to create a game day menu with incredible snacks, appetizers, sliders, and even desserts! You'll find the ultimate list of Super Bowl recipes and so much more!
We're celebrating the Super Bowl at home this year, but don't expect me to sit on the sidelines when it comes to all of the great eats! We're making a feast – on appetizers! Is there any other way to enjoy the big game?
I've shared my favorite game day dip recipes, but that's only half of the equation. There are plenty of game day appetizers I look forward to enjoying as well!
While I am not always the biggest fan when it comes to the actual game, I love the commercials, the camaraderie, and the food. It's hard not to get excited, right?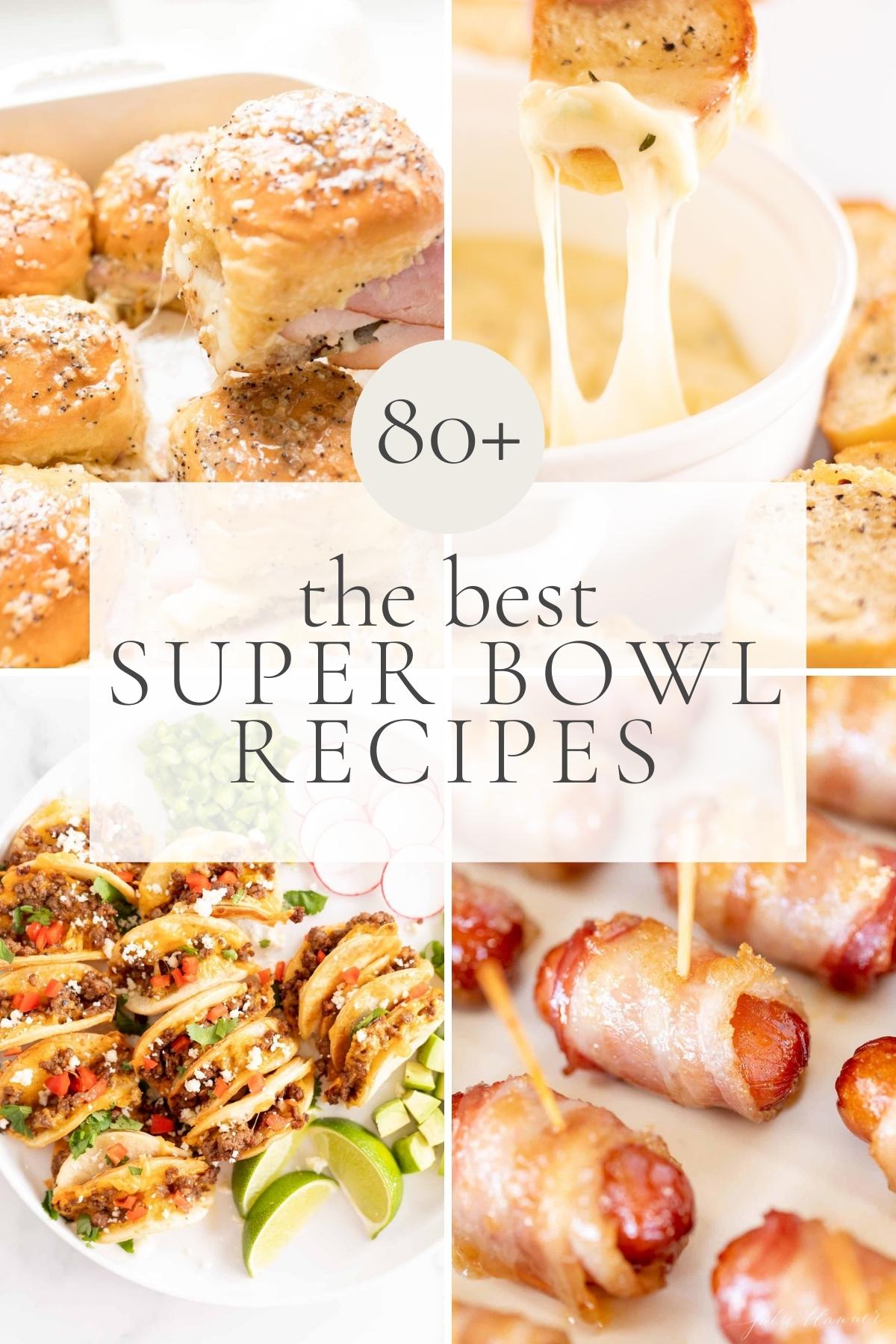 If you're looking for a fun way to participate in game day that goes beyond the football game itself, check out this Puppy Bowl Party! I've even got a printable Super Bowl Commercial Bingo game that gives the whole family another way to participate.
This recipe round-up is broken into categories that will help you stay organized as you plan your Super Bowl menu. Each link takes you to a full detail recipe, with a printable card at the bottom.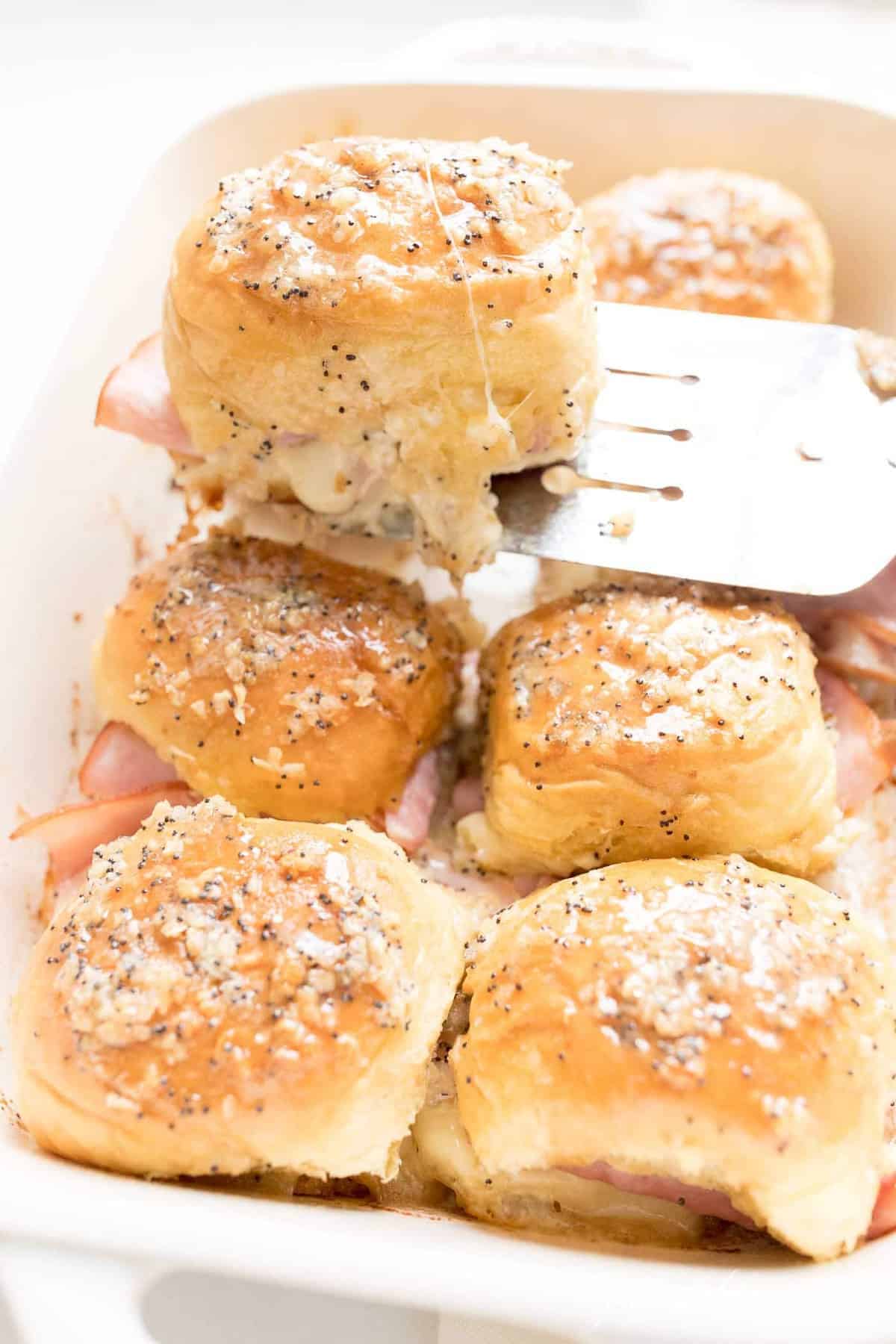 A quick overview of the over 80+ recipes you'll find:
Super Bowl Finger Foods
Super Bowl Dips
Game Day Snacks
Healthy Super Bowl Snacks
Best Bacon Appetizers
Super Bowl Sandwiches
Game Day Desserts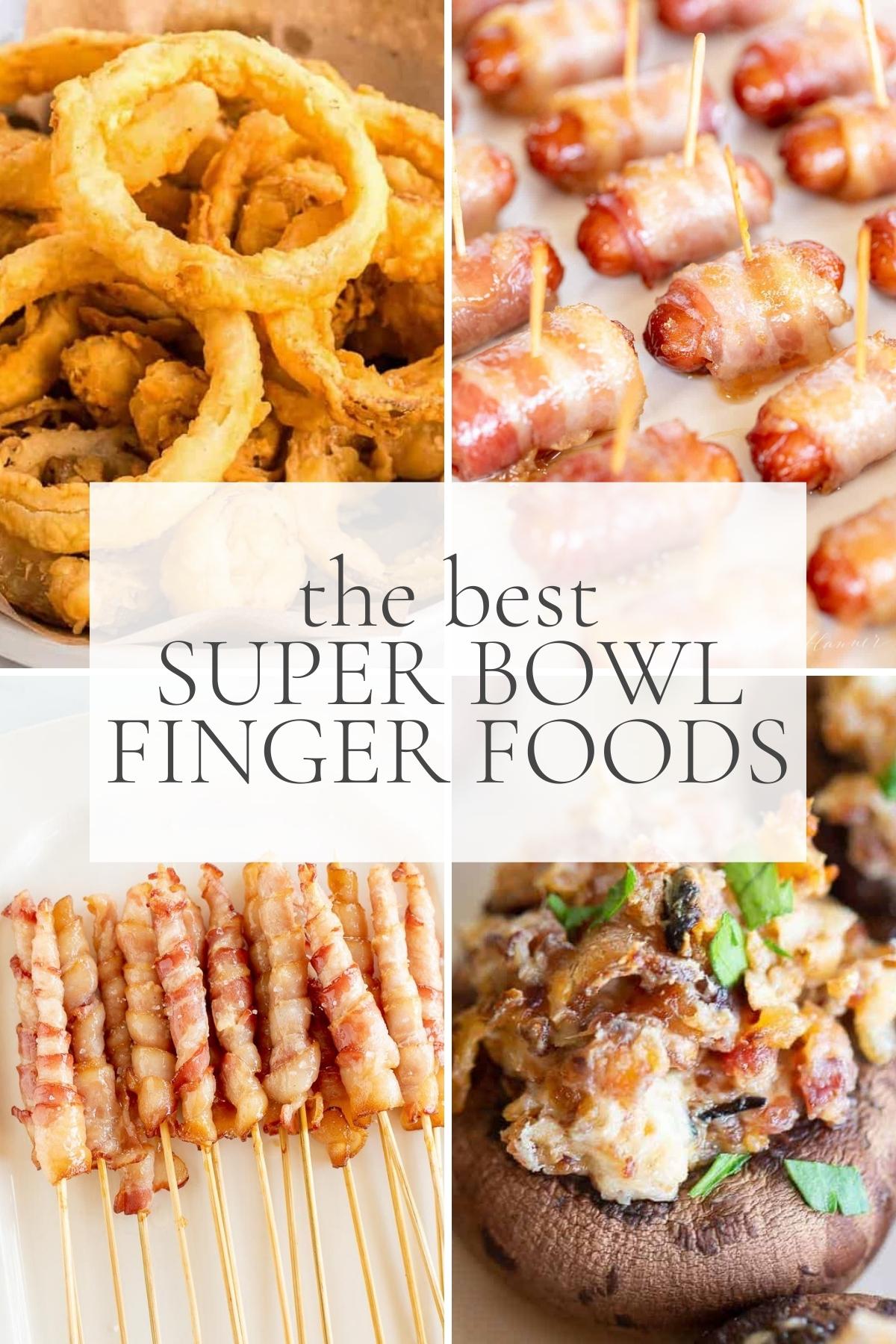 Super Bowl Finger Foods
Appetizers are the life of the party. There's a little something for every preference here!
There is a reason little smokies are classic gameday fare! They taste great and are so easy to make and serve. No one can resist this perfect combination of sweet and savory. With only 5 minutes of prep time, you'll be able to spend less time in the kitchen and more time cheering on your favorite team!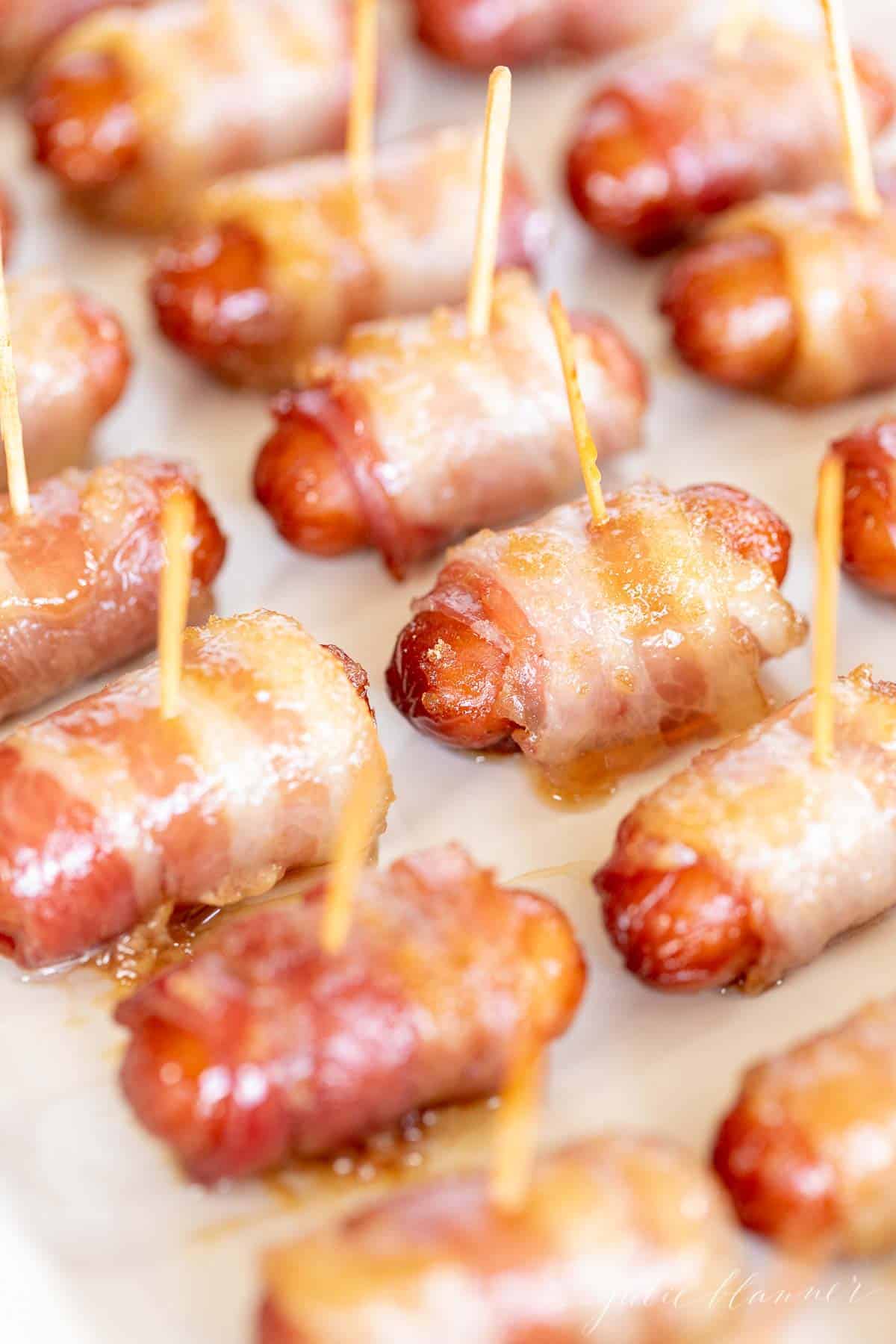 These creamy cheddar cheese tarts are a gameday must! Not only are they quick and easy to make, but they are so versatile too. Sub in your favorite cheese to mix up the flavor or stick with my personal favorite – classic cheddar. Either way, these cheese tarts will score bonus points for beautiful and effortless presentation.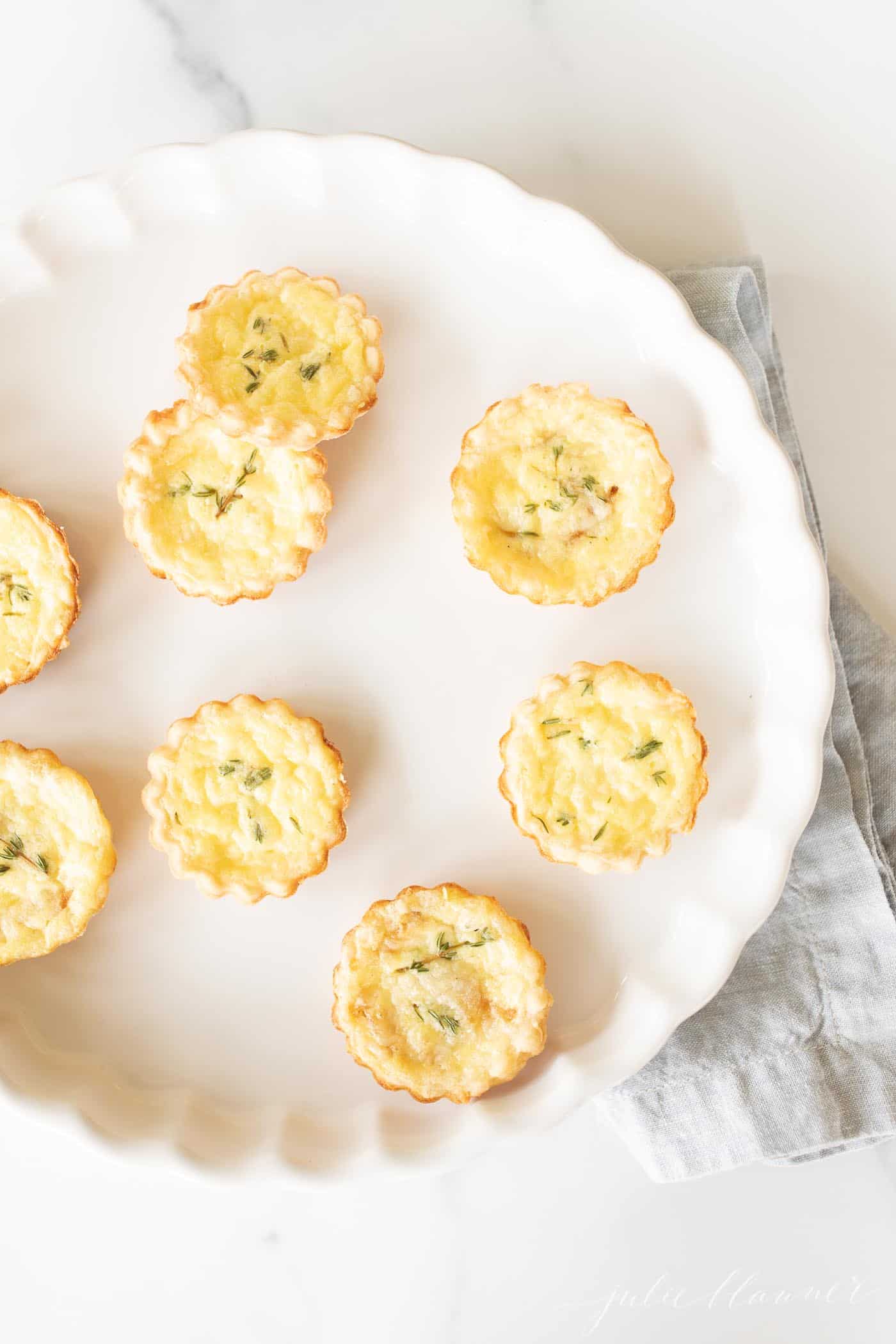 I love guacamole – who doesn't? But why not switch things up a bit with these zesty and delicious guacamole bites! They're fun, flavorful and the perfect addition to your gameday menu. Careful, they're hard to resist!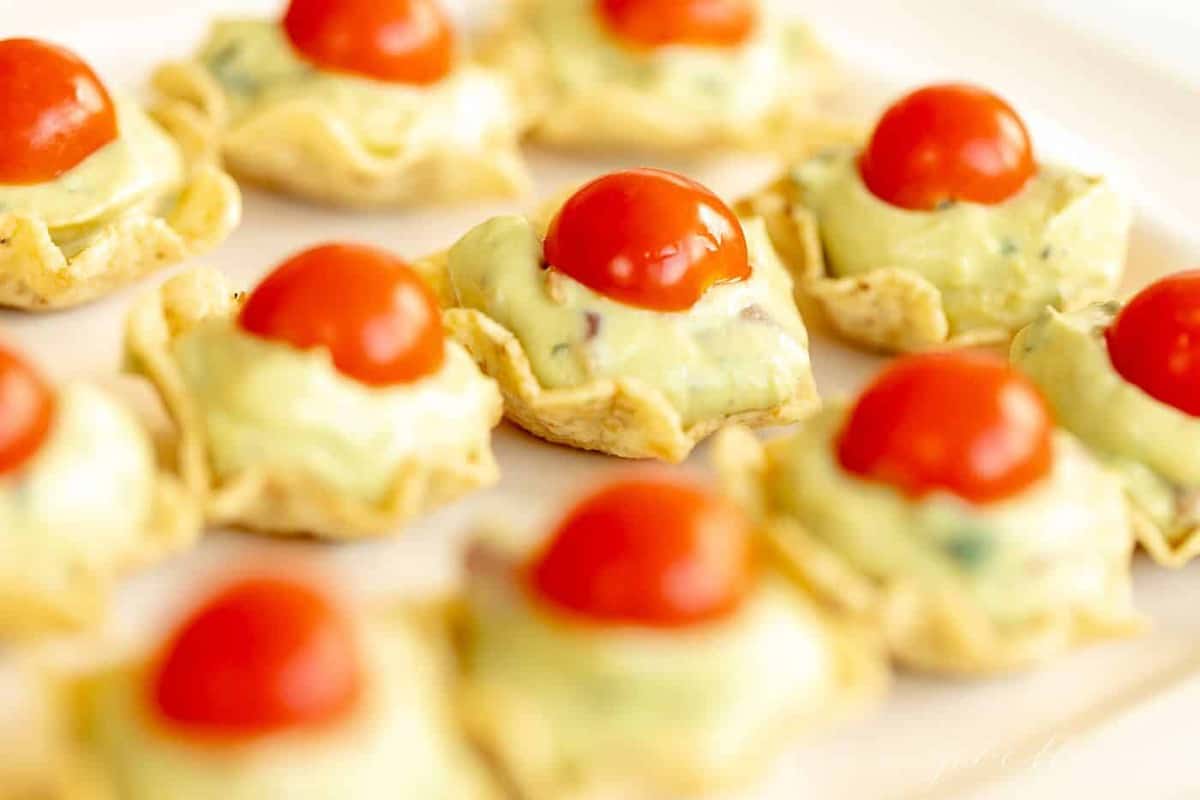 It's fun to get all the flavors of your favorite dips in a more individual serving size. Try my spinach dip bites that you can make in minutes. Now there is no need to crowd around the bowl!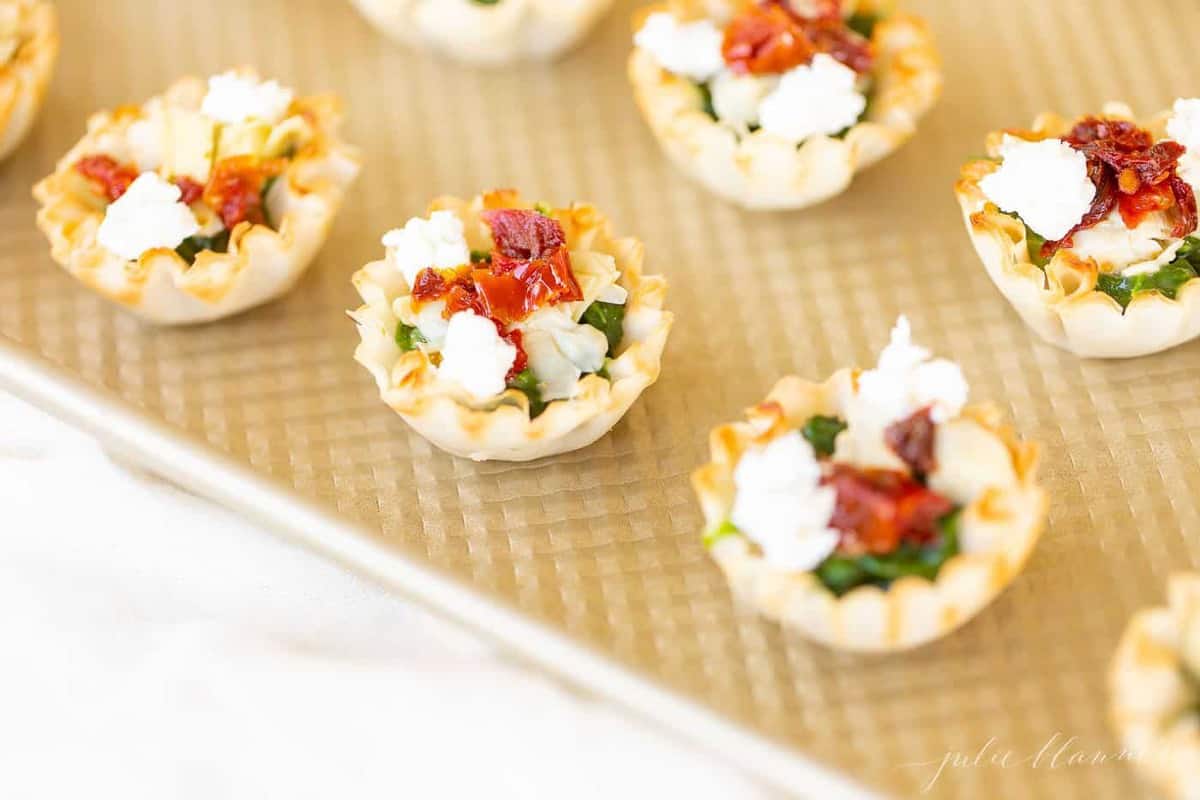 Who can resist chicken covered in Kettle Brand potato chips, brown sugar wrapped in bacon? Not me. These bacon wrapped chicken bites are by far one of my favorite appetizers to serve and share!
Bite-sized tacos bursting with flavor! Easy, customizable and always a crowd pleaser!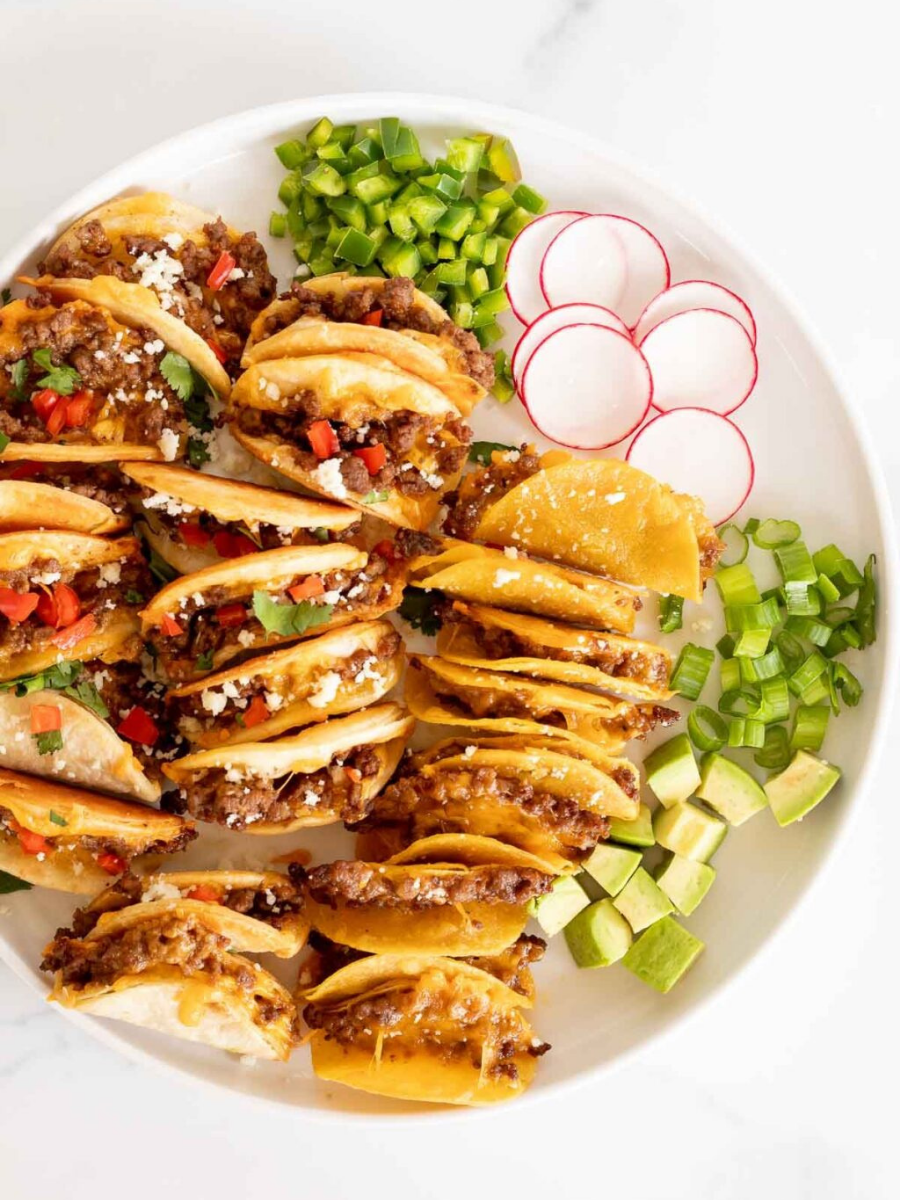 Switch things up with these super creamy and super yummy avocado deviled eggs. Not only do they taste great but they offer a healthy alternative for one of my favorite apps. The avocado makes a word of difference!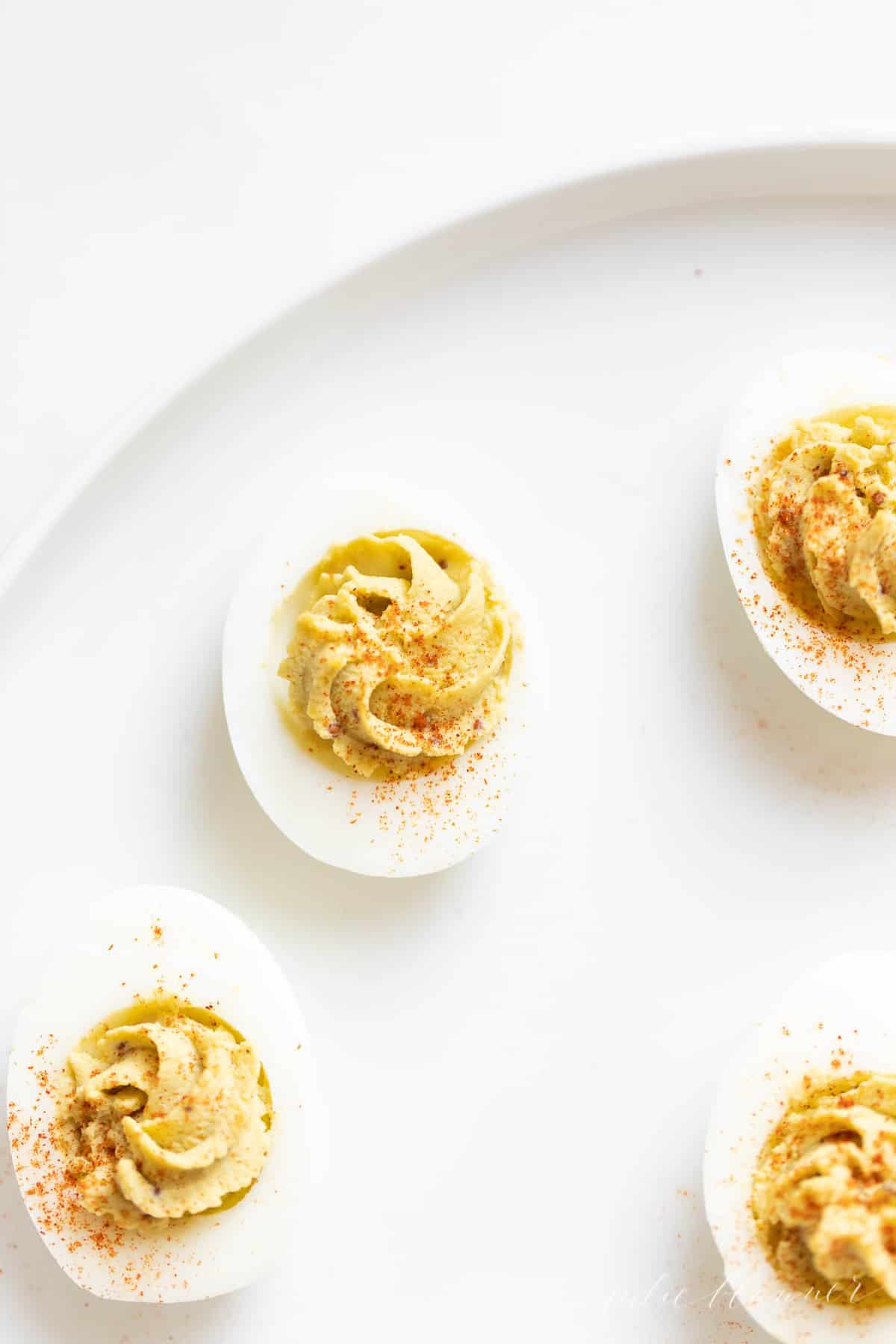 I'm sharing our family secret that takes these deviled eggs over the top! A great appetizer year round and a winner for your Super Bowl menu as well.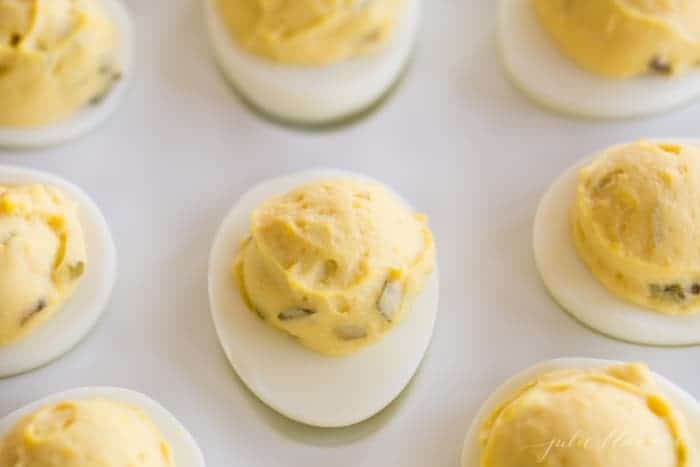 Get the must-have recipe for these creamy, decadent mac and cheese cups that are sure to be a hit with kids and grown ups alike! With only a handful of classic ingredients, you'll bring a childhood favorite to a whole new level.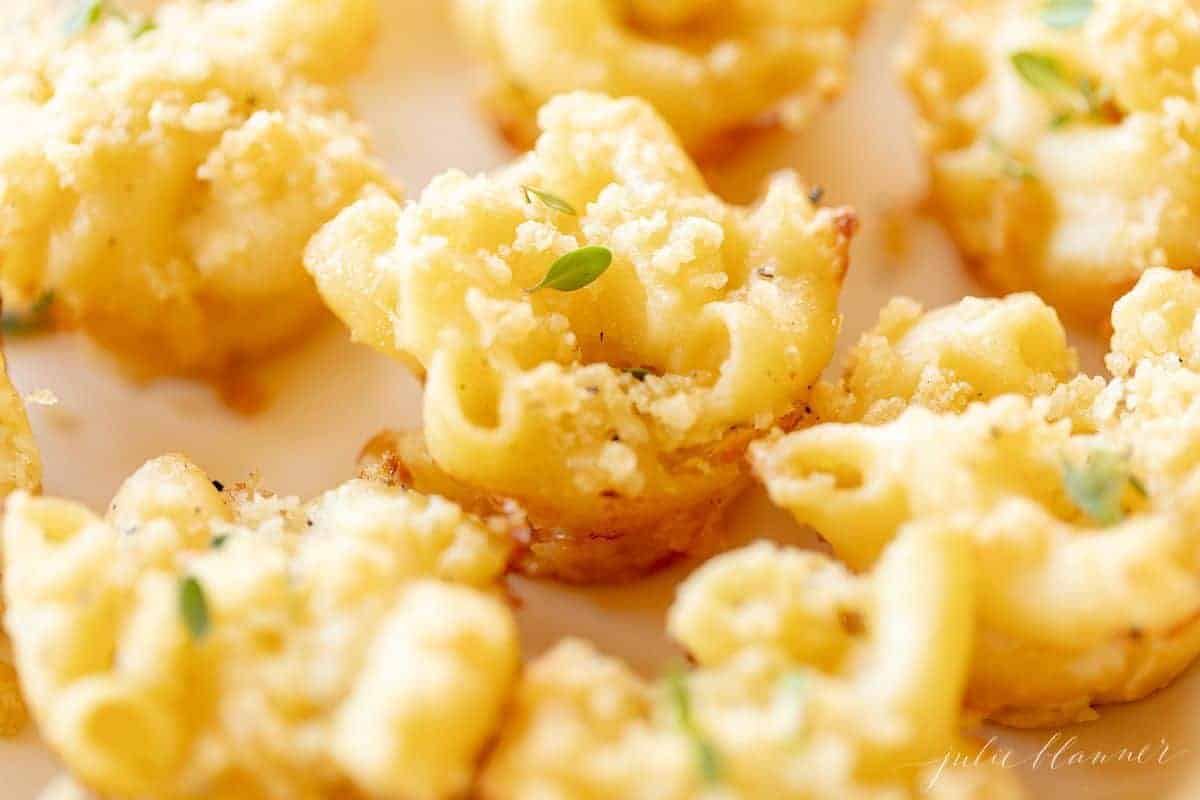 This is the easiest 2 ingredient appetizer that will leave you wanting more! Boursin stuffed mushrooms are the easiest appetizer ever but, based on their flavor and adorable presentation, you're guest will never know!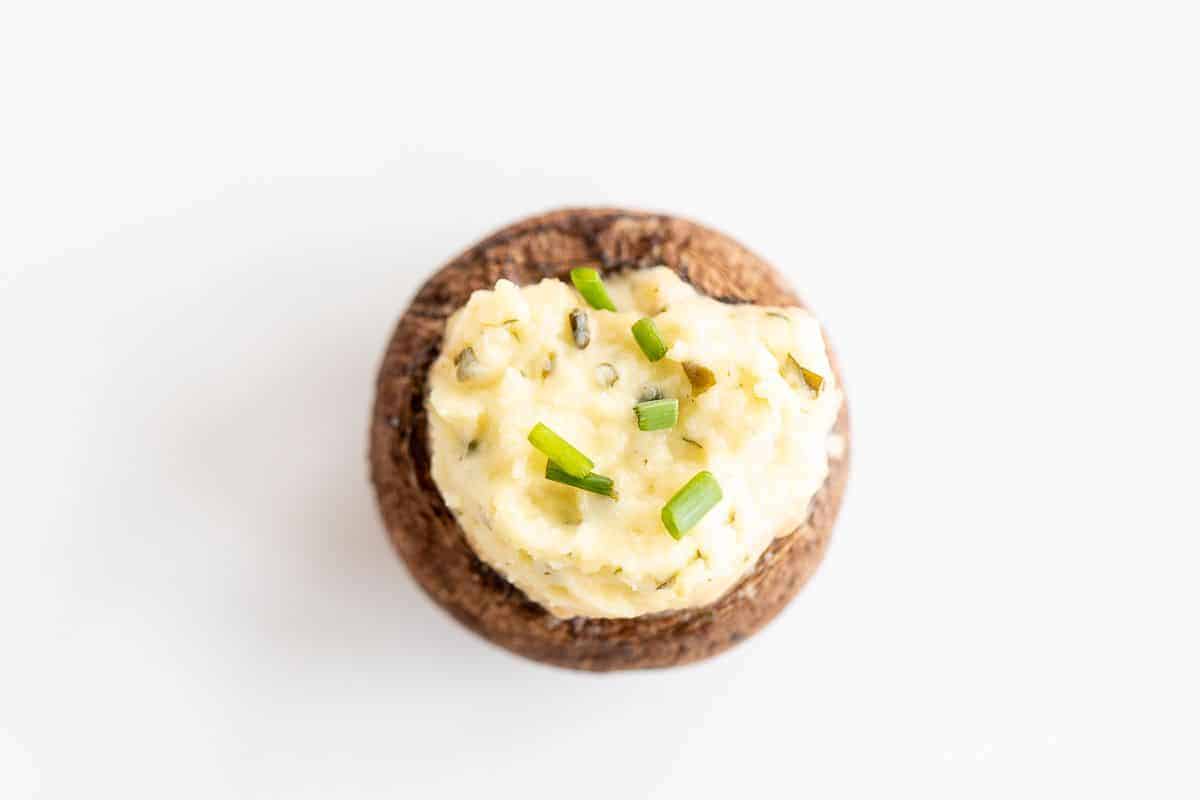 Stuffed mushrooms are always a crowd pleaser. The addition of bacon in these cream cheese stuffed mushrooms gives them a wonderful salty flavor that you just can't get enough of. I dare you to stop with just one!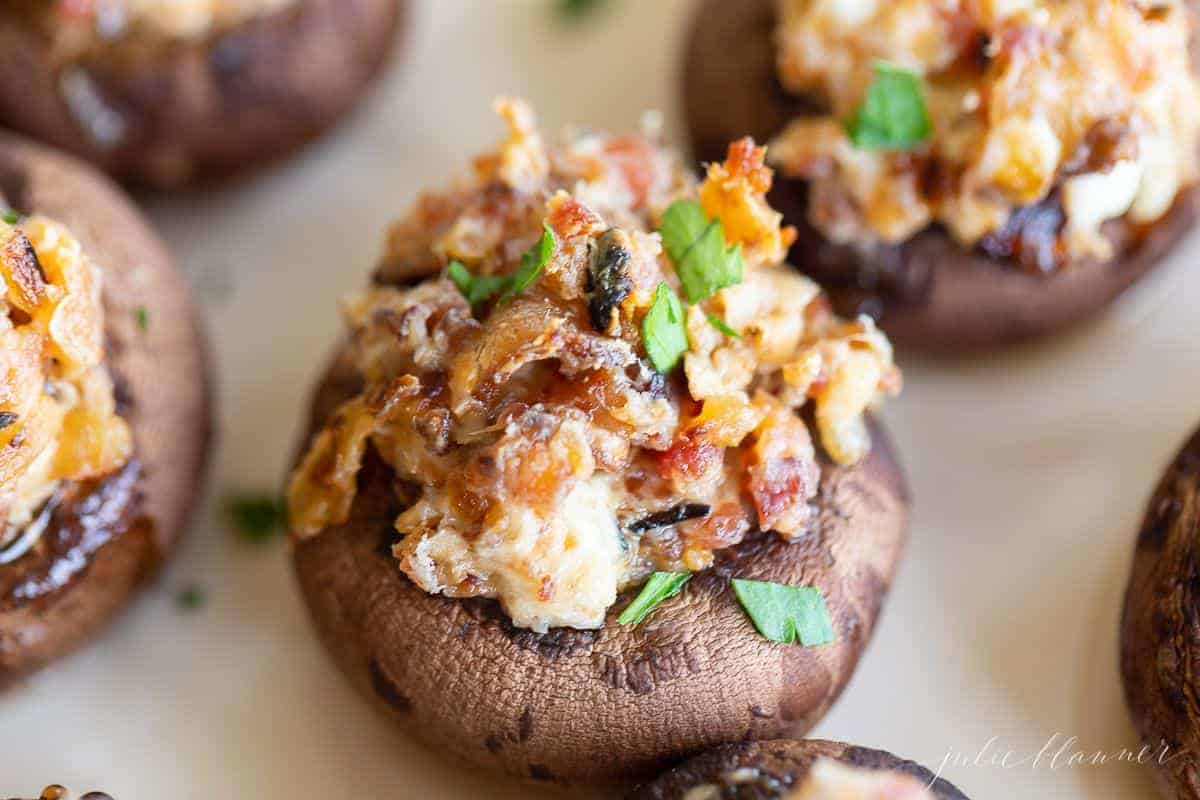 Stuffed Dates Wrapped in Bacon
You can't go wrong with anything wrapped in bacon and these stuffed dates are no exception! They're quick and easy to make – no cooking skills required! Just stuff, wrap, bake and drizzle.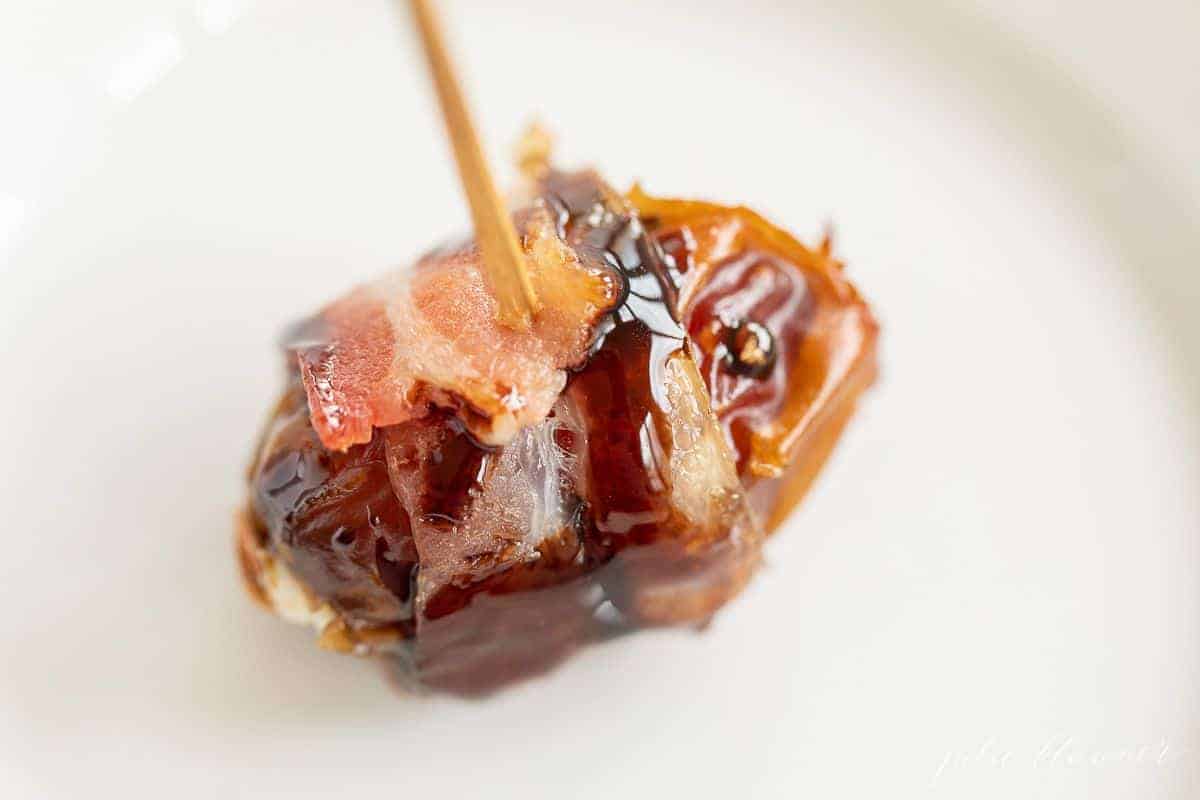 Think bacon on a stick – but in a much more fun and flavorful way! These little caramel bacon bites are everything you want them to be… sweet, smoky, salty and perfectly crisp and chewy. They are the perfect gameday snack!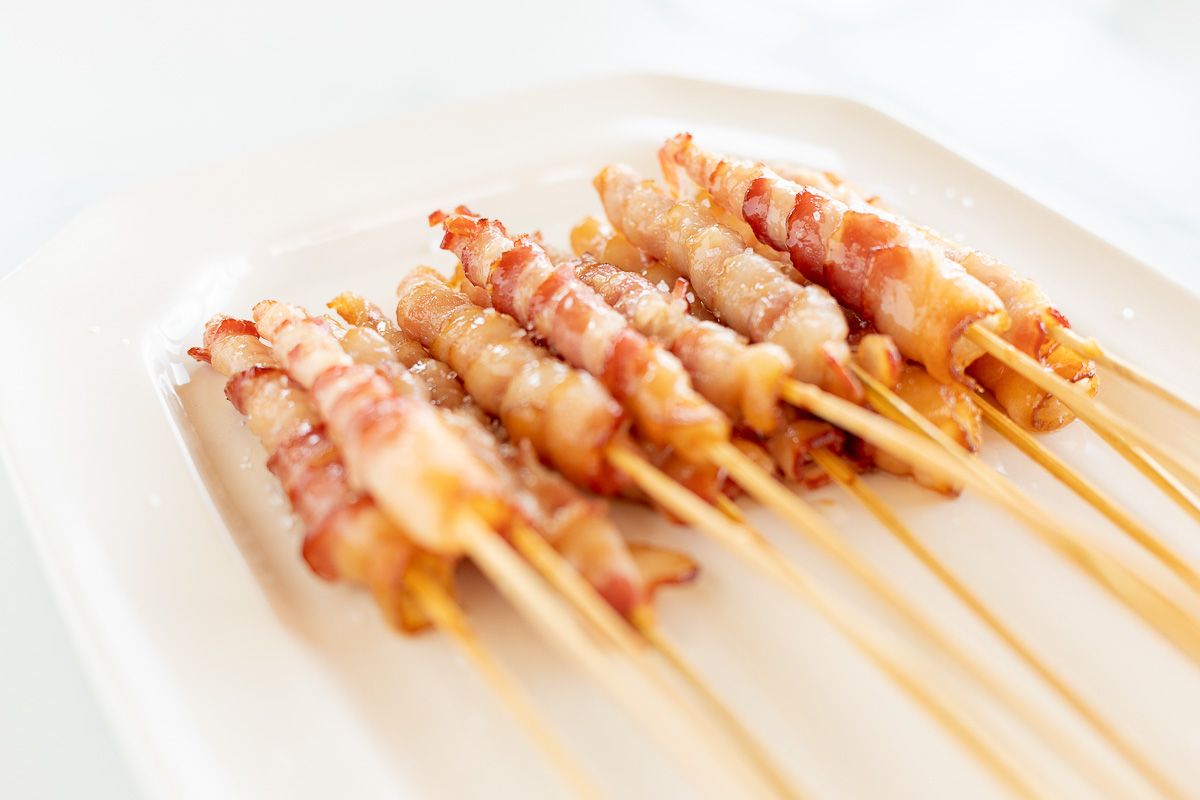 This onion tart recipe makes a great last minute addition to your entertaining menu. Each bite is full of flavor but takes minimal time and effort on your part, thanks to puff pastry!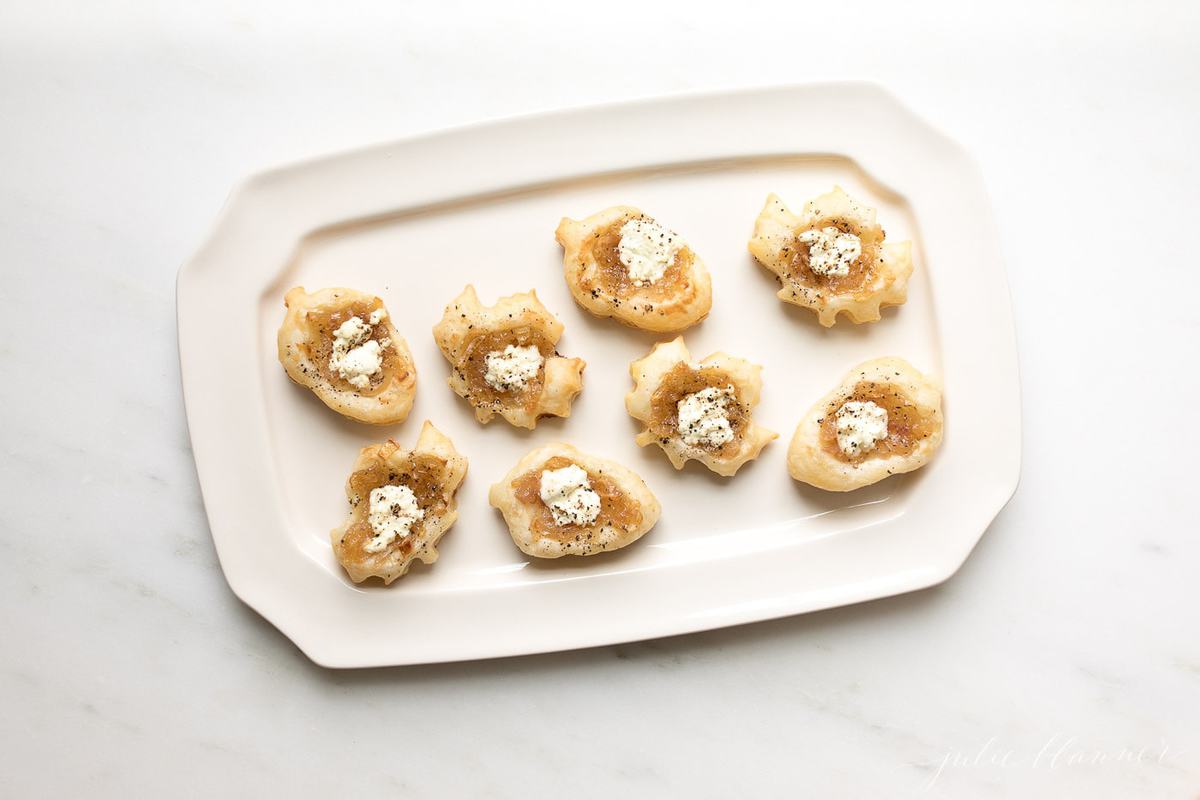 Homemade sweet potato fries are one of our favorite party foods! Learn the secret to making crispy, tasty fries in minutes. Now this is a recipe you don't have to feel guilty about indulging!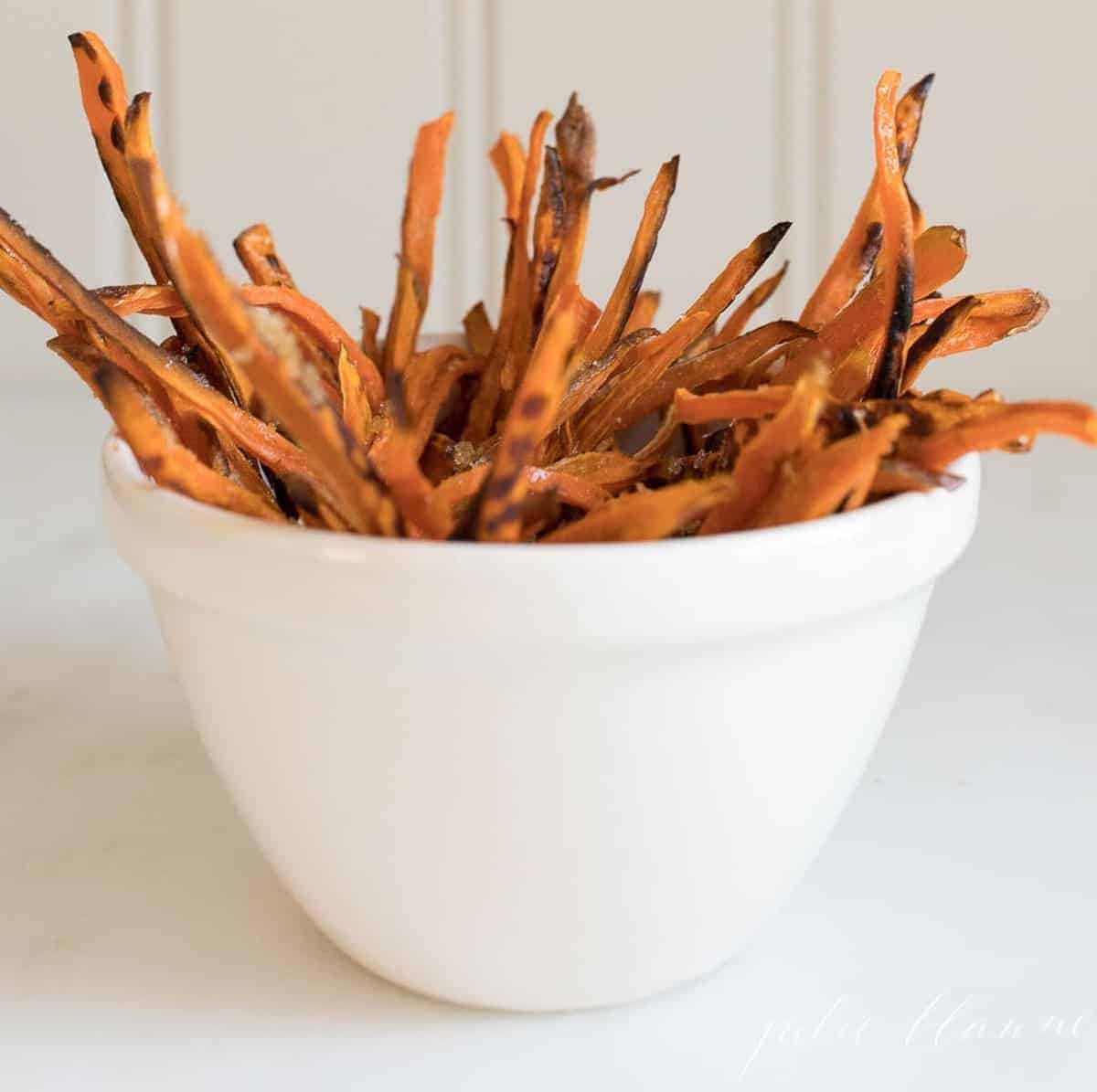 Truffle fries are an irresistible snack you won't be able to stay away from! They are easy to make and add a fun twist to your gameday spread.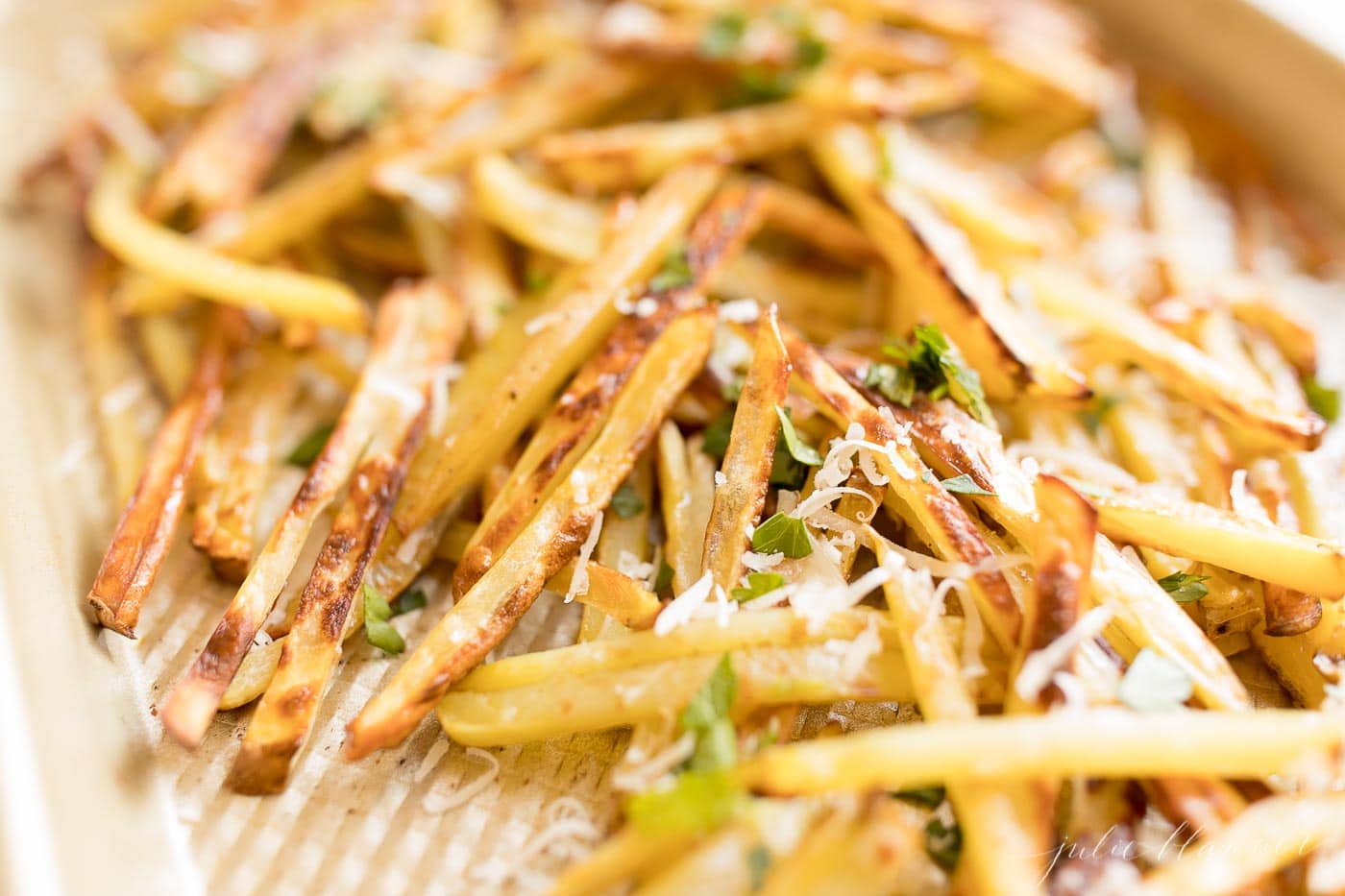 Fun to make, fun to present, and even more fun to eat… I think you're going to love these mini cheeseballs! Customized to fit your palate and occasion, there is no way you can go wrong.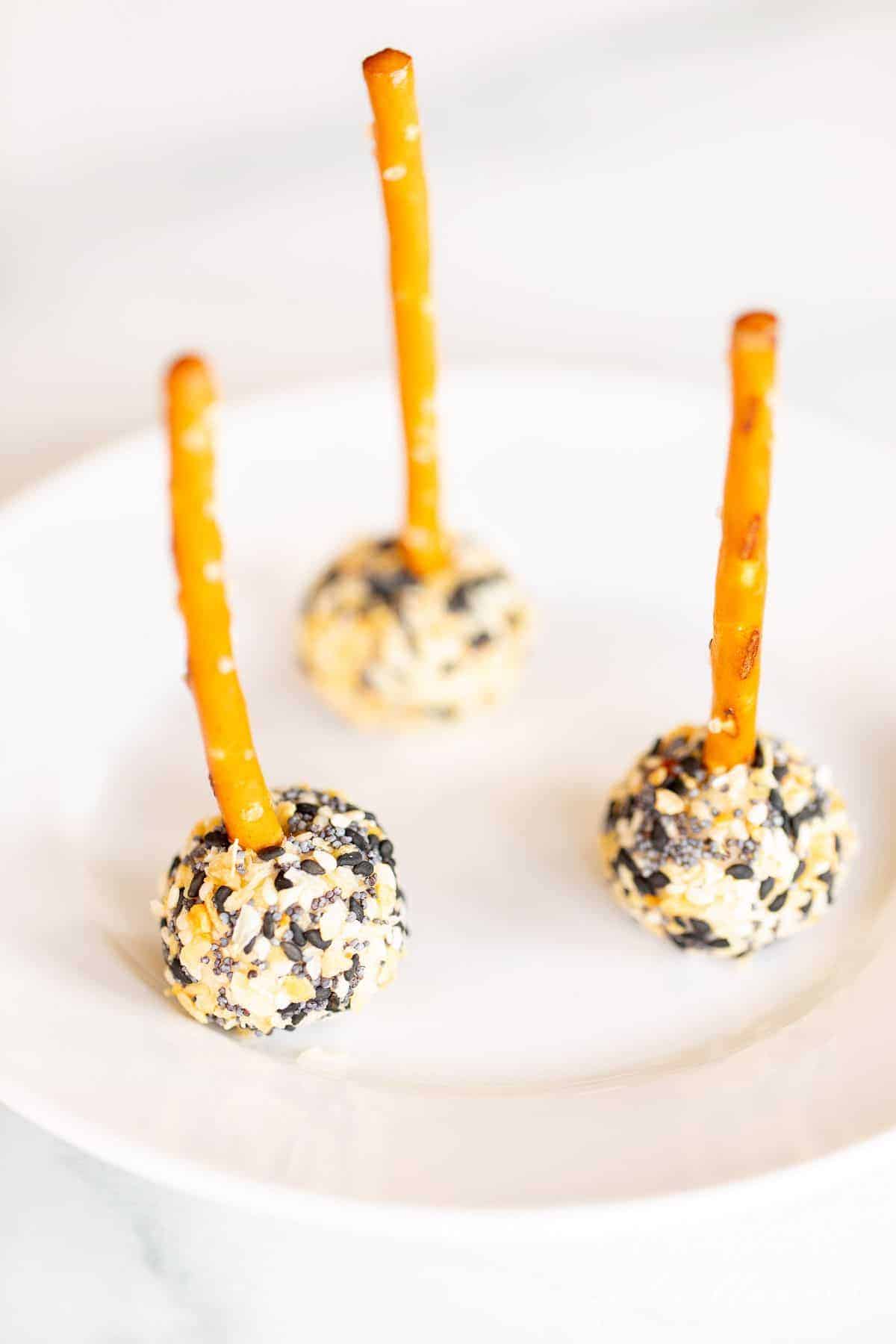 I absolutely love this savory garlic and herb cream cheese recipe and know you will too! It's gluten free, low carb, keto friendly, and just plain good.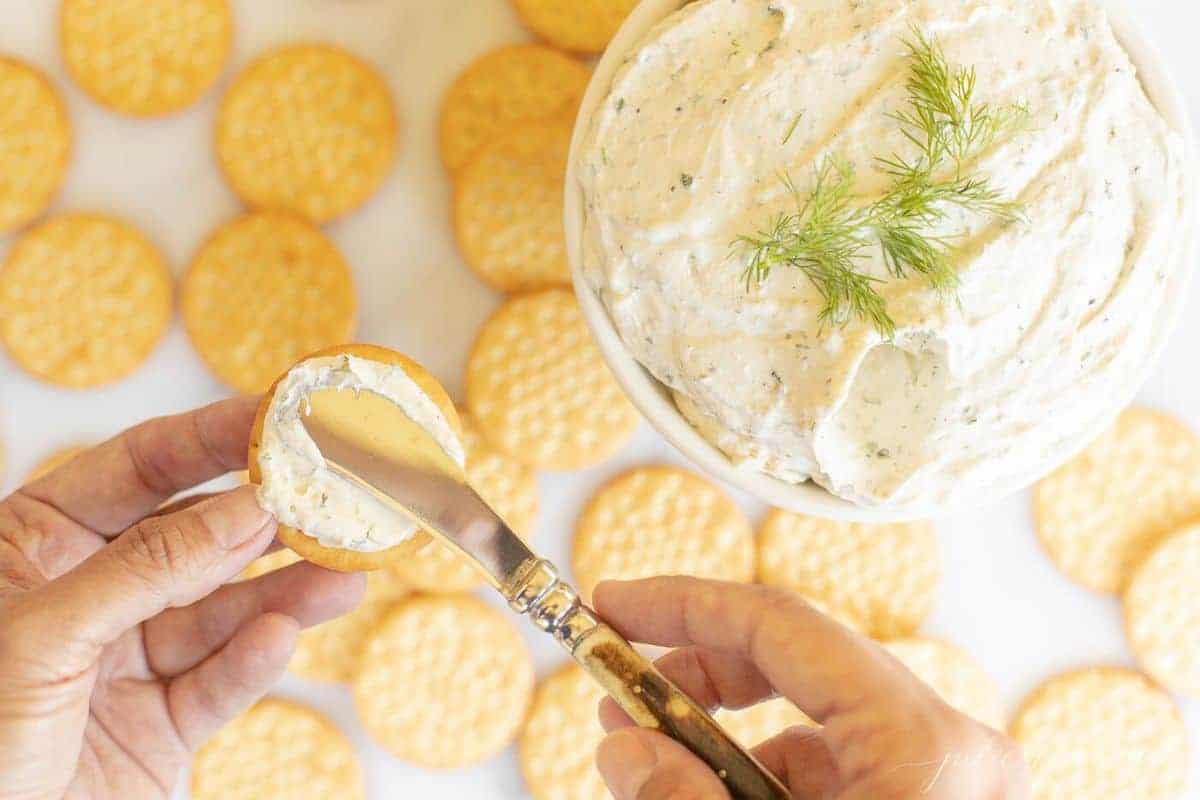 Cheese and crackers doesn't have to be boring! I am sharing my favorite variations to a classic appetizer and gameday favorite for many.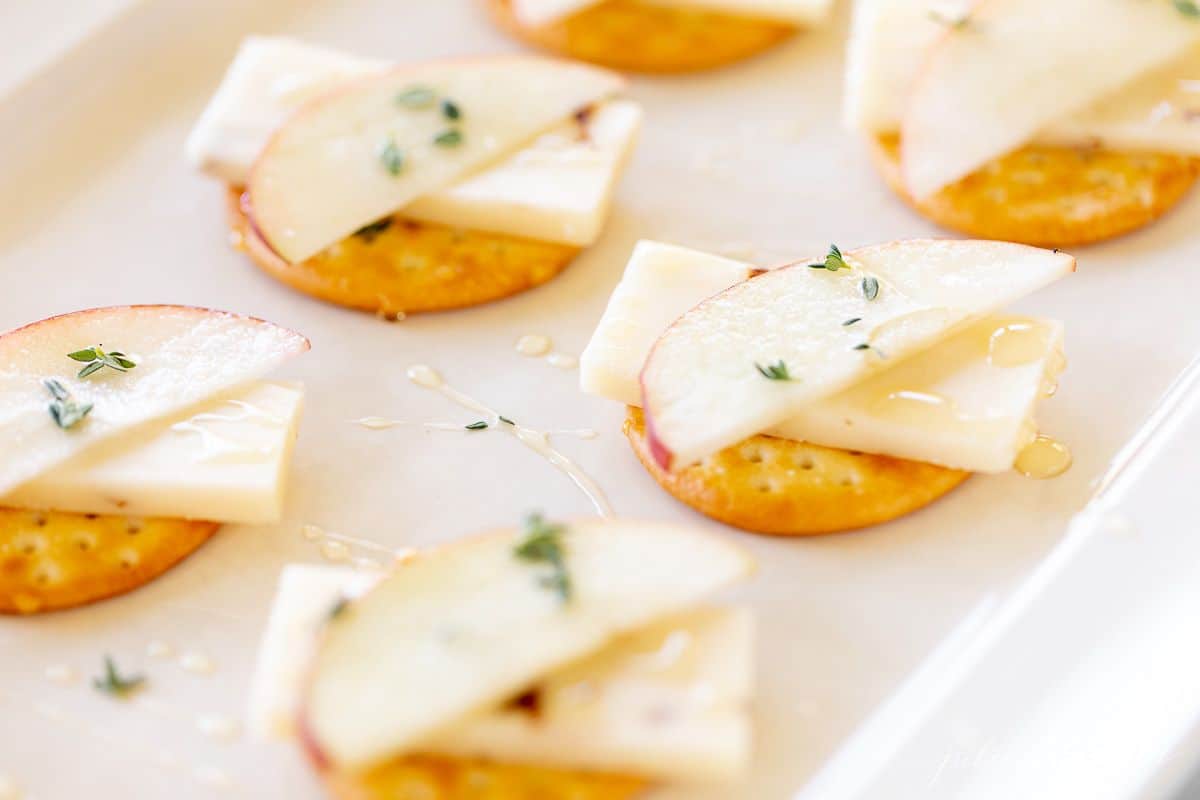 Serve crostini with any dip, spread or topping to fit your needs and flavor preferences. These little toasts are perfect addition to soup or salad – or stand just fine on their own!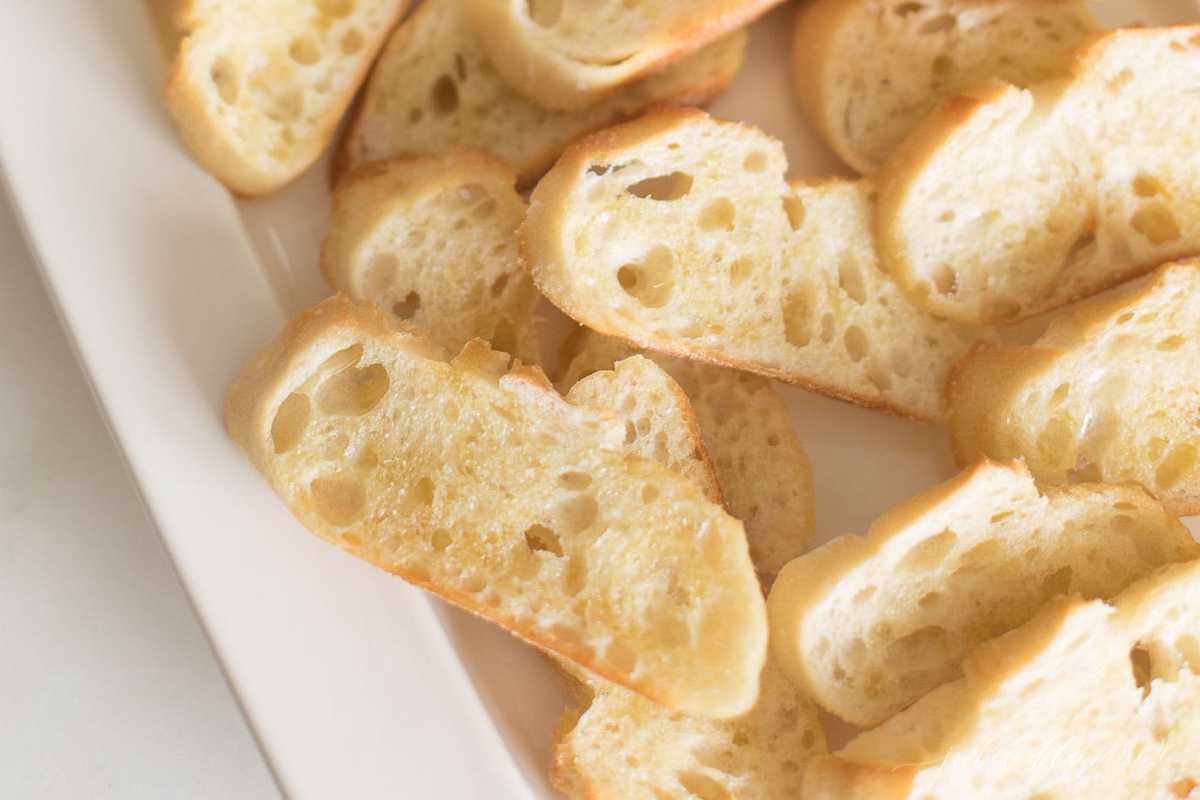 Crispy, sticky, and perfectly salty, these garlic parmesan wings are sure to be the hit of any party! They are the perfect game day food, and they might even put your favorite buffalo sauce to shame.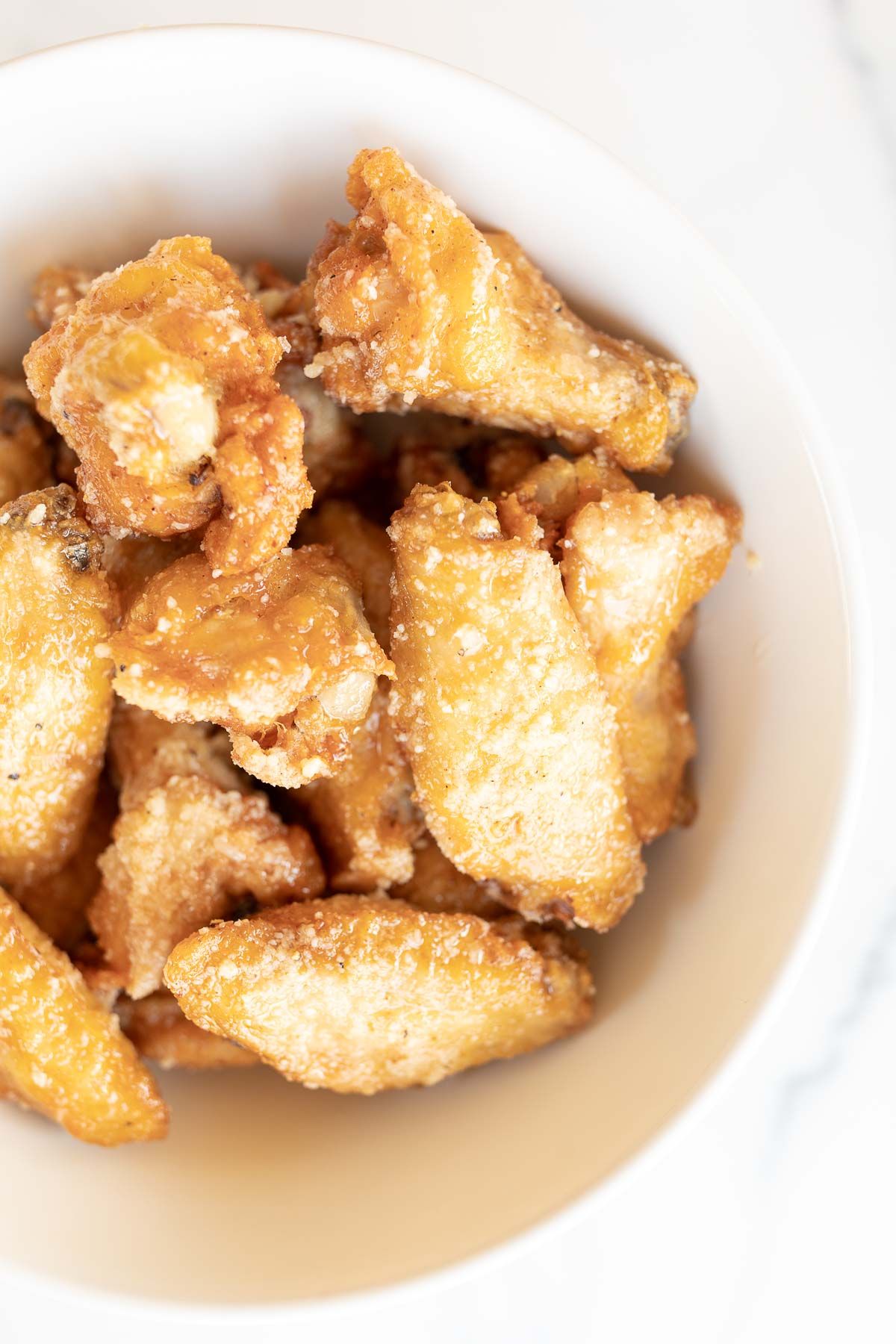 Learn how to make these delicious, crispy onion rings in minutes! They're perfect to snack on while watching the Big Game!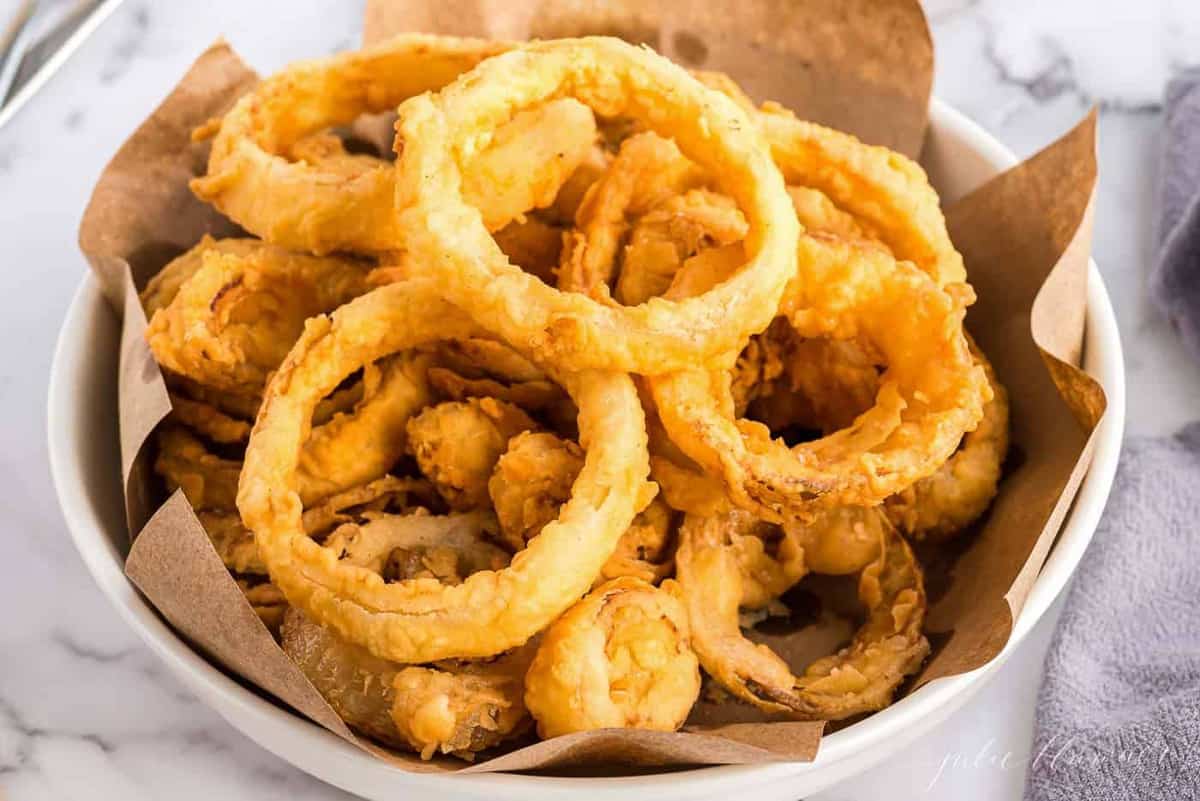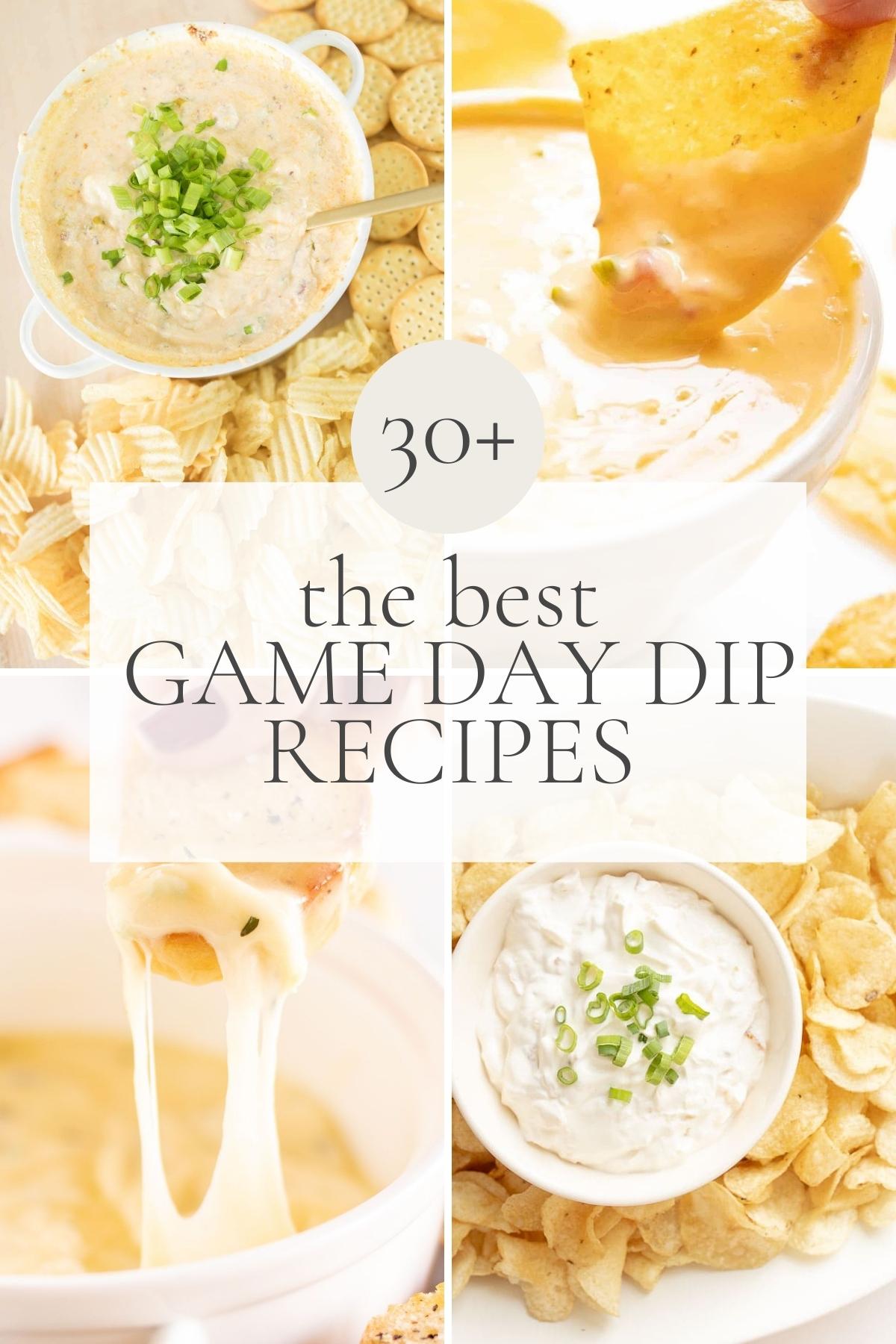 Best Super Bowl Dips
You can easily make a meal on game day dips! These Super Bowl dips are always a touchdown!
Spice it up a notch with these creamy and flavor-filled jalapeno dip! With the perfect amount of heat, this recipe is always a crowd pleaser. Serve hot with your favorite chips or veggies.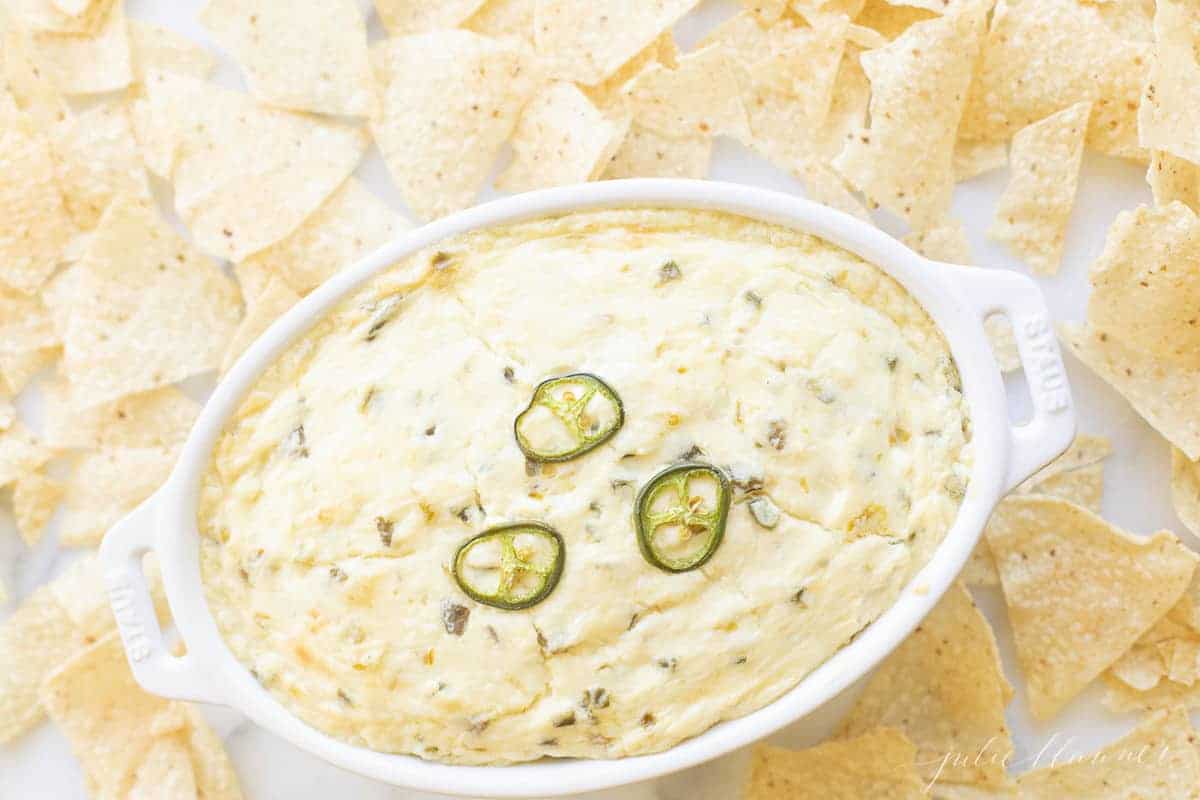 Bacon cheese dip is the perfect Super Bowl appetizer. This quick and easy dip has become an entertaining staple at our house. One bite and I'm sure you'll see why!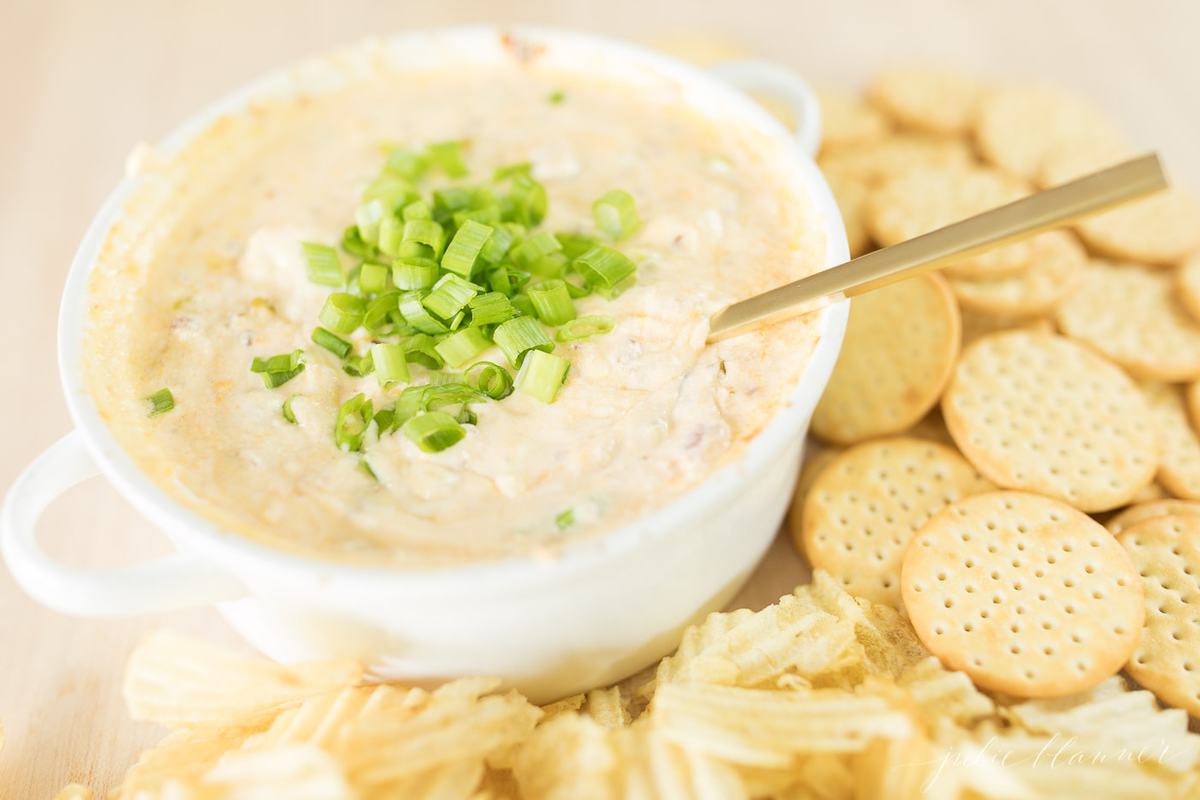 If you're searching for the ultimate crowd-pleasing vegetable dip recipe, I promise this one is it! It's so good I crave eating veggies!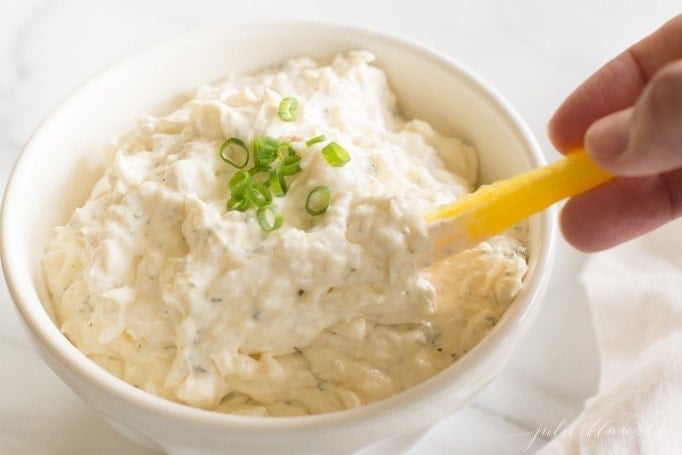 Full of nutrients and bursting with flavor, this cannellini bean dip is creamy, delicious and good for you, too! One bite and you'll never look at store bought hummus the same.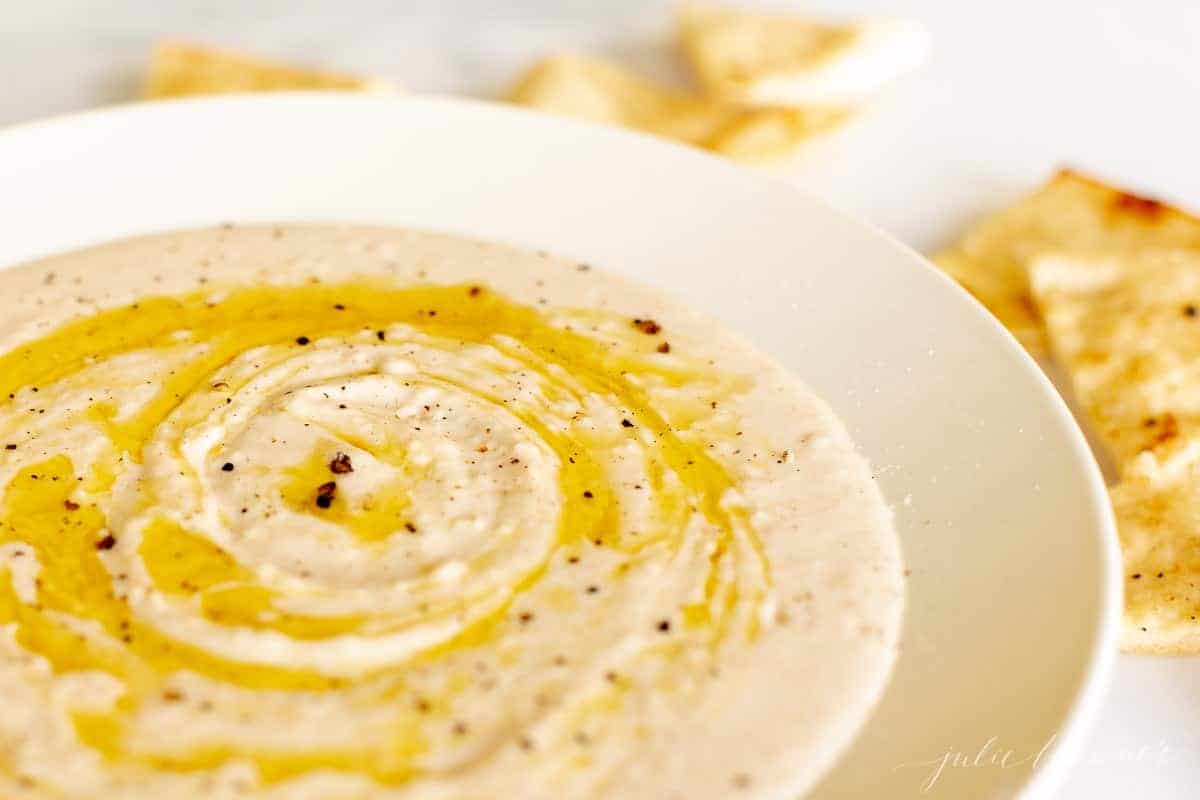 This French onion dip stands above the rest! Each bite is packed full of incredible flavor and will have your guests begging for more.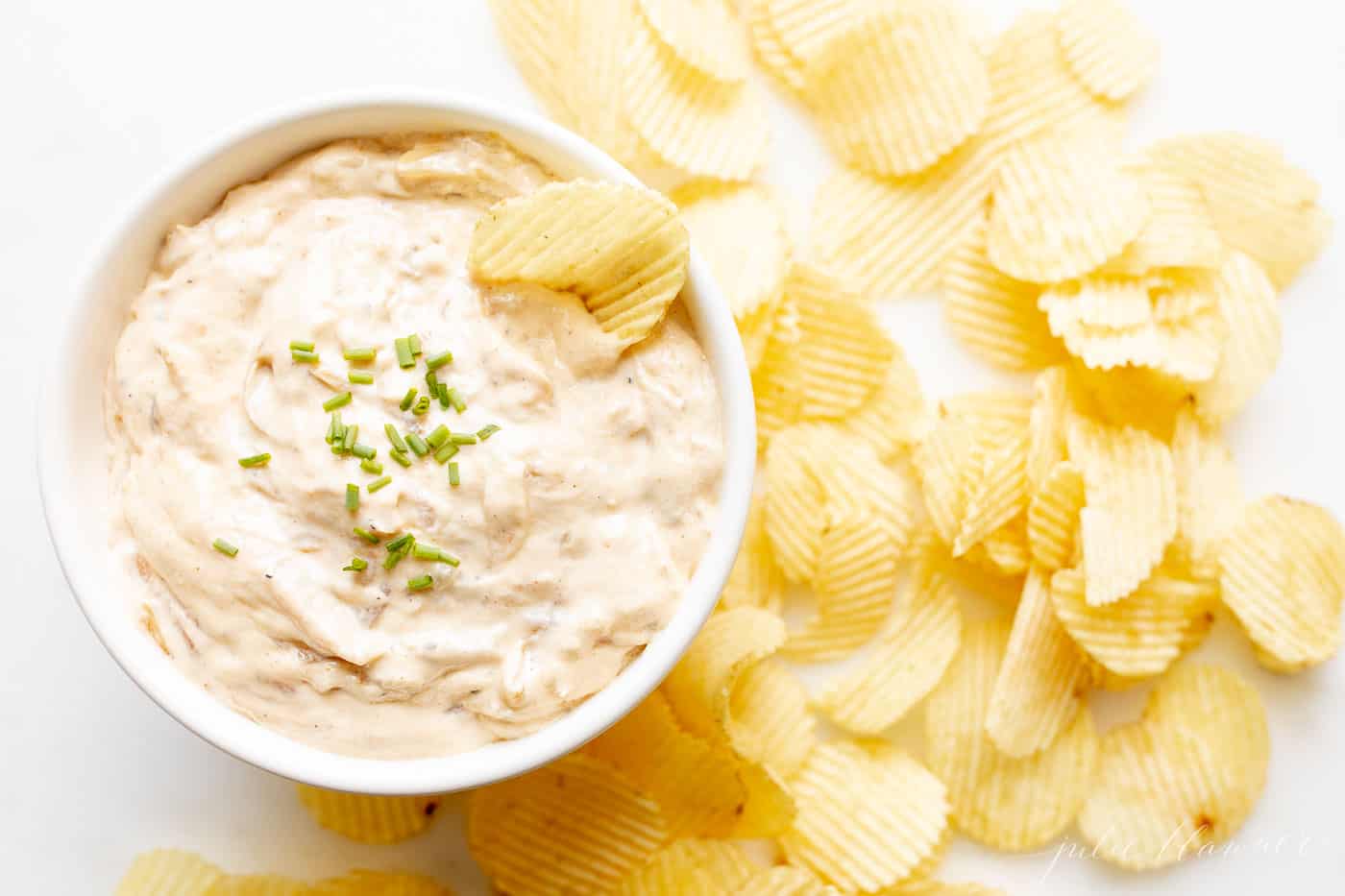 This blue cheese dip is so simple and easy it is almost too good to be true! Made with just 5 ingredients and ready in just 5 minutes, you'll be hooked in no time.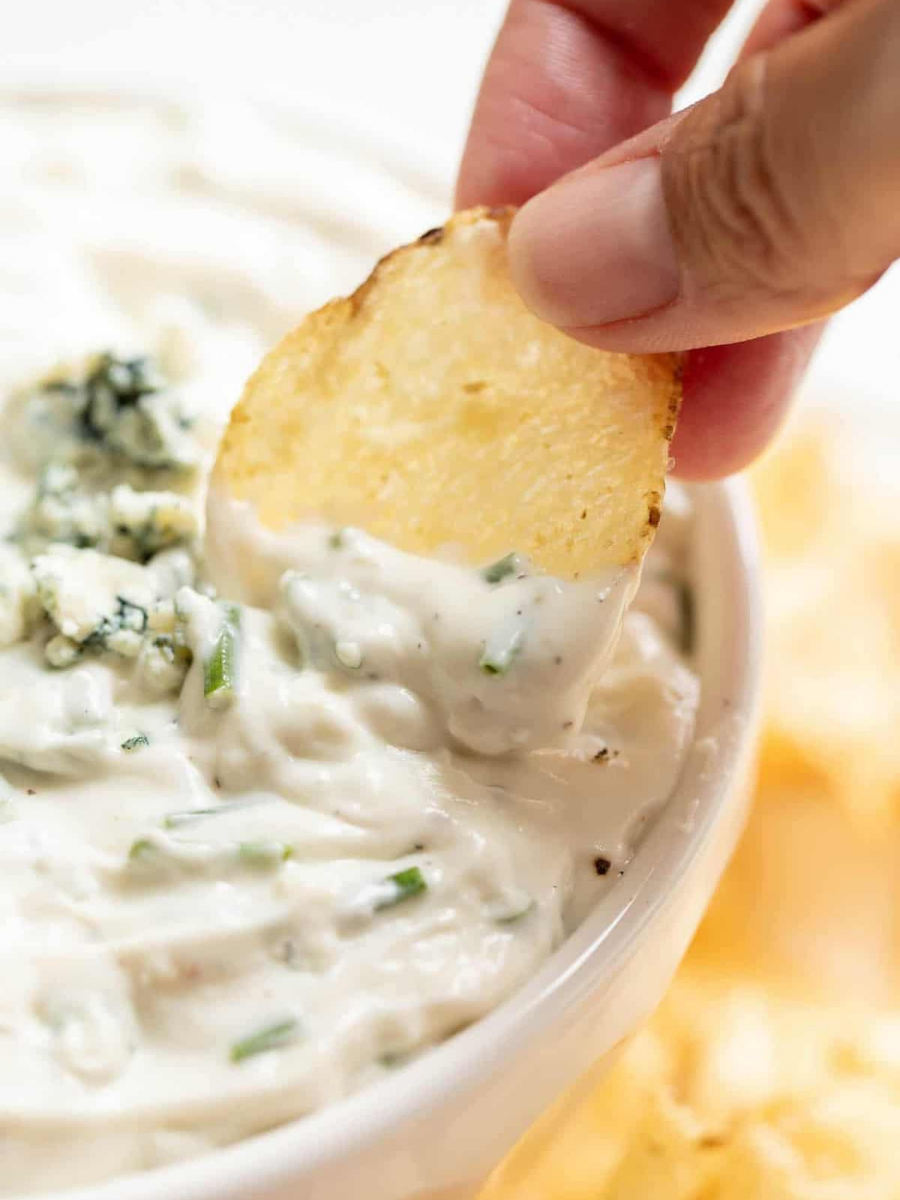 It's such a great appetizer or snack and easy to serve. Even better, it's always a crowd pleaser. This Velveeta Cheese Dip is so creamy – with a twist!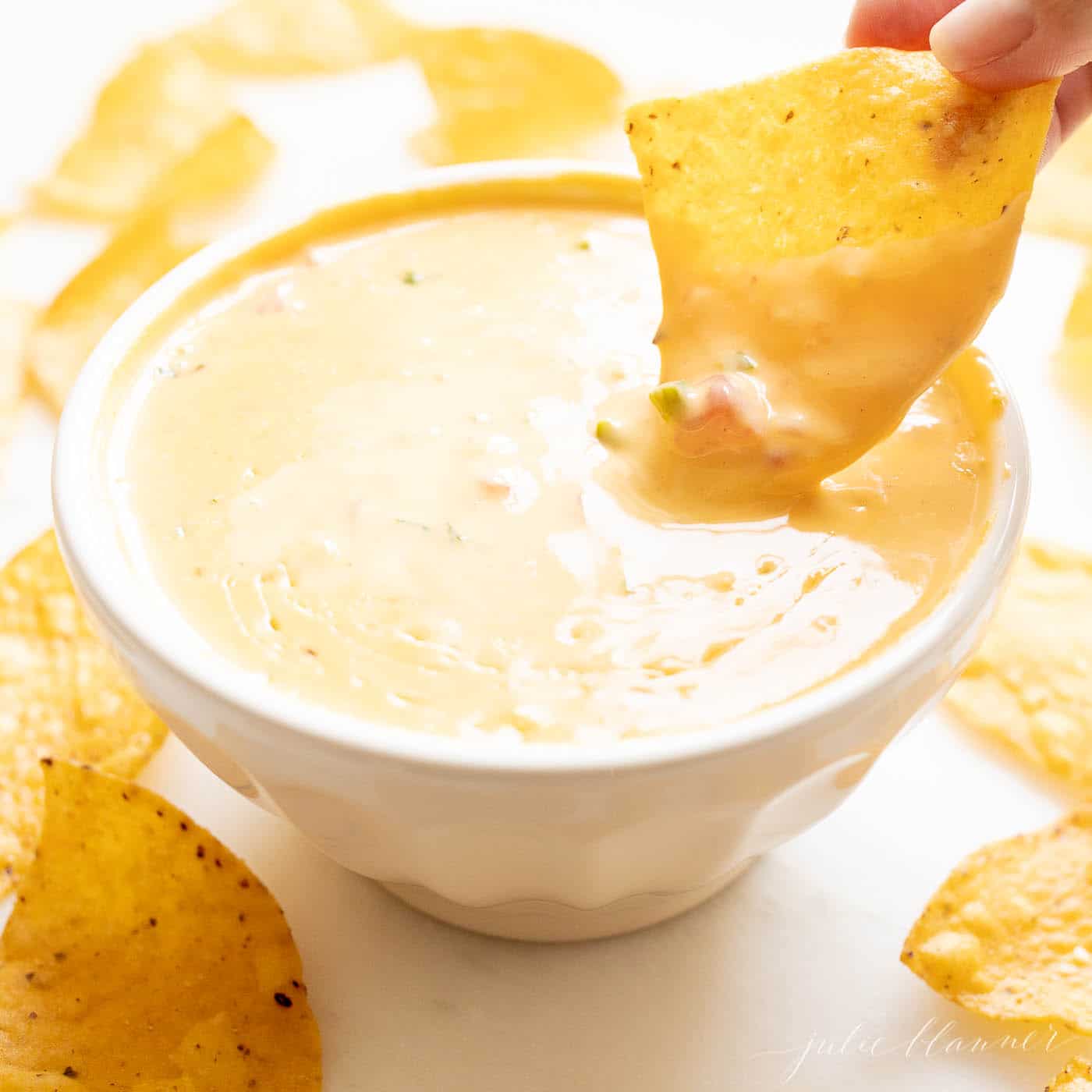 I love this quick and easy cream cheese bean dip! Not only does it taste delicious, but the presentation is impressive as well.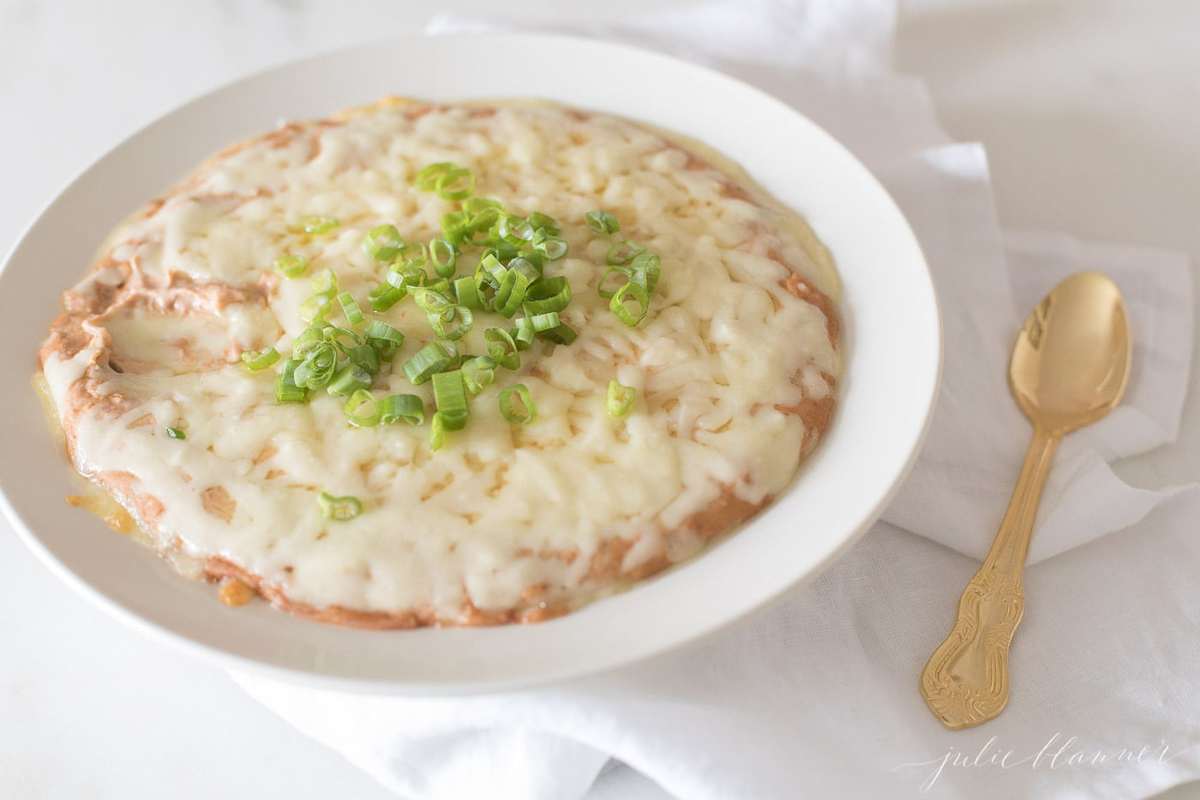 I absolutely crave a creamy spinach dip! There's nothing better on gameday. If you are lucky enough to take any home, this dips always warms up great and is awesome for leftovers. Dip away!
Skip the mix and make this incredible Sour Cream Dip! It's quick and easy and requires just 3 simple ingredients. With just one bite you'll ditch store bought dips forever!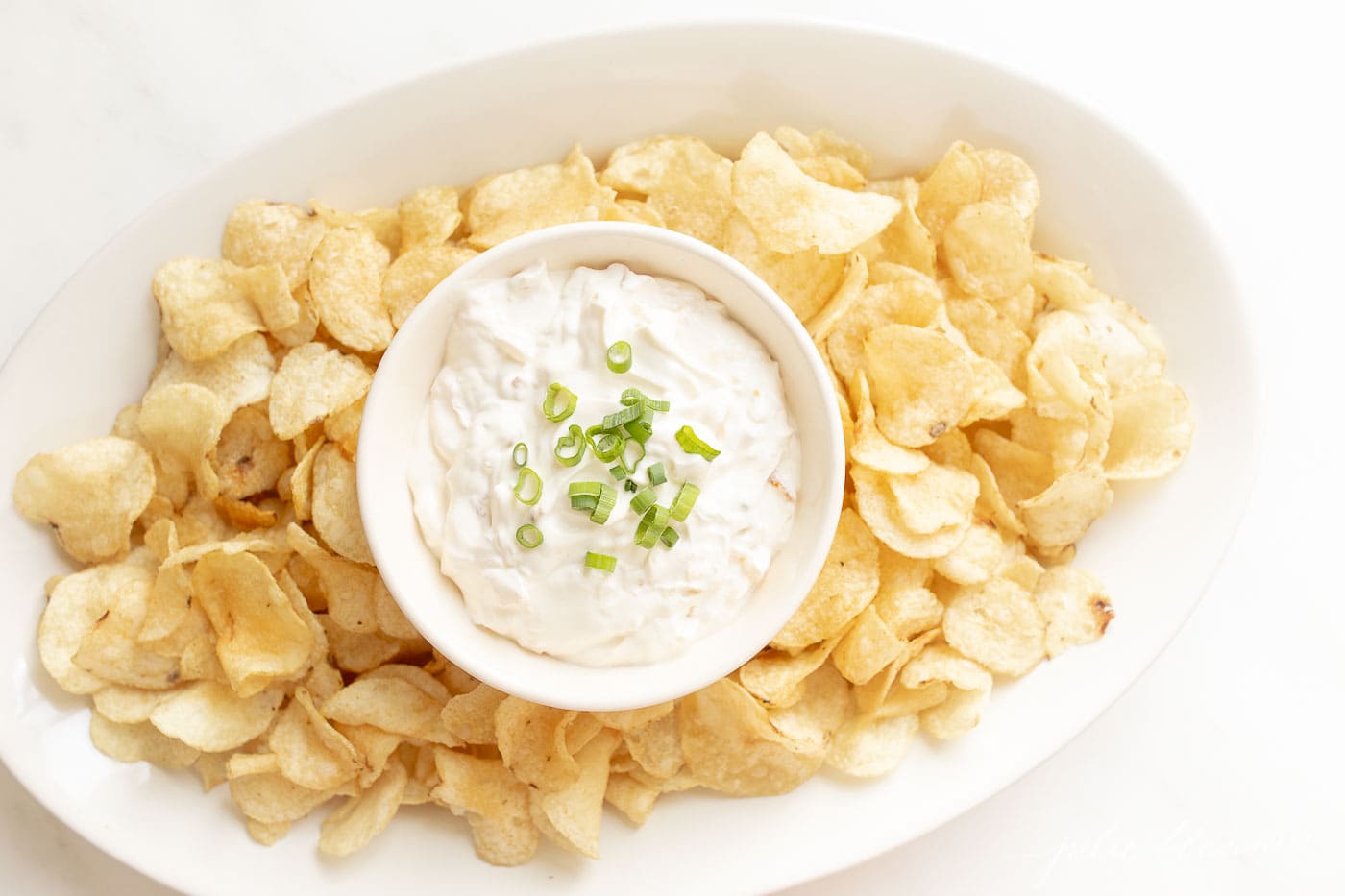 Quick and easy pesto cheese dip is the ultimate Super Bowl appetizer! Full of flavor, you can serve this as a hot dip or make it ahead of time, making it just as easy as it is delicious.
This is a classic Mexican Layer Dip that is seasoned to perfection! This homemade dip is the ultimate party food and will leave you hungry for more.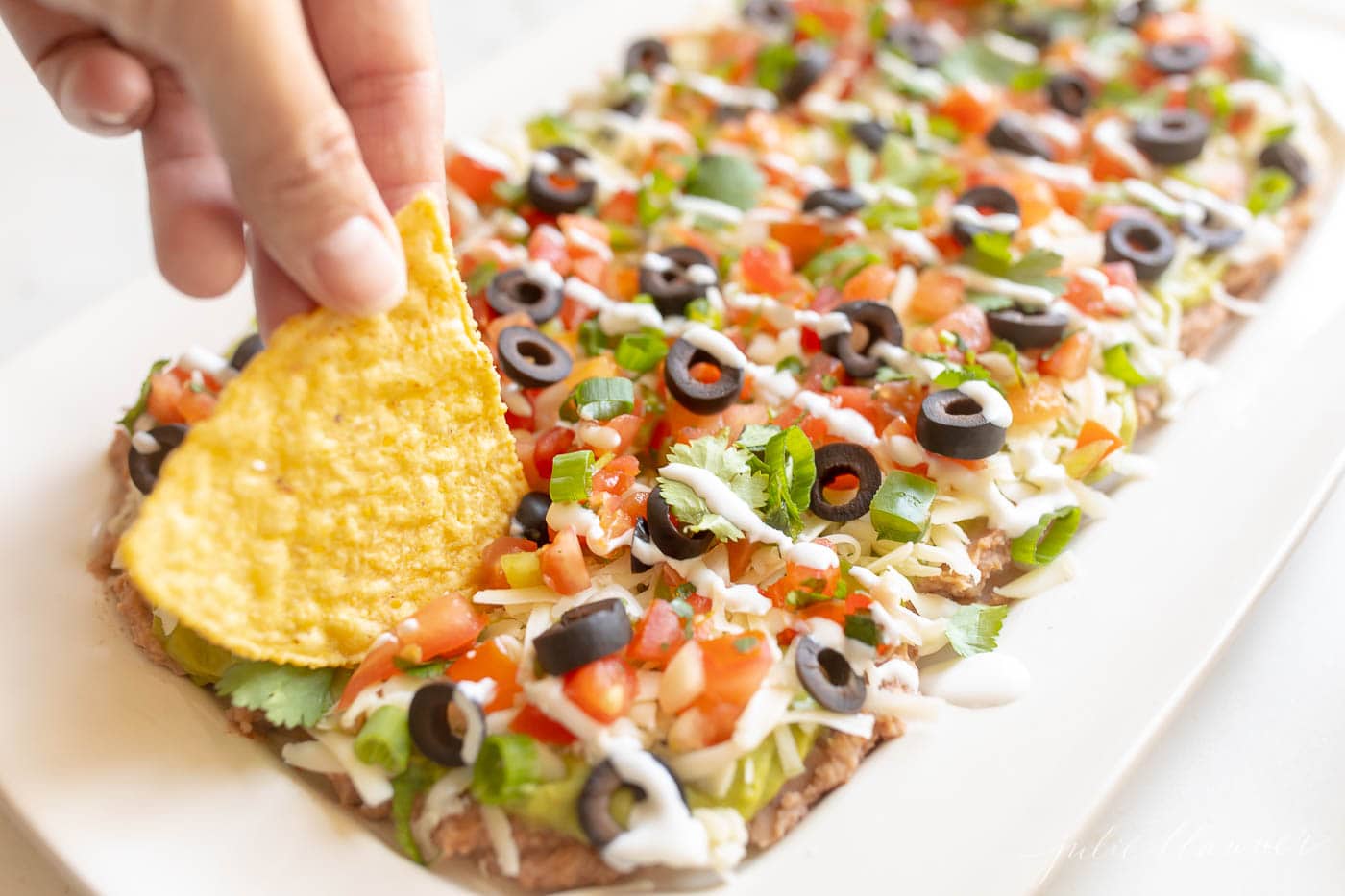 Careful, this caramelized shallot dip is addicting! One bite and you'll be hooked! It's delicious with raw vegetables and makes a great spread for crackers.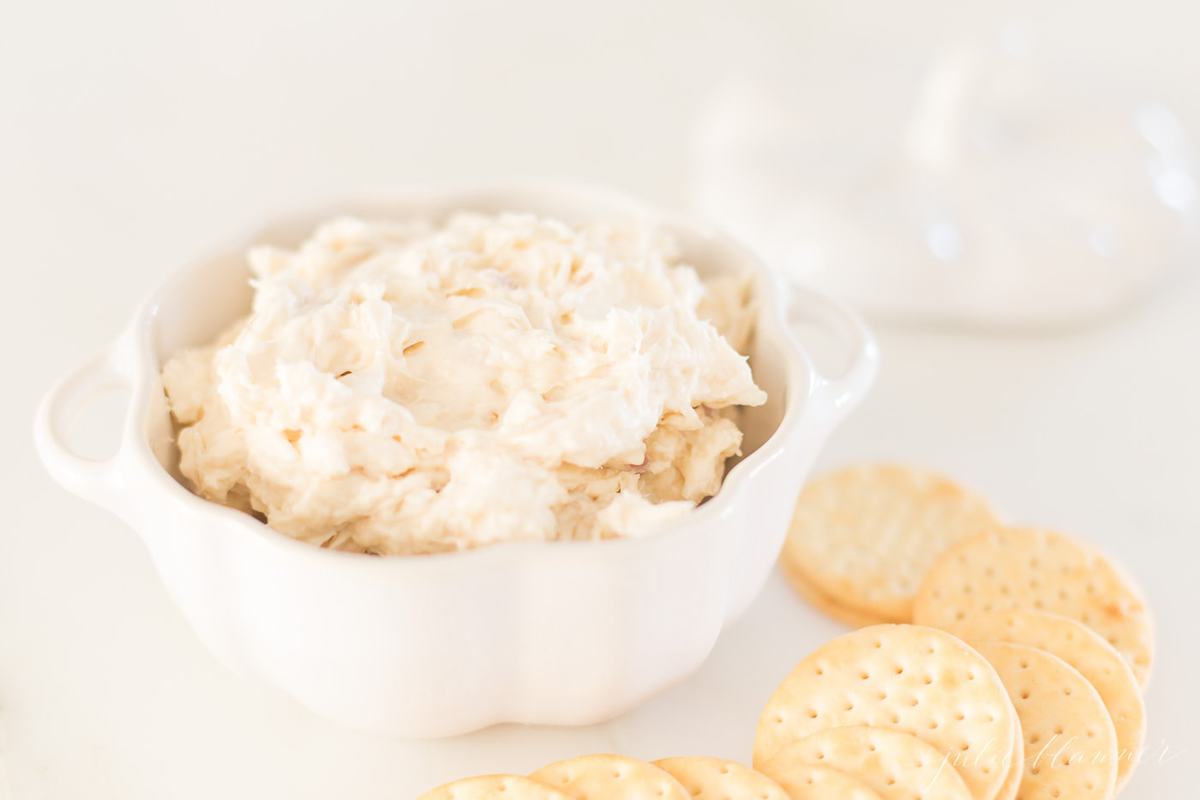 This creamy dip recipe is an easy make-ahead appetizer. I can just about make a meal out of this savory spread – and I'll bet you could too!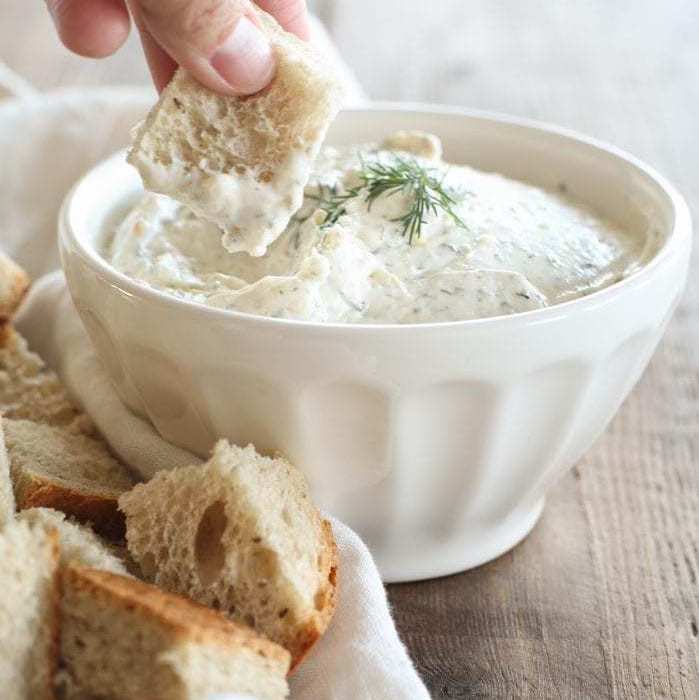 Try this easy authentic Mexican recipe you can make in minutes. Queso is my guilty pleasure. I cannot resist a dip! It's so creamy and full of flavor. Give it a try and you'll see why!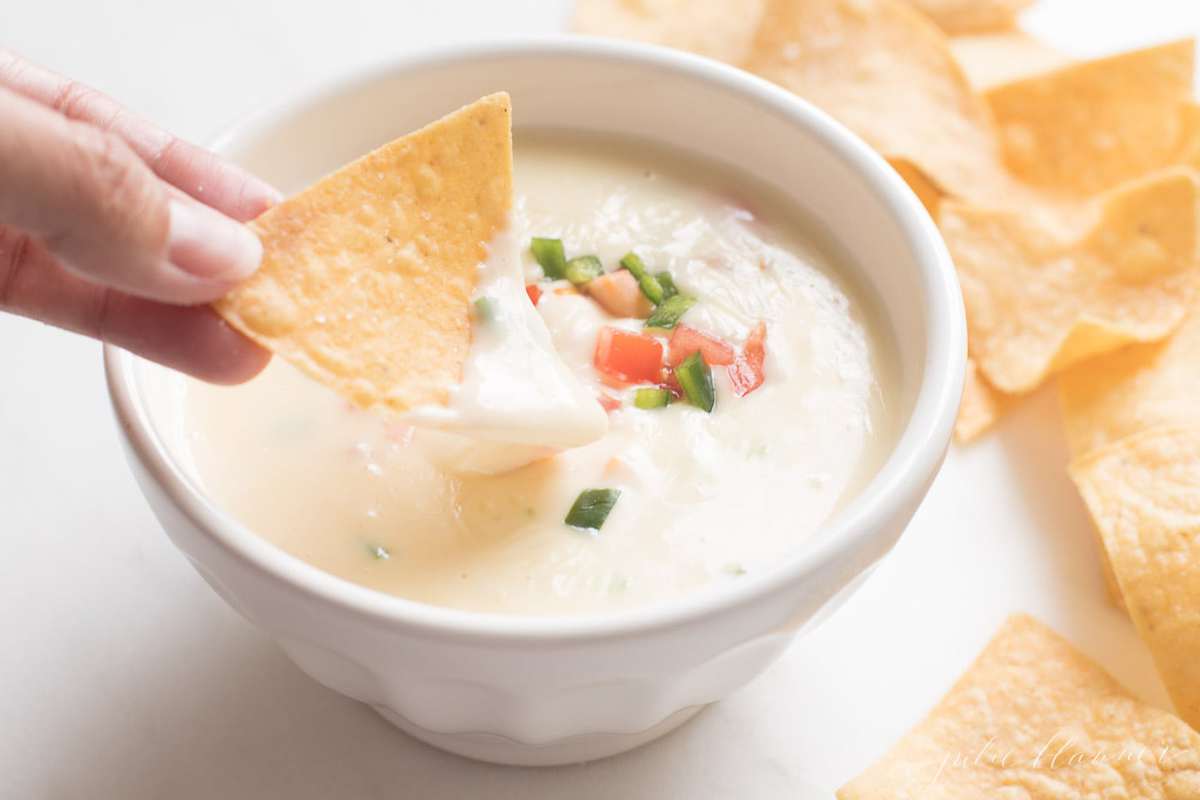 This easy hot cheese garlic dip recipe takes just 10 minute start to finish! It is the best dip to serve when entertaining and watching the Big Game. It's decadent and delicious!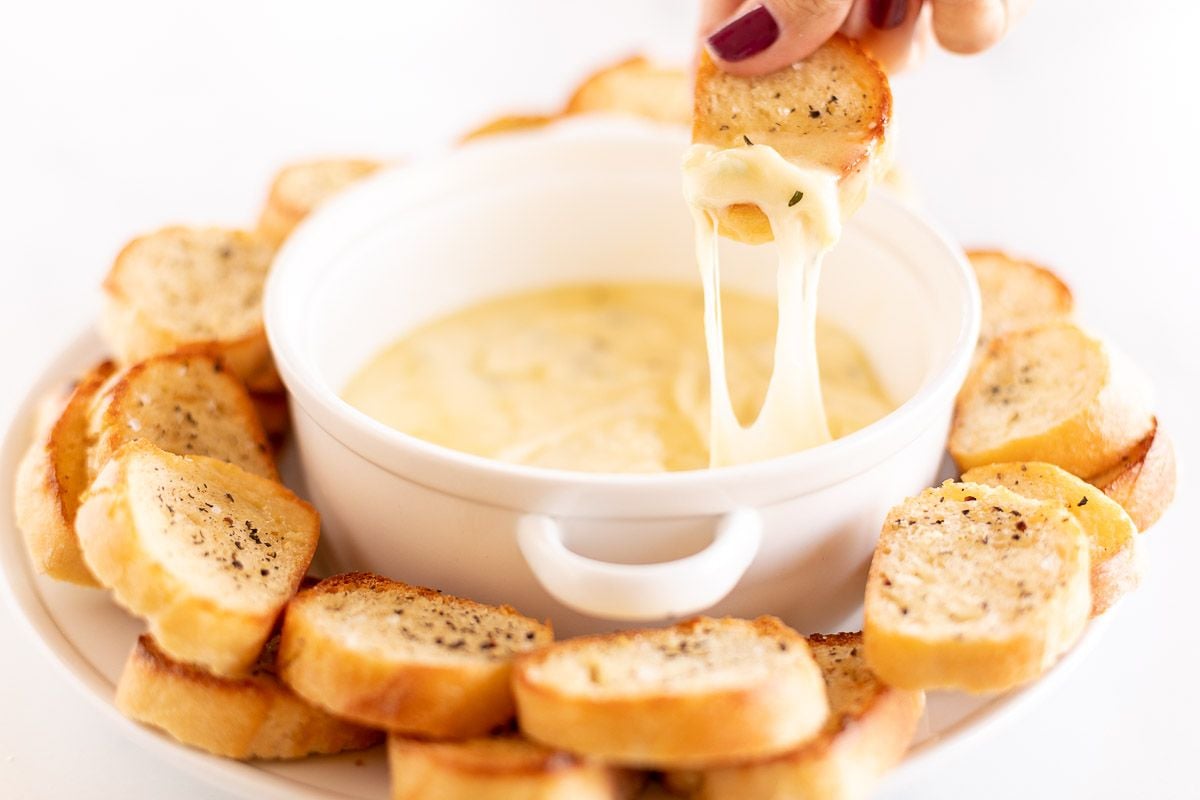 I'm sharing my secret for making the best guac ever! With just a few classic ingredients, you are sure to love this fresh and flavorful dish.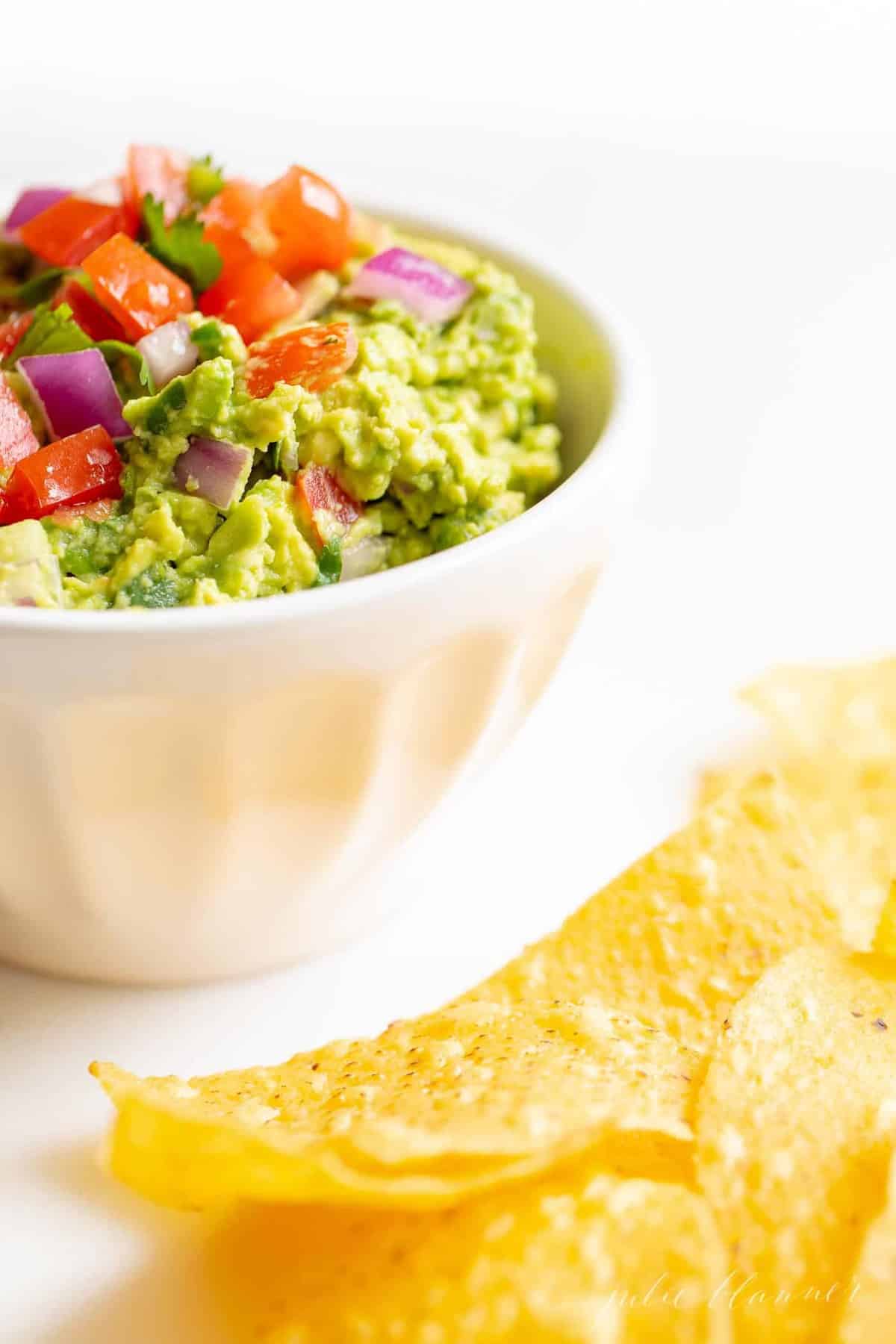 This chipotle corn salsa is mostly sweet – with a little heat! It's the perfect medium salsa to enjoy as a dip or on all your favorite Mexican and Tex Mex recipes. Serve with chips and you're all set for gameday.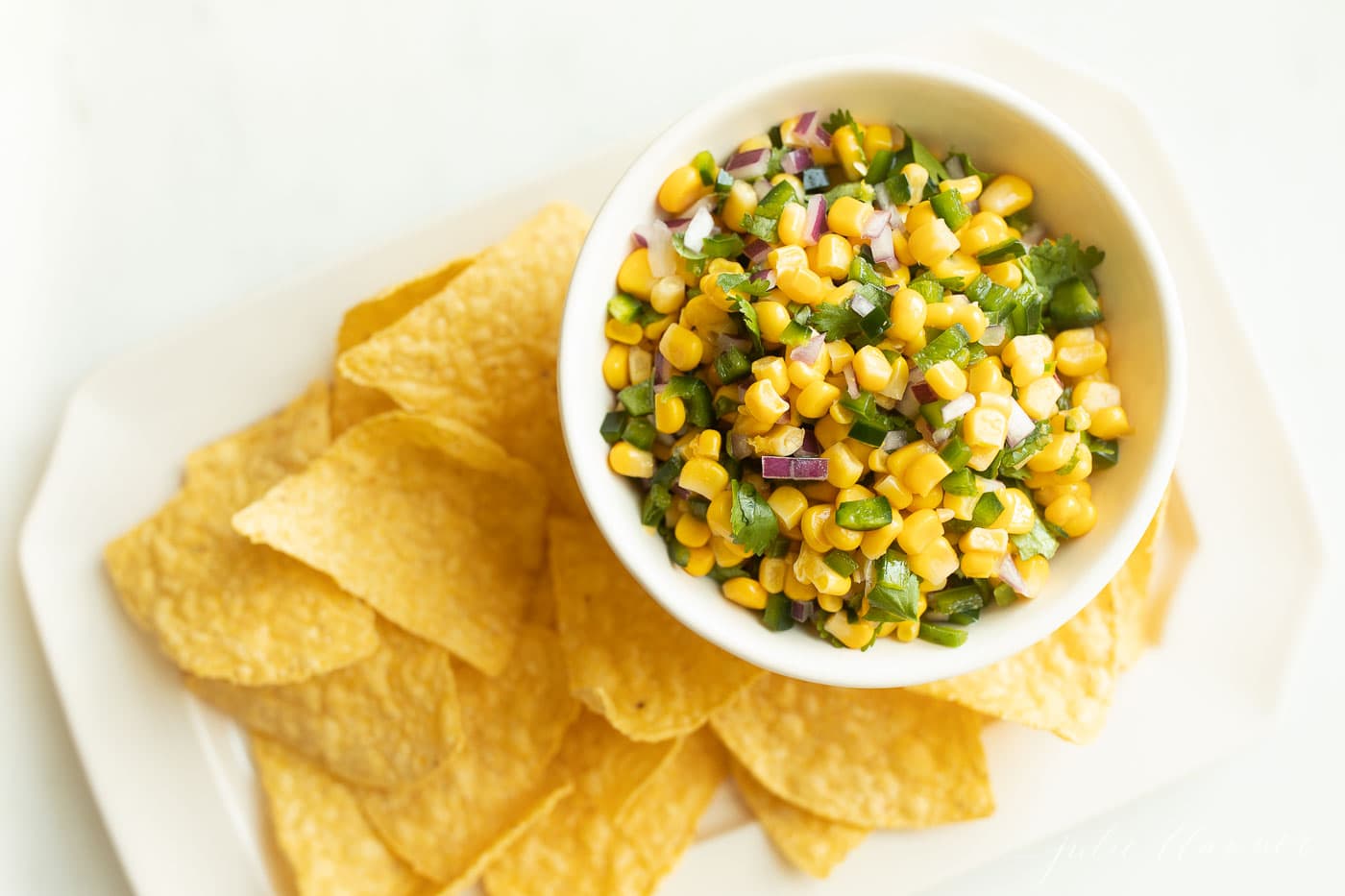 Salsa guacamole is my take on homemade salsa verde + fresh mixed guacamole! It is a flavorful blend you won't want to miss. Definitely deserving of a spot on your gameday menu.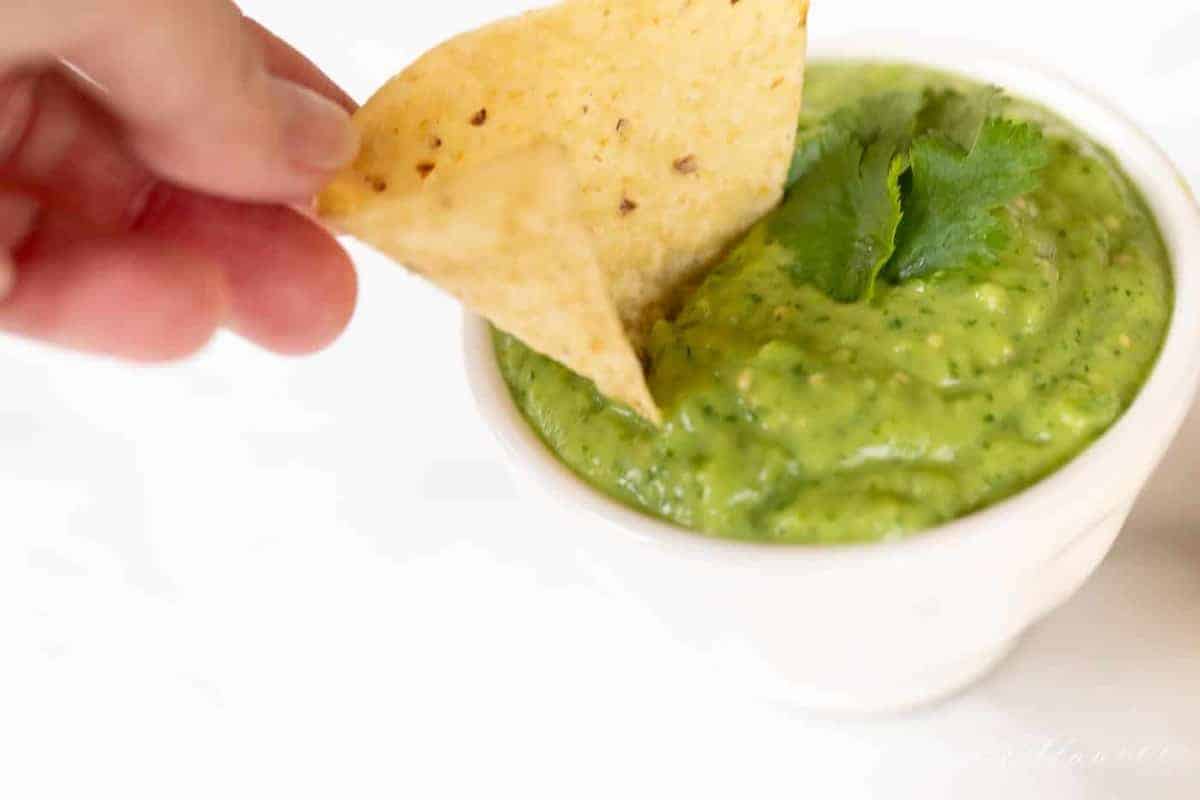 This pineapple salsa recipe is the most delicious combination of sweet and spicy flavors. It's an explosion of flavor that is truly irresistible! Trust me, it tastes even better than it looks!
Watermelon fruit salsa is a fresh and easy dip, perfect for adding some color and festive flavor to your appetizer spread. Try serving with cinnamon chips for a sweet treat!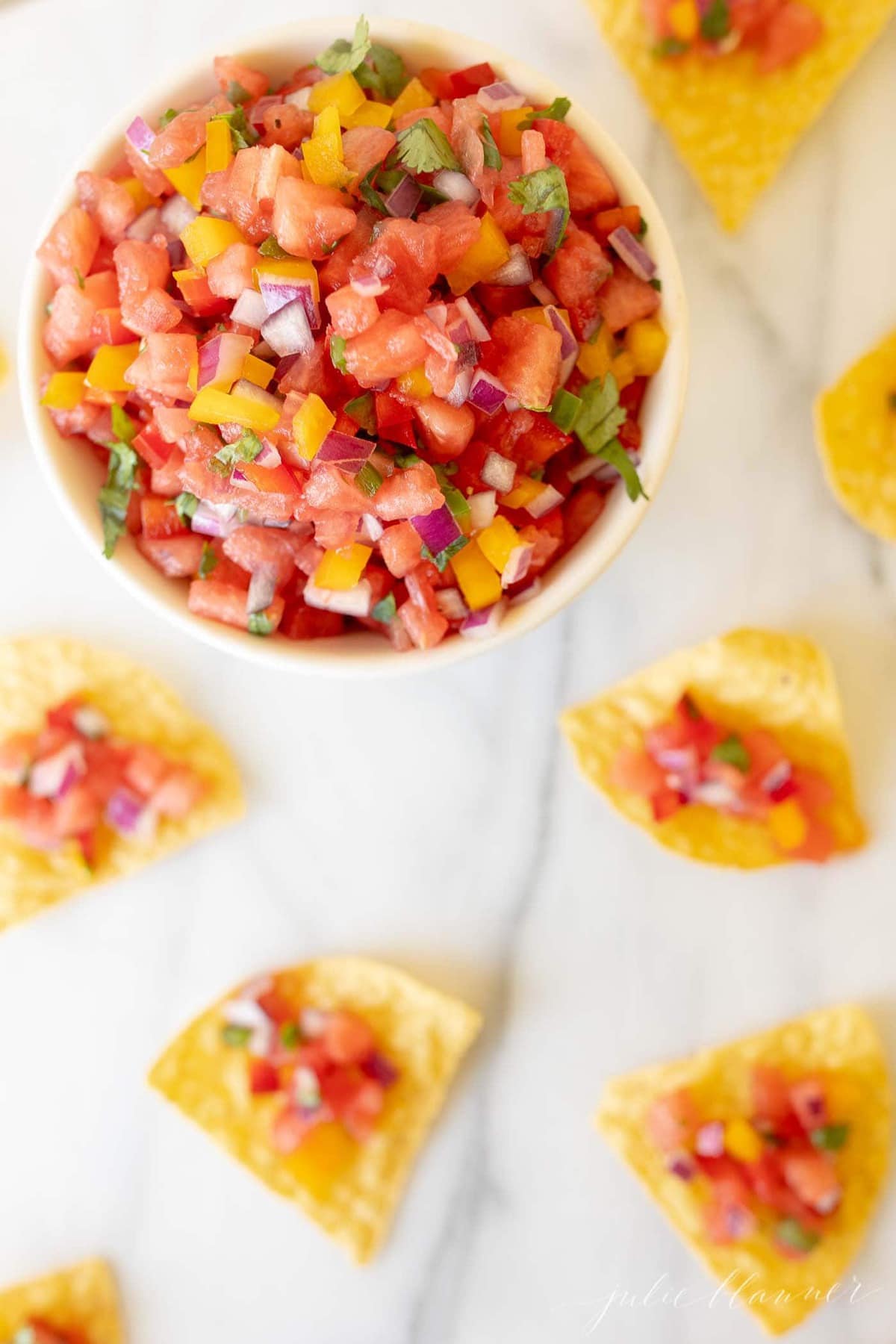 The beauty of this avocado salsa is the simplicity behind it – and its beautiful colors! Since the salsa is only 4 ingredients, it's so easy to mix together at the last minute!
This cheesy corn doubles as a savory and irresistible dip! It's warm and creamy cheesy goodness is hands down one of my favorite side dishes to bring to a party – whatever the occasion may be!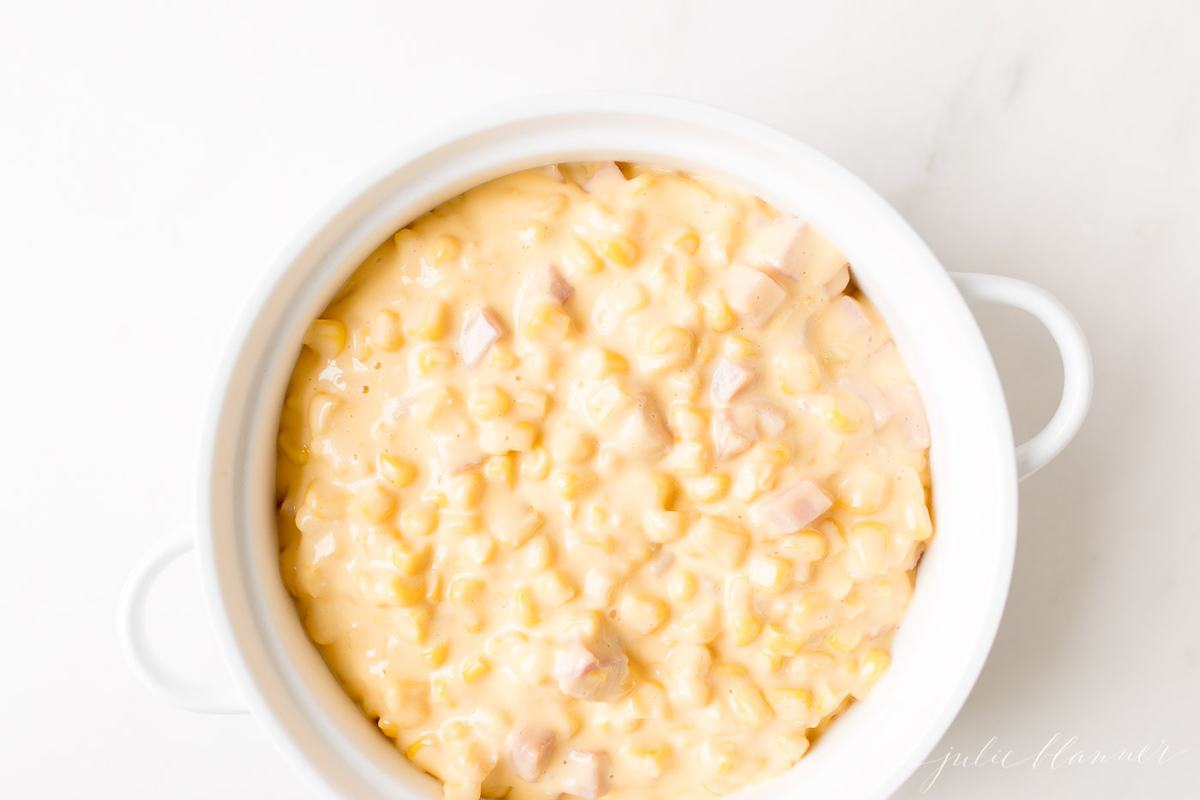 I just can't get enough of this homemade hummus! It is creamy, flavorful and so easy to make. Made with just a handful of ingredients, it is a healthy addition to a gameday menu.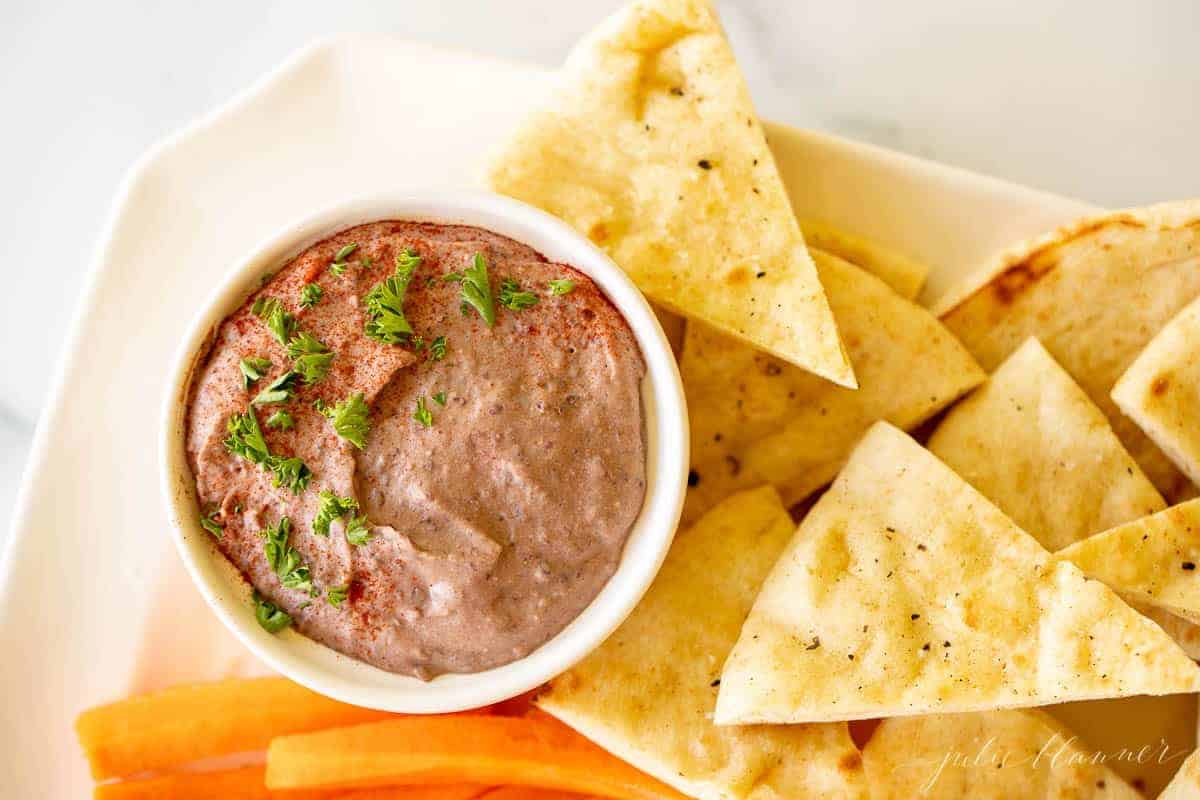 This easy creamy pimento cheese recipe makes a great dip or spread for crackers and veggies. You control the spice level with just a few variations to this easy recipe.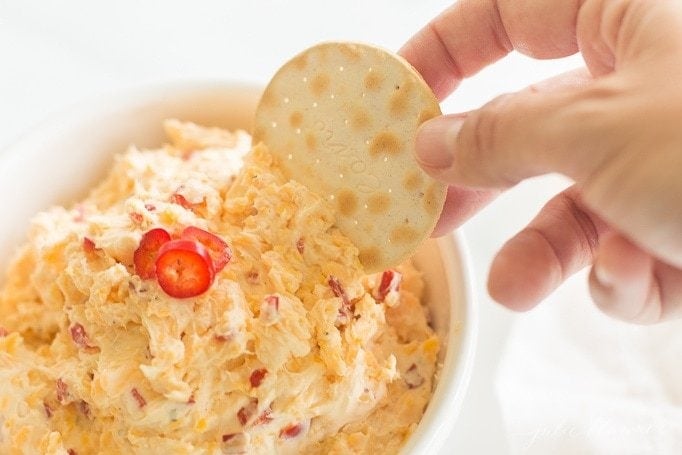 This easy appetizer is both simple and delicious! Marinara goat cheese bake requires just 3 classic ingredients and is sure to be a big hit at your next party.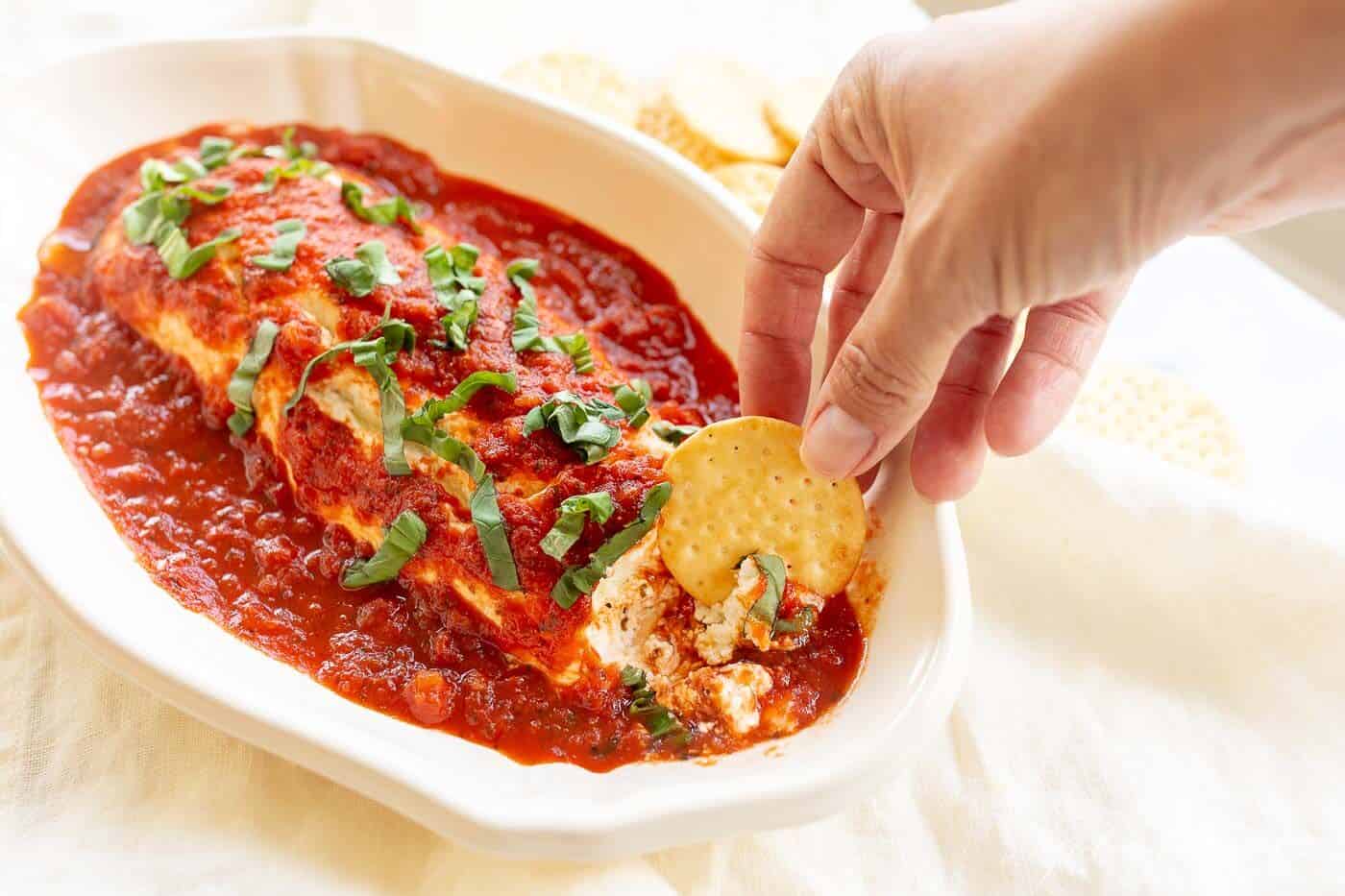 Cream Cheese Fruit Dip is the perfect accompaniment to a beautiful fruit platter. Marshmallow fluff and cream cheese make the perfect combination! I promise, you won't be able to stop dipping.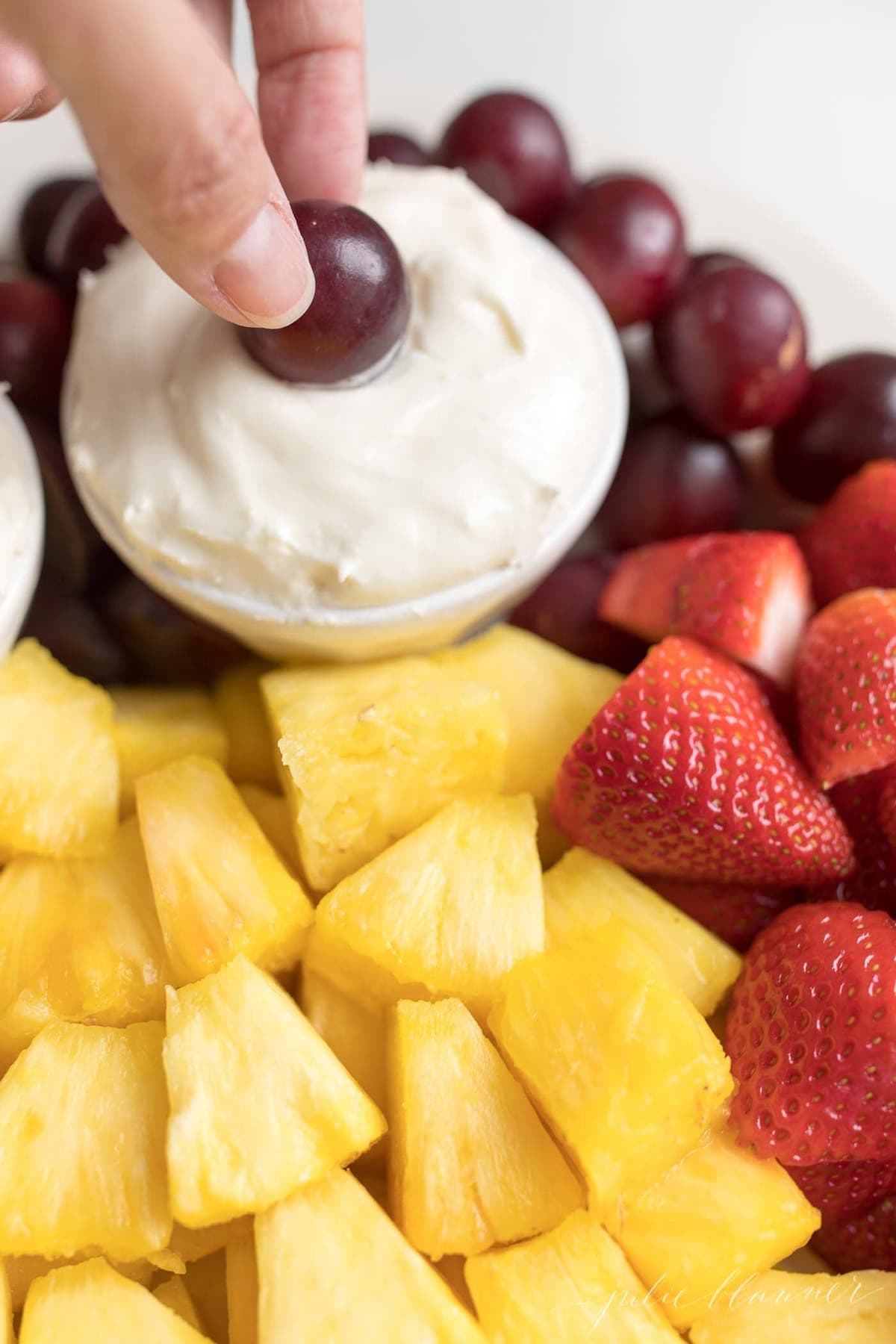 This effortless dip is always a hit whenever I serve it and it's so simple to make. Learn how to make this tasty appetizer – minimal effort required!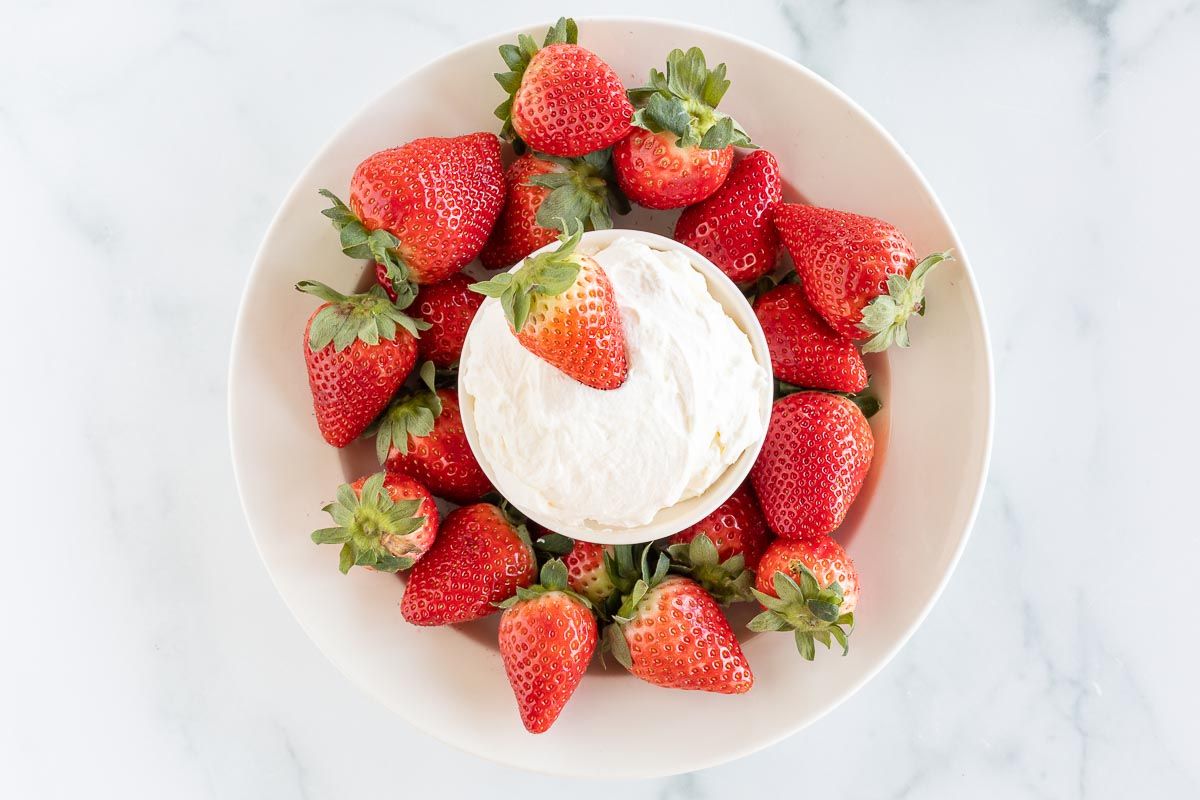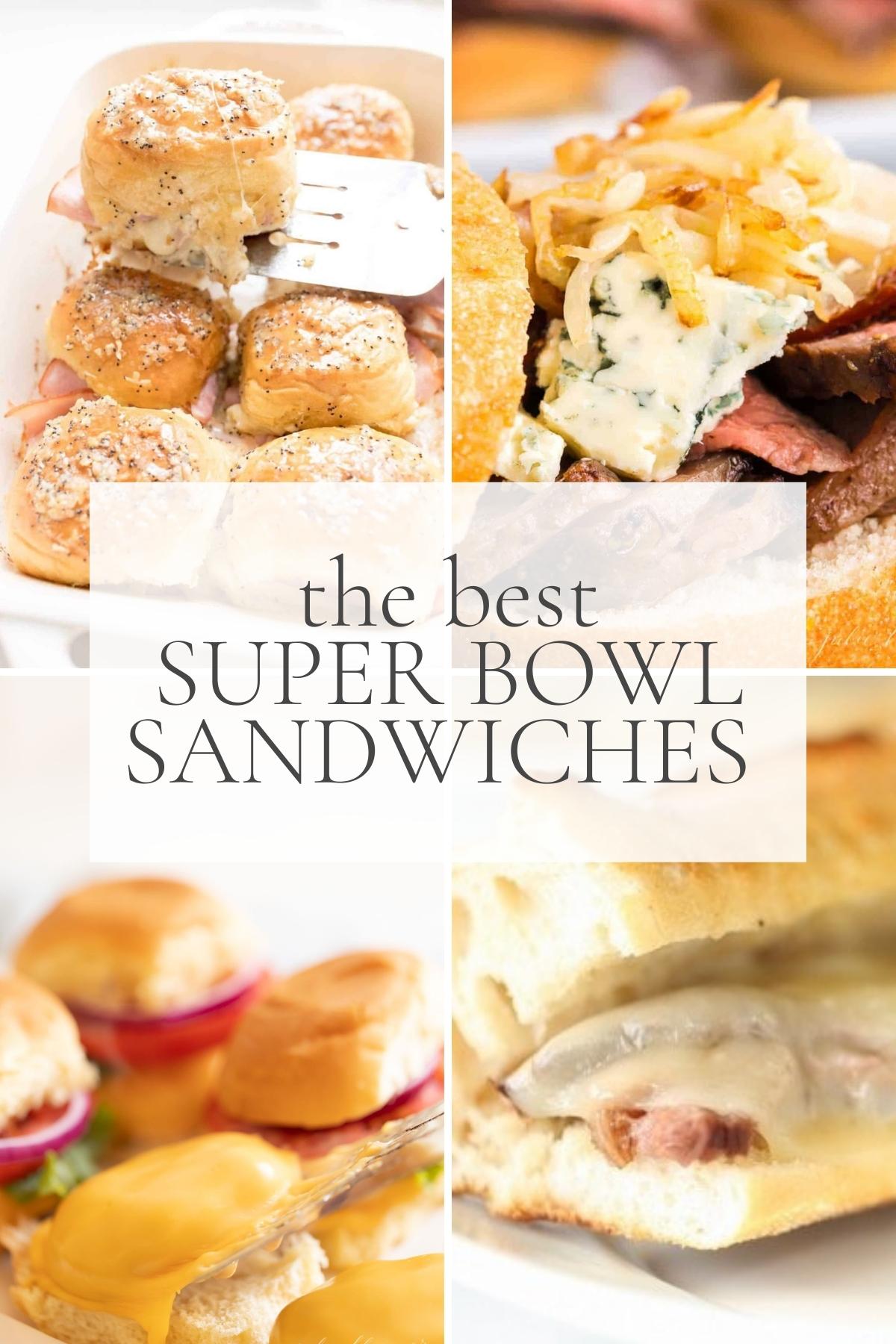 Best Super Bowl Sandwiches
Setting up an incredible Burger Bar display is the best way to feed a crowd. But with this many delicious options, who can make a decision?!?
This is one of my most loved recipes! The Gerber Sandwich is quick and easy to make and is great for entertaining. No one can resist an open-faced sandwich topped with garlic butter, ham and cheese. Your guests will be begging for more!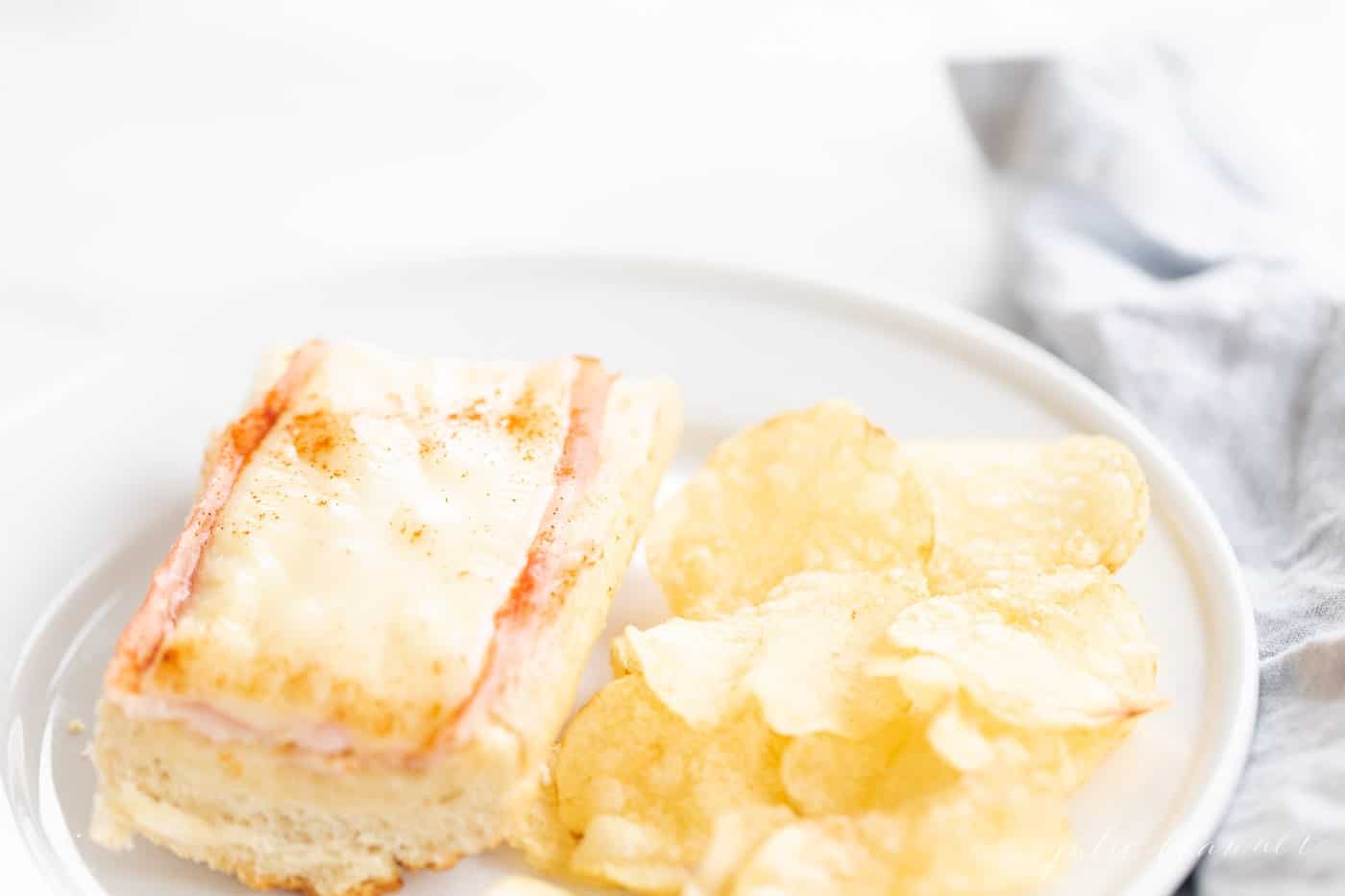 Picnic sandwiches are an easy, flavorful and crowd-worthy dish. This recipe is great for gamedays and makes entertaining fun and effortless! Sometimes simple is the best, and these sandwiches are no exception.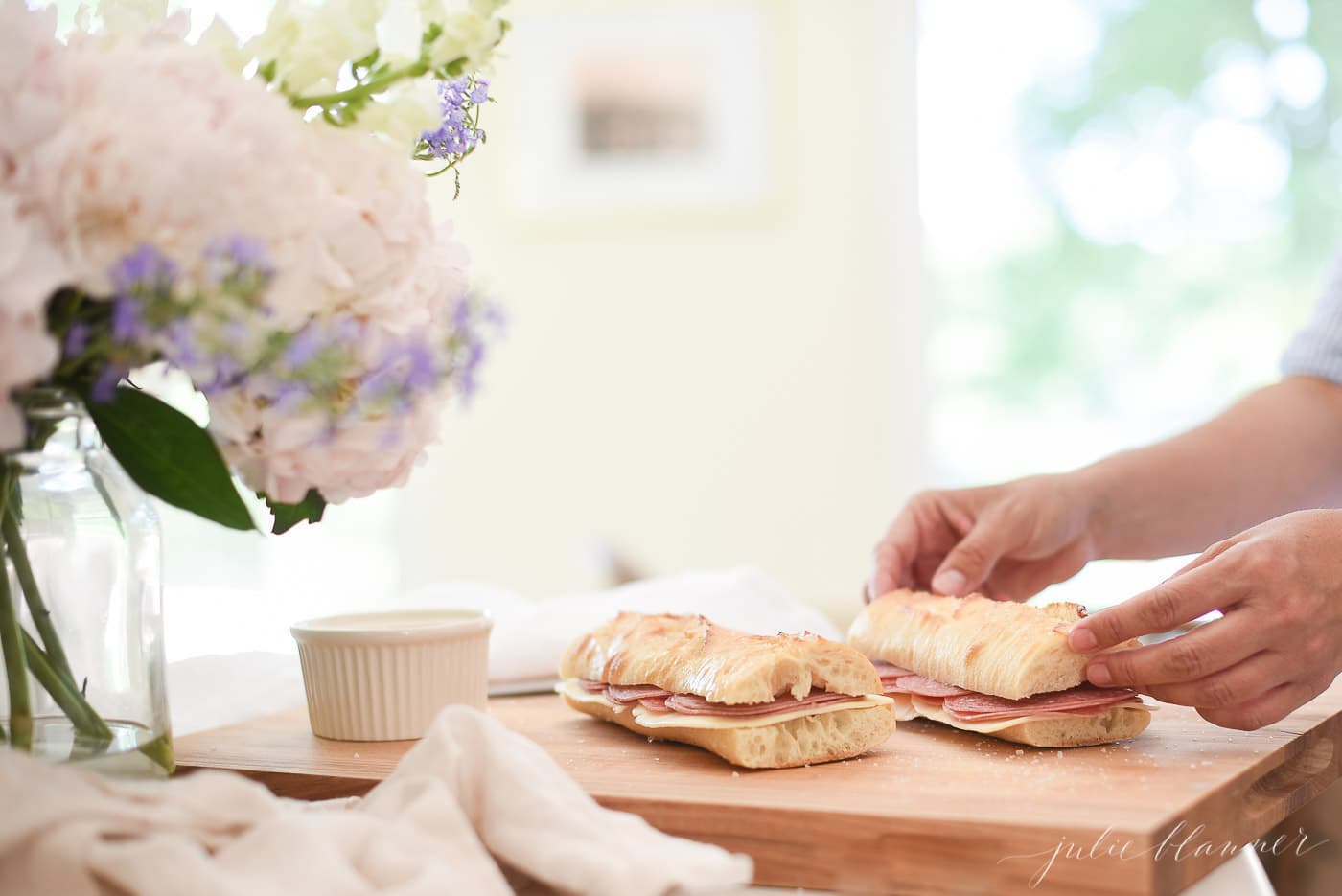 Chicken wraps are easy to scale and serve for a crowd. Wraps are the perfect handheld party food because they're fuss free to make and mess free to eat!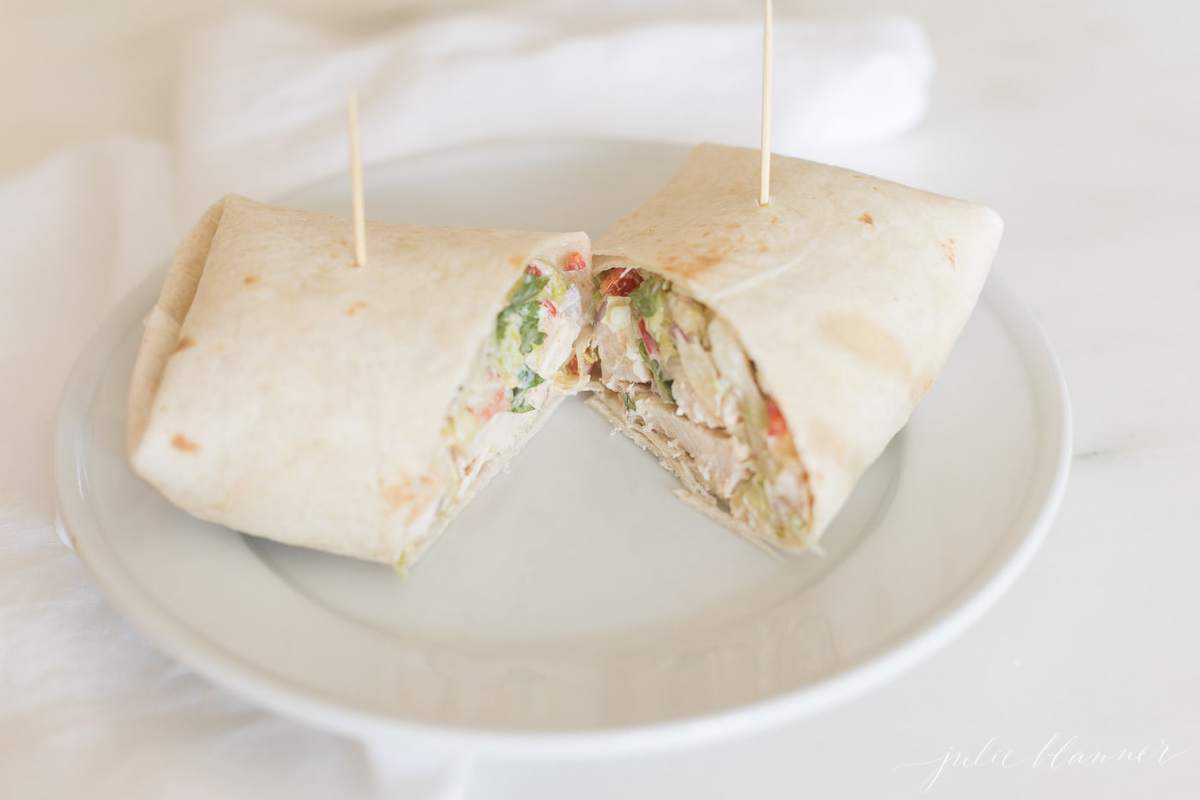 These steak sandwiches are the perfect sliders to serve guests, they are always a hit! The steak is wonderfully tender and full of flavor. They are ideal to serve on gameday!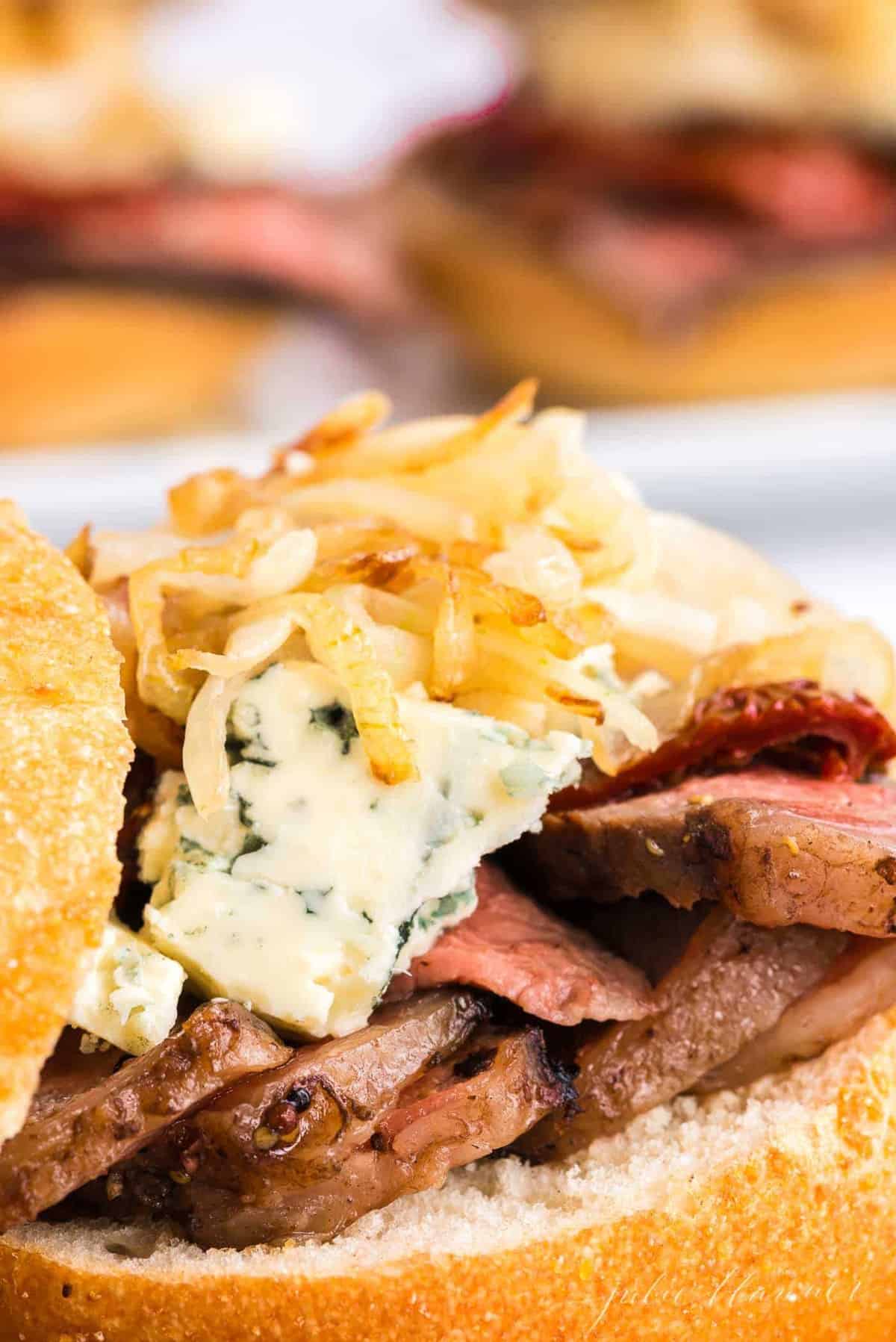 Hot ham and cheese sliders are the ultimate party fare! These melt in your mouth sandwiches are incredibly easy and delicious. An added bonus? The kids love them just as much as we do!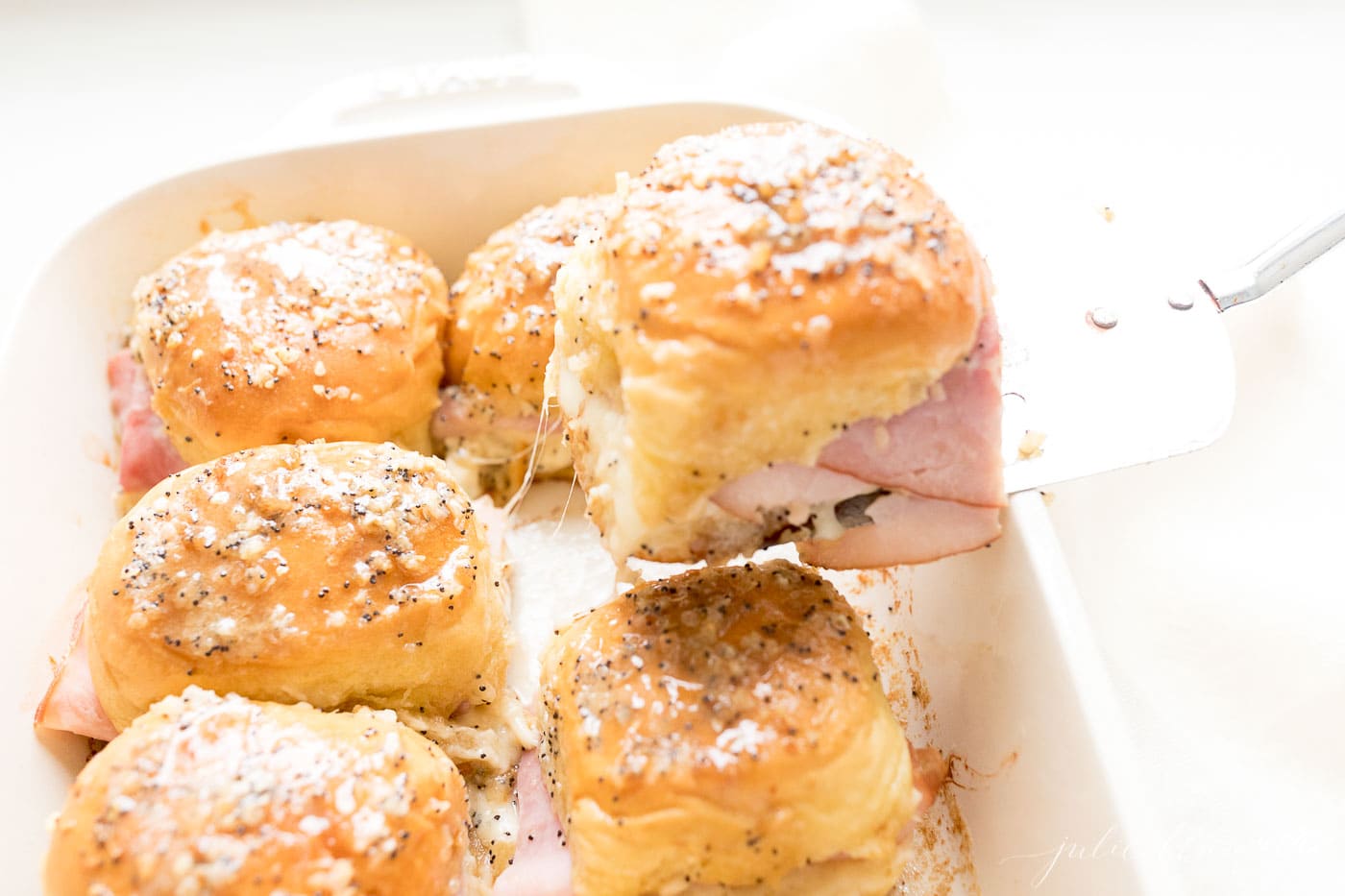 These juicy little mini sliders are the most delicious way to serve a crowd and cater to varying tastes. You can't go wrong with adding these tasty burgers to your party menu.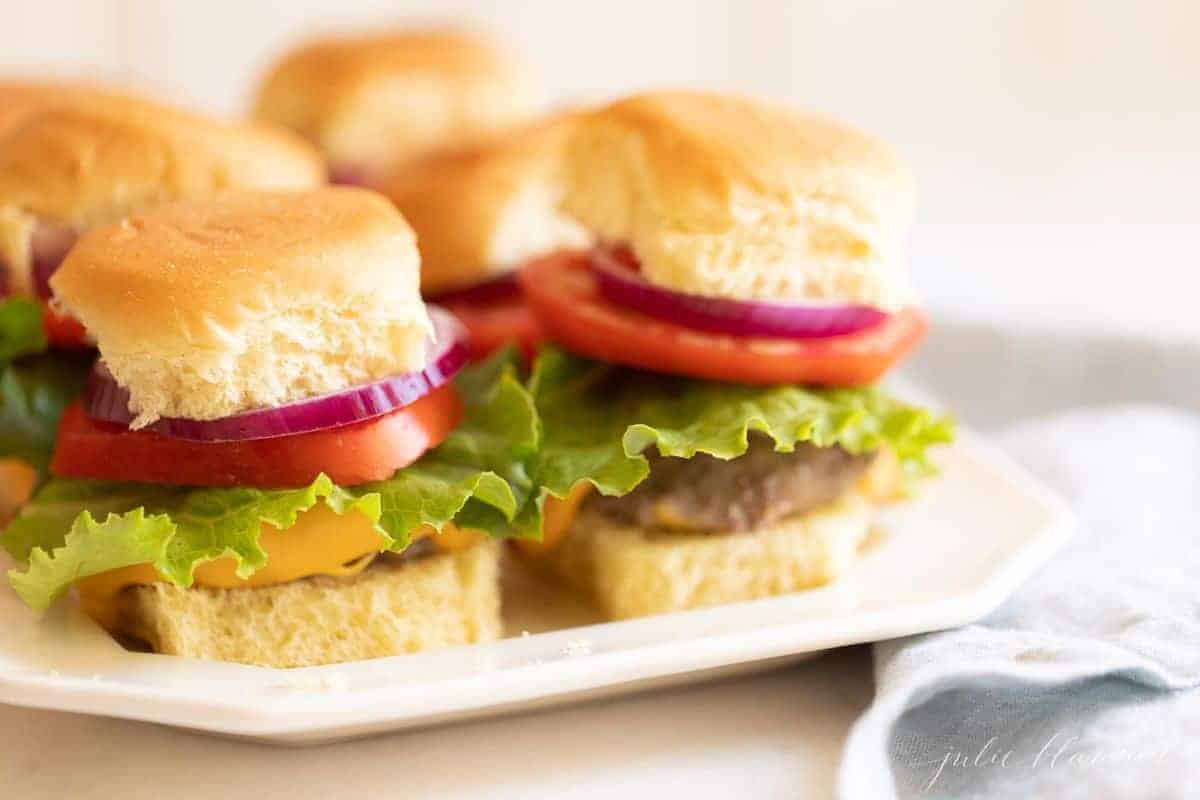 Up your sandwich game with these easy gourmet grilled cheese recipe! Not only are these quick to make, but I can guarantee everyone will be raving about this delectable and flavor-packed handheld dish.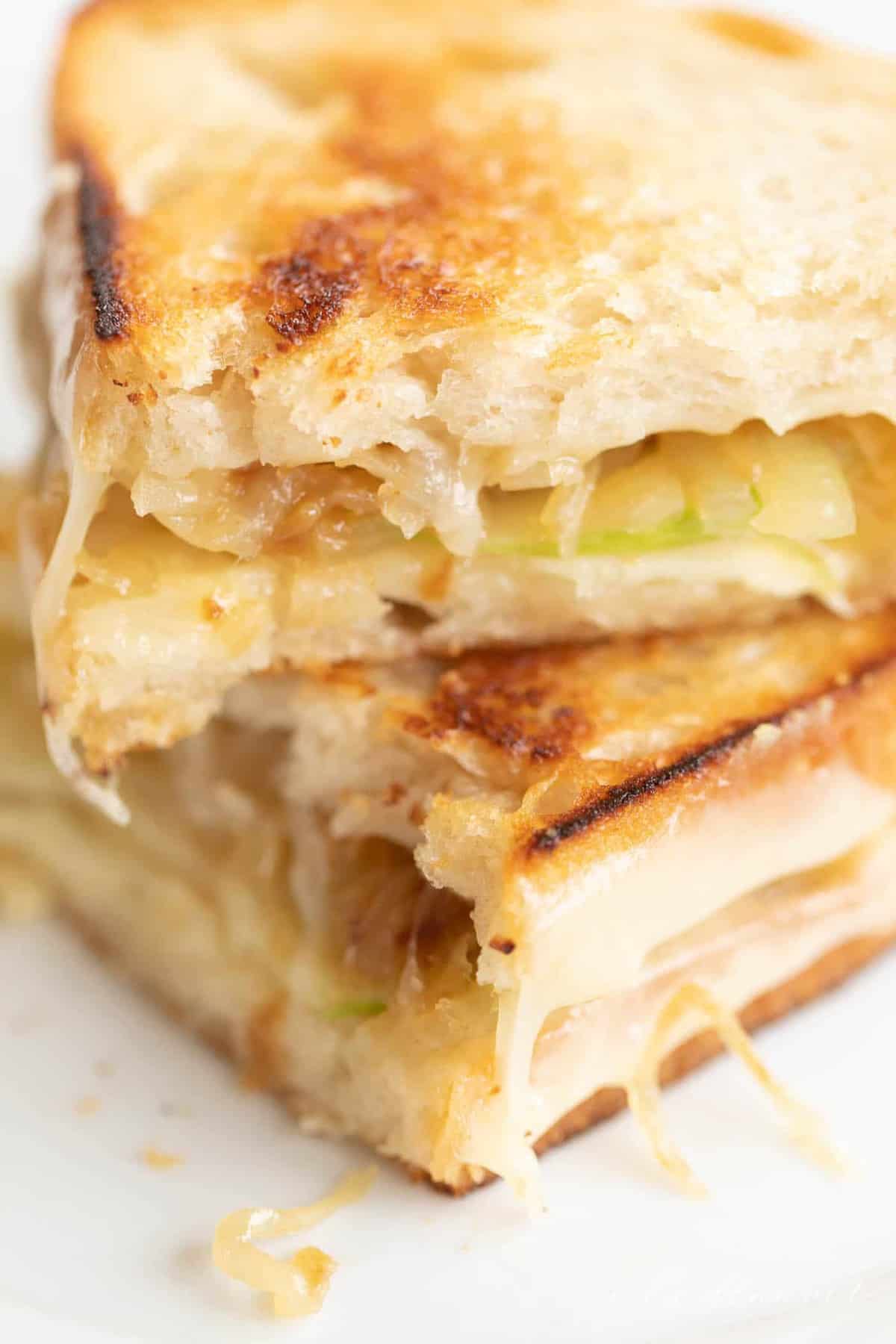 I'm sharing a few of my secrets to making the best French Dip, just in time for the big game! Whip out the crockpot and enjoy this easy and tasty sandwich without all the hassle.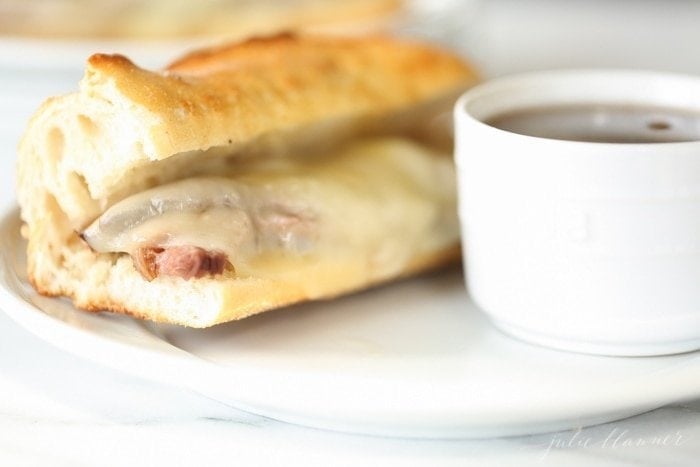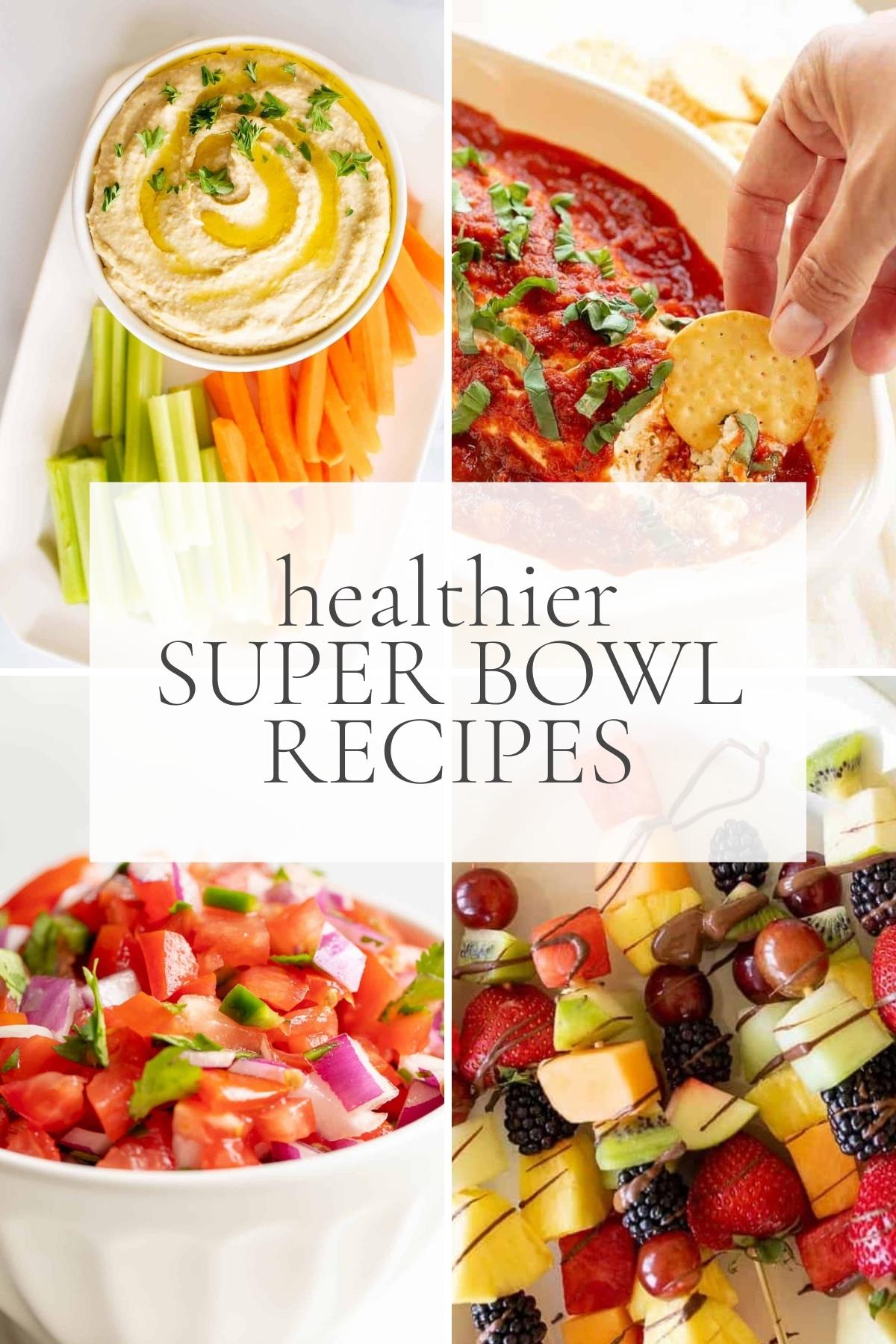 Healthy Super Bowl Snacks
If you serve some light and tasty options, you'll allow your family members to stay within their lifestyle plans.
Endive salad is healthy, gorgeous, and simply bursting with fresh flavor. It is an easy and delicious appetizer you can serve (and enjoy) without guilt!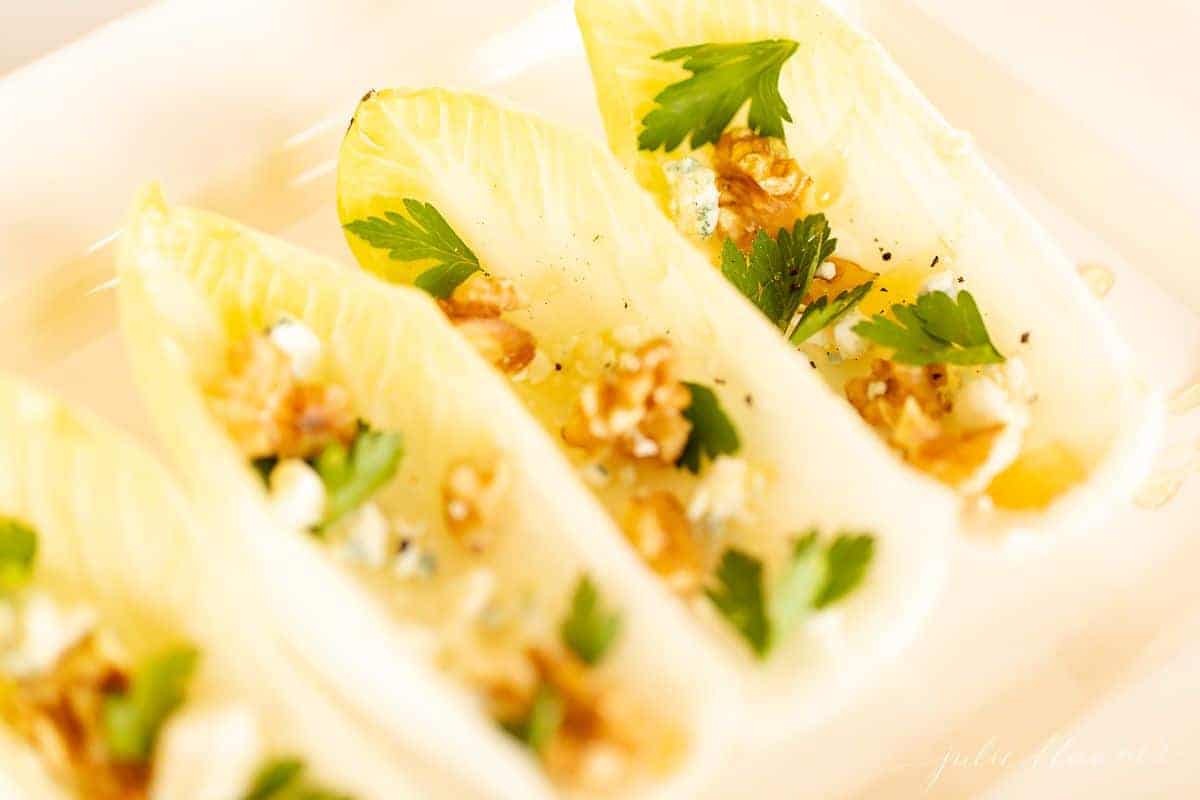 Pear Appetizer with Blue Cheese and Walnuts
I love bringing you fast and easy appetizers that are perfectly portioned for guests – and this recipe is no exception! Made with just 3 ingredients, this pear appetizer is sweet, salty, crunchy and sweet. The perfect combination!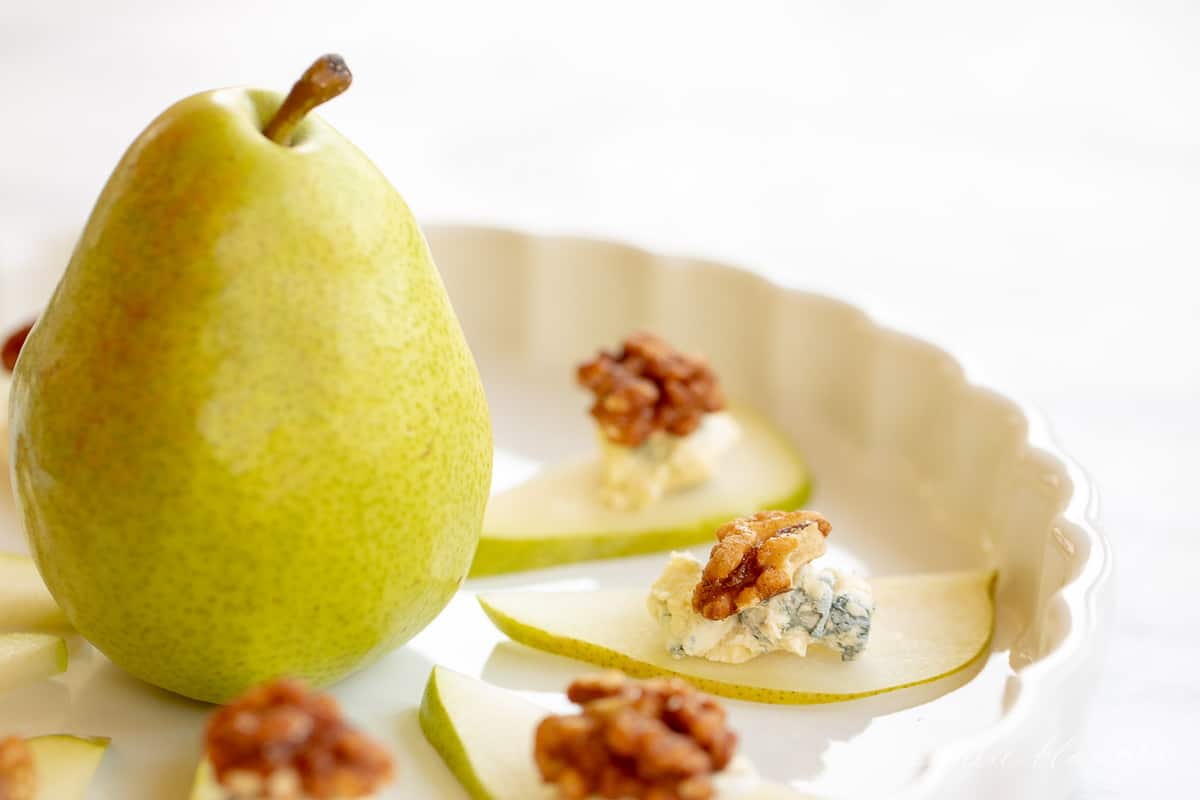 Homemade basil pesto hummus is light, creamy and bursting with flavor! Not only is it quick and easy to make, but it is also a healthy alternative for Super Bowl indulgences. It is quick, easy, low carb, Keto and Whole 30 friendly.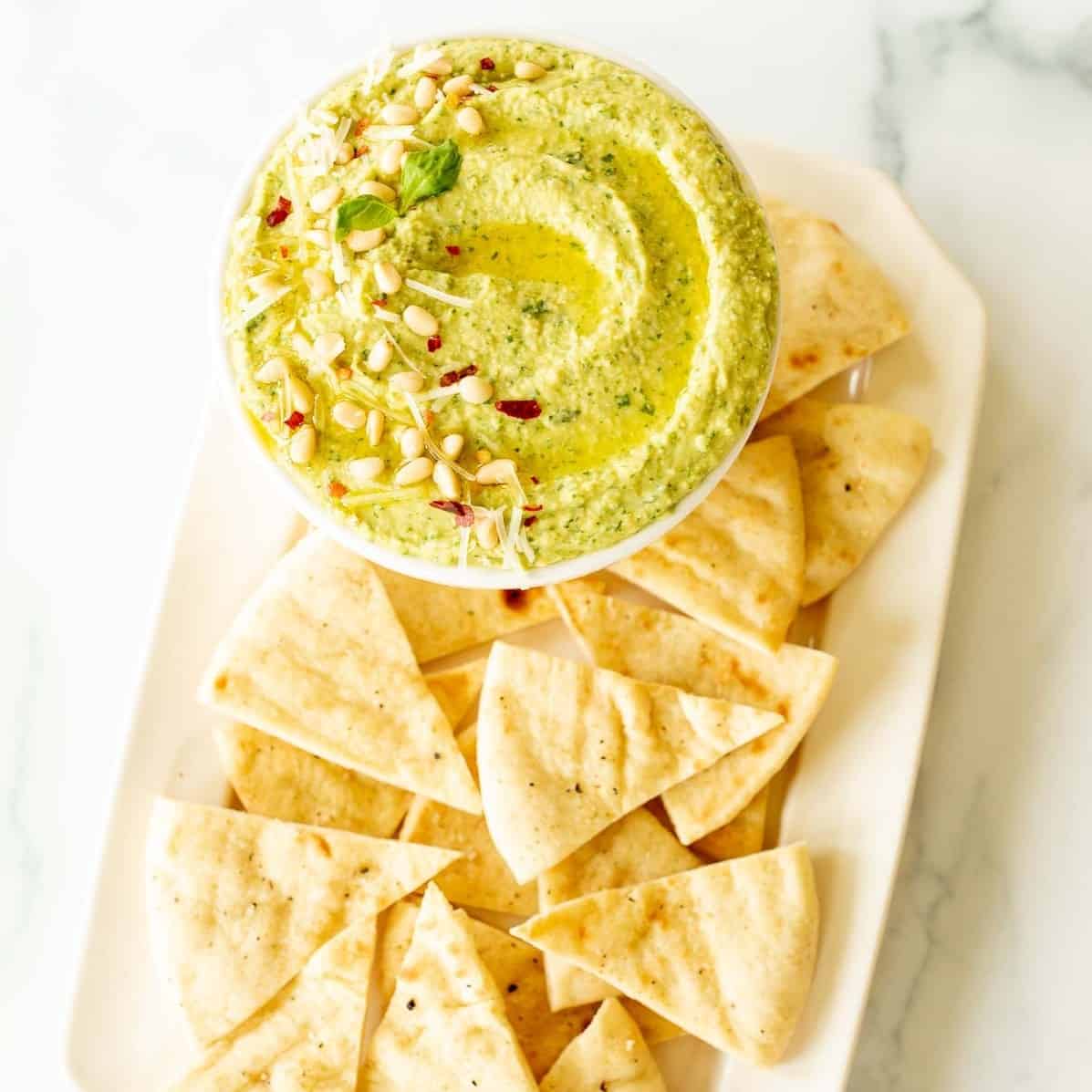 This easy black bean hummus is deliciously creamy and full of healthy flavor. I'm a big fan of hummus dips of all kinds because they meet all my needs for snacking. Creamy, zesty, smooth and vibrant, met with a variety of dippers, makes for one happy snack!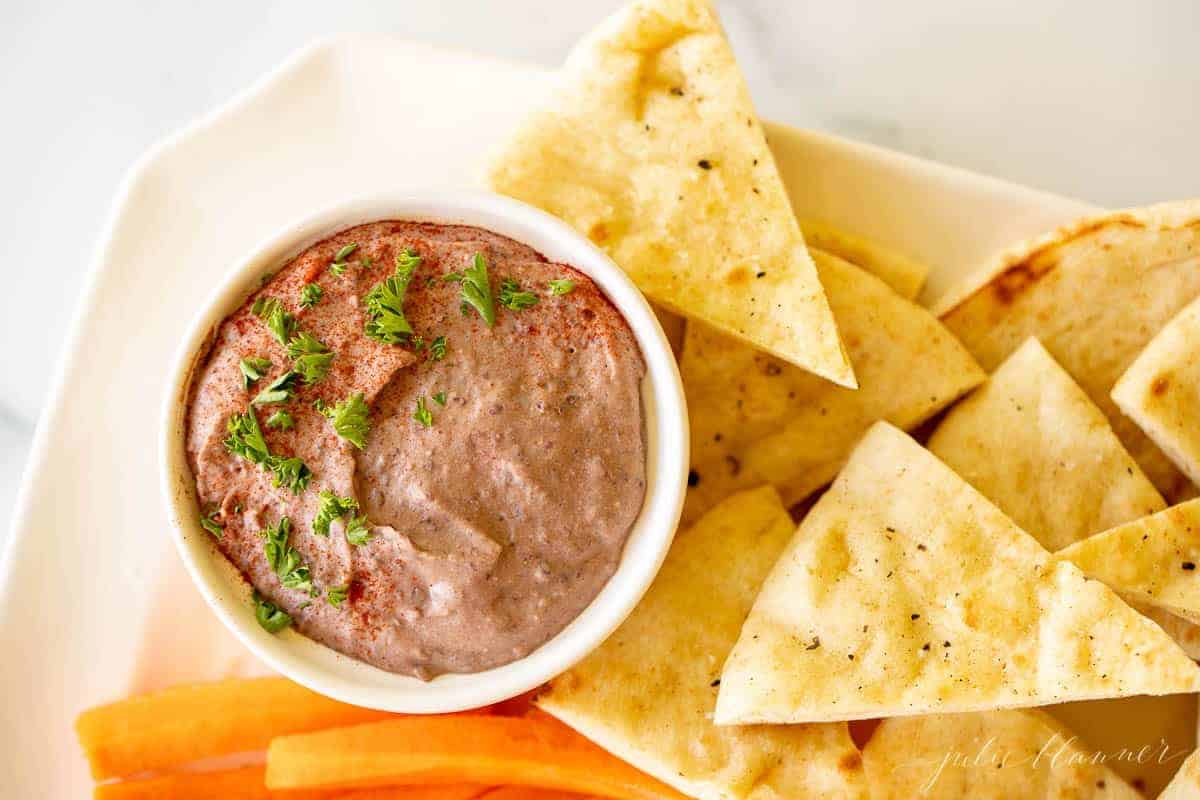 Fresh fruit skewers make a healthy, easy and fun party snack for all the enjoy! It's the perfect appetizer that doubles as dessert for a guilt-free indulgence.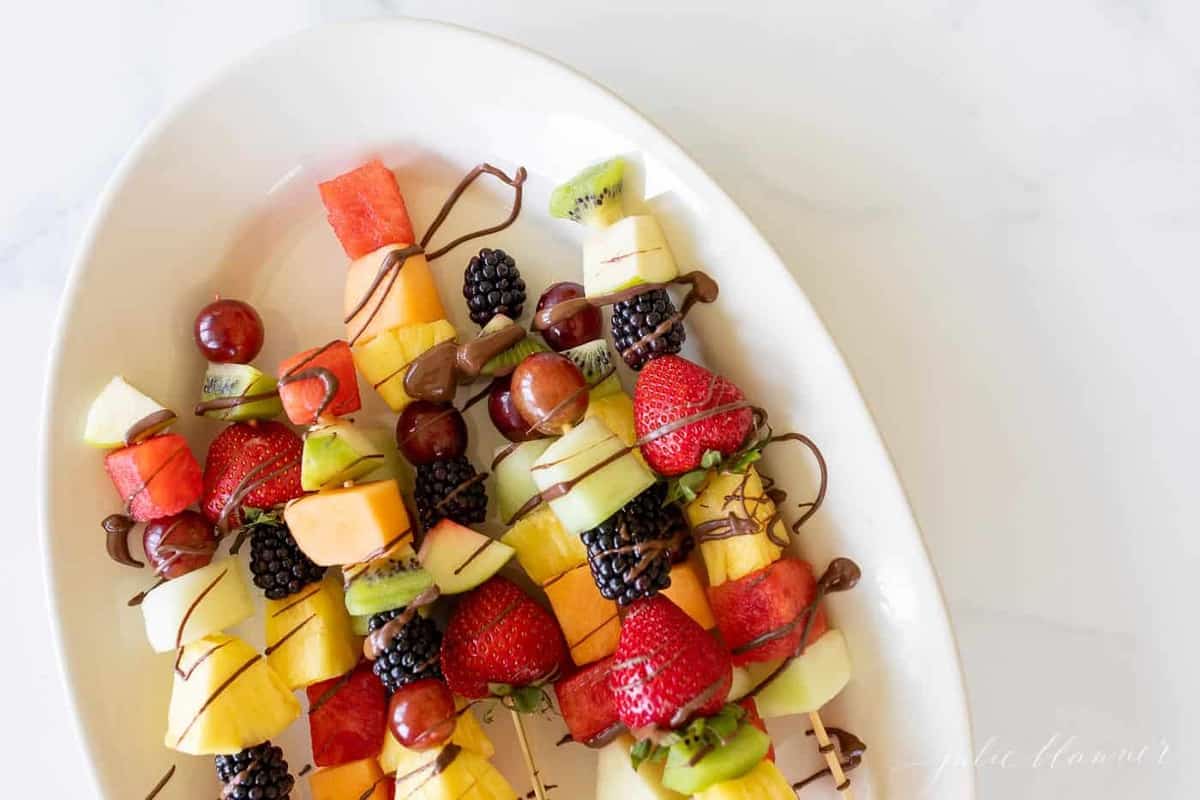 Learn how to make a beautiful fruit plate your guest will ooo and ahhh about and provide a healthy snack to enjoy throughout the game! The options are endless and it is super easy to serve.
Enjoy this fun spin on a charcuterie board! These individual jarcuteries are an easy party favorite that can be customized to taste and make entertaining a breeze!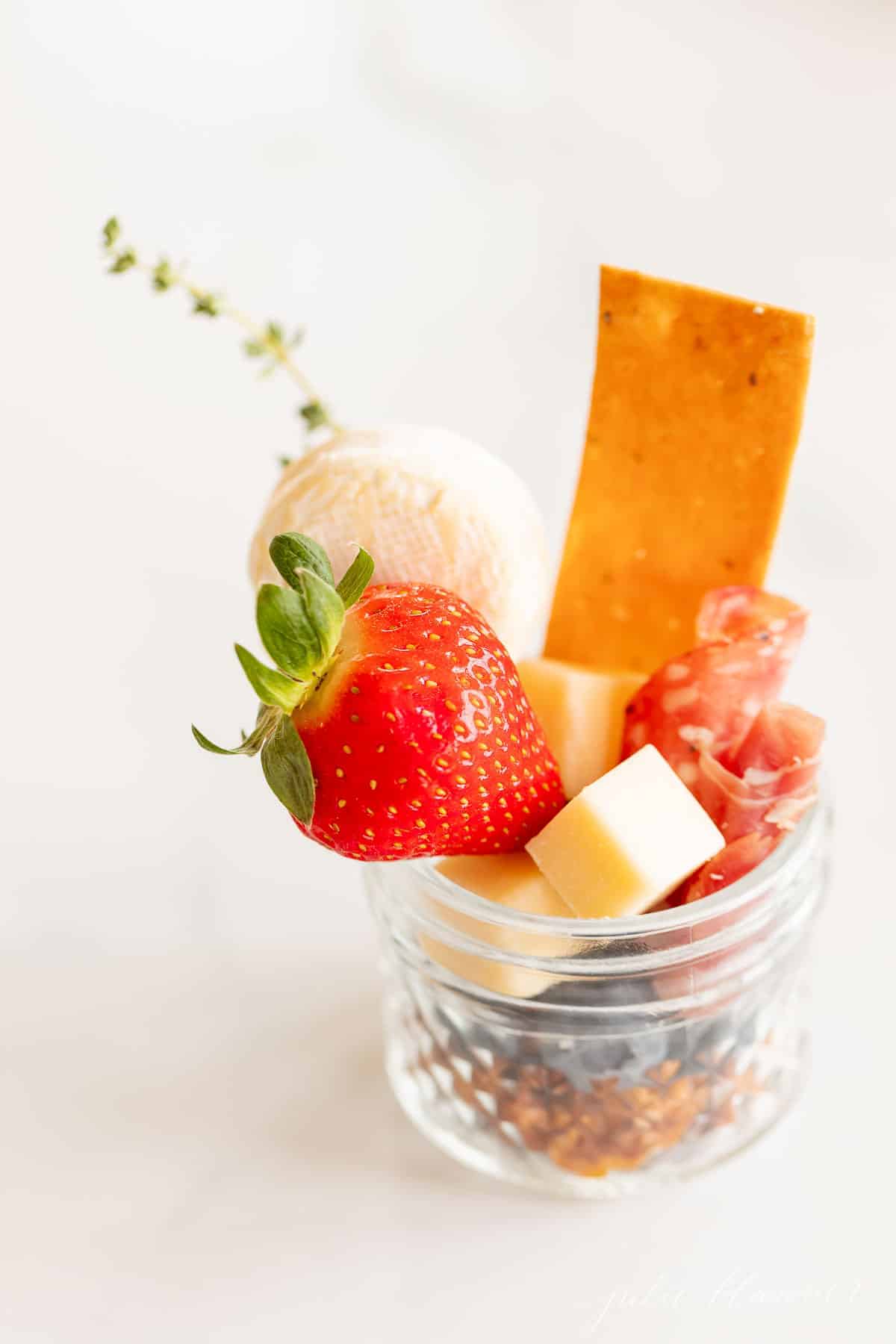 More Game Day Recipes
Classic crowd pleasers you can't skip… especially the Walking Tacos!
Beer Bread with Honey Butter
Beer bread homemade honey butter is a simple and delicious appetizer your guests will love! This no fuss bread recipe takes just 5 minutes of hands on time leaving you free to enjoy your company, the game – and my favorite, the commercials!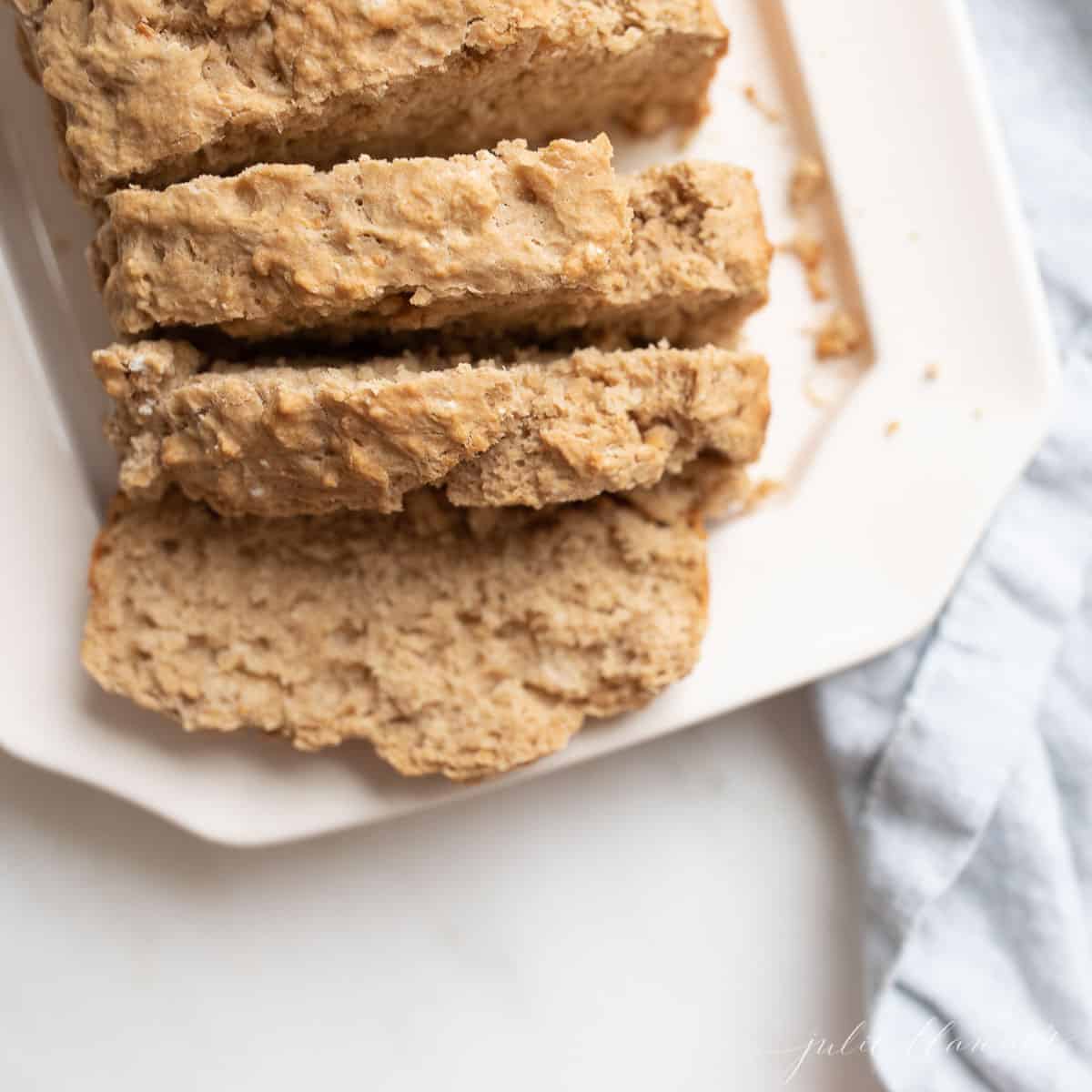 Cheeseballs are a classic gameday snack! They are fun to customize, affordable, and truly one of the most crowd-pleasing appetizers around.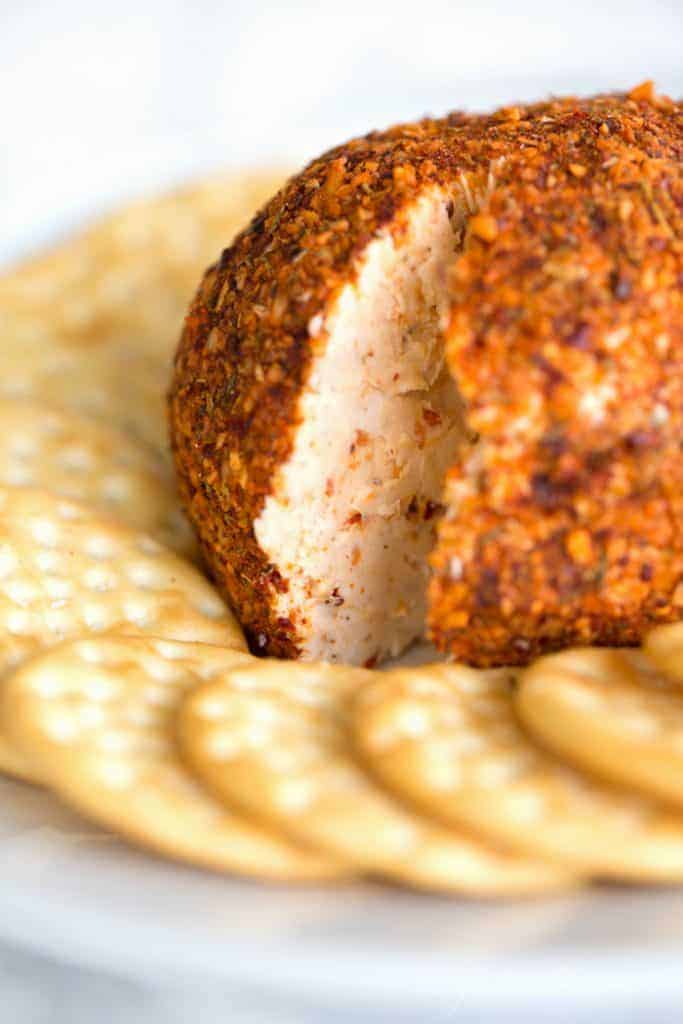 This goat cheese appetizer combines sweet and savory in one easy-to-make recipe. It has become one of my go-to apps that disappears before my very eyes!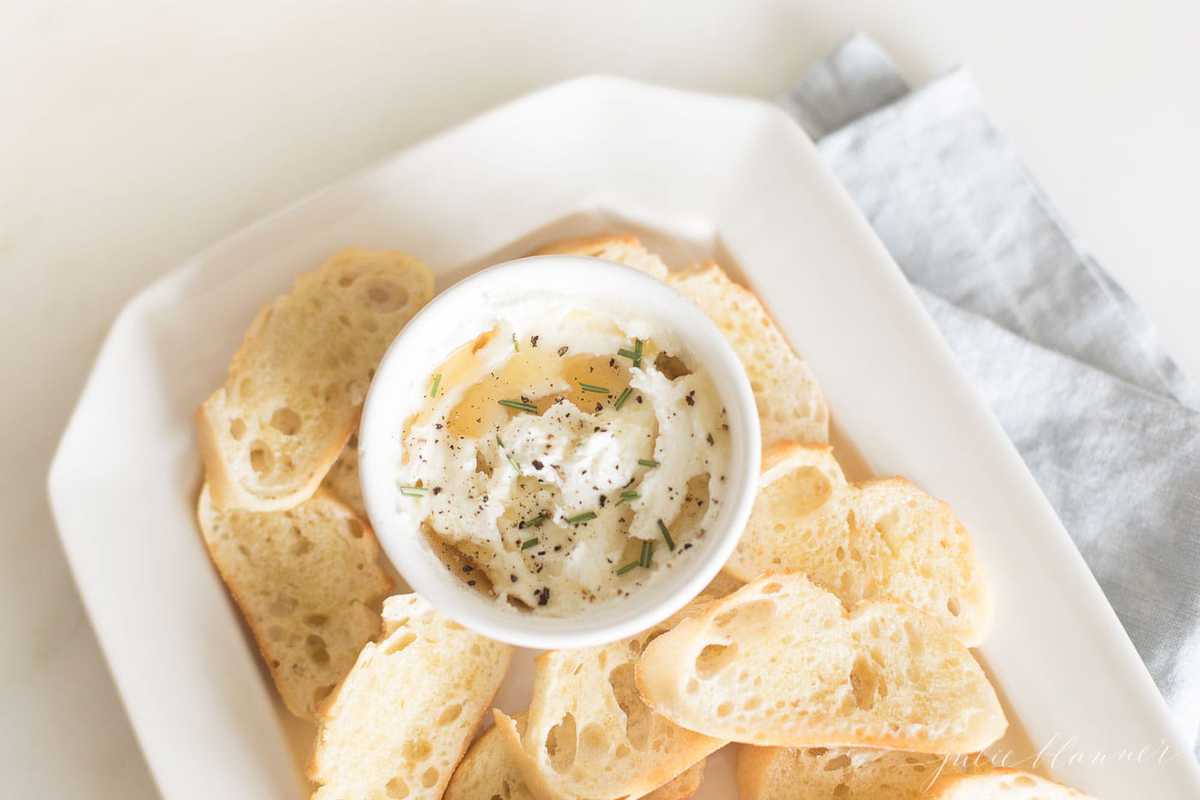 Quick to make with minimal prep and easy to adapt with your favorite toppings. These baked sheet pan chicken nachos are seriously the best football fare!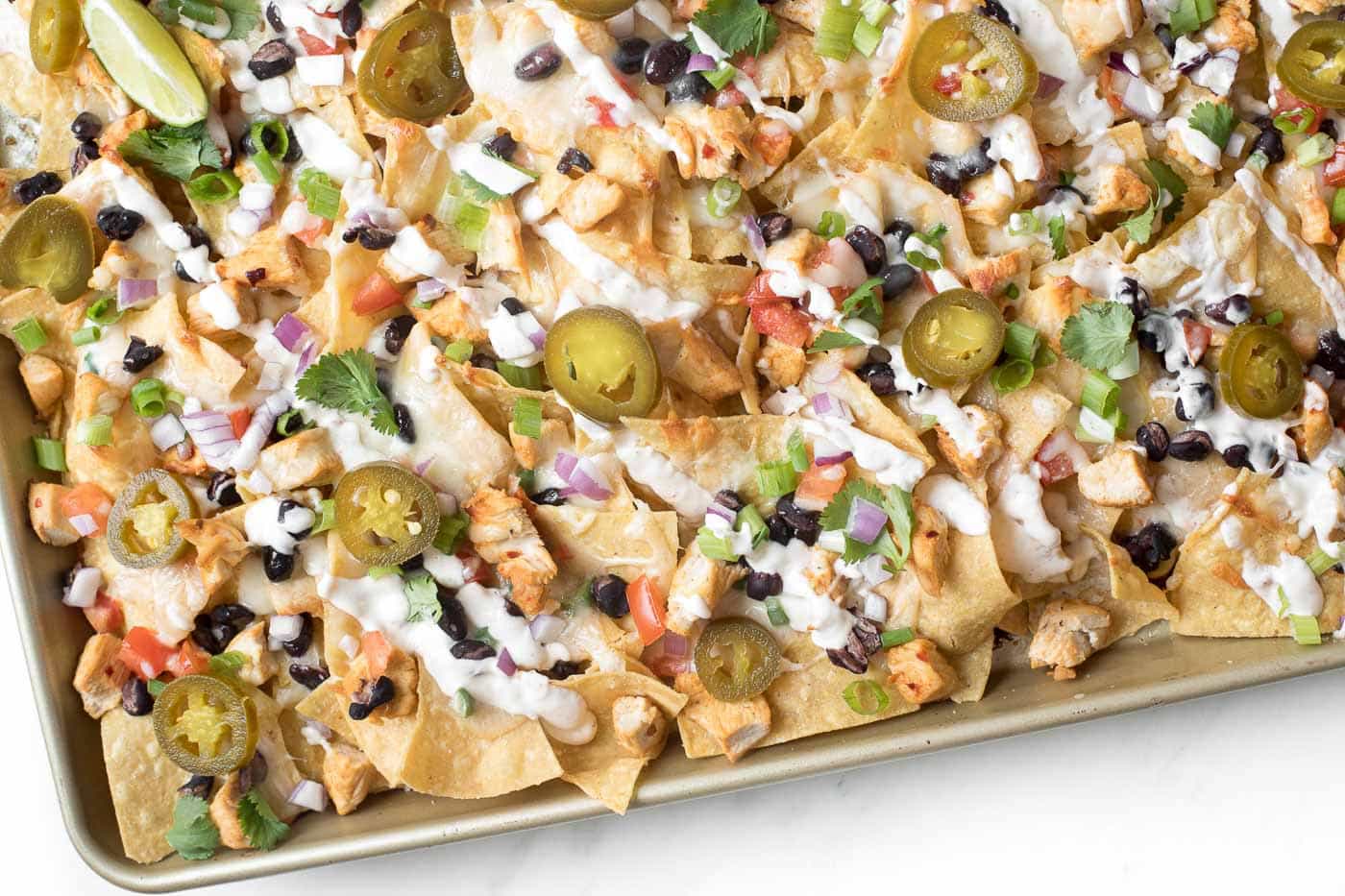 These Italian nachos are one of my favorite game day appetizers. A fun and flavorful twist on an old classic.
Throw this into a big bowl or package it individually for guests to grab and eat at their leisure!
Walking tacos is such a fun and flavorful football app! This easy recipe is the best way to serve tacos for parties, gameday and beyond!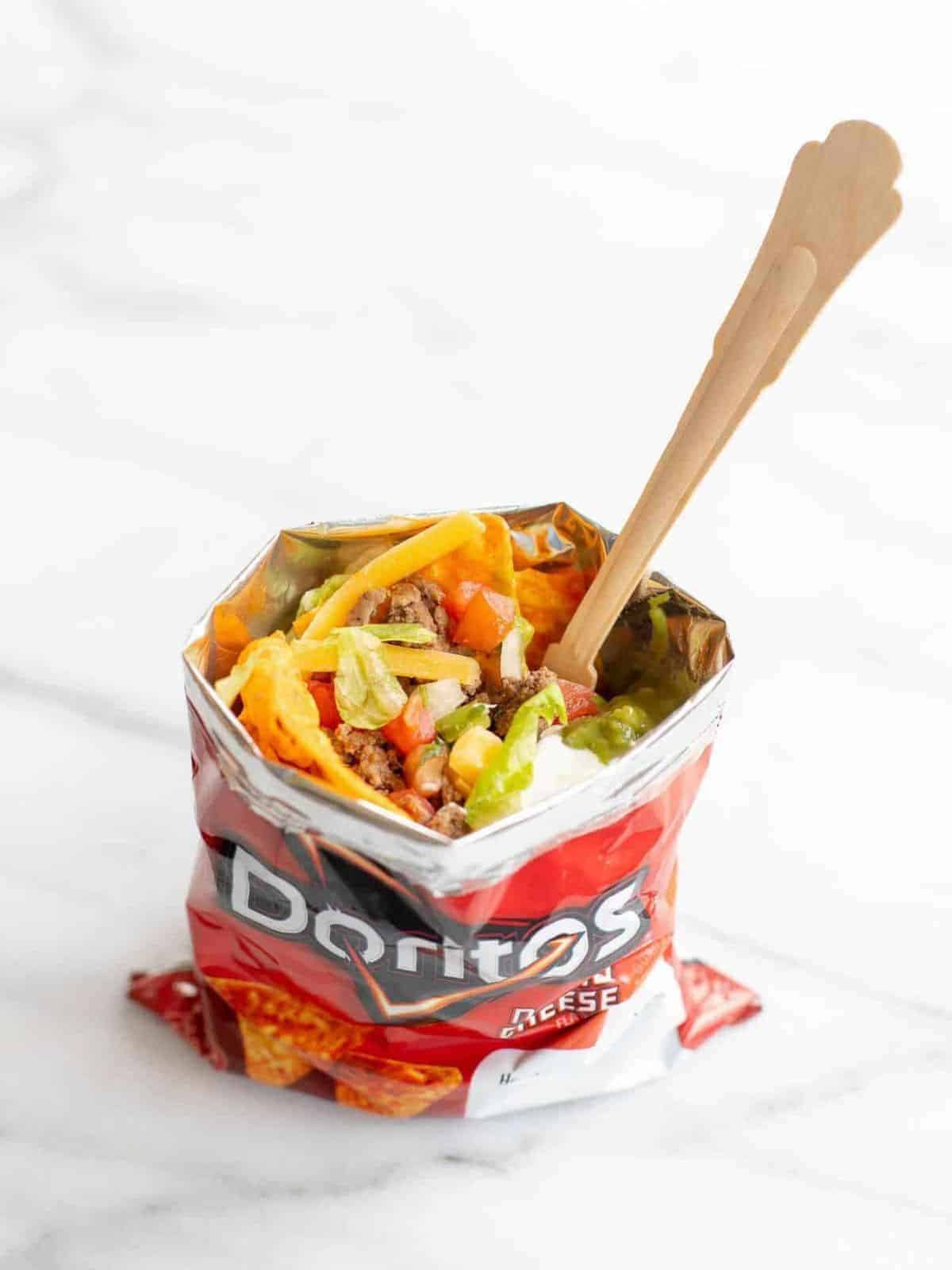 Who doesn't love tacos?! Get the recipe for the best beef tacos are ready start to finish in just 10 minutes with a few simple ingredients.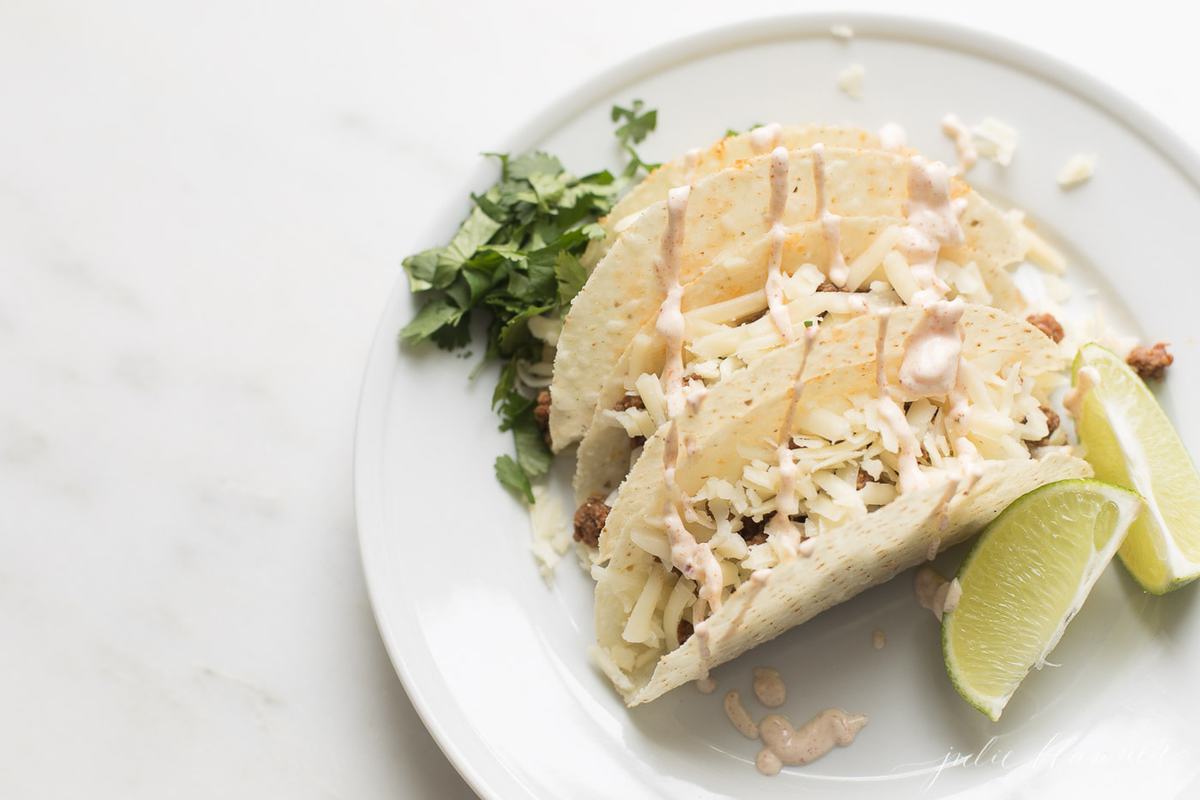 These tacos are made with a handful of ingredients and come together so easily! They're universally liked and unbelievably easy, making them the perfect for gameday entertaining.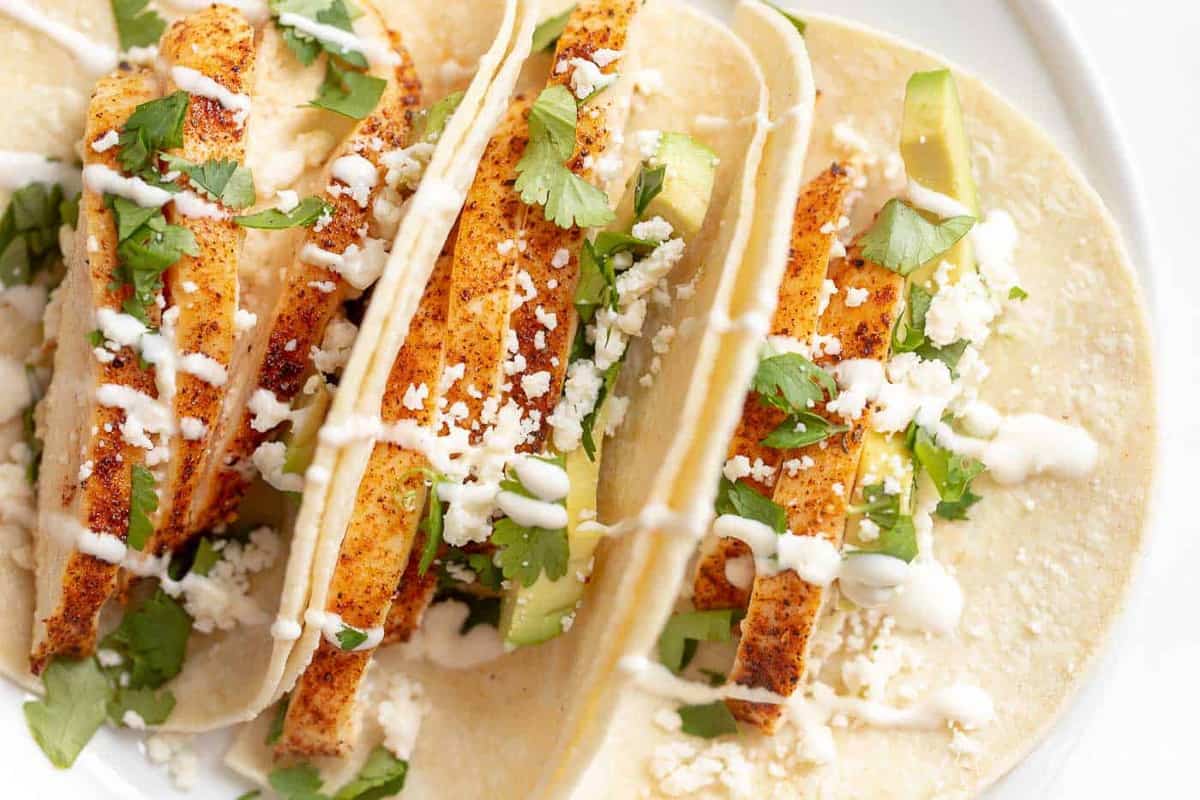 Made with simple ingredients, these tacos come together in less than 15 minutes and are perfect for feeding a crowd. Chorizo paired with pineapple salsa, cilantro lime crema and sliced avocados are a fun and festive way to enjoy a gameday favorite!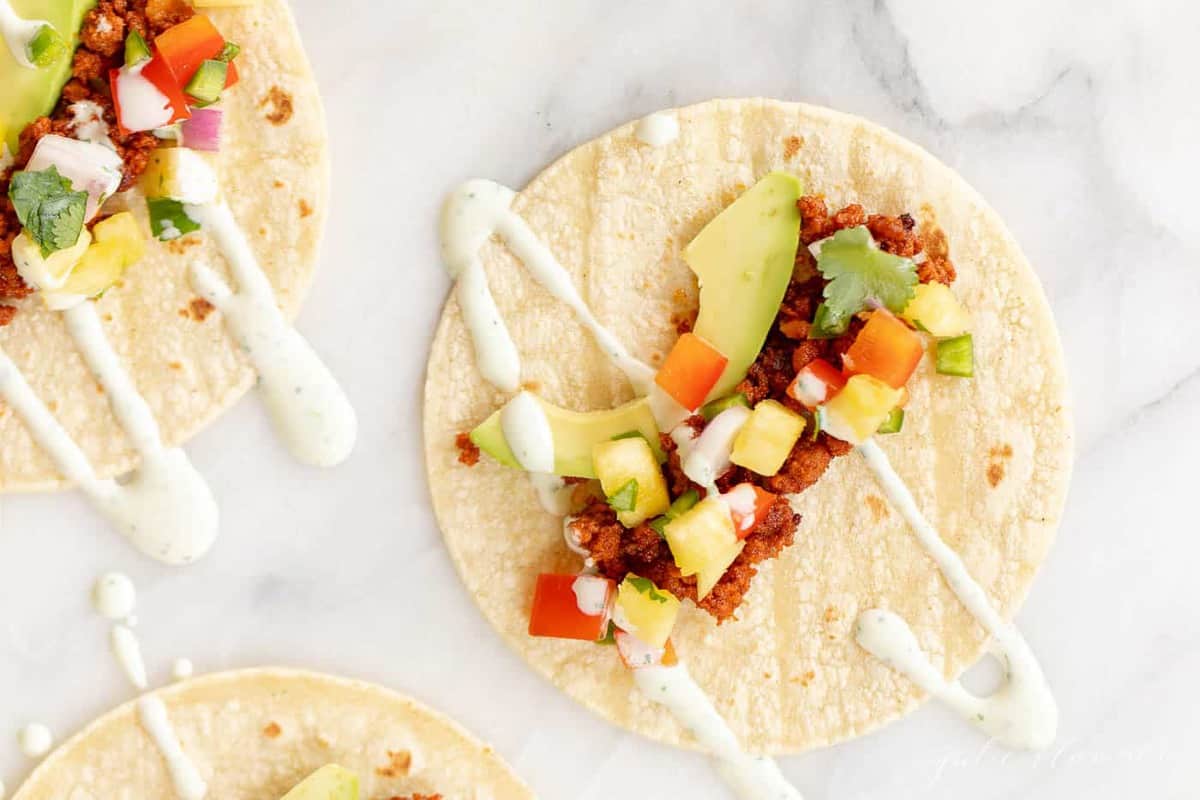 Doritos Nachos are the ultimate game day appetizer! Packed full of zesty flavors, these Doritos nachos are sure to please even the pickiest eaters.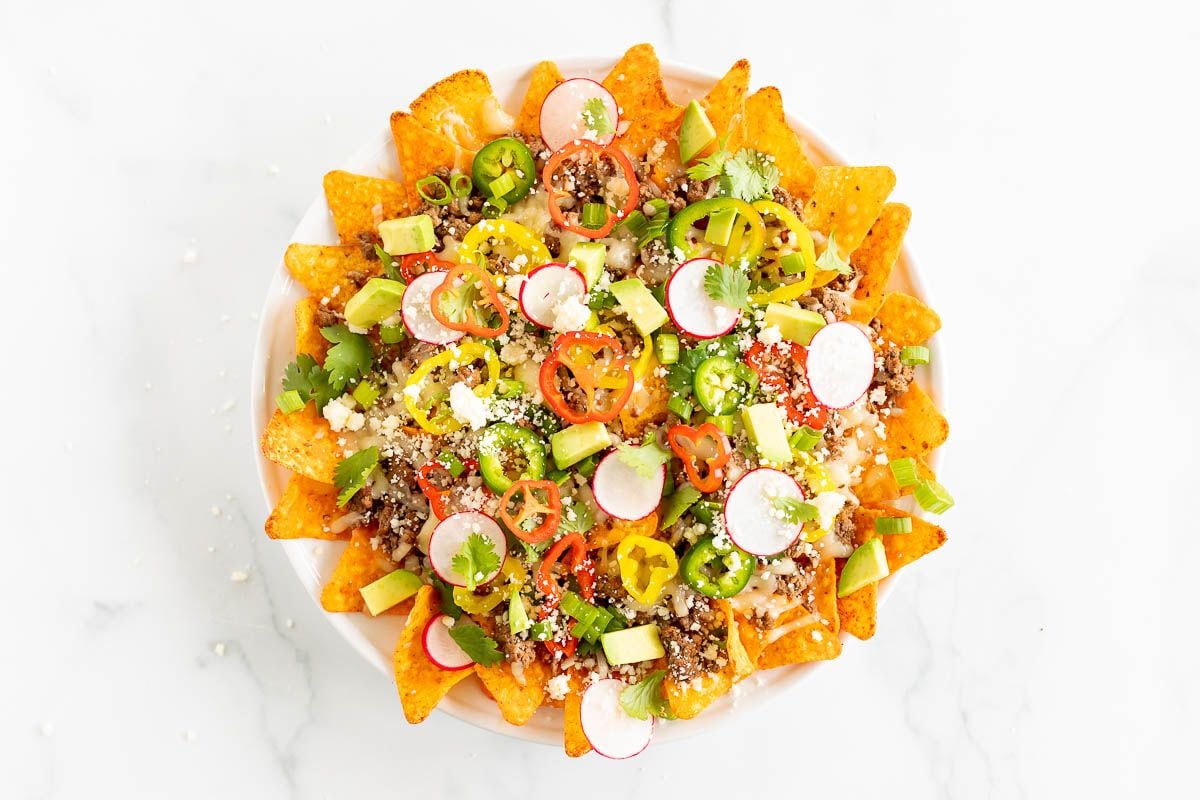 Game Day Desserts
Deliciously decadent ways to finish the game… and hopefully celebrate your winning team!
Touchdown Peanut Butter Truffles
These peanut butter truffles are the perfect sweet treat to serve on gameday. You just need a few simple ingredients to make these fun touchdown truffles!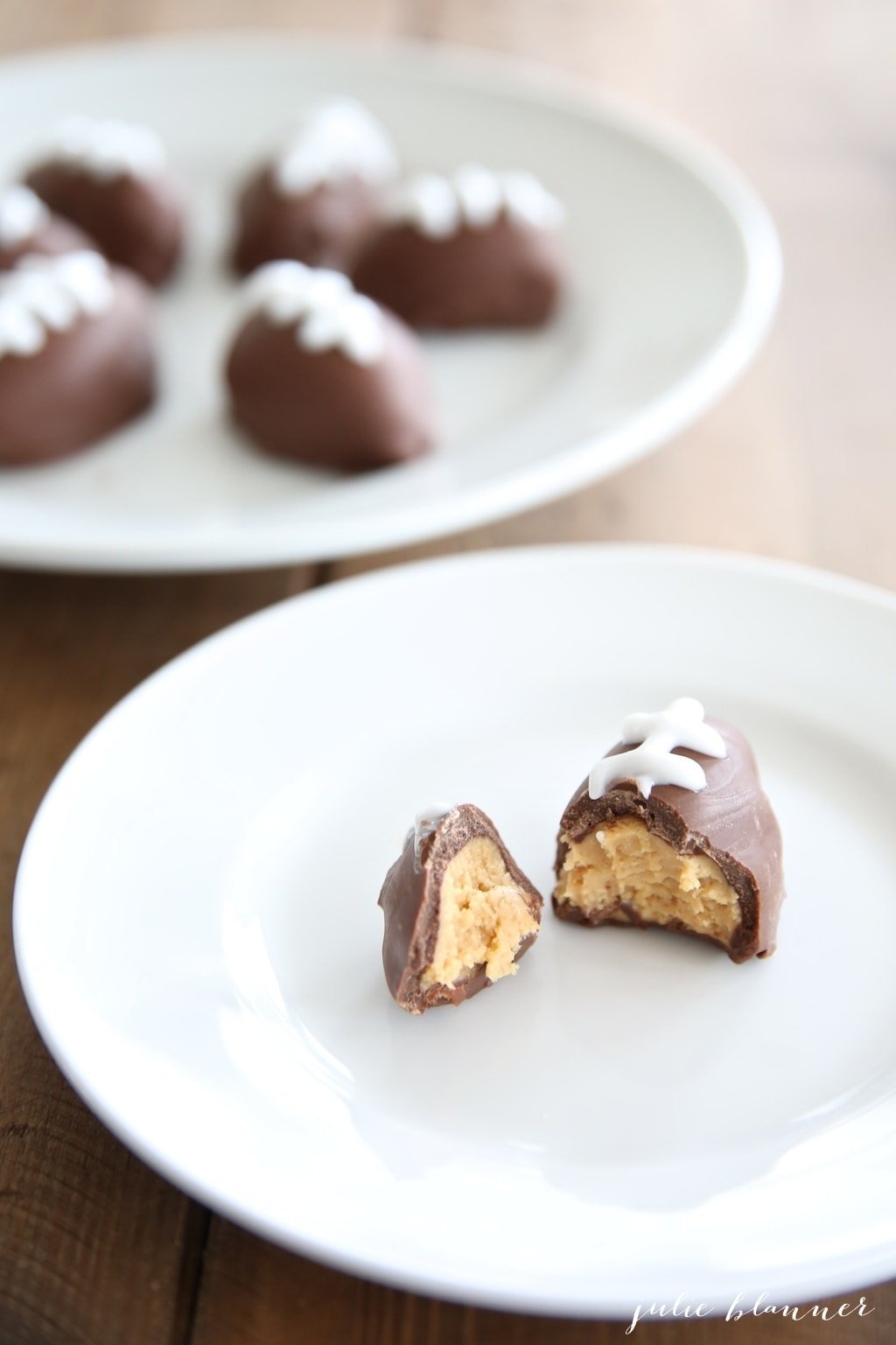 Get the recipe for the BEST M&M cookies without the all the effort! My secret? Browned butter makes all the difference.
This edible cookie dough recipe is the perfect sweet treat! It is so yummy and yet so easy, making it the perfect addition to your gameday spread.
I love making sweets that can be made on a whim, like those that require just a few minutes and only staple ingredients. It doesn't get any easier than this Cracker Toffee! This toffee is the perfect mix of sweet and salty. Careful, it is addicting!
These pecan bars are slightly gooey and chewy and cut into the most perfect little bars. Use a cookie cutter to make into fun football shapes that no one will be able to resist!
No bake desserts are always a hit because there's just so little wait time! These butterscotch squares are great for entertaining and are definitely a crowd favorite.
Is there anything better than a sweet and salty dessert? I just can't resist the flavor packed combo. These no back peanut butter bars are great for celebrating and are the best last minute treat!
I hope you enjoy these easy Super Bowl Recipes! What's your favorite?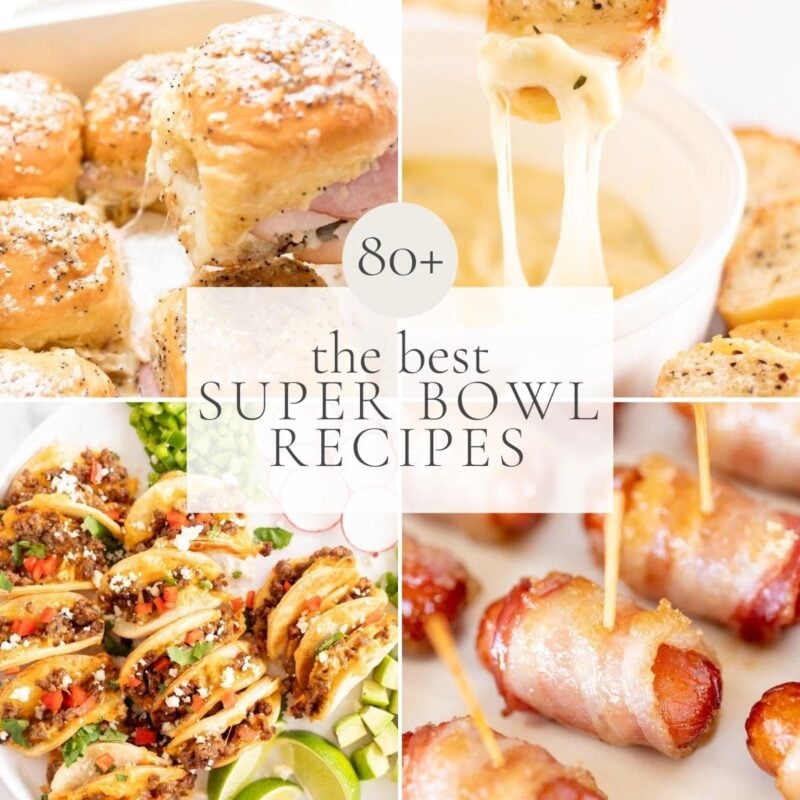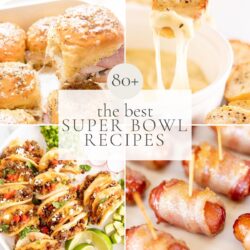 The Best Super Bowl Recipes
Over amazing Super Bowl recipes including dips, handheld appetizers, healthy snacks, desserts and more! These popular recipes are always Super Bowl party crowd pleasers!
Ingredients
1

Refer to each individual recipe for a full printable list of ingredients.
Instructions
Plan to prepare as many appetizers as possible, ahead of time. Many of these recipes can be made ahead and stored in the refrigerator, and some can even be frozen!

Prep ingredients wherever you can. Chop your ingredients, prep baking and serving dishes ahead.

Lay out your serving dishes, glassware and all serving utensils ahead of time! This will make the party prep so much easier on the day of the big game.
Explore More