This is a classic Mexican Layer Dip that is seasoned to perfection! An updated and flavorful 7 Layer Taco Dip, your friends and family will be clamoring for more. Perfect for Cinco de Mayo, game days and beyond, this Layered Taco Dip is the ultimate party food!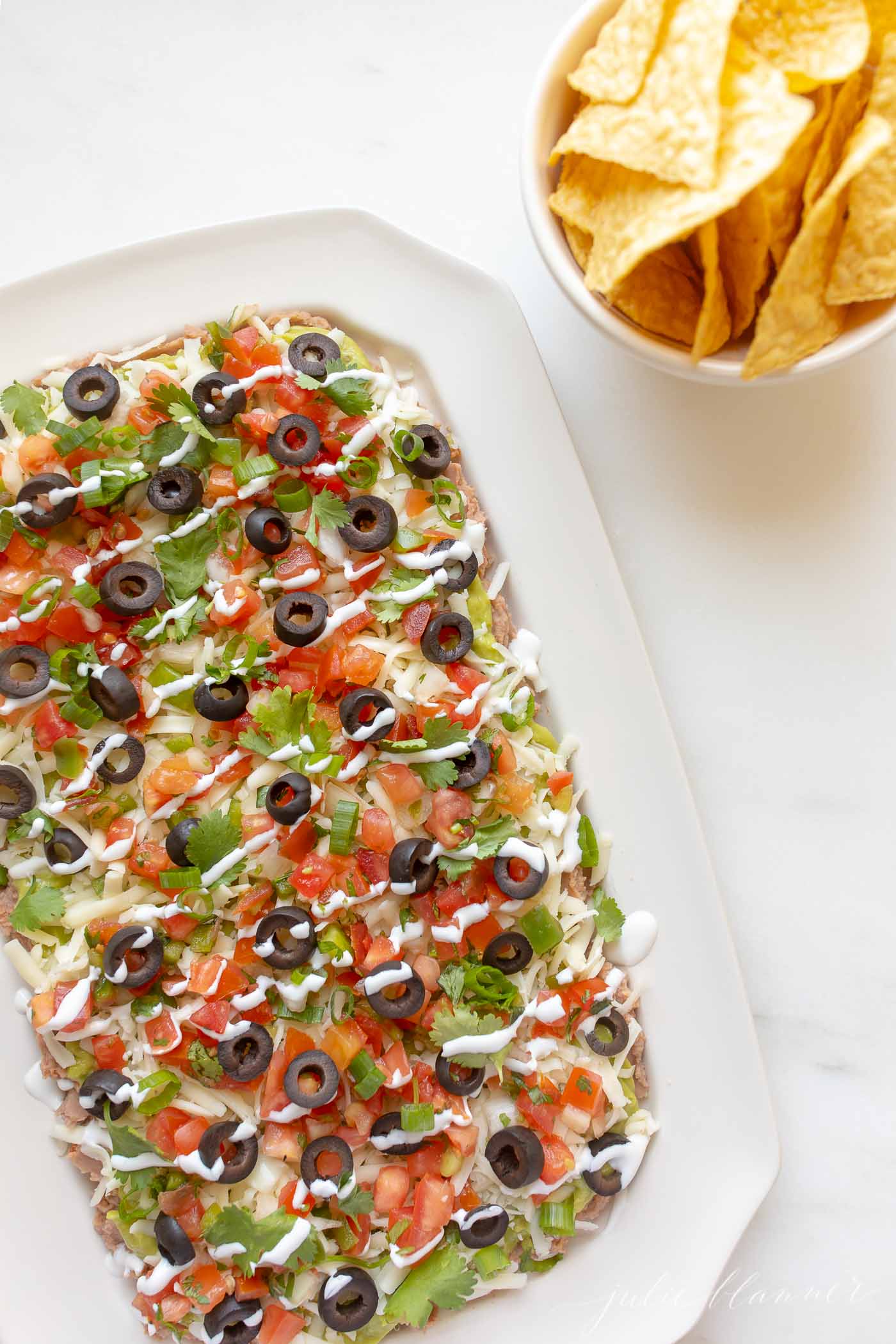 I know what you're probably thinking. "Julie, how much dip can one person possibly eat?"
Well, the answer is a lot. All the dips, all the time. If I could live on dips alone, I would do it and be thrilled about it! (Especially if it's this Mexican Layered Dip!!!) But the fact is, that would leave no room for pasta or cookies, and it probably wouldn't be good for me. Everything in moderation, of course!
That's why this classic 7 layer taco dip is perfect for parties. It feeds a crowd, which keeps me from eating every last bite… and that makes it the perfect appetizer or part of a Cinco de Mayo menu! Everyone loves it, and it's usually the first thing to go during gatherings with friends and family! It's easy to make, colorful and festive to serve, and packed full of Mexican-inspired flavors.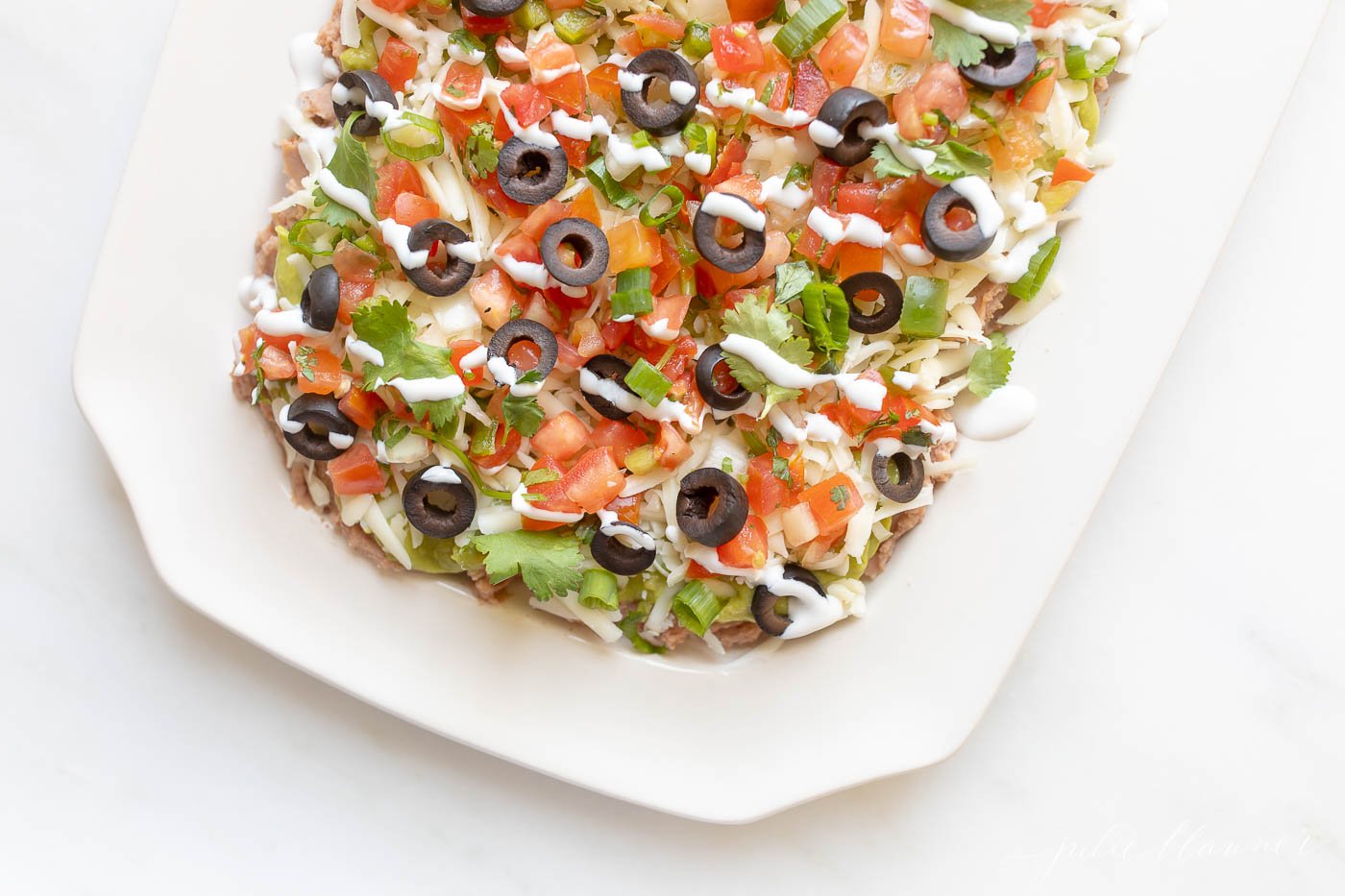 This dip is absolutely perfect for game day! Don't skip my incredible Super Bowl Recipe Guide for all your planning needs!
The Best Mexican Layered Dip
This 7 layer taco dip is a fresh, updated take on the classic version that we all know and love. A few simple upgrades take this dip over the top! It's simple to throw together and makes the perfect amount for parties.
First, the best dips start with fresh ingredients. While I am always a fan of shortcuts when they help get the job done faster, sometimes quicker doesn't equal more delicious. Need a few tips for the best layered taco dip that everyone will crave?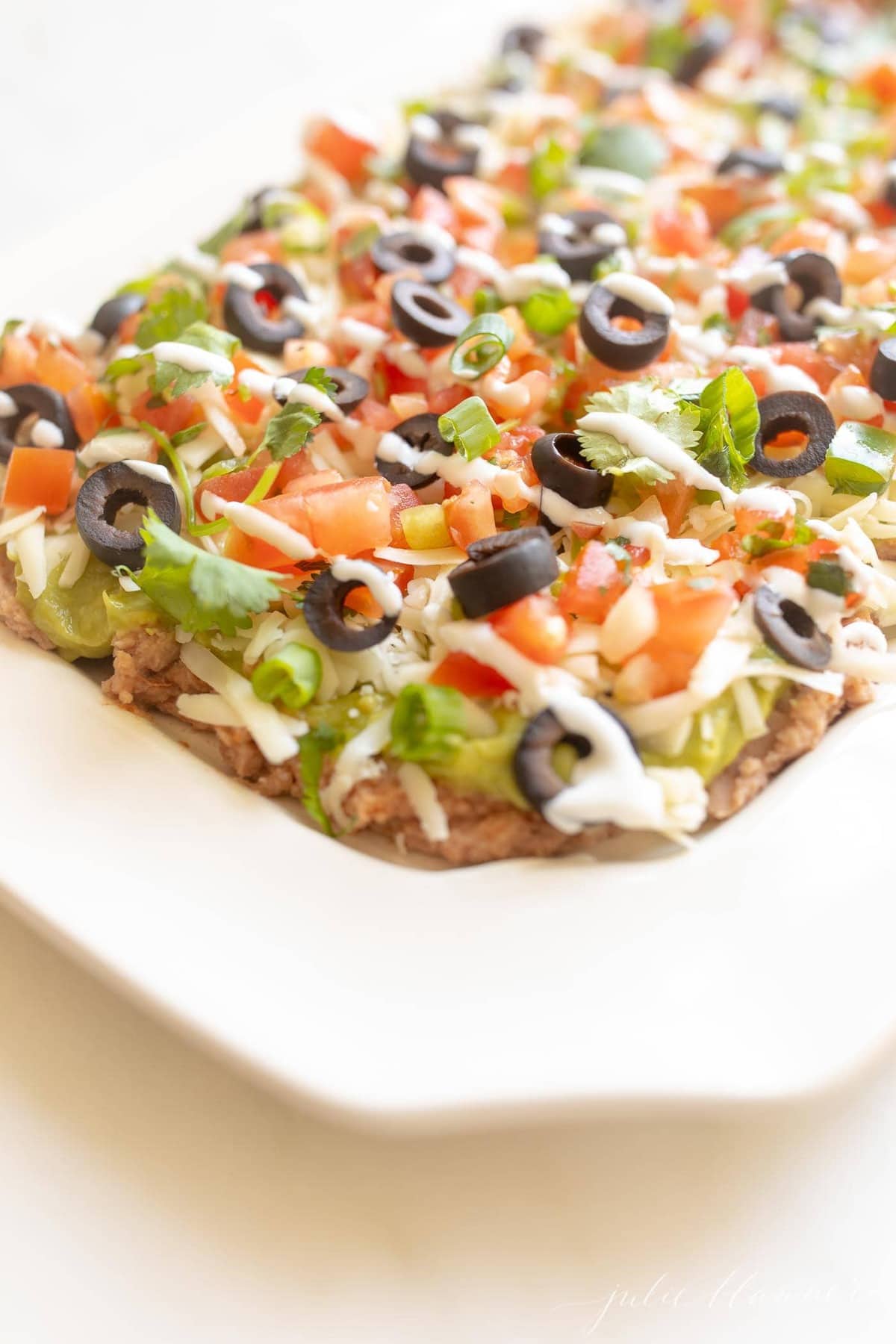 Mexican Layer Dip Ingredients
Refried Beans – Classic or spice it up using Frito Lay Jalapeño refried beans (my favorite).
Fresh Grated Cheese – I love Monterey Jack for this recipe, but you can use your preference. The only requirement? Grate it fresh! No pre-bagged cheese will do. You won't regret this step, I promise!
Taco Seasoning – Homemade taco seasoning or store bought. Chili powder, garlic powder, paprika, onion powder, red pepper).
Pico De Gallo – Use pico de gallo instead of the layer of regular sliced tomatoes that most recipes suggest. It takes the flavor to a whole new level!
Fresh Guacamole – I understand if you choose to save time and skip this step, but no store-bought version can compare to fresh, creamy homemade guacamole.
Black Olives – Canned, drained.
Sour Cream – Add to a condiment dispenser or ziplock to drizzle on.

How to Make 7 Layer Taco Dip
It's simple to make and so easy to serve.
Layer 1 – In a small bowl, mix your bean dip and taco seasoning mix (homemade, as noted on the recipe card) Spread refried beans onto serving dish.
Layer 2 – Gently spread guacamole on top of beans. You want to achieve that pretty layered effect when guests scoop onto a chip.
Layer 3 – Cheese! On top of the guacamole, spread your layer of grated cheese.
Layer 4 – Top with pico de gallo for added color and flavor.
Layer 5 – Sprinkles with olives.
Layer 6 – Green onions and cilantro.
Layer 7 – Add a drizzle sour cream on top!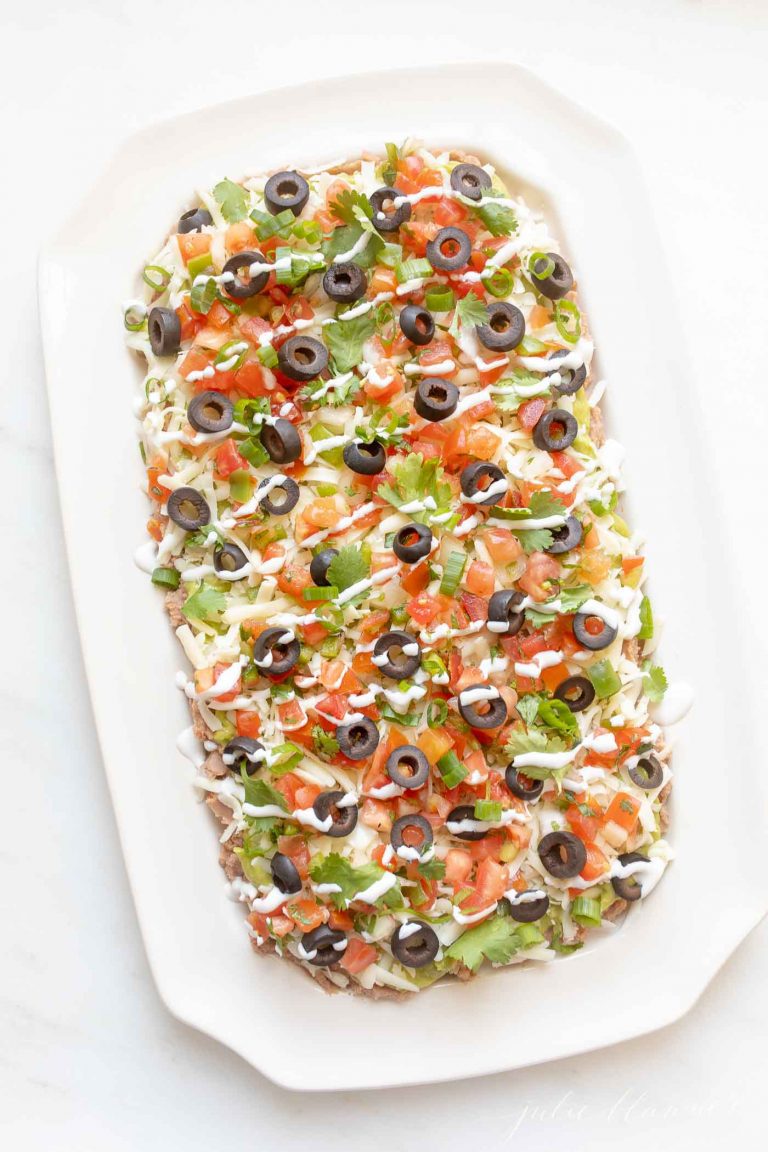 Lighten It Up
While I fully support going full speed ahead with this recipe as-is, you can also lighten it up a bit. As someone who loves all the carbs, I know how hard it can be to eat in moderation!
You can make it a little lower fat by using reduced fat or fat-free refried beans, and of course you can also use a little less cheese. Reduced fat cheese won't be as creamy, so it's best to just use less of the good stuff, in my opinion!
You're eliminating a lot of sodium simply by making your own taco seasoning mix. Another easy tip? Instead of classic chips, try dipping fresh sliced peppers and crunchy sugar snap peas into this layered taco dip! The sweet crunch of the veggies is a delicious match to this slightly spicy dip.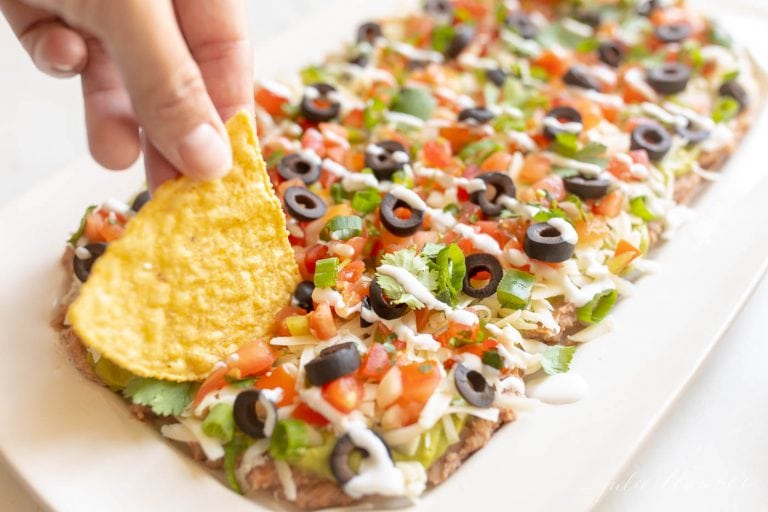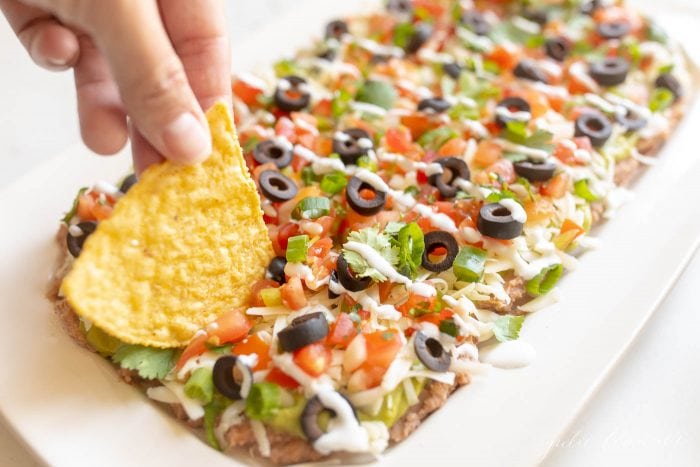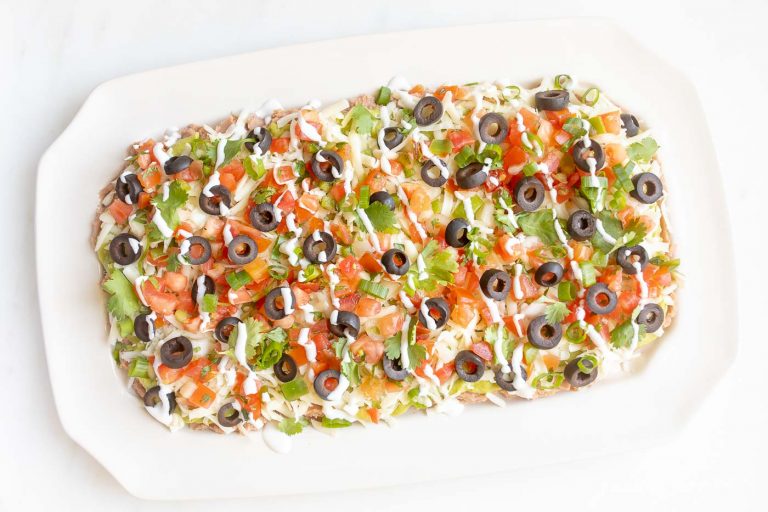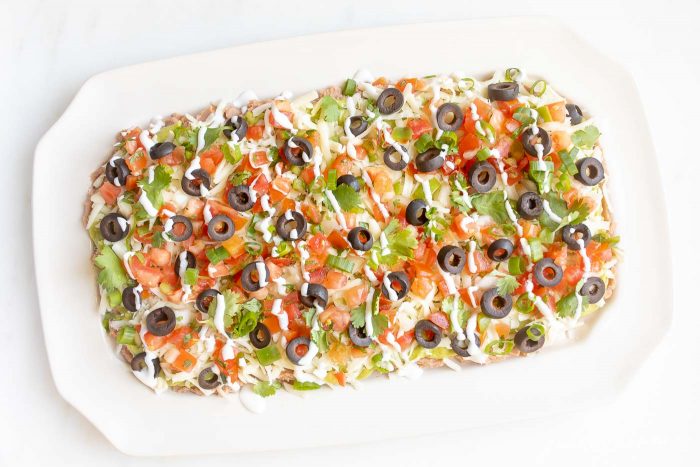 Can You Make Mexican Layered Dip The Night Before?
The truth? You can, but it won't be as fresh or as delicious. The main reason for this is that the fresh gaucamole will brown.
However, if you use pre-packaged guacamole with preservatives to prevent browning, you can certainly put most of this together the night before! I would add the green onions and fresh cilantro just before serving for a fresh spin.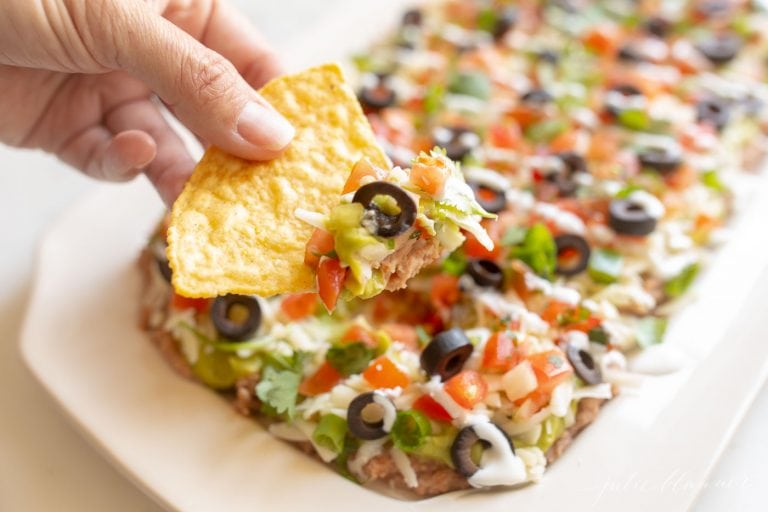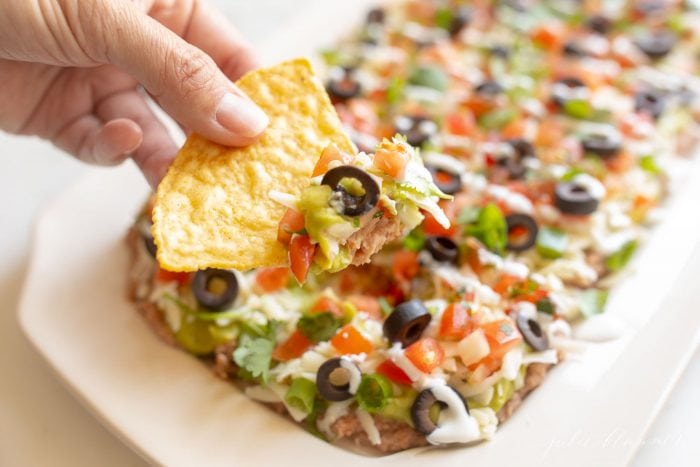 What's your favorite kind of dip? If you try this delicious 7 layer taco dip, please come back and leave a five star review!
Join the club! You can find daily updates on Pinterest, Instagram, Facebook and see my latest YouTube videos here!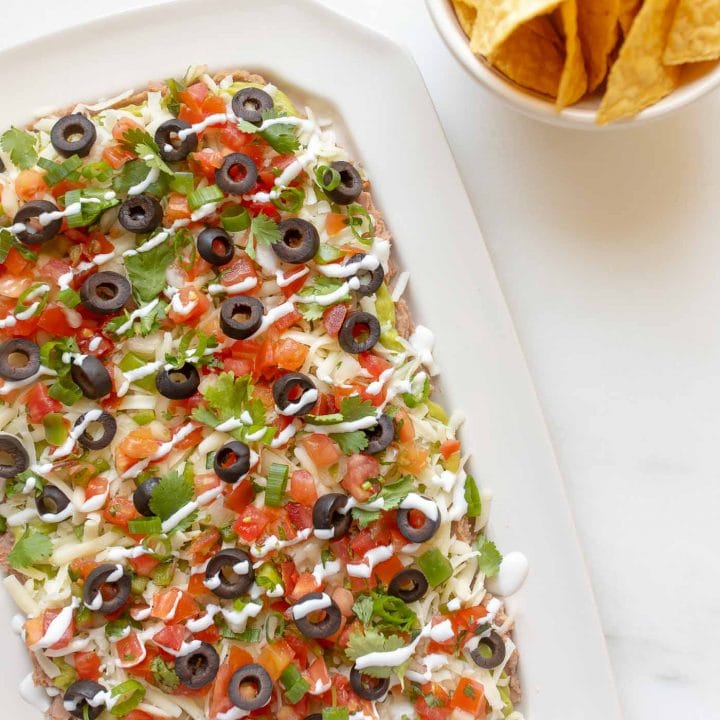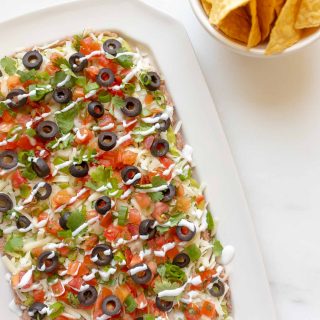 Mexican Layer Dip (7 Layer Taco Dip)
This is a classic Mexican Layer Dip that is seasoned to perfection! An updated and flavorful 7 Layer Taco Dip, your friends and family will be clamoring for more. Perfect for Cinco de Mayo, game days and beyond, this Layered Taco Dip is the ultimate party food!
Ingredients
16

ounces

refried beans

½

teaspoon

chili powder

¼

teaspoon

garlic powder

½

teaspoon

paprika

¼

teaspoon

onion powder

¼

teaspoon

red pepper

1

cup

guacamole

prepared

1½

cups

monterey jack

shredded

2.25

ounces

black olives

sliced

1

cup

pico de gallo

1

green onion

sliced

3

tablespoons

sour cream
Instructions
In a small bowl, combine refried beans and chili powder.

Spread onto a platter or shallow dish.

Sprinkle with cheese to cover.

Add pico de gallo (or tomatoes, onion and cilantro).

Thin sour cream with a touch of milk for a pretty drizzle. Put sour cream in a ketchup container or a ziplock with the corner snipped and zig zag across the Mexican Layer Dip.
Notes
Substitutions
Substitute Frito Lay Jalapeño Bean Dip for spicier flavor
Substitute seasonings with a Tablespoon of taco or fajita seasoning
How To Store
This dip is best made fresh.
Nutrition
Calories:
202
kcal
Carbohydrates:
13
g
Protein:
8
g
Fat:
13
g
Saturated Fat:
5
g
Cholesterol:
21
mg
Sodium:
771
mg
Potassium:
175
mg
Fiber:
4
g
Sugar:
4
g
Vitamin A:
585
IU
Vitamin C:
5.2
mg
Calcium:
190
mg
Iron:
0.9
mg
Did you Make This Recipe?
Mention @JulieBlanner