This Chipotle Corn Salsa Recipe is a fresh and easy dip or topping for tacos, quesadillas, burritos and more! Add this Chipotle Corn Salsa to your burrito bowls for the ultimate Chipotle copycat.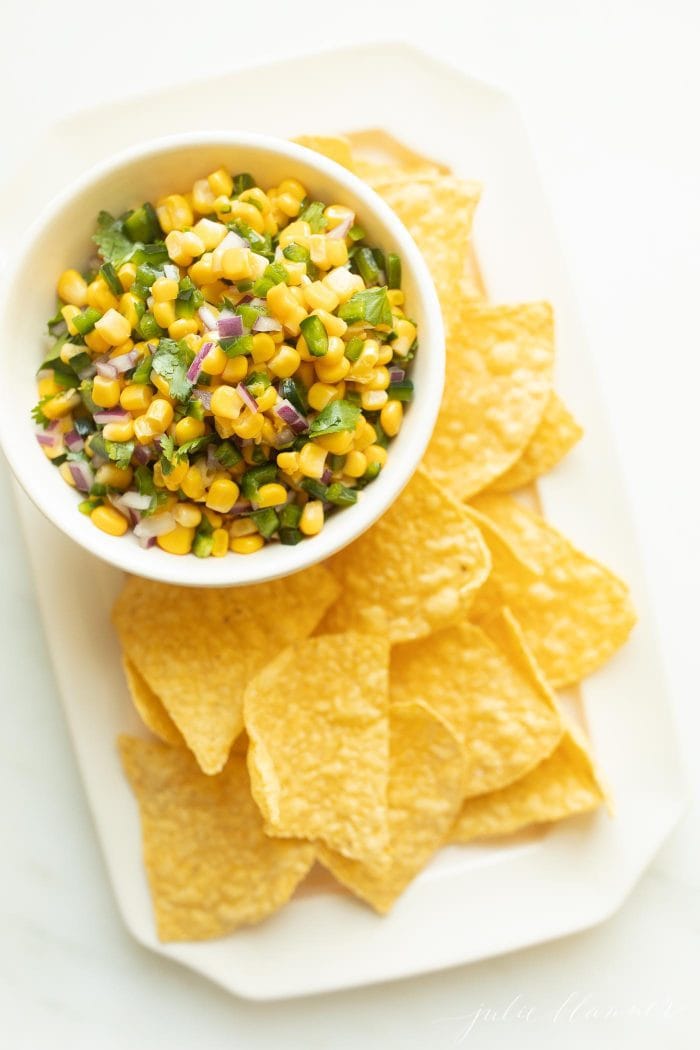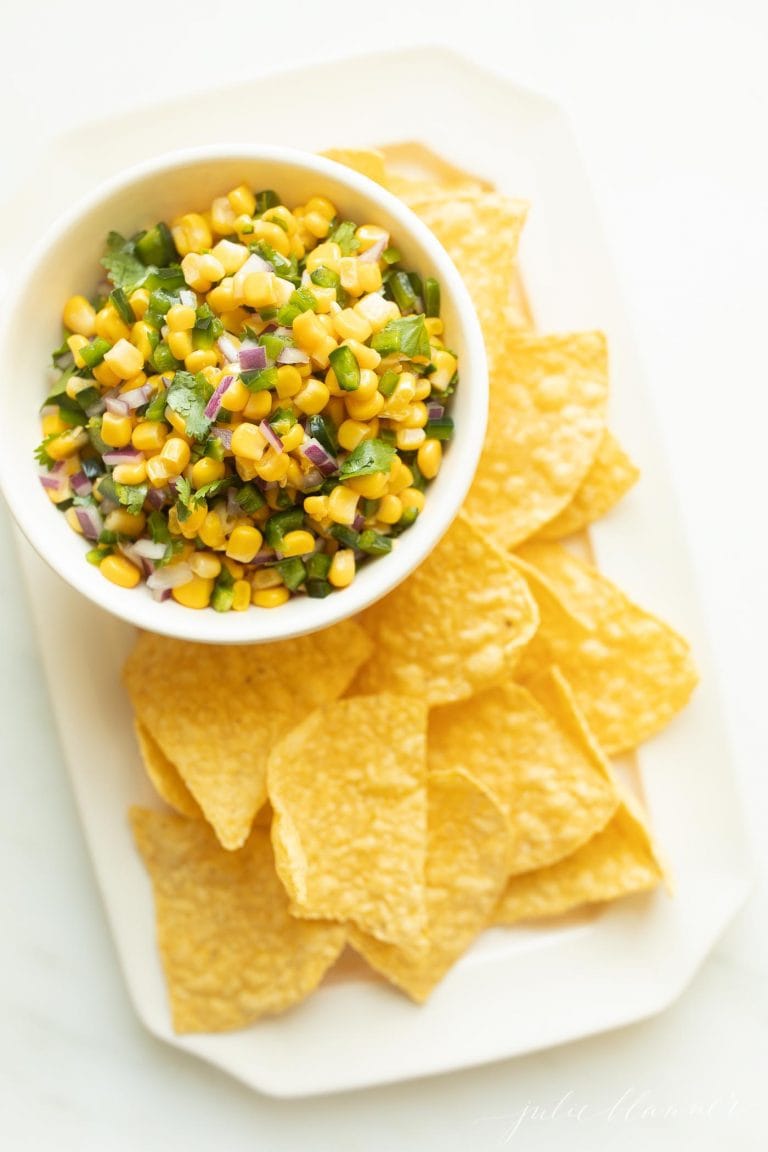 Every week, Isla & I have a date at Chipotle just before we pick the big girls up from school. During the holiday break, I was missing our little Chipotle dates. I crave their corn salsa both as a dip & on their chicken tacos!
Fortunately for me, I didn't have to rely solely on taste to recreate the Chipotle corn salsa. All of the ingredients are listed directly on their website.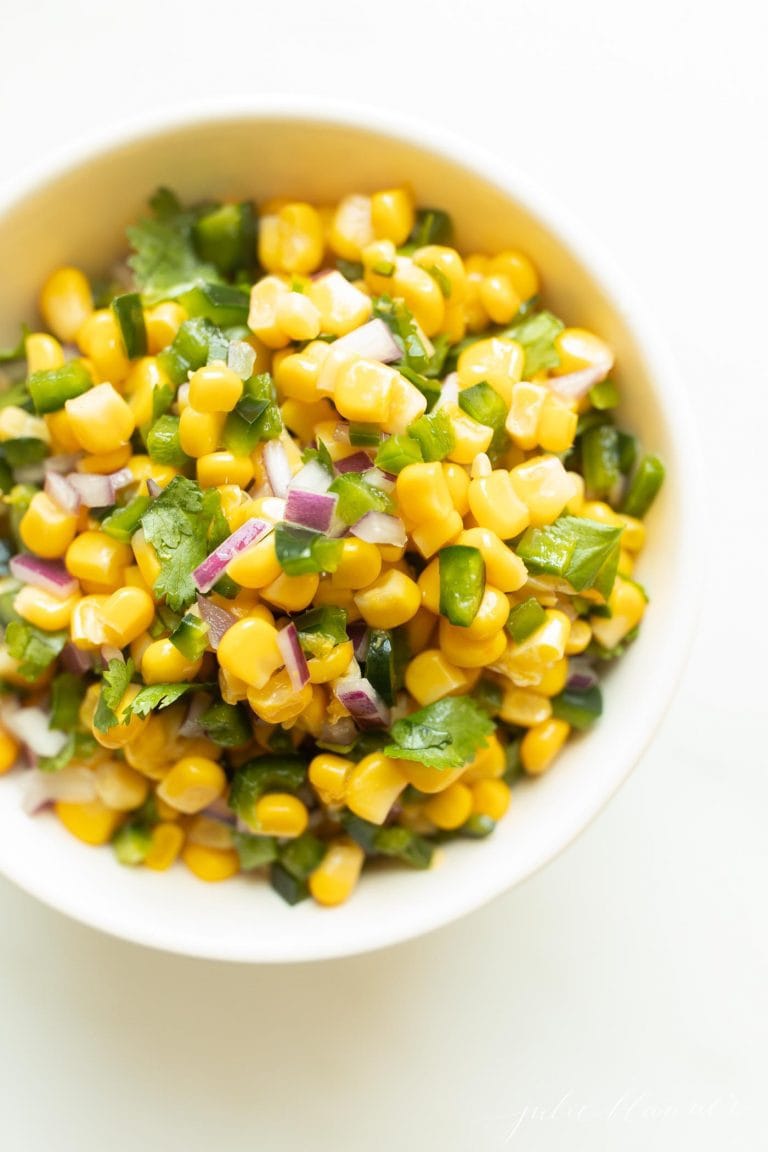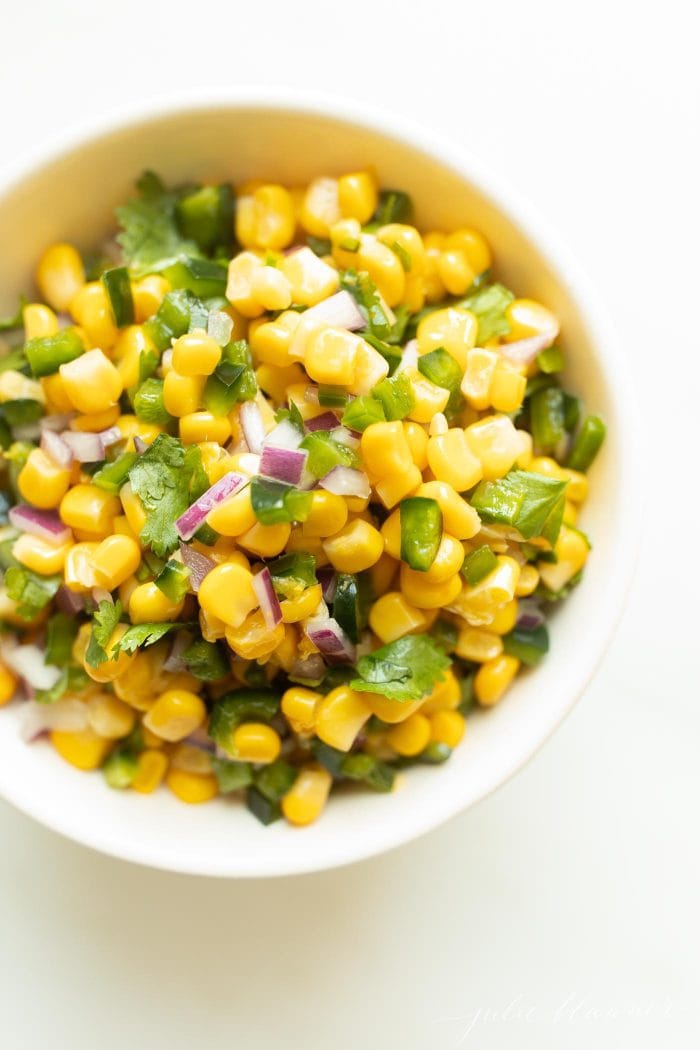 The Best Chipotle Corn Salsa Recipe
I've enjoyed this corn salsa so many times through the years. Truthfully, it was easy to perfect this recipe to get the measurements of each ingredient just right because I've eaten so much of it. I should probably be a little embarrassed about that, but I'm not! In fact, my chipotle corn salsa obsession is your gain! I'm not huge on copycat recipes but this is one to savor, I promise.
What's your favorite Chipotle entree? Do you ever try to replicate any of them at home like we do? We love to make our own chicken tacos and chipotle burrito bowls at home, and who doesn't love a classic Chipotle Burrito?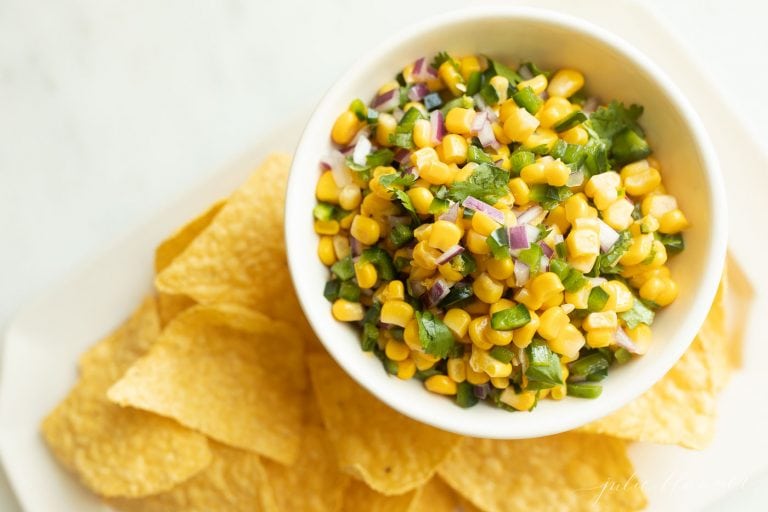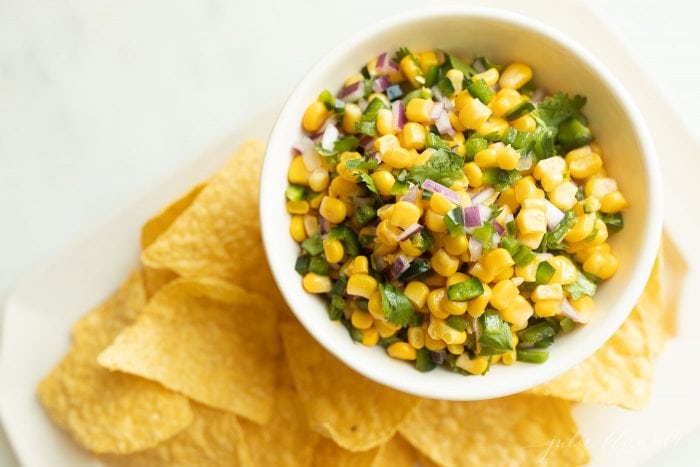 How to Replicate Chipotle Corn Salsa
The ultimate key? Fresh ingredients. I use fresh jalapeno peppers, poblano peppers, cilantro, red onion and fresh corn on the cob in this recipe. Finely chopping all of your peppers spreads the heat throughout the dish perfectly.
Freshly squeezed lime juice is also so important! Of course this dish is best when served in the summer season to ensure fresh sweet corn, but we make it all year round, just like Chipotle. It's the perfect sweet and spicy crunch to top your tacos, burritos, quesadillas and salads.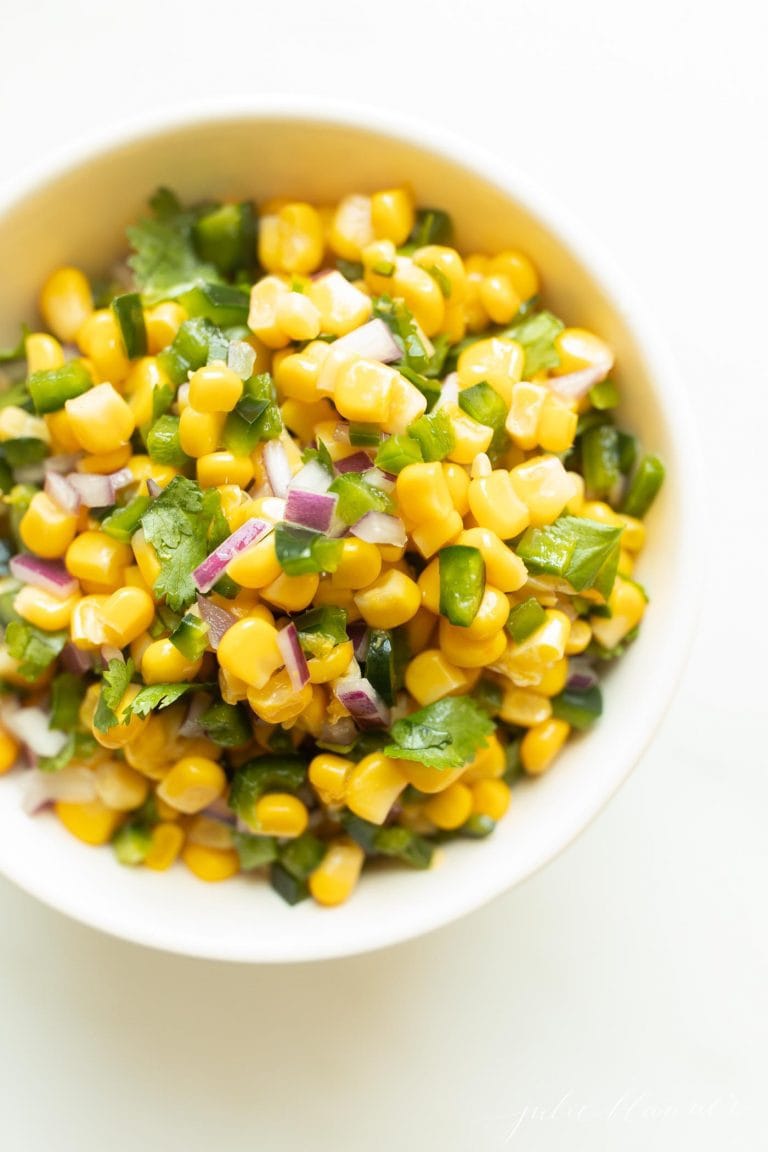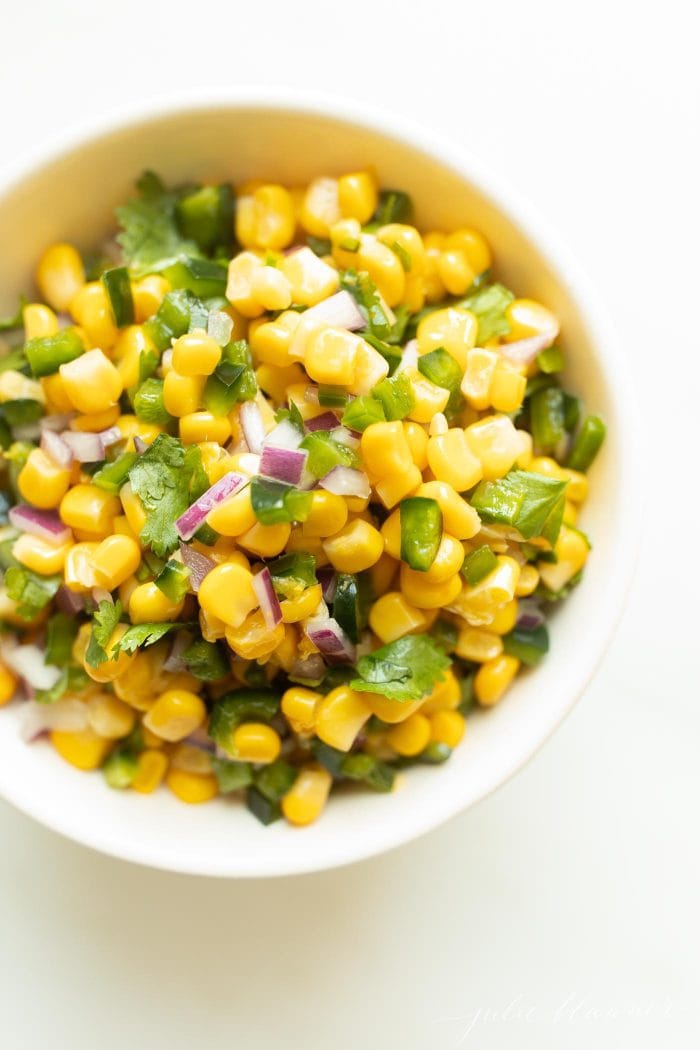 One of the many reasons that I love this recipe is because I can create it ahead of time, making it a great recipe for entertaining! I often use it on a build your own taco bar at the kitchen island. Serve it in one of these homemade taco bowls for an extra cute touch!
I use leftovers of this easy corn salsa throughout the week. In fact, it's perfect as a dip, an easy way spice up a basic baked chicken breast, on nachos and more! The options are endless.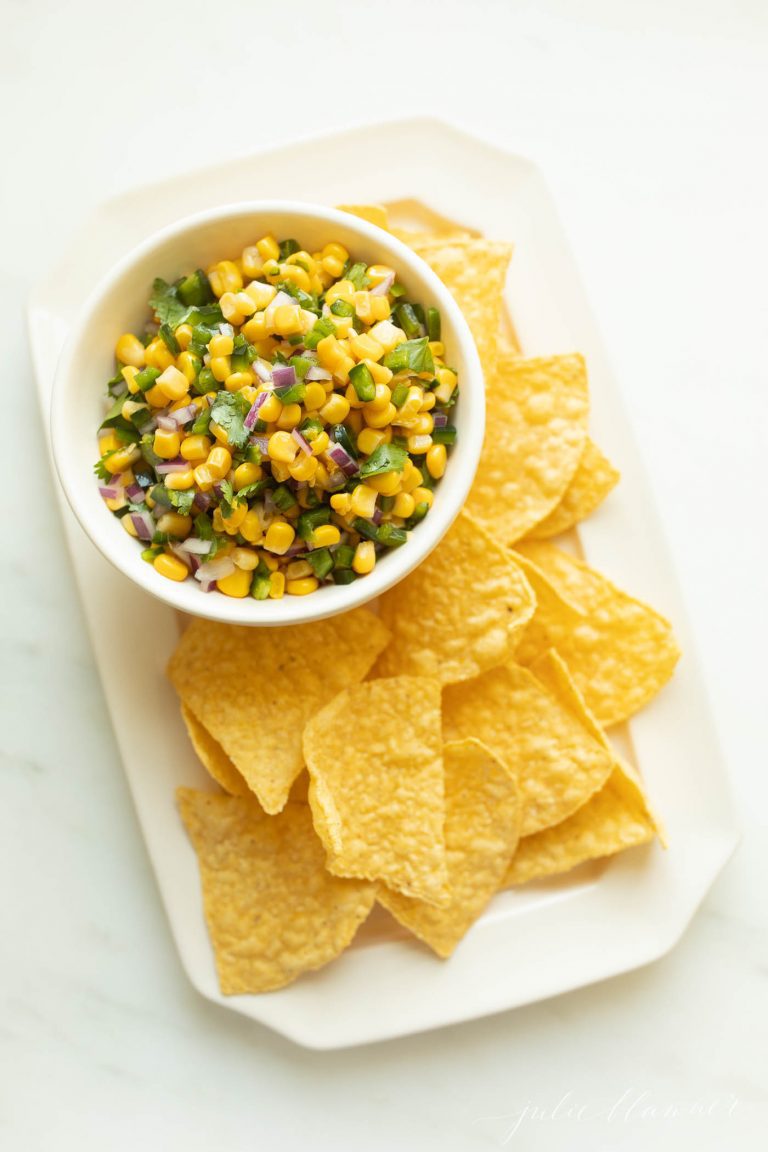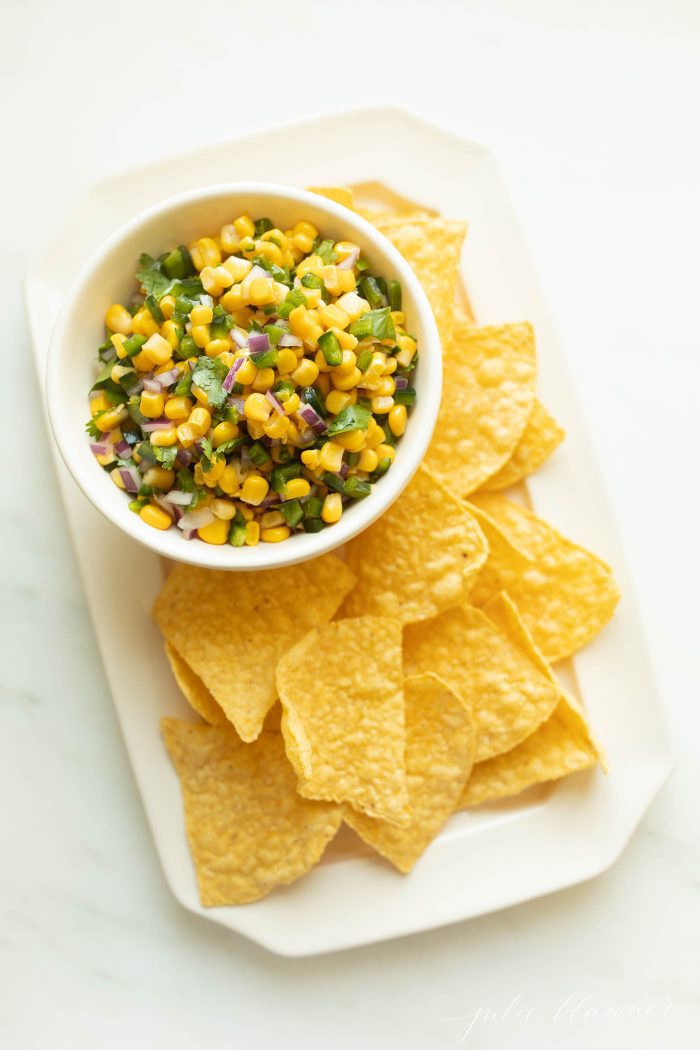 What Readers Are Saying About This Chipotle Corn Salsa
Christina says: "This looks absolutely delicious! My mouth actually started watering at lime juice, jalapeños and cilantro, three of my favorite greens! I've been looking for something delicious and healthy, so I will have to try this!" Christina, it's so good! I hope you enjoy!
Leah says: "I love the Chipotle corn salsa! Such a brilliant idea to recreate the recipe at home!"
From Kristyn: "Love how easy & flavorful this is!! I could munch on this all day!!" Me, too!
Dani, via Pinterest: "I added 2 avocados diced and used 3 jalapeños diced, 6 ears of fresh corn off the cob and 1 red onion finely chopped, 3 small lime juiced, along with large bunch of cilantro chopped! YUM" Adding the avocado is such a great idea!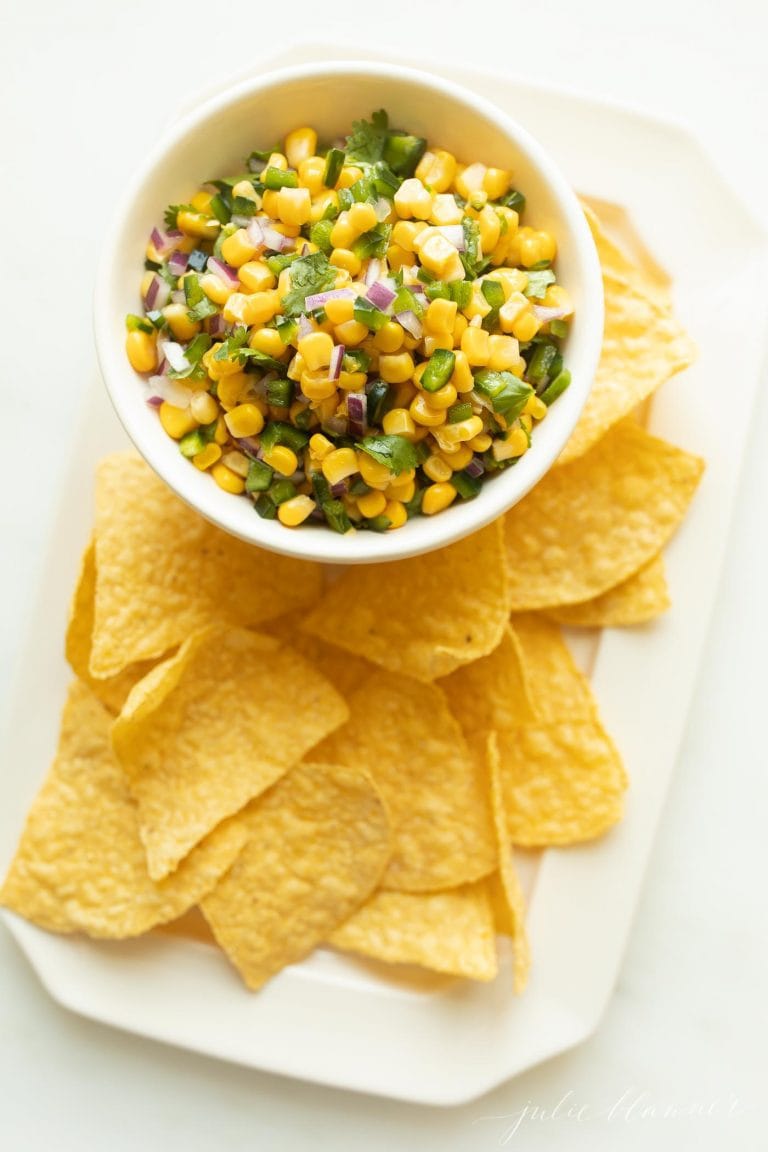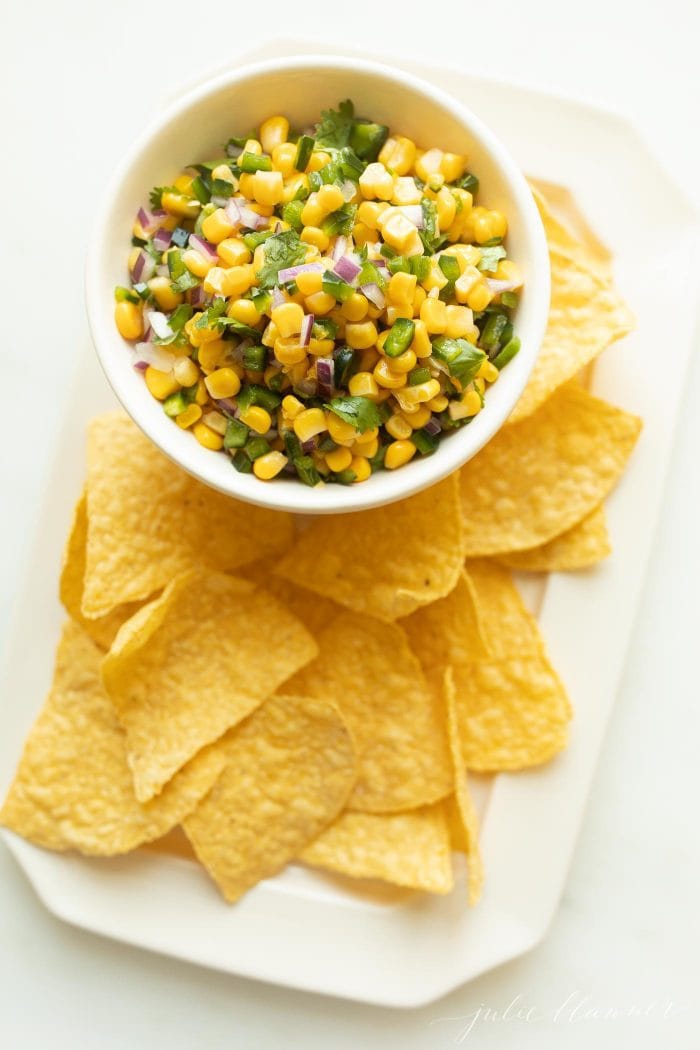 Chipotle uses white corn, but when it's winter in Missouri, I use yellow because it's what we have available. Use whatever fresh corn you can get if possible, canned and frozen are not really a suitable substitute. (If you must, frozen is better than canned in this situation!)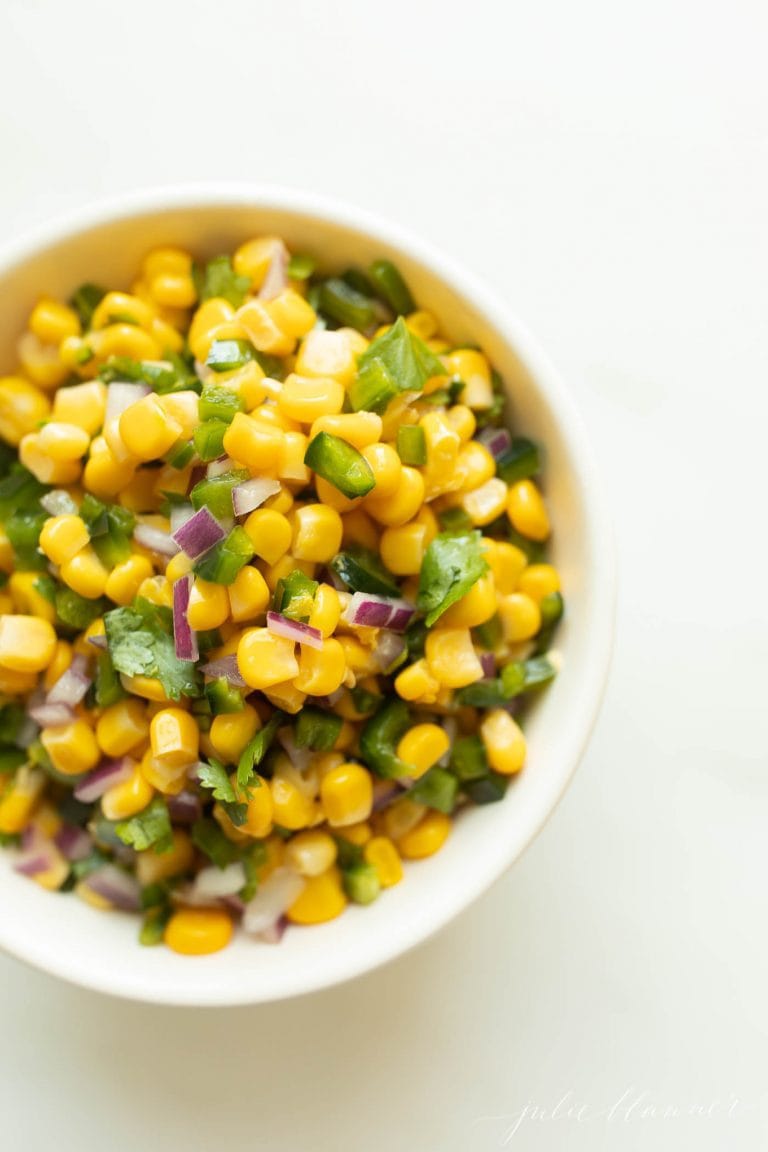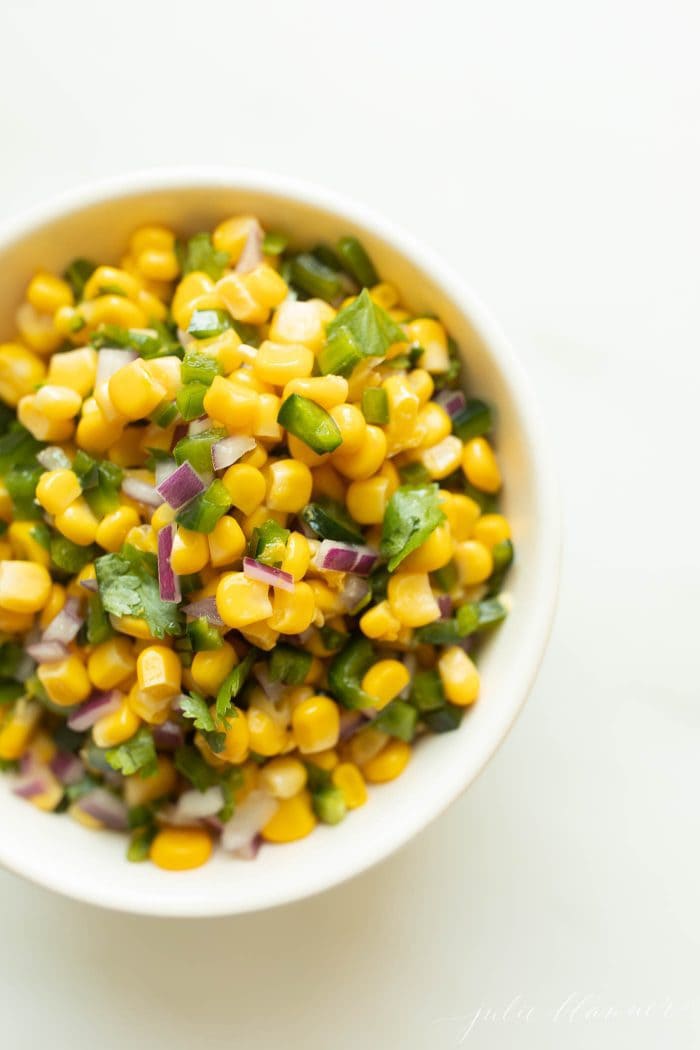 What to Serve With This Corn Salsa
You may or may not know this, but we love Mexican-inspired dishes in our house. Check out all of my favorite Mexican dishes right here! Specifically, I've got more than a few great ideas on how to serve this Chipotle Corn Salsa Recipe!
This recipe is so simple… just chop, toss and serve! Game on!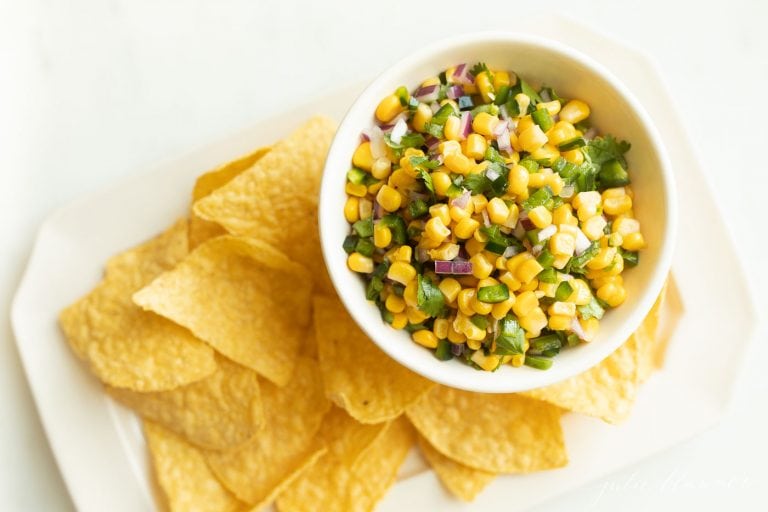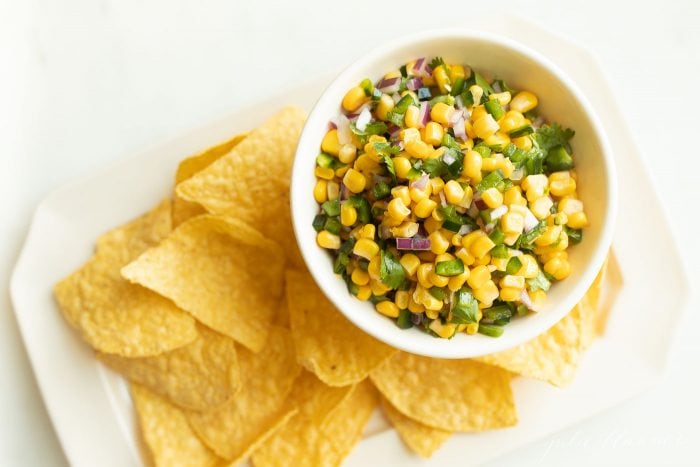 Chipotle Corn Salsa Recipe Tips
Try using roasted poblano peppers instead of fresh!
Throw in some black beans for a whole different vibe.
Add a little salt and pepper! Why not?
This dish will last several days in the fridge.
If you make this corn salsa recipe, I hope you'll come back and share the results with me! If you love it, please leave a five star review in my rating system below. Thanks for reading, and happy eating! This recipe was originally published in January of 2015, and updated April 19, 2019.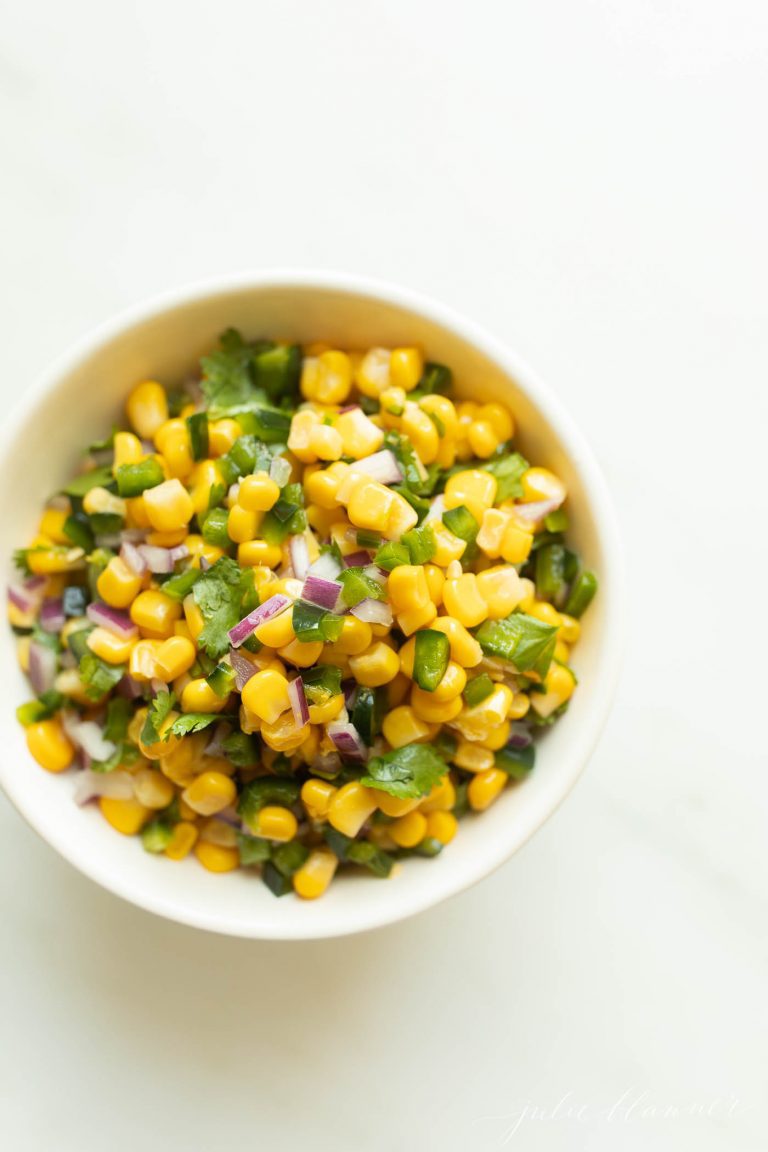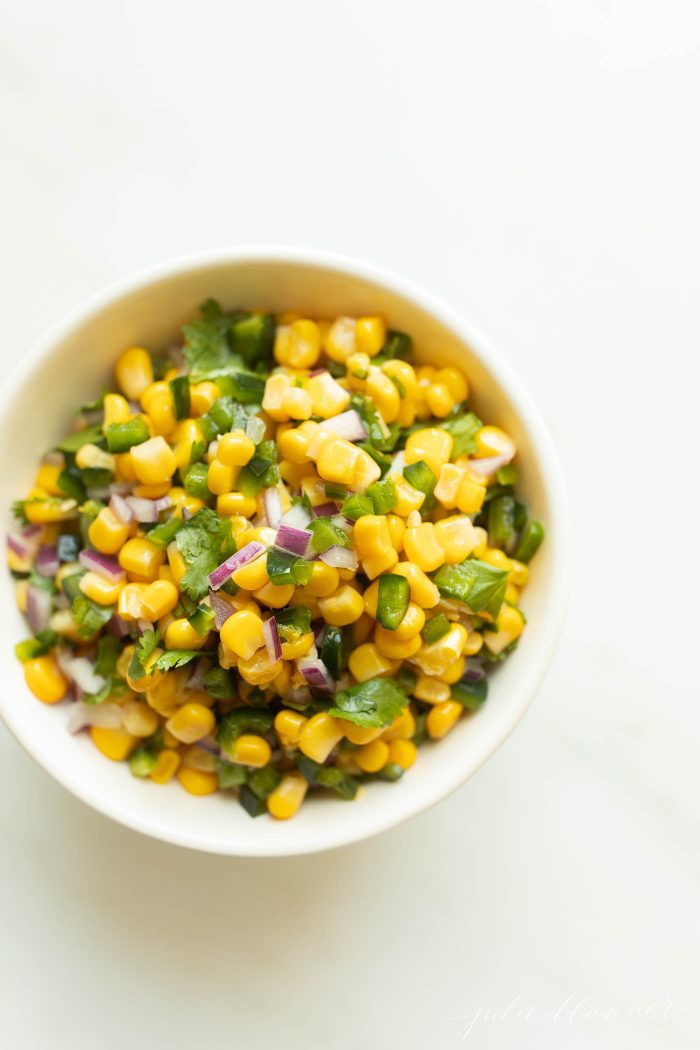 How To Make This Chipotle Corn Salsa Recipe: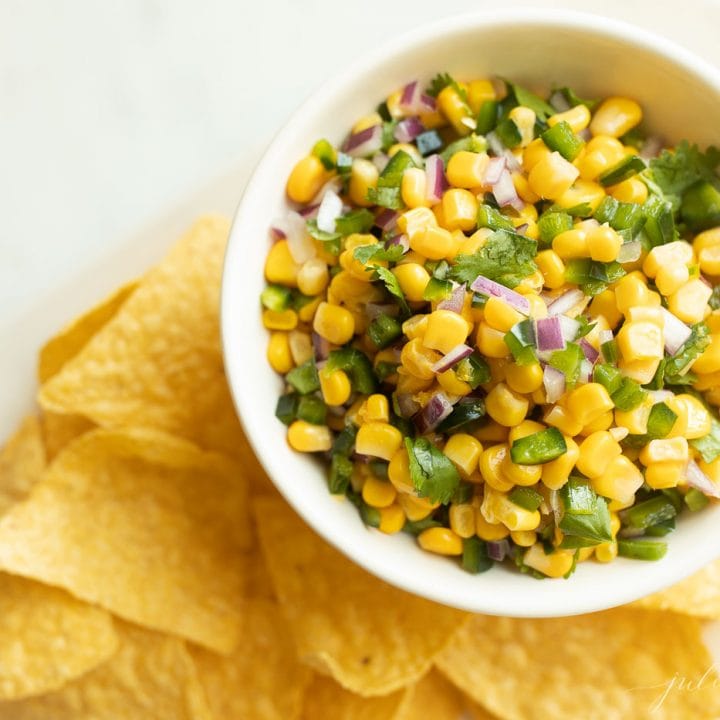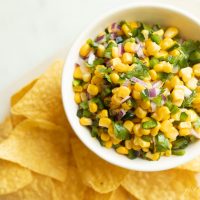 Chipotle Corn Salsa Recipe
This Chipotle Corn Salsa Recipe is a fresh and easy dip or topping for tacos, quesadillas, burritos and more! Add this Chipotle Corn Salsa to your burrito bowls for the ultimate Chipotle copycat.
Print
Pin
Rate
Ingredients
1

corn

3 ears of corn, boiled & cut or 1 can, drained

1/4

c

cilantro

chopped

1/4

c

red onion

diced

1

jalapeño

seeded & diced

1/2

poblano

seeded & diced

1/4

lemon

juiced

1/2

lime

juiced
Instructions
Combine all ingredients & refrigerate until serving.
Notes
If you prefer an exact measurement, 1/4 of a juiced lemon is generally around 2 tsp, and 1/2 of a lime is 1 tbsp. 
Nutrition
Serving:
0.5
cup
|
Calories:
51
kcal
|
Carbohydrates:
13
g
|
Protein:
1
g
|
Sodium:
6
mg
|
Potassium:
199
mg
|
Fiber:
3
g
|
Sugar:
5
g
|
Vitamin A:
640
IU
|
Vitamin C:
92.6
mg
|
Calcium:
11
mg
|
Iron:
0.4
mg