The best beef tacos are ready start to finish in just 10 minutes with a few simple ingredients. This beef taco recipe is always a crowd pleaser, incredibly flavorful and low in calories, too!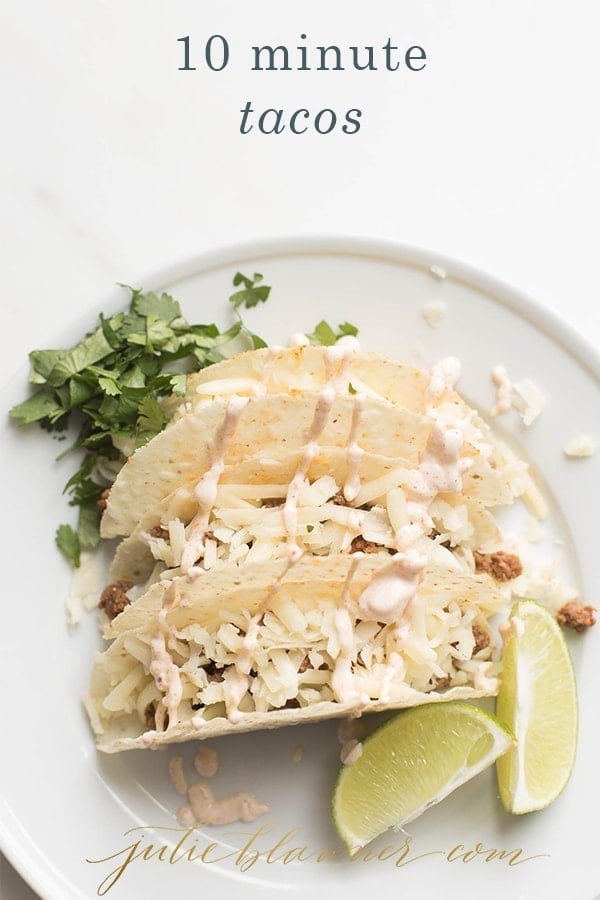 I've been making this ground beef taco "recipe" for years, but when we purchased the lake cottage, it became a weekly staple.
Why? Because they're quick, easy, almost mindless and everyone in our family devours them without a complaint. Pretty much a miracle for anything with meat in our family!
Last summer when my sister joined us at the lake she seemed a little uneasy about beef tacos, but ever a great houseguest, didn't complain. She was pleasantly surprised when she took her first bite and returned for seconds. They're that good. It's so hard not too!
Imagine my surprise when my sister suggested I share the recipe with you – given I didn't even really realize it was one. She brought them to a neighbor's house for dinner and not only has that neighbor continued to rave about them, but others have caught on now as well.
Each weekend at the lake I have a mental grocery list for sandwiches, tacos, breakfast and snacks – it doesn't change, which keeps it effortless, and we all look forward to it, each and every weekend.
This Ground Beef Taco recipe makes a great weeknight dinner for the same reasons!
These are incredibly easy…with all the right ingredients, this ground beef taco recipe is out of this world.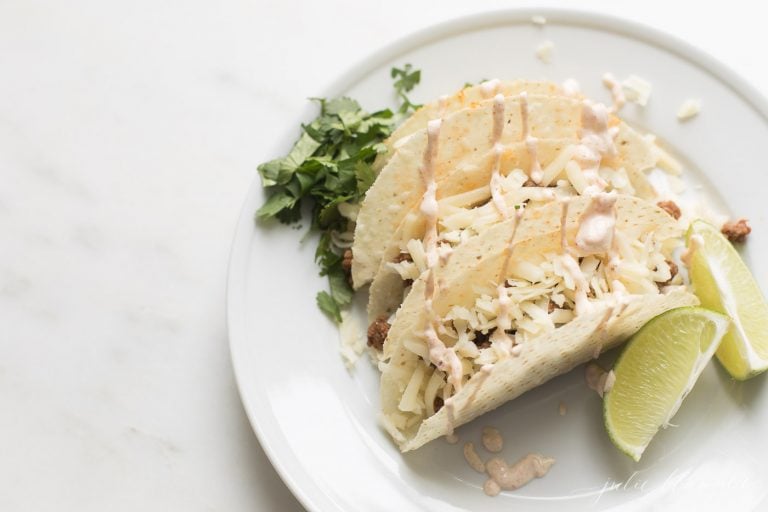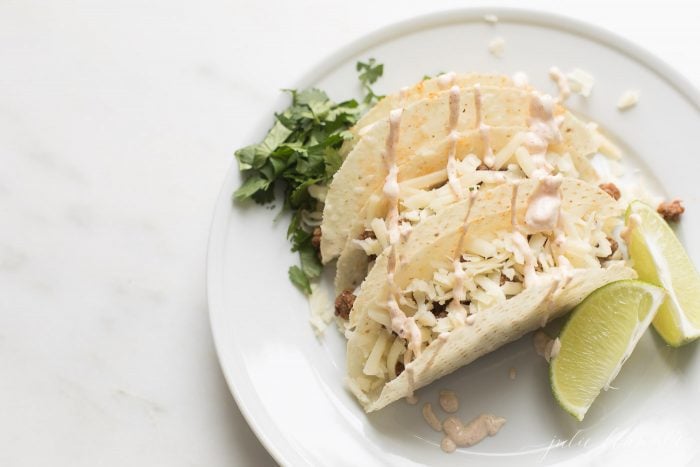 What Ground Beef Is Best For Tacos?
To make the best beef tacos, the best ground beef is a must. The key to choosing the best beef for tacos is to find beef that is ground right in the store you are buying it.
At grocery stores and supermarkets, this is at the beef counter. Simply ask the butcher behind the counter – that's why they're there!
To keep this beef taco recipe low calorie, I like to purchase lean ground beef, also known as the 93/7 variety. If you would like a higher fat content, simply purchase an 85/15 or 80/20, whichever they have on hand.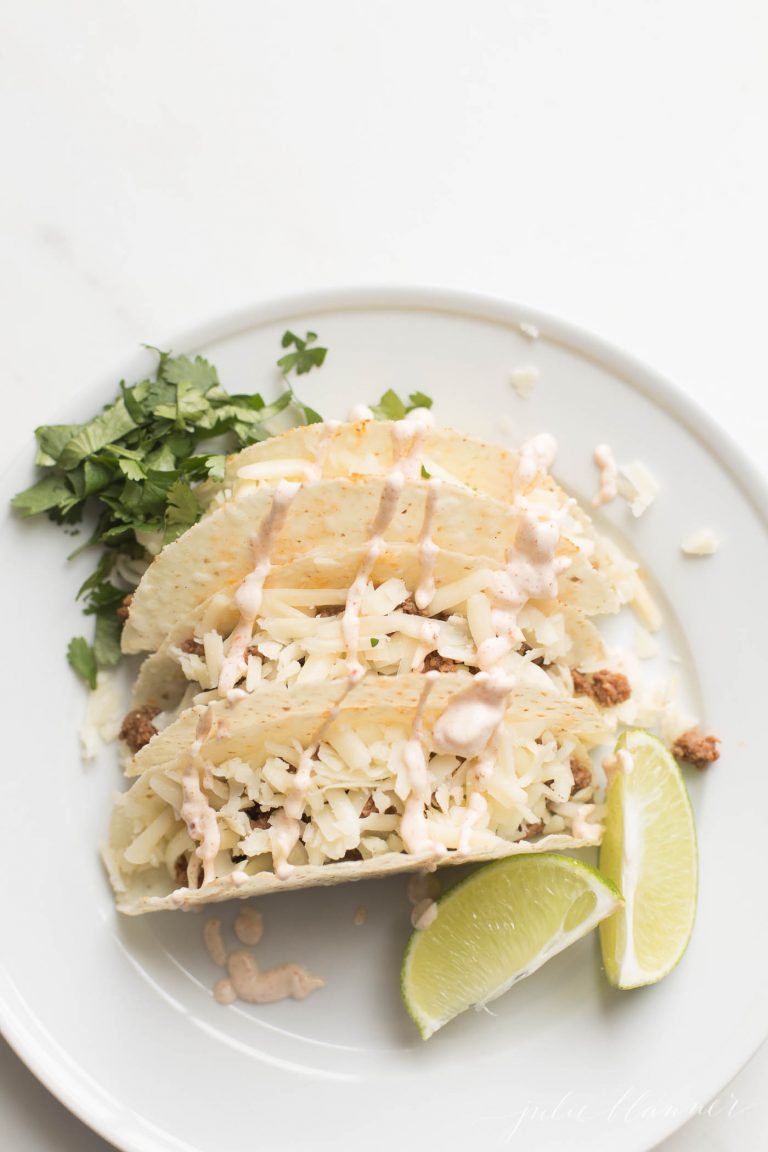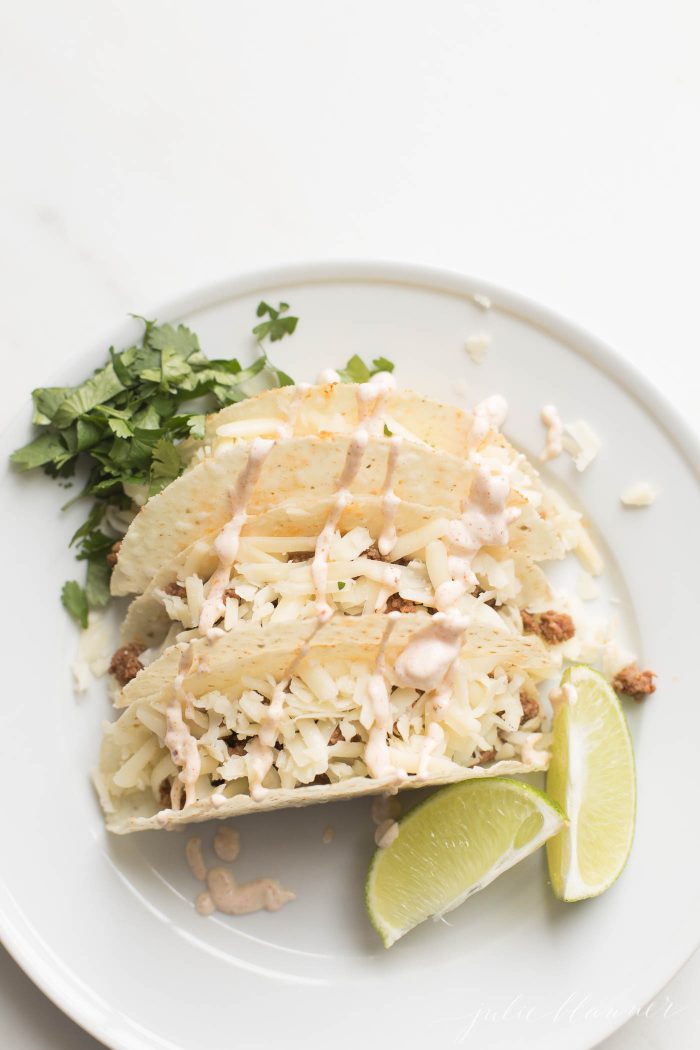 Beef Taco Ingredients
Monterey Jack Cheese – Fresh shredded monterey jack or colby jack cheese. It takes just 2 minutes and is totally worth it. The best cheese is usually reserved for blocks, have less preservatives and remains in tact, making it much creamier than pre-shredded cheese.
Ground Beef – As noted earlier, I like 93/7 lean ground beef. It's the perfect ratio – just greasy enough, without being too greasy.
Taco Seasoning – You can make your own taco seasoning with spices you have on hand or use Old El Paso Taco Seasoning.
La Tiara Corn Taco Shells – Toast them in the oven for just a minute or two for a thin, crispy, delicious crunch! Truly my very favorite.
Sour Cream – For drizzling, dipping or dolloping, whichever you prefer. Crema is also delicious.
Optional
Hidden Valley Fiesta Ranch Dip – Optional, but it really makes these Mexican beef tacos taste like a party!
Fresh Cilantro
Lettuce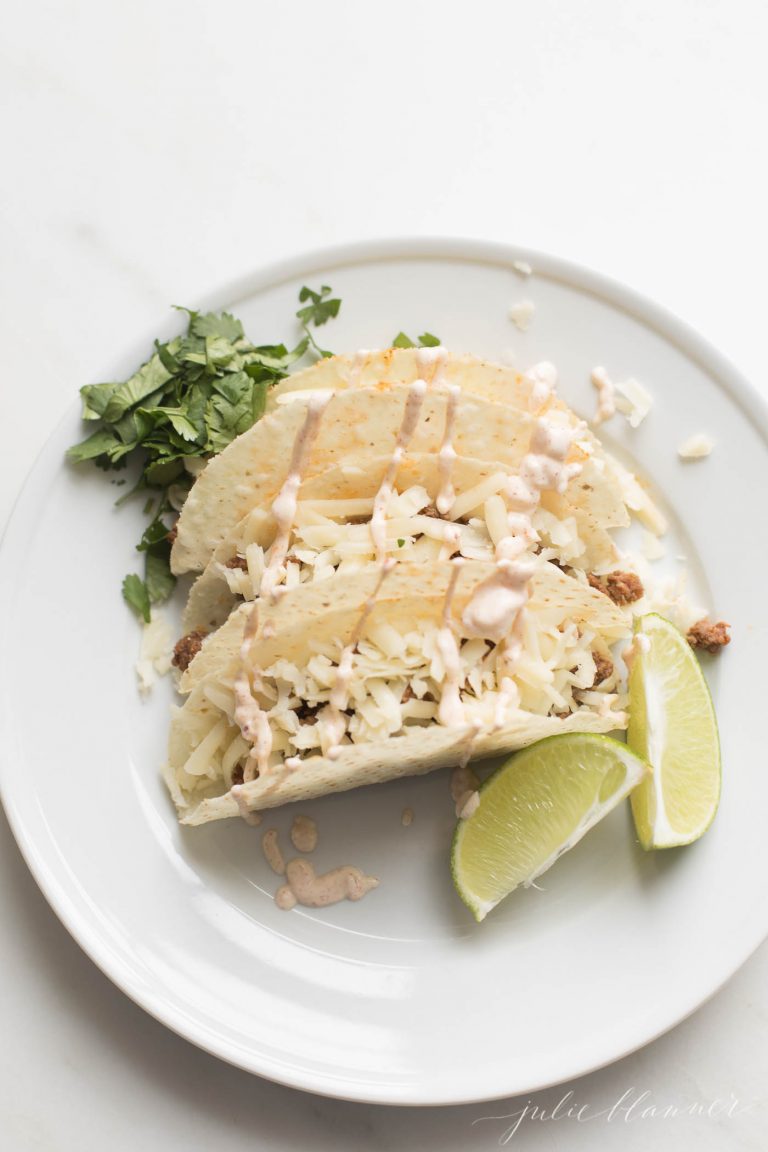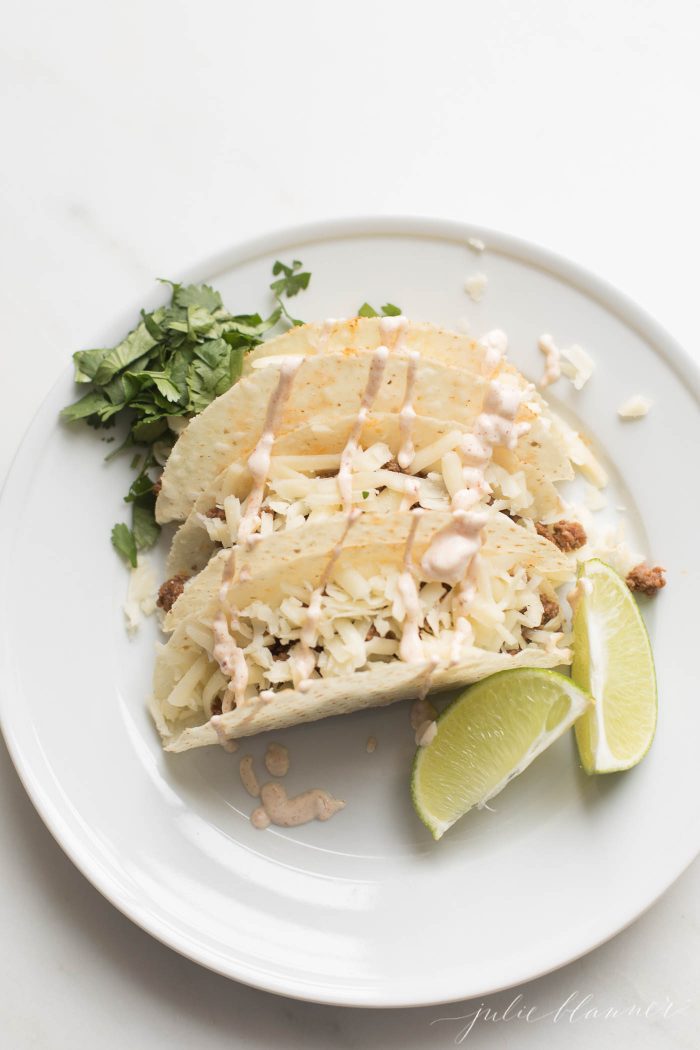 How To Make Beef Tacos
Preheat the oven to 385 degrees. Bake corn taco shells for 2-3 minutes, or until slightly warm.
In a skillet over medium heat, add ground beef, breaking it up with a wooden spoon. Add taco seasoning and cook until brown.
Optionally, combine sour cream and ranch mix.
Fill taco shells with ground beef and shredded cheese. Top with Fiesta sour cream. Enjoy!

How Much Taco Seasoning Do I Need For One Pound of Meat?
1-2 tablespoons of homemade taco seasoning.
One packet of taco seasoning contains 1 ounce of seasoning – the right amount to season your taco meat to perfection.
If you prefer not to use the taco seasoning or are in a pinch, replace it with 1 Tablespoon each of sweet paprika and onion flake for a simple homemade flavor.
How Many Calories In Ground Beef Tacos?
Since we are making these weeknight tacos with lean ground beef, one taco is only 263 calories, toppings and all! So go ahead – have two, ehem, three!
What to Serve with Tacos
The best side dish for easy beef tacos are ones that complement the flavor.
Make it as part of a Cinco de Mayo spread, too. Click here to get other Cinco de Mayo menu ideas. If you're looking for Mexican-inspired dinner and party ideas, I know you'll love these incredible walking tacos!
More Beef Recipes You'll Love
If you try this Ground Beef Taco Recipe, please come back to share using my 5 star rating in the comments below! Not only do I appreciate it, but I know readers do, too! For more easy recipes and simple living ideas, subscribe to my newsletter!
Want more? Receive the best ideas directly to your inbox and connect on Youtube, Instagram, Facebook, and Pinterest!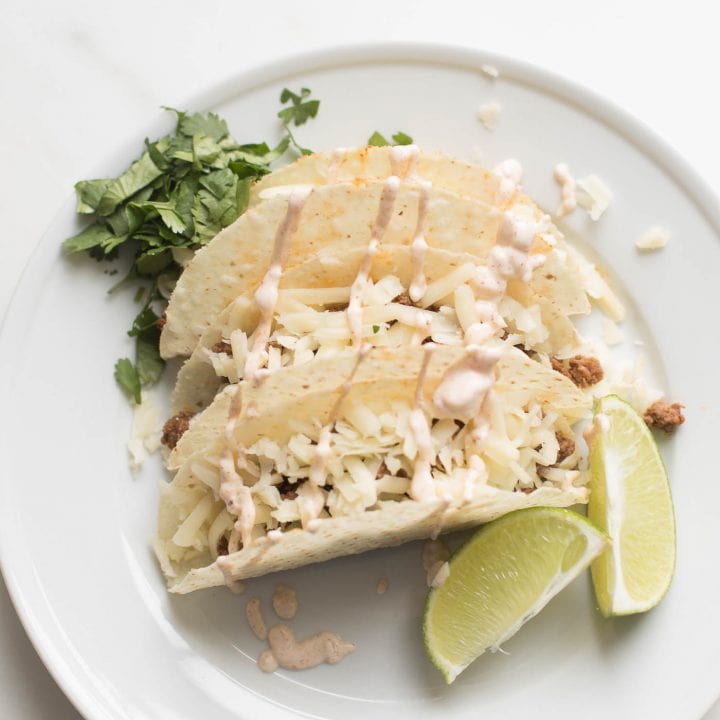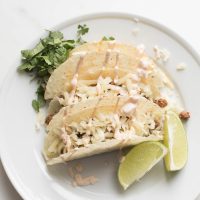 Beef Tacos
These beef tacos are quick, easy and always a crowd pleaser!
Print
Pin
Rate
Servings (hover to scale):
12
Instructions
Preheat oven to 385 degrees.

Bake taco shells 2-3 minutes. 

Meanwhile, cook ground beef in a skillet over medium heat, breaking it up with a masher or base of a wooden spoon and stir in taco seasoning until just brown.

Optional: combine sour cream and ranch mix.


Fill tacos with ground beef, shredded cheese and fiesta sour cream and any additional toppings.
Notes
Substitutions and Variations
Monterey Jack Cheese – Can substitute colby jack or pepperjack
Taco Seasoning – Can substitute Old El Paso Taco Seasoning or your favorite.
La Tiara Corn Taco Shells – Toast them in the oven for just a minute or two for a thin, crispy, delicious crunch! Truly my very favorite.
Sour Cream – Substitute crema
Optional
Hidden Valley Fiesta Ranch Dip – Optional, but it really makes these Mexican beef tacos taste like a party!
Fresh Cilantro 
Lettuce
Nutrition
Calories:
263
kcal
|
Carbohydrates:
9
g
|
Protein:
12
g
|
Fat:
20
g
|
Saturated Fat:
9
g
|
Cholesterol:
53
mg
|
Sodium:
290
mg
|
Potassium:
172
mg
|
Fiber:
1
g
|
Sugar:
1
g
|
Vitamin A:
400
IU
|
Vitamin C:
1
mg
|
Calcium:
180
mg
|
Iron:
1
mg