Best Beef Taco Recipe
The best Beef Taco Recipe, in just 10 minutes.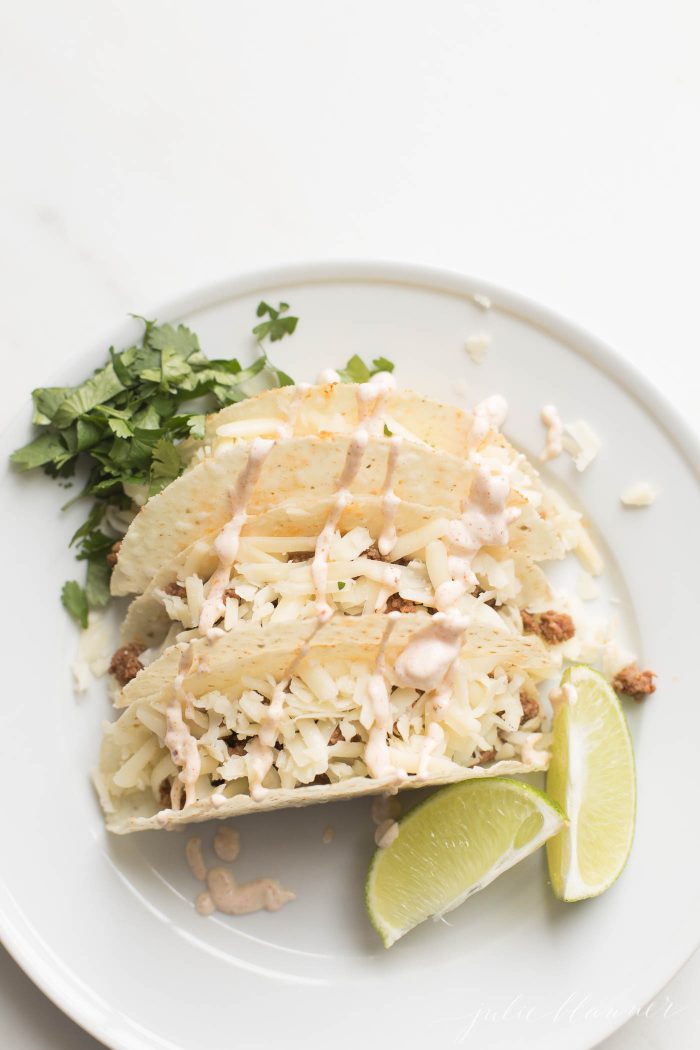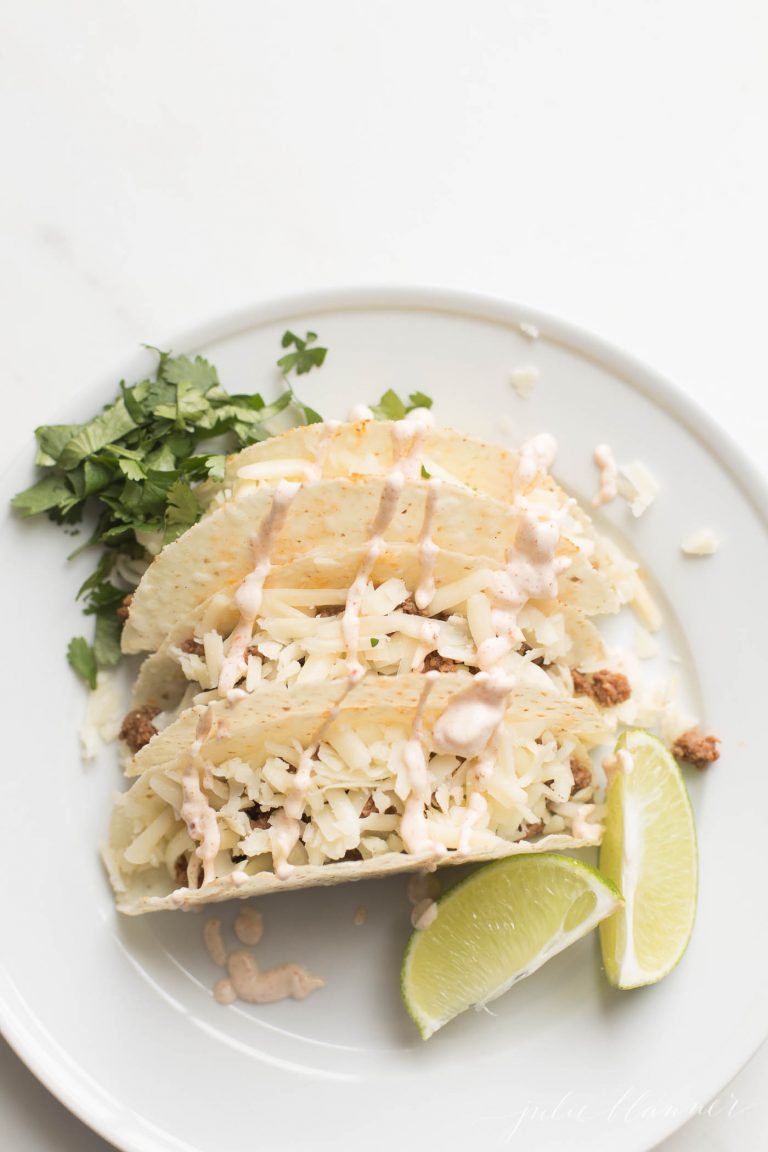 I've been making this ground beef taco "recipe" for years, but when we purchased the lake cottage, it became a weekly staple. Why? Because it's quick, easy, almost mindless and everyone in our family devours them without a complaint. Pretty much a miracle for anything with meat in our family!
Last summer when my sister joined us at the lake she seemed a little uneasy about beef tacos, but ever a great houseguest, didn't complain. She was pleasantly surprised when she took her first bite and returned for seconds. They're that good. It's so hard not too!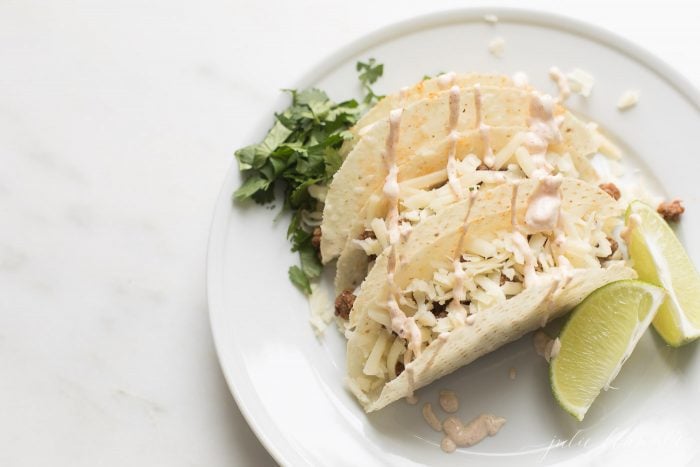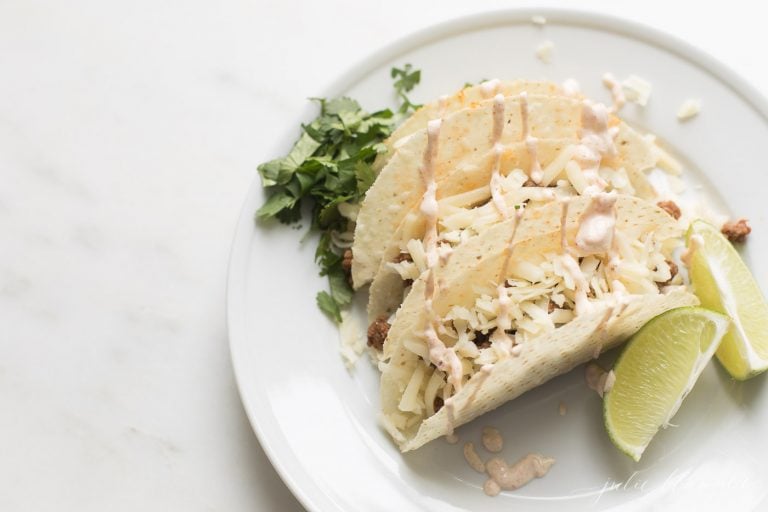 Imagine my surprise when my sister suggested I share the recipe with you – given I didn't even really realize it was one. She brought them to a neighbor's house for dinner and not only has that neighbor continued to rave about them, but others have caught on now as well.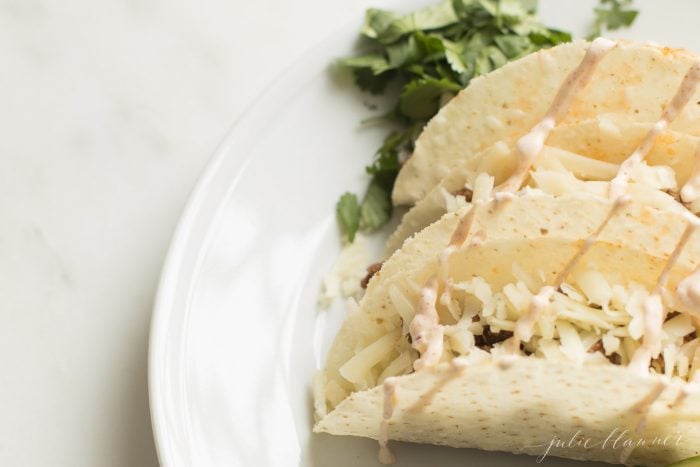 Each weekend at the lake I have a mental grocery list for sandwiches, tacos, breakfast and snacks – it doesn't change, which keeps it effortless, and we all look forward to it, each and every weekend. This Ground Beef Taco recipe makes a great weeknight dinner for the same reasons!
I know, I know, these are easy. A little pre-fab, but with all the right ingredients, this ground beef taco recipe is out of this world.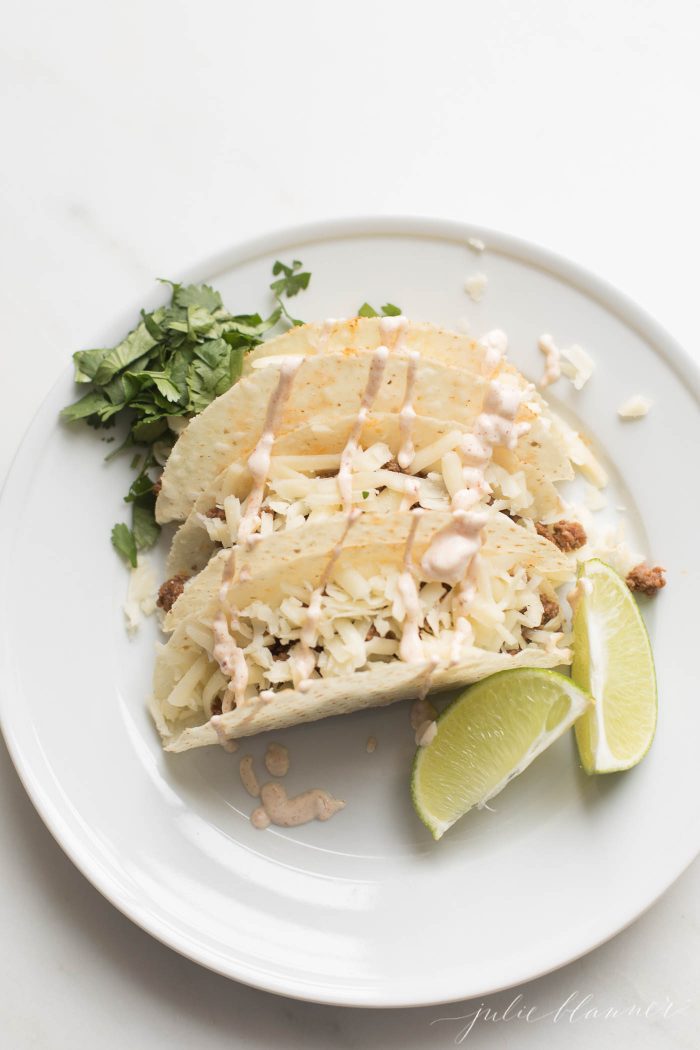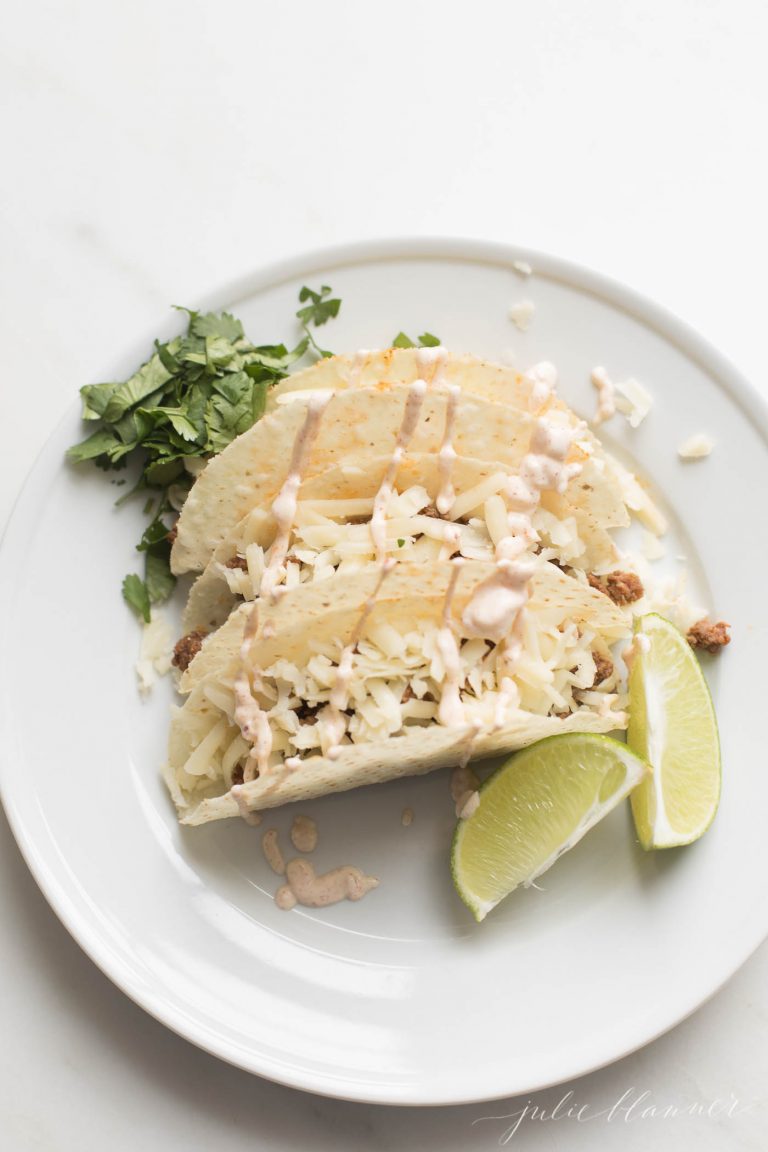 The Best Ingredients for Beef Tacos:
Fresh shredded monterey jack or colby jack cheese. It takes just 2 minutes and is totally worth it. The best cheese is usually reserved for blocks, have less preservatives and remains in tact, making it much creamier than pre-shredded cheese.
La Tiara taco shells. Toast them in the oven for just a minute or two for a thin, crispy, delicious crunch!
Old El Paso Original Taco Seasoning. I used to make my own taco seasoning, but we really enjoy this blend and as I mentioned before, it's effortless. You can substitute a little red pepper and onion flake if you prefer.
93/7 lean ground beef. It's the perfect ratio – just greasy enough, without being too greasy.
Sour cream with optional fiesta mix.
Of course you can add fresh cilantro, pico de gallo or lettuce, if you wish, but they're delicious as is!

How to Make Tacos with Ground Beef:
The best beef taco recipe. Easy classic beef tacos with the the best ingredients.
Ingredients
8 oz Monterey Jack cheese
8 oz sour cream
1/4 package Fiesta Ranch mix (optional)
1 lb lean ground beef (93/7)
1/2 package of taco seasoning
18 La Tiara white/yellow corn taco shells
Directions
Preheat oven to 385 degrees.
Shred cheese, set aside.
Combine ranch mix and sour cream, set aside.
Cook ground beef in a skillet oven medium heat, breaking it up with a masher or base of a wooden spoon and stir in taco seasoning until just brown.
Meanwhile, bake taco shells 3 minutes. Fill and serve.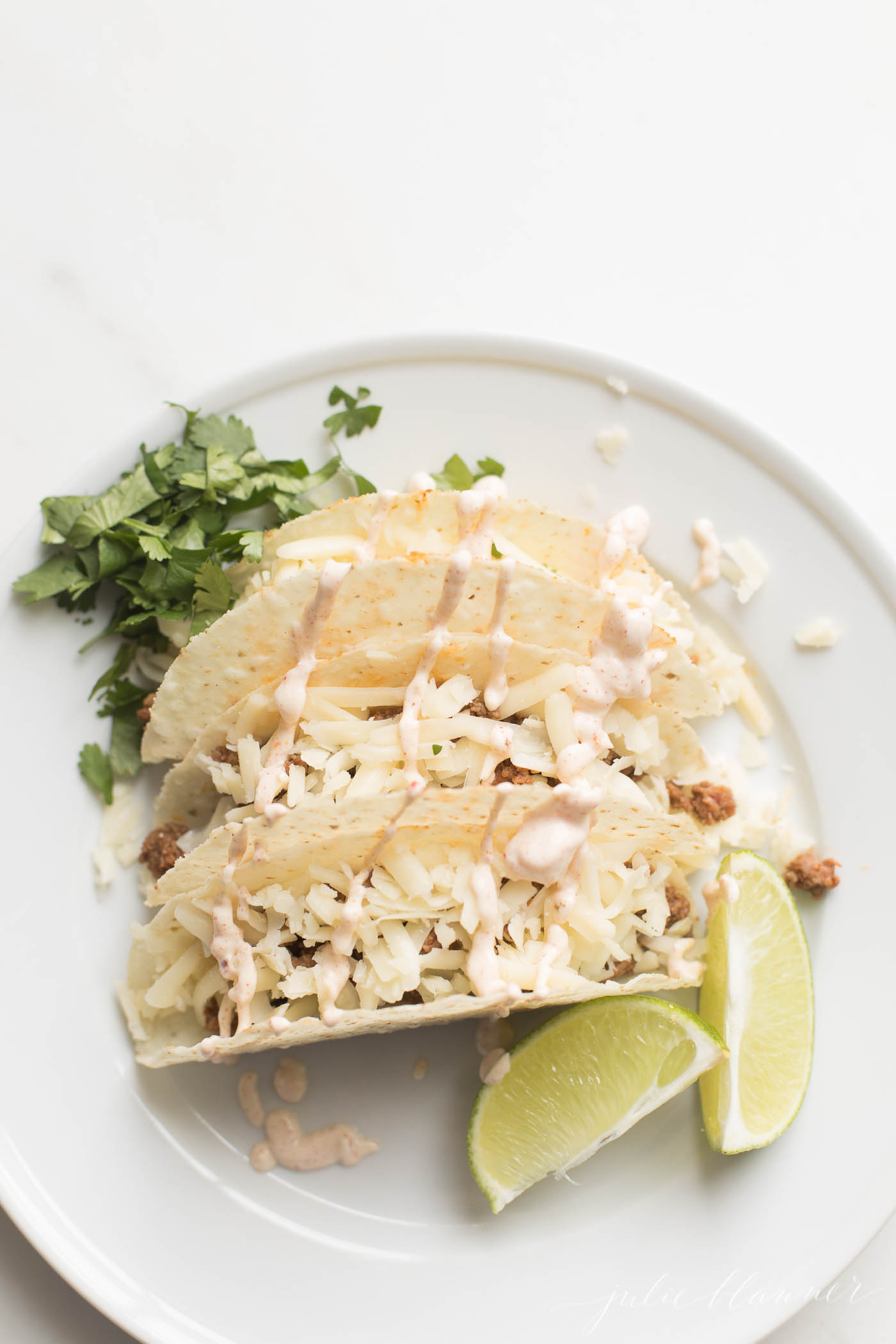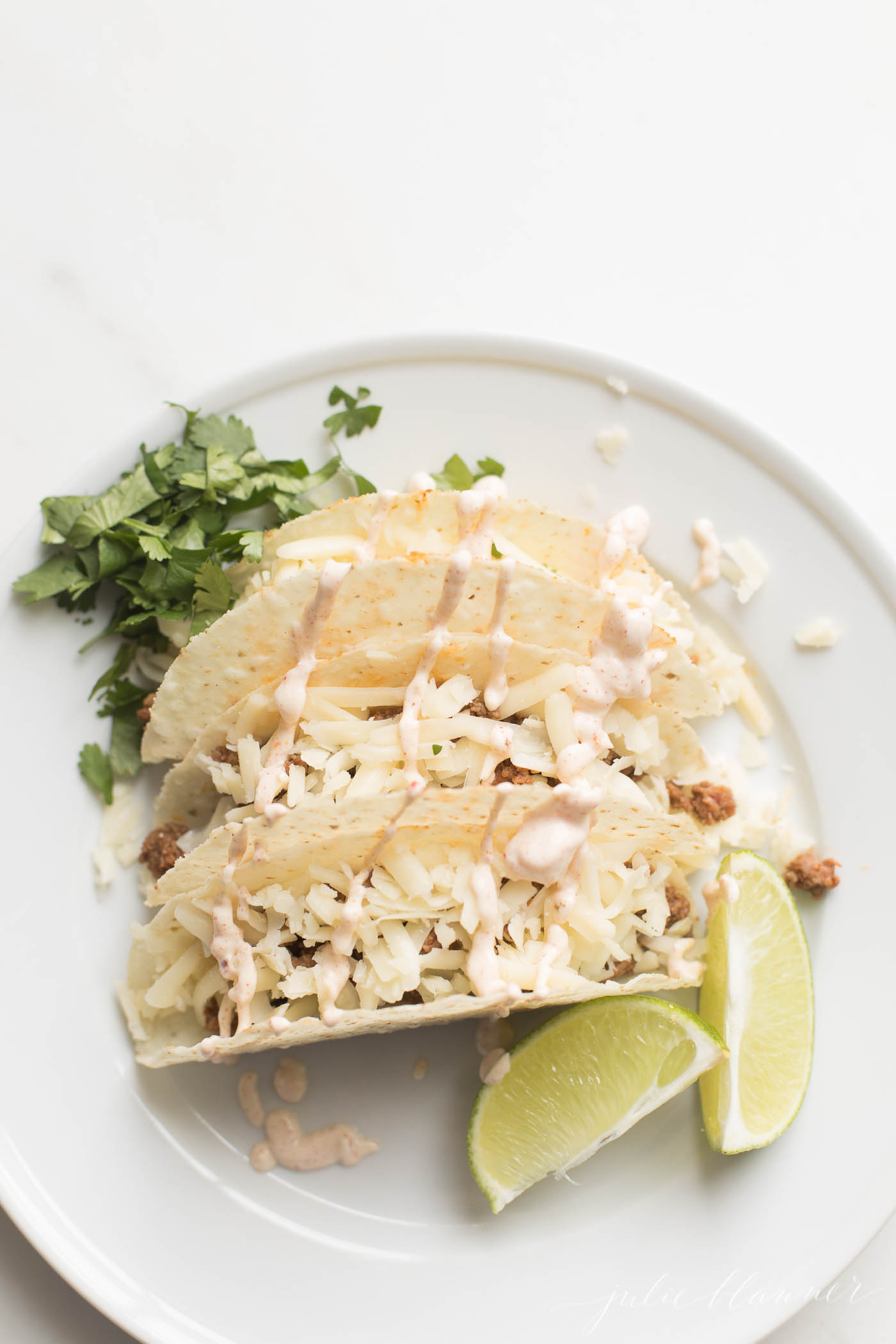 Loading nutrition data...


I hope you enjoy this easy beef taco recipe as much as we do. Let me know what you and your family think!