Easy Avocado Salsa Recipe With 4 Ingredients
An Easy Avocado Salsa recipe to spice up your salad, taco toppings, chicken or that famous toast! With just four ingredients and a few tips and tricks on avocados, this will become the best avocado salsa to pair with just about anything.
Serve it at your next party or Cinco De Mayo celebration for a healthy pop of green color!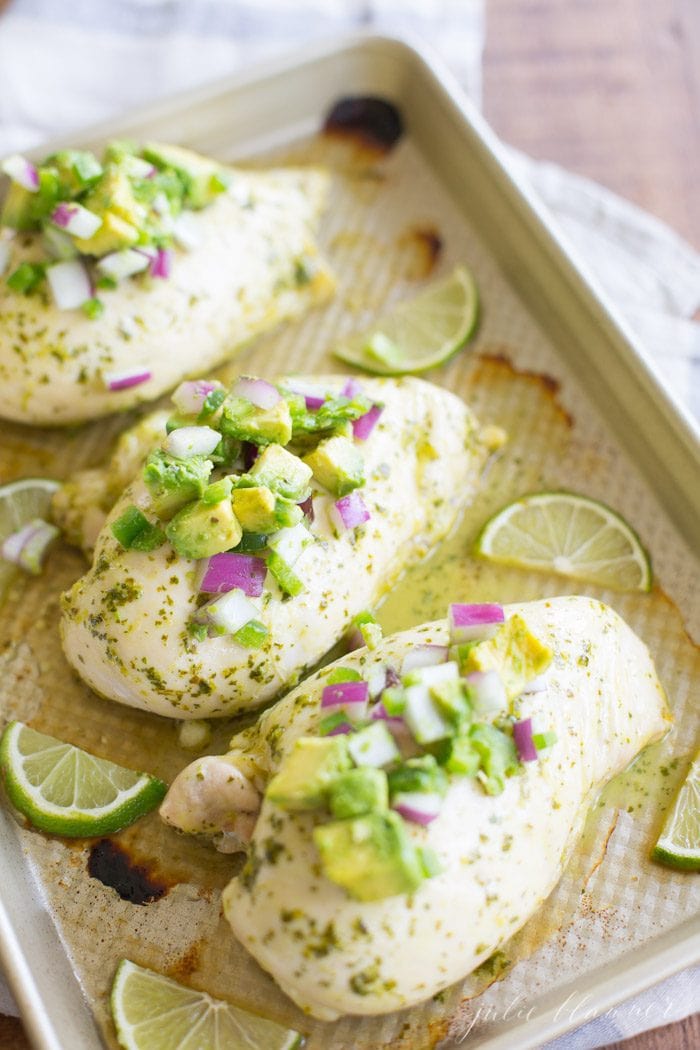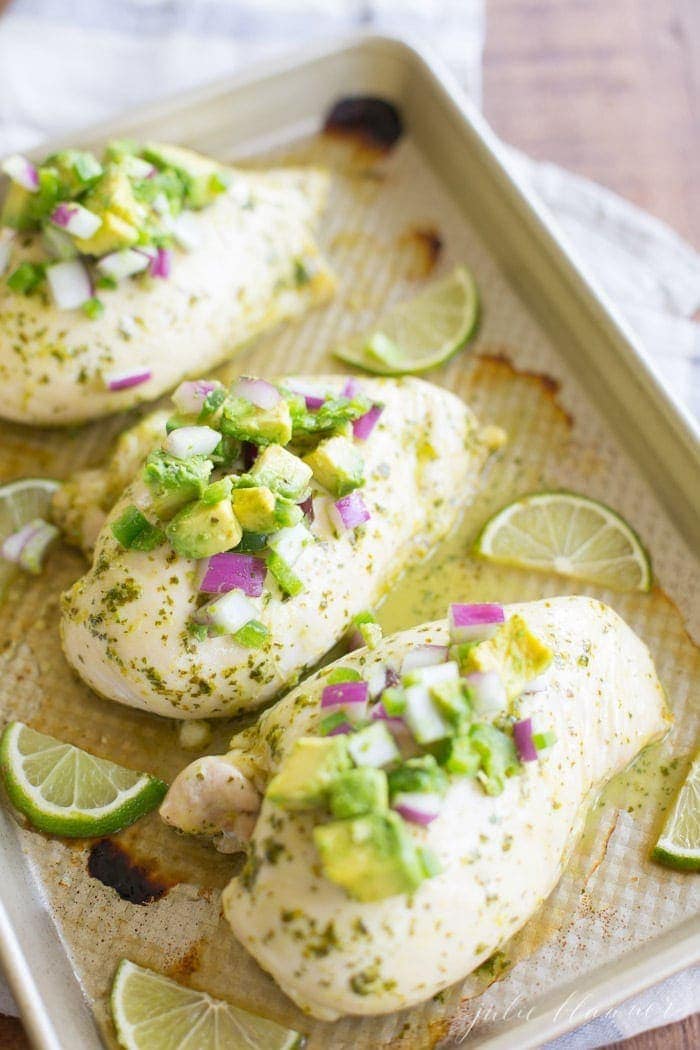 I've received a lot of questions on my Cilantro Lime Chicken (which is a must-try recipe, especially in January when you might be counting calories) about the pretty avocado salsa that I topped the chicken with.
It's such a simple recipe that I never thought about sharing it, but after several requests, I'm happy to oblige!
The beauty of this avocado salsa is the simplicity behind it. And just look at all those beautiful colors! It adds such a healthy dose of flavor to just about any dish. Even though it just so happens to be keto, I like to add it to an array of dishes to really highlight the flavor. Since the salsa is only 4 ingredients, it's so easy to mix together for dinner or our Cinco De Mayo parties.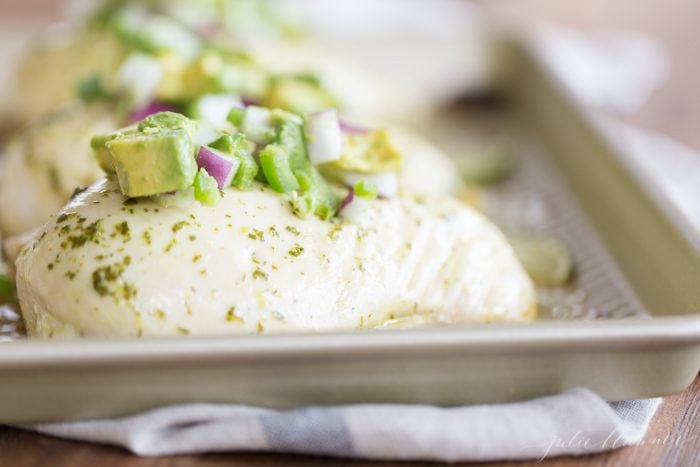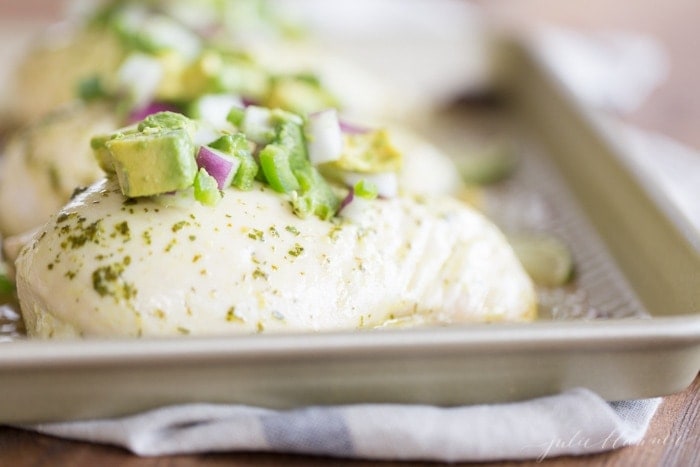 Avocado Salsa vs Guacamole
Avocado salsa is a bit different than guacamole. Sometimes referred to as salsa verde, avocado salsa is chunky and absolutely divine because the integrity of the avocado is still kept in shape. It makes a beautiful addition to chicken, meat, fish, salads, tacos and more.
Guacamole is more of a dip for chips or fresh veggies. It is thick, creamy and luscious, since the avocados are smashed.
Both have their unique qualities and make an excellent addition to your next party or Cinco De Mayo celebration!
Chunky Avocado Salsa Ingredients
Avocado – Perfectly ripe avocadoes make the best salsa recipe. I like to purchase Hass avocadoes, which are smaller in size and have dark, pebbly skin. A ripe avocado will feel slightly soft to the touch. To know for sure, simply pop off the stem end. If it is green underneath, you are good to go!
Red Onion – Red onions are a bit sweeter than white onions, which make them better for this simple avocado recipe since the onions are raw. One-half of a medium size red onion is all you need to give it a punch of flavor.
Jalapeño – A bit of spice is everything nice. If you want a spicy avocado salsa recipe, leave in the seeds and ribs of the jalapeño. If you want to tone down the spice, simply remove them.
Lime Juice – Fresh lime juice is far superior than the pre-bottled variety. It also adds that fresh burst of acidity. And keeps those avocadoes perfectly green!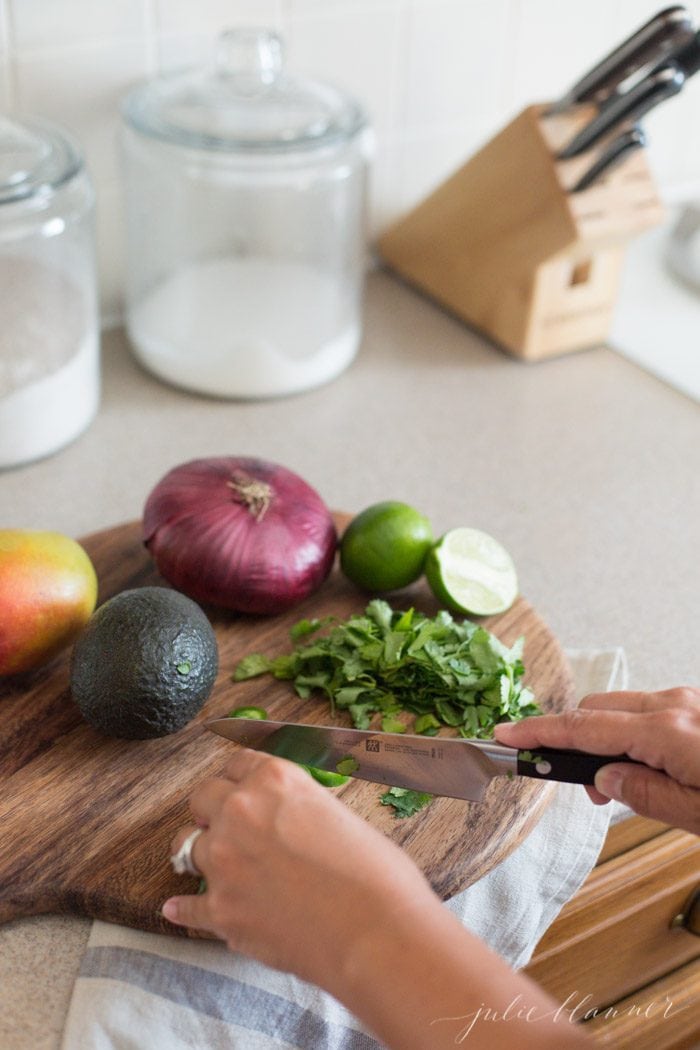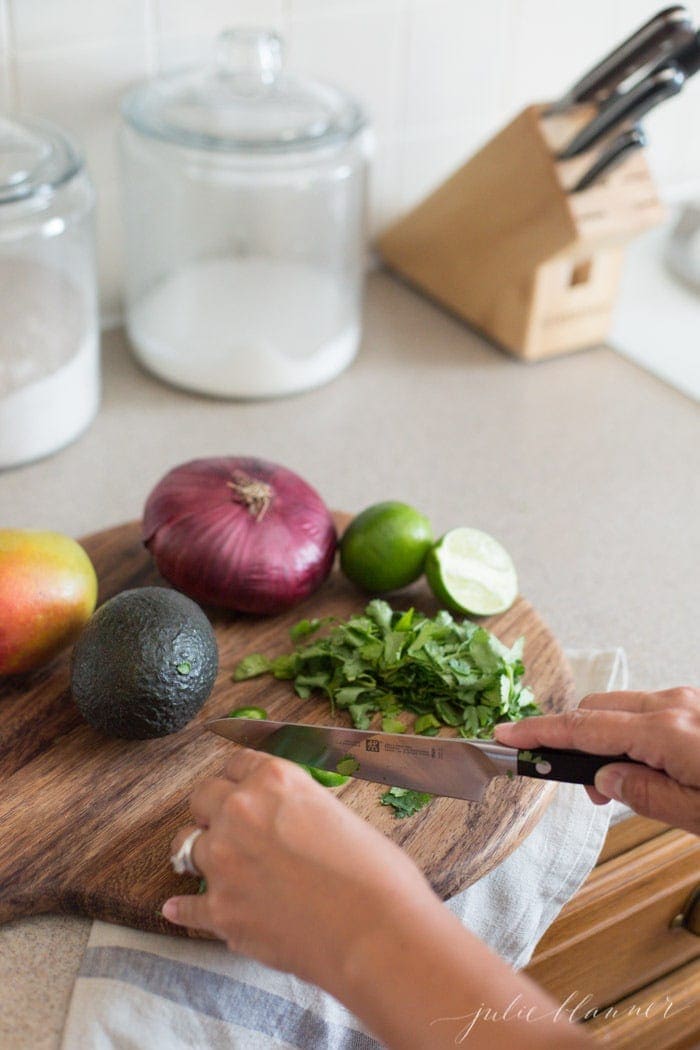 How To Make Avocado Salsa
Gently combine the avocado, red onion, jalapeño and lime juice in a small bowl. Add to your dish or enjoy with chips!
Tips for Cutting an Avocado
On a cutting board, cut the avocado in half lengthwise until you feel the knife hit the pit.
Rotate the avocado to cut all the way around the pit
Insert the knife into the pit with force, then twist the knife and pull out the pit
To dice the avocado, cut squares in the flesh making a grid, and scoop out with a spoon.
How To Serve Avocado Salsa
This simple avocado salsa recipe is a delicious and beautiful way to top chicken, tacos and especially salads. It pairs well with my Cilantro Lime Vinaigrette! I love eating it with tortilla chips as well.
To keep with the avocado toast trend of the year, you might also want to try avocado salsa on a piece of toast for a breakfast with a yummy little kick!
Serve this avocado salsa on these amazing Doritos Nachos for another fun option.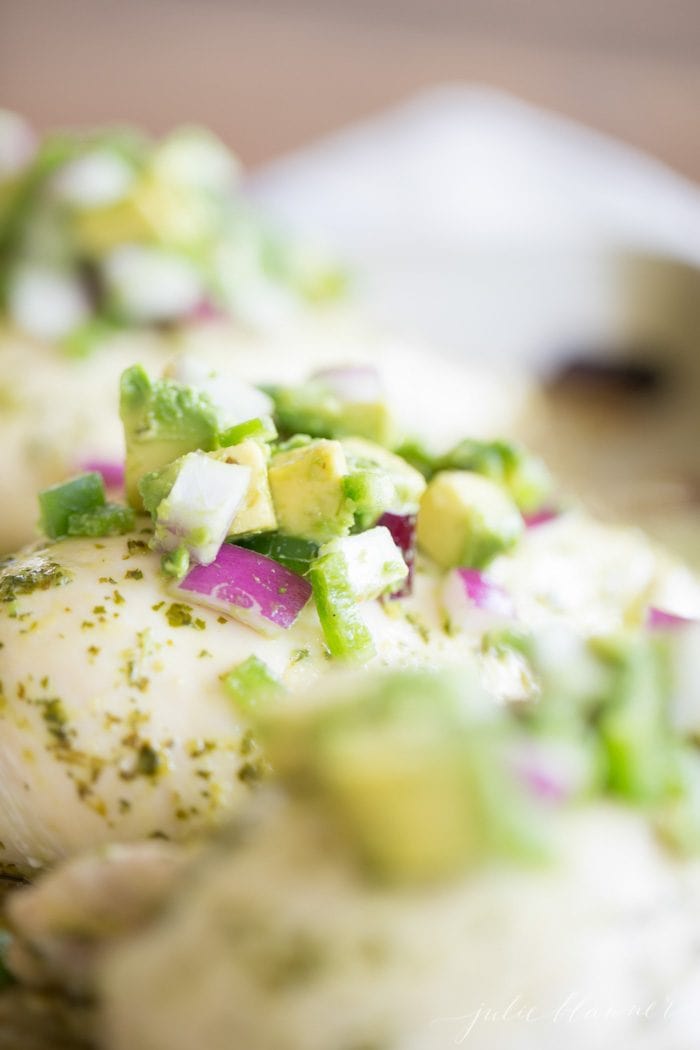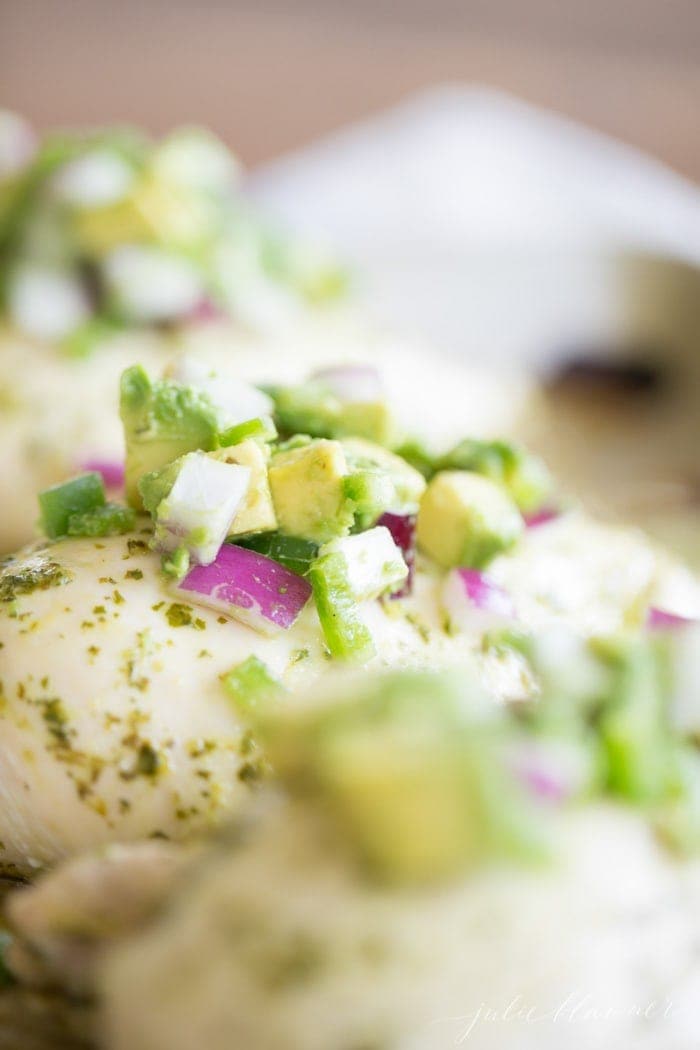 How Long Does Avocado Salsa Keep?
Unfortunately, due to the perishability of the avocados, this salsa doesn't keep as long as most salsas. This avocado salsa has a refrigerator life of about 1-2 days. After that period the avocados will likely begin to brown.
The upside of this is that it's such a delicious recipe, it probably won't last in your house that long anyway!
How To Keep Avocado Green
If you want the avocado salsa to last as long as possible, the best way to keep the avocados green is to drizzle with lime juice on the top and cover with plastic wrap, pressing directly on the surface. When ready to serve, simply pour off the excess lime juice or stir in for an exceptionally tart avocado salsa recipe.
If you try this Easy Avocado Salsa Recipe, please come back to share using my 5 star rating in the comments below! Not only do I appreciate it, but I know readers do, too! For more easy recipes and simple living ideas, subscribe to my newsletter!
LET'S CONNECT! instagram | newsletter | facebook | pinterest
More Amazing Mexican Dips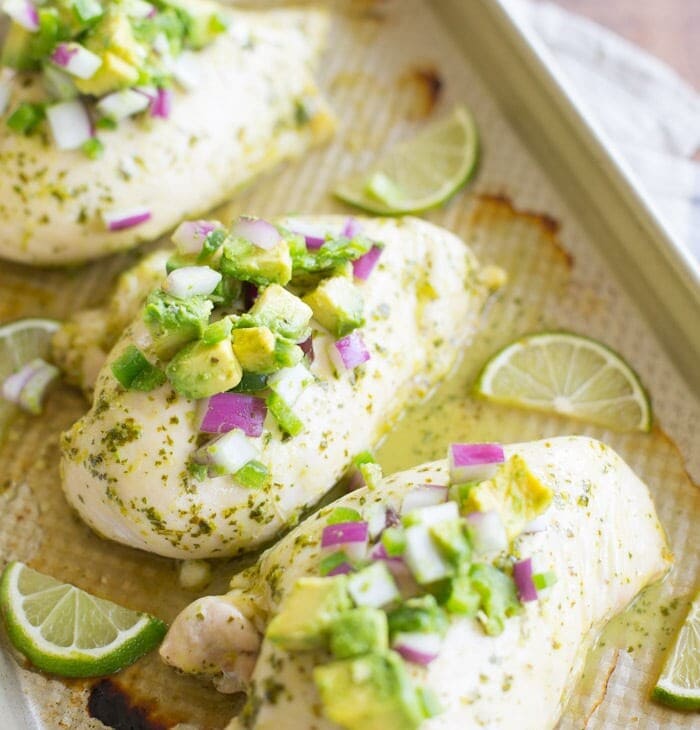 Avocado Salsa
An Easy Avocado Salsa recipe to spice up your salad, tacos, chicken or that famous toast! With just 4 ingredients, it's a healthy pop of green color!
Ingredients
2

avocados

cubed

1/2

red onion

diced

1

jalapeño

diced

1

tablespoon

lime juice

or squeeze fresh lime
Instructions
Add to your dish or enjoy with chips.
Tips
This can also be served on top of chicken, as an addition to your taco toppings, or in your favorite salad.
Nutrition Information
Calories:
168
kcal
(8%)
,
Carbohydrates:
10
g
(3%)
,
Protein:
2
g
(4%)
,
Fat:
15
g
(23%)
,
Saturated Fat:
2
g
(10%)
,
Sodium:
8
mg
,
Potassium:
508
mg
(15%)
,
Fiber:
7
g
(28%)
,
Sugar:
1
g
(1%)
,
Vitamin A:
184
IU
(4%)
,
Vitamin C:
16
mg
(19%)
,
Calcium:
15
mg
(2%)
,
Iron:
1
mg
(6%)
Estimated nutrition information is provided as a courtesy and is not guaranteed.