Classic, flavorful Dill Dip that's always a crowd pleaser for holidays, game days and summer gatherings. This Dill Dip recipe is an easy make ahead appetizer you'll make again and again!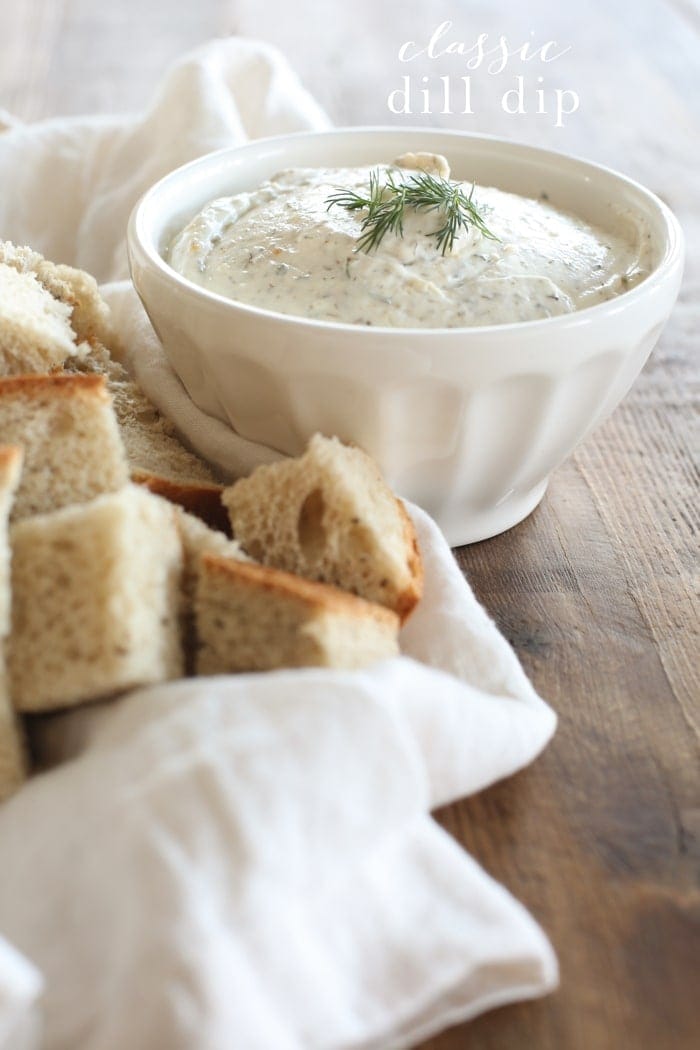 It's not a holiday in our family without dill dip. It's been a favorite of mine since childhood! In fact, long before my palate expanded, it was my Thanksgiving dinner.
It is not only one of the easiest appetizers you can make, but it can also be made in advance, which makes it even more appealing. My mom always whipped it up the night before Thanksgiving and Christmas in just 5 minutes – it never occurred to me that there would even be a mix for something this easy.
So often, a shortcut isn't really a shortcut. My sister and I were just talking about how every time we make it we're asked for the recipe and almost every time we share the recipe they'll ask what Beau Monde is. I'll be honest, if it weren't for this dill dip, I'd be clueless as well. It's the only recipe I use it for, but it's soooo worth it! It's a spice you'll find at any grocery store. From our home to yours, enjoy!
What's in this Dill Dip Recipe?
It's a traditional blend of sour cream and mayo combined with dried dill weed, beau monde, parsley, and onion.
How to Make Dill Dip
Combine ingredients and refrigerate – it's just that easy!
Should I Use Dill Weed or Dill Seed in this Dill Dip?
Both my mom and grandma made this dill dip recipe, but I always remembered it varied slightly depending on who was whipping it up that evening – mom used dill weed and grandma used dill seed. I prefer dill weed myself, but dill seed adds a little extra texture. It's truly your choice!
Dill Veggie Dip
This is also known as dill veggie dip because veggies pair so well with it! I recommend carrots, celery, bell peppers, cauliflower, broccoli – the options are endless.
To see how easy this Dill Dip Recipe is, watch the video in this post.
If you love this Dill Veggie Dip / Dill Dip Recipe, leave a 5 star rating to share with others. Your feedback is truly appreciated. Don't forget to click "pin it" to save this recipe to make it again and again!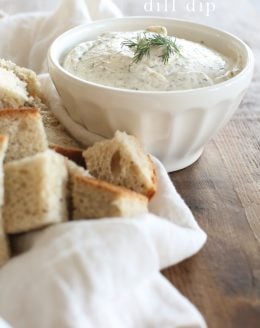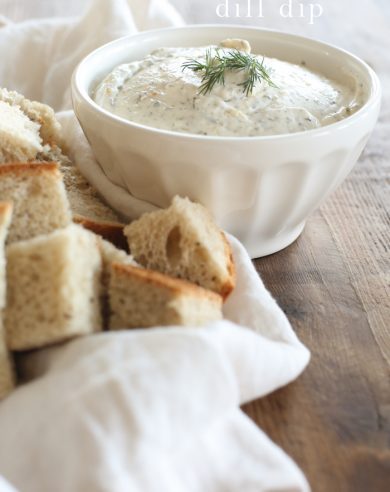 Easy Appetizer | Dill Dip
Ingredients
1 1/3

c

sour cream

1 1/3

c

mayo

2

tsp

dill weed

2

tsp

beau monde

2

Tbsp

parsley flakes

2

Tbsp

onion flakes
Instructions
Combine and refrigerate overnight. Serve with rye bread, kettle chips and veggies.
Originally published November 2011