Classic, flavorful Dill Dip that's always a crowd pleaser for holidays, game days and summer gatherings. This Dill Dip recipe is an easy make ahead appetizer you'll make again and again!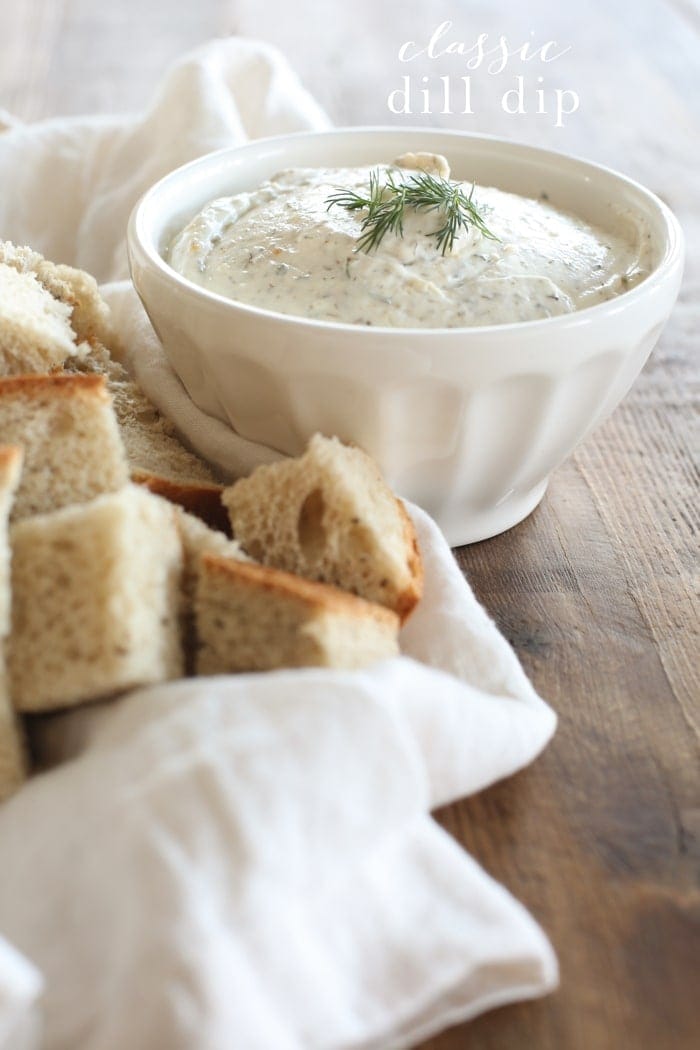 It's not a holiday in our family without dill dip. It's been a favorite of mine since childhood! In fact, long before my palate expanded, it was my Thanksgiving dinner.
It is one of the easiest appetizers you can make and can also be made in advance. That makes this tasty Dill Dip Recipe even more appealing! My mom always made Dill Veggie Dip the evening before Thanksgiving and Christmas in just 5 minutes. It's a nice way to save time during the holidays!
This easy Dill Dip is a great recipe for every occasion from summer get togethers, to game days and holidays.
Every time I make this dip, everyone asks for the recipe! It's always a crowd pleaser.
One of the most frequently asked questions I receive is "What is Beau Monde?" I'll be honest, if it weren't for this dill dip, I'd be clueless as well. It's the only recipe I use it for, but it's soooo worth it! It's a spice you'll find at any grocery store.
What's in this Dill Dip Recipe?
To make dill dip, you'll need a few staple ingredients. It's made a traditional blend of sour cream and mayo combined with dried herbs including beau monde, dried dill weed, dried parsley, and dried minced onion. If you're really in a pinch you can use onion powder, but the minced onion gives it great texture and flavor.
So often, a shortcut isn't really a shortcut. However, with this Dill Dip Recipe, one simple shortcut makes it stand above the rest.
Of course you can always use fresh herbs and spices, but that's the beauty of this easy recipe. You have everything you need in your spice cabinet. To substitute fresh herbs in this dill dip recipe, triple the amount. For example 2 tsp of dried dill weed equates to 2 Tbsp of fresh dill weed.
Fresh herbs are not as strong as dried herbs, so it requires more to get that same great flavor in this incredible Dill Veggie Dip.
Should I Use Dill Weed or Dill Seed in this Dill Dip?
My mom and grandma always made this dill dip recipe for the holidays. My mom used dill weed and grandma used dill seed – both offer great flavor, it just comes down to preference. I prefer dill weed, but dill seed adds a little extra texture. It's truly your choice!
How to Make Dill Dip
Dill Dip is quick and easy to make. To see just how easy it is, watch the video in this post.
In a mixing bowl, combine wet ingredients together using a spatula. Fold in herbs and spices.
Refrigerate covered – preferably overnight to allow all of the flavors from the herbs and spices to marinate. It can be made up to 3 days in advance!
If you're in a pinch it can be ready to serve in just 30 minutes or so.
What to Serve with Dill Veggie Dip
This is also known as dill veggie dip because raw vegetables pair so well with it! Some favorites include:
carrots
celery
bell peppers
green onions
cauliflower
broccoli
cherry tomatoes
green beans
cucumber slices
Serving it with veggies makes it gluten-free and keto friendly!
You can also serve it with:
rye bread
sourdough
crackers
pretzels
potato chips
You can serve this dip in a bowl or create a bread bowl using a round loaf of bread.
How to Store Dill Dip
As with any dip, it's best enjoyed chilled and consumed within 3 hours (at room temperature for just 2 hours). You can store refrigerated covered in plastic wrap for 3 days. Dips
do not freeze well
because they contain dairy (sour cream and mayonnaise).
If you love this Dill Veggie Dip / Dill Dip Recipe, leave a 5 star rating to share with others. It's so easy and so delicious you'll never buy a mix or pick it up at the store again!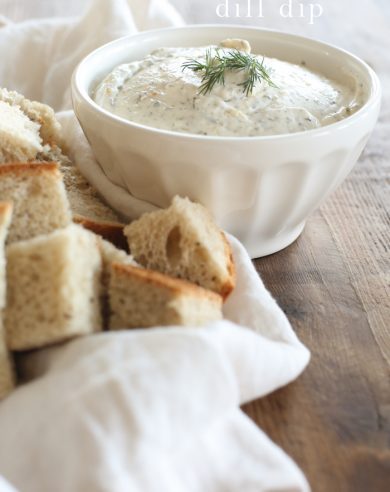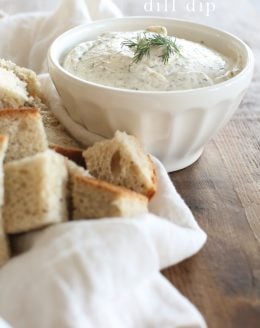 Dill Dip (Dill Veggie Dip Recipe)
Ingredients
1 1/3

c

sour cream

1 1/3

c

mayo

2

tsp

dill weed

2

tsp

beau monde

2

Tbsp

parsley flakes

2

Tbsp

onion flakes
Instructions
Combine and refrigerate overnight.

Serve with rye bread, kettle chips and veggies.
Recipe Notes
You can also serve dill dip with:
carrots, celery, bell peppers, green onions, cauliflower, broccoli, cherry tomatoes, green beans, cucumber slices, rye bread, sourdough, crackers, pretzels, potato chips
To substitute with fresh herbs, just triple the parsley, dill, and onion.
Nutrition Facts
Dill Dip (Dill Veggie Dip Recipe)
Amount Per Serving
Calories 166
Calories from Fat 153
% Daily Value*
Total Fat 17g 26%
Cholesterol 17mg 6%
Sodium 134mg 6%
Potassium 46mg 1%
Total Carbohydrates 1g 0%
* Percent Daily Values are based on a 2000 calorie diet.
Originally published November 2011, updated March 2019