An easy French Dip with Au Jus made in the Crockpot makes an incredibly juicy, tender sandwich. With a few secrets on how to make the best french dip recipe, you're family and friends will keep asking for more!
It's a classic weeknight dinner or a comforting game day meal to enjoy on those lazy Sunday afternoons.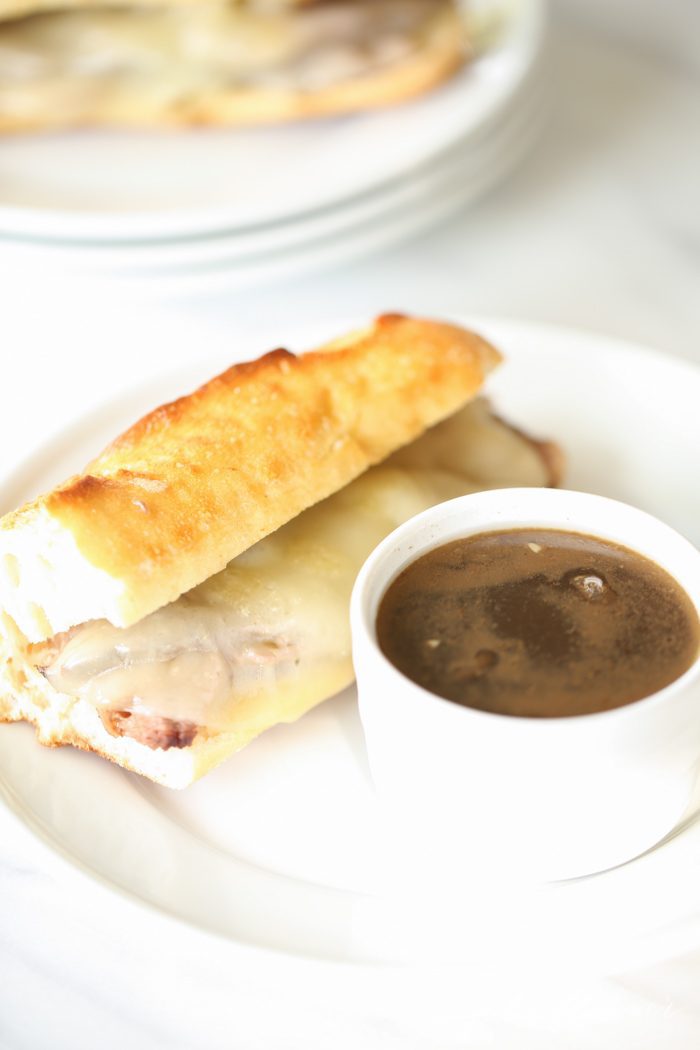 Whenever Chris has a meeting, he stops by one of our favorite restaurants to get a french dip to go on the way home. For years it's been his favorite solo meal and a treat at $20 a sandwich.
I thought I could save him a little time and energy by surprising him with his favorite sandwich yesterday.
This week has been incredibly busy with my fall home tour, preparation for fall cookie week and an array of school activities, so I turned to my Crock-Pot® Slow Cooker for a little help and one of the best weeknight dinners you could hope for!
This easy french dip with au jus is perfect for a quick weeknight dinner or for game day entertaining. And if you really want to enjoy it how Chris and I do, you'll follow it with bread pudding!
Hmmm…maybe that should be my next Slow Cooker recipe?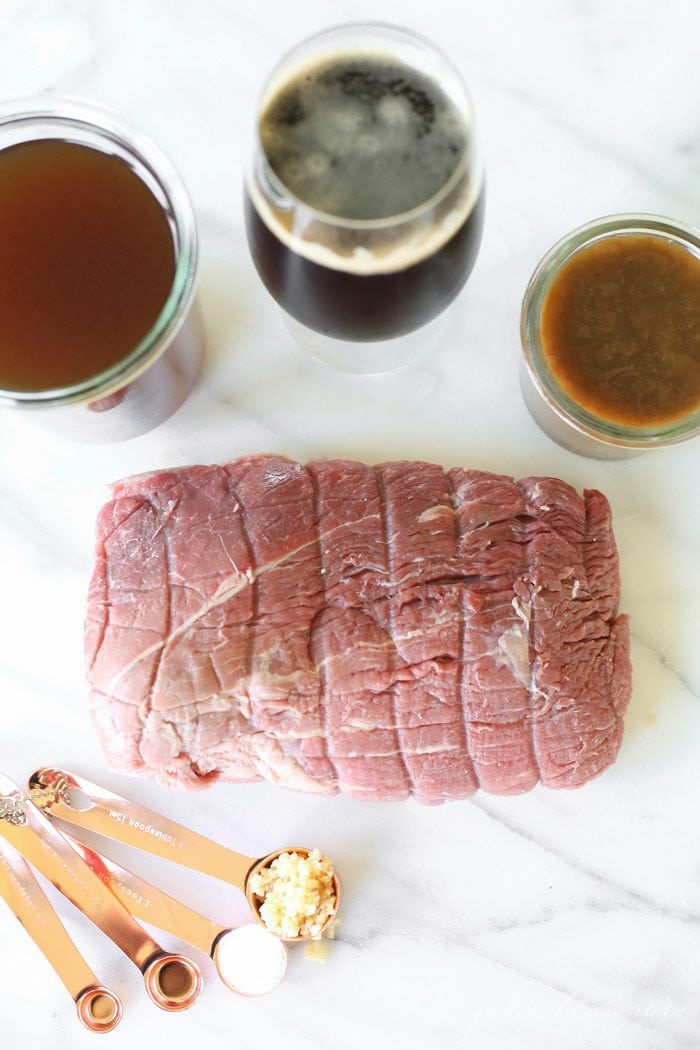 Why Is It Called French Dip?
A great question since the origins of this sandwich come from Los Angeles. There are two popular restaurants that claim to fame – Philippe's The Original and Cole's.
The two restaurants have two very different stories but the end result is the same – tender cuts of roast beef served on crusty French bread with a cup of au jus on the side for dipping the sandwich.
If I had to guess, I would say it's the French bread.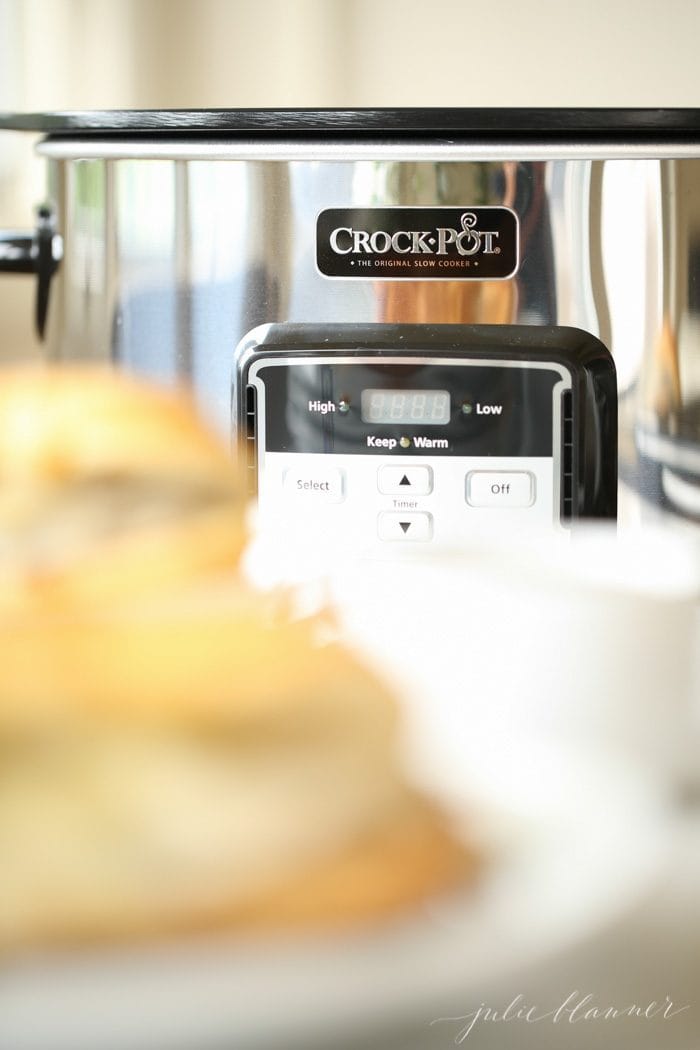 French Dip Recipe Ingredients:
Rump Roast – Rump roast is a lean cut of meat from the bottom round. It is the classic cut of beef for roast beef and a French dip. It can also be called bottom round, bottom round roast or standing rump roast, if the bone is still intact. Purchase the cut without the bone for best results.
French Onion Soup – Yes, pantry staple French onion soup saves you such a great effort in the kitchen. One can is enough for a 3-4 pound rump roast.
Beef Broth – Use natural, not flavored, beef broth. You will only need 1 cup for this french dip recipe, so be sure to store the rest in your fridge and use within a week.
Minced Garlic – Mincing the garlic at home is far better in flavor than the pre-minced garlic. You will need about 3 garlic cloves to get 1 Tablespoon minced.
Onion Salt – I prefer onion salt over onion powder because it packs a stronger flavor punch. If you're in a pinch, use 1 1/2 teaspoons salt and 1/2 teaspoon onion powder for the same results.
Dark Beer – My favorite dark beer for this French dip recipe is Guinness. It's strong enough in flavor to hold up to the long cooking time in the Crockpot.
Take and Bake Bread – I am obsessed with take and bake bread generally found in the bakery of grocery stores and even big box stores. You can always purchase 1-2 loaves crusty French bread from your local bakery, too.
Butter – It is French, after all. A little butter goes a long way and provides that extra bit of shine.
Provolone – Purchase sharp Provolone cheese from the deli counter and ask to have it sliced thin. It makes all the difference compared to the pre-packaged cheese varieties.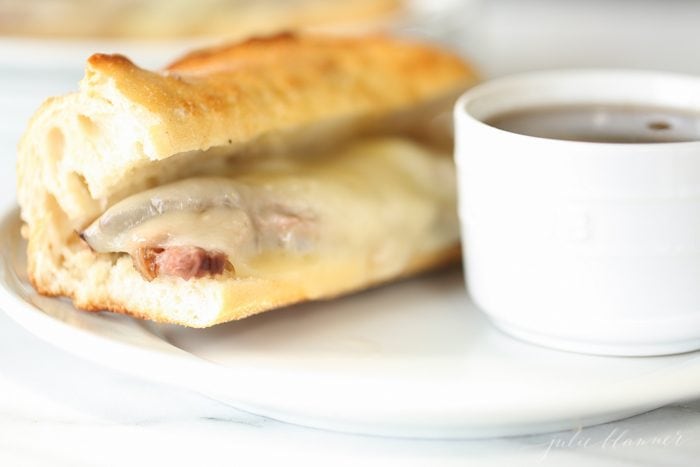 How To Make French Dip Sandwich Au Jus
In the bowl of your Crock-Pot® Slow Cooker, add the rump roast. Cover with French onion soup, beef broth, minced garlic, onion salt and beer.
Turn Crockpot on LOW for 4-5 hours, and cook until medium rare (145 degrees). Check after 4 hours to avoid overcooking.
Bake the Take and Bake bread according to package directions and slice down the center. Leave the oven on.
Remove roast beef from slow cooker, allowing to rest 10-15 minutes. Slice thinly against the grain.
Add beef and provolone to sliced baguettes. Bake 2-3 minutes, or until cheese is melted.
Brush the top of the bread with butter. Serve with a side of au jus remaining in the Crockpot.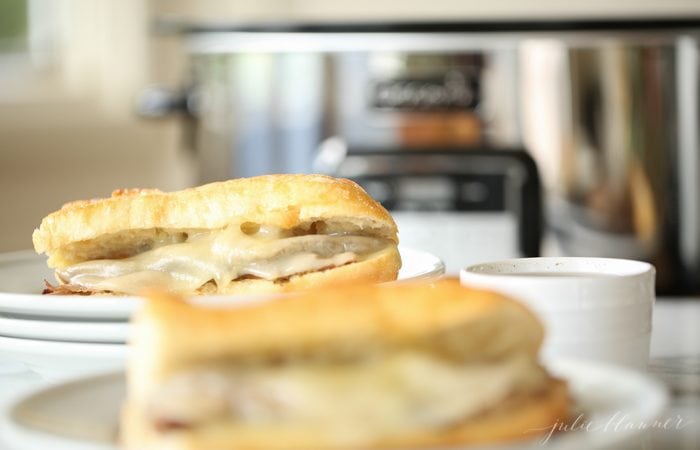 Secrets for a Perfect French Dip Sandwich
There are a few things that all great french dip sandwiches have in common:
The meat is cooked to a perfect medium-rare.
The roast beef is cut properly, against the grain, which makes it oh, so tender!
A great au jus from the beef juices is served on the side.
Incredible bread, crusty French bread to be exact, makes these sandwiches hard to resist.
Yes, you can wrap this all up in just about 10 minutes hands on time!
How To Know When The French Dip Beef Is Medium Rare
Use an instant read thermometer to know when your beef rump roast is ready. To check the temperature properly, simply stick the thermometer into the thickest part of the beef until it reads 145 degrees.
Remove the beef roast from the slow cooker, place on a cutting board, tent with foil and let it rest 10-15 minutes to allow those fabulous juices to redistribute. After the time is up, slice thin against the grain and build your classic French Dip sandwiches – yum!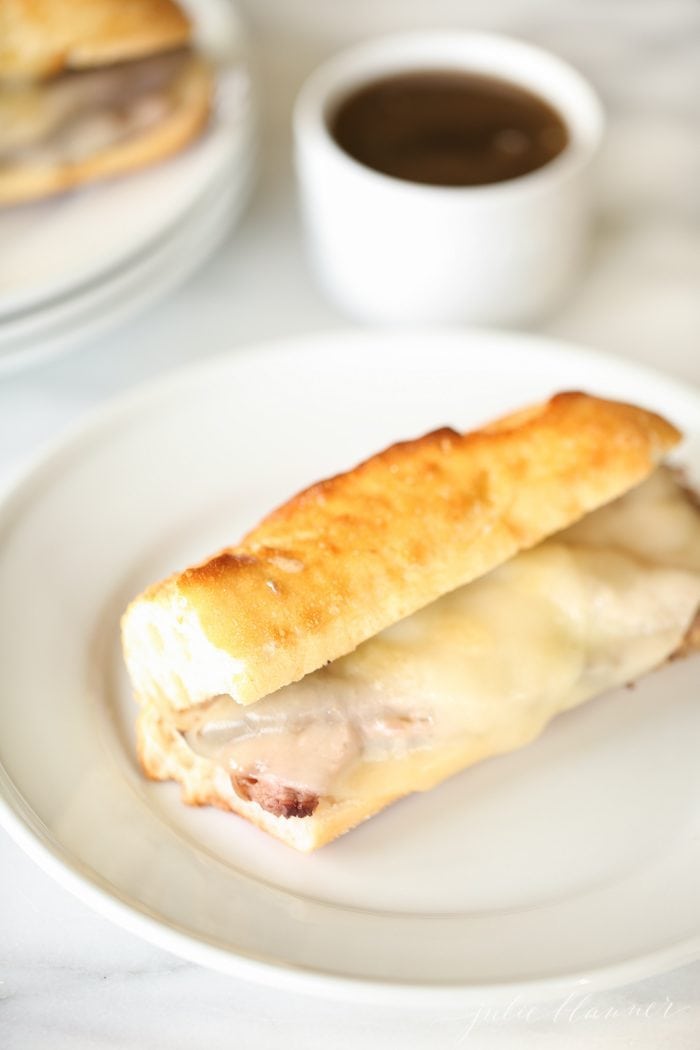 What To Serve With A Classic Roast Beef Sandwich Recipe?
I like to keep things on the lighter side if I decide to serve side dishes with the roast beef French dip. My favorite is a simple green salad.
But if you are going to serve this French Dip Au Jus recipe on game day, fresh sliced vegetables and chips and dip usually get the job done!
That way, the French Dip is the star of the show, ehem, game!
More Sandwich Inspiration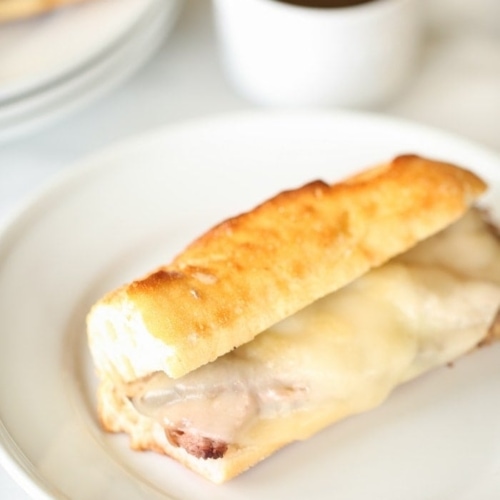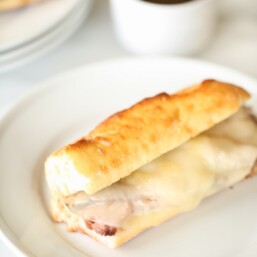 Easy French Dip with Au Jus
An easy French Dip with au jus in the Crockpot makes an incredibly juicy, tender sandwich! Learn the secrets to make this classic recipe for a crowd.
Ingredients
3-4

lbs

rump roast

1

can

french onion soup

1

cup

beef broth

(use natural not flavored)

1

tablespoon

minced garlic

2

teaspoon

onion salt

12

oz

dark beer

(like Guinness)

4

loaves

take and bake bread

1/2

lb

provolone

sliced thin

4

tablespoon

butter

melted
Instructions
Add rump roast to the Crock-Pot® and cover in french onion soup, beef broth, garlic, onion salt and beer.

Turn Crock-Pot® on low for 4-5 hours, check to ensure you don't overcook until the center is medium-rare (145 degrees).

Bake your bread according to package instructions and slice halfway. Keep the oven on.

Remove roast from Crock-Pot®, allow to rest 10-15 minutes and slice thin across the grain, not with it.

Add beef and provolone to baguettes and bake 2-3 minutes, until cheese is melted.

Brush the top of the baguettes with butter and serve with au jus remaining in the Crock-Pot®.
Tips
Make sure to check the temperature of the rump roast after 4 hours to avoid overcooking.
Calories:
933
kcal
|
Carbohydrates:
79
g
|
Protein:
77
g
|
Fat:
32
g
|
Saturated Fat:
16
g
|
Cholesterol:
187
mg
|
Sodium:
2137
mg
|
Potassium:
1033
mg
|
Fiber:
3
g
|
Sugar:
4
g
|
Vitamin A:
569
IU
|
Vitamin C:
1
mg
|
Calcium:
397
mg
|
Iron:
10
mg
Estimated nutrition information is provided as a courtesy and is not guaranteed.
Explore More