The best veggie dip recipe that will have everyone begging for the recipe! This Vegetable Dip makes a large batch perfect for get-togethers!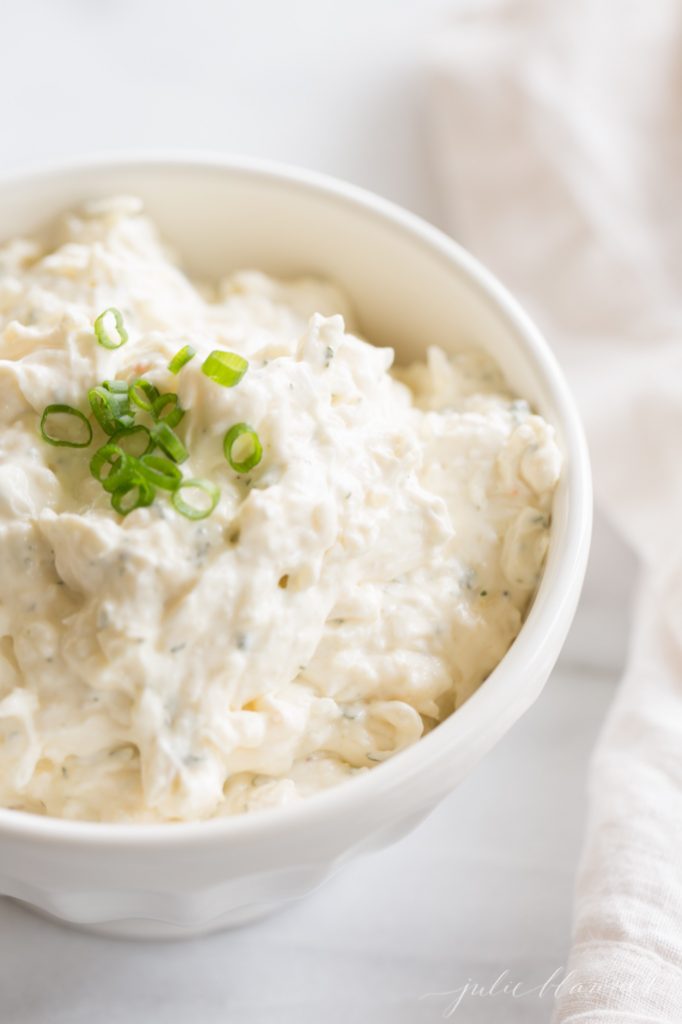 Years ago, my sister Cheryl got me hooked on this incredible veggie dip. This vegetable dip is unlike any other I've had. Let's be honest, I need all the encouragement I can get to eat my veggies. She came over last week and whipped up this easy veggie dip recipe that we ended up enjoying for lunch! If you're searching for the ultimate crowd-pleasing vegetable dip recipe, I promise this one is it!
If it was acceptable, I'd live off of dips. You're never too old to be a kid (or eat like one), right? In addition to camaraderie, it's what we look forward to in gatherings like tailgates, office and holiday parties!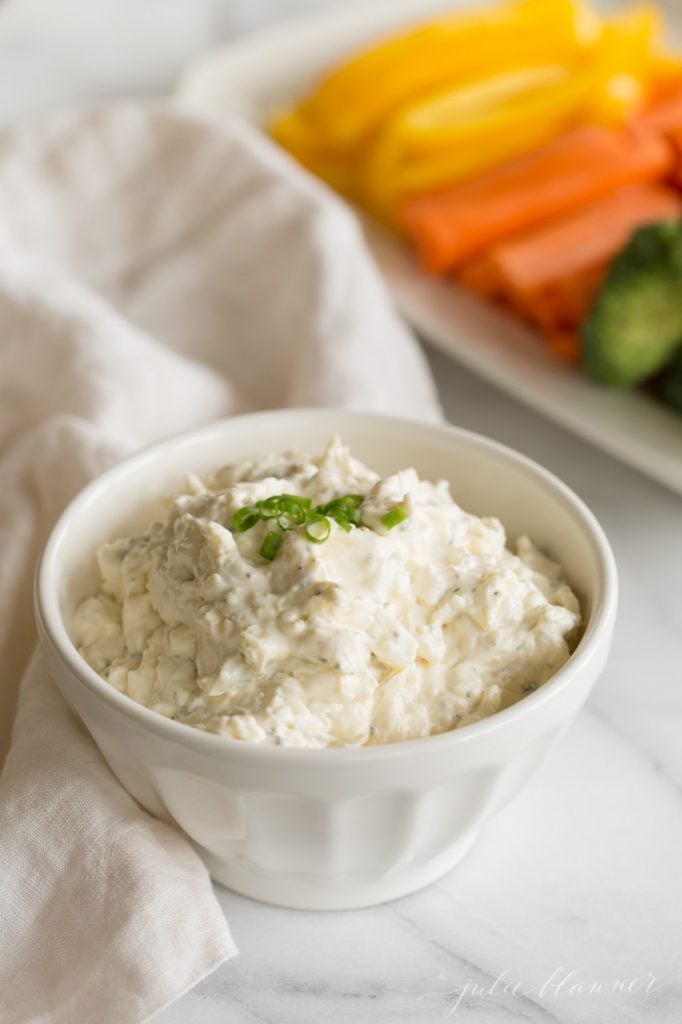 Today I'm sharing a fun twist on veggie dip along with a new video on YouTube!
This vegetable dip recipe is easily adaptable with a variety of seasoning options. It's amazing with a southwest spice mix for a little Mexican flavor. However, we also love it with garlicky seasoning like the 21 salute (available at Trader Joe's). No matter how you spice it up, it's sure to be your new favorite vegetable dip recipe!
The original recipe called for Accent (MSG). I replaced it with my own seasoning and don't miss the Accent a bit! You'll never be able to go back to store bought dip options after trying this delicious dip.
What Readers Are Saying About This Veggie Dip
"Thank you for the beautiful irresistible veggie dip recipe. Made this over the weekend for my family and everyone loved it!"
"I made your Amazing Veggie dip!!!!! It was great on everything even baked potato. All ages loved it 3-90. I was amazed at what a difference fresh grated mozzarella made in the dish. I am a follower for life. I'm planning on making your Fire house beans for a late Christmas dinner gathering. 😁❤️"
"I LOVE IT!! Used VEGAN Sour Cream, VEGAN Mozzarella Cheese,VEGAN Parmesan Cheese, Knorr's Vegetable Seasooning, Lipton's Onion Soup, Sauted shredded Carrots, Garlic, Red Onions, Spanish Onions, Re-hydrated dried vegetables, and one packet of VEGAN Ranch Seasoning, Celtic Salt, and Organic Pepper. Took it to Church Supper. It DIDN'T last 20 minutes!! People begged for the recipe over and over again!! Will make it again and again. I just love it, Thanks!! A. Thornton, Detroit."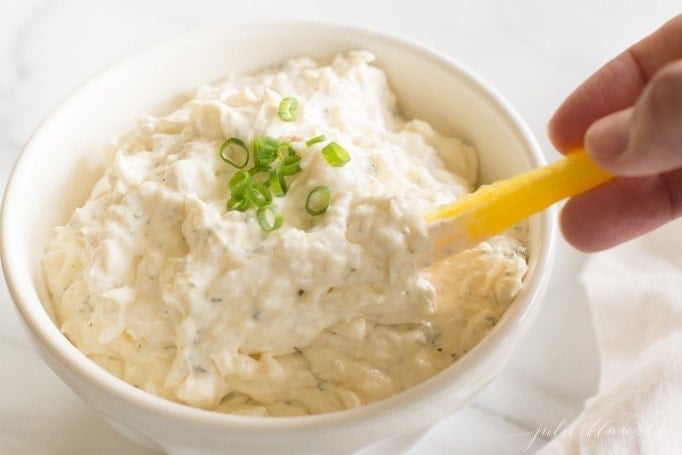 Tips To Create The Best Vegetable Dip Recipe
This dip is so quick and easy to make. If possible, I strongly encourage you to freshly shred your cheese.
Blocks of cheese tend to be of higher quality and have less preservatives. Therefore, overall they are so much creamier. Fresh shredded cheese blends in perfect with this veggie dip! You won't regret it, I promise!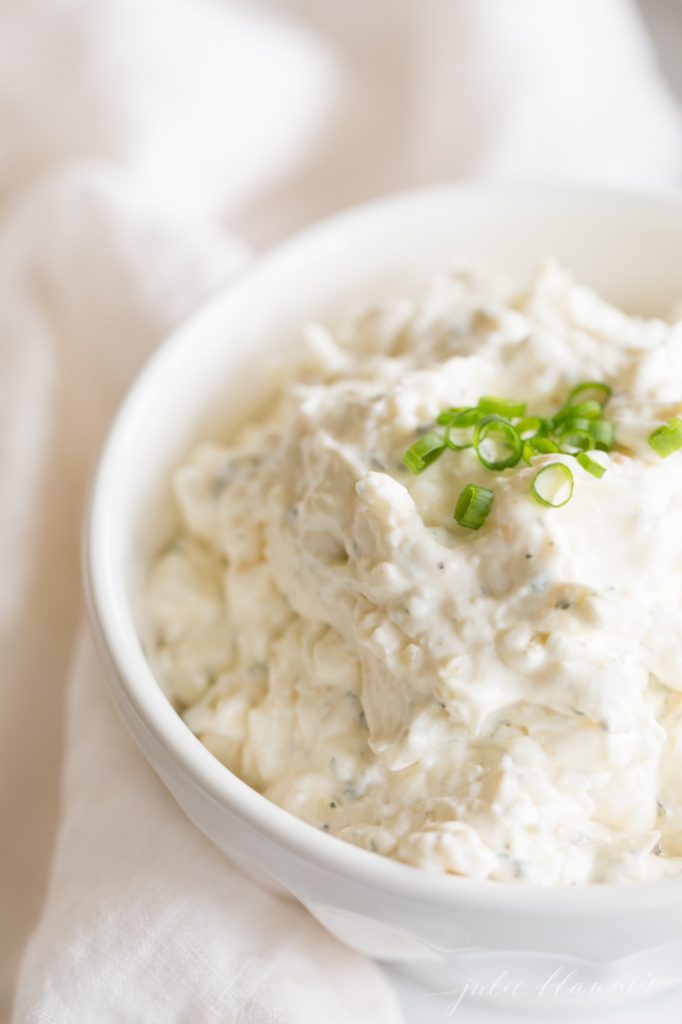 While this veggie dip uses a traditional sour cream and mayo base, it's anything but ordinary! You'll never serve another store bought veggie dip again. It's a creamy dip filled with texture and flavor.
As always, you can substitute sour cream with greek yogurt to increase protein while reducing calories and saturdated fat.
You can use fresh herbs or a few green onions to really take it up a notch. It also makes a beautiful garnish. As much as I love ranch, vegetable dip wins every time.
Keto-Friendly Veggie Dip
Are you eating a little lower carb these days? Or perhaps trying to manage a full Keto diet? This dip works well in your Keto lifestyle! Just eliminate the touch of sugar at the end and it's a perfectly low-carb snack. As you can see below, it works beautifully when served with any number of veggies that will fit right into your diet plan. I love serving this dip at get-togethers because it gives any low-carb friends and family a great snacking option!
Because Keto plans lean heavily on higher-fat options, this dip works very well! Sour cream and mayo are both considered keto-friendly, as well as most cheeses. Make sure you eliminate the teaspoon of sugar and also check the label on your seasoning to confirm that there's no added sugar there. This veggie dip is such a great way to help you enjoy your daily intake of fresh produce!
Serve this Vegetable Dip With:
red peppers

snap peas
bell peppers

cauliflower

carrots

celery

broccoli

cherry tomatoes

crackers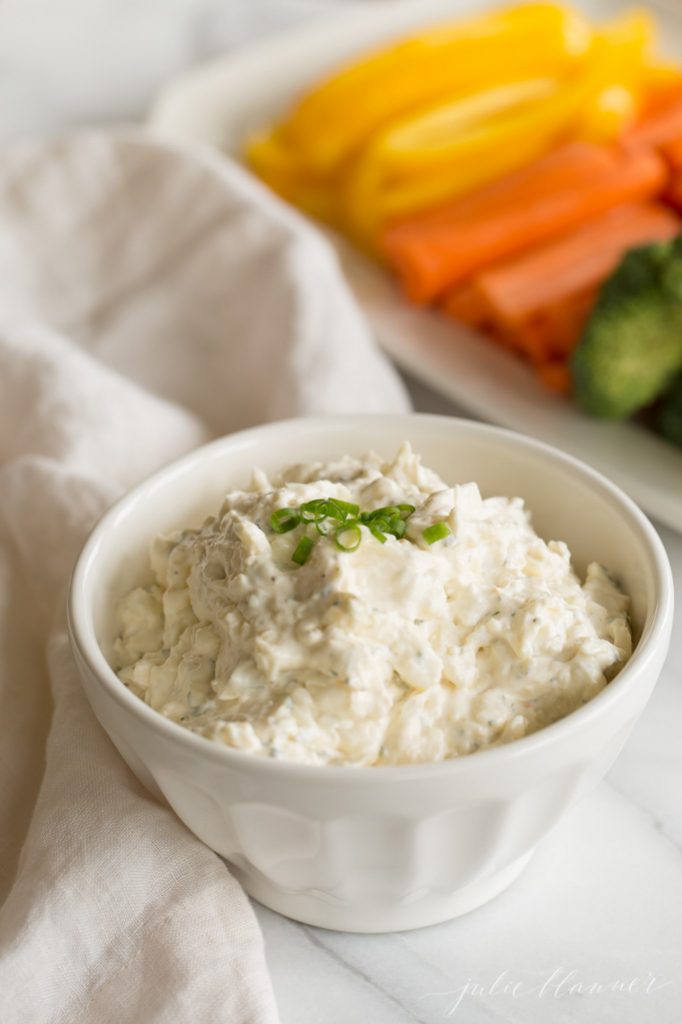 The photo above is just 1/2 a batch of the veggie dip recipe! This vegetable dip recipe makes enough to feed a crowd.
My Favorite Seasonings for Veggie Dip
Southwest blend
Trader Joe's Seasoning Salute
Sweet Onion and Herb
Garlic and Herb
Of course, you can also add some fresh herbs if you happen to have them on hand! A little fresh basil, rosemary or oregano would be delicious additions!
More Easy Dip Recipes:
How to Make Veggie Dip
It couldn't be any easier! Just combine ingredients and fold in fresh shredded mozzarella cheese. Add your favorite seasoning and refrigerate for two + hours.
WP Recipe Maker #56537

remove

Incredible Veggie Dip

The best veggie dip recipe that will have everyone begging for the recipe! Makes a large batch perfect for get togethers!

Course: Appetizer

Cuisine: American

Keyword: cheese, dip, easy appetizer, easy recipe, veggie dip

Prep Time: 5m

Total Time: 5m

Servings: 20

Author: Julie Blanner

– 2 c sour cream

– 2 c mayonnaise

– 1 Tbsp parsley

– 1 tsp seasoning

– 2 Tbsp onion flakes

– 2 Tbsp parmesan cheese

– 1/2 tsp garlic powder

– 8 oz mozzarella

shredded

– 1 tsp sugar

1) Combine ingredients. Fold in mozzarella cheese.

2) Refrigerate 2+ hours before serving with vegetables and/or crackers.

Choose your favorite seasoning! I love: Southwest blend Trader Joe's Seasoning Salute Sweet Onion and Herb Garlic and Herb

calories 239

carbohydrates 2

protein 3

fat 23

saturated_fat 6

cholesterol 30

sodium 240

potassium 72

sugar 1

vitamin_a 5.2

vitamin_c 1.9

calcium 9.8

iron 1.5
If you make this vegetable dip recipe, please comment using the star rating below. Also, share your favorite way to season it…I love mixing things up. Happy Dipping!
LET'S CONNECT!
instagram | newsletter | facebook | pinterest