These chorizo tacos are a must for your Taco Tuesdays and Cinco de Mayo. The spicy chorizo is balanced with sweet pineapple salsa and a cool cilantro lime crema for a delicious sweet and spicy finish.
Made with simple ingredients, these tacos come together in less than 15 minutes and are perfect for feeding a crowd.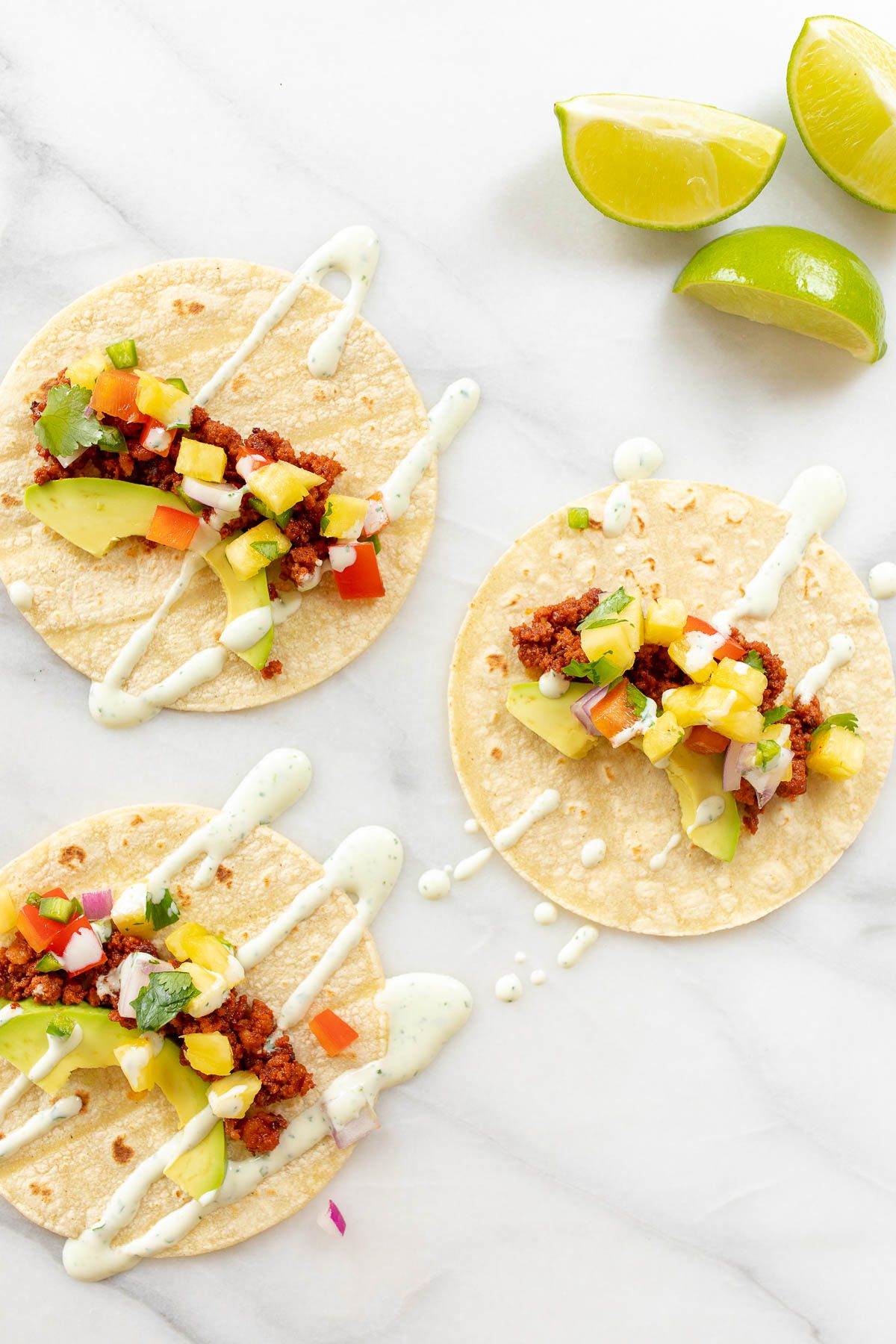 These amazing tacos pack a little heat! Chorizo paired with pineapple salsa, cilantro lime crema and sliced avocados are a fun and festive way to enjoy a crowd favorite!
If you are planning a taco bar for your Cinco de Mayo celebrations, this chorizo version just has to make an appearance!
Wonderfully sweet and spicy, it's packed full of flavor and will make a wonderful addition alongside more traditional favorites like my favorite Beef Tacos, Soft Chicken Tacos and Carne Asada Tacos.
The sweet and spicy pairing will have you craving them again and again. Fortunately, they couldn't be quicker or easier to make!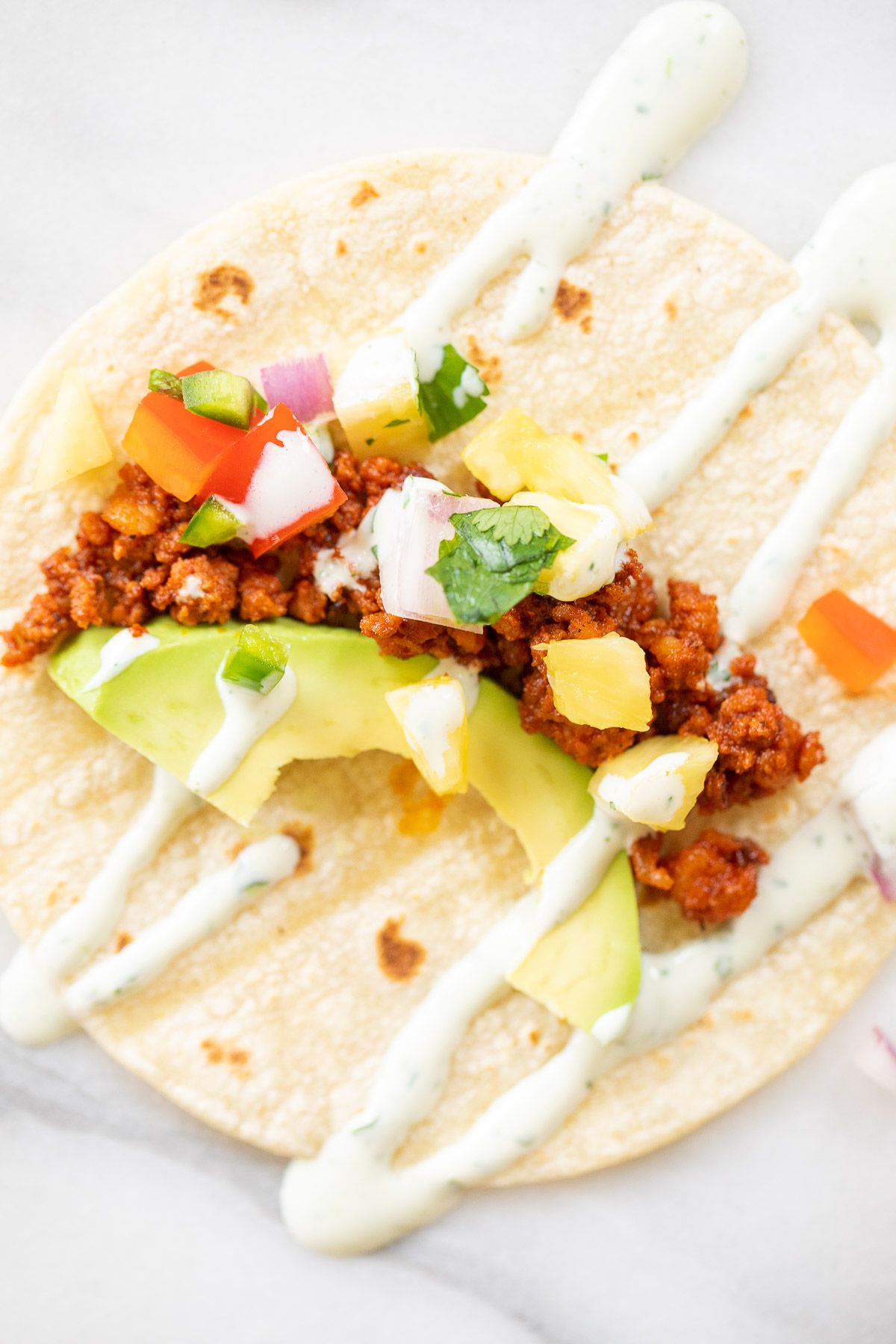 Why You'll Love these Chorizo Tacos
Bursting with Flavor
Sweet and Spicy
Great for a Taco Bar
Easy to Customize with Toppings
Pineapple salsa and lime crema are the perfect additions to these flavorful tacos along with some sliced avocado. The sweetness, acidity and cold crema cut through the rich chorizo perfectly, and each bite is so balanced.
What is Chorizo?
Before we show you just how easy these chorizo tacos are, first we need to discuss a little bit about chorizo.
Chorizo is just seasoned pork sausage. When it's Mexican chorizo, t's usually spicy, and that's absolutely perfect for tacos!
It's typically seasoned to perfection with chili powder and garlic. That makes your life so much easier, because you don't even need to add additional seasonings and flavors to these chorizo tacos.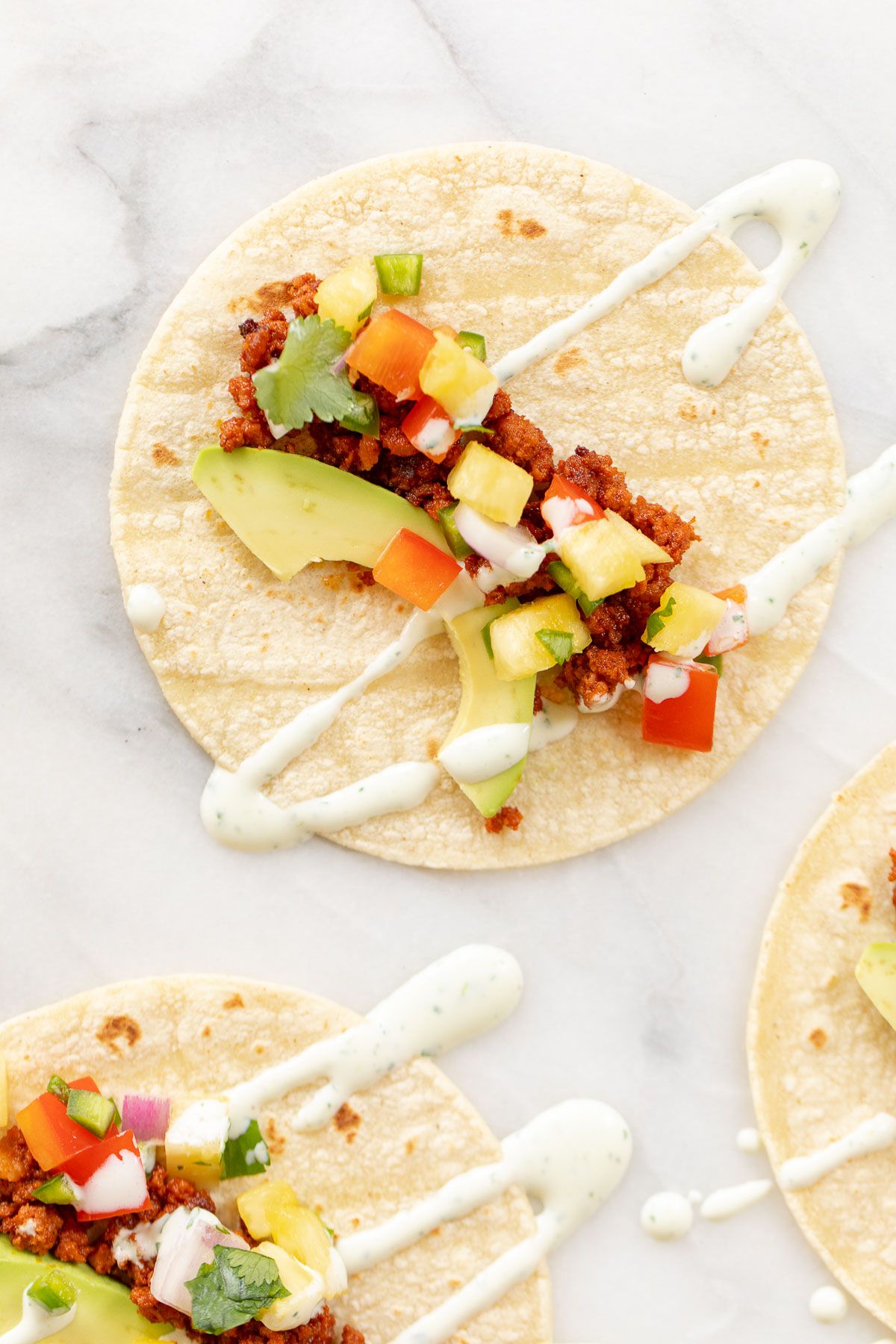 Ingredients and Substitutions
Chorizo Sausage – Chorizo is a Mexican or Spanish pork sausage that is mixed with spices and cured. It is rich and spicy in flavor.
Avocado – Top the tacos with fresh avocado for freshness and color. They help to balance out the dish.
Pineapple Salsa – Pineapple salsa is quick and easy to make and adds a wonderful sweetness which works perfectly alongside the spicy chorizo.
Lime Crema – Homemade lime crema is made with just three ingredients and takes minutes to make. The cream balances out the heat of the chorizo and the lime adds acid which cuts through the fat.
Corn Tortillas – I prefer to serve my tacos in corn tortillas, but you can use flour if you prefer.
How To Make these Chorizo Tacos
Prep – Make the pineapple salsa and cilantro crema and set aside.
Cook – Next, sauté the chorizo in a skillet over medium heat until cooked through.

Warm Tortillas

– Warm them in the oven, microwave or stovetop.

Assemble – Finally, add chorizo to tortillas and top with salsa, crema and sliced avocados. Don't forget the squeeze of fresh lime over the top!

How to Warm Tortillas

Oven

Preheat oven to 350 degrees F. Wrap 5 or less corn tortillas in foil. Bake 15 minutes or until warm.

Stovetop

Warm a single tortilla in a dry skillet 30 seconds on each side over medium heat.

Microwave

Wrap 5 or less corn tortillas in a damp paper towel or a flour sack towel, place on a plate and warm in the microwave 30 seconds or until warm.

Fried Tortillas

Add 1 tablespoon oil (canola, vegetable or olive) to a skillet over medium heat. Add tortilla and fry 15-30 seconds on each side.

Tips

Need help with doubling or tripling this recipe? Check out my Essential Measurement Conversion Chart or use the slider in the recipe card.
Be sure to warm your corn tortillas in the oven or microwave before serving them. This makes them more pliable and less likely to crack when you roll them.
This particular type of chorizo sausage is already cured, so you don't need to cook it for long. Cook it until it is warmed through with some color. However, you can also buy fresh ground chorizo at many grocery stores, and that needs to be cooked through just like any other ground meat.
Don't forget the squeeze of lime over your chorizo tacos! Chef's kiss.

These chorizo tacos are pretty awesome as they are, but feel free to add any other toppings you like. Click through above for a comprehensive guide to all the best taco topping ideas you can imagine!

Fresh cilantro
Sliced jalapeños
Red onions
Pickled onions

Frequently Asked Questions

Can You Make Tacos Ahead of Time?

Salsa and crema can be made a few days ahead of time and refrigerated until ready to serve. Chorizo is best served as it is prepared, but you can cook it an hour or so ahead of time if you prefer and warm it gently before serving.

What's the Best Chorizo for Tacos?

Chorizo comes in two varieties, Spanish and Mexican. Both varieties are spicy and work well in the tacos. Mexican chorizo is seasoned with vinegar and chile peppers, where Spanish is flavored with garlic and smoked paprika.

You can buy different heat levels of chorizo, from mild to extra hot so choose the heat level according to your taste. Either way, you can't go wrong! They're incredibly delicious and full of flavor.

Shortcuts

Use store-bought salsa
Substitute with sour cream or crema

Dietary Considerations

Gluten Free
Nut Free
Dairy Free (to make dairy free, eliminate the chipotle crema)

How to Store

At Room Temperature – These chorizo tacos can sit out at room temperature for up to two hours while serving.
Refrigerate – You can refrigerate the filling for these tacos for up to three days in an airtight container.
Freeze – Freeze your leftover chorizo taco meat if you'd like. Store in an airtight container in the freezer for up to six months.

Sweet and Spicy Chorizo Taco

Chorizo tacos are a sweet and spicy Mexican inspired meal that's perfect for Cinco de Mayo. Easy and quick to make with a handful of ingredients.

Instructions

Prep – Make the pineapple salsa and cilantro crema and set aside.

Cook – Next, sauté the chorizo in a skillet over medium heat until cooked through.

Warm Tortillas – Warm them in the oven, microwave or stovetop.

Assemble – Finally, add chorizo to tortillas and top with salsa, crema and sliced avocados. Don't forget the squeeze of fresh lime over the top!

Tips

In Oven – Preheat oven to 350 degrees F. Wrap 5 or less corn tortillas in foil. Bake 15 minutes or until warm.
In Microwave – Wrap 5 or less corn tortillas in a damp paper towel or a flour sack towel, place on a plate and warm in the microwave 30 seconds or until warm.
On Stovetop – Warm a single tortilla in a dry skillet 30 seconds on each side over medium heat.
Fry – Add 1 tablespoon oil (canola, vegetable or olive) to a skillet over medium heat. Add tortilla and fry 15-30 seconds on each side.

How to Store

At Room Temperature – These chorizo tacos can sit out at room temperature for up to two hours while serving.
Refrigerate – You can refrigerate the filling for these tacos for up to three days in an airtight container.
Freeze – Freeze your leftover chorizo taco meat if you'd like. It can be stored in an airtight container in the freezer for up to six months.

Calories:

133

kcal

|

Carbohydrates:

17

g

|

Protein:

3

g

|

Fat:

7

g

|

Saturated Fat:

1

g

|

Cholesterol:

8

mg

|

Sodium:

75

mg

|

Potassium:

193

mg

|

Fiber:

4

g

|

Sugar:

3

g

|

Vitamin A:

103

IU

|

Vitamin C:

12

mg

|

Calcium:

50

mg

|

Iron:

1

mg

Estimated nutrition information is provided as a courtesy and is not guaranteed.

Explore More